We have been living, working and traveling full time in an RV for the last 8 years with 4 kids. Below we share what we have learned as full time RVers to help you with planning an RV trip! Use our post as an RV trip planner to have the ultimate RV vacation!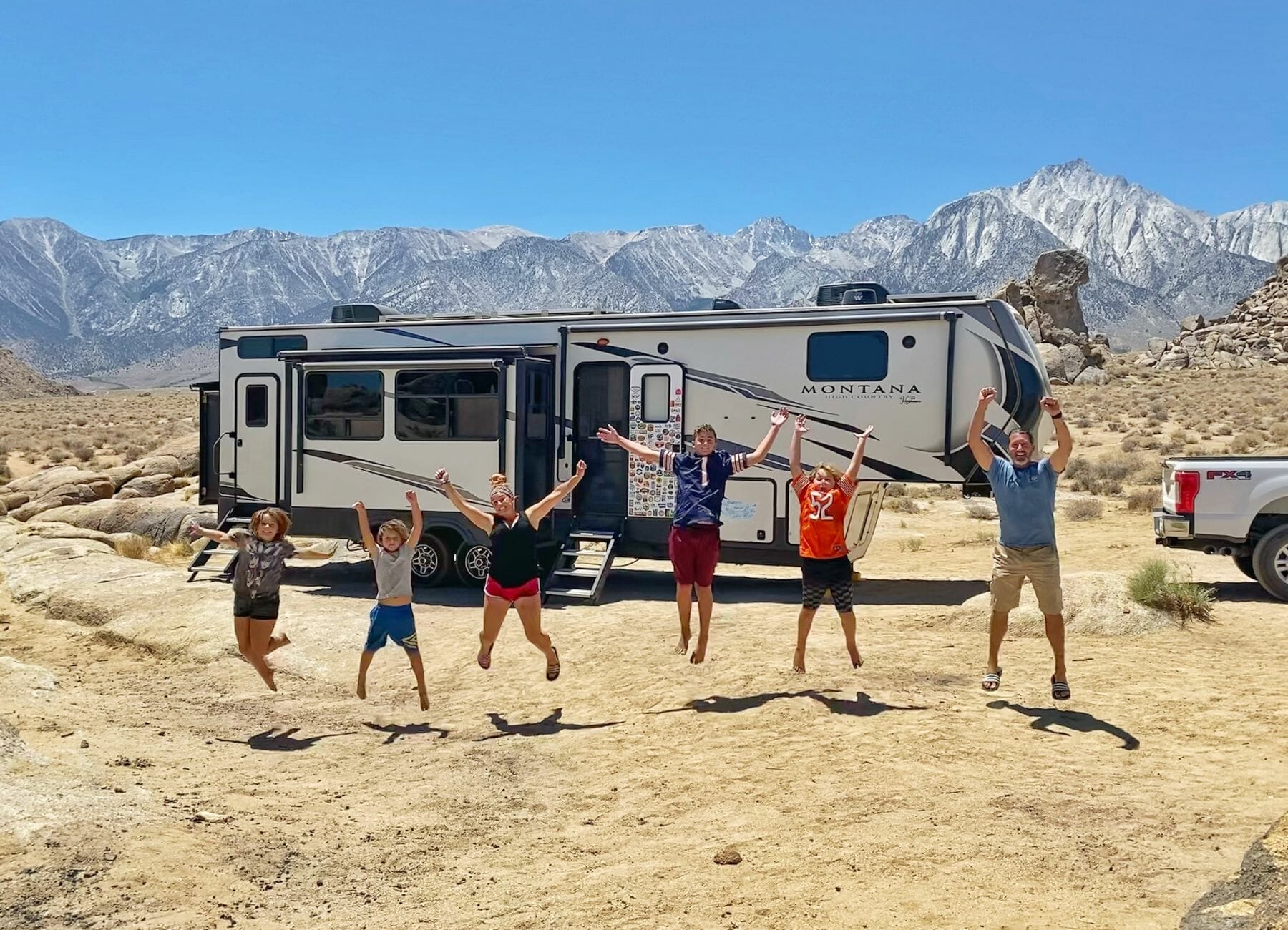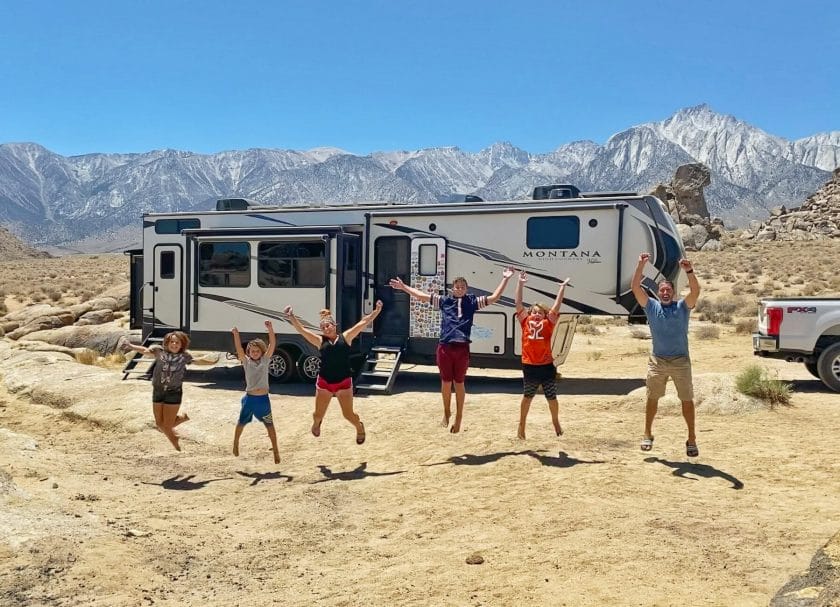 Renting The RV
The first thing you may need to do is rent an RV. If you already have one skip down to the next section.
Here are some tips for helping you figure out which one is best for your trip.
Average cost
This can really range depending on what type of RV you want to get.
The best way to figure out the costs is to visit RVShare or Outdoorsy and search for what you want.
Type of RV
Class A – these are the bigger, bus-looking, motorhomes where you drive them. They are great for travel days, but don't offer as much living space as a trailer or 5th Wheel.
Check out Class A RV's for rent.
Class B – these are basically a step up from a van. Great for getting around if you are planning to travel with a couple or just 1 younger kid.
Check out Class B RV's for rent.
Class C – bigger than the Class B but normally smaller than a class A. Gives a lot of sleeping options in a smaller space and tend to be easier to drive since it is on a truck frame.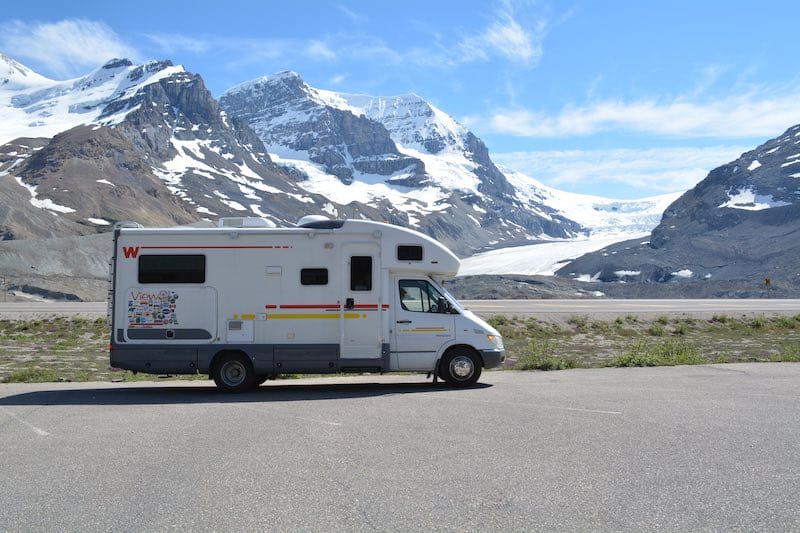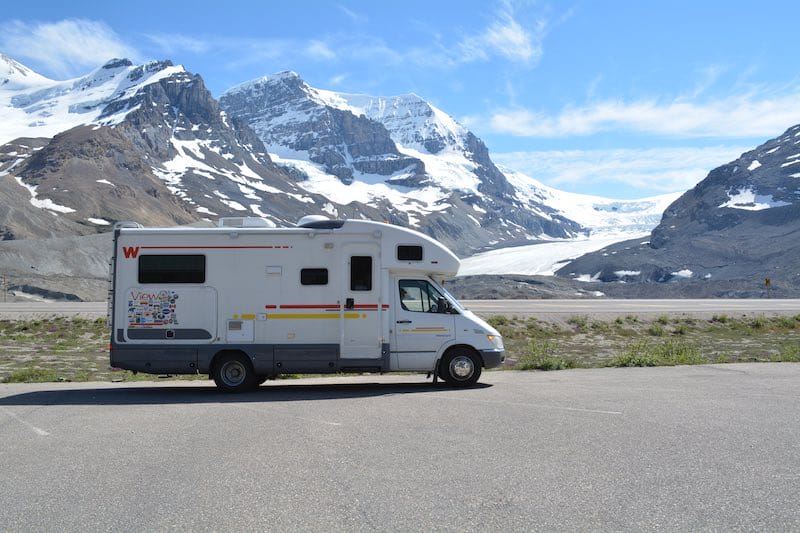 Check out Class C RV's for rent.
5th Wheel – similar to a trailer, but a step up and the most like an apartment on wheels. This is also where you will find most toy haulers which are like garages at the back of the 5th wheel for motorcycles or a golf cart (you can sometimes find these in trailers and Class A's, but it is more common in a 5th wheel). You would need a truck and the setup to tow it.
Check out 5th Wheels for rent.
Truck Camper – similar to the Class B – could work really well if you just have a couple people or a small family/young kids.
Check out Truck Campers for rent.
Travel Trailer – Usually the cheapest option. Offers a good amount of space with plenty of beds for larger families. You would need a vehicle and the setup to tow it.
Check out Travel Trailers for rent.
Camper Van – Craig and I always talk about how we want to get a van to travel the country in when our kids are grown and out on their own! It would be fun to travel in since you can get in anywhere with it!
Check out Camper Vans for rent.
Our recommendation is to always go as small as you can. We have found it makes it so much easier for traveling, getting gas and getting in and out of places. This can mean it is tight squeeze if you have rainy days or want to spend time inside as a family – so we would recommend thinking through how you see your trip going.
Will you spend a lot of time in the RV? Or spend a lot of time outside? Will everyone have a bed in the RV or will you have to make the beds each night (by putting the table down – in the RV to convert it to a bed)?
If your thoughts are that you are using the RV as a way to travel, a place to cook meals and a place to sleep at night then going smaller will be better. For a motorhome, class C or B, trailer or fifth wheel will depend on what you feel comfortable driving.
If you want to spend a lot of time inside the RV, then you may want to look for something bigger. But just know this can make the traveling part more stressful – unless you have experience driving a big rig or towing a large trailer or 5th wheel.
Another thing to keep in mind is that when you are at a location you will probably want to go out and explore. So you will want a car to do this with. When you have a really small drivable RV you can usually take it most places and find parking spots but this would be small like 23 feet or less.
Or else, you will want to find out about towing a car or doing a fifth wheel or trailer that you tow with a truck. If you plan to just get to a campground and stay there this won't be as much of an issue.
Check out our post on RV Rental
Plan Your Trip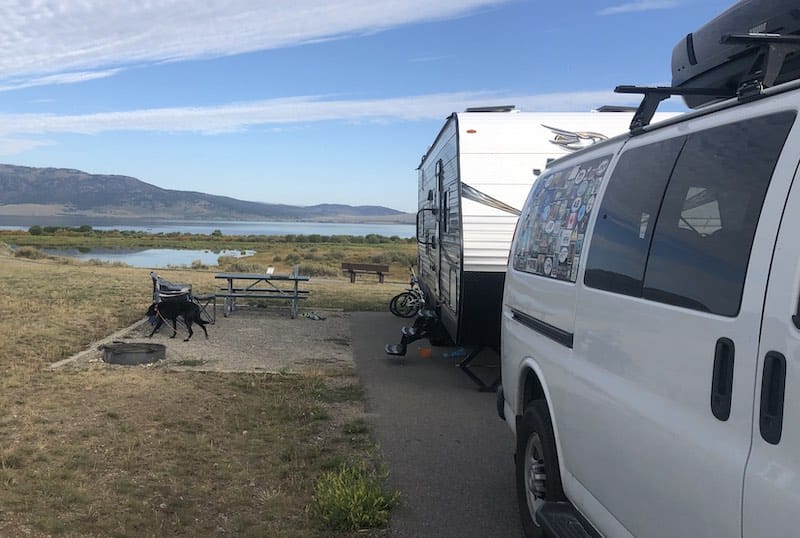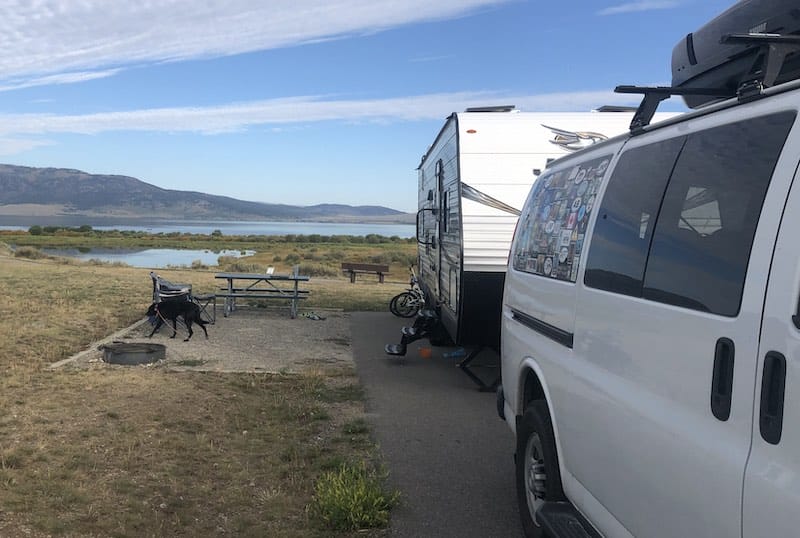 Where do you want to go?! There are so many great places to go on an RV road trip and lots of great RV trip planning tools and RV apps.
If you have an RVer in your life these make great Gifts for RV Owners.
Here is a post on our Top 15 RV Campsites You Will Want To Stay At.
Length of trip
We highly recommend at least 2 weeks to get yourself into the swing of RV travel and to allow you to cover a lot of ground yet still have down time to enjoy being in the RV.
There are a few different travel styles you could pick from – or do a combination of them:
Relaxing Trip
This means you find one campground and just go and stay there. I know for a lot of families this is exactly what they are looking for.
If this is what you want to do be sure to find a place that has a lake or pool along with basketball courts, bikes to rent, games to play, etc.
This is usually going to be more of your resort type of campgrounds. But be prepared, they can be VERY busy in the summer months. As in you won't even want to go in the pool since there are so many people in it.
You could opt to do this trip at a State Park where you look to do more nature things like playing in the river, going to the lake, hiking, etc. It will be a little more roughing it then an RV resort, but if you accept that it can be very relaxing!
Exploring Trip
This is where you plan to move a lot and see and do a lot of different things. It could mean moving every day or two. Or spreading it out and moving about every 3 – 4 days.
We recommend moving every 3 – 4 days. It will give you enough time to settle in and explore an area without feeling super rushed.
You could jump from RV resort to RV resort doing this. Or you could look for more state park and national park campgrounds or campgrounds by national parks or other historic sites and landmarks you want to explore.
Boondocking Trip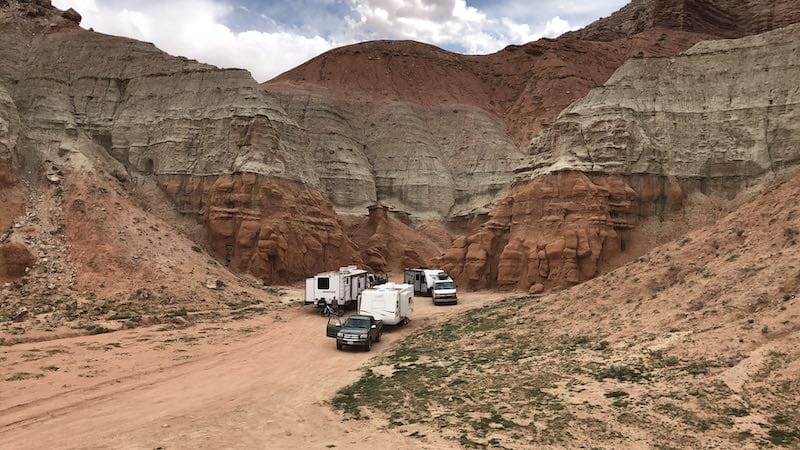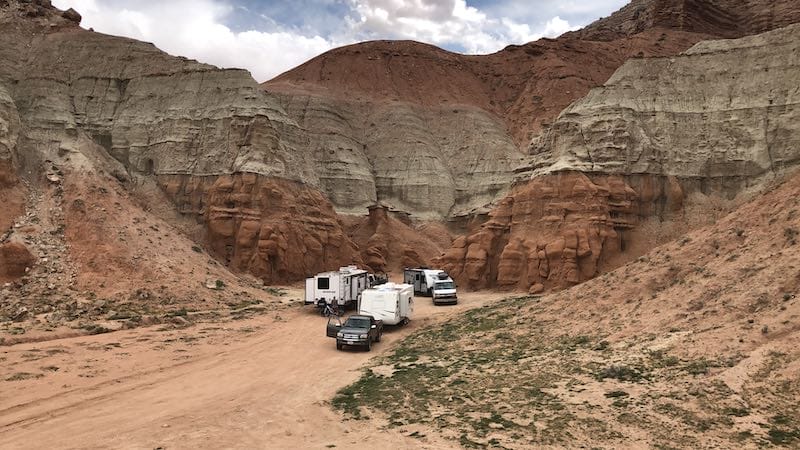 You would need to have the right rig and setup for this one. While boondocking, you wouldn't have any hookups – so you would need power (preferably solar), larger holding tanks – so you can go longer between dumping, and a way to get potable water into your rig.
Then you go out and find BLM/free land to camp on! Part of this experience is enjoying just being out in the middle of nowhere. Or you can look for land to stay at around locations you want to go and explore.
You could easily pick one of the above or do a combination of 1 or 2 or all 3! But try to think about which kind of trip you want to have before you start deciding on what rig to rent and where to go.
For more information on boondocking, click here!
Recommended RV Trips In North America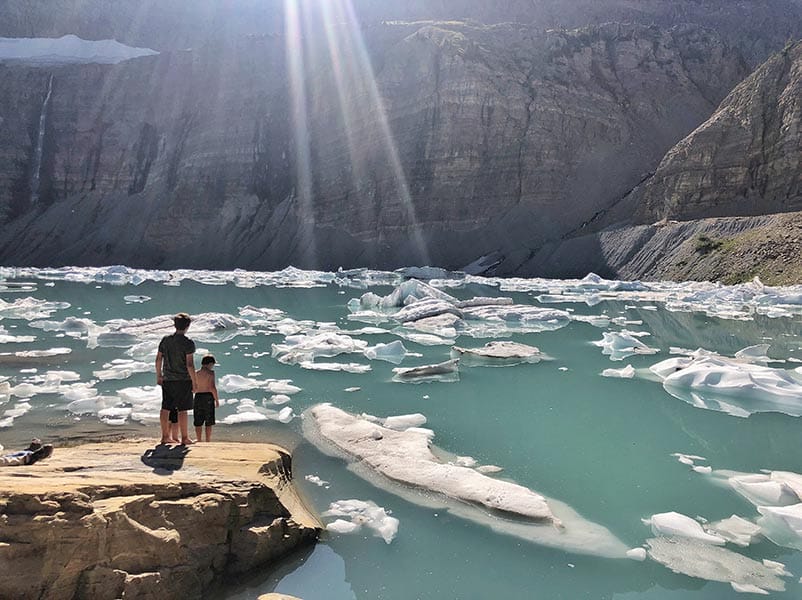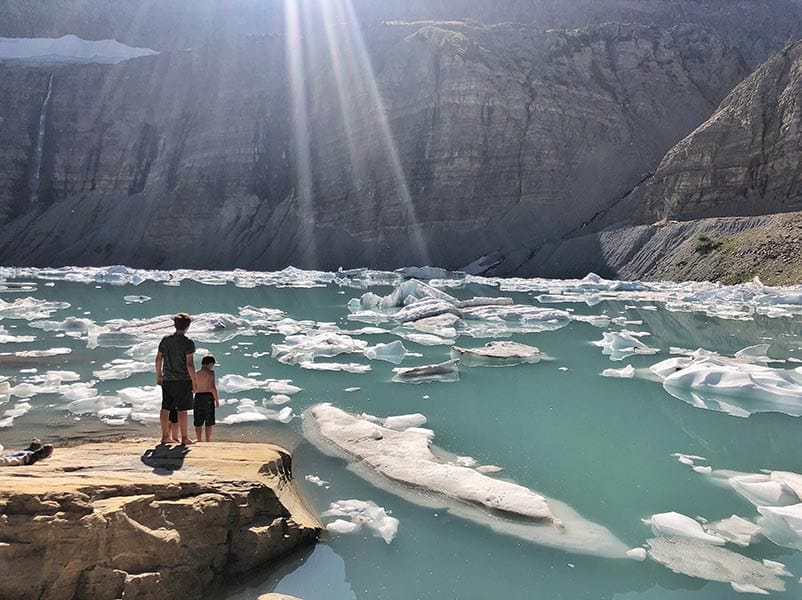 National Park Road Trip – Pick one of these routes to get out and explore our beautiful National Parks!
Glacier National Park – Our favorite National Park in the US! So much beauty and amazing hiking!
Yellowstone And Beyond – Spend a few days in Yellowstone National Park and the exploring the surrounding area north of it in Montana.
Yellowstone National Park – You can spend a month here and not see and do everything! A huge and amazing National Park. Be sure to visit the Grand Prismatic, Grand Canyon of Yellowstone, Mammoth Hot Springs and all the cool things to do here.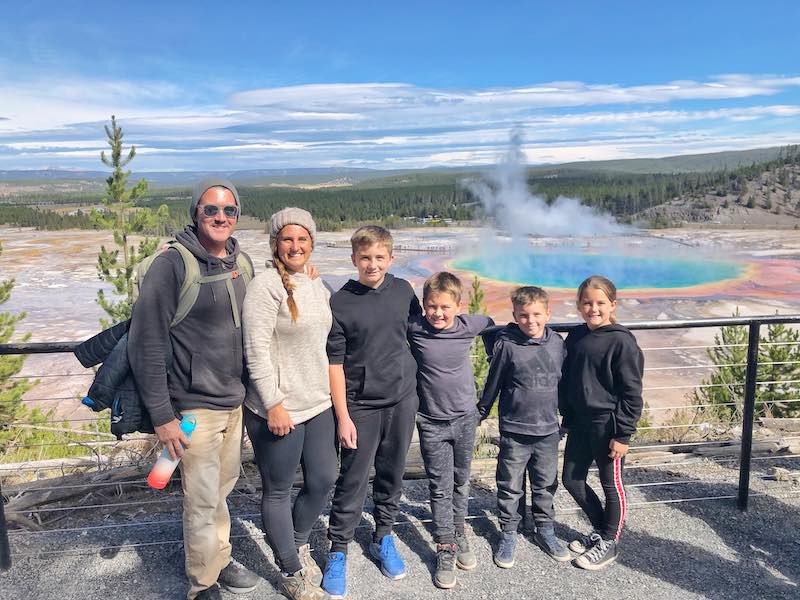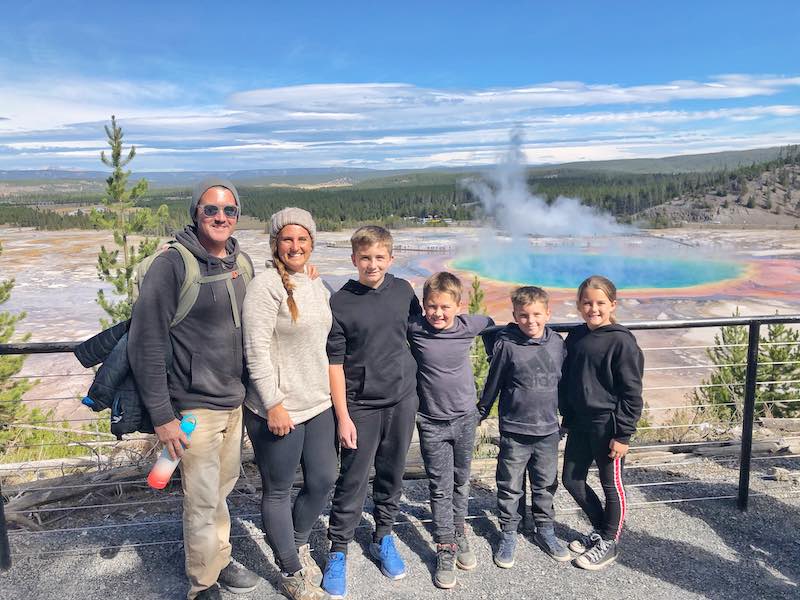 Olympic National Park – There are a lot of great stops to make as you travel around the Olympic National Park in Washington.
Florida Road Trip – Travel around the whole state of Florida to visit beaches, national parks and more!
Southern California – There is so much to do in California! These are amazing stops to make in the southern part of the state.
Northern California – Northern California brings you to some amazing National Parks and a beautiful yet rugged coastline.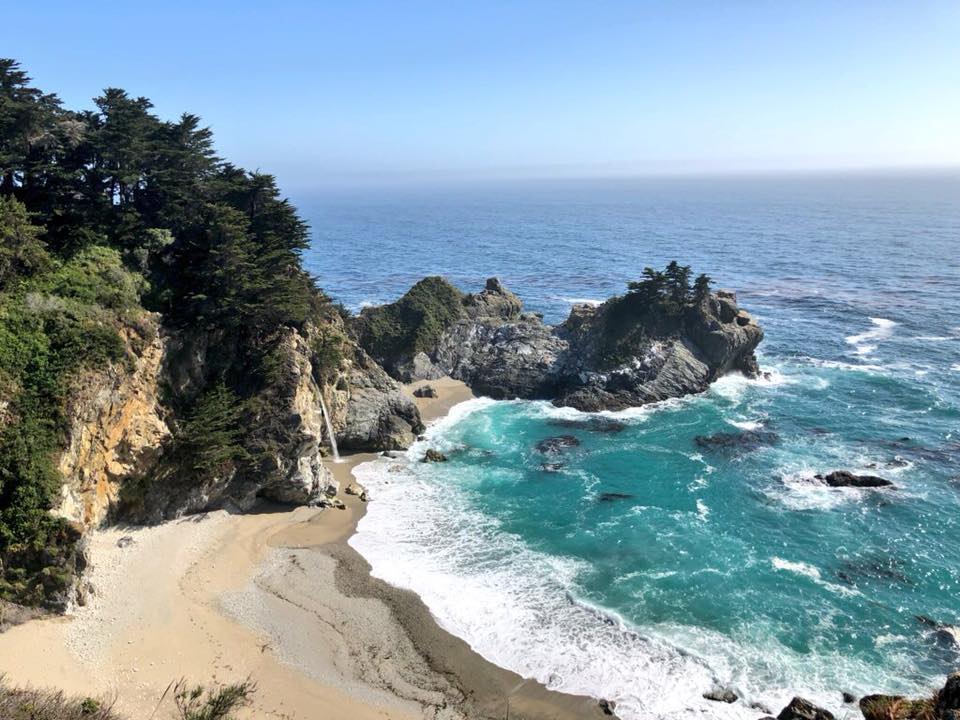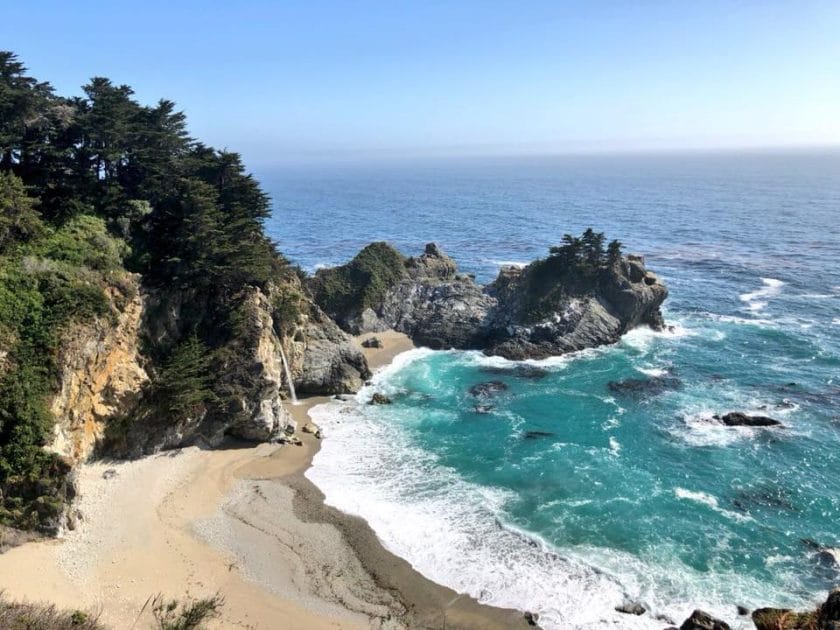 Oregon Camping – Campground hop in Oregon!
Oregon Coast Road Trip – Oregon is a beautiful state! Check out these great stops along the coast.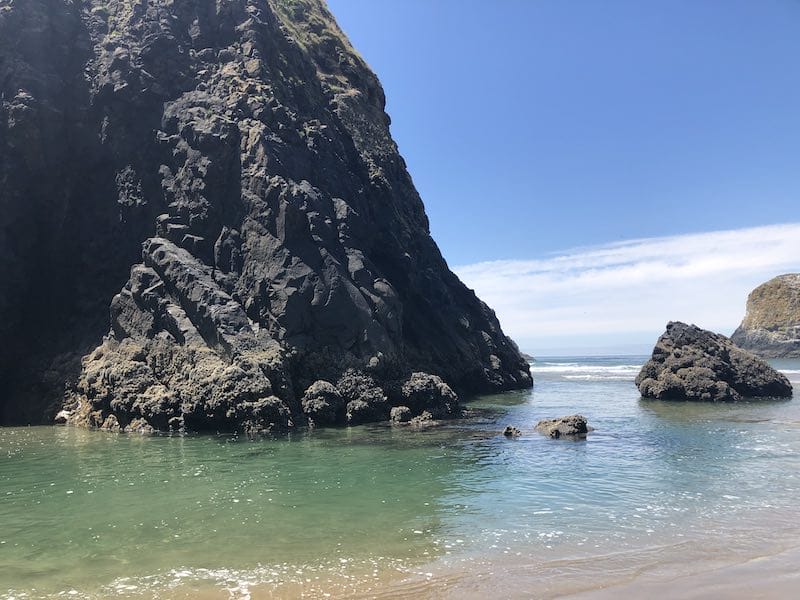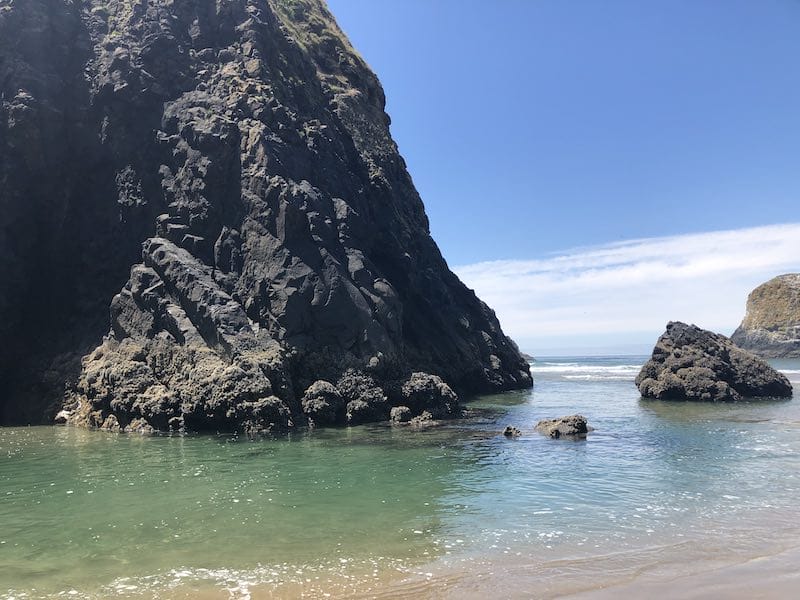 Camping In Wisconsin – Head up north to explore Wisconsin and stay at 1 or multiple campgrounds.
Tennessee Family Road Trip – Checkout Tennessee from Nashville to Chattanooga to Smoky Mountain National Park.
Pick Your Campgrounds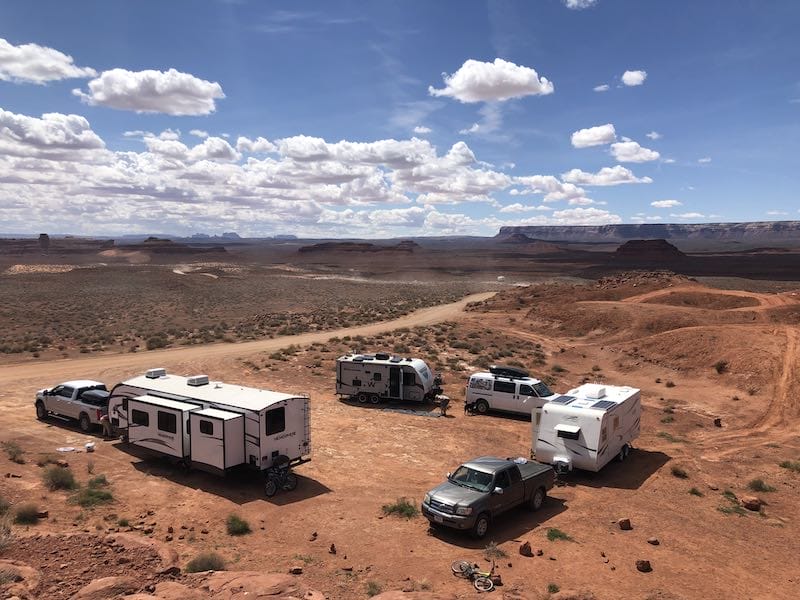 Now that you know where you want to go you have to figure out where you want to stay and find campgrounds.
Things you will want to consider when looking for campgrounds:
Hook ups – does that campground have FHU (Full Hook Ups) – meaning you have sewer, water and electric at your site. Some sites will only have electric or only have water and electric. The easiest route to go is Full Hook Ups so everything you have in your RV works.
30amp or 50amp – Make sure you know what kind of electric your RV needs. If it needs 50amp, you can make it work on 30amp but will need a specific adapter to step down your 50amp cord to the 30amp plug. This will mean that you will not have enough power to use everything in the rig. For example if you have 2 AC units then you would need 50amp for both of them to work. On 30amp only 1 would work.
Pull through or back-in – A pull through site means you can pull right into the spot and then pull right out. Nice and easy – usually!
A back-in means you have to reverse into the site. This can be very challenging if you have never done it before, especially with a trailer type RV. But usually back-in sites cost less. . . and usually the campground will help you if you are having troubles getting into the spot.
Pet Friendly – If you will be traveling with pets you will want to verify that the campground is #1 – OK with pets and #2 OK with the size and/or breed of dog you have. We had 2 labs for a long time on the road with us and we only ran into a handful of times where pets weren't allowed at a campground.
If you do plan to take your pet with you check out the post on RVing with dogs.
I know this sounds like a lot – but you got this!! Here are a few different kind of campgrounds you can look into:
Resort Campgrounds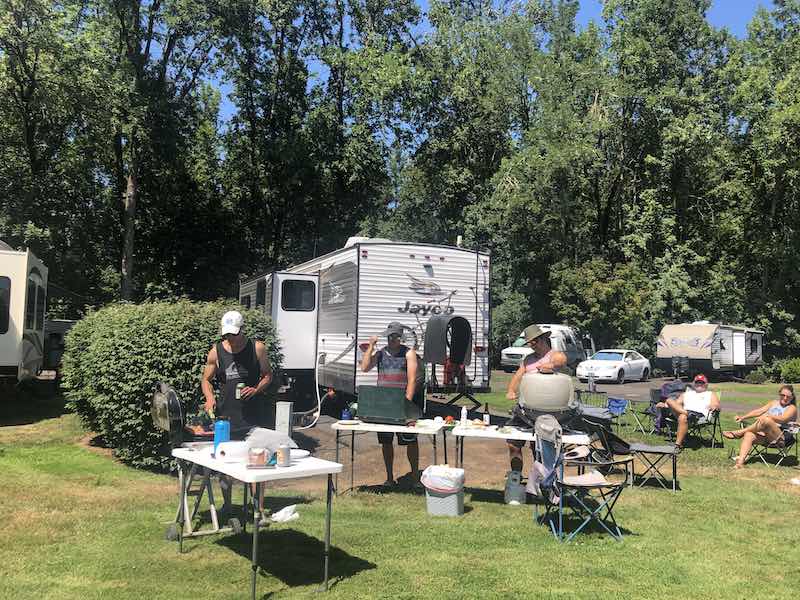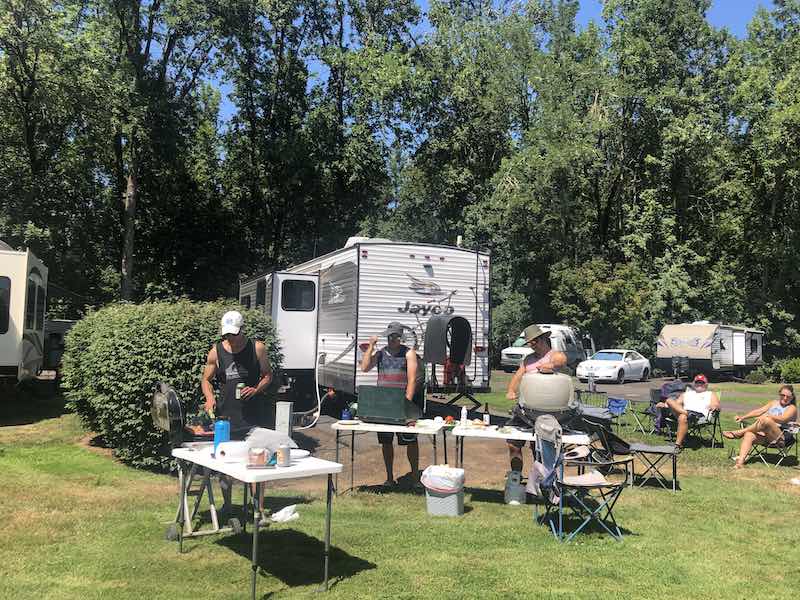 If you are looking for simplicity and some luxury then a KOA campgrounds or similar campground is the way to go. Full hookups (meaning there is a hookup for sewer, water and electric – so assuming you have the right amp hookup for your RV everything in the rig will work.
Note some RV's have 30amp hookups and some have 50amp. Usually the larger rigs have 50amp and if you are going somewhere hot where you will want to run both AC's in the rig you will want the 50amp), nice concrete pad sites, pull throughs, nice bathrooms, amenities, definitely more a hotel feel then normal campgrounds.
State Park Campgrounds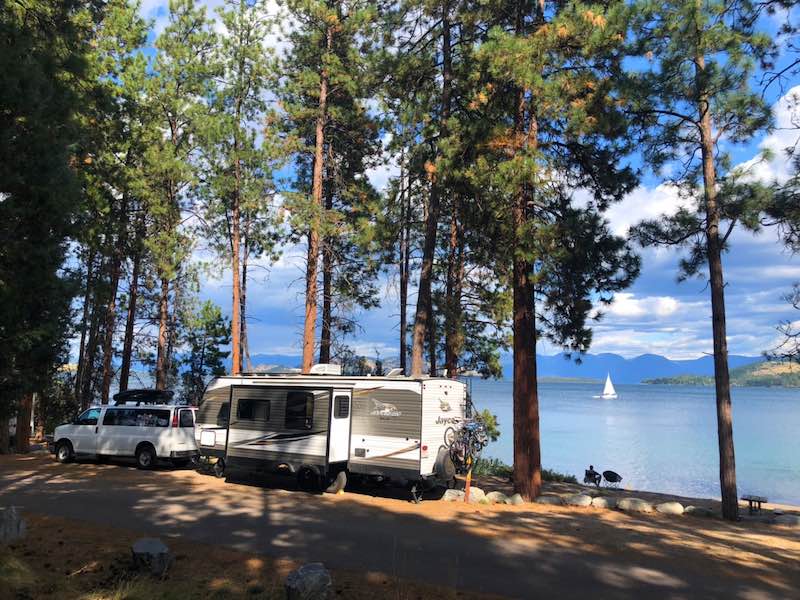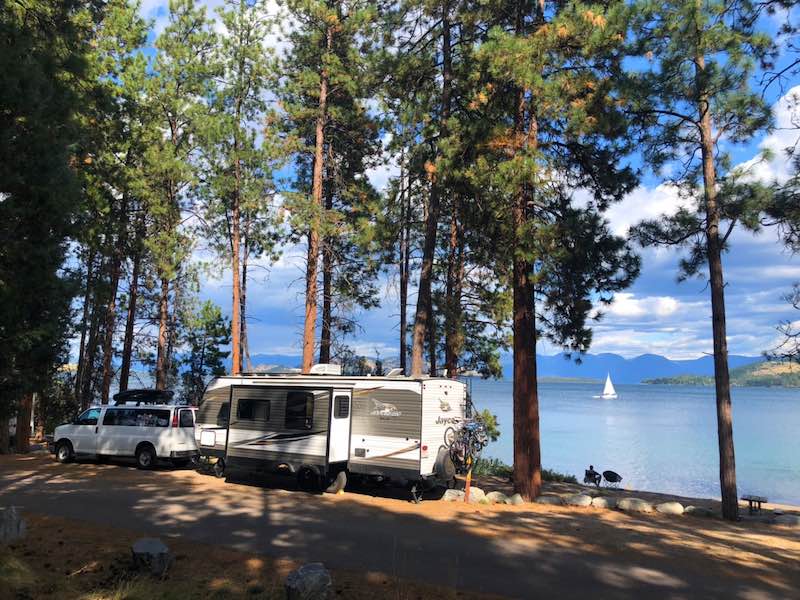 Looking for more of a nature trip? Then a state park is a great option. But be prepared that these campgrounds don't always have full hookups. Which means you have to watch your tanks and potentially pull out of your site to dump – depending on how long you stay.
National Park Campgrounds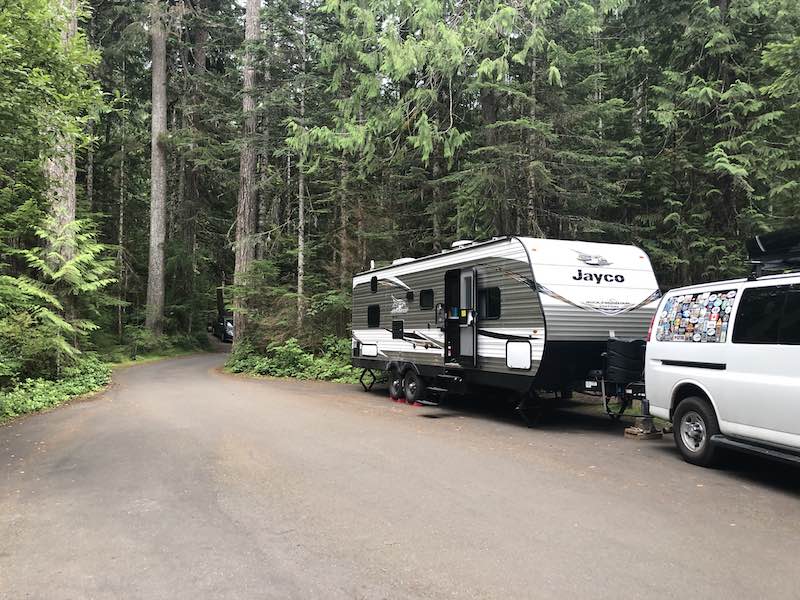 If you are planning to visit the National Parks, try to stay in the National Park campground if at all possible! It takes the whole experience of visiting the National Park to another level when you can stay IN the park!
But like the state park, be prepared as there may be no hookups at all or just electric. This is all doable. You just have to prepare and fill up with water when you get there (they all have water fill stations) and then be careful with water and tank usage – or else you will have to move to dump and they all offer dump stations.
Harvest Host Stays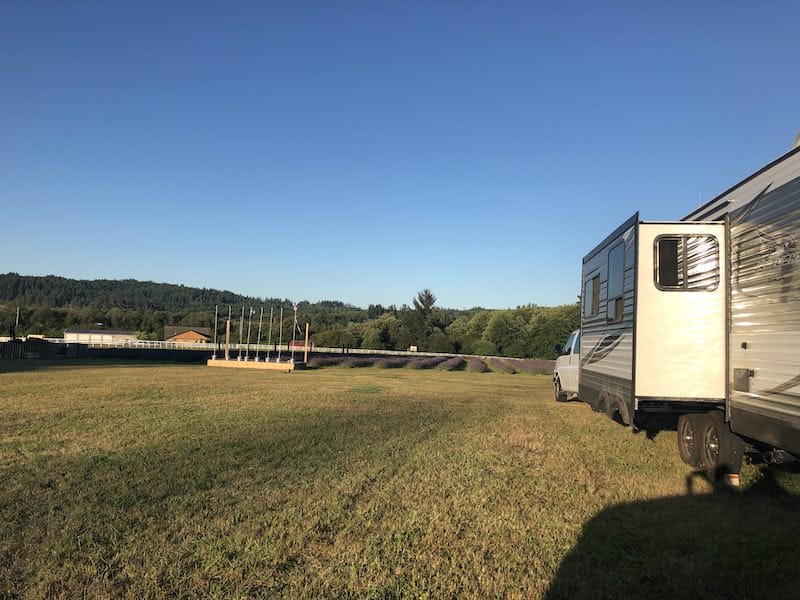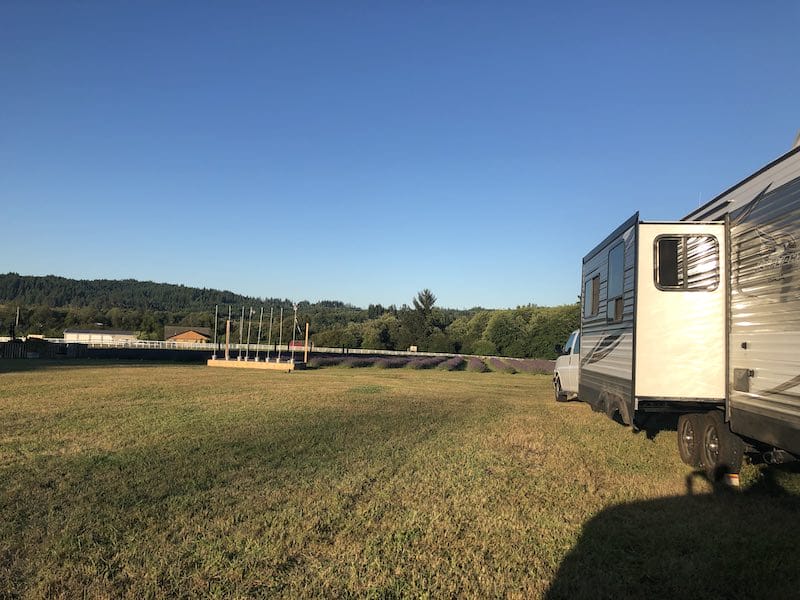 You have to join Harvest Host. Then once you do you can stay at wineries, farms, breweries and golf courses around the country for free! Most of them don't have any hook-ups so you are boondocking and there can be size limitations so you need to call ahead to make sure you can fit and they have availability.
It is a fun way to travel! You normally can only stay for 1 – 2 nights so we use it a lot when we are traveling from destination to destination, but it is too long to get there in 1 day of driving.
Boondocking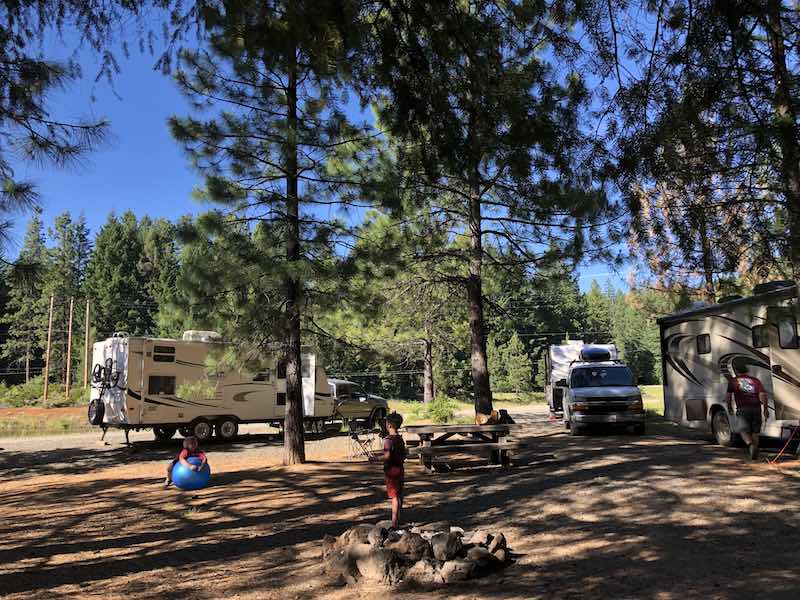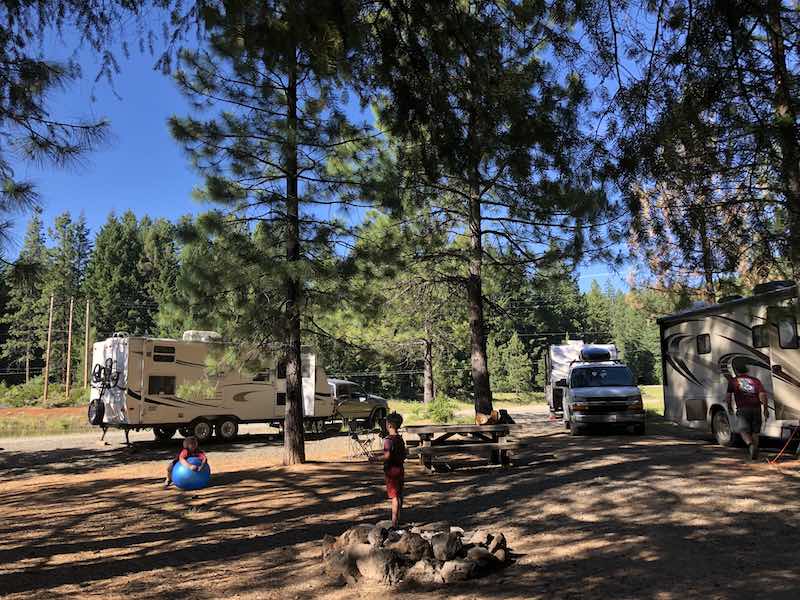 Feeling really adventurous? Then give Boondocking a try! This is where you stay for FREE on BLM land with no hookups. So no power, water or sewer hookups – you definitely need to be prepared for this.
You can also do this in National Forests and a few other places. There are a variety of Apps that help with finding these locations – Campendium, The Dyrt, Freecampsites.net.
If your rig has a generator onboard, you can use that – but ideally you would want a solar setup on your rig so you don't need any power or to run a loud generator. You have to know where you can fill up with water before you get to your spot and where you can get water while you are there. And again watch your tanks really carefully.
Thousand Trails Campgrounds
This is a membership site that a lot of full-time traveling families use. So if you are looking to find other kids that live the RV life – maybe you are considering it for yourself. This is a great way to do that!
They have some nice campgrounds, but some not so nice campgrounds . . . and they tend to be in the middle of nowhere. So . . . unless you are interested in the RV Lifestyle I wouldn't look to stay at one of these.
Picking Your Spot At The Campground
Once you have your campground picked out, it is time to pick your site!
If you are looking for a site that is really scenic you will most likely pay more. Which means pay attention to the prices of the sites based on their locations.
A lot of RV parks charge more for different kinds of sites. You will also want to pay attention to if they are Full Hook Up (has a hook up for water, electric, and sewer) or not. The easiest way to camp is with Full Hook Ups or FHU.
If that doesn't matter then I would recommend deciding what you want to be closest too. The pool, the playground, a big field, the entrance, the clubhouse, the bathhouse or the lake?
If you plan to spend a lot of time at the amenities at the campground it would make sense to find a site close to them.
Prefer to be further away from people? Then you will want to look for sites that are larger and further away from the amenities and people.
If you can't tell any of this from the campground map be sure to call and let the campground know what you are looking for so they can help you find the perfect site for your stay.
What You Need To Pack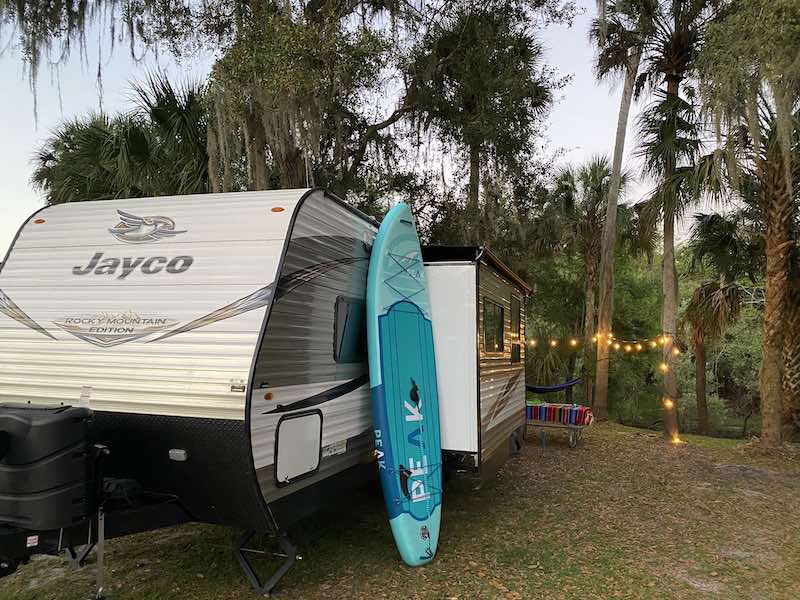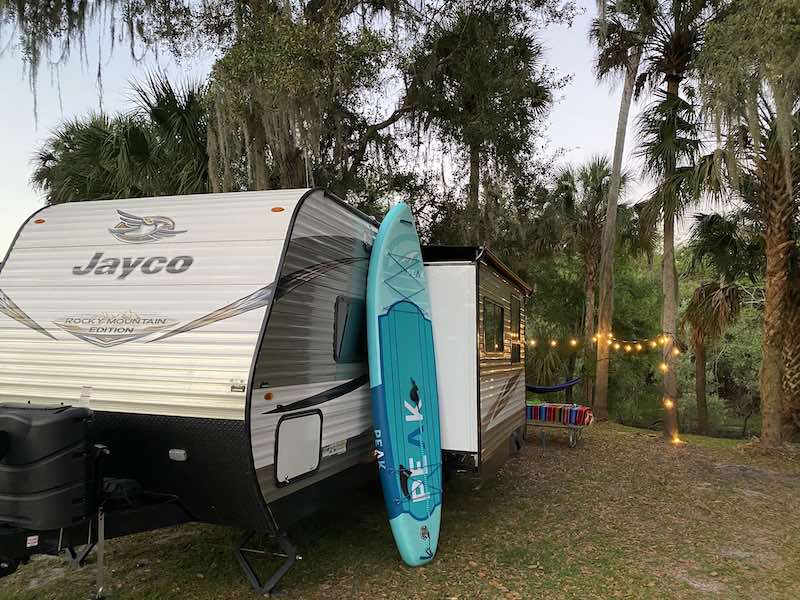 Check out our post: The Ultimate RV Packing List To Make Your Trip A Success
Clothes
Most RV Parks have a laundromat so you will be able to do laundry. Keep that in mind while packing.
For the most part packing for an RV trip is just like packing for any other trip with a few things to keep in mind:
The clothes will get dirty since you and your kids will be outside more. Bring clothes that you don't care if they get ruined. Then you won't be stressing when the kids are running around and getting rips or dirty knees.
Bring layers – you will most likely want to sit out at the campfire at night and it may get chilly, so bring pants and a sweatshirt. Also bugs can get bad around dusk so having pants and long sleeves on is really helpful.
Bring bathing suits and towels.
Bring running shoes for hiking or exploring. 1 pair of running shoes and 1 pair of sandals per kid should be fine. Unless you are thinking of going anywhere fancy where you want everyone dressed up.
Tools/Utility Items
If you are renting an RV they may have a few basic tools in the rig already – this would also be a good question to ask the person you are renting from. If not you should have your basic tool bag with you:
Duct Tape
WD-40
Set of socket wrenches
Screw drivers (Phillips and regular)
Hammer
Headlamp
Scissors
First Aid Kit
Bandaids
Flashlights
Umbrella
Pocket Knife
RV safe – if you are bringing any important documents or a lot of cash with you – you may want to get an RV safe. Ideally one that is water and fireproof.
Toys
You don't have to go crazy with toys, but I would recommend bringing a few things. If your kids are younger bring a few of their floor toys from home – MagnaTiles, blocks, etc. Or a little older – Legos, Barbies, Playmobile.
Things they can do on the floor in the RV or out on the picnic table.
Board games and card games.
Coloring book and markers.
If you have paddle boards or kayaks that you can fit somewhere, then bring them if you are planning to go anywhere with water. A lot of places also offer rentals so if you can't fit it you can probably find a rental place somewhere.
Boogie boards if you are heading to the beach as well as sand toys.
Pool toys – diving rings, goggles, etc.
Depending on where you are going you may want to bring your bikes with – if you can fit them into your setup. Or maybe scooters for the kids.
Food
In an RV you have pretty much a full kitchen, so you will want to decide how much you plan to cook and also the size of the RV fridge (they can be pretty small).
We have a skillet and a large pot and then a pizza pan and baking dish and that is about it for cooking items.
We do have a coffee maker, toaster and a blender that we bring with as well.
If you are planning a longer trip and don't want to have to buy bottled water you may want to consider buying a Berkey – we love our Berkey!
1 plate per person, 1 cup per person, 1 set of silverware per person. Coffee cups and wine glasses if you want those too!
Also if you rent an RV, they may have all of this stocked in the RV for you.
More on meal planning below!
RV Meal Planning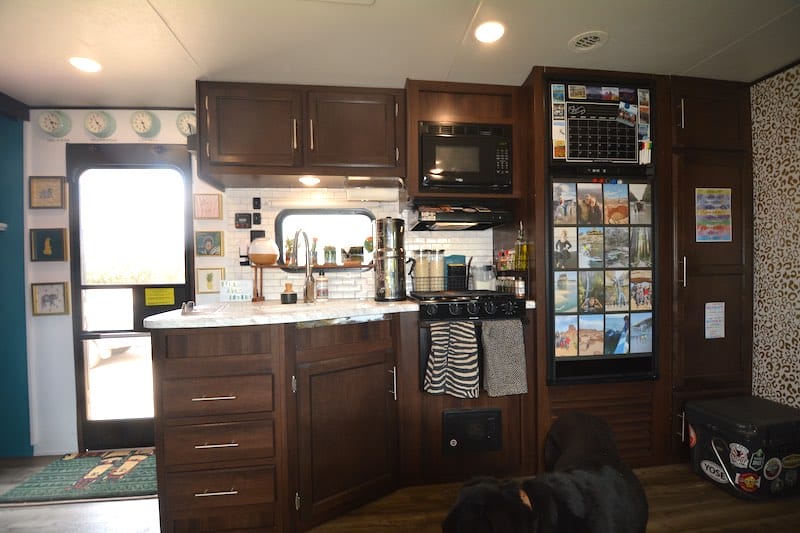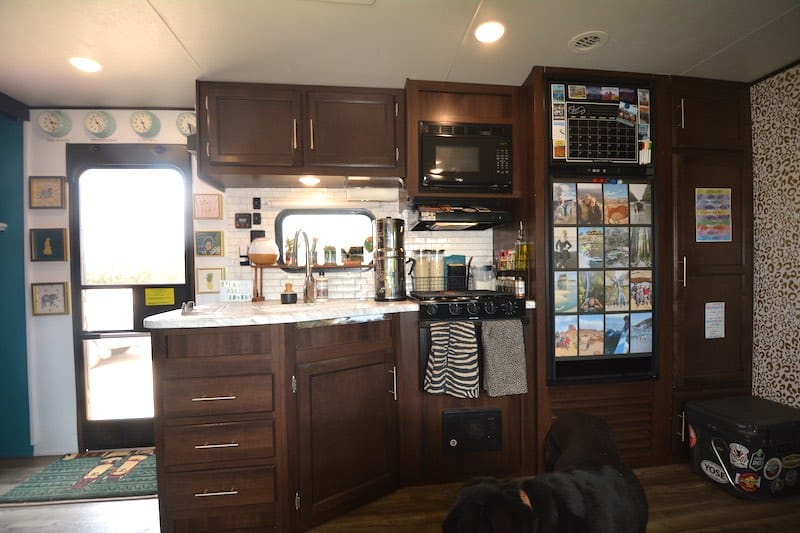 When you stay in an RV you have the option to cook similar to what you would do at home since you have a stove, microwave, etc. Or you have an option to do more campfire cooking. Living in our RV full time we don't do a lot of campfire camping, but instead use our RV kitchen a lot but focus on keeping the meals simplified since it is a small kitchen area.
Another thing to remember is you will probably be out exploring for a lot of the day so the last thing you will want to do is come back and spend a lot of time in the kitchen. Another reason to focus on easy meals!
Easy RV Meals:
Breakfast:
Cereal
Pancakes
Cinnamon Rolls
Eggs, bacon and hash browns
Lunch:
Grilled Cheese (check to make sure your RV has a skillet or bring one from home)
Buttered noodles and Parmesan Cheese
Peanut Butter and Jelly
Salads
Hummus and Veggies
Tortellini
Mac and Cheese
Dinner:
Tacos
Frozen Pizza
Spaghetti
Burgers
Nachos
With a propane stove you can cook things in there, but if you run the stove a long time it heats up the whole rig and if you aren't used to a propane oven, it does cook differently than a regular oven.
The above is basically our go to meals in our RV. Nice and simple with just a few ingredients!
Of course if you want, you can go all out with food, but I would just remember you will probably be out exploring and potentially going out to eat (there are lots of cool restaurants and breweries (most are family friendly!) around the country!) a lot so no reason to make food the focus.
An RV Road Trip is different than a camping weekend since you will be going with the intention to visit really cool places and not just to hang out – though hopefully you will have some of that time fit into your schedule too!
RV Apps
Here is a list of our top apps to help you on your RV Trip:
The Best Trip Planner Apps
Trip planning along with stopping points on your travels for gas or a break to stretch your legs. You can check out our post on 21 RV Apps That Are Super Helpful For Your RV Trip for more details. Below is a high-level list of RV trip planner apps, campground reviews and more.
The Dyrt

– a great way to find campground reviews.
RV Parky – a great way to put your whole trip together.
Hipcamp – unique and interesting RV stays that are usually off the beaten path.
Harvest Hosts – stay in a winery, brewery, farm, etc overnight!
Campendium – great for finding places to boondock.
RV Trip Wizard – great as an RV road trip planner tool.
Mountain Directory – helpful when you are going to be driving through mountains.
Passport America – a way to find discounted stays.
Roadtrippers – great for adding roadside attractions to your trip plan.
Weather Apps for Planning Travels
Apps for Finding Activities
Perfect Apps to Use While Driving
Great Apps for in the Campground
What You Need To Know How To Do
Hookup/UnHook
This can be very different depending on the rig that you have. If you are renting an RV be sure to have the owner walk you through step by step how to do this and make sure you give it a go yourself while they are there to make sure you got it!
You may even want to take your phone out and video the owner or yourself going through the process – verbally walking you through it. Hooking up will get way easier the more you do it but can be stressful the first few times.
You can also YouTube this if you forget once you get to your campsite – but remember internet service isn't always the best at RV Parks so you may want to download the video so you have it.
Empty Your Tanks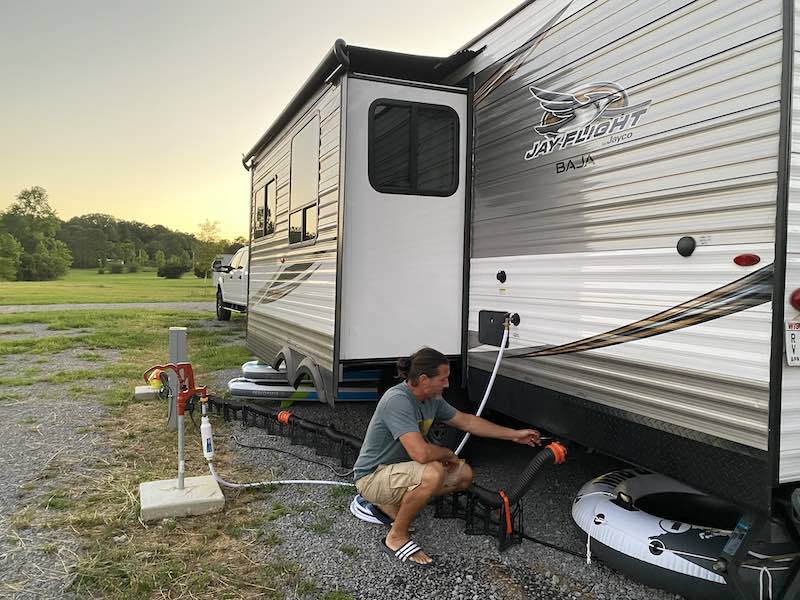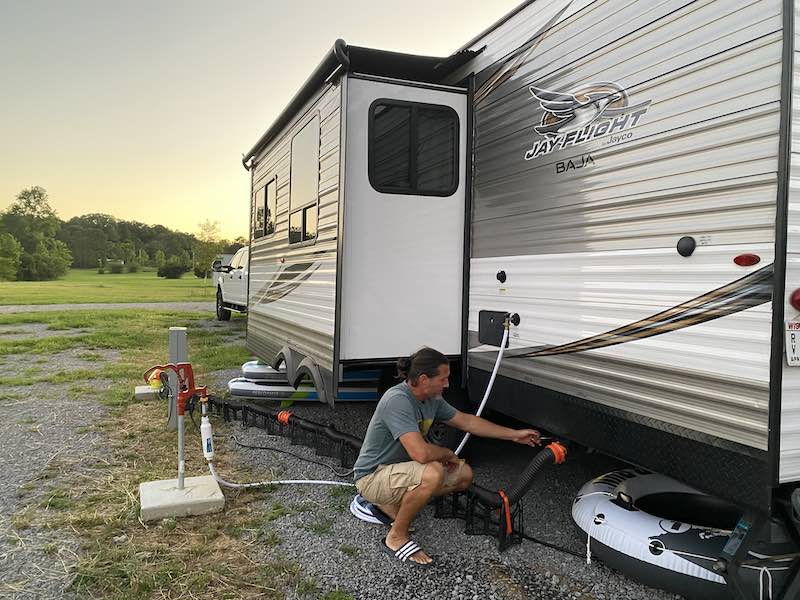 Same as above – make sure to have the RV owner walk you through this. It isn't that hard but can be confusing the first few times.
Tip: Leave your gray tank open to just run into the sewer hook-up. Your gray tank will fill up way faster then your black tank. Keep an eye on how full your black tank is using the level indicator. When the black tank is getting full, then close the gray tank valve to accumulate some grey water in the tank.
When the black is full, empty that tank first until it is fully empty, close the black tank valve, then dump the gray tank. Having a full back tank before you dump sounds gross, but the force and suction that comes into play makes sure the tank gets empty. Also dumping the gray right afterwards will flush the sewer hose of any residual black tank mess out of the hose.
Parking The Rig
How to park the rig will depend on what type of rig you end up with. But no matter what, it is good to have someone get out and stand behind the rig to help you back in and make sure you don't hit anything.
You want to check up top to make sure there are no low hanging branches or anything else that could puncture the roof or damage the a/c unit.
Then make sure the sides are clear and you have ample room to back in.
Then check toward the back to see what is at the back of the site and that you'll fit properly in the site.
The person in the back walking should jump back and forth from each side of the rig as you are backing up to make sure it is all good on both sides. Also there is a chance that the person driving will be able to clearly see one side but not the other. So it is important to have walkie talkies – IF there won't be cell service where you are. Or to call each other on your phones while you are back up.
The #1 tip is to take it slow! Take your time – check all around you multiple times – and just take it slow. You got this!
Level Your Rig
Once you are in the spot you will need to level the rig. Some rigs come with automatic levelers while others you do manually. If it all possible while you are backing in check how level you are – BEFORE unhooking. Sometimes if we just drive up a couple feet or move over a couple feet the rig is level and it makes it easier.
Other times we need to put levelers down to get it to be level.
Turn On Your Water Heater
This seems simple enough and it is! You just have to remember to do it. If you don't turn the water heater on you won't have hot water. If you want to take a shower and it hasn't been on it will take a good 15 minutes to heat up the water. Some RV's have either a gas option or an electric option (or some have both) to heat water. If you are plugged in to the campground, I recommend using the electric option so you'll save on propane.
Light Your Oven
I am surprised they have not figured out an easier way to light an RV oven . . . but it is what it is. You will need a long lighter for this (the kind you would use to light a grill). What you need to do is bend down and turn the oven knob to the pilot setting and hold it down.
Then you stick the lighter in the oven under the rack toward the back there is a little pilot spot that primes the gas line for the oven. Light this while continuing to hold the knob down for about 20-30 seconds. After that, turn the knob to the temperature you want the oven set at. You will know it lights since the whole line where the propane comes out lights up.
Let it preheat for a bit and you are good to go! Remember though most RV ovens are small and you can fit a 9″ x 13″ pan in them IF the pan doesn't have any handles on the side or very small ones.
You can fit a frozen pizza in it, but would be better if you have a round pizza pan to cook it on. The RV oven can take a few tries to cook things the way you want to. So be ready for that.
Turn On Your Generator
If there is an onboard generator, this should be easy enough. Just ask the owner when you pick up the RV how to do this. Most have a button in the RV near the control panel you hold down until the generator fires up. Once on, your RV will have power to the 120v system.
RV Toilets
RV Toilets . . . a love hate relationship. So great to have, but definitely not a house toilet! This means you have to be careful with how much toilet paper goes down the toilet and you have to make sure to only use septic safe toilet paper. It's also very important to have enough water in the bowl before flushing solids. RV toilets don't have a tank like household toilets do, so you have to hold the foot pedal down a few seconds to let water fill in the toilet.
Scotts brand septic safe is sold at Walmarts and most grocery stores. If you can't find septic safe you will want to bring a garbage can to throw all used toilet paper into – you WON'T want to put non septic down the toilet – trust us!
RV Awning
RV awnings are amazing to have and you will want to use it. BUT you can't just open it and leave it out. Wind can damage awnings faster than you can imagine.
If you plan to sit out under the awning put it out! But if you leave or go inside to hang out then put it in every single time.
Internet
For whatever reason internet and campgrounds just don't mix . . . either the signal doesn't work there or they have wifi – that would work for like 10 people, but not 100 people . . .
For this reason either count on it not working or bring your own hotspot from home. You may also want to check with the campground when you book to find out if your cell/internet provider works at the campground.
Garbage
If you stay at a fancy RV park they will come around and pick up your garbage. The rest of the places you will need to walk it to the dumpster yourself. Just like with tent camping, don't leave garbage bags outside or the animals will get into it.
Packing Up To Leave
When it is time to go home or move on to your next location be sure you clear off the counters – the sink works great as a place to put things that are on the counter. Make sure there isn't anything else sitting out that will fall. You'll be traveling down the road and hitting all the bumps along the way so things have a tendency to fall.
Do a double check to make sure all ceiling vents are closed, windows are closed, the stove is closed, cupboards closed, toilet seat closed, and fridge is closed (and clicked shut).
Driving Tips
If you have never drive, a big vehicle you are going to want to be prepared. Write down the height of the RV and put it on a sticky note near the steering wheel. That way when you approach a bridge you will know you are all good!
Before going you can check the route via an app like RV Trip Wizard (a great RV route planner tool). You can even mark off where you will stop for gas. If you have a larger rig this will be more important.
Google Maps is not the best option if you have a larger rig . . . we once followed Google maps which gave us the shortest route BUT it was also on a winding road with a bridge that couldn't hold the weight of our rig . . . the shorter way isn't always the best way!
Research the route and stick to main roads as much as possible. You can also look into getting an RV GPS for your tow vehicle or rig (we used the Good Sam one for a while).
Getting Gas
If you have a smaller trailer (30 feet or less) or class B or class C you should be fine going to regular gas stations. With a fifth wheel or motorhome you may want to stop at truck stops.
Tolls
Tolls will cost more if you have more axles. You will just stop at the pay station to pay and they will let you know how much.
Check out our post: RV Checklist To Make Your Trip A Success
Estimated Costs For Your Trip
Like with everything this can vary so much based on what you are going to do.
If you plan to visit National Parks you will want to get the National Park Pass – which will save you a ton of money! The pass also gets you into the National Seashore, National Forest, National Monuments, all of the things that fall under the National Parks umbrella.
If you are in a state where you will be visiting a lot of state parks you may want to look into their state park pass.
Campground fees can vary based on where you stay anywhere from $25 a night to over $100 a night. Based on your budget you can figure out what type of campgrounds you want to stay at.
The campgrounds in the National Park/State Parks are usually pretty inexpensive but they don't always have full hookups. . .
Places like KOA tend to be more expensive, but are also nice with cement pads, full hookups, nice bathrooms and laundry rooms. So if you are looking for the RVing part to be easy and cost doesn't matter KOA's would be a smart choice.
You can buy a KOA discount card that will get you 10% off each of your stays.
When you visit a National Park they do offer excursions you can do. We normally don't pay for these but instead just do all the free things – like hiking and the visitor centers. But if you want to add more to your trip you can look into all of these excursions – things like horseback riding, rafting trips, wildlife tours, etc.
Whenever we have done these they have been really cool! So if your budget allows then go for it!
Eating costs will all depend on how much you want to eat out. If you are looking to save money not eating out is the easiest way to do it when you are in an RV – since you have a full kitchen.
If you are looking for this to be more like a typical vacation you will probably go out to eat a lot, visit attractions, etc. So it could cost very similar to what a "normal" vacation costs. If you are looking to have a less expensive vacation you can make it that way you just have to be intentional about it.
More RV Content
How To Tour Europe In A Motorhome
RV Living – 68 Things You Will Want To Know [Free eBook]
Keystone Montana – 7 Owners Share What They Love About It
Why Having An RV Surge Protector Is An Absolute Must!
Why A Slide Topper Is An Amazing Accessory For Your RV
2 Week Complete RV Remodel For Under $2000 [Video Included]
The Best Trailer Hitch On The Market – ProPride 3P
Pin This Post For Later: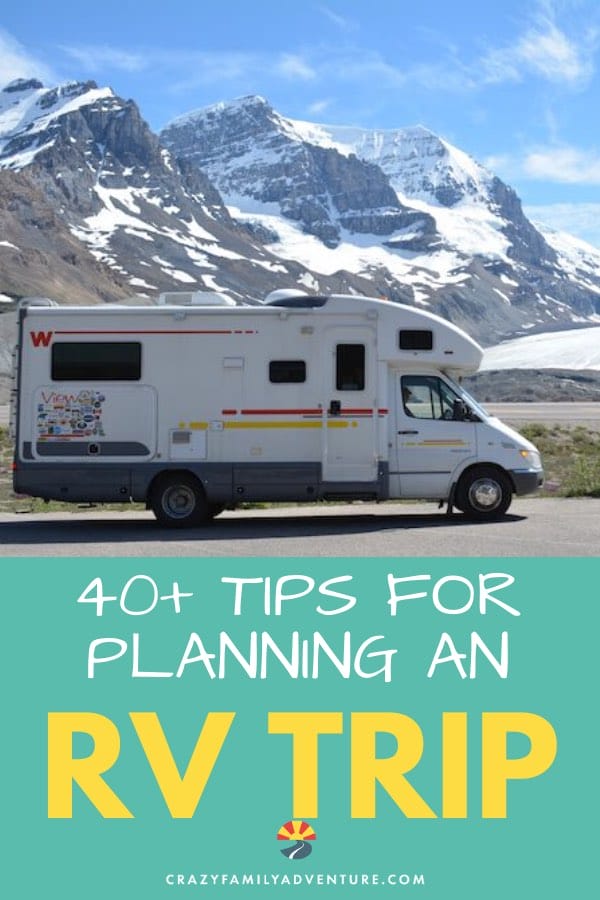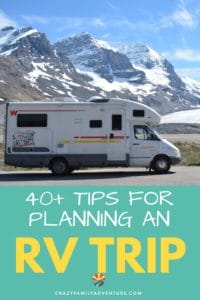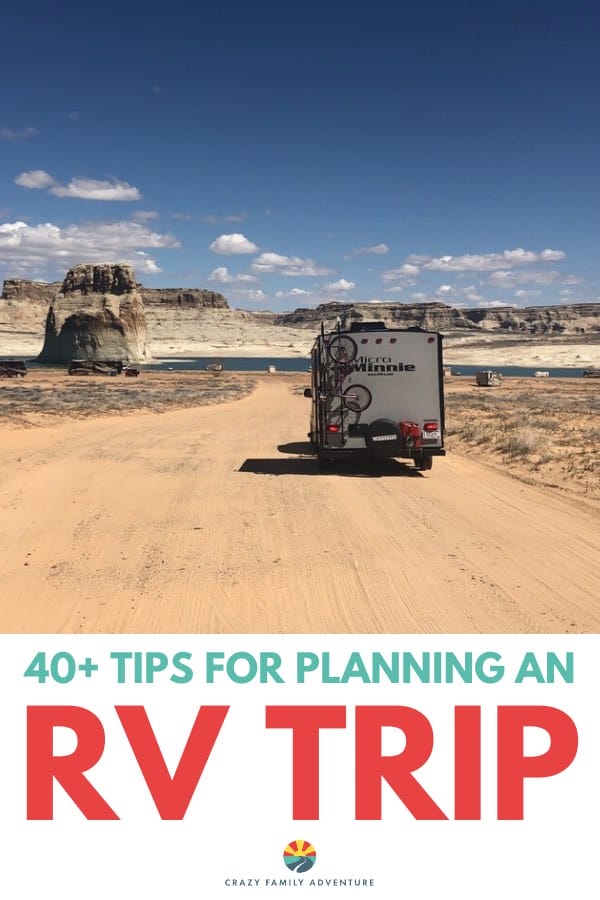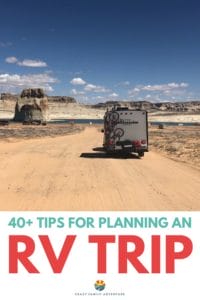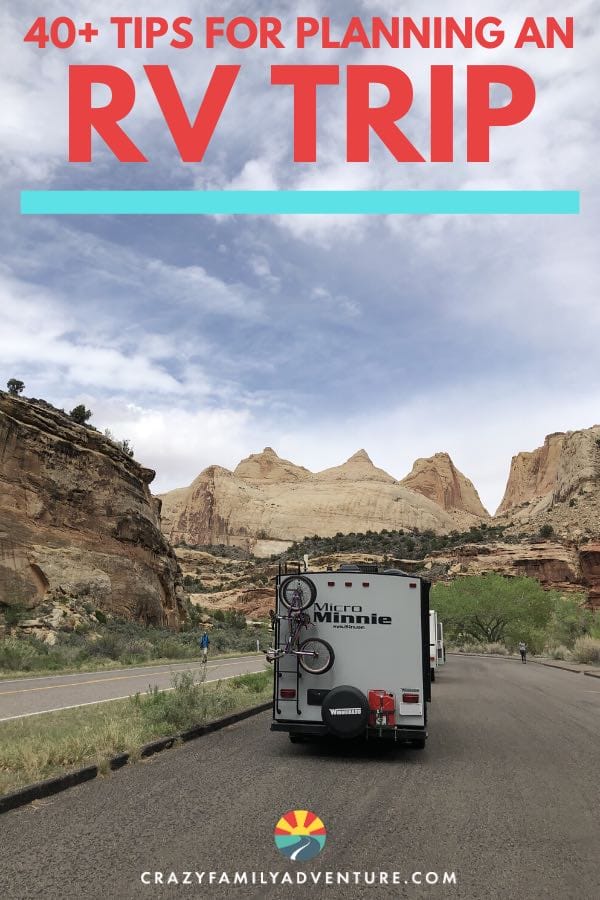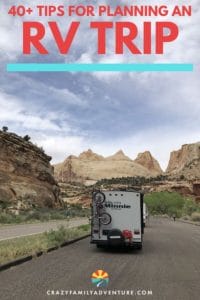 DISCLOSURE: This post may contain affiliate links, meaning I get a commission if you decide to make a purchase through my links, at no cost to you. Please read my disclosure for more info.