We spent over a month driving around the state of Oregon and fell in love with the coast! Here is our recommended Oregon coast road trip. You can take this trip in an RV and stop at some of the great Oregon Coast campgrounds or by staying in hotels or airbnb's.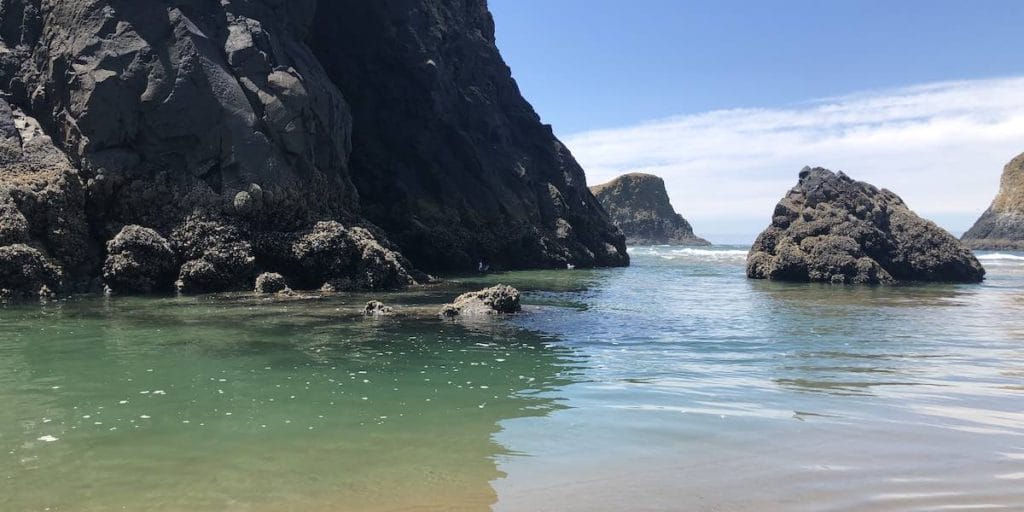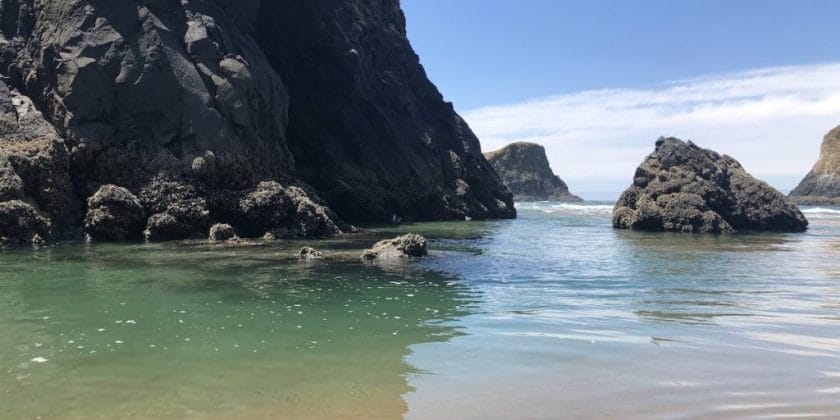 Under each section we recommend things to do along with where to stay. We hope this Oregon coast road trip itinerary will help you plan an awesome trip! If you have more time be sure to add Portland, one of our favorite cities, to your list of places to stop in Oregon.
Here is a map of the trip:
Southern Oregon Coast
Humbug Mountain State Park
We started our time in Oregon by visiting the Humbug Mountain State Park. It is a beautiful state park where you can walk right out to the beach. You can also hike to the top of the mountain for beautiful views! When we were here we stayed at the campground/RV Park.
Coquille Point
This is a great place to come to take in the rugged beauty of the Oregon coast along with seeing coastal birds. It can be a short stop to take a look from the viewpoint or a longer stop where you walk down to the beach – just be aware of signs for sneaker waves – these are no joke so don't mess with it!
And be aware it can be very cold here with a strong breeze even in the summer. This is a great stop on your way to Bandon, OR.
Bandon
Bandon is a small Oregon coastal town. With fun places to eat and shops to check out. We recommend checking out the following:
Tony's Crab Shack – A great place to come to try clam chowder!
Cranberry Sweets And More – Lots of samples out of a variety of sweets!
Face Rock Creamery – this is the place to come for ice cream (huge servings) and they have cheese samples!
Henry The Fish – A cool art feature to check out in town.
Jerry's Rogue Jets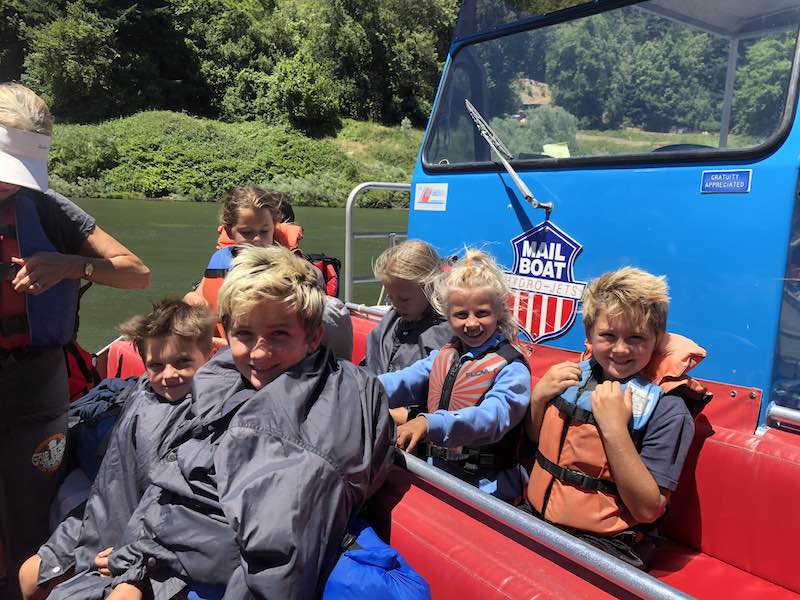 We went back and forth on if we should spend the money to do this and if the kids would enjoy it. We are so glad we went! It was enjoyable for the kids and adults.
You go out on a big speed boat – I believe it can seat 60. And then have a guided tour down the Rogue River where you are looking for wildlife – we saw a few things – and taking in the beautiful scenery. While your driver randomly stops and does a donut with the boat in the middle of the river!
You stop for lunch on the trip (not included) – but there is a restaurant where you can order your food or it may be a buffer. It varies so ask when you book.
Then get back on the boat to head out to the rapids! This is only if you are on the longer trips. It is totally worth it! It was a lot of fun to go over the rapids in a speed boat! Get your tickets here.
Where To Stay
A nice state park campground where you can watch to the beach. The sites were a good size and we had a nice birthday party at one of them one night. So plenty of room to spread out and hangout. Only water and electric hookups.
Other options: Oceanside RV Park in Gold Beach with 50 full hookup sites and 2 yurts. Cypress Hills RV Campground in Langlois, only about 2.5 miles from the ocean.
Located right in the middle of the attractions we mentioned above for Southern Oregon. There are other places to stay by Jerry's Rogue Jet boat tour and up in Bandon. But if you want a central location to do all of these things this is it.
Located in Port Orford – in the middle of the attractions mentioned above. Ocean views, near beach access.
Mid Oregon Coast
Oregon is an awesome family vacation destination! There are so many fun things to do.
Florence
Florence, Oregon has a cool small town feel and some good restaurants and ice cream shops to visit. It is an awesome Oregon coast town!
What we really love here is the sand dunes!
Play At The Sand Dunes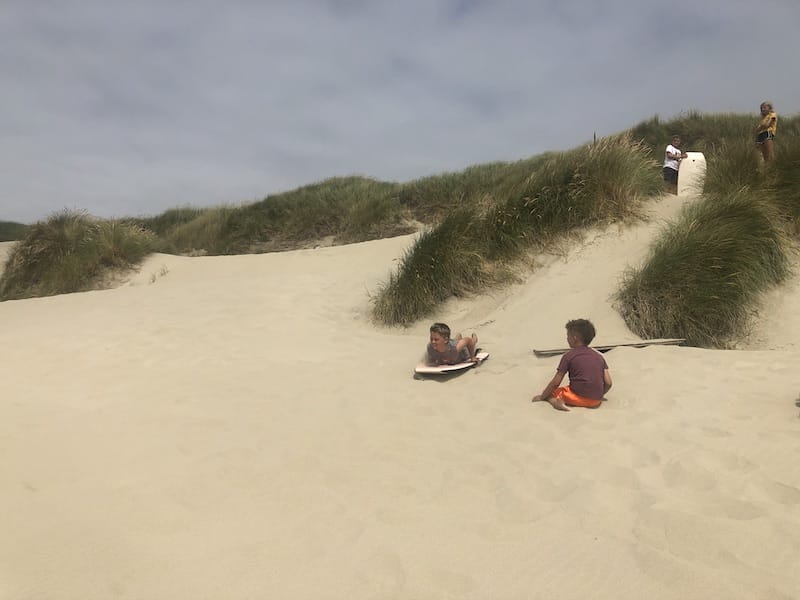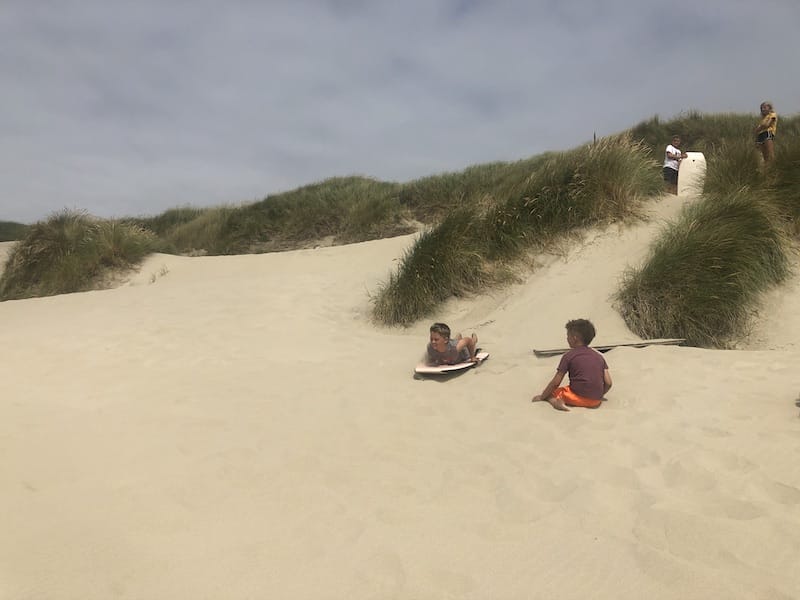 You can head out to the sand dunes with a boogie board or a sled and do some sand riding. Or just head to the beach to enjoy the beach! We visited at South Jetty and we did need to put our National Park pass on our windshield – or else pay a day use fee. Learn more here: Oregon Dunes National Recreation Area
Rent ATV's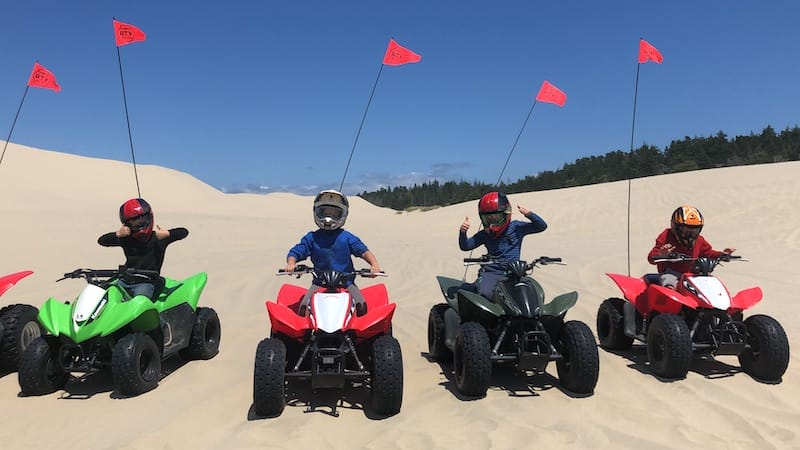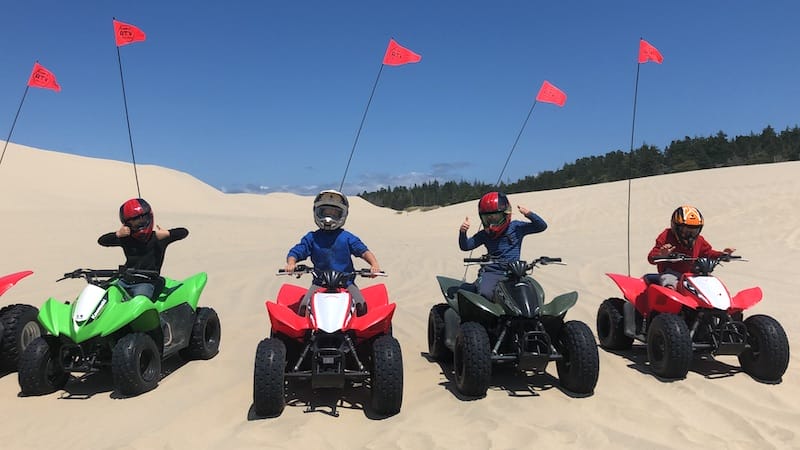 If you have a need for speed then plan a trip to go ATVing in the sand dunes! We had a blast! Most of the kids – as young as 7 – got their own 4-wheeler to drive and they did great. Some of the adults got the larger side by side vehicles and drove around in those. Whatever people picked it was a fun day and an awesome way to explore the sand dunes. When we were done the kids didn't want to stop!
You rent them and can drive them straight out to the dunes which was really nice.
We rented from Torex ATV Rentals.
Another option: Sea Lion Caves. We have not done this but it is always recommend in the area.
Yahacts
Yahacts, Oregon is another cool ocean front Oregon coast town. Are you noticing a theme here in Oregon?! So many cool ocean towns. You can walk around the town, check out the shops, restaurants and ice cream places.
Thor's Well
It is awesome to see the ocean through Thor's Well but be EXTRA careful. With kids it makes sense to just view it from the above viewpoint. Actually let me rephrase that. For anyone it makes sense to see if from the viewpoint!
The water is unpredictable and strong and people have died trying to get to close.
If you are at the viewpoint you can also look to the left and view some blow holes with water spouting up 20+ feet in the air! The ocean is such a magical and strong body of water and this is a great way to see it in action.
Tide Pools – to right of Thors well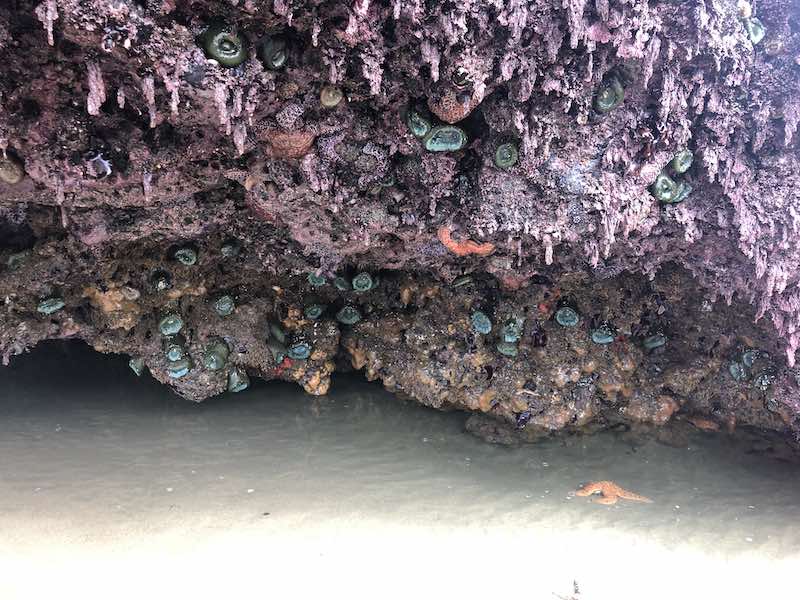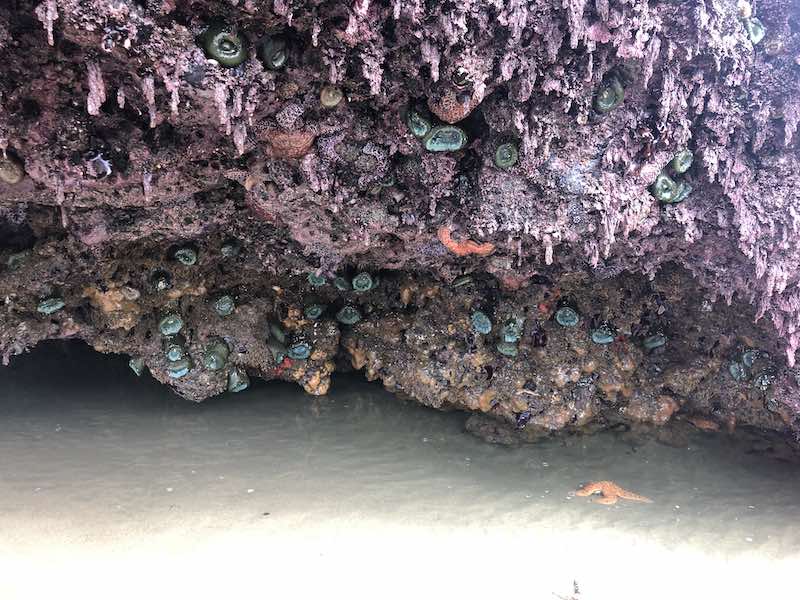 If you go down on the rocks by Thors well – staying far away from the Ocean you can walk carefully on the rocks to the far right (if you are facing Thors Well or the Ocean it is to your right) at LOW Tide. ONLY at low tide. And see some amazing tide pools!
Cape Perpetua Visitor Center
You can walk to here on a trail from the beach/tide pool area. You can access the tide pools from here too and is easier then going the Thor's Well route.
When we were there they had a ranger out talking about the ocean and surrounding areas. Along with a beautiful viewpoint to look out on.
Learn more: Cape Perpetua Visitor Center
Hobbit Beach Trail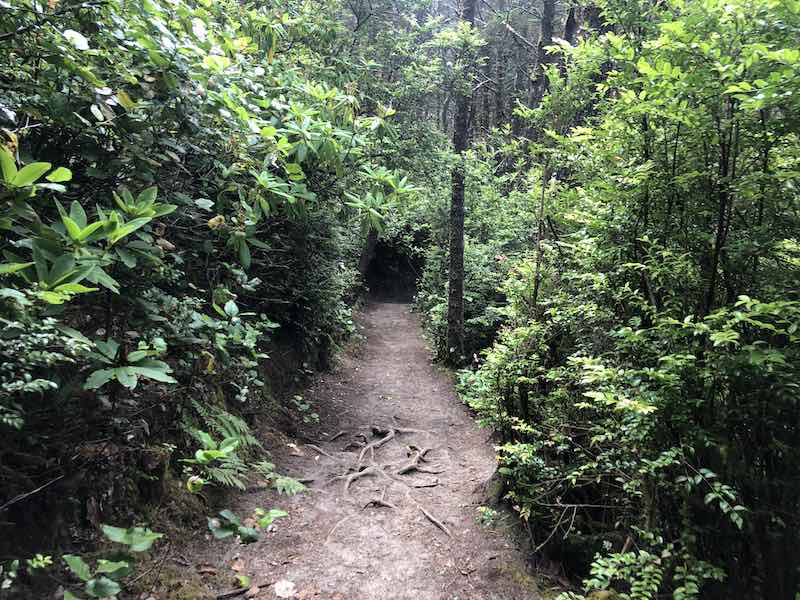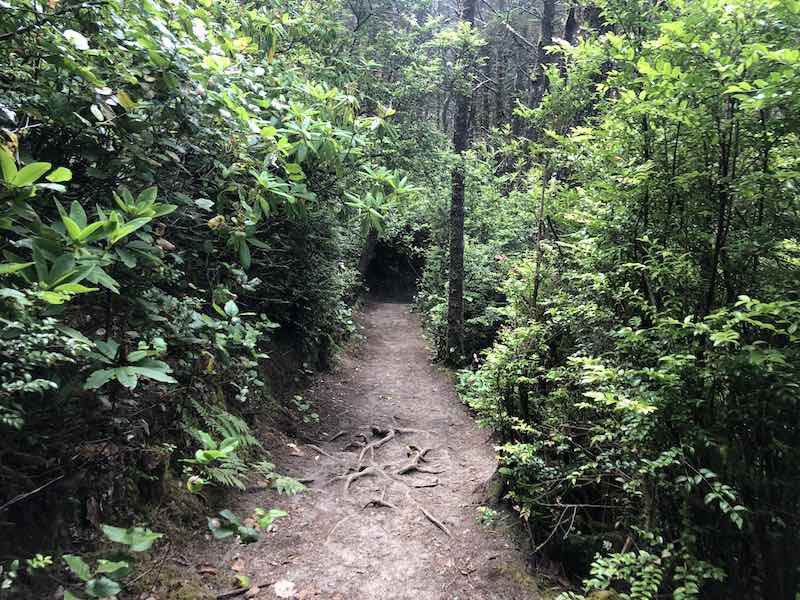 A fun trail to go hiking on to an awesome beach is the Hobbit Beach Trail. It is called the Hobbit trail since there are some hidden "hobbit" routes you can go. It wasn't quite as cool as it sounds. But it was a cool hike and we loved the beach it takes you to.
The kids spent a lot of time playing a game they made up with Ogres and building forts out of driftwood. I think they would have stayed all day but the adults wanted to get to the brewery!
Yahacts Brewery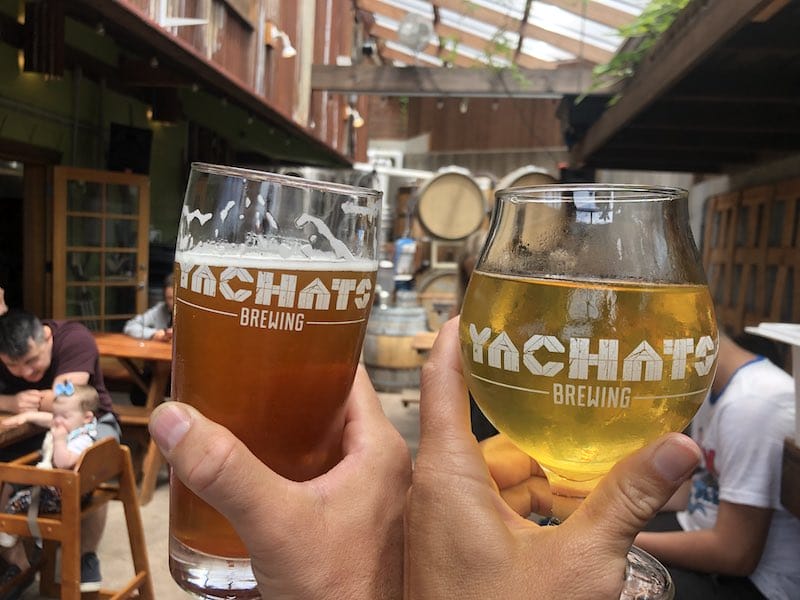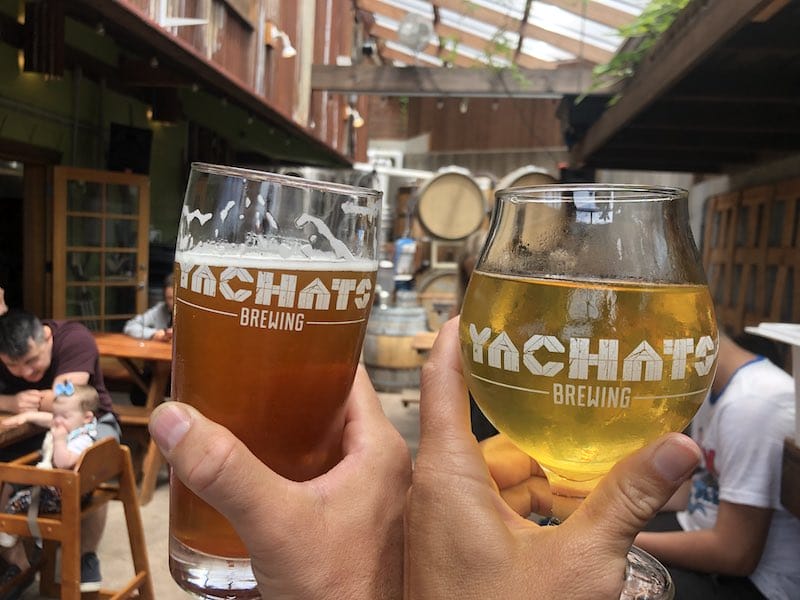 This is my sisters favorite Brewery in the US. And we really like it too. The beer is good (like it is most places in the PNW) but the food is what we really like! They have very unique and different options on their menu.
It is a smaller brewery so be prepared to wait for a table on a busy day. There is some outside seating as well.
Newport
Newport is you guessed it – another cool coastal town! It had a little bit of a different vibe since it is a working fishing town. It is also a great place to go crabbing and they have the Oregon Coast Aquarium here.
There are a few places in town that you can rent crabbing gear. However when we were going to go it had gotten later in the day and they were closing soon so we just opted to buy our own gear.
It ended up only being $25 for the crabbing net. Then we walked down the street to the ice cream store and asked for an old bucket – that they gave us for 50 cents, then bought chicken from the same store we bought the crabbing gear and a crabbing license we were ready to go! They also gave us a crab measuring tool and told us the laws around what you can keep.
We headed down to one of the piers and luckily their were some nice locals who showed us the ropes on how to do this crabbing thing!
We only ended up catching a few but it was a fun experience and definitely worth the $25 bucks. Plus we ended up using the crab net at a few more places on the coast.
Another location that we did not experience was Lincoln City. But was recommended. It is a bit of a drive between locations so you may want to stop in to check it out as you go from Florence to Seaside along highway 101. There is also Coos Bay which is south of Florence. What did we tell you?! So much to do on the Oregon coast!
Where To Stay
RV Park: South Jetty RV and Camping Resort
This campground is part of Thousand Trails. We really enjoyed the location of the campground and that almost all of the sites are located back in the woods/forest. If you can drive around and find a larger site – they do have them! But it can be really busy in the summer so plan to get there right at checkin (if not a few minutes before!).
Other options: Oceanside RV Resort & Campground in Coos Bay on a pet-friendly beach.
Looking out over the Ocean – the views are amazing! Plus all rooms are oceanfront and breakfast is included.
VRBO: Located in Yachats
There are some really cute rentals located right in downtown Yachats so you can walk to the brewery and stores. There are others with amazing ocean views closer to the coast. Click here to book Have It All now.
Northern Oregon Coast
Tillamook
We actually did not make it to Tillamook and I was disappointed. As we really like their cheese and ice cream. But I had to add it since I know everyone recommends it!
I believe you get ice cream and cheese samples when you visit the Tillamook Cheese Factory. Here is a great post on a family that did go there.
Seaside
Seaside, Oregon is a larger coastal town with great restaurant options and fun activities to do. Our favorite thing to do here was have a beach bonfire!
You can bring your own firewood and find a safe place on the beach (away from the dunes and grass) to build a fire. It is great since the Oregon beaches can be chilly so it is nice to have a fire and enjoy the beach.
Indian Beach – Tide Pools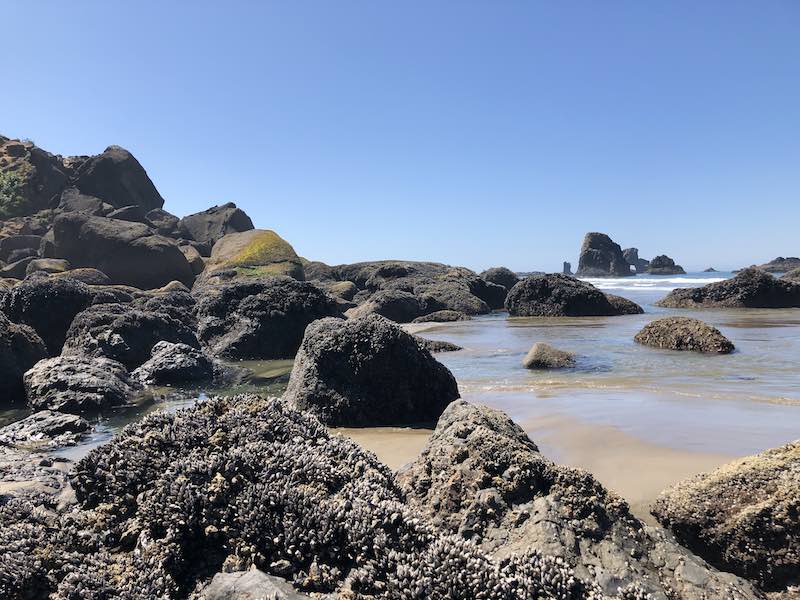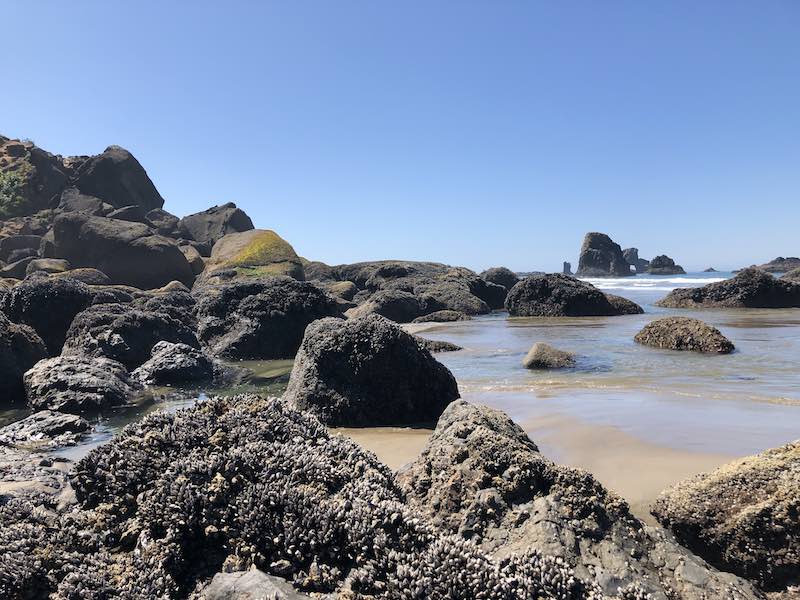 Indian Beach is a great place to visit to see more awesome tide pools. Of course you will want to be sure to check the tide schedule and come at low tide so you can see the most. And be aware the tide can move in quickly so don't leave your shoes sitting on the sand when you go to explore!
Ecola Viewpoint and Ecola State Park and Crescent Beach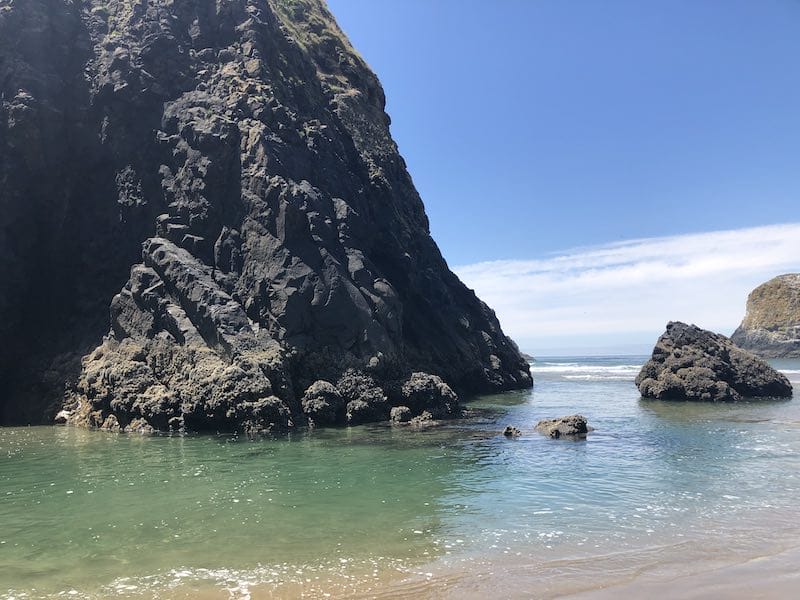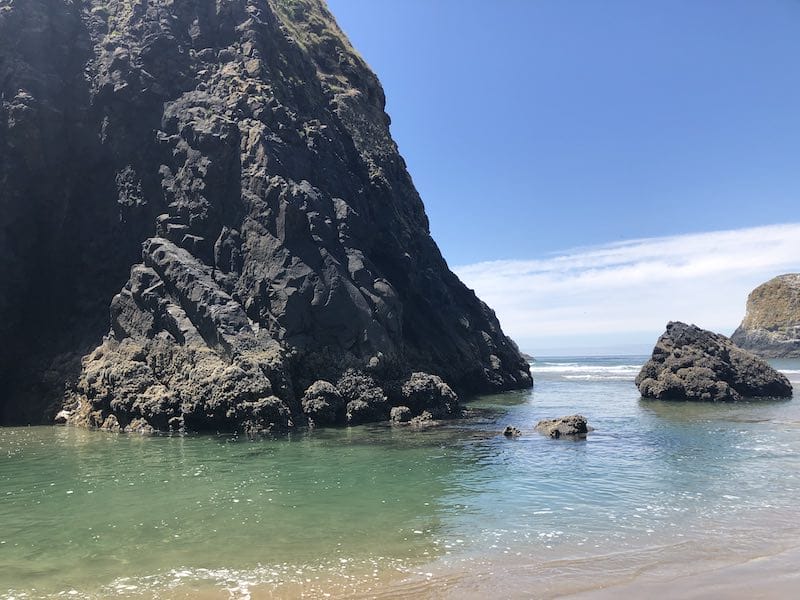 Ecola viewpoint is a beautiful place to take in the Oregon coast plus it is listed as one of the top Oregon photography locations. It also has some awesome hiking trails that you can take down to the gorgeous Crescent Beach (the trail is called the Crescent Beach Trail). This beach is on the other side of the famous haystack beach. The rock formations around this area are beautiful and we really enjoyed walking up and down the beach taking in the beauty of the Pacific Ocean and all the cool rock formations.
The color of the water was unreal and I love how the forest meets the beach. So many beautiful colors!
If you are here during Winter or Spring you can also do whale watching from here!
Cannon Beach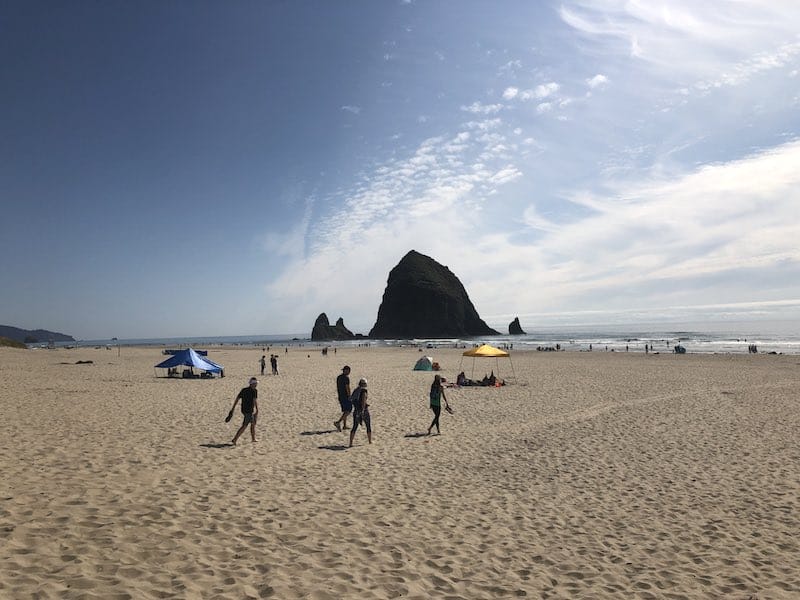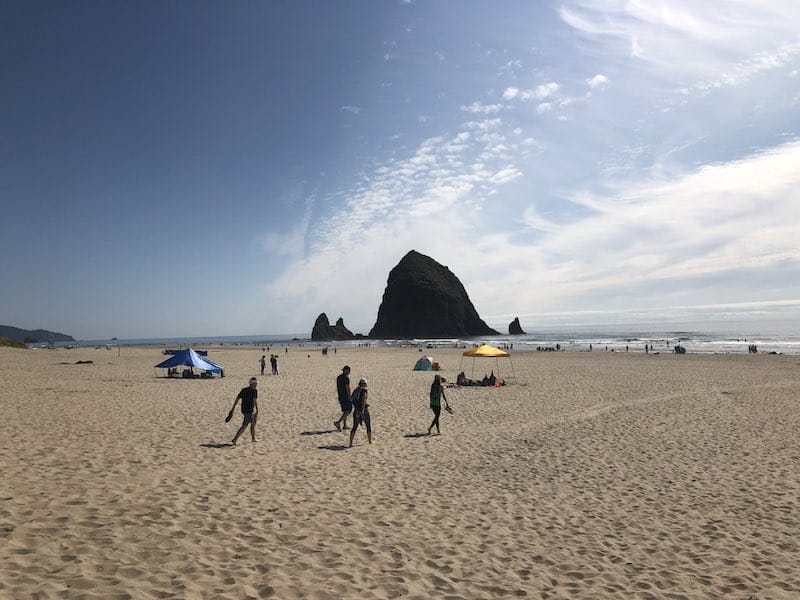 Cannon Beach is another fun town with a couple breweries, restaurants, ice cream shops and of course one of the most famous sea stacks in Oregon: Haystack Rock. I would love to rent a house on Cannon Beach and stay there for a week! Cannon beach is often referred to as one of the best places to visit in Oregon.
We would recommend both of the breweries in Cannon Beach: Pelican Brewing and Public Coast Brewing.
Astoria
Famous for the Goonies movie we knew we wanted to check out this town! Unfortunately it isn't easy to see the Goonies House and they actually have it blocked off so you can't drive by it. But you can park up the road and get out and look at it.
We were pleasantly surprised that there were some other cool things to do in the town too!
Pier 39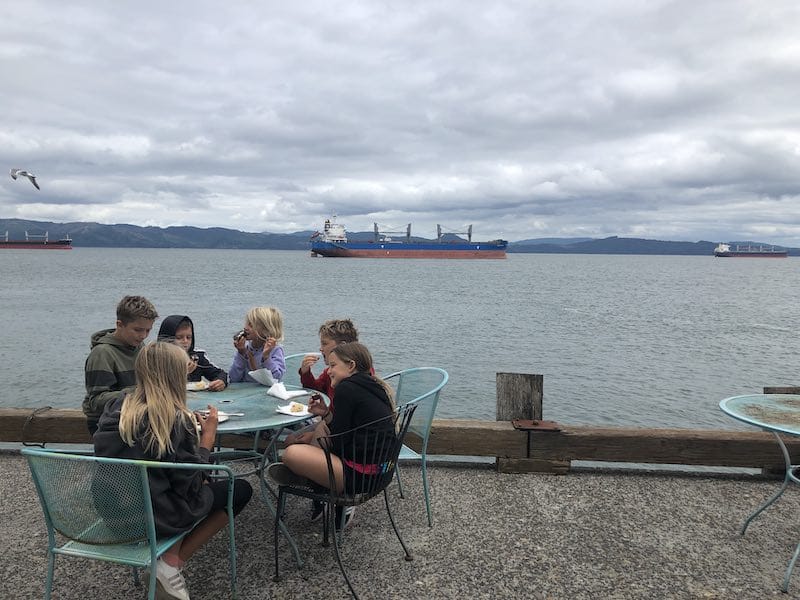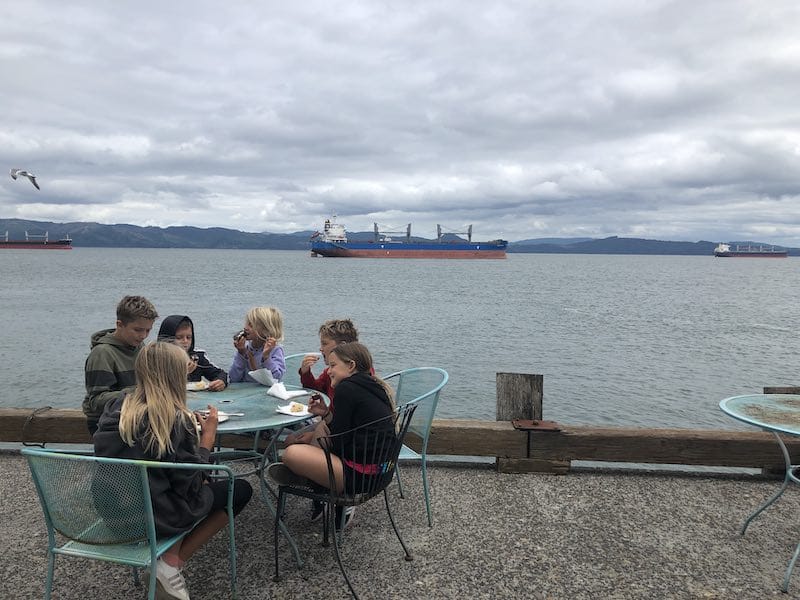 This was a random stop – that you could skip. But if you want to spend some time near the water you can head to the coffee shop here and sit out next to the water. But be aware the service takes a long time.
Goonies House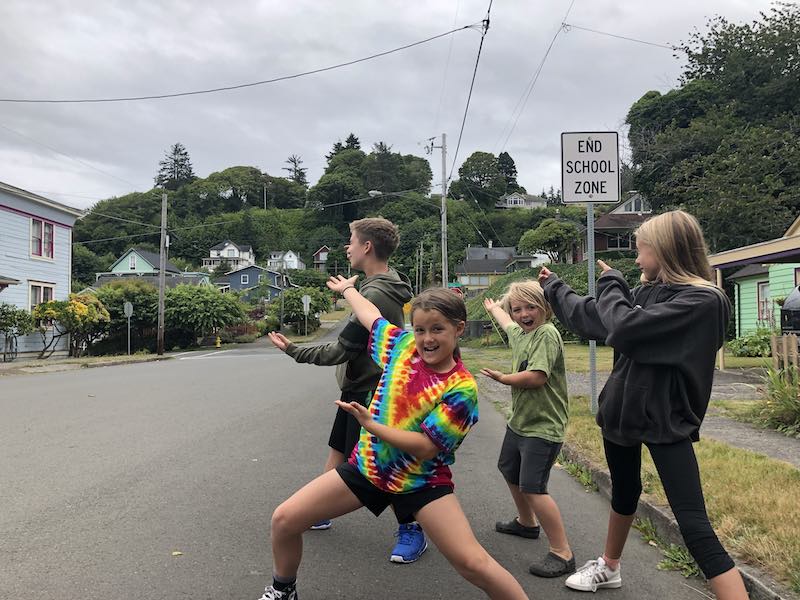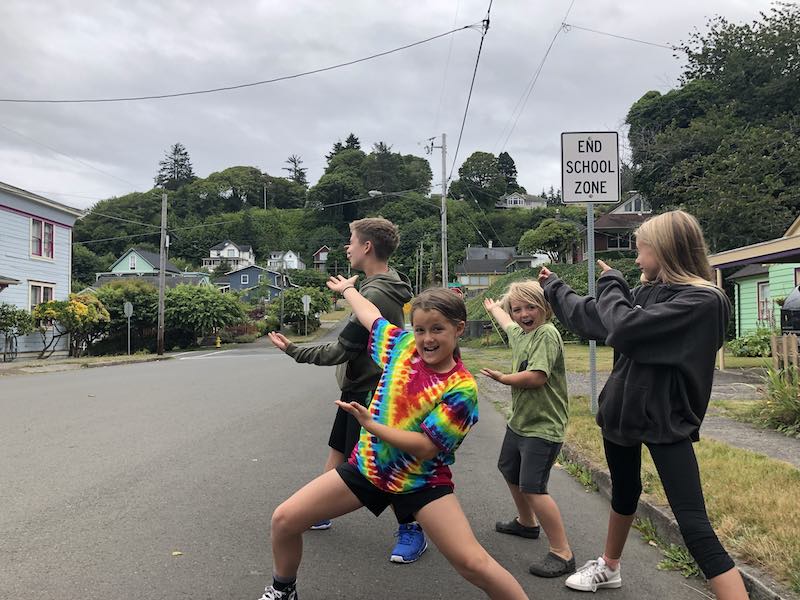 Like mentioned above – you can park up the street from it and check out the house. You can also find maps online with different locations that you can go to from the movie.
Riverwalk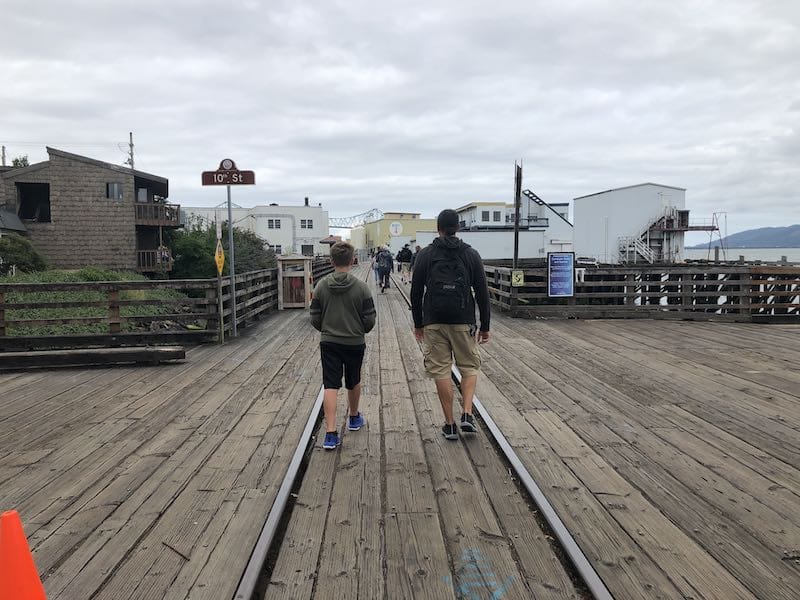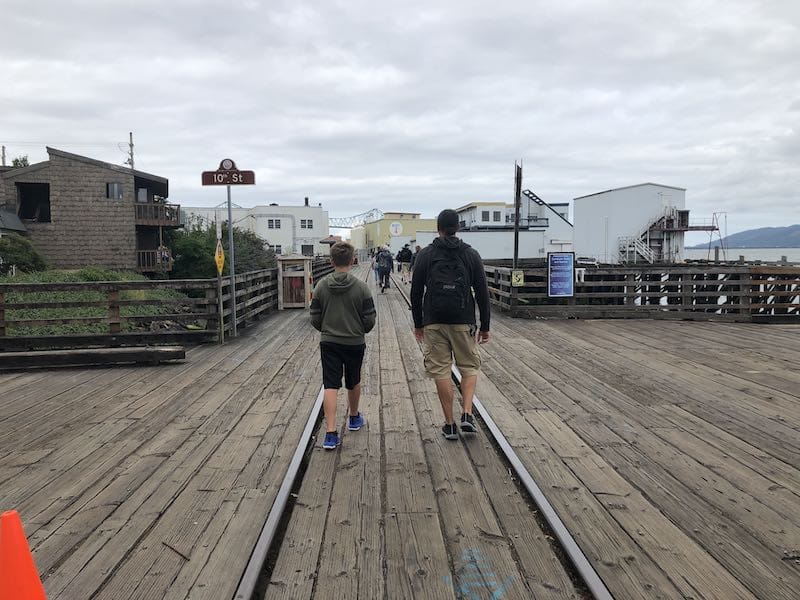 Astoria has a nice small riverwalk where you can walk on the pier along the water.
Buoys Beer Company
Located right on the water – we stopped here for a drink and they did have outdoor seating where you can sit out by the water. Just be aware for the pelicans which we saw almost poop right on someone's head that was waiting for their beer outside!
Astoria Brewing Company
We ended up eating dinner at this Brewery and it was delicious. They also had a cool Goonies souvenir area too.
Fort Stevens State Park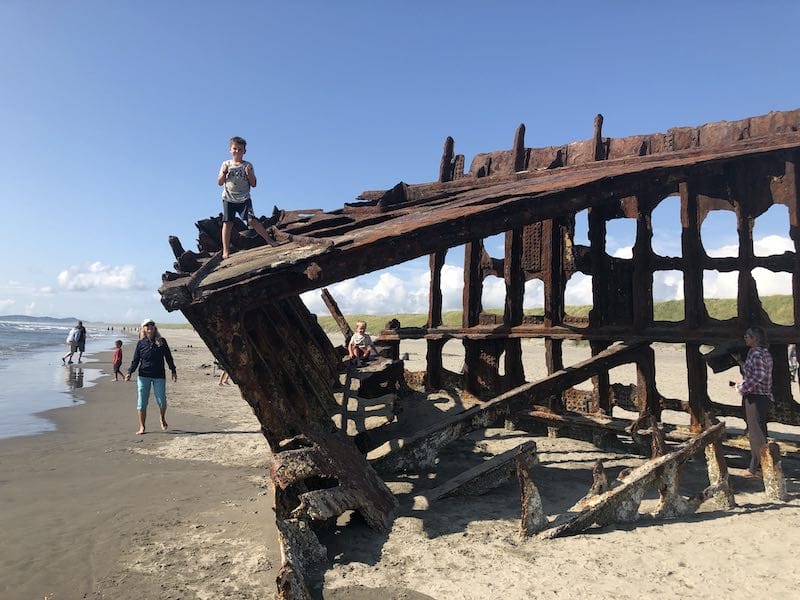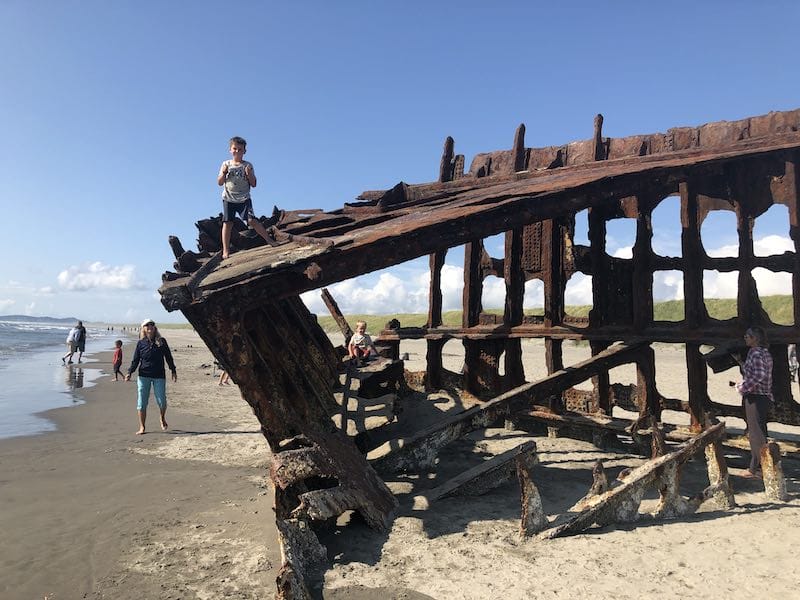 Fort Steves State Park has a nice beach area and we have heard the campground is amazing and would like to check this out in the future.
We went and hung out at the beach and explored the Shipwreck on the beach that the kids could actually climb on.
Where To Stay
RV Park: Seaside RV Park
This is another Thousand Trails RV Park – seeing a trend here :). We have a membership so we can stay for cheap! But the park itself was nice enough and the location was great! We actually walked into Seaside from the RV Park which was really nice.
Hotel: Rivertide Suites Hotel
Located right in downtown Seaside – it is perfect for exploring Seaside and the surrounding area. You may also opt to stay in Cannon Beach which had some great hotel options too. Click here to book Rivertide Suites Hotel.
A cottage with a short walk to the beach, restaurants and activities!
The Oregon Coast is a magical place and filled with so many cool little towns, beaches, restaurants and breweries. It is well worth it to plan a family trip out to the Oregon coast!
Good time to Go
We went in July and the weather was great! Take note this is the Pacific Northwest so nights are cold and the days can be too. Plus on the coast it can be really windy. Yes it is the beach but this isn't a Florida beach!
Safety
The coast has sneaker waves. These are NO joke so obey the signs and at some places just stay off the beach (you will see the signs). Here is an article that talks more about them: https://www.oregonlive.com/pacific-northwest-news/2019/03/sneaker-waves-on-the-oregon-coast-5-things-you-need-to-know-to-stay-safe.html.
Here are a few more tips on Oregon safety: https://www.outdoorproject.com/articles/safety-oregon-coast-sneaker-waves-cliffs-more
Don't let this stop you from going. The coast has a rough and rugged beauty to it that you won't want to miss. Plus there are lots of places where the water is calmer and you can relax on the beach. As for swimming – don't plan to do much swimming in the Ocean in Oregon in most locations.
If you want to keep exploring Oregon we highly recommend visiting the Painted Hills of Oregon! Oregon is an awesome state and a place we want to come back to over and over again!
More on Oregon and California
4 Best Amusement Parks in Oregon To Visit
23 Fun Things To Do In Bend Oregon [Plus where to stay]
21 Best Oregon Waterfalls You Will Want To Visit
Your Guide To The Best Places For Oregon Coast Camping
32 Epic Things To Do In Portland With Kids [Itinerary Included]
The 10 Best Stops On The Hood River Fruit Loop
How To Spend 3 Amazing Days At Mckenzie River National Recreation Area
12 Epic Things To Do In Northern California [Map Included]
12 Amazing Things To Do In Olympic National Park [Itinerary Included!]
11 Awe Inspiring Things To Do In Southern California
RV Itinerary West Coast – 26 Epic Places To Stop
Pin This Post: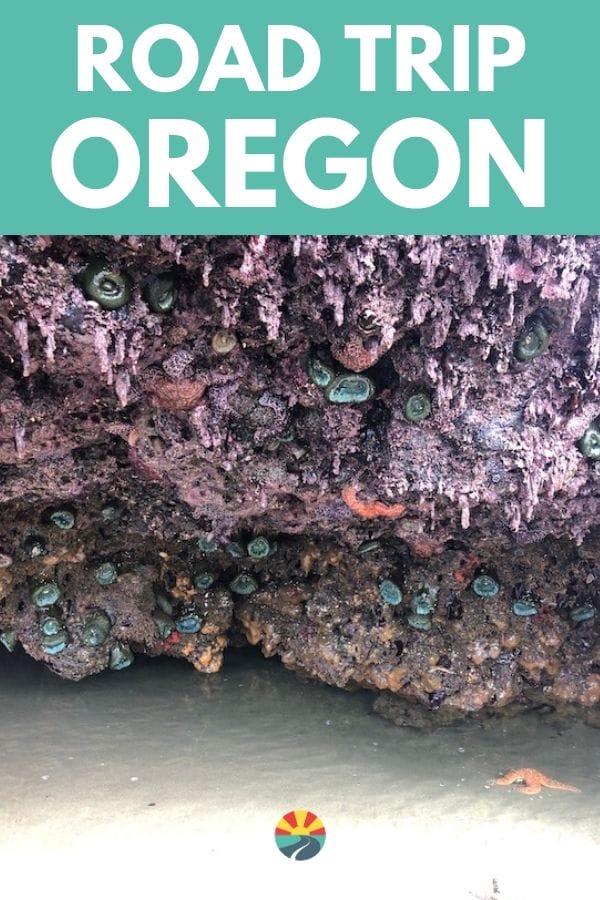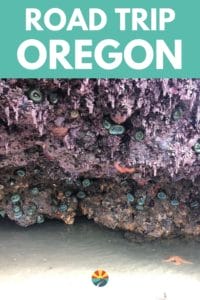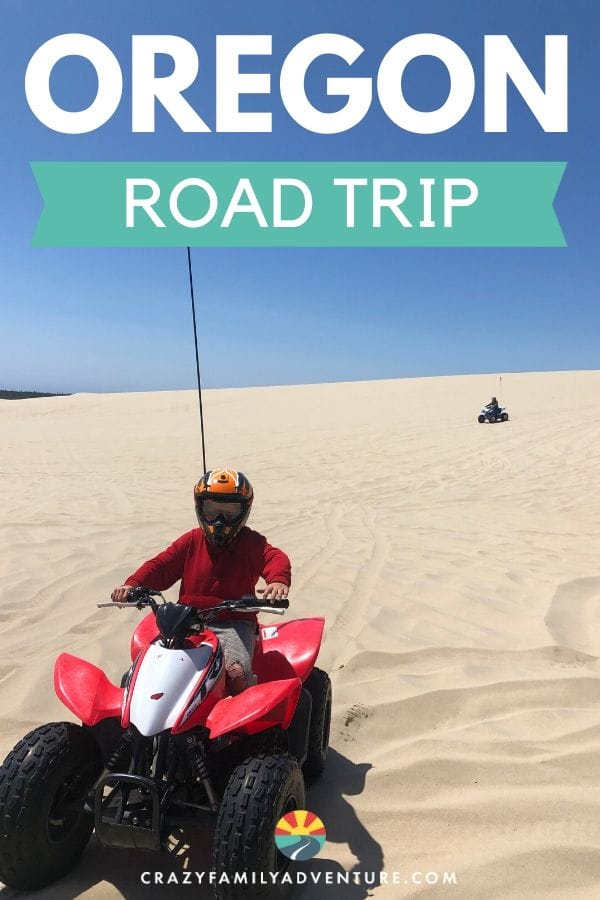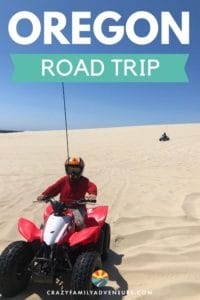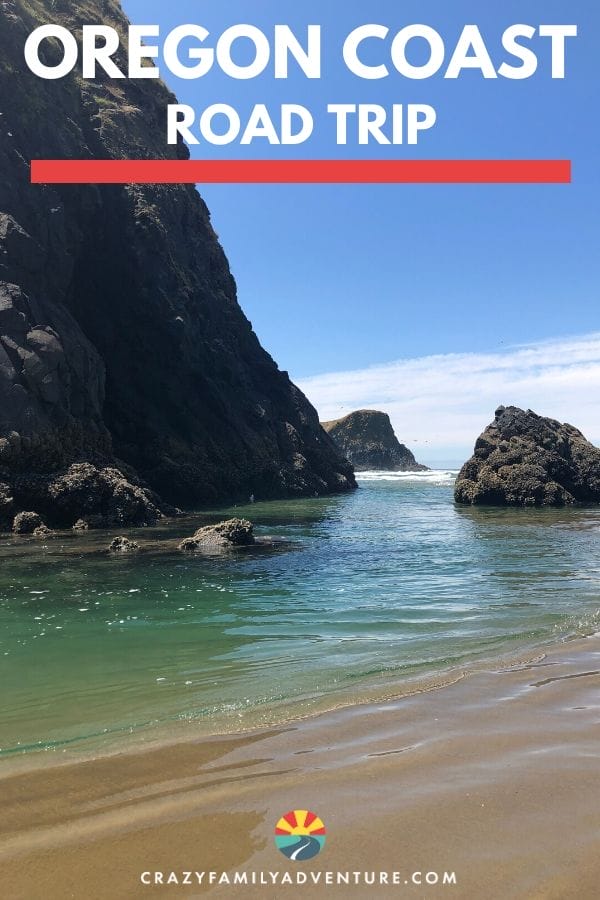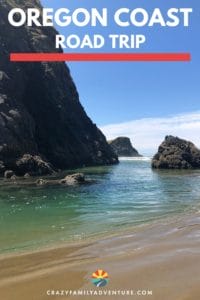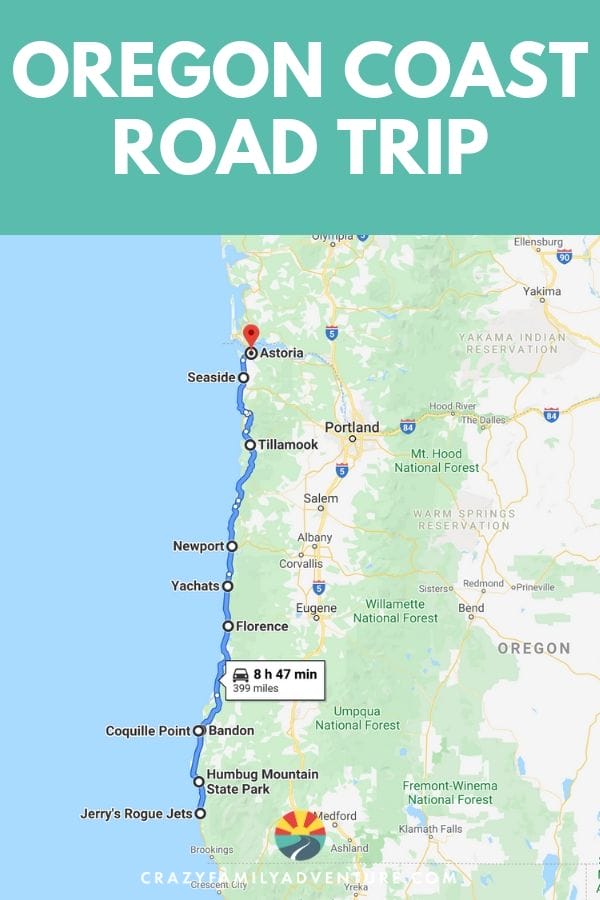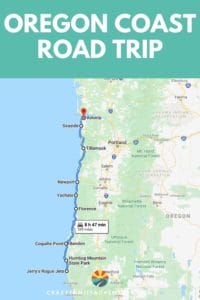 DISCLOSURE: This post may contain affiliate links, meaning I get a commission if you decide to make a purchase through my links, at no cost to you. Please read my disclosure for more info.