Oregon is about as good as a destination gets when traveling the United States. The beauty of the national parks, historic sites, the cool city of Portland and the awesomeness of Bend has won our hearts. But did you know there are a few hidden gems when it comes to amusement parks in Oregon?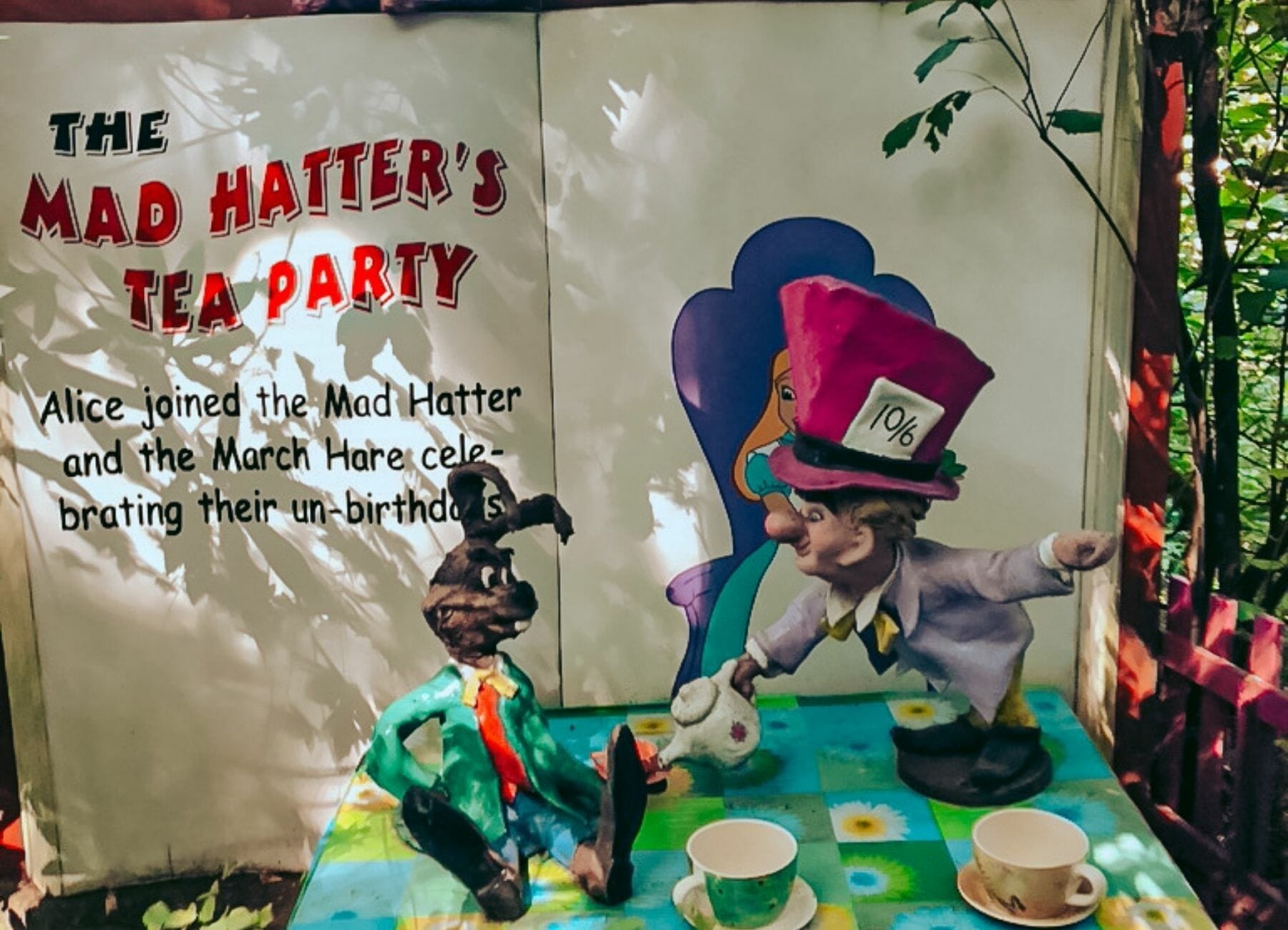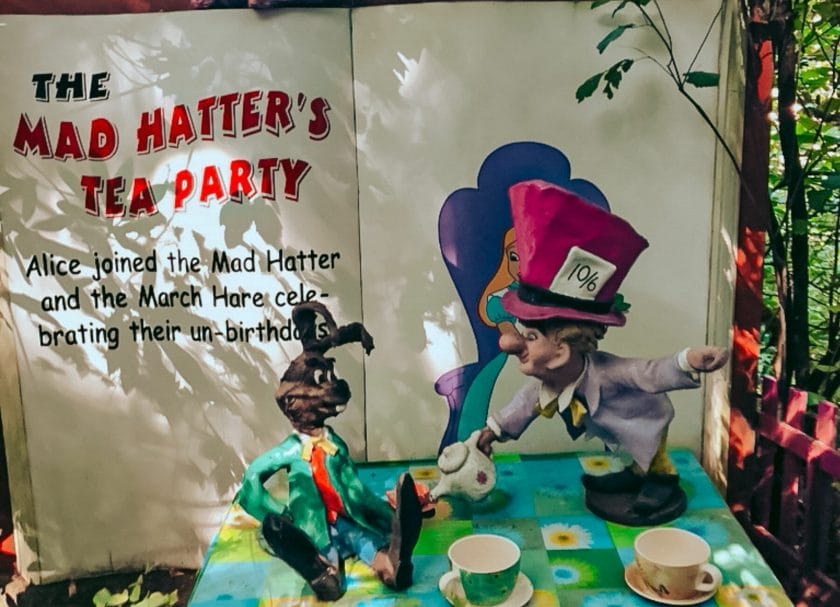 I am going to focus on a few theme parks in Oregon that provided us intense family fun: Enchanted Forest with its unique Western Town, Ice Mountain Bobsled roller coaster and Big Timber Mountain Log Ride, the alpine slide and Mt. Hood SkiBowl, Oaks Amusement Park with its year-round historic roller skating rink, thrill rides, and mini-golf, and of course, we can't forget water parks like North Clackamas Aquatic Park with its numerous pools and water slides.
Enchanted Forest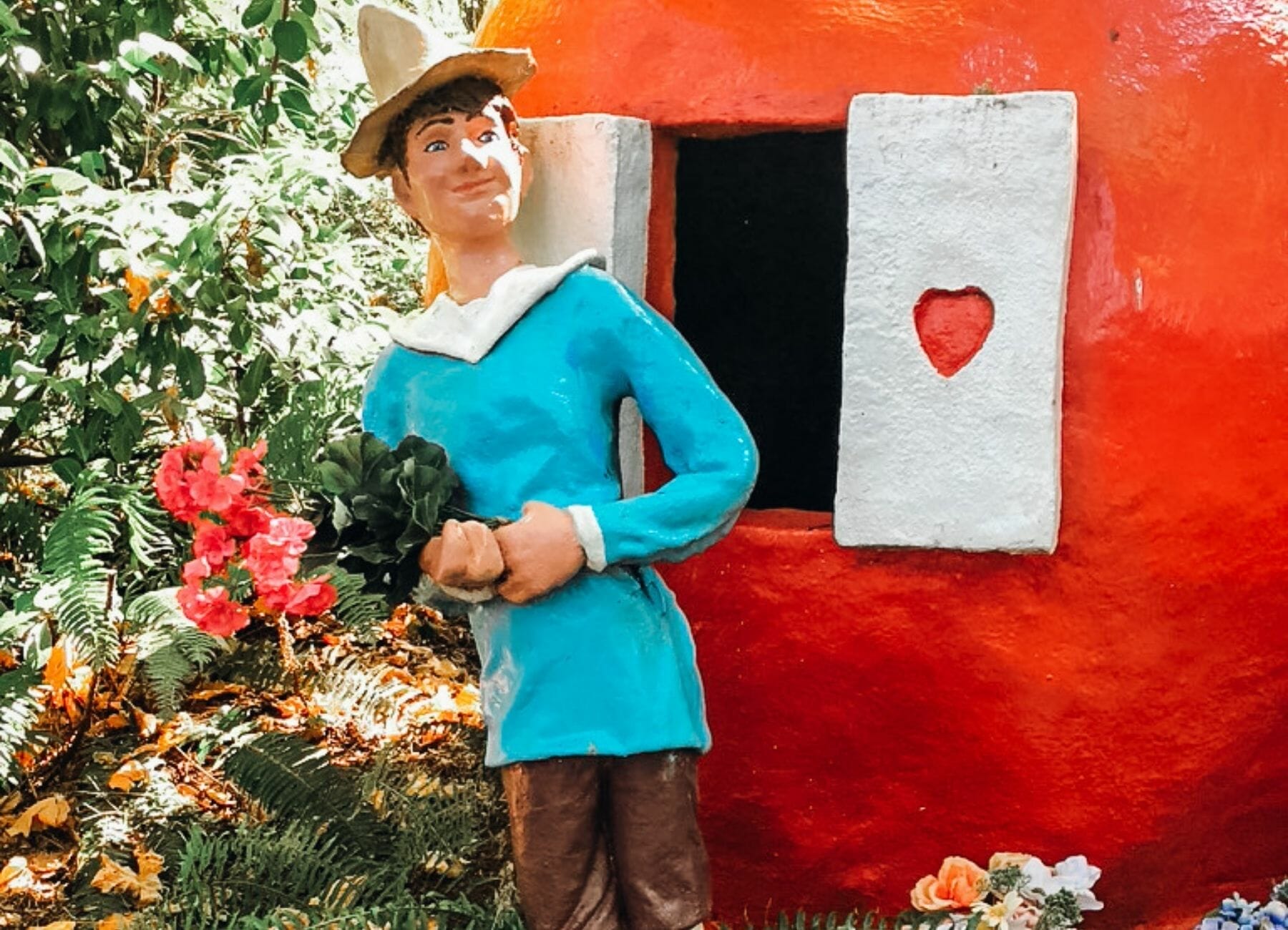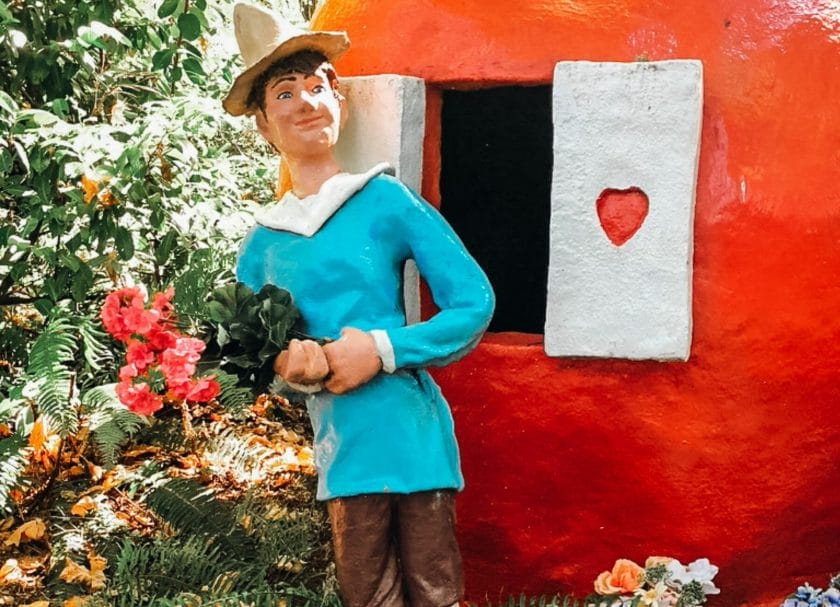 Just about 1.5 hours from Portland, Oregon is a wonderful gem of a park named Enchanted Forest. This one is uniquely special. In the beautiful Salem, Oregon mountains lies a hidden oasis for the imagination.
Built by one man with his wife and 4 young children, Roger Tofte overcame numerous obstacles to create his dream over many years, including extreme ridicule. The park was known as Idiot Hill by the local townspeople.
Fast forward 10 years later, in 1971, Enchanted Forest opened and even saw a visit from the Walt Disney Company, who showed up to check out what this man was putting together in the hills of western Oregon. What they found was nothing short of an incredible feat.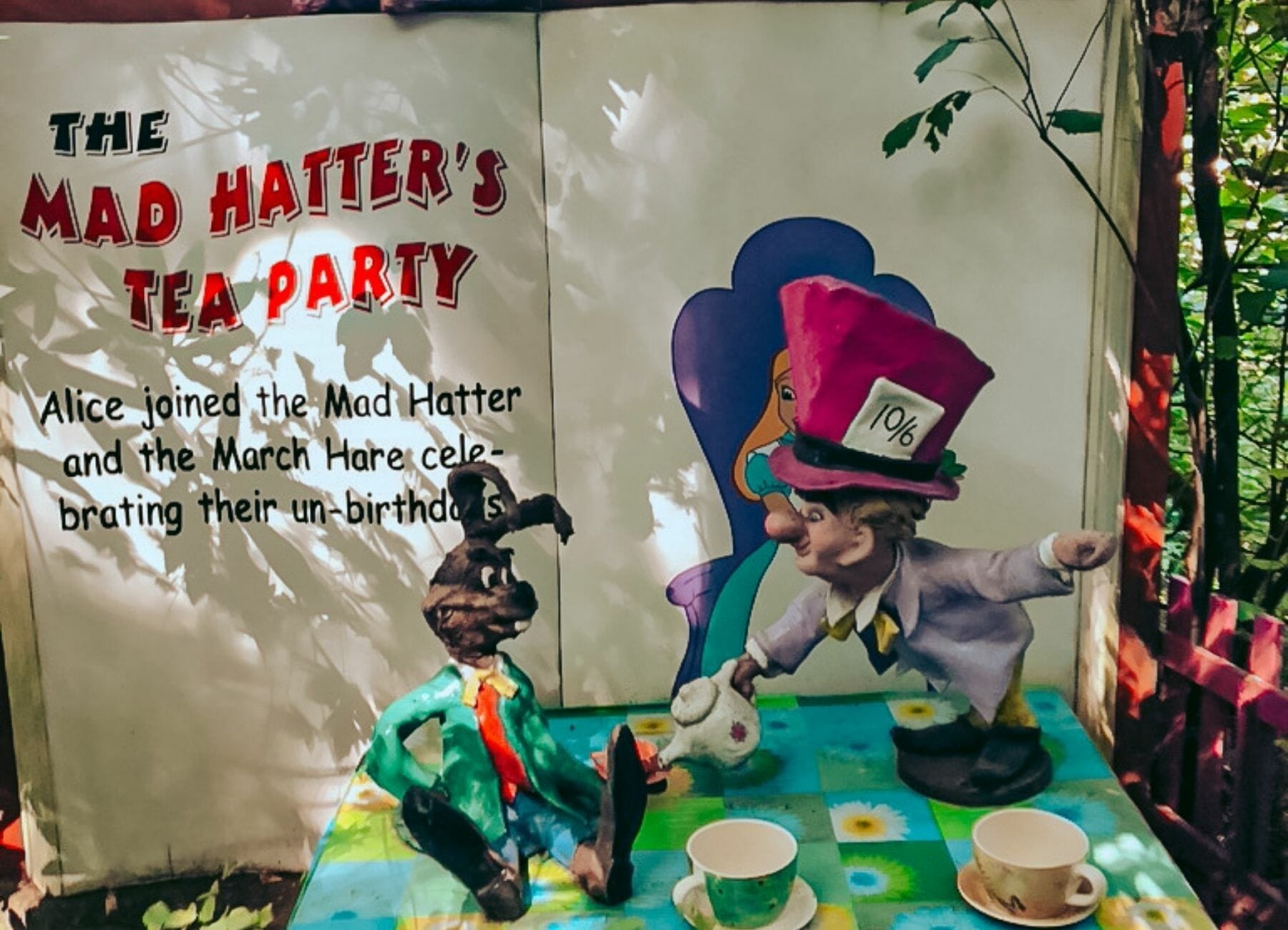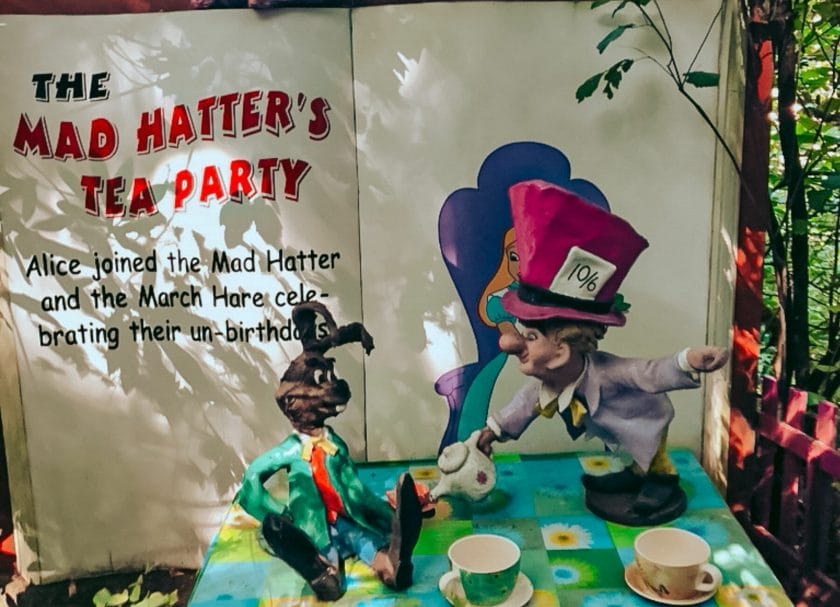 Storybook Lane
Enchanted Forest is broken up into sections or lands. Every visit begins with Storybook Lane, where Roger Tofte's artistic abilities show up, as he built most of this area by hand.
Numerous interactive displays of our favorite nursery rhyme characters are laid out on a well-kept winding path through the deep forest. At one point, children can even walk into an enormous witch's mouth and ascend up a winding staircase before gliding down a tunnel through her hair.
There are several opportunities to climb, slide and play within the display scenes, which is limitlessly more fun than just viewing them, as beautiful as they are. Alice In Wonderland and the Old Lady who Lived in a Shoe are two more you shouldn't miss on the paths. Even my older kid took delight in the fun structures!
Tofteville
The next land you will run into after Storybook Lane is Western Town, or as it's named, Tofteville. This one has the feel of Frontier Town in Disney World but once again has unique aspects that can't be found anywhere else.
Arriving in Tofteville Western Town, you are greeted with performances by the staff playing original country music that the Tofte family themselves wrote. You will get to hear a little bit of this in the video we are linking to this blog. It's really pretty good!
The Timber Mountain Log Ride
This is also the area where you will find the first of the one-of-a-kind roller coasters that can be found at Enchanted Forest. The Timber Mountain Log Ride sounds like a log flume- and it is- but there is a hidden aspect of this one that makes it a truly unique experience.
It begins like any other log flume. You pile into a hollowed-out log with your group and head up the lift. The standard floating and bumping into the walls is all present, and you will have the same feelings you've had on every other log ride you've ever been on for most of the ride.
And then you see it. A roller coaster track in the middle of the ride!. But how?
It turns out our log has roller coaster wheels underneath! This is not the norm on log flumes! It travels up a small lift hill on the way to an awesome, if relatively mild, roller coaster drop. It's so fun and unexpected!
As soon as the coaster element is over, you realize you are now at the top of the biggest hill on the ride, which suddenly switched back into a log ride, and down it goes! Right into the big splash that one hopes for in a log flume.
It's an absolute blast, and the surprising back and forth from log ride to roller coaster to log ride will leave everyone laughing and cheering. Maybe you'll even get right back in line for a second go-round. It never gets old!
More Rides In Tofteville
Western Town is also where you will find the Haunted House, Shooting Gallery, and BBQ restaurant. The food is really good and could be considered a step up from the regular amusement park fare.
Old European Village is next up, where the newest big attraction is located at Enchanted Forest. The Challenge Of Mondor is an interactive dark ride shooter game. This ride is where you will get to help a wizard (looks like Gandalf) rid the world of the Creatures of The Dark (Orcs) and save the Drumlins (look like Hobbits) and get them back to their homeland (The Shire?).
The trackless ride system has surprisingly fun stops and direction changes that are sure to make the whole family happy. We were surprised by the level of detail inside this ride, and it's just one more example of where this small family-owned amusement park excels.
There is seriously no shortage of attention to detail. Around every corner, there are surprises and unique elements which are rarely experienced when at a one-off park like this one.
Sir Newton's Gravity Factory and The Fantasy Fountains Water Light Show are two more must-see attractions in the Old European Village section of the park. Fun fact: the music of the water light show was also written by Susan Tofte, the daughter of the park's creator.
There are plenty of kiddie rides and fun attractions included for you to experience here, but I wouldn't be doing my job if I didn't give you the rundown on the other one-of-a-kind roller coaster you will find within the park boundaries.
Ice Mountain Bobsled
Upon leaving Storybook Lane, you will turn the corner and see the park's biggest attraction: a 100 ft tall white mountain containing one of the most obscure and unique roller coasters in the entire world. Ice Mountain Bobsled!
This one is somewhat of a badge of honor within the Coaster Enthusiast community, and even though it looks like a homemade backyard coaster in some respects, it's actually quite a fun experience.
Designed and built in 1983 by, you guessed it, Roger Tofte himself, Ice Mountain Bobsled is packed full of speed, turns, and airtime moments. It is the perfect crown jewel of the park.
You will know this is unlike anything you've ever been on before as soon as you see the train cars. You will climb into this super cushy box which fits one adult and one child and wait as the ride operator closes the lid over your head. Yes- a lid.
The roller coaster begins with a lift hill which takes the train into the ice caverns at the top of the mountain. Be careful; there might be a Yeti hiding in the caves up there.
The ride then takes you down a twisty turny layout which is unassumingly fun. This one will most likely be the best part of the day at Enchanted Forest from the little ones to the coaster enthusiasts.
Conclusion
Enchanted Forest should never be confused with a thrill park such as Six Flags. It's definitely geared toward younger kids, but it just might be the best of its kind in the country for what it is.
It has its own flair and its own unique vibe that is hard to find anywhere else. We think you'll see what we mean when you walk into the place.
Plus, knowing that Roger Tofte can still be seen riding around the park on his little moped patching small cracks and touching up the walls with paint, you can rest assured Enchanted Forest will continue to provide some of the best family entertainment out there for years to come.
Tips
Knowing you will get wet on the log ride, you might want to consider grabbing a poncho. They are for sale for $1 or 1 ticket right outside of the ride.
Make sure to keep track of your score at the Challenge of Mordor. Daily medals are awarded to the highest scores of the day! I didn't get one, if you were wondering.
When riding the bobsled coaster, look for the Yeti in the ice! SPOILER: He's on the right, and you can miss him if you're not aware he's there.
Where To Eat
Even though good food is available for purchase, you are allowed to bring your own food in and get this- picnics are actually encouraged! There is plenty of shady space under the mature tree canopy to spread out and relax. Red and white checkered blankets are sold separately.
Where To Stay
VRBO
Keizer Valley Estate – 3 Bedroom Home
This is a beautifully remodeled 3-bedroom home, located 11 miles from Enchanted Forest. You will love the location, close to downtown restaurants and breweries.
Keizer Rapids Estate – 3 Bedroom Home
Cozy Home near the downtown area sleeps up to 8 people. If you're visiting with pets, you will love the spacious backyard. Located only 11 minutes from Enchanted Forest
Hotel
Oregon Garden Resort
Very spacious guest rooms, each including a fireplace. Each room also offers it's own patio or terrace. The property offers an on-site restaurant and an outdoor pool during seasonal times.
Best Western Premier Keizer Salem Hotel
At the Best Western you will enjoy a clean, spacious room and a hot breakfast included with your stay. Also on site is an indoor pool the family will love.
Oaks Amusement Park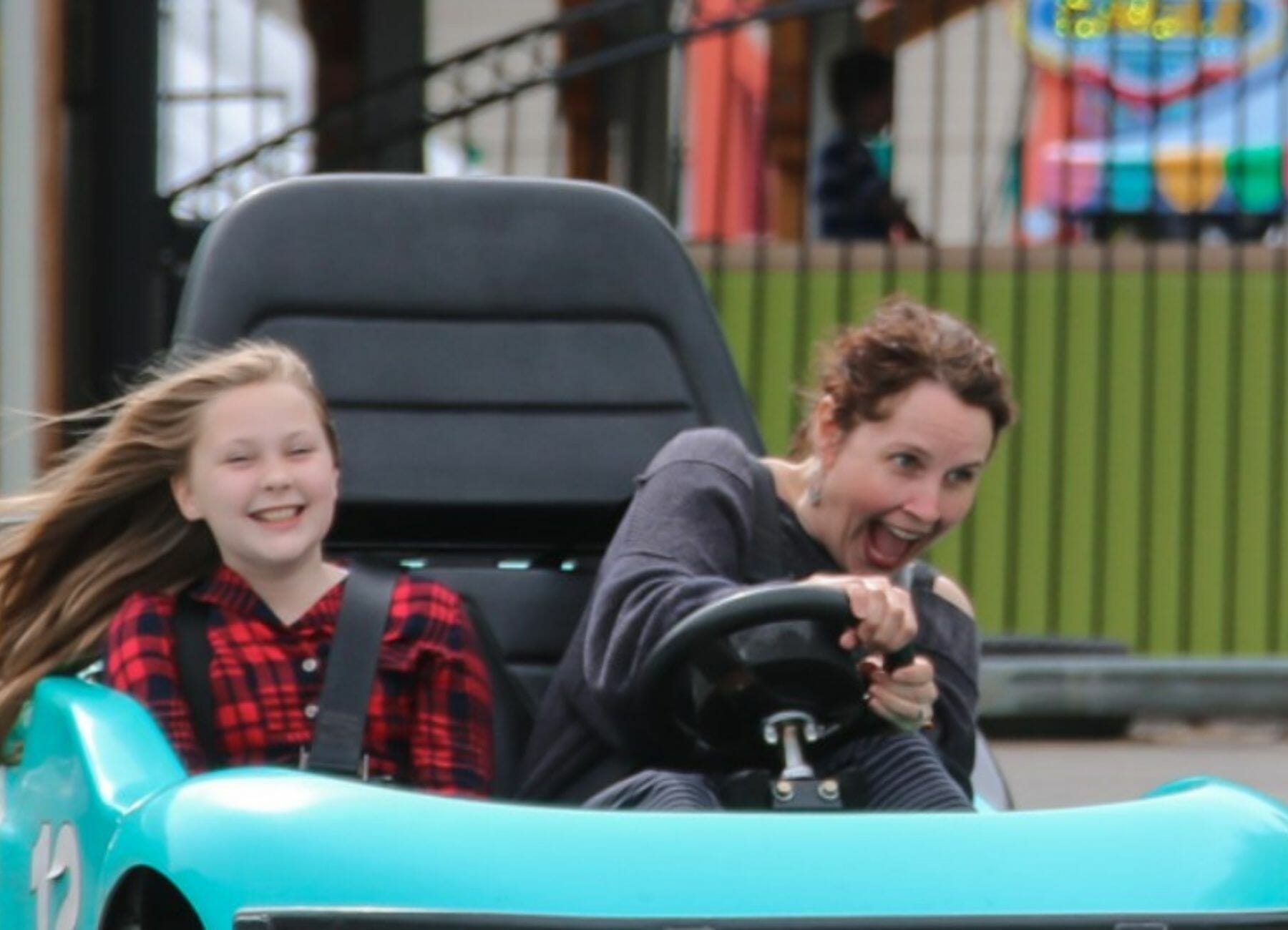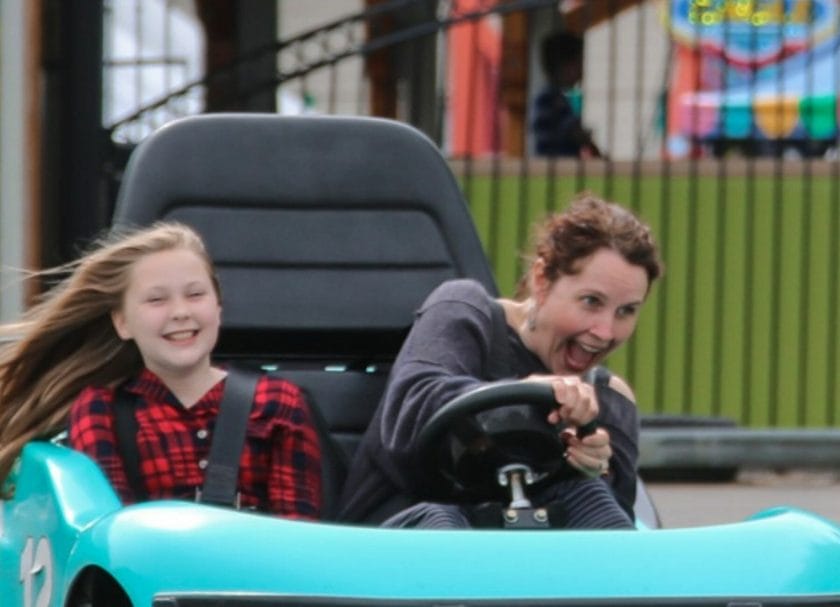 When visiting the Portland area, hop on over the Oaks Park. This amusement parks in Oregon has been open since 1905 and is one of the country's longest-running amusement parks! Its quaint setting and old-timey feel are a big pull for locals and visitors alike.
Here you'll find all the fixings for a fun day with the family, close to downtown and right on the river. You can experience some of the few really unique features at the Oaks, the first and foremost being the roller rink.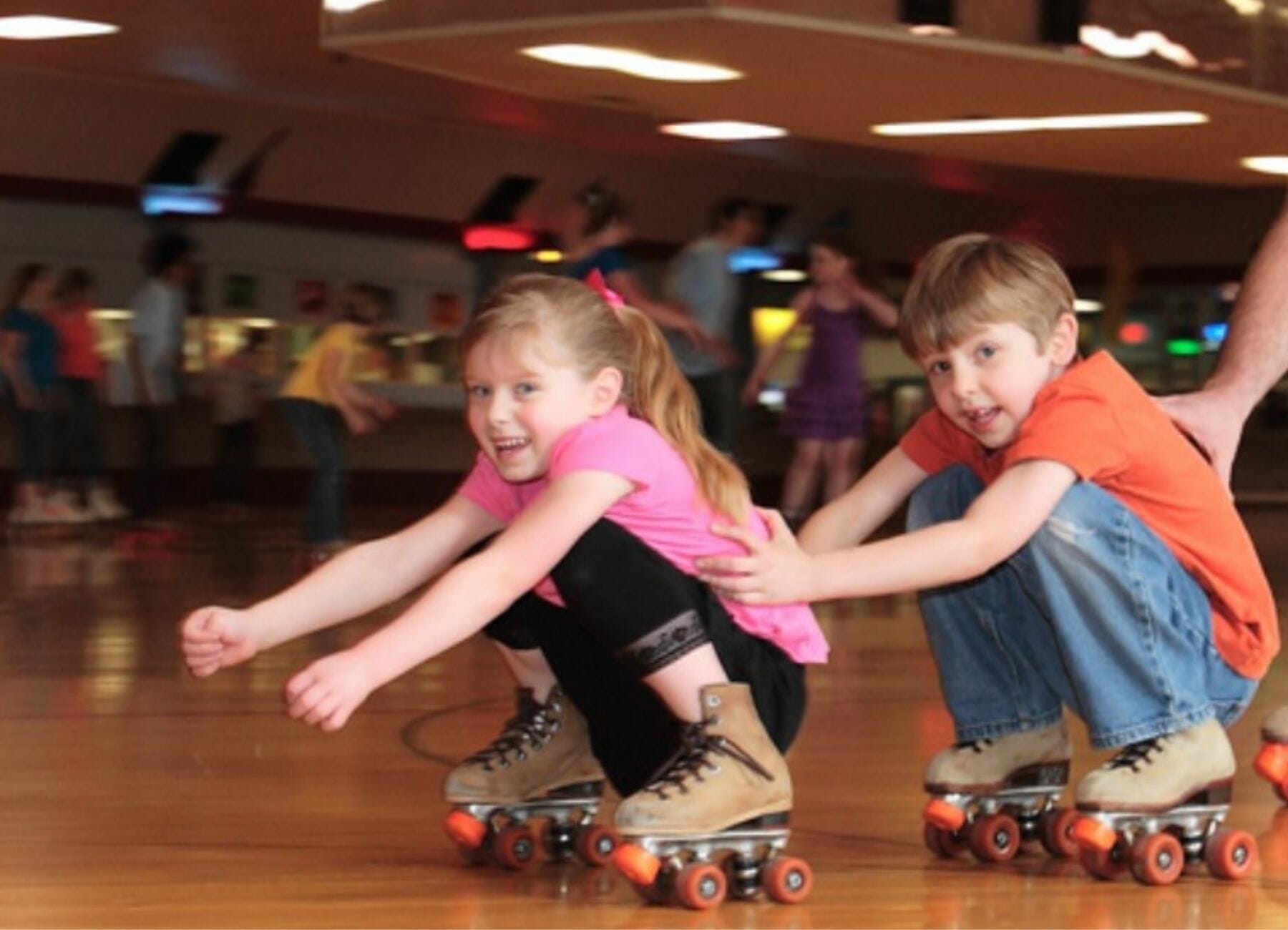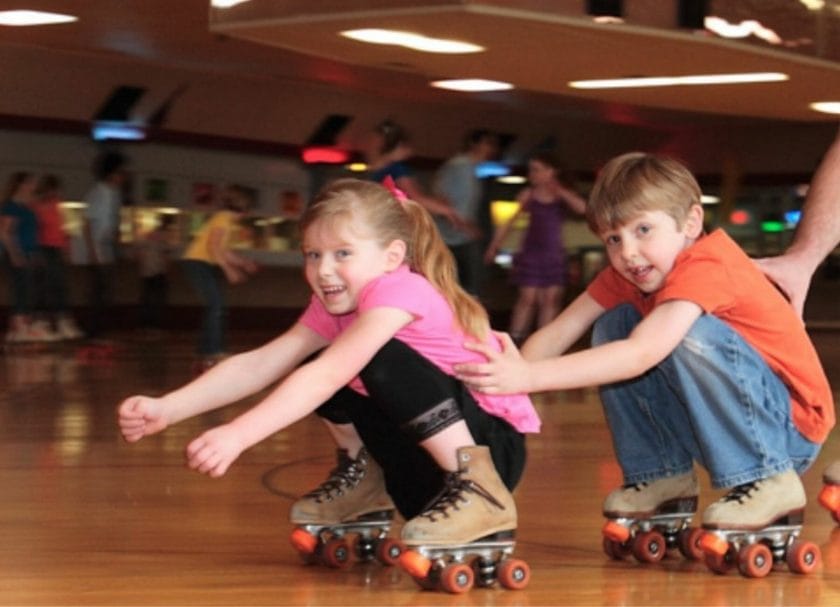 This lively park happens to have America's largest and oldest skating rink! Built in 1905, this is one of the park's main attractions. They offer all different skate times for adults, big kids, and little kids, along with an overall free skate.
You can check out the world's biggest and oldest pipe organ installed at a skating rink when skating.
If skating isn't for everyone in the family, that's quite alright! There is plenty more to do here for guests of all ages. A carnival feel of midway games, a ferris wheel, bumper cars, and more have made this place a favorite for over 100 years.
Roller Coasters
Adrenaline Peak is Oak's thrill coaster. It's a small but extreme coaster model which is found at many parks around the world. The 97-degree vertical drop isn't for everyone, but its definitely for this family!
The other roller coaster here is more kid-friendly, called Zoom Coaster. A great one for the littles! This, along with the numerous smaller rides such as the Frog Hopper, Chipper Chopper for all heights, and the Jump Boats, make for a great day for a wide age range.
One of the favorites for the littles is the Oaks Park Train ride. This mini-train takes you around the park's perimeter, letting you get the lay of the land and giving your younger passengers a blast of an experience. It's also free, so no bracelet is required!
Oaks Amusement Park Tips
Get on the train early. It has been known to close earlier than the park itself, so if you have train-crazy kids, make a B-line for that ride first!
Check the website for specials as well as elsewhere online for discounts.Discounted tickets are offered often with a promotion.
Purchase your tickets beforehand. There are a limited number for each day, so once the park hits capacity, that's a wrap! You can buy them up to 40 days ahead of time.
They do not rent strollers there. When my kids were little, this would have been a very valuable piece of info for me as I liked to rent the doubles at the parks. So be sure to bring yours if you need it!
While the rink is a year-round attraction, the rides are seasonal. If you happen to be in the Portland area during the Christmas season, there is a seasonal show that local Portlandiers love that runs in the parking lot of the Oaks. The famous Cinnamon Bear show is definitely a seasonal fave for families in the area.
Where to Eat
This is another great park that not only allows outside food but encourages it! There are picnic tables outside of the skating rink that are first-come, first-serve, along with numerous spots where you can set up shop on the grass.
Of course, if you are looking for something different outside of the park, Portland's food scene is one of the best, so there are a TON of options!
We particularly enjoyed the Tin Shed Garden Cafe, which offers amazing brunch options. We particularly enjoyed the Everything Naughty! And for those of you traveling with your pup, it's a dog friendly restaurant with its Canine Cuisine to cater to their appetite.
And, of course, we can't possibly talk about Portland food without mentioning the original Voodoo Donut location. We waited in line for longer than I ever thought I would for a donut. Was it worth it? Heck yes.
Where To Stay
VRBO
Beautiful Irvington Apartment
This beautiful upstairs 3 bed, 2 bath apartment is spacious and close to all things Portland. It is also within walking distance to the MAX, so if you are visiting without a car, so many attractions are within your reach even without a car.
Hotel
Hotel Lucia, a Provenance Hotel
Stay in class at Hotel Lucia. Each guest room is spacious and decorated with mahogany furniture and each room includes a fitness kit right in their room. The hotel is located in downtown Portland and an excellent location to get out and explore the area.
Hotel DeLuxe, a Provenance Hotel
This pet-friendly hotel located in downtown Portland is where you want to be. The location is great, being only a 3-minute walk to Providence Park. There is also a fine-dining restaurant on the property.
Mt. Hood SkiBowl
I want to give a special mention to the Mt. Hood SkiBowl in Government Camp. No, this is not an amusement park, but the Alpine Slide and the other offerings at the SkiBowl are attractions that will give the family a thrill!
We just drove by and saw the massive slide and knew we had to check it out!
The slide is a dual half-mile slide down the mountain. Because of the dual aspect, you can ride side by side with family members, banking your way through the beautiful mountain-scape of Mt. Hood.
There is an age limit of three, and if under 48 inches, there must be an adult riding companion.
You can get tickets for the slide a la carte, but there is a ton more to do here, which are part of a more inclusive pass. A rock wall, bungee trampoline, pony rides, tube hills, and pedal carts are just a few of the activities the family can participate in here.
Some premium attractions cost extra, even with a pass, but not much. For the thrill-seekers of the group, they have Freefall Bungee Jumping, ziplines, and treetop bridge tours. There are also Indie Karts and Sprint Kart if you're into a little speed!
Tips:
Check online for the days and times certain attractions are open. Once you are certain of the times/days you are looking for, buy tickets online.
Where to Eat
About 15 minutes from the SkiBowl in Welches is a delicious Japanese restaurant called Koya Kitchen. The restaurant has a cozy outdoor dining area amongst the trees. We loved the homey atmosphere almost as much as we loved the food.
They offer Poke Bowls, rice bowls, noodles in broth, and sushi bowls. Everything is made fresh with its own unique flair. This one was a big hit for us- ambiance and menu both!
Where To Stay
VRBO
Scenic View Lodge With View of Mt. Hood & Sandy River
Here you will enjoy the 5 bedrooms, 3 bath lodge with views of Mt. Hood and Sandy River. The lodge includes a hot tub and an outdoor fireplace. You will love the beautiful landscape views of this lodge.
Hood River Family Vacation Home
This 3 bed, 2 bath Hood River Family Vacation Home offers 2 off-street parking spots for guests. Restaurants and activities are within 10 minutes from this rental.
Hotel
Mountain House Home
Located in Mount Hood area of Oregon, this vacation home boasts 4 bedrooms and a patio on the house. Wifi and parking are free at the Mountain House Home.
Cooper Spur Mountain Resort
This resort is located Mount Hood and offers a free hot breakfast to guests. The resort is child-friendly and some rooms are pet-friendly.
North Clackamas Aquatic Park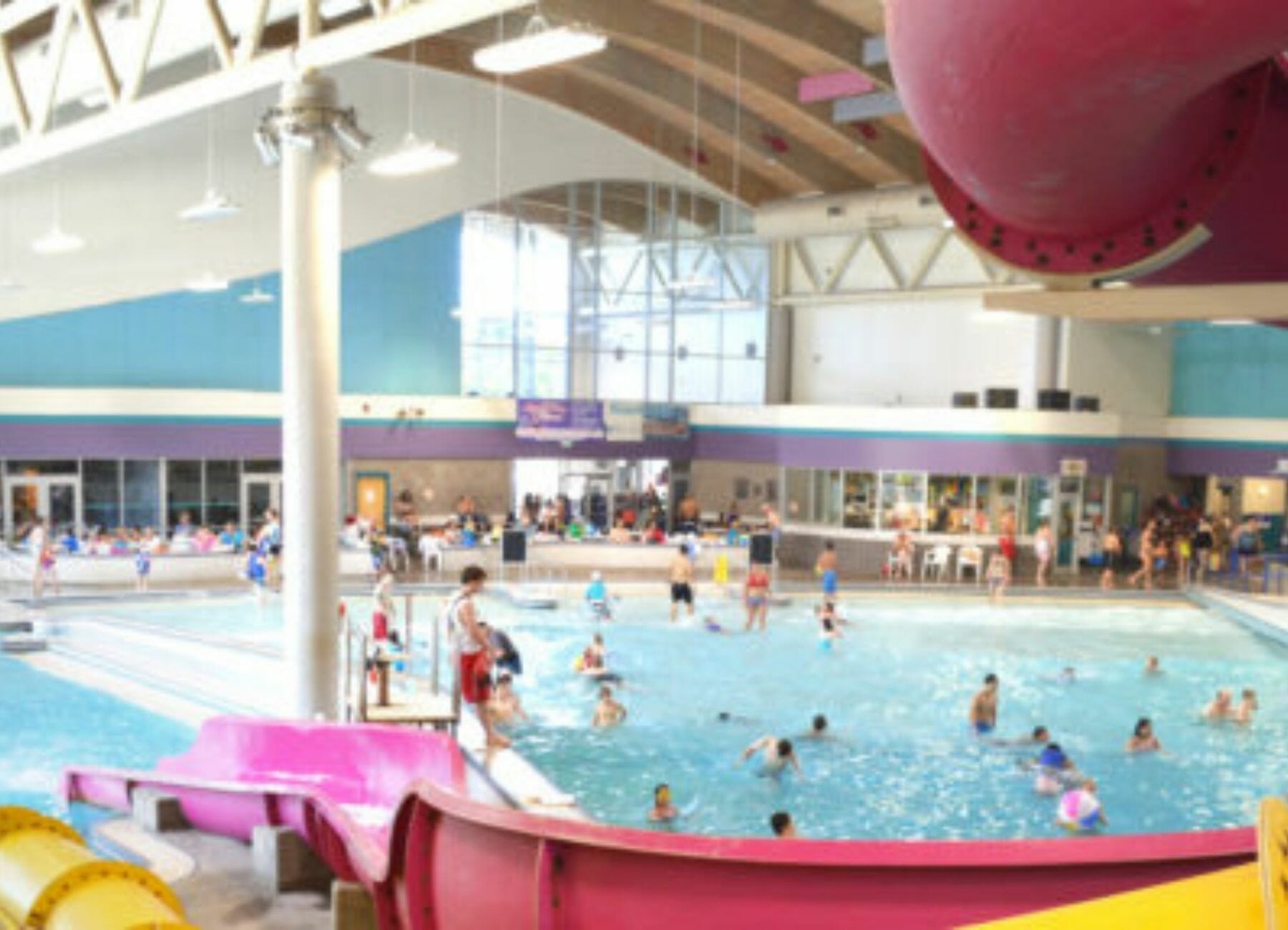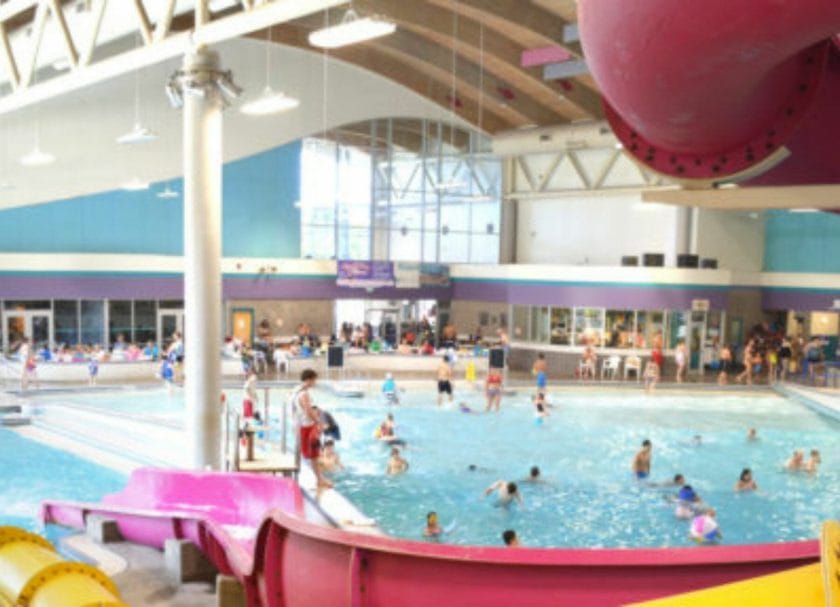 Milwaukie is located just south of Portland and is one of those great towns whose parks and rec departments provide top-notch facilities to residents and non-residents alike. If you are visiting Portland, the aquatic facility here is one that can provide a great day of water fun for the family.
North Clackamas Aquatic Park has several swimming pools, water slides, and a 29-ft rock climbing wall, Steel Mountain. The slides differ in style, ranging from a couple of twisting tubes giving way to a more adventurous path to a drop slide for a daring plunge!
The pools include an interactive area with fountains and cascading buckets of water, a wave pool featuring four-foot waves (deep and shallow areas for your level of comfort), a kiddie pool with a Sammie the Seal slide for kids under 6, and finally, a large hot tub for the adults in the party.
The rock wall features three routes, each requiring different skill levels, from easy to difficult. Whichever path you choose, there is staff there to help you on your way.
The best part of this aquatic park is the budget-friendly price. If you have been to commercial water parks, you know that the price tag can sometimes be painful! Here, the rates are reasonable for non-residents at $11 for anyone 3 and over. Not bad for a day of fun for the whole family!
If you're planning a party, you should consider North Clackamas Aquatic Park. They offer party and room rentals for birthday parties at very reasonable rates.
Where To Eat
Located on-site at the North Clackamas Aquatic Park, is Surf's Up Cafe. Be sure to check their website for hours of operation. Due to Covid, Surf's Up Cafe has been temporarily closed.
Where To Stay
VRBO
Guest House With Riverfront Patio
Enjoy this 2 bedroom guest house that sleeps up to 8. Only 15 minutes to downtown Portland the location is fantastic. You can spend the evening watching the birds and enjoying the fire pit on the private patio area.
Hotel
Clarion Inn And Suites Clackamas
Only 13 miles from the airport, Clarion Inn and Suites provides clean and spacious guest rooms for your stay. Breakfast is offered each morning.
Best Western Plus Rivershore Hotel
The Best Western Plus Rivershore Hotel offers an on-site bar and restaurant and each guest room has its own private balcony. You will also enjoy the outdoor pool and spa on the property. All guest rooms include free wi-fi.
Amusement parks in Oregon are few and far between, but what you will find there are each incredibly unique and offer one-of-a-kind experiences. Whether prehistoric gardens, historical monuments of Oregon's past or results of incredibly inspiring human interest stories to just plain fun, you can find what your family is looking for around this beautiful state.

More Info Check Out:
7 Best Oregon Coast Camping Spots & 20 Things To Do
How To Spend 3 Amazing Days In Mckenzie River Oregon
21 Best Oregon Waterfalls You Will Want To Visit
26 Oregon Coast Road Trip Stops You Don't Want To Miss
23 Fun Things To Do In Bend Oregon [Plus where to stay]
Pin This Post: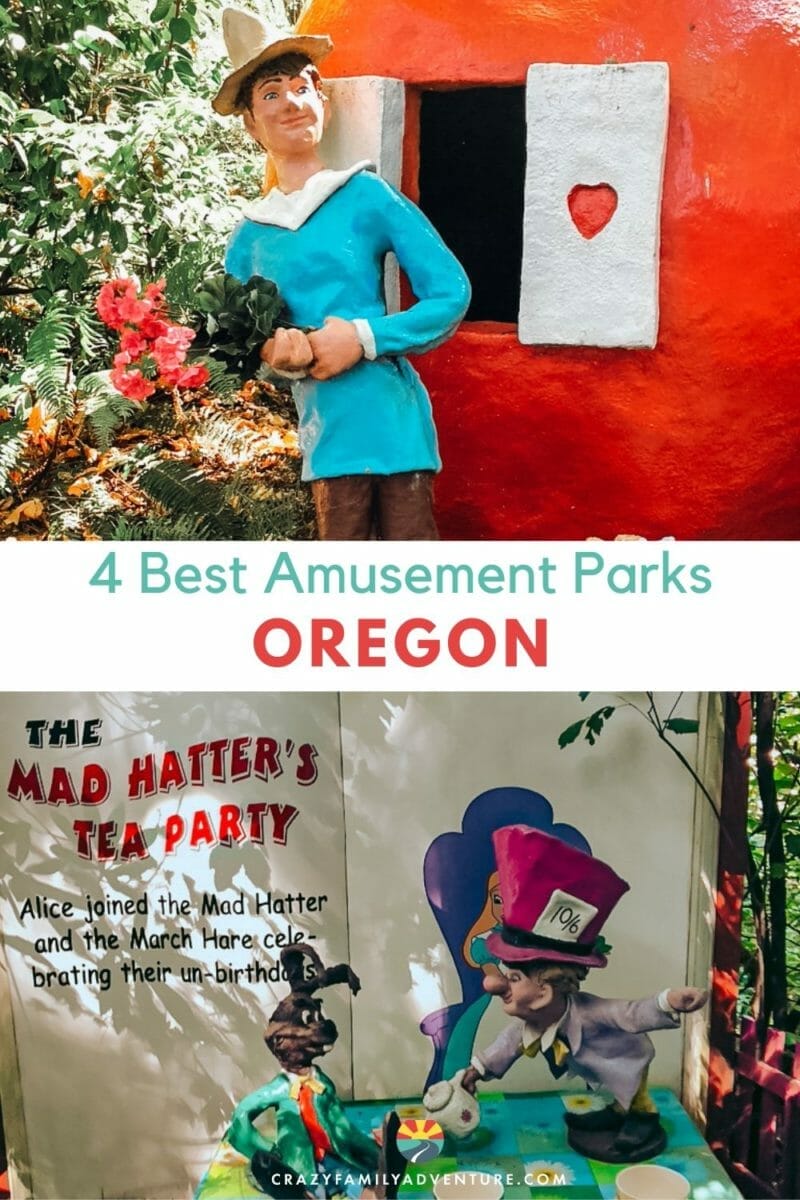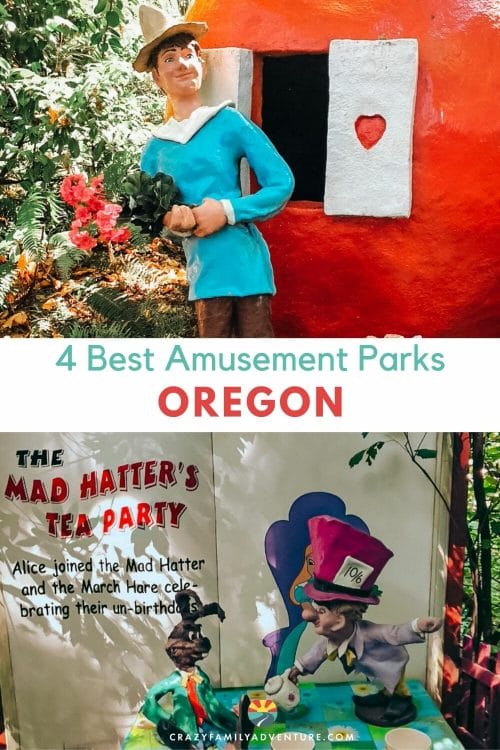 Latest posts by Meryl Kalman-Sarrecchia
(see all)
DISCLOSURE: This post may contain affiliate links, meaning I get a commission if you decide to make a purchase through my links, at no cost to you. Please read my disclosure for more info.