When you think of Miami, what comes to mind? Places like South Beach and the clubs, food, and drink scene tend to come to the forefront. Not exactly family-friendly. But what if I were to tell you that Miami, Florida can provide kid-friendly attractions just as much as other places in the United States such as amusement parks in Miami?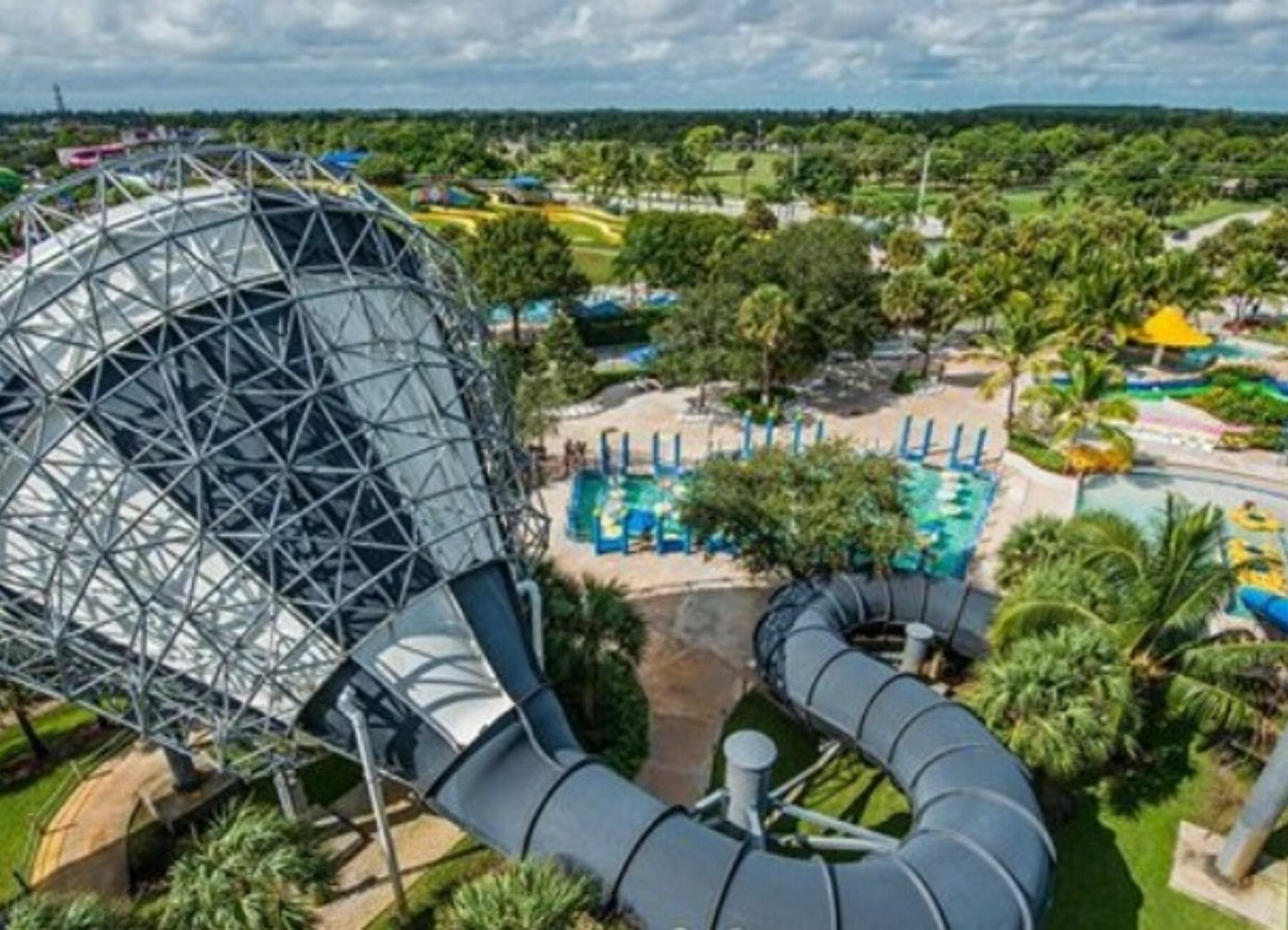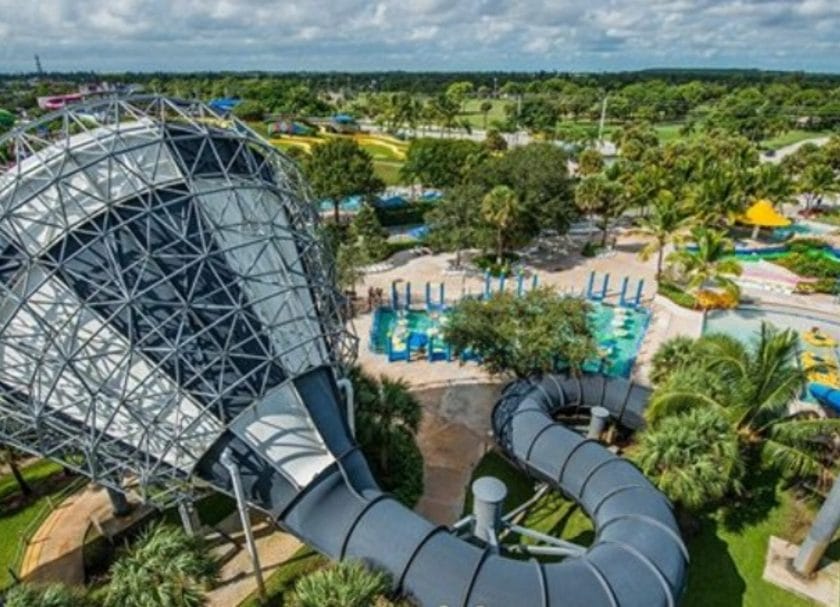 Image Source: Rapids Water Park
In particular, family-friendly amusement parks in Miami and themed experiences such as Christmas attractions and haunted houses are all waiting for your next family adventure. Even the county amusement parks in Miami have something to offer! Here are some of our favorites.
Jungle Island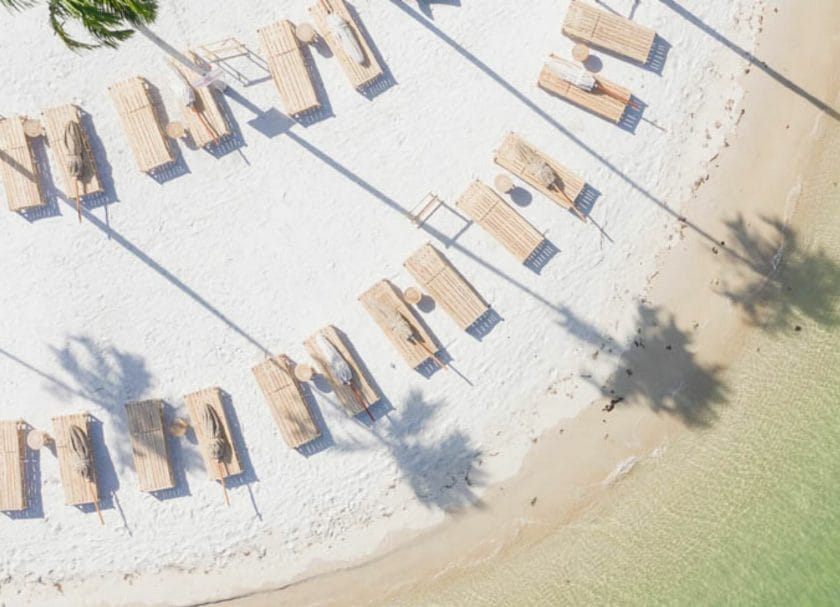 Not far from Miami Beach is Jungle Island. We've always loved visiting this park! While there are no roller coasters here, the water park, obstacle courses, rare animals, and other attractions, all with a beautiful view of Downtown Miami on one side and the massive cruise ships departing the port, make it worth a day trip.
Parrot Cove Beach is the water park located here at Jungle Island, offering zip lines, pop-up water slides, and an outdoor wind tunnel experience. This and the rare wildlife, including an actual 900 lb liger (lion and tiger hybrid!), a petting zoo, and over 1000 species of parrots, had us exploring for hours.
This is one of the oldest tourist attractions in Miami, and it stands the test of time. Standing on nearly 20 acres of tropical landscape in Miami's bustling and beautiful city is truly an experience not to miss.
Tips
Jungle Island itself is undergoing renovations at the moment, but Joia Beach Restaurant and Beach Club ) is still open to visitors.
Where to Eat
Joia Beach Restaurant and Beach Club
This is the restaurant and beach club located inside Jungle Island. The menu is delicious, but the prices are a little on the high side.
Friends Market and Bistro
Located in downtown Miami, minutes from Jungle Island, this one is a great family restaurant and a bit more budget-friendly.
Where to Stay
The Betsy Hotel – South Beach
Located only 3 miles from Jungle Island, this hotel offers direct beach access, spacious rooms and a rooftop pool with amazing views.
Check out more info on Jungle Island here.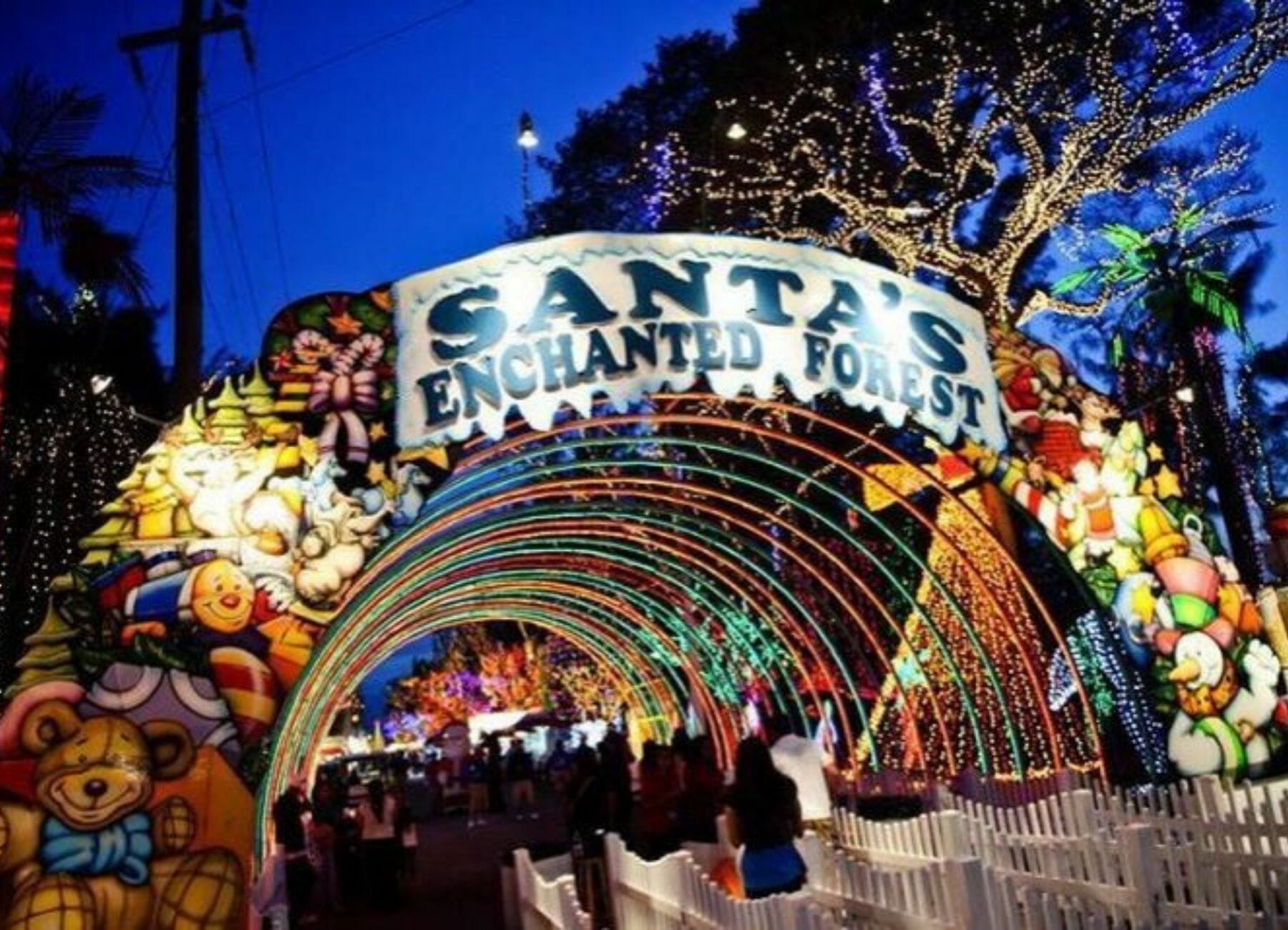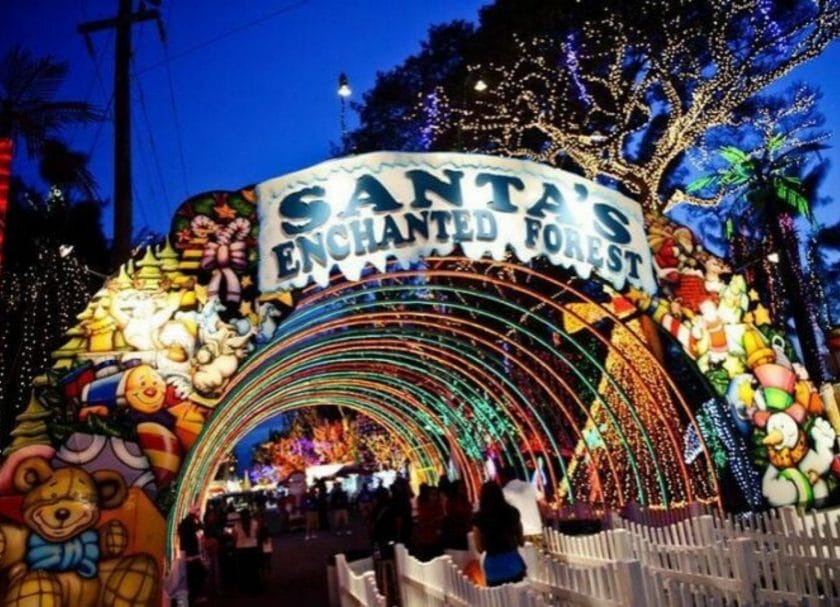 If you happen to visit the area in the late fall up to Christmas, you can't miss Santa's Enchanted Forest. It's a classic Miami event, and for local families, a long-time annual tradition, and the world's largest holiday theme park!
This is one of the best amusement parks in Miami and has a carnival-on-steroids feel with over 100 rides, including 20 thrill rides, 2 roller coasters, and many family rides.
Santa's Enchanted Forest prides itself on its unique family-friendly shows such as the Children's Variety Show, freestyle Motorcross performers, Dale Scott Magic Show, Aerial Cirque Equinox, and more.
Its theme is also on point with a ton of Christmas delights such as a beautiful light show, a Christmas miniature display, South Florida's tallest Christmas tree, and lifesize hand-crafted displays!
Tips
Buy your tickets online and look for discounts online! The line for entry can be a doozy, so go early, equipped with your tickets in hand. Also, look for discounts online. Entry can be a bit pricey, and there are usually a good amount of online discounts to take advantage of.
Where to Eat
Our favorite things to eat at Santa's Enchanted Forest have to be the vendor cart food, especially the arepas! While there is the traditional carnival fare, remember we are in South Florida, where the fusion of Latin American cultures emerges into a vibrant and delicious food scene.
Take advantage of the abundant offerings. This isn't your typical carnival food!
Where to Stay
Wyndham Garden Miami International Airport
The Wyndham Garden Miami International Airport hotel is located only 3.5 miles from Santa's Enchanted Forest and only 4.3 miles from Miracle Mile Miami. In addition to the fabulous location, this hotel features an outdoor pool, free private parking and a restaurant on-site.
Check out more information on Santa's Enchanted Forest here.
House of Horror Haunted Carnival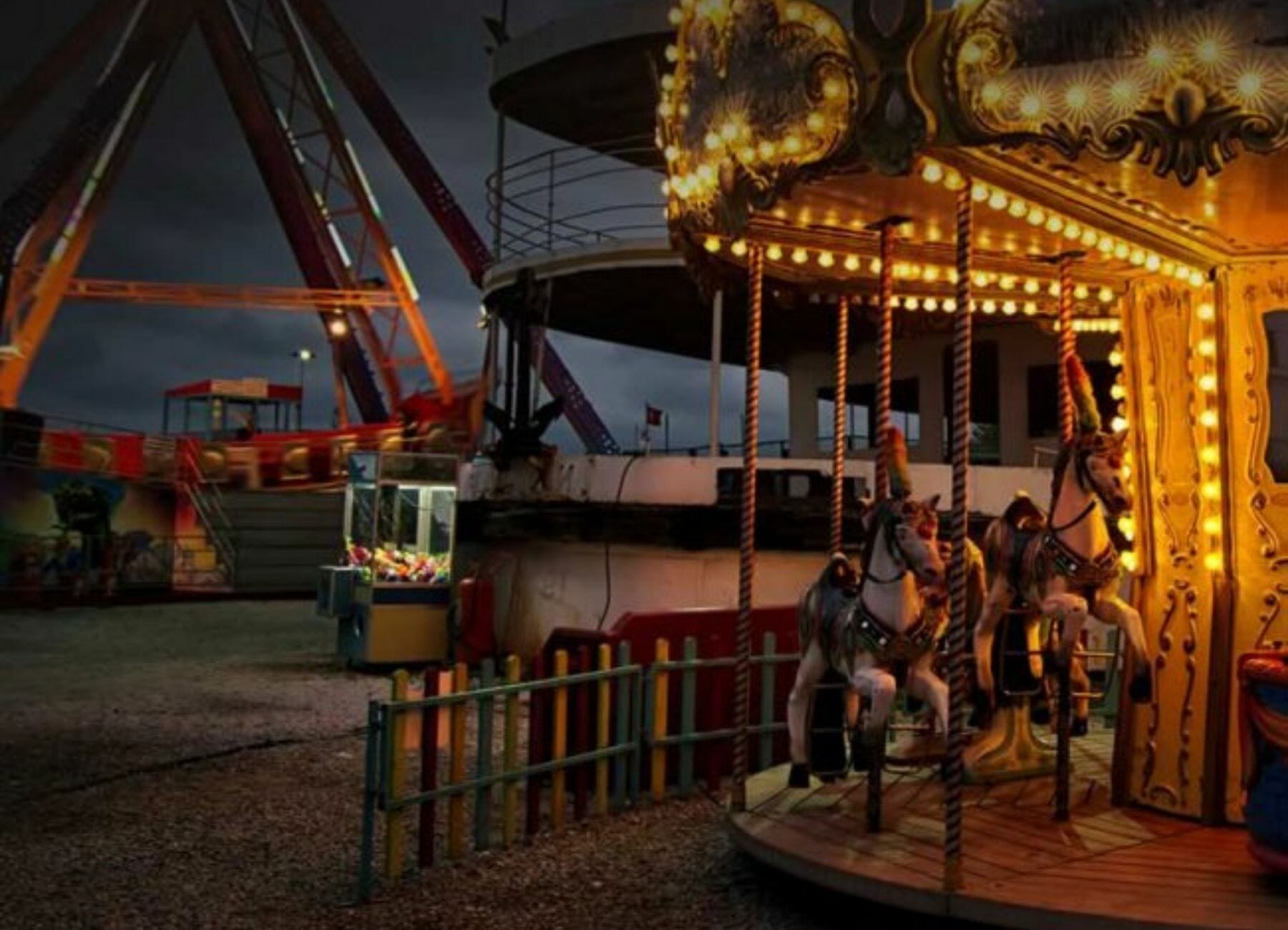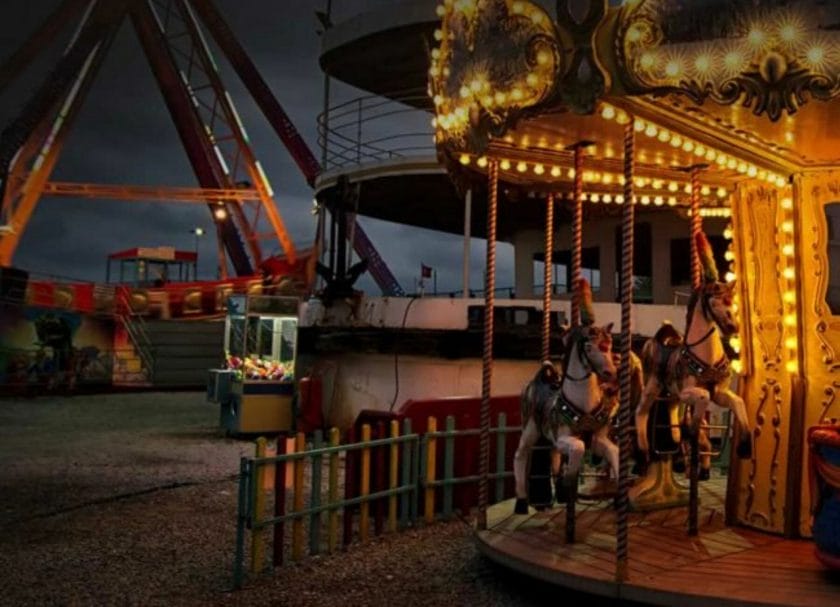 Here is another seasonal destination to experience when searching for amusement parks in Miami area! If you are visiting during the Halloween season, there are plenty of haunted attractions in South Florida, but not all are created equally!
The House of Horror Haunted Carnival is the largest haunted experience in the South Florida region. With over 100,000 sqft at their disposal, they use the old Miami International Mall's abandoned department stores for their interactive haunted encounters.
Let me tell you; these haunted houses are LEGIT. Many enthusiasts say these are the most intense effects, make-up, and jump scares in the South Florida region, so beware!
There are options at the venue, though! If you are not sure the haunted experiences are for you or your family members, there is an actual carnival featured here that is more suited for all ages to enjoy.
This carnival provides unlimited rides with admission costs. Adults can purchase libations to indulge in while they and the kids enjoy games and rides such as a drop tower, hang glider, and bumper cars for the evening.
Know before you go, children under 7 are welcome to the carnival, but NOT inside the haunted attractions!
Where to Eat
There are extensive food offerings in the carnival. Much like Santa's Enchanted Forest, you will find much more than you would expect at an event such as this. From arepas to shishkabobs, from pizza to tostadas, there is something there for everyone in your party to enjoy.
Where to Stay
Residence Inn Doral Mall Area
Located only a 1/2-mile from the House of Horror Haunted Carnival and less than 2,000 ft from the Miami International Mall, the Residence Inn Doral Mall Area is a great stay. Each room accommodation offers garden views, in addition to their outdoor swimming pool, a bbq area and free private parking.
Check out more info on House of Horror Haunted Carnival here.
Uncle Bernie's Amusement Park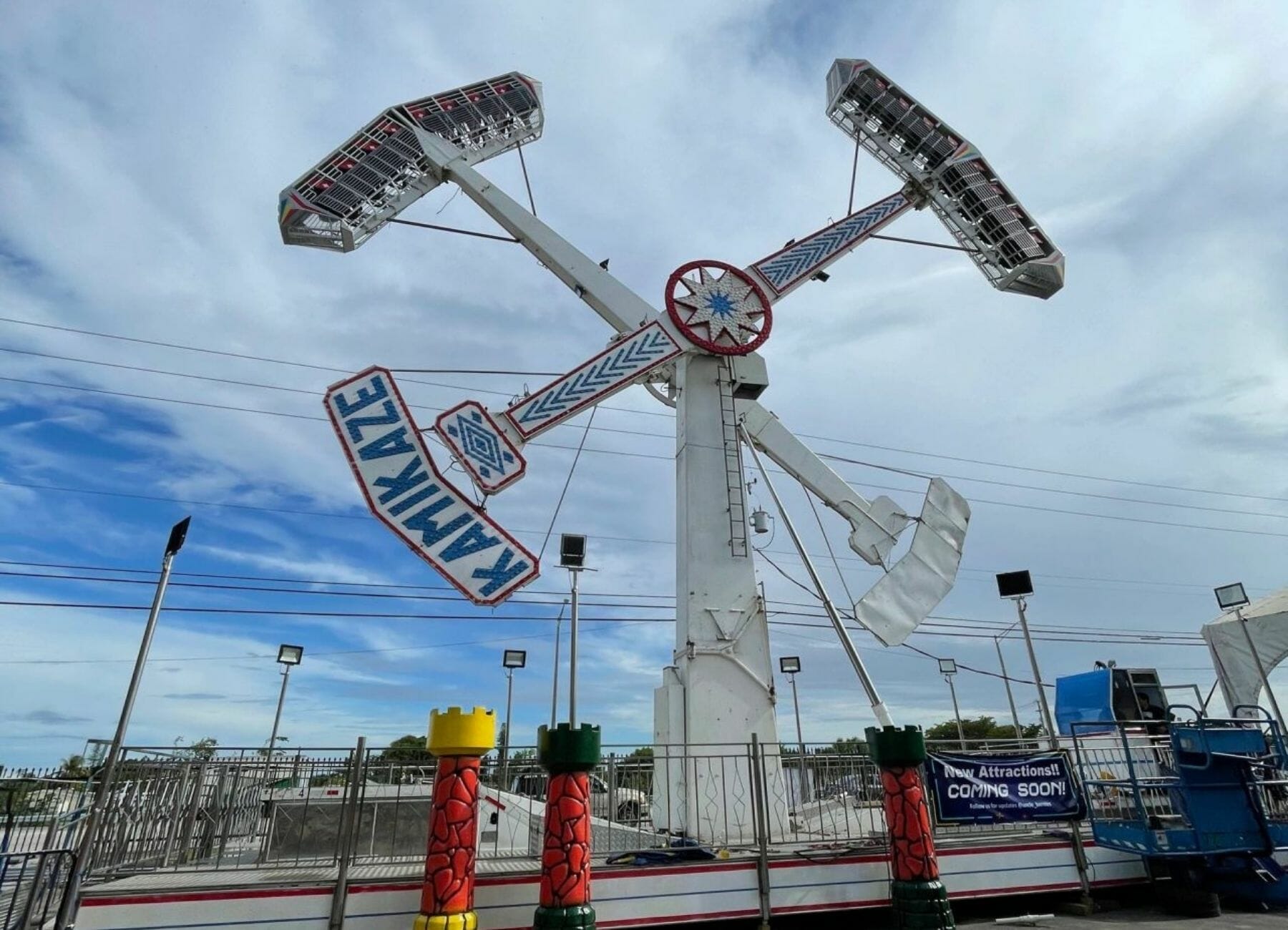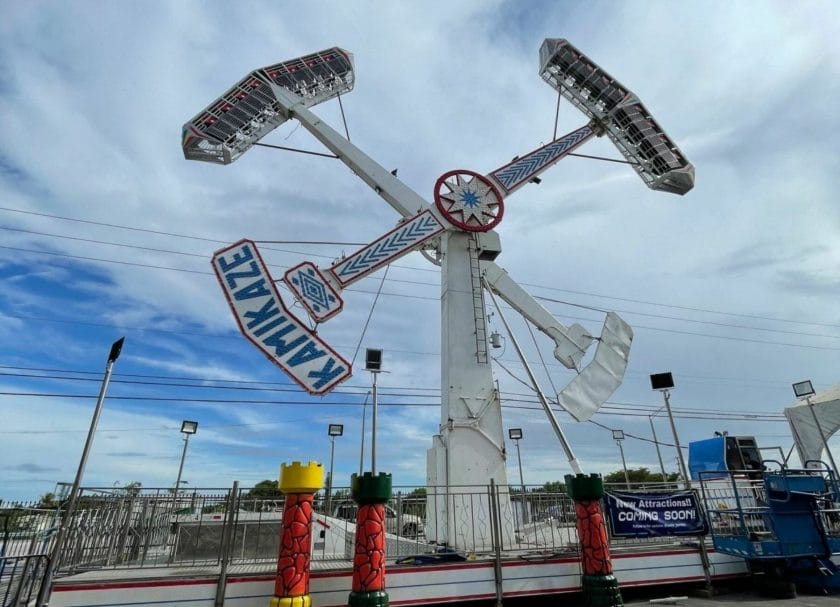 If you are looking for a roller coaster and are not in the Miami area during the Christmas season, you might be surprised to learn there are only two in the entirety of South Florida! They are not exactly thrillers, but they might be just what you're looking for if you have smaller children and you're looking for amusement parks in Miami.
They are at Uncle Bernie's Amusement Park. Tucked within the Sunrise Swap Shop, 2 family coasters are here, along with 15 other riders, mostly geared toward small children.
Be aware- the Swap Shop can be a crazy place; it is one of the largest flea markets in South Florida with 180,000 sq ft of shops!
There is also a free Ferrari museum on the premises because of the swap shop's history. It was started by racecar driver, Preston Henn, who won the 24 Hours of Daytona Race in 1983. Henn owned a Porsche racing team, and his 1964 Ferrari 275 GTB/C Speciale would become the first car to sell for more than $100 million!
Tips
You will have to walk through the Swap Shop to access Uncle Bernie's, so get ready. This may just be the most extensive flea market encounter that you have in your life!
Stay late and go to one of the fourteen outdoor drive-in theaters at the Swap Shop.
Where to Eat
El Tiburon Seafood & Take Out
Not at Uncle Bernie's, guys! But there are good options in the Swap Shop, such as El Tiburon Seafood & Take Out. This is a Peruvian seafood restaurant where they serve heaping portions of shrimp, lobster, and calamari at a budget-friendly price! It's awesome to get that much food for the price.
Where to Stay
Home2 Suites By Hilton Ft. Lauderdale Downtown, FL
Located less than 4 miles from Uncle Bernie's Amusement Park, Home2 Suites By Hilton Ft. Lauderdale is a comfortable stay at an affordable price. The rooms offer a family living area, including a mini kitchenette area. While at the property you will enjoy an outdoor swimming pool, free private parking and free wifi.
Check out more info on Uncle Bernie's Amusement Park here.
Dezerland Park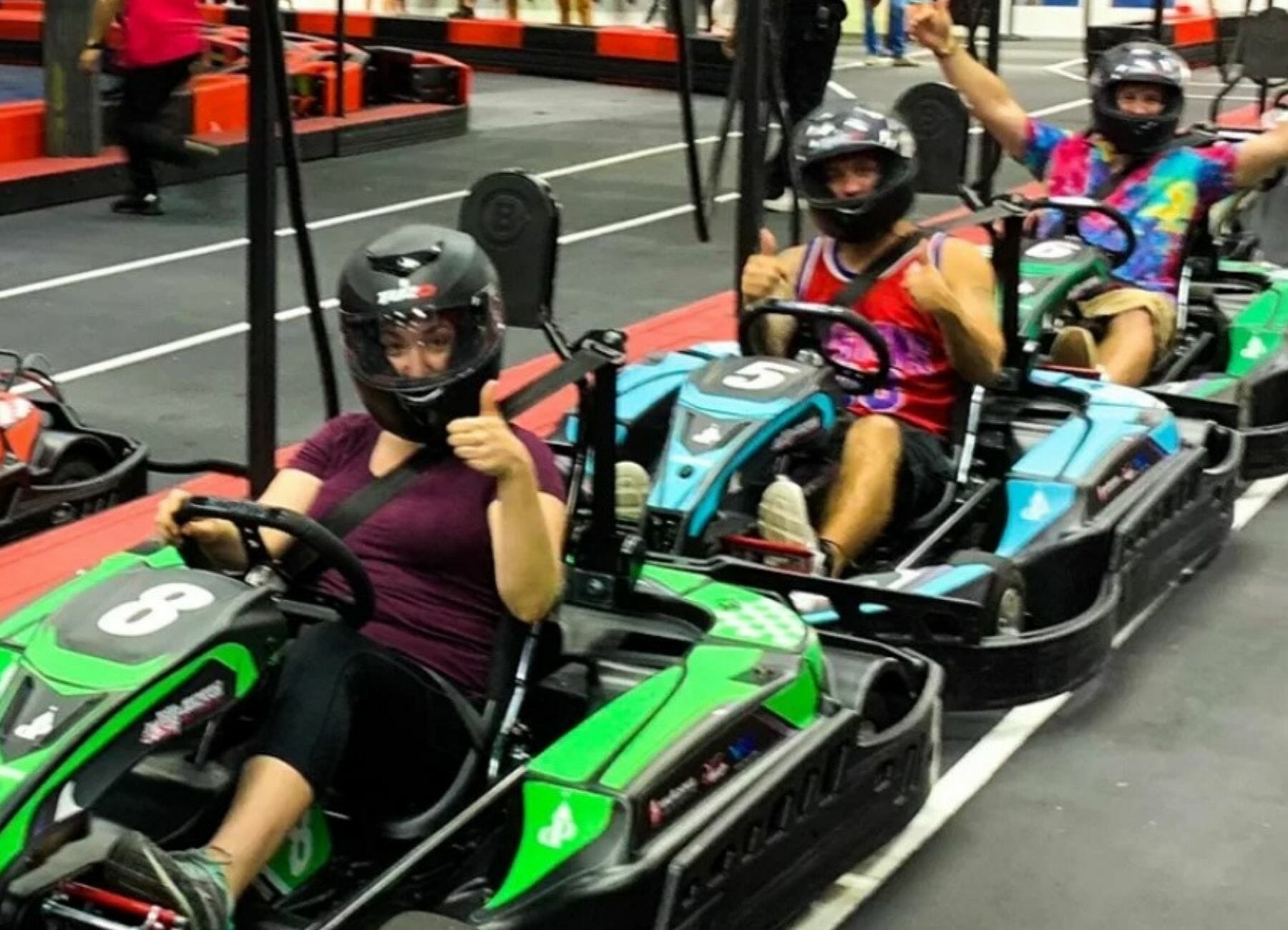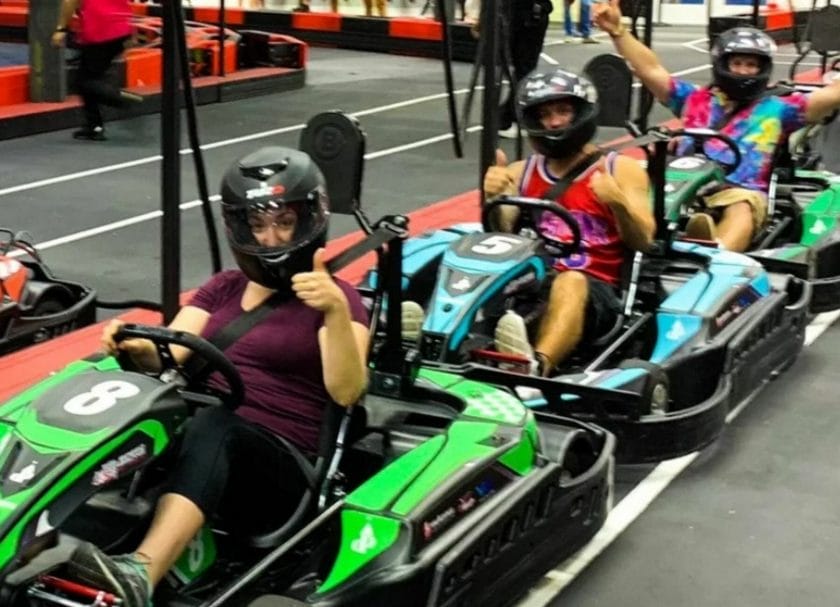 Finding indoor parks was key for us as Miami residents. Even as visitors at certain times of the year, the heat can get too much, and we needed to find indoor options.
If you and the family are feeling like you may need a break from the Miami heat, too, this indoor (and air-conditioned) amusement park is just the remedy.
Dezerland Park is the largest indoor amusement parks in Miami (South Florida), with 250,000 sqft of rides, games, and activities! It's located in North Miami, right over the causeway coming from Bar Harbor.
This park offers go-karts, ultimate virtual reality, a trampoline park, a rock climbing wall, a ninja course, a ropes course, and bumper cars. Its newest addition is a roller rink. Plenty for the whole family to enjoy!
The indoor activities were the perfect solution to my kids' overheated moodiness (and the parents' too.)
Tips
There is a drive-in theater on the premises. Check the movie showings before you go to see if you want to catch one after your fun-filled day in the park.
Where to Eat
There is food available here at Dezerland, but if you are looking for less amusement park food and a little more of a family sit-down restaurant, there are a few options right by the park.
Little Havana
This is one of our family's favorite restaurants in Miami! Its original location is located about 5 minutes away from Dezerland down Biscayne Blvd. Its traditional Cuban menu is about as good as it it gets.
Steve's Pizza
A 5-minute drive south on Biscayne Blvd will take you to the staple pizza joint in North Miami for over 20 years. Steve's pizza is about the closest you'll get to some New York Pizza while in sunny Florida. It has always been one of our favorites in the area.
Where to Stay
Hotel Best Western Plus Windsor Inn
Just 2 miles down the road from Dezerland Park, Hotel Best Western Plus Windsor Inn offers free wifi and parking in addition to an outdoor pool and an on-site restaurant.
Check out more info on Dezerland Park here.
Tidal Cove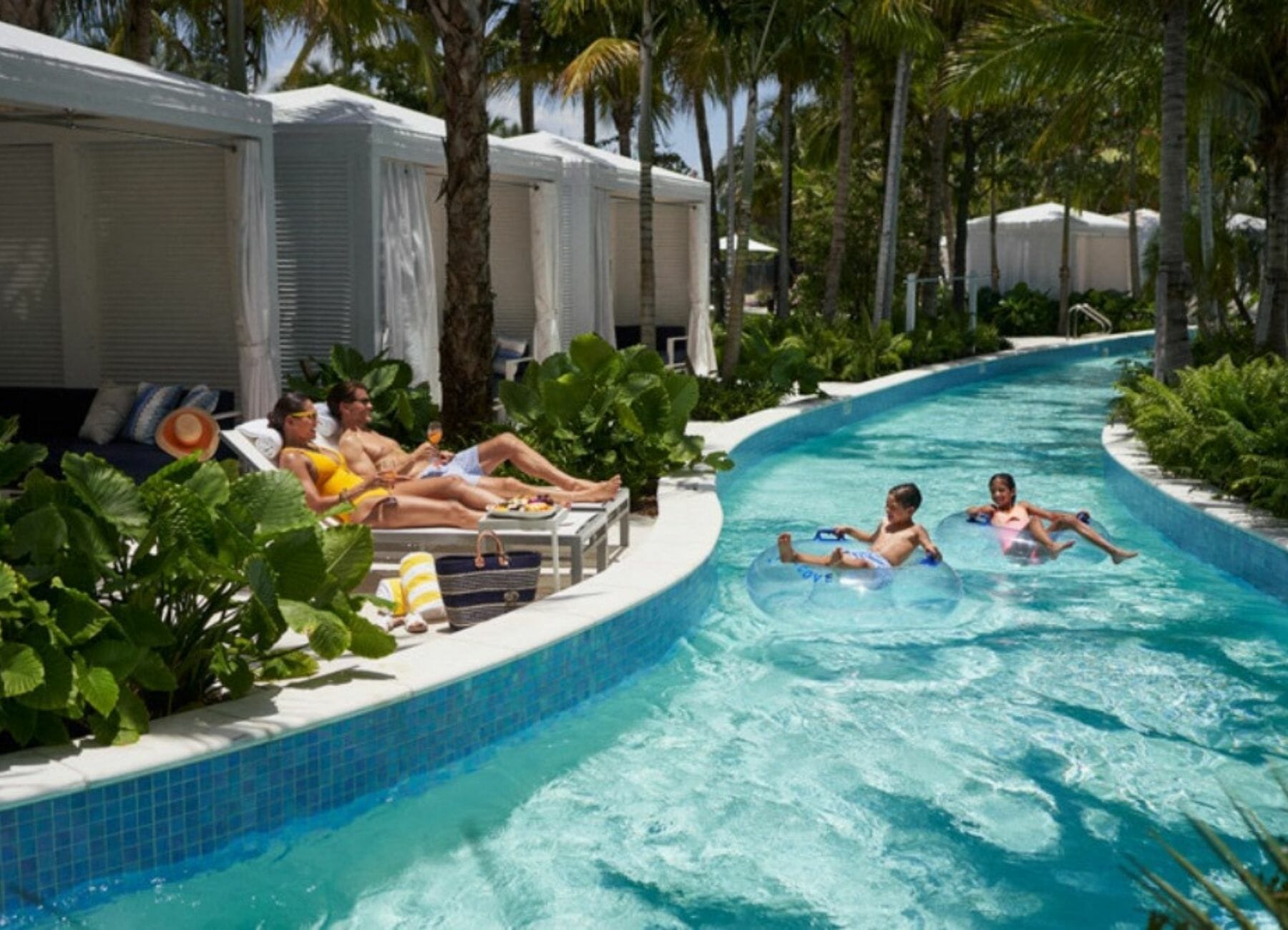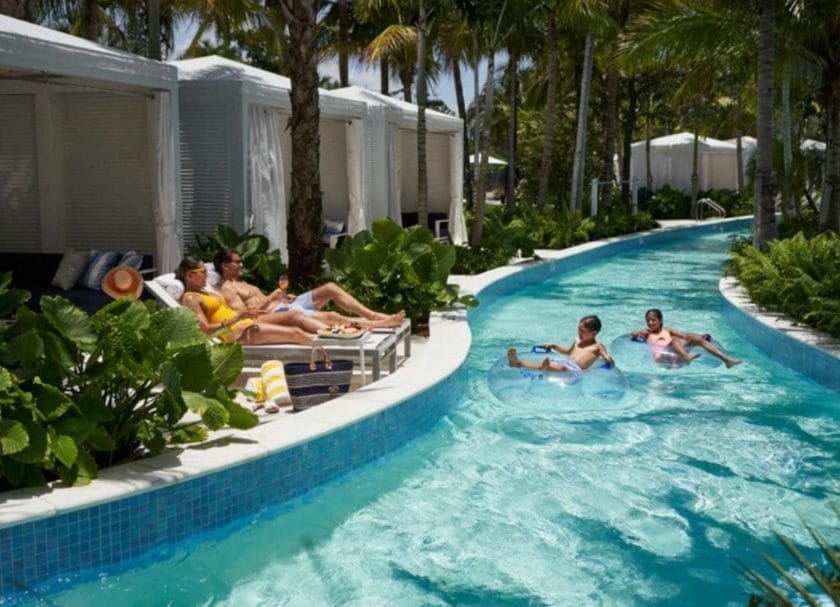 Tidal Cove Water Park is located within the Turnberry resort in Aventura, right over the causeway coming from Sunny Isles. You do not need to stay at the hotel, but buying a day pass gets you all the perks you would expect from a resort atmosphere on Miami Beach.
This park features several waterslides, including a trapdoor slide called Aqua Drop, an uphill water coaster called Master Blaster, and numerous tube and mat slides to choose from.
They also have a surf simulator called FlowRider and even offer lessons! A lazy river, 2 pools, cabana rentals, and Kids Cove are among the other attractions you'll find here.
This is one of the newest amusement parks in Miami Florida. It has all the features that would cater to every age, from the littles to the teens.
Your day pass includes access to Tidal Cove Waterpark, Corsair Kitchen and Bar, Surf House, Freestyle, Starbucks, and Bourbon Steak.
Where to Eat
Tidal Cove has two restaurants available, one being Freestyle, a counter-service restaurant, and the other, Surfhouse Bar and Grill, a sit-down restaurant with its specialty focusing on seafood.
Where to Stay
This park is located in the Turnberry Resort, which has luxurious accommodations and many on-site amenities. If you choose to stay here, access to Tidal Cove is included with your room rate.
Hilton Aventura Miami
Only 1/2 mile from Tidal Cove Water Park, Hilton Aventura Miami, this property offers an on-site restaurant and bar. Spacious rooms await you with a city view and an outdoor pool.
Check out more info on Tidal Cove here.
Rapids Water Park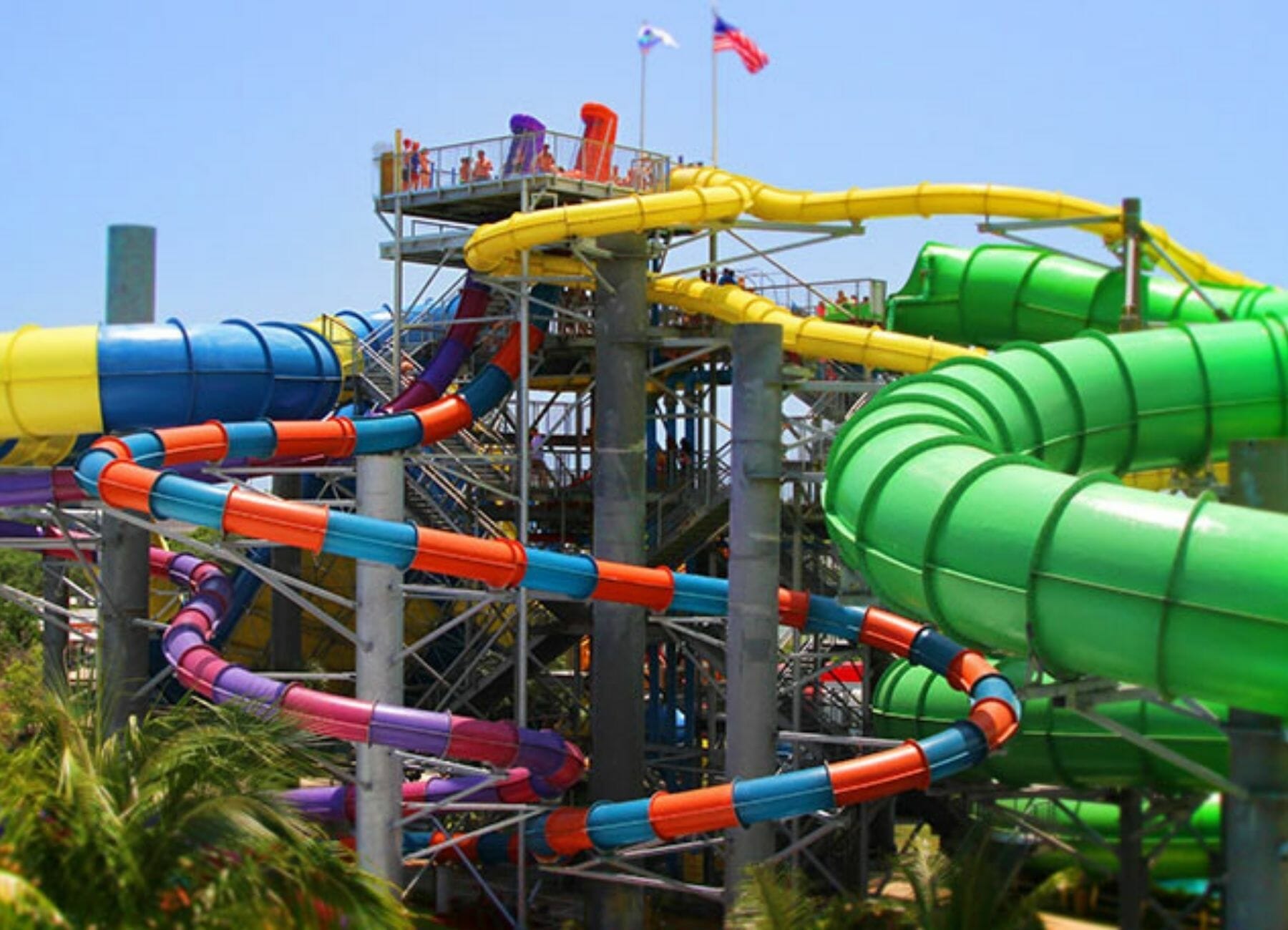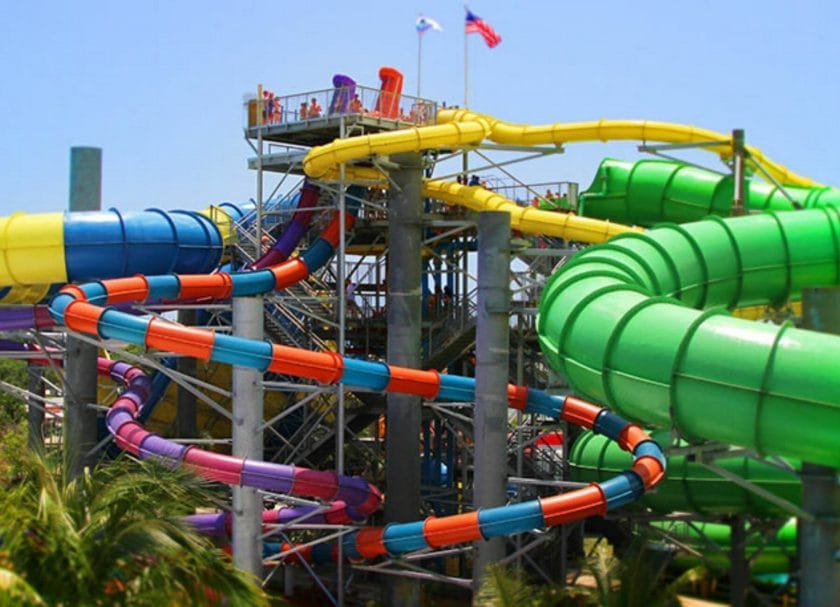 This has been the primary, big mamma-jamma waterpark in the South Florida area since 1979. About an hour north of Miami in West Palm Beach, Rapids Water Park has 42 major water slides and attractions.
From the 70 ft high enclosed trapdoor waterside, Brain Drain, to the Black Thunder, the water slide immerses you in total darkness as you slide in the massive funnel. Their slide, Rapid Racer, has won World's Best Waterslide!
The park is a full-day affair, with multiple lazy rivers, a 25,000 sqft wave pool, an over-the-water obstacle course, a FlowRider surf pool, a boatload of family rides, including Splish Splash Lagoon, an entire network of the kid-sized slides.
This is yet another park to add to the list for any age! Everyone will find something to their size and liking.
Tips
Look into the cabana rental option, which offers a 10×10 cabana with shade, a ceiling fan, couches, a flat-screen TV, and security for your belongings. Each of these has quite the value when you've been in the Florida sun with kids all day!
Where to Stay
If you book through Rapids Water Park's website, you can get a discounted rate at one of many hotels in the area.
Where to Stay
Hyatt Place West Palm Beach
Located only 5 miles from Rapids Water Park, Hyatt Place West Palm Beach is a pet-friendly establishment that offers free wifi to guests. They also offer an on-site guest kitchen that serves soups, salads and sandwiches 24 hours a day. This property also has fitness center and hottub for relaxing.
For more info check out Rapids Water Park here.
Broward and Miami-Dade County Water Parks
I know what you may be thinking- county parks? No, thanks.
But let me tell you, if you are visiting in the off-season, you might be surprised to find out that some of the best water park experiences in the Miami area are in the county parks themselves! There is likely a water park near you, depending on where you plan to visit.
Paradise Cove at CB Smith Park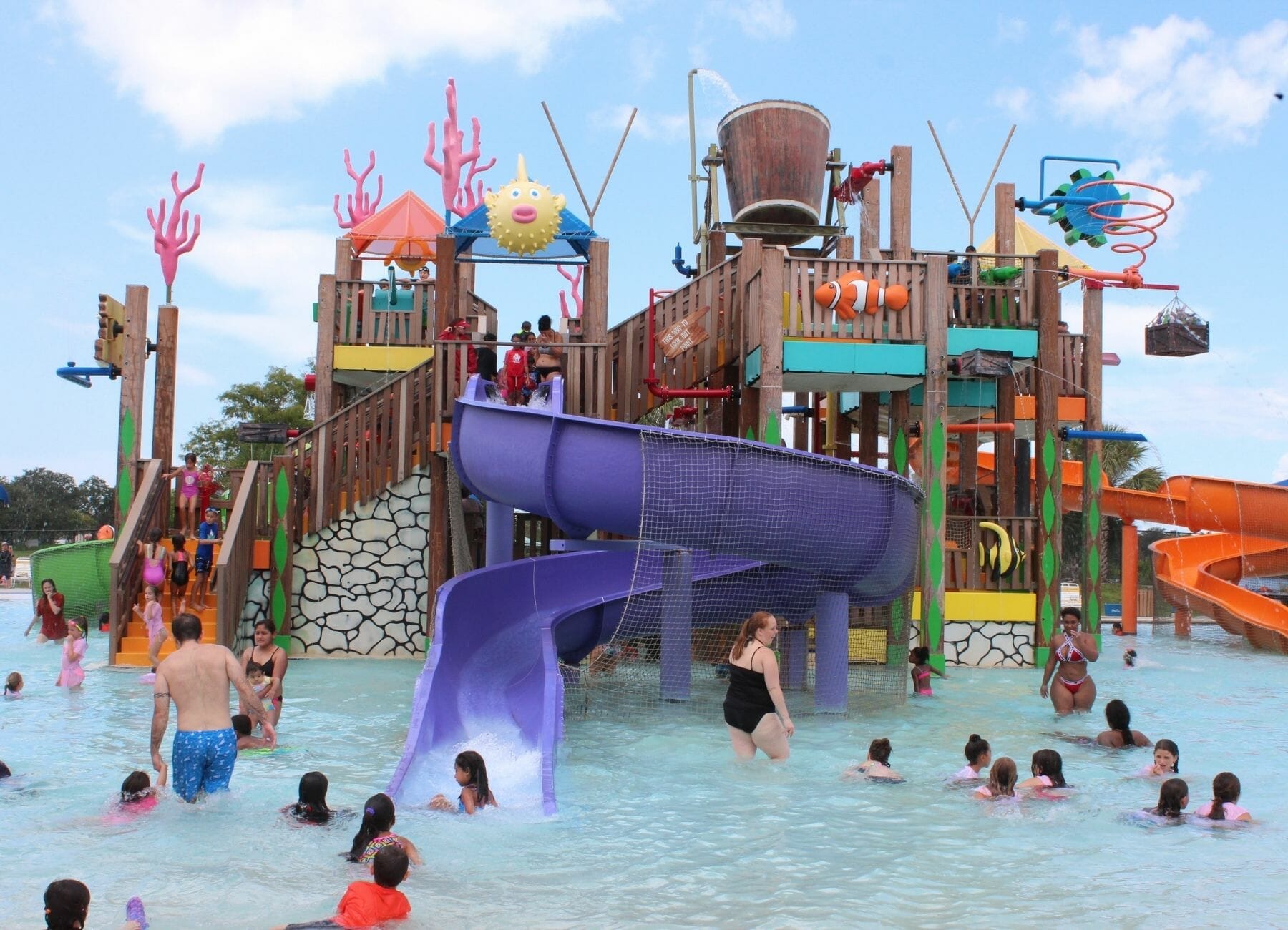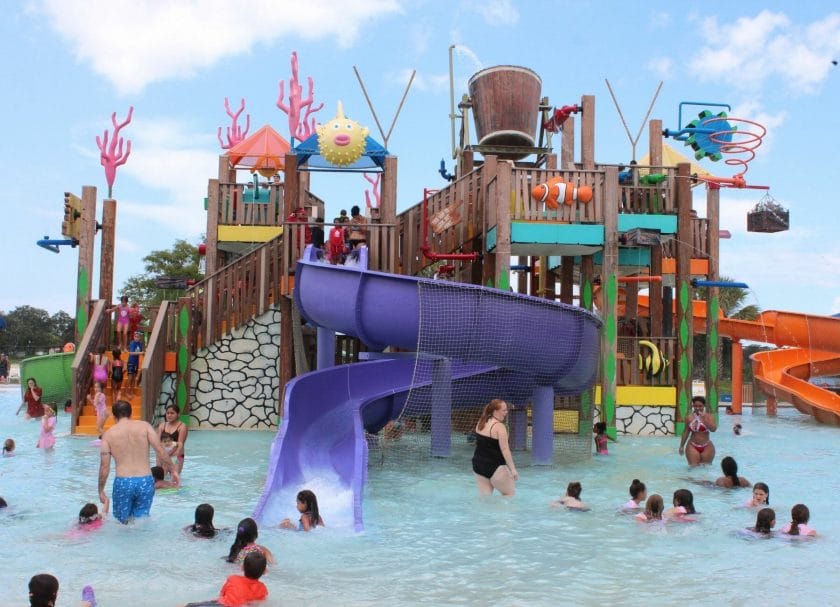 This incredible county-run water park is located in Pembroke Pines. It features 4 five-story-tall waterslides, 2 water playgrounds; one is for the little ones 5 and under, and the Crazy Creek, a 410 ft long winding tubing ride. This county park will blow you away!
Tips
If you plan to take your RV to the area, CB Smith Park offers full hook-up RV accommodations.
For more info check out Paradise Cove at CB Smith Park here.
McDonald Water Park
Located in Hialeah, this park offers a wave pool, lazy river, and scenic waterfalls. There is plenty of shade offered under the Funbrellas around the water.
For more info check out McDonald Water Park here.
Splash Adventure Water Park at Quiet Waters Park
This waterpark has a massive play structure that is great for children. While there are no slides and wave pools here, this park has its ​​​​Ski Rixen USA cable water-skiing feature. We found this to be very cool!
For more info check out Splash Adventure Water Park at Quiet Waters Park here.
Castaway Island at Topekeegee Yugnee (TY) Park
This is the park we have frequented most in our prior years living in South Florida. There is just so much to do here. Bike and canoe rentals are offered as a way to cover more of the 139 acres of this wonderful place.
But the reason we have it on this list is the mid-range water park which can be a great afternoon out with the kids. The slides at Castaway Island, while not quite to the level of some of the other parks we have listed, are good enough to keep the 2-13 yr olds busy for hours.
An Olympic-sized pool situated right next to the water play structure can give the park a wide-open feel and a welcome breather from the chaos of the slides and water features.
Tips
This park, too, has full hook-up RV amenities.
For more info check out Castaway Island at Topekeegee Yugnee (TY) Park here.
The counties run these budget-friendly water parks. It was almost shocking just how nice these parks were! I was floored that the local parks and recreation departments provided such great amenities.
We lived in Miami for 15 years without and then with children and got to know it very well. Since starting to travel full-time, we have visited more as tourists rather than residents, and it opened our eyes to even more that the area has to offer.
There's no shortage of amusement parks in Miami, seasonal attractions, and events to visit with kids in the Miami area, no matter what time of year you visit and no matter your kids' ages. So next time someone says Miami is only for adults, you can educate them on the ample amount of parks for families to enjoy!
More Info Check Out:
7 Awesome Things To Do In Miami With Kids
21 Fun Things To Do In Port St Joe Florida
Florida Keys Road Trip: 29 Amazing Places To Visit [Map Included]
Top 11 Best Beaches In The Florida Keys [Map Included]
Pin This Post: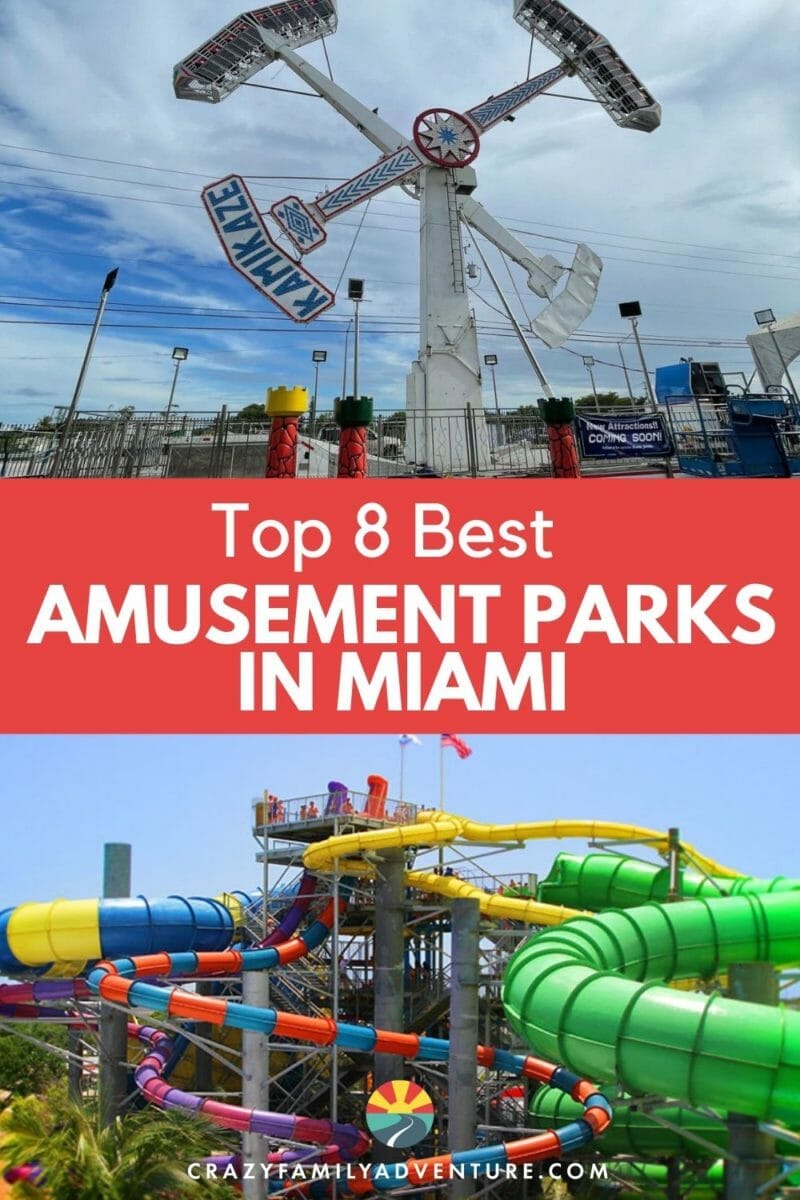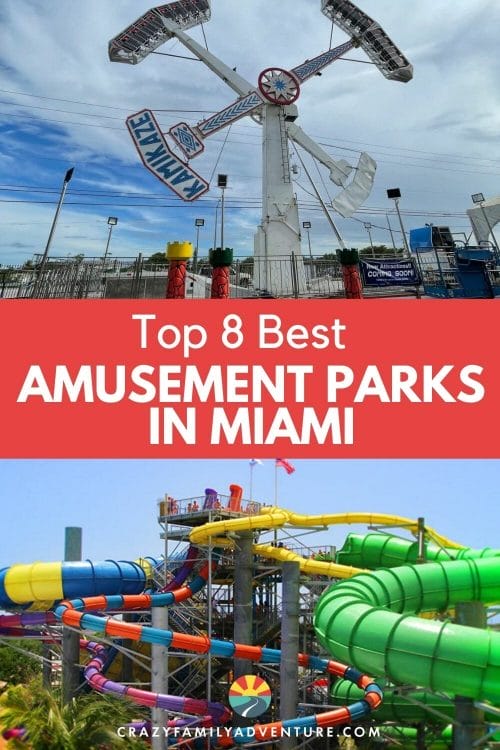 Latest posts by Meryl Kalman-Sarrecchia
(see all)
DISCLOSURE: This post may contain affiliate links, meaning I get a commission if you decide to make a purchase through my links, at no cost to you. Please read my disclosure for more info.