If you are looking for an awesome road trip destination this is it! There are so many fun things to do in Port St Joe, Florida, and all of Gulf County. Beautiful beaches, scenic drives, outdoor activities like boat rides, and kayaking. Plus a historic downtown and yummy restaurants.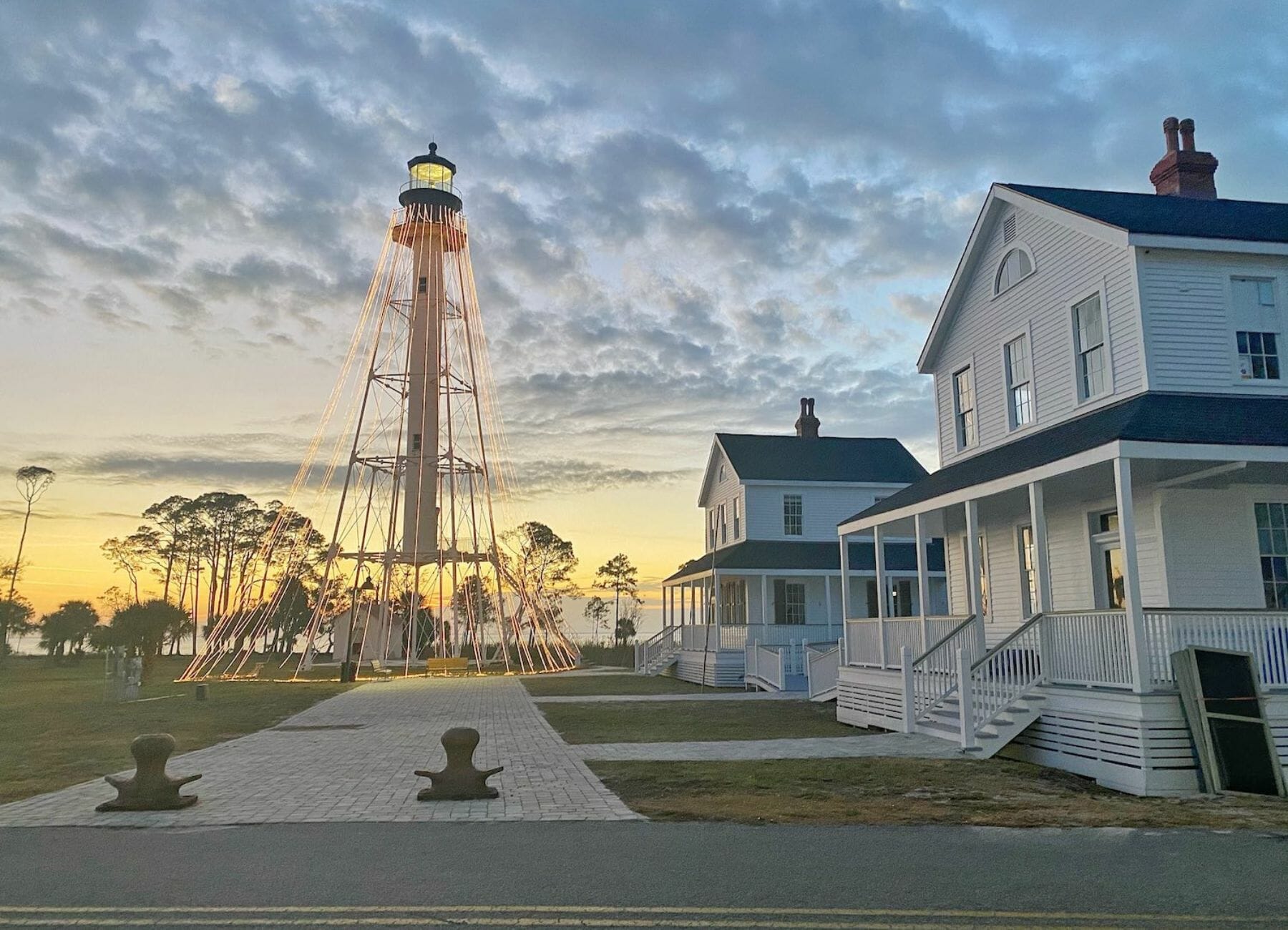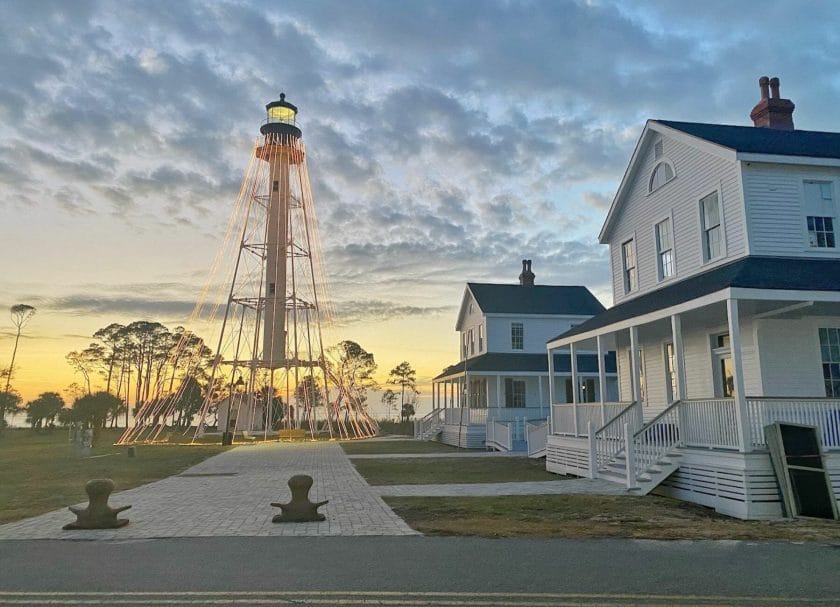 If you are planning a Florida Road Trip or an East Coast Road Trip be sure to add Port St. Joe as one of your stops!
Below we share our top recommendations on what you will want to do when you visit Port St. Joe located in Gulf County Florida. This area is also known as the Forgotten Coast and we see why. The beaches were empty and it was not the crazy busyness you find in other beach towns in Florida.
We worked in partnership with Gulf County, Florida, and spent a week exploring all the fun things to do in the area.
Port St. Joe is located in the Florida panhandle about an hour east of Panama City. Gulf County includes Cape San Blas, Indian Pass, Port St. Joe, St Joe Beach, and Wewahitchka.

Hurricane Michael hit the area hard in October 2018. Over the last 2 years they have done a lot of work rebuilding. The work is by no means finished, but they have done an amazing job so far
Bonfire On The Beach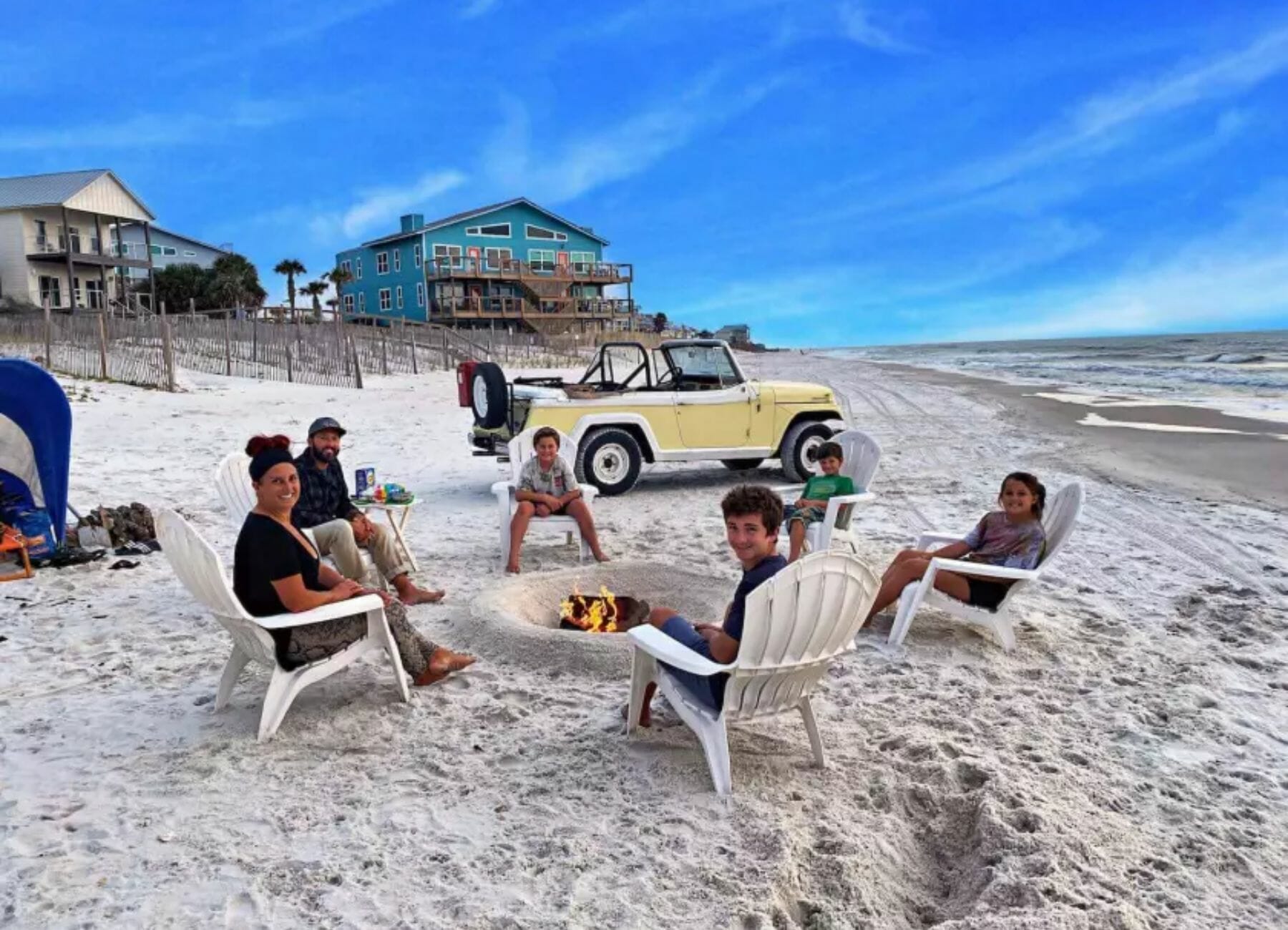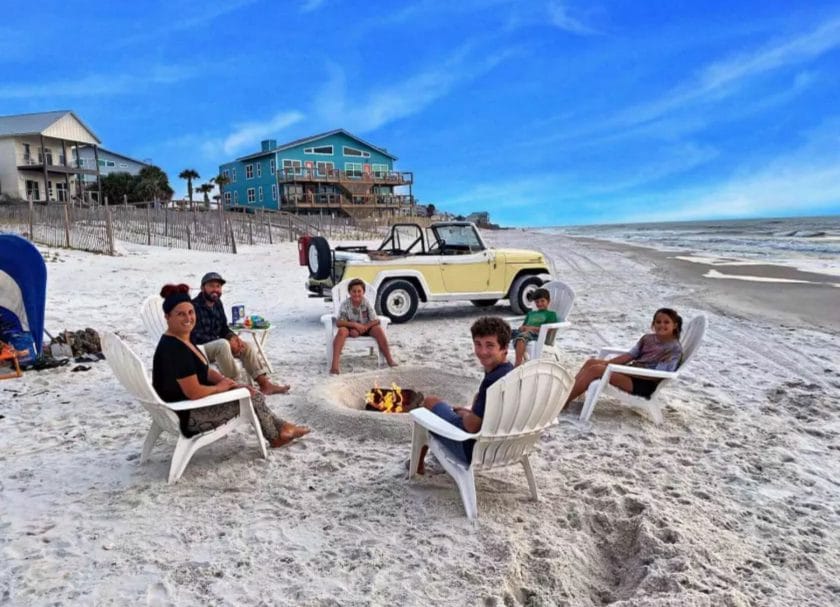 Going Coastal Cabanas and More gets everything set up for you on the beach. Chairs, a cabana, a fire pit, logs, a fire starter, and even s'mores. All you have to do is show up!
Having a bonfire on the beach always sounds like a great idea but the hassle of doing it may make it not happen. Not in this case! Literally, just show up and start the fire. When you are done you can leave and the team at Going Coastal Cabanas will take care of the rest.
This was an awesome way to watch the sunset out over the Gulf of Mexico while sitting around a fire and roasting marshmallows.
All About Fun Charters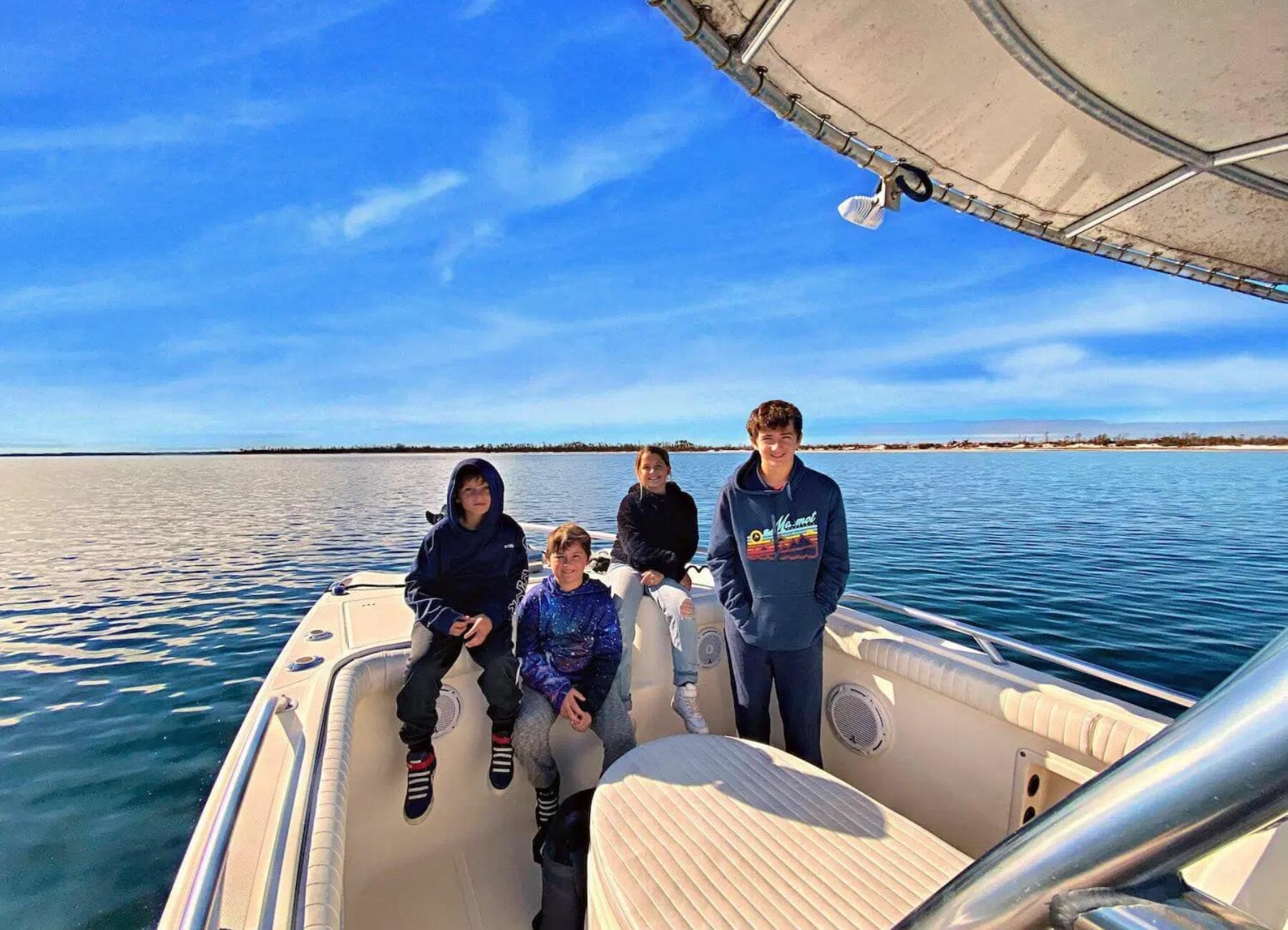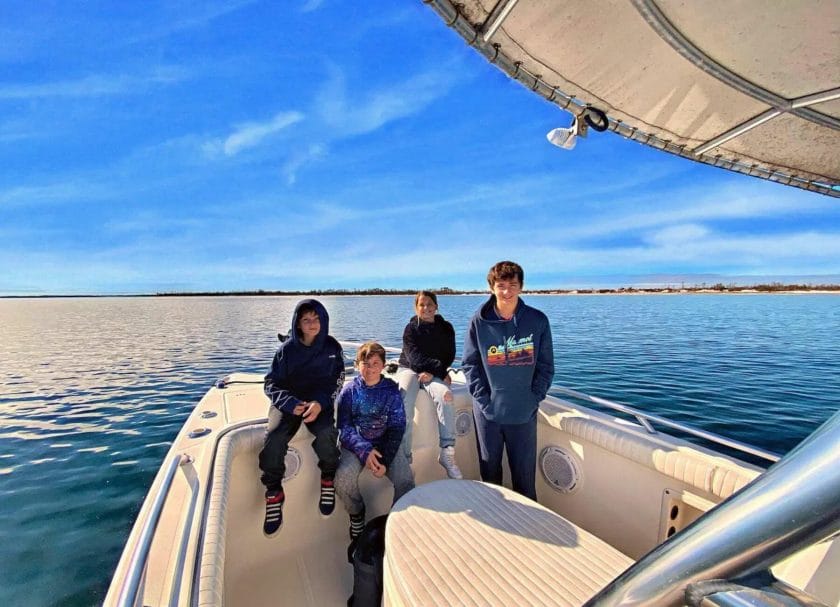 Head out with Captain Charlene from All About Fun Charters for an awesome boat adventure on the bay! We went out in December so it was a bit chilly, but perfect when the sun came out and no one else was on the water.
If you go in the warmer months, Captain Charlene will take you to her favorite snorkeling spot where the kids can snorkel in 2 feet of water and find all sorts of sea critters in the crystal clear water!
You can bring them on the boat and Captain Charlene will teach you all about what you found!
We also saw a pod of about 15 dolphins when we were out on the water and they stayed and played and put on a show for us for 20 minutes.
Captain Charlene is also able to put together custom tours if you would like her to take you to a picnic spot only accessible via boat or if you had something else in mind. Just give her a call and you can figure it out!
Happy Ours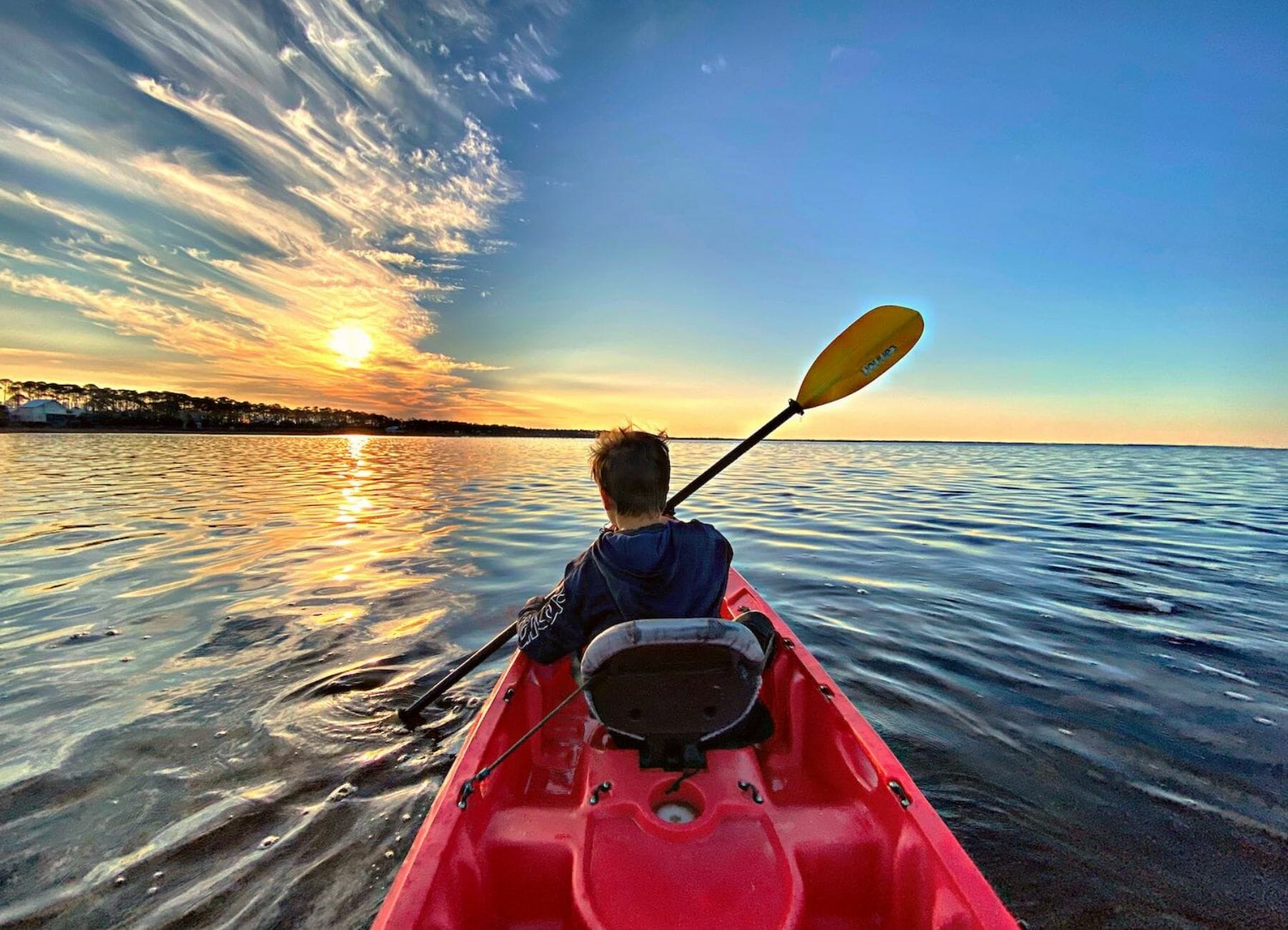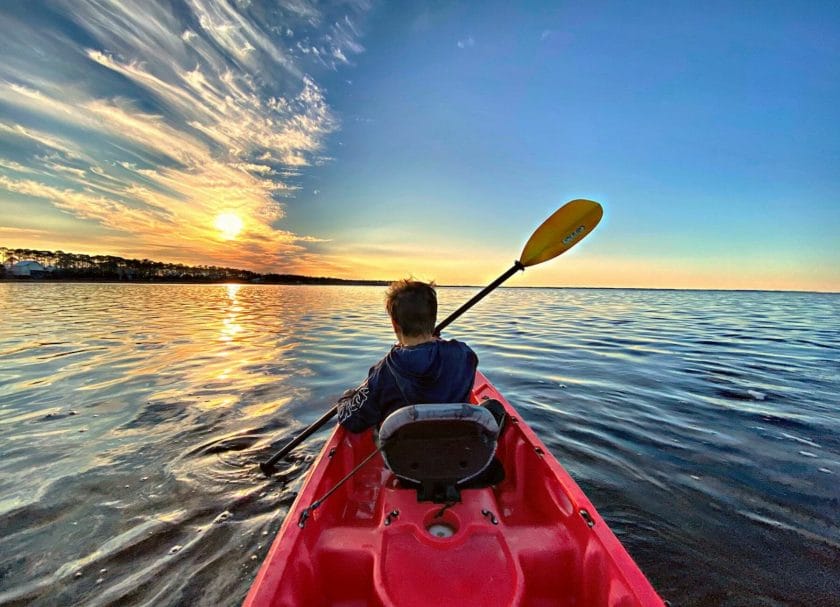 Rent kayaks or paddle-boards from Happy Ours and put them in right at their house/shop located on the bay. You can then go out and kayak in the bay. We didn't realize that the water was so clear and shallow – it made the kids feel totally safe on the kayaks.
Plus you can see everything right in the water! Our guide was able to tell us all about what we were seeing and to teach us about the history of Port St. Joe!
We also went in and through the tall grass with the kayaks and had fun just being out on the bay in the kayaks.
They also rent bikes – which would be fun to take on the bike trail that runs along the Cape.
Kayak Fishing Port St Joe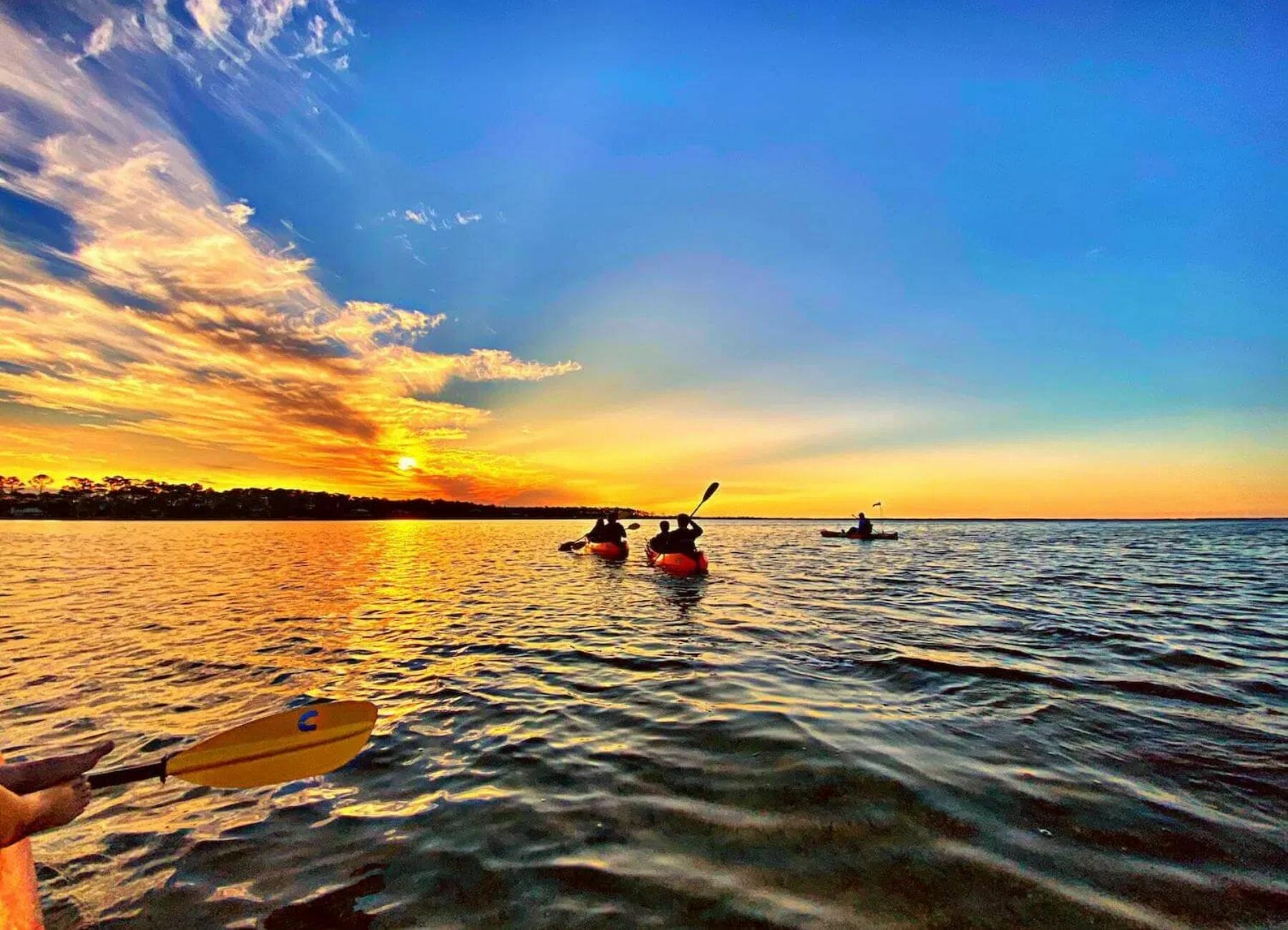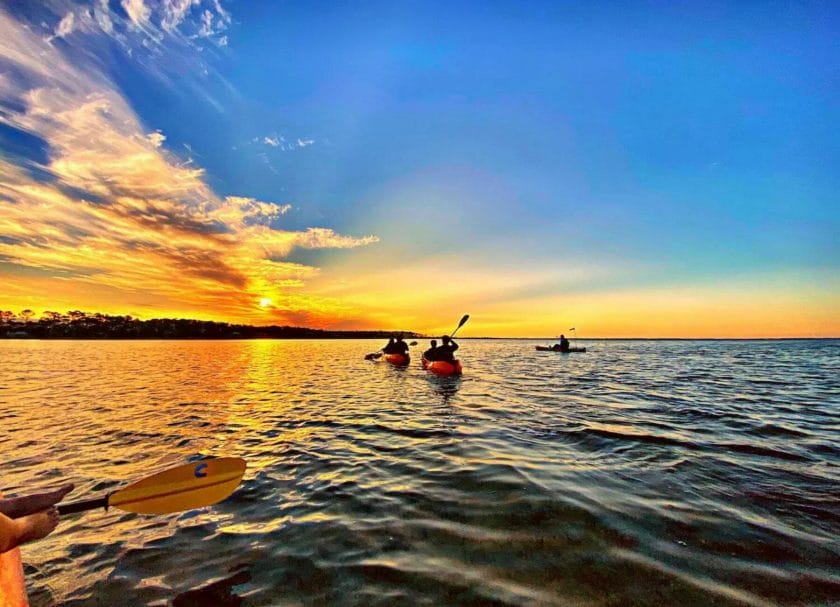 Our guide on the kayaks was Brad from Kayak Fishing Port St Joe. He can take you on an ecotour in the kayaks or take you out fishing!
He was super knowledgeable and it was a great way to learn more about the bay and the area.
Off The Map Expeditions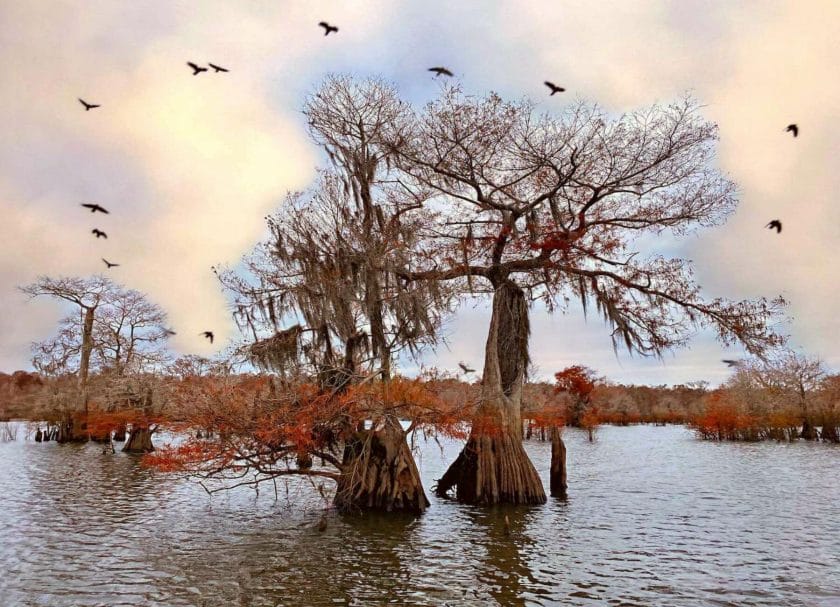 Head out to Wewahitchka, Florida, and Dead Lakes State Park! This is a really interesting lake with trees growing straight out of the water.
You can head out on a pontoon boat with Off The Map Expeditions for a tour to check it out. Or you can go on a guided kayak tour. I highly recommend doing a guided tour. It turns into a maze back there and I can see how you could easily get lost.
Matt, our guide, was super knowledgeable about the area and shared a lot about the lake and the ecosystem. You can also see osprey, eagles, and a variety of other birds. When the weather is warm you may see an alligator or 2 too!
Sea Turtle Center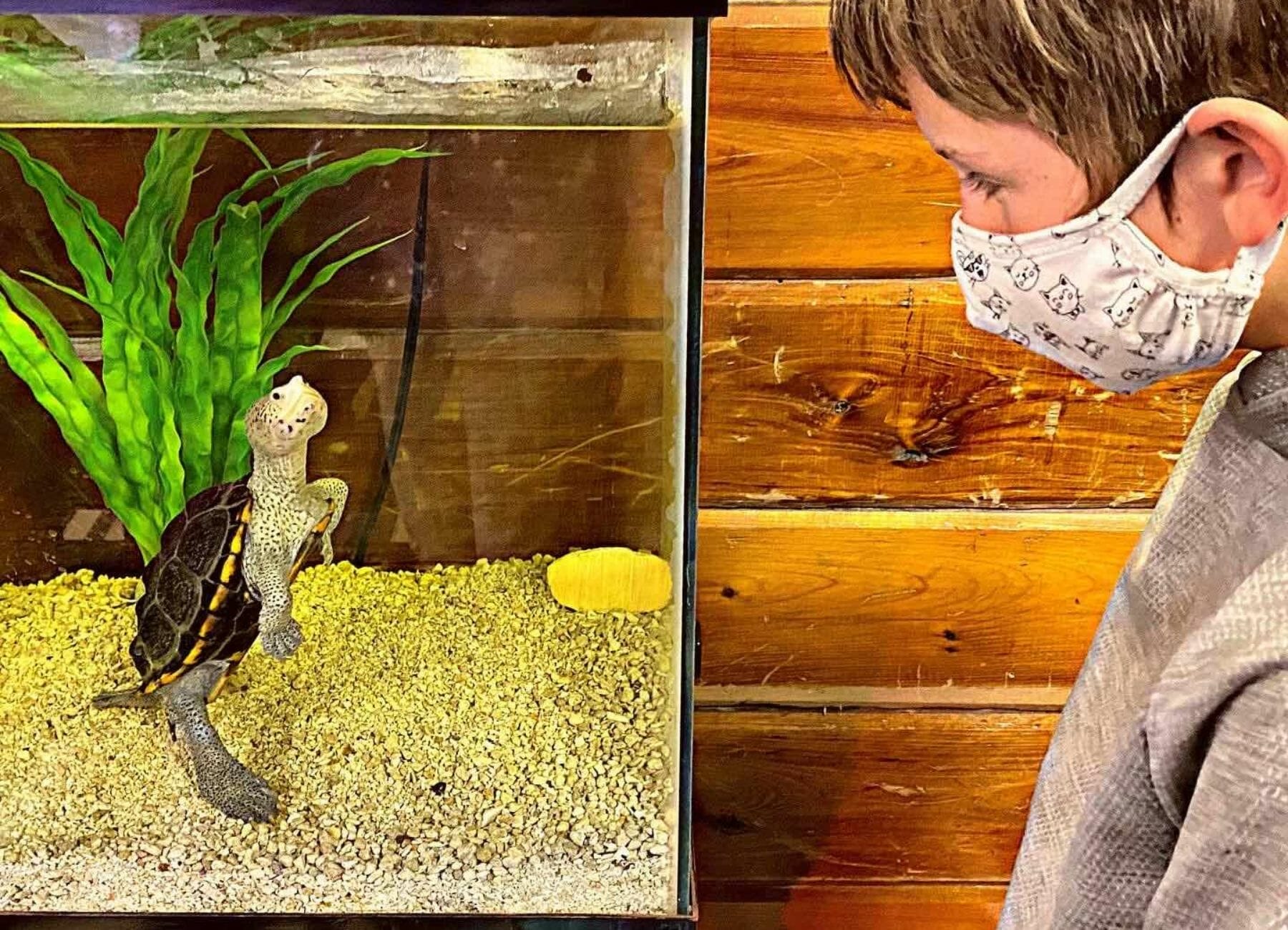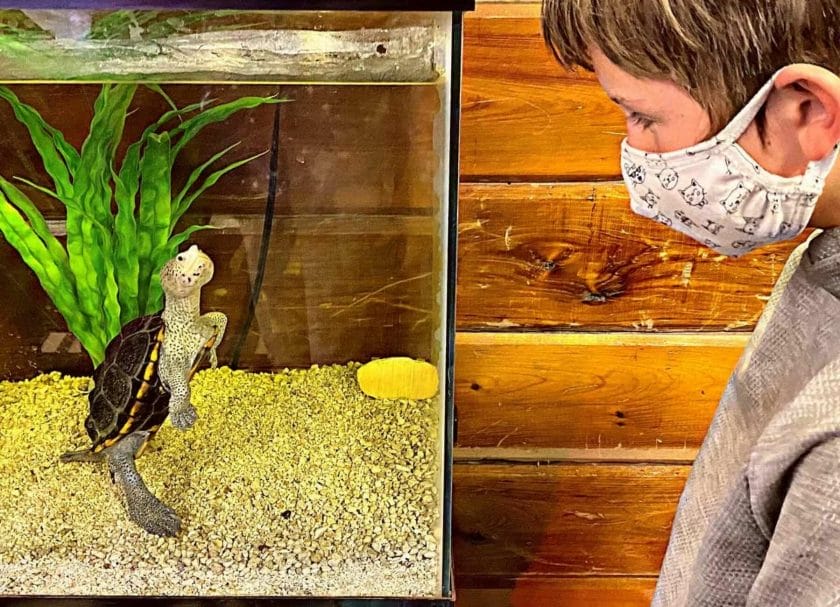 The Forgotten Coast Sea Turtle Center is new to the area and it is exciting to visit and hear what they are planning to do. There are a lot of sea turtles in the bay and the gulf side is a big nesting area for them from May through October.
Right now you can stop in and learn more about the sea turtles in the area and how we can all protect them. Plus they share a variety of volunteer activities that you may be interested in participating in.
St Joseph Bay Golf Club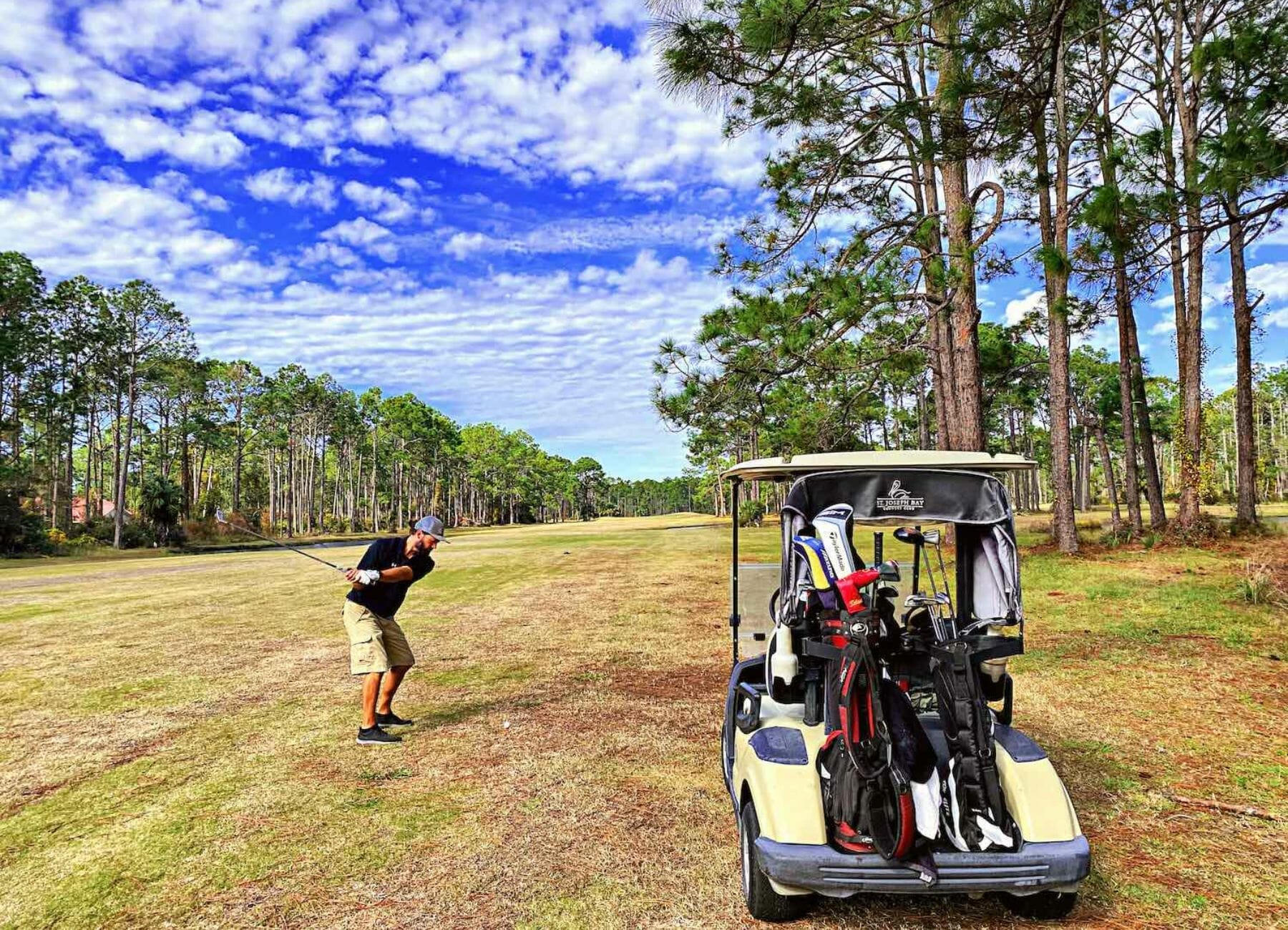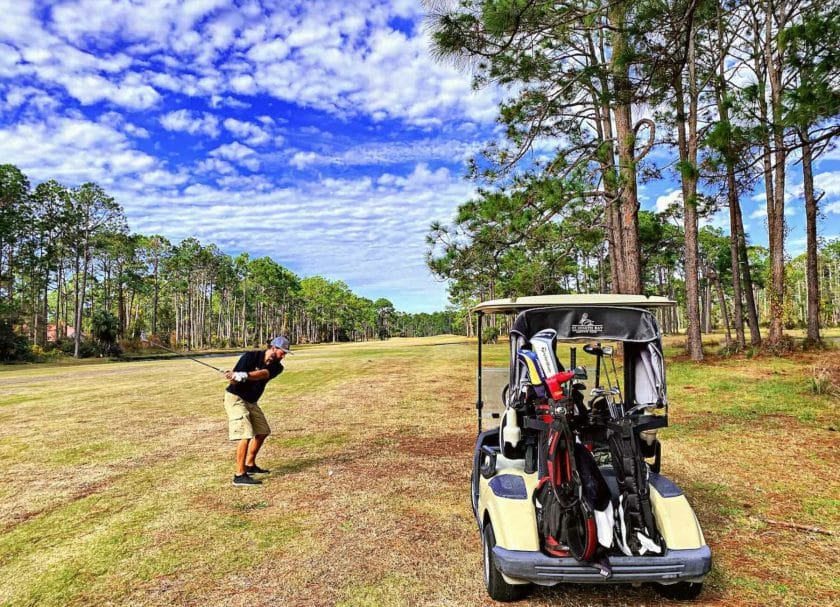 If golf is your thing you will want to head over the St Joseph Bay Golf Club. The course was nice and also challenging. We were easily able to get a tee time on a Sunday at 11am and had a great time on the course.
Cape San Blas Lighthouse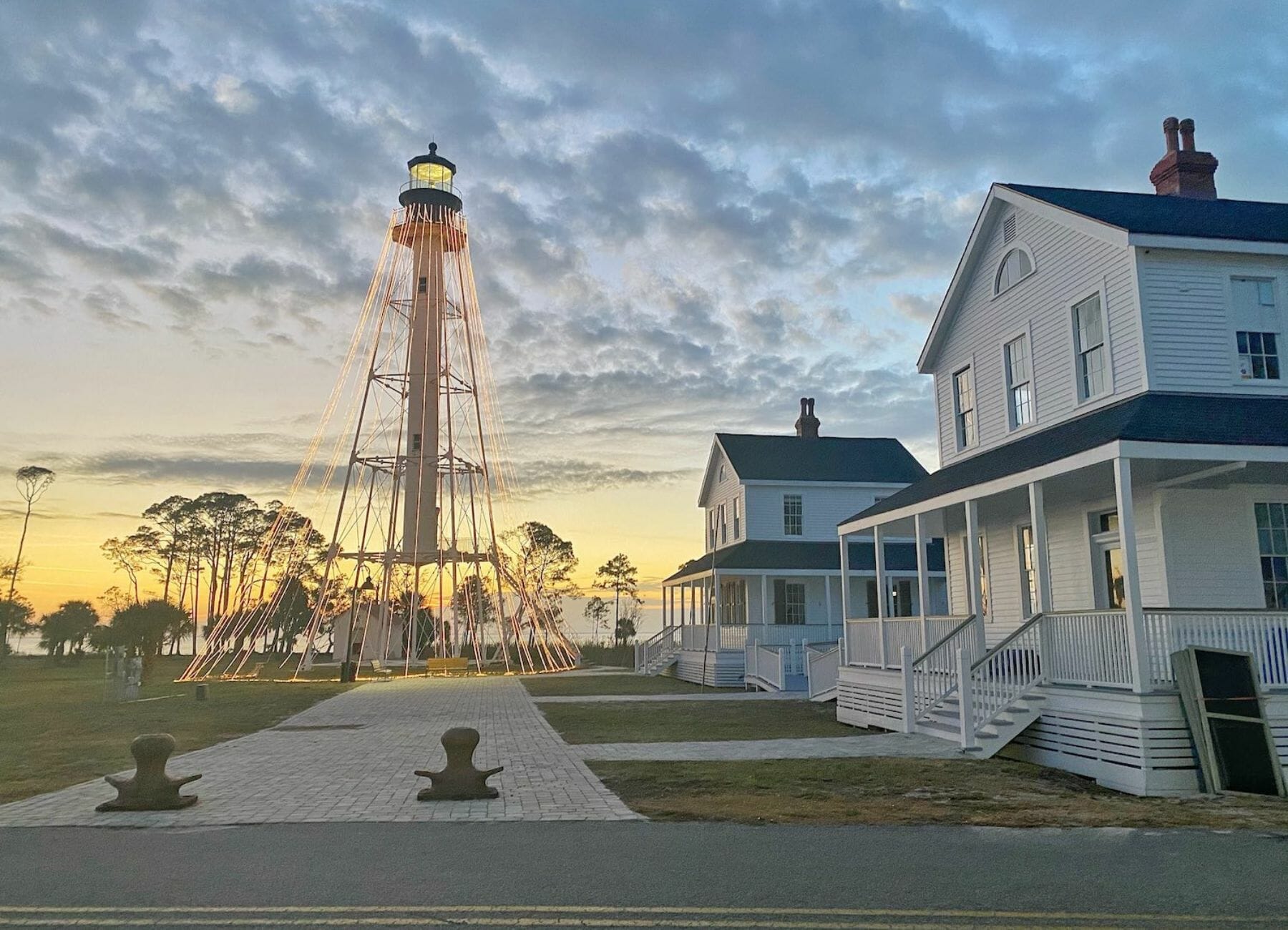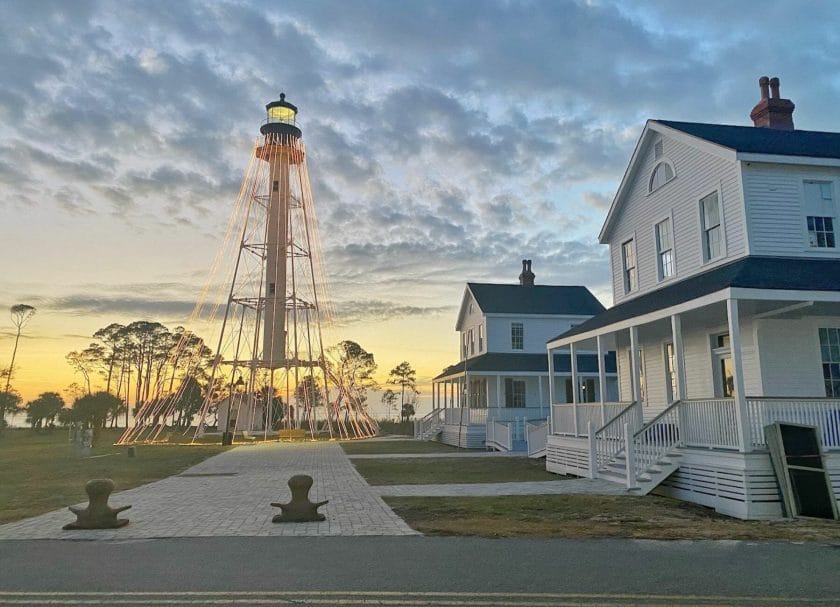 We checked out the lighthouse from afar, but did not go up it. It is definitely a Port St. Joe landmark and it was fun to point it out when we were out on a boat on the bay too!
General Store at Waters Edge RV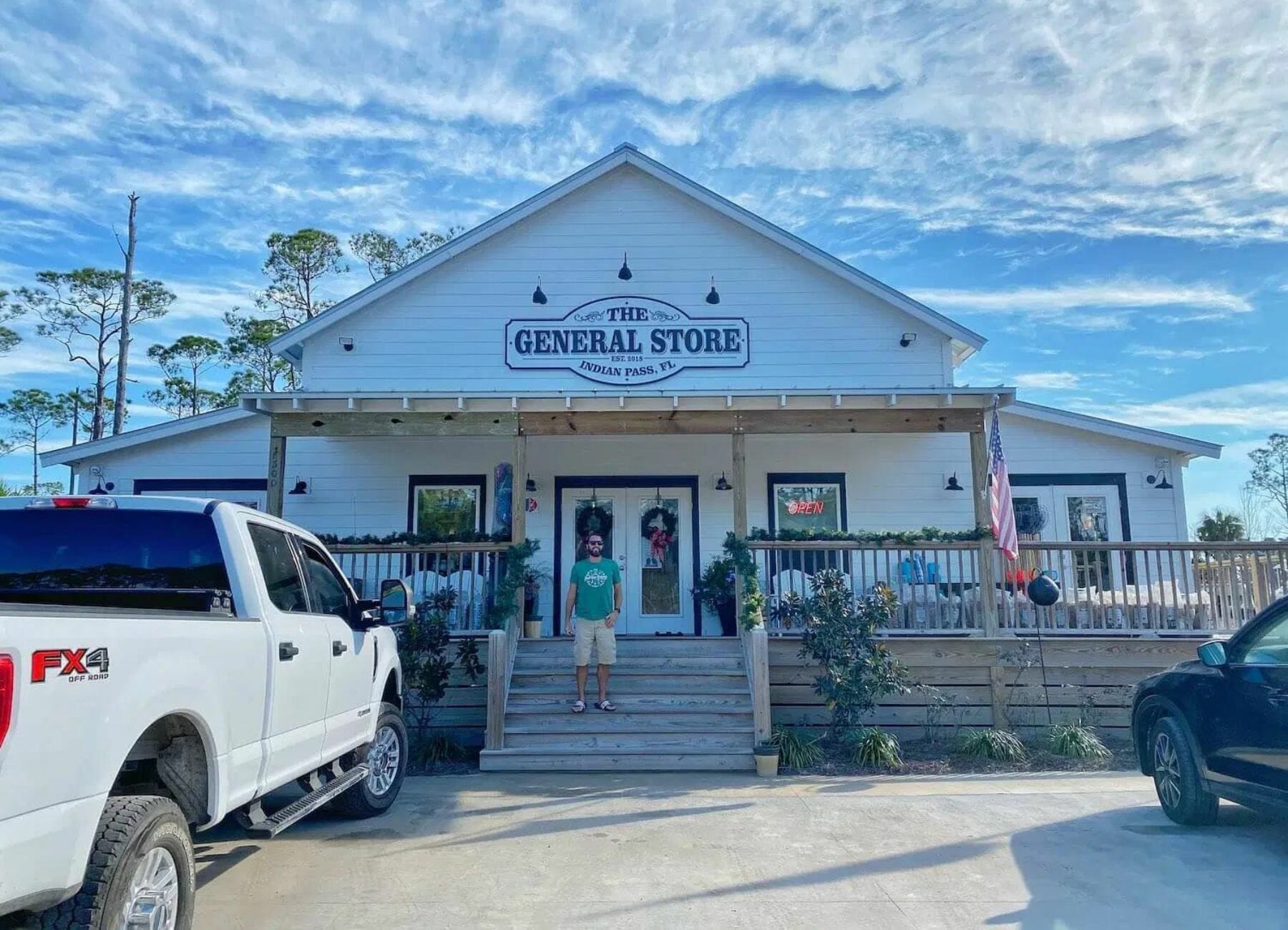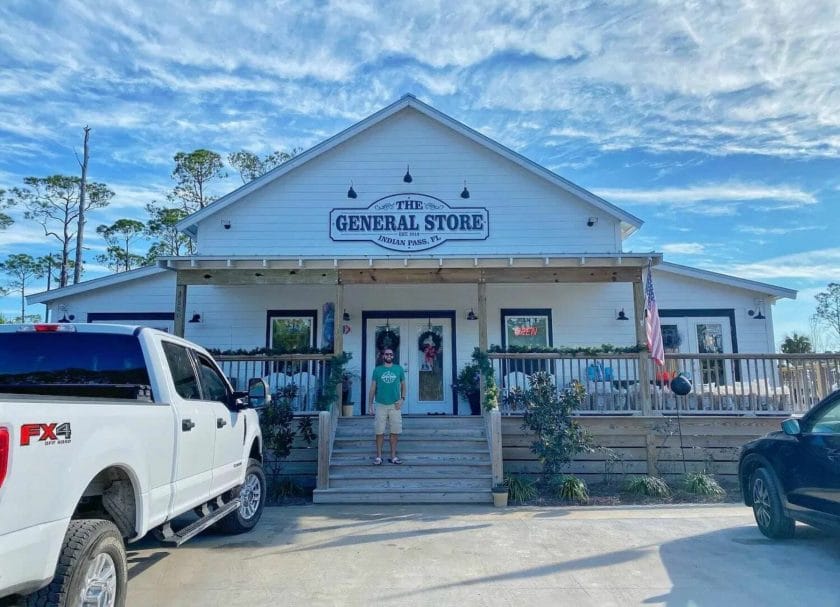 If you are looking to pick up a few supplies for the day you will want to check out the General Store at Water's Edge RV Park! They have a good beer and wine selection along with supplies you will need for fishing or playing at the beach.
Beaches
When you are here you will want to explore all of the beaches. Both on the bay side and on the Gulf of Mexico side. You will find waves crashing and shells to search through. Here is a breakdown of the beaches in the area:
St Joseph Peninsula State Park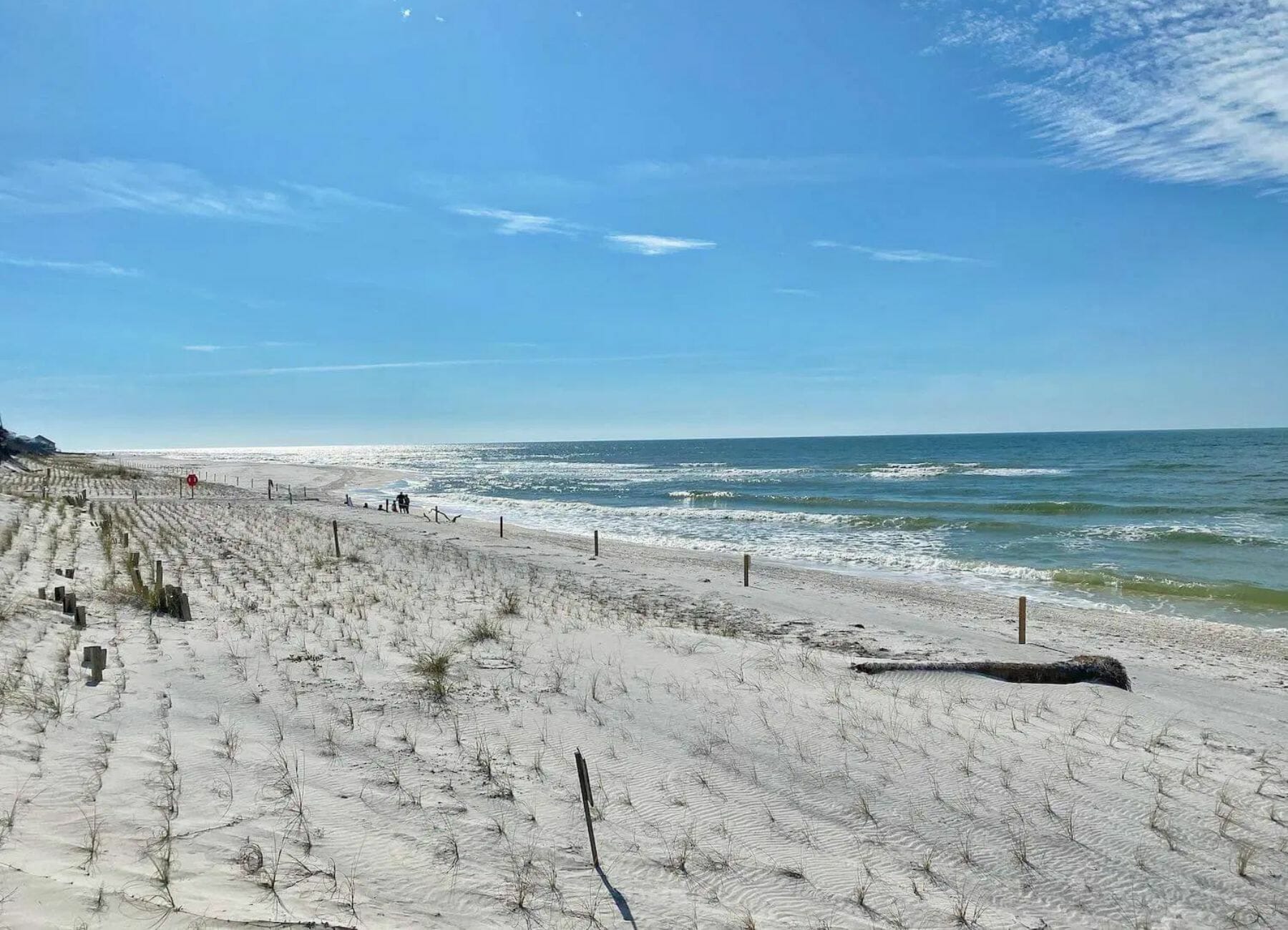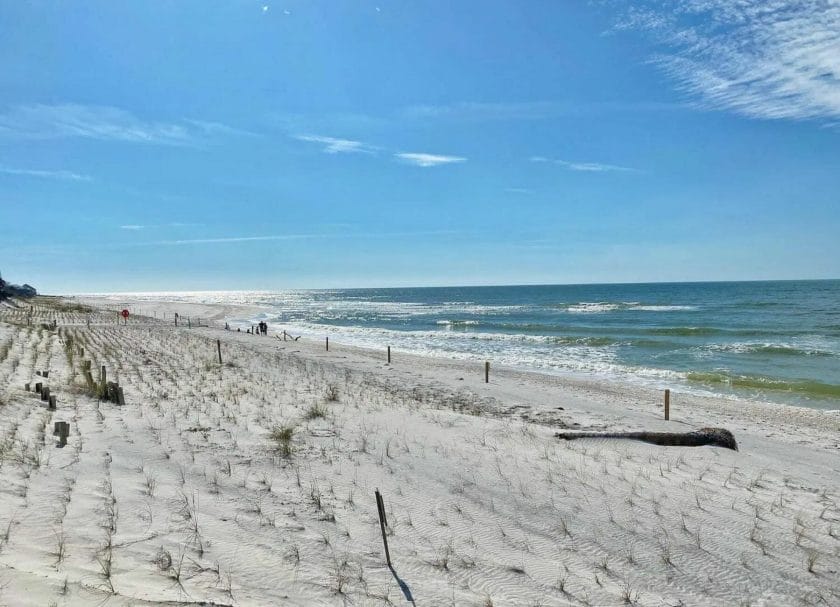 You know we always love a State Park and this one did not disappoint! St Joseph Peninsula State Park Port St Joe offers a hiking trail and also 2 beaches. One on the Bay side and one on the Gulf Of Mexico side.
Located on Stone Memorial st they have restrooms and a shop by the beaches. A great place to come to spend the day.
Windmark Beach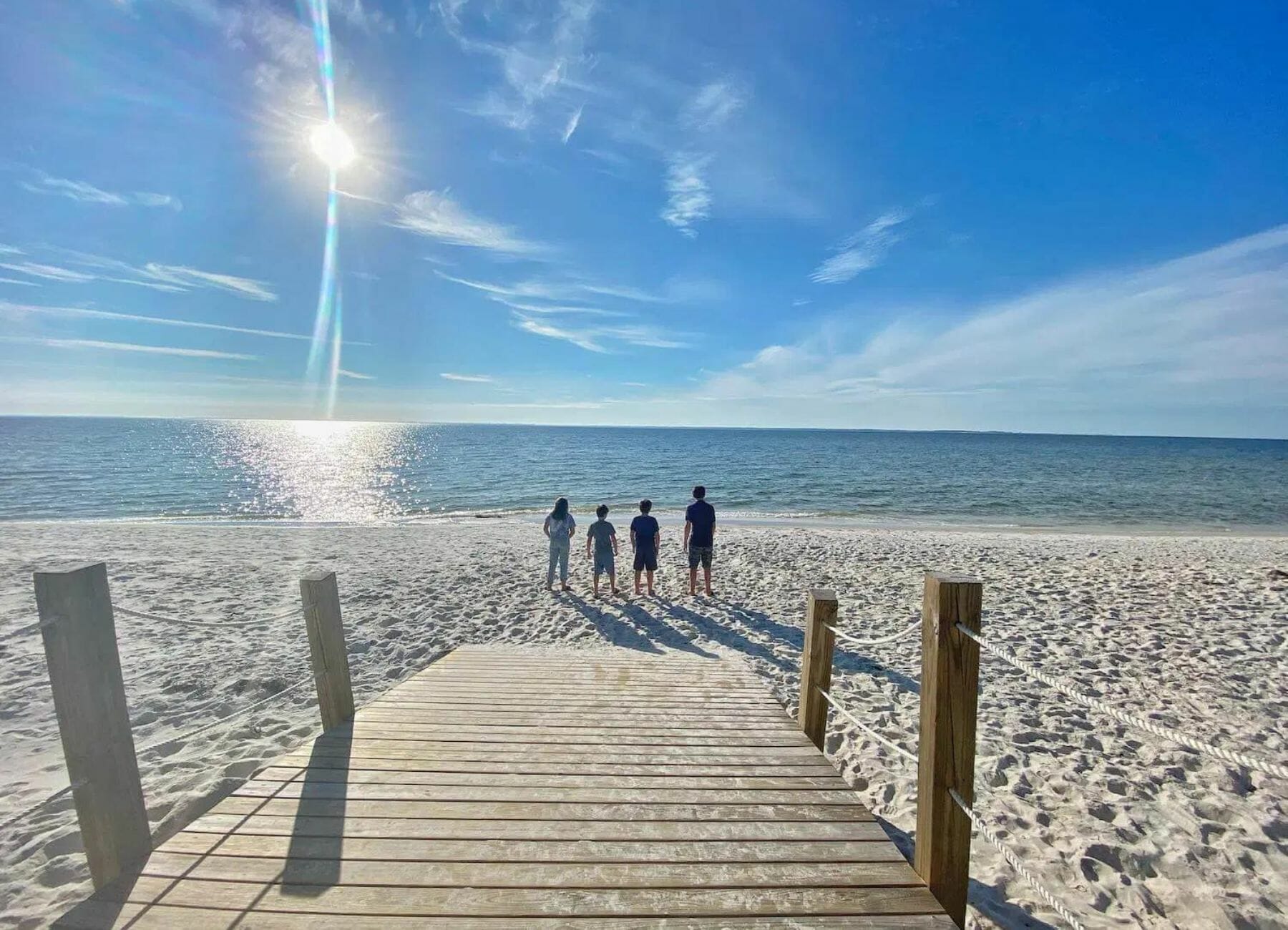 Located just east of Port St. Joe, Windmark Beach has a nice paved walkway to get to the beach and was very calm. It has the beautiful white sand and would be perfect to hang at the beach for the day and then grab dinner at one of the restaurants in the area.
St. Joe Beach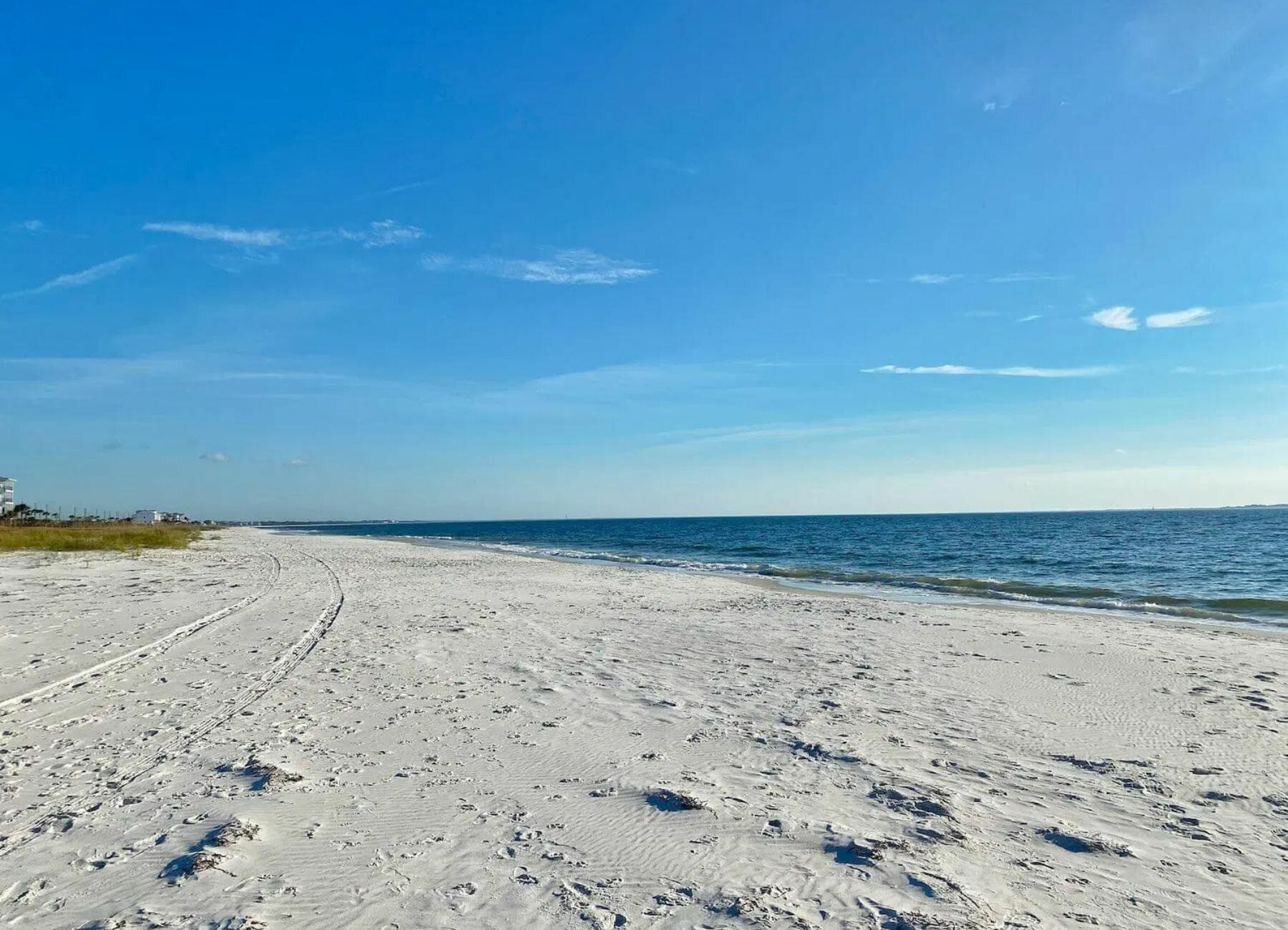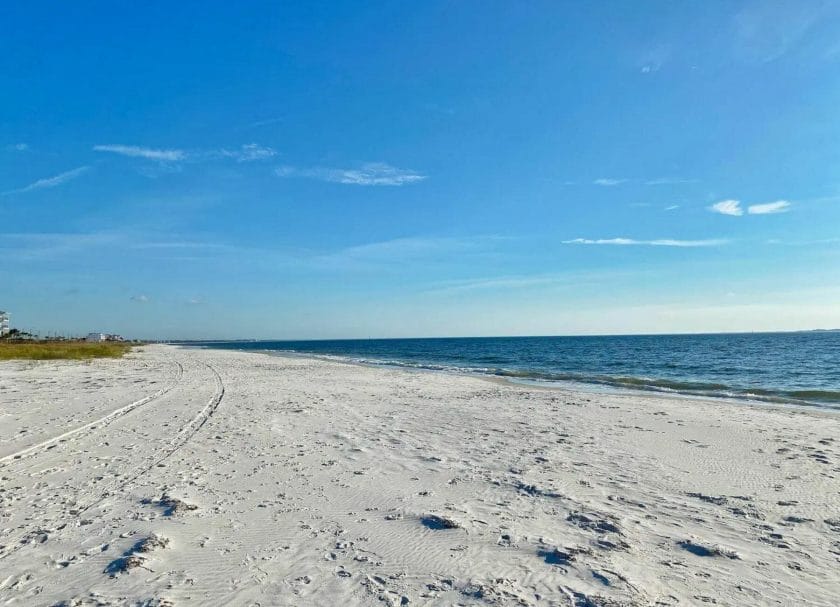 Another option is St Joe Beach which is located further east. It is across the street from a playground and the Gulf County Veterans Memorial Park. The shore of St. Joe Beach is beautiful and has that nice soft sand.
Salinas Park Beach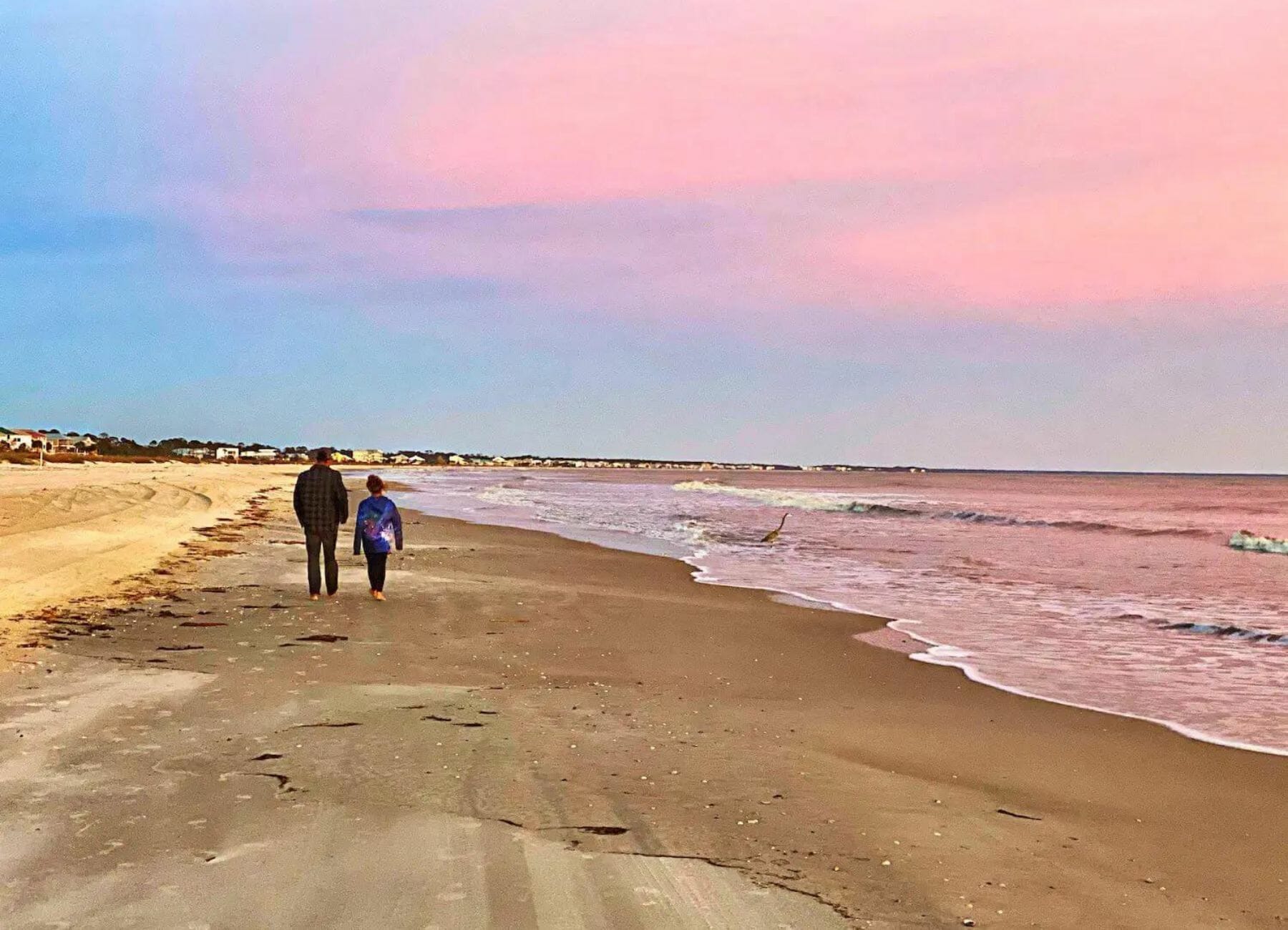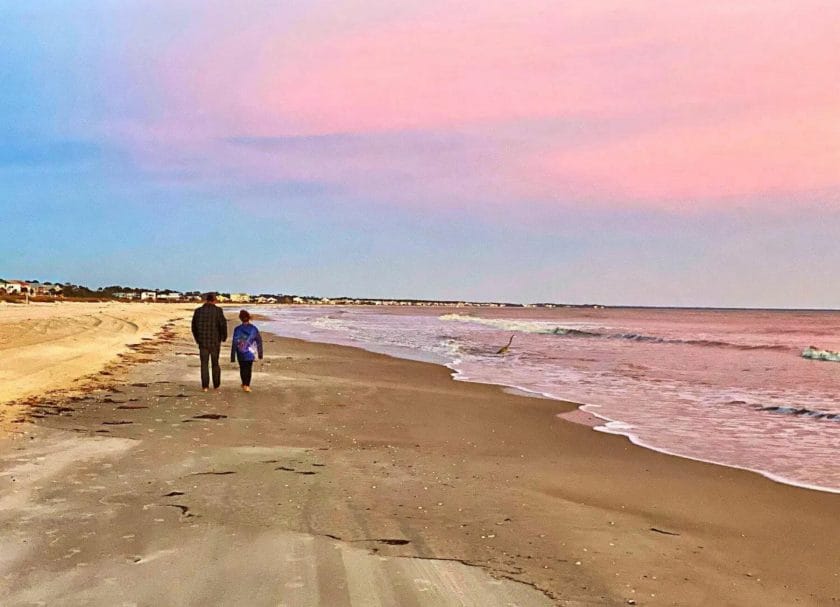 This is a public parking spot where you can choose to park on the Bay side or the Gulf side. We definitely prefer the Gulf side when we are beaching it!
The beach is huge and filled with so many amazing shells. Better than any shelling I have done anywhere else!
Salinas Park Beach
From Salinas Park beach you can walk for miles along the beach and collect large shells. It is a great place to catch a sunset too. This is a great spot to stop and talk about how erosion and hurricanes can change the coastline.
You can also access the beach from further up the road. It is marked but on the left hand side of the road if you are driving on the cape towards St Joseph Bay State Park – there are a bunch of big rocks and a small opening where you can see the water and the beach. You can park on the side of the road here and walk through a bunch of tree trunks on the beach.
We didn't get a chance to do this but check out Rockin M Ranch if you want to do horseback riding on the beach!
Where To Eat In Port St Joe
There are a variety of great Port St Joe restaurants. We highly recommend trying Oysters while you are here and any of the local caught fish.
Uptown Raw Bar and Grill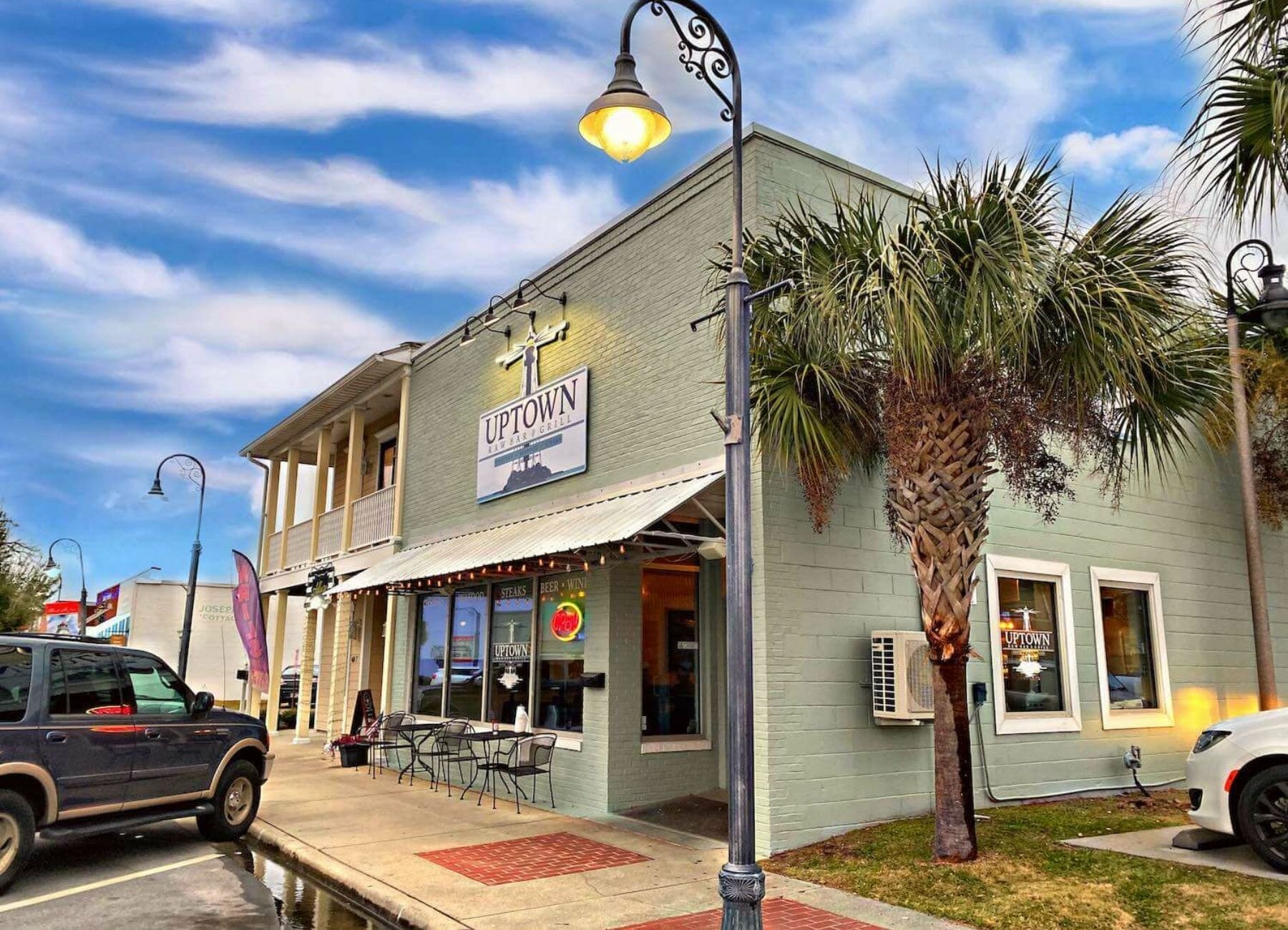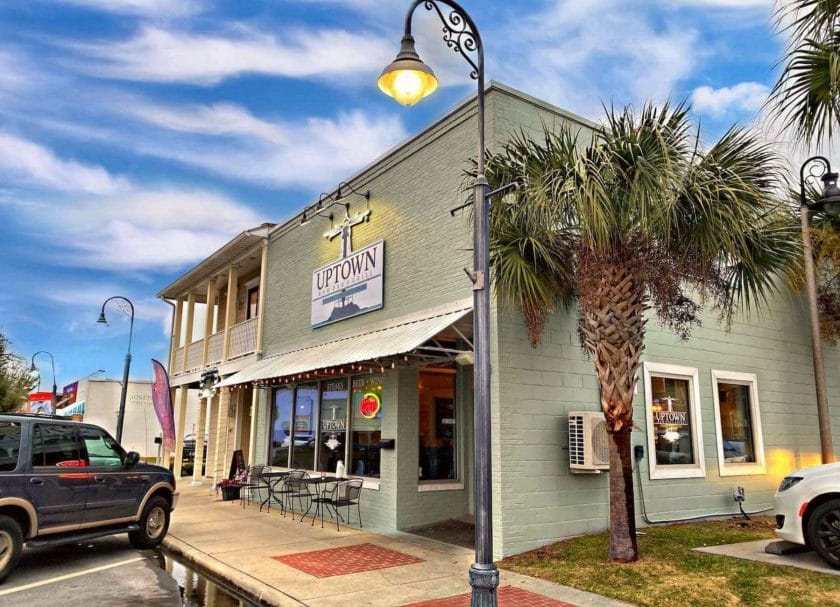 When in this area you have to try the oysters and Uptown Raw Bar and Grill is the place to do it. They offer oysters raw, baked, and grilled along with shrimp and other seafood options.
It is located on the main street in downtown Port St. Joe. We tried the oysters and they were delicious! We recommend getting them baked.
Krazyfish Grille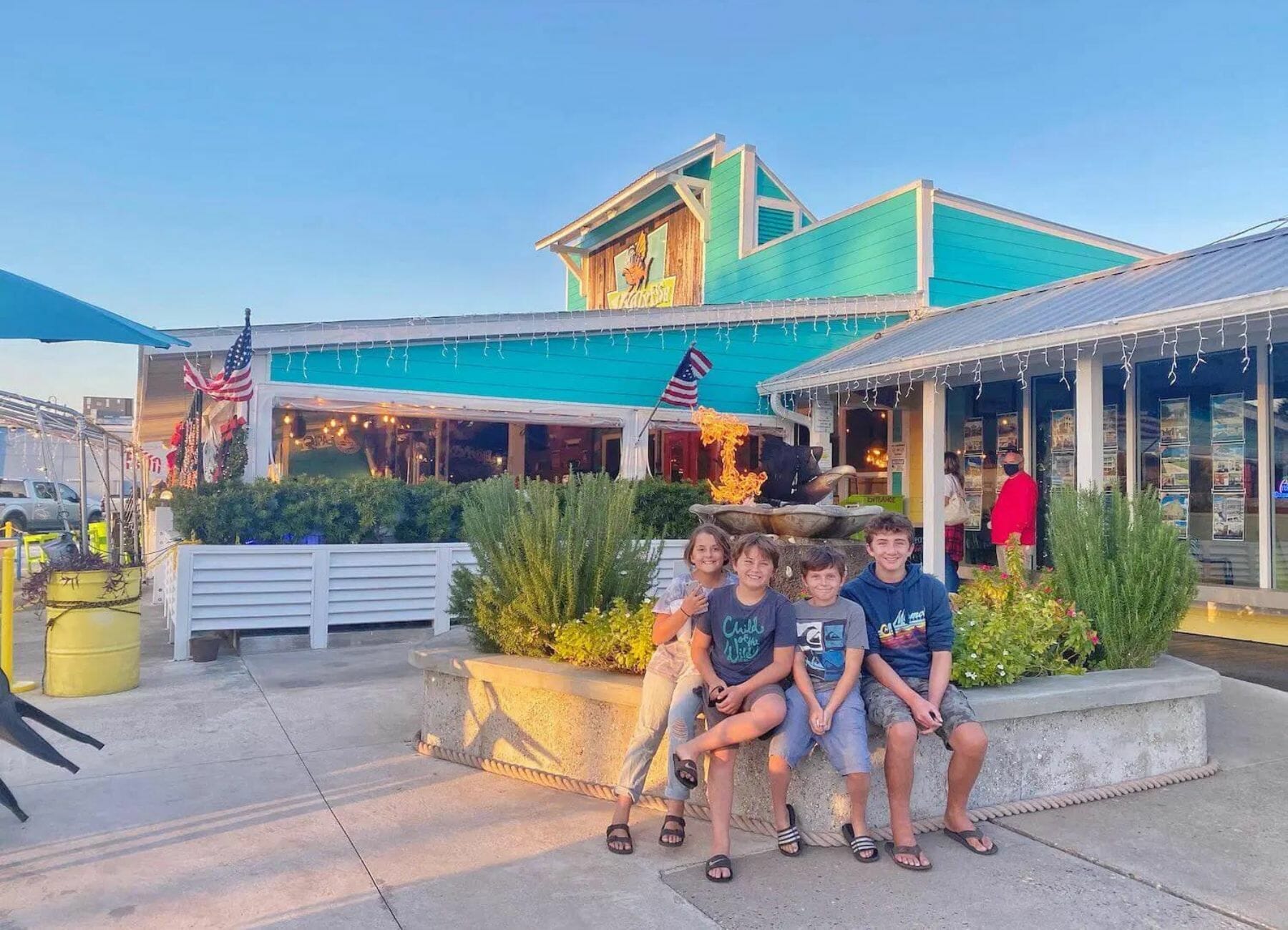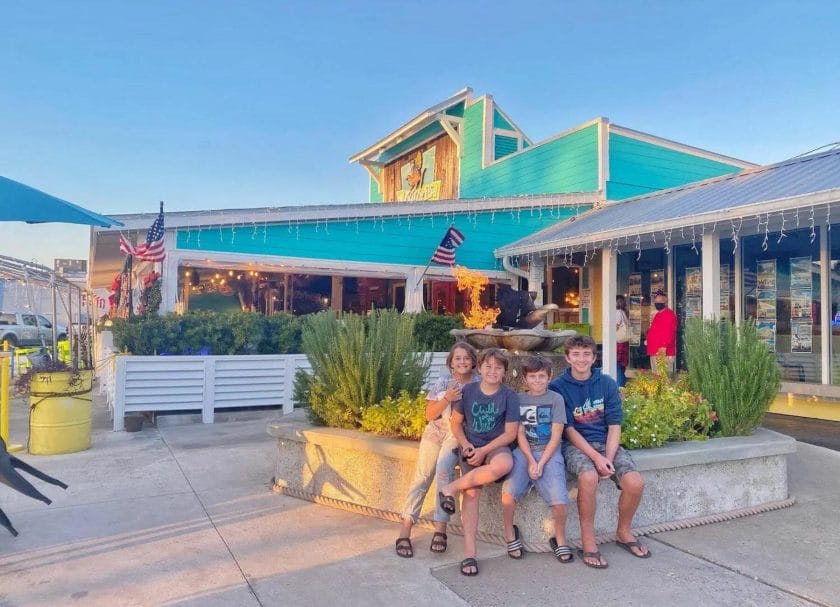 A popular spot off of highway 98 on Reid Avenue. Krazyfish Grille offers indoor and outdoor seating. They have a variety of different seafood options – Craig really liked the fresh caught Snapper he got.
They also have a regular kids menu – for those that don't like seafood. And a good selection of burgers and salads.
Peter's Pizzeria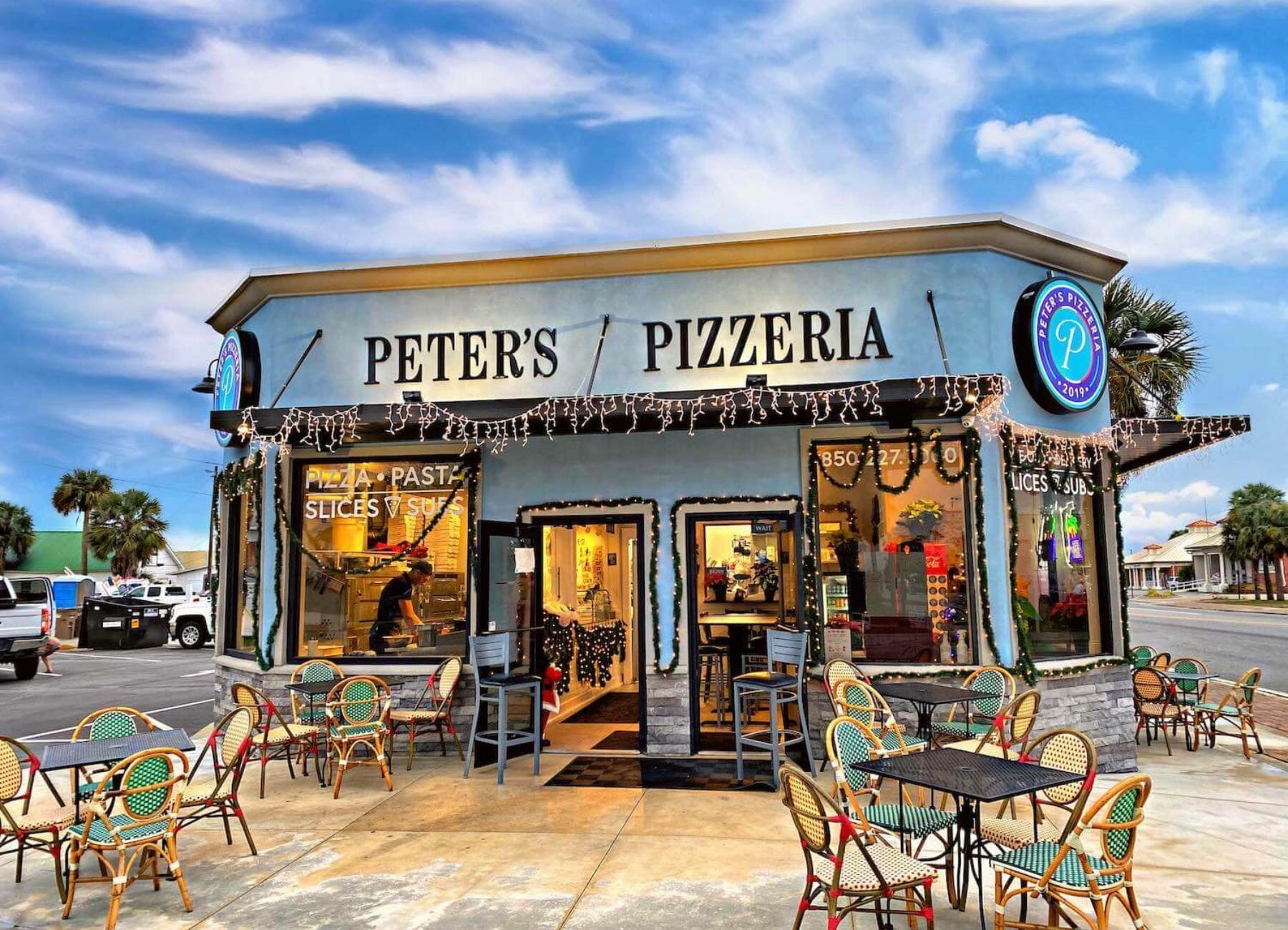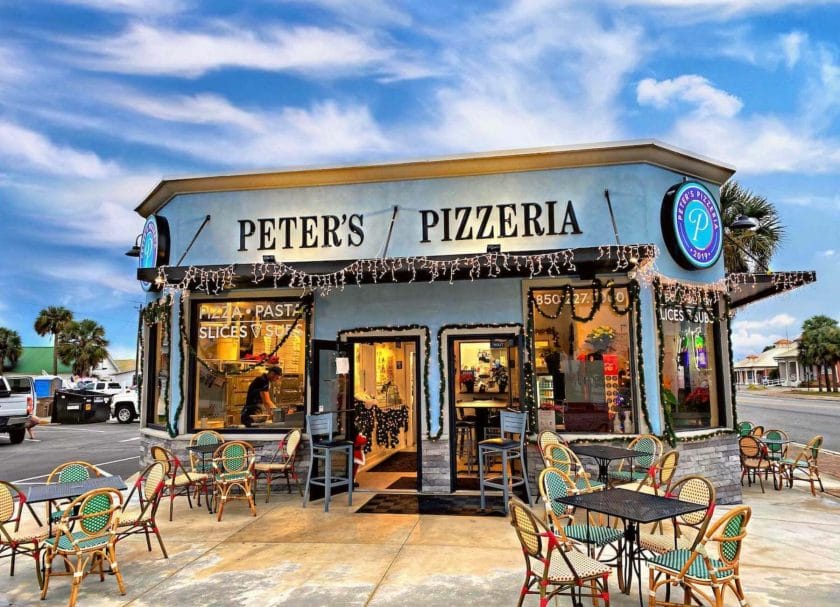 If you are looking to feed the whole family with a couple pizzas Peter's Pizzeria is the place for you. The pizza's and slices are huge – which got a passing grade from our kids!
On top of being a huge pizza the pizza was also yummy and they have a variety of unique flavors.
Sand Dollar Cafe
If you are looking for a southern comfort food style breakfast, then Sand Dollar Cafe is the place for you! When you come in they have servers right there and you can tell them what you want and they get a plate together for you so can start eating right away.
They also offer a to go option. The breakfast was great and our kids' plates were clean when they were done!
They also have a lunch menu and both indoor and outdoor seating.
Shaggy Bay Super Club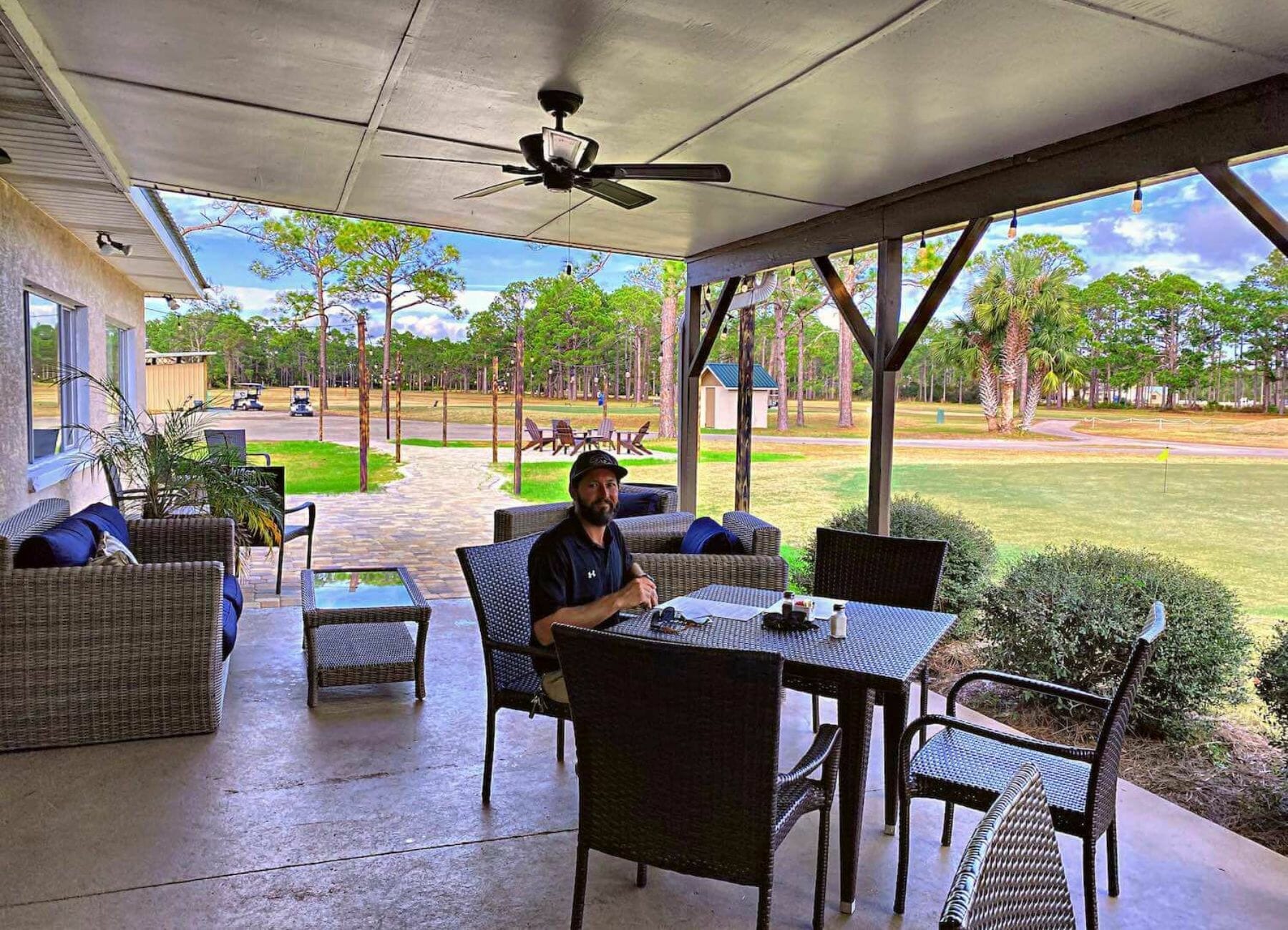 The Shaggy Bay Super Club is located at the St. Joe Bay Golf Club mentioned above. You can sit inside or outside – overlooking the golf course. They have a good selection of sandwiches and salads and a full bar.
We also heard they have a very good Sunday morning brunch option.
Piggly Wiggly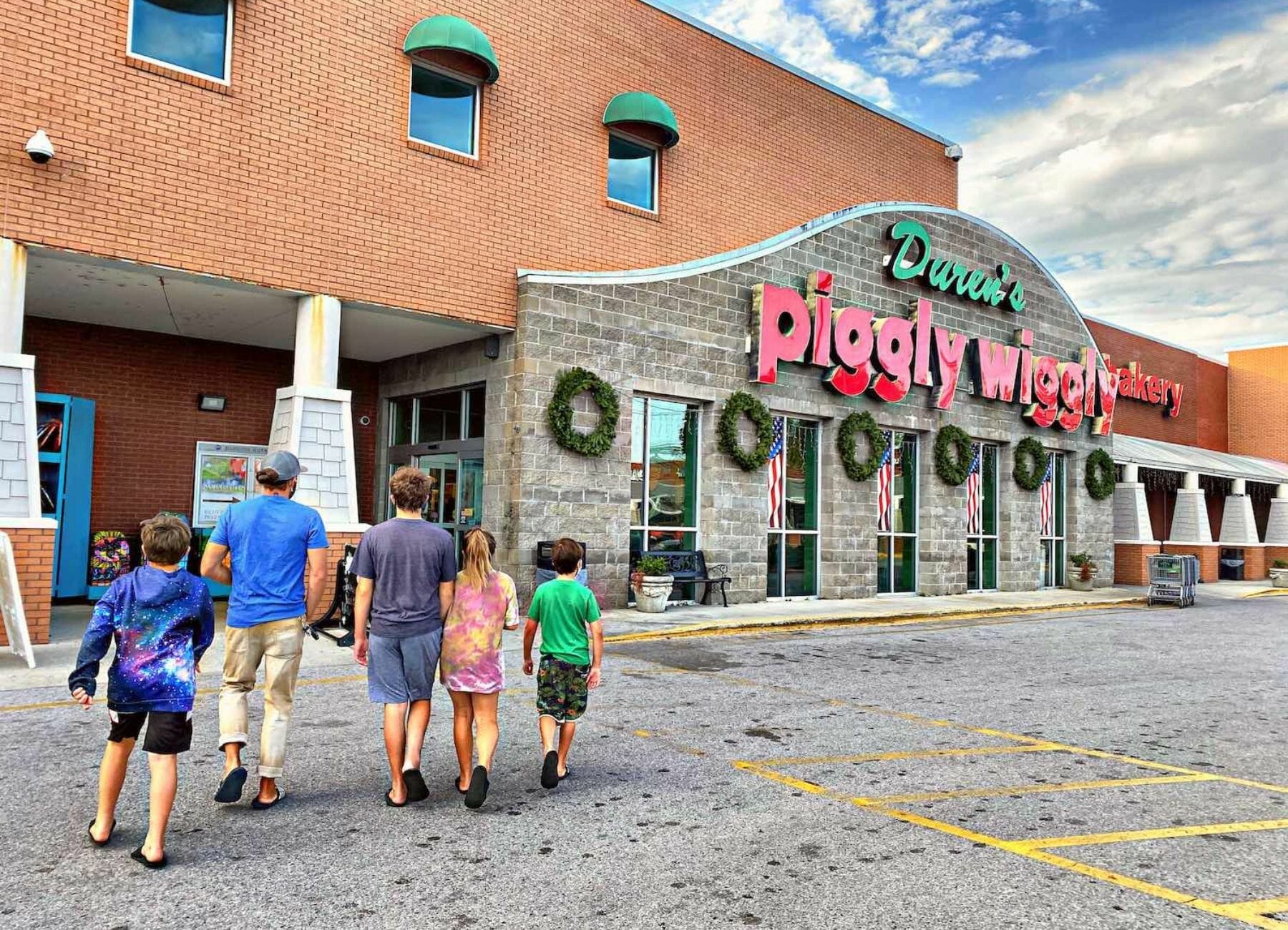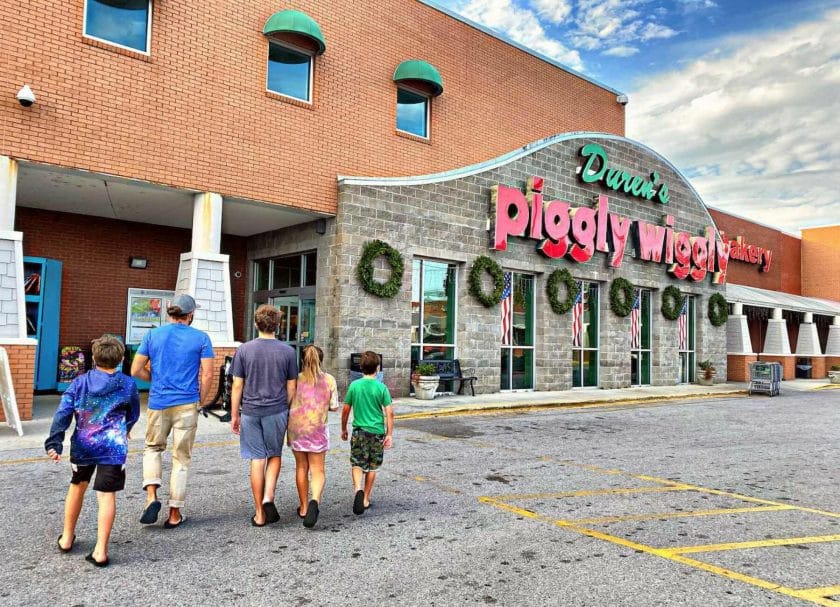 When in Port Saint Joe you will most likely want to do a picnic on the beach at some point. Piggly Wiggly is the perfect place to pick up all your supplies.
They also have a delicious Sushi shop inside so you can grab a prepackaged order or place a custom order for sushi.
Water's Edge General Store
If you are heading out towards Indian Pass Water's Edge General Store should be a stop you make. You can pick up some snacks, beer, wine, and also fishing and beach gear.
The general store is also part of the Water's Edge RV Park. It is always nice to have a store like this at your RV park!
Where To Stay In Port St Joe
Presnell's RV Park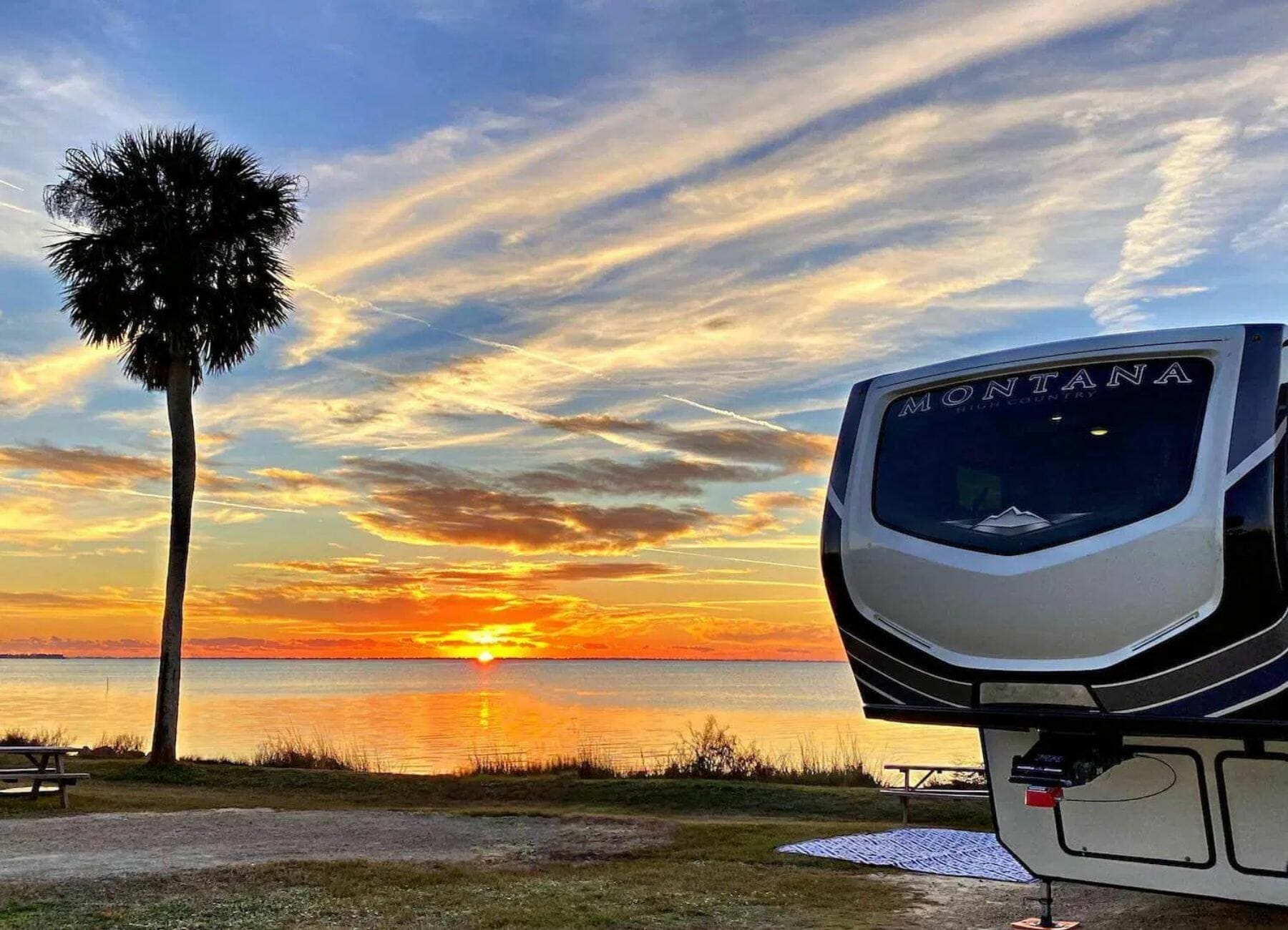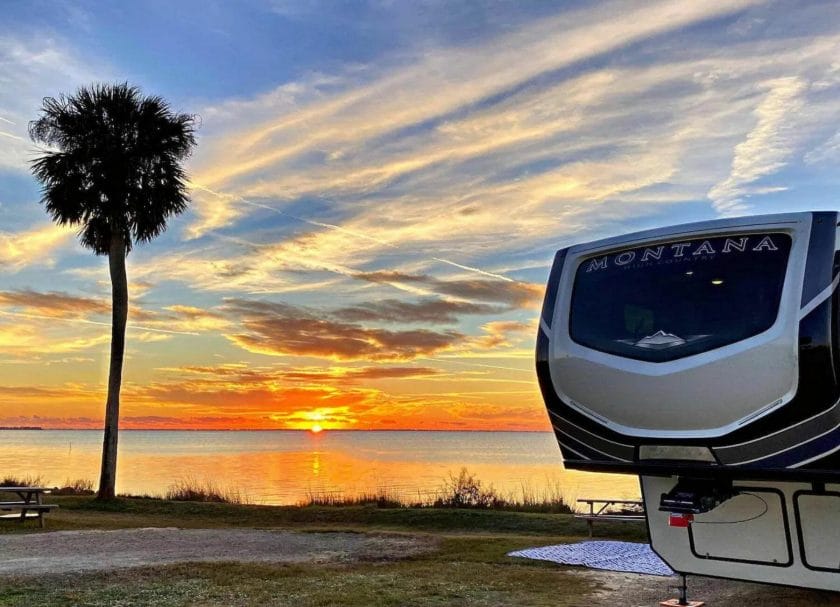 If you are coming in Port St Joe Fl in an RV, then Presnell's RV Park is an awesome place to stay! We got a spot right on the bay and the sunsets we saw at night right from our RV windows was amazing.
They also have a heated swimming pool and the location is great since you are just 5 minutes from downtown Port St. Joe and about 5 minutes to Cape San Blas for the Gulf Beach.
Our spot was also a good size and nice and level and our hookups were in good condition!
If you want to stay in the Panama City Beach area (about an hour away), check out Emerald Coast RV Resort.
40 Helpful Tips For Planning An RV Trip and 99 Tips For RV Living
Vacation Home
If you are looking for a vacation rental in Port St Joe check out this awesome beachfront and dog-friendly home!
We were so pleasantly surprised with Gulf County and really had no idea about this gorgeous Forgotten Coast and the small town of Port St Joe! If you are looking for beach, outdoor adventure and less crowds this is the place for you!
More content you may enjoy:
9 Delicious Port St Joe Restaurants You Will Want to Try
Where to See Manatees in Florida and Where to Swim with Them
31 Amazing Places To Visit On Your Florida Road Trip
37 Stops On Your Cross Country United States Road Trip
41 Best Things To Do In Destin Florida
Florida Keys Road Trip 29 Stops To Make
14 Amazing RV Parks in Destin Florida
8 Things to do in Jupiter Florida
Pin This Post: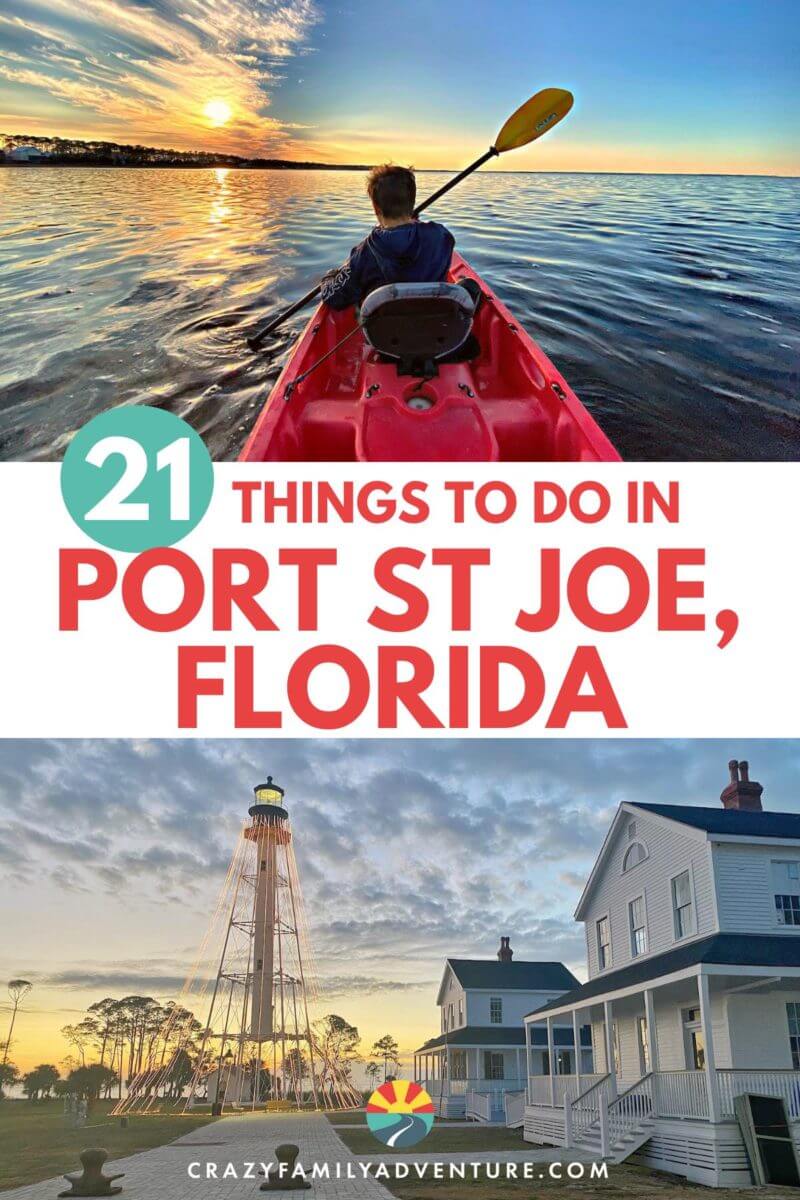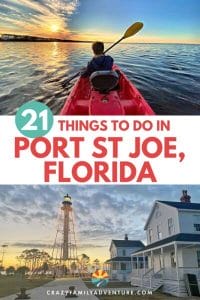 DISCLOSURE: This post may contain affiliate links, meaning I get a commission if you decide to make a purchase through my links, at no cost to you. Please read my disclosure for more info.