We loved all of the great things to do in Lincoln, New Hampshire and around it. We spent a few days exploring the area and wanted to be sure we hit all of the main highlights! Covered bridges, an amazing gorge, mountain views and more it is a great vacation destination.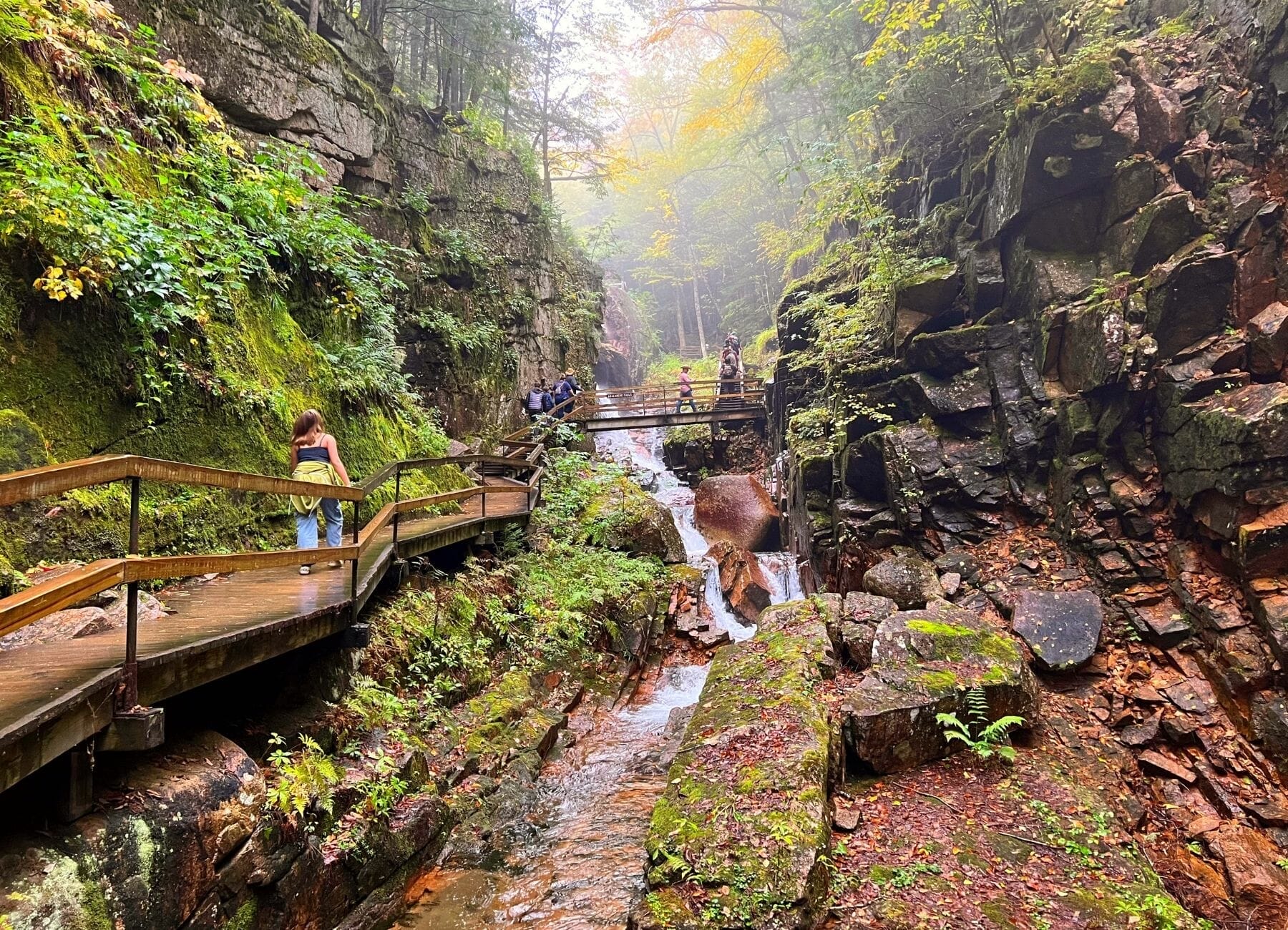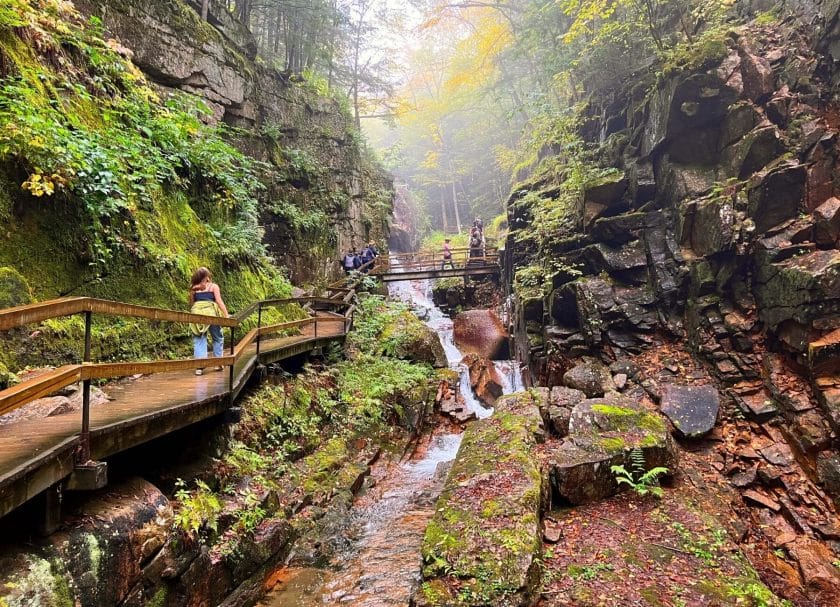 We visited in the fall, on our east coast road trip, when the leaves were changing and it was gorgeous. It also meant it was a bit chilly and overcast but totally worth it to see the leaves changing.
Here it is! Our top recommended things you won't want to miss when you visit Lincoln, New Hampshire!
The Flume Gorge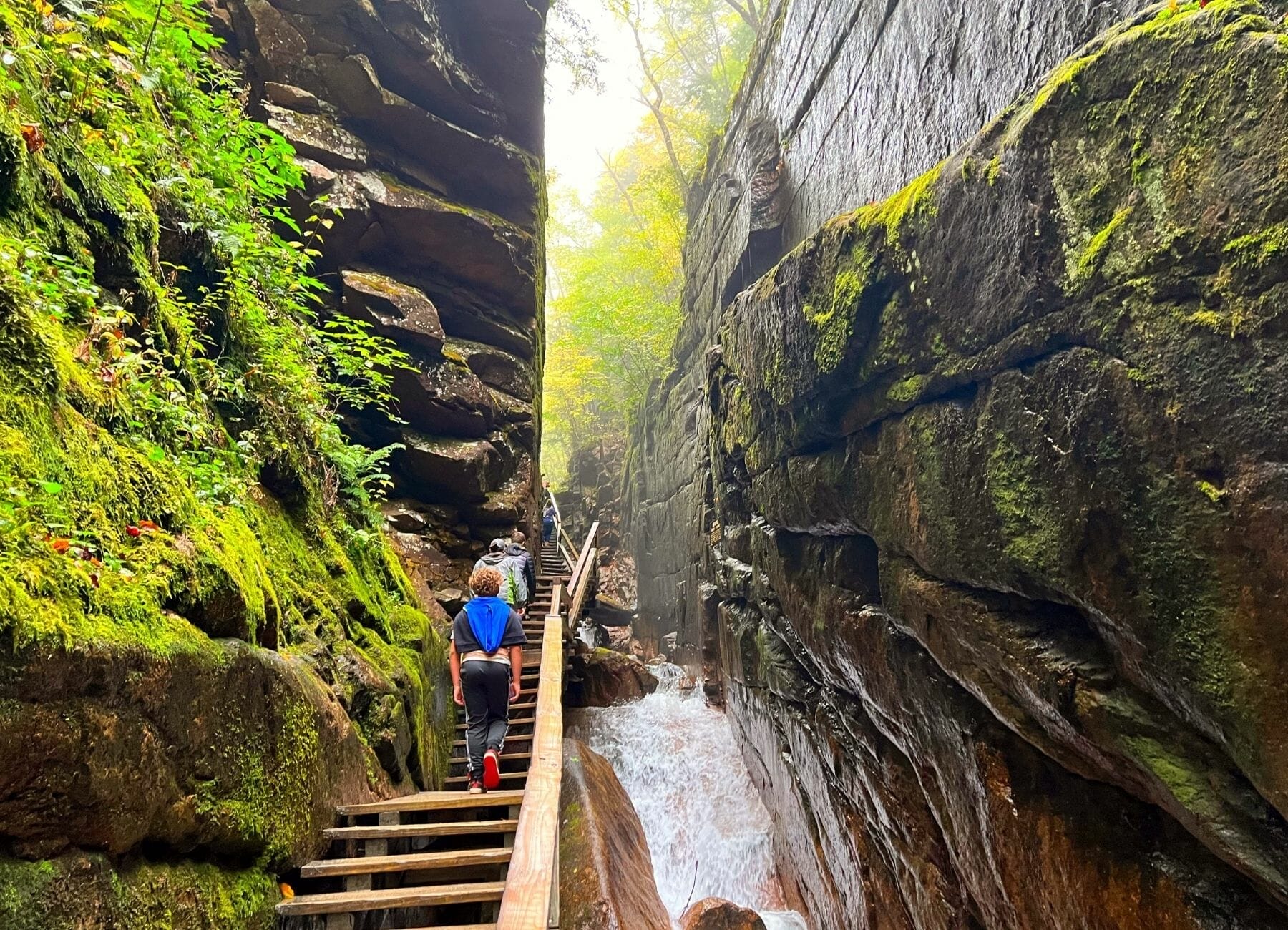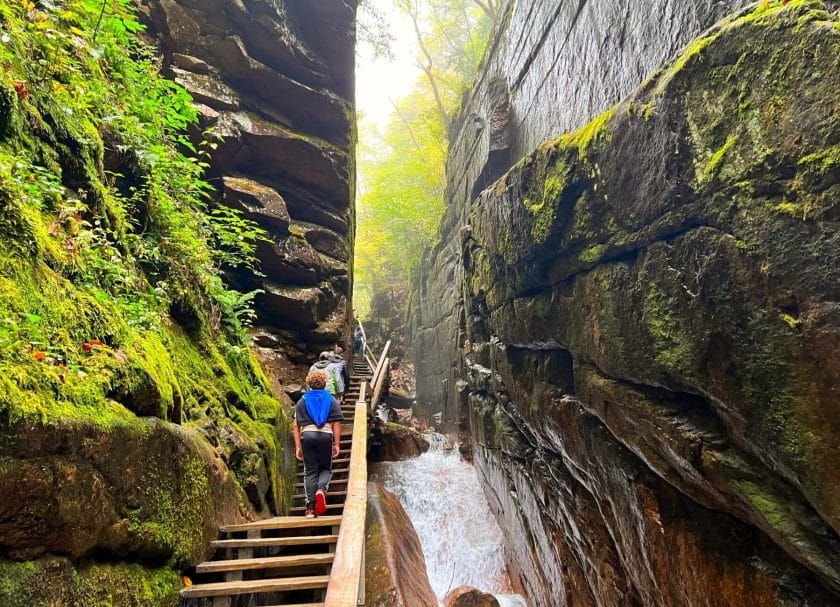 The Flume Gorge hike is located in Franconia Notch State Park. The hike to and from the gorge through the forest was beautiful with lots of trees, a covered bridge and some fun extra little side hikes to explore.
The gorge itself was gorgeous!! This is a paid hike and it isn't cheap so be prepared for that. I was a little disappointed that they charged so much – especially for kids. Or maybe that is because we have 4 kids so it adds up quickly.
In any case they do a great job maintaining the trail and there is a nice walkway throughout the gorge. You do go through it single file and I can see how it can be very busy.
Our advice going through the gorge is to walk slow to give the people in front of you a chance to get a good distance away from you. This also means you can setup a few good pictures if you don't mind holding up the people behind you for a minute.
When we were researching what to do this came up over and over again and as soon as people knew we were going to be in the area they said we had to do it!
While on the hike we also came across a beautiful red covered bridge in the middle of the forest. There is just something about these covered bridges they are so beautiful!
We also learned that the reason there are so many covered bridges and that in the winter when it would snow a lot the snow would sit on the bridges and cause them to collapse. This lead them to build these covered bridges with a triangle roof so the snow would slide down the side and into the water. Interesting!
Cannon Mountain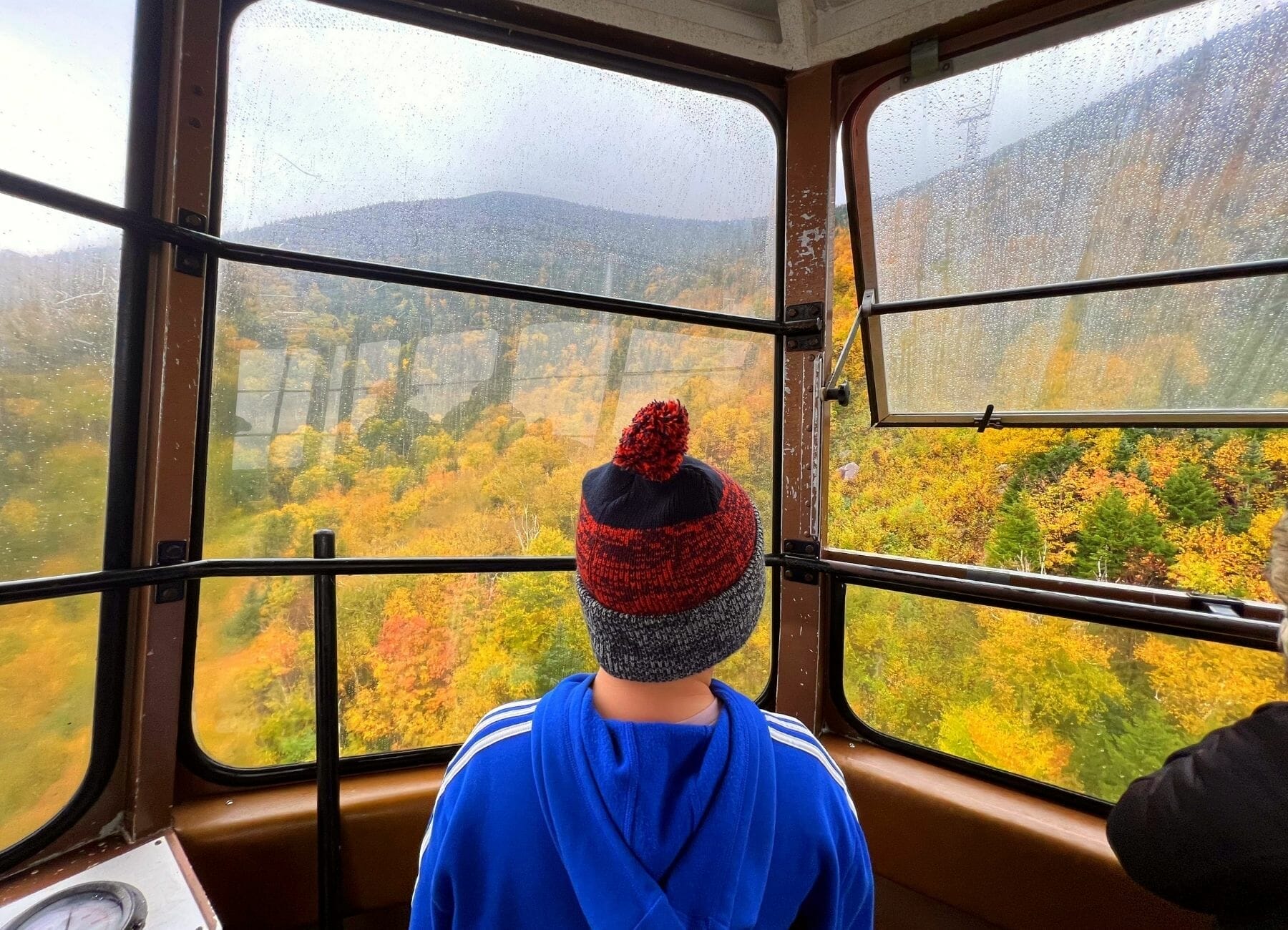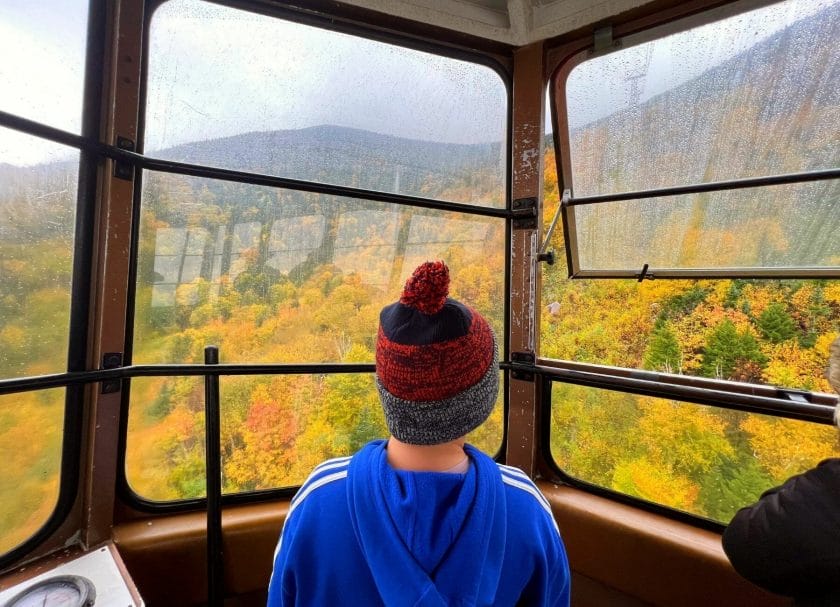 One of our sons names is Cannon so we knew we had to check out Cannon Mountain! We decided to do the aerial tram to the top with hopes of getting an amazing view of the leaves changing. The morning we were going to head out it was really overcast. . .
We had bought the tickets ahead of them – which is recommended. So this was the day we were going up. We loaded into the tram and up we went into a cloud! You literally couldn't see anything. Then about half way up the clouds opened up and we got a gorgeous view of the mountains and the leaves changing.
A minute or so later we were back in the clouds and our way to the top of Cannon mountain. At the top we got out and it felt like we were hanging out in a cloud. You couldn't see anything off the mountain and I mean anything!
We took the short hike from the tram up to the very top. It was an eery experience as we walked through the moss covered forest to get to the lookout tour without being able to see 20 feet in front of you.
We walked up the tour and looked out over the clouds. It definitely wasn't the view we were hoping for but the whole experience of going up into a cloud, to an opening, to back into the cloud and to the top was unique and I am glad we did it!
Information on the mountain:
The aerial tram is the first in the North America and the only one in New Hampshire.
The ride up takes about 10 minutes and brings you up 4,080 feet.
There is a cafe and restrooms at the top.
There is a large gift shop at the bottom of the mountain with clothes, stickers, and souvenirs.
Click here to learn more about Cannon Mountain
Cannon Mountain – In the winter Cannon mountain is an awesome ski resort.
Kancamagus Highway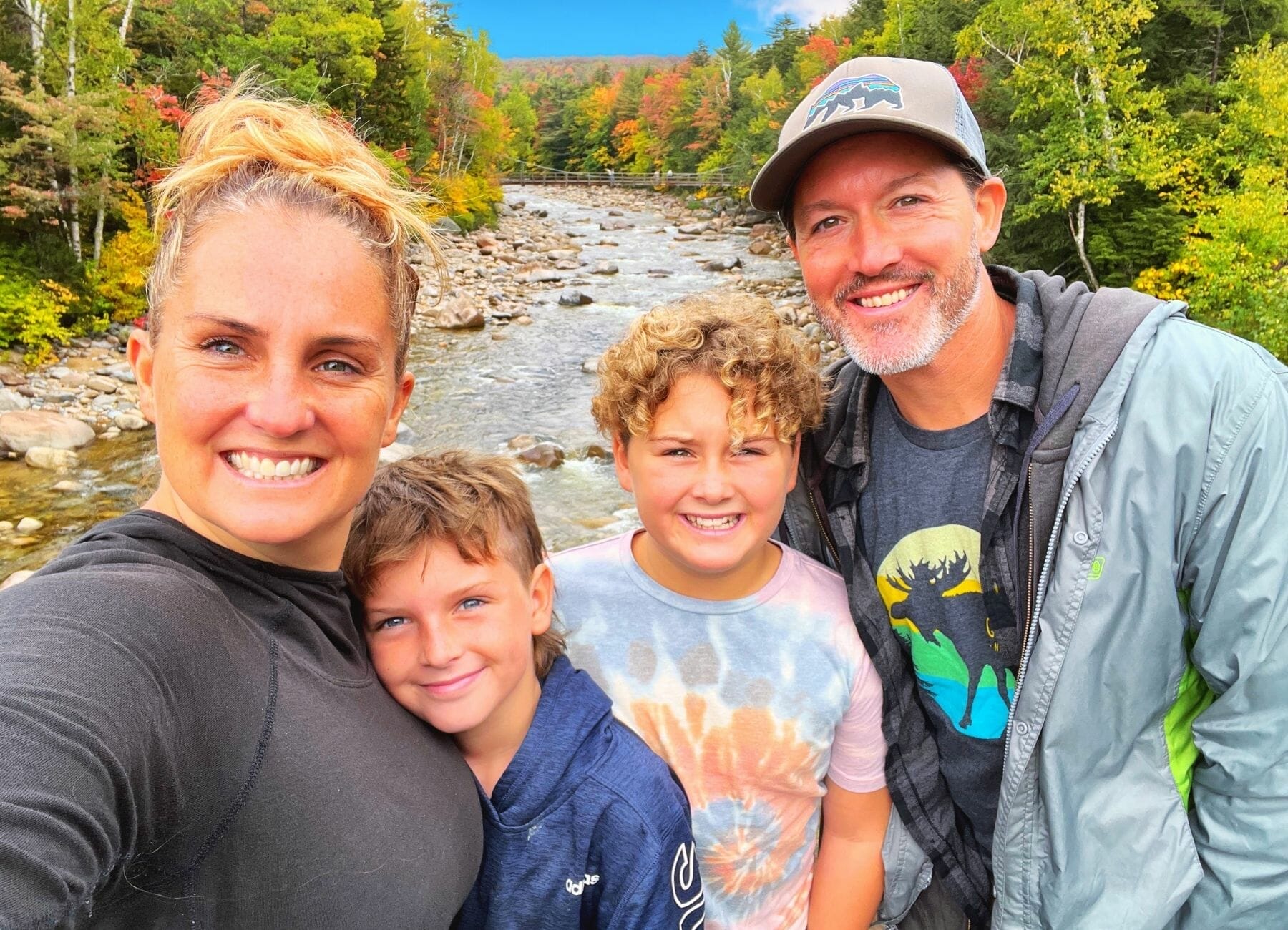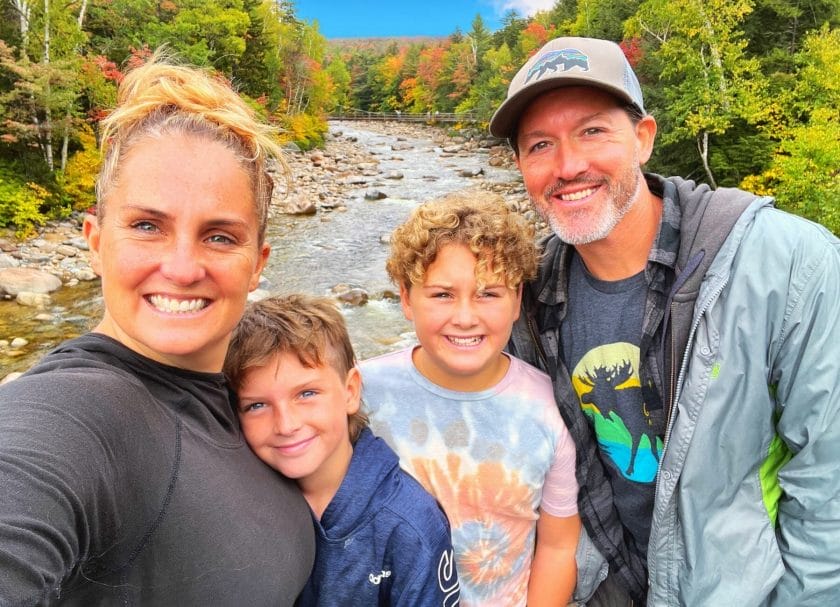 Another reason we came to this part of New Hampsire was to drive the Kancamagus highway while the leaves were changing. It is a 34.5 mile stretch of road and is unreal while the leaves are changing. The red, orange and yellow leaves were so vibrant and bright!
You can opt to drive the scenic byway and stay in your car. Or make a stop to get out and take some pictures. I recommend stopping at the Lincoln Woods Trailhead parking in the White Mountains National Forest where you can walk out to the bridge and look down the river lined with the changing leaves.
Even when it isn't fall this would be a pretty drive and worth doing and stopping at a few trails to do some hiking! Check the link below for hiking options.
Learn more about Kancamagus Highway here.
Golf Courses
There are 23 golf courses in Lincoln, New Hampshire and 5 of them are municipal courses. Woodland Hill is rated the best of the courses. If you are there at the right time of year and interested in golfing you can learn more about the Lincoln, New Hampshire golf courses here.
Hobo Railroad
During the spring, summer and fall you can enjoy a 80 mile scenic old fashioned train ride along the Pemigewasset River and the shore of Lake Winnipesaukee. You can also try the Rail bike adventures for a unique ride on the railroad tracks. Learn more about the Hobo Railroad here.
White Mountain National Forest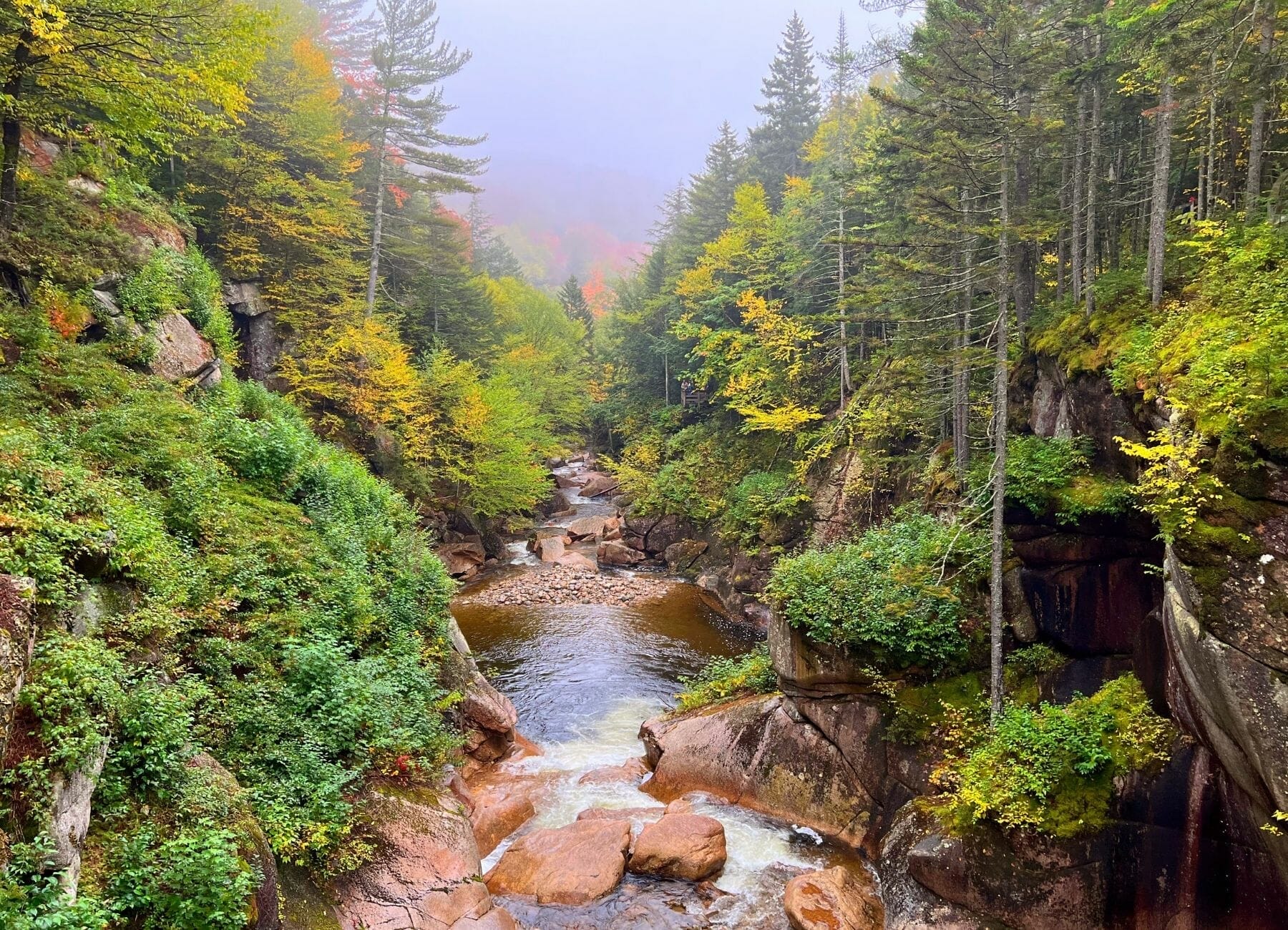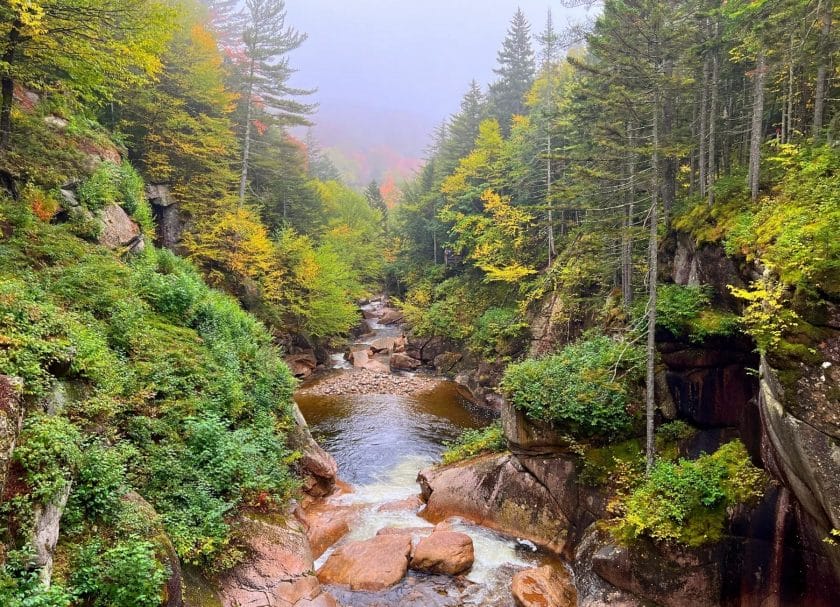 The White Mountain National Forest is beautiful any time of year! They have a cog train that you can ride: The Mount Washington Cog Train. This looked like an awesome adventure! We gave our kids the option between the cog train or the tram and they choose the Cannon Mountain tram. If we had time I would have loved to try both!
There are also a ton of great hikes to do in the White Mountain National Forest. Check out these top picked hikes to learn more!
Alpine Adventures
If you are looking for winter or summer adventure be sure to check out Alpine Adventures. They offer ziplining, off roading and more! Perfect for the adventurous person in your family!
Learn more at Alpine Adventures.
Franconia Notch State Park
Home to the Flume Gorge and Cannon Mountain but also a great place to have on the list on its own! There is swimming, hiking, fishing, paddling and more to do at this beautiful State Park!
Learn more about Franconia Notch State Park here.
Moose Tour
Want to try to see a moose in the wild?! This is the tour for you. There is no guarantee you will see a moose but if you do it will be amazing! The guides are very experienced and have a high success rate so it may be worth give it a try!
Learn more about the Moose Tours here.
Seven Birches Winery
If you are in to wine tasting you won't want to miss this! Located in the beautiful Riverwalk Resort in Loon Mountain you can stop in to sample some delicious wine.
Learn more about Seven Birches Winery here.
Franconia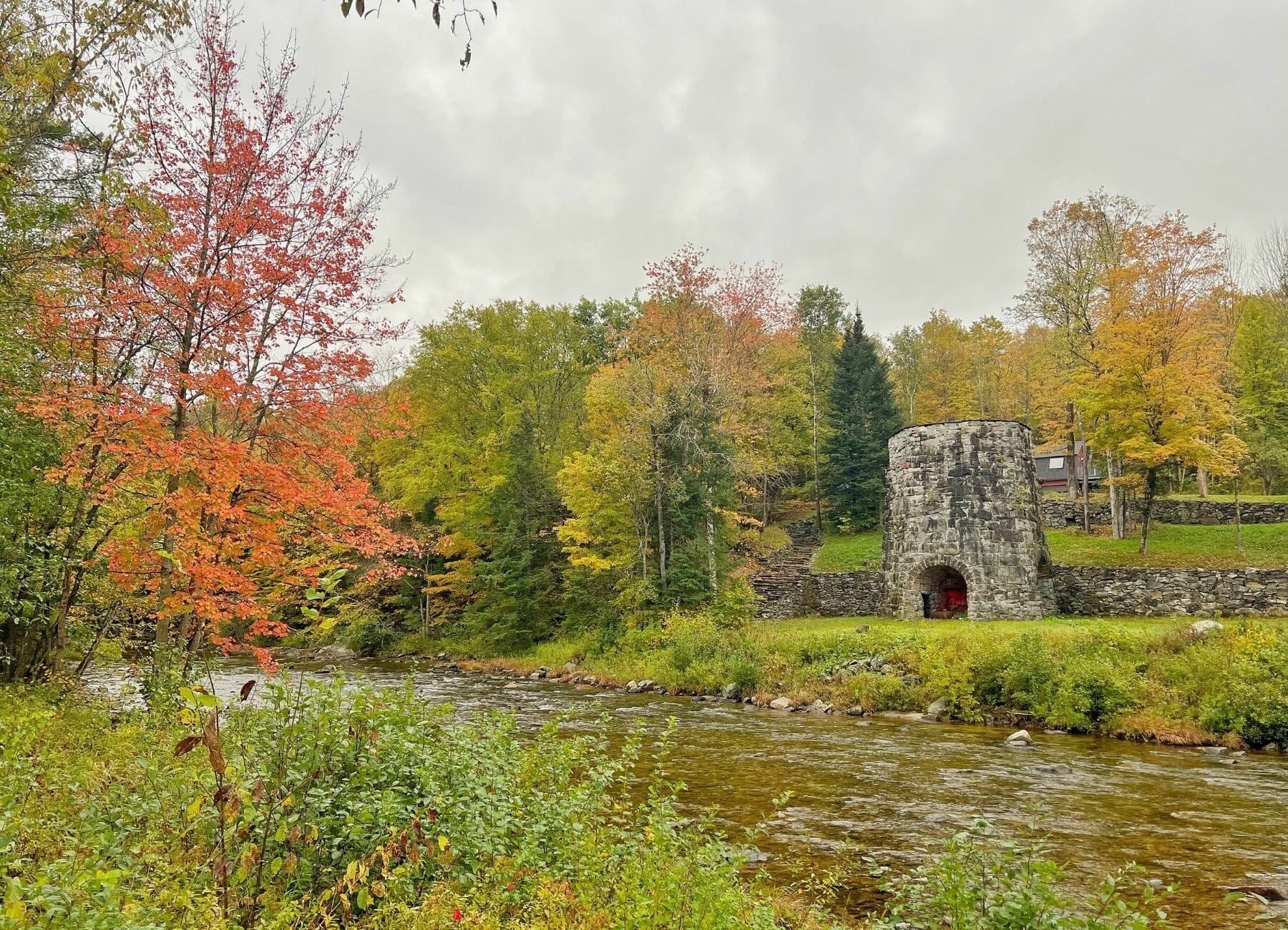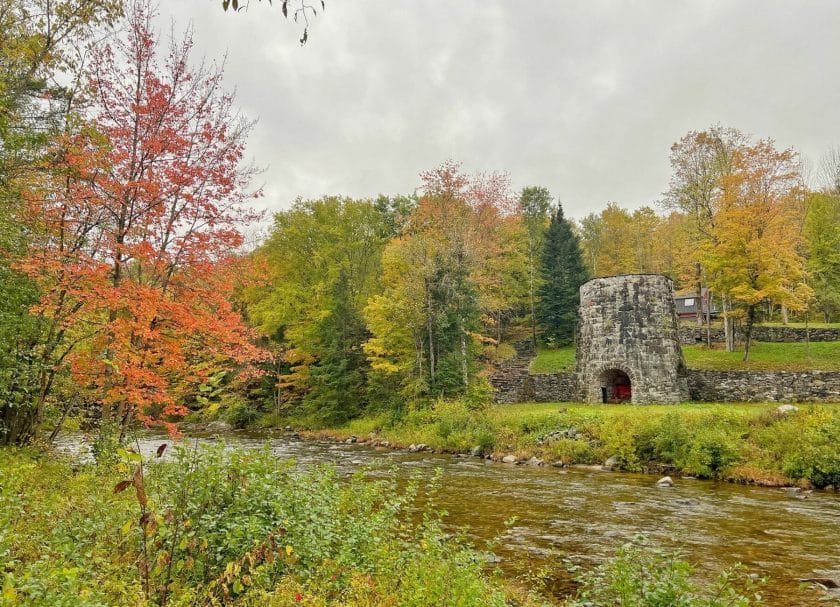 While in the area you can drive north passed Cannon Mountain to visit the town of Franconia. We found a nice roadside stop called the Franconia Iron Furnace where we could learn about the history of the area.
This was also a great place to look at the leaves changing along the side of the river. It was the scene you would expect to see in New Hampshire in the fall.
Right up the road was the Iron Furnace Brewery that had good beer and a delicious grilled cheese and tomato soup. I also loved that they had outdoor seating with heaters even though it was cold out! Plus there was live music when we were there.
This was a fun little side trip to take when visiting Lincoln, New Hampshire!
Winter Fun In Lincoln New Hampshire
New Hampshire turns into a winter wonderland with sking, Ice Castles and tons of fun winter outdoor activities!
Ice Castles
If you are in New Hampshire in winter you won't want to miss the Ice Castle! You can crawl through ice tunnels, go snow tubing, sleigh rides, an ice slide and a mystic forest light walk. This really is an unique experience!
Click here to learn more about the New Hampshire Ice Castle.
Ski Resorts
You will also find a variety of ski resorts around New Hampshire where you can ski and snowboard. They also offer cross country skiing, snow tubing, snowshoeing and gondola ski rides. One of the top ski resorts in Lincoln is Loon Mountain Resort.
Learn more about Loon Mountain Resort here.
Sledventures
If you have a need for speed why not rent a snow mobile and go on a snow mobile tour! The tours are for beginners to experts and they provide all of the snow gear you need for an enjoyable ride.
Learn more about Sledventures here.
Where To Eat
One Love Brewery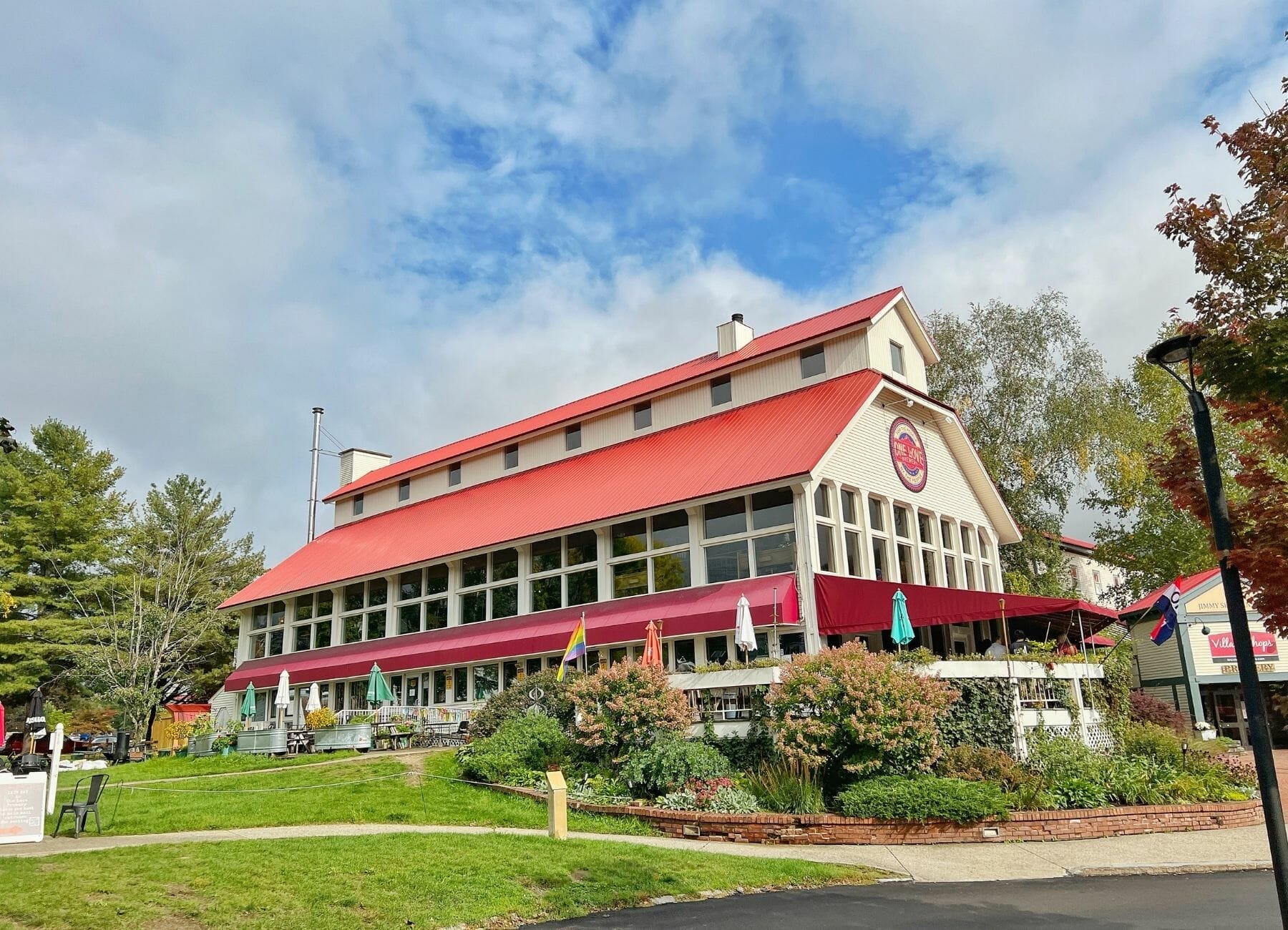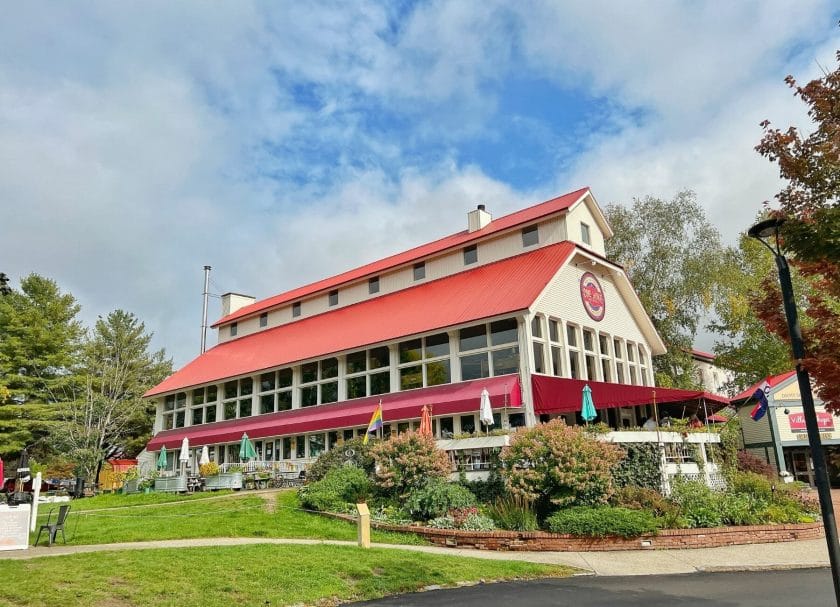 Located off of the Kancamagus Highway is One Love Brewery. It is a large brewery and restaurant and a great place to stop to try the local beer.
The Atrium – wine tasting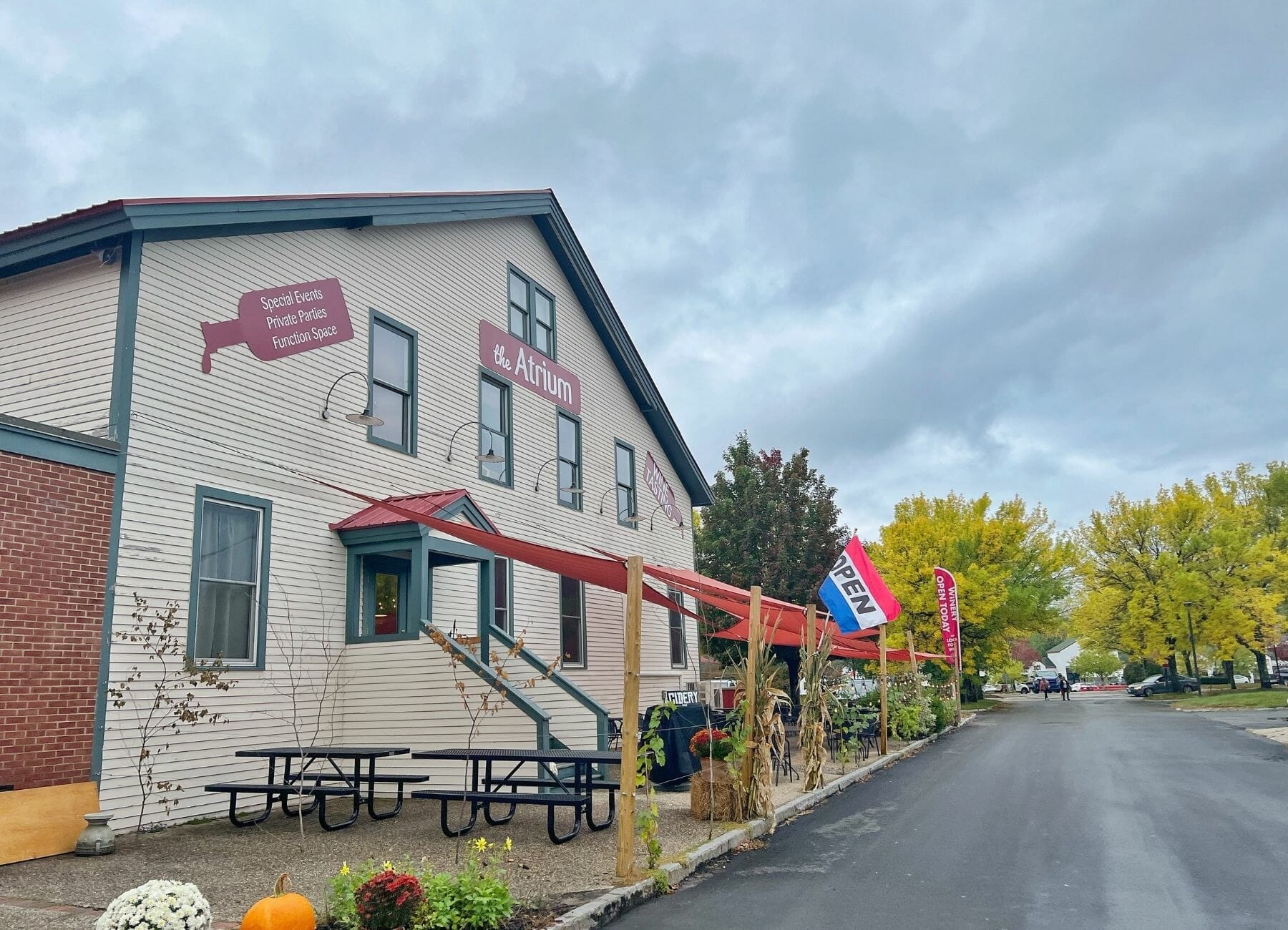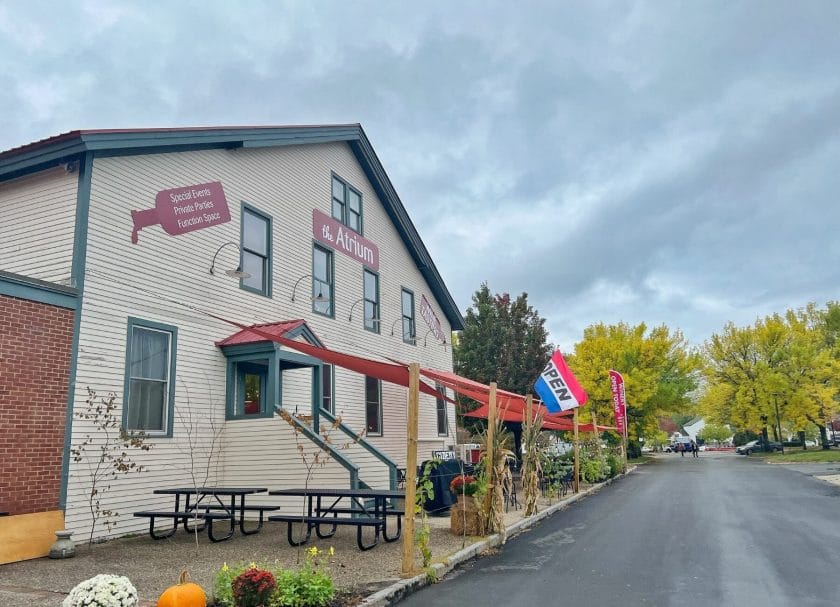 Next to One Love Brewery is a wine and cider tasting spot. You get a table and they bring your samples out to you. It was a lot of fun to try the difference wines and ciders!
The Common Man
If you are looking for a more hardy meal check out The Common Man. They serve American Fare with a flare and you don't want to miss their Nantucket Pie, homemade mac and cheese or their crab cakes!
Purple Tomato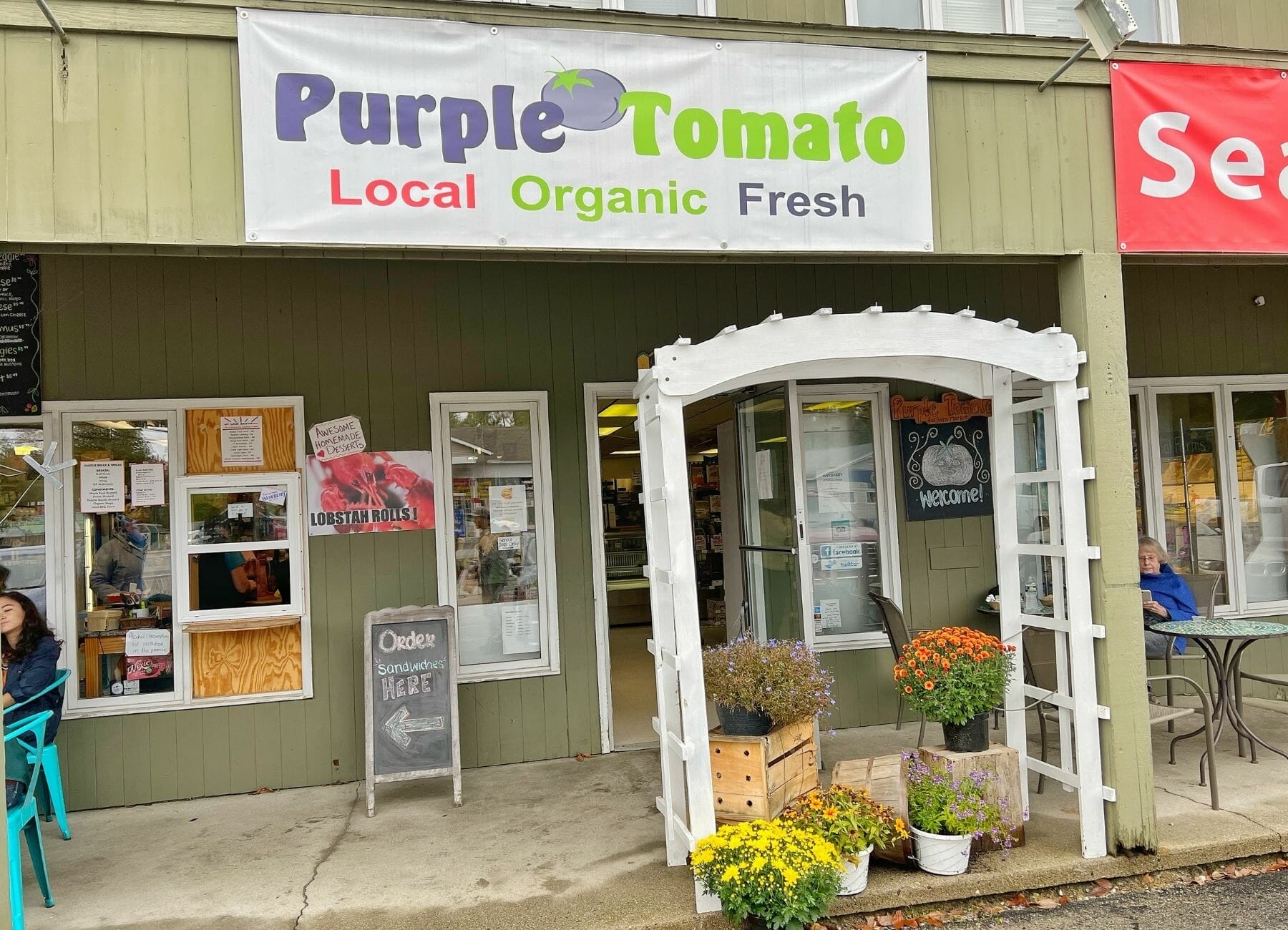 This highly recommended spot makes sandwiches to go (with a small outdoor seating area). They also have a small grocery shop. Perfect for grabbing a sandwich for your day trip on the highway or a picnic lunch.
Where To Stay
Resort/Hotel Option
Riverwalk Resort at Loon Mountain
A restaurant on site, outside swimming pool, a hot tub and gorgeous scenery!
InnSeason Resorts Pollard Brook
In the White Mountain National Forest but a 5 minute drive to downtown Lincoln! It has an indoor and outdoor pool too.
VRBO Option
If you are looking for a luxury place to stay while in Lincoln this is it! Sleeps 10 and is 2500 square feet!
Camping Option
This is the campground we stayed at. It was fine. It served its purpose for exploring the area!
When To Visit
Summer
If you are looking for outdoor fun there is plenty to do in Lincoln from the Flume Gorge hike to Cannon Mountain. Plus you can go on covered bridge hunts to see how many you can find! There are also great places to go swimming and fishing.
Fall
This is an awesome time to come with all of the leaves changing. It can be hard to predict when they are going to peak. But even if you don't hit it right on the colors are magnificent. Be aware the weather could be a bit overcast or rainy this time of year but it is still an awesome trip.
Winter
Be sure to check out all of the great skiing options that Lincoln has in the winter! It is definitely a place to plan a winter ski trip.
As you can see Lincoln NH offers a variety of great things to do! We had a great time roadtripping the east coast and visiting Vermont, Maine, Rhode Island and more! Check out more posts on our time on the east coast here:
17 Fun Things To Do In Acadia National Park
Acadia National Park Itinerary [Plus Where To stay]
15 Amazing Things to do While in Maine
Top 14 Maine National Parks and State Parks To Visit
45 Places to Stop on Your Ultimate Vermont Road Trip
20 Fun Things To Do in Stowe, Vermont
31+ Fun Things To Do In Vermont [2 Day Itinerary included]
19 Best Things To Do In Newport RI
Top 14 Best Things To Do In Wilmington DE
Pin This Post: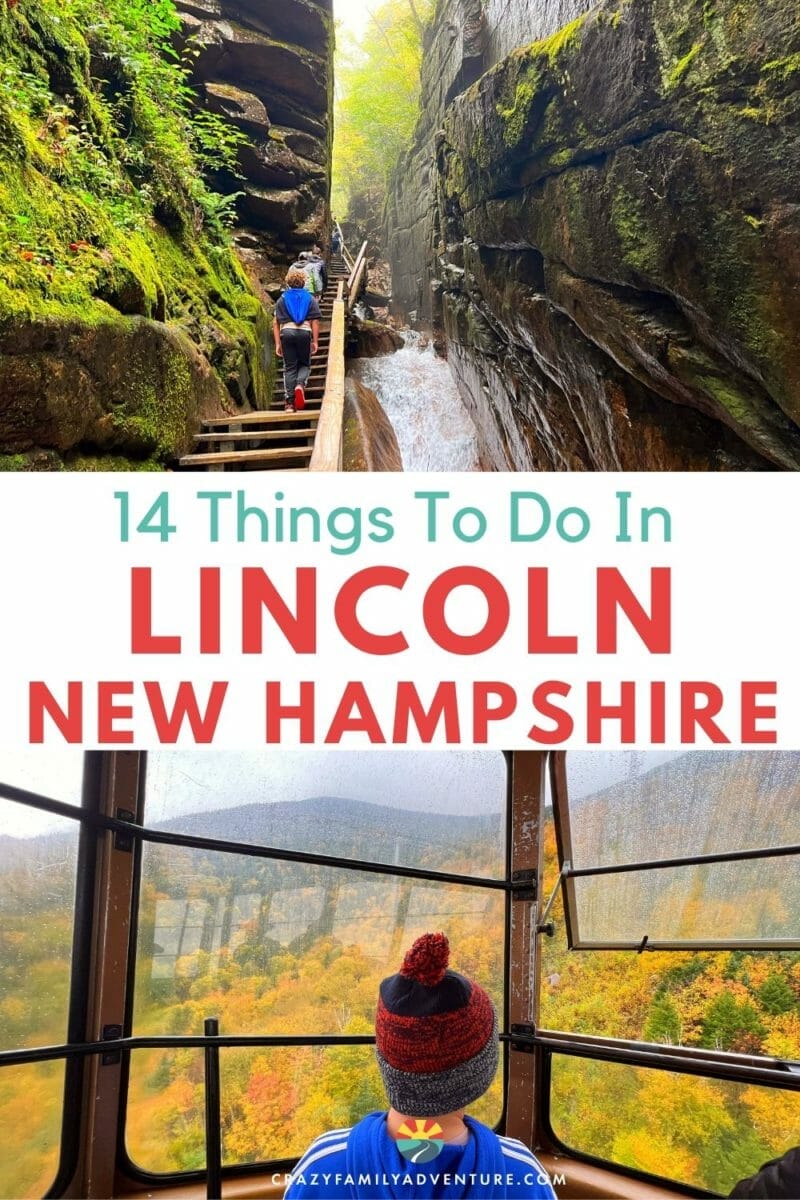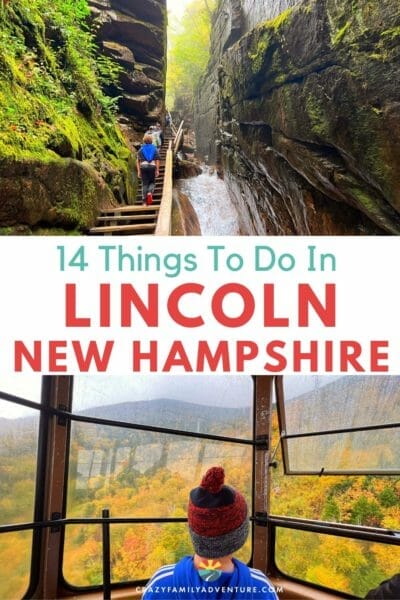 DISCLOSURE: This post may contain affiliate links, meaning I get a commission if you decide to make a purchase through my links, at no cost to you. Please read my disclosure for more info.