Acadia National Park is split into essentially 3 sections. The Mount Desert Island area – that we broke up into 2 sections, The Schoodic Peninsula and Isle au Haut – which you can only access by boat. We spent 3 days and 3 nights exploring Acadia and share our top things to do in Acadia National Park – enjoy!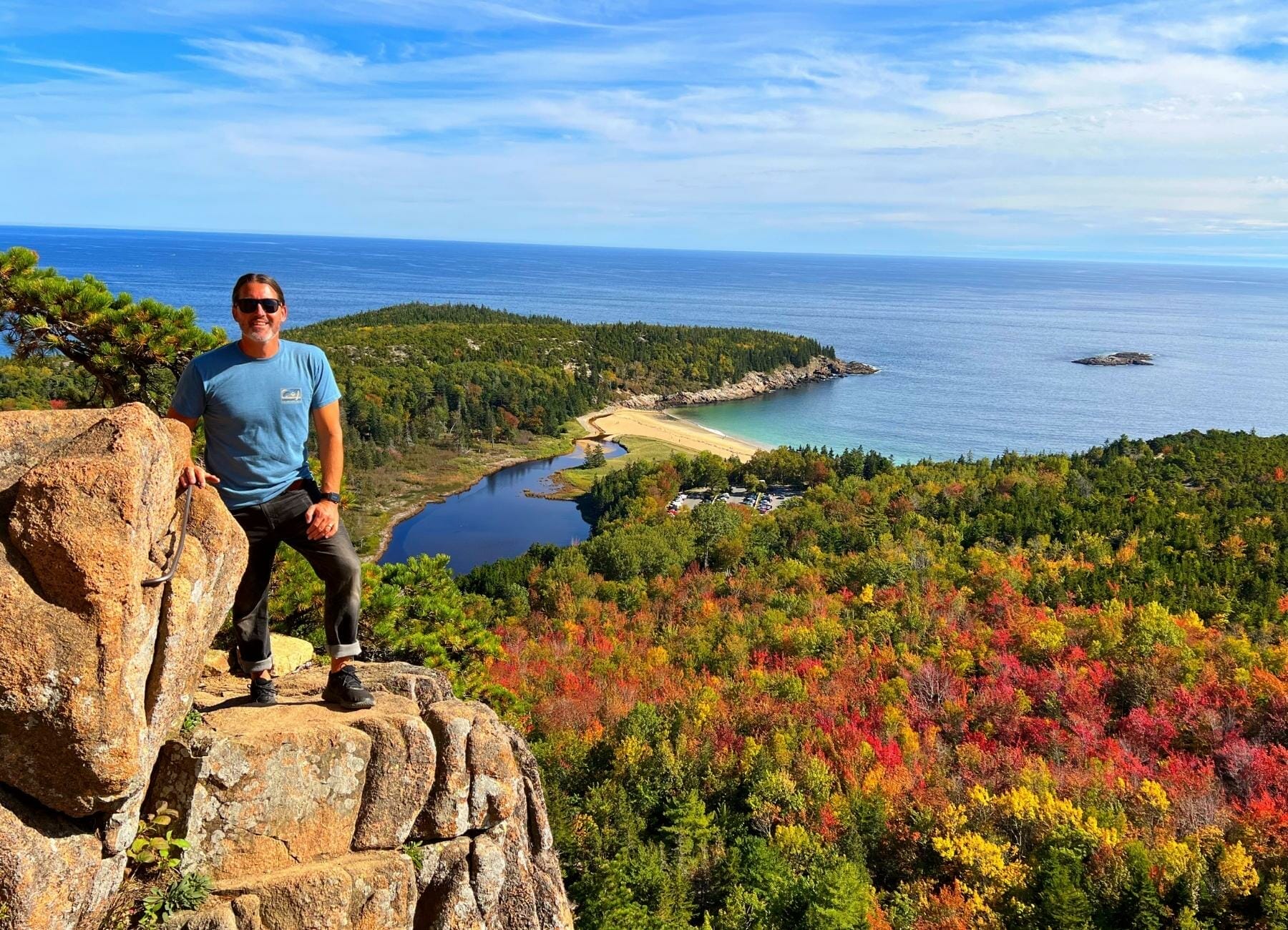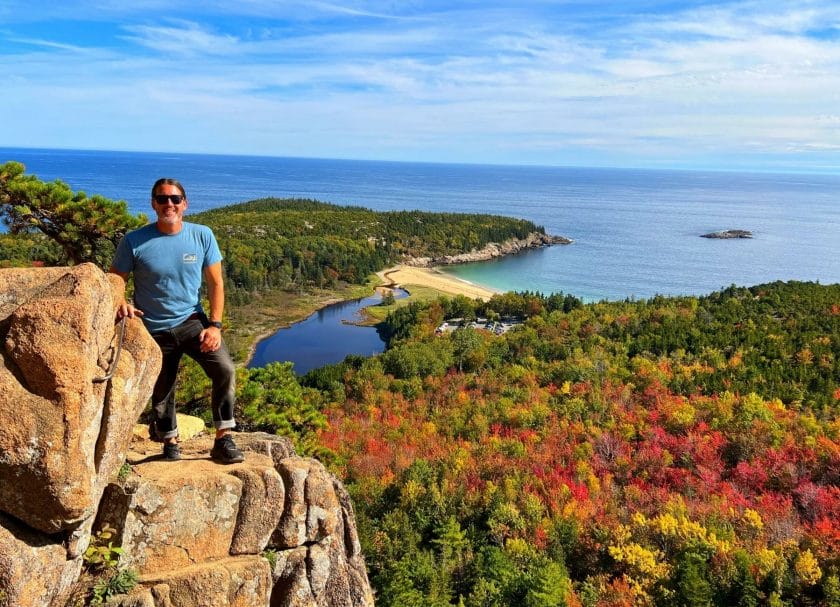 Mount Dessert Island Area
This is known as the main area of Acadia National Park. There is the Loop Road area and the "quiet side" area. We chose to split these each into their own day and added exploring the tow of Bar Harbor on to the day we did the quiet side. Here are the things to do on the Mount Desert Island.
Park Loop Road
This is the main area of Acadia with the most sought after attractions and in turn people. It is the busiest part of the park. The majority of the road is a one way loop. This means once you get on it you don't want to miss a stop since you can't just turn around and go back!
There are pull offs on the Loop Road and some beautiful spots (like Otter Point and Otter Cliff) to stop. The Park Loop Road is one of the must do scenic drives in Acadia.
Since we only had 1 day we wanted to do the drive and make multiple stops along the way since there are some great hiking trails off the loop road. Here are the stops we recommend on the Loop Road:
Cadillac Mountain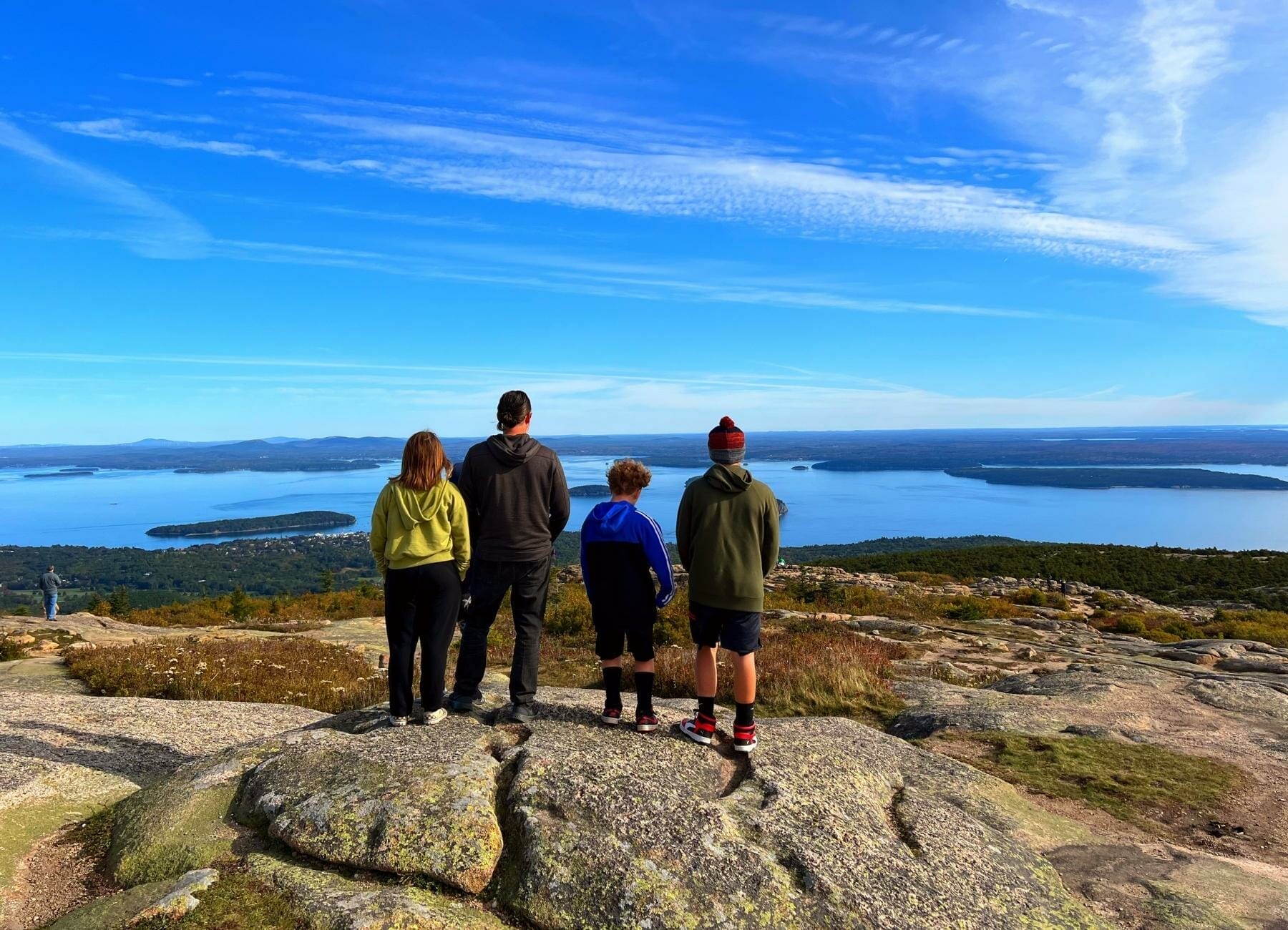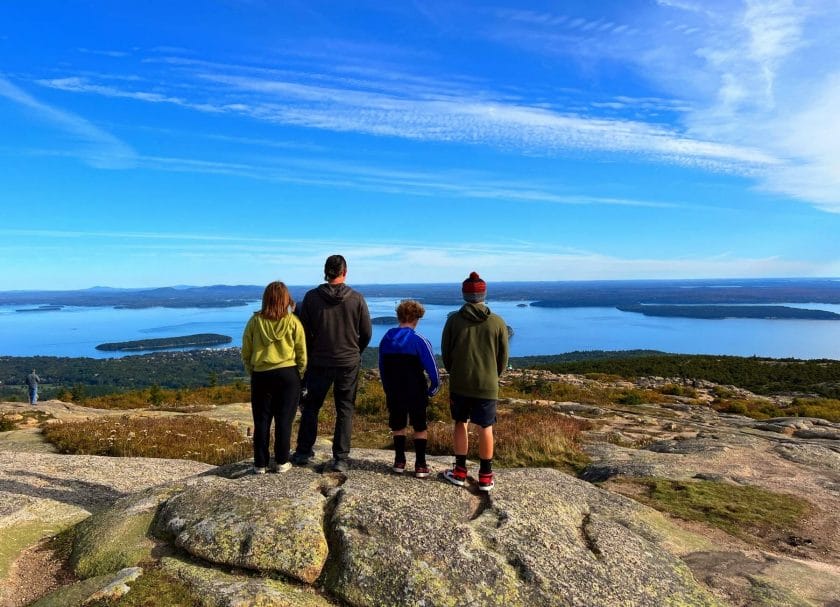 This is a good one to start with and get an overview of most of the Loop Road from on top of the mountain. When we went you did need a permit to visit the mountain so be sure to look into this and secure your permit as soon as you can. We could have done sunset or another time during the day. Since we aren't morning people we went with a 10am start time.
The drive up the mountain is a must do scenic drive in Acadia and is beautiful plus a bit scary if you are afraid of heights so be aware of that. Once at the top there is a gift shop – had to get our sticker! Plus there are trails you can walk that take you around the top of the Mountain.
We recommend doing the trail as it gives you a few of all sides of Acadia plus you can see Bar Harbor and all the boats. It is an easy trail without any elevation gain so good for almost everyone.
We spent about 30 minutes at the top of the mountain before heading back down. 
---
We would love to help you plan your trip! Check out our Acadia National Park Guides to get all the info you need to plan an amazing trip to Acadia National Park.
---
Precipices Trail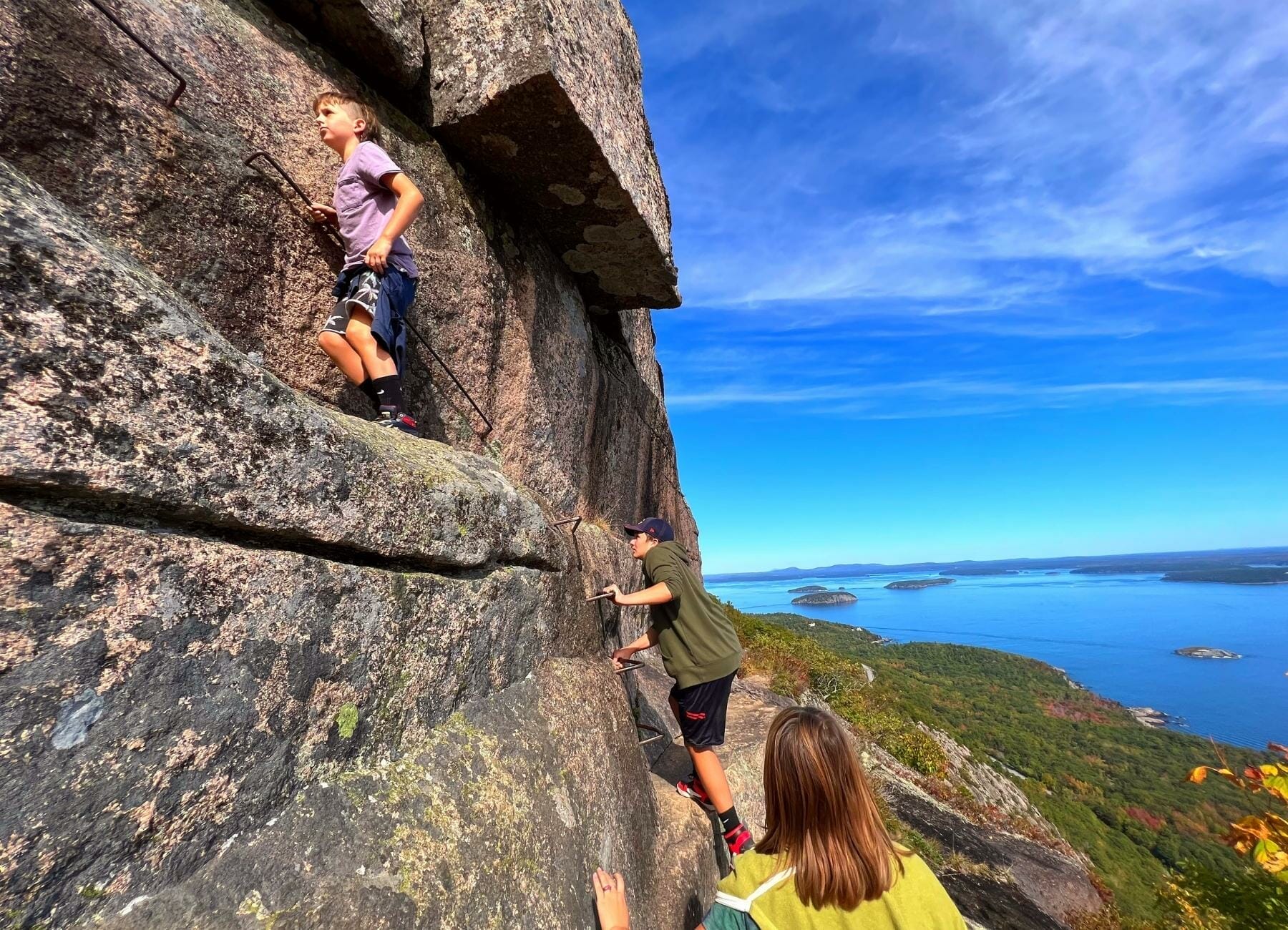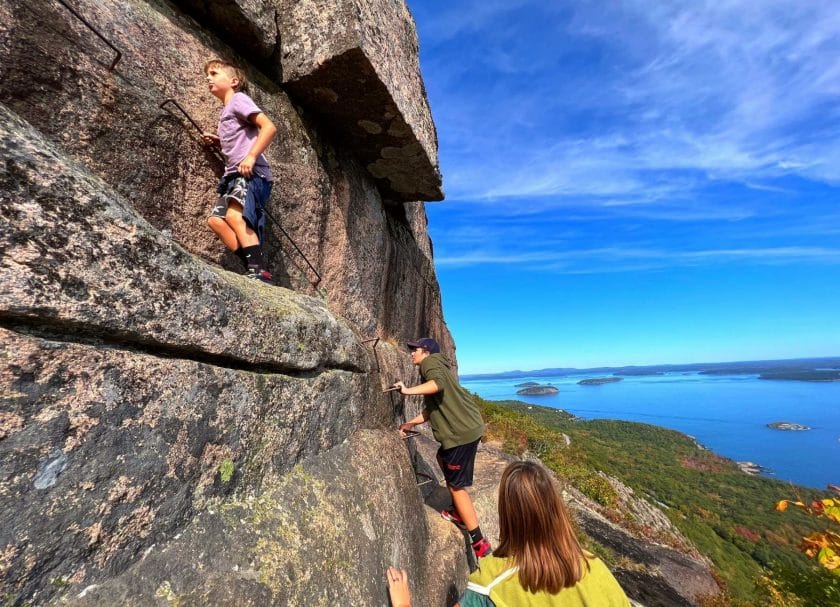 This trail is Crazy with a capital C!! You are literally climbing up the side of a mountain the whole time! Not switch backs but actual rock scrambling and climbing on wrought iron ladders in the side of the mountain.
There is a reason there is a warning sign when you start the trail and warns of death or serious injury. They are not kidding. It is dangerous. We did do the trail with our kids who were 14,11,11 and 9 at the time. We do a lot of hiking and know their capability and they were all able to complete the hike but it was definitely a mental struggle for all of us. And there were times when we questioned if it was the right call to do the hike with them . . . so keep that in mind.
When parking for the trail remember you can't turn around . . . there is a lot that is normally full unless you happen to get there really early or catch someone leaving. There is also parking along the road where the lot is. But if you choose to check the lot you will miss this parking. However up the road there is parking but you will reach a point where it says no parking beyond this spot. We literally parked right in-front of that sign. This was at like 11 – so we didn't try to get there early..
The Trail
We had to walk about 1/4 mile to get to the actual trailhead. Once you hit the trailhead your upper ward climb starts right away with rock scrambling. Also note if you do start to go up you can't really stop halfway and decide to turn around. I mean you could. But you shouldn't as there are places where it would be dangerous to pass someone else on the trail.
This is a one way trail and once you start going up you keep going and when you get to the top you take a much easier walk back down a different route. We did run into a few people that turned around near the beginning of the trail and that was fine. But once you are climbing up the open faced side of the mountain you are committed.
We made it to the top and all of us were glad we did and that it was over! From there you take a different trail to get you back down to the road – the Orange and Black trail. The trail is not that well marked so make sure to download the AllTrails map or NPS app map (before you get into the park) so you can be sure you are going the right way.
The Orange and Black trail takes you to the Park Loop Road and you do not descend any of the ladders or rock scrambling you did on the way up. You will be walking right on the edge of the road (everyone that hiked it is doing it too) but you still want to be very careful. Especially with kids.
Maps Of The Route We Went
Here is the All Trails link for the route I explained.
Be sure to download this for offline navigation before you get into the park.
Here is my attempt to explain what we did: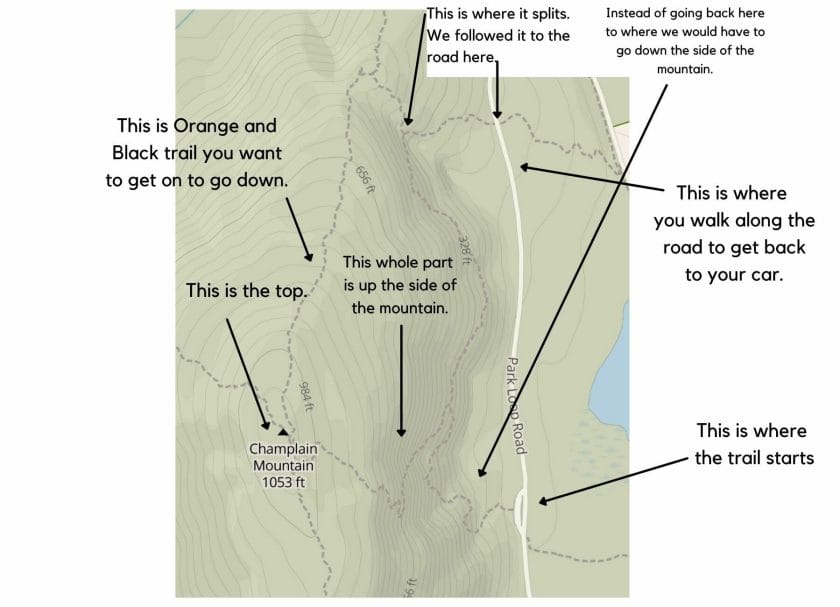 And here is the AllTrails map of the route you will go: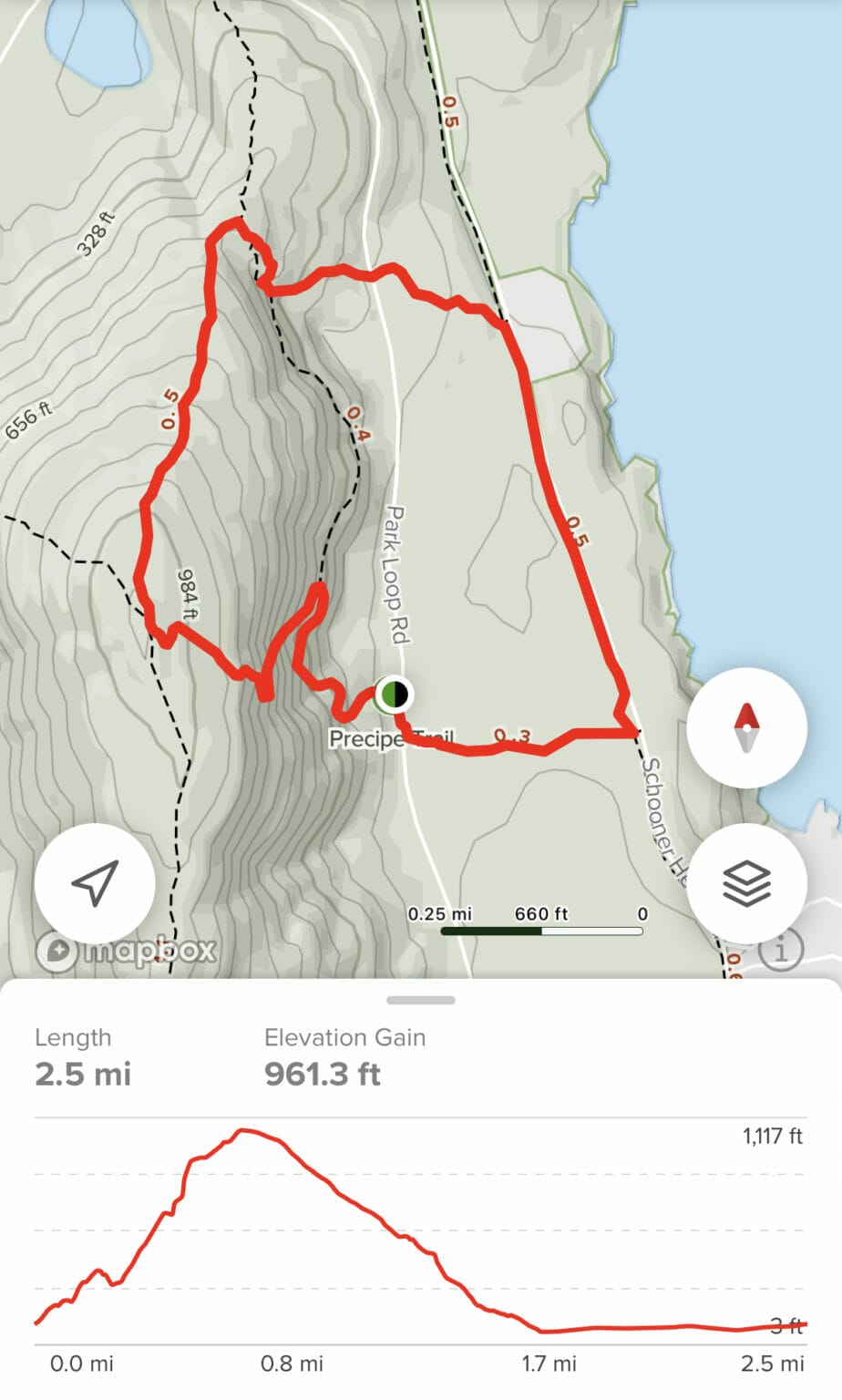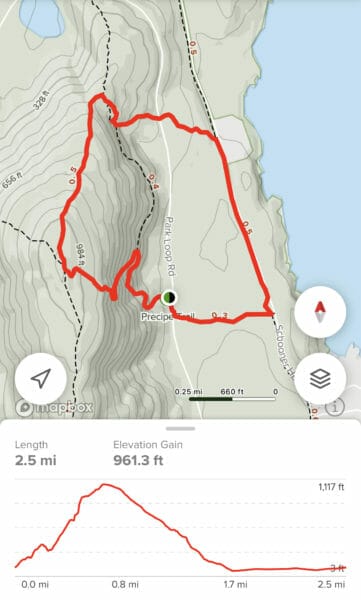 Did I sell you on this trail :)?! But seriously it was amazing and I am glad that we did it and that our kids did too. We love showing them that they are capable of so much more than they think. And even that being a little scared is OK and you just keep pushing yourself through it.
Distance: 2.1 miles
Elevation Gain: 1,053 feet (all in the first mile)
Check out: Tips For Hiking With Kids
Thunder Hole via the Ocean Path Trail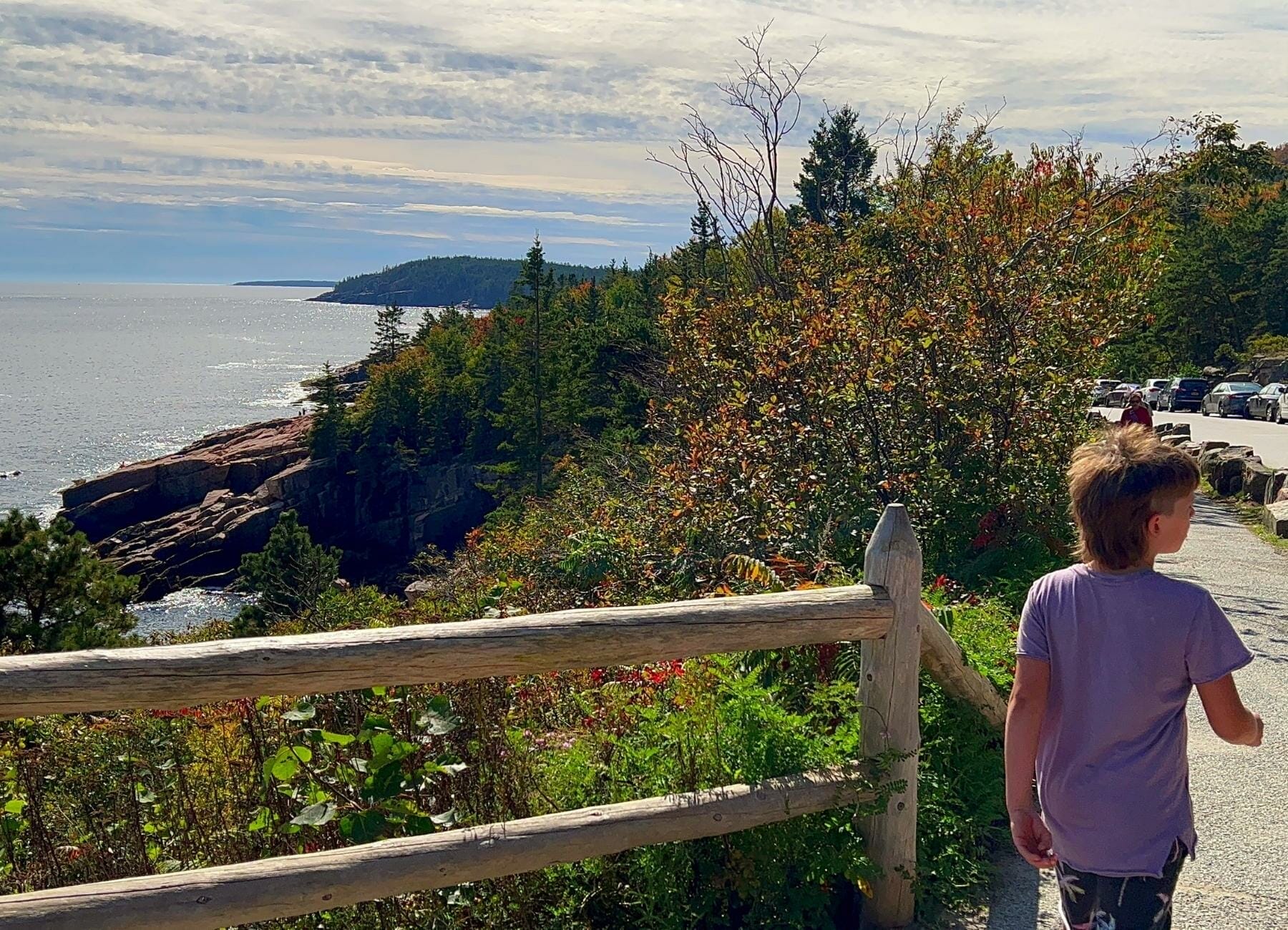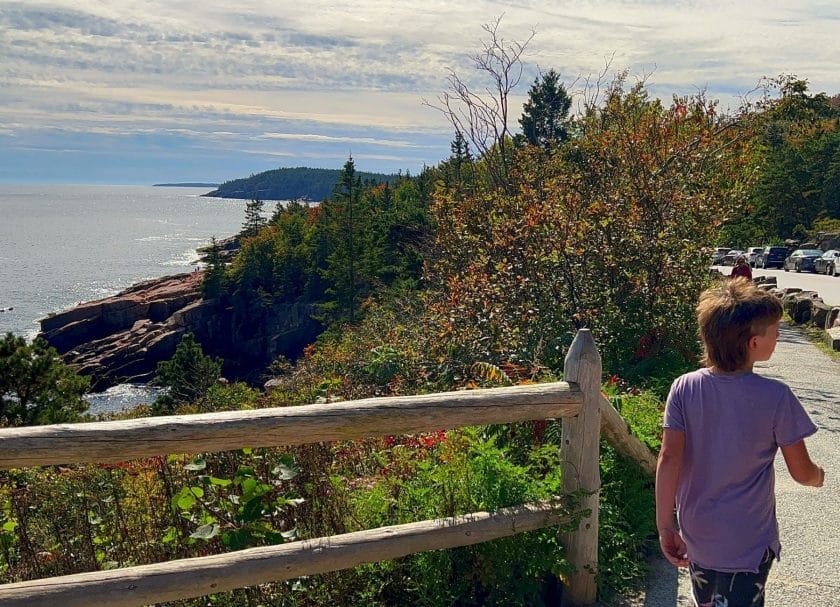 Next up we check-out Thunder Hole. This is an area where the waves crash through this rock tunnel and make a loud thunderous roar. Only problem is you do have to catch this at high tide or the noise isn't as loud. We got there at low tide . . .
We had friends that had visited and they ended up sitting by Thunder Hole with a picnic lunch for a few hours and really enjoyed it and recommended it. Our day was packed full so we didn't have time to do this.
It is still a pretty area and worth walking along the Ocean Path Trail to get there. There is a parking lot for just the Thunder Hole and surprisingly in the middle of the day there were lots of open spots. I think people were worried if they didn't get a spot on the street they might not be able to stop if all the spots were taken in the parking lot.
This lot also had a much less busy bathroom then the Sand Beach parking lot where we parked. We parked here so we could do the Ocean Path Trail, Thunder Hole, Sand Beach and the Beehive Hike. We did have to drive around the lot a few times as we waited for people to leave. But we found a spot on the second time around.
Distance: 1.7 miles
Elevation Gain: 196 feet
Beehive Trail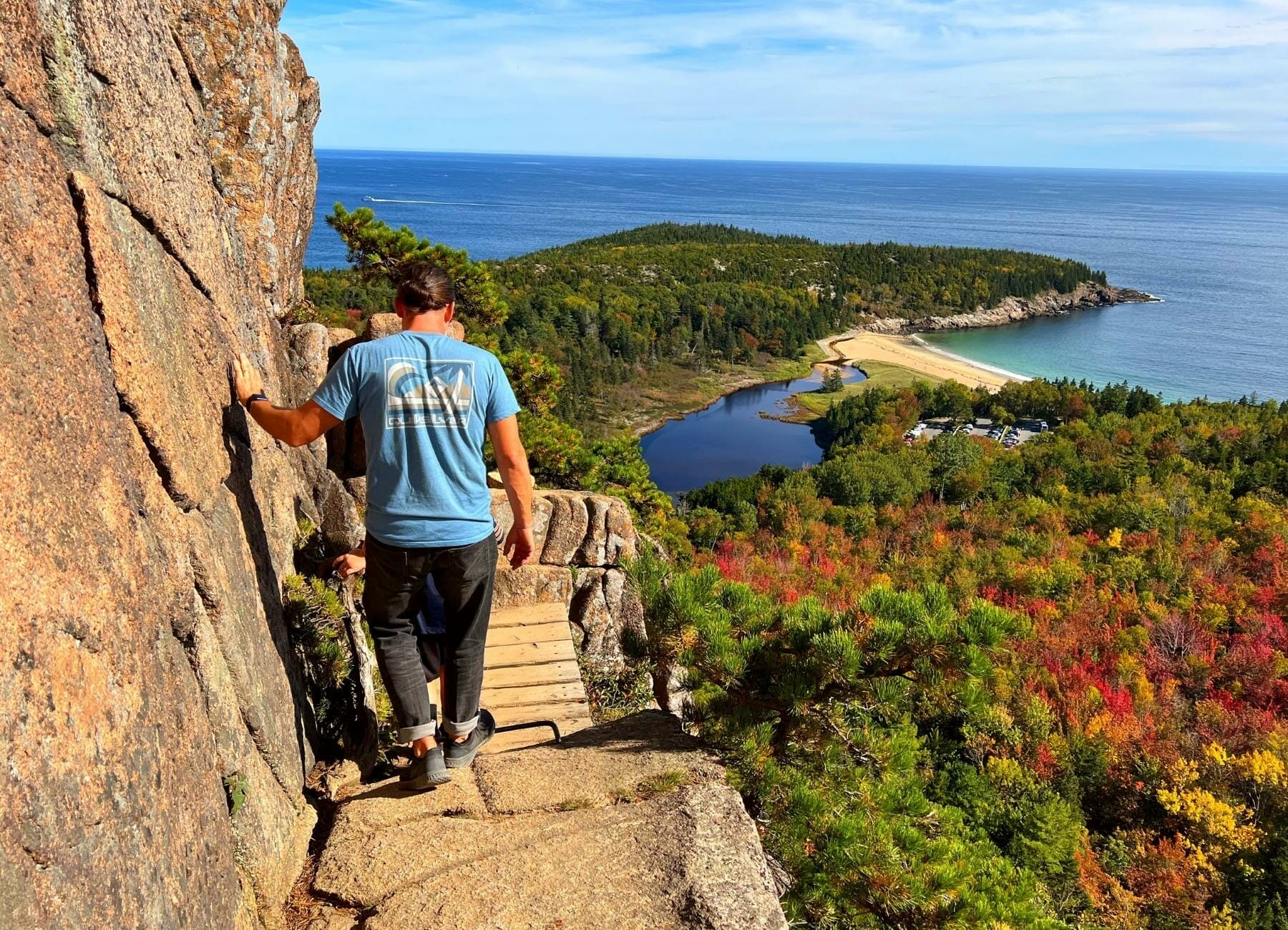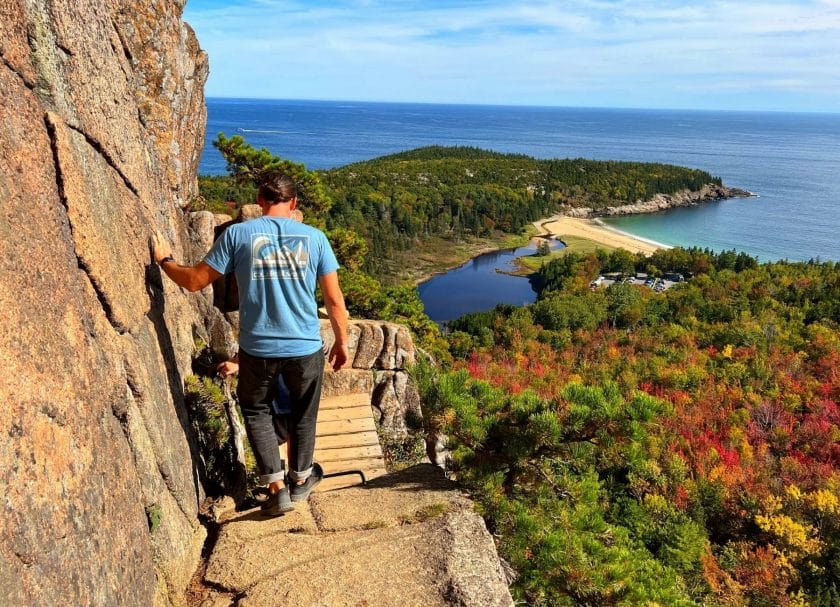 Normally people will do the Beehive Trail first before the Precipices since it is a mini version of the harder and longer Precipices trail. Problem was on the one way road the Precipices came first so we did that first. Since we only had one day on the Loop Road.
The Beehive was an awesome trail! There were some scary parts, rock scrambling and climbing on the wrought iron ladders. But it was definitely much easier and less intimidating than the precipices trail.
You got some gorgeous views of Sand Beach and the changing trees (We were there in October so the leaves where changing!). It is a loop trail. So same idea once you start going up you should not turn around.
If the Precipices didn't sound fun I would definitely start with the Beehive and if you like this one you can do the Precipices the next time.
Distance: 1.5 miles
Elevation: 508 feet
Sand Beach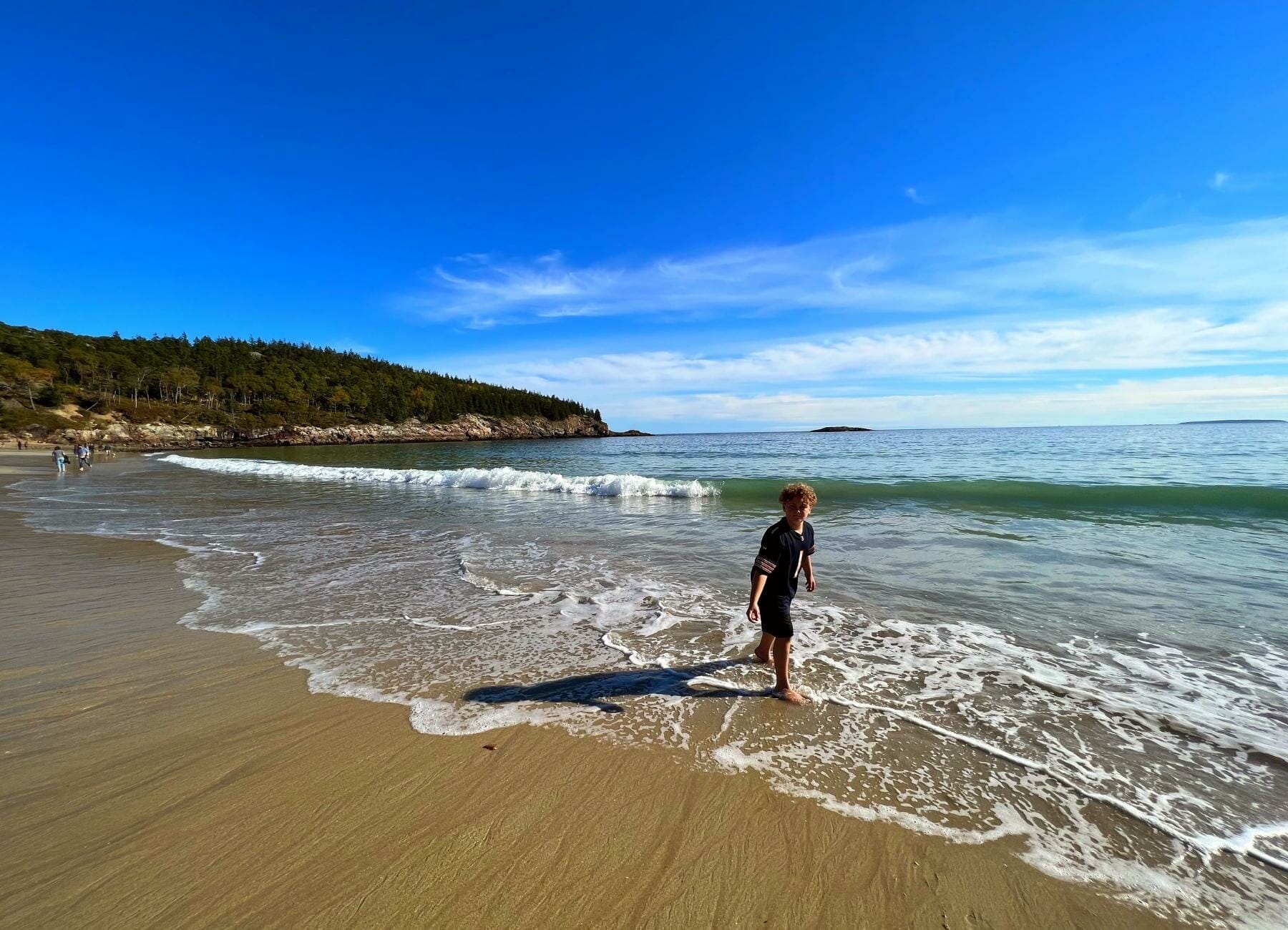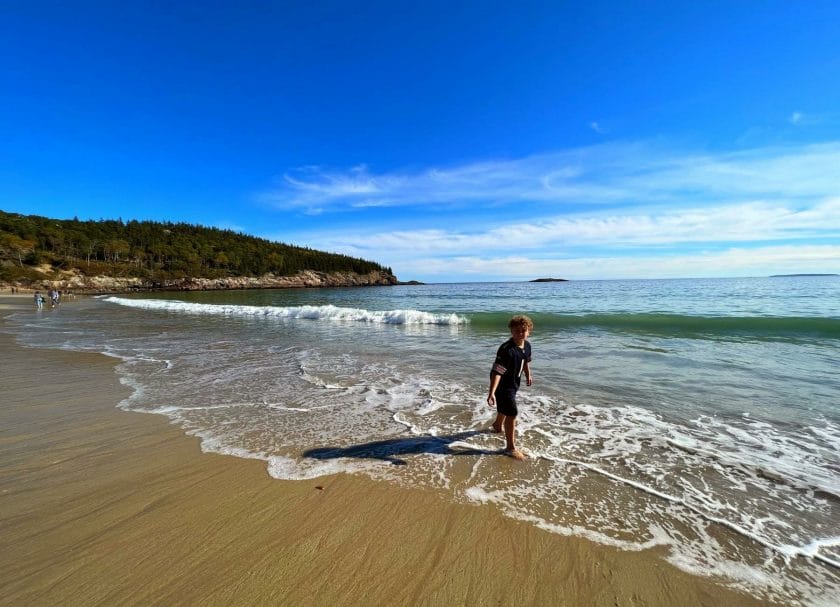 Sand Beach is a large beach area in Acadia where you could spend a beach day! There were a lot of people with sand toys, picnic blankets and food camped out for the day or a few hours. With our tight schedule we walked down to check it out. Felt the water – it wasn't that cold yet! And headed on our way.
If you are looking to add another hike to your day check out the Great Head Trail that is located to the east of Sand Beach.
---
We would love to help you plan your trip! Check out our Acadia National Park Guides to get all the info you need to plan an amazing trip to Acadia National Park.
---
Carriage Roads
There are miles of carriage roads throughout the park that were put in the early 1900's. You can bike on these or horseback ride. In the summer you can even go on a horse drawn carriage on the roads.
You can learn more about them on the NPS site.
Jordan Pond Trail
This is a nice long trail that goes around the Jordan Pond. Not sure why it is called a pond when it is huge! If you are looking for a way to burn energy but aren't looking for an elevation gain this would be the trail for you.
Note – you can not swim in the Jordan Pond as the water is a source of drinking water for the area.
Jordan Pond House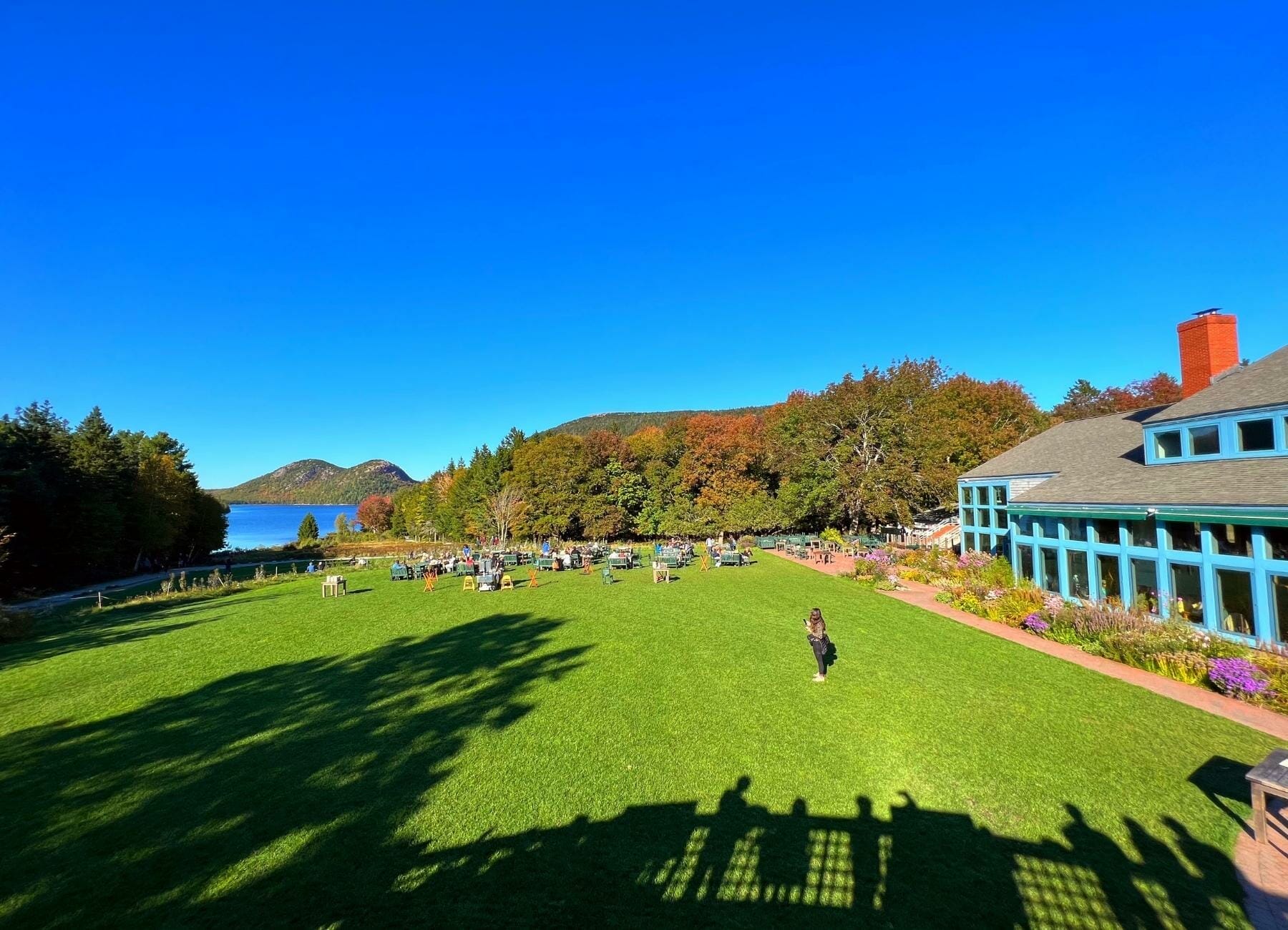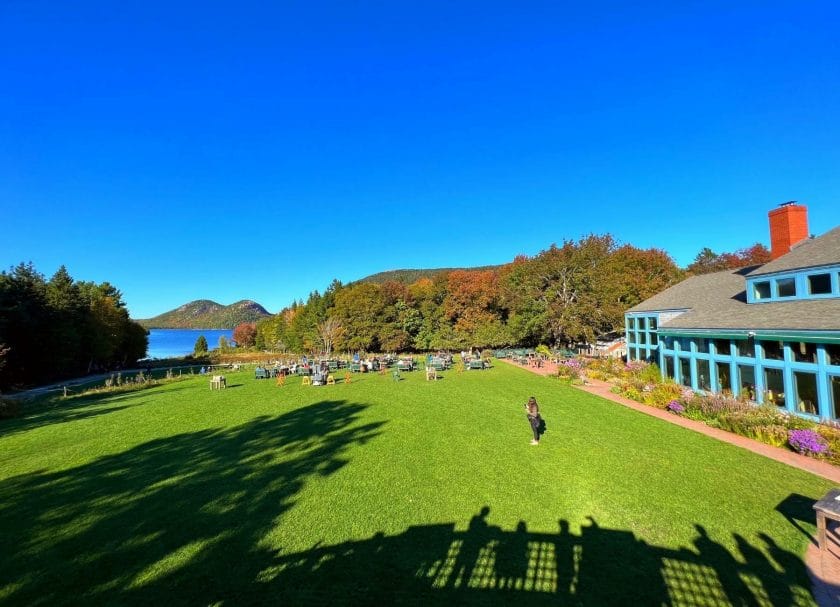 This was one of the reasons we wanted to keep a tight schedule. We had heard if you could get to the Jordan Pond House by 4pm you had a better chance of getting a table. Well we got there at that time and there was a 2 hour wait for a table.
The Jordan Pond House is famous for their Popovers and you get to sit outside over looking Jordan Pond if you prefer. This all sounded amazing and we really wanted to do it. But we just aren't that patient. We also checked the menu and weren't overly excited about the other things on it so decided to head into Bar Harbor to find something to eat instead.
The Loop Road area is beautiful and there are lots of great stops along it! Up next we head to the "Quiet Side".
The Quiet Side
The quiet side is located on the south side of Mount Desert Island. There is also a loop road of sorts but there is much less to do on this side and for a lot of the drive you are driving through neighborhoods and small towns which was interesting. Here are the things we stoped to do on this side:
Echo Lake Beach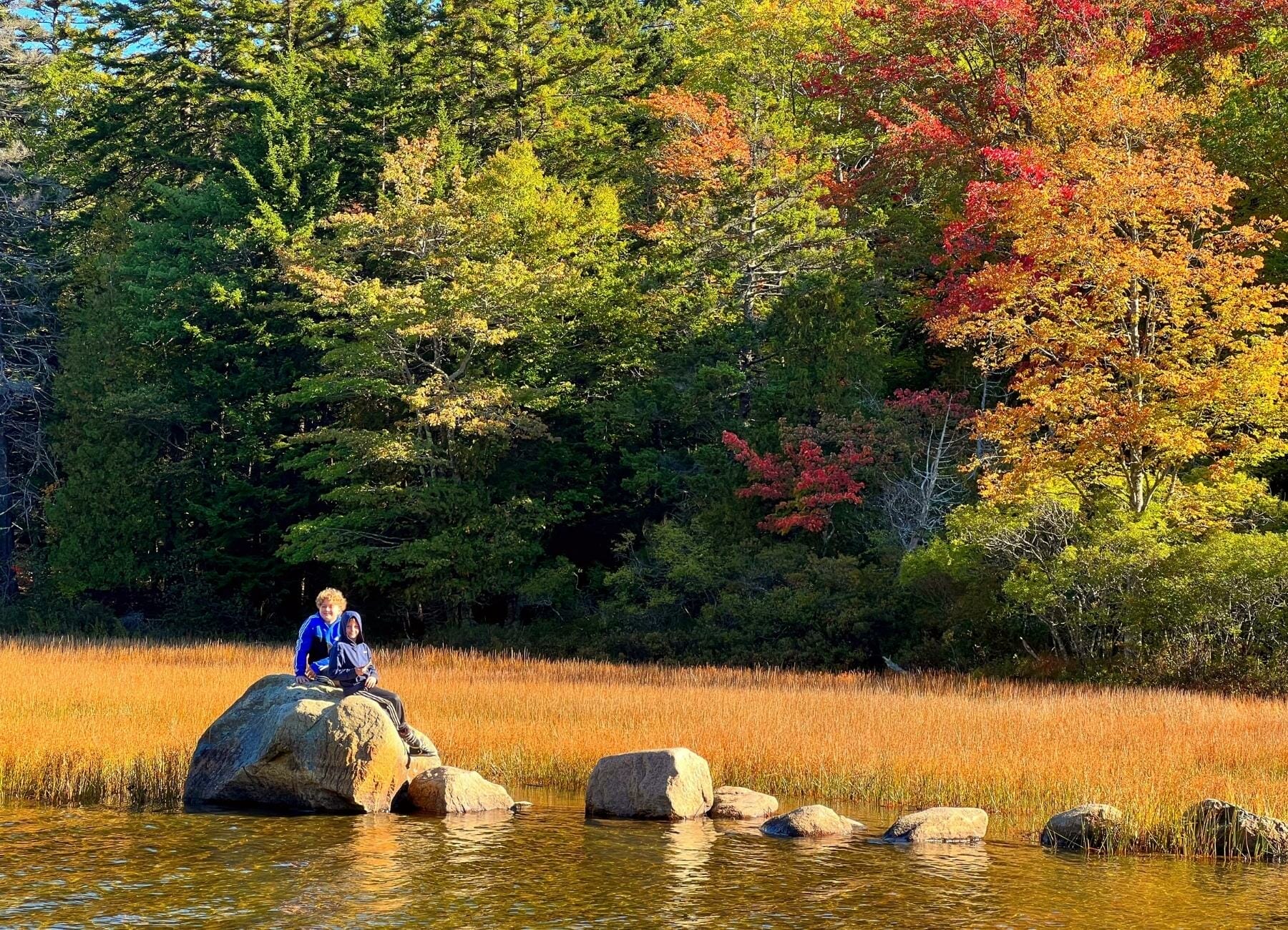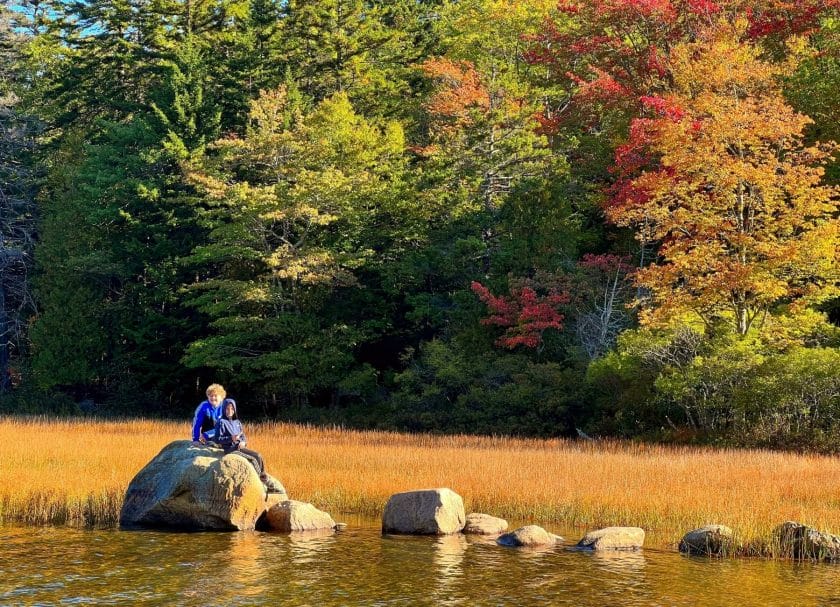 This was a small beach area on Echo Lake. What I do like about visiting these less visited areas of the National Parks is they are usually not busy at all. Even on the busiest of days on the main parts of the park.
We were the only people on the beach and there were just a few other cars in the lot for people that must have been doing a hike.
It could be a quick stop to get out and stretch your legs for a minute on the beach. Or you could make it longer if you wanted to spend the day hanging out by the beach. You also can swim in Echo Lake.
Bass Harbor Head Lighthouse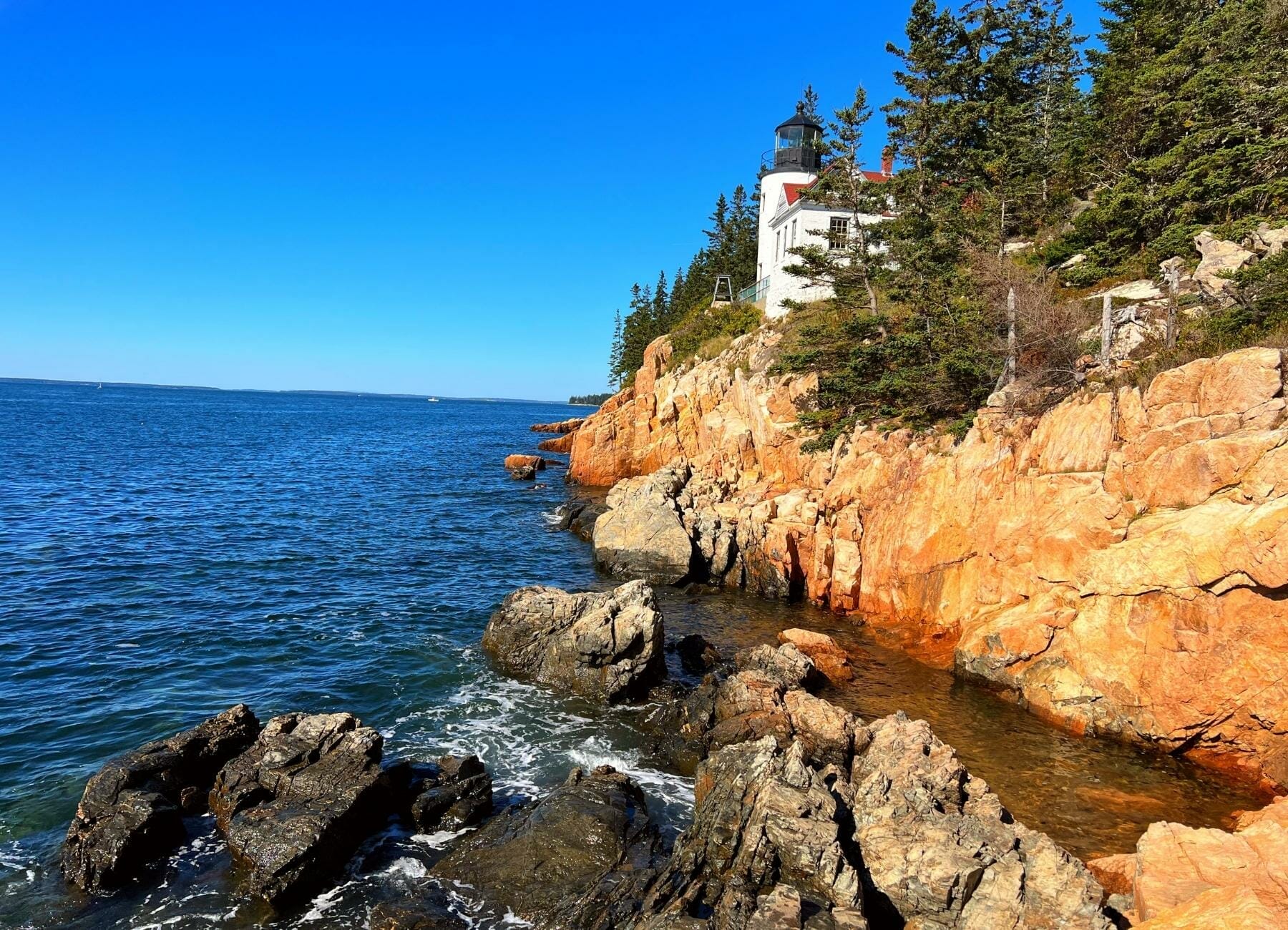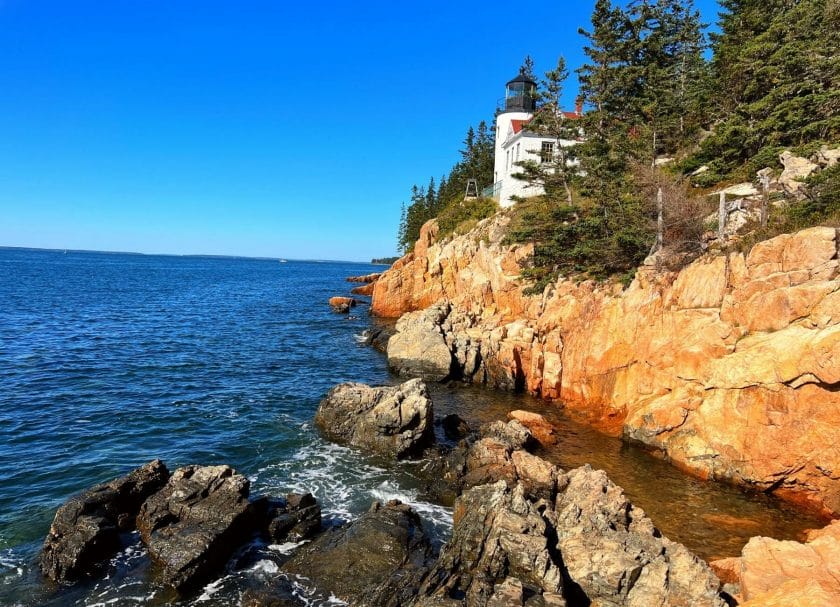 When you think rugged Maine coast you think Lighthouse! That is exactly what this is! A picture book Maine lighthouse. There is a small parking lot so be prepared to sit in a line of cars waiting for someone to leave their parking spot. But don't worry it will happen. It is a short walk down to the lighthouse and once you see it there isn't much else to do here.
That being said. Don't skip it! It is a beautiful spot and if you carefully climb over the rocks you can get a pretty epic picture of the lighthouse. But be careful!!
Wonderland Trail
This is a short flat trial that takes you close to the ocean waters at the top of Desert Island. The hike wasn't anything spectacular but it was a nice way to get out and stretch our legs in-between the drive.
If you don't have time I would say you can skip the Quiet Side. However if you are over the crowds and looking for a more unique stop in Acadia don't skip this side!
Schoodic Pennisula
The Schoodic Pennisula is about a 1 hour drive from the Loop Road section of the park. It is only 4 miles across the water but 1 hour to drive. It is again a more secluded and less visited area of the park and has its own beauty.
Schoodic Institute and Ranger Station
You can stop here to check out the museum area and learn more about Acadia and the history of the area and the Institute. You can also stop to talk to a Ranger, as this is one of the visitor centers for Acadia, to get recommendations on this part of the park and the others as well.
Schoodic Point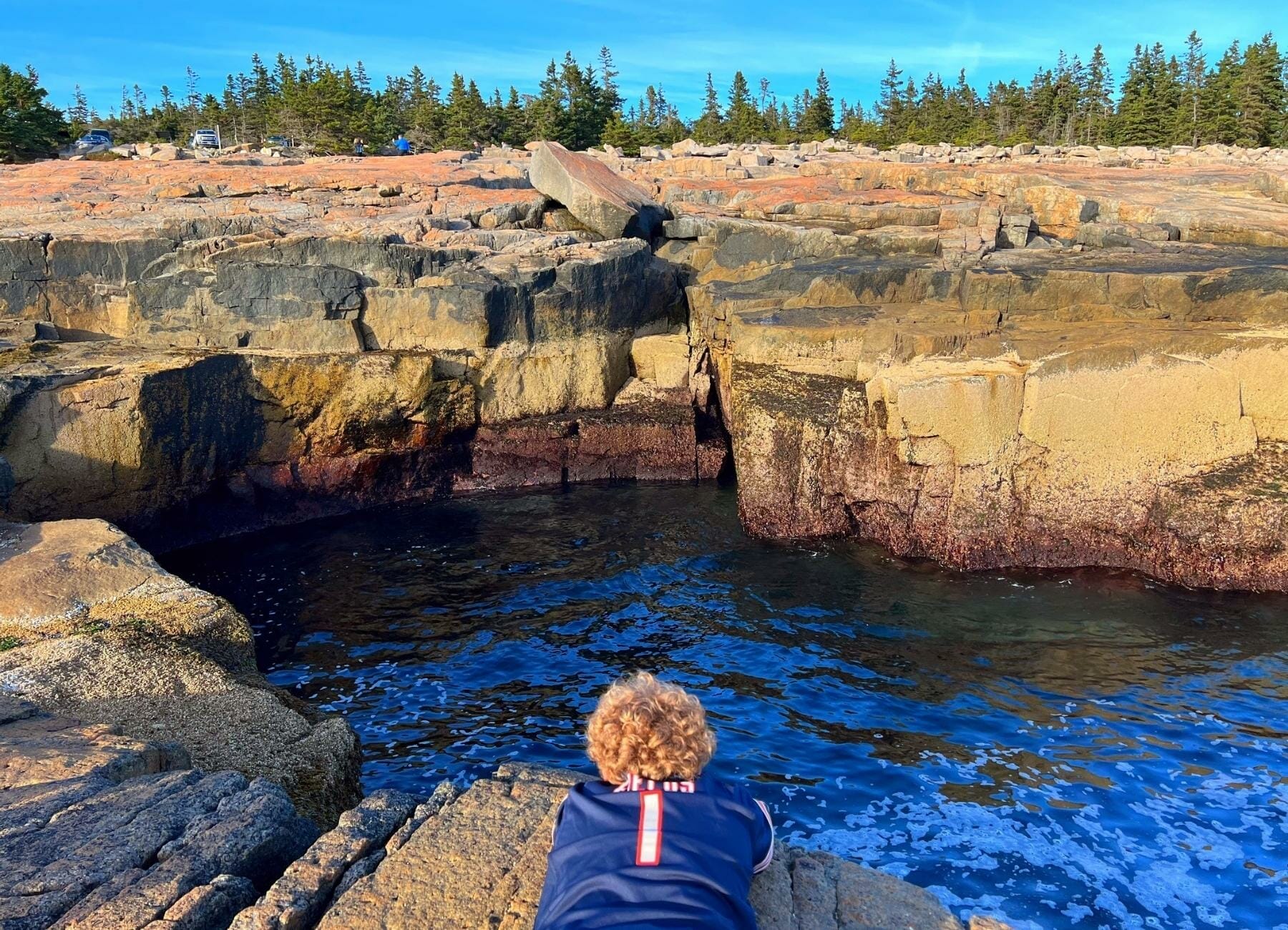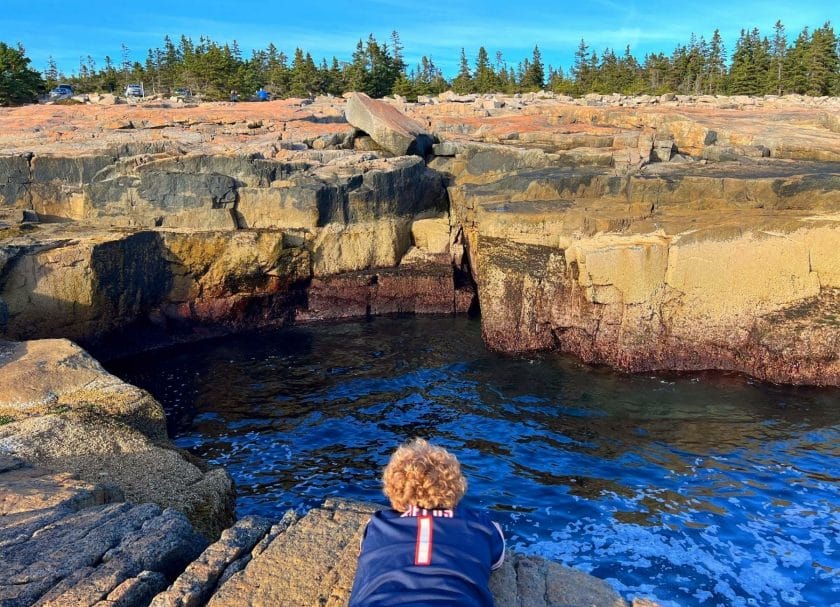 Head out to the Shoodic Point to hear and see the waves crashing against the shore line. Again it is better if you can catch this at high tide. You can walk out on the rocks but be very careful as big waves can come unexpectedly! So don't go to far out.
Little Moose Island
If the tide is low you can walk out to Little Moose Island. We couldn't quite find exactly where to walk across and the rocks were slippery. So you may just want to stop at the pull off to take in the views or just walk down by the water.
After that per the Rangers recommendations we headed out of the park and to a different spot where we could find starfish. Take note the Rangers know the park and also the locals favorite spots in the area so always stop to ask what to do!
Tidal Falls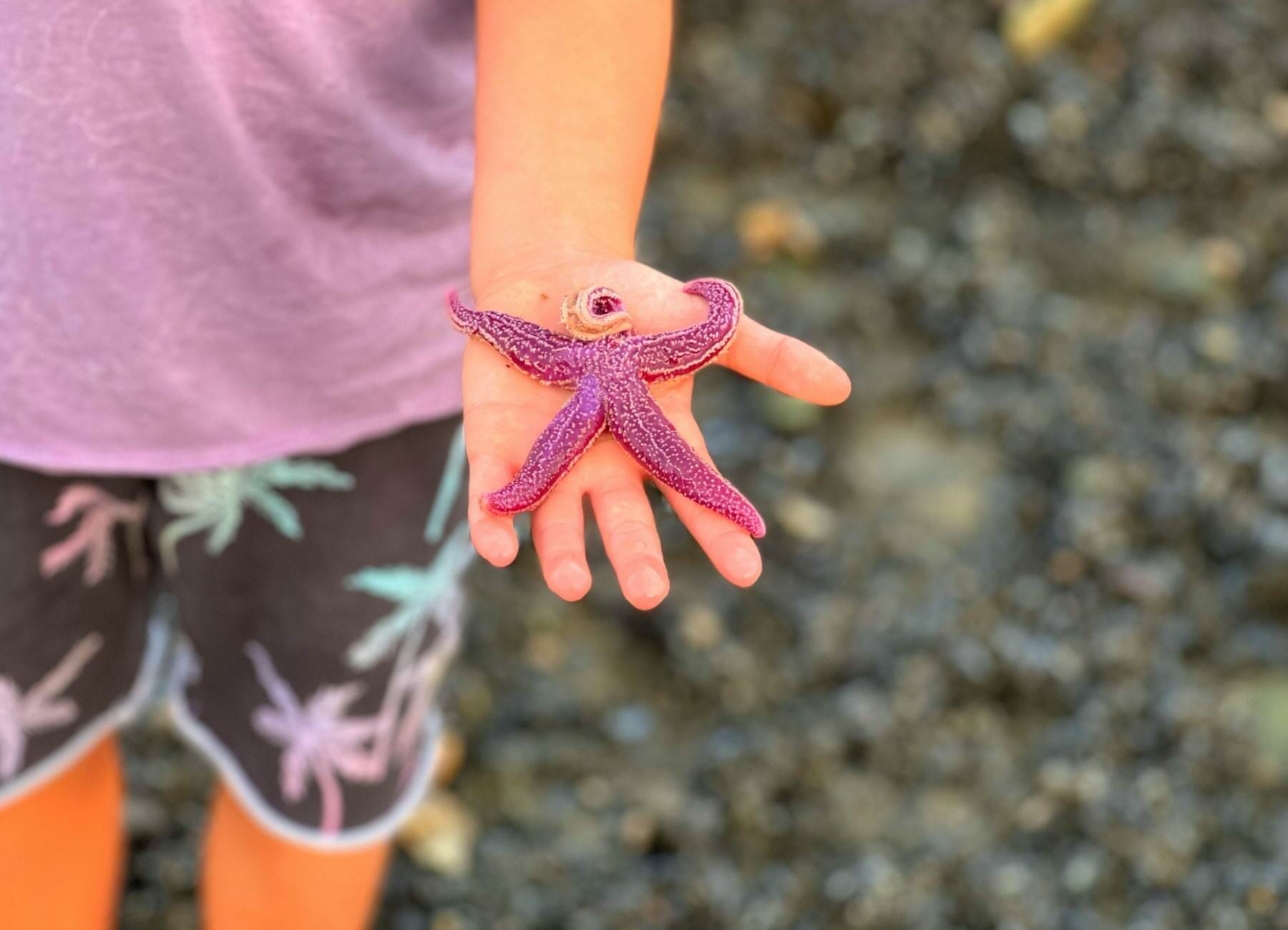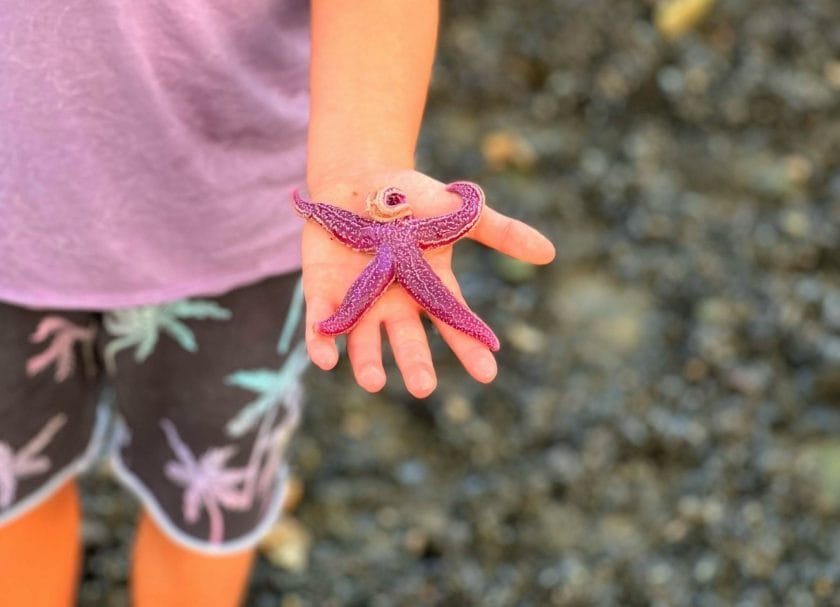 We made a stop at Tidal Falls since the tide was still low to look for Starfish and sure enough the kids found a bunch of them all different sizes and colors!
The Schoodic Pennisula was similar to the quiet side and I can see why the Loop Road is the main attraction. If you have multiple days we always recommend seeing the whole park and enjoying the off the beaten path places too! If you don't have time the Loop Road should be your first choice.
Isle au Haut
We did not make it out here. You can only access it by boat and that in itself would be a fun experience! We have this on our list for next time.
Here is a post I found about the Isle au Haut and what to do there:
Bar Harbor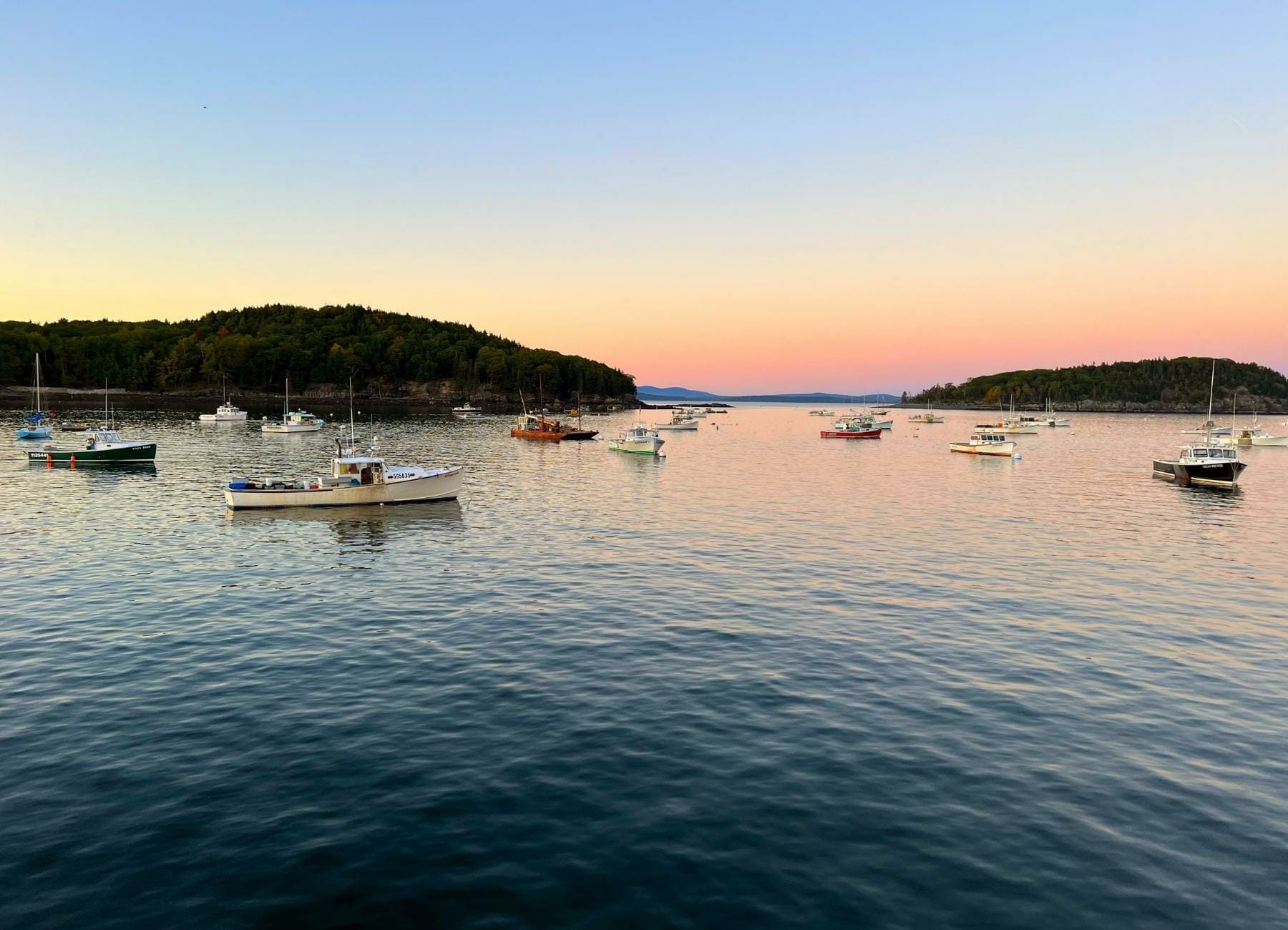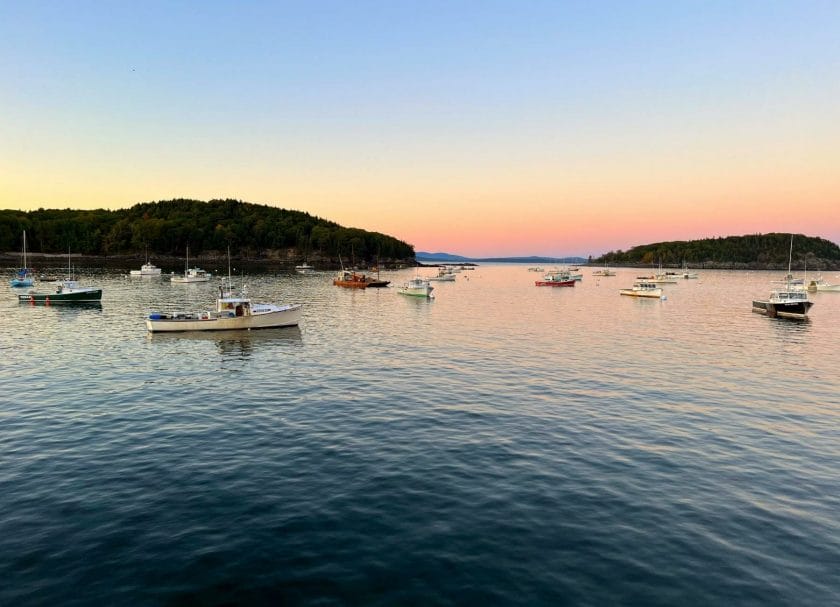 When you are done exploring it is fun to head into Bar Harbor! This cute town has lots of great restaurants and shops. Plus you can walk around the Harbor and see the Lobster boats bringing in their daily catch.
Definitely be sure to set time aside to explore all the things to do in Bar Harbor, do some souvenir shopping, get some dinner and ice cream.
LuLu Lobster Boat Tour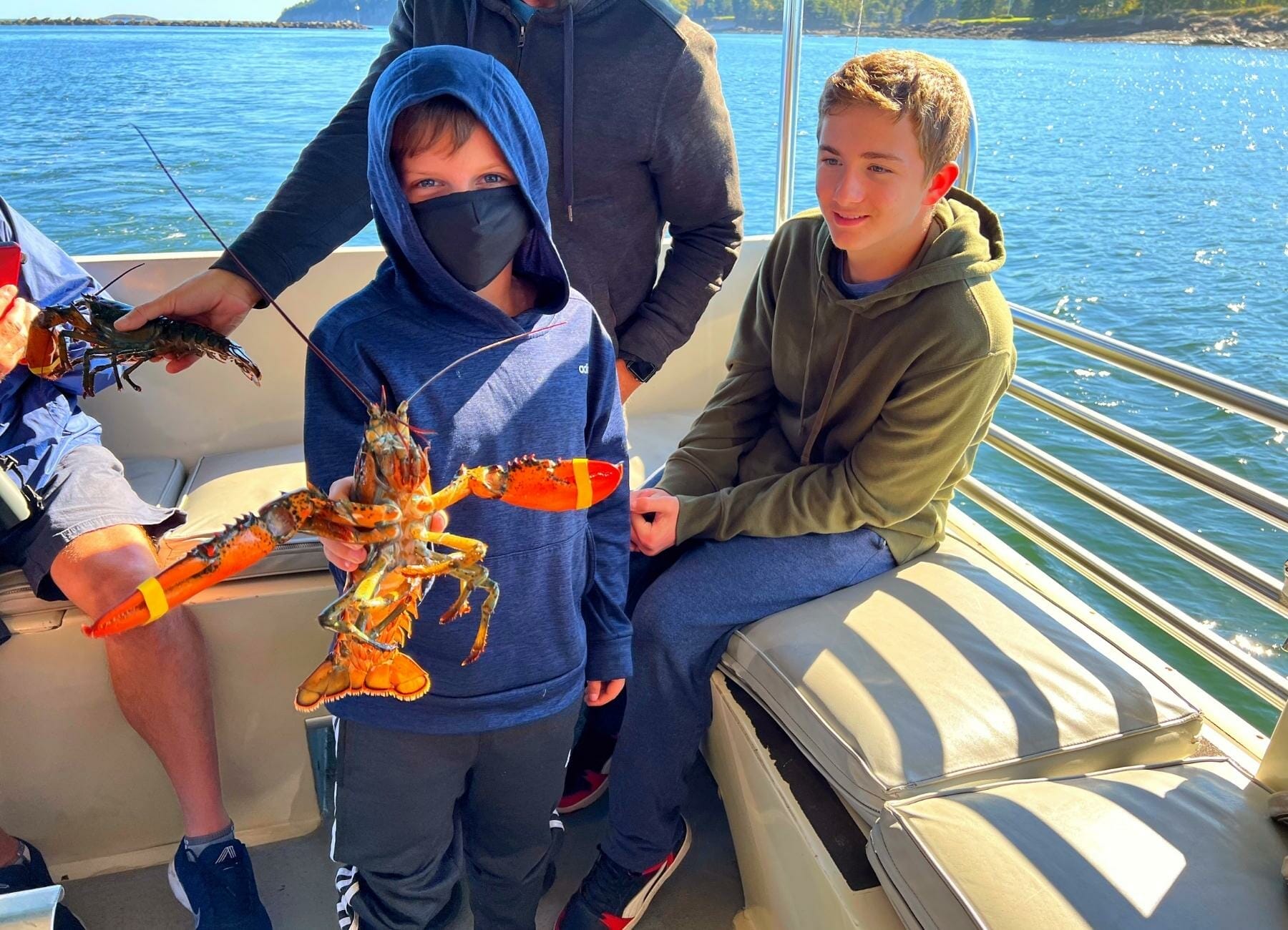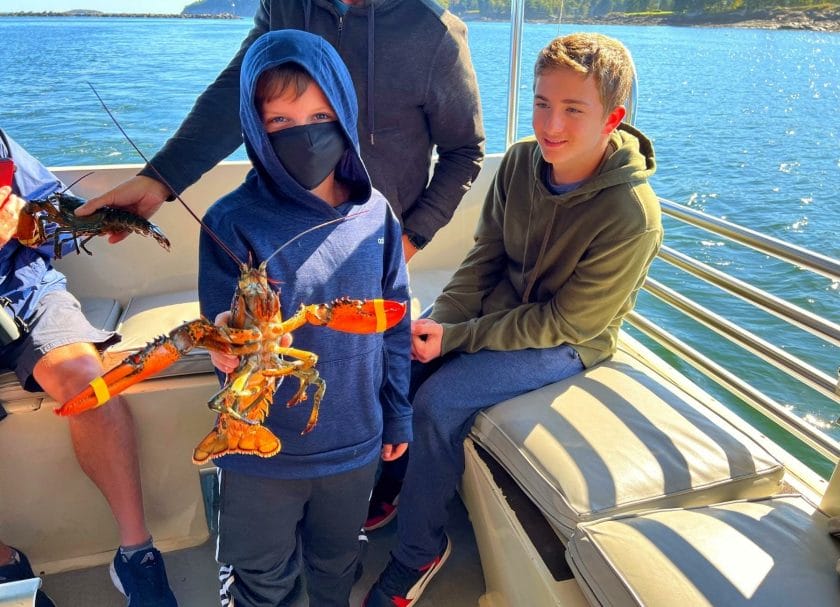 On the day we visited the Quiet Side we also booked a LuLu Lobster Bout Tour. It has a ton of good reviews on TripAdvisor and it did not disappoint. It was a 2 hour boat ride that left from Bar Harbor in a Lobster boat turned tour boat.
On our way out and around the Egg Rock Lighthouse our tour guide told us all about Lobster fishing in the area, history of Bar Harbor and the Egg Rock Lighthouse. Plus she taught us all about Lobsters.
The kids even got a chance to drive the boat!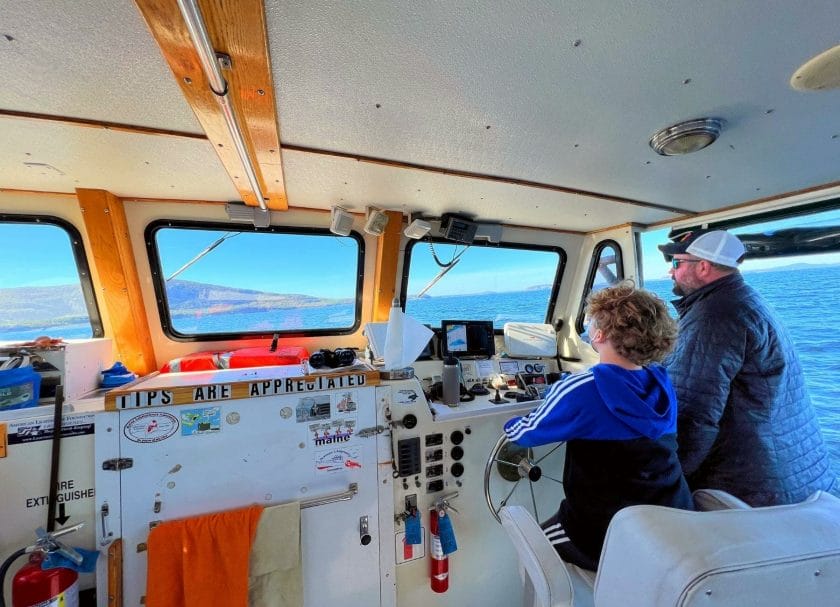 After we circled the lighthouse we stopped at a couple Lobster traps and they brought up some lobsters for everyone to hold. The kids got to put the rubber bands on the Lobster claws and everyone got a chance to hold a live Lobster.
It was a really cool experience and I was glad we did it. It helped all of us learn more about Lobster fishing in Maine and about Lobsters!
When To Visit
As you can see Acadia is filled with so many great outdoor activities. For that reason it is good to visit when the weather is nice. We went in early October and had 3 beautiful days. But we were definitely pushing our luck going that late in the season! I would say September would be a great time to visit Acadia if you want to be less risky with the weather.
---
We would love to help you plan your trip! Check out our Acadia National Park Guides to get all the info you need to plan an amazing trip to Acadia National Park.
---
Where To Eat
Side Street Cafe
We ate at the Side Street Cafe and it was delicious. It is off one of the side roads in Bar Harbor so we were able to get a table right away. Plus they had a delicious Apple Cider Margarita (seasonal) and lots of yummy seafood options.
Happy Clam Shack for Lobster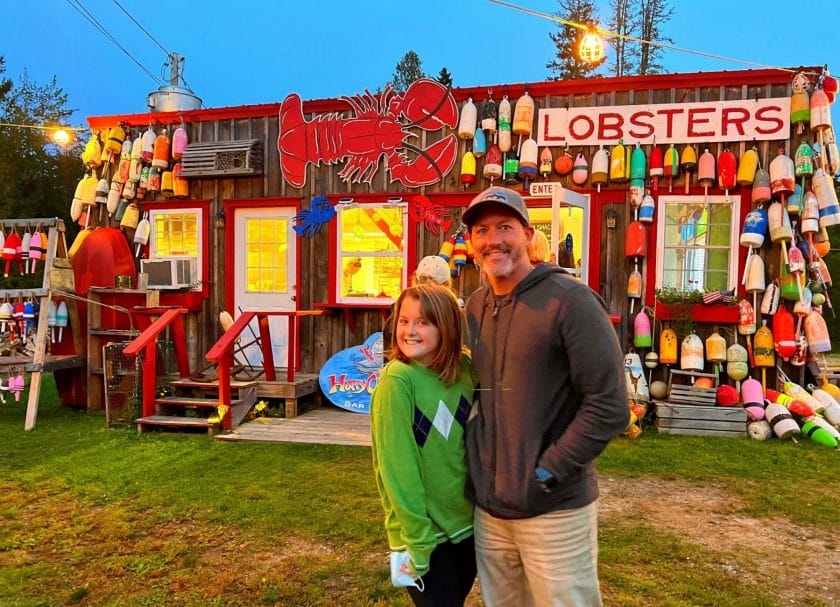 This spot was not located in Bar Harbor but about 15 minutes outside of town – towards where our RV park was. It had a line out the door so we knew it must be good! They have fresh lobster right there in the tank that they bring outback to cook for you.
There were whole lobsters you could buy and they would cook them. This is what we did and opted to bring it back to the RV to eat. They did have picnic tables were you could sit outside and eat too. Lobster rolls, clam chowder, lobster bisque and more.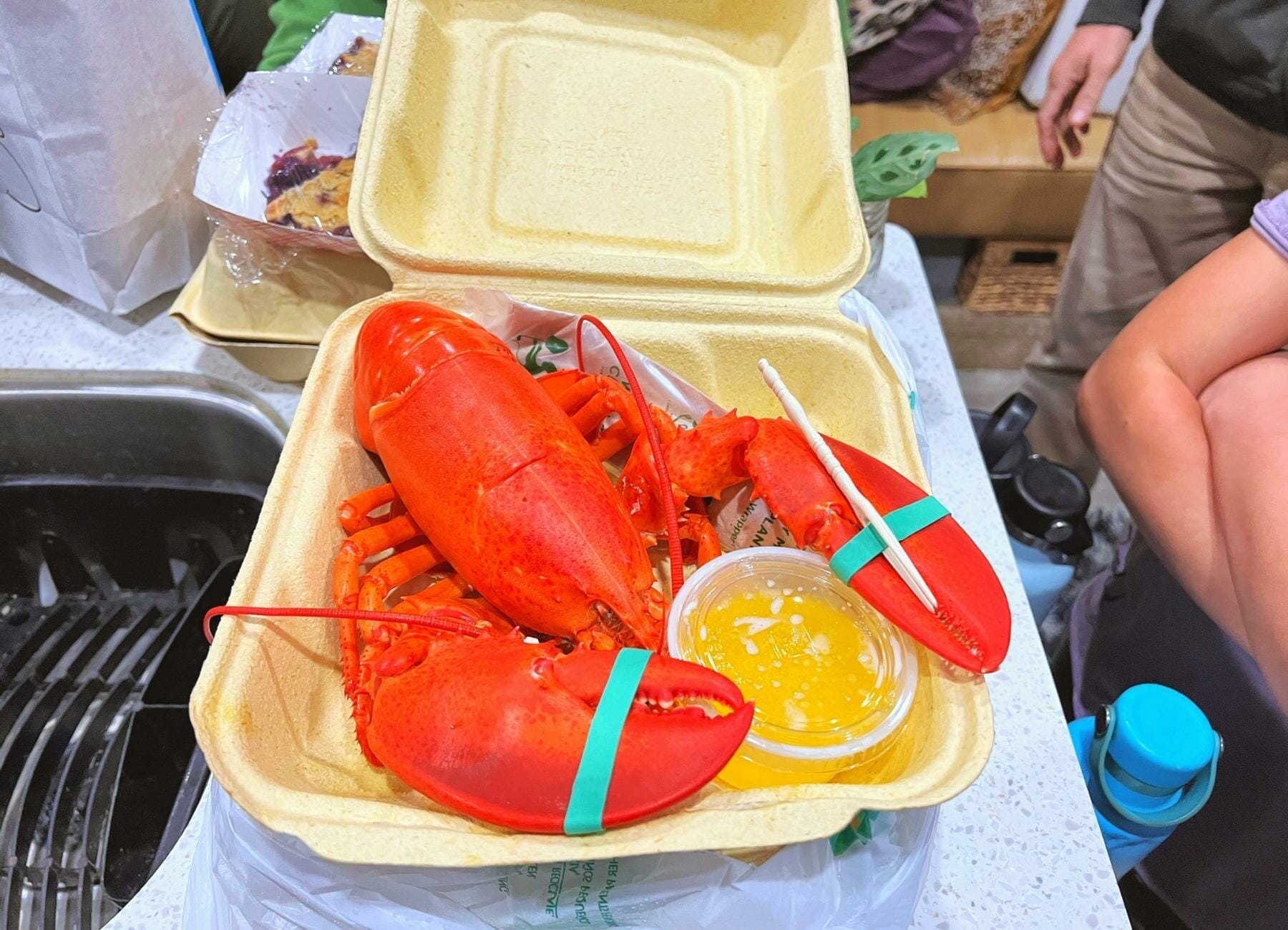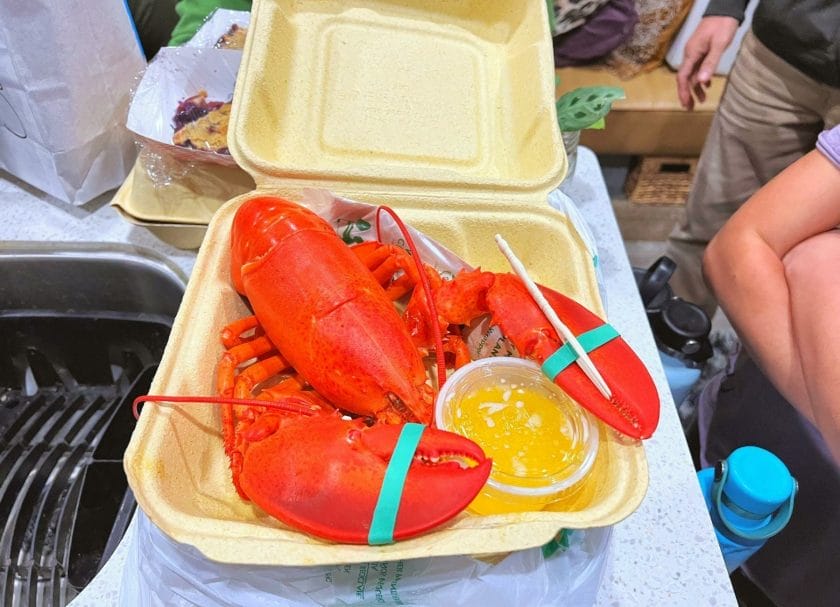 We don't normally eat lobster so when we brought the whole lobster back to the RV we had to google how to eat it :)! It was interesting for the kids to see the full lobster and to dive into breaking it apart to get to the meat. Everyone tried it. None of the kids were big fans.
No problem – more lobster for Craig and I!
We enjoyed Acadia and Maine and felt that being there for 3 nights was the perfect amount of time as long as we went out and explore everyday! Want more? Check out our Acadia National Park Itinerary.
Where To Stay
RV Park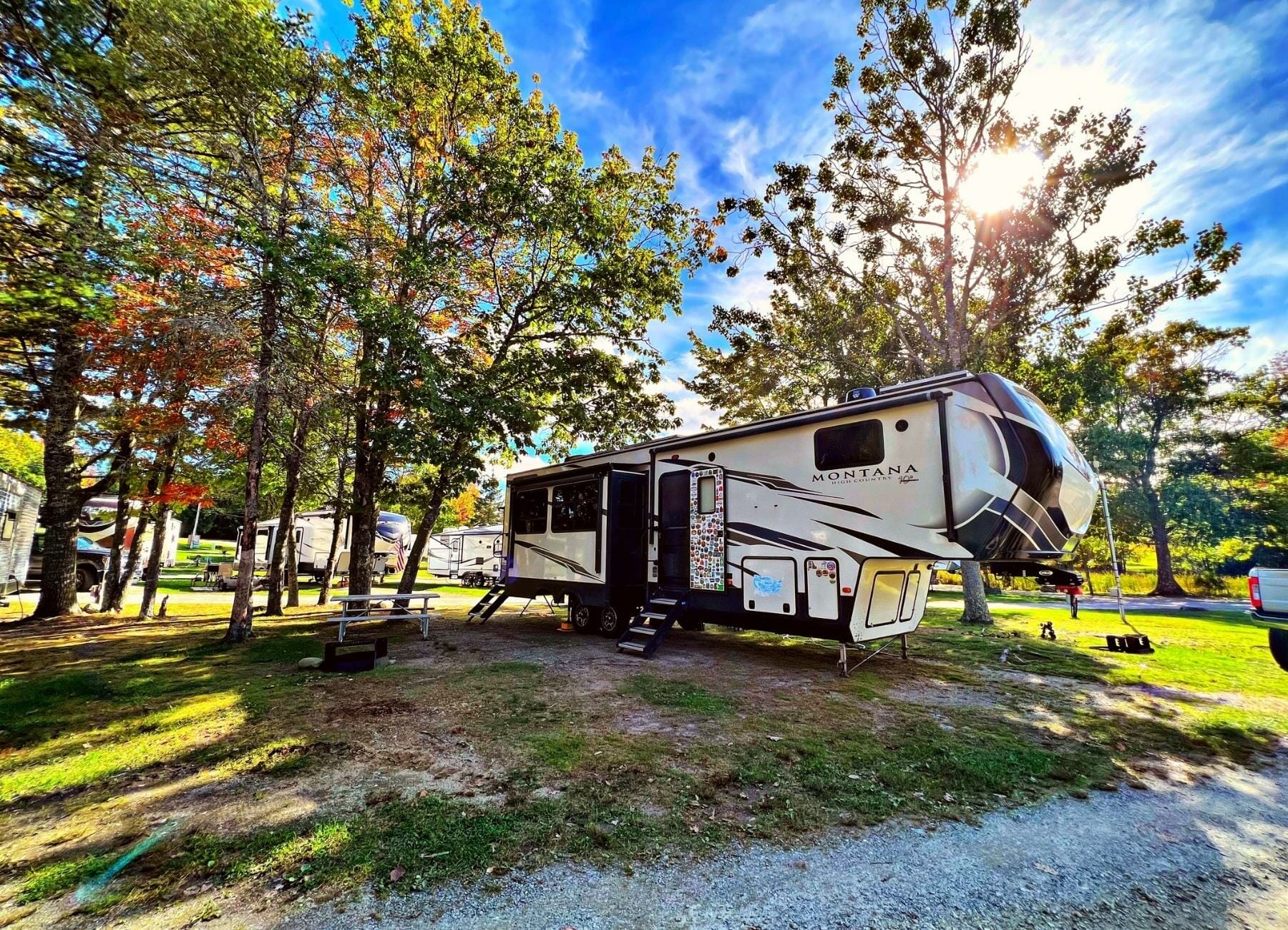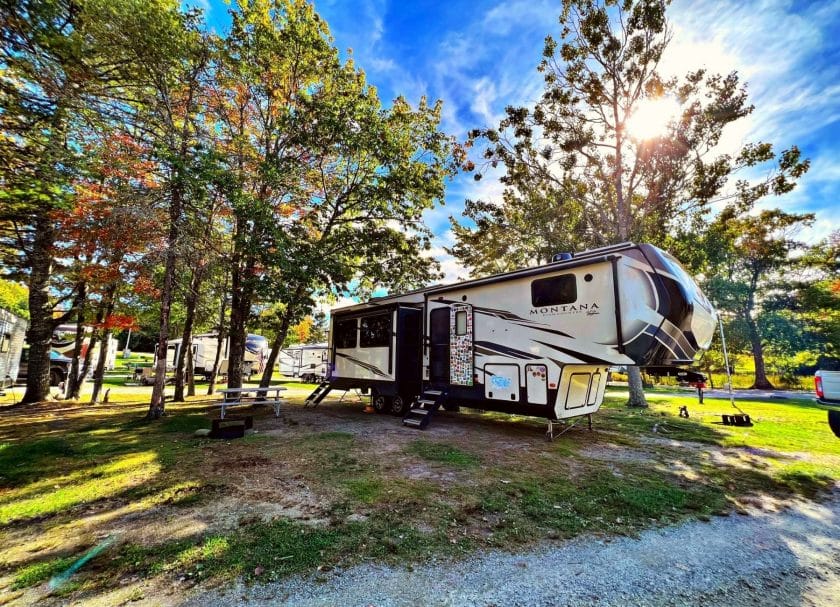 We were here in our RV and stayed at the Mt Desert RV Park which was in a perfect location to see all parts of the park. Plus it was close to the Happy Clam Shack!
VRBO
Shannon Cottage located in Bar Harbor. Perfect for walking to restaurants and around Bar Harbor.
For a little bit outside of Bar Harbor and quieter: Mayapple Cottage.
Hotel
Bar Harbor Inn and Spa. A beautiful oceanfront hotel located in Bar Harbor!
If you want to be basically in the park check out Otter Creek Inn.
We explored Acadia as part of our East Coast Road Trip! You can check out more of our posts on the trip here (and more coming soon):
31+ Fun Things To Do In Vermont [2 Day Itinerary included]
Visiting New York City With Kids [Itinerary Included]
We also love exploring National Parks. You can check out our National Park posts here:
Top 14 Maine National Parks and State Parks To Visit
11 East Coast National Parks You Want To Visit This Year
21 Epic Things To Do In Glacier National Park [Map Included]
18 Top Things To Do In Yellowstone National Park
6 Epic National Park Road Trip Ideas [Maps Included]
Best Things To Do In Smoky Mountains National Park
Pin This Post: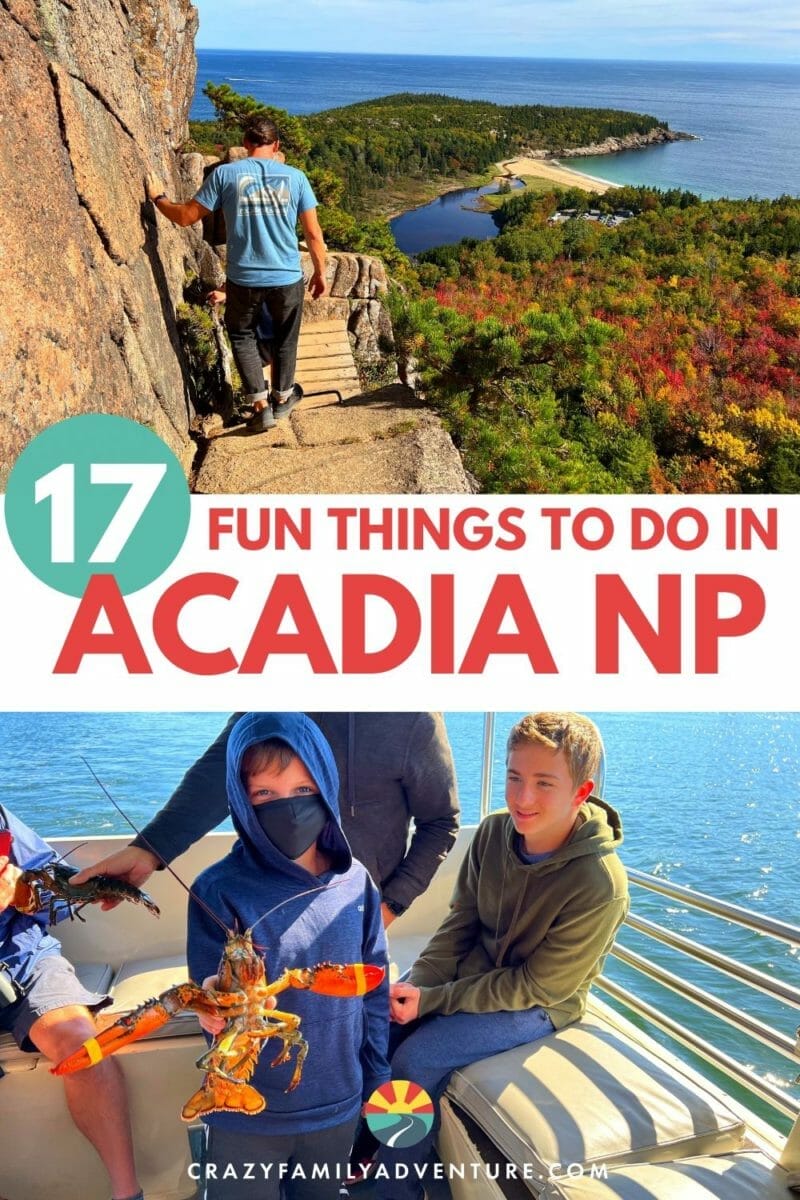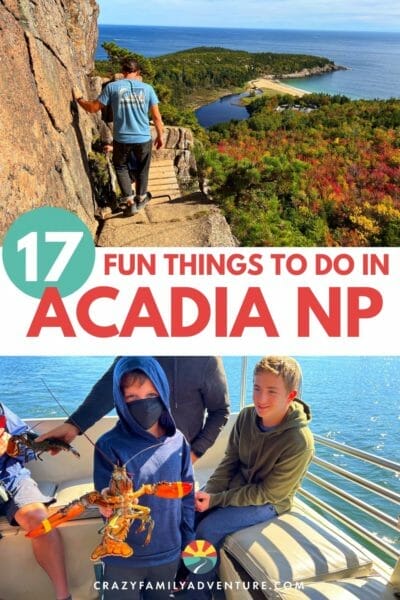 DISCLOSURE: This post may contain affiliate links, meaning I get a commission if you decide to make a purchase through my links, at no cost to you. Please read my disclosure for more info.