An awesome tropical vacation destination right here in the United States is the Florida Keys. It has such a Caribbean feel with the conveniences of being in the US. Below is our recommend Florida Keys Road Trip that you can do on its own or as part of a Florida Road Trip or an East Coast Road Trip!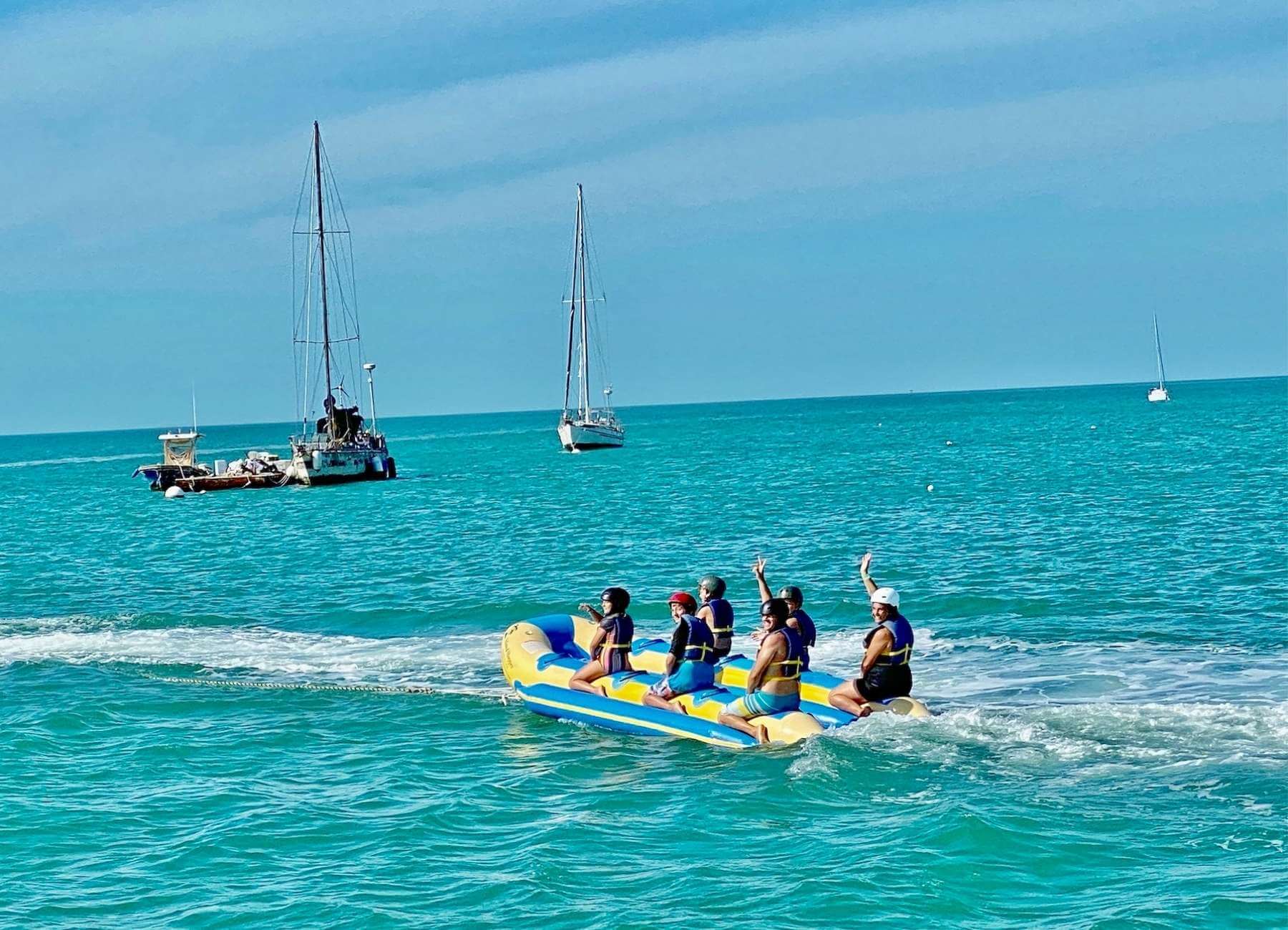 The first thing to realize is that once you enter the Keys you have over a hundred miles from the very upper Keys down to Key West. That's a lot of ground to cover. It's amazing to think that you will be driving to each of these islands via 42 bridges!
The other thing to know is that directions in the Keys are given by saying what Mile Marker, or MM, they are at. Key Largo, which is the first island, starts at Mile Marker 107 and Key West is at Mile Marker 0.
If you are looking for a longer trip you may want to consider doing a Miami to Florida Keys road trip. There are a lot of awesome things to do in Miami too!
Map of the Florida Keys Road Trip:
Alright, on with the show. We will start with the Upper Keys then go to the Middle Keys and then the Lower Keys.
Upper Keys
Map of the Upper Keys area: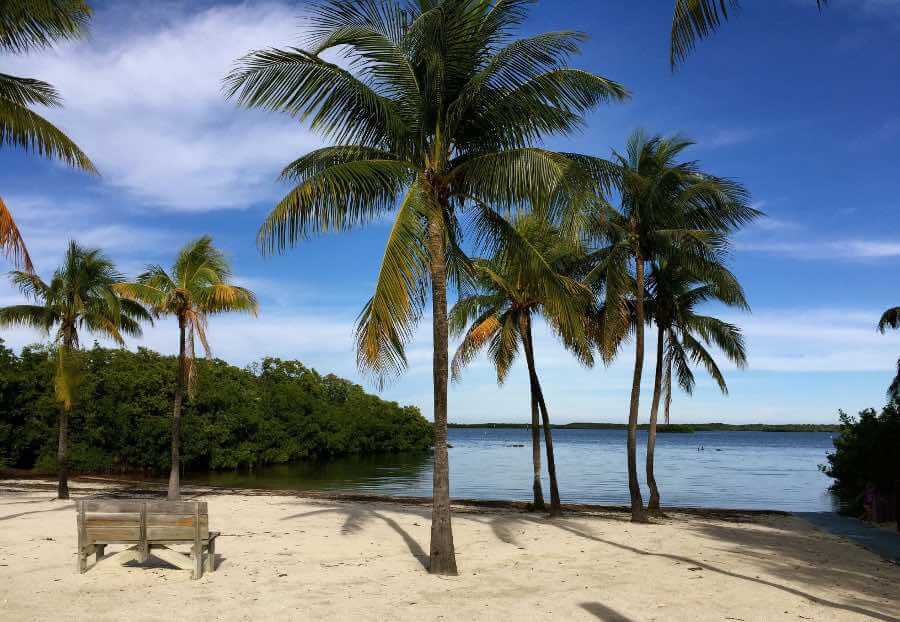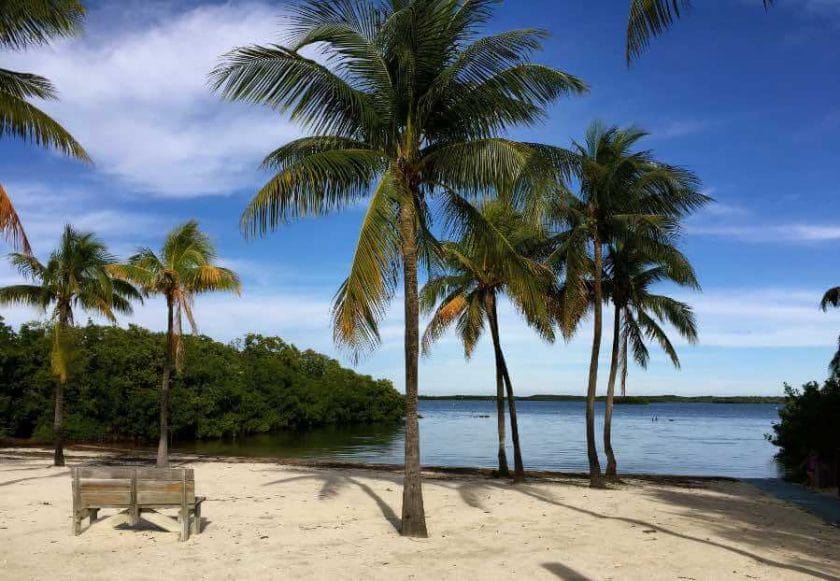 John Pennekamp Coral Reef State Park
The first stop on the trip isJohn Pennekamp Coral Reef State Park located at Mile Marker 102.5 in Key Largo. This is one of the best snorkel and diving locations in the country. The state park is pretty much all on the coral reef, so you don't have to go far from shore to see some cool colors and marine life.
There is plenty to do at Pennekamp. Enough to spend an entire day there. There is a nice beach to relax at and they have kayaks and stand-up paddle-boards for rent. You can take them through mangrove trails which are neat.
They offer boat tours, one of which is the glass bottom boat. This tour will take you out to the coral reef where you can see tons of fish.
They also have a small cafe, gift shop, and aquarium.
Snorkeling Tours
If you want to give snorkeling a try this area is a great place! There are a couple of different snorkeling trips you can do:
Half Day Snorkel Trip – Visit the John Pennekamp Coral Reef State Park and the Florida Keys National Marine Sanctuary and explore the 3rd largest living reef system in the world!
Snorkel 2 Coral Reefs – Visit Christ of the Abyss, Grecian Rocks, John Pennekamp Coral Reef Park and the Elbow Reef and more on this tour!
Boat Tours
Getting out on the water in the Keys is a must! In the Upper Keys area here are a few great options:
Glass Bottom Boat Tour – Take a glass bottom boat tour where you can see fish and you don't have to get wet.
Sunset Eco Cruise – Small group cruise to see the amazing sunset on the water.
If you have scuba gear you may want to look into a scuba trip as John Pennekamp is listed as one of the top sites in the Keys. There are also places you can rent gear. If you want to buy your own before coming heck out this great post on high quality scuba gear.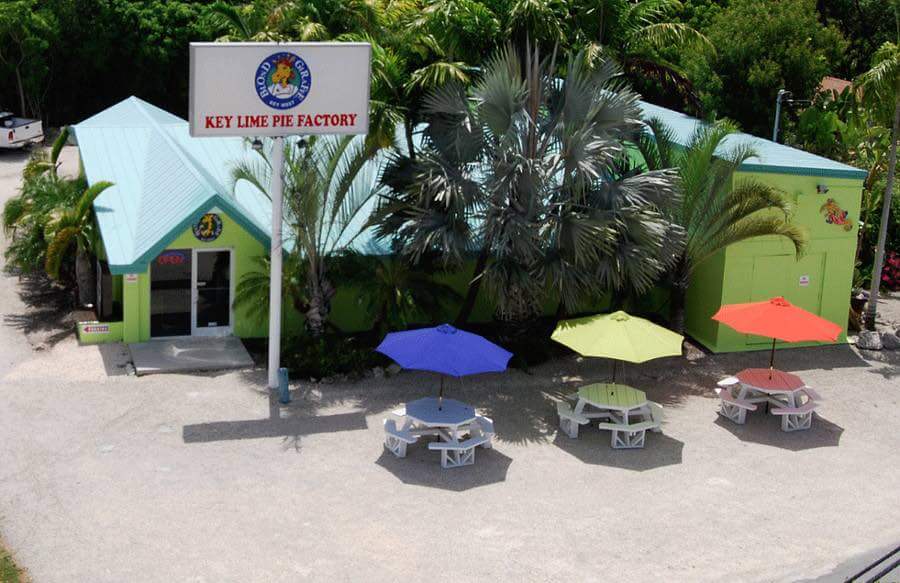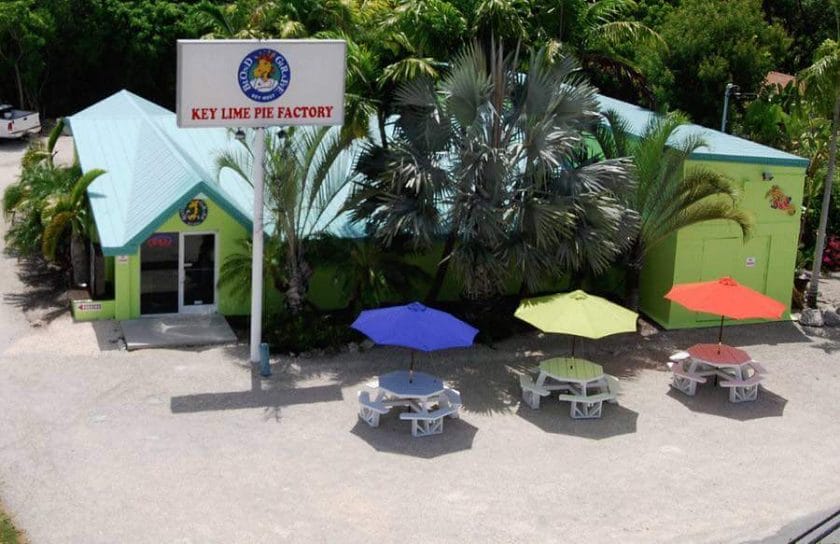 Blonde Giraffe Key Lime Pie Factory
A bit down the road at the Blonde Giraffe Key Lime Pie Factory at Mile Marker 92 in Tavernier. The Keys may not be known for its beaches, but it is known for a few other things, Key Lime Pie is one of them.
It says it right in the title! Stop here for a slice or a whole pie. It's delicious!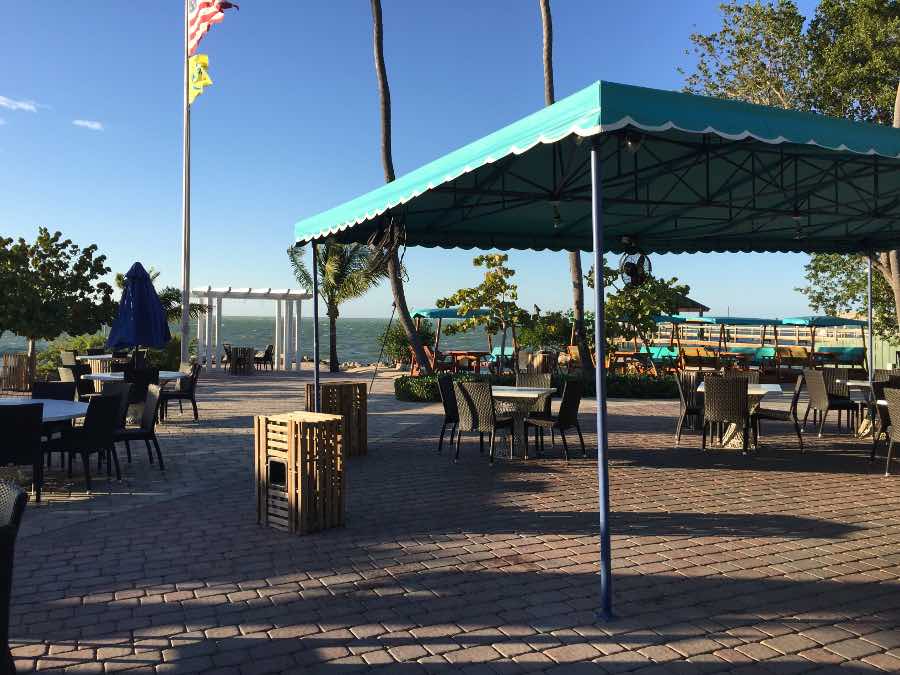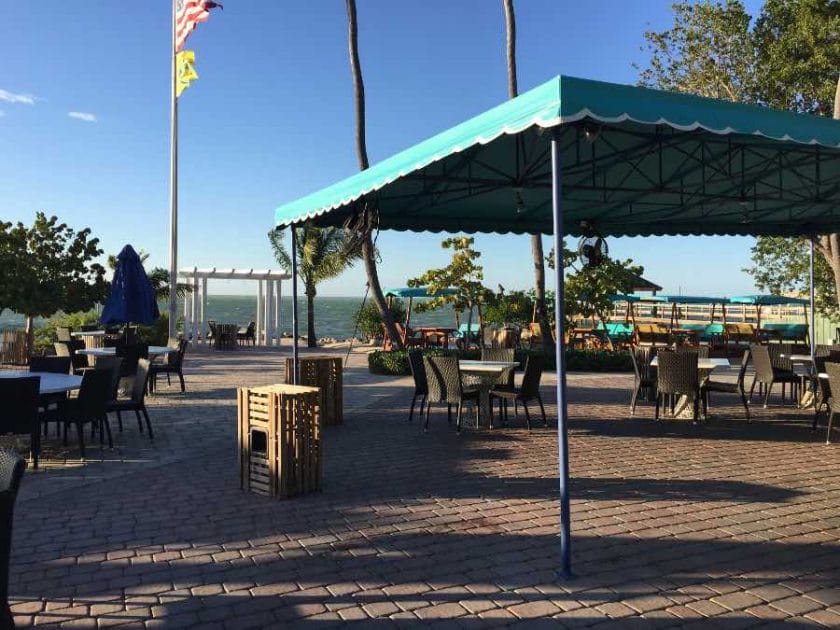 Marker 88
After you had dessert, how about some real food? The next stop on the trip is Marker 88 located at, you guessed it, Mile Marker 88 in Islamorada. We liked this restaurant for its outside set up. Don't get me wrong, pretty much every restaurant in the Keys has outdoor seating due to its beautiful views and relatively nice temperature, but Marker 88's setup was nice.

Theatre Of The Sea
At Theatre Of The Sea, we were able to watch a parrot show – the birds were beautiful! They also have a place where you can go in the water and feed the fish, gigantic tortoises, and opportunities to have a bird sit on your shoulder.
When we were here we were also able to swim with the dolphins. This was an unbelievable experience!
Midway Cafe
If you're looking for a cup of coffee or a baked good rather than a hearty meal, check out Midway Cafe. You'll find Midway Cafe at Mile Marker 80.5 still in Islamorada. This quirky little cafe has some great coffee and coffee drinks. The different flavors and drinks rival that of your local Starbucks.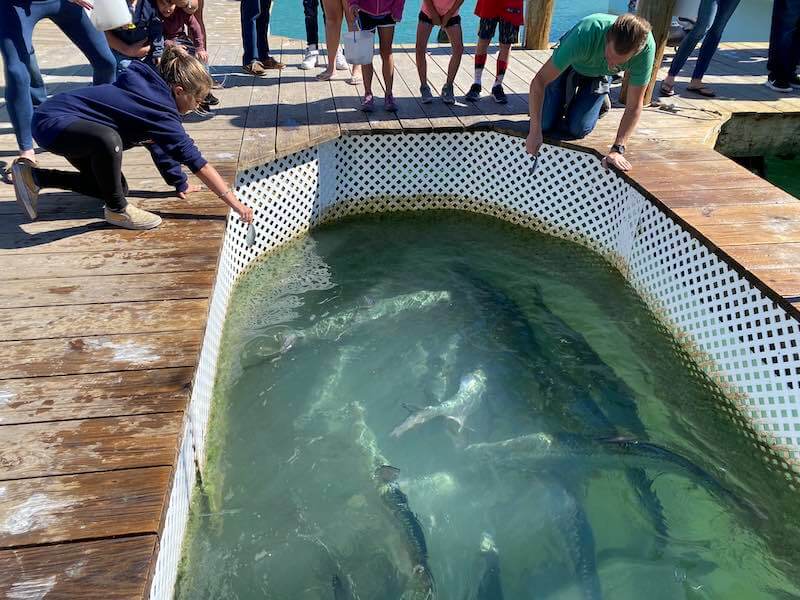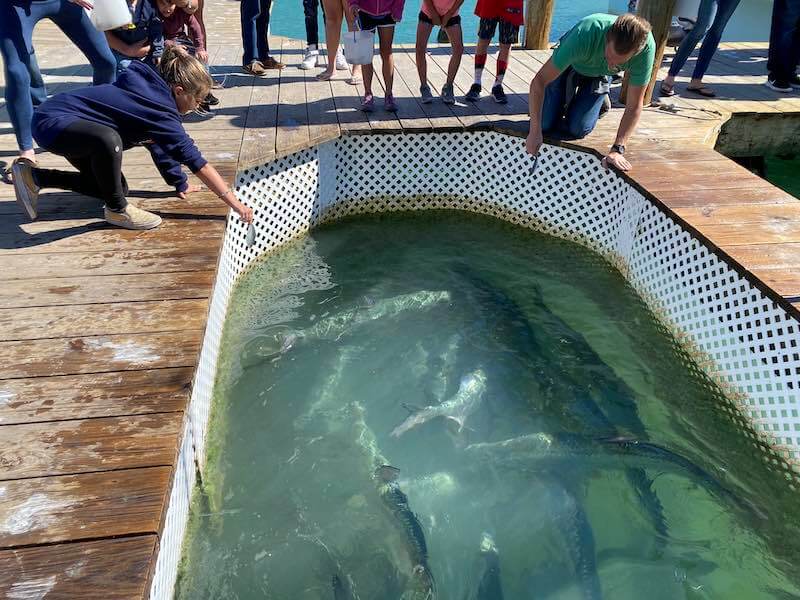 Robbie's of Islamorada
The next stop on the trip is one of the cooler, and more frightening, experiences we've done. There is a one-stop-shop for fishing, boat rentals, snorkeling, and more at Robbie's of Islamorada located at Mile Marker 77.5. There is a restaurant/bar at Robbie's as well as several outdoor shops to browse through.
The can't-miss experience, however, is feeding the tarpons. You purchase a bucket of fish for $3 to feed to these giant tarpon fish (which seem to be upwards of 4 feet long) by hand. It's an adrenaline rush to see these monsters lurch out of the water right at your hand, but it's an experience you must try! Just watch out for the pelicans as they are just as aggressive and hungry as the tarpons.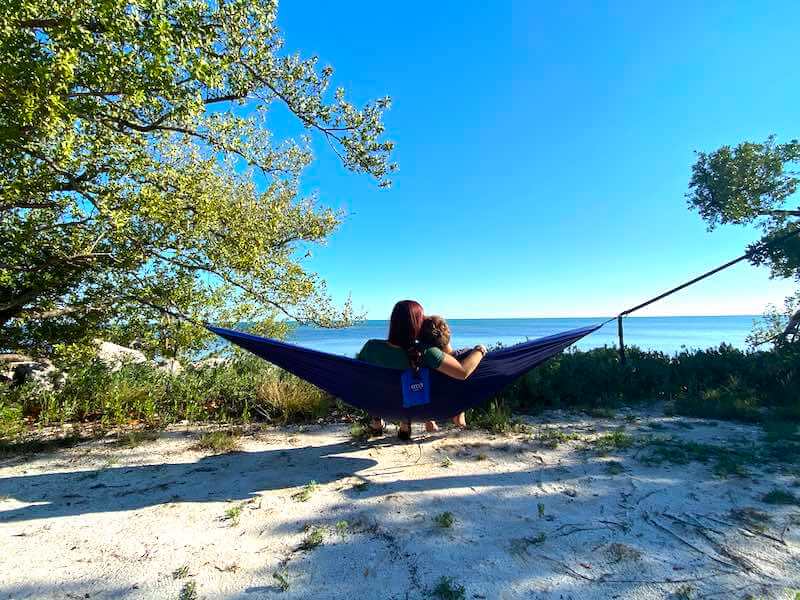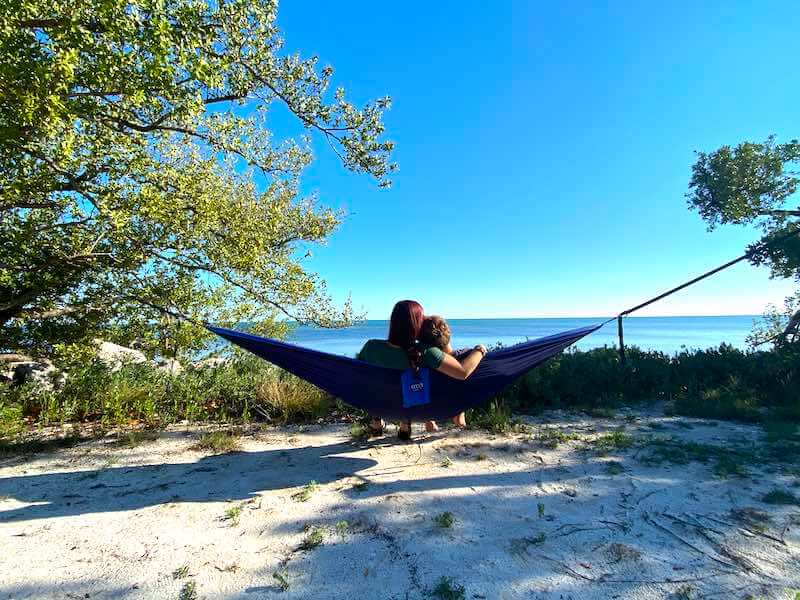 Long Key State Park
The Keys are home to several great state parks (one of which we already talked about) and they are all stop-worthy on this epic road trip. Most of them offer camping, so if you're looking to stay overnight in the Keys, this may be your most economical way to do so. The caveat being it's very difficult to find a campsite available, especially in the winter months.
On Long Key, be sure to stop at Long Key State Park. Here you can bike, hike, and splash around in a shallow beach area. This would also be a good pit stop for a picnic on your road trip.
Long Key State Park is located at Mile Marker 67.5.
Dolphin Research Center
The Dolphin Research Center does a great job providing a place where you can come and learn all about these amazing creatures. The workers know all of the dolphins by name and the story behind how they came to be there. You can watch the shows they do with the Dolphins and if you would like you can do some things in the water with them too.
Curry Hammock State Park
A bit up the road from Long Key State Park is another great park called Curry Hammock State Park. We camped here for a few nights and we enjoyed it. The campsite is clean and friendly, even to big RV's.
There is a small playground and several covered picnic areas right on the beach at Curry Hammock. They also have a nice sandy beach area if you're looking to kick back and relax.
Curry Hammock is at Mile Marker 54 in Marathon.
Where To Stay
VRBO:
Fun in the Sun – check out this house with access to a private beach!
Hotel:
RV Park:
Fiesta Key RV resort – a good campground with full hookups, sites on the water (if you can get one), a large pool, and an onsite restaurant overlooking the ocean!
Riptide RV Resort & Marina – located in Key Largo, smaller campground with only about 35 full hookup sites.
If you don't have one you can Rent An RV. Check out our post for tips on Planning Your RV Trip.
Check out more Florida Keys campgrounds here.
Campground:
John Pennekamp State Park has full hookup sites but they are tight and the noseeums can be really bad.
Curry Hammock State Park is the one we would recommend. Large sites and a very peaceful vibe.
Middle Keys
Map of the Middle Keys:
Now that you are in Marathon, which is considered the Middle Keys, you're at about the half-way point in the island chain down to Key West.
Marathon is more like your typical small-town since you'll find a couple of grocery stores, fast food, and quite a few stores.

Aquarium Encounters
Aquarium Encounters is a great stop to make with curious and hands-on kids (or parents)! While we were here we were able to feed and pet stingrays, turtles, and even sharks!! It was an awesome way to get up close and personal with all of these local animals.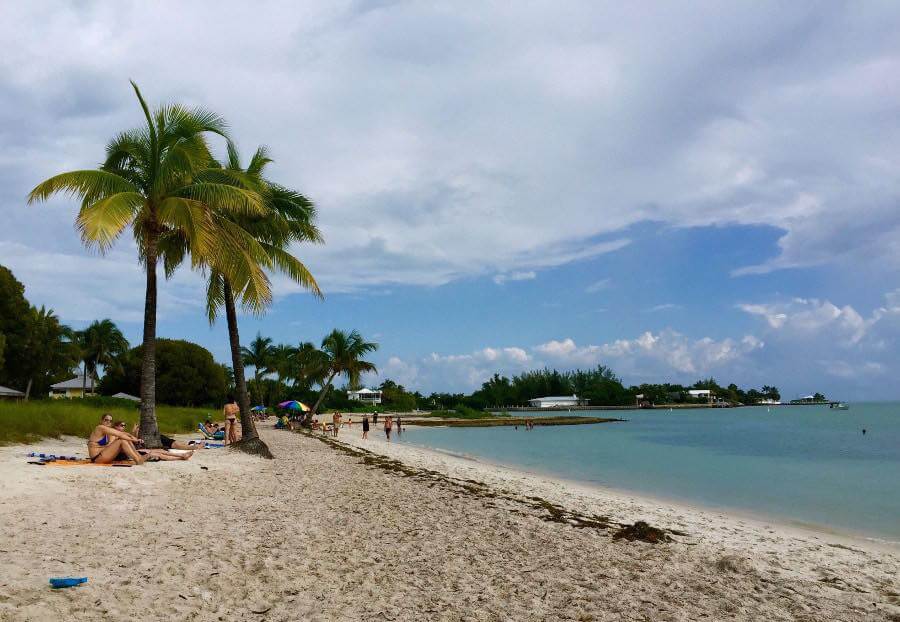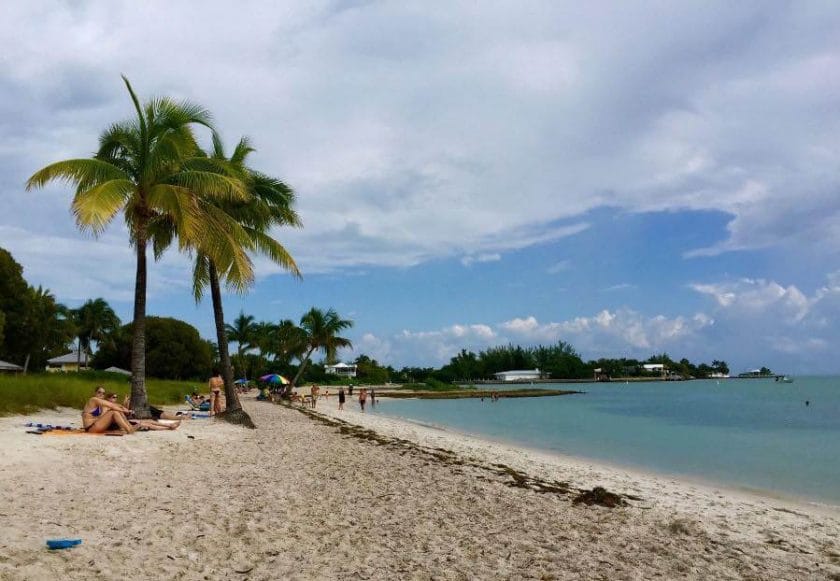 Sombrero Beach
Marathon is also home to probably our favorite beach in all the Keys. Sombrero Beach is a few miles east of US Hwy 1 on Sombrero Beach Rd. This beach has soft golden sand and plenty of ocean to swim or paddle-board in. It is on our list of the top Florida Keys Beaches!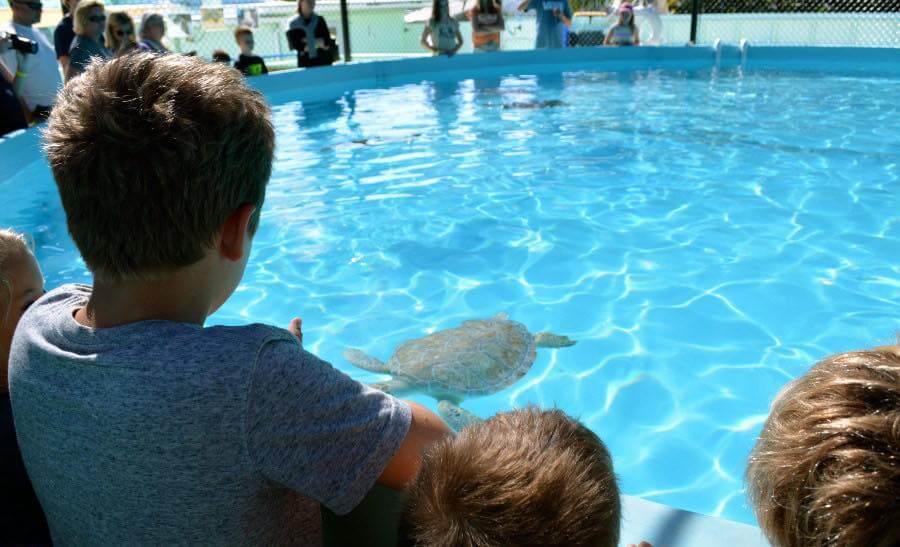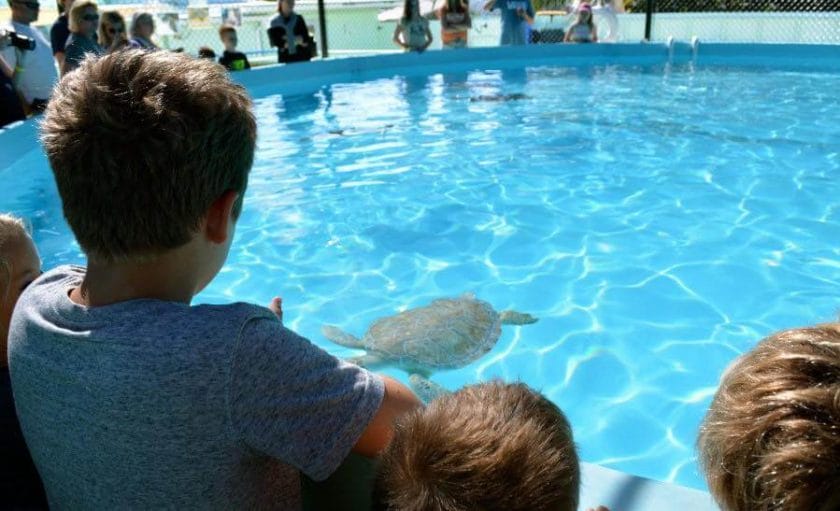 Turtle Hospital
Also in Marathon is the Turtle Hospital at Mile Marker 48.5. Stop in for a tour to learn how this hospital takes in injured or sick sea turtles and how they nurse them back to health. You can even watch them perform surgeries on the turtles during the week.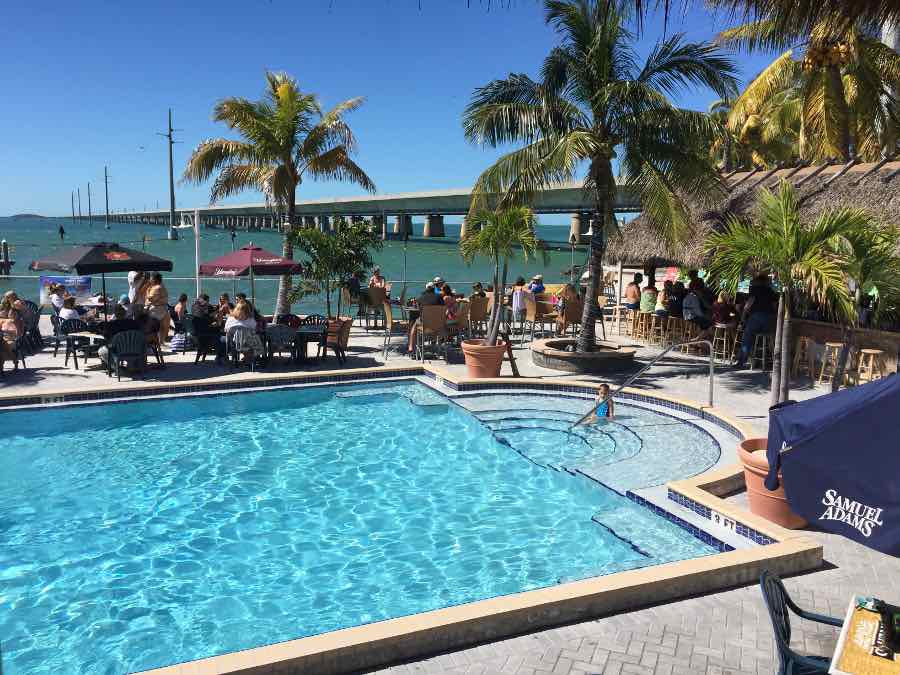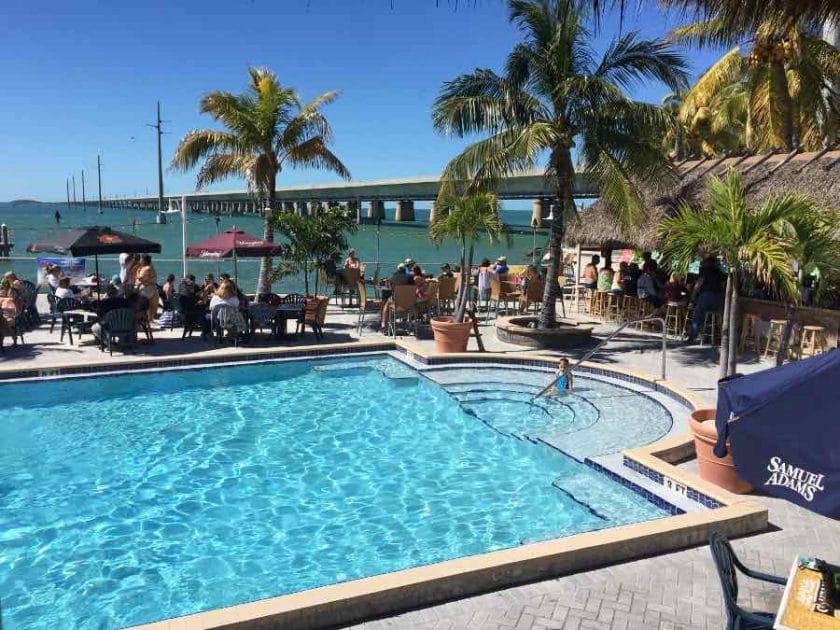 Sunset Grille and Raw Bar
One of the last stops in Marathon that is very unique is Sunset Grille and Raw Bar at Mile Marker 47. Here you have access to a great restaurant and 2 full services bars, one of which is outside next to their huge heated swimming pool. So grab a table, order some drinks and take a dip while you wait.
7 Mile Bridge
Right next to Sunset Grille is the 7 Mile Bridge. This has to be some sort of engineering feat to span a bridge that long. You can walk right from Sunset Grille under the bridge to the other side of the road to get on the walking portion of the bridge.
You cannot beat the ocean views this bridge provides. The colors of the water are what made the Keys special to me. This is a great spot to get out and stretch your legs or to walk off some of the calories from Sunset Grille.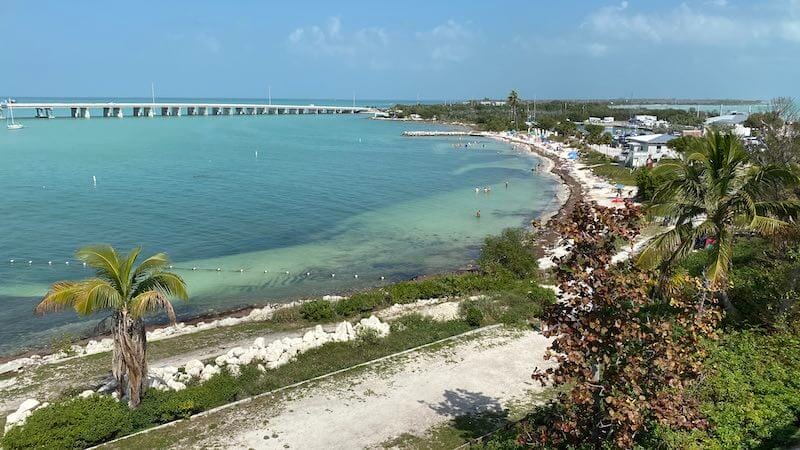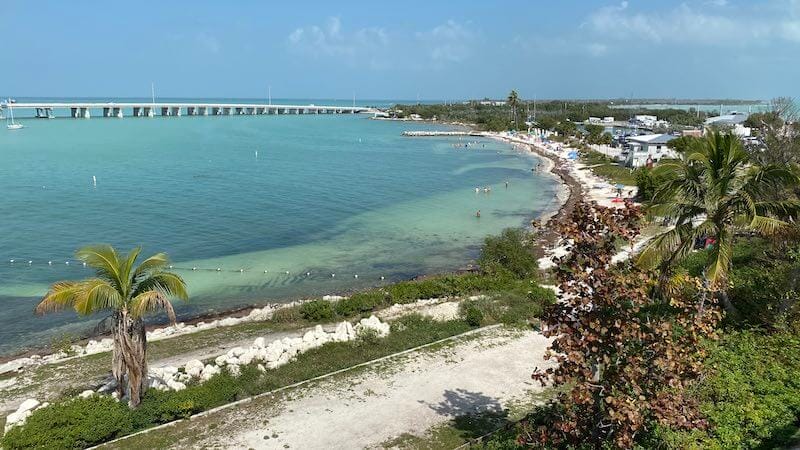 Bahia Honda State Park
Just past the 7 Mile Bridge is another great state park called Bahia Honda. There is an old railroad bridge next to Bahia Honda that offers great photo opportunities. You can rent kayaks or stand-up paddle-boards at Bahia Honda or make it a beach day and sit in the sand.
Bahia Honda is located at Mile Marker 37.
National Key Deer Refuge
Big Pine Key is one of the larger islands in the Keys. It is a special place because it is home to the National Key Deer Refuge. Key Deer are an endangered species of deer only found in the Keys. They are much smaller in size compared to regular deer and if you stop at a few places in the refuge, you're almost guaranteed to see some.

No Name Pub
While you're on Big Pine Key, another great stop is the No Name Pub. Heading into this restaurant/bar, you'll see thousands of single dollar bills taped to the walls. Feel free to sign your name on a single and stick it up somewhere, if you can find space.
The thing we enjoyed at the No Name Pub was their pizza. As legend has it, 2 cooks from Italy came to work at the restaurant and they brought with them a great pizza recipe. When the cooks left the restaurant, they wrote the recipe on the kitchen wall so the great tasting pizza would stay long after they were gone.
Where To Stay
VRBO:
Waterfront house with Heated Pool, Waterfall, and more!
Oceanfront Villa with Rooftop Terrace
Hotel
If you want to stay at one of the best hotel pools for kids you will want to stay at: Hawks Cay Resort
RV Parks
Sunshine Key RV Resort – located just south of the 7-mile bridge. Nice full hookup sites with a pool.
Bahia Honda State Park – we have never been able to get in here but if we could we would love to. It is located right on the water.
Pelican RV Resort & Marina – definitely a fisherman's paradise, full hookups with pool and tiki hut pavilion on the water
Lower Keys
Now we head down into the Lower Keys which is mostly Key West. Key West can be a crazy and wild scene but it can also be family-friendly with lots of great things to do for kids and adults!
Key West
The last stop on the road trip is Key West. You made it! There are so many things to do in Key West, I don't even know where to start. You have endless options for dinner, drinks, fishing, and entertainment.
A couple of things I would recommend is to park your car and just walk the city. If you stay on the west side of US 1, you can walk quite a bit of it and get a cool local feel for the island.
I know what you're thinking, you're not looking to party with the spring break crowd. We thought this the first time we visited Key West, but after a few visits, we quickly fell in love with the island. We brought our kids with us each time and felt comfortable doing so.
Be sure to check out Duval Street as it's home to a few famous bars like Ernest Hemmingway's favorite Sloppy Joe's.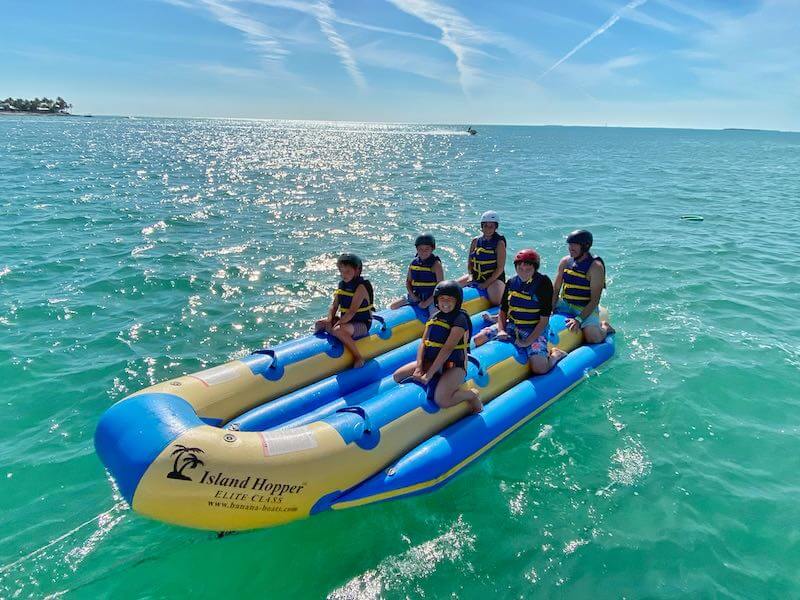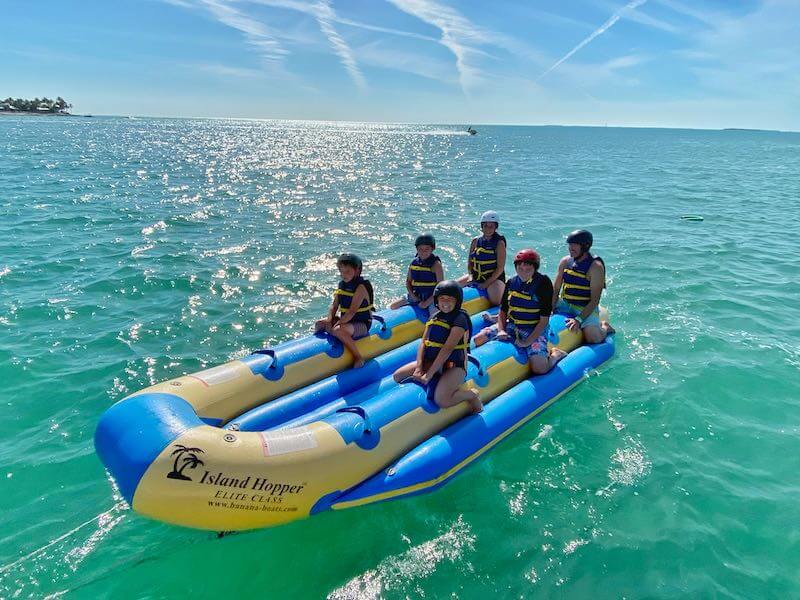 Ultimate Water Sport Combo – Our Top Pick!!
If you can only do one thing in Key West have this be it! Do It All Water Sports Adventure Package is the perfect way to get out on the water! The morning starts with breakfast as you head out to go snorkeling. You then stop and parasail, kayak, jet ski, and play on the water trampoline, mat and you can take a turn on the banana boat (which I fell off of :))!
Check out our post on The 4 Best Water Activities in Key West With Kids.
Jet Skiing
If you have a need for speed Jet Skiing is the way to go! Go for 28 miles of speeds 40MPH and higher and see the Southern Most Point, Florida Bay, Key West harbor, and more. We did this with kids and I had a kid in front of me and behind me.
It definitely adds a challenge when trying to keep up but the kids loved it! Note – don't do this with kids if they don't like things like this – or it will be miserable for everyone.

Schooner Sunset Sail
Head out for a sunset cruise on a Schooner! Another great way to see the Keys and awesome to be on a boat to take in the sunset. We did this with kids and it was a little scary making sure they didn't go by the edge-but it is doable.

Aquarium
The aquarium in Key West is small but well worth a stop! You can feed the sharks – which is a highlight so be sure you ask when that is happening and get there in time to do it. They also have a lot of different fish from the area and they do programs throughout the day.
Fort Zachary Taylor
This is an awesome place to visit and spend the day. There is an entrance fee since it is a State Park but once in you can enjoy the beach along with walking around at the fort.
There is also a snack bar with alcoholic beverages if you are interested.

Pirate Museum
You can't go to Key West and not go to a Pirate Museum. Pirates are a big part of the history of Key West and when you visit the Pirate museum you can learn all about it. They also have a lookout you can walk up to where you get an amazing view of Key West.
Conch Train
I enjoy things like this when visiting a city for the first time. You can hop on and stay on the Conch Train the whole time or you can get off at a stop and go out and explore and then hop back on to be taken to the next stop.
The train drivers are super knowledgeable and funny so it is a great way to learn about Key West!
Old Town Trolley
Another option is the Old Town Trolley. We have not done this one in Key West but have in other cities and enjoyed learning about the city we were visiting this way. This is also a hop on hop off option.

Southern Most Point
If you get here really early in the morning you won't have to wait in line. This is considered the Southern Most Point in the continental United States. If you go later in the day be prepared to wait. This is the go-to place for a picture when you are in Key West!
Sunset Celebration
Also, be sure to check out the Sunset Celebration at Mallory Square. This is done at sunset every night down by the water at Mallory Square. Leading up to sunset there are some really fun street performers along with food vendors. The kids were able to try a fresh coconut here.
Then at sunset, everything stops so everyone can watch the sunset and cheer when it goes down.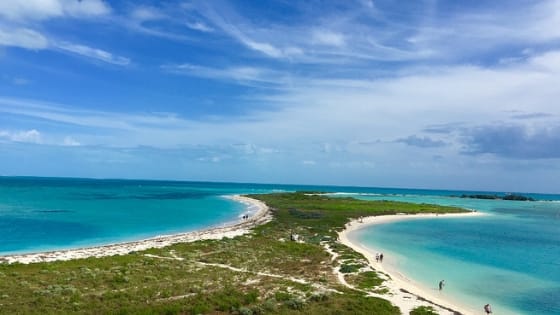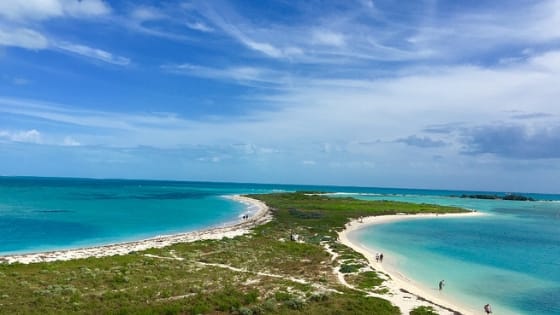 Dry Tortugas
If you want to turn your road trip into a sailing adventure, I recommend checking out the Dry Tortugas. You'll hop aboard a catamaran to sail 70 miles west to the Dry Tortuga island. There's an old Army fort on the island to explore as well as some of the most beautiful beaches I've ever seen.
This is one of our top National Parks to visit. It is gorgeous!
Island Dogs
Island Dogs is a fun restaurant in Key West since you can sit on the porch and people watch while you are eating.
Lagerheads Beach bar
Lagerheads Beach Bar is a great place to go with kids since the tables are on the sand so the kids can play in the sand while they are waiting for their food. Plus there is a beach area you can play at.
Florida Keys Brewing Company check this place out if you like the brewery scene!
Where To Stay
VRBO
More options:
Hotels
Casa Marina – right on the water with a beach area and pool.
Southern Most Beach Resort – close to everything yet off on its own.
Campgrounds
Boyd's Campground – a good location for exploring Key West.
You can also stay at the campground in the middle of the Keys and drive down to Key West for the day. We have done this every time we have visited. It is a bit of a hassle but can be done.
Well, that's it. Now it's time to head back north to the mainland. Hurricane Irma did do damage to the Keys and you may still see some remnants of it and/or things may be closed so be sure to check. We will be back to the Keys soon!
More Posts To Check Out:
The Ultimate Guide to Universal's Halloween Horror Nights Orlando
Things To Do In Miami (including Everglades National Park)
Florida Road Trip: 31 Amazing Places You Won't Want To Miss
24 Amazing Tips for Universal Volcano Bay [Must Read!]
16 Tips For A Magical Visit To Universal Orlando Resort!
29 Best Things To Do In Gulf Shores, Alabama
25 Best Things To Do In Destin, Florida [Plus Where To Stay]
Magic Kingdom In One Day – 11 Tips On How To Do It!
Kid Friendly Activities in West Palm Beach
14 Amazing RV Parks in Destin Florida
The Ultimate Guide to Santa's Enchanted Forest
Pin This Post: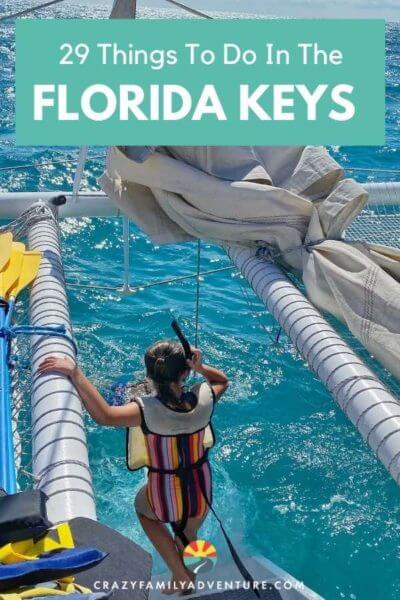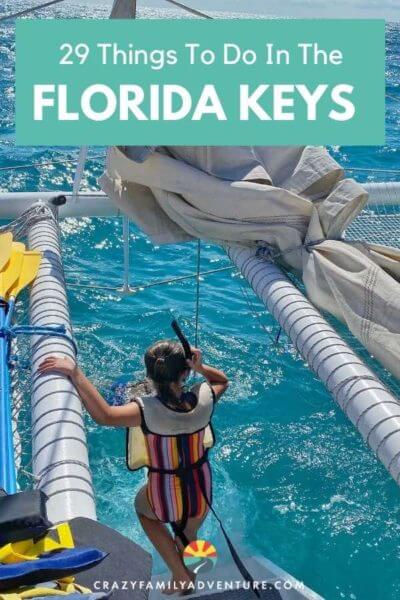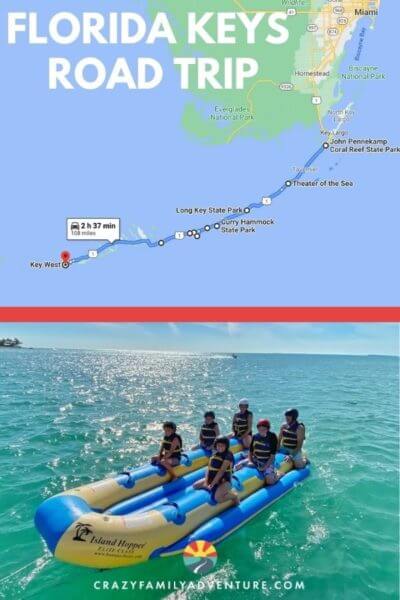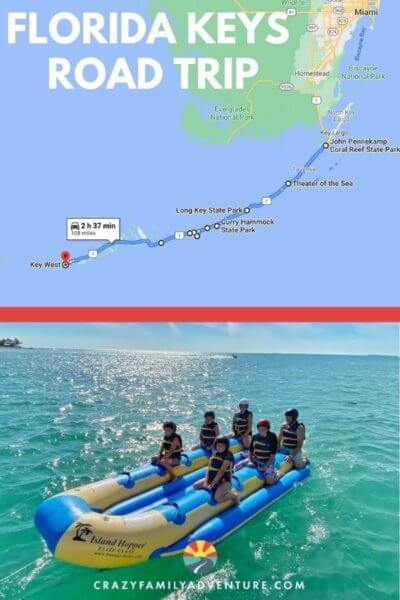 DISCLOSURE: This post may contain affiliate links, meaning I get a commission if you decide to make a purchase through my links, at no cost to you. Please read my disclosure for more info.