Getting out on the water in Key West with kids makes the whole experience that much cooler! We had a few different opportunities to get out on the water and these are our recommendations for the best Key West water activities to do with kids.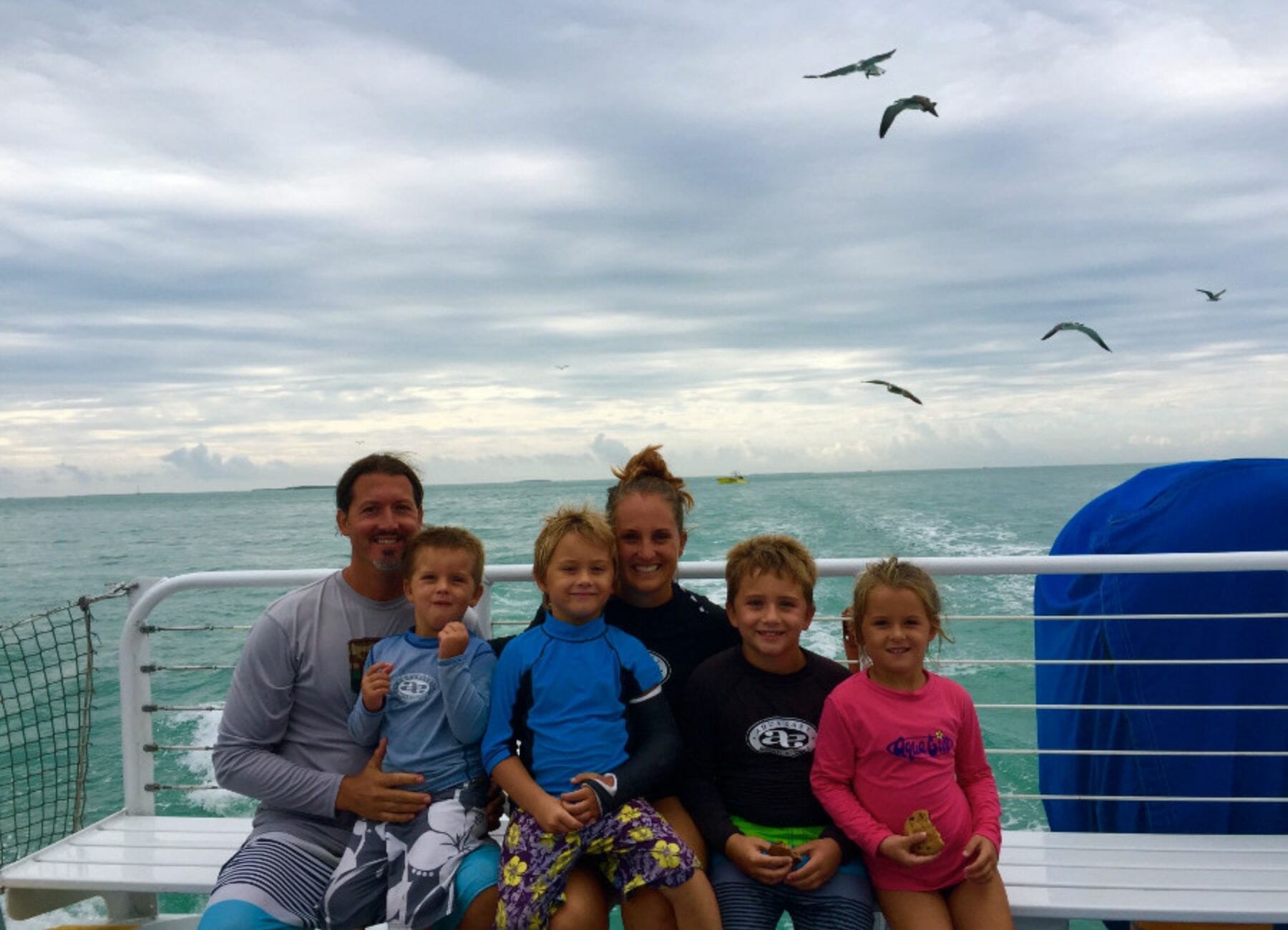 At the time of these trips our kids were 8, 5, 5, and 3.
1. Fury Ultimate Adventure – Our Top Water Activity in Key West With Kids
If there is nothing else you do when you are in Key West with kids, do the Fury Ultimate Adventure! It is our favorite full day water adventure in the Keys!
We were super excited to go on the Fury Ultimate Adventure! Unfortunately, the day we were scheduled to go was really overcast and rainy. We got up early and drove an hour from Sunshine Key RV resort down to Key West hoping the weather would clear up.
It down poured on us when we first got there, but seemed like there was a chance for it to clear up later in the morning. So they loaded us on the boat, we ate breakfast (they provide it – pastries, fruit, organic juice), then started out… The weather did not look promising. We were about 5 minutes into it and the captain started turning the boat around.
We got about half way back to the marina and they told us the water was just way to choppy and they were expecting a storm to come in soon. The captain was on the phone the entire time with her contacts and she they finally made the call to continue the trip, but we would be going to a different snorkeling area in hopes of calmer waters. Fingers crossed that they have state of the art equipment and knew what they were doing!
It stayed overcast and the water was a little choppy, but it was all good! We snorkeled in the Gulf of Mexico in pretty deep water, so we weren't able to see any fish. They offer all the snorkeling gear for you to use for FREE (mask, snorkel, fins). You could also rent a wetsuit. We didn't and we were fine.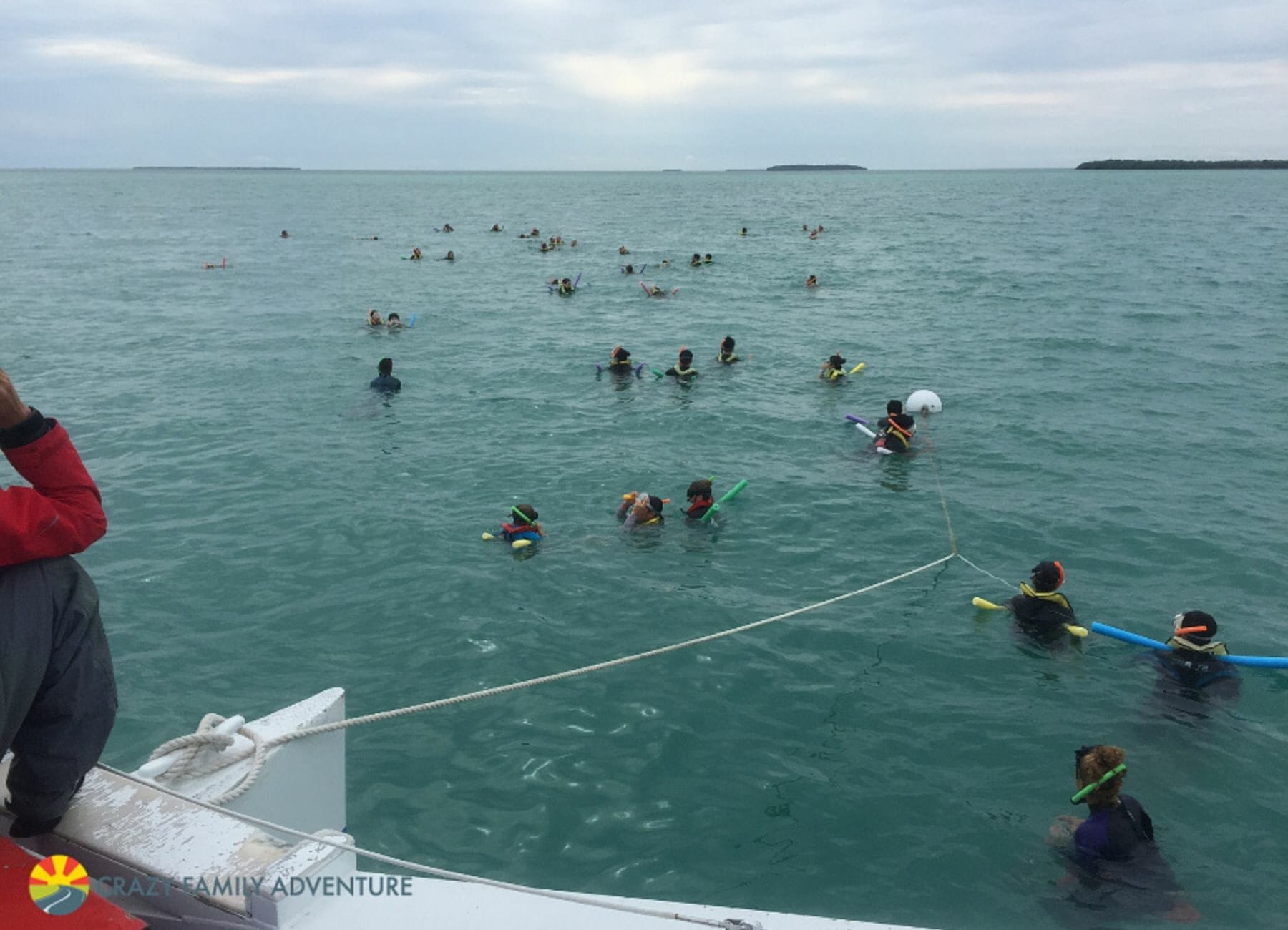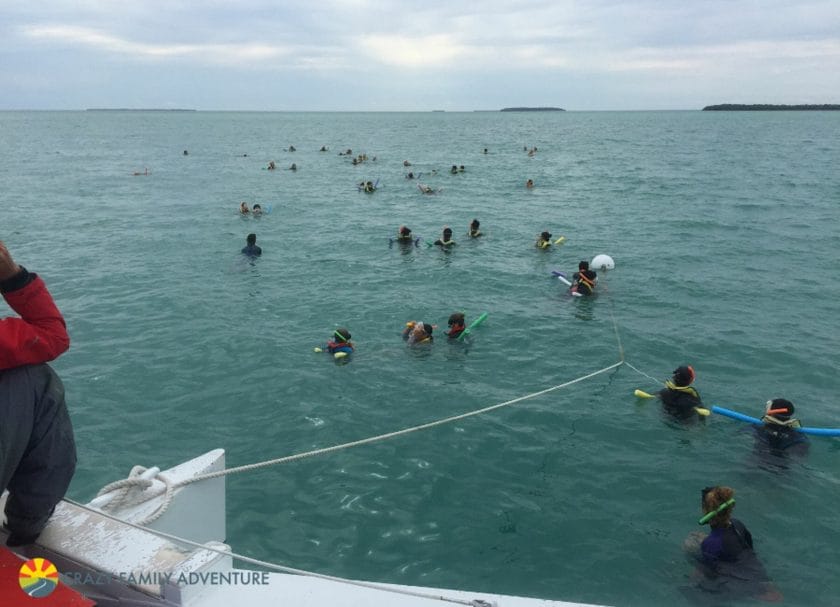 Carson, Cannon, and Craig went out for quite a while! Melia and Knox got dressed and ready. Knox went to the bottom step (you walk right down steps from the boat into the water) but never made it all the way in, maybe next time. Melia got in for about 5 minutes and that was enough for her! Not knowing what was swimming underneath you was a bit much for the little ones to handle.
Next we had lunch. They provide that too! Fried chicken, sandwiches, potato salad, soft drinks, water, fruit. Then we headed to the Fury's floating platform island to do parasailing, jet skiing, and to play on the inflatable water toys.
You can only parasail if you are 6… We figured Melia and Cannon were close enough since they turn at the end of the month. Me, Carson, and Cannon went first. It was awesome!! As soon as we got to the top Cannon said I want to do this again!! Carson kept saying we are really high up and I don't like heights, but I really like this!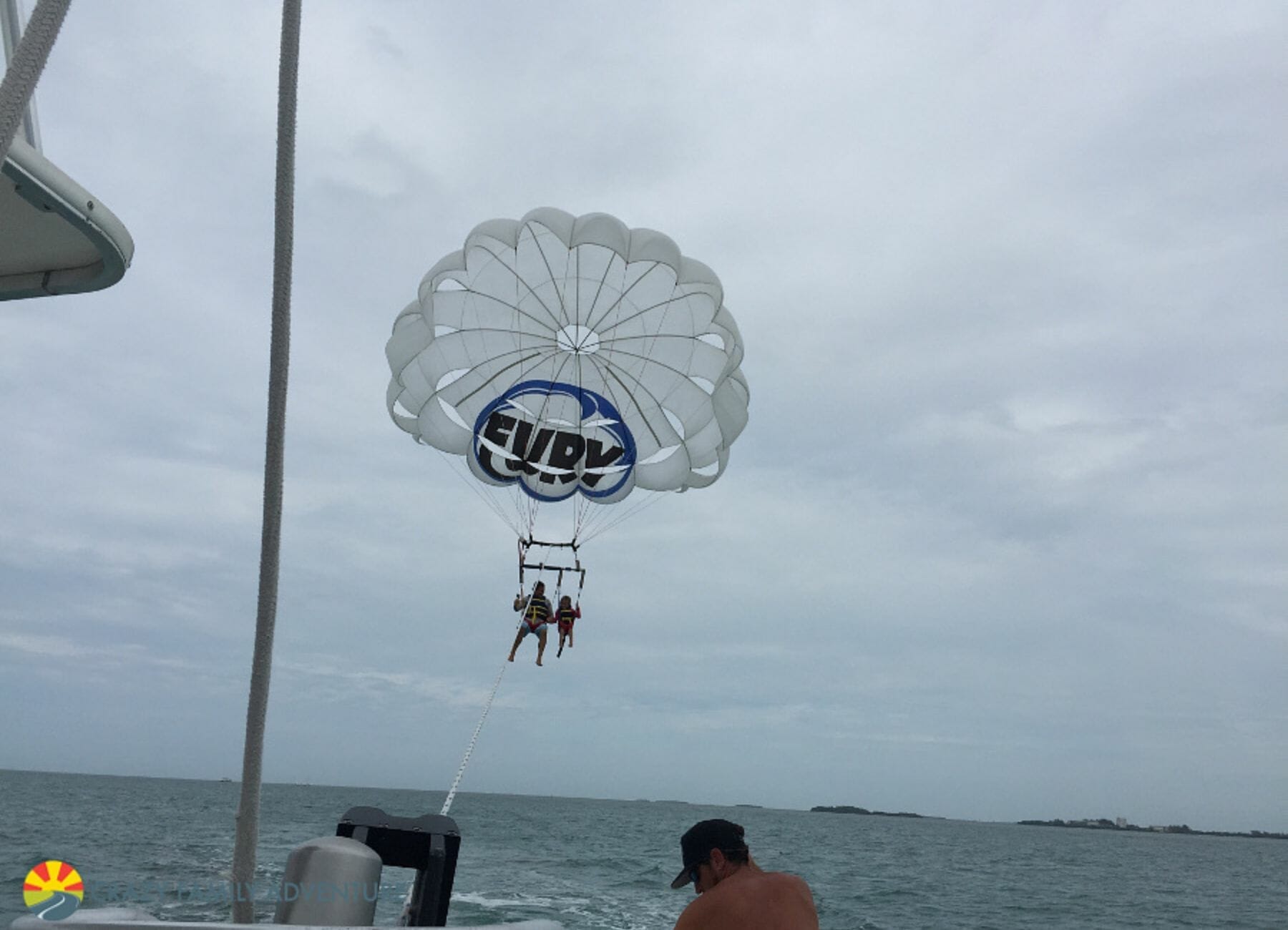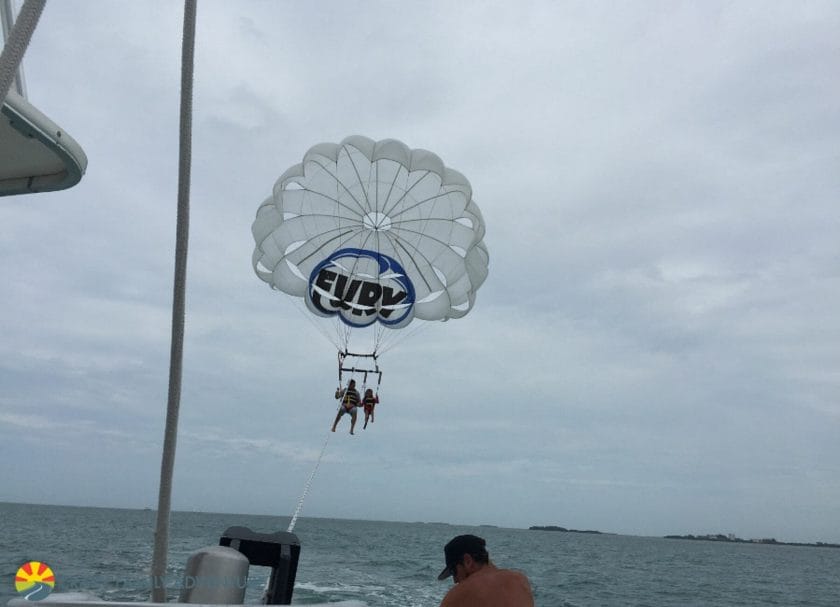 Next up were Craig and Melia. Melia was not sure but went for it and loved it! Knox didn't care about not being able to go since he wasn't 6 when we got on the boat but after everyone went up he wanted to go. We felt really bad for him. Looks like we will be doing parasailing again in the future!
The guys who ran the parasailing boat were really nice and were great with the kids!
Craig took Carson, Melia, and Cannon out to the inflatable water toys and they had a blast! Knox did not want to swim in the water to get there so we watched and videoed from the boat.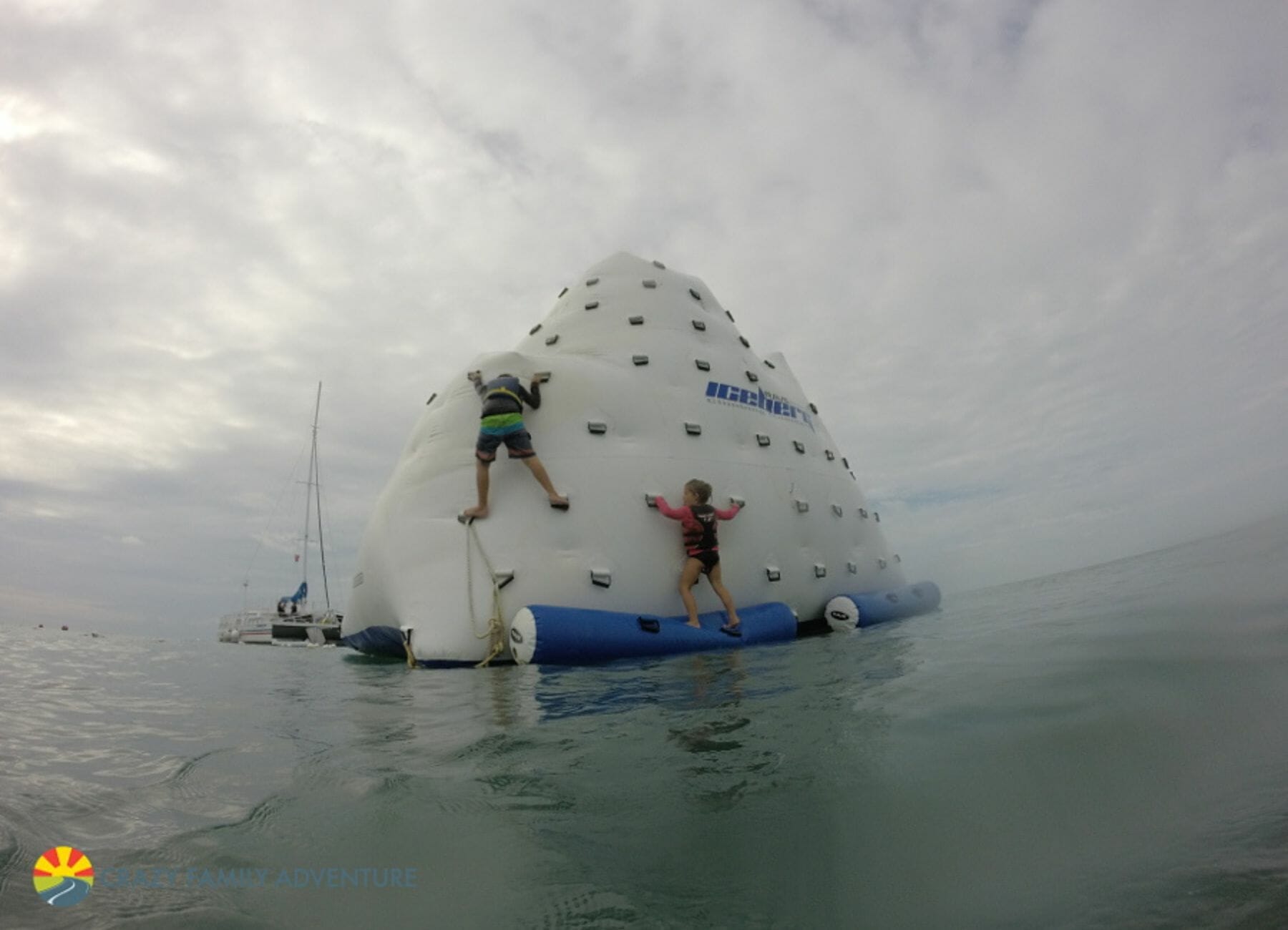 Next up was jet skiing! I have always wanted to drive one but I never have. I have rode on one before but this was my first time driving one and I was going to have a kid in front of me and behind me! Well, I did it. It was a blast and the kids loved it! We got up to about 22 MPH and that was enough for me.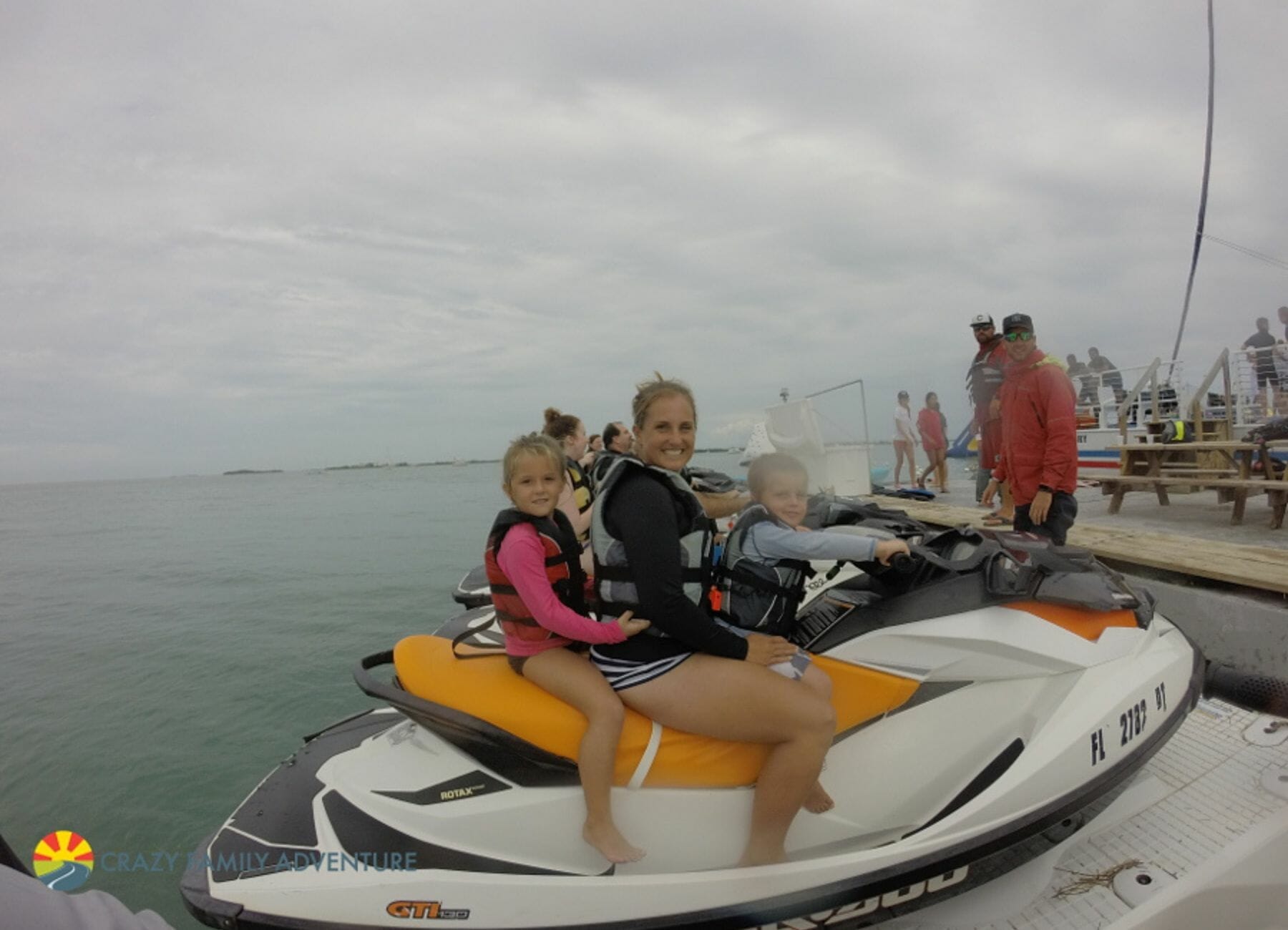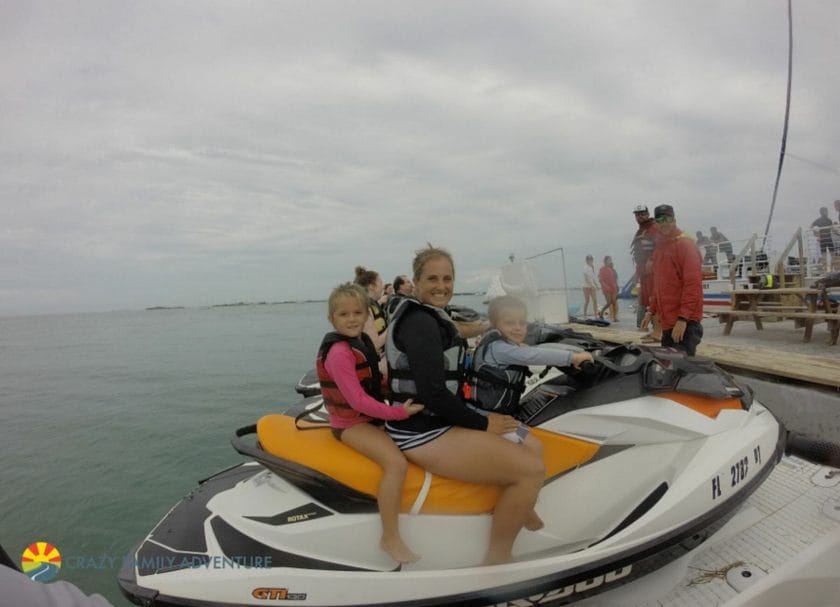 We then headed back to land. On the way back they hand out chocolate chip cookies and offer all-you-can-drink wine and beer. There is all-you-can-drink water, soda, and lemonade throughout the trip, but wine and beer only after all the activities are done.
This Key West with kids trip is 6 hours long and I highly recommend it for you and your family. The food was just ok, but you can bring your own snacks and drinks on the boat so that helps! Plus the kids loved the unlimited soda.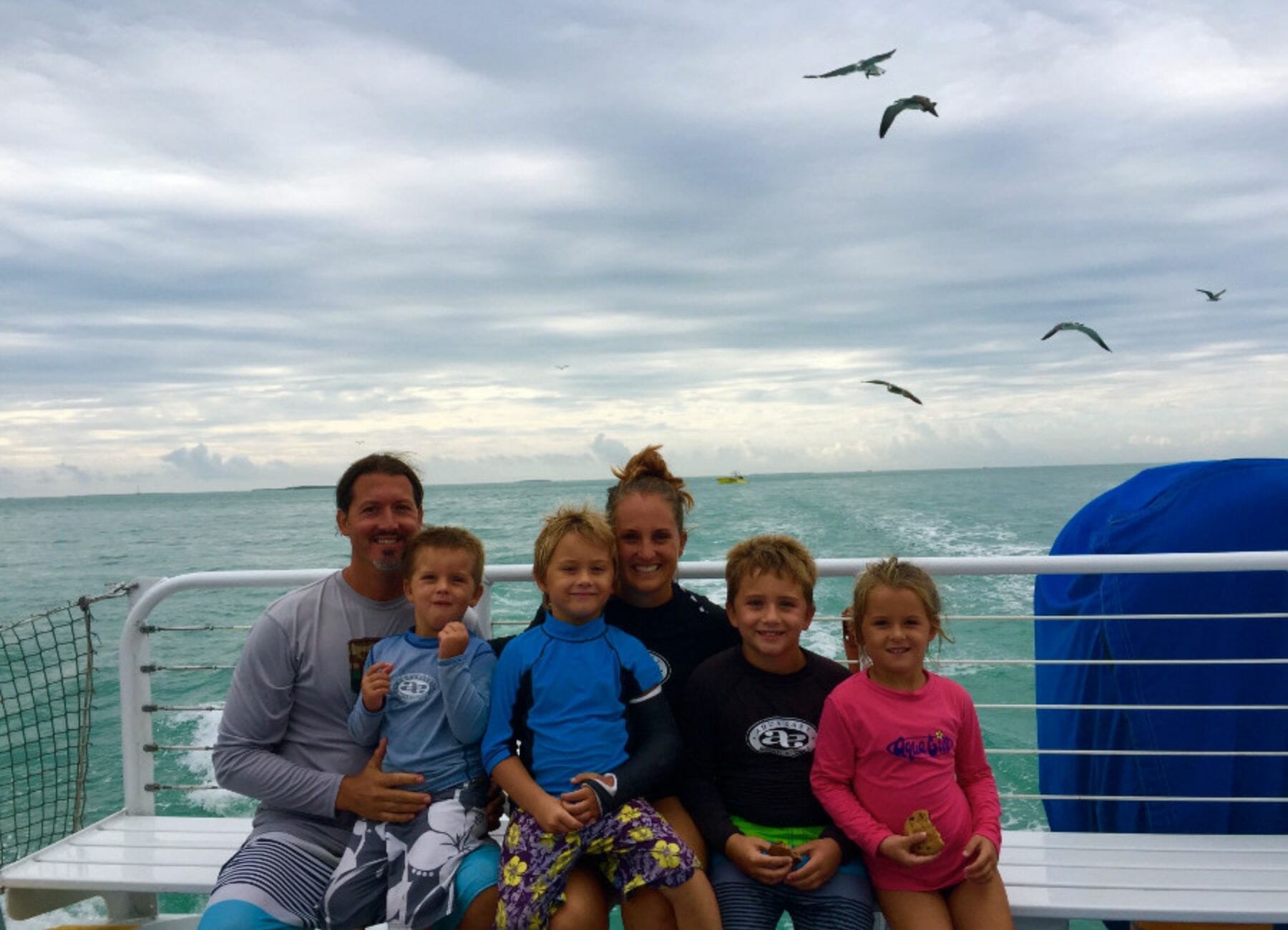 It is pricey but you really do get a lot for your money. Kids 5 and under are free. But remember they have to be 6 to ride the parasail. I will just leave it at that. Wink wink.
Things to remember if you decide to do the Fury Ultimate adventure:
The boat is not steady. if you don't do well with sea sickness be prepared.
They provide breakfast – things like pastries, fruit, yogurt, OJ, etc.
They provide lunch – sandwiches, chicken, potato salad. And they did have a veggie sandwich.
All you can drink soda and water.
After you are done Jet Skiing and Parasailing you can have all you can drink beer and wine – this would probably be about 1 hour at most before the trip is done.
Bring Sunscreen – there is a covered area but you are outside a lot.
If you have a swim shirt or wet suit bring it. Once you go snorkeling you are doing water activities for pretty much the rest of the time.
Bring towels and if it is cooler out, sweatshirts – or multiple towels to keep warm in-between activities. Also, the boat ride can get a bit chilly after being in the water.
You can tip the parasailing crew when they are done taking you out. Along with the whole crew of the Fury so be prepared with cash in the amount you want to tip. They suggest tipping a similar percentage as you do for a meal.
Pack snacks!!
If you have a water proof camera bring it or buy one to bring. Lots of opportunities for great pictures! But you would NOT want to bring your cell phone on the jet ski or parasailing unless you had a waterproof case. You can however take pictures from the boat if you aren't participating in the activity.
If you have toddler age kids I would recommend brining some toys for them to play with. There is a decent stretch of time between going out and getting to the snorkeling area. And then from the snorkeling area to the floating island. Having a few small toys for them to play with would be helpful.
Be on the look out for marine life while you are on the boat. You might see a sea turtle pop its head up or dolphins!
If you are going to do one thing in Key West with kids – and you want to do a water activity, we highly recommend doing this trip with your family. Kids of all ages will love it and so will Mom and Dad!
We are really looking forward to trying snorkeling again on a clearer day.
2. Danger Charters – Sail, Snorkel, and Kayak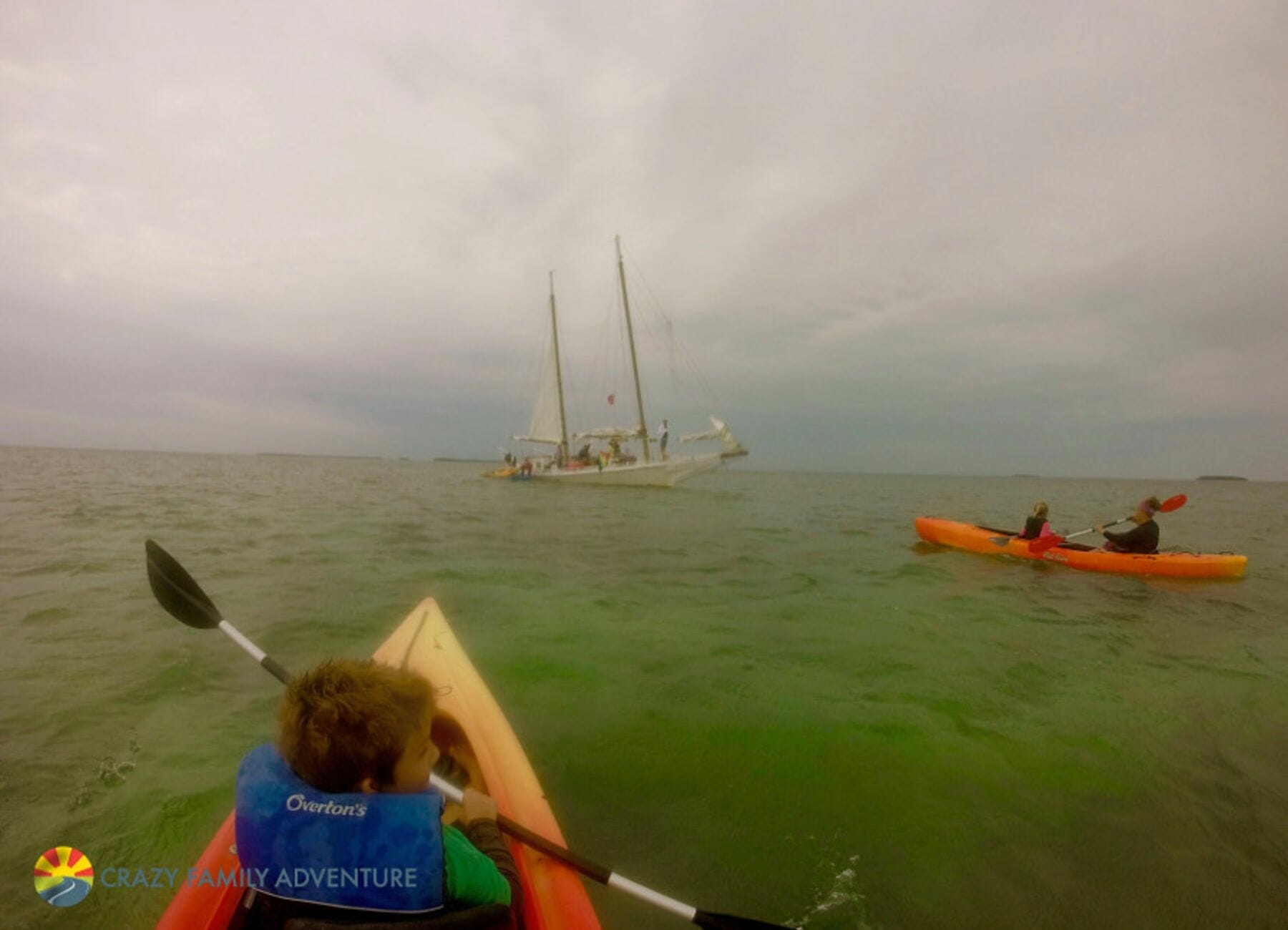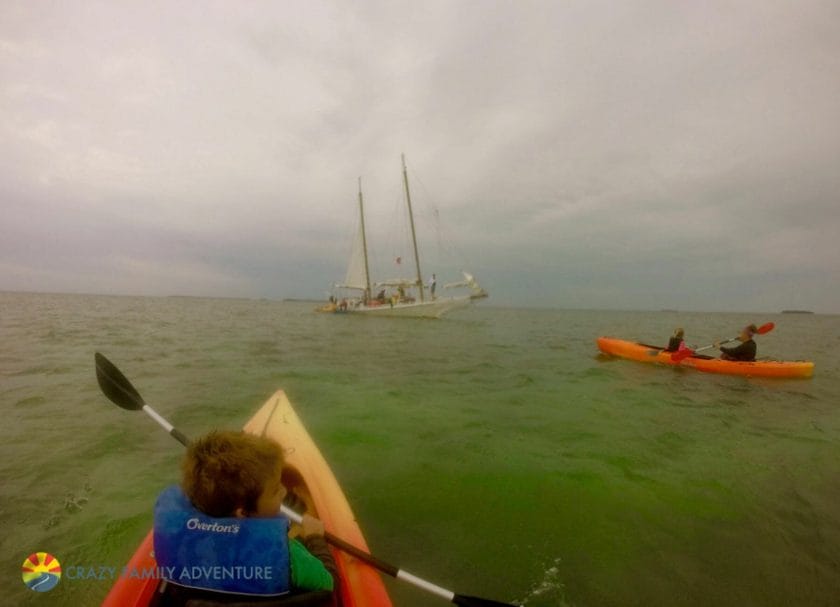 We took the Danger Charters sail, snorkel and kayak trip on a day when it was cold out. Like 65, yeah we're wimps. Despite the cool temps, we still had fun! We went out on a sailboat and they took us to a spot to go snorkeling. On the way out they offered all you could drink soda and water plus they had a fruit tray to share.
When we got to the snorkeling spot all the kids got dressed and ready but Carson jumped in the water then right out again since it was so cold. Melia jumped in and out too. Knox didn't even try after that. Craig and Cannon went out and they saw a Hawksbill sea turtle!
When they came back they were shivering since it was so cold, but said it was really cool seeing the turtle and other fish. After that we got warmed up, changed everyone into dry clothes, then got into the kayak. You still get wet in the kayak so make sure to bring extra clothes if you don't want to go in your swimsuit.
We took the kayak out to a mangrove island and one of the crew showed us around and told us about the island and the birds. They also took us to a Cuban refugee boat that had crashed into the island.
Craig and I both had our own kayak with 2 kids in each. It wasn't easy for me, but totally doable. Knox fell asleep while we were kayaking so he must have been comfortable!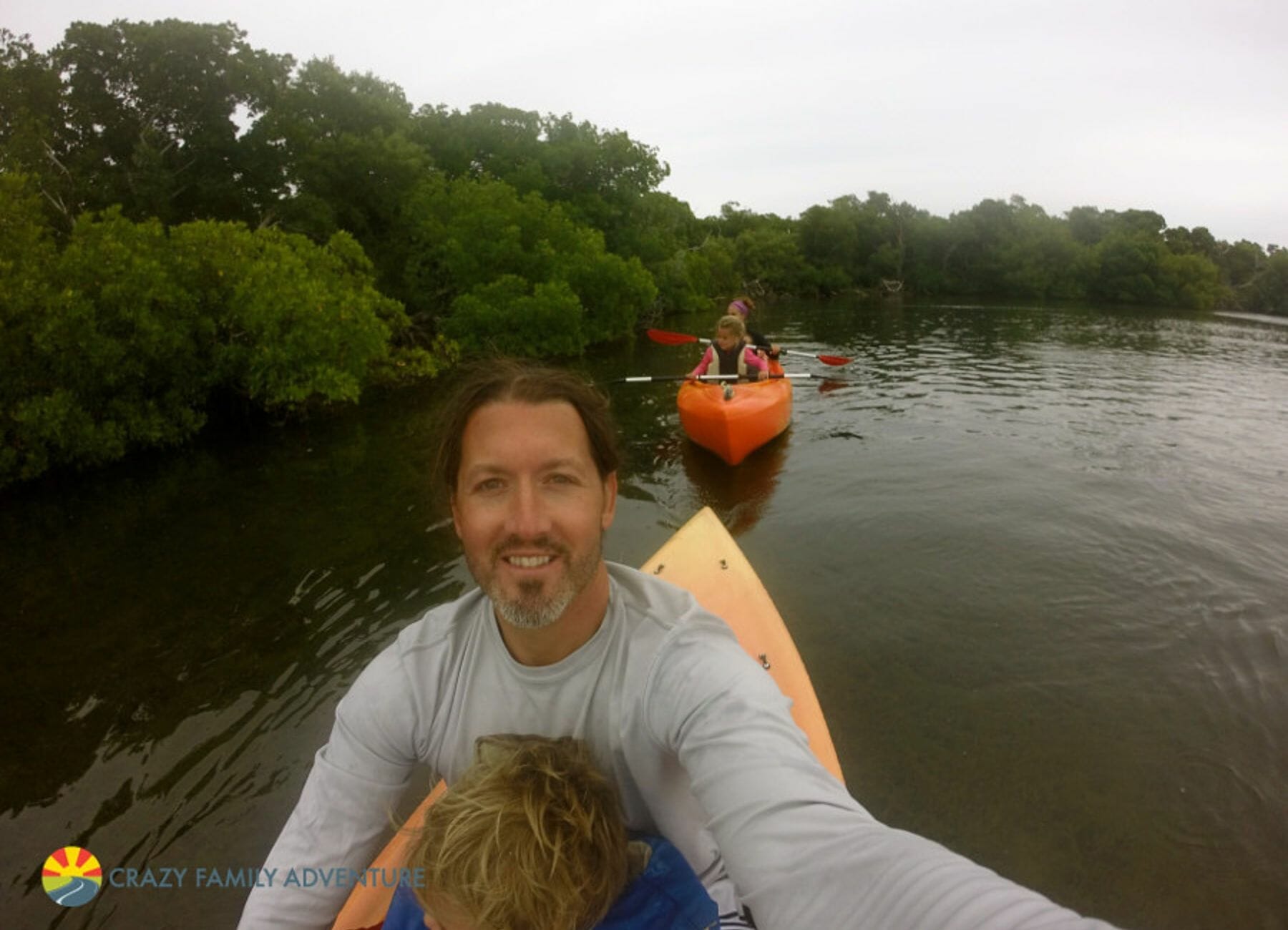 After that we headed back to the boat. Changed into dry clothes. They gave us some beer, wine, and soda and we headed back into the marina.
The crew was amazing and they did a great job making the most of a really cold day! We would love to do this Key West with kids adventure again when the sun is out and it is warm.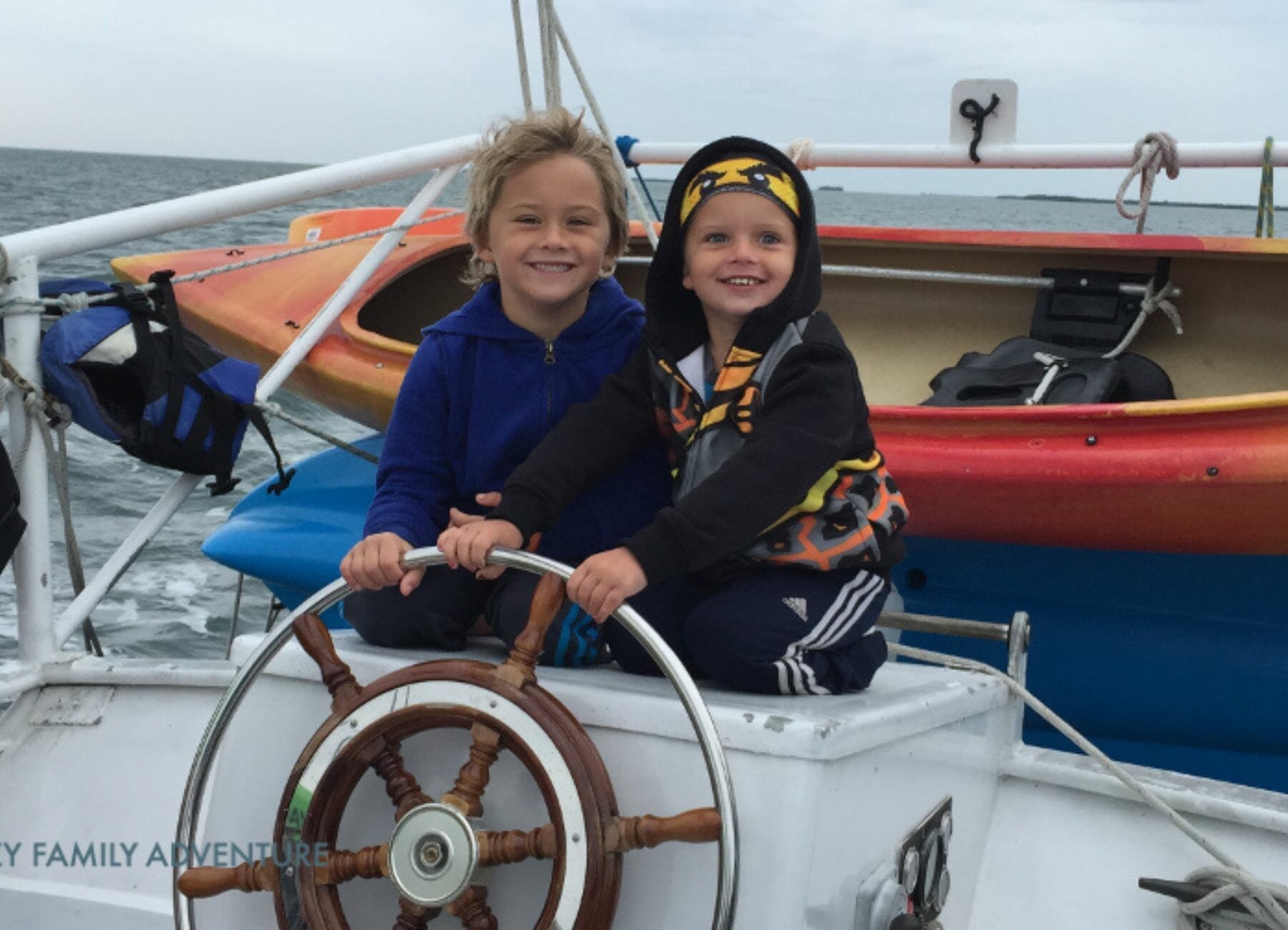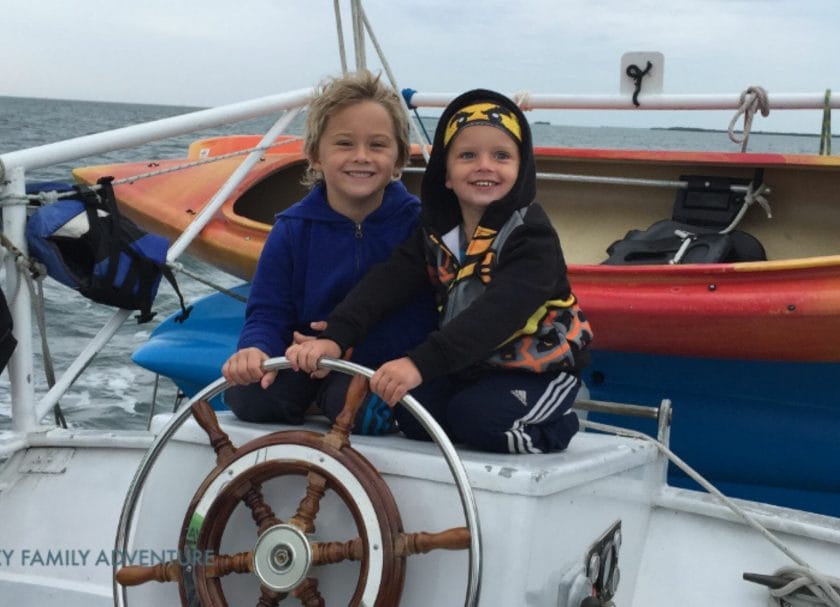 Things to know:
You can bring your own snacks – bring them, your kids will appreciate it.
We brought a couple small toys for Knox to play with. There is a chance they could go flying over board so make sure they aren't expensive or favorite toys.
Bring multiple changes of clothes. Just in case it is cold or your kids get uncomfortable and want to change out of their wet swimsuit between snorkeling and kayaking
There is a bathroom on board
3. Barefoot Billy Jet Skiing
Holy Sh** this was an interesting adventure! When I called to make the appointment at Barefoot Billy's Jet Skiing I told the guy that we had 4 young kids and I could tell from his hesitation on the phone he wasn't sure if this was a good fit for us. He told me the jet skis go over 40 and its a 2 hour tour around Key West.
To be honest I didn't believe him. Remember above how on the Fury adventure I said we got up a little over 20 mph and I was good. There was no way they really went 40 mph. I was wrong. Welp!
After seeing how much the kids liked jet skiing on the Fury trip, I figured we would be fine. We got to Casa Marina (where Barefoot Billy's is) and got suited up to go out.
Craig had Cannon (he still had his cast on) and Carson. And I had Knox and Melia. My parents also came with and got 1 wave runner for the 2 of them. Remember this is my 2nd time on a jet ski..the tour started and YUP they did go 40 MPH. Holy Sh**!!
One of the guides asked us to be at the end of the line. No worries! That works for me. There was one guide at the front of the group and one at the end of the group – for us slower folks :). The guys were awesome about staying back by us and taking us on short cuts to catch back up to everyone.
Craig had no problem keeping up and as we went I gradually got more and more comfortable with going faster and eventually was able to get up to 40 mph and keep up! Yeah, I'm pretty much a bad ass.
They take you to an area where you stop and they let you just drive in circles and have fun for a while. The employees stopped over by us and told us how impressed they were with the kids and how well they were doing. They had no problem going 40 MPH and kept telling me to go faster!!
I kept yelling back to Melia – hold on!!! Knox kept getting splashed in the face when we hit a back wave, but he didn't care. Carson and Cannon were loving it!! During the free time all the kids each had a chance to drive the jet ski most of them tried to floor it. Then we started to make our way back.
By this time there were some storm clouds rolling in and it was really wavy. We were on the Atlantic side of Key West, so it got pretty wild. At this point I was done. I really just wanted to quit since it was so hard to keep up, navigate the waves, and not have a kid fall off. But we made it. And one of the tour guides even came over to tell me good job because the water really was that choppy and he was impressed by how I handled it. Again, I'm a bad ass.
We made it back to land and I was happy to get off and go sit and have a drink at the beautiful Casa Marina hotel!!
It really was a cool trip and the kids loved it, which is why it qualified for a Key West with kids trip. I just need to get better at jet ski driving. Plus the tour guides were awesome and so great with us and the kids and didn't make us feel uncomfortable at all.
4. Sebago – Sail & Snorkel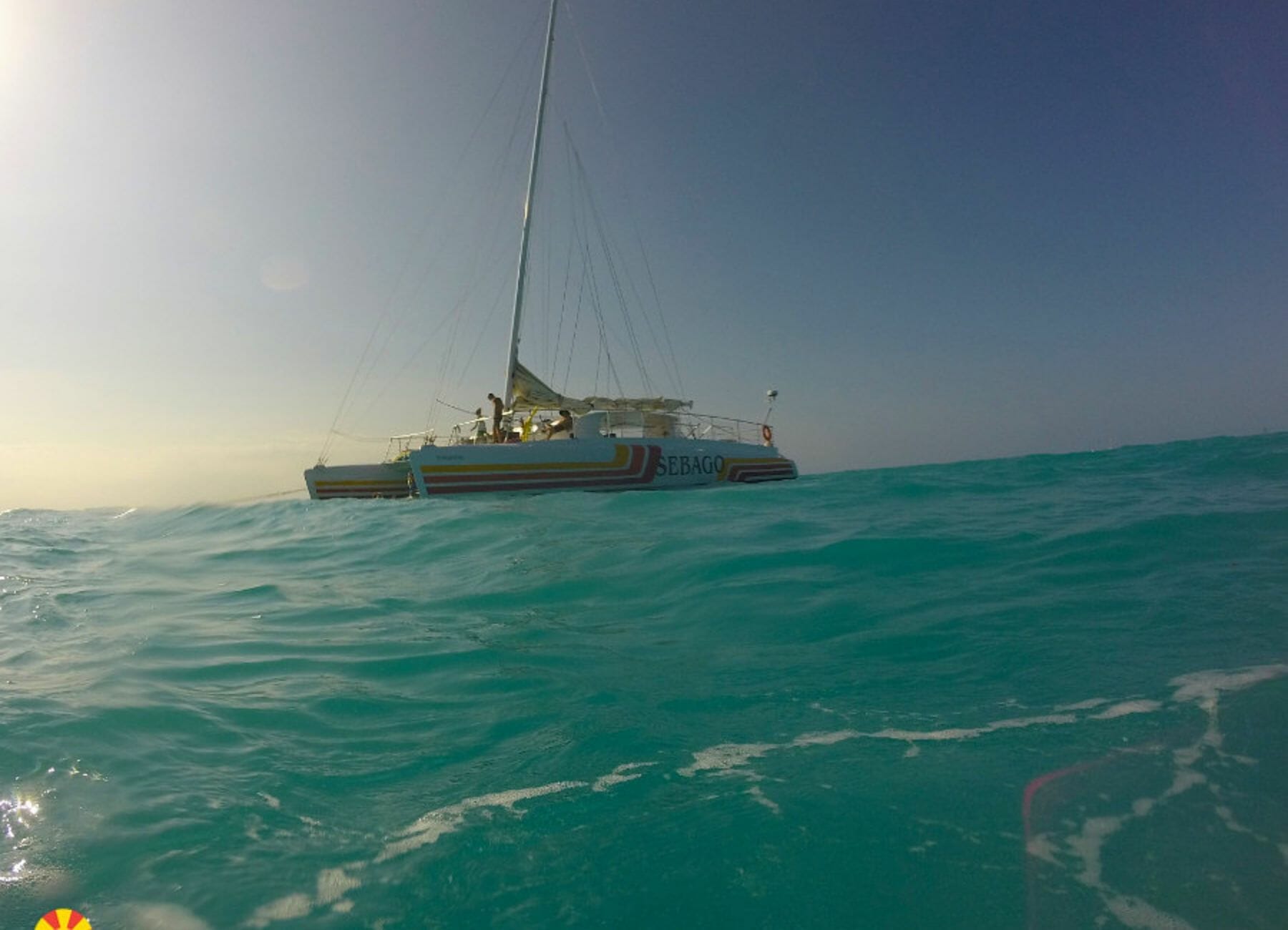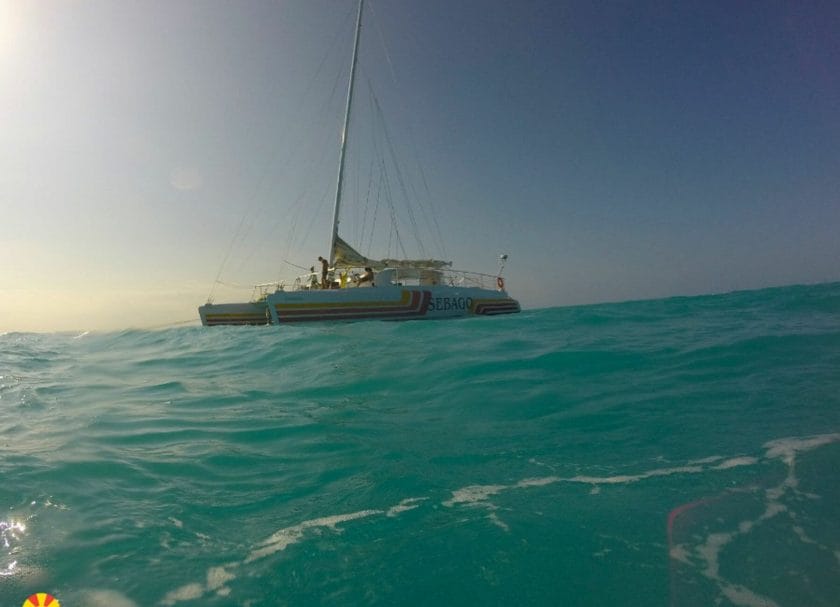 With Sebago it was a 3 hour tour (sounds like an old tv show) where you sail for an hour out to the reef (the 3rd largest in the world!), snorkel for an hour, then sail back.
They offered all you could drink soda on the way out there. The boat was a huge catamaran, so there was room for the kids to walk around.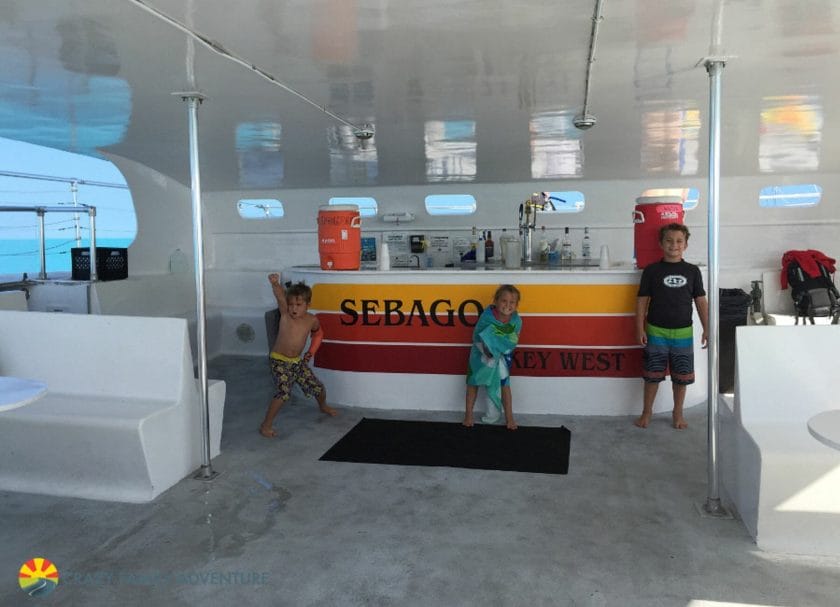 When we got to the reef it was pretty wavey and it was a good 50 yard swim through deep open water to get to the reef where you did the snorkeling. This was no easy feat with the kids.
The weather cooperated the day we went. The sun was out and was pretty warm. This helped in getting all 4 kids in the water. This time Carson and Knox were good to go but Melia and Cannon, not so much. Funny how that works that every day it is different who is into it and who isn't.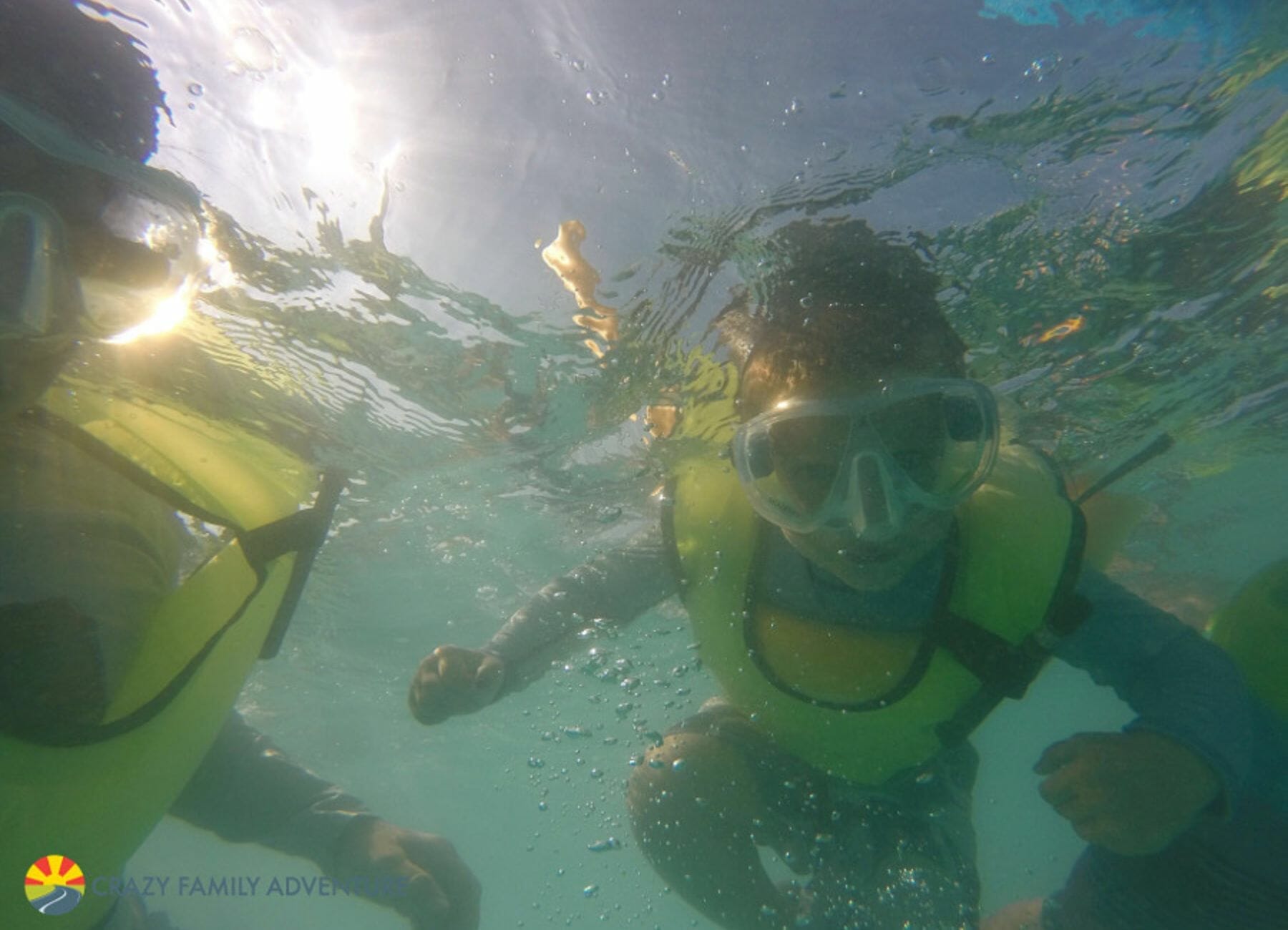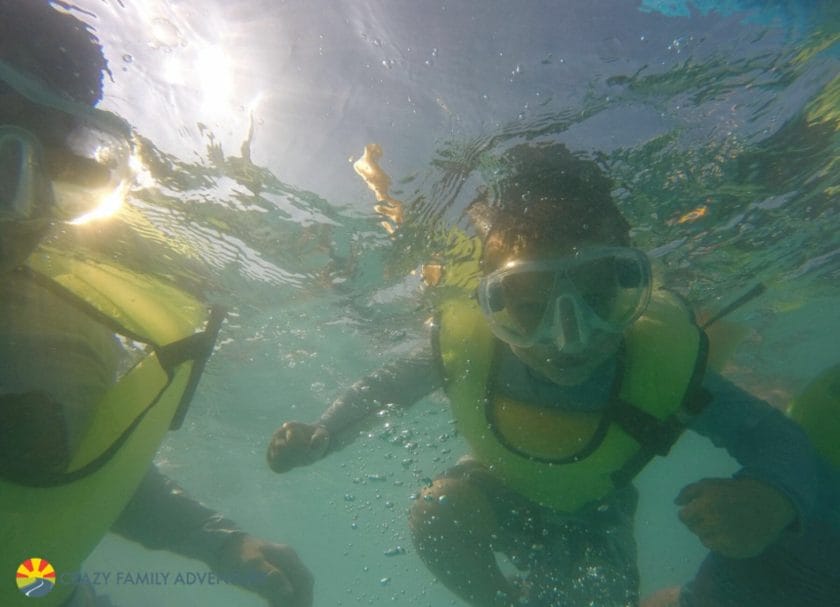 In any case all 6 of us made it out to the only living coral reef in the United States and snorkeled for about 5 minutes before turning around and heading back. It was a little scary being out in the middle of the ocean with the boat so far away. Plus it was wavy. But in the short time we were there we saw some tropical fish in their natural habitat and if Cannon and Melia would have been enjoying it we would have stayed longer and explored more of the reef.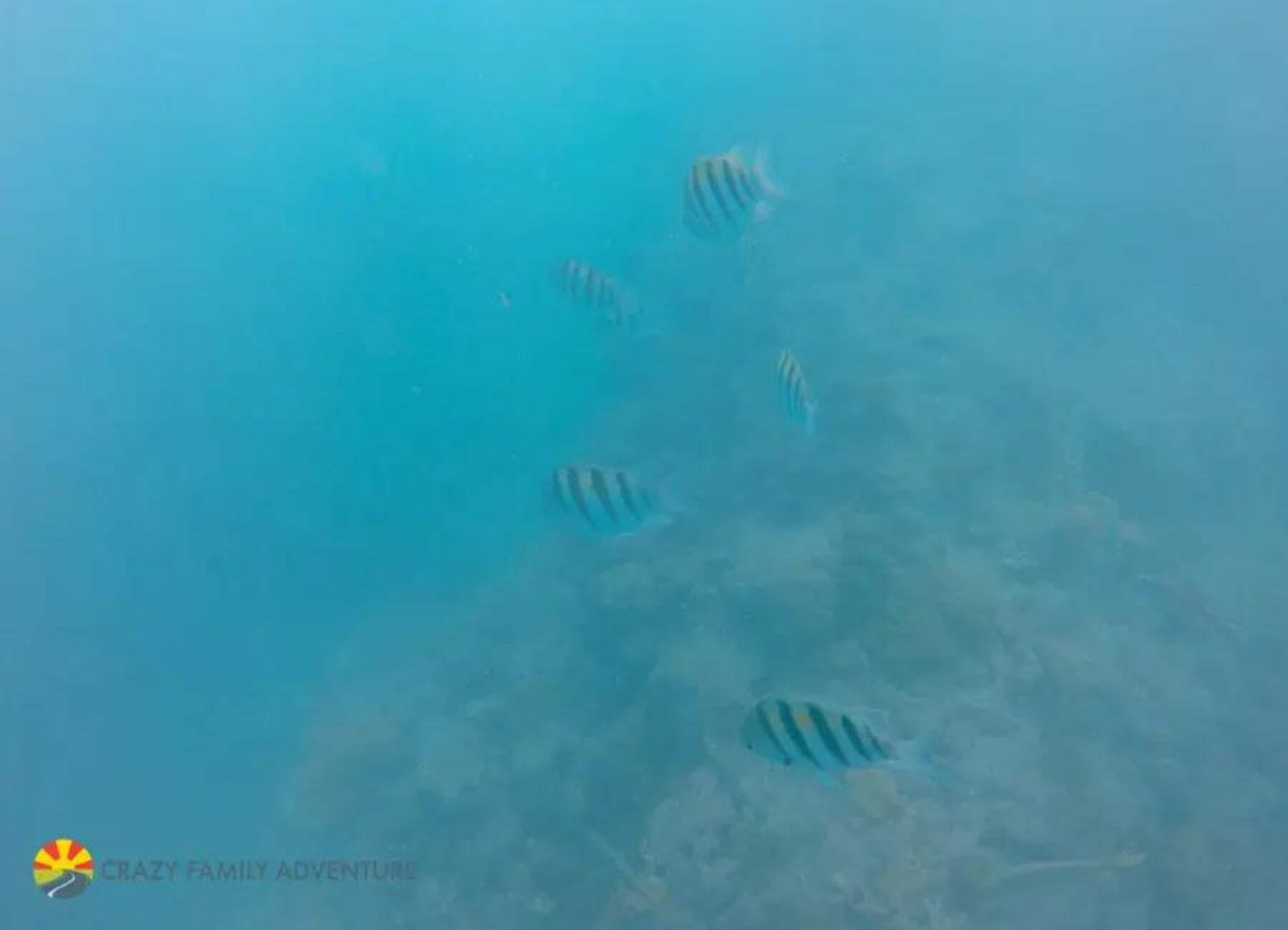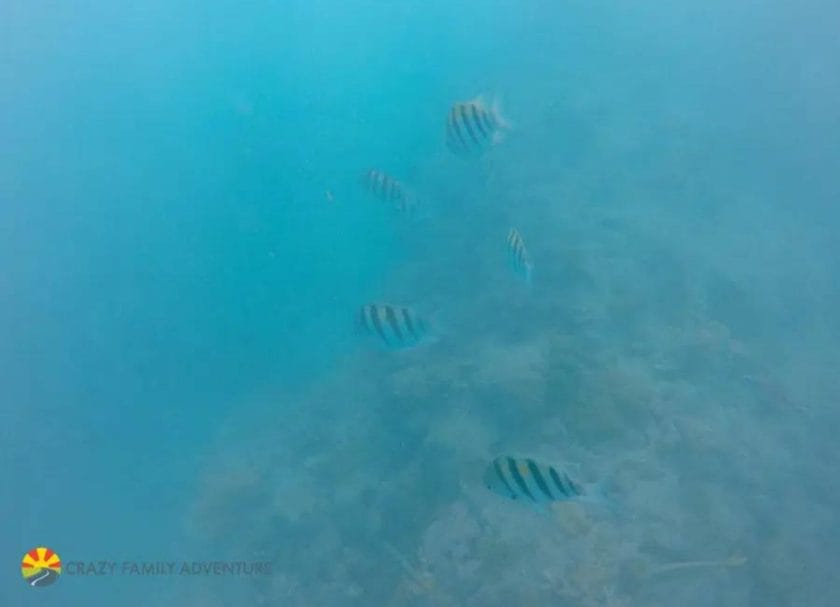 We visited in the winter (January) during an El Nino year, so the weather was pretty bad for most of the month along with several days of high wind, so the water just wasn't very clear.
On the swim back to the boat the crew kept asking us if we were OK. Ha! I am sure we didn't look like it. With Craig and I swimming and dragging kids back with us who were bobbing up and down in the water. It was all good. We were in complete control :/
The boat ride back was really nice and we even got to see the start of the sunset and watch a lot of other cool boats coming and going from Key West.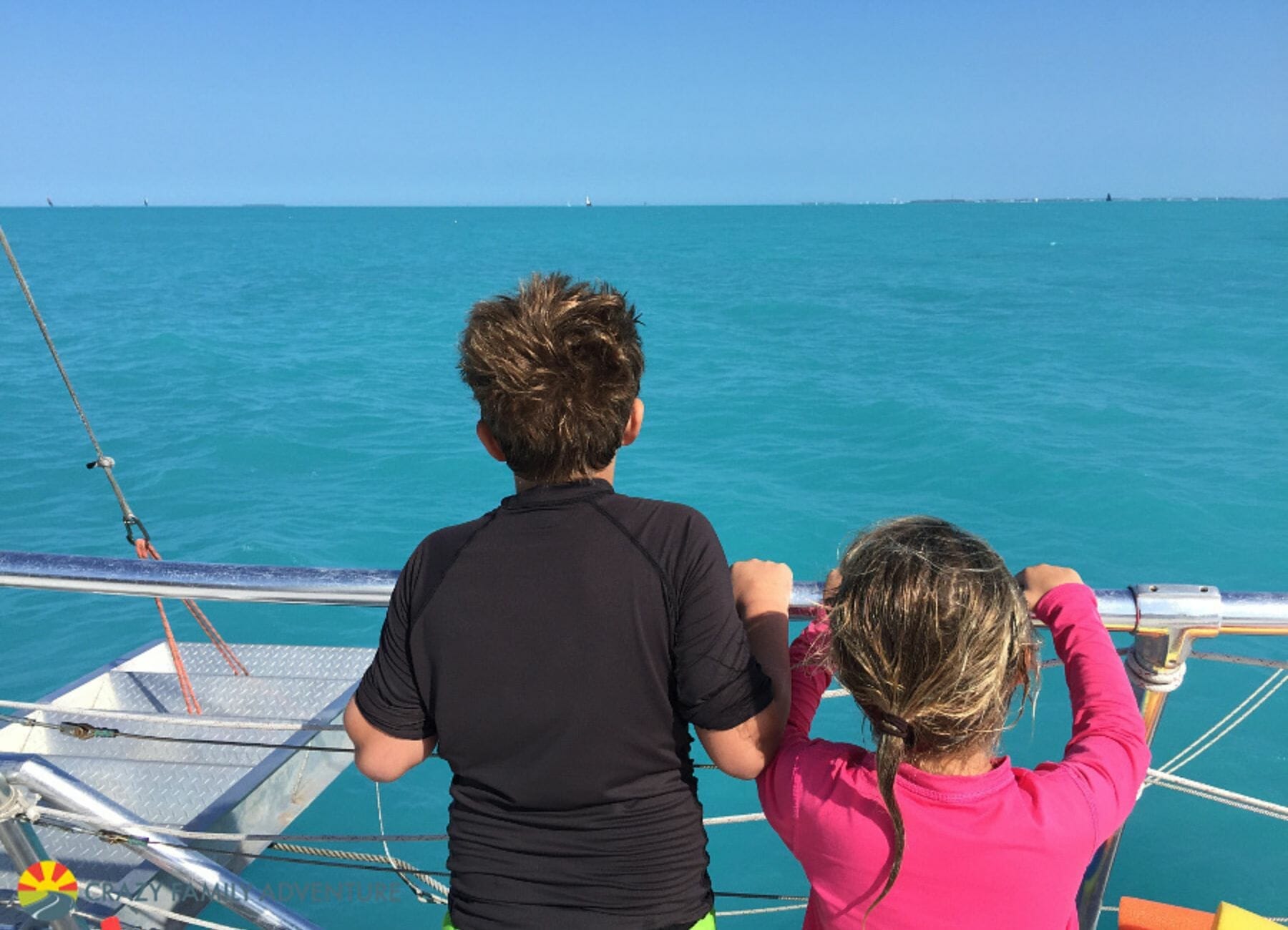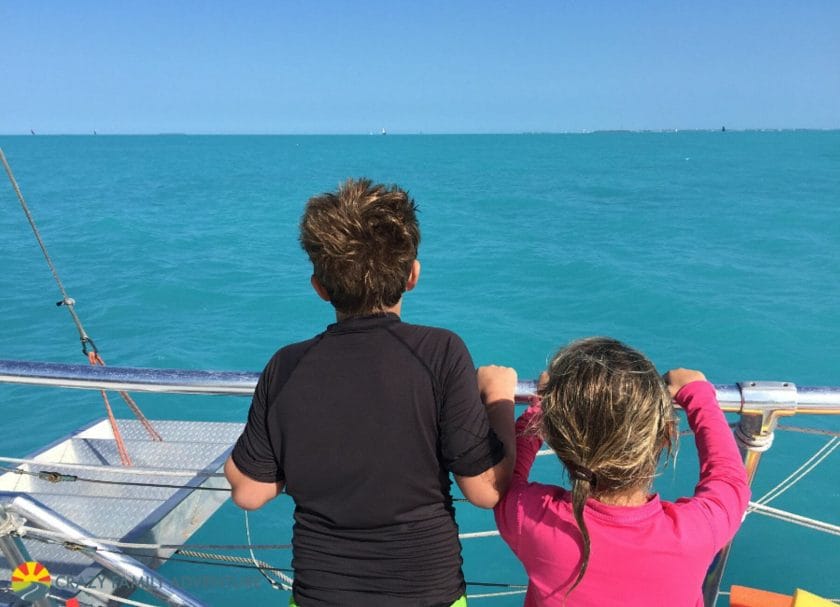 I have to say that on all of these Key West with kids adventures the crews were amazing, super nice, and great with the kids! Don't forget to bring cash to tip them at the end of your trip. They deserve it!
And don't get us wrong there were stressful times and times that we, as adults, were pushed out of our comfort zone, but we HIGHLY recommend you get yourself out on the water when you visit Key West with kids!
If you are looking for more options be sure to check out the local boat rentals, key west sunset cruises, dolphin watch cruises, Key West parasailing, Smathers beach,and more!
Disclosure: A huge thank you to the Key West Attractions Association and The Florida Keys & Key West for hosting us on our Key West with kids visit! All opinions here are my own. #truth
More Family Fun in Key West
Key West Old Town Food Tour Delight in the flavors of the local culture on this 3 hour tour of culinary excellence.
Guided Bike Tour through Key West Explore Key West on this guided bike tour and enjoy a slice of the iconic key lime pie at the end of the tour.
Dockside Dolphin Experience Interact with dolphins during this unforgettable experience.
Where to Stay
Hotels
Hyatt Residence Club Key West filled with amenities this beautiful hotel is located just steps from the beach.
Hampton Inn Key West This great family friendly hotel is the perfect beachside location for your family.
Vacation Rentals
Downtown Cottage Located just off the famous Duval Street, this home sleeps 6.
Large 2 Bedroom Condo Located in a gated community just steps from the beach, this condo offers great views of the sunrise.
Find out more Key West Family Fun
26 Epic Things to do in Key West
Key West Aquarium where you are up front and personal with sharks!
Best Florida Keys Sunset Cruises
Top 11 Beaches in the Florida Keys
Florida Road Trip: 31 Amazing Places You Won't Want To Miss
Pin to Your Family Vacation Boards to Save for Later!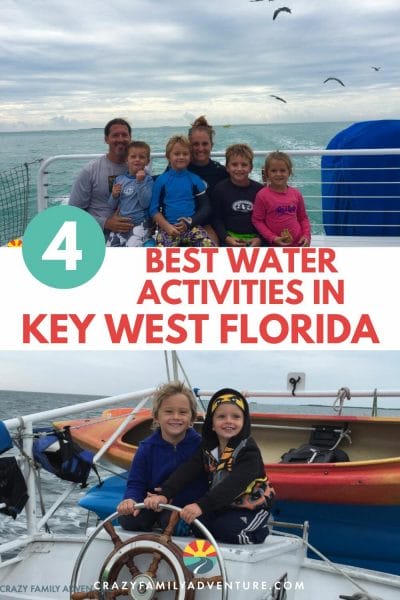 DISCLOSURE: This post may contain affiliate links, meaning I get a commission if you decide to make a purchase through my links, at no cost to you. Please read my disclosure for more info.