We were told that the Florida Keys weren't really known for their beaches. Well, we're beach people and hearing that turned it into a mission to find a good beach on this beautiful island chain. Well, we found quite a few Florida Keys beaches that satisfied our needs and then some.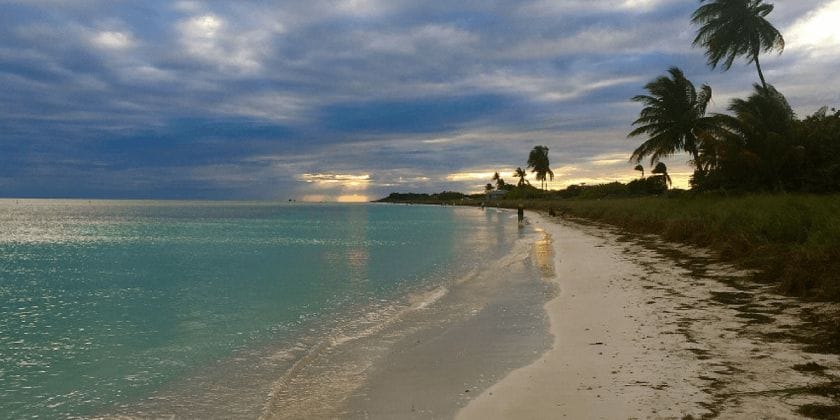 Here are our top beaches in the Keys from way up north in the Keys all the way down to Key West and the Dry Tortugas.
Here is a map of where they are located. Driving from one end of the keys to the other can take 2 hours. So we recommend using google maps to determine how far you will be from the beach!
Are you into remote, secluded beautiful beaches? Well, the Dry Tortugas National Park is right up your alley. This place is absolutely amazing! It is like a beach/island right out of a magazine.
All it takes is a two and a half hour boat ride from Key West to get to it and costs a lot per person. We went to check out the National Park and Fort Jefferson that is on the island, and instantly fell in love with everything there!
The beach was amazing because of the turquoise waters, the white sand, and the snorkeling right off of the beach. However the highlight for us was finding conch shells all over one area of the beach.
Most were alive and some were just shells. The shells were huge and colorful! Someone even made a conch tree – great photo op!
You have to bring all your supplies with you on the boat, so be prepared for that. There is no running water on the island. But, hey, it's a beach, all you need is sand, right? There was no doubt when putting this list together that this was the best of all the beaches in the Florida Keys.
Check out the Dry Tortugas for more information!
We really love Sombrero Beach. It is located in the town of Marathon, which is in the middle Keys. There is a decent amount of free parking, a playground for kids, and a couple of public restrooms. It is a public beach.
There is a large swimming area at this beach, palm trees, and the water gets pretty deep, so you can do some good snorkeling as well where you can see sea life. The further out you go, the more sea grass you'll find at the bottom.
Our kids loved staying close to the shore where it was sandy and they could still touch the bottom.
Fort Zachary Taylor Beach
Fort Zachary Taylor is a state park in Key West. There is another civil war fort here that you can take a self guided tour in. Near the far end of the fort there is a really cool iguana viewing area. They must love basking in the sun over there!
The beach is just a bit further down the road from the fort. You have to pay to get into the state park, but it's just a few dollars. For our family of 6, it was like $10 or so.
The beach is lined with golden sand and there are a couple of small rocky islands about 15 yards into the water where a lot of cool fish like to hang out making this another great snorkeling spot. I saw a lion fish as well as a stingray out there! Maybe you will find some Spanish shipwreck treasure :).
There are picnic tables at the beach as well as a concession stand that sells snacks, drinks, and beer. I think you have to drink the beer on their deck though.
Check out Fort Zachary Taylor for more info!
Smathers Beach Key West
Smathers Beach is also one of the Key West beaches over on the Atlantic side off of A1A (beach front avenue!). At Smathers Beach you can rent beach chairs and umbrellas and soak up the sun all day!
You can also rent water sport equipment – kayak, paddle board, etc. This beach really had a Caribbean beach feel to it. Plus it is on the opposite side of the island from Key West so it was much more low key.
There was a nice bike/walking trail that you could go on that ran between the beach and A1A. If you are looking to spend a day at the beach this would be a great spot!
Higgs Beach
Higgs Beach is just south of Smathers Beach and is another nice Key West Florida Beach. The beach has quite a bit of free parking, which tons were open when we were there on a Sunday.
At Higgs, you can swim, hang out on the beach, play some beach volleyball, or walk out on the pier. There is a public bathroom here as well as an Italian restaurant right on the beach. Which is known for having great food. My in-laws had lunch there and they said it was good!
There is also a playground – right on the beach – that our kids loved playing at. The water was really shallow pretty far out – which would be perfect for young kids.
Bahia Honda state park is located right around Mile Marker 35 (that means it's about 35 miles north of Key West) on the overseas highway in Big Pine Key. Similar fees apply to getting as Fort Zachary Taylor.
The interesting thing about Bahia Honda is that there are several beaches at this state park. The one we normally go to is off to the right after you enter the park. It is a bit more sheltered from the wind and waves, so it was a lot calmer for the kids to swim and play in the water.
The beach area is pretty narrow, meaning there is only about 15 feet of sand or so before you're in the water. There are some very nice covered picnic tables at the beach, so if you get there early enough, grab one of those.
There's a very nice swimming area with soft golden sand at Bahia Honda. You also get a really cool view of the old railroad bridge when you're at this beach.
The other 2 beaches that we stopped at in Bahia Honda had a little more wave action – Calusa Beach. You could rent a kayak at the park for a fee. We did't do this, so I can't say how much it costed, but the opportunity is there.
Plan on spending the better part of the day at Bahia Honda because there is a lot more than just the beach at this state park. You can hike on some of the trails they have. The hikes are short and flat, so it's not too strenuous and should be manageable by small kids.
The other cool thing to do is to walk out onto the old railroad bridge. You can get a good view of the beach and take some great pictures.
John Pennekamp
John Pennekamp coral reef State Park is up in Key Largo. There are a couple of beach areas at this state park. Neither are sandy, they are more rocky, so I definitely recommend some sort of sandal or water shoe.
We didn't get in to snorkel here, but it is known for its snorkeling since you can swim right off the beach to a coral reef. You can also rent kayaks and canoes at the park.
We did take a glass bottom boat tour that left right out of the marina in Pennekamp. This was a really cool experience and we saw some really cool fish out at the reef!
For more information on John Pennekamp, check out their website.
Curry Hammock is also a state park that is located in the middle keys. It's a smaller state park with a nice little beach with soft golden sand.
There is a picnic area just off the beach as well as a decent sized playground that our kids had a great time at. You can rent kayaks at the park as well.
I personally really liked this state park and want to get back here to camp.
Cocoa Plum Beach is interesting. The reason we liked it is because the water is so shallow quite a ways from shore. This is also a good place to bring your dog if your dog likes to swim (fyi, there is a dog beach in Key West, we didn't check it out this time, but might add it in the future to our list of top beaches in the Florida Keys).
The actual beach part is very narrow, you may have room to fit a lawn chair and that's about it.
We've been to this beach a couple of times and one time there, we were able to find tons and tons of hermit crabs in the water. They were everywhere! The kids had a blast picking them up out of the water to check them out.
Long Key state park is similar to Bahia Honda in that there is quite a bit to do there. You can hike the nature trail, which is about a mile, you can ride your bike through the park, and you can swim at the beach.
The beach is similar to Cocoa Plum in that it is shallow for quite a ways out. There isn't a lot of beach area as well, but we had a really good time just splashing around in the shallow water, which is why we added it to our list of beaches in the Florida Keys.
Lagerhead "Beach" (one of our bonus beaches in the Florida Keys)
Ok, we said 10, so this one's a bonus. Lagerheads is actually a small little restaurant in Key West. They are right on the water next to the marina. They have a small beach where the kids can play in the sand or even swim while you eat.
This is a great spot to have an affordable family dinner and to watch all the ships come back to port before sunset! Plus it is right in downtown Key West so you can check out Duval Street, go to the Aquarium and make your way here to hang out.
So those are our top 10 beaches in the Florida Keys. Let us know if we missed any because, seriously, we'll go back. Seriously.
14 Amazing RV Parks in Destin Florida
21 Fun Things To Do In Port St Joe Florida
9 Delicious Port St Joe Restaurants You Will Want to Try
Florida Road Trip, Magic Kingdom, Universal Studios, Volcano Bay, St. Augustine, Destin, Miami, West Palm Beach, Tubing by Orlando, Gulf Shores, and Plantations.
And if you want to take a Florida Keys road trip consider renting an RV using our RV trip planning tips.
Pin This Post:
DISCLOSURE: This post may contain affiliate links, meaning I get a commission if you decide to make a purchase through my links, at no cost to you. Please read my disclosure for more info.