Whenever we think Orlando, we think Disney and amusement parks. And YES they have some good ones! But there are also some other cool attractions for families by Orlando that are Non Disney related. One of our favorites is tubing by Orlando! Our favorite place to go tubing in Florida is down the clear waters of Kelly Rock Spring.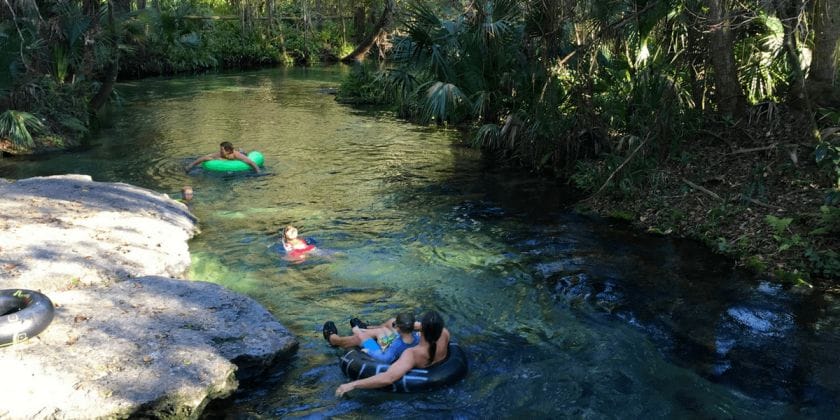 Also, be sure to check out our Florida Road Trip as this is a stop on the route!
The Best Tubing by Orlando is at Kelly Rock Springs
Kelly Rock Springs is about a 30 minute drive from Orlando but it is so worth it! You won't even believe you are that close to Orlando when you get the Spring and see the beautiful spring and trees all around you.
You are welcome to bring your own floating device (something like this super cheap one on Amazon) but if it easier you can stop at the bar up the street and rent some heavy-duty inner tubes to use. To do that you will go to: Rock Springs Bar and Grill (4939 Rock Springs Rd Apopka, Florida 32712). It is literally a small older building so pay attention and just look for the fence area filled with inner tubes. Then you know you are in the right place.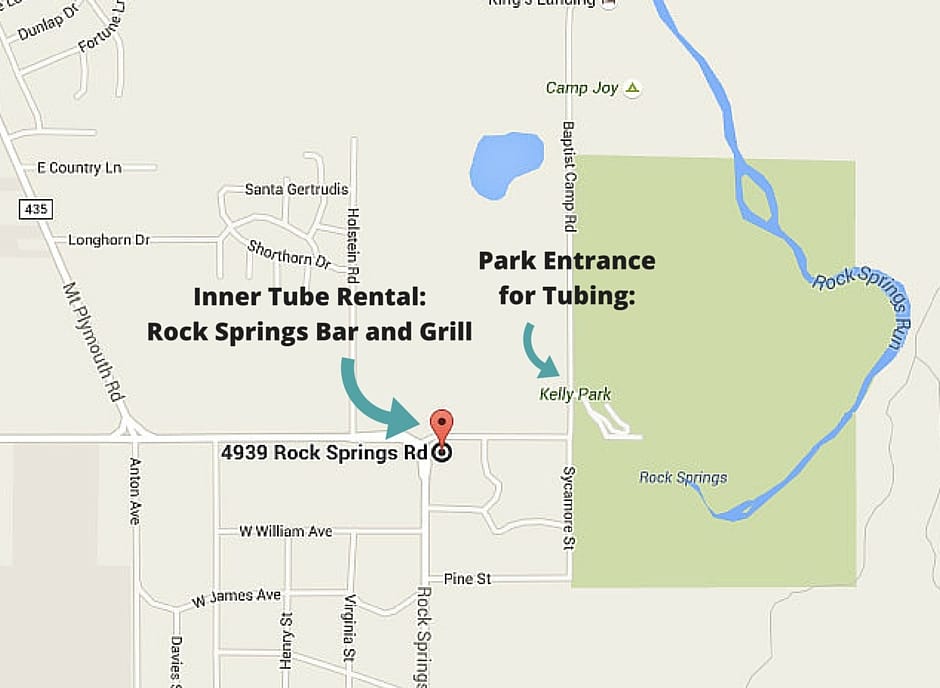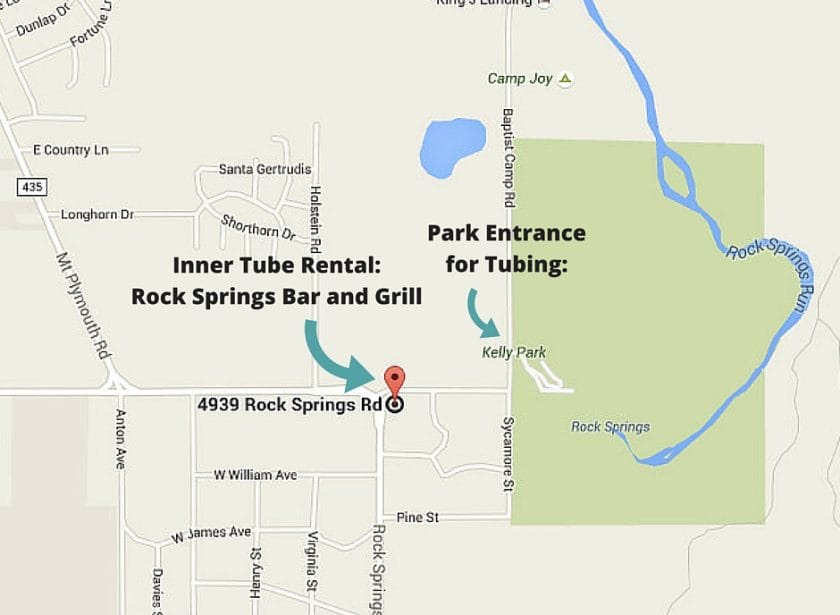 These inner tubes are big so bring some bungee cords or some other way to secure them to your car. Our bike rack worked pretty well.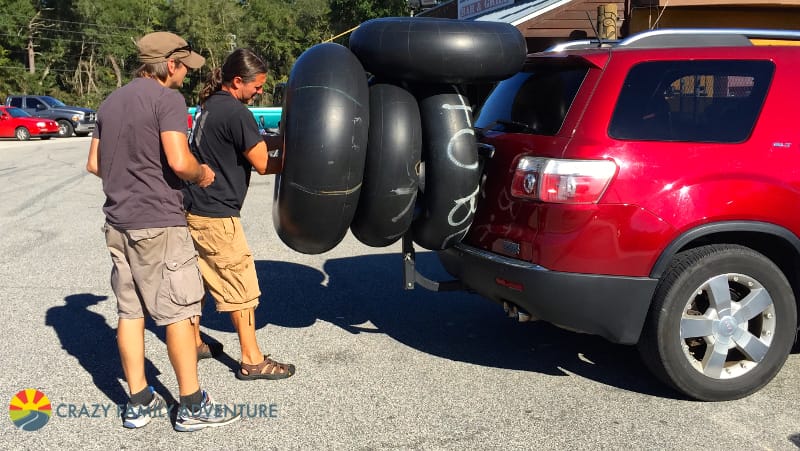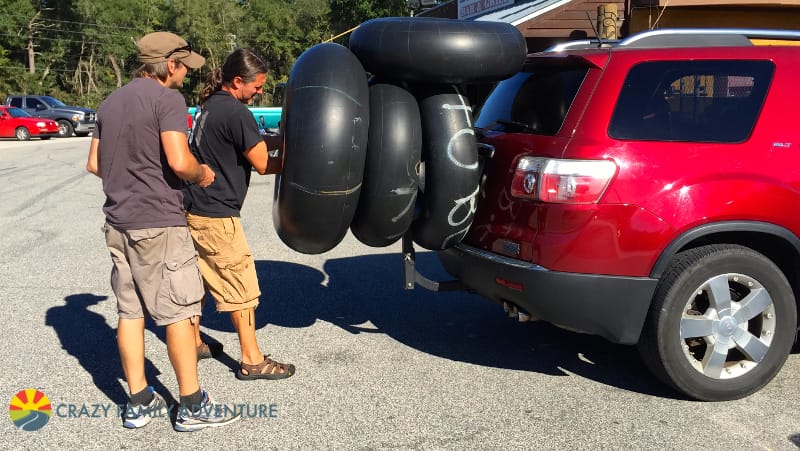 Once you get the park you will have to pay to get in. $3 to $5 depending how many people are in your car. Also note that the park states it usually is filled to capacity by 10am in the hot summer months. So if you are trying to go in the summer you will want to get there early to get in.
We went in December and we were the only one's there for a while. The water was cool, but not unbearable and with the sun out it was really nice!
Park your car and walk a little ways to get to the beach area – which is in the middle of the inner tubing spring trail. You can leave your things here and then carry your tubes up to the top of the spring.
When we were walking on the trail we were kind of confused on where we were going but if you just keep walking up from the beach area you will eventually see the signs and find the starting spot of the spring/river.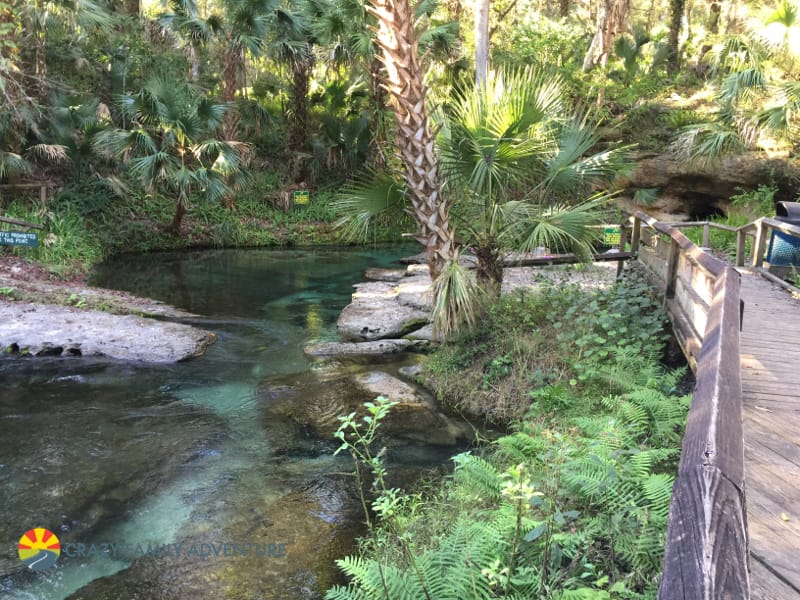 There is a nice overlook area so if not everyone in your party is going to be tubing make sure they come with camera in hand to capture some great pictures. It looks like a jungle!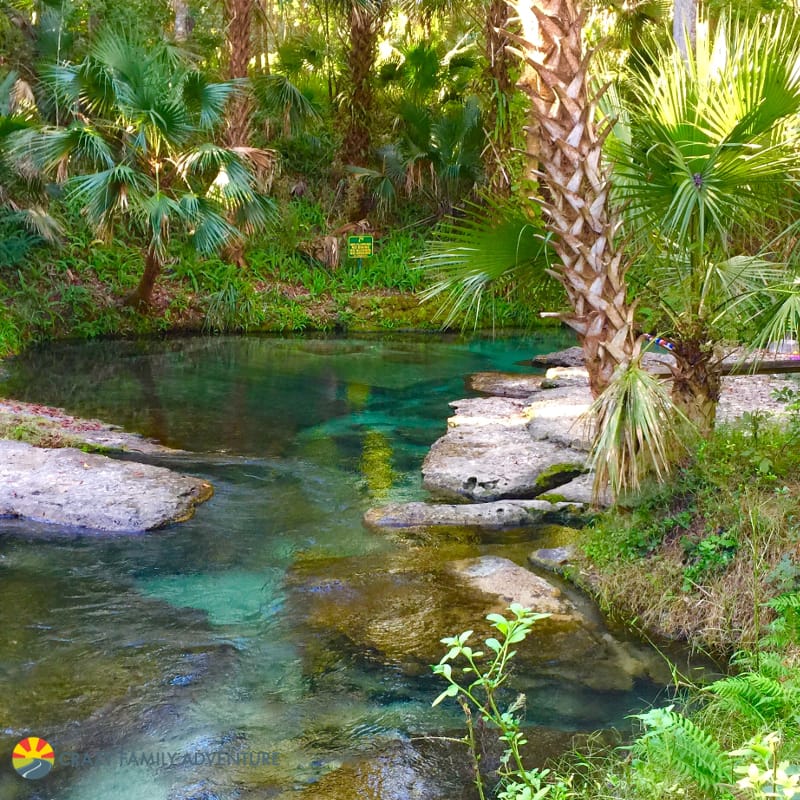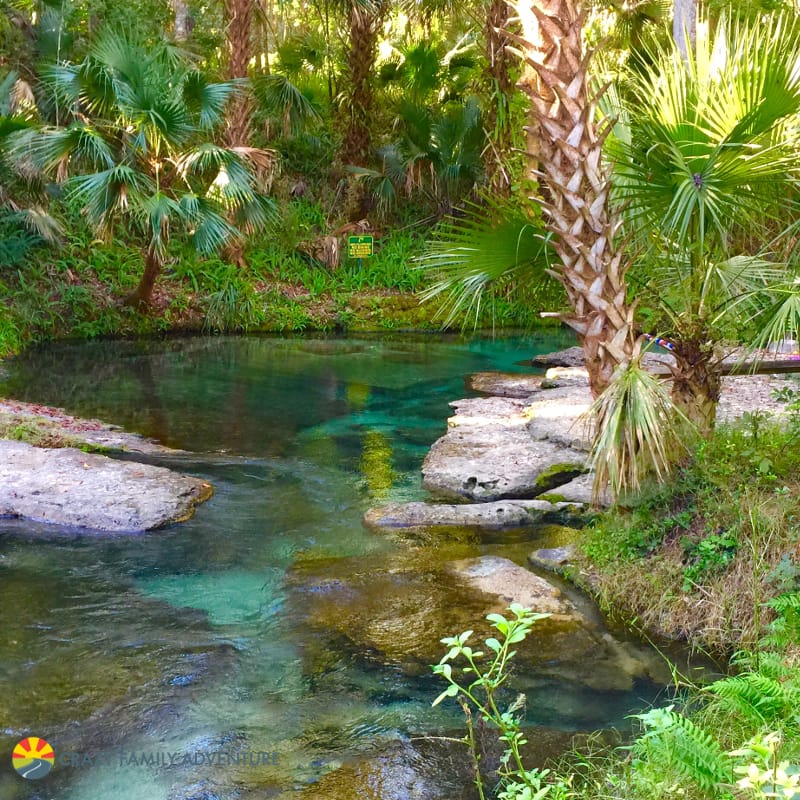 When you are ready to get in you will want to carefully walk over the rocks, drop your tube in, and jump on! We really loved how absolutely crystal clear the water was. You could see straight to the bottom and the colors were so beautiful.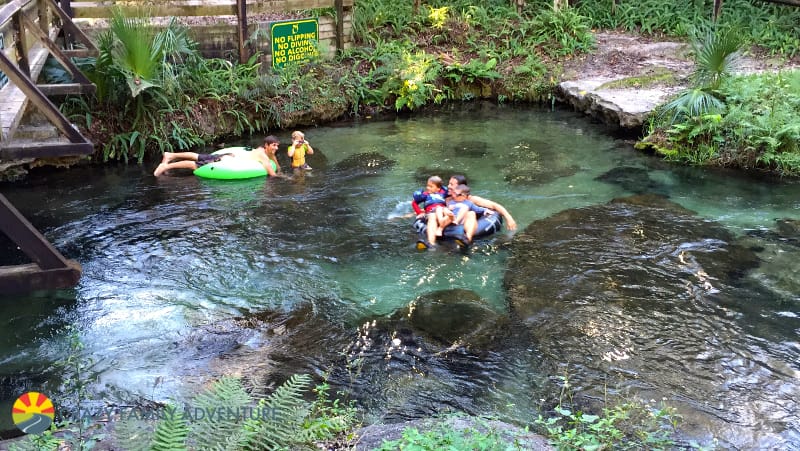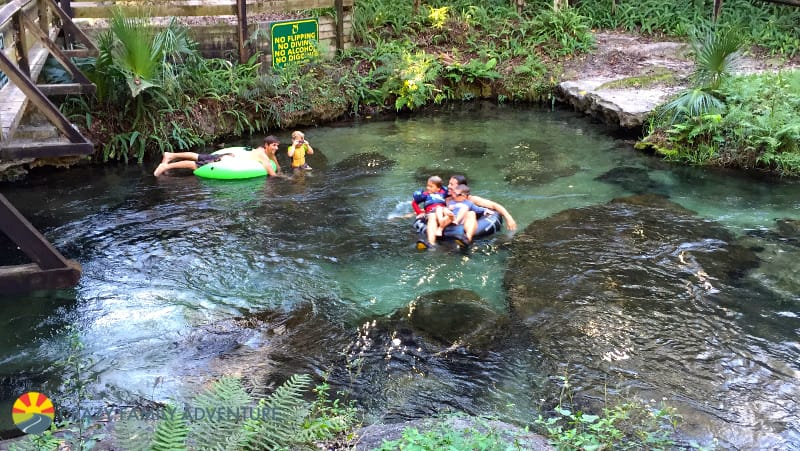 Once you get in your tube be ready to go. The water is moving at a decent pace and your tube is going to be ready to start floating down to the beach! P.S. don't let kids in first unless you have a good hold on their tube, the current will take them straight down river.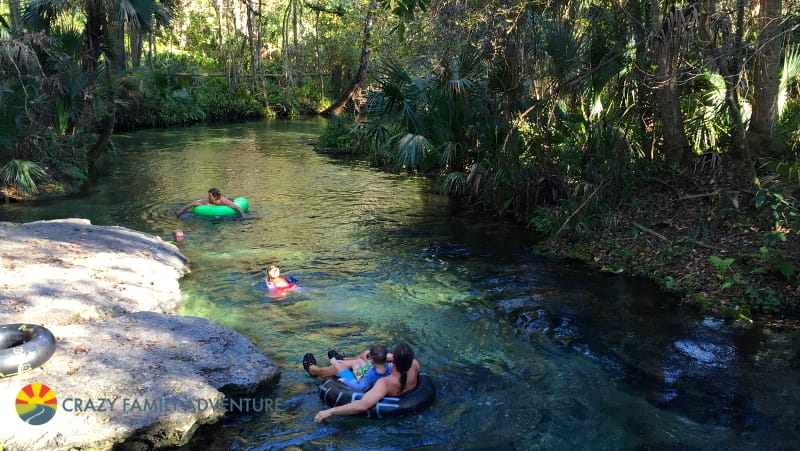 Once everyone is in you take off and down the river you go! As you get away from the entrance spot you really start to feel like you are in the middle of nowhere. There is lush vegetation on either side of you and you can't see anything but green on both sides.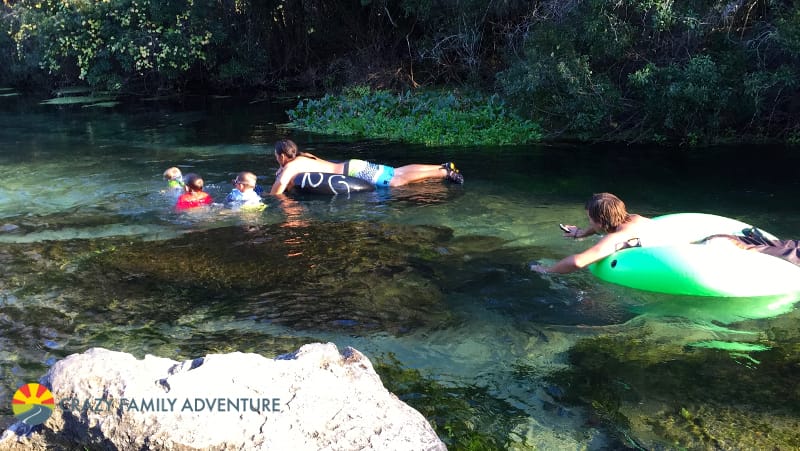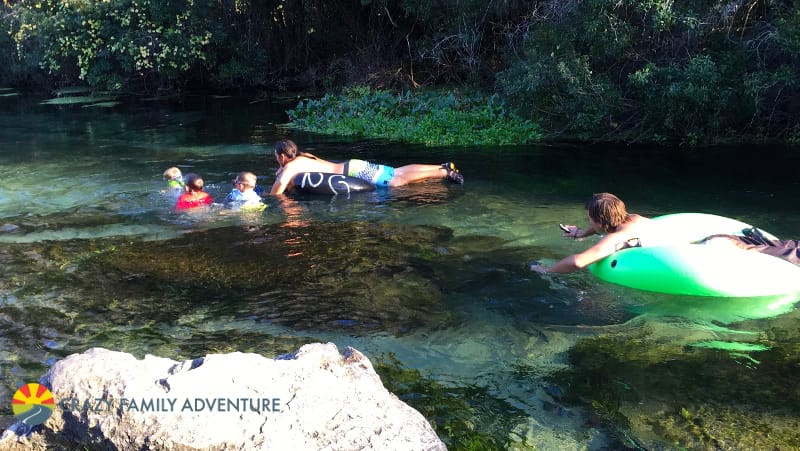 Some of our kids were a little freaked out and DID not enjoy it. They were afraid something was going to jump out at them or bite their butt through the middle of the inner tube! I don't blame them it was definitely a little bit scary with all the mangroves around you and you are just floating down the river with no where to go.
Then some of our kids absolutely loved it! I have to say I was a little uncertain at first . . . but it really was beautiful and such a cool experience.
Some of the kids got out of the tubes and actually swam along next to us for most of the time. The nice part about that was the water was so clear that we could see them the whole time.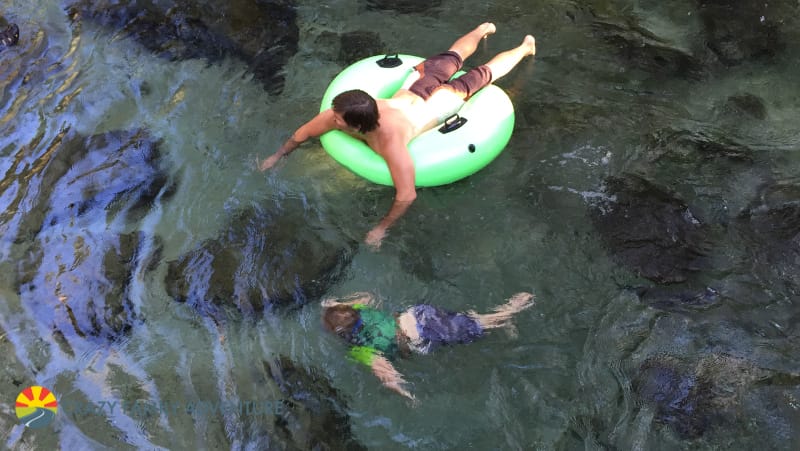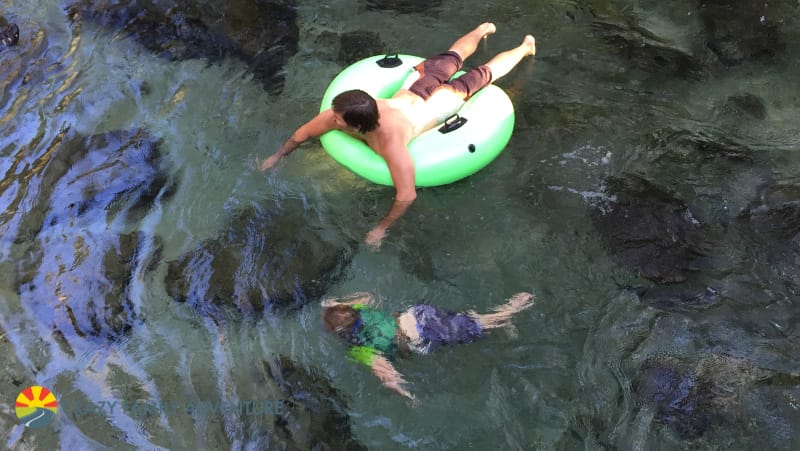 Once you get down to the end you can decide to go over by the beach (swim hole area) and be done with tubing or else you can keep going until you come to a blockage in the river where you can get out and carry your tube back up by the beach area.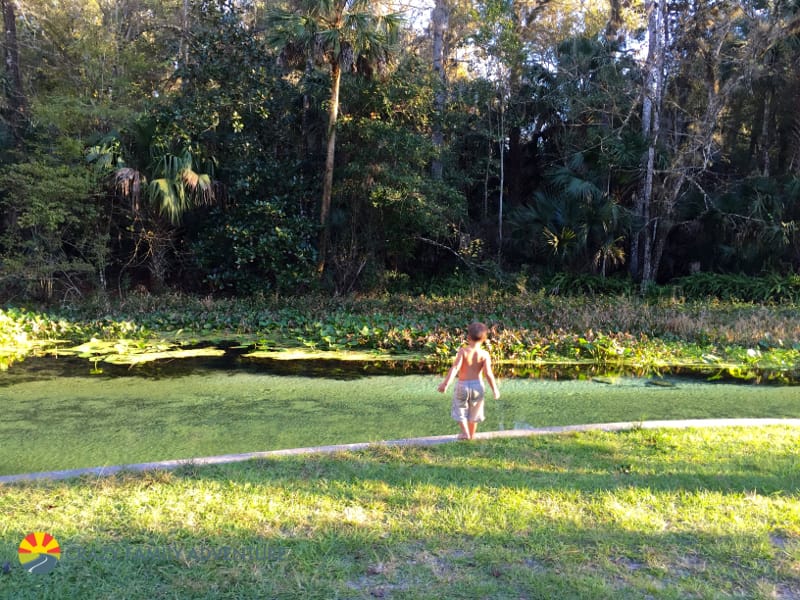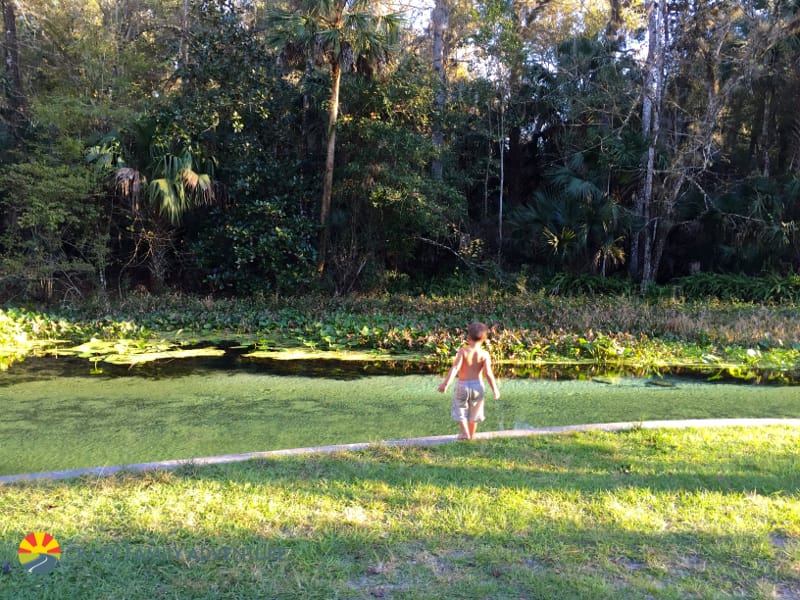 Can you see why this would be a top thing to do in Orlando besides theme parks?!
It wasn't super warm when we went and I can only imagine how refreshing the water would feel on a super hot Florida day – thought it is a lot busier in the summer! When you are in the Orlando area block a day out to come hang out by the spring, eat a picnic lunch, and go tubing down the river 1, 2 or 10 times! Plus the beach area was perfect for little kids to hang out and place! So take a time-out from all the theme parks and try some tubing by Orlando!
Here's a list of a few things to bring with when you're tubing by Orlando:
Innertube – It can be heavy duty or just a plain old pool innertube.
Keens – There are a lot of rocks and mucky mud at the bottom of the river. Protect your feet!
Snorkel Gear – With the crystal clear water, bring some goggles and a snorkel!
GoPro – This experience prompted us to get a GoPro. We actually stopped at Best Buy on the way home to get one!
Here is our Friday Family Chat as we are tubing by Orlando!
For more info on tubing by Orlando you can check out the Kelly Rock Springs Flier here.
Check out our post on another Fun Non Disney thing to do by Orlando: Showcase of Citrus and here are some great ideas if you want to hit the Florida Beaches!
For more state park fun by Orlando check out: Rainbow Springs state park, Ichetucknee Springs state park, Blackwater River state park, Blue Springs state park, Rock Springs Run state reserve.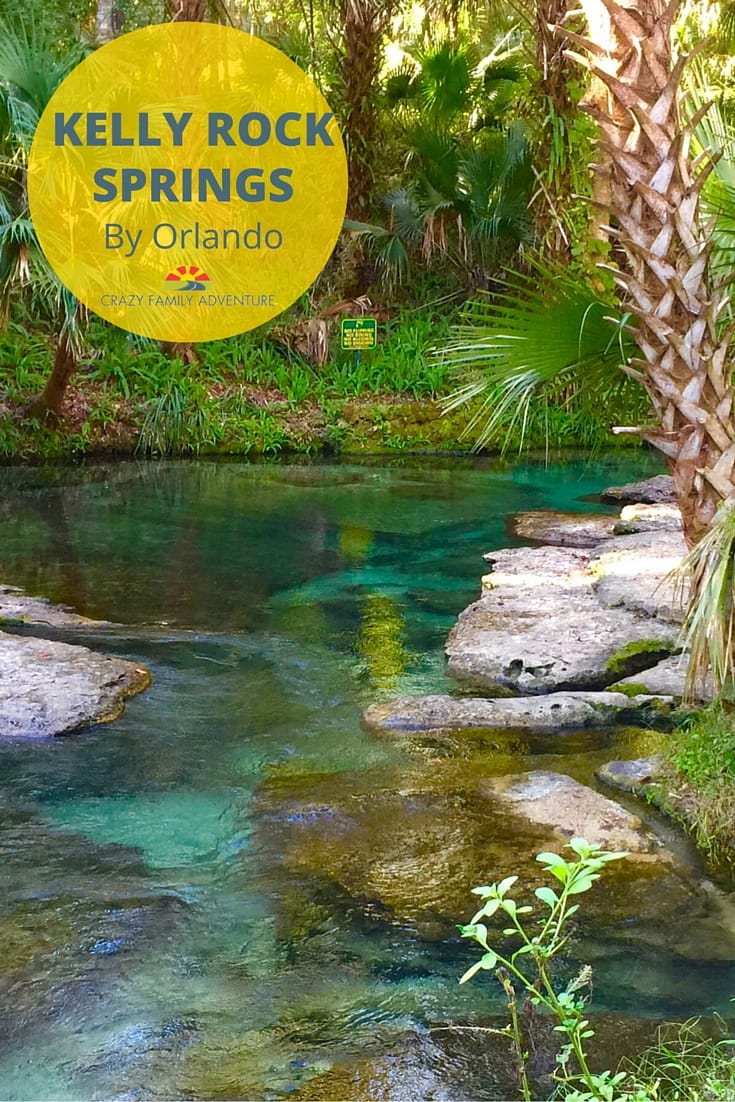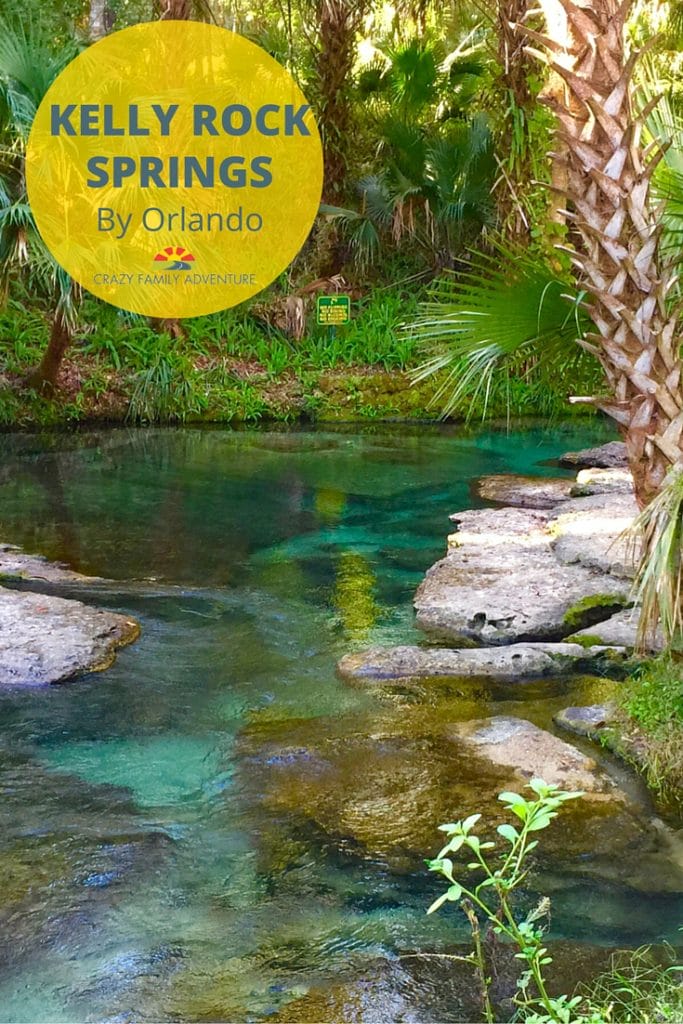 DISCLOSURE: This post may contain affiliate links, meaning I get a commission if you decide to make a purchase through my links, at no cost to you. Please read my disclosure for more info.