We have been excited to visit St. Augustine, FL since we started traveling. Craig was really into Spanish explorers when he was in school and says that Ponce De Leon was his favorite. There are a LOT of things to do in St. Augustine with kids from history to attractions to surfing!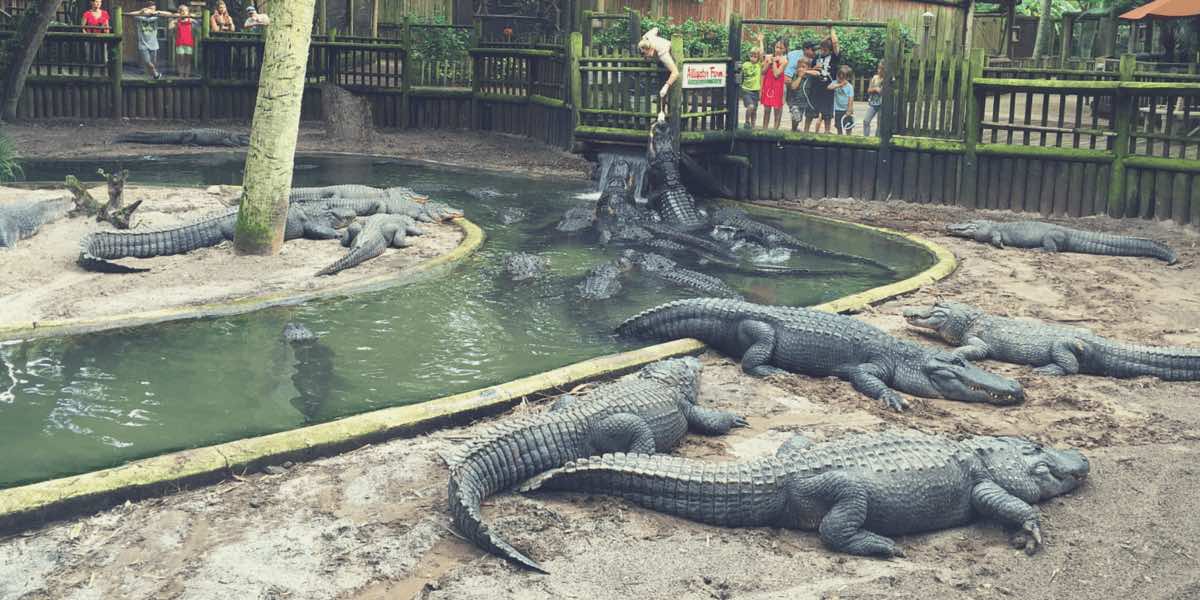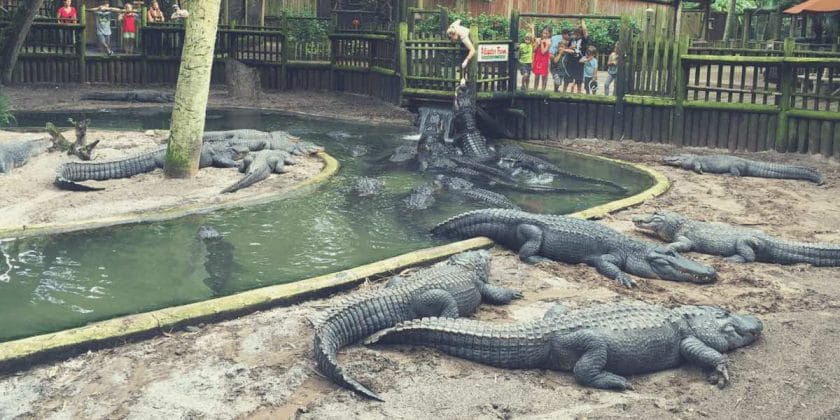 On our Florida Road Trip stop in St Augustine we experienced a lot of what St. Augustine has to offer and these were our top choices for your family trip. Some of them surprised us since we didn't think the kids would enjoy them but we were wrong.
The list is in order from top to bottom of what we recommend you do when visiting. And even if you can't stay in St. Augustine in the near future but will be heading through that way for another trip we HIGHLY recommend stoping and doing 1 and 2 on your way through the area. Or plan a Northern Florida vacation and make a few stops!
Also, be sure to check out our Florida Road Trip as this is a stop on the route and keep going south with our Florida Keys Road Trip post!
Things To Do In St Augustine With Kids
Alligator Farm
We had heard the St. Augustine Alligator Farm Zoological Park was a must visit while in St. Augustine, but we were skeptical. We have been to quite a few zoos and aquariums so we weren't sure if it would be worth it. Well, IT WAS AWESOME!!
Seriously, it was really cool and we would highly recommend visiting it even if you are just driving through the area. They have TONS of different kinds of alligators and right when you walk in you can see the Albino alligator along with a bunch of baby albino alligators. Then you get to the middle section that is filled with humongous alligators.
They also do feedings throughout the day where you can see the alligators eat huge white rats! It's like a train wreck – it's hard to watch, but you can't look away!
Then you walk through a maze of all different kinds of alligators and crocodiles. It is cool to see and compare all the different kinds. Plus, we got to see them walking around and also swimming.
We haven't seen these animals in action too often because it seems like they normally just lay around. I think because there were so many our chance of seeing one move was a lot higher.
Then you head back to Alligator Swamp. On the way you walk by some humongous tortoises.
These things were huge and were really awesome to watch walk around. We fed them a few leaves from a tree in their enclosure…shhhh…I don't think we were supposed to do that, but the tortoises didn't seem to mind 🙂
You walk out on the boardwalk over Alligator Swamp and on both sides the swamp is FILLED with alligators. I mean for real, check out the picture. There were sooooo many.
They have one of those little feeding dispensers where you can put in a quarter to get a handful of pellet food. I wasn't sure how much they would care about these little food pellets but they did!
They were climbing on top of each other to get to them. We all had a great time throwing the food in.
As you continue on you get to see Maximo! As his name suggests, he is the largest alligator that they have clocking in at over 15 feet long!
You can view him from an underwater viewing area and when we went down there he was laying right by the window. It was quite a sight.
They also do presentations where you can learn about different kinds of animals and after one of the shows the kids were able to pet a King Snake and ask questions. There is a snack bar too if you are interested in eating lunch there.
They also serve beer, which in no way swayed my opinion of this absolutely fantastic place. It's really great!
One of the best memories we made was holding an alligator and and a Ball python for a picture! Usually we walk by these things because they are pretty expensive but this one had a sign where if you paid you could hold an animal and take your own picture. It allowed for as many people as you wanted in the picture. I am not sure if they always offer this or if it is more of a pop up thing.
We splurged and did both the alligator and the snake! We were this close to taking one of them home for a pet! Just kidding.
We spent way more time there then we thought we would and could have stayed longer. There was so much to see and the park itself was just cool to walk around in. It was definitely one of our favorite places we visited in St. Augustine.
Marineland Dolphin Adventure
Marineland Dolphin Adventure is about 20 miles south of St. Augustine on A1A (beach front avenue!). It's a little bit of a drive and may take a good half day, but it is so worth it!
Marineland was originally made as a movie studio back in the 1940's. I guess Jacksonville, FL used to be like Hollywood!
Marineland was the first oceanarium built, but wasn't intended for tourists originally. After it was completed the studio decided to open it up to the public for a "small" viewing for locals.
Well, over 20,000 people showed up. They quickly learned people were interested in dolphins!
With general admission you can walk around the grounds and see the sea turtle they have on site, the sting ray, the sharks, and the dolphins. When we were there they had a baby dolphin that was 1 1/2 months old and it was so awesome to watch the baby swimming around with his mom! Awww!
The workers are very active with the dolphins – playing with them, feeding them, and training them. So they are constantly jumping out of the water and are swimming all around the habitats where you can watch from the underwater glass window.
The dolphins will play with balls and other toys just like kids do. It was so fun to watch them!
The facility is right on the ocean, so you get the ocean breeze and hear the waves as you are watching these extraordinary creatures!
We did the behind the scenes tour and it was really interesting to learn all about the history of Marineland and to learn more about the dolphins and other sea creatures they have on display inside (you can only see these ones with the tour).
Our kids were 8, 5, 5, and 3 at the time and the 8 year old and one of the 5 year olds did really well and were interested in everything. It was a little much for the other 5 year old and 3 year old.
But the tour guide (Dylan) was really nice and he was ok with us walking away from the group if we needed to. Plus, he did awesome engaging the kids throughout his presentation!
After the tour we were lucky enough to do a touch and feed experience with one of the dolphins. I have always wanted to do this but with 4 kids, it is expensive. I'm so glad we got to do this!
Seriously, plan ahead with your travel plans and put some money aside so you can do an experience like this with your kids. Or if you are able to, swim with dolphins! We hope to do that some day.
The dolphin we got to meet was named Sunny. Looking into his eyes we were able to feel how gentle and caring he was. Then we were able to give a few training commands and it was awesome!
The last thing was to feed him. All of us (even our 3 year old) was able to take a fish and toss it in Sunny's mouth.
The whole experience was amazing and something we would highly recommend doing when you are in the St. Augustine, FL area. Take the trip down and check this place out, it is awesome. It was also cool to see how much they love the animals at Marineland and how happy and healthy the dolphins were!
The Fountain of Youth Archaeological Park
To be honest this is one of the locations I wasn't too sure about. When it comes to straight history type of locations the kids are still kind of young and I get it. I remember being a kid and just being bored having to visit those types of places.
The Fountain of Youth was not like that! There were a lot of great hands-on activities for the kids.
And, yes we drank from the Fountain of Youth and so did our dogs, so we'll be young forever. Long live Crazy Family Adventure!
Yes, I did say our dogs drank from it. The Fountain of Youth is very pet friendly!
The dogs could go everywhere – gift shop, all attractions, they even had the Fountain of Pooch. Unfortunately, that wasn't fed from a magical spring, it was just from a garden hose. We had a great time including our dogs since they have to sit out on so many of the cool things we do.
We also got to go to a Planetarium show, see a big globe turning, visit a Native American settlement and hang out in one of their houses, dig and sift for treasure, see a cannon being fired, walk to the top of a lookout tour, walk out on a pier over 500 feet into the water, have a pigeon land on our hands, feed peacocks, and just enjoy the grounds!
Plus if you are hungry they have a cafe there too!
Again I wasn't sure about visiting with the kids and if it would be worth it. But now I know it is. And would recommend you add it to your list of spots when in St. Augustine on your family trip!
Colonial Quarter
This was another one that fell into the category of not sure if it would be worth it. It ended up that the kids would have stayed all afternoon!
It shows what the village would have looked like hundreds of years ago. Plus they have demonstrations and tours – we didn't do any of these – and a couple of pubs and restaurants on the property!
The best part for the kids was the hands on experience in one of the houses on the property. They had hats and costumes the kids could wear, a lantern, working shutters, a printing press. All things the kids could play with. They did not want to leave and kept playing the "British Are Coming"!
Again it may be one you would overlook, but if your kids are into history and they enjoy playing make believe then Colonial Quarter is a great choice! Just plan on spending a couple of hours there and letting the kids play.
If you have a National park membership this fort is free. And free is always good!
It is really awesome to walk inside the fort and to explore how soldiers used to live. Plus you can walk up to the top and look out over the ocean.
They also do presentations, Junior Ranger programs, and had a cannon firing as well. We have been to quite a few forts but every time we go they are always so cool!
Splash Pad
There is a splash pad that is right by the St. Augustine beach. You can't go wrong with kids and water! The splash pad and parking are free so it is worth making a trip to spend a day letting the kids run around and burn some energy.
St. Augustine Beach
While at the splash pad it is worth it to visit the beach too. The beach area is huge and there is plenty of room to spread out to build sand castles, have a picnic, and then go for a swim.
The water of the Atlantic is usually wavy which is perfect for a boogie board! You can rent one from Aqua East (a surf shop a few miles from the beach) or you could rent a surf board and give surfing a try! Prices are pretty reasonable on the rentals.
If beaches are your think you will also want to check out Anastasia State Park. St Augustine is also a great romantic getaway in Florida if you want to plan a trip without kids!
Boat tour
If you like to get out on the water then the Scenic Cruise of St. Augustine is a great way to do that. The boat is a decent size with tables and chairs on it.
You can bring your own food and drinks or buy things from their snack stand on board. They even have wine and beer – score! Yes, there is a bathroom on board for ye o' weak bladders!
You can ride up top on the ferry, which I recommend, or you can sit down below, which is indoors. The ride is about an hour and a half, so if you bring snacks for your kids and talk about all of the things you are sailing past (the lighthouse, the bridge, other boats) I think they should be well occupied. This is a narrated tour, but it's still a pretty relaxed atmosphere.
At the end our kids were about to break out in a wrestling match – so again I think the timing is just right for young kids.
Trolley tour
The Old Town Trolley Tour is a great way to get an overview of St. Augustine and everything it has to offer. If you start at stop 1 and stay on through all 23 stops it takes a good couple of hours. If your kids don't like to sit still that long I recommend coordinating some of your site seeing on the tour so everyone can get off and explore for a little while.
Our favorite stop was the San Sebastian Winery where they do a free wine tasting! They do a brief video – which we did not watch but instead waited outside the room for it to finish so we could go to the tasting room. Once in the tasting room the kids sat against the wall and watched movies on our phone while we sampled wine.
Yup, we were those parents. When you travel with your kids 24/7 you don't get much if any of a chance to get out on your own. Plus the kids had chocolate covered pretzels from the wine store so they were good to go :)!
They also have a distillery stop on the tour at St. Augustine Distillery – where you can do free sampling as well. We didn't stop while we were on the trolley and were going to try to make it back for the free sampling, but ran out of time.
The nice thing about the trolley is it is on and off. So you can park your car in one location and then take the trolley and hop on and off throughout the city.
Just keep in mind the last trolley leaves the main station at 4:30pm. So you want to time it right so you don't miss your ride back to your car.
Also once you have your trolley ticket it is good for 3 days. So you can take your time exploring the city and spread it out over 3 days. We also used the trolley as a way for everyone to cool down and rest a bit.
Pirate Museum
The St. Augustine Pirate & Treasure Museum was a neat place to see. They had a scavenger hunt the kids could do for a prize at the end and some pirate artifacts to look at. Plus there were some exhibits including things that the kids could do throughout like learning to tie knots, playing with the flag poles, and pretending to set off a cannon.
If your kids are reading, they had computers set up that acted as magic books that you could read through to learn pirate history. When we first got there the kids were fine and then as we started to walk through the museum they started to get a little freaked out by some of the statues and animated things they had. Such as Black Beard's floating, talking head.
The museum is not large. But it is cool to visit and see all of the history – especially since a lot of the history happened right around St. Augustine. Plus the kids liked pretending they were on a pirate ship!
Ghost Tour
Did you know St. Augustine is our nation's oldest city? As such, this ancient city has a rich history and many legends and stories of ghosts abound. A big draw in St. Augustine attractions is their guided tours of 19th century ghosts!
You may see ghosts or ghosts gravestones, and you will certainly hear fascinating tales and see famous locations said to be haunted. We recommend the Secrets of St. Augustine Ghost Tour, whose master storyteller has great reviews for creating and awesome experience all around.
Potter's Wax Museum
This is a fun activity with kids. You can take selfies with any of the 160 wax figures including Harry Potter, Captain Jack Sparrow, Yoda and more. Stroll through the museum and have fun finding your favorite characters.
Get tickets to the wax museum here.
History and Architecture
If you are interested in more history and architecture of St. Augustine, consider checking out these locations:
Lightner Museum – Formerly the Alcazar hotel, this Victorian beauty is now a museum.
Flagler College – A private college now, you can still get tours of this National Historic Landmark daily.
St. Augustine Lighthouse and Maritime Museum – An active lighthouse and museum with exhibits, tours, hand-on activities and shipwreck artifacts located on Anastasia Island.
Many of these are located at or near stops on the Old Town Trolley! Check out all of the stops here.
There is also the World Golf Hall Of Fame and multiple Art Galleries throughout the city.

Where To Eat
There are a lot of great restaurants in Saint Augustine! Here are the ones we recommend.
Hyppo popsicles
I am assuming since we are from Wisconsin and it is cold more than it is warm is the reason a gourmet, handmade popsicle shop has not shown up there yet. On our travels we have come across quite a few of them and they are really good!
The popsicles are handmade with natural and local ingredients. And they have some really cool flavors like Sweet Potato Pie, Resiling, Vanilla bean, Peanut Butter, and then your typical fruit flavors.
If you ever get a chance I recommend stopping to try one! They do run about $3 to $4 per popsicle so make sure to plan accordingly.
St. George Street
Walking down George Street in downtown St. Augustine is an experience in itself. You really feel like you are walking down the streets in the 1800's. The building are all so close together but the openness of the stores and the little courtyard areas gives it a historical town feeling.
The only problem with it was trying to decide where we were going to spend our money and having to tell the kids, "No we can't go in the 3rd ice cream shop you have seen – we already got popsicles :)!" They have a waffle and milkshake restaurant, a french fry store (yup, just all different kinds of fries!), and tons of other restaurants!
You can also see the United State's oldest wooden school house on St. George Street! Be sure to take a look while you're there.
A1A Ale Works
A1A Ale Works was a great restaurant on the south side of town right across from the Bridge of Lions. We were able to sit outside on the balcony where we could see the water and look down the streets of St. Augustine.
The food was good and reasonably priced and they brew their own beer on site! Craig sampled a couple of fall flavors and said it was very good as well! It was also super family friendly so after a busy day exploring the city it is a great place to come for dinner.
Sunset Grille
Sunset Grille is located across the street from the St. Augustine beach. We were able to eat on the second floor balcony and loved the ocean breeze blowing on us as we ate our dinner.
The seafood was very fresh and one of their specialty appetizers – chowder fries (french fries with clam chowder on them) was very good! Even our kids (who aren't huge seafood fans) loved them!
If you have spent the day on the beach or if you are looking to get out of the city for a different scene Sunset Grille is the perfect place to come with your family to enjoy dinner. They have coloring sheets for the kids and a great selection of kids meals!
St. Augustine is also a great town to visit for Christmas! Keep that in mind when making your holiday travel plans.
Where To Stay
RV
We stayed at St. John's RV Park Nothing much to the RV park. It was relatively close to St. Augustine (about 20 minutes) and we left every day to go to the beach or St. Augustine so it worked out well.
It is a Passport America site. It's also right off Interstate 75, so it made navigating the rig easy.
Take a look at your GPS directions on your way there. Mine did some strange things that wanted me to do a u-turn, which ain't easy with at 39' motorhome and a toad!
You could also stay at the St. Augustine KOA which has tent camping and cabins as well as RV sites.
Compass RV Park and Ocean Grove RV Resort are also campgrounds located in St. Augustine.
If you are interested in the RV lifestyle, but don't have an RV just yet, you can test out an RV rental for your trip to St. Augustine. Learn more about renting an RV here.
Hotel
Here are some great hotels in Saint Augustine:
Sebastian Hotel – offering extra large guest rooms or two room suites, perfect for a family trip.
DoubleTree by Hilton – located in the Historic District, convenient to the Fountain of Youth and Castillo De San Marcos.
Vacation Rentals
Oceanfront Home – enjoy a fenced in yard right on the beach! Spacious patios on the front and back of the house.
Parking
If you don't park by the trolley and use that for transportation there is a large parking lot located right by Fort Castillo De San Marcos where you can park. You pay in 15 minute increments and you can only do up to 4 hours at a time, I believe. The location is great because you can walk to all of the cities attractions that are located by the water from here.
We were excited to visit St. Augustine but we really were not expecting to enjoy it as much as we did! They do a great job including all of the history of St. Augustine along with all of the cool attractions and things they have built up.
If you are looking for an educational and fun vacation with beach time and extra activities in the mix then St. Augustine is the perfect family vacation location for you and your family! There are so many great activities in St. Augustine for kids.
We took quite a few videos during our time in St. Augustine and are in the process of getting them up on our Youtube channel. Here's the playlist we've created for St. Augustine. Check it out and subscribe to our channel!
Disclosure: A big thank you to the St. Augustine, Ponte Vedra & The Beaches Visitors and Convention Bureau for hosting us on our week there. All opinions here are my own. #truth.

If you like this post, you may also like:
The Ultimate Florida Road Trip: 31 Places Not To Miss
25 Epic Things To Do In Destin, Florida [Including Where To Stay]
4 Favorite Florida Beaches – From a near native Floridian
26 Epic Things To Do In Key West [Including Where To Stay]
29 Best Things To Do In Gulf Shores, Alabama
Magic Kingdom In One Day – 11 Tips On How To Do It!
24 Amazing Tips for Universal Volcano Bay [Must Read!]
7 Things To Do In Miami With Kids
12 Best Things To Do In Houston With Kids
Pin this for later:
DISCLOSURE: This post may contain affiliate links, meaning I get a commission if you decide to make a purchase through my links, at no cost to you. Please read my disclosure for more info.