Are you interested in taking an RV road trip and want to know how to rent an RV? I am sure you have heard of Airbnb, but did you know there are companies that use the same concept as Airbnb for RV rentals?! Yes, that is right – Campers for rent by owner!
People who own RV's rent them out when they aren't using them. Sounds like a win/win for the owner and renter! If you are planning an RV trip and need an RV check this out. You will find motorhomes for rent, class C's, vans, trailers, 5th wheels, they have it all.
Tips On Renting An RV
Below you will find information and tips on how to find the perfect RV rental. We will share with you 2 companies that we recommend checking out along with tips on what to look for when renting your RV, average prices for renting, and recommended locations to visit so you have a great RV rental experience.
These tips will be helpful if you are planning to rent an rv for a week or for a weekend!
Traveling by RV is one of the ultimate family vacation experiences. Especially in today's fast-paced, technology obsessed world, there's nothing like hitting the open road and exploring all that nature has to offer. Owning an RV isn't always a feasible option for families, but renting an RV very well may be.
The cost to rent is way cheaper then buying! Here we'll discuss tips on how to rent an RV for a perfect family road trip.
It's no surprise that during a recent survey conducted by the Recreation Vehicle Industry Association (RVIA), 62 percent of respondents who have never even owned an RV said they also thought RVs are the best way to take a family trip.
Besides being a much more cost-effective way to travel (anyone who has ever tried to book plane tickets for a family of four can relate), it's also a way to escape the interruptions of our daily routines, without giving up all the comforts of home. On an RV vacation, there are no long work days or lunch meetings.
Hours of interrupted family time replace carpools, soccer practices, and tutoring sessions. Plus, you can always enjoy the flexibility of going where you want, when you want.
Still, if you've never traveled by RV with your family, the idea may sound just as daunting as it does exciting. But in reality, all it takes is just a little bit of research to plan the perfect trip.
Here are our tips on how to rent an RV
RV Rental Prices
If you are like me you want to know the rental cost per night right away so figured we would jump into that first! Rental prices fluctuate based on factors like your location, the type of RV you want, the size, the length of your trip, etc. But on average you can expect to pay a nightly rate between $149 – $199/night. If you are looking to save money smaller vehicles like camper vans and Class B's are usually a little cheaper than the Class A's and 5th wheels.
You can rent an RV via credit card and each site has details on how the payment system works and what the security deposit is.
To get exact prices search for RV's here.
Plan Your Trip Details
The first step to planning the perfect RV getaway is, well, to start planning! Also know that July and August are big months for renting a recreational vehicle. If you are planning a trip for then don't wait until the last minute – find and book your rig now so you get what you want! Here are a few questions to ask yourself as you get started.
Where are you going?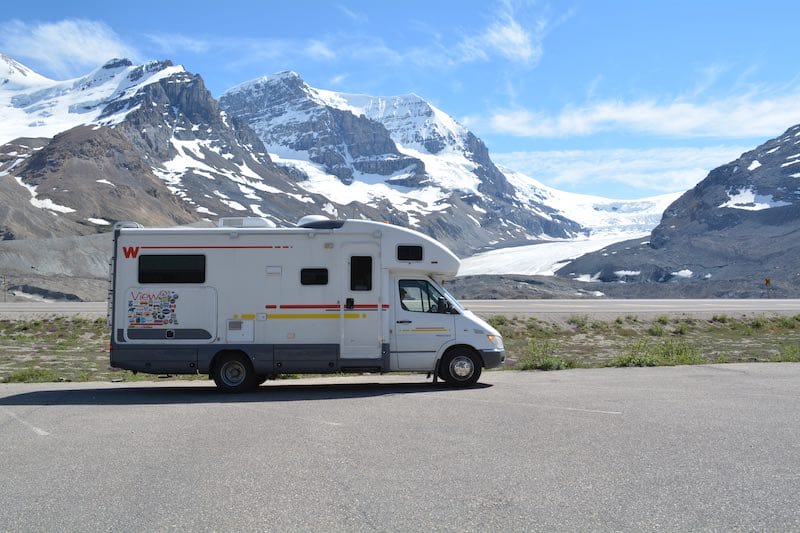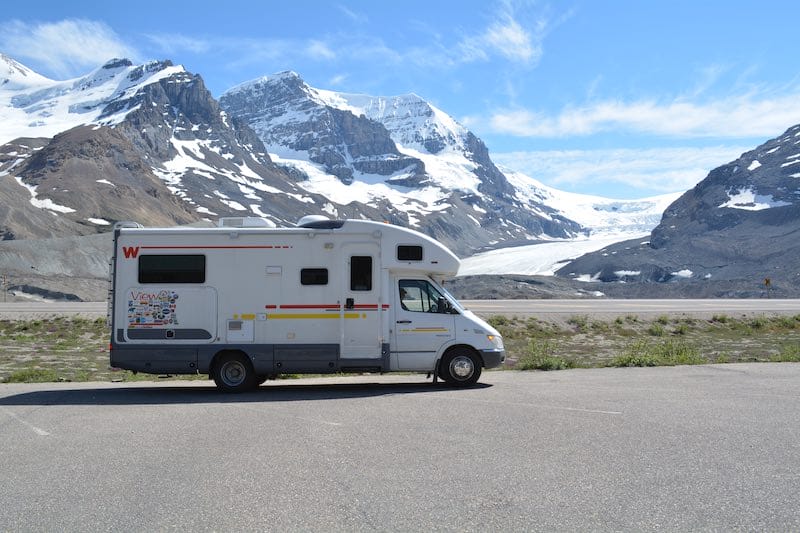 The possibilities are endless when you travel by RV in the United States, but it's also important to narrow down a destination, as well as how you plan on getting there. For example, traveling to Las Vegas or the Rocky Mountains and Route 66 (both popular and very cool RV routes), each will require different logistics. When you decide on a destination, you can determine if it's possible to rent an RV in your local area or if you'll fly there first then pick up the RV. Also, how long do you want your RV rental period to be?
How big is your group?
Now that you know where your family adventure is happening, you'll want to do a head count of who'll be joining you. This will help you determine what type of RV you need. Maybe you're traveling with all your kiddos. Or perhaps you're only traveling with your oldest children. It's even possible you'll be bringing more family members like Grandma and Grandpa along. Once you get your crew together, you'll know how much space you'll need when you rent your RV.
What's your budget?
Planning a budget is one of the most important aspects of preparing for your RV vacation. Remember, your budget shouldn't only include your RV rental. You should also plan out for attractions and activities, food, fuel, as well as overnight parking and camping. It's also a good idea to set aside some cash for emergencies.
What are your RV must-haves?
Each family has different needs when it comes to their RV rental. While some groups might be happy with the bare minimum (beds, toilet, etc.), others might want a little more luxury. Creating your list of must-haves like pots and pans, a grill, etc will make searching for your RV rental much easier.
What type of RV would you like to have?
Are you looking for a luxury RV, a Class A motorhome (the kind you drive in) where you are higher up when driving or would you prefer Class C RVs that have more of a truck build to it and makes for easier RV parking. Or do you want a truck camper, a travel trailer, a pop up campers or a 5th wheel? And there may even be some other options out there. Things to consider while you are deciding:
Getting around
If you rent a rig that you drive (Class A, B or C) will you be able to tow a car, will you be driving the rig around to all the places you visit, or will you rent a car. If you will be driving the rig then pay attention to size. Driving a 36 foot rig around a National Park or state parks and finding parking could be a challenge. While a 21 foot rig would be much easier and usually the gas mileage is better on smaller rigs.
If you want to tow a car be aware that only certain types of vehicles can be towed 4 down behind an RV. Be sure to check your cars owner manual to see if it is possible to tow your vehicle 4 down.
Each rig has its benefits. It is a matter of considering what you are looking for. Plus know that within each type they vary depending on size, layout, kitchen setup, etc.
5th Wheel: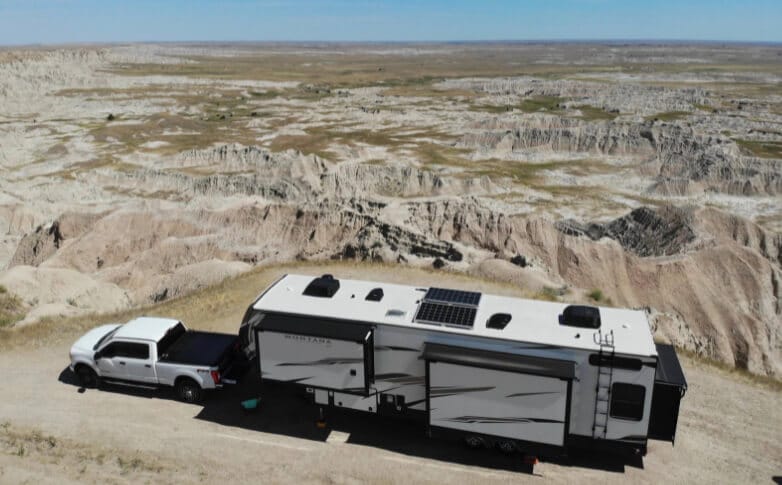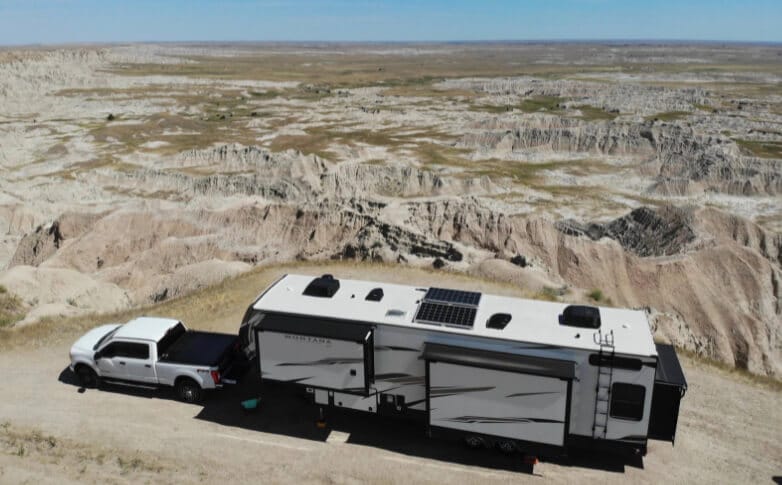 5th Wheels usually give you the most living space, but when you add the size of the 5th wheel to your truck you are going to most likely be very large driving down the road. Then once you park your 5th wheel at the campsite you will be driving a huge truck around. But that apartment on wheels you get to go home to at night can be really nice!
Travel Trailer: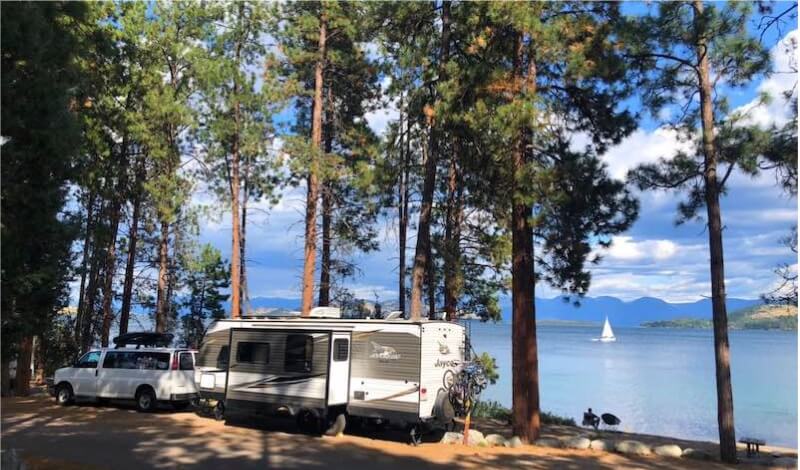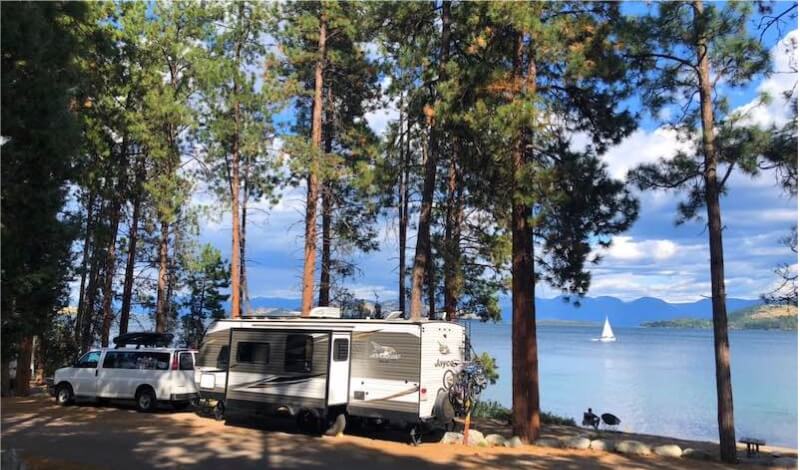 From a rental perspective I don't know if I would recommend a travel trailer – unless you already have a vehicle that is equipped to tow it. If that is the case this may be your easiest option to just rent a travel trailer and then keep your normal vehicle to have to drive around and explore when you get somewhere. Travel Trailers do offer some nice setups inside so if you are looking for an option to leave the rig at a campground and have a car to drive around this may work out best for you.
Class C:
They are usually more compact and feel more "normal" to drive since you are basically driving a pickup truck with something attached to the top of it. They also have the extra space of the sleeping area, entertainment set, or storage above the driving area (you usually lose this with a Class A).
If you are looking for the easiest thing to drive this may be it. You can also find a lot of compact RV options when you are looking at a Class C.
Class A: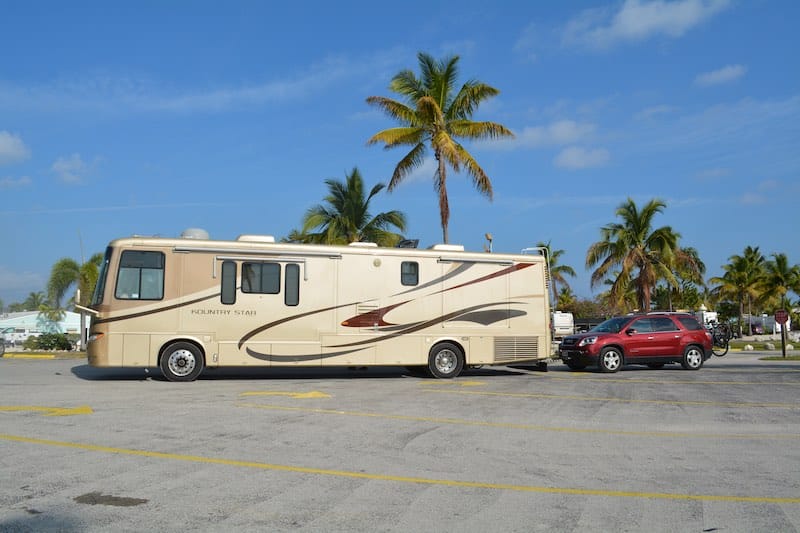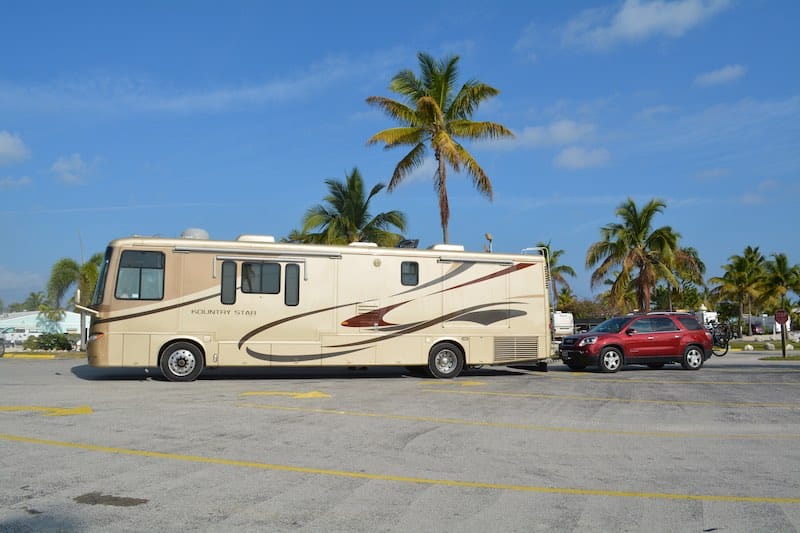 With Class A motorhome rentals the driving experience is great (if you are OK driving something like a Semi) but you can lose out on living space. If you do bring a car then you can park your rig and have a normal size car to drive around.
I did enjoy how high up you were in the Class A and how secure and safe it felt when we were parked at a campground. But remember only certain types of vehicles can be towed 4 down behind an RV.
Also Class A RV's tend to have bigger water tanks and fuel tanks so that can be super helpful and mean less trips to the dump station (if not at full hookups).
Through our experience of having a Class A, Class C and now a travel trailer we have not found the perfect solution and we don't think that exists! So go with what feels right for you and your family, what you are comfortable driving and what you are looking to get out of the trip (will you be spending a lot of time in the rig or will you be out exploring all day and just going back to sleep?).
Find a Reputable RV Rental Company
Finding a high-quality RV rental may seem intimidating, especially if it's your first time. Luckily, websites like Outdoorsy and RVshare give you access to the best RVs across the country. These companies offer a way you can search through a wide range of rental options from the comfort of your computer nothing like having to go into an RV dealers!
The best part is that peer-to-peer networks like these allow you to rent great RV's directly from RV owners, netting you a higher quality rig at a better price than the big guys plus you will have peace of mind working with them.
You also get a great variety of rigs to pick from compared to the more cookie-cutter approach of companies like Cruise America. And you don't look like a tourist 🙂 (we have all seen those Cruise America RV's driving down the road!).
A 2016 R-Pod 180 Forest River, for instance, sleeps three. It features all the basics, including a fully-equipped kitchen with convection oven, microwave, and 2-burner gas stove; a full bathroom with separate shower; queen size bed; and dining area that folds out into a twin bed. There's also plenty of storage space, an indoor/outdoor speaker system, and a 24-inch TV with DVD player.
Bigger groups might enjoy a 2014 Fleetwood Bounder 33C, which sleep six. This camper includes a private bedroom with king size bed; full bathroom; modern kitchen with double door refrigerator; and a sofa and dinette that convert into beds. It also has four TVs with DVD/CD capabilities; two slide-outs for extra living space; a generator; two A/C units; and storage.
Search for more RV options here.
Outdoorsy
Outdoorsy has a network that is jam-packed with the most knowledgeable, quality, RV Owners across the US. They often even tell ya the best spots to go too. And the rentals come with $1M insurance.
RVShare
All rentals available on RVshare come from reputable dealers, and each rental offers 24-hour roadside help so that you and your family will always feel safe out on the road.
How it works:
The rental process is easy. Just browse by location, features, and RV type (do you want a motorhome or travel trailer?) to ensure you'll find exactly what you're looking for. Then, select your travel dates and book your rental using an easy-to-navigate form. You'll be able to communicate directly with the RV owner. To arrange your trip details, as well as address any other questions you may have about the RV rental.
On the day of pick-up, you'll have a chance to familiarize yourself with your new home-away-from-home before heading out on the road. That way you don't have to worry about figuring out how things work once you get to your destination. When your trip has come to an end, simply return the RV to its owner. When you're ready for your next RV adventure (which we're going to bet will be sooner rather than later), just choose your new travel dates and you'll be on your way to finding your next dream camper. No big investments. No long-term commitments.
Questions To Ask When You Rent:
How does the rv rental insurance Policy work?
If you have a Pet are they allowed in the RV?
How does Roadside Assistance work? Is there 24/7 roadside assistance?
Will I get charged for mileage?
What is the cancellation policy?
What are the RV rental company charges?
Outdoorsy RV Rentals – #1 Trusted RV Rentals. Low On Cost, High On Adventure. $1M Insurance Included. Plan Your Trip Now!
Questions To Ask The RV Owner:
Because websites like RVshare.com and Outdoorsy allow you to communicate with the RV owner all throughout the booking process, you'll have an opportunity to learn all about your RV rental, making sure it's the right one for you and your group and understand any additional charges that might come up. Here are just some questions you may want to ask:
Does the RV come with GPS?
Are there rear and side-view cameras to assist in parking and turning your RV?
Does the rental offer things like linens, plates, silverware, and pillows? Here are our must have RV kitchen accessories!
What does it cost, on average, to fill up the RV?
How many miles per gallon should you expect?
Will a group of your size feel cramped in this RV?
Does the rig have an air conditioner? This could be important depending where you are going!
If you are getting a big rig as for tips on finding the right gas stations for filling up while on the road.
In the end, the more you know about your RV rental beforehand, the more comfortable you'll feel in the motorhome that you choose. Plus, there will be less room for unexpected (and perhaps inconvenient) surprises during your trip. After all, everyone knows a smooth vacation is a good vacation.
More Info On RVing
Hopefully this will help you with how to rent an RV for your next family road trip so you can hit the road. And will help you to find quality ways to rent RVs. We also have a post with tips on Planning An RV Trip to help you make the most out of your trip. An RV Setup Checklist post so you know what to do when you get to your campground. A post on our top recommended RV Apps. And a post for your RV Packing list. Feel free to ask any questions in the comments below!
If you are trying to pick out places to visit on your family RV trip check out all of the destinations we have visited in our RV here!
Some of our favorite RVing locations are:
Here is a post on our Top 15 RV Campsites You Will Want To Stay At.
And if you are looking to try something different – make boondocking (camping without hookups) part of your trip! Here is one of our favorite boondocking spots:
Check out how Crazy Family Adventure became a Full Time RV Family!
Thank you to www.rvshare.com for providing great info for this post!
Interested in renting out your RV? Check out this post: Why You Should Rent Out Your RV And How To Do It
Happy RVing!
And if you are interested in renting out your own RV learn all about how to list your RV here.
DISCLOSURE: This post may contain affiliate links, meaning I get a commission if you decide to make a purchase through my links, at no cost to you. Please read my disclosure for more info.