An RV Checklist helps make your road trip less stressful and more enjoyable. We have been traveling, living and working full time in our RV for over 6 years (with 4 kids). Below we provide 2 RV Checklists along with links to our RV Packing List and RV Apps List post to help with your RV trip.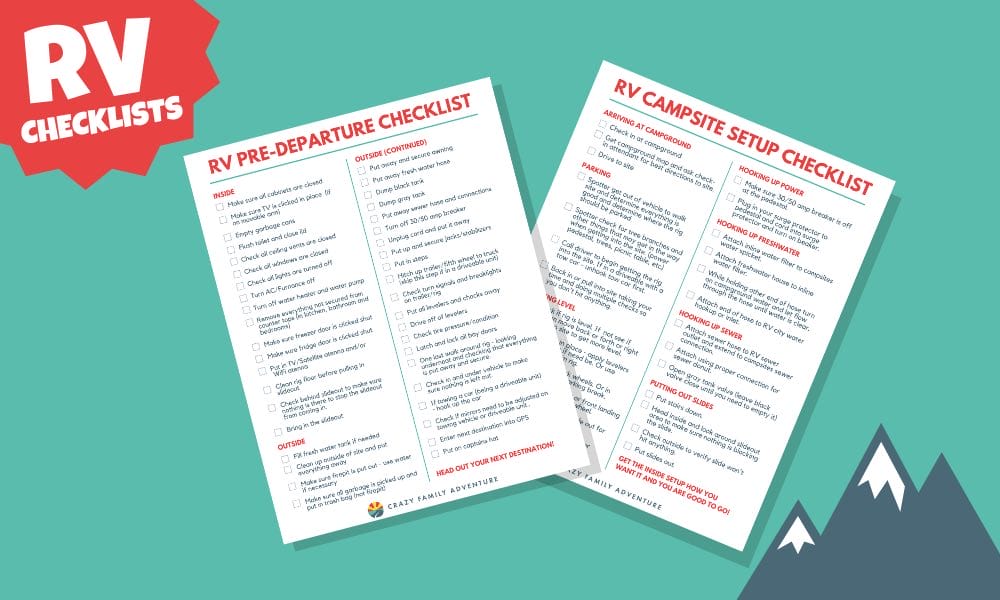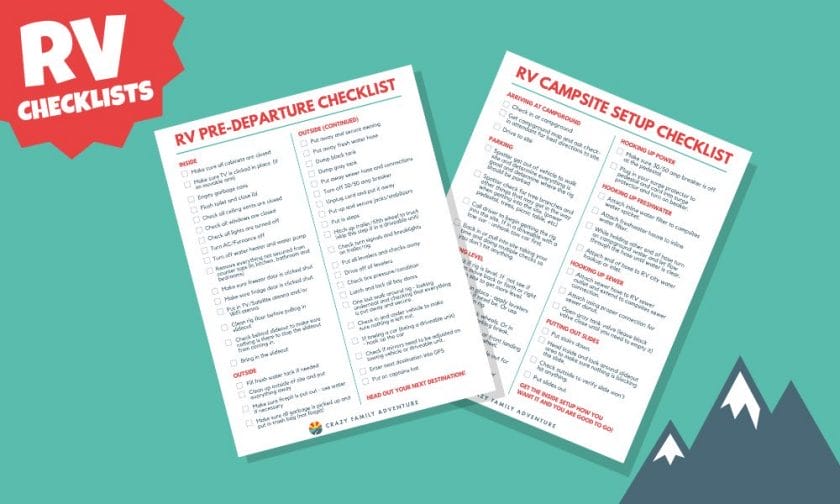 If you don't have an RV and want to rent one be sure to check out our post: 9 RV Rental Tips You Will Want To Read
Check out our other RV trip planning posts here:
40+ Helpful Tips For Planning An RV Trip
The Ultimate RV Packing List To Make Your Trip A Success
RV Checklist – Pre departure checklist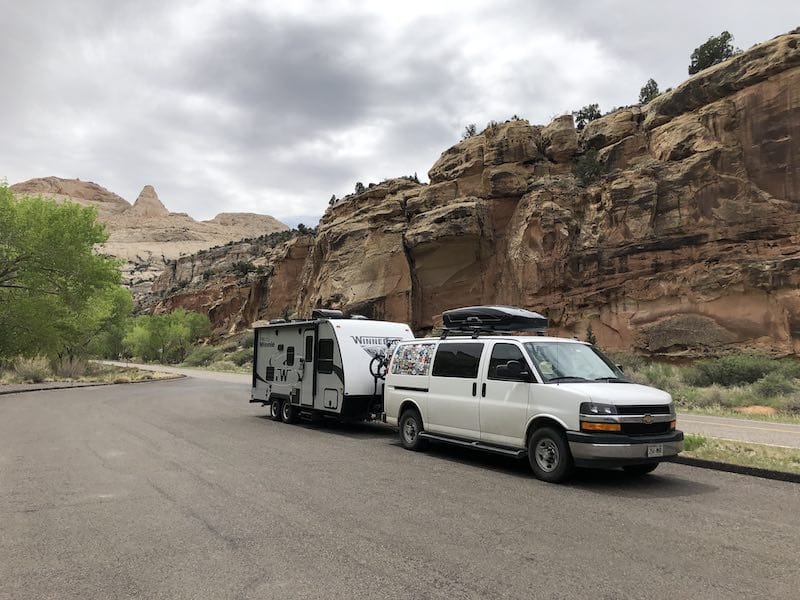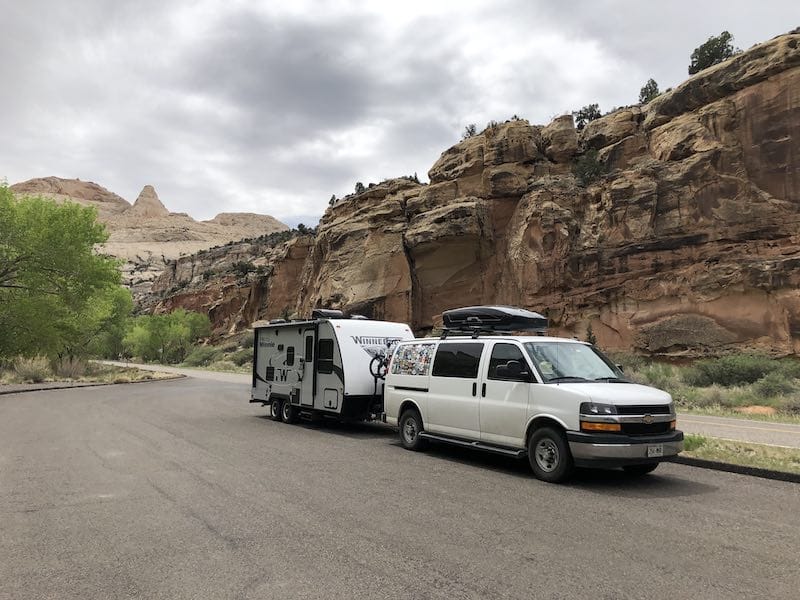 This checklist contains the steps you want to do prior to heading out on your RV camping trip and also once your trip is done and you are ready to leave the campsite. Here we go!
Inside Checklist
Make sure all cabinets are closed.
Make sure TV is clicked in place – if on a movable arm.
Empty garbage cans.
Flush toilet and close lid.
Check all ceiling vents are closed.
Check all lights are turned off.
Turn off water heater and water pump.
Remove everything not secured to counter tops (in kitchen, bathroom and bedrooms).
Make sure freezer door is clicked shut.
Make sure fridge door is clicked shut.
Put in TV/Satellite antenna and/or WiFi antenna.
Clean rig floor before pulling in slide-out(s).
Check behind slide-out to make sure nothing is there to stop the slide-out from coming in.
Bring in the slide-out.
Outside Checklist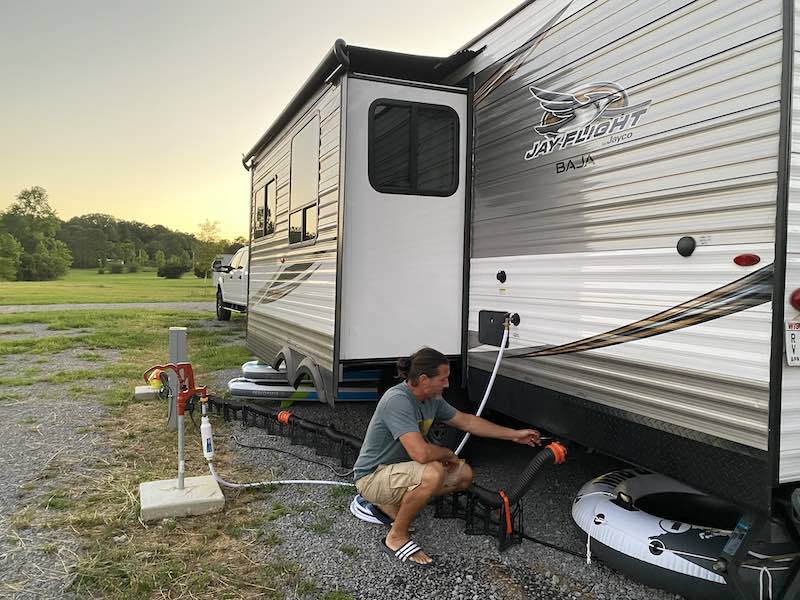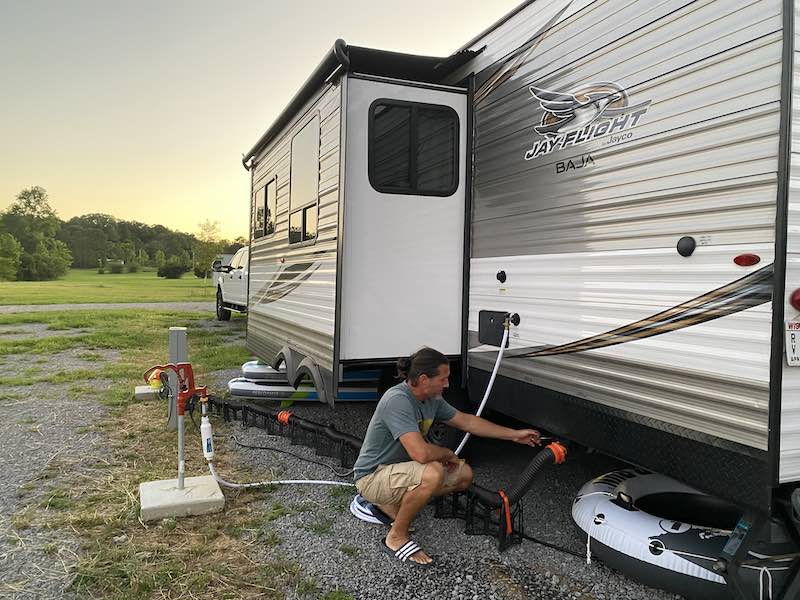 Fill fresh water tank if needed.
Clean up outside of site and put everything away.
Make sure fire-pit is put out – use water if necessary.
Make sure all garbage is picked up and put in trash bags (not firepit).
Put away and secure awning.
Put away fresh water hose.
Dump black tank.
Dump gray tank.
Put away sewer hose and connections.
Turn off 30/50 amp breaker.
Unplug cord and put it away.
Put up and secure jacks/stabilizers.
Put in steps.
Hitch up trailer/fifth wheel to truck (skip this step if in a drivable unit).
Check turn signals and break-lights on trailer/rig.
Check tire pressure/condition.
Drive off of levelers.
Put all levelers and chocks away.
Latch and lock all bay doors.
One last walk around rig – looking underneath and checking that everything is put away and secure.
Check in and under vehicle to make sure nothing is left out.
If towing a car (being a drivable unit) – hook up the car.
Check if mirrors need to be adjusted on towing vehicle or drivable unit.
Enter next destination into GPS.
Put on captains hat :).
Head out to next destination.
RV Checklist – Campground Setup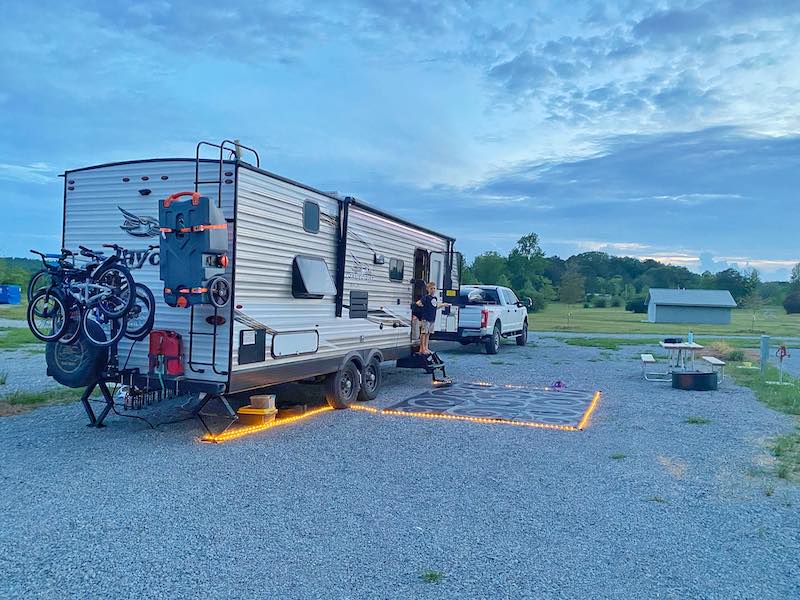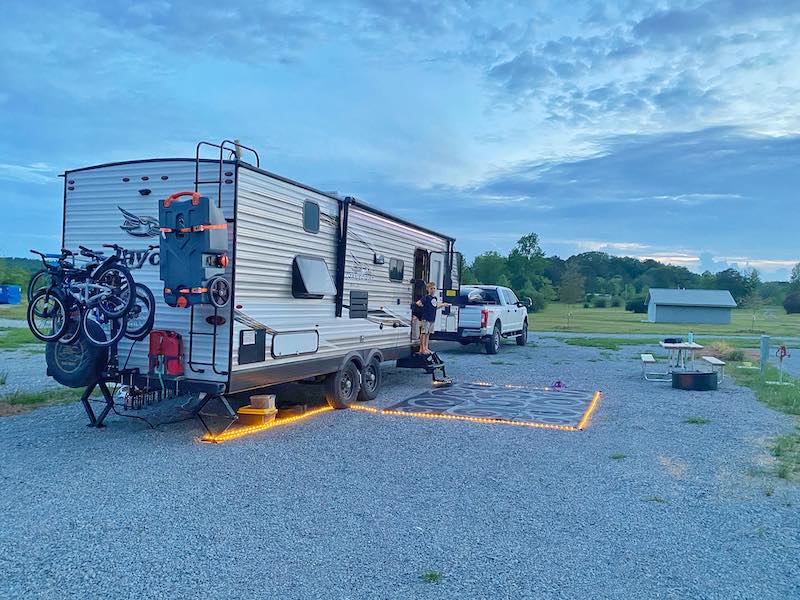 Check in at campground.
Get campground map and ask check-in attendant for best directions to site.
Drive to site.
Spotter get out of vehicle to walk site and determine everything is good and determine where the rig should be parked.
Spotter check for tree branches and other things that may get in the way when getting into the site. (power pedestal, trees, picnic table, etc).
Call driver to begin getting the rig into the site. If in a drivable with a tow car – unhook tow car first.
Back in or pull into site taking your time and doing multiple checks so you don't hit anything.
Check if rig is level. If not see if you can move back or forth or right or left on site to get more level.
Once rig is in place – apply levelers under-wheels if need be. Or use leveling jacks in rig.
Once level – chock wheels. Or in drivable put on parking break.
Put down tongue jack or front landing gear for trailer or fifth wheel.
Unhitch and pull tow vehicle out for trailer or fifth wheel.
Put down stabilizers for trailer or fifth wheel.
Make sure 30/50amp breaker is off at the pedestal.
Plug in your surge protector to pedestal and cord into surge protector and turn on beaker.
Attach inline water filter to campsites water spicket.
Attach freshwater house to inline water filter.
While holding other end of hose turn on campground water and let flow through the hose until water is clear.
Attach end of hose to RV city water hookup or inlet.
Attach sewer hose to RV sewer outlet and extend to campsites sewer connection.
Attach using proper connection for sewer donut.
Open gray tank valve (leave black valve close until you need to empty it).
Put stairs down.
Head inside and look around slide-out area to make sure nothing is blocking the slide.
Check outside to verify slide won't hit anything.
Put slides out.
Get the inside setup how you want it and you are good to go!
RV Packing List
We have a post written specifically for your RV Packing List.
RV Apps
We have a post written specifically on RV Apps. Click here to check that out!
If you want to learn more about RV life. Check out our post: 21 RV Apps That Are Super Helpful For Your RV Trip
More RV Content
RV Specific:
Why Having An RV Surge Protector Is An Absolute Must!
Why A Slide Topper Is An Amazing Accessory For Your RV
The Best Trailer Hitch On The Market – ProPride 3P
RV Living – 68 Things You Will Want To Know [Free eBook]
Travel Ideas:
6 Epic National Park Road Trip Ideas [Maps Included]
The Ultimate Florida Road Trip: 31 Places Not To Miss
Utah Road Trip: All 5 Utah National Parks & More [Map Included]
19 Magical Things To Do In Glacier National Park [Map Included]
RV Podcast
We have a podcast on Full time RV Family Travel! You can check it out here!
Pin this post for later: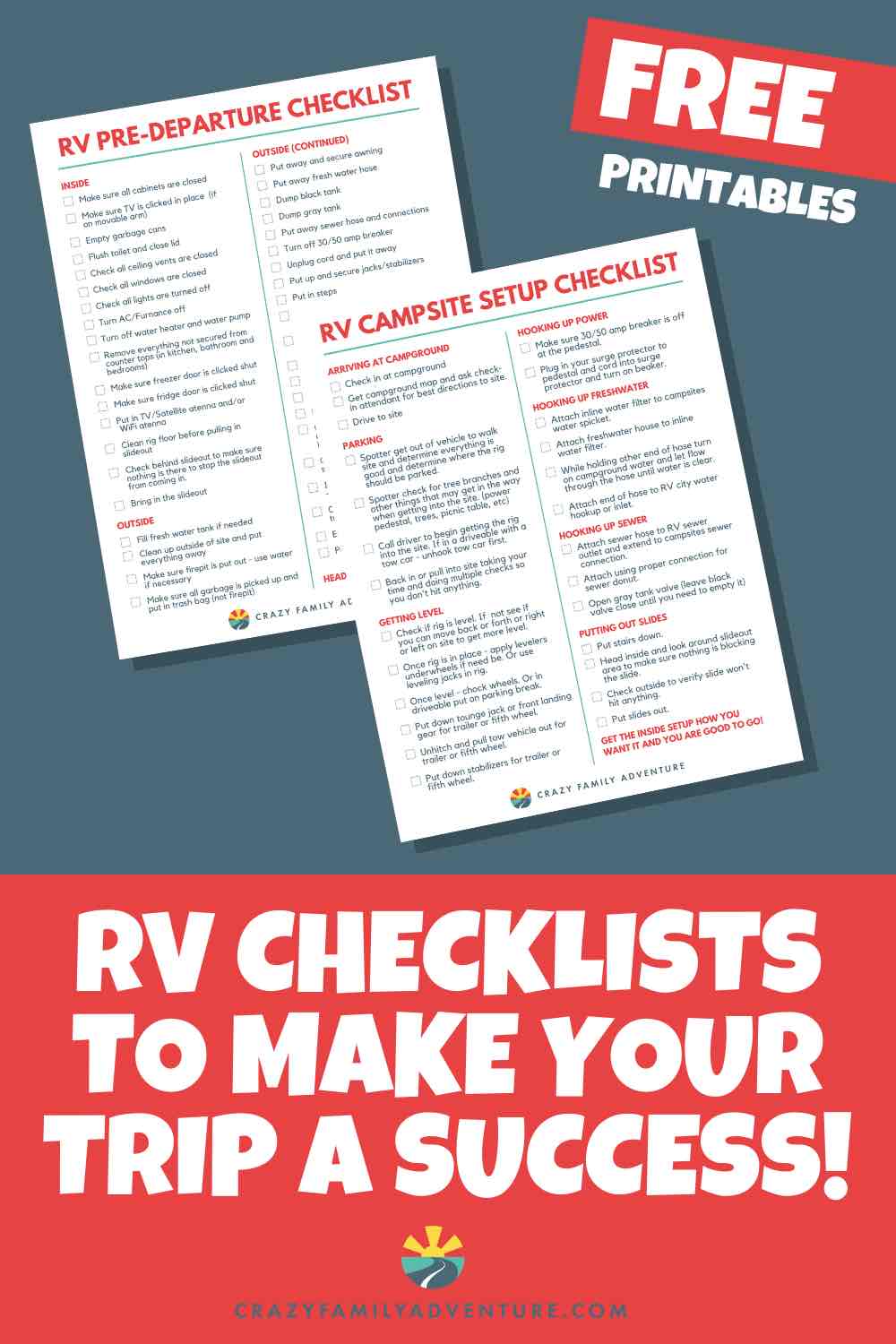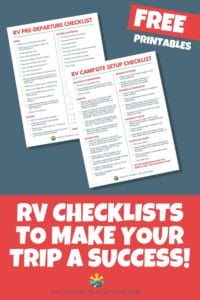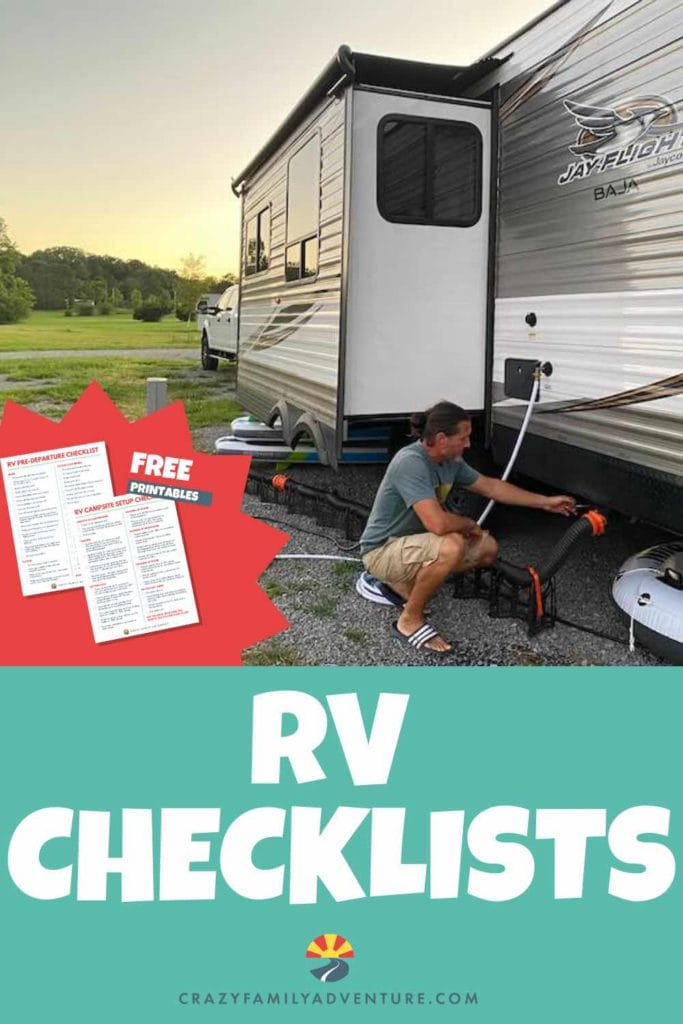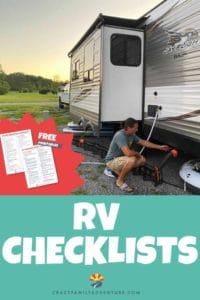 DISCLOSURE: This post may contain affiliate links, meaning I get a commission if you decide to make a purchase through my links, at no cost to you. Please read my disclosure for more info.