Campfire starters are excellent tools to help us enjoy being outside and around people. There are many activities that can help us further our enjoyment of the great outdoors. One of those activities includes sitting around a campfire and enjoying nature and one another. We share the 9 best campfire starter kits to help you enjoy the great outdoors.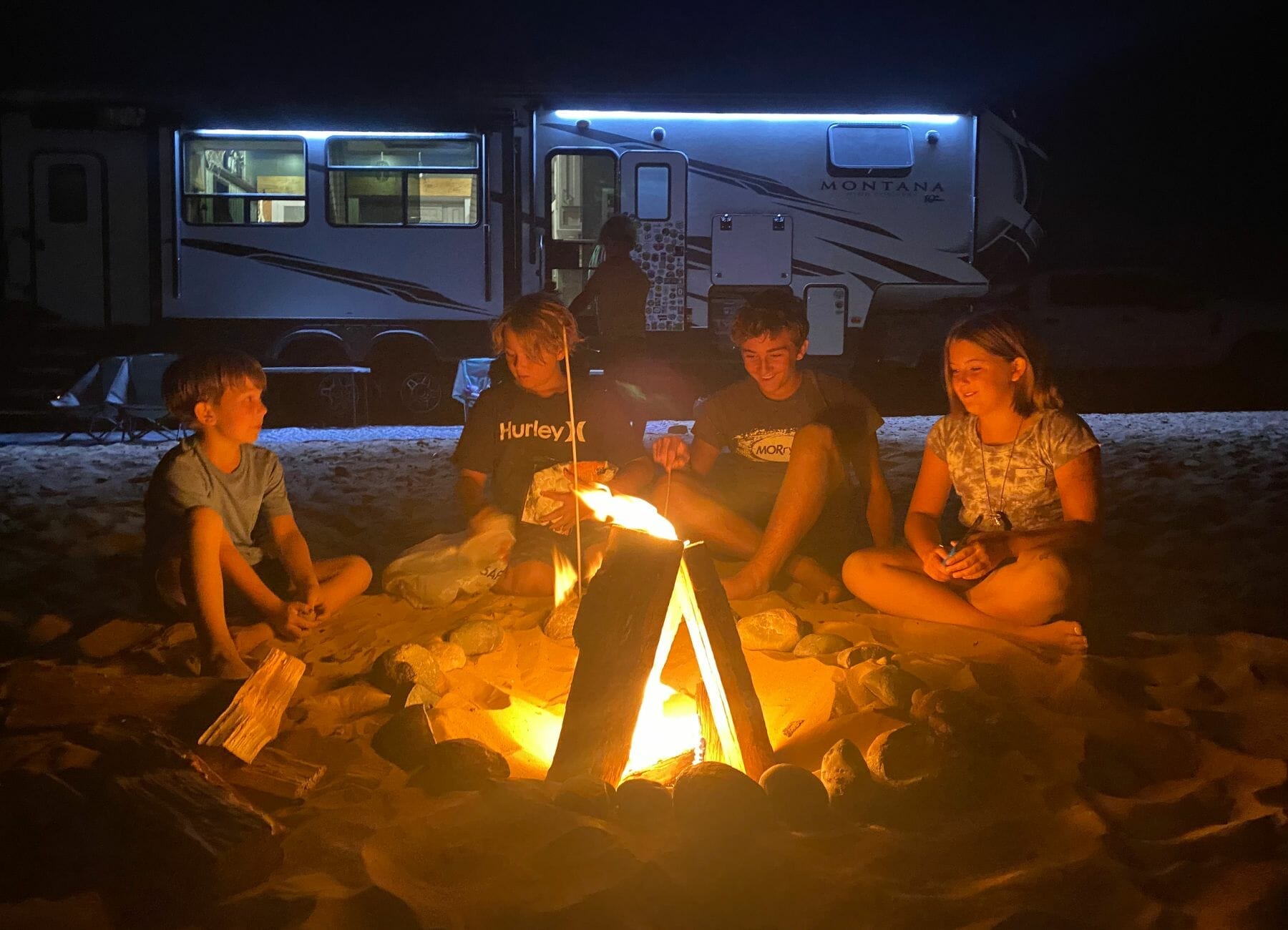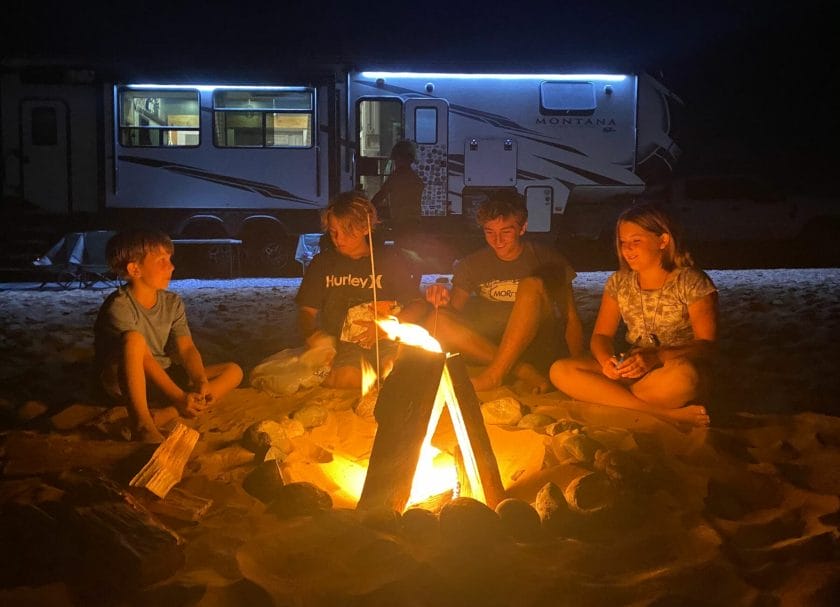 But first, we need a campfire. Creating a campfire can be stressful and cumbersome if you do not know what you are doing. Campfire starter kits can help to make the fire-starting process more efficient and even enjoyable. This article will cover different technologies and methods you can use to create an awesome campfire for your RVing trip or camping adventure.
Here are our top picks. You will find more detail on each of them and our honorable mentions below:
We will cover some of the best starters on the market in detail so that you can add them to your next camping trip or to your survival kit.
Top Things to Consider When Looking for A Campfire Starter
There are several options for campfire starters. Choosing a starter depends on what you want to use the fire for and how you want to use it. Campfire starters can be used in survival kits, used to start a campfire, used on camping trips, build a simple outdoor fire, start a fire in a wood stove, and for many other uses.
When you are shopping for a campfire starter the main factors to consider are:
Setting: Are you backpacking for several days in the backcountry, starting a fire in the backyard for a social gathering, maybe a hunting trip, or a simple campfire outside your RV? Each one of these settings will determine the type of campfire starter you need.
Convenience: This factor mostly focuses on skill level. You definitely need to assess the ease of use of different campfire starters when shopping.
Affordability: There are many budget-friendly, decent-quality starter kits on the market. But like most products, you usually get what you paid for. If you spend a little more money, you can typically get a better product with less hassle or even more support from the business.
Functionality: This is important to measure how a starter works. You should analyze the burn time, durability, and how it performs in inclement weather when choosing the right kit for you.
Sustainability: Some people may want to choose starter kits that have minimal to no environmental impact. This means there are no harmful chemicals or toxins mixed in with the fire starter material. This can also include how the starter smells and affect other people around you. You may also want to see how much waste the starter material may produce.
Gift: Have someone that loves being outdoors or that wants to be outdoors more? Firestarter kits can be excellent gifts. Or, if they are like many outdoor people, they know the type of equipment they want so you can get them a gift card instead to their favorite outdoor gear store, and they can get it themselves!
Regardless of how we start a fire, it is highly recommended, and sometimes even regulated, that you create a fire pit. Not only will a fire pit protect your fire and allow oxygen to enter to fuel the fire, but it also protects the environment around you in case the campfire gets out of hand.
9 Top Recommended Campfire Starters
Top Pick
Sale
Lightning Nuggets Supper Economy Box Fire Starter is the best all-around choice, according to our research. They check many boxes for people looking for a quick way to start a fire. The Lightning Nuggets use natural and recycled materials, mostly pine and food-grade wax, to create their fuel nuggets. They are best used for social campfires and cookouts but can be used in a variety of settings.
Pros: They are easy to use and budget-friendly compared to other starter kits. They are eco-friendly since their fuel source is from natural and sustainable sources. For most fires, it usually only takes 1-2 Lightning Nuggets to begin the fire. There are some reports that the nuggets can even help start a fire on damp wood! The burn time on these is also a good length ranging from 15-20 minutes.
Cons: One of the biggest downsides to Lightning Nuggets is they are not waterproof, and they may be difficult to start if there is any moisture in the area. There have also been reports of the nuggets turning into sawdust after a period of time or during the shipping process. Plus, if you are planning a long hiking trip, carrying around crumbly nuggets in your pack or pockets is not a fun time.
Best Ferro Rod Option
Ferro rods are nifty and lightweight tools you can use to make a fire without having all the fuel. Ferro is short for Ferrocerium which is a metal alloy consisting of ionized iron and/or magnesium. You can then strike something again the Ferrocerium rod to create a spark in order to start a fire. You can use flint and steel to help create a bigger spark. Ferro rods are nice to use because you won't have to worry about weather conditions. Ferrocerium rods are essential for survival kits and perform well with fuel sources like cotton balls, egg cartons, and even toilet paper.
We found that the best ferro rod fire starter is the Bayite Survival Striker Kit. This is a very difficult choice, however, because there are many great ferro rod fire starters. The main reason we chose this rod over others is because of its affordability and ease of use. Other rods might be better but probably require a bit more skill and practice.
Pros:
The Bayite ferro rod selection is great for beginners just learning how to start a magnesium fire and a steel striker. Any ferro rod is awesome for long hiking or hunting trips where you do not want to carry a heavy fire starter kit. The Bayite Striker Kit also is waterproof, meaning you can strike a fire as long as you have dry kindling or waterproof tinder.
Cons:
Even though it may be easy to use compared to other ferro rods, you still will need to practice and put some effort into the ferro rod to get a solid strike and start a fire. These are not really ideal for casual fires since they take some time to start. They are best used for backcountry trips or for survival practice. There have been reports of hard and constant striking that may result in the handle detaching from the striker, but this is not a common occurrence.
Best Emergency Campfire Starter Kit
UST StrikeForce Fire Starter
Ferro rods and flint and steel fire starters usually rank high for emergency campfire starter kits since you can use them at any moment and they are light. You also want to be able to start a fire without having to worry about if the fire starter kit will work or not.
For this category, we chose UST Strikeforce Flint and Steel with Tender. The UST emergency kits are compact, protected by a waterproof container, include a waterproof tender, and have a reliable striker.
Pros: The best thing about this kit is its mobility for sure. You can carry this with any kit and not add too much weight to your existing gear load. The striker also produces a reliable spark. The entire kit is waterproof, and the tender is guaranteed to stay lit in most weather conditions.
Cons: The cost is a little on the high side at $22 or more, depending on the kit you choose and other attachments. The handle is also a little small, so you do not get much of a grip on the striker components. The Strikeforce steel striker requires a little more skill than most beginner-level flint and steel strikers.
Best For Camping
Superior Trading Company Fire Starter Kit
Sale
The Superior Trading Companies Fire Starter Kit is our choice for the best campfire starter kit. The Superior Trading Co. Fire Start Kit is made from wood sawdust and wax pods. The kit is very easy to use and to bring with you on a casual camping trip or use for a BBQ in the backyard.
Pros: This Firestarter kit outcompetes other starter kits in sustainability. There is hardly any waste produced from using this kit. Superior Trading Company Fire Starter also is safe to cook with and can be used in ovens, grills, and of course, as campfires. The sawdust-and-wax pod mixtures are also weatherproof. The burn time is around 10-15 minutes and can be used with a variety of fuel sources. As an added bonus, they smell really good!
Cons: The Superior Trading Co's Fire Starter Kit's price is a little higher than competitors when comparing similar kits and quantities. They also are not suitable for any type of long hike or big adventure. There have been some reports of people having to use multiple pods to start a fire, thus lowering its value.
5 Honorable Mentions
EcoStix Fatwood Kit
The EcoStix Fatwood Kit makes it to our top list because of the simplicity, sustainability, and budget-friendly characteristics that come with this product. The EcoStix Fatwood is kindling logs cut from fallen pine trees. You can also purchase this kit in a variety of quantities, depending on your need. This kit is best used for casual campfires, established campfires like RV parks, or any backyard fire and works especially well in woodstoves.
Pros: The EcoStix Fatwood is very budget-friendly and comes in several quantities from 2 pounds to 50 pounds. They also offer a 30-day money-back guarantee with no questions asked. The EcoStix kits are extremely environmentally friendly, and you can even burn the cardboard box it came in!
Cons: Depending on the kit, Ecostix can be cumbersome since the fatwood kindling comes in a box. This would be difficult to take on long trips making this kit not very good for any campsite that requires a good hike or long walk. They are not waterproof either but may do okay in slightly damp conditions. You are essentially buying kindling, depending on where you live, you can just easily find this around a nearby wooded area.
Morakniv Companion Spark
Sale
The Morakniv Companion Spark Fixed-blade Fire Starter makes our list because this knife-striker kit offers mobility and utility. You can pack this on any camping trip or include this kit with your existing survival gear. The knife can also be used for other things other than striking. This offers you a level of versatility that not many other kits can do
Pros: The Morakniv Fixed-Blade Fire Starter gains a lot of value as a versatile kit offering you fire-making capabilities as well as other activities you could use the fixed-blade for. The blade is paired with a magnesium fire starter to create a big spark. All equipment comes with a solid handle so that you do not lose your grip.
Cons: The Morakniv is on the more expensive side when comparing it to other strike starters. The kit starts at $30 but can be more depending on some added features. Like any strike starter kits, this kit requires a bit of effort, skill, and patience, which can turn some people away that do not want to deal with this. There also have been some reports of the knife being super sharp, and if you are not careful, you can easily cause harm to yourself or others.
DuraFlame Firestarter Indoor/Outdoor Kit
Duraflame's Firestart Indoor/Outdoor kit is a great choice for most casual campfire environments. This kit is very affordable, easy to use, and the kindling is compact. The Duraflame Firestart is best used for wood stoves, campfire pits, fireplaces, and other casual campfires. This also makes our honorable mention list because the kit has one of the longest burn times.
Pros: duraflame's Firestart is compatible with any wood-burning campfire. The Firestarter is not waterproof, but it is water-resistant. The company states that the fire on their kindling stays lit from 20- 30 minutes which can help start a fire in difficult conditions. The wrapped fire starters are also individually wrapped.
Cons: The kit comes with chemicals on the logs to help stay lit, so they are not environmentally friendly. You also need to be very careful if you want to cook on a fire using the Firestarter kit because of the chemicals. The kit's advertised pictures make it seem that the logs are bigger than they actually are. The pieces are much smaller in reality, and you need to be aware of this when considering the size of the fire you need.
TRULite Premium Fire Starters
TruLite Premium Fire Starters make the top 9 list because of the kit's affordability and versatility.
TruLite's starters are one of the most versatile starters on the market and can be used for a variety of campfires, stoves, ovens, and grills. The starters are made from recycled wood and paper chips which are combined with a food-grade wax cover. These are also great for almost any weather condition and can be used for cooking.
Pros: TruLite Fire Starters can be used for any type of fire and in any setting. You can also cook with them because they are odorless, smokeless, and will not affect the taste of your meal. TruLite's kit is not waterproof, but they still work in damp and moist weather conditions. They can be used indoors as well and advertise that no chimney is needed!
Cons: TruLite's starters are compact but also very thin. They burn really fast, and this is not ideal for burn time as they do not burn that long to help spread the fire to other logs. You have to use multiple fire starters to get a good fire going, especially if you are trying to build a big fire.
EXOTAC nanoSTRIKER XL Firestarter
The EXOTAC nanoSTRIKER XL Self-Contained Ferrocerium Firestarter wraps up our top 9 list because it's a simple yet advanced design as a ferro rod fire starter. The nanoSTRIKER can be carried with you on any trip because of its compact size and lightweight. This ferro rod kit is a perfect piece of equipment to include in your hunting kits, backpacking gear, with your camping equipment, or as a critical part of your survival kit.
Pros: Great quality product that creates a decent spark. Being a ferro rod, the starter is waterproof and can work in any weather condition. The fireROD component is easily replaceable and the entire kit can be collapsed into a keychain mode. The lanyard that the kit is attached to is a nice way to organize the kit to your pack but what makes the EXOtac nanoStRIKER so unique is that you could use the lanyard as fuel as well! That's right; it can serve as a waterproof fire fuel source if you are in an emergency.
Cons: You will spend at least $34 on this product, more if you get other add-ons, which are a bit expensive compared to other ferro rods and emergency fire starter kits. This product is also very difficult to use, more some than other ferro rod kits. This requires a lot of practice and skill to get a good enough spark to light a fire. Since it is "keychain" compatible, the grip is really small and can prove difficult to handle.
Wrap Up
Humans have created hundreds of other ways to start a fire since the dawn of civilization to the modern day. Today, there are many ways for building a fire in any environment or setting. There are tools and methods used to build a fire specific to weather conditions, using waterproof tender, waterproof starters, small survival fire starters, ferro rods, steel strikers, and many more.
There are a lot of DIY fire starter kits or natural fire starter options that involve dryer lint, toilet paper tubes, rubbing alcohol, melt wax, and even corks soaked in alcohol (we don't recommend trying these!). All of these may catch fire but really getting one of these awesome campfire starter kits is the way to go!
Discover More Must Have RV Accessories
9 Outstanding RV Stabilizers For An Unshakeable Camping Experience
25 5th Wheel Accessories You Need
Domestic Camping Equipment You Will Want to Own
Pin to Your Camping Board to Save for Later: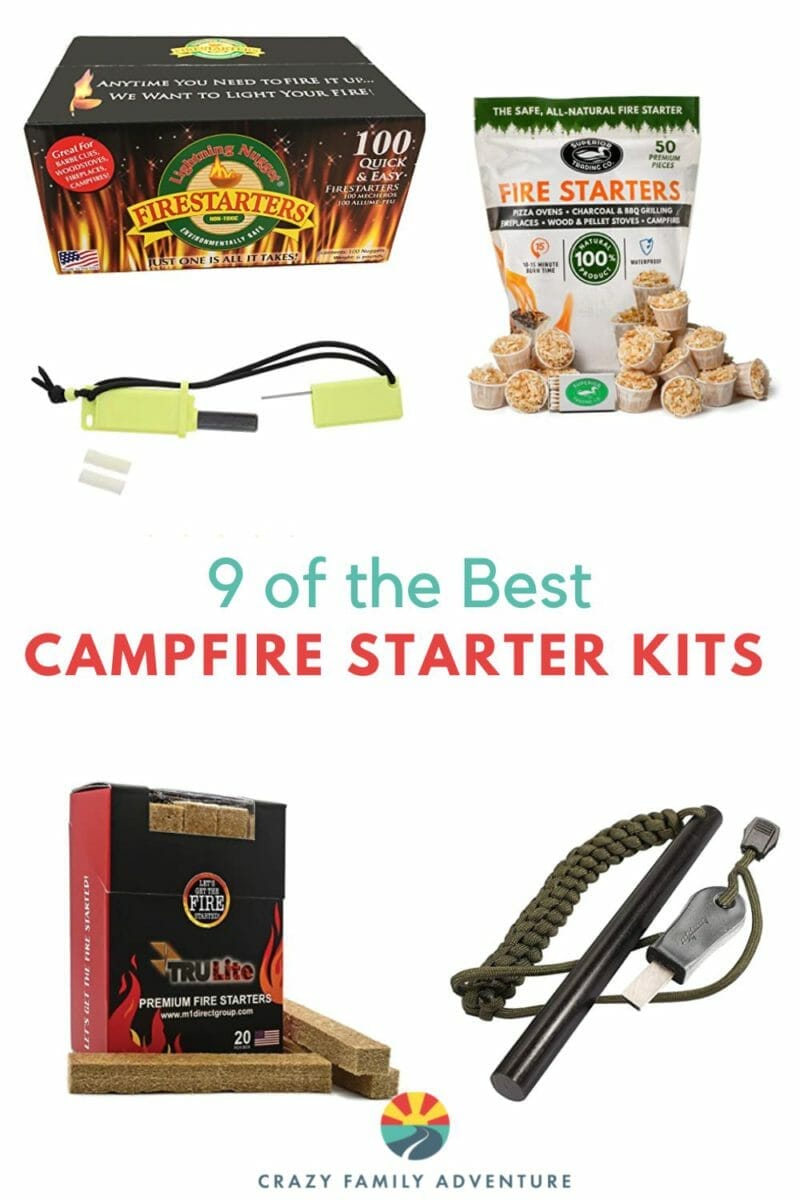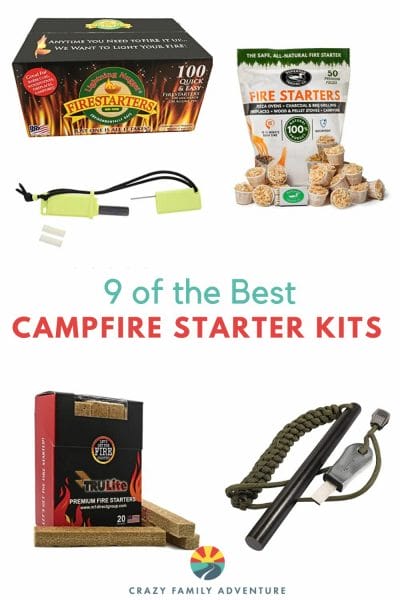 DISCLOSURE: This post may contain affiliate links, meaning I get a commission if you decide to make a purchase through my links, at no cost to you. Please read my disclosure for more info.