We have traveled full time in an RV for over 8 years and we 100% agree that one of the worst things about RV travel is emptying your tanks. Honestly, there is no way to make this a glamorous job, but having the best RV sewer hose will help make things a little less disgusting.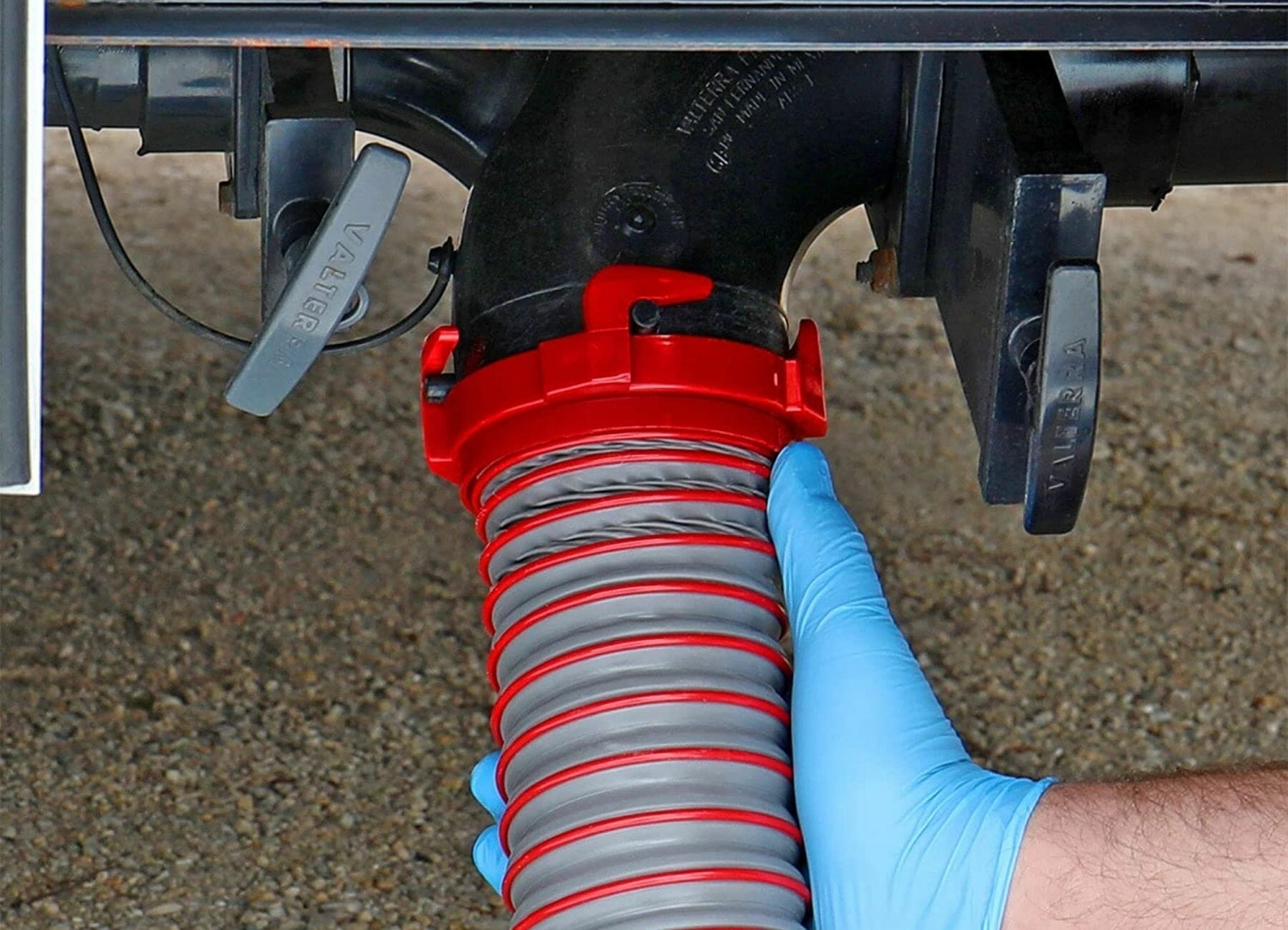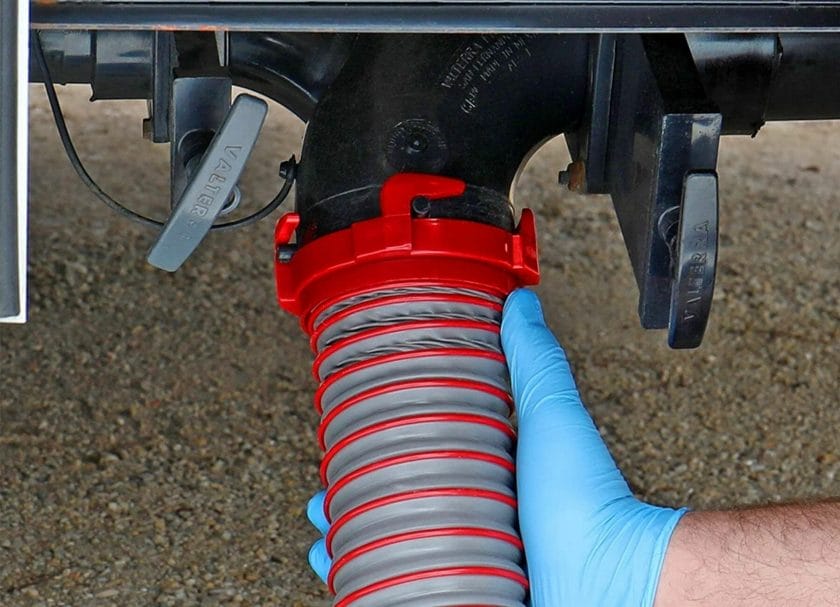 The problem? Knowing which sewer hose to buy. After all, there are several on the market, and sewer hoses aren't something many people talk about. This can leave many people in the dark, leading them to purchase whatever they can find first—something they often regret doing almost immediately. After all, that isn't freshwater they're working with when they go to dump. 
We have tried a lot of different sewer hoses over the years and are excited to share our top picks with you to help make an unglamorous job go as smooth as possible!
---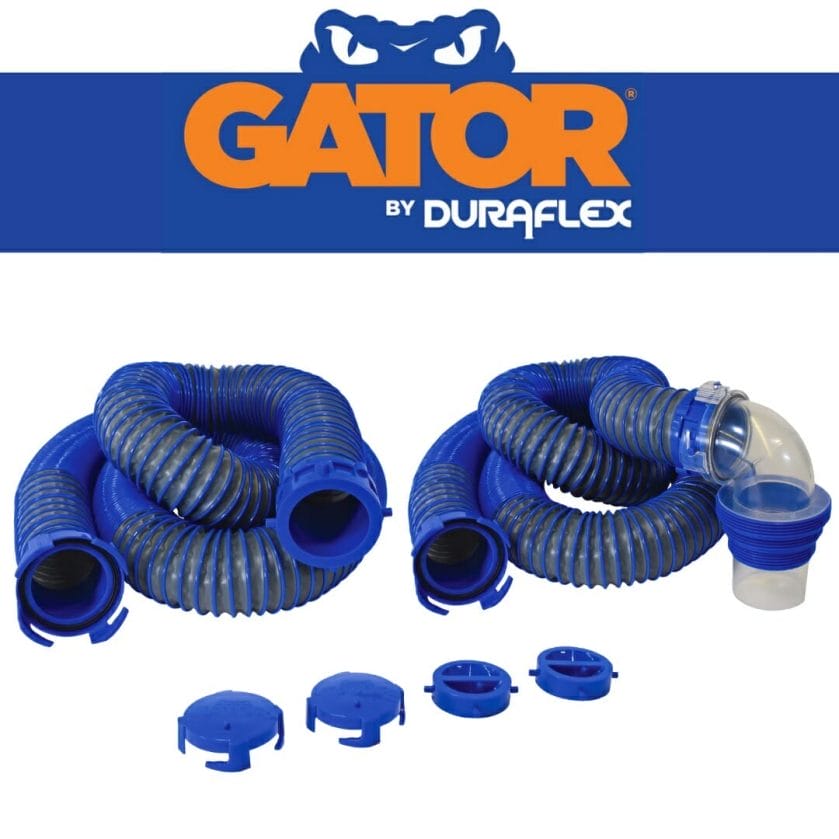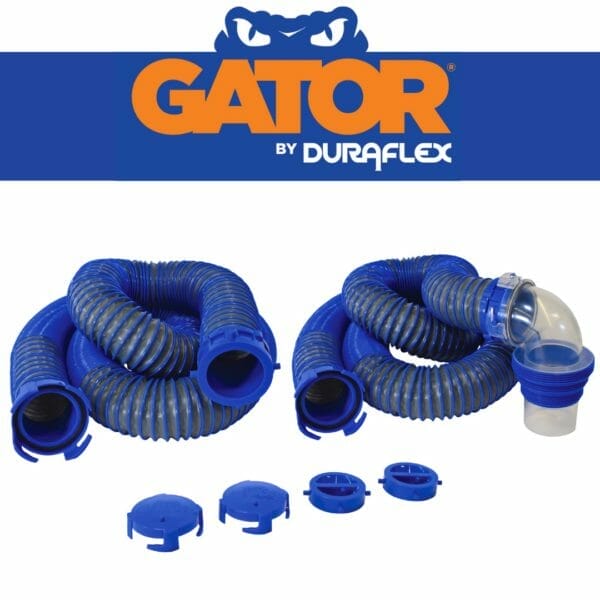 Featured Product: Gater Sewer Hose Kit
Gator sewer hose kits are the newest kits to hit the RV market, loaded with all the conveniences you need to make sanitation less of a chore. The only kit available in a 30ft length, Gator sewer hose kits offer two durable hose options with 360 degree swivel bayonet fittings, leak proof gaskets, 2-4 drip caps and a clear 4-in-4 connector elbow. Whether you are away for the season, or just a weekend, don't leave your sanitation experience to chance. Get Gator, and get it done right. Click here to learn more.
---
Luckily you've landed here because we've done a lot of the research for you (we traveled full time in our RV for over 8 years!). Pick from the list below, and you're sure to avoid that feeling of regret.
High Level Summary of our picks:
What to Look For in an RV Sewer Hose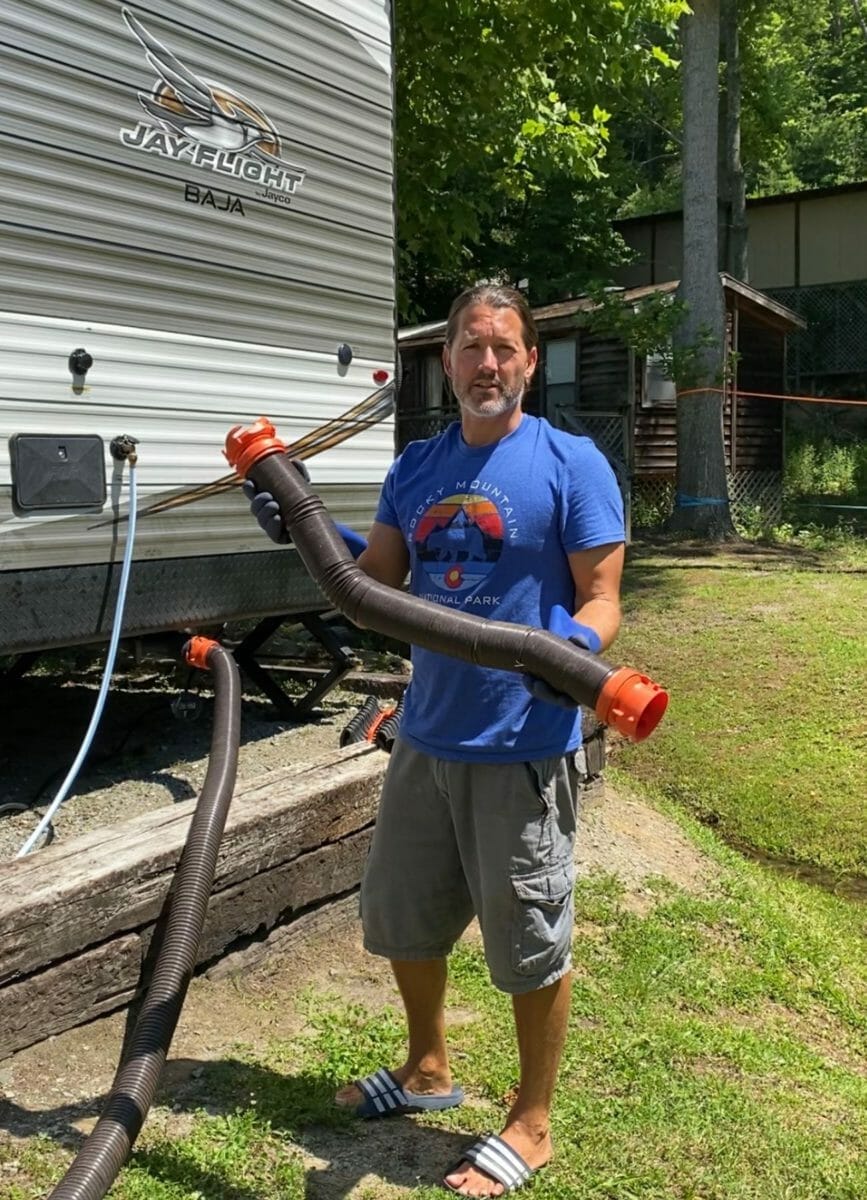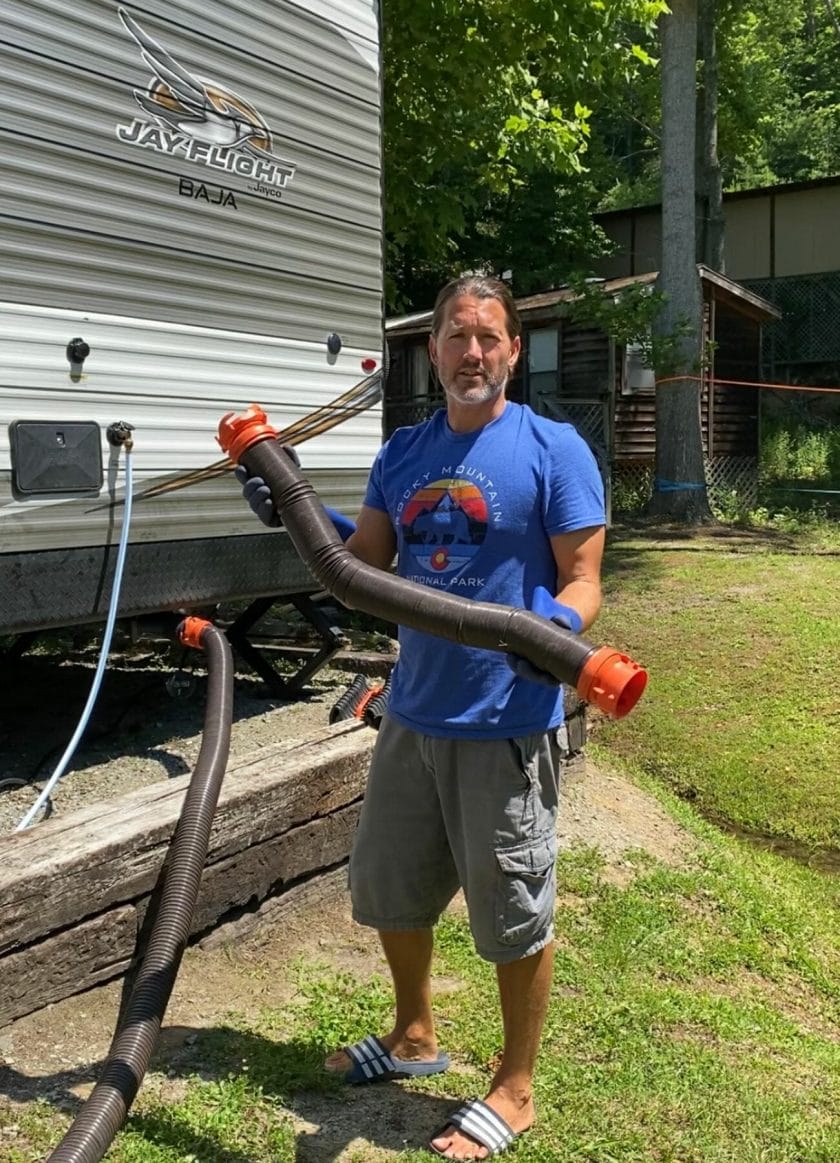 Not sure what you're looking for when shopping for the best RV sewer hose? You're not alone. Below we've outlined the most important things to keep in mind as you look around for the perfect option for you and your camping style.
Length
Length is important for two reasons. First, you want to make sure the sewer hose will reach from the sewer outlet to the dump pipe. In most campsites, 15 feet to 20 feet should be sufficient. You might want to keep a hose extension on hand for those odd sites that place the sewer hookup far away from the pad.
The other reason sewer hose length is important to consider? Sewer hose storage. You have to store the hose somewhere, and one that is too long might be difficult to fit within the RV's square bumper where most people store their sewer hoses. Some hoses collapse down to fit in smaller spaces despite their length. There is also the option of storing it in a tote instead of the bumper.
Thickness and Durability
Obviously, you don't want your sewer hose to develop leaks. Therefore, the thickness and durability of the hose are important. Generally speaking, you can expect less expensive RV sewer hoses to be thinner and more susceptible to leaks. Meanwhile, more expensive hoses on the market that tout the ability to survive being run over by a car.
Flexibility
You need your RV sewer hose to be able to bend to reach the sewer connection and have a secure connection, no matter where it might be placed. For this reason, a too-rigid sewer hose is no good. Look for a thick and durable hose while still remaining flexible enough to bend back on itself without collapsing. This will allow you to hook up your RV to the sewer connection, even if it is located under the rig or in another bizarre spot.
Fitting Type
You will definitely want to look closely at the fitting type on any sewer hose you purchase:
Most modern sewer hoses use bayonet fittings. These work quite well in preventing most leaks but can be hard to disconnect.
A few hoses on the market go a step further and use a CAM fitting. This type of fitting makes leaks almost impossible and is the thing to get if you are afraid of black or gray water.
The third type of sewer hose fitting is the slip fitting. This type simply slips over the sewer outlet and uses a clamp to lock on. It is notorious for leaking and slipping off, and very few hoses use this type of fitting anymore.
Value
The overall cost and what you are getting for your money are two other things you'll want to consider. While you don't want to skimp on an RV sewer hose, purchasing the most expensive thing isn't necessary. Choose something sturdy that is the right size and offers accessories you'll use at a reasonable price.
Best RV Sewer Hoses
Below we list our picks for the best RV sewer hoses. These are based on years of use, how they are rated, innovative options and best value option.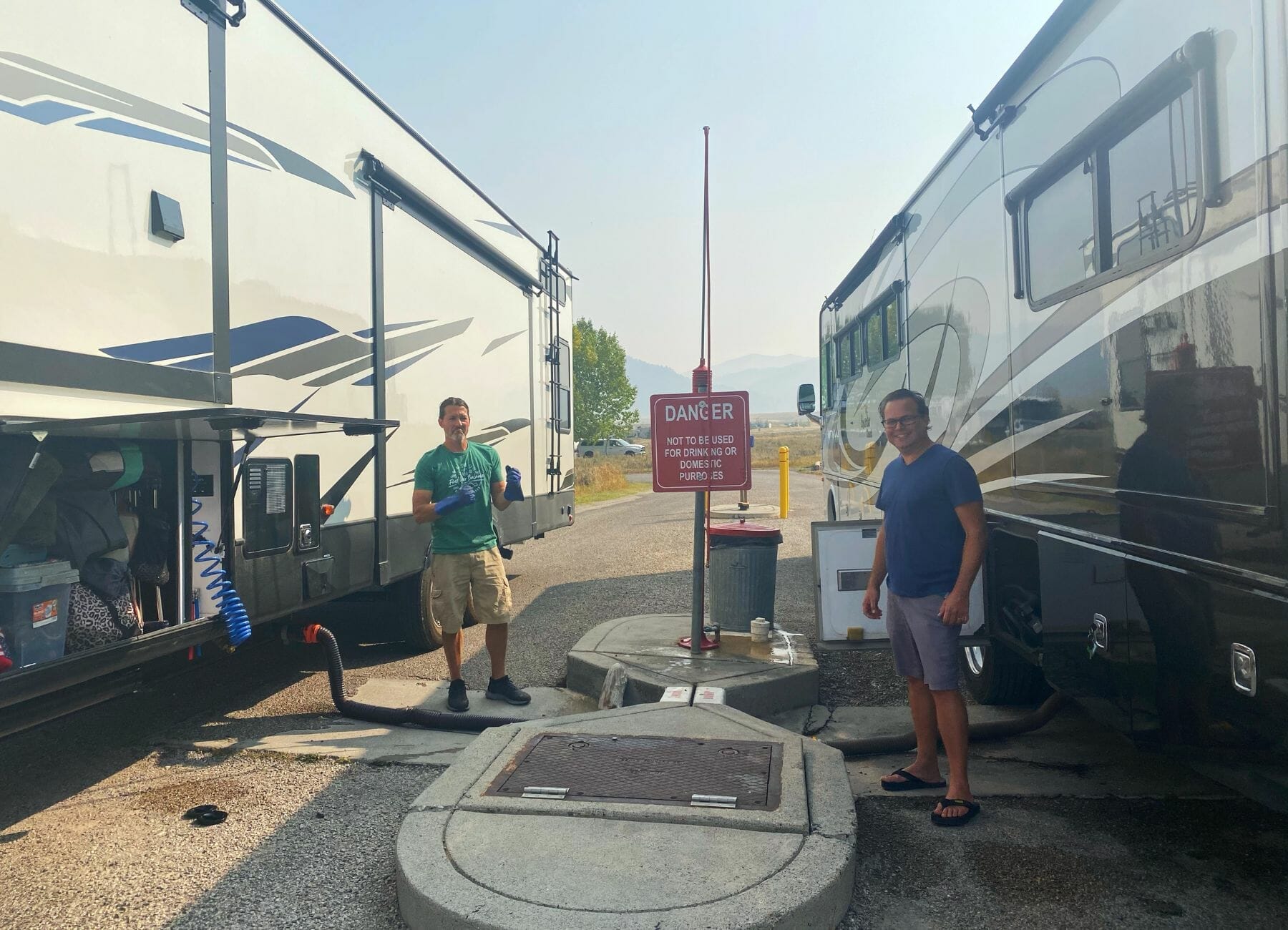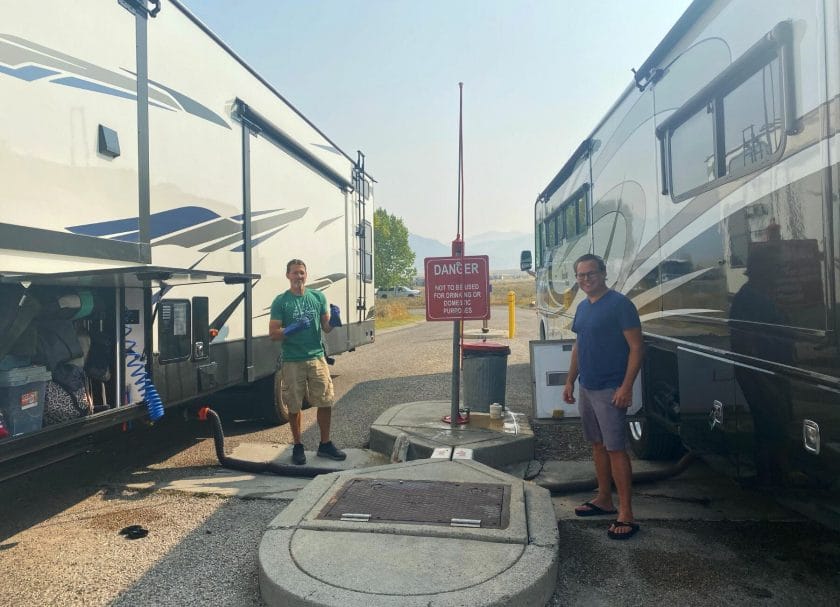 Our Top Pick: Camco RhinoFLEX Sewer Hose Kit
Sale
First, our top pick: the Camco RhinoFLEX Sewer Hose Kit. This kit includes everything you need to dump your tanks and more.
Two 10-foot RV sewer hoses connect using pre-installed bayonet fittings. Because there are two hoses, you should always have enough hose length, and when it's time to put them away, both hoses can be compressed to just 39 inches for easy storage.
A 90-degree clear elbow lets you see what you're dumping and attaches to a handy 4-in-1 sewer connector via a rotating fitting that allows you to dump at any dump station. On top of all that, the four storage caps ensure your hose storage spot stays clean and dry between dumps.
Pros of this Sewer Hose
This kit comes with everything you need to dump in one handy box.
It is a relatively budget-friendly option.
The hose splits into two 10-foot sections, making it easier to deal with.
The clear elbow makes it easy to view when your tanks are empty and clean.
Cons of this Sewer Hose
The bayonet fittings on these hoses are tight. This is good in some ways, but they can be extremely difficult to get apart if you don't have a lot of hand strength. These wrenches can help.
Some people have issues with the lock ring pieces coming loose. Make sure to detach and reattach before first use.
Top Rated: Valterra Viper Sewer Hose Kit
Sale
Similar to the kit above, the Valterra Viper Sewer Kit is very well-reviewed for a reason. The hose breaks down into two 10-foot lengths, making it a versatile kit, and the fact that the hoses compress to 50 inches each means they're easy to store.
The Valterra Viper Sewer Kit is an extra thick and durable hose with swivel fittings that make it easy to put together. The ClearView adapter allows you to monitor water flow as you dump, and a universal sewer adapter plus a set of four storage caps completes the kit. This collection will allow you to dump your tanks right away.
Pros of this Sewer Hose
This kit comes with everything you need to start, meaning no extra purchasing accessories.
Two 10-foot hose sections are easier to store and use than a longer hose.
Both hose sections are made with extra heavy-duty 25-millimeter-thick material protected by 135-millimeter beading. In short, they are virtually puncture-proof or puncture resistant.
The clear elbow makes it easy to view when your tanks are empty and clean.
Cons of this Sewer Hose
Despite claims of offering a universal fit, this sewer hose does not fit with all other bayonet-style sewer hoses.
The hose tends to "grow" and move around quite a bit when water runs through it as the tank is dumped.
Most Innovative: Lippert Waste Master
Sale
A favorite of many RVers, the Lippert Waste Master, is also a great pick. This hose is a single 20-foot sewer hose that collapses down to a mere 5½ feet when going into storage. Perhaps the best part about this durable hose is that it is relatively smooth on the inside, meaning no waste getting stuck on its way out. That said, the amazing CAM lock connectors are pretty fantastic too!
The hose features a permanently connected nozzle which is complete with a handle, integrated shut-off valve, and 90-degree discharge port.
Pros of this Sewer Hose
Features extra secure CAM connectors that are as leak-proof as they come.
A built-in shut-off valve allows you to stop the flow from multiple points.
A smooth interior that allows waste to flow without becoming stuck in crevices.
Cons of this Sewer Hose
This is one of the most expensive options on the market by quite a lot.
You will need to install a CAM lock connector on your sewer outlet. This is a one-time task but can be annoying.
Some buyers have reported problems with the hose cracking over time despite claims of being crush-proof.
Most Durable: Thetford Titan Kit
Like the first two kits listed above, this Thetford Titan kit comes with two 10-foot hoses and all the accessories you need to get started. That said, it might be an even better buy for some. Why? It might just be the most durable RV sewer hose on the market. Many claim that the heavy-duty hose lasts for years, even after being run over by a vehicle.
We love that this kit includes a sewer adapter with a handle, making it easier to stay clean when you dump the tanks. Additionally, the ExtendGrip fitting makes connecting and disconnecting the hose from the sewer outlet much easier. Of course, the mess-containing storage caps are also much appreciated.
Pros of this Sewer Hose
This incredibly durable hose is made with TPS and is uncrushable.
The handle and grip make this hose easy to set up and tear down.
Cons of this Sewer Hose
Because this is a thicker and more heavy-duty hose, it isn't as flexible as others, making it more difficult to deal with when the sewer hookup is in a strange place.
It tends to stretch and move when water runs through it.
The connectors aren't the best and can pop apart from time to time.
Best Value: Camco Revolution Sewer Hose Kit
Sale
This might be the most basic sewer hose on our list, but the Camco Revolution certainly has its place. We recommend this option for campers who are on a budget and need a complete kit that doesn't cost an arm and a leg.
While the two 10-foot hoses included in this kit likely won't last as long as other hoses on this list, the fittings do offer a tight, leak-proof fit. Additionally, the 4-in1 adapter ensures you can dump absolutely anywhere, and the bayonet fittings are easy to use without any special tools.
Pros of this Sewer Hose
The fantastic price is perfect for a newbie or an RVer on a budget.
Includes everything you need to dump your tanks.
Cons of this Sewer Hose
It does not include a clear adapter, meaning you can't see what is dumping.
The hose is thinner and will develop holes over time.
Some buyers claim their fittings did not work with other bayonet-style fittings, even on hoses from the same brand.
Must-Have RV Sewer Hose Accessories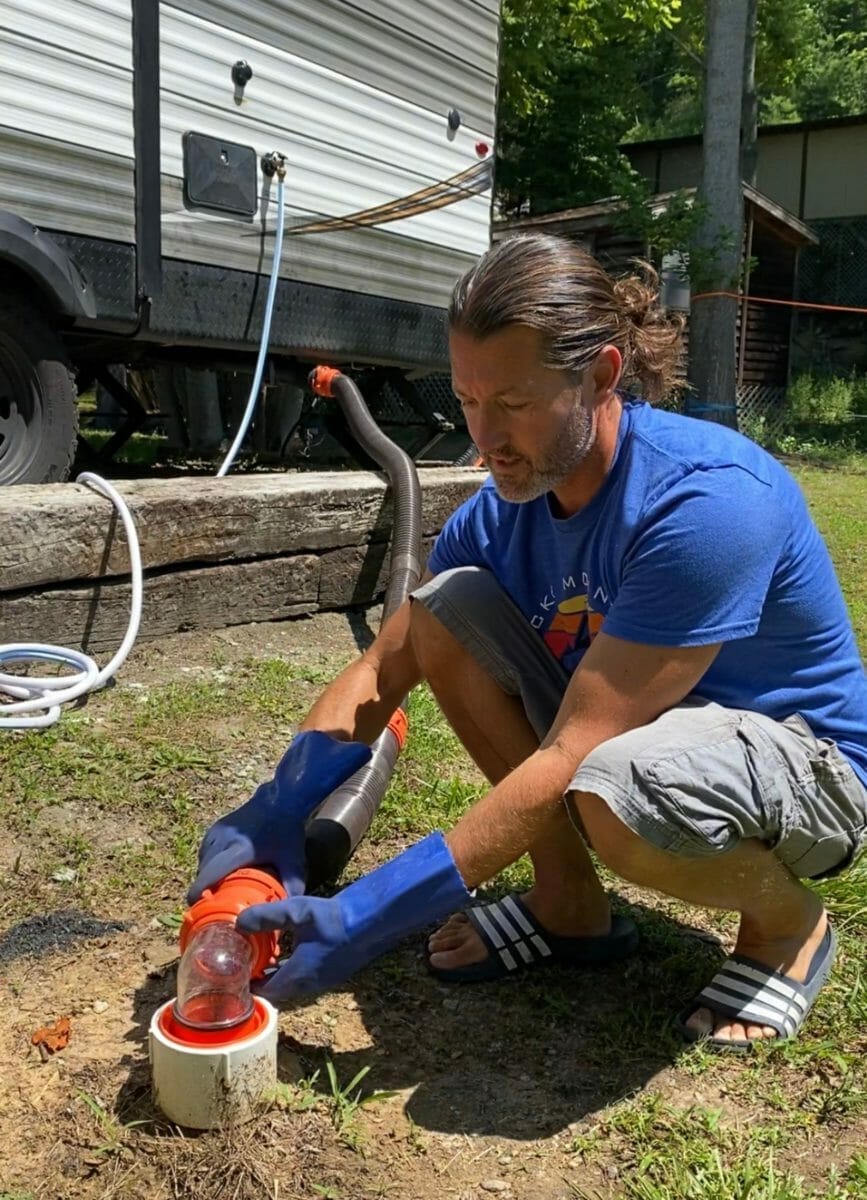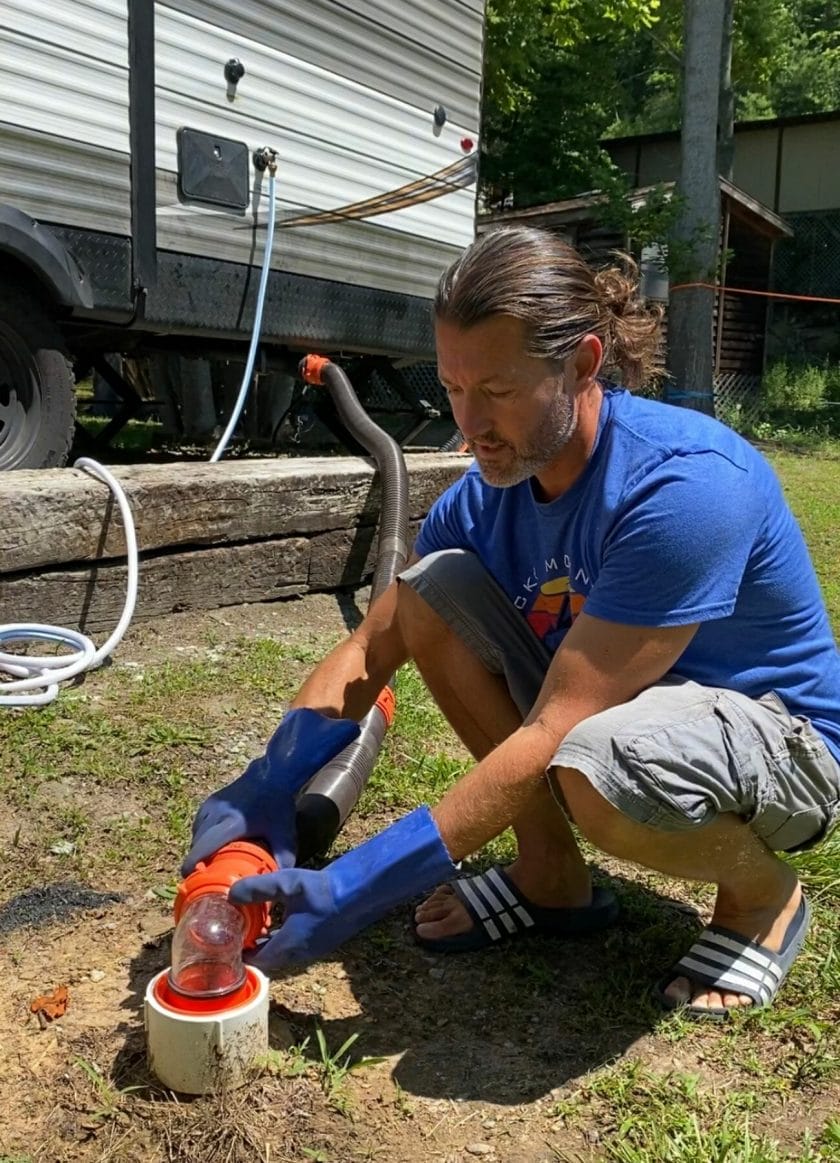 A standard RV sewer hose is great, but it won't be enough when you arrive at the dump station to dump your black and grey water tanks. In fact, there are several accessories you'll want, and even the best hose kits aren't likely to have them all.
RV Sewer Support
Water doesn't drain uphill. That's why having sewer support on hand is important. This simple accessory holds the sewer hose up off the ground and ensures a gradual incline all the way to the sewer hookup. This helps keep water moving to where it's meant to go and makes dumping the tanks much easier.
Our favorite sewer support is the Camco Sidewinder RV Sewer Hose Support.
Sale
Flexible Sewer Adapter
Some RV dump stations are in less-than-awesome shape. We've seen dump pipes in horrible condition, which can make twisting in your adapter impossible. This is no good, as tight sewer connections are necessary for mess-free dumping.
Fortunately, this Camco Flexible 3-in-1 Sewer Adapter is here to help. Simply push the adapter down into the dump pipe, push your hose into place, and you're good to go.
Sale
Reverse Flush Valve
Your black water tank is going to get stinky. There's just no way around that. Some RVs come with a built-in backflush system to help clean the holding tank out, which helps tremendously.
If your RV doesn't include that feature, you will want to invest in the Valterra Flush King Reverse Flush Valve. This handy accessory allows you to backflush your wastewater tanks, leaving them clean and smelling much better.
Sale
Clear Sewer Hose Adapter
Finally, we think it's super important to have some sort of a clear adapter somewhere in your RV sewer hose setup. This Camco 5-foot Clear Sewer Hose Adapter or this elbow-shaped Valterra ClearView Hose Adapter would work. Having a clear piece lets you see when your tank finishes dumping and when the water is running clear.
As you can see, choosing an RV sewer hose kit for your travel trailer, 5th wheel or motorhome is a little more complicated than you might think. Fortunately, with the information above, you will make an informed decision that allows you to dump your tanks easily and without a mess. Why not order today? After all, you're going to need a sewer hose before you hit the road, and it's better to order now than forget and be without later.
More Info Check Out:
99 Tips After 6+ Years of Full Time RV Living
RVing With Dogs – 23 Things You Will Want To Know
40+ Helpful Tips For Planning An RV Trip
Pin This Post: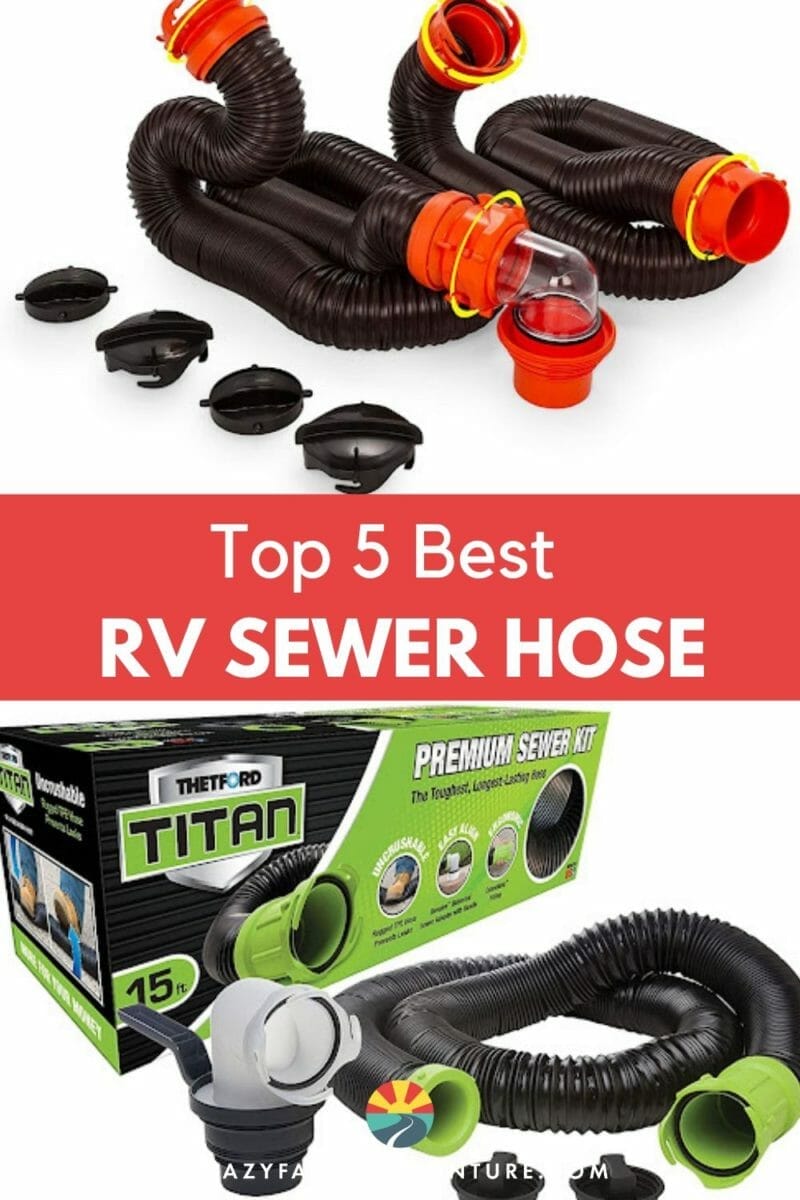 We do participate in the Amazon affiliate program. There is more info in our disclosure policy.
DISCLOSURE: This post may contain affiliate links, meaning I get a commission if you decide to make a purchase through my links, at no cost to you. Please read my disclosure for more info.