In the summer months there are 5 entrances that can get you into Yellowstone National Park. While there are endless things to do and see inside the park, there are also amazing things to do near Yellowstone National Park by the entrances. If you are planning a trip to Yellowstone you can't miss these awesome things to do near the park!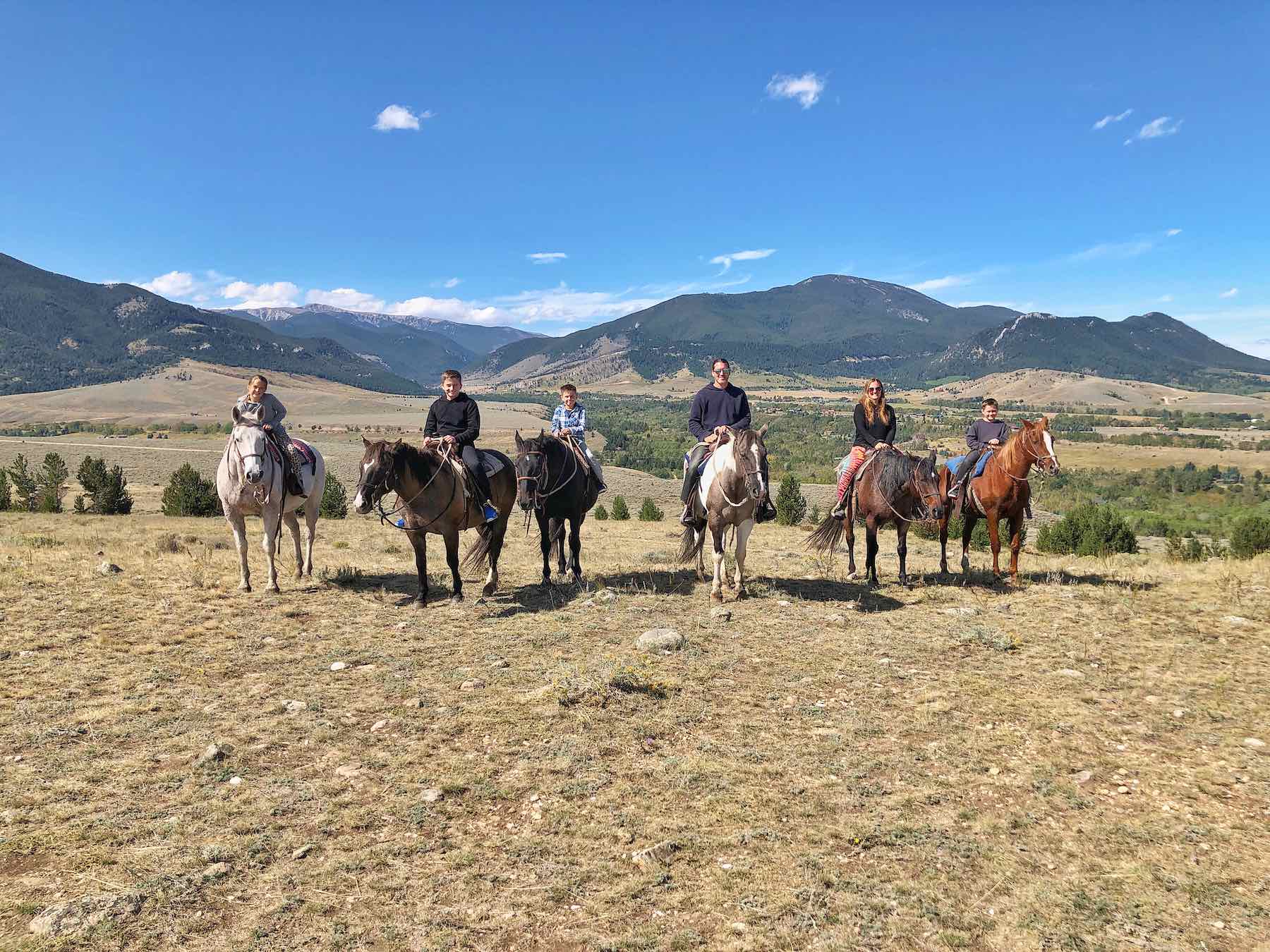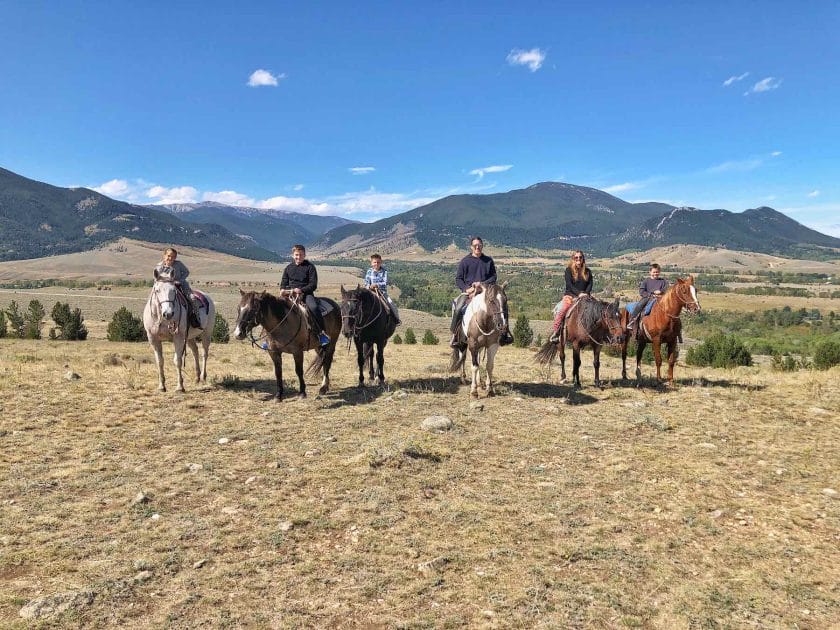 We will cover: Livingston | Red Lodge | West Yellowstone | Gardiner | Bozeman | Cody | Jackson Hole
And if you are looking for more information about Yellowstone visit our Yellowstone National Park page and check out our post about planning the Ultimate Yellowstone Vacation and Beyond!
North Entrance: Livingston and Paradise Valley
This is another area that would be great to visit on your way into or out of Yellowstone. Livingston use to be the hub for anyone visiting Yellowstone and there is so much history in the city. Paradise Valley is a beautiful area just south of Livingston. If you are looking for things to do outside of Yellowstone – Livingston and Paradise Valley are a great option.
Fly Fishing
Livingston is the perfect place to go fly fishing! Your guide will take you out on the Yellowstone River and take you to all the great places to catch fish. Along with providing you with the fly fishing gear. For guides we recommend the Montana Expedition Trading Company.
Yellowstone River Float
Not into fishing? Then you can book a float guide where they will take you out the water to float down the river. In the warm summer months you can jump off the boat and swim in the water as you float down the river. For guides we recommend: Rowdy River Guides and Rubber Ducky Rentals.
Chico Hot Springs
Yes more hot springs! Chico Hot Springs is another historic location. You can walk the grounds, go in the hot springs or play disc golf.
Where To Eat
Mint Bar and Grill
This unique and historic restaurant has fun decorations, great drinks and delicious food! It is a bar, but families are welcome.
The Sage Lodge
A beautiful lodge located in Paradise Valley. This is a meal with a view! The Sage Lodge is gorgeous and has windows all around so you can eat from inside or site outside and take in the beauty of Paradise Valley.
Where To Stay
Travelodge in Livingston
A simple, but clean hotel in Livingston. Perfect for a stop over as you explore the area.
Learn more about the: Best Things to do in Livingston, MT and Paradise Valley
Northeast Entrance: Red Lodge, Montana
Red Lodge, Montana is a great place to visit on your way in or out of the northeast entrance of Yellowstone. The awesome thing is you can explore Red Lodge and all of the fun things to do there and then take the Beartooth Highway into Yellowstone! Talk about the perfect road trip. So much beauty!!
Horseback Riding
Go horseback riding with Elk River Outfitters in a beautiful area where you are surrounded by 5 mountain ranges and you get to take your horse through a stream! We have done horseback riding before, but nothing quite like riding in Montana on a horse!
UTVing
The Beartooths are awesome in a car, but taking a UTV from Red Lodge Power Sports up there is a whole other experience! When you rent the UTV they can recommend a few different routes to go.
Downtown Red Lodge
Make sure to make time to just walk around the town of Red Lodge and check out the shops and all of the great restaurants.
Yellowstone Wildlife Sanctuary
Learn all about the wildlife from Yellowstone country at the Yellowstone Wildlife Sanctuary. It is a great way to learn more about this amazing part of the county.
Where To Eat
Prerogative Kitchen
Looking for a cool dining experience Prerogative is it! Small plate selections with unique options.
Bogarts
Feeling like a margarita? Then head to Bogarts for their fun and unique flavors!
Where To Stay
Pollard Hotel
Located right in downtown Red Lodge the Pollard Hotel is the place to stay. They also have great restaurants and a bar on site.
Learn more about: 22 Amazing Things To Do In Red Lodge, Montana
Northeast entrance: Cooke City, Montana
Cooke City is just outside the northeast entrance of the park. This entrance and outgoing road, US Highway 212, is said to be the most scenic drive from the park. Going this way, you pass through the Beartooth Mountains, which is beautiful! Hwy 212 is closed east of Cooke City to cars November through April, so keep that in mind.
Cooke City is a very small town that also has a western feel to it. It has several restaurants and small shops as well as lodging if you can't find any openings inside the park. If you will be in Yellowstone for an extended period of time, I would suggest taking a day trip out of the northeast entrance to see Cooke City and drive Hwy 212 through the mountains.
East entrance: Cody, Wyoming
Cody is probably the "biggest" town that is close to Yellowstone. There are a bunch of stores and shops, big and small, a grocery store, restaurants, fast food, and a nice little playground right in the center of town.
Cody is about an hour outside of the east entrance and has plenty to offer. We left Yellowstone for a weekend for a camping trip at Buffalo Bill State Park North Shore campground which is right on the Buffalo Bill Reservoir just outside of Cody. This campground was really neat. It was right on the water, surrounded by mountains, and all the campsites were positioned towards the water.
Buffalo Bill Center
One of the bigger attractions in Cody is the Buffalo Bill Center of the West museum. This is actually like 6 museums in one – the Buffalo Bill Museum, the Draper National History Museum, the Whitney Western Art Museum, the Plains Indian Museum, the Cody Firearms Museum, and the McCracken Research Library.
When we entered the Art Museum area with our family (4 kids) and my sister-in-laws family (2 kids) the security guard quickly called in reinforcements. Seriously, we saw the look of fear in his eyes when 6 kids under 8 years old entered.
Another security guard showed up and they followed close behind until they realized that NO, we were not going to let our kids run wild in here. We found the perfect place for them to sit and draw pictures in the art museum.
So, there's pretty much something for everyone here. The kids really enjoyed the Draper National History Museum where we learned a lot about Yellowstone's wildlife and ecosystem.
Explore Cody
After checking out the museum, take a walk down the main street in Cody. There you'll find plenty of restaurants to eat at and a few taverns to enjoy a cold one.
Then at 6pm (6 nights a week in the summer), outside of the Irma Hotel, there is a gun fight re-enactment. They close the street down and have an old western shoot-out! Click here to learn more.
Follow up the shoot-out with a trip to the rodeo. Cody features a nightly rodeo with gates opening at 7pm!
That's a full day of old-western style entertainment!
Last, but definitely not least is the drive from Cody, heading west toward Yellowstone. This may have been my favorite stretch of the entire trip! You drive right in a canyon between two large mountains and go through tunnels that go right through the mountain. I was pretty sure the RV would fit driving in the first time and luckily it did!
Check out: Things To Do In Cody, Wyoming.
Where to Stay
Buffalo Bluff RV Park
Buffalo Bluff RV Park, located in Cody, is about 50 miles from the east entrance to the park. Back-in and pull-through sites are available here. It's nothing fancy but offers a convenient stay near Cody.
The Historic Wapiti Lodge
The Historic Wapiti Lodge near the Shoshone River is nestled in the heart of Wapiti Valley. It offers a prime location – only 18 miles to Cody and 30 miles to the park entrance.
South entrance: Jackson Hole, Wyoming
Well, this constitutes more than just Jackson Hole. Just south of Yellowstone, there is the whole Grand Teton area, which is amazing! We've already written about 5 Family Friendly Things To Do By The Grand Tetons , so definitely check that out.
If you're interested in booking a guided tour from Jackson to Yellowstone, check out this Full-Day Yellowstone Lower Loop Tour. Or if you'd rather travel with a small group, check out this Small-Group Yellowstone Tour. Both tours will arrange pick-up in the Jackson or Teton Village area, and they are great ways to experience Yellowstone with a live tour guide.
Teton Village
Teton Village has the feel of a quaint ski town similar to Vale, Colorado. Here you can ride the tram, shop in the boutique stores, or eat at any of the great restaurants.
A few miles south of the Teton Village is Jackson Hole, Wyoming. This is also a ski town which is evident by the large hills that surround the city all with ski trails. The city is centered around the town square. This is a nice little park to walk through to sit and at one of the many benches and enjoy a cup of coffee from a local coffee shop or ice cream from Moo's Gourmet Ice Cream shop.
There are a lot of great things to do in Jackson Hole. It is an upper end town and has endless shopping and eating options. The great thing about this town is that is a great place to visit in summer or winter!
We also visited Slide Lake which was amazing!
We really enjoyed the Tetons and everything around it. If you are near Yellowstone, it is worth it to make the extra trip to the Grand Tetons! If you want to spend the day in the Grand Tetons check out this awesome post: One Day In Grand Teton National Park – Jenny Lake Boat and Hike or this one about what to do in The Grand Tetons.
Jenny Lake is an awesome place to visit when in the Tetons.
Be sure to check out: The Snake River Overlook in Grand Teton National Park
Togwotee Mountain Lodge
On a second visit to the the Grand Tetons, we had the opportunity to stay at the Togwotee Mountain Lodge in Moran, WY. Whoa! Talk about a really neat place to stay! With a big family (and a dog), it can be hard to find places to accommodate us.
No problem at Togwotee. We stayed in a very nice cabin that had a bedroom with 2 large queen beds and a pull-out sofa sleeper. And best part was that Indy (our sweet Labrador Retriever) was welcome too! They also have a main lodge that has different accommodations based on the number of guests you'll have with you.
We had a full kitchen (fridge, stove, sink and microwave) so we were able to cook our meals just like we were in the RV.
Don't like cooking when you're on vacation? No problem, there are 2 restaurants at Togwotee. The Grizzly Grill and the Red Fox Saloon has you covered for breakfast, lunch and dinner. Be sure to have a drink at the saloon and shoot some pool or play some games.
Things To Do
If you're looking to get out in the Bridger-Teton National Forest, Togwotee is a great place to make your base camp. Right from the lodge, you can do horseback riding, mountain biking, hiking, and fishing. They also offer a pretty cool Wyoming Cowboy Campout in the summer that we just missed. This is an overnight horseback ride into the forest where you will campout cowboy style to fish, cook by the campfire and enjoy the night sky.
In the winter, Togwotee is the mecca for world-class snowmobiling. They have everything you need (including fresh powder) for a great snowmobiling trip. Rent their sleds or bring your own and hit the trails for some epic riding. Or go off trail (depending on your skill level) and churn through the freshest snow.
Togwotee Mountain Lodge is located about 45 minutes from Grand Teton National Park, but it's an easy scenic drive to and from the lodge. You're also about the same distance away from Jackson Hole, so you can easily hit the shopping and restaurants there as well.
Find the best deals for Togwotee Mountain Lodge here!
Feeling overwhelmed by all the awesomeness that is Yellowstone?! We get it! The park is huge and there is so much to see and do. We have visited the park over 6 different times and have put together 1, 3 and 7 day guides to help you plan your ultimate trip to Yellowstone:
West Entrance: Bozeman, Montana
Bozeman, Montana is a great destination to hit on your way into or out of Yellowstone. It is an awesome city with a great downtown area, shops, restaurants and museums.
Museum Of The Rockies
Museum Of The Rockies is a great museum to visit to learn more about the dinosaurs that once roamed this area of Montana. Along with learning the history of Yellowstone and the people that use to call it home. Plus you won't want to miss the planetarium shows!
Montana Alpine Guides Rock Climbing
Bozeman is a great place to head out rock climbing. Even if you have never done outside rock climbing you can do it here with Montana Alpine Guides. They have a great team of guides that will take you out, provide all the equipment and teach you how to climb.
Hikes
There are some nice and moderate hiking trails to do in Bozeman as well. The Drinking Horse Mountain and College M are a couple great hikes to take just outside the city.
Where To Eat
This will be a tough one. Not because there aren't good places to eat, but because there are so many it is hard to choose!
Sweet Chili Bistro
For delicious Thai and a great drink menu check out Sweet Chili in downtown.
Mountains Walking Brewery and Pub
For good beer and pub food check out Mountains Walking Brewery and Pub.
Coffee Pot
For delicious pastries and coffee check out the Coffee Pot.
Where To Stay
Lewis and Clark Motel
For an old-school yet modern motel check out Lewis and Clark's! A locally owned motel this place is great and they really make you feel welcome. And the pool area is awesome!
Bozeman Hot Springs
If you are there in an RV then check out the Bozeman Hot Springs campground. Breakfast and entry to the hot springs are included in your stay.
The Silos Marina & Campground
About an hour north of Bozeman is The Silos Marina & Campground in Townsend, MT. Located on the Canyon Ferry Reservoir, it offers beautiful scenery, a boat launch, fishing, and more!
Check out these awesome Montana Airbnb options!
Learn more about: 23 Exciting and Fun Things To Do In Bozeman, MT
West entrance: West Yellowstone, Montana
West Yellowstone is a great place to make as your home base as you explore Yellowstone since it is so close to the west entrance and attractions like Old Faithful, the Upper Geyser Basin and Grand Prismatic Spring. This Yellowstone Park Tour will include visiting Old Faithful and the Grand Canyon of Yellowstone as well as the entire Lower Loop of the park.
But the city of West Yellowstone also has a lot of fun things to offer! It really is one of the top places to visit for things to do around Yellowstone National Park.
If you want to add another state to your list you could stay in Idaho (we enjoyed Henry Lake State Park) and enjoy West Yellowstone from there. Plus there are a lot of great things to do in Idaho Falls and the surrounding area.
Grizzly Wolf and Discovery Center
This is a great place to visit to learn more about these amazing animals! It isn't a huge place but they rotate the grizzly bears that are out so it is cool to see different ones. They also have a new indoor exhibit where you can watch the otters play. This is a must do while on your trip to West Yellowstone.
Yellowstone Giant Screen Theater
If you are looking to get out of the sun for a while and kick back and relax head to the Yellowstone Giant Screen Theatre to watch the Yellowstone movie where you will learn about the history of Yellowstone.
Where To Eat
Wild West Pizzeria and Salon
It is hard to find someone who has been to West Yellowstone and not been to Wild West Pizzeria! A definite staple in West Yellowstone and for good reason. The pizza is delicious!
Where To Stay
The Kelly Inn is the perfect place to stay for exploring West Yellowstone and the park. They have a nice breakfast spread in the morning and a pool and hot tub to hang out in at night.
This campground in Island Park, ID is just 15 west of the park. Offering great views and a convenient location, this is a good option is you're staying on the west side of Yellowstone.
West Yellowstone is also a great hub for visiting Grand Canyon of the Yellowstone along with Canyon Village.
Learn more about: 9 Awesome Things To Do In West Yellowstone
North entrance: Gardiner, Montana
The north entrance is the original entrance to Yellowstone. As seen by the Roosevelt Arch that you drive through to get to the current Yellowstone entrance. It is a quaint western town and is really close to Mammoth Hot Springs in Yellowstone.
Roosevelt Arch
You will drive through the Roosevelt Arch as you enter the North entrance to Yellowstone. But instead of just driving through it, stop and get out to walk through the door and look up and into the inside of the arch. Also be on the look out for elk and pronghorn sheep hanging out in this area but be sure to keep a safe distance – they are wild animals!
City Of Gardiner
The town has an amazing view of Yellowstone National Park and has a nice Visitor Center and a selection of stores and restaurants. The Yellowstone River cuts right through the hilly town which adds to its great landscape.
Yellowstone Wild Tours
If you want to see wildlife in Yellowstone and learn all about the park, the history and the animals then you are going to want to book a tour with Yellowstone Wild Tours! They pick you up in Gardiner (before the sun rises – it is worth it – I promise!) and then spend the day driving you around the park to Lamar Valley and other places to spot wildlife. You may even end up in Hayden Valley.
When we went we saw multiple bears, wolves, bison, elk, pronghorn sheep, a mountain goat, birds and probably a few more that I am forgetting! They also feed you breakfast and lunch. It is an awesome day.
Yellowstone Hot Springs
Head a little ways outside of downtown to the awesome Yellowstone Hot Springs. They did these springs right with nice man made pools looking out over the surrounding mountains. They have hot pools, hotter pools and a cold pool.
Where To Eat
There are a variety of different restaurants from pizza to sandwiches and local dishes. Plus there is a local grocery store – Gardiner Market if you just want to pick up your own food to cook.
Wonderland Cafe
Wonderland Cafe is an awesome restaurant in Gardiner with local and unique dishes. If you want really good food in Gardiner this is the place to go!
Yellowstone Pizza Company
We found a delicious pizza joint called Yellowstone Pizza Company where we ate on the roof! Check it out here.
Where To Stay
They have lodging and hotels available for guests that want to visit Yellowstone and enjoy the comforts of a small town.
Sunny Slope Lodge
We recommend the Sunny Slope Lodge which is about a 15 minute drive outside of Gardiner. It is a beautiful house up in the mountains with plenty of room for multiple families. It is the perfect place to relax and unwind after a day in Yellowstone or exploring Gardiner.
Yellowstone Hot Springs
Yellowstone Hot Springs campground is located in Gardiner on the banks of the Yellowstone River. It's about 8 miles from the north entrance and offers a really peaceful environment.
Learn more about: 12 Amazing Things To Do In Gardiner, Montana [+ Where To Stay]
Here are a few more ideas: Lewis and Clark Caverns, Things To Do In Big Sky, Yellowstone Country on your Montana Road Trip! Learn more about the Wyoming National Parks.
Feeling overwhelmed by all the awesomeness that is Yellowstone?! We get it! The park is huge and there is so much to see and do. We have visited the park over 6 different times and have put together 1, 3 and 7 day guides to help you plan your ultimate trip to Yellowstone:
Check out these posts for a great guide to Yellowstone:
12 Things To Bring To Yellowstone National Park
Mount Washburn Hike in Yellowstone with Kids
Top 10 Things To Do In Yellowstone
Road Trippin' around Tower-Roosevelt in Yellowstone National Park
Yellowstone Camping: Your Complete Guide To A Perfect Spot
Yellowstone in Winter: 11 Things to Know and Do!
Here are a few more options for things to do around Yellowstone:
Things To Do In Cheyenne Wyoming
6 Epic National Park Road Trip Ideas [Maps Included]
DISCLOSURE: This post may contain affiliate links, meaning I get a commission if you decide to make a purchase through my links, at no cost to you. Please read my disclosure for more info.