If you are looking for a winter wonderland full of animals, skiing, snow, mountains, and more, Yellowstone in winter is the place to go. Throw in thermal features creating magical ice sculptures, and you have a truly unique vacation experience! Below we list our top things to do in the winter in Yellowstone, along with how to get there and where to stay and eat.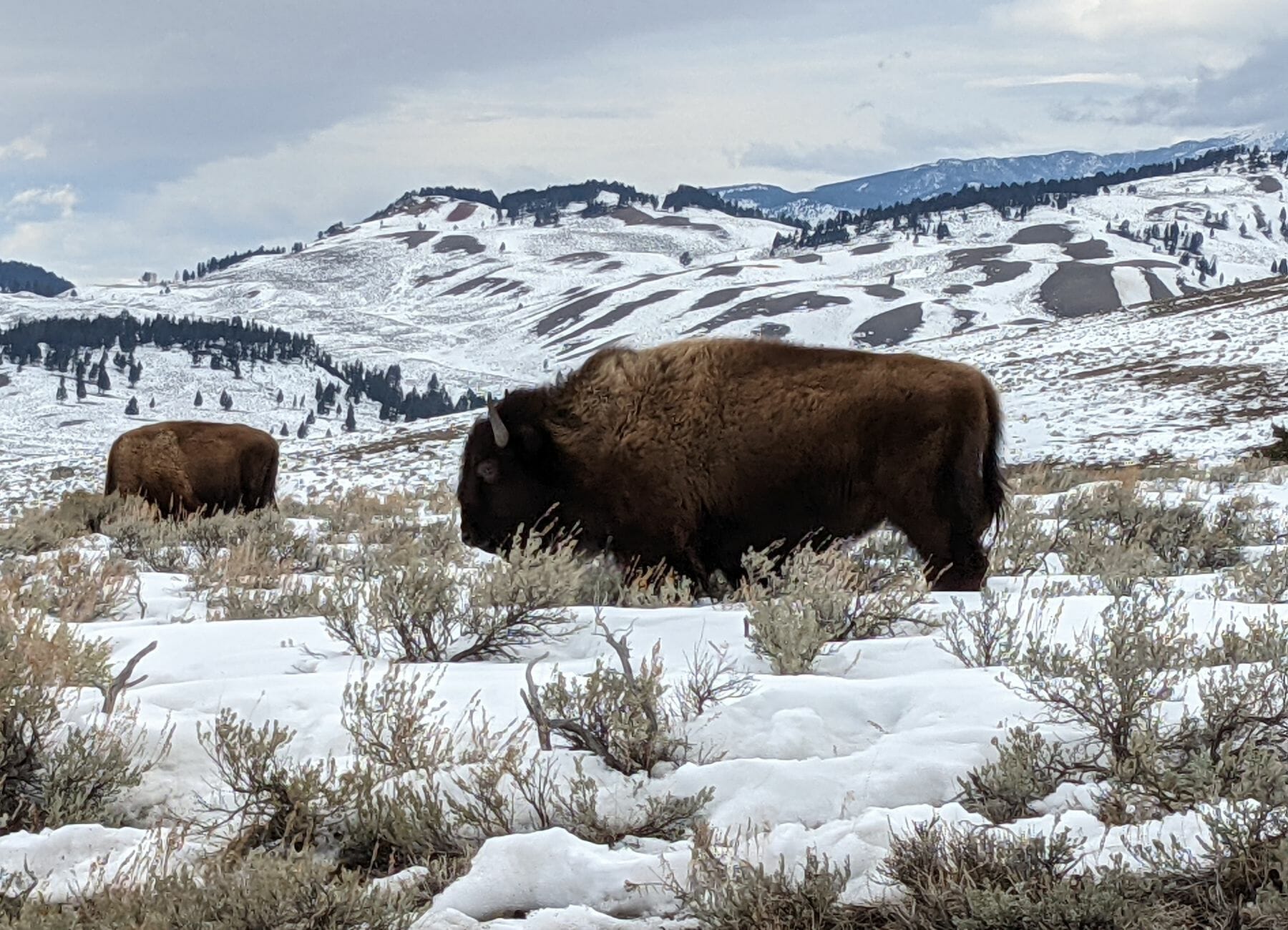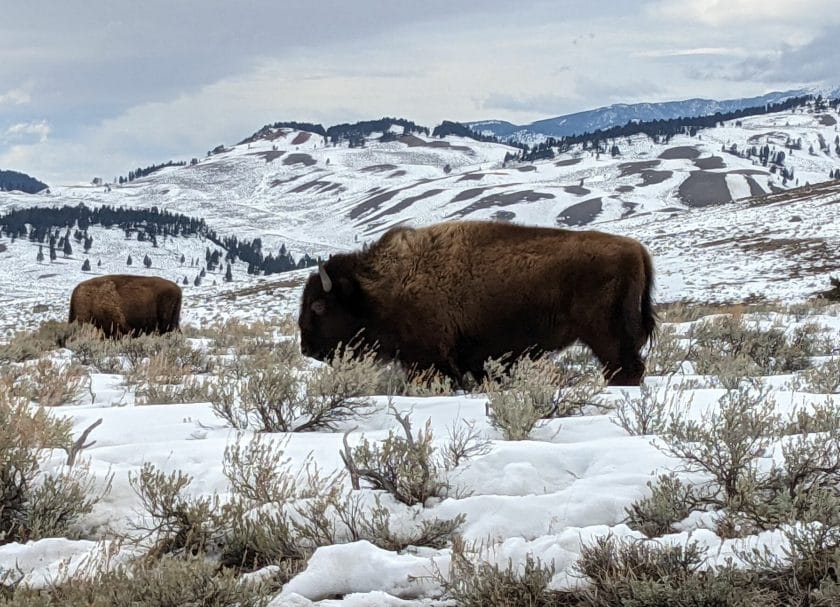 Visiting Yellowstone in the winter versus the summer is an entirely different experience. We spent a couple of months outside Yellowstone over winter and had a fantastic time exploring the park multiple times.
We'll share winter activities you can do in Yellowstone. Along with how to access the park and the surrounding areas.
Accessing The Park
The only road in Yellowstone that generally stays open year-round to vehicles runs from the north entrance, from Gardiner, Montana, through Mammoth, and to Cooke City, Montana. Guided tours using regular vehicles departing from Gardiner and Cooke City also use this road to access the park.
All other roads in the park close towards the end of October and, when reopened in mid-December, can only be accessed by guided snowmobile and snowcoach tours. Entering the park on your private snowmobile requires a permit, which you apply for in August through a park lottery system. These roads close in early March.
Getting Around The Park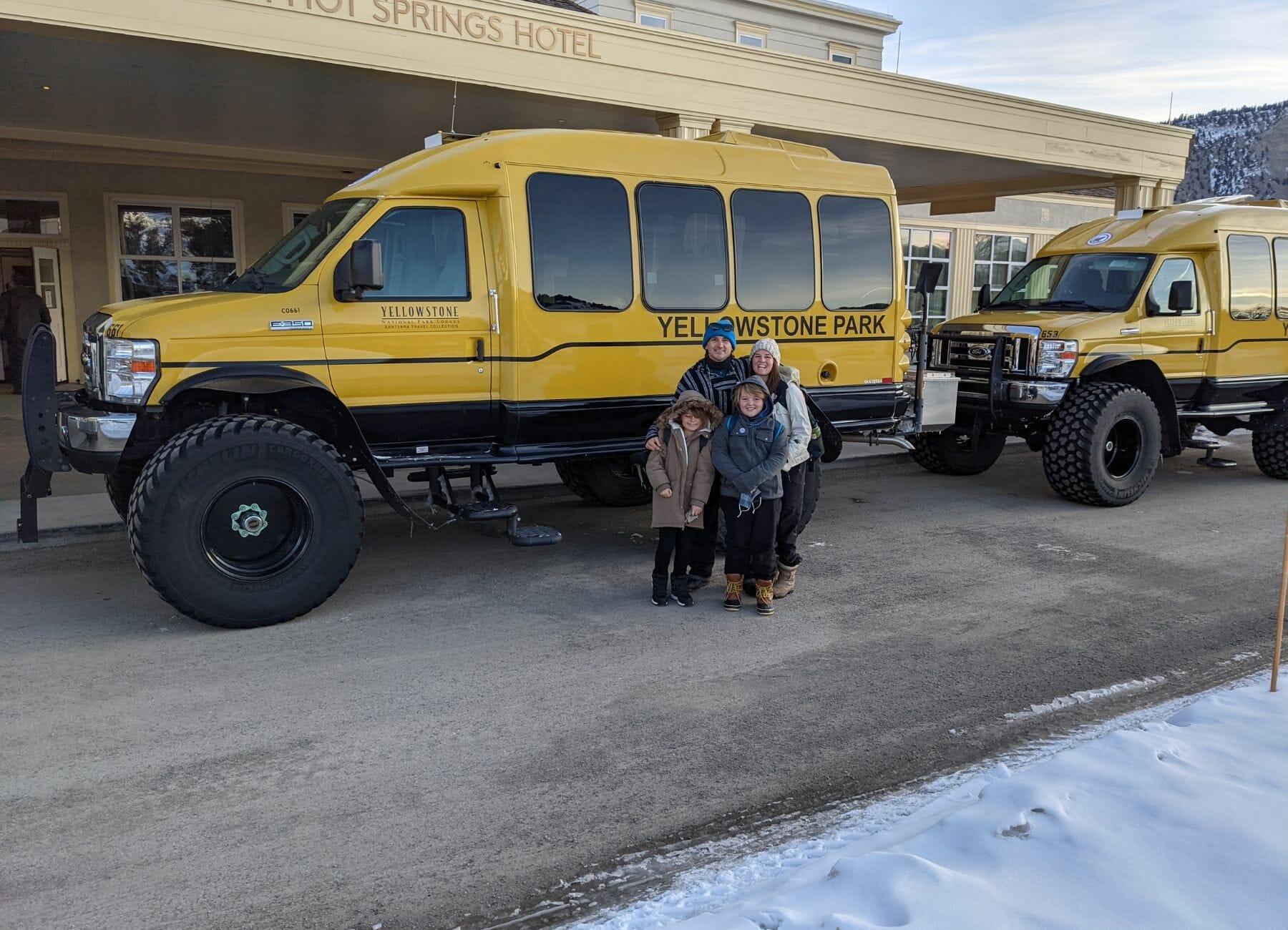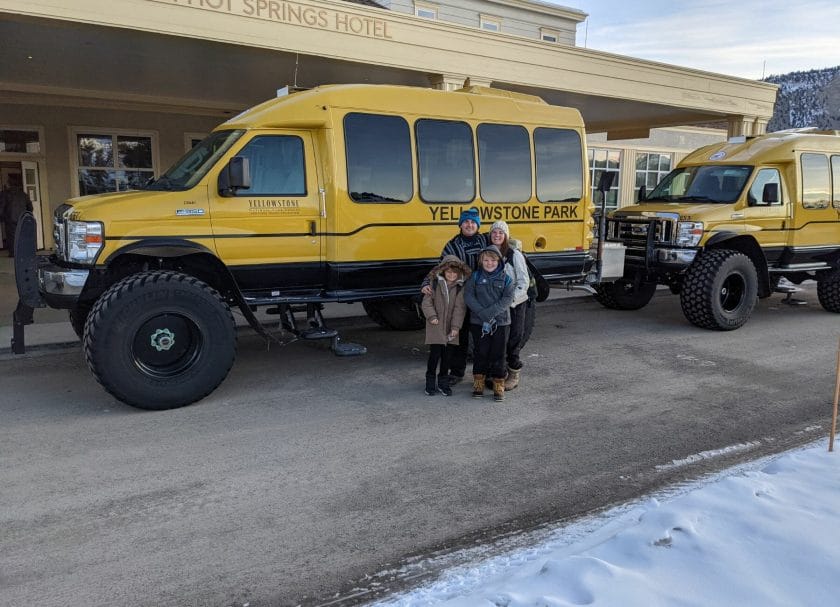 If you want to be able to drive through the park in your own vehicle, we recommend staying in Livingston or Gardiner and accessing the park from the north entrance. You can then drive into Mammoth, continue to Tower Junction, and then through Lamar Valley, which is excellent for wildlife viewing. You will exit at the northeast entrance, in Cooke City, or turn around and drive back.
Old Faithful can be accessed by guided snowmobile or snow coach tours from the north entrance (Mammoth Hot Springs), west entrance (West Yellowstone, Montana), south entrance (Jackson Hole, Wyoming), and east entrance (Cody, Wyoming). If you take a tour from Jackson Hole, you will first head through Grand Teton National Park to get to the south entrance of Yellowstone.
Another way we recommend getting around the park by snow travel is cross-country skiing. Just as hiking in the summer months allows you access to less busy and more scenic areas of the park, cross-country skiing does the same in the winter months.
Things To Do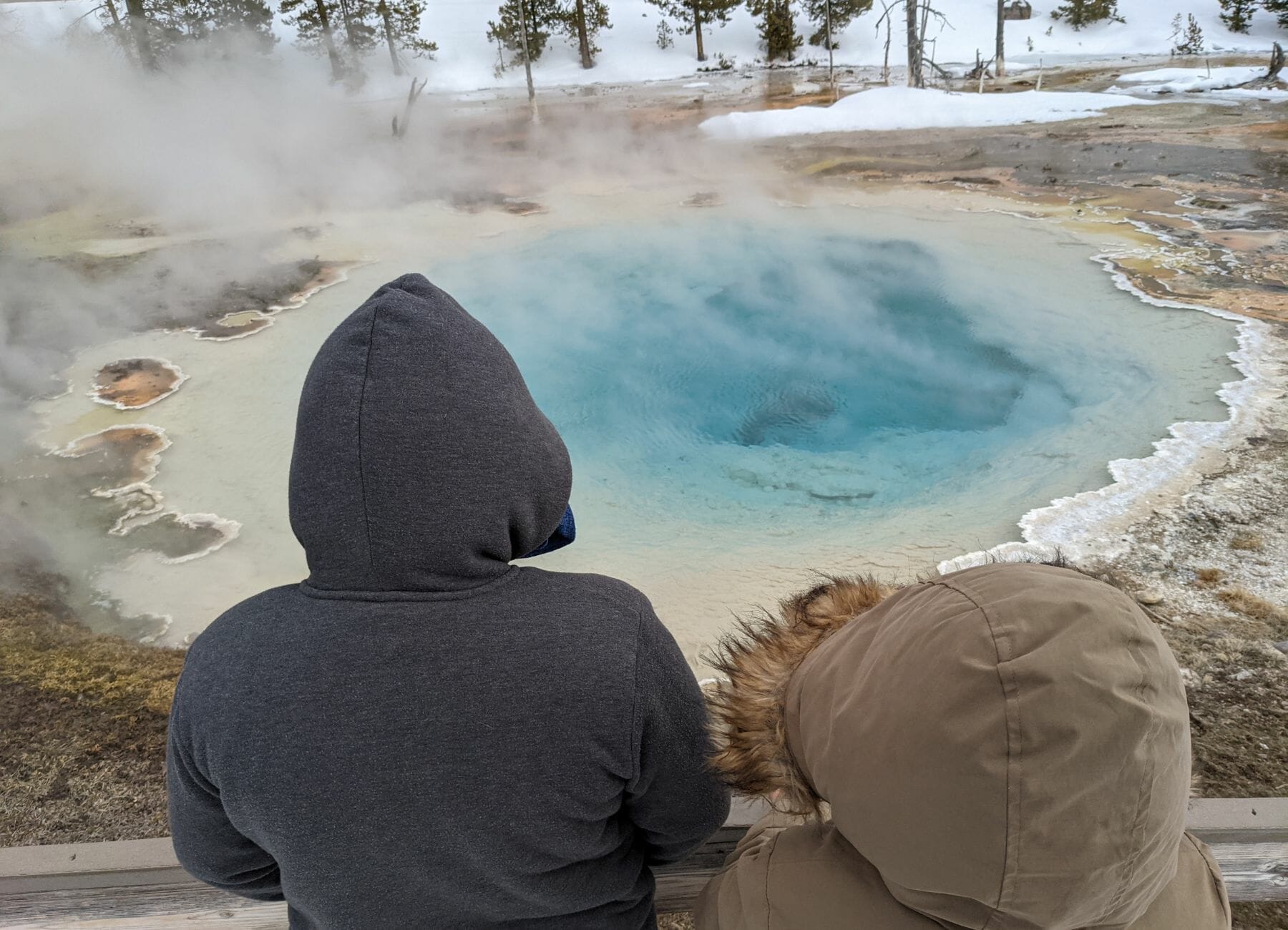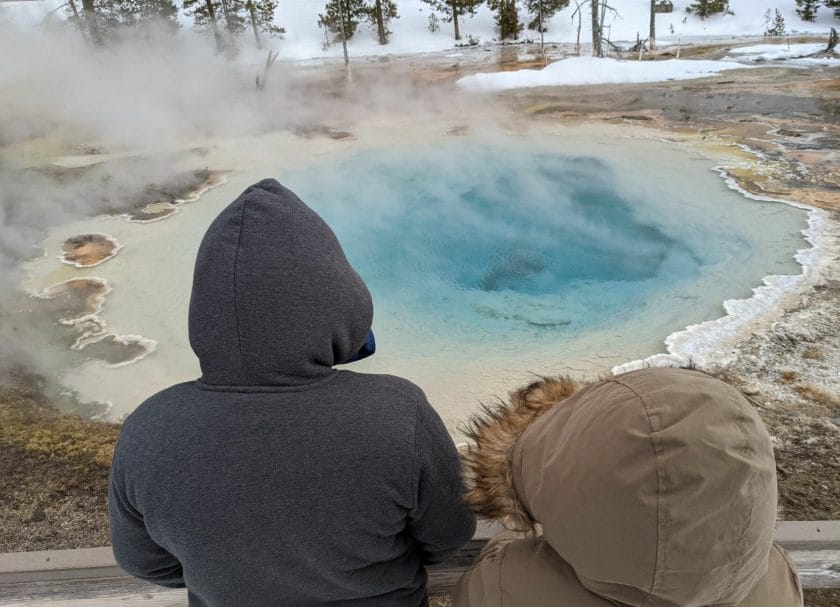 Overnight Trip to Old Faithful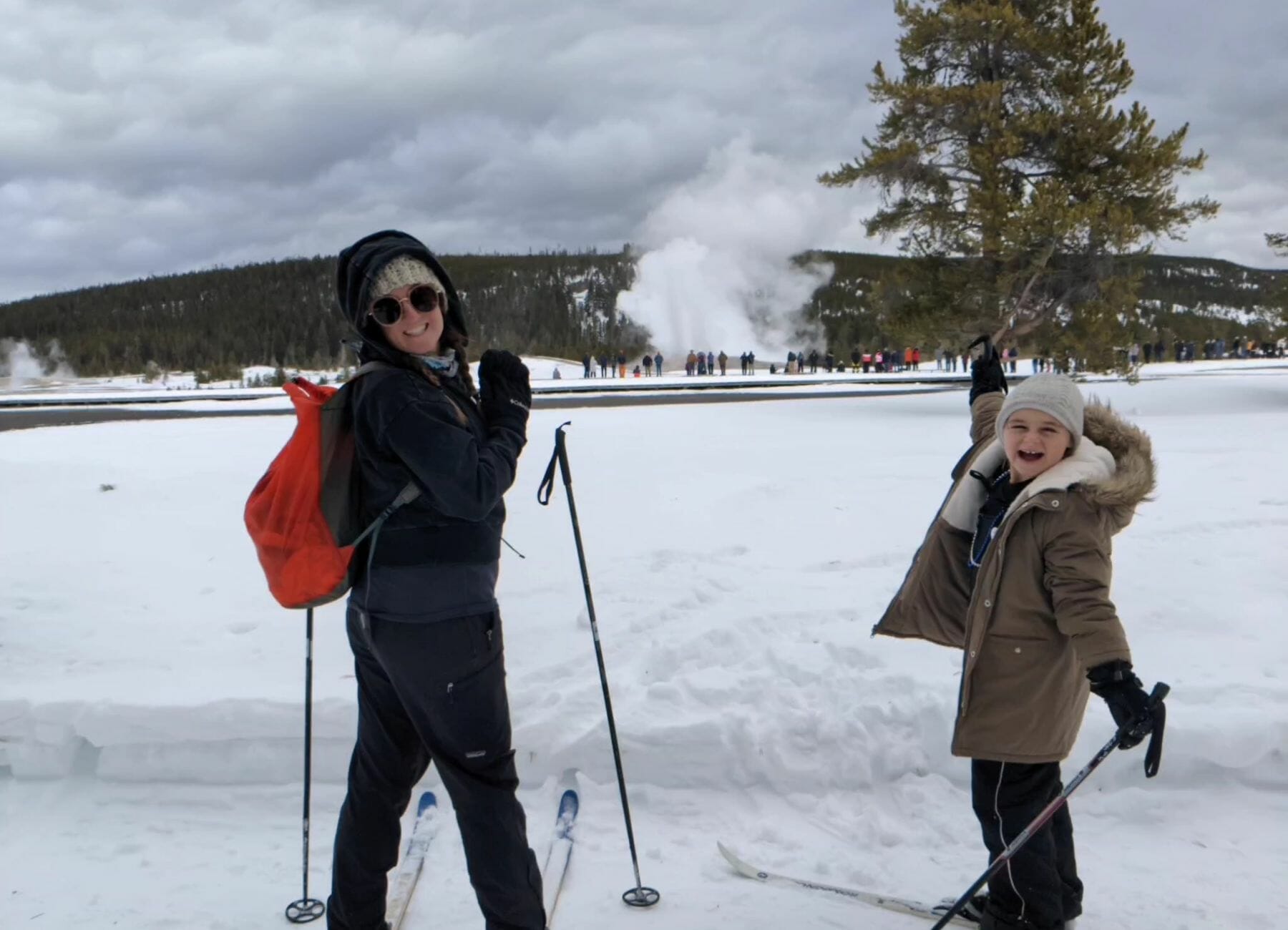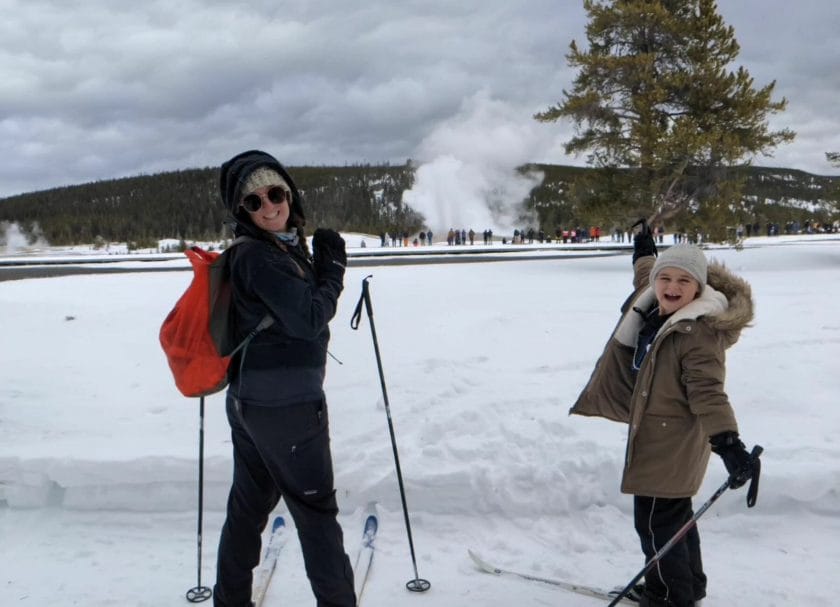 A trip to Yellowstone during the winter season would not be complete without a trip to Old Faithful. Not only do you get to see the historic Snow Lodge and the Old Faithful geyser surrounded by snow, this is also a great way to see the interior of the park in the winter.
We took a snow coach from Mammoth Hot Springs that traveled along the snow-covered road and included many scenic views. Several times we stopped to get out and see thermal features up close that caused crazy natural ice sculptures. We also stopped to get hot chocolates, coffee, and snacks at a warming hut along the drive.
Staying at the Old Faithful Snow Lodge is an experience in itself. The lobby has a massive fireplace, and there is a cozy bar and restaurant, as well as a quick-service grill. Right outside is an ice rink, which our kids loved, and they have free skate rentals.
Besides the rooms in the lodge, there are cabins also available. We stayed in a cabin and loved that we could ski right off our front porch to the many surrounding ski trails and then come back and enjoy a beverage with a beautiful view.
Although there were plenty of cross-country skiing and snowshoe trails that take you to thermal features and geyser basins right around Old Faithful, the lodge also has many tour options to get to other places in the park. They also offer ski and snowshoe rentals and lessons.
Cross Country Ski to Tower Falls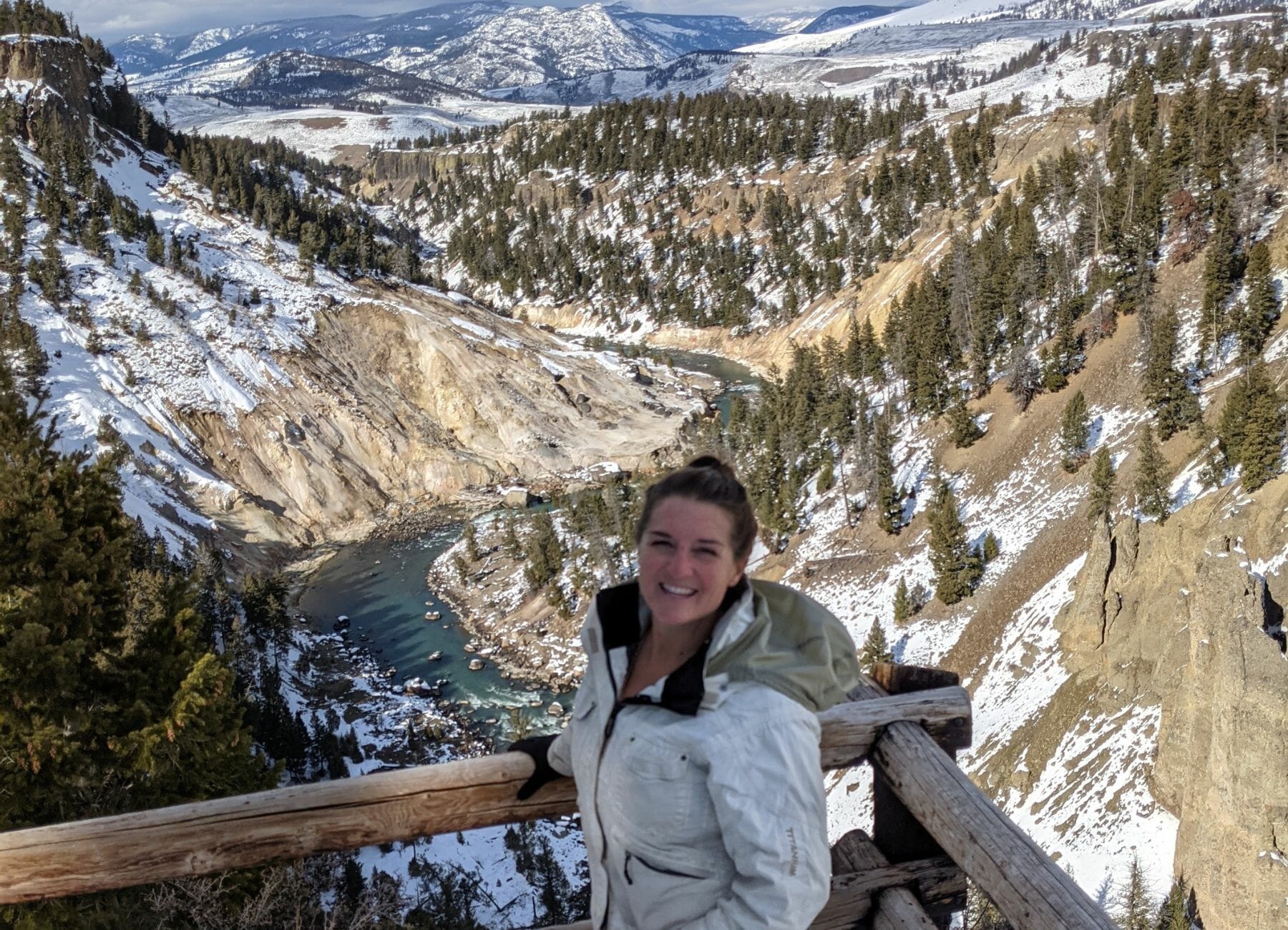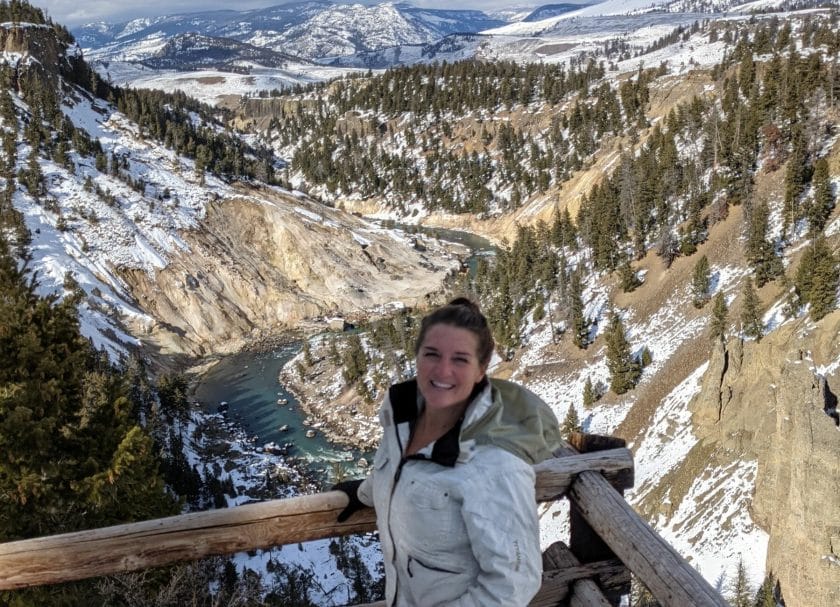 We did a lot of cross-country skiing in Yellowstone, and it was an amazing experience. We are not experienced skiers, but there are many groomed trails, and beautiful scenic views are great for beginners.
The one we recommend the most is the Tower Falls Ski Trail, a 5-mile round trip easy trail that has views of the Yellowstone River at the bottom of a snow-covered canyon and Tower Falls. We did this trail in February, and when we got to the falls, much of the falls had frozen over! We also saw bison covered in snow along the trail.
This trail follows the unplowed Tower-Canyon road, which is wide, making it great for beginners. All the hills are gradual as well, so you don't need to worry about getting going too fast!
Skis and snowshoes rental is available at the Mammoth Hot Springs Ski Shop in the Mammoth Hot Springs Hotel. They will fit you for skis or snowshoes and provide you with all the essential equipment. They also have up-to-date info on the trails and offer lessons and guided trips.
From there, you can drive yourself to Tower Junction, where you can park, and you will see the trailhead. We enjoyed the fact that we could access this trailhead by ourselves anytime we'd like.
Learn more about: 11+ Fun Things To Do around Tower Roosevelt in Yellowstone
Snowcoach Tour to Firehole Basin, Grand Canyon of the Yellowstone River, or Norris Geyser Basin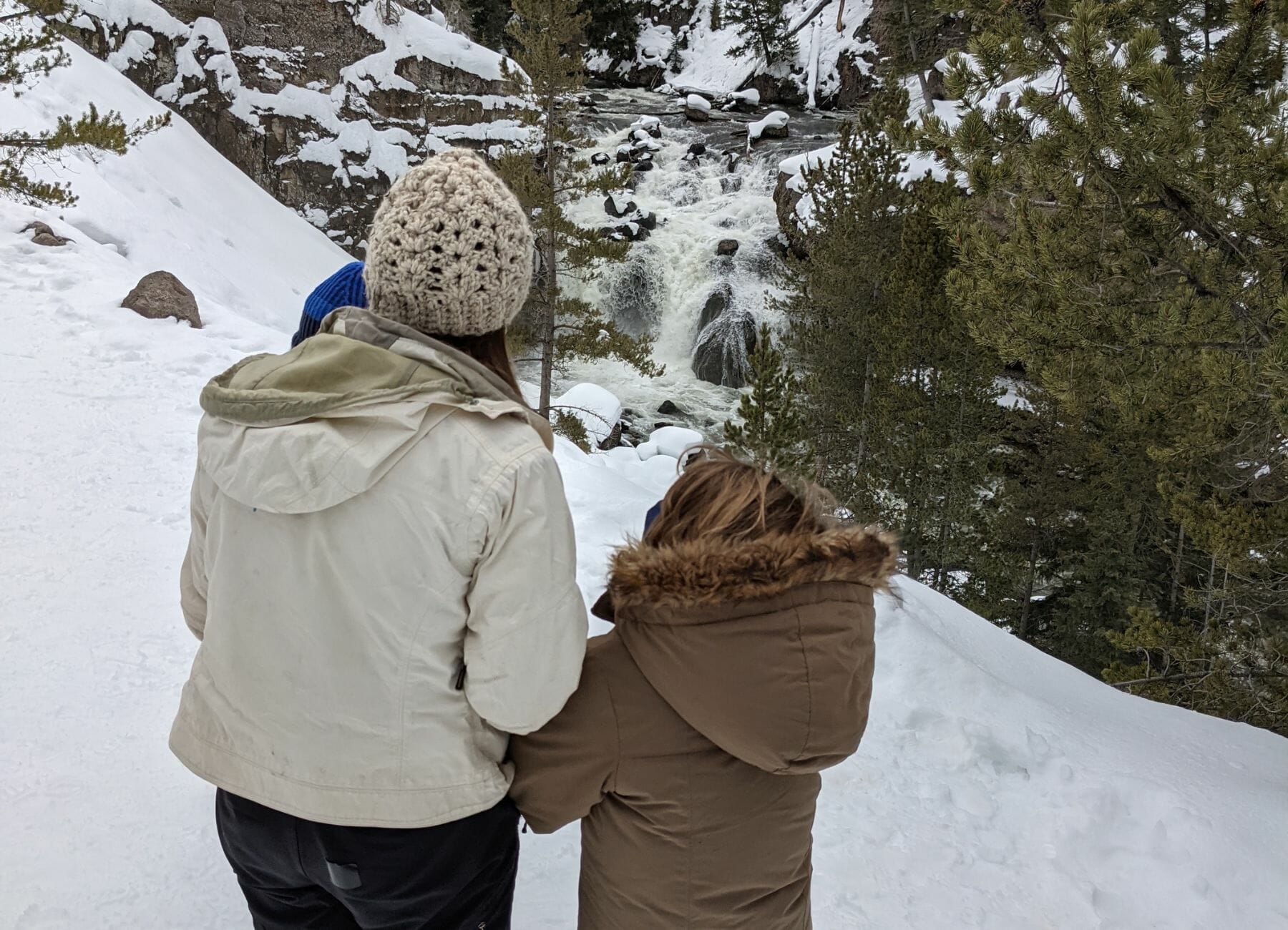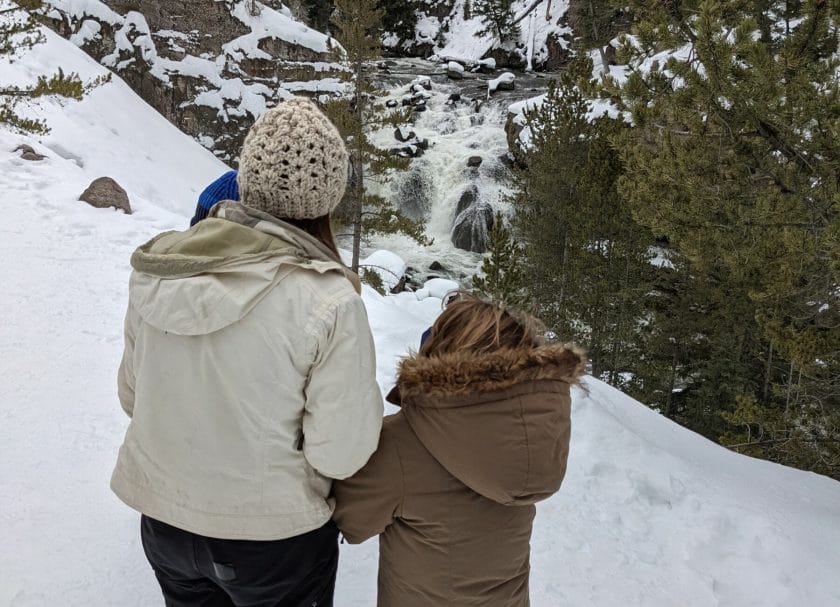 Snowcoach tours are a great way to see the interior of Yellowstone while enjoying a heated ride. With these tours, not only do you get to enjoy the scenic drive, but you also get to see some iconic Yellowstone features covered in snow. The snow coach drivers also do a great job sharing Yellowstone facts and history during your trip.
Although the snow coaches are heated, you will be outside a lot for sightseeing stops and at the destinations themselves, so be sure to dress warm and in layers.
Firehole Basin is a one-way drive that takes you along the Firehole River, which features steep canyon walls, thermal features, and waterfalls. This was another place where the warm thermal features were creating beautiful natural ice sculptures in the trees and along the sides of the canyon.
The Grand Canyon of Yellowstone is a beautiful spot any time of the year, but in the winter, you will get to experience it with far fewer people. If weather permits, your guide may continue south to Hayden Valley before turning around.
If you love geysers and thermal features, then Norris Geyser Basin is a very cool place to visit in the winter. The combination of the thermal features, snow, and cold air creates a unique landscape. This is also one of the lesser-known places to visit in the winter, so you won't have to deal with crowded boardwalks like in the summer months.
Hang out in Mammoth and Ski or Snowshoe Around the Terraces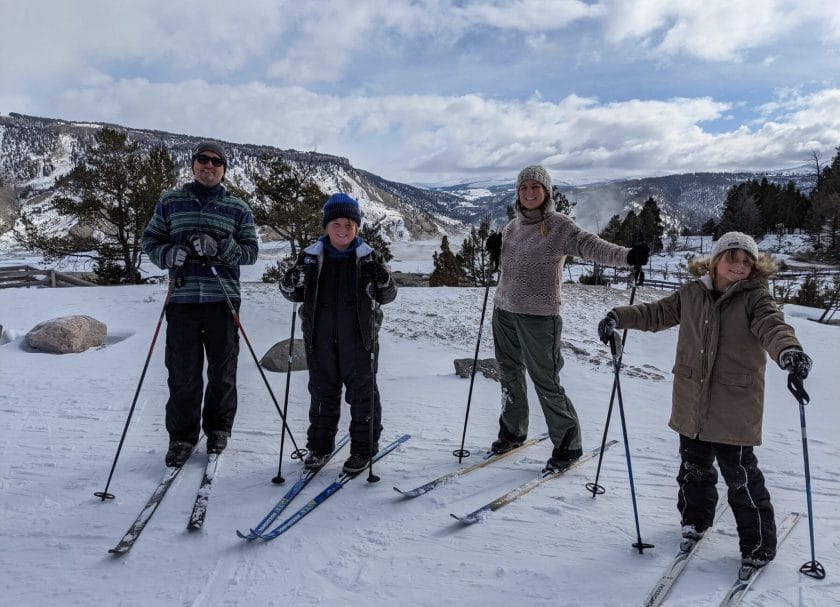 Mammoth Hot Springs is the only park area with amenities you can access with your personal vehicle in the winter. Drive in, walk the lower terrace boardwalk, get souvenirs at the gift shop, get information on the park and tours, and check out the historic Yellowstone buildings.
The Upper Terrace Loop Ski Trail is a convenient and easy 1.5-mile round-trip trail with unique views of the terraces, as well as scenic views of snow-covered mountains. You can rent snowshoes and cross-country skis from the Bears Den ski shop located in the gift shop in the Mammoth Hot Springs Hotel. Then simply drive up to the upper terrace parking, and you will see the trailhead.
After skiing, head back to the Mammoth General Store to get hot chocolate and grab something.
Note that the Mammoth Hot Springs Hotel will be closed for the 2022-2023 winter season due to the historic June flooding that occurred in the area. The general store, gift shop, and ski shop will be open.
You could also check out all the great things to do in Gardiner, Montana!
Drive through Lamar Valley Looking for Wildlife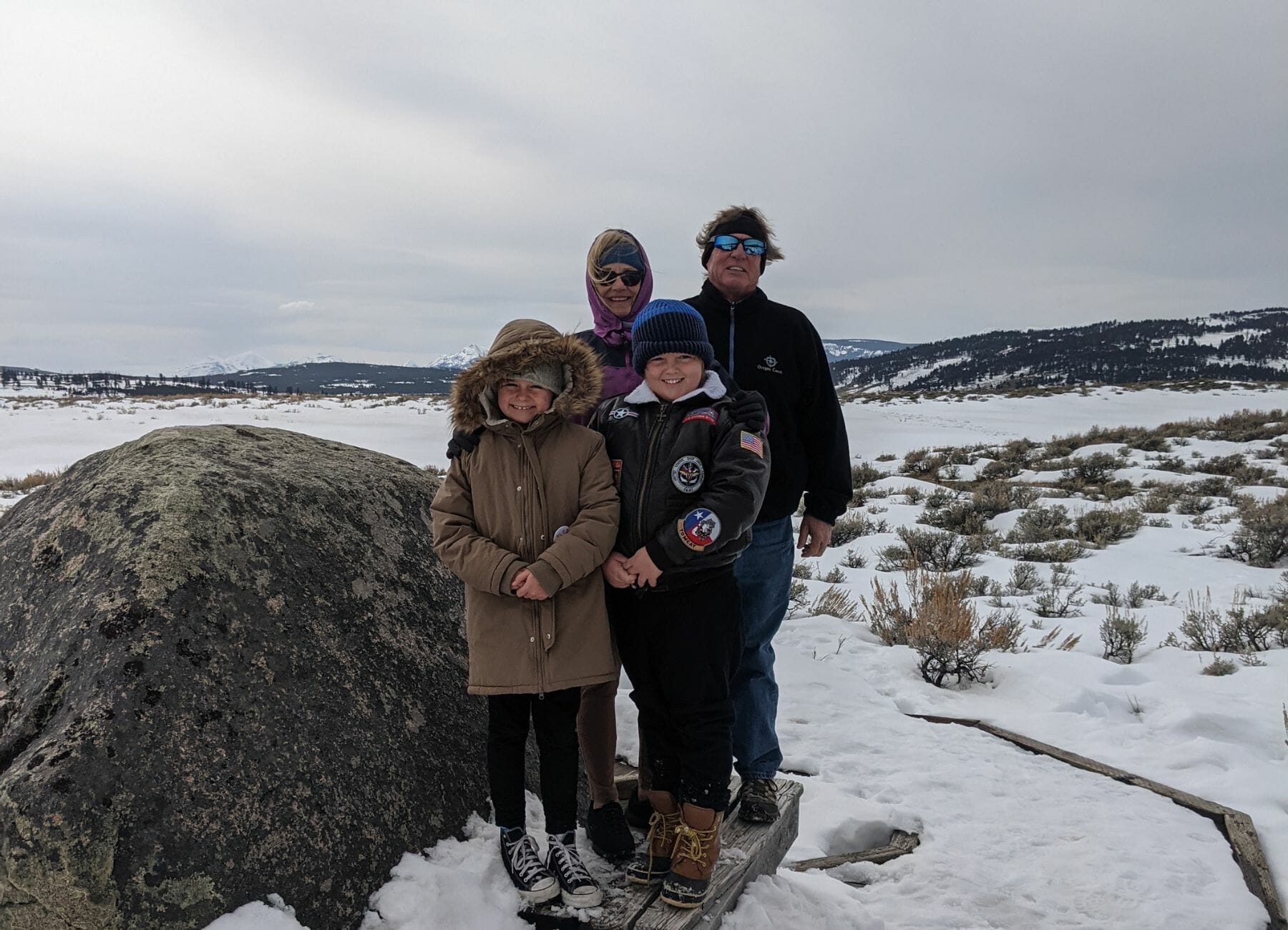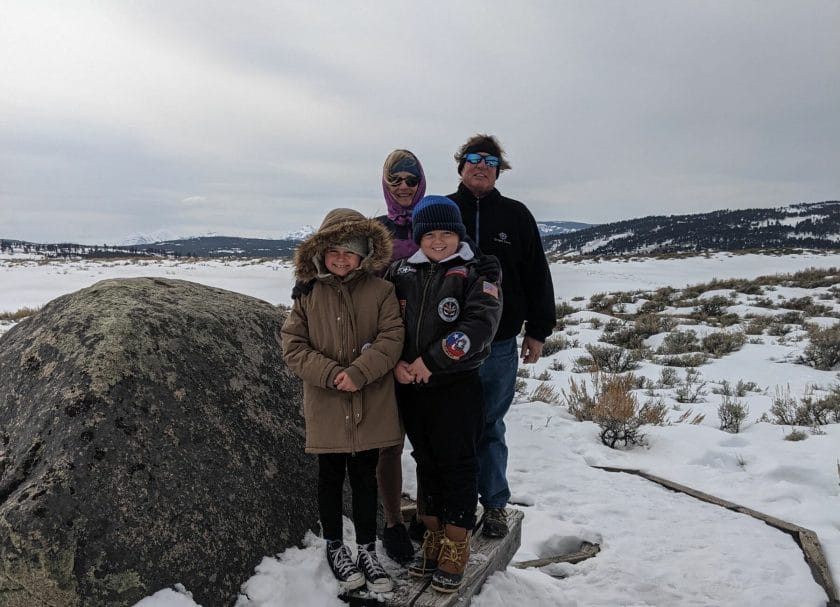 Lamar Valley is known for its wildlife viewing, and it's no different in the winter season. We loved that we could do this drive on our own anytime we wanted, although doing a guided tour will most likely ensure that you see more wildlife.
It was an amazing opportunity to see a group of otters playing along the river and sliding on the icy snow. We also saw bison, a coyote, and a bear den that a lot of people were viewing, hoping to see the bear pop its head out.
You will enter the park from the north entrance and drive from Mammoth to Tower Junction and then through Lamar Valley to the northeast entrance. At this point, you can check out Cooke City or turn around and drive back.
This drive is great to combine with cross-country skiing or snowshoeing, as several trails leave right from the main road. There are also a couple of boardwalk trails that you can walk in the winter along this road.
Take a Snowmobile Tour
Snowmobile tours are a great way to see the park and an adventure in itself. There are a variety of snowmobile tour options that all operate from outside the park. You can take single day trip tours or do multi-day tours that include lodging at different entrances of the park.
Many companies that have snowmobile tours that go into the park also have tours that explore the national forests surrounding the park, as well as Grand Teton National Park south of the park if you are using a company out of Jackson Hole.
You must have a valid driver's license to drive a snowmobile in Yellowstone, but kids aged six and older can ride as a passenger. The tour companies do provide warm snowmobile gear, and there are some warming huts in the park. However, this can be a long cold day for kids.
Soak in a Hot Spring
Although Yellowstone is full of hot thermal pools, there aren't any that you can safely soak in during the winter. We love to do hot springs, especially in the winter, so luckily, there are some good options outside the park.
Yellowstone Hot Springs is a developed hot spring in Gardiner, Montana. It includes multiple pools of different temperatures, including a hot plunge pool and a cold plunge pool. We thought this hot spring was relaxing and enjoyed the mountain views while soaking.
Chico Hot Springs is a developed hot spring north of Gardiner in Paradise Valley. This hot spring has a bar and restaurant attached to it, and you can order food and drinks to enjoy by the pool. There is a large "swimming pool" type of hot spring that is great for kids and a smaller, shallower, hotter pool that is good for soaking.
Rent a Forest Service Cabin Outside the Park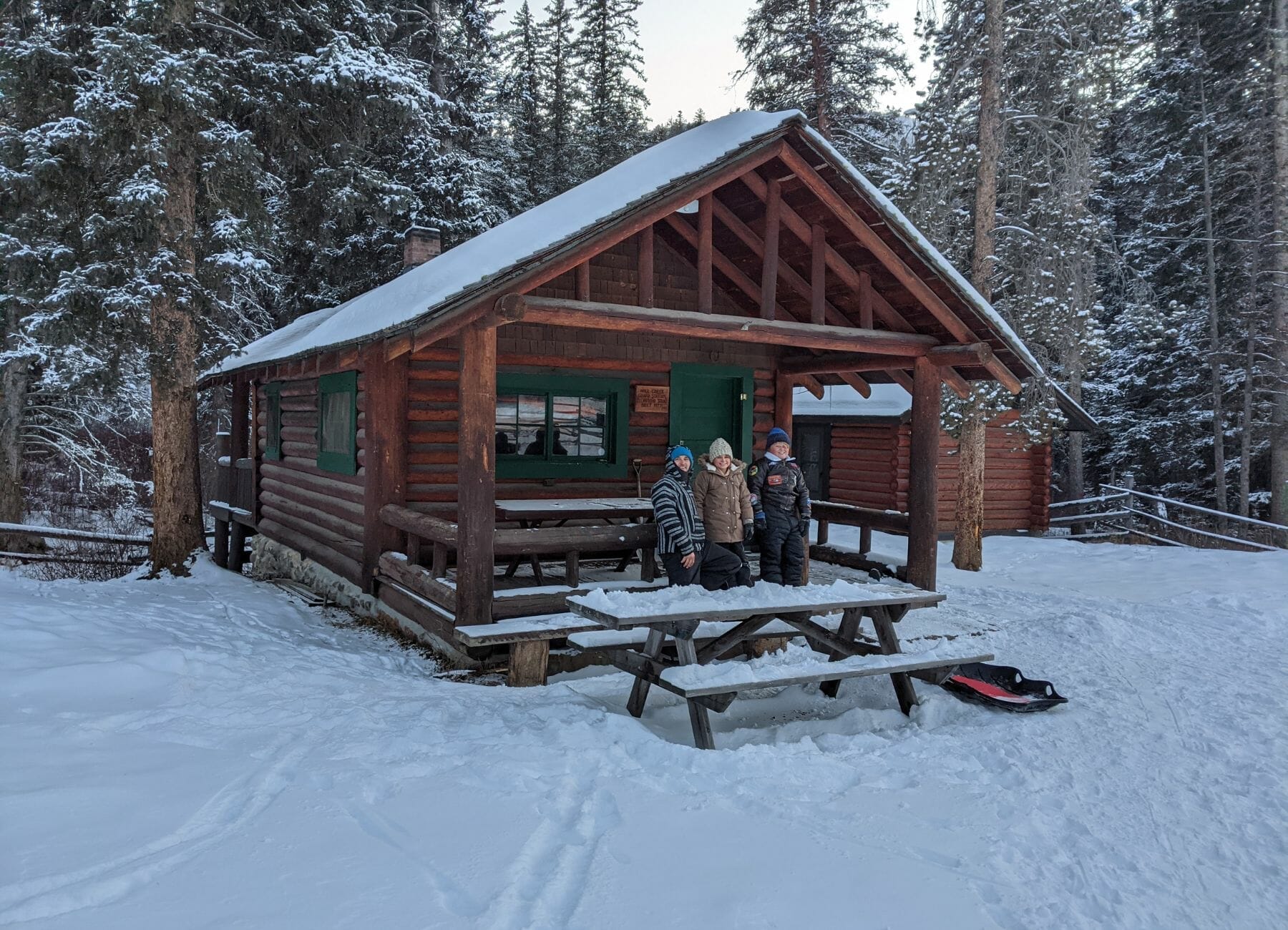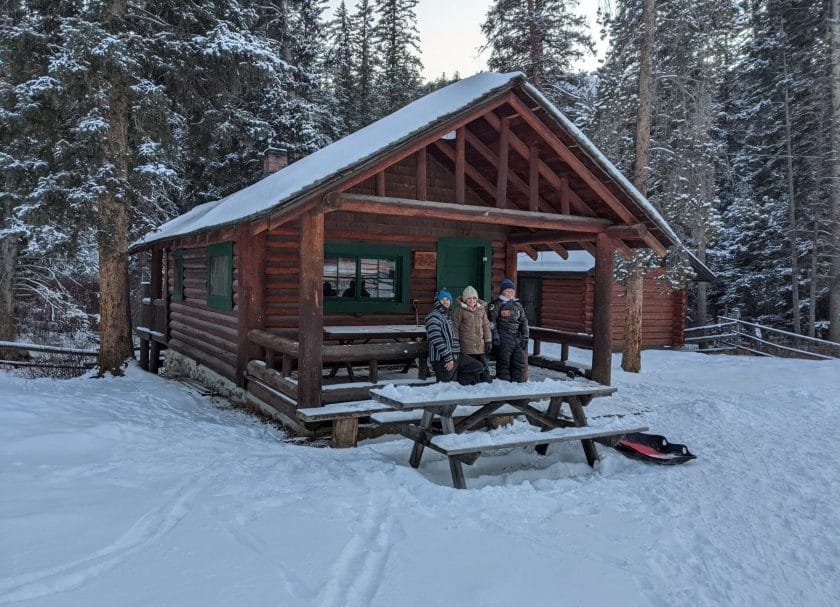 This is a unique experience that we absolutely loved. We rented a cabin north of the park in the Gallatin National Forest. These cabins were originally built in the 1920s and 1930s for use by the Forest Service Rangers to stay while patrolling the area. They are minimal but usually have beds and a wood-burning stove that, if stoked all night, will keep the cabin toasty warm.
We were able to drive right to our cabin, but there are many that you need to ski, snowshoe, or snowmobile into, making it a true backcountry adventure. Most cabins have access to surrounding ski trails, and our cabin had a great sled hill right up the road.
Spend a Day in Livingston, Montana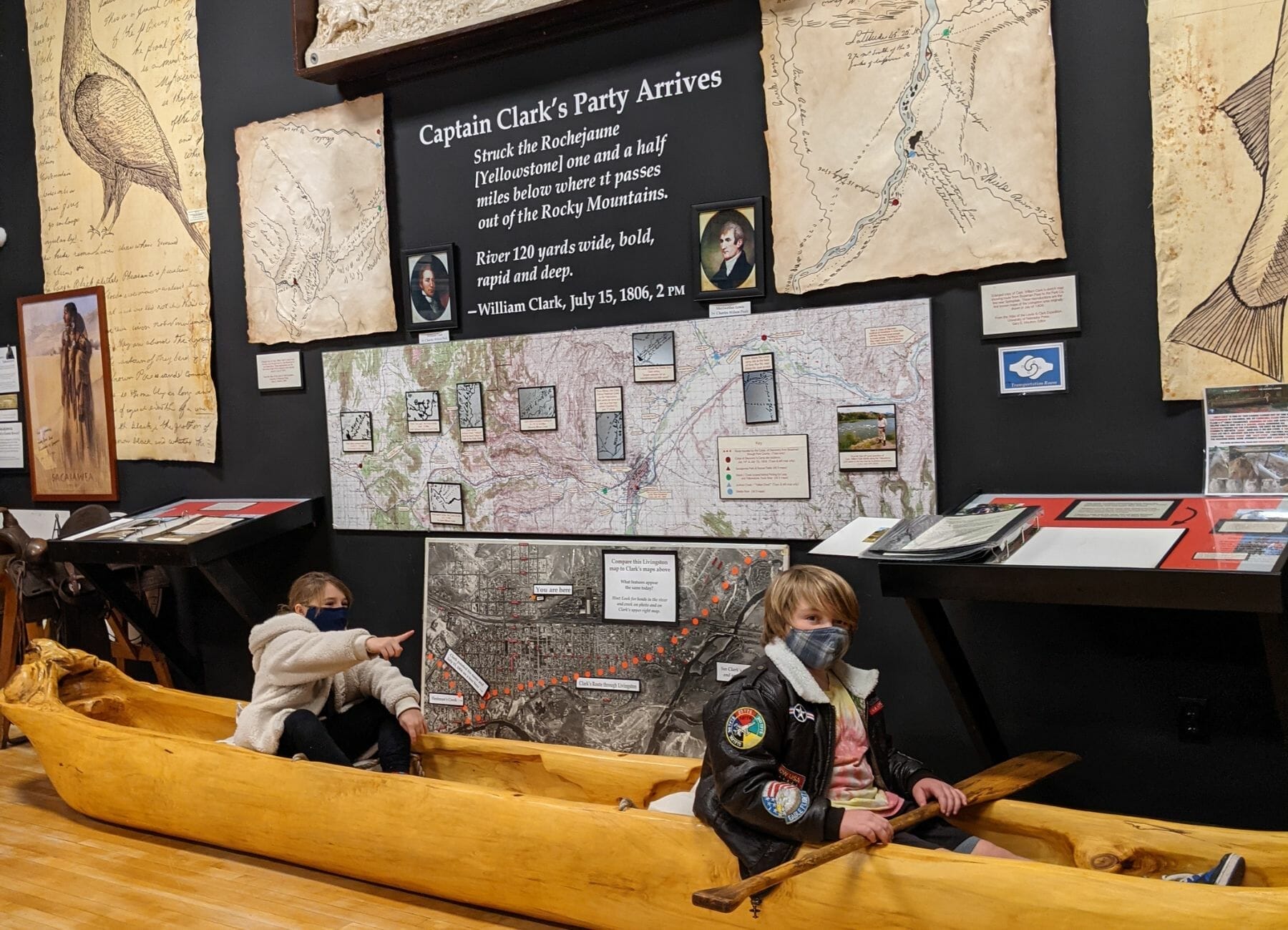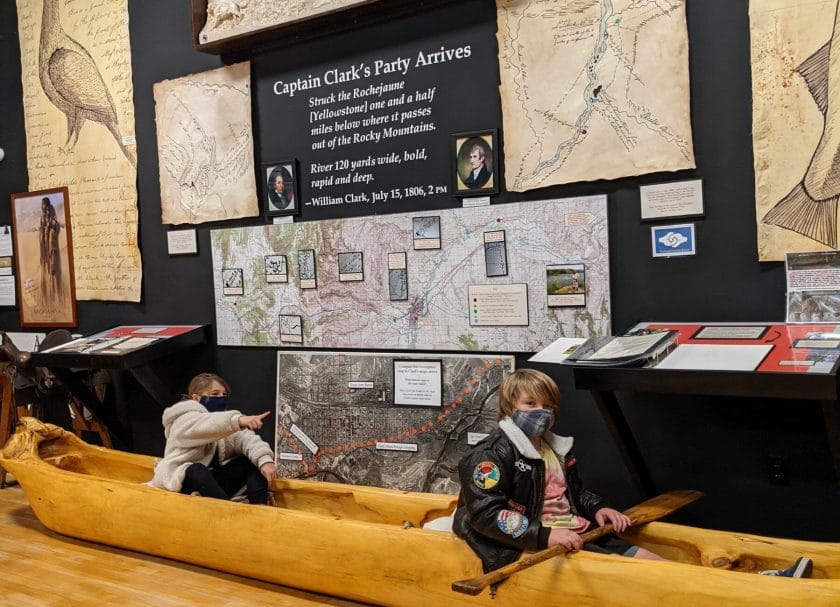 Livingston is a historic town about an hour north of the north entrance of Yellowstone. The drive to get to Livingston is an experience in itself, following the Yellowstone River through Paradise Valley. This is a great place to restock groceries and supplies and hang with the locals in a mountain town.
This town is very low-key in the winter, with few tourists, and the whole town is very walkable. Enjoy breakfast with the locals at Pinky's and then walk around downtown checking out the shops, including books stores, vintage shops, and outfitters stores. Grab lunch at the Pickle Barrel and then head to Sacajawea Park and hang out while the kids play in the large playground.
If it's too cold for the park, head to the Yellowstone Gateway Museum. This museum commemorates the Lewis & Clark Expedition and also covers local history, wildlife, and geology.
At this point, head to Neptune's Brewery or back downtown to one of the many restaurants for dinner. We recommend the Mint Bar & Grill, which is a historic restaurant serving comfort food and drinks in a comfortable environment. Another option for more unique, eclectic food is the Elemental Kitchen.
Where To Eat
Mammoth Hot Springs Hotel (closed winter 2022-23) and Old Faithful Snow Lodge are the only places in the park where you can have a full-service sit-down meal during the winter season. Both these restaurants are a unique experience due to the history of the buildings and the opportunity to dine with fellow Yellowstone winter adventurers.
Geyser Grill is a fast food option at Old Faithful Snow Lodge. They have typical fast food, like burgers, fries, and chicken tenders. The kids' meal comes in an iconic yellow snow coach.
There are several good restaurants open during the winter in each gateway town. In Gardiner, at the north entrance, the Wonderland Cafe is a bakery and full-service restaurant that offers farm-to-table meals made with local ingredients. We like to stop here for pastries and coffee before driving into the park.
Where To Stay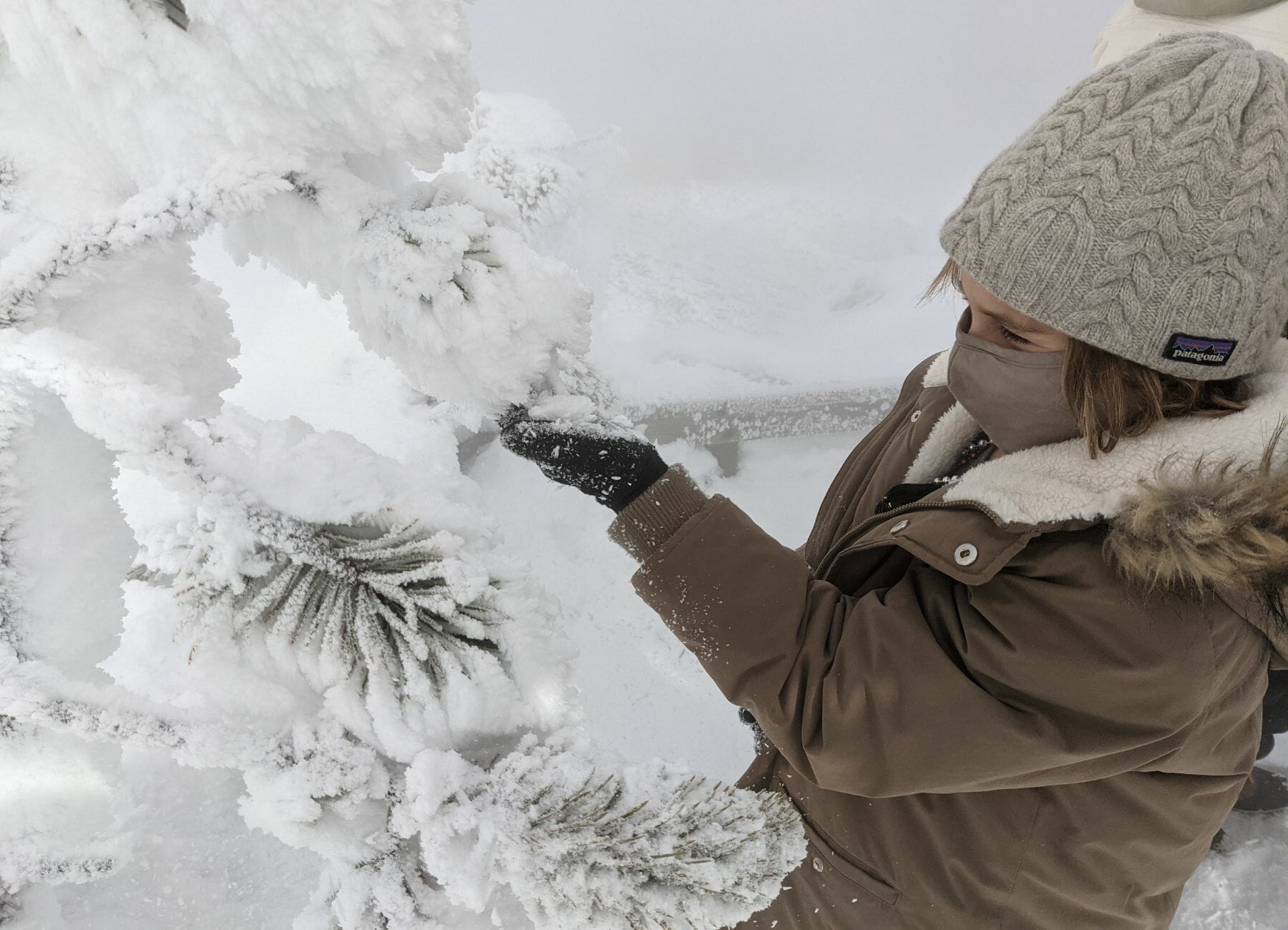 VRBO
We stayed near the north entrance of Yellowstone and would recommend this as it is the most easily accessible entrance that allows you to drive your own car into the park. The northeast entrance also allows you to drive your own vehicle in, but to get to it, you have to drive through Yellowstone as it is not accessible by any other road in winter.
There are many home and condo rentals available near the north entrance with a broad range of costs and amenities. Although you may think staying as close to the north entrance as possible is best, we recommend staying in the Paradise Valley area a bit north of Gardiner, as it has beautiful views with options to stay right along the Yellowstone River.
Best for Affordability and Location: River Front Condos
Spacious Cabin with Views: Horse Ranch on the Yellowstone River
Hotel
If you'd like to stay closer to the north entrance in Gardiner, there are some traditional and non-traditional hotel options. The Ridgeline Hotel at Yellowstone is 1 mile from the entrance and offers a heated indoor pool, and is pet friendly.
If you want to stay in a town that is close enough to the north entrance but also offers its own activities, food and entertainment, we recommend Fairfield Inn and Suites by Marriott in Livingston, Montana.
Campground
We didn't stay in our RV when visiting Yellowstone in February, but we were able to safely drive it to Livingston where we stayed and did see several RVs driving through the park. None of the Yellowstone campgrounds are open in the winter, but there are some options surrounding the park.
Yellowstone Hot Springs has electric-only RV spots that they keep open through the winter. They have potable water available in their heated shower house, and you get to enjoy the hot springs, making it a great winter RVing option!
We've visited Yellowstone in all the seasons, and winter is definitely up there as one of the best times to see the park. With the animals, scenic snow-covered vistas, and winter activities, you won't be disappointed! Check out our 18 Top Things to do in Yellowstone.
More Family Friendly Activities to do in Yellowstone
West Yellowstone Park Tour with Guide See the popular sights in West Yellowstone on this popular guided tour
4 Day Grand Teton and Yellowstone Winter Tour Book an unforgettable adventure to see the wildlife on this amazing 4-day tour
Guided Cross Country Skiing Tour Experience the winter wonderland of Yellowstone on this guided skiing adventure.
Yellowstone Snowshoe Tour On this unique 5 hour guided tour you will experience Yellowstone like never before.
Planning to Visit Yellowstone in warmer weather? Check out our guides:
Feeling overwhelmed by all the awesomeness that is Yellowstone?! We get it! The park is huge and there is so much to see and do. We have visited the park over 6 different times and have put together 1, 3 and 7 day guides to help you plan your ultimate trip to Yellowstone:
Find out about the Wildlife Tour in Yellowstone!
Check Out More Yellowstone Family Fun
Planning a Trip To Yellowstone 15 Things to Know
18 Top Things To Do In Yellowstone National Park
Mount Washburn Hike in Yellowstone with Kids
8 Breathtaking Things To Do Near Yellowstone
11 Reasons To Visit Fishing Bridge in Yellowstone
11 Fun Things To Do in Tower Roosevelt in Yellowstone
9 Things To Do in West Yellowstone
Pin to Your Winter Vacation Board to Save for Later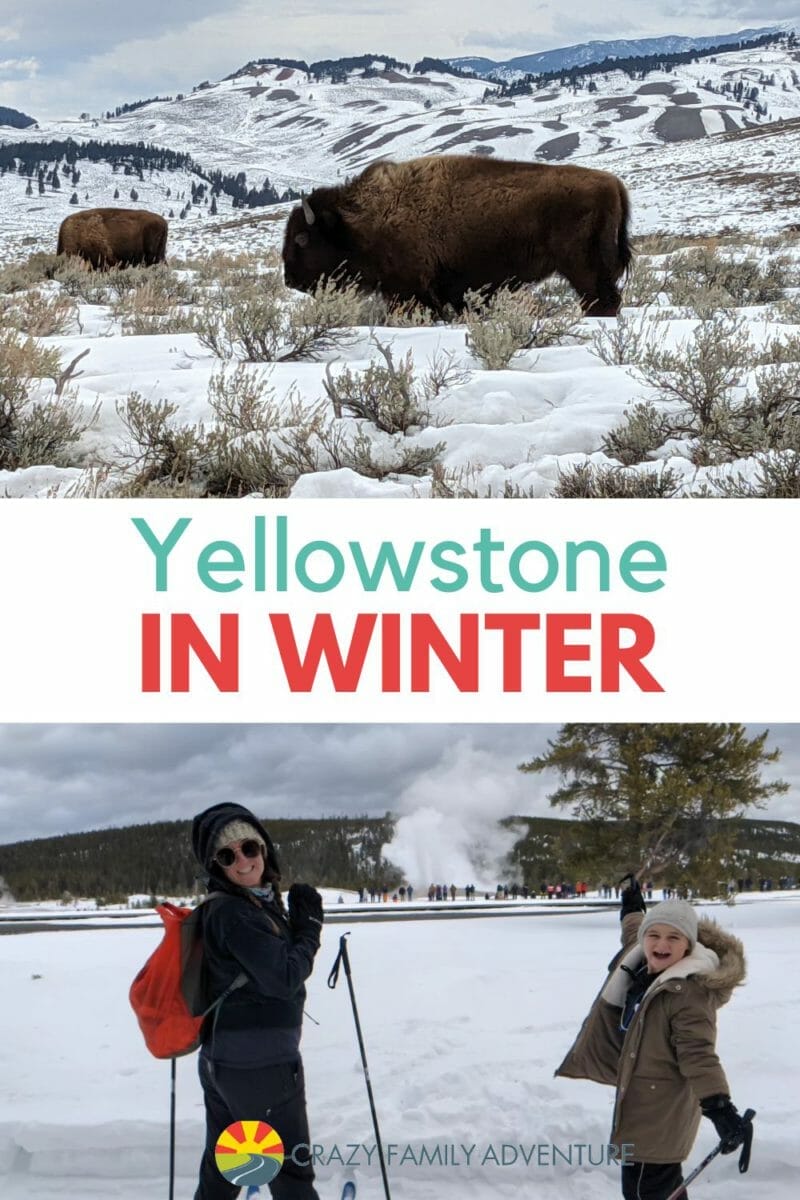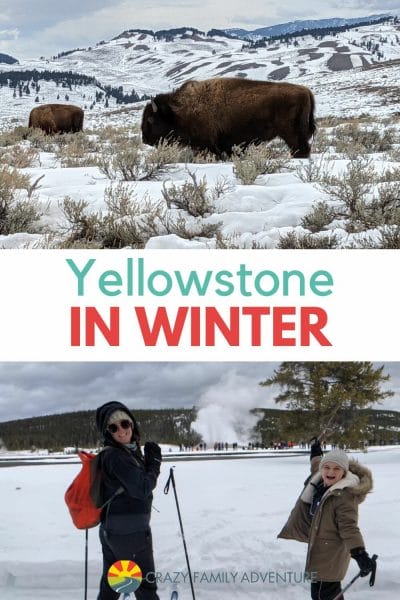 Latest posts by Megan Jurvis
(see all)
DISCLOSURE: This post may contain affiliate links, meaning I get a commission if you decide to make a purchase through my links, at no cost to you. Please read my disclosure for more info.