Meow Wolf is an immersive art experience not to be missed. Each of the three Meow Wolf locations we visited offers its own unique take on an artsy, interactive experience.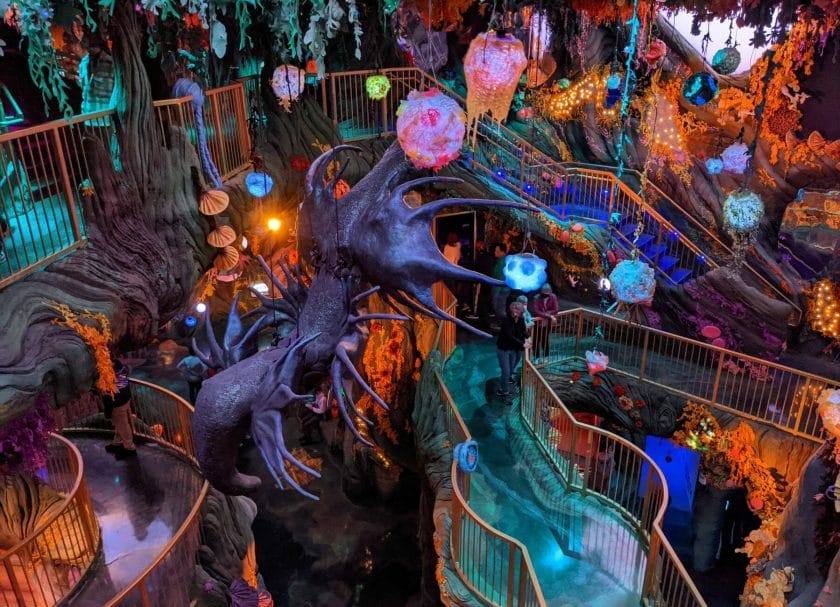 They have added a 4th location in Grapevine, Texas that we have not visited. Below is our review based on visiting the 3 locations in Santa Fe, Denver and Las Vegas.
Below, we give you our Meow Wolf review to help you decide which is best for you.
Best Meow Wolf to Visit with Young Kids – Meow Wolf Santa Fe
Best Meow Wolf if you Want to Solve the Mystery – Convergence Station in Denver
Best Meow Wolf for Pictures – Omega Mart in Las Vegas
Best Meow Wolf if you want the OG Experience – Santa Fe Meow Wolf
Best Meow Wolf with Older Kids – Omega Mart in Las Vegas
We've visited Meow Wolf locations over the years and found them to be a part art museum, part children's museum, part theme park, and overall unlike anything else we've experienced. The Meow Wolf story began with a group of artists opening a permanent exhibition in Santa Fe, New Mexico in 2016. It has since spread to include installations in Las Vegas and Denver. Learn more in our Meow Wolf review of each location.
House of Eternal Return in Santa Fe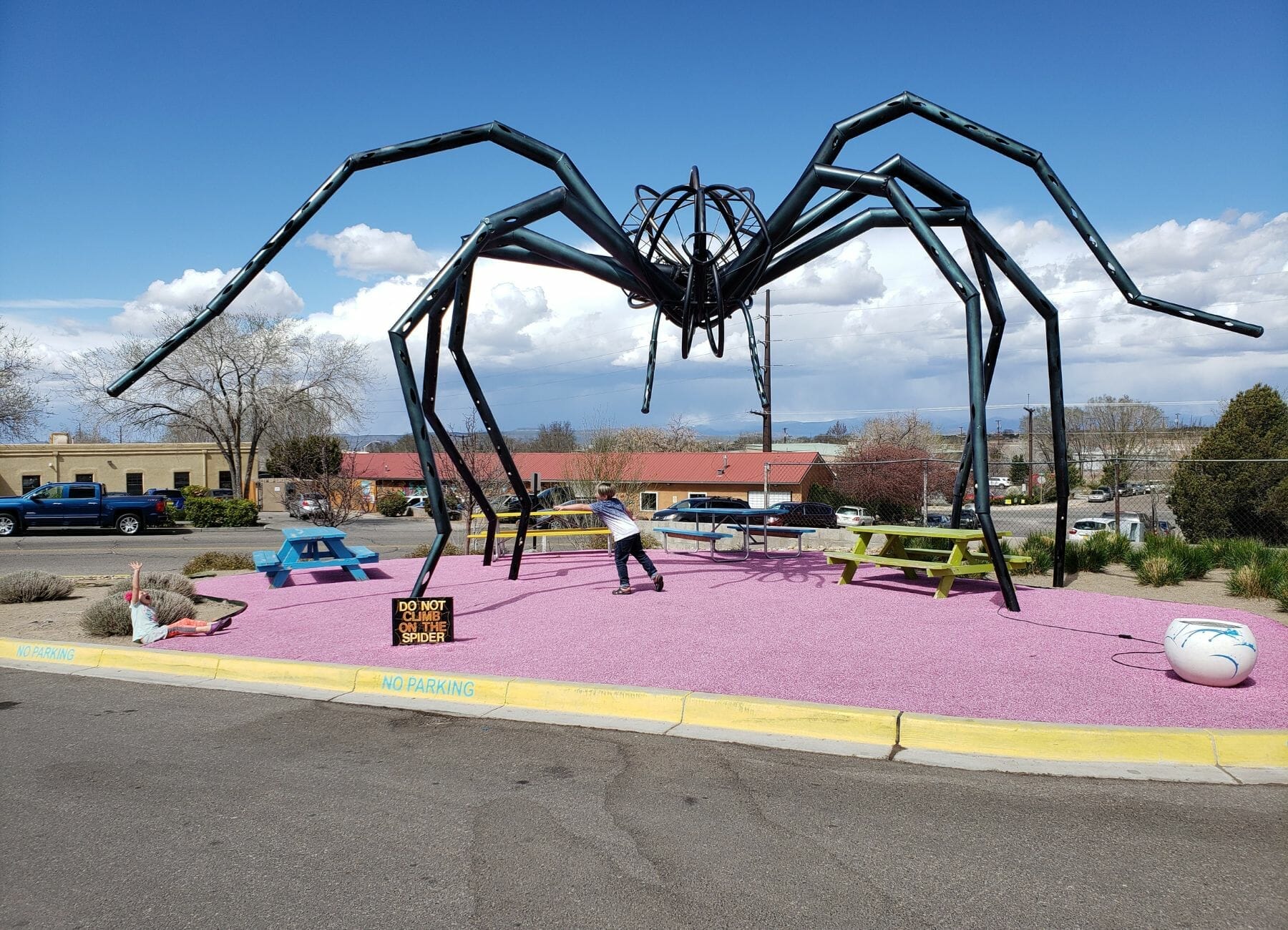 House of Eternal Return in Santa Fe was the first Meow Wolf and is the smallest at 22,000 square feet. Compared to Las Vegas (52,000 square feet), Denver (90,000 square feet), and Dallas Fort Worth (40,000 square feet), this smaller location also feels much more intimate and is easier to visit with young kids.
Explore the Coolest Fun House in the World
As the name implies, this Meow Wolf is set up as a fun house full of secret passages and immersive art installations. All Meow Wolfs have secret passages, but we enjoyed the fact that this location has them hidden in typical household items, mixing every day with the bazaar.
This is not an escape room, but there is a mystery to solve using various clues you find throughout the museum. However, the whole process is a bit confusing and time-consuming. This location's mystery involves the family living in the house, interdimensional travel, and bringing back dead family members. You can also just skip the whole mystery-solving part and just have fun exploring.
Meow Wolf Santa Fe also has a learning center, gift shop, and cafe. The learning center was a great way for our kids to get creative after being inspired by all the unique art installations.
Tips for Visiting House of Eternal Return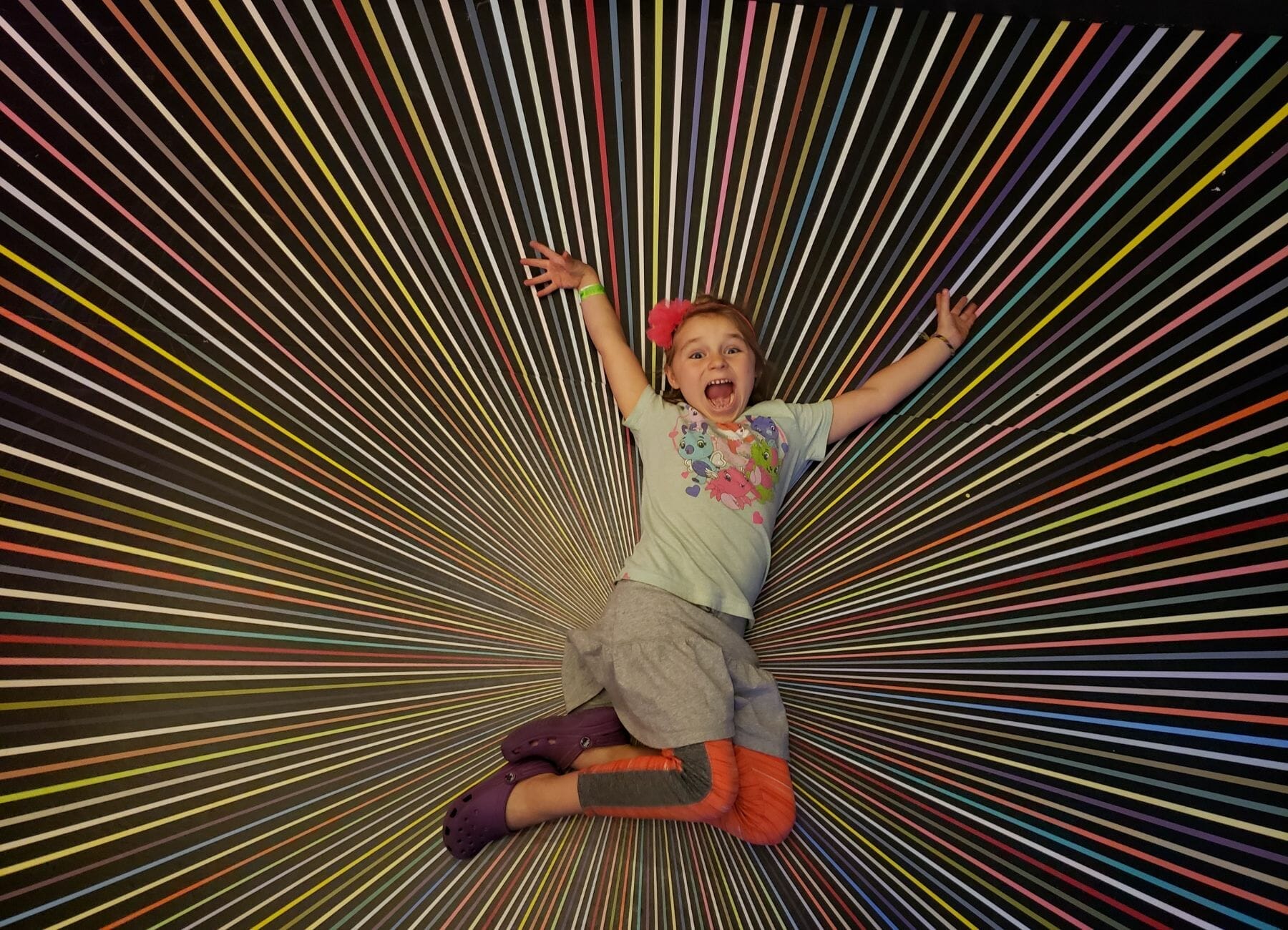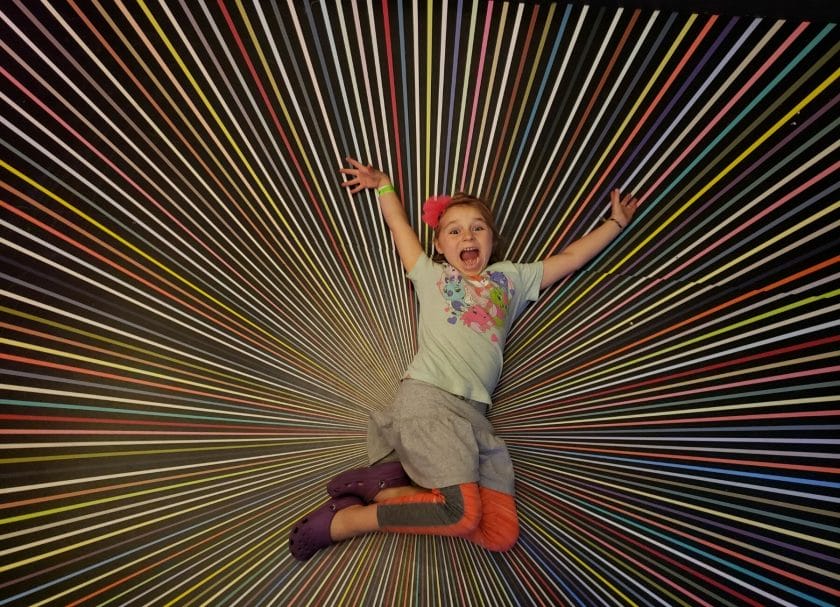 Take your time walking through the house. One of the great things about this location being so much smaller than the other Meow Wolfs is that you don't have to feel rushed to see everything.
Make sure you open all the appliances. Some of the most incredible secret passageways are hidden in the appliances, and you won't want to miss them.
Spend some time sitting in the "normal" rooms and taking it all in. Where many of the rooms are clearly wild and quirky, we found that sitting in the simpler rooms of the main house and looking closely at the weird details gave a more surreal experience.
Don't expect the mystery to be straightforward or obvious. If you choose to solve the mystery, expect it to be vague and a bit confusing. This is not a follow-the-clues and find-the-answers situation, but instead, you discover tidbits of information until you have a general idea of what the story behind the house is.
Give yourself time for the learning center, gift shop, and cafe. We would recommend spending at least an hour in the learning center to allow your kids and yourself a chance to get creative. The gift shop and cafe also offer unique items that you won't find anywhere else.
This location is closed on Tuesdays and Wednesdays and tends to be a lot busier on the weekends. Tickets are purchased online ahead of time for a designated time slot.
Omega Mart in Las Vegas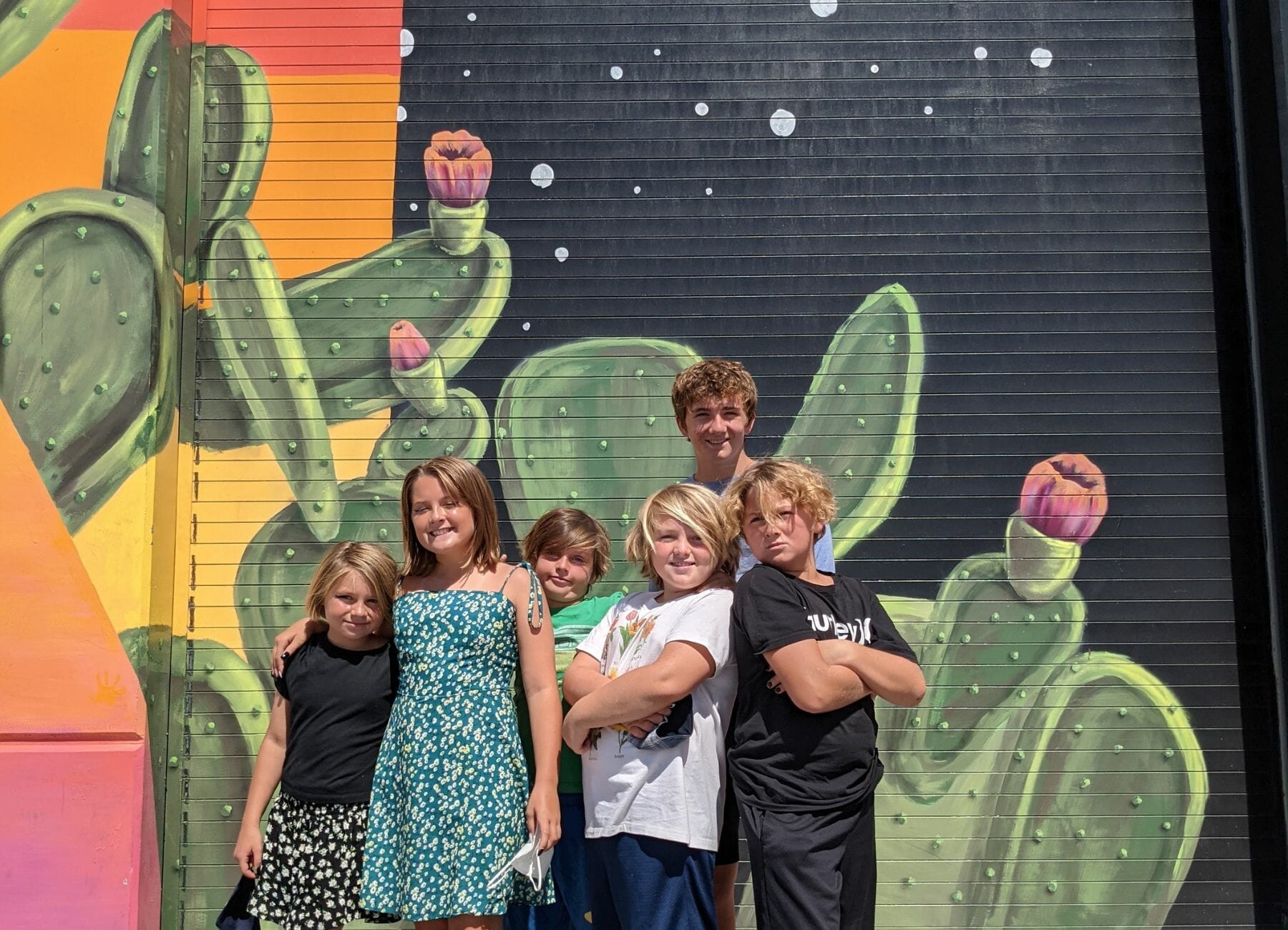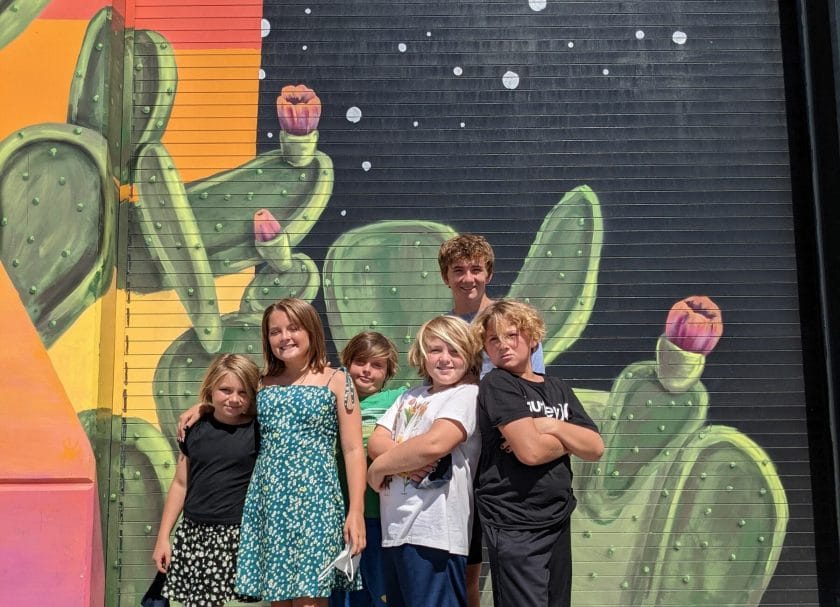 As with everything in Las Vegas, the Meow Wolf there is huge and over the top. This Meow Wolf is a surreal grocery store with a secret passageway through the freezer section that leads to a spectacular area full of interactive rooms and crazy art installations. After opening in 2021, there have already been over a million visitors to this location.
So Much to See and Do!
This is the second permanent Meow Wolf location to open and includes some massively mind-blowing art installations. However, it also has a ton of small rooms, each with its own theme, interactive element, or visual experience.
As with all Meow Wolfs, there is an immersive storytelling experience to explore at the Omega Mart. This one centers around a company called Dramcorp, and real people are walking around as Omega Mart and Dramcorp employees that you can interact with.
One of the best parts of this Meow Wolf for our kids was the big slides. Although some of these slides weren't as incorporated into the experience as the smaller slides in Santa Fe, they were tall and winding and just plain fun. However, two of the three slides were closed in 2022, with no news on when they will reopen.
Tips for Visiting Omega Mart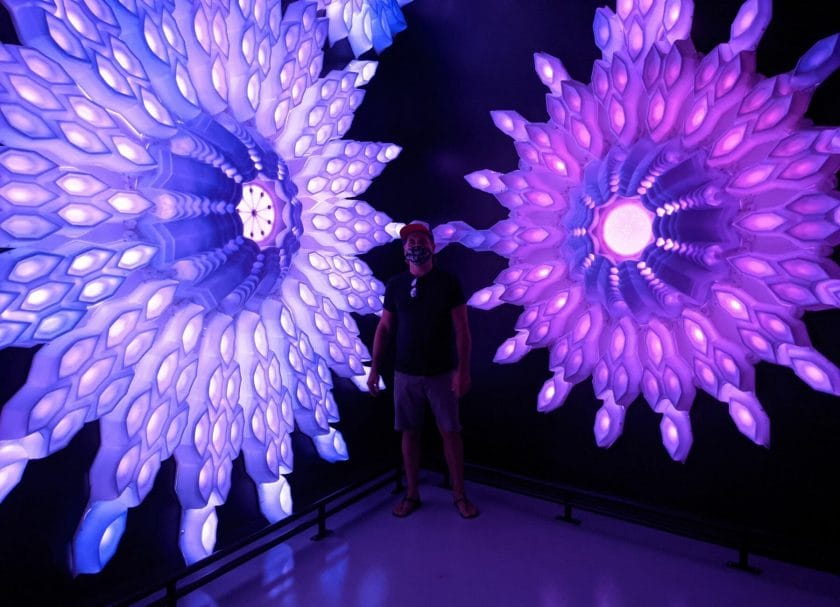 Omega Mart is located in AREA15, a more prominent arts and entertainment district in Las Vegas. There are places to eat, drink, and other experiences to check out in AREA15. However, once you leave Omega Mart, you can't re-enter, so plan accordingly.
Take time to check out the grocery store. In true Meow Wolf fashion, this part of the experience mixes the mundane with the surreal. What looks like regular groceries are actually pieces of art that might make you think, laugh or just shake your head in confusion.
Ask a staff member for a "boop" card right at the beginning. These cards allow you to interact with the storytelling part of the exhibit. Scan the cards at the different stations, and you'll see videos, read emails, and get other messages that you can piece together to discover the mystery behind the Dramcorp company.
If trying to solve the mystery is too frustrating and complicated, we still recommend getting a "boop" card, as young kids will enjoy running around and scanning it just for fun.
If the slides are open when you go, you will want your kids to wear shoes that are easy for them to take on and off. They provide booties that they have to wear to go down the slide, but then they have to have shoes on to run back up to the top, so there will be a lot of shoes being taken off and put back on.
Omega Mart is open every day until midnight, but AREA15 is over 21 years of age only after 10 pm, so you will need to leave with your kids before then.
Book your Ticket to Meow Wolf's Omega Mart here!
Convergence Station in Denver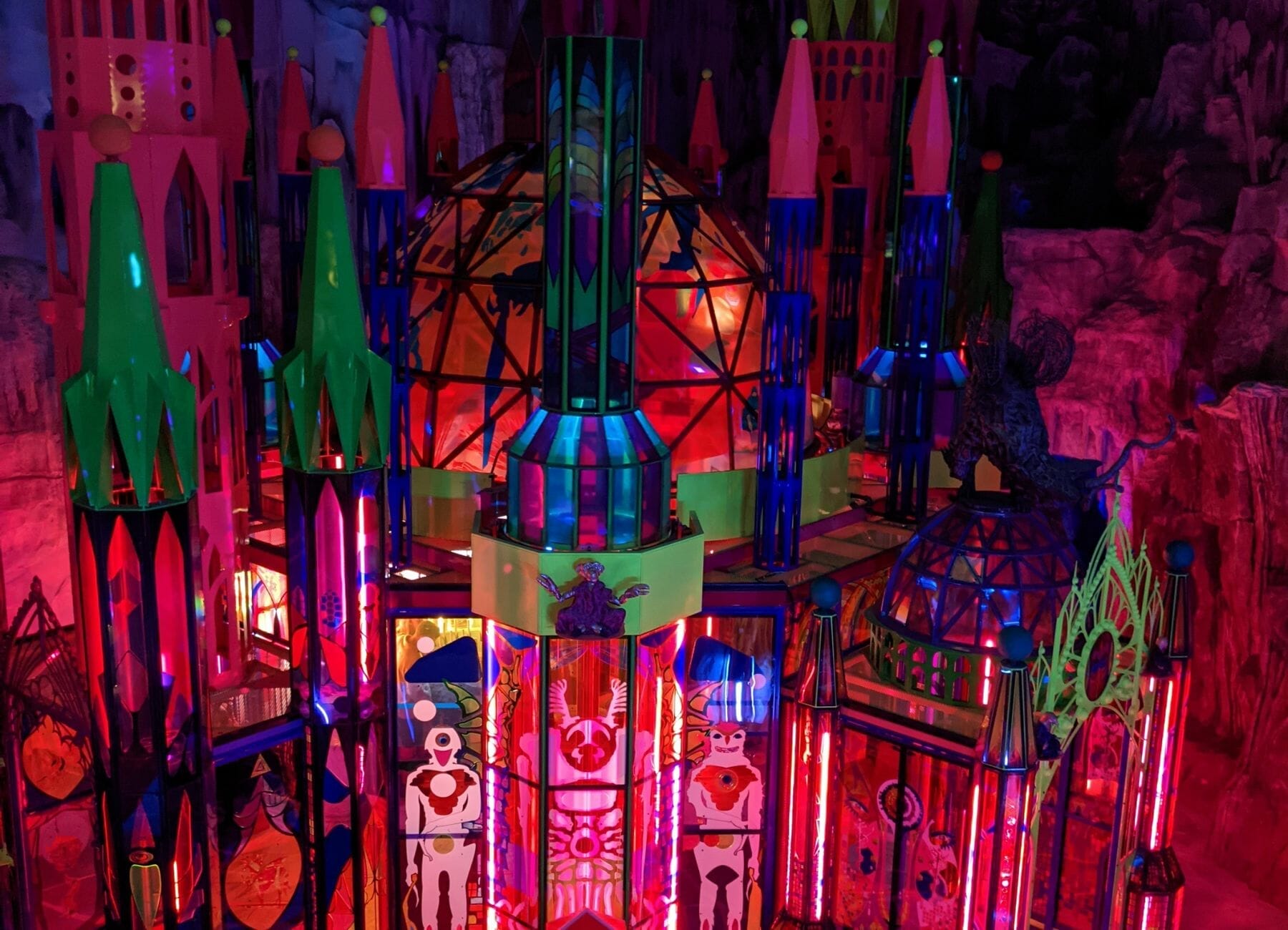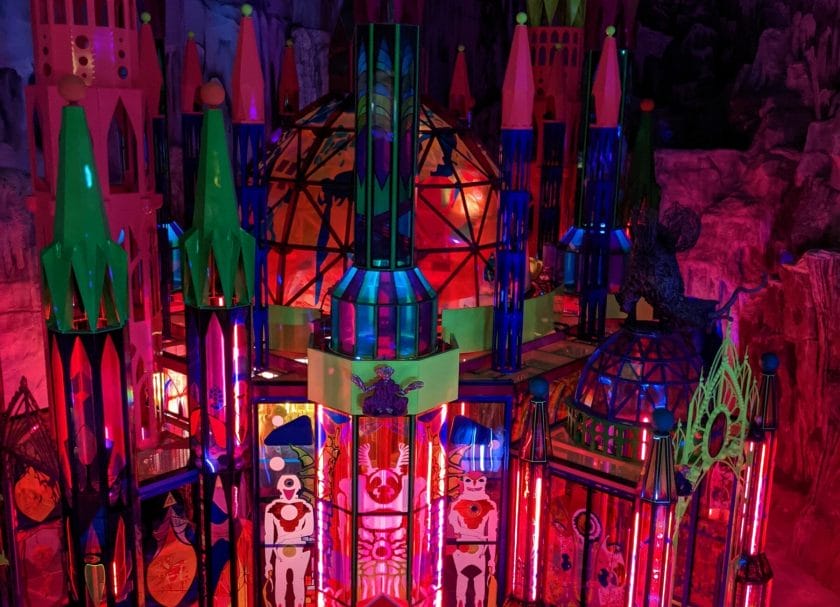 The third permanent Meow Wolf installation opened in Denver in 2021. This is the largest Meow Wolf, taking up four stories, and it feels the most open and airy, with whole buildings built within the building.
Travel to a Different Planet… or Universe… or Dimension
All Meow Wolfs give you the feeling that you are in a different world, so we're not surprised that Meow Wolf Denver actually includes that as part of its back story. Unlike Santa Fe and Las Vegas, the journey from the "normal" area to the "crazy" area is not through a hidden passageway. But instead on an elevator that makes you feel like you are traveling from a station on Earth to a station… who knows where?
Convergence Station is definitely a science fiction lover's dream. If you've ever seen movies like Total Recall, you will recognize the concept of whole futuristic but rundown cities existing inside or underground.
The mystery here centers around the idea that years ago, a cosmic event tore pieces and people from different worlds and brought them to this spot known as the Convergence of Worlds. Now, they coexist with only memories of their former worlds. Finding and collecting these memories are the main part of solving this Meow Wolf's mystery.
Tips for Visiting Convergence Station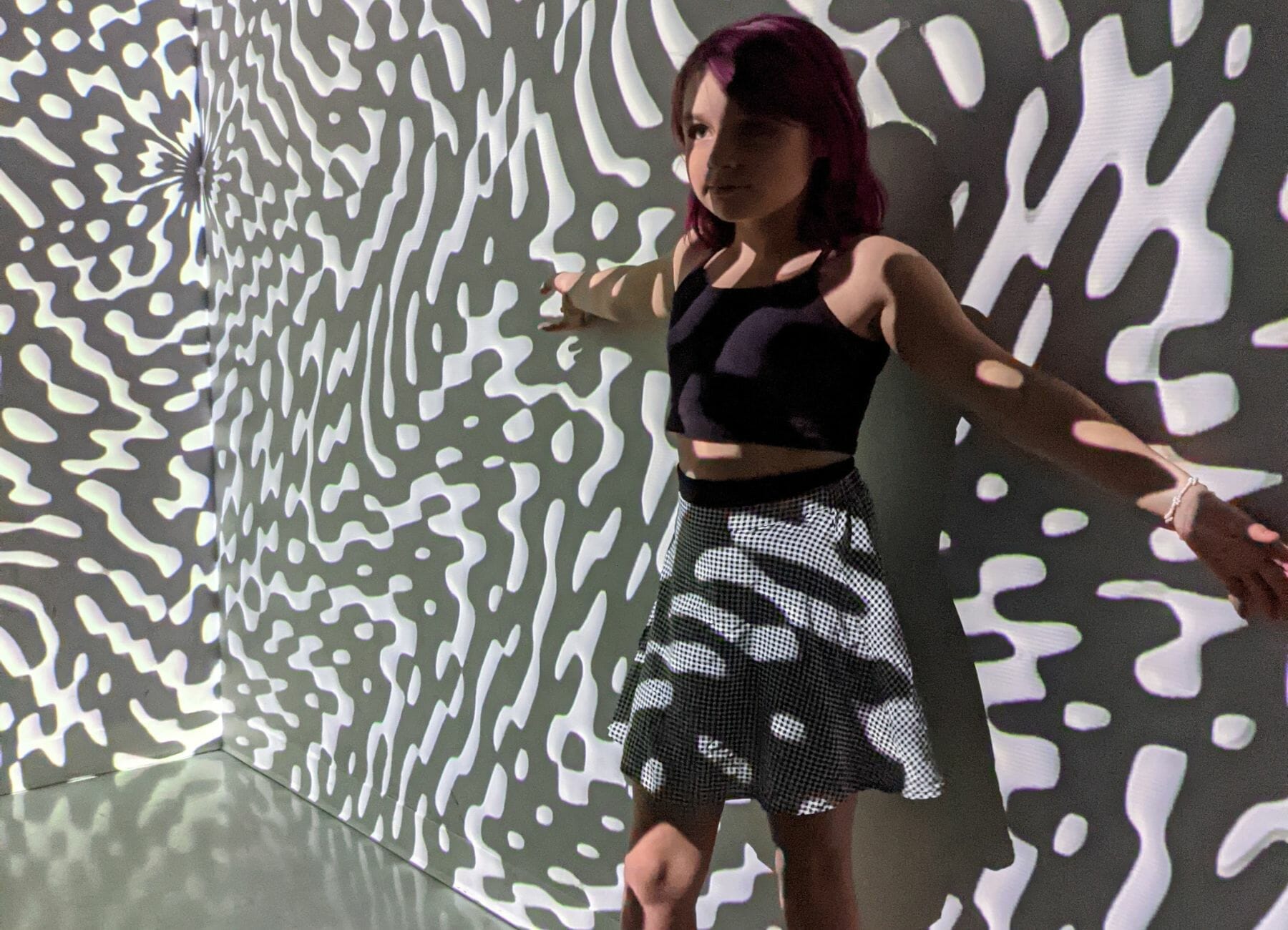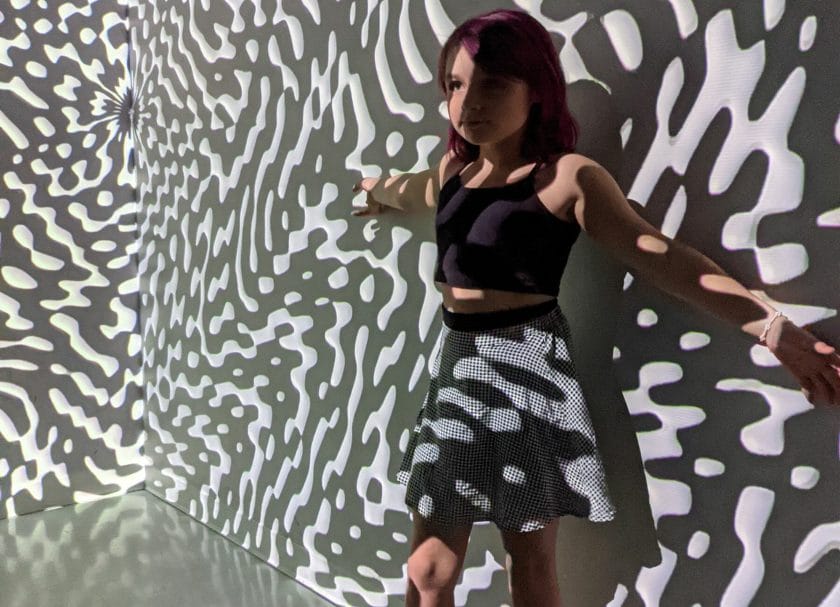 This location is the most sprawling, making it harder to visit with young kids or a big group. Since you will want to move from area to area together rather than having a central location where everyone can explore.
Interact with the installations. There is so much to look at that it's easy to skip over the installations. Since these installations take a little more time to interact with, but we recommend spending some solid time experiencing some of them from start to finish.
As with Omega Mart, there is a card you can get that allows you to interact more with the story. This QPASS costs $3 and isn't necessary. But we recommend getting one to share as a family before entering in case you decide you want to try to solve the mystery.
The QPASS also makes certain things happen throughout the art exhibition, so even if you don't want to solve the mystery, kids will have fun using it. Sometimes it will change color, make a sound, make something move or cause something unexpected to happen.
There is a gift shop and cafe at this location, and both are worth checking out. Tickets can be purchased online for a designated time slot, and there is parking on-site.
Best Meow Wolf to Visit with Young Kids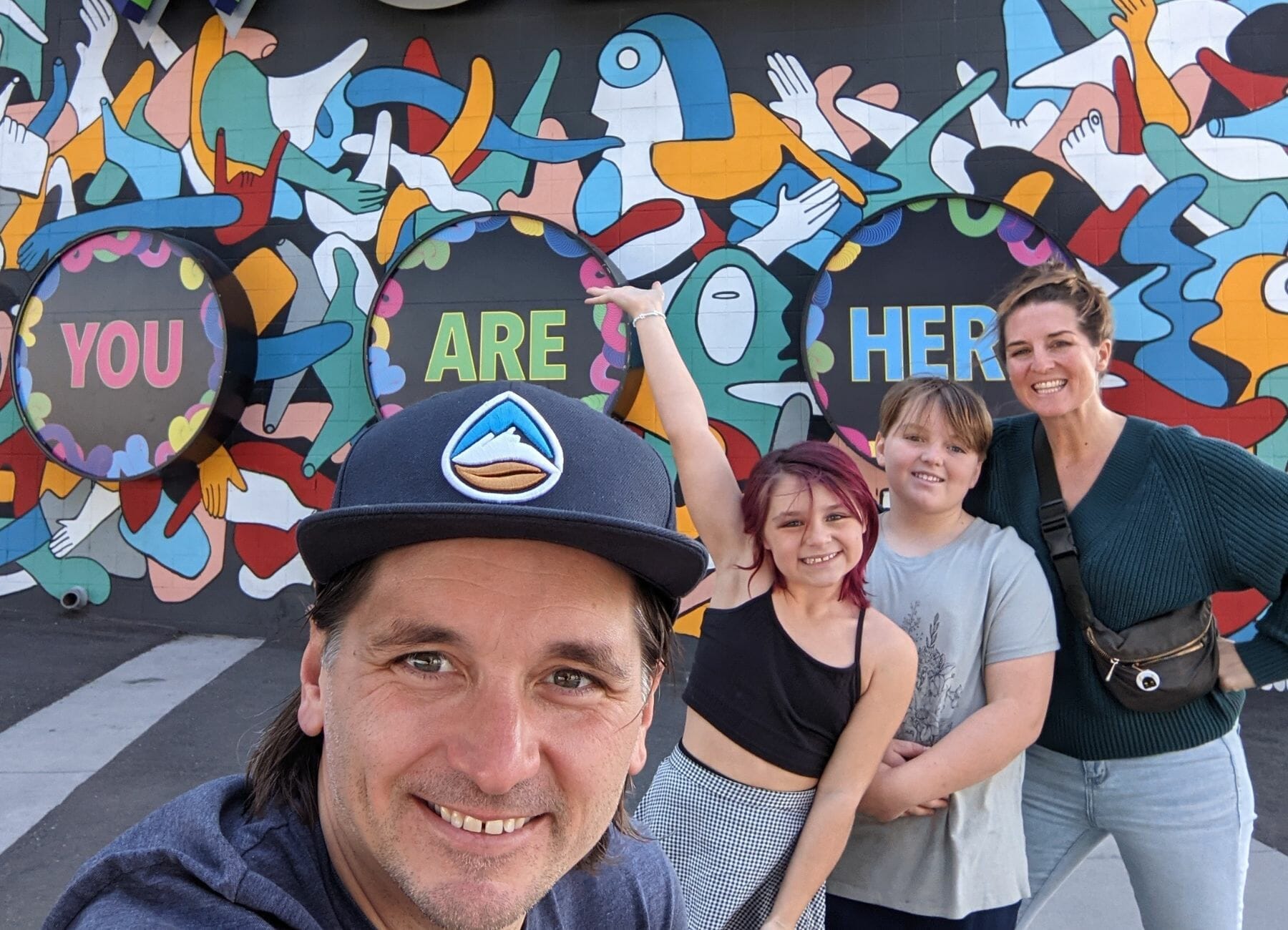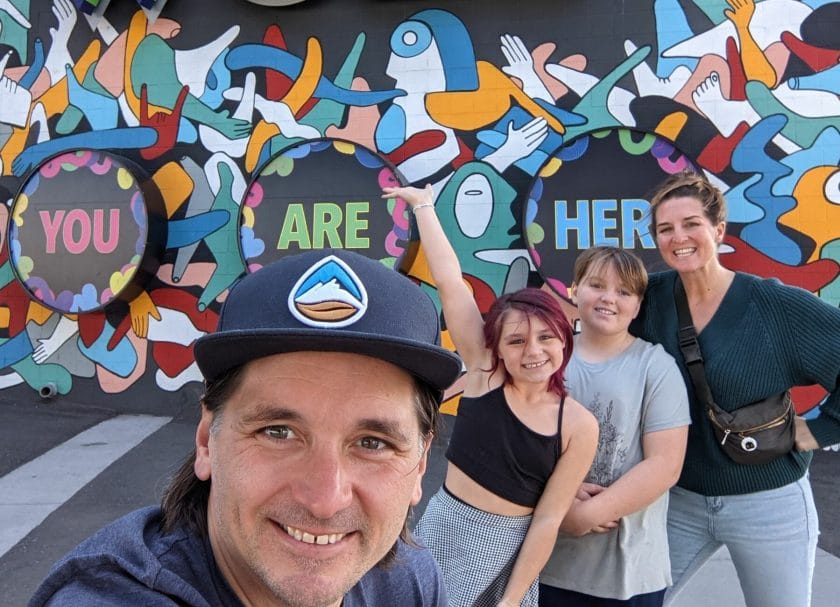 We found Meow Wolf Santa Fe to be the best location to visit as a family with young kids for several reasons. It's a smaller installation, so easier to navigate with kids. The kids will also get a kick out of all the secret passageways through the "house."
This location also has a learning center, which is built for kids and has art supplies and activities. When we were there, they had an activity that involved picking two random words (how they actually came up with the name Meow Wolf) and drawing a picture that represents those two words.
Best Meow Wolf if you Want to Solve the Mystery
We found the best storyline and easiest mystery to interact with was at the Convergence Station in Denver. As with all Meow Wolf mysteries, it takes time and needs to be the focus of your visit if you're going to actually solve it, but the backstory here was more apparent and straightforward.
Best Meow Wolf for Pictures
Although all Meow Wolf locations offer unique experiences and crazy photo ops. We found that the Omega Mart in Las Vegas had some of the best spots for Instagram selfies and fun family photos. Not only are the crazy, over-the-top contemporary art installations super colorful. They show up great in pictures, but the grocery store area also offers some unique backgrounds.
Best Meow Wolf if you want the OG Experience
We always like to experience things as they are before they blow up or become the next best thing. There is a distinct difference between the Santa Fe experience vs. the Denver and Las Vegas experiences. The Santa Fe Meow Wolf feels less commercial and more intimate. There is also a quality-over-quantity vibe you get that is distinctly different from the other locations.
Best Meow Wolf with Older Kids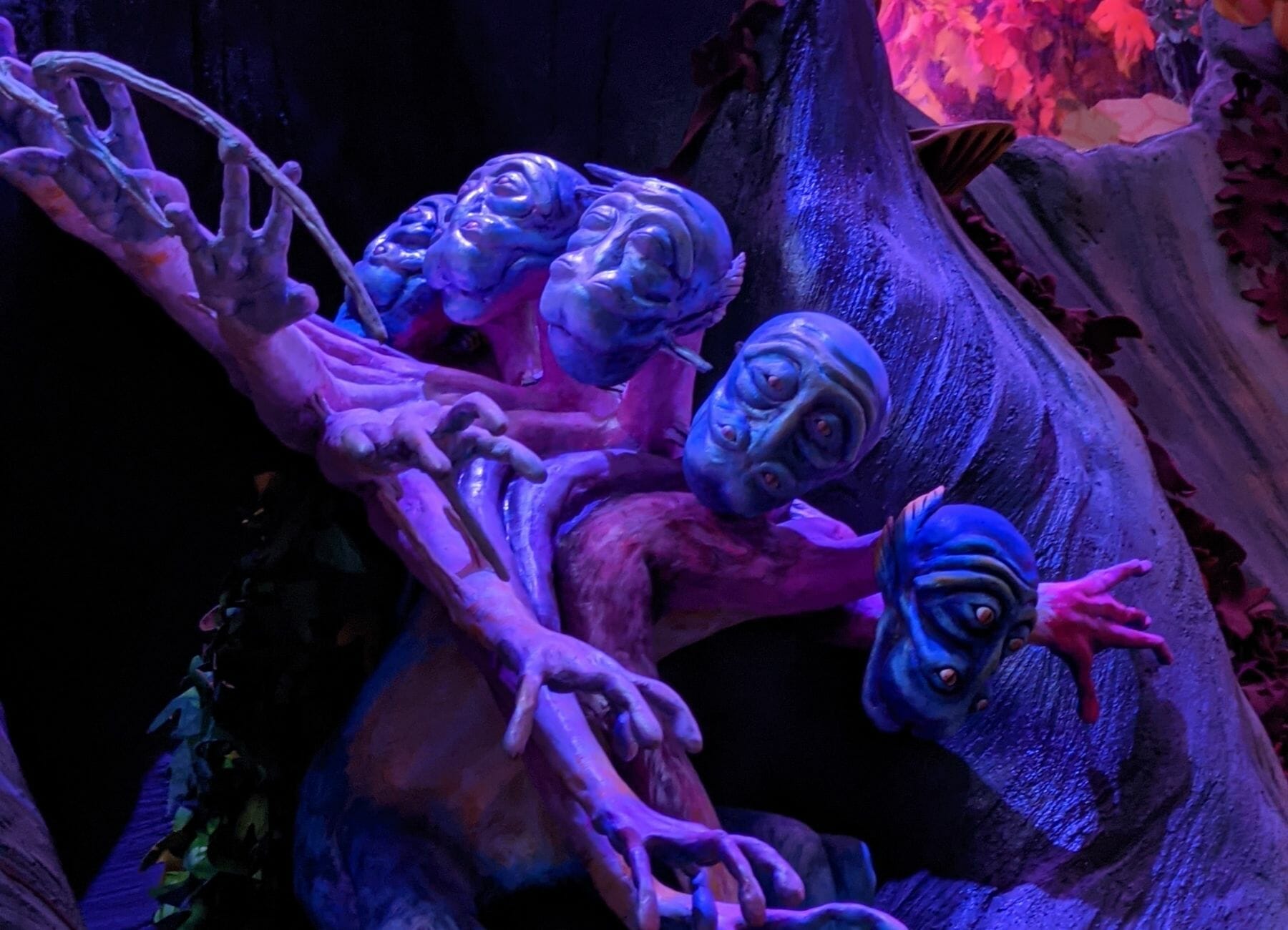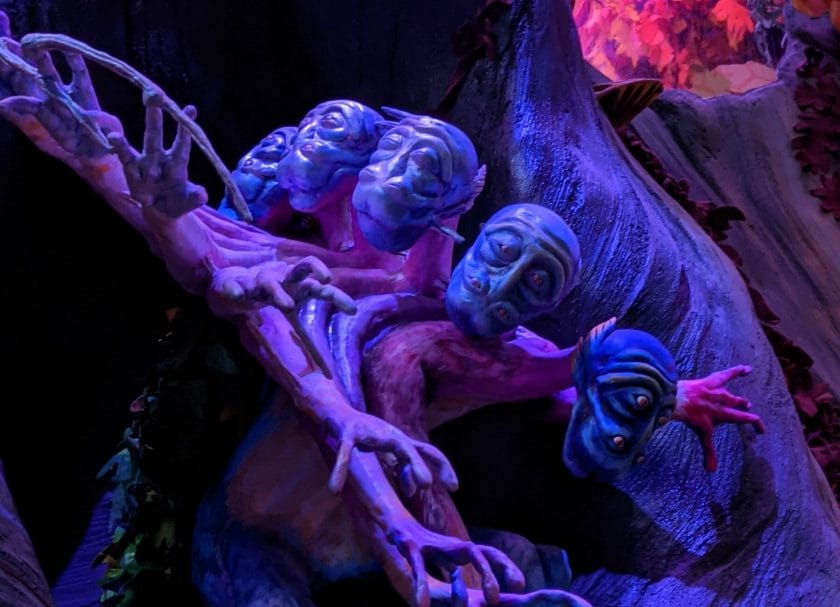 Omega Mart in Las Vegas is a great location for families with older kids. It's the right size and layout where they can explore a bit on their own, and you don't have to worry about getting separated for hours. Also, if the slides are opened, they are big enough to be fun for kids of all ages and adults!
Omega Mart is also in AREA15, which offers other attractions for older kids. This area includes a zip line, a cinematic immersion experience, and alternative reality gaming. Combined with the Omega Mart and good food options, families with older kids could easily spend all day at this location. Book your Ticket to Meow Wolf's Omega Mart here!
Final Thoughts
If you are looking for an intimate experience that pairs every day with a surreal experience, House of Eternal Return in Santa Fe is for you. If an over-the-top spectacle full of visual experiences is for you, then visit Omega Mart in Las Vegas. And if you want to feel like you're in your own sci-fi movie, complete with a mysterious storyline, head to Convergence Station.
No matter which Meow Wolf you visit, you'll be transported into a beautiful dreamlike world that you'll never forget. Whether you are in the area and decide to add Meow Wolf to your travel itinerary. Or you plan a trip just to visit a Meow Wolf, you won't be disappointed.
Meow Wolf announced that a fourth permanent installation is set to open in the Grapevine Mills Mall. Located in the Dallas Fort Worth area in 2023. Meow Wolf will have a fifth permanent installation in Houston, Texas, will be opening in 2024. Under its CEO, Jose Tolosa, and its executive creative director, Dale Sheehan. Meow Wolf plans to continue expanding over the next years. We are excited to visit more Meow Wolf locations and share out Meow Wolf Review again in the future!
Where to Stay
Denver
Hyatt Centric Downtown This 5-star hotel is located in the heart of downtown Denver, within walking distance of countless attractions.
Hampton Inn & Suites Downtown Denver This great family-friendly hotel is located in a wonderful neighborhood in downtown Denver.
Beautiful Private Carriage House This gorgeous 2-bedroom house sleeps 6.
Modern House with a large rooftop deck overlooking downtown Denver
Las Vegas
Hilton Grand Vacations Club This beautiful hotel is located on the Las Vegas Strip and is filled with amenities.
Desert Paradise Hotel This quiet hotel is located just 2 miles off of the strip and is great for families.
Cozy Desert Retreat This 3-bedroom home provides a private backyard, spa, and game room for your family to enjoy.
Santa Fe
Las Palomas This hotel is filled with amenities and located near Santa Fe's historic area.
Hotel Santa Fe Hacienda style hotel is located in the Railyard District and is Native American owned.
Historic Eastside Casita and Garden Great location with indoor and outdoor living. This great home was built in the 1920s.
Casa de las Golondrinas in downtown Santa Fe, this home offers great mountain and city view.
Find more Family Fun Activities
Denver
Denver City Pass See Denver's Top Attractions including the Downtown Aquarium, Children's Museum, Botanical Gardens and more!
Rocky Mountain Zipline Tour Experience the beauty of the Rocky Mountains from Colorado's longest zipline
Las Vegas
Book a Day Trip to the Grand Canyon, Antelope Canyon, and Horseshoe Bend from Las Vegas. Ride in comfort on this guided tour.
Mini Baja Dune Buggy Adventure Take a off road adventure on this thrilling dune buggy ride through the desert.
Santa Fe
Santa Fe Architectural Walking Tour & Wine Tasting Explore and learn about the distinctive New Mexican architecture on this guided tour.
Discover More Great Family Vacation Ideas
37 Stops for the Best Cross Country Road Trip
6 Epic National Park Road Trip Ideas (Maps Included)
Yellowstone's Grand Canyon is a Must See on your Family Trip
12 Day Yellowstone Itinerary for Visiting In & Around the Park
11 National Parks Near Las Vegas to Visit This Year
Pin to Your Family Vacation Board to Save for Later!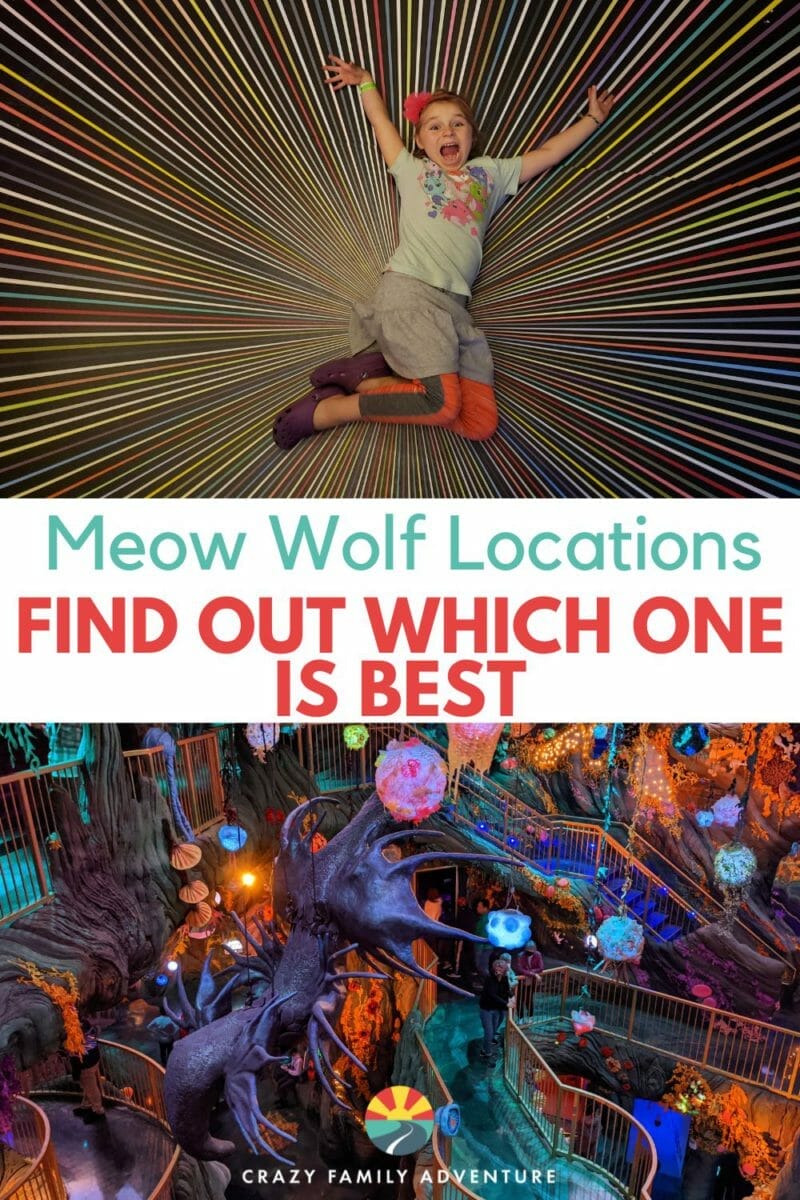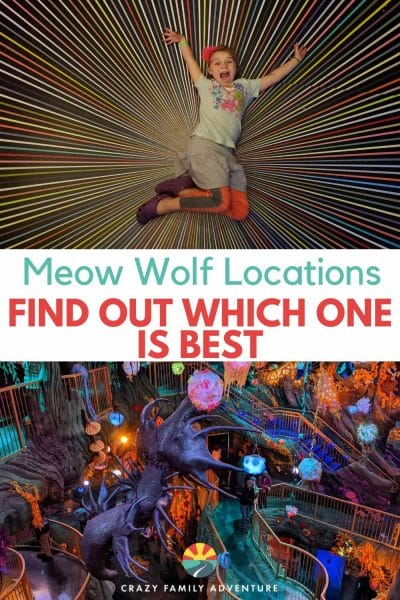 Latest posts by Megan Jurvis
(see all)
DISCLOSURE: This post may contain affiliate links, meaning I get a commission if you decide to make a purchase through my links, at no cost to you. Please read my disclosure for more info.