With a thriving nightlife, tons of theme parks and museums to visit, and international exhibitions, Las Vegas is rightfully known as the entertainment capital of the world. However, that's not all there is to Sin City. There are several national parks near Las Vegas worth a visit. There is no shortage of natural beauty in and around the city, making it an exciting stop for outdoor enthusiasts.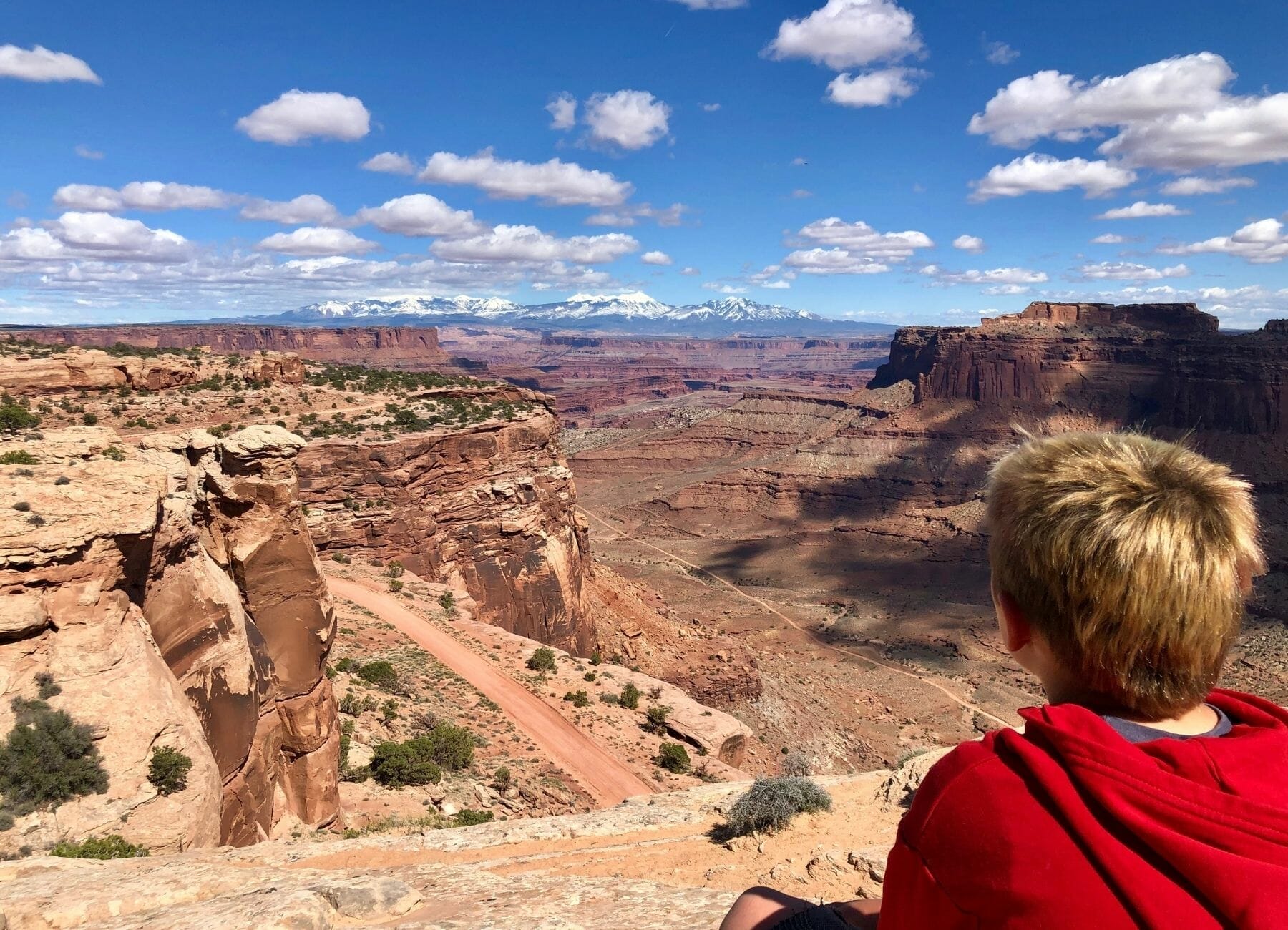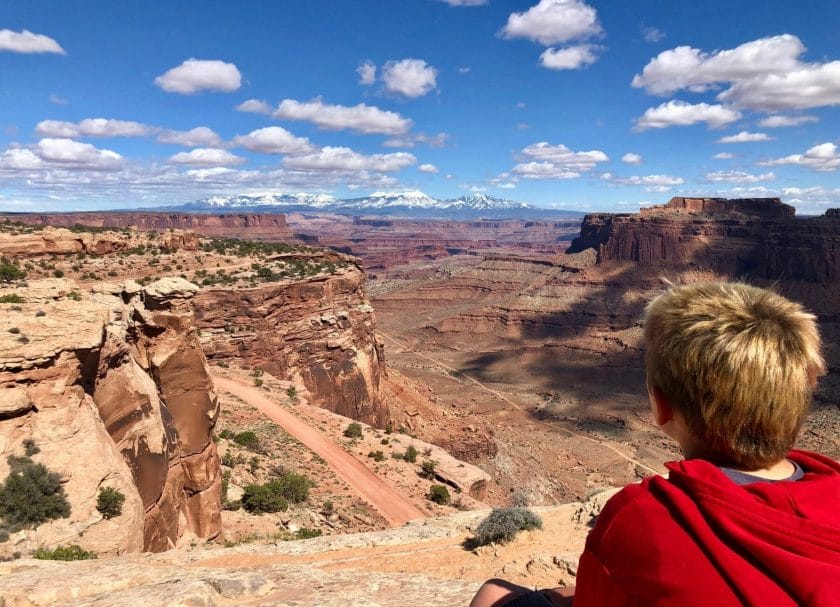 11 national parks near Las Vegas are a few hours drive from the city. While there are also some state parks you can visit, we'll be focusing only on national parks near Las Vegas.
If you're an outdoorsy person looking to traverse new lands and discover an abundance of natural beauty, Las Vegas may be the perfect stop! If you're unsure of where to start or how to go about the trip, don't worry; we have you covered. We're exploring 11 of the best parks near Las Vegas that are within driving distance if you're visiting the city.
Grand Canyon National Park Arizona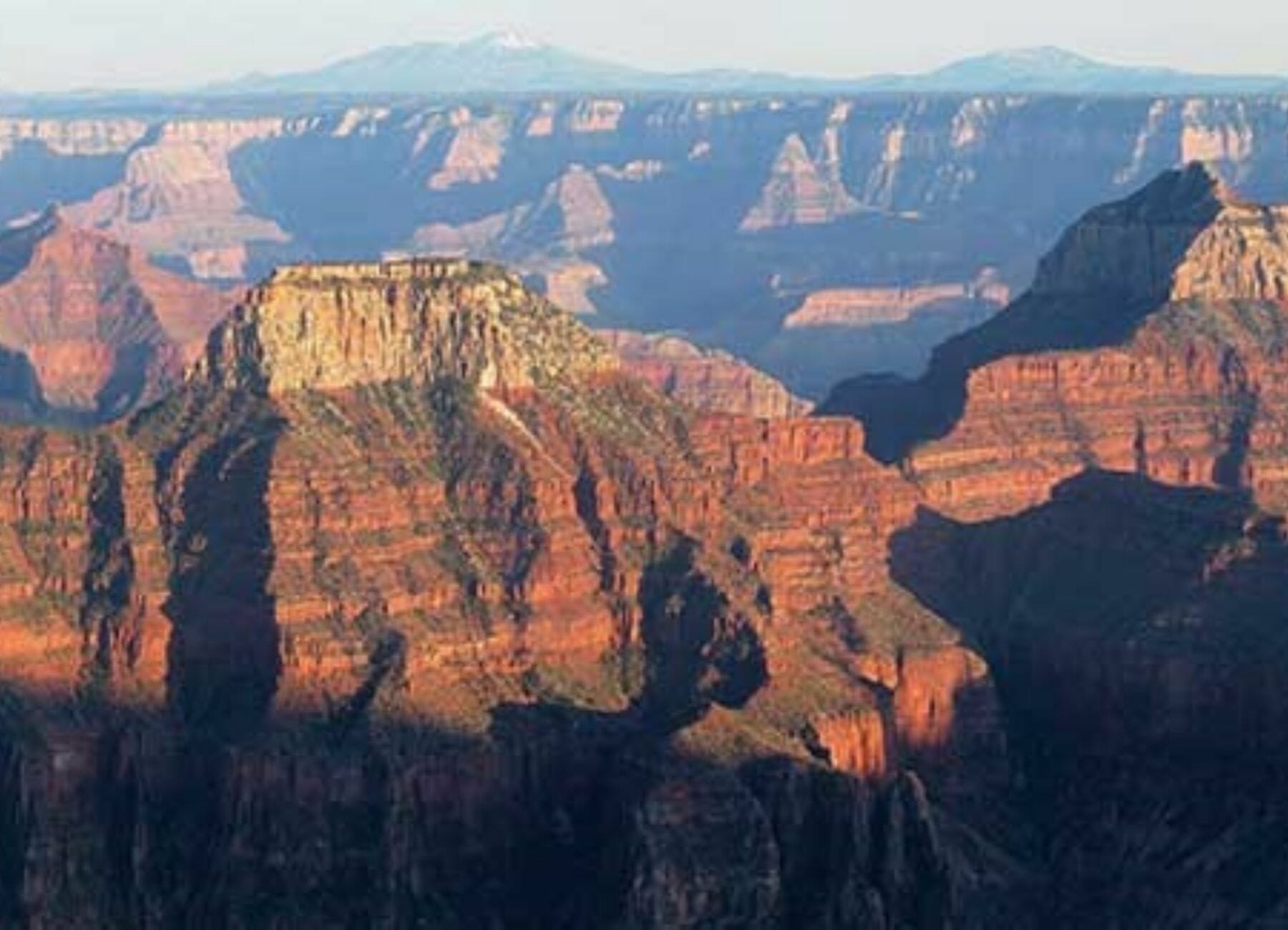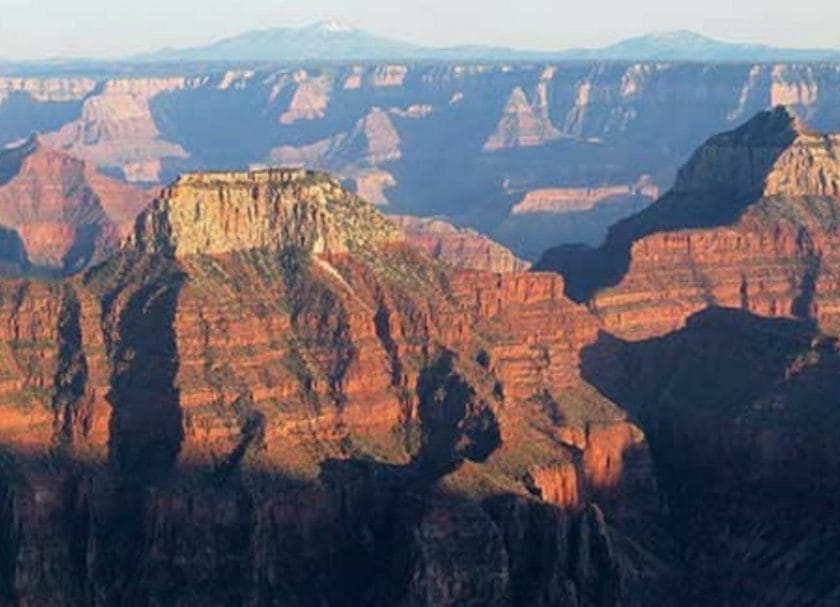 Distance from Las Vegas: 275-280 miles, 4.5-5 hours drive
Do we even need to explain why you need to visit Grand Canyon National Park? As one of the Seven Natural Wonders of the World, the views here are sure to take your breath away and will be etched in your memory forever.
It's one of the most popular national parks in North America and worldwide. It receives a few million visitors every year, and it isn't hard to see why.
A trip to the Grand Canyon is perfect if you're ready for a long day trip. The national park is a 4 to 5 hours drive from Las Vegas. If you start early, you can get back to your accommodations by sundown.
The best time to visit Grand Canyon National Park is summer since the less-crowded North Rim is only open from May to October. If you're planning to visit the park in winter, pack warm clothes as it can snow.
While visiting the Grand Canyon Village, you can explore local shopping venues for hiking and camping supplies, crafts made by American Indians, and local souvenirs. The Grand Canyon National Park also offers lodging and a walking guided tour.
The South Rim Trail is highly recommended if you're looking for a hike. The Lipan Point, which gives you magnificent views of the Colorado River, is another spot you may want to visit. After a long day, watching the sunset (or sunrise if you're dedicated enough) from the Grand Canyon is an unforgettable experience.
Tour Options
Las Vegas: Grand Canyon West Bus Tour with Hoover Dam Stop – Day Trip
From South Rim: Grand Canyon Spirit Helicopter Tour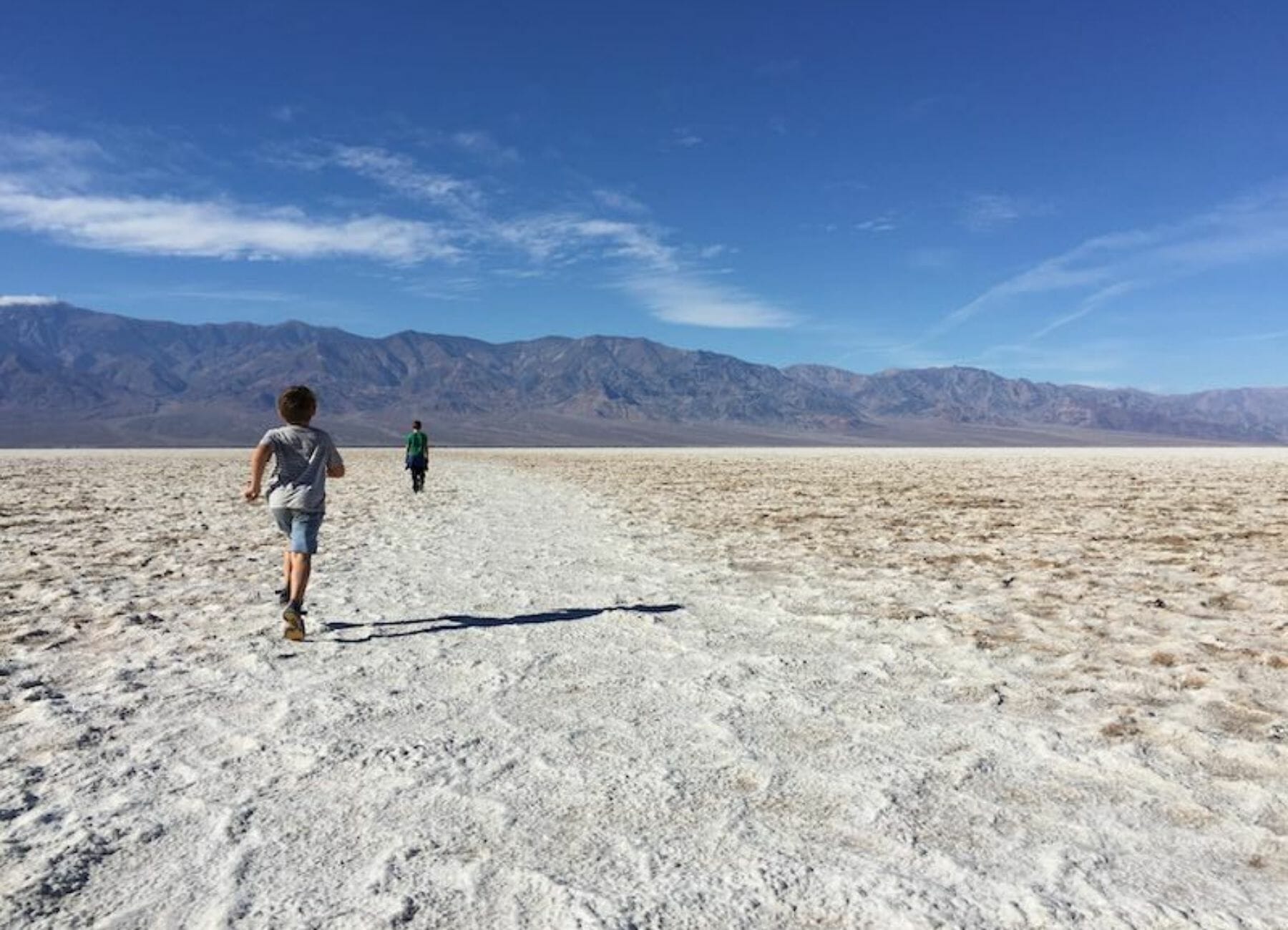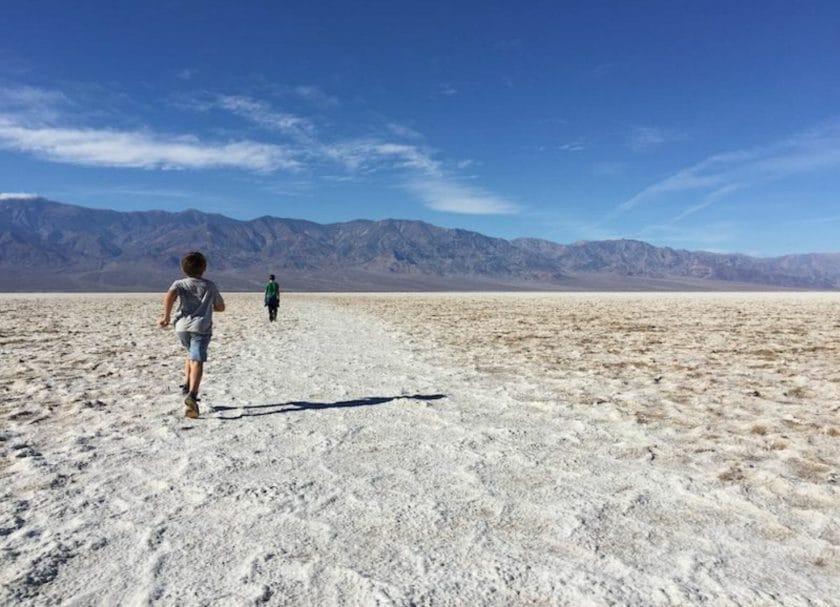 Distance from Las Vegas: 125-130 miles, approximately 2 hours drive
Death Valley National Park is the closest when it comes to national parks near Las Vegas. That's not the only reason to visit Death Valley National Park; it is one of the largest national parks in the United States. Apart from being an exceptionally diverse land, you can find North America's driest and hottest points in this park.
Death Valley National Park features the region's lowest point, Badwater Basin, 282 feet under sea level and has nearly 200 square miles of salt flats.
This national park is also home to giant sand dunes in the US, snow-capped mountains, hard-to-find canyons, and a couple of seasonal waterfalls. When we said diverse, we weren't exaggerating! The temperatures during summer can be scorching, so the best time to visit this national park is in winter.
The views from popular points like Zabriskie Point and Dante's View are mesmerizing. When visiting Death Valley, you will not want to miss the night skies over a breathtaking landscape. While it's a popular day trip from Las Vegas, consider spending more than a day at Death Valley to take in its beautiful views and terrains.
Tour Options
From Las Vegas: Full Day Death Valley Group Tour with Lunch
Death Valley NP Full-Day Small Groups Tour from Las Vegas
Distance from Las Vegas: 190-200 miles, 3-3.5 hour drive
With a barren desert land full of distinctive Joshua Trees and unique rock formations, the Joshua Tree National Park may seem other-worldly when you first arrive. It takes around 3 to 3.5 hours to reach by car from Las Vegas and is worth considering if you're traveling to Los Angeles. It's also a trendy spot for campers.
We recommend a day-long desert hike to the Hidden Valley and Barker Dam. There's also a hike to Desert Queen Mine that you can undertake. Don't forget to watch the sunset from Keys View, the park's highest point.
If you happen to visit the park in springtime, don't miss out on the Cholla Cactus Garden. The perfect time to visit this park is generally October to May as temperatures get cooler.
Some other points of interest that you can visit are the unique rock formations, specifically the Skull Rock, Arch Rock, and Heart Rock. The park is also known for stargazing, so you'll experience some of the clearest night skies you've ever witnessed if you plan on camping here! Joshua Tree Park is definitely among the best national park near Las Vegas.
Learn more on things to do at Joshua Tree National Park before planning your visit.
Zion National Park Utah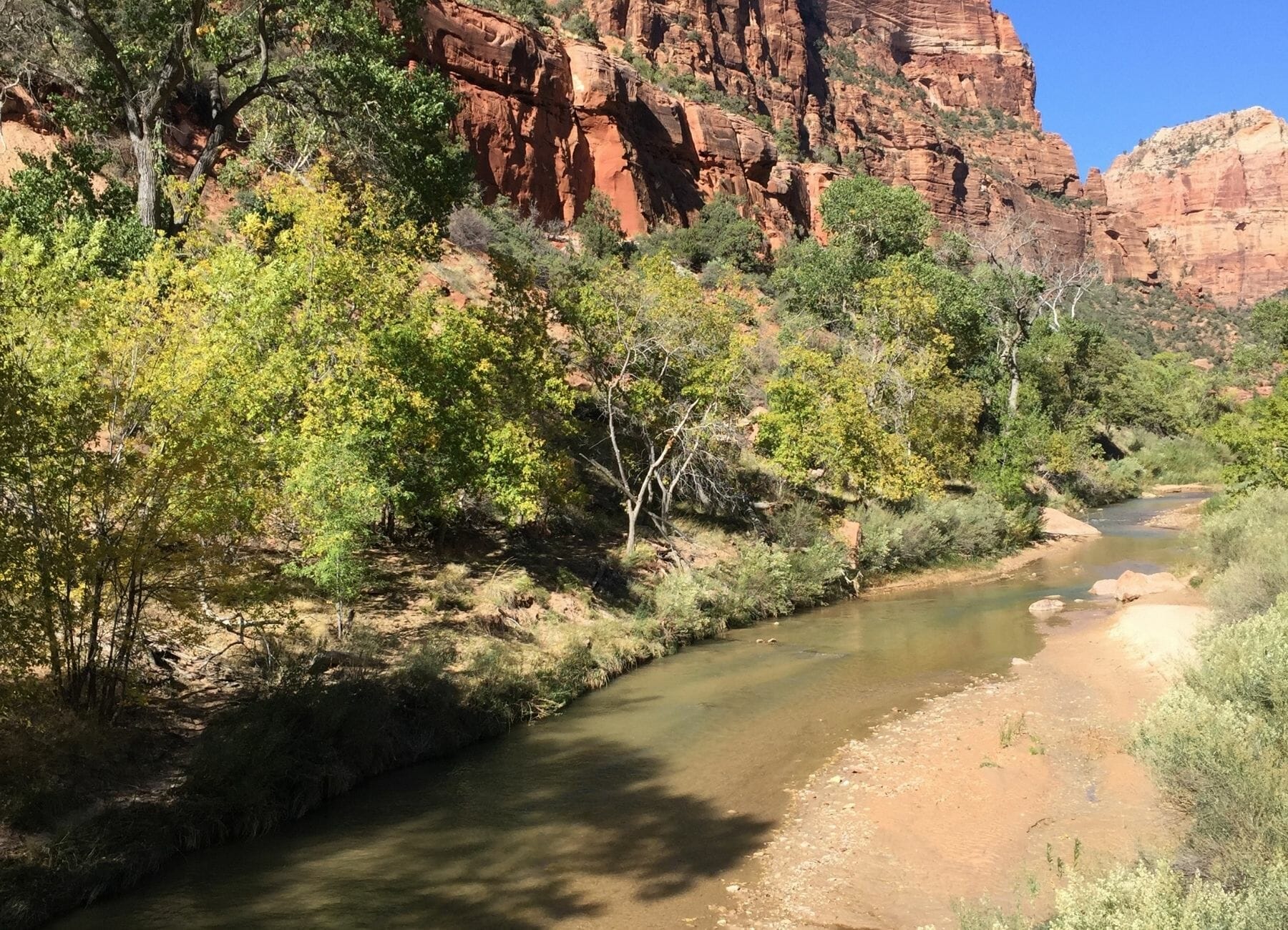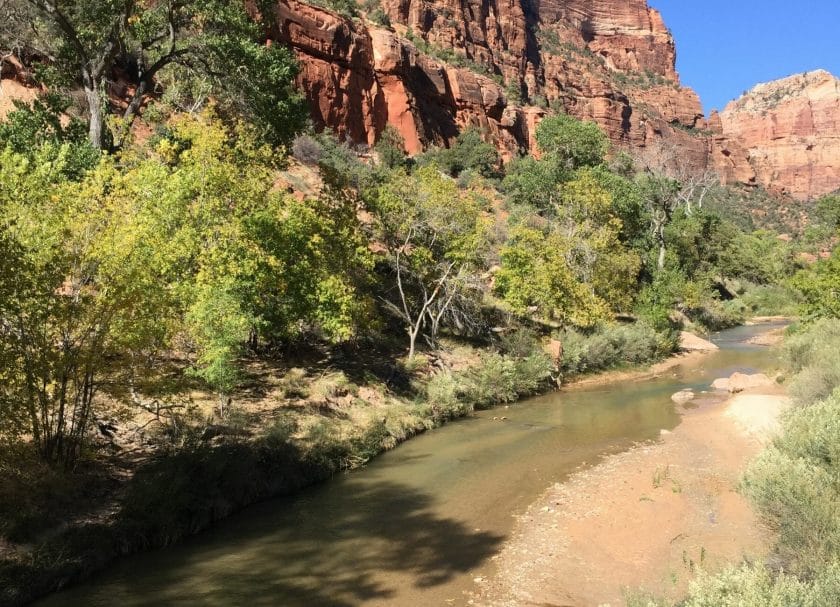 Distance from Las Vegas: 160-165 miles, 2.5-3 hour drive
Zion National Park is one of the most popular national parks near Las Vegas for hikers. People flock from all over the States and the world to witness its iconic views. The gorgeous scenery coupled with the wide variety of wildlife makes it among the best hiking destinations in the country.
The Angels Landing hike is the perfect challenge if you're an experienced hiker, but we'd recommend against it if you're looking for a casual day outdoors. Instead, you can hike to get views of the Virgin River, a tributary of the larger Colorado River.
The shallow and rocky river is also swimmable, but only in a few areas. If you want to swim, there's a convenient little swimming spot right by the Canyon Junction shuttle stop that most people stop by.
Speaking of canyons, you must witness the 15-mile Zion Canyon covered with lush vegetation. It will give you the most amazing views!
The canyon has three sandstone cliffs which constitute the "Court of the Patriarchs" in Zion Park. The cliffs each have names based on people from the Old Testament: Abraham, Isaac, and Jacob.
Other amazing hikes in Zion are the Scout Lookout, Riverside Walk, Canyon Overlook, and Emerald Pools. You can read more on things to do at Zion National Park to learn more.
Tour Options
Las Vegas: Bryce and Zion National Park Tour
Las Vegas: Zion and Bryce Canyons Small Group Tour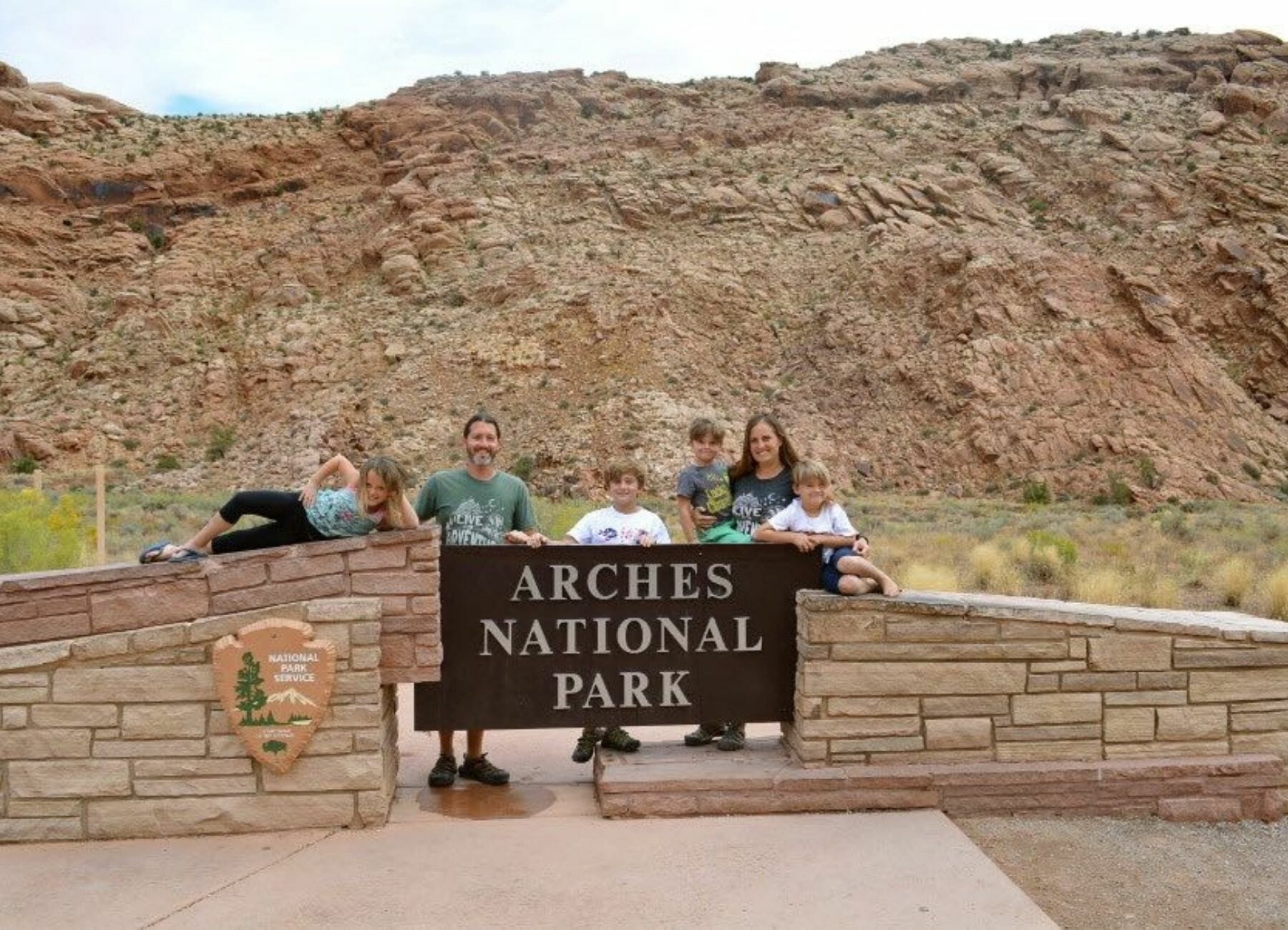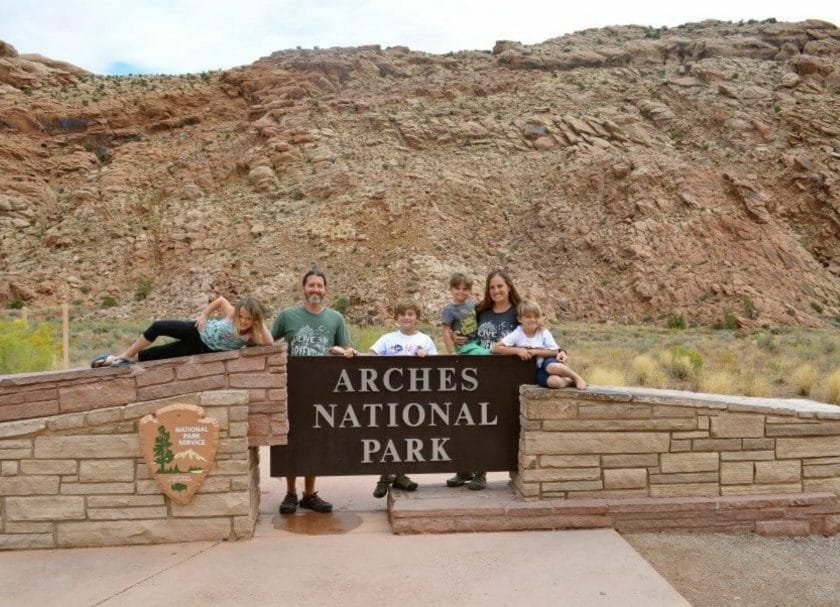 Distance from Las Vegas: 450-460 miles, 6.5-7 hour drive
Arches National Park is growing in popularity every year. Close to 1.5 million people visit each year, and that number only continues to get bigger.
Its popularity isn't surprising in light of the fact that the park is home to over 2,000 natural sandstone arches and other rock formations. The park is a natural masterpiece with its scenic landscapes.
If you're looking to hike at a park near Las Vegas, Arches National Park is for you. It has several family-friendly hiking trails leading to picturesque viewpoints that children can easily manage.
The trail to Delicate Arch will lead you to the most easily recognizable sandstone arch out of all of them. You can witness other sights at this national park, including Devil's Garden, Balanced Rock, and Landscape Arch. Landscape Arch holds the title for the longest naturally occurring stone arch in the US.
Tour Options
Canyonlands and Arches National Park: Scenic Airplane Flight
From Moab: Arches National Park 4×4 Drive and Hiking Tour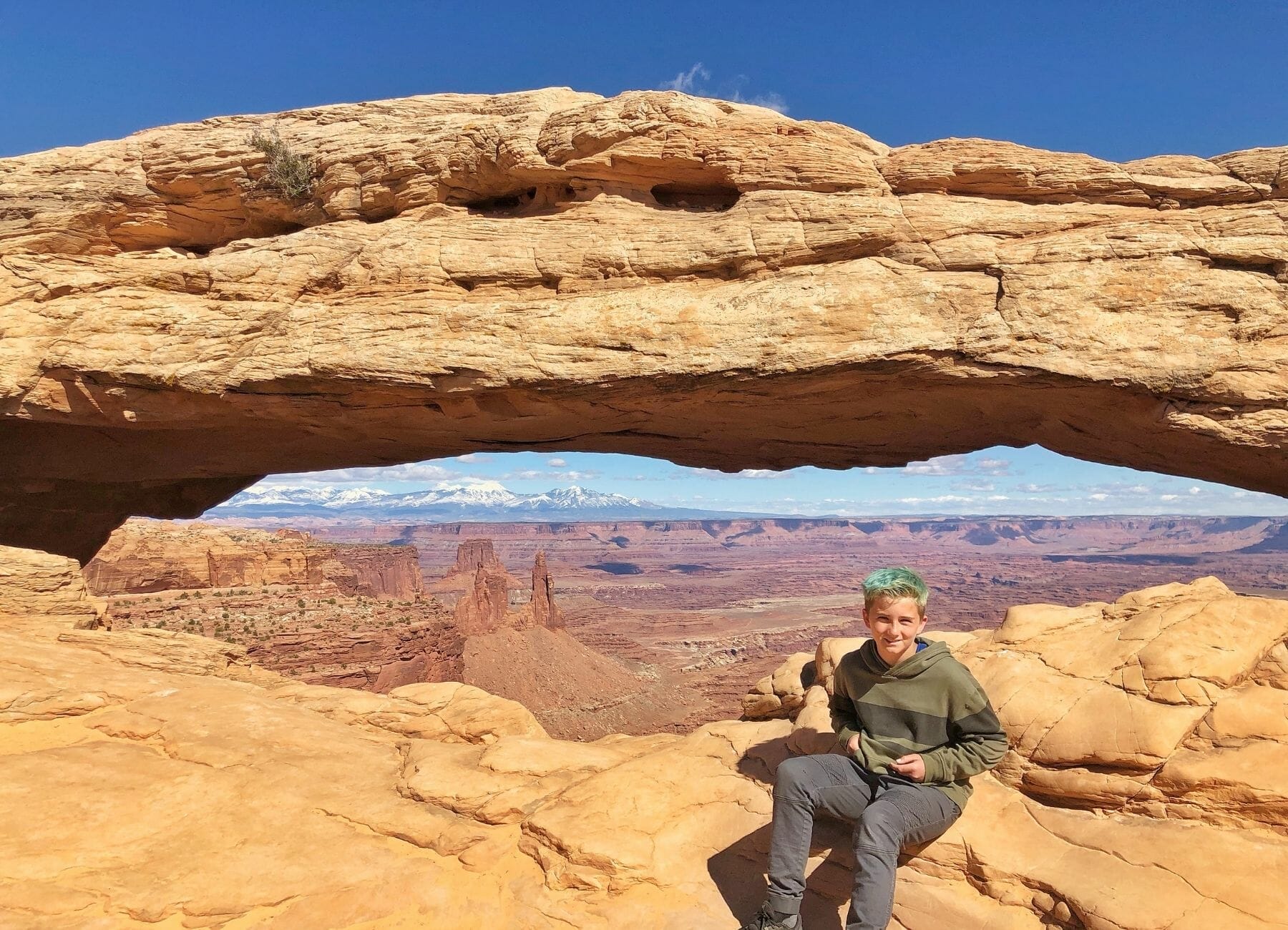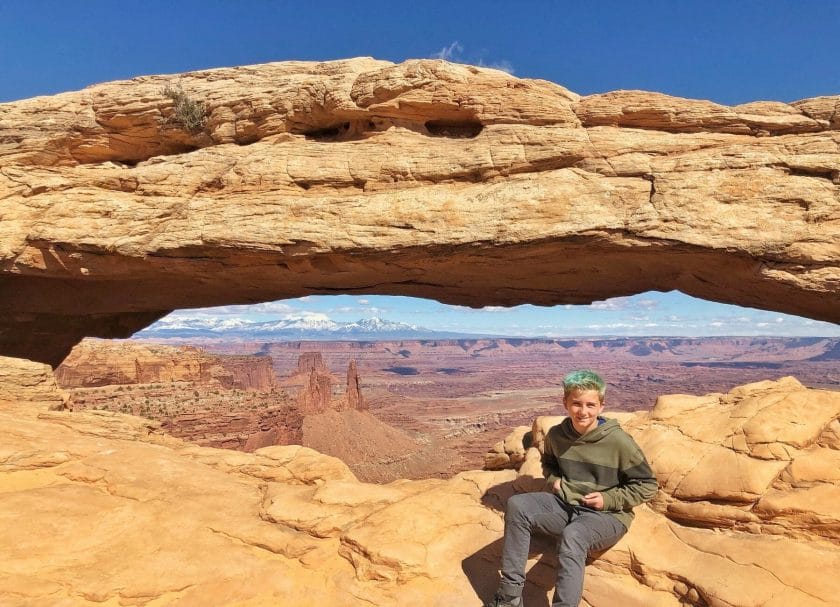 Distance from Las Vegas: 465 miles, 6.5-7 hour drive
The drive to the biggest National Park in Utah, Canyonlands National Park, isn't a breeze. However, it's close to Arches National Park.
If you're interested in checking them out, both parks are easily accessible from the city of Moab, Utah.
Canyonlands National Park is the largest of Utah's 5 national parks and has four divided districts for ease of access. The Island in the Sky district is the closest one to Moab.
The most visited arch at Canyonlands National Park is the Mesa Arch. The hike is minimal and family-friendly, taking around 15 minutes from the parking lot. Consider going early to experience a sunrise while there, and you'll experience the stunning beauty of the sun rising over the mountains.
Another spot is the Grand Viewpoint, where your reward will be breathtaking views of the "Maze" and "Needles" district. You can also consider the Upheaval Dome Trail to appreciate its spectacular rock formations, including a mile-wide crater. The White Rim Overlook is a highly recommended hiking trail for beginners, so be sure to check it out.
Planning to make a Utah Road Trip from Las Vegas to explore Utah's "Mighty Five?" Read our Utah Road Trip blog for more information, including a map, to help you plan your visit!
Tour Options
Canyonlands and Arches National Park: Scenic Airplane Flight
Moab: Canyonlands National Park Airplane Tour
Capitol Reef National Park Utah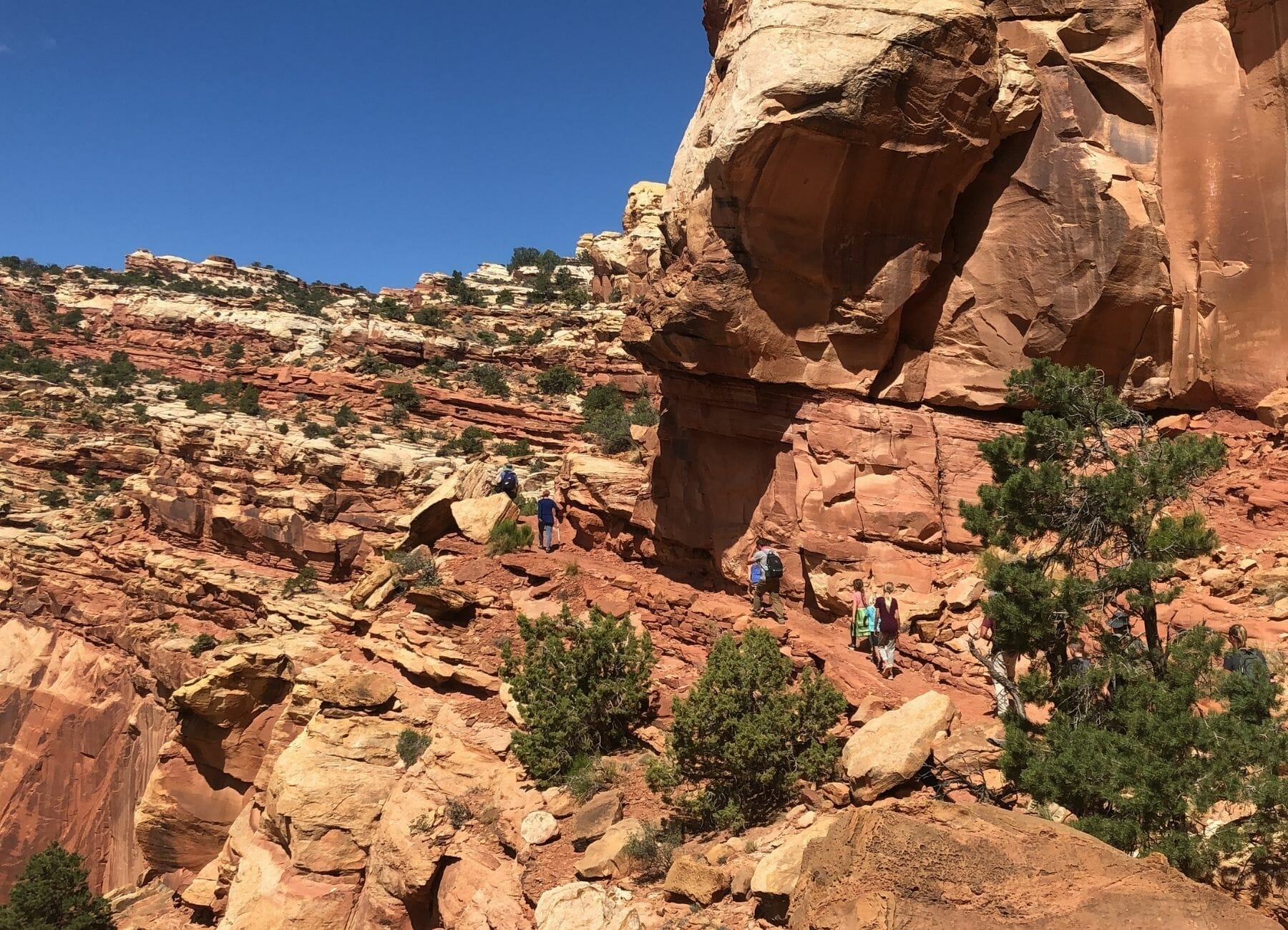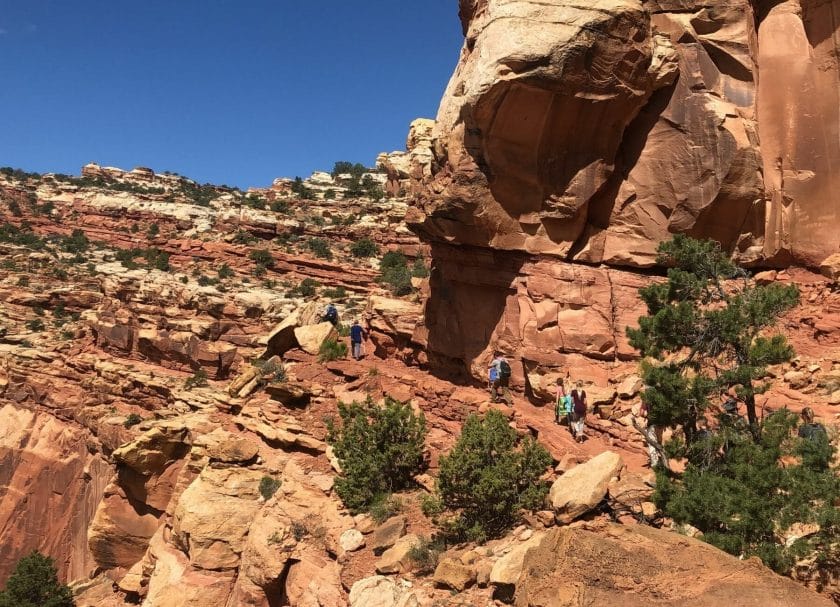 Distance from Las Vegas: 325-330 miles, 5-5.5 hour drive
The Capitol Reef National Park is one of the most underrated National Parks in the US. It's a shame that more people haven't explored its immense beauty.
Capitol Reef National Park boasts a rugged landscape featuring picturesque desert rock. One of the most distinctive characteristics of this park is the Waterpocket Fold.
The 100-mile warp on the ground has experienced natural erosion and uplift, creating some deep and narrow slot canyons alongside remarkable rock formations.
If you're interested in learning more about the park's history, the Petroglyph Panel near the entrance offers an intriguing look. While you're there, you can investigate its collection of prehistoric drawings made by the ancient tribes who inhabited the region.
If you're looking for an easy and hassle-free way to explore Capitol Reef, take Highway 24, which goes through the park. The Capitol Reef Scenic Drive is an 8-mile drive where you can experience some of the most stunning scenery from a private vehicle. Hickman's Bridge, Sunset Point, and Panorama Point are other points of interest.
You'll want to check out our list of the 8 Best Hikes In Capitol Reef National Park [Map Included] when planning your time at Capitol Reef National Park.
Bryce Canyon National Park Utah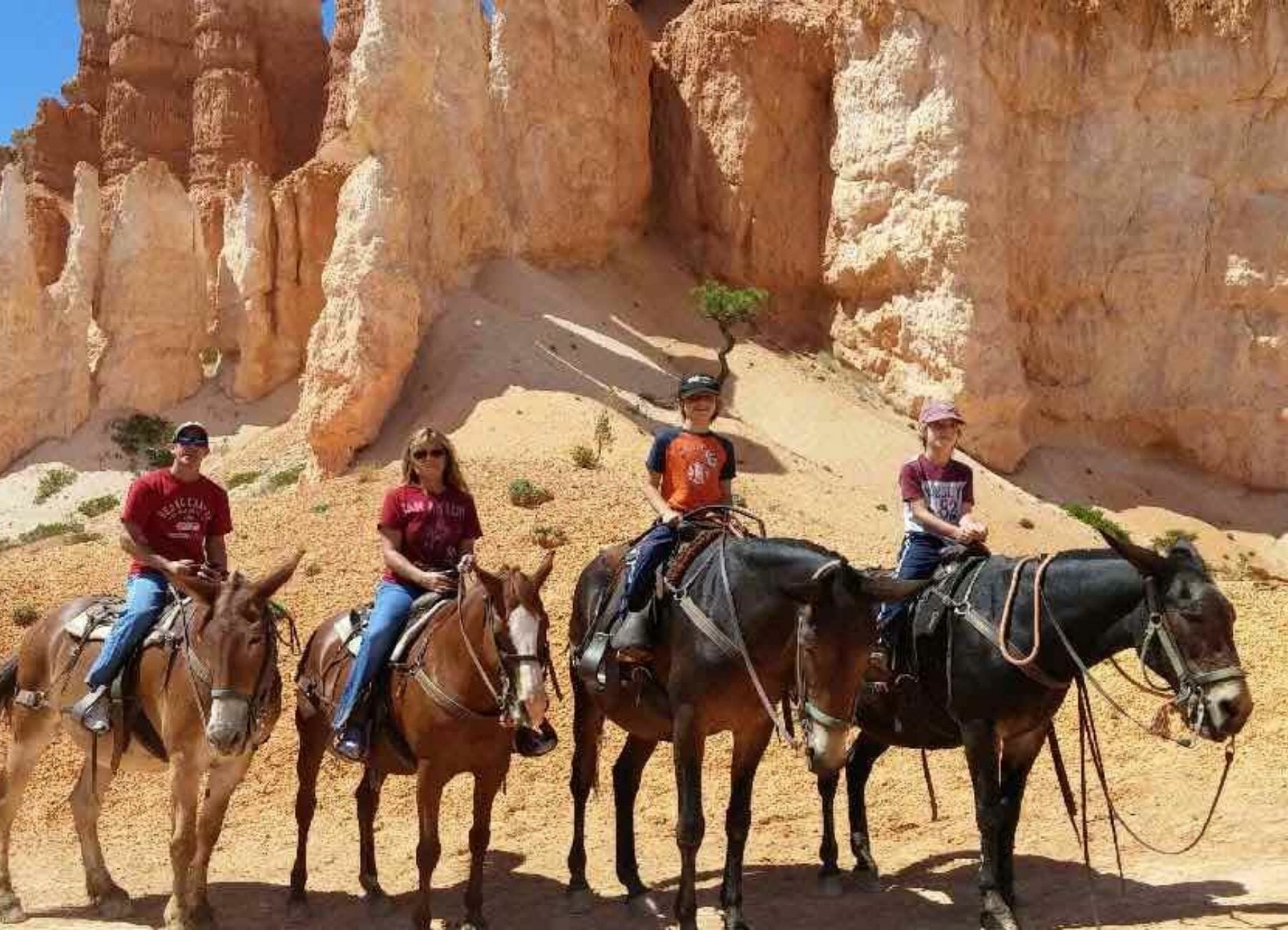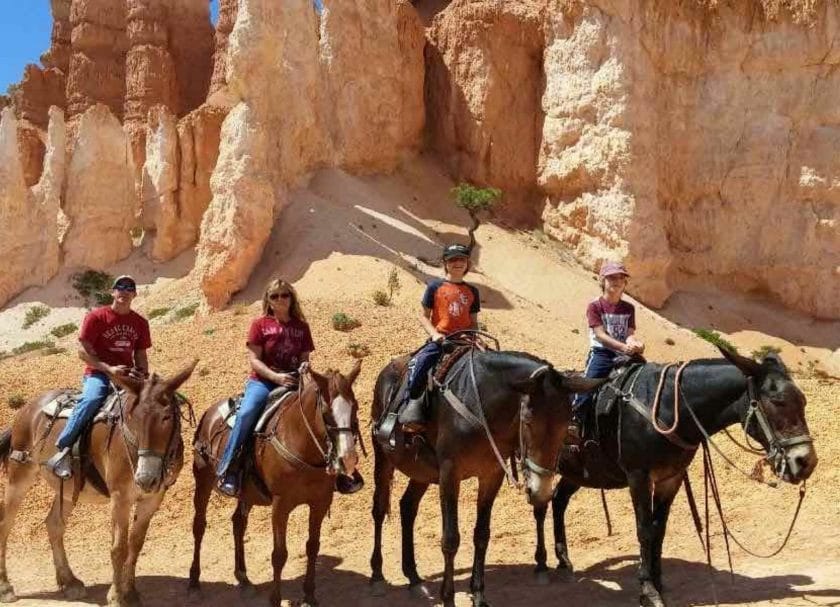 Distance from Las Vegas: 265-270 miles, 4-4.5 hour drive
Located in southern Utah, Bryce Canyon National Park is a sprawling natural reserve known for its understated beauty and mesmerizing landscapes. It's famous for its orange and crimson-colored hoodoos, naturally occurring spire-shaped rock formations.
Because of its proximity to Zion National Park, people often combine a trip to Bryce Canyon with a visit to Zion National Park. They're only an hour and 20ish minutes away from each other by car.
While in Bryce Canyon, hike along the canyon to get a closer look and explore the unique, maze-like rock formations. The Rim Trail is also popular.
Another option is to follow the park's main road and let it lead you past the Bryce Amphitheater, a depression in the land filled with the hoodoos mentioned above. The trail has plenty of viewpoints like the Sunrise, Sunset, Inspiration, and Bryce Points.
Overall, it's worth visiting this national park near Las Vegas for its unique rock structures. When planning your trip be sure to check out our Top 11 Awesome Things To Do in Bryce Canyon National Park.
Tour Options
Las Vegas: Bryce and Zion National Park Tour
Las Vegas: Zion and Bryce Canyons Small Group Tour
Lake Mead National Recreation Area Nevada
Distance from Las Vegas: 30-40 minutes, 30-35 miles
The Lake Mead National Recreation Area in Nevada is the largest man-made water reservoir in the United States, and it doesn't even take an hour to get there from Las Vegas.
We can't stress enough how highly we recommend the area. From the waters of Lake Mead, you can spot the Hoover Dam — a national civil engineering landmark. Lake Mead is located along the famous Colorado River.
Lake Mead encompasses two enormous lakes and picturesque mountains, valleys, and massive canyons. You can find no less than nine wilderness areas while visiting. Though boating is the most popular activity at the lake, there are several things you can do, such as canoeing, scuba diving, fishing, and water skiing.
Start early to combine a trip to Hoover Dam with a visit to Lake Mead before ending up at the Valley of Fire State Park. You'll explore the red-colored sandstone formations at Valley of Fire, the Aztec Sandstone. These structures are over 150 million years old and result from shifting sand dunes!
If you want to hike in the area, Goldstrike Canyon and Arizona Hot Springs are trails recommended by numerous hikers.
Great Basin National Park Nevada
Distance from Las Vegas: 295-300 miles, 4.5 hour drive
The Great Basin National Park in eastern Nevada is one of the most diverse national parks in the United States. Based around the dry, mountainous region of the Great Basin between California and Utah. With alpine lakes and limestone caves, this park has plenty to offer for those looking for some adventure.
The Great Basin National Park offers scenic and jaw-dropping views that are second to none. It contains Nevada's only glacier and some of the oldest living trees on Earth. Some of the bristlecone pine trees are 5,000 years old!
The Lehman Cave tour from start to finish is nothing short of amazing. The Alpine Lakes Loop trail, Bristlecone Trail, and the legendary Wheeler Peak trail are other trails that you can hike.
Another striking thing about Great Basin National Park is how clear the skies are. Stargazing in this park is sure to be a treat.
Yosemite National Park California
Distance from Las Vegas: 370 miles, 5.5-6 hour drive
We won't be surprised if Yosemite National Park is already on your bucket list. Yosemite National Park is visited by over 4 million visitors each year. If you're planning to go to Las Vegas, you can easily head to California's Sierra Nevada mountains.
This park contains stunning viewpoints like the highest waterfall in North America, Yosemite Falls, the iconic Half Dome, Glacier Point, Washburn Point, Tunnel View, and more.
Yosemite National Park also includes numerous hiking trails for all levels of hikers. It has something for everyone, whether you're a beginner or have more experience under your belt.
Yosemite Valley stretches for almost eight miles and was formed millions of years ago by glaciers. It offers many cliffs and waterfalls to explore and is worth visiting. Yosemite Valley can be reached by car, but plan and prepare because the area can get very congested by tourists.
Before heading to Yosemite National Park be sure to check out 21 Epic Things To Do In Yosemite National Park With Kids to help you plan your trip!
Tour Options
Yosemite Valley 3-Day Camping Adventure
Yosemite National Park: Valley Orientation Tour
That concludes our list of the best national parks near Las Vegas. While Las Vegas offers diversity, a rich culture, entertainment options, and more, its proximity to incredible national parks makes it even more special. If you've been thinking about going to Las Vegas, this is your sign to pack your bags and start a new adventure today!
More Info Check Out:
7 Arches National Park Hikes You Don't Want To Miss
Utah Road Trip: All 5 Utah National Parks & More [Map Included]
6 Epic National Park Road Trip Ideas [Maps Included]
18 Top Things To Do In Yellowstone National Park
8 Breathtaking Places To Visit Near Yellowstone National Park
19+ Unforgettable Things To Do In Sequoia National Park
Meow Wolf Review: Which Location is Best?
Pin This Post: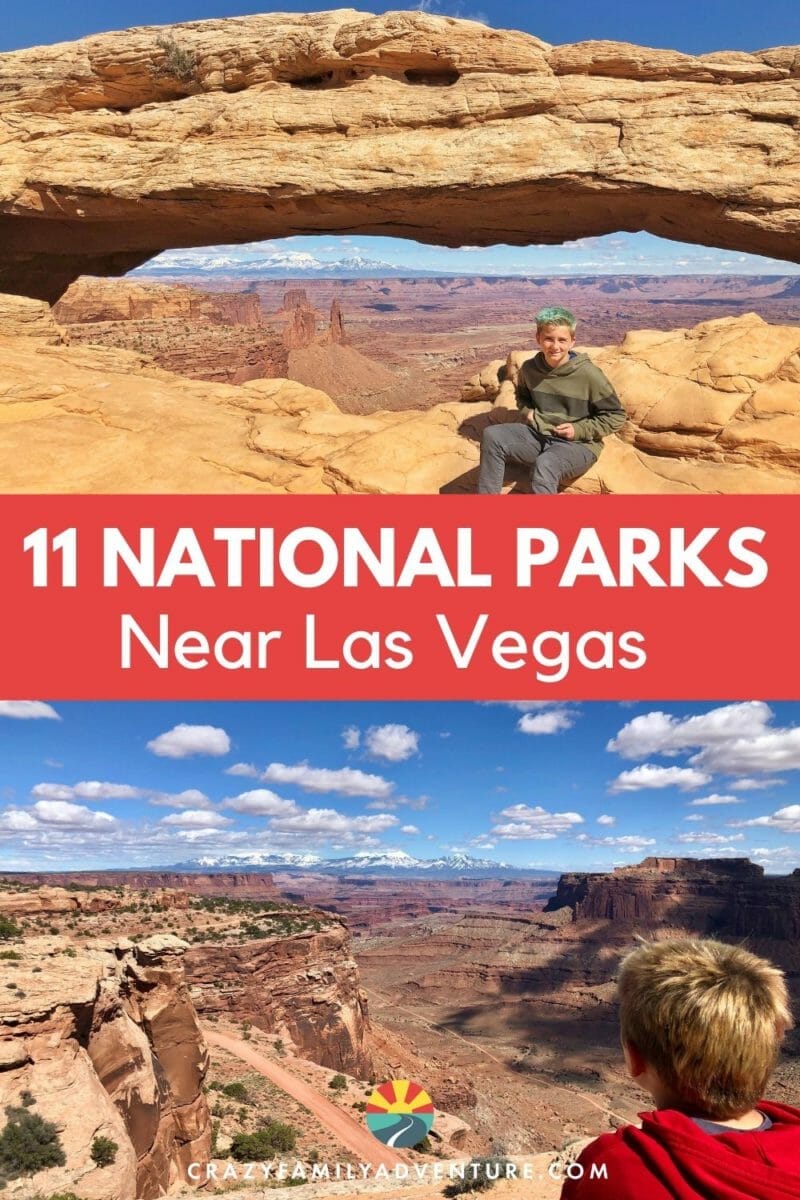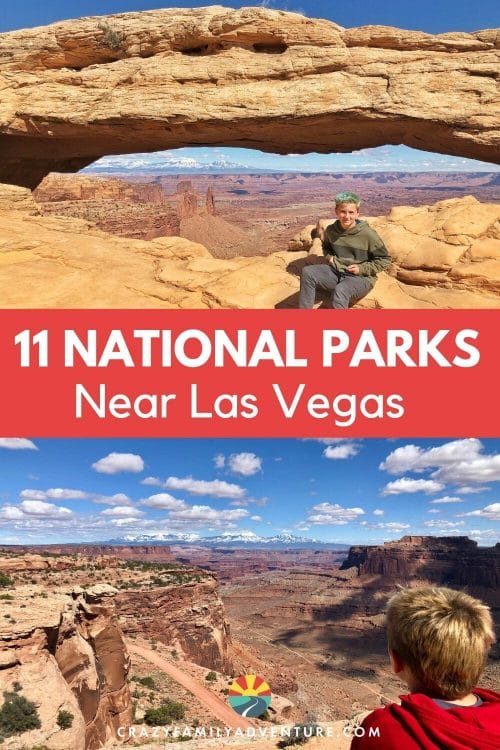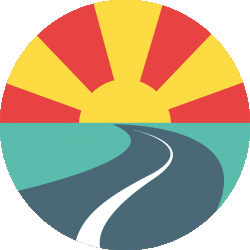 Latest posts by Staff Writer
(see all)
DISCLOSURE: This post may contain affiliate links, meaning I get a commission if you decide to make a purchase through my links, at no cost to you. Please read my disclosure for more info.