There are so many things to do in Yosemite National Park and it is a beautiful place to explore in the Sierra Nevada mountains. Originally we were planning on staying at a campground outside of the park, but last minute we had a chance to get a spot at the North Pines campground in Yosemite. I am so glad we did!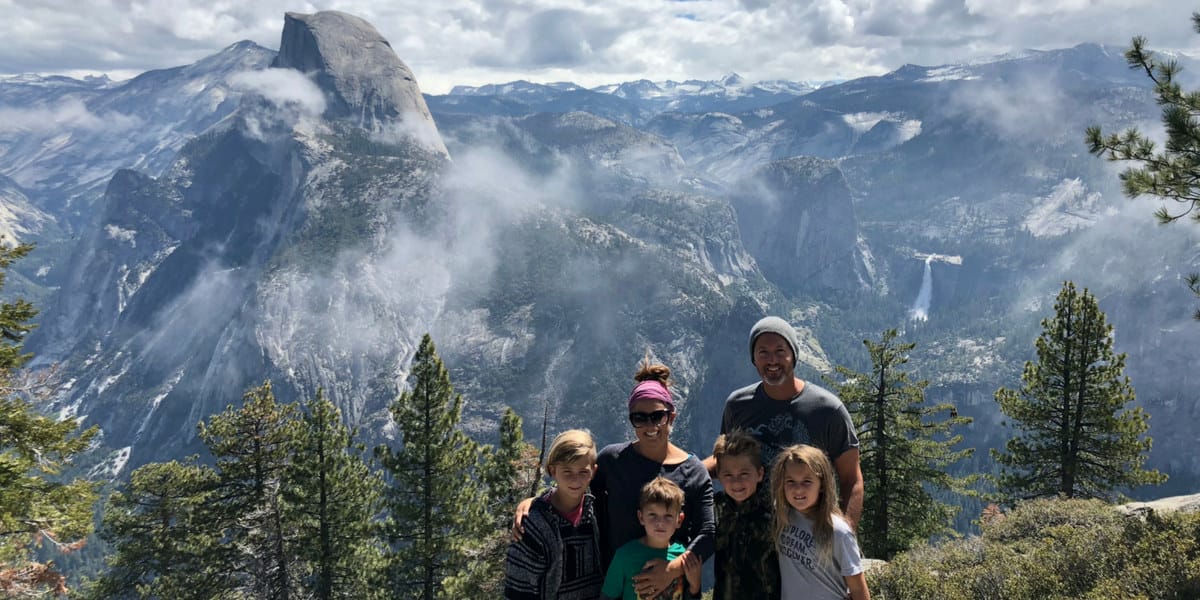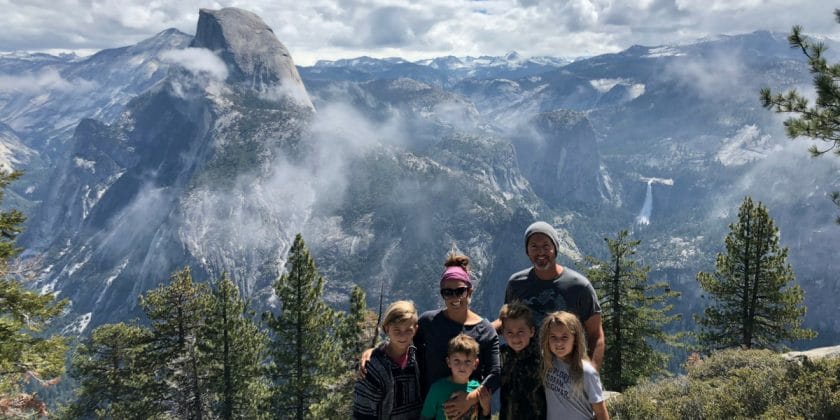 If you are exploring all the awesome things to do in Northern California or if you are on a National Park Road Trip Yosemite should be on your list of places to stop!
**Make sure to check the Yosemite website and learn about the new permit process for entering the park!!
Staying in the park gives the experience a whole different feel and I would highly recommend doing it! The first day we got there it was pouring rain and the weather showed the whole week was supposed to be that way. . .
Luckily weather in Yosemite is unpredictable at best and after that first day we only saw rain one other time. It ended up being beautiful and perfect weather for hiking and exploring. There are easy hikes in Yosemite and more challenging ones and we were excited to try a bit of both!
We were there for 5 nights and 4 days. We highly recommend planning 1 week for your Yosemite vacation. It is also a great graduation trip idea. Here is our recommended list of things to do while taking a trip to majestic Yosemite:
Hike Mist Trail: Vernal Falls to Nevada Falls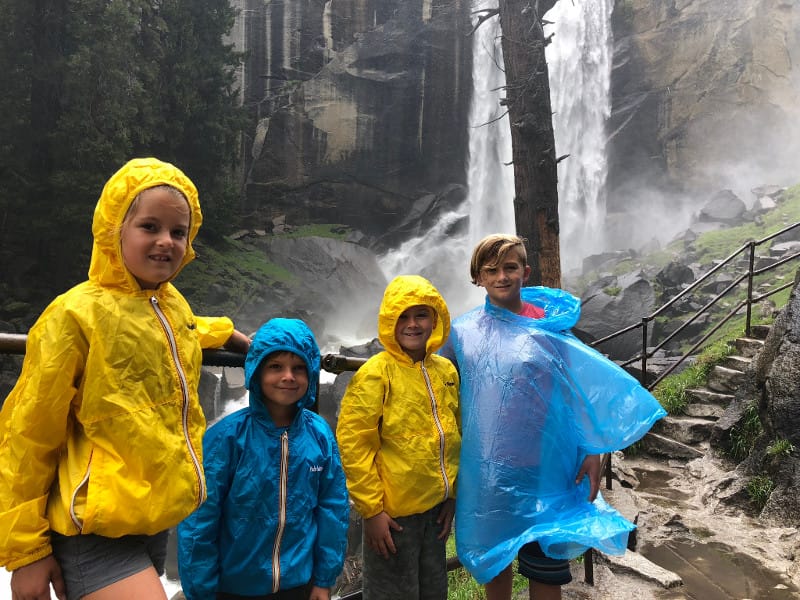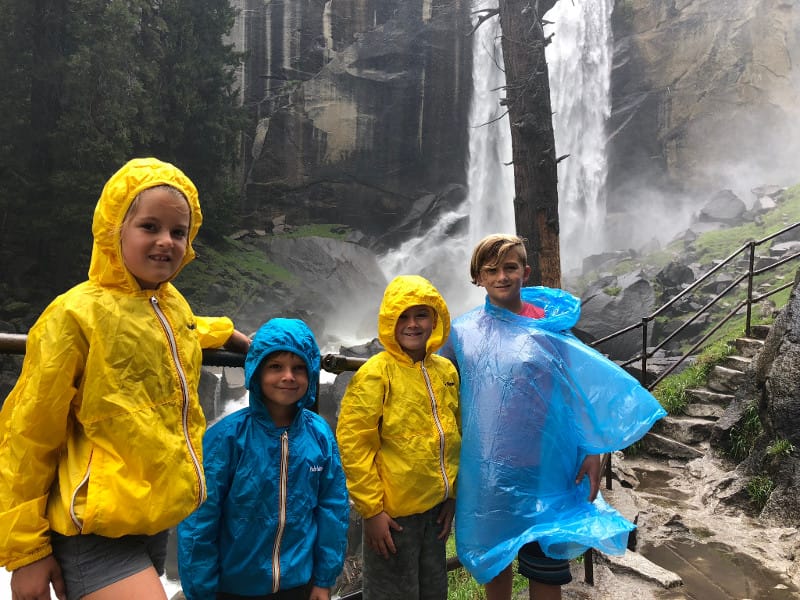 Our favorite hike was the Mist Trail all the way up to Nevada Falls and then back down the John Muir Trail. This was a difficult hike with a 2000 foot elevation gain over 3 miles and the whole trail was 6 miles long. But it was so worth it.
You start on the Mist trail and hike up these awesome granite steps that take you right next to the Vernal falls. We got soaking wet, but it was so cool to be that close to the falls. You then make it to the top of the falls where you can look down over the lush greenness and the trail you just hiked up.
This is also a perfect spot to take a rest and have a snack before continuing up to the top of Nevada Falls. This is another 1000 foot gain and it was tough. We saw adults huffing and puffing and having to take breaks. It was hard! If you don't want to do that you could opt to turn around and head back down at this point.
Once at the top you have an amazing view of the Nevada falls and Yosemite. Then the way down is a lot easier and more enjoyable then the way up. You walk on paths where you are getting rained on from the cliffs and fun switch backs that take you to amazing views of the waterfall.
We even saw a bear just off the trail on the way down! At one point you hit a crossroads where you can decide to walk down the granite steps you walked up next to Vernal Falls or go a different route and follow the John Muir trail. We choose to go on the John Muir trail for new scenery and to avoid the slick rock stairs on the way down.
At the bottom the trails reconnect and you come back out where you started at the Mist Trail trailhead. We have been on a lot of hikes and this one ranks at the top of our all time favorite list!
Lower Yosemite Falls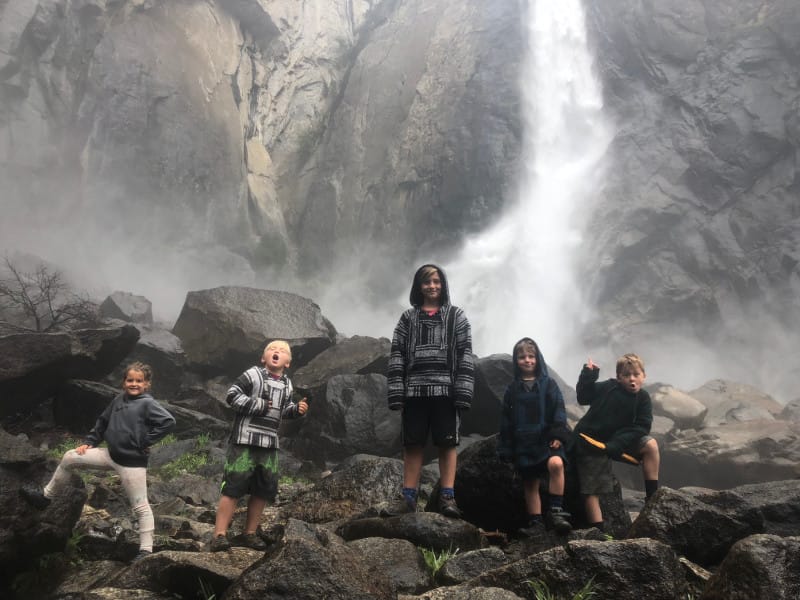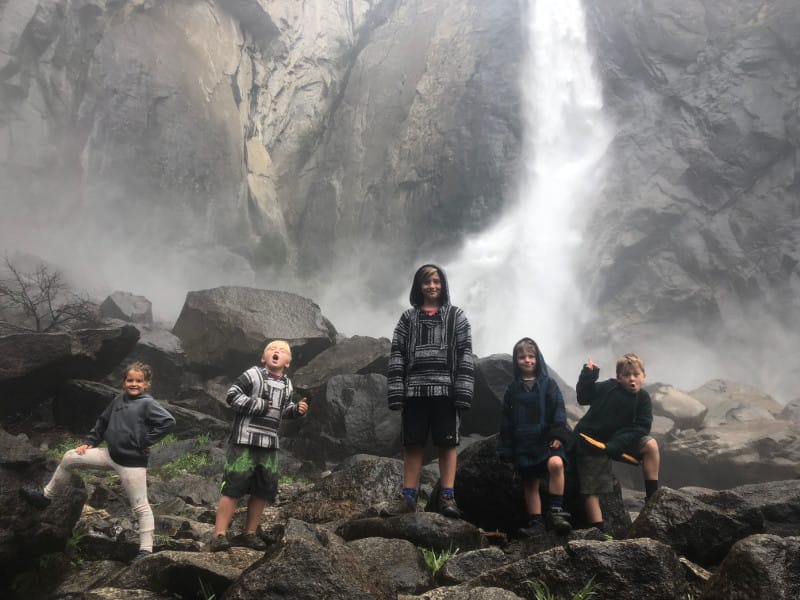 I am not going to call this a hike as it is a short nature loop that takes you to the powerful and beautiful lower Yosemite Falls. Expect it to be very busy and populated due to how easy it is to get to such a huge waterfall. This is also a great one to do in Yosemite with kids of any age.
Given how beautiful it is (Especially in spring when the water is really flowing) it is worth going even if it is crowded. If you only have one day in Yosemite be sure to do this easy walk!
Yosemite Village Museum
The museum in Yosemite Village hosts a rotation of exhibits with a focus on art work and artifacts related to the history of Yosemite. There is also a large emphasis on the Native Americans that called Yosemite home. They have live demonstrations and a few hands on activities for the kids.
Glacier Point
**Be sure to check the Yosemite National Park website to know when the road to Glacier Point will open each season.**
You can hike up to Glacier Point, but you can also drive. We opted for driving this time. Please note that you normally have to get there early – by 9am or else show up late in the day to get parking. Parking is limited and I have heard on busy days they don't even let you drive up there to try to park. I believe you can also sign up for a tour of Yosemite that would take you up here.
The main attraction here is the view at Glacier Point. It is magnificent and you look down into the Yosemite Valley and can see Half Dome and Nevada falls. When we were there the clouds rolled in and we couldn't see anything. But luckily they rolled right out and it was amazing.
There are also other areas you can hang out at to get a slightly different view and there is a visitor center with a shop and a small cafe. You could spend about an hour walking around and taking in the views.
Taft Point Hike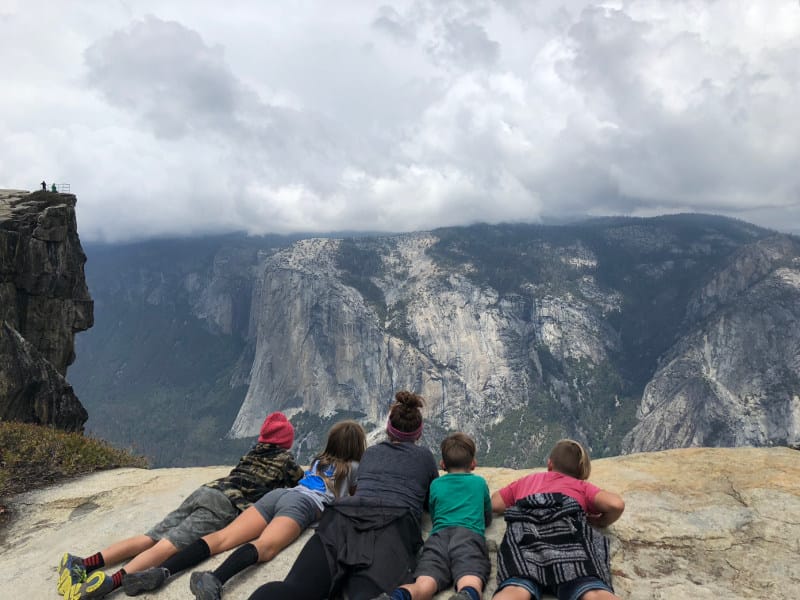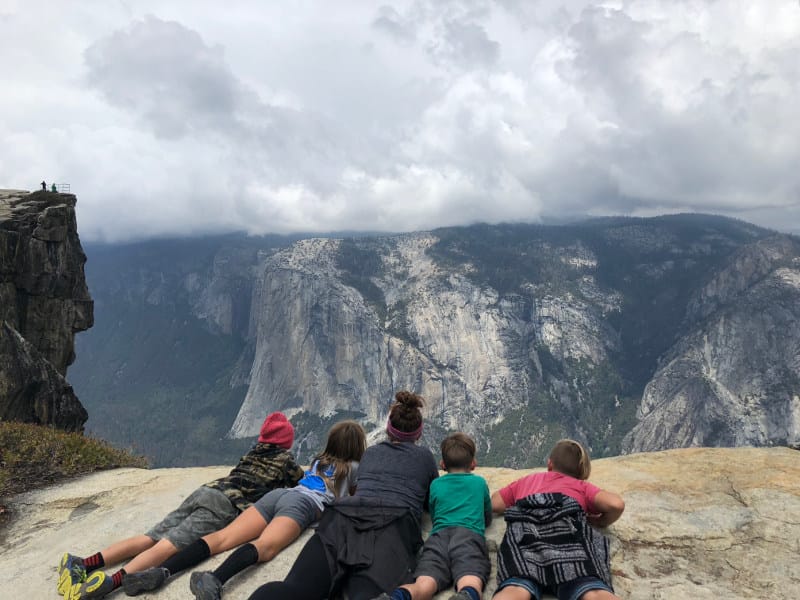 This is a great hike to stop and do on your way down from Glacier Point. Again parking will be a challenge, but you should be able to find something or drive up the road a little and pull over on the side of the road and park there.
It is a 2 mile round trip hike that takes you to Taft Point. Taft Point looks out over El Capitan (one of the famous rock climbing locations) and down into the Valley. It is definitely scary and you have to be super careful with kids! Not to mention the fissures in the rock that just show up past a set of bushes . . .
The fissures are cracks in the rock that go down hundreds of feet. In other words don't let your kids run ahead once you get to this area of the hike! I still get nervous thinking about it.
Sentinel Dome
If you want a different view and no fissures you can opt for the Sentinel Dome hike which starts at the same trailhead as Taft Point, but you go right instead of left. My parents did this hike and they really enjoyed it.
Bridalveil Fall
Unfortunately, we missed this as it was raining and the end of the day so we opted to just head back to the trailer to hang out and drink beer :). But we have heard good things about it and it is an easy way to see a beautiful waterfall.
**This trail is currently closed for rehabilitation. You can check the Yosemite NP website for updates.**
Tunnel View
An iconic view in Yosemite that you don't have to hike to. You just park and walk to the Vista. Be aware that it can be very busy so parking may be difficult later in the day.
Pioneer Village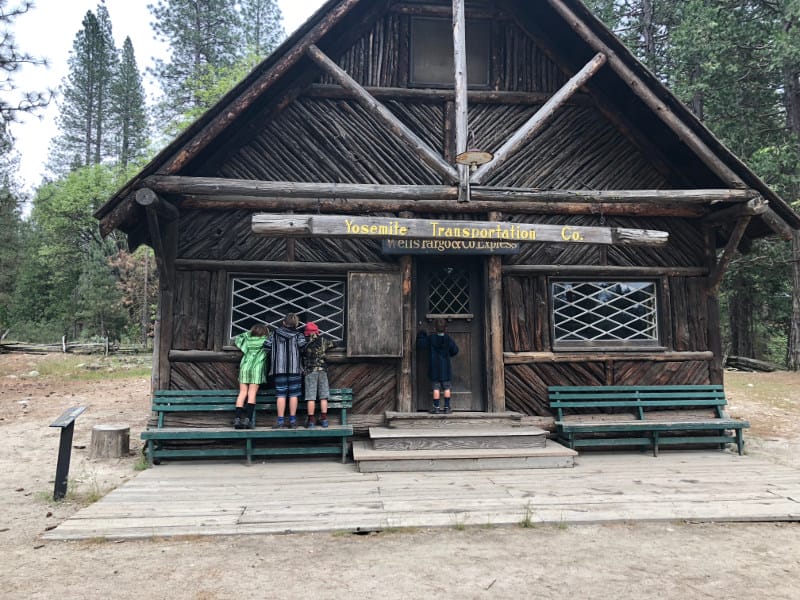 The Yosemite Valley area is so busy! But head out to the Pioneer Village in the Pioneer Yosemite History Center area and no one is there. It was a fun village area where they have brought a variety of historical houses together along with stagecoaches to show you what life use to look like in Yosemite.
It was worth a visit and was a nice walk through a fun covered bridge to get to the village where you can walk around and read about the buildings you are looking at.
Big Trees Lodge
This is where the Big Trees Lodge is located, so if you are looking to have a fancy dinner this is where you do it. There is also a small visitors center where you can learn more about the history of the area. Big Trees Lodge is also home to Big Trees Golf Course, so if you're looking to hit the links while in Yosemite, this is your spot.
Chilnualna Falls
To get to the top of the falls is a strenuous uphill 8 mile hike. Or else you can just do a short half mile hike to get close to the lower part of the falls. Be prepared as you drive through what seems like a neighborhood to get to the trailhead.
Then at the foot of the trail head it says Mountain Lion area. And again it is not busy so be aware of wild animals. You can get really close to the falls and they are amazing. Note – we were there at the end of May and I know as the summer goes on the water falls get smaller.
Swinging Bridge/Swimming Hole
This is also where you can check out a swinging bridge and in the summer there is a swimming hole too. In the spring, the rapids are still to crazy for swimming, but in the summer it settles down. Stop at the visitor center to ask for directions to the swim hole and if they think the river is safe for swimming.
Big Trees Lodge Store
Then you can make your way back to the Big Trees Lodge Store, grab a few beers and snacks and sit down by the river for a break before heading back to the Valley or to your hotel. They even had locally brewed Cider here!
Mariposa Grove
This area where you can see a grove of giant sequoias was closed when we were there. However, since we had already seen all the amazing giant Sequoia trees at Sequoia National Park we were OK with it. I would definitely recommend planning a trip to Sequoia and King Canyons National Park when you visit Yosemite!
Tuolumne Meadows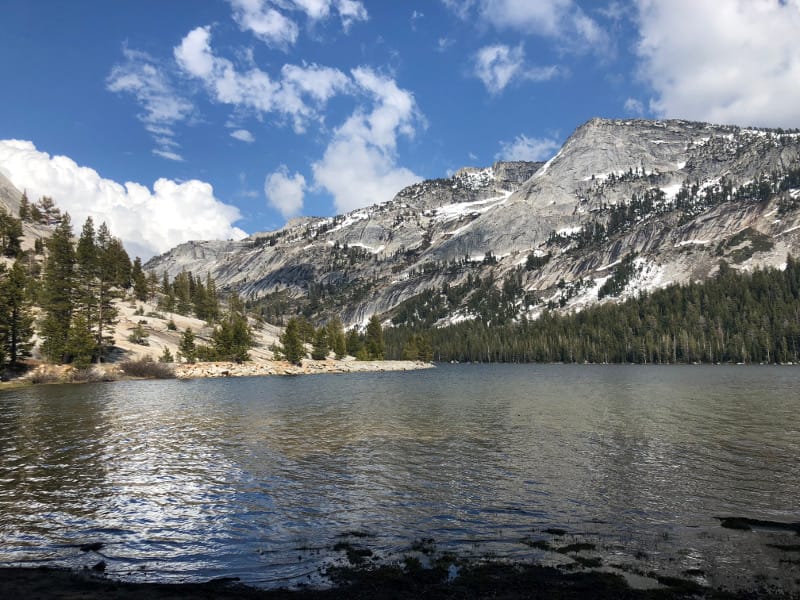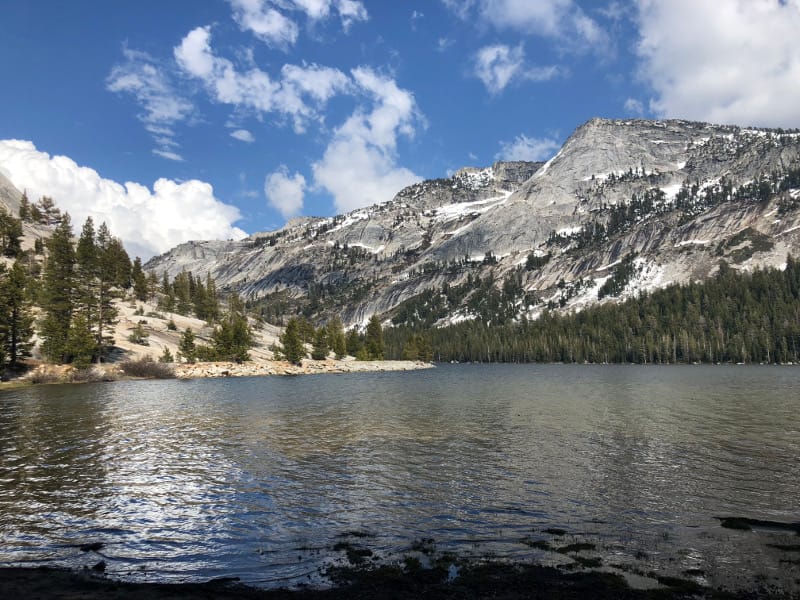 A beautiful and much less busy area of Yosemite that is at about 10,000 feet! On the way there we stopped at the lake and there was still snow on the ground! (This was at the end of May). The kids played there for a while and loved it!
Pothole Dome hike
We parked by marker 19 – we drove by a few times before we realized this is where the trailhead was. And then hiked over to the large boulder and hiked up it to get an amazing view of the meadow.
Not much else was open in this part of the park yet, but I believe in summer there is a visitor center and snack bar area. If you are looking for a less busy part of Yosemite this is it!
Hetch Hetchy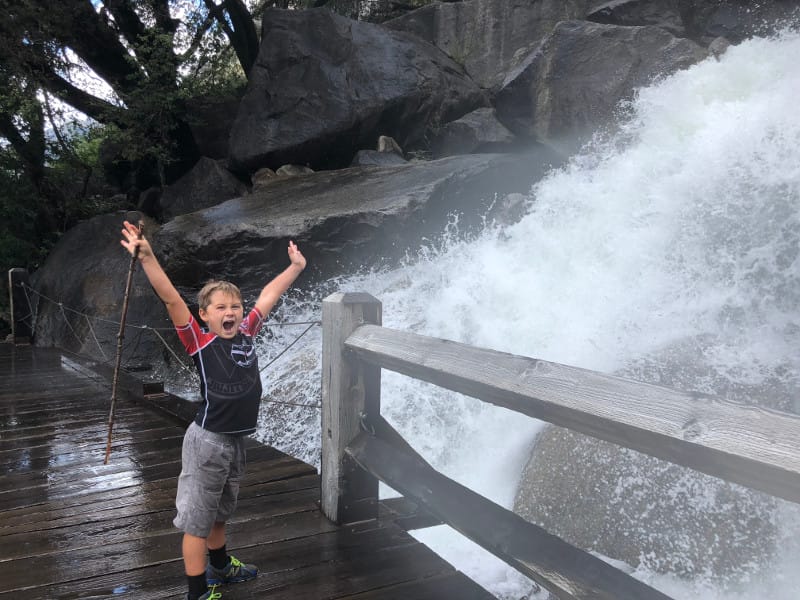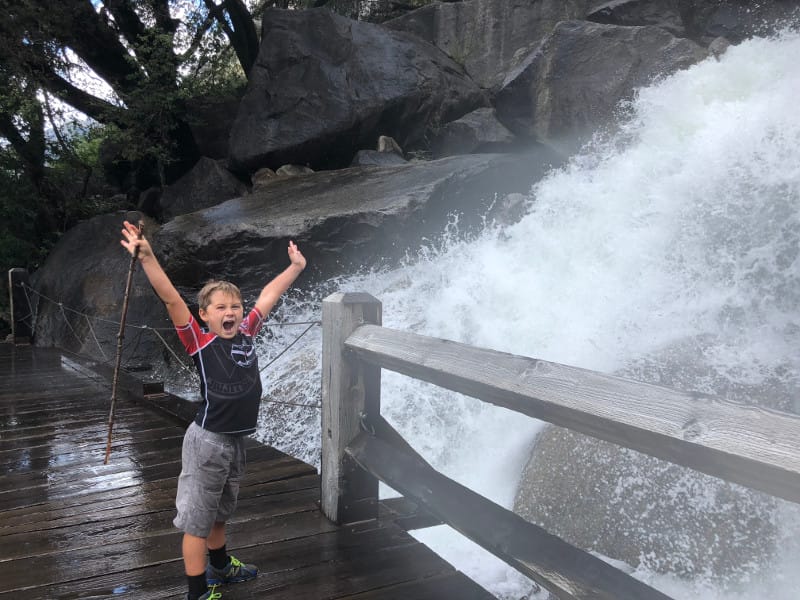 This one will take you a while to get there. But again if you are looking for less crowds and a more relaxing part of the park Hetch Hetchy may be your place. It is all based around the reservoir. Which was built (against John Muir's wishes) in order to provide drinking water for all of San Francisco.
Supposedly before the reservoir was put in the valley floor here mirrored the valley floor in Yosemite Valley. Sad to imagine all the beauty is below all that water and to think it would have been much less busy if there were two Yosemite Valleys to visit . . .Even with that it is still a beautiful area.
There is a fun hike that takes you over the dam/bridge, through a mountain and right next to a waterfall (you literally get sprayed from the water). It is a 5 mile hike, but a lot of it is flat (some elevation at the end).
I was definitely glad we made the trip over to Hetch Hetchy and highly recommend it.
Rafting or playing in the Merced River
This is the river that runs through the Yosemite Valley. You can find random "beach" spots where you can play in the water (watch for the current) or if you would like you can rent a raft or a kayak and float down the river!
Guided Tour
If guided tours are more your thing there are certainly a lot of those offered and I would recommend asking about what is currently available in the Visitor Center when you arrive. Or check out this site and book your trips ahead of time during the busy season.
If you are looking for more things to do in Yosemite check out this post: Yosemite Day Hikes.
Extra Things To Do
If you are staying in the San Francisco area, the Yosemite National Park tour offers round-trip transportation. You'll visit lots of the places I mentioned above like El Capitan and Bridaveil Falls and enjoy an all-day adventure.
Another tour option from San Francisco is the 2-Day Yosemite Park Tour that includes an overnight stay at Cedar Lodge. This tour will certainly give you more time and flexibility to explore and enjoy the amazing scenery.
If you are staying in the San Jose area, the Yosemite National Park and Giant Sequoias Trip offers round-trip transportation. You'll visit many of the famous stops I mentioned above and have time to take lots of pictures! This all-day tour includes 5 hours in the park to explore, relax, and enjoy!
If you are staying in the Lake Tahoe area, the Full-Day Tour offers round-trip transportation. This tour includes a picnic lunch, 6 hours of exploration in the park, and a stop at O'Nelly Deli on the way back to grab a bite to eat for dinner.
If you prefer more of an off-road adventure, check out this Jeep Tour that explores the remote areas of the Sierras. You'll stop at Bass Lake Vista, venture out to a secluded Sequoia grove, and take a hike to see Bull Buck Tree!
Where To Eat
There are a few options for eating when you are in the Valley.
Pizza – Half Dome Village
There is a pizza bar where you can order pizza at the window and sit outside to enjoy it. Take note that on a busy summer day (pretty much any day in summer in Yosemite) you will probably wait a good 30 minutes in line to order. Then a good hour to get your pizza.
The beer here is expensive, but if you are OK taking your pizza to go and finding a bench or somewhere else to eat. You can go buy beer at the store around the corner for less than $2 a bottle. Needless to say we did that!
Village Grill – Yosemite Village
Another option if you don't want pizza is the Village Grill. They serve cheeseburgers and grill items like that. The prices aren't crazy and it is a nice way to get a meal and sit out in the village and eat while you people watch.
Note: when eating in the village the squirrels are fearless and crazy! We heard one squirrel jumped on a kids table and grabbed a piece of pizza and ran off. So be aware and pay attention to your food.
Cafeteria
There is also a cafeteria area along with some fancier restaurants at the hotels throughout the park.
Where To Stay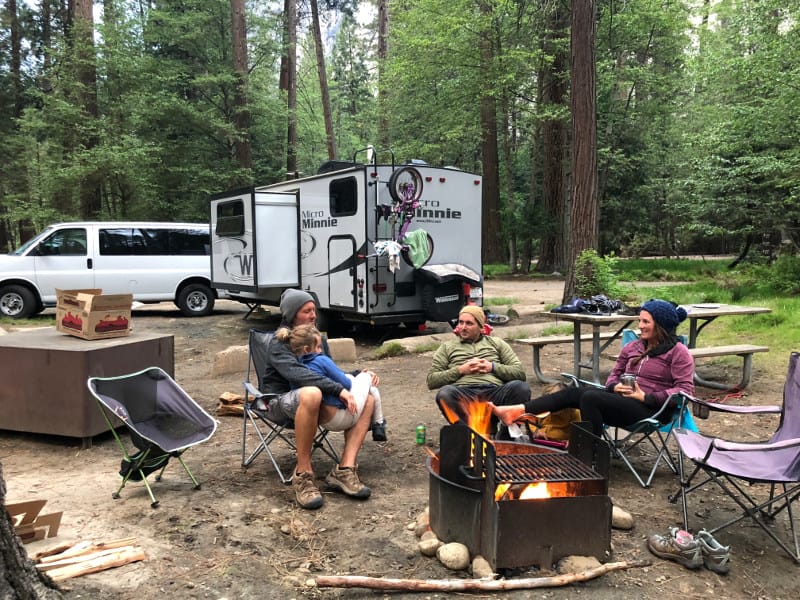 We stayed in the North Pines Campground and it was great. No hookups and minimal sun with all the trees for solar, but we made it work and it was worth it! There is actually a rule you can only stay for up to 7 nights in one calendar year. Take advantage of those nights and stay at a campground or somewhere in the park.
At the North Pines Campground we also had a great Verizon Signal. We have heard it doesn't work that well at all the campgrounds, but we did not test it out.
Curry Village in Yosemite is another option and there are more Yosemite camping options in the park.
Getting Around
In the valley there is a pretty decent shuttle service. It will take you around to all of the places you want to go. It was recommended to park your car in the Village Visitor Center lot early in the morning. Then just plan to take the shuttle all day.
Or if you are staying at the campground you can walk to the front of the campground and jump on the shuttle there. Or if you are up for it you can walk to a lot of places from the campground too.
They do have parking throughout the park, but it is very limited. So really any time after 9:30am you would be lucky to get a spot.
Internet
Surprisingly enough there is a strong Verizon internet signal when you are in Yosemite Village. It won't work everywhere in the park, but when you are in the village and if you have Verizon you will have internet and cell coverage. The same applies to T-Mobile. In the heart of the Village it works great, but that's about the only place.
Moon Guide
We highly recommend getting the Yosemite Moon Guide before you come. It is filled with great information to help you decided what parts of the park you want to explore.
Check out this great post for more info on Visiting Yosemite National Park With Kids.
If you want more fun in the area check out this great Bass Lake California Travel Guide.
We have visited a LOT of national parks and Yosemite came in at #3 for us. Glacier National Park is #1, then Yellowstone at #2 and Yosemite at #3 with Dry Tortugas taking spot #4.
Utah Road Trip: All 5 Utah National Parks & More [Map Included]
23 Magical Things To Do In Redwood National Park
12 Epic Things To Do In Northern California [Map Included]
11 Awe Inspiring Things To Do In Southern California
17 Unforgettable Things To Do In San Francisco With Kids
32 Spectacular Things To Do In Lake Tahoe [Maps Included]
10 Best Things To Do In Joshua Tree National Park
14 Awesome Things To Do In Death Valley National Park [And Where To Stay]
11 National Parks Near Las Vegas To Visit This Year
5 Best RV Sewer Hoses For Clean Camping
Pin This Post: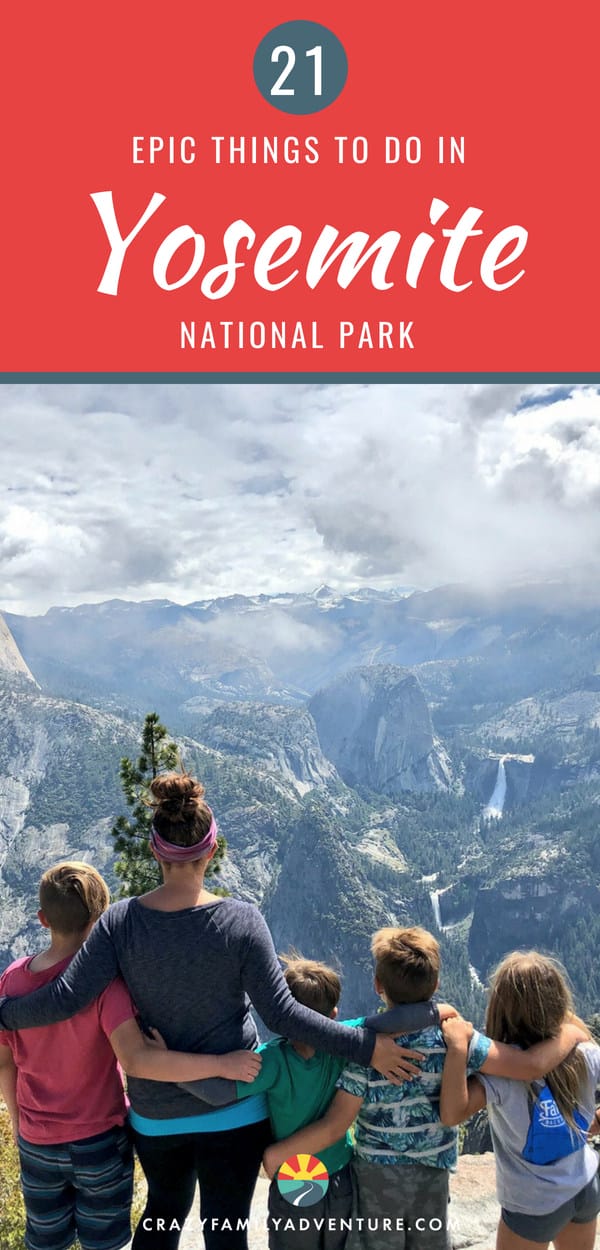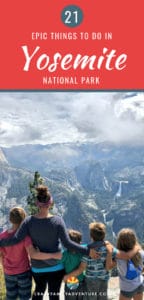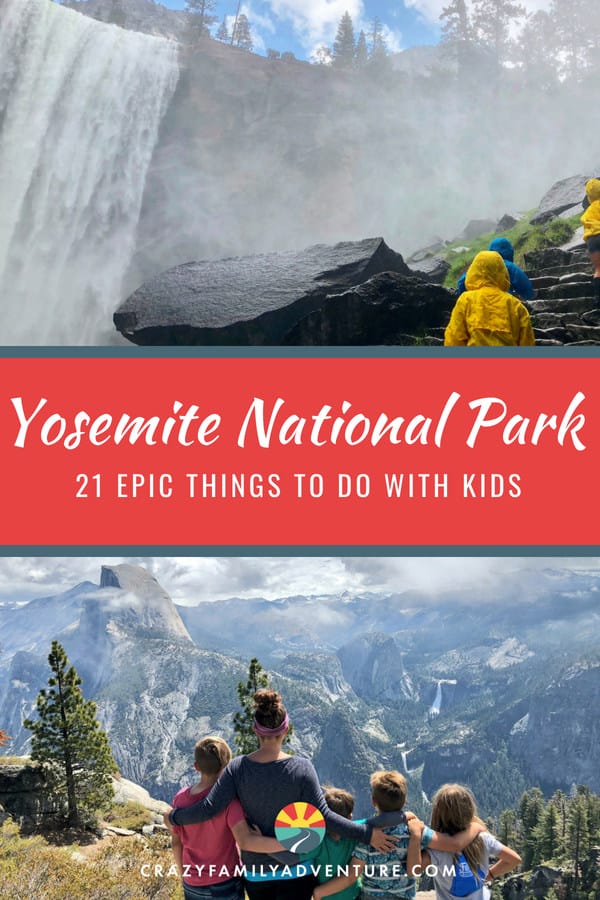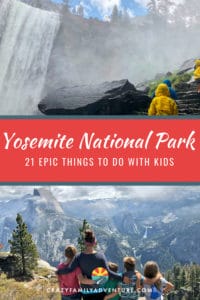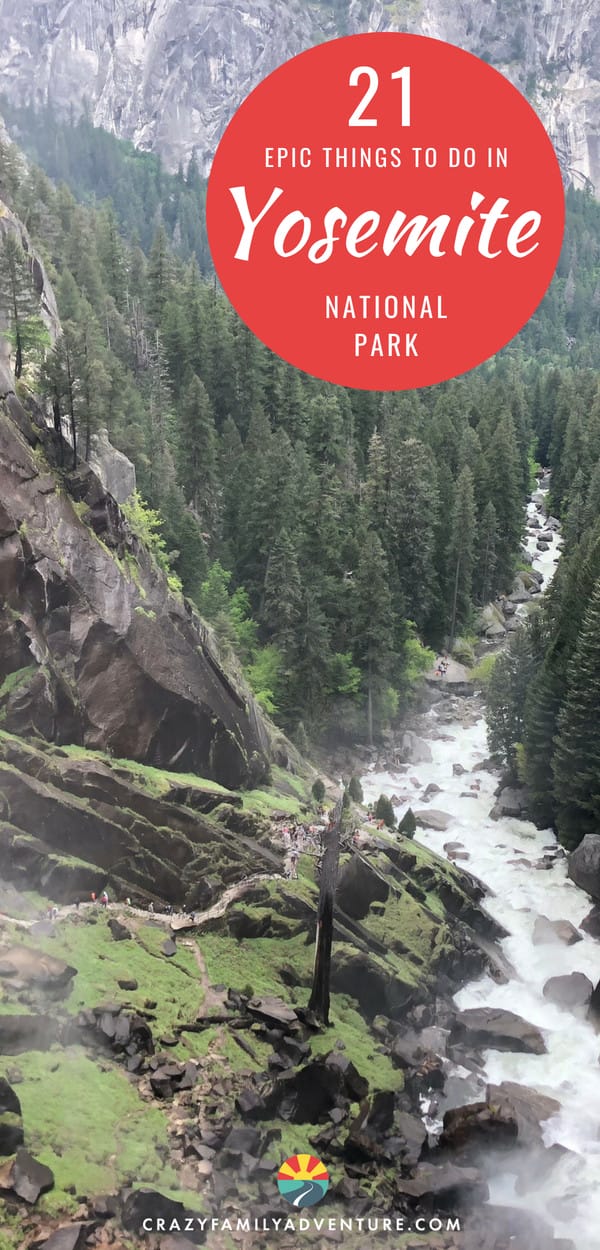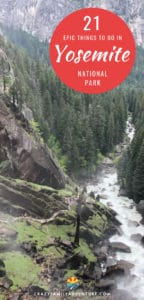 DISCLOSURE: This post may contain affiliate links, meaning I get a commission if you decide to make a purchase through my links, at no cost to you. Please read my disclosure for more info.