Sequoia National Park is in the southern part of the Sierra Nevada. This park is filled with beautiful giant Sequoias. These things are just unbelievable and we were excited to be spending a whole day exploring this amazing park!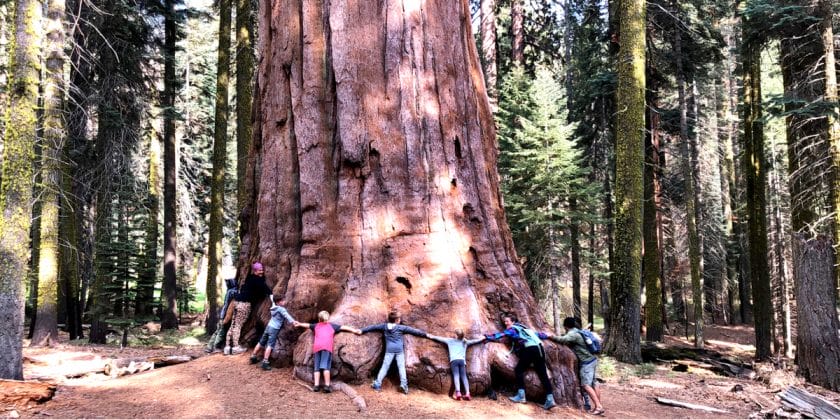 If you are planning a National Park Road Trip, looking for the top things to do in Southern California or planning a trip to Yosemite National Park you want to be sure to add Sequoia National Park to your list of places to stop! Here are our recommendations on things to do in Sequoia National Park.
If you can rent an RV to take and stay IN the park at the Azalea campground! It was so awesome to be parked right under these gorgeous giants and to be able to hike on amazing trails right out our door. Here are some great tips on how to rent an RV and planning an RV trip.
Sequoia National Park
Lodgepole Visitor Center
Like we have mentioned before we enjoy stopping at the Visitor Centers to explore the small free museums they usually have along with talking to a Ranger about what they recommend we should check out while we are there. This time around the Ranger really changed up our whole schedule with what she recommended!
General Sherman Tree
This is the largest tree not only in the United States but in the whole world at 275 feet tall. It takes a half mile downhill hike to get to it. The tree was unbelievable and there were a variety of other Sequoias throughout the area along with one fallen down tree that you could walk through!
The only problem with being here was all the people. . . it was super busy and there were a ton of people here to see General Sherman (the largest tree in the world) and all the other trees. It is great that so many people are out exploring the parks but can be frustrating when it is so busy.
The hike back up was uphill the whole time, but was no problem for all 6 kids. It's paved and has steps throughout most of it. They also have another parking lot that is much closer to the tree for handicap access. If you park there, it is pretty flat and close (about a hundred yards or so) to get to General Sherman.
Once we got to the top they practiced their bouldering skills on a huge boulder by the trailhead . . . guess they weren't tired from the walk!
Giant Forest Museum
After checking out General Sherman, we headed to the Giant Forest Museum which was surrounded by beautiful Sequoia trees and in hindsight I wish we would have stopped at some of the pull outs to walk among the trees. I would also recommend doing the 2/3 mile Big Trees Trail (We didn't and I wish we would have).
The museum was good with a handful of small exhibits to learn more about the Sequoia trees. They had a fun spinning wheel where the kids could spin it and find out if their Sequoia seedling made it into a huge tree!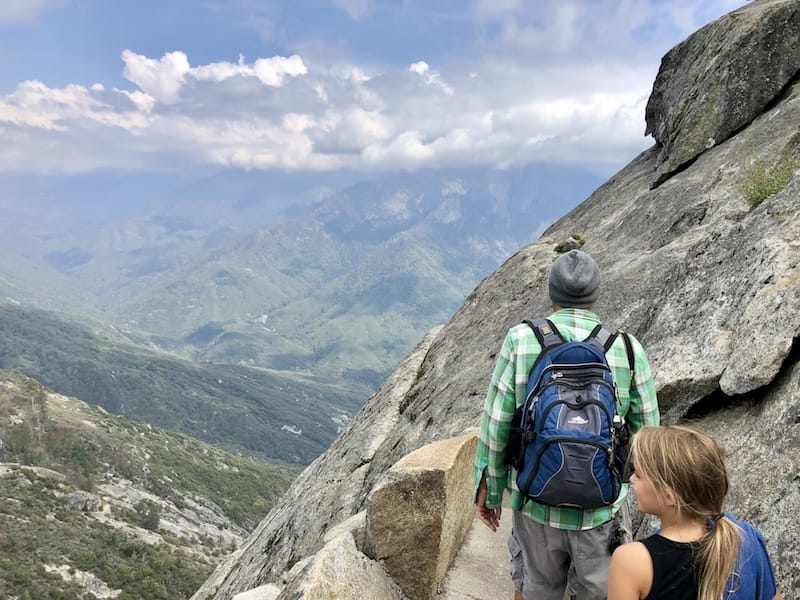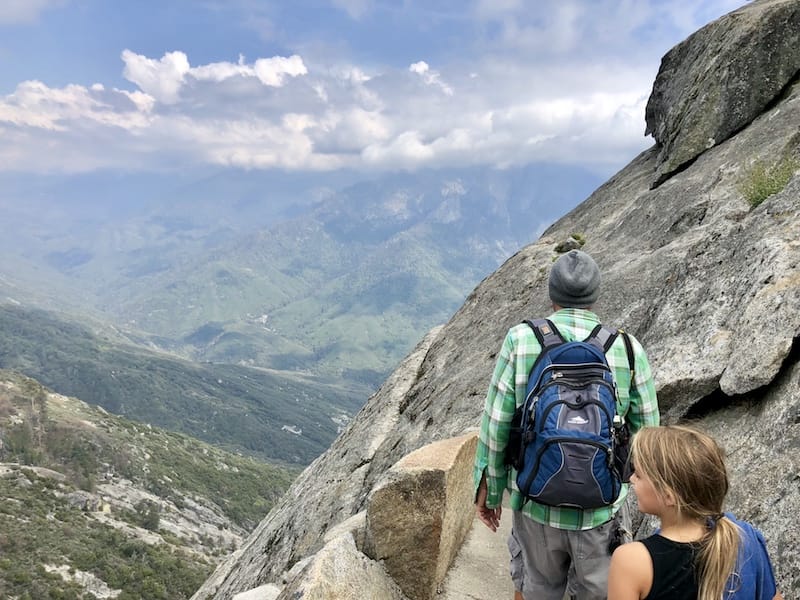 The Ranger recommended this one. . . it is 390 steps up to the top of the granite dome. It was really cool, but also scary! You are going up on steps with no railing on a lot of it and it is a straight drop on the side! Our youngest Knox is not to sure about heights and he made it up and down but he cried the whole way down.
It was scary and my legs were shaking . . . if your kids aren't sure about heights or you don't like them then you might want to skip this one. Or if you take your kids be VERY careful! It was really cool up top and well worth the walk up but you need to be ready for it.
Tunnel Log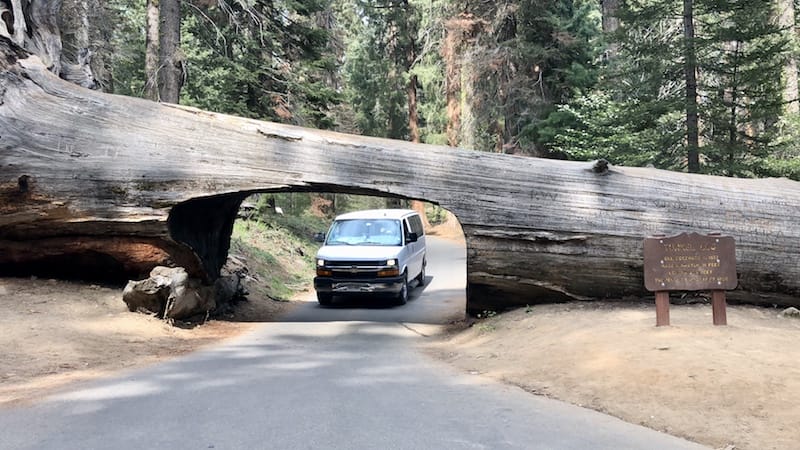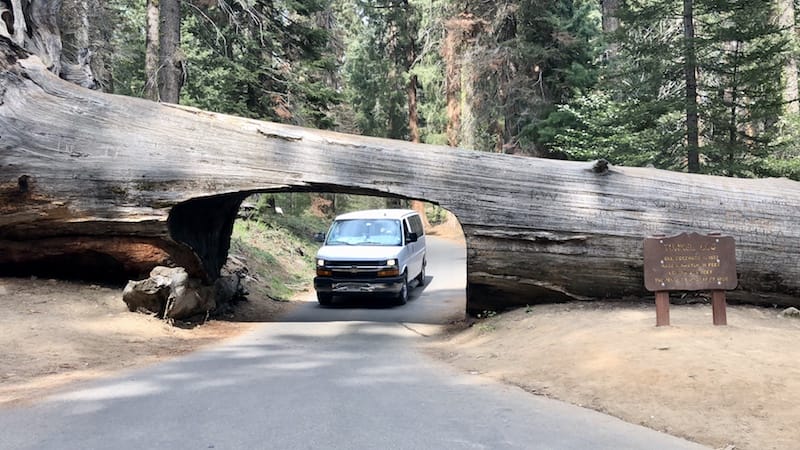 We took our van and drove through a tree! It was an 8 foot clearance so we had plenty of room at 7 feet and it was plenty wide. It was fun to drive through a tree and the kids loved it.
Crescent Meadow Trail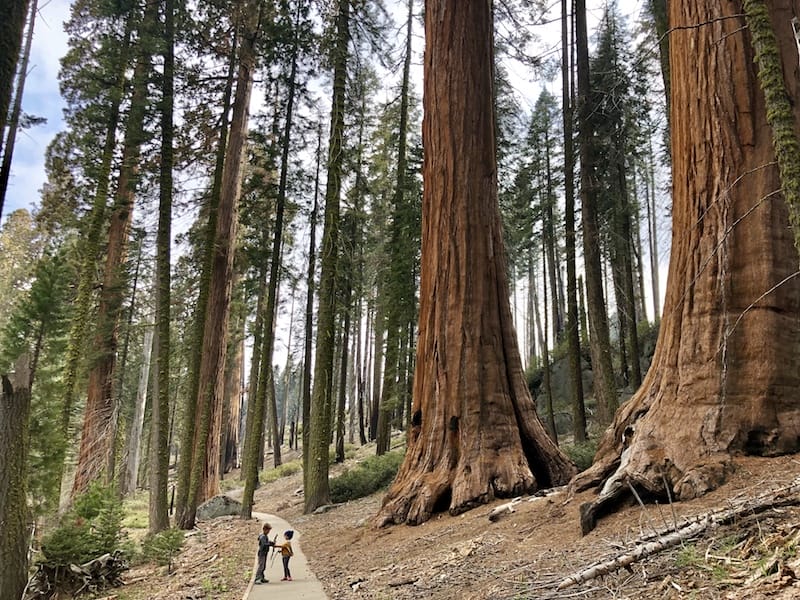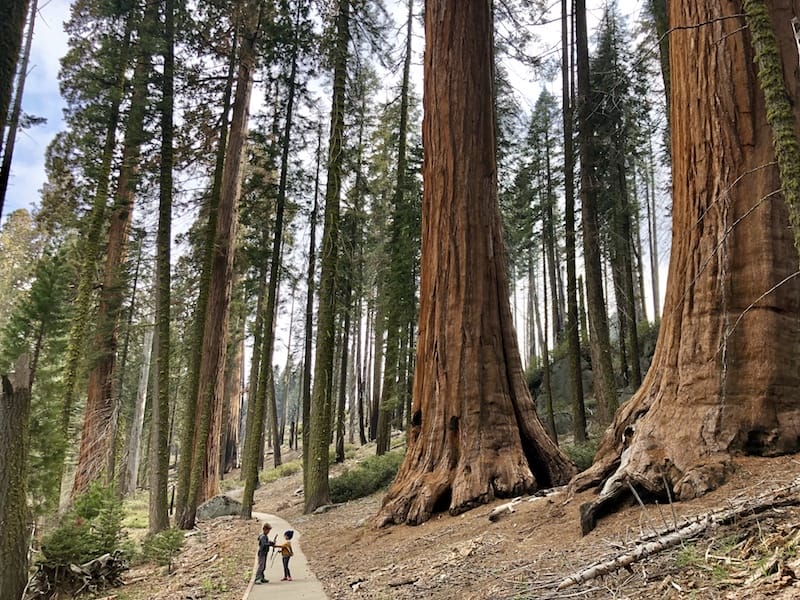 This was a 1.8 mile loop but if you add in the side trails it can be longer. I am not sure how long we actually went, but we were happy we did the extra loop. The main trail walks by a meadow where you can see the contrast of the meadow with the large sequoias growing right on the edge of the meadow.
One of the side trails we opted to do was The Thorpe's Tree loop. It took us to Mr. Thorpe's summer house . . . a cabin he built into a Sequoia tree that had fallen down!
We also stopped at Chimney Tree which was a standing tree that was hollowed out from fire so you could stand inside of it!
There were lots of fun areas like this to stop and explore throughout the whole trail. This was the trail the ranger highly recommended and we would agree it was a great hike!
After this we decided to head back since it was about 6pm. It was a fun and full day and we ended it with a nice fire by our RV.
If we had more time we would have also done the following:
Tokopah Falls
Muir Grove
Congress Trail
Big Trees Trail
Crystal Cave
Mineral King
If you enjoy your time in Sequoia be sure to check out and support the Sequoia Natural History Association.
Where To Stay – Sequoia
When we visited Sequoia we stayed at the Azalea campground by the Grant Grove village in Kings Canyon. From Azalea, it was less than an hour to get to General Sherman in Sequoia.
This lodge (The Gateway Restaurant & Lodge) is going to be very close to the Sequoia entrance.
The Wukaschi Lodge is located in the park and would be an amazing place to stay!
Click here for more info on visiting Sequoia National Park In One Day or more tips on Sequoia National Park with kids.
We highly recommend visiting the Kings Canyon National Park when you are in Sequoia – we included it in our list since they are so close together. You can't go to one and not the other. It has a whole different feel to it then Sequoia since you are up above the Canyon and then down in it.
Kings Canyon National Park
Kings Canyon is a lesser known National Park – I didn't even know where or what it was until I started to research National Parks for our California road trip. I can't believe more people don't come! It was amazing.
We opted to try for the first come first serve campground – it was the weekend before Memorial Day so we figured we had a good shot since it wasn't hot travel season quite yet. We got in on a Friday at about 3:30 and easily found 2 sites (my sister and her family were with us too).
I am so glad we stayed in the park – it gave us more time each day to explore so I would highly recommend finding a hotel or campground to stay at in the park when you visit.
We spent one full day exploring Kings Canyon and definitely could have used 2 if we wanted to get in a couple more hikes. Other than that, a day was the perfect amount of time to explore Kings Canyon Park.
Here is what we did:
Started at Azalea campground where we stayed for 3 nights for exploring both Kings Canyon and Sequoia (note there are no hookups at the campground).
Please note you can definitely stay in one place to visit both Sequoia and Kings Canyon – just be sure to check for any road closures before you book so you don't find yourself having to drive further than anticipated.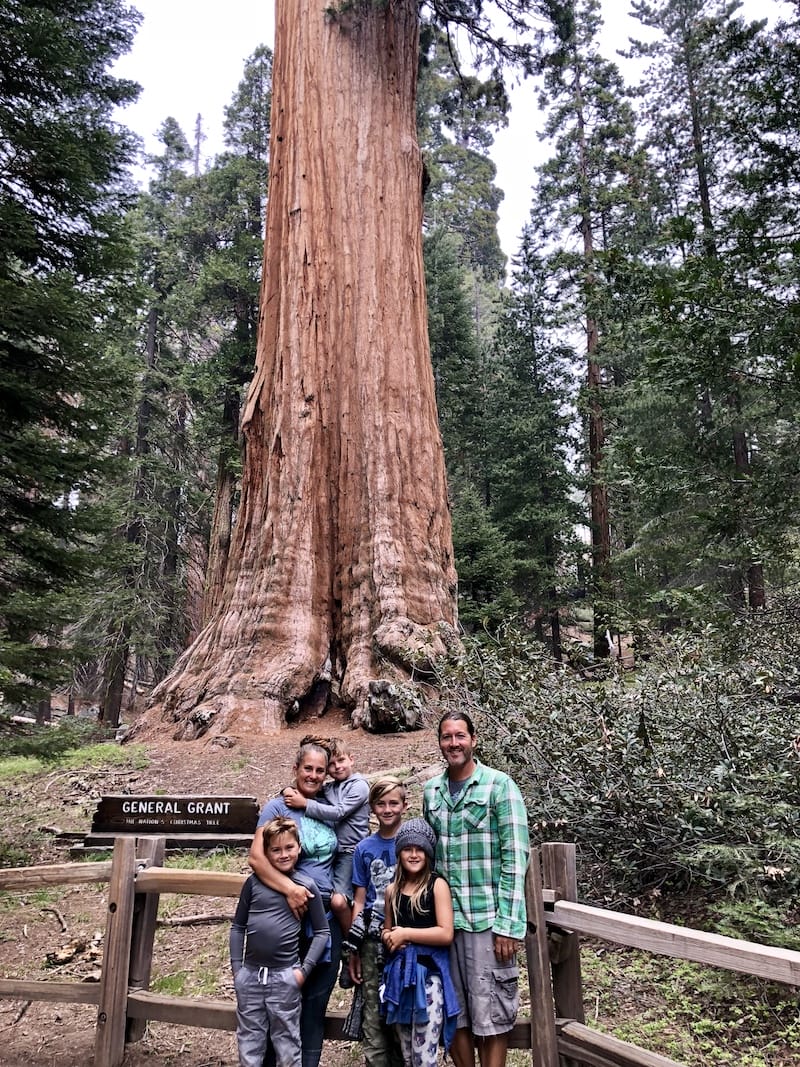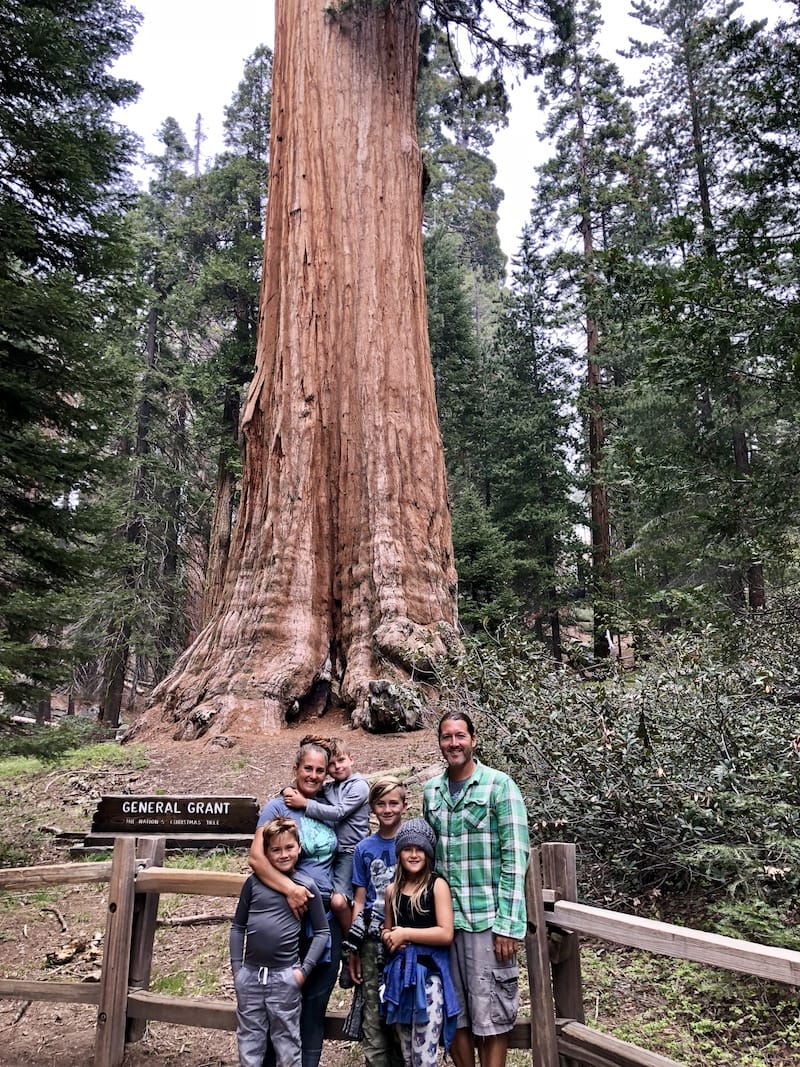 Hike to the General Grant Tree
This was a short hike (on the general grant tree trail) from our campground (about 1/2 a mile there) and it was beautiful. I didn't think we were going to make it to see the tree since the kids just wanted to stop and play on all the big boulders and the trees.
The Sequoia trees are just unreal how big they are and then the ones that have fallen down have these humongous roots and one of them had the perfect slide area on it. Eventually we made it to General Grant.
General Grant is a the 3rd largest tree in the world by volume and it was HUGE. It is surreal to stand under these trees and look up. General Grant has a 40 foot diameter at ground level which would take about 20 people holding hands to circle around it.
Surrounding the General Grant tree area variety of other large Sequoias to look at including one that had fallen down and the inside was carved out so we could walk right through it!
What we thought was going to be a quick hike took quite a bit longer since there was so much to see and play on!
After that we headed back to the campground to get packed up so we could take the van and go explore more of the park.
Grant Visitor Center
Next stop was the Grant Visitor Center (Kings Canyon Visitor Center) to pick up some park stickers (we like to buy them and put them on our RV or van) and to get Junior Ranger books for the kids. We also like to stop at the Visitor Center to ask for any recommendations. And to be sure there aren't any unexpected road closures or trails closed.
The visitor centers usually have a nice little museum and maybe a movie we can watch to learn more about the park. Grant Visitor Center and village (it has a small general store, cabins and a lodge) is super close to Azalea campground. Probably a 10-15 minute walk along the trail that connects them.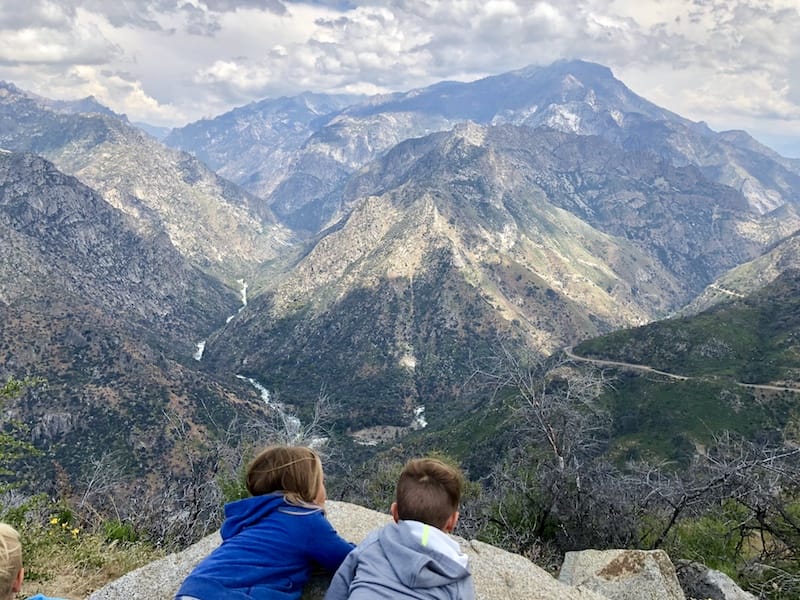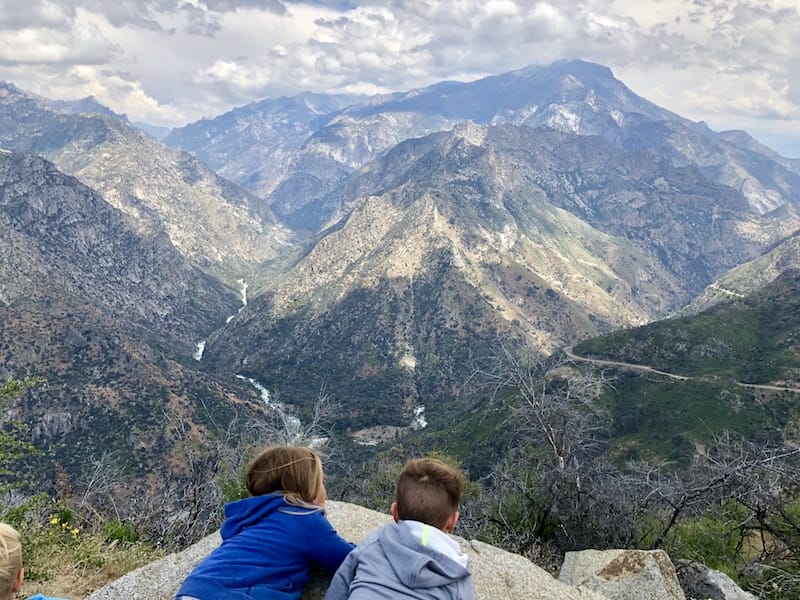 Kings Canyon Scenic Byway
Our next stop was to travel on the Kings Canyon Scenic Byway (highway 180) and take in the beauty of the canyon from up above and then from down below. There were a few scary roads on the way but the beauty was well worth it. It was crazy to come out of the beautiful Sequoia forest and see this awe inspiring canyon.
On the Scenic Byway we stopped at a couple viewpoints:
Junction View
This was up at the top and gave you an amazing view down into Kings Canyon where you could see the river roaring and also look out over the towering mountains. It looked like a painting!
Grizzly Falls
This stop came once we were down on the canyon floor and was an easy stop with a one minute walk to a huge waterfall. We have heard if you come in the summer there may not be a waterfall here as it dries up. We were there at the end of May and it was flowing strong.
Come prepared with the following items:
Hydro Flask water bottles
Keen Shoes
Backpack
Snacks
Moon Guide to Yosemite, Sequoia and King's Canyon
Sweatshirts/Layers
Sun Glasses
Music Play List (make sure you have it downloaded as internet doesn't really work in the park)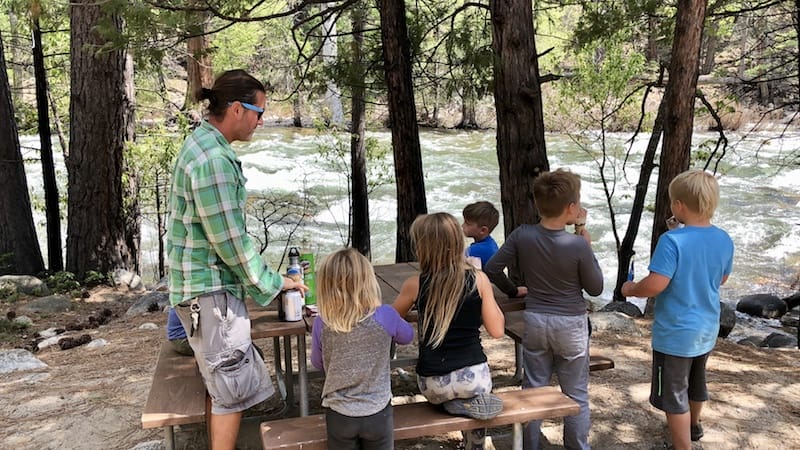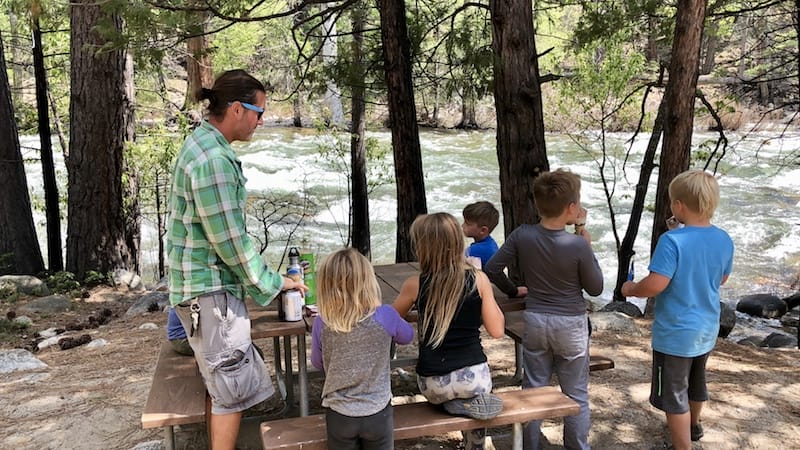 Cedar Grove Visitor Center
This visitor center was closed, but the lodge and market area was open. We stopped there to have a beer and get the kids an ice cream cone while we sat next to the roaring river. It was a great place to stop for a minute to relax.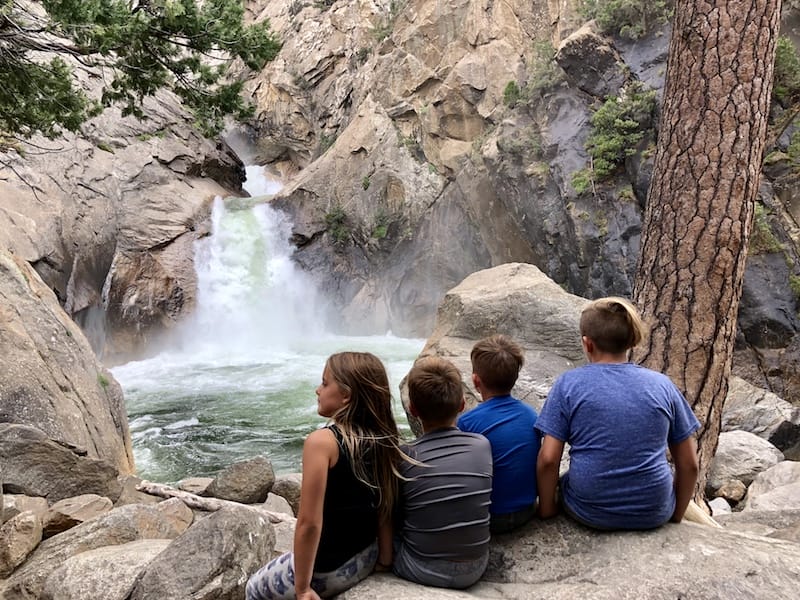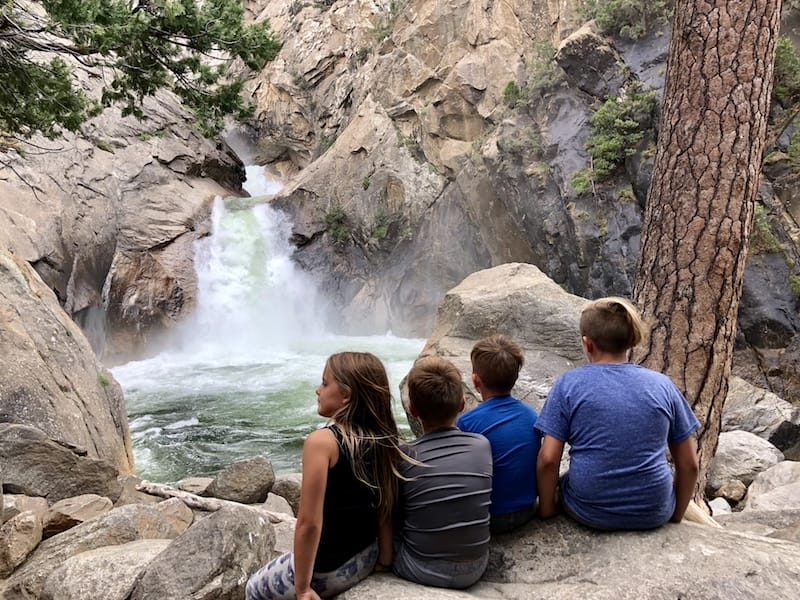 Roaring River Falls
Next we headed to the Roaring River Falls which was a short paved hike to a beautiful waterfall. I would recommend this to anyone since it was such an easy trail and the waterfall was really cool.
Zumwalt Meadow
The last stop of the day was for a 1.8 mile loop hike around Zumwalt Meadow. It was a really fun hike. The hike took us along the river and then up and through rocks and boulders with the gigantic canyon walls surrounding us. It did not feel like 1.8 miles and all the kids did great! The whole trail was pretty level with just a few granite steps at one area.
It was much warmer here in the meadow compared to the rest of the park. Since it's down in a valley and the sun shines bright in the meadow. Be prepared with layers.
At this point we had made it all the way through Kings Canyon. We then turned around and headed back to the campground. The drive back was gorgeous as it took us back up to 6,000+ feet to our campground.
Where To Stay
We definitely recommend staying at Azalea campground. It's close access to both King's Canyon and Sequoia and the campground is really cool with all the giant Sequoias all around. Again, there are no hookups here, so be prepared with that. We had a small solar panel that we used to keep our battery charged up that worked pretty well.
The Sequoia Campground & Lodge (which is now renamed to AutoCamp – be sure to check when they open) is very close to the entrance. The Nelson Falls RV Park is about an hour and 45 minutes from Three Rivers, but the park is in the Sequoia National Forest.
For more on camping check out this great guide: Sequoia National Park Camping.
If you don't have an RV rent one close to Sequoia National Park!
Hotel options:
The Wukaschi Lodge – located in the park!
The Gateway Restaurant & Lodge
VRBO options:
Sequoia and Kings Canyon National Park are well worth a visit if you are on your way to Yosemite. Don't plan to just drive through but plan to stay for a couple days to really explore both parks. You will want to drive on the Generals Highway and stop to do some day hiking. The National Park Service is just amazing!
More Info Check Out:
11 National Parks Near Las Vegas To Visit This Year
21 Magical Things To Do In Redwood National Park
21 Epic Things To Do In Yosemite National Park With Kids
12 Epic Things To Do In Northern California [Map Included]
54+ Things To Enjoy On The Ultimate Baja California Mexico Road Trip
14 Awesome Things To Do In Death Valley National Park [And Where To Stay]
11 Awe Inspiring Things To Do In Southern California
5 Best RV Sewer Hoses For Clean Camping
DISCLOSURE: This post may contain affiliate links, meaning I get a commission if you decide to make a purchase through my links, at no cost to you. Please read my disclosure for more info.