On this unbelievable trip you will experience wine country, both coasts of Baja Mexico: the Sea of Cortez and the Pacific Ocean, snorkeling and if you want; the crazy busy, yet beautiful tip of Baja at Cabo San Lucas. We spent 3 months on our Baja road trip! Below we share our top 53+ things to do in Baja California.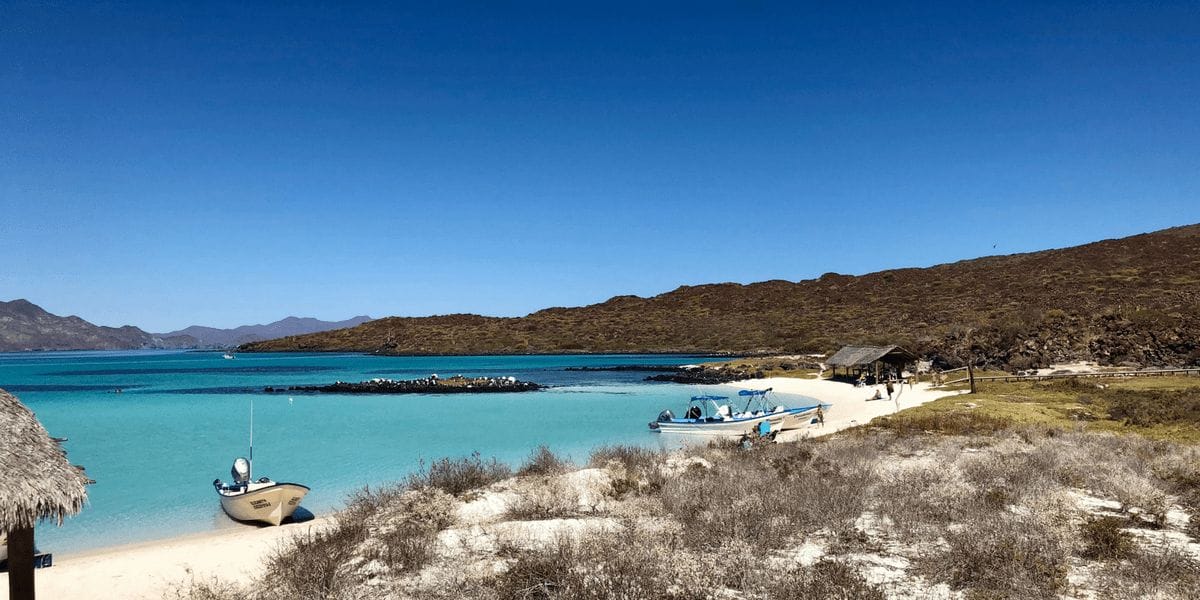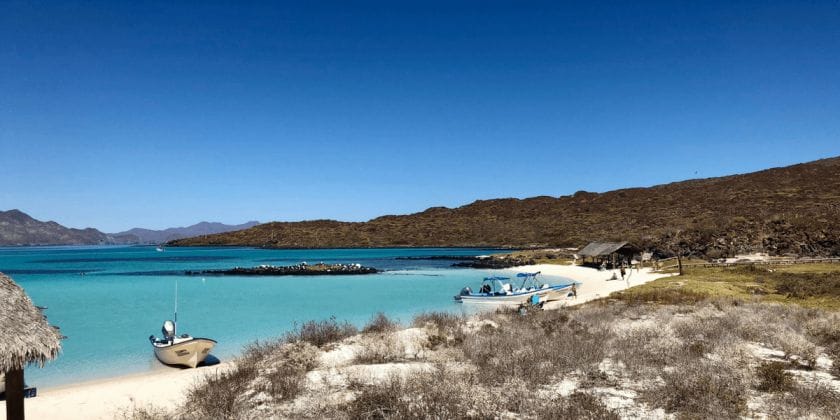 **NOTE things can change in Baja, prices change, places close, and you don't really know until you get there. For that reason when you are preparing for your trip to Baja be ready to go in to the trip with an open mind knowing everything may not go as planned. Also note a lot of RV parks only take cash. Baja is amazing you just have to be OK going with the flow!!
Also when you see a gas station fill up. We didn't have any issues but we have heard gas stations can just randomly be closed.
When road tripping through Baja California you are going to travel through Baja California Norte or the State of Baja California which is the northern half of the peninsula down through Baja California Sur which is the southern half.
Throughout the 1000+ mile road trip from the top to the bottom there are 53+ places you will want to stop to explore. Each one brings its own unique and interesting vibe. We didn't have to rent a car or anything as we took our van and travel trailer down on our trip. In this post we share the Baja campgrounds we stayed at and also hotels we recommend.
San Felipe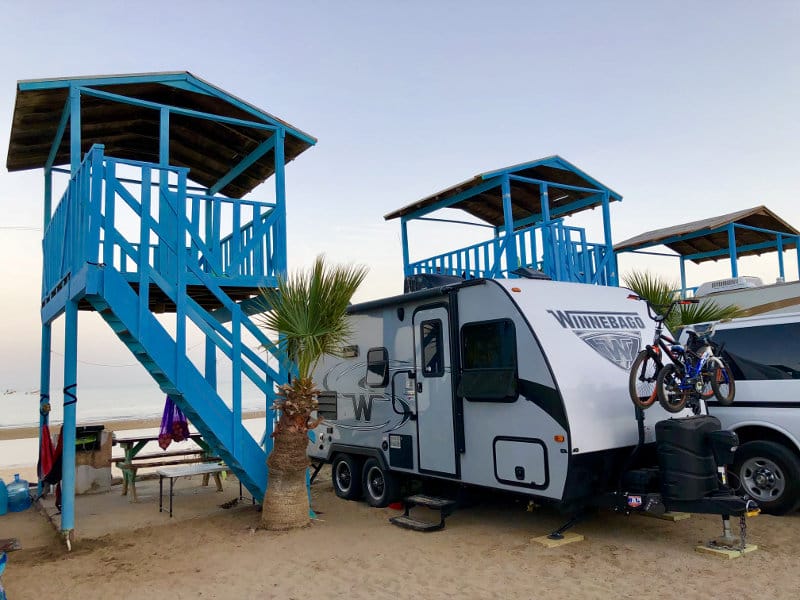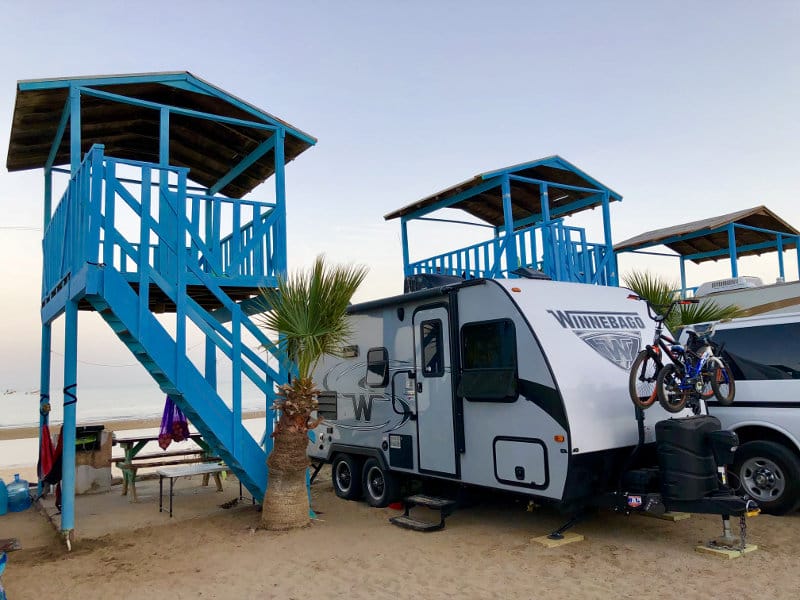 We start in the northern half of the Baja at San Felipe. We crossed from El Centro, California into Mexicali and made it to the quaint yet busy town of San Felipe located just about 3 hours from the United States border.
It is a great first stop on your Baja road trip. You can spend an afternoon hanging out at the beach on the Gulf Of California (Sea of Cortez) or head into town to get a bite to eat at one of the many authentic and inexpensive Mexican restaurants.
The RV Park we stayed at was about a 15 minute walk into town on the streets. It was pretty safe, but be careful for cars and especially when you turn down the main busy road before you get to the sidewalk area. We walked it at night multiple times.
Favorite Restaurant: Taco Factory (pretty Americanized, but sometimes that feels good in another country). Great Mexican food and margaritas.
Note if your kids are picky eaters and they just want a plain cheese quesadilla it is a called: Quesadilla Sencilla – which means a simple quesadilla with no beans. We got lots of quesadillas with beans and cheese before we learned to say this. Maybe your kids will eat bean and cheese quesadillas and that will be fine . . . most of mine won't.
Fishing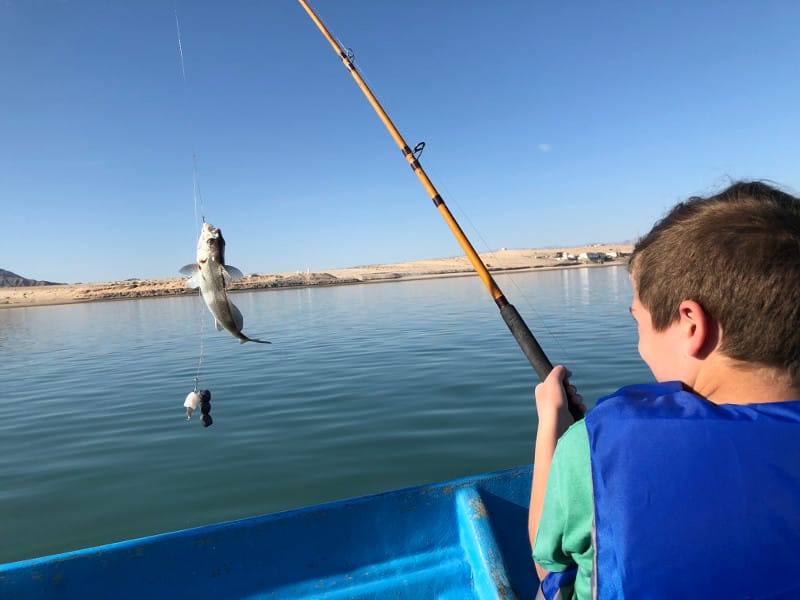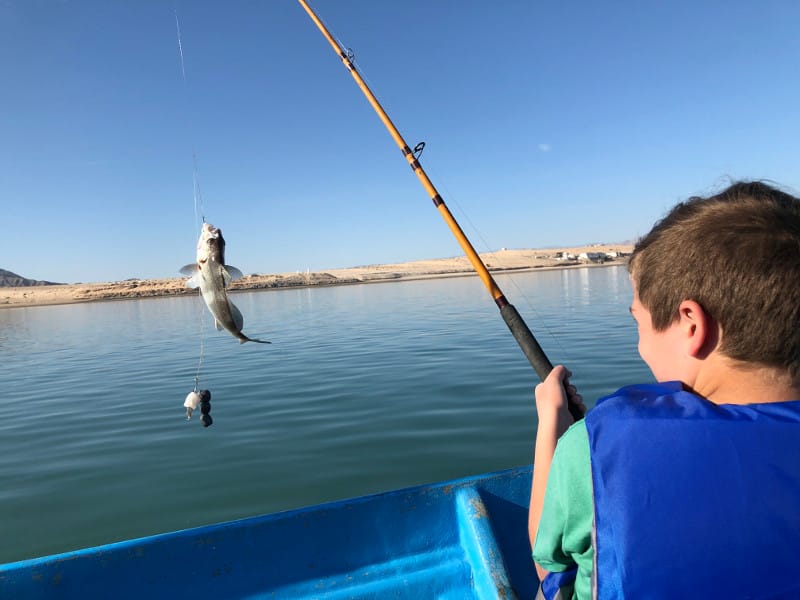 If you are into fishing or maybe you have never gone fishing, but you want to give it a try, then San Felipe is the place for you! My Husband, Dad and brother-in-law took 3 of the 6 kids ages: 10, 8, 6 out on a boat with a guide for a couple of hours and everyone caught multiple fish!
The captain of the boat put the bait on the line for you (they provided the bait and fishing poles) and you cast the line and the fish were biting. Once you were done the captain of the boat would clean and fillet the fish and then all we had to do was cook them.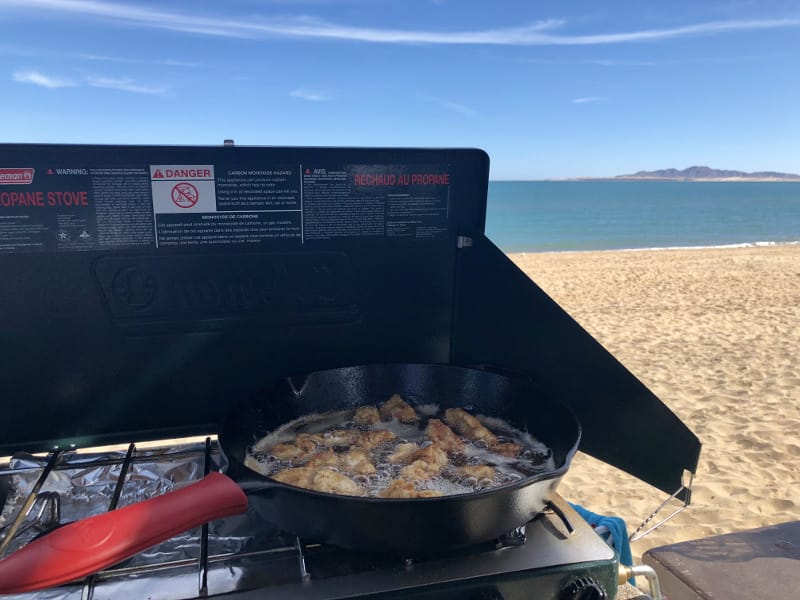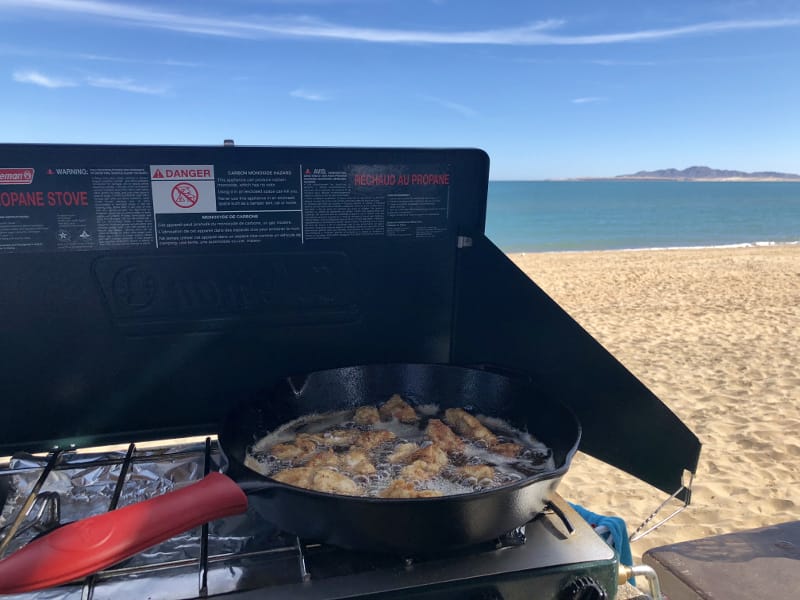 Having fresh fish out of the Sea of Cortez was definitely a highlight of our trip in San Felipe.
Ask around for Capitan Queso and someone at the RV park or a restaurant in town should have his number. We asked him if he had a business card or a website but he said no, just ask for Captain Queso – one of the many reasons we love Baja.
Kayaking and Paddle Boarding
The Sea of Cortez by San Felipe is one of many places to kayak in Baja. The water is calm and you can easily go out to paddle around and check out the surrounding area.
Recap: San Felipe
Where we stayed: La Palapa RV Camp
Cost: $17 US dollars a night
Location: On the beach
Recommended hotel stay:
Best Restaurants:
Things To Do:
Fishing with Captain Queso
Kayaking/Paddle Boarding
Internet/Cell Coverage: It was great. Our T-Mobile hotspot worked really well and we were able to stream. I had also heard the campground wifi was decent – we never tried but always used our hotspot. Cell coverage worked with T-Mobile and Verizon throughout the whole town.
Check out this awesome post to learn more about getting a Mexico Sim Card before you travel to Baja – if your plan doesn't have coverage in Mexico: Buying A Mexico Sim Card – All You Need To Know
Puertecitos Hot Springs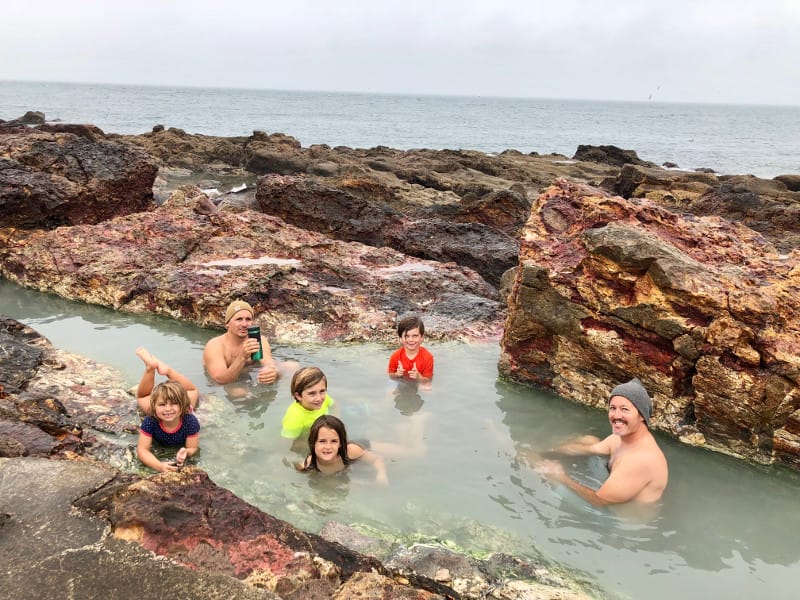 A little off the beaten path but well worth the trip are the Puertocitos Hot Springs. The hot springs sit at the edge of the ocean and if you catch them at the right tide you can sit in the warm and sometimes really hot hot springs while you watch the tide rolling in and cooling the water off.
There is not much of anything to the town just a few houses and absolutely no internet or cell coverage. That is part of the fun of it! There is also a small bay where the tide goes really far out so it is cool to walk out where the water use to be covering.
Recap: Puertecitos
Where we stayed: Campo Turistico Puertecitos
Cost: 500 Pesos for our family (charge per person for the hot springs and camping) but you never really know what the price will be. But have cash.
Location: On the beach
Recommended hotel stay:
I don't think there were any hotels in this small town? If not camping/RVing you could drive in, pay to visit the hot springs, and then leave to continue on.
Best Restaurants:
Did not try anywhere to eat here. We just cooked our own food under the palapa.
Things To Do:
Visit the hot springs
Explore low tide
Internet/Cell Coverage: None
Hwy 5
When we traveled through here the road was not finished. Now we have heard that it is complete and is a regular road. That will make for much easier traveling!
Where we recommend staying: Campo Beluga
Internet/Cell Coverage: None
CoCo's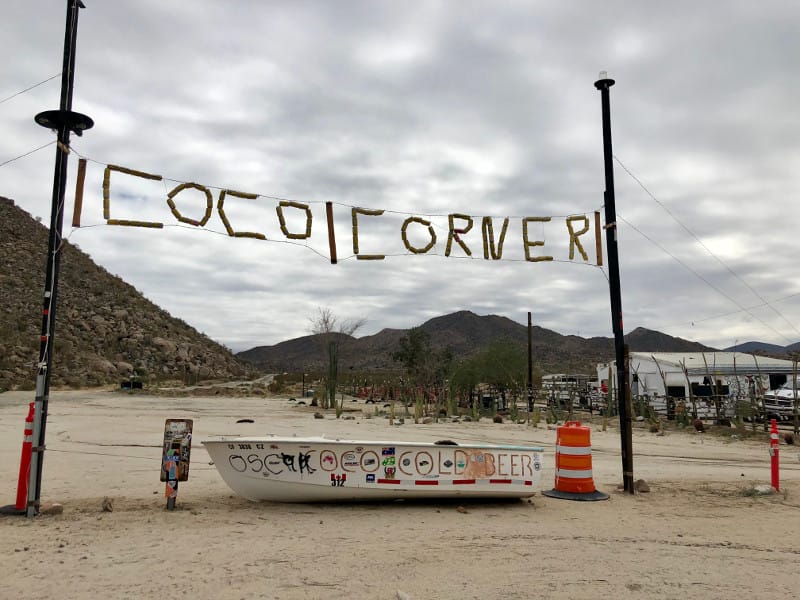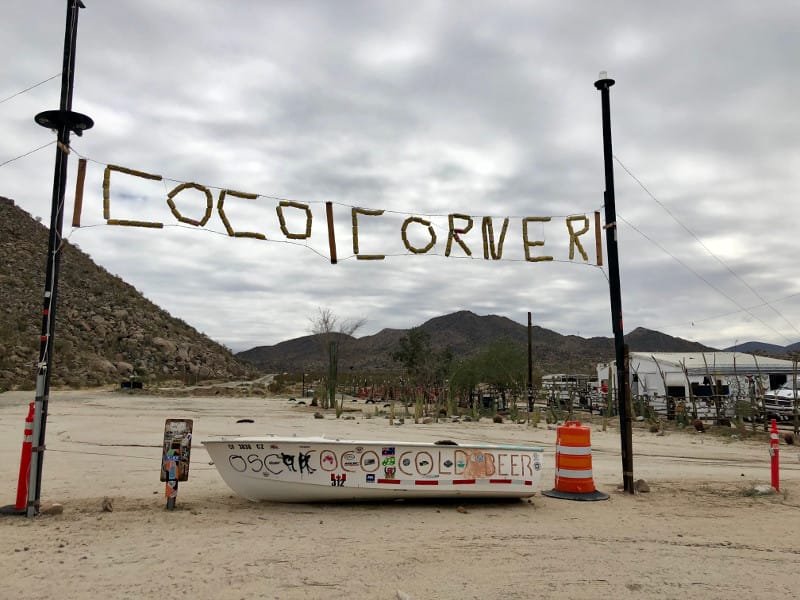 If you road trip from the US down through San Felipe and Puertocitos the quickest route will be to go on Highway 5.
Right in the middle of this road is the infamous CoCo's Corner. The owner CoCo has been living here for over 20 years and welcomes travelers on 5 into his bar/home for a break. We stopped in to take a look, meet Coco, sign the book and grab a drink before we headed out to finish up the road.
When the new road was finished they did relocated Coco's Corner so it was right along the highway – in other words you can't miss it!
Unfortunately Coco passed away in August 2022. I am not sure if someone else will continue to run CoCo's corner or not. But if you are making your way down be on the lookout for Coco's corner and make a stop to see what is going on!
Bahia De Los Angeles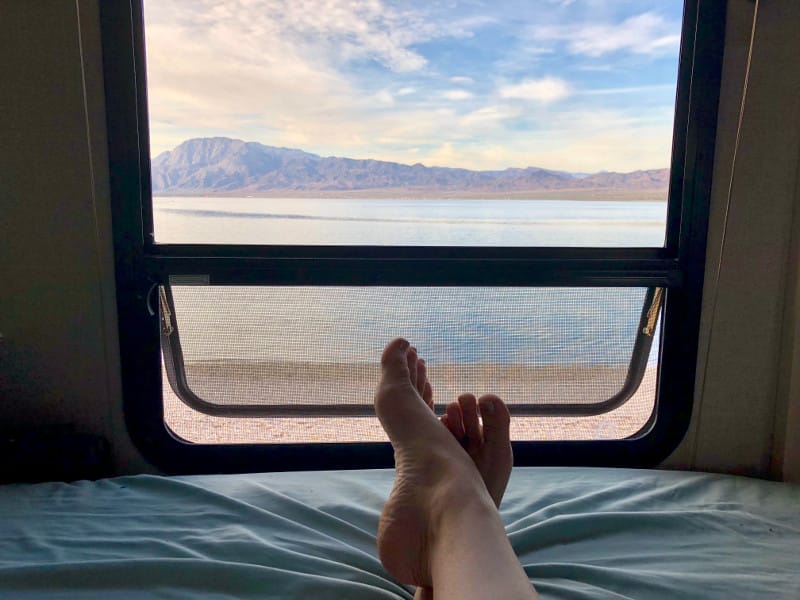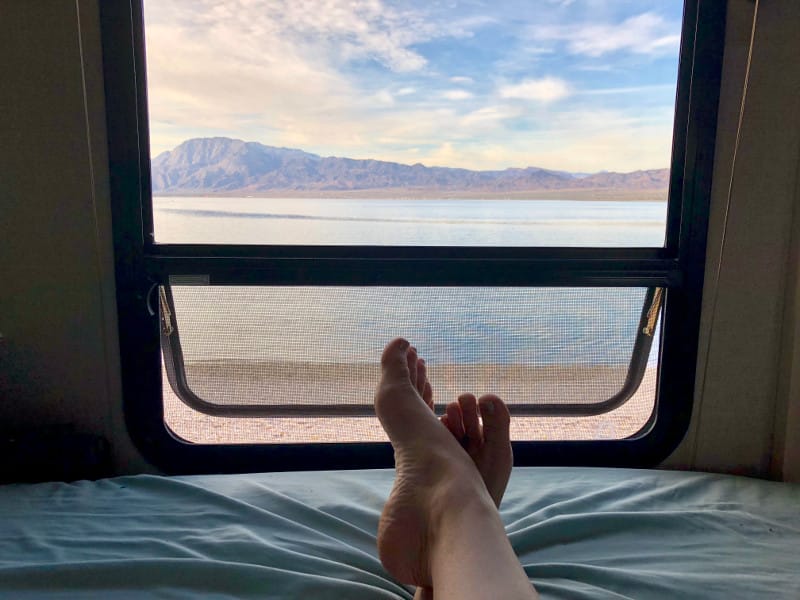 Another stop down a now paved side road is Bahia Los Angeles. It is a small town located on the Sea of Cortez. The town itself has a few small restaurants and even a museum. But our favorite part about it was camping right on the water and taking the kayak out to explore the Bay.
Do note the winds can get crazy here – and they did – so only take the kayak or paddle board out when you know the winds aren't going to be strong. We saw plenty of fish, sting rays, starfish and even dolphins when we were out on the kayak.
When we were hanging out at our campsite the dolphins came to visit multiple times swimming just 20 feet off of shore. We also had a sea lion visit us a few times too. Bahia Los Angeles is a magical and peaceful place.
Recap: Bahia De Los Angeles
Where we stayed: Playa La Gringa – have to drive for about a mile on an uneven dirt road – but doable.
Cost: Free (sometimes they come around and collect 100 pesos or so a night)
Location: On the beach
Recommended hotel stay:
Villa Vitta Hotel Resort
Best Restaurants:
Did not eat anywhere, but there are a few restaurants in town and at the hotel.
Things To Do:
Visit the hot springs
Explore low tide
Internet/Cell Coverage:
None – if you need it you can go to the hotel to pay for wifi is what we heard.
San Ignacio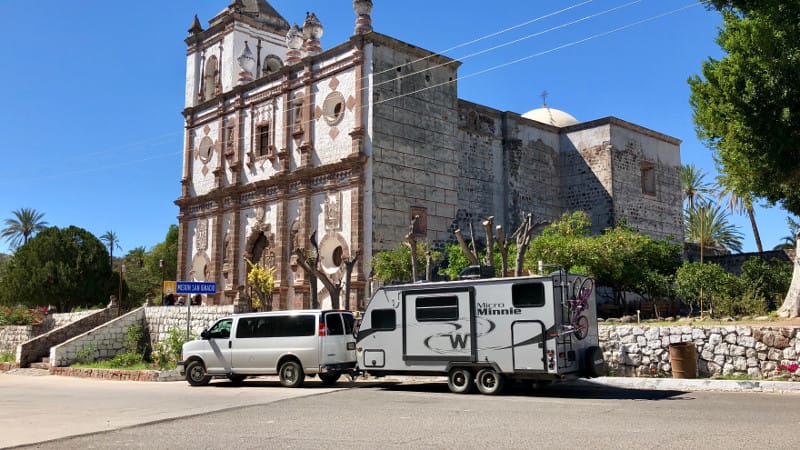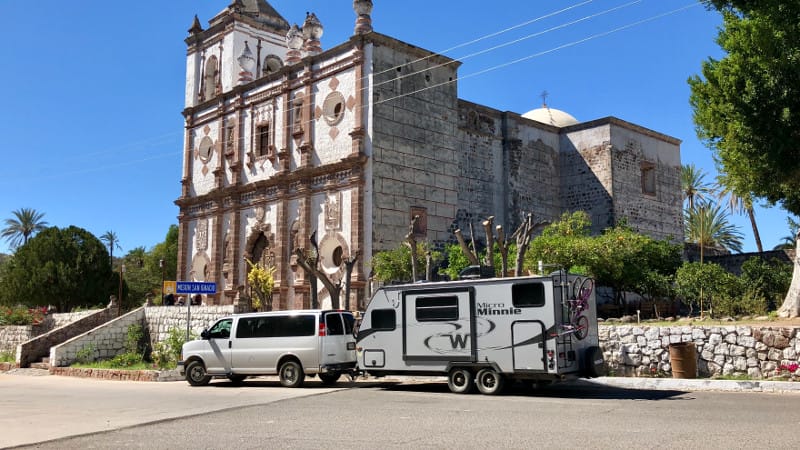 You now cross into Baja California Sur which is the 31st state of Mexico. This cute little town is a great place to stop to check out the mission and to grab lunch and some ice cream. We enjoyed walking around the small square and taking in the laid back and relaxed feel of the town.
The restaurant we ate at was right to the left when you pull in. It was more like a food truck with a tent to sit under . . . but it was good!
Whale Petting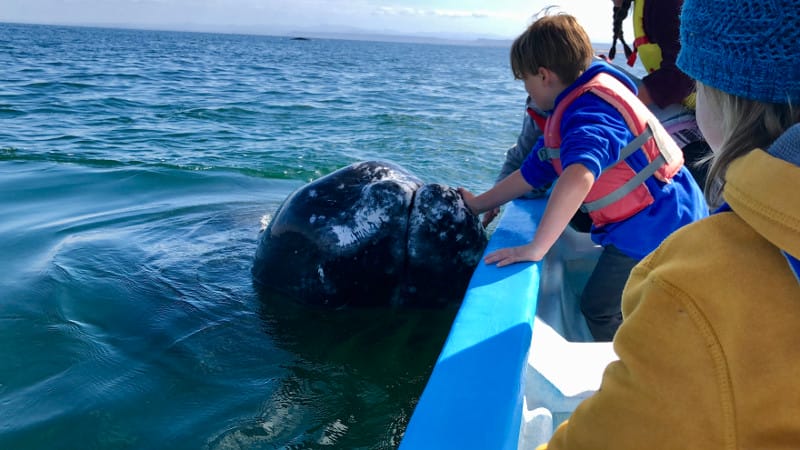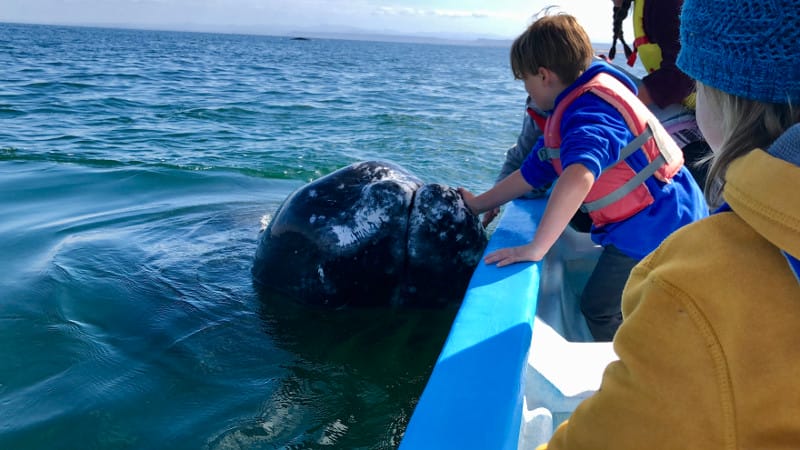 By far the #1 thing to do on your Baja road trip is to go whale watching in the San Ignacio Laguna. This was an unreal experience and something we will all remember for ever. There are a couple of options when you come:
You can go to Guerrero Negro and take one of those tours but we had heard that going out of San Ignacio was better.
EcoTourism Kuyima is the one we did. They have tents you can stay in and provide meals or else you can come and camp in your RV. You stay the night right on the water and then the next day they take you out on a Panga (boat) to go to see the whales.
There is no question if you will see whales or not. You WILL see whales. they were breeching all around us. It was unbelievable.
Then if you are lucky the whales will come right up to the boat and you can pet them!!
It was such a magical experience. Cannon our 8 year old and my sister even got a chance to kiss one of the whales!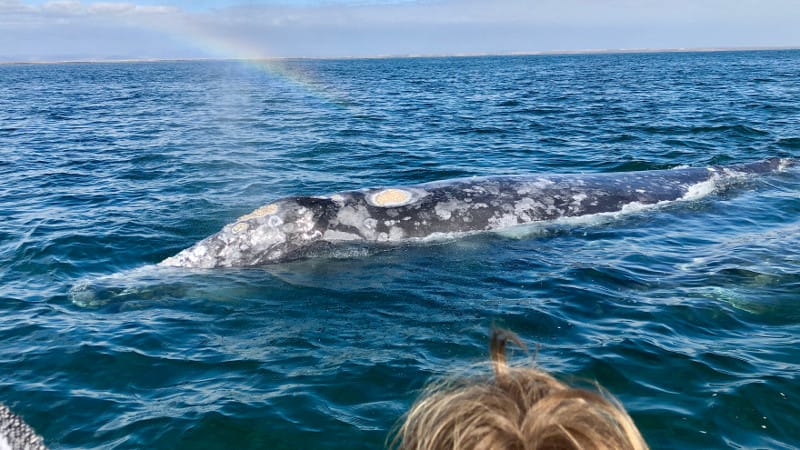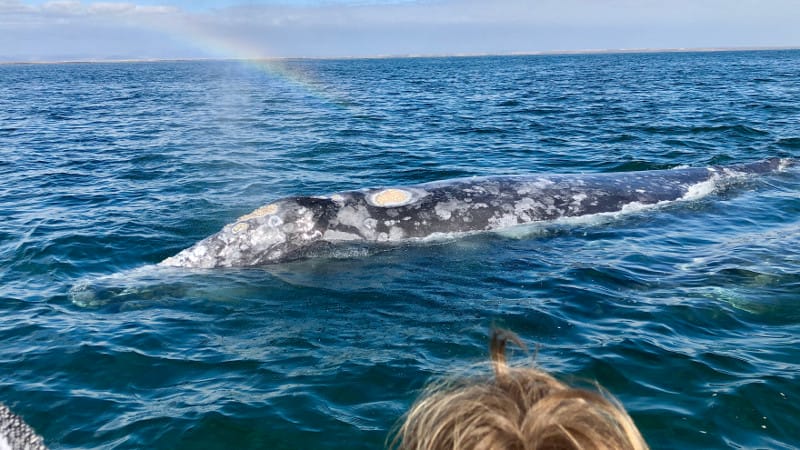 The Momma whales swim down from Alaska from January – April to give birth to their babies in the San Ignacio Laguna. Due to the shallowness of the lagoon, Killer Whales don't come into it so the babies are safe.
The amazing thing is when the boat is out there the momma whale will push the baby whale up to the boat to say hi. You can literally look these majestic and gentle creatures in the eye as you are petting them. I get the chills even writing about it. It was one if not the top thing we have done on all 4 years of our travels.
Recap: San Ignacio/Whale Watching
Where we stayed: EcoTurismo Kuyima (open January 1 – April 15th – but it varies)
Cost: $20 US dollars a night to camp (I think to be honest I don't remember but thought it was a little bit more expensive then we were use to. Because of the whale watching it was totally worth it!)
Location: On a bluff overlooking the ocean and the whales
Recommended hotel stay:
EcoTurismo Kuyima (open January 1 – April 15th – but it varies). They also have Yurts that people can stay in!
Best Restaurants:
EcoTurismo Kuyima: They provide meals at the lodge but you have to tell them the night before if you want to eat. We weren't aware this was an option so we brought our own food. You could just stop in for a beer and a soda though if you wanted to.
San Ignacio: Walk around town to see what is open :). We liked the taco stand that was kiddie corner from the Mission.
Things To Do:
Internet/Cell Coverage: Had very spotty coverage for internet and cell in San Ignacio and NONE at EcoTurismo Kuyima.
Mulege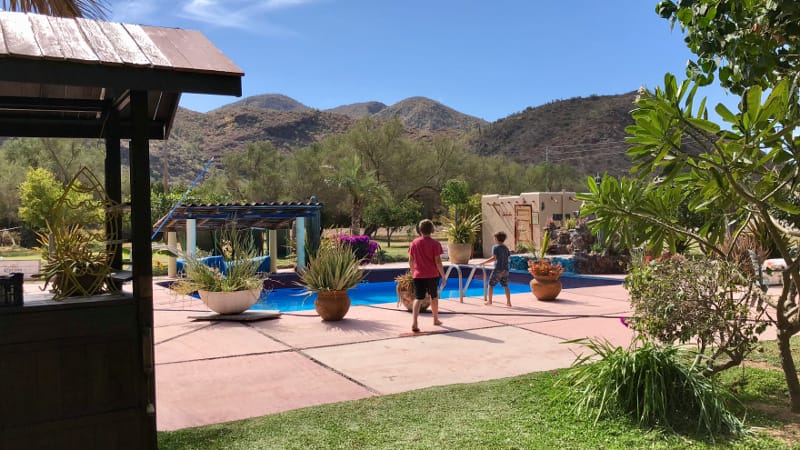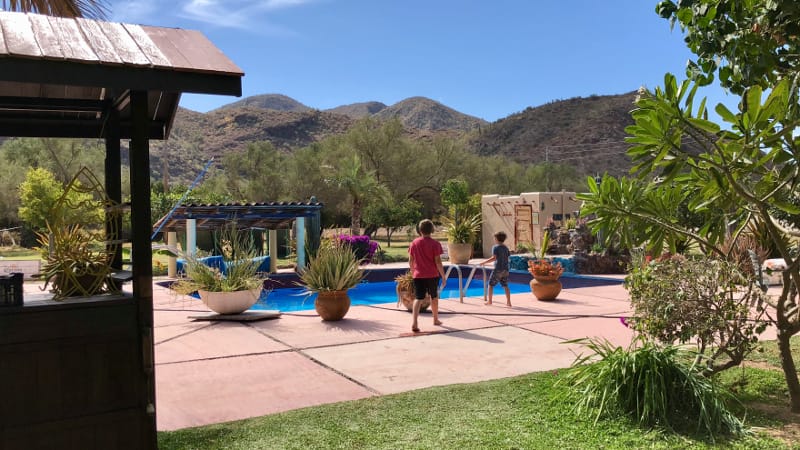 After the whales we headed to Mulege. We had heard about an RV park that had oranges, limes, lemons and grapefruit that you can pick and eat! Sounded good to us. In true Baja style the RV park was located down a dirt road with lots of turns and bumps. Luckily it was just a couple miles of dirt road to get there.
Also note when you pull into Mulege it is like an oasis in the desert. A river runs through the town so there is lots of greenery and palm trees. We were so excited to see all the greenery after lots of time in the desert!
The RV park was awesome and was so beautiful. When we got there the kids asked if there were a lot of rocks to walk on and we said no it was grass – they couldn't believe it :)!
They had a pool, fruit to pick and just a beautiful and quiet setting. We ended up spending a lot of time just hanging out at the RV park – it was hard to leave!
We did end up going into the town once with just our van – the streets are really tight. And it was another cute, quaint town that we would have liked to explore more.
**NOTE this RV park is currently closed. I am not sure if they will reopen or not but keep checking. If they do it is worth staying at! We know others who went down there and stayed at Don Chano's RV Park you can read their review here.
Recap: Mulege
Where we stayed: Hacienda De La Habana (open Oct – Jun – except Easter week) – have to drive on a dirt road to get to it – but it is doable and there were big rigs back there too. **NOTE IT IS CURRENTLY CLOSED**
Cost: Around $20 US dollars a night.
Location: On grass with fruit trees for picking all around.
Recommended hotel stay:
Clementine's Mulege
Best Restaurants:
Like I mentioned the RV park was so nice to hang out at we never went out to eat here :). But there were a variety of different restaurants in the town if you wanted to find somewhere to go.
Things To Do:
Walk around the city
Tour the old jail
Take a day trip to Bahia Concepcion
Internet/Cell Coverage: It was great our T-Mobile hotspot worked really well and we were able to stream.
Bahia Concepcion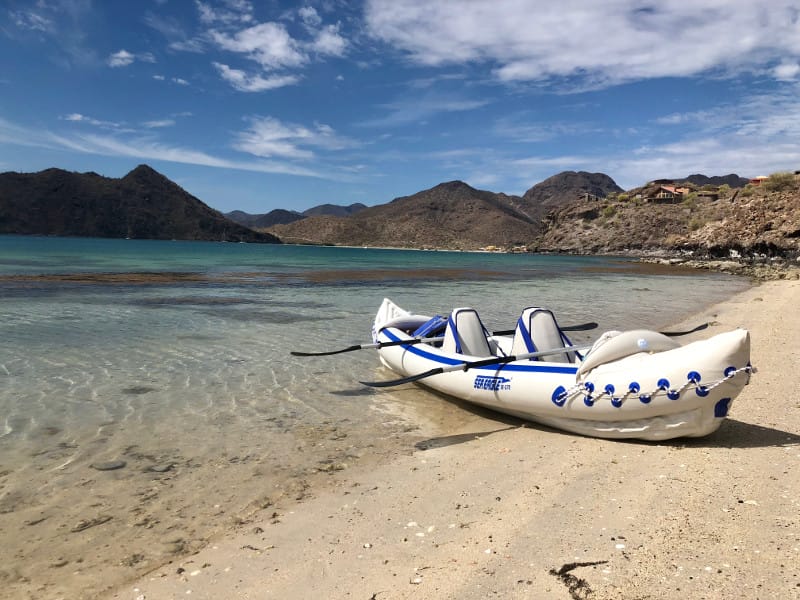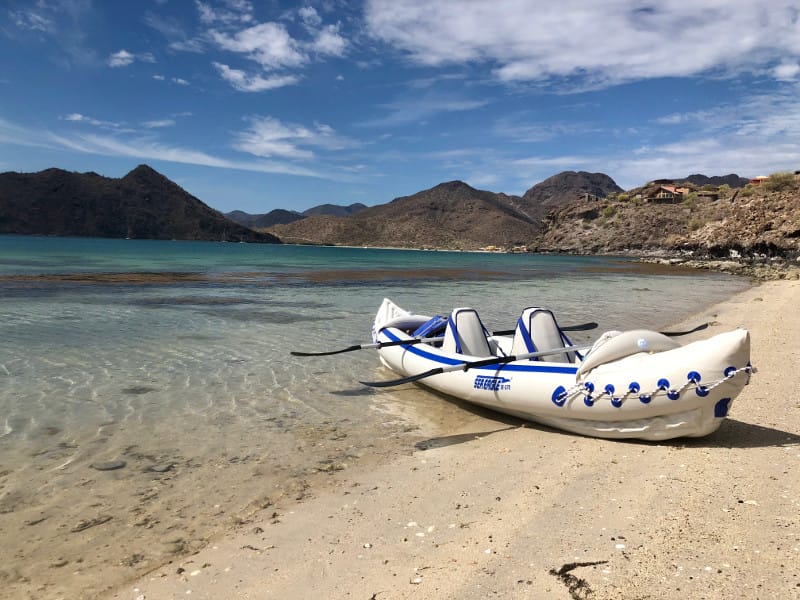 This is the place that our camping booked said is where people come and never leave to go any further south since it is so beautiful. They were right. It was amazing you come around the corner and it is an unbelievable view of the clear blue water with sailboats floating on it.
We ended up staying at: Playa La Perla which was on a small cove and had these cute palapas that the kids could play in. Bahia Concepcion is known for paddle boarding and kayaking and lots of wildlife but unfortunately when we were there it was super windy. . .
We are hoping to get back there to do some kayaking and to just enjoy the beauty when the wind isn't whipping us in the face. From about January – April there is a North Wind that comes down the Sea of Cortez and can cause some really windy days.
We did end up making it back in late April and it was still windy during the day, but we talked to someone there and they said later in the week there would be no wind. It was by no means as windy as it had been and we were able to go out on the kayak a couple of times.
This time we stayed at the first campground Playa Santispac (this one had been packed when we first came down so we didn't even try it). We almost had the whole place to ourselves and had a beautiful spot by the beach. There were also 2 restaurants here and one of them had WiFi that you could purchase an use for 35 pesos an hour. I talked to someone using it and he said it worked great!
Good to know – we were under the impression there was no WiFi at Bahia Concepcion. Good to know there is somewhere to go in case we wanted to stay for longer next time.
There are no hookup sites so you have to be prepared for that with solar and a black tank or compost toilet. I know people stay for longer so not sure how that is being handled . . . For us we can stay about 4-5 days without having to dump and could maybe stretch it to a week.
This also means there is no water so you have to fill up before you come and have a few extra jugs of water. The restaurant on site did sell ice and had a very small grocery selection.
Recap: Bahia Concepcion
Where we stayed: 1st Time (this one was much more secluded with less people – even during busy season January-March): Playa La Perla
Cost: 150 pesos a night
Location: towards the south end of Bahia Concepcion – have to drive on a bumpy road to get there but it isn't bad or long. Nice big palapas by the sites.
2nd Time (In April – less busy time): Playa Santispac
Cost: 200 pesos a night
Location: right at the north end of Bahia Concepcion – very easy access road.
Recommended hotel stay:
Closest hotels would be in Mulege, so again recommend Clementine's Mulege
Best Restaurants:
There are a few restaurants on the highway – we did not try any of them. There are 2 restaurants at the Playa Santispac campground: Ana's and Armando's. We got dinner at Armando's and it was good. We got drinks at Ana's – they were good :).
Things To Do:
Kayaking – can rent at Playa Santispac
Paddle boarding – can rent at Playa Santispac
Go out on a boat (to snorkel, tour the islands, and maybe see a whale shark)
Internet/Cell Coverage: No cell at either place. No internet from our hot spot bu Armando's had Wifi you could pay for at 35 pesos an hour or 80 pesos for 3 hours. We talked to someone using it and he said it worked great.
Loreto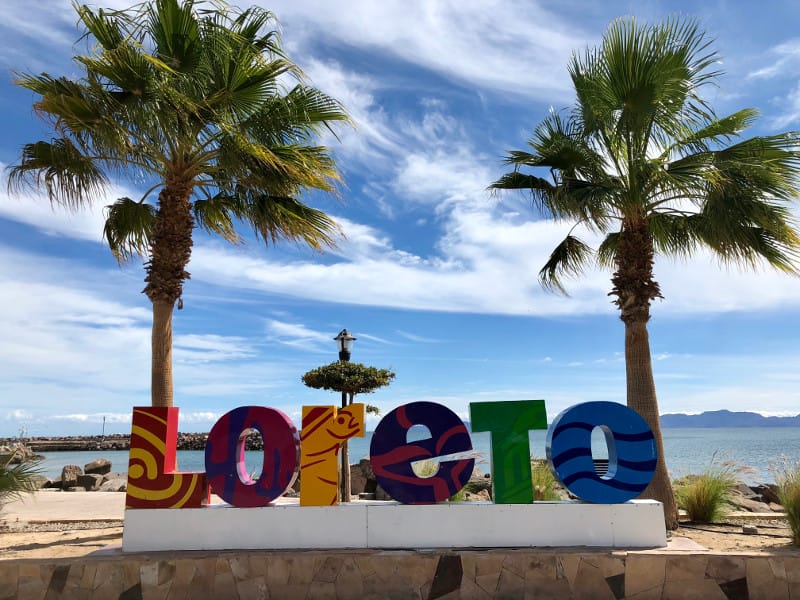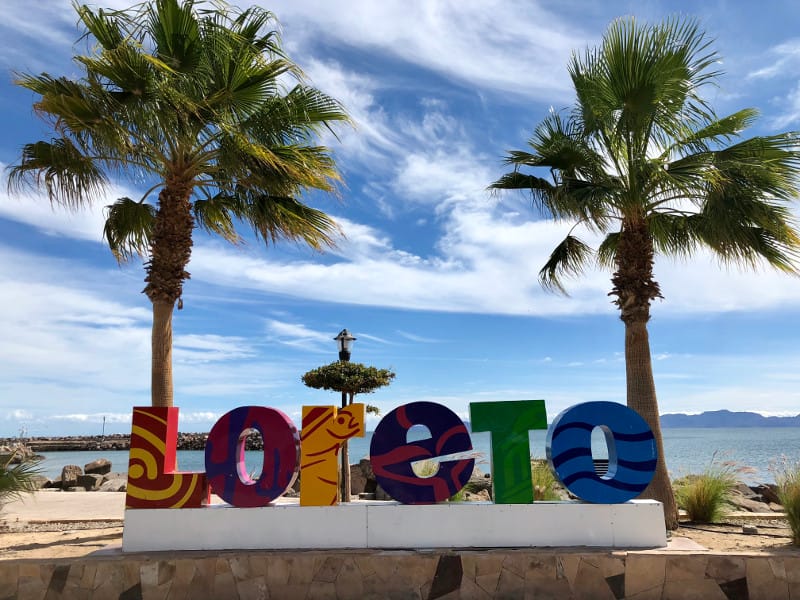 From Bahia Concepion we headed to Loreto – by this point we were excited to get to a bigger city and were looking forward to going out to eat at a pizza place we had heard about. Yes, pizza! We pulled in to a very nice RV park – much more of a US feel to it, got situated and then headed out for pizza!
The main areas of town are based around the square where one of the oldest missions in Baja is located or the Malecon which is a road down by the ocean. Both spots have shops and lots of restaurants to pick from.
The RV park was just a short walk to both locations so we spent a couple days checking out both and did our fair share of sampling the restaurants and trying the margaritas!
Recommended restaurants: For Mexican – Orlando's (also have pancakes or hot cakes as they call them if the kids don't want another taco or quesadilla), Mezzaluna for pizza – the pizza was amazing and so were the empanadas! Big lemonades: Mi Loreto.
We also took in some history by visiting the Mission and learning more about the history of the area.
Coronado Island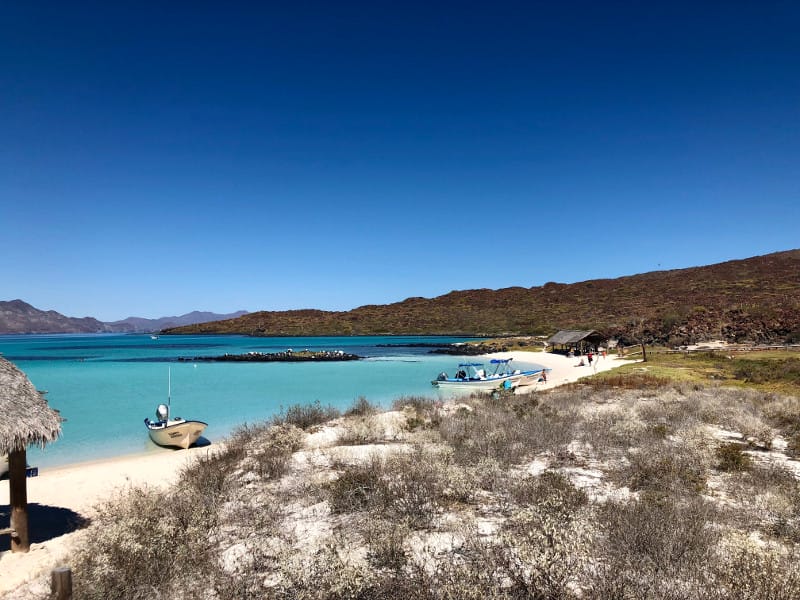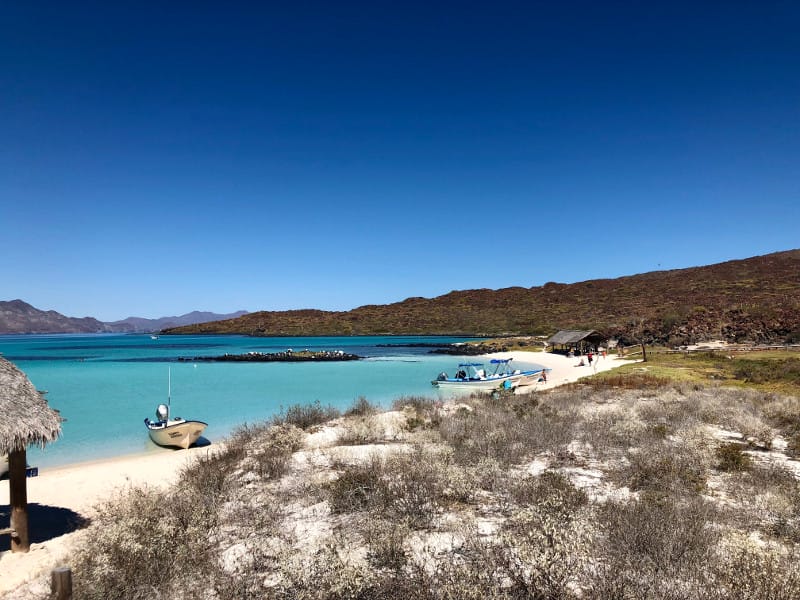 When you walk down to the Malecon you will most likely get stopped by a boat captain asking if you want to visit Corondao Island on a boat tour – say YES! We paid $120 (US dollars) for 8 of us – my parents came with to go out on the boat and spend the day at the Island. It was well worth it.
The boat captain first takes you out to see the sea lions which are located on the backside of the island and also to see the blue footed Boobie bird (yes it is called that) – our captain really liked saying Boobie bird :).
We pulled up to the sea lion colony and we were able to get really up close to them. Then they started swimming around under our boat. It was awesome to see them so close up and also to hear them barking at each other.
We also saw huge crabs and of course the Blue Footed Boobie bird. We hung out to take in the wildlife for a while and then headed to the beach.
You come around the corner and you see this beautiful Caribbean looking beach! It has the soft white sand and crystal clear aquamarine colored water. The boat pulls right up onto the beach and you jump off to enjoy your day at the beach.
The captain stays at the beach with you so you can leave earlier if you want but I really don't think you will want to! There is a bathroom on the beach, but it is pretty nasty . . . but if you need it it is there.
There is also a 4 mile hike you can do on the island. We hadn't prepared for the hike and I really think it would have taken the whole time we were there to do the hike. If you want to I would plan to take the boat out just to do the hike and dress accordingly – we were in flip flops and swimsuits.
Recap: Loreto
Where we stayed: Rivera Del Mar Trailer RV Park – it was much more like a US RV park then the other parks we have stayed at.
Cost: $17 USD a night with electric, $15 USD a night without electric
Location: Located in a neighborhood – Within walking distance of the town.
Recommended hotel stay:
Las Cabanas de Loreto
Best Restaurants:
Orlandos – for Mexican food and a margarita
Mezzaluna – for pizza
Mi Loreto – great good and big lemonade (kids loved that)
Things To Do:
Visit the Mission
Take a boat to one of the Islands
Visit the small shops in the town
Internet/Cell Coverage: It was great our T-Mobile hotspot worked really well and we were able to stream. I had also heard the campground wifi was decent – we never tried but always used our hotspot. Cell coverage worked with T-Mobile and Verizon throughout the whole town.
La Paz
The next stop we made further south is La Paz. This is the largest city in Baja and it is definitely a city. They have a Walmart, Burger King, movie theater, mall, etc. We were kind of excited, ok really excited, to be in a city after visiting some more remote places.
We headed into Walmart for some much needed groceries and a few toys and big floats for the pool. The Walmart was huge and just like the ones back in the states.
The other thing we had to do in La Paz was visit the dentist. . . Knox had gotten an abscess on his tooth so we had to take care of it. Luckily we found one that spoke English and he was really good with Knox. Now filling out the form that was all in Spanish to sign us in was interesting but we got through it.
Balandra Beach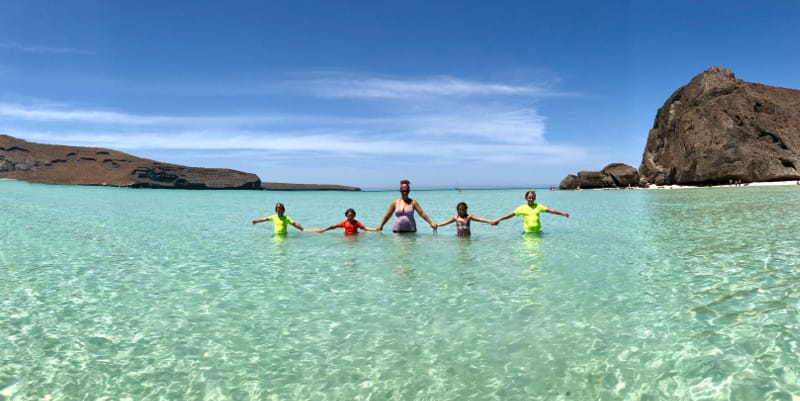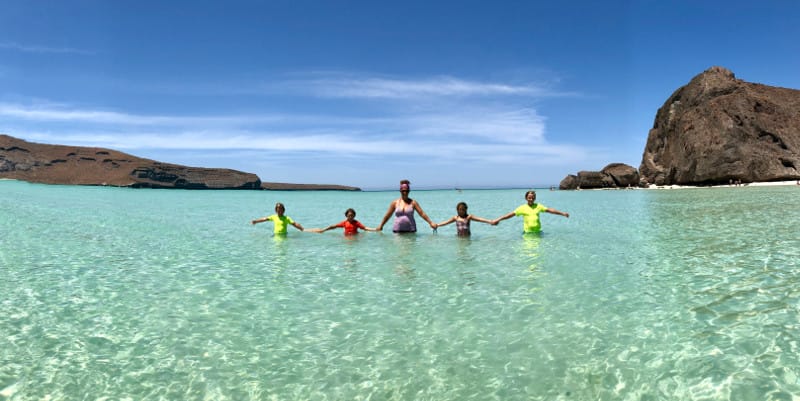 We had heard about this beautiful beach and we couldn't wait to check it out. You drive through La Paz and out to this amazing beach. The beach has that beautiful clear blue water (seeing a trend here in Baja??) and the cool thing is it is really shallow for a long way. So you can walk out for over 100 yards.
They have paddle boards and kayaks you can rent on the beach and when we were there there was a vendor there selling some food and supplies.
The beach was busy but it was still well worth stopping at!
Isla Partida
We didn't do this, but had to put it on here since everyone we talked to recommended it. Take a boat out to Isla Partida. It sounded like there were lots of different options for what you did on the way out to the island – like snorkeling or swimming with the sea lions. Or else you could just go to the island.
The advice we heard was head down to the Malecon and find someone that you can talk to about renting a Panga at a good price. Versus booking ahead online with one of the outfitters in the area.
Swim With Whale Sharks
Another thing we didn't do this time – we needed to save a few things for next time we come down here. But same thing everyone we talked to recommended it. If you just want to do the Whale Sharks they said it was a very short ride from the Malecon area out to the Whale Sharks and you just jump in and snorkel with them for a little while and then head back.
It sounded like the whole thing could take about an hour and again it was less expensive to get a boat down on the Malecon then it was to book a spot ahead of time. I heard as cheap as $12 US dollars per person!
We WILL do this when we come back!
Recap: La Paz
Where we stayed: Campestre Maranath
Cost: 500 pesos a night for full hookups
Location: Located right off of the highway outside of town. Very easy to get to. This was the nicest RV park we stayed at in Baja minus the scenery :). Had a nice big pool and a park!
We also checked out the free spot: Playa Tecolote and we could have easily taken our trailer here. It is outside of town by Balandra beach and there were a few restaurants and that near by.
It was windy the day we were there and it said it could get really windy. But it looked like a fun spot to try. I believe you can get internet coverage at the restaurants right by where you camp.
Recommended hotel stay:
Hotel Catedral La Paz
Best Restaurants:
Each time we stayed in La Paz we were just there for a few nights so we didn't do much exploring. There is a Cafe right outside of the RV park which was very good and they have a Burger King close by . . . will have to explore more food options next time!
Things To Do:
There is a TON to do in La Paz – we didn't even come close to exploring any of it.
Swim With The Whale Sharks
Boat out to Spirit Island
Balandra Beach
Snorkeling with the Sea Lions
To name a few!
Check out this post for more fun things to do in La Paz!
Internet/Cell Coverage: It was great our T-Mobile hotspot worked really well and we were able to stream. I had also heard the campground wifi was decent, even more so in certain spots of the RV park – we never tried but always used our hotspot. Cell coverage worked with T-Mobile and Verizon throughout the whole town.
La Ventana
This is a well known windsurfing area with a campground that is right on the beach. Be aware people come down to stay the season and windsurf so if you come between January – March you probably won't get a spot on the beach since people are already there and all setup and they aren't leaving.
The town had a fun surfer/wind surfing vibe to it with lots of interesting restaurants. We didn't get much of an internet signal and it was still busy when we went in March so we just stayed a night and then headed out. We stayed at the campground called: La Ventana – a big sand (mostly hard and not too soft) lot by the beach.
Los Barriles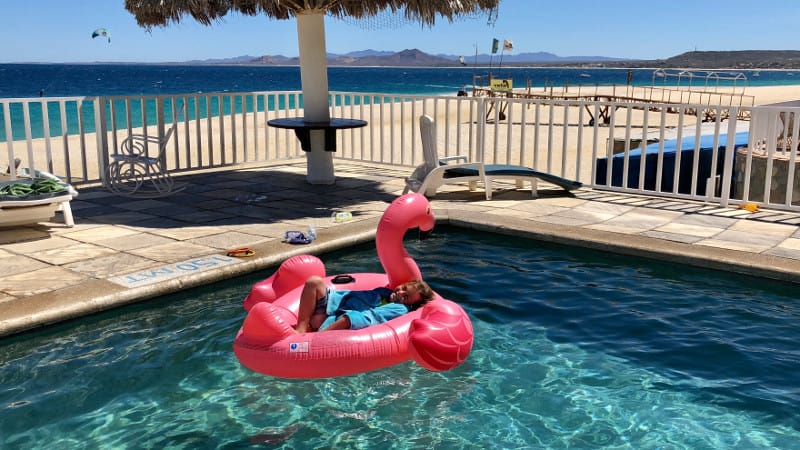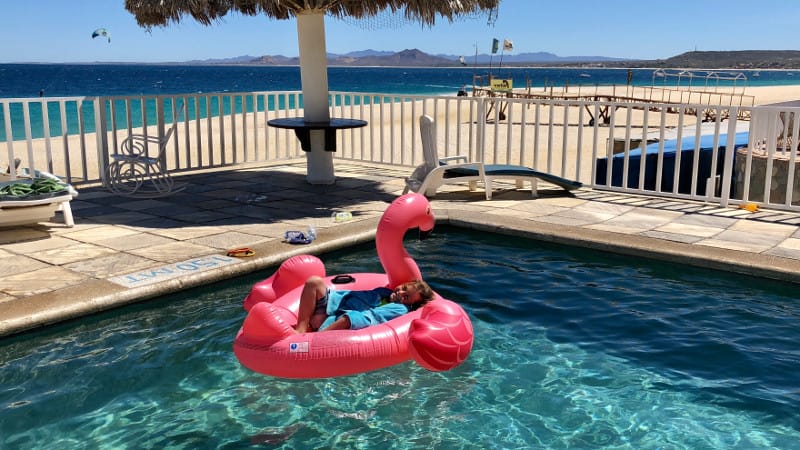 Ahh Los Barriles – we came to spend a few nights and we ended up staying for a month! This area is known for wind surfing in the winter months for good reason. The wind is strong out on the ocean. The nice thing is when you are in the campground or at the restaurants it keeps things cooler so it works out well.
There is a large population of Canadians and Americans that come and stay for the season. It really is kind of crazy how many of them are here. If you are looking for really authentic Baja this isn't really it. But it is a great place to stay and we enjoyed it.
We stayed for the month of March and noticed that it would be windy for 3-5 days and then not windy for a few days. On the not windy days we spent some time in the ocean and also took the kayaks out and rented a paddle board one day. The difference here was that the ocean got pretty deep pretty fast.
One of the reason we enjoyed our time here so much was because the RV park we stayed at had a pool that was right on the ocean. So we could take the kids swimming and look out over the beautiful ocean. Then for dinner or happy hour we could walk 5 minutes from the RV park up the street to a restaurant.
When it was happy hour our family could eat and get drinks for under $30 USD. Granted it was appetizer food but hey sometimes that works! There were also a variety other restaurants we could walk to, grocery stores and a health food store that had almond milk creamer!
Best Restaurants:
Lupita's – these tacos were amazing! To find Lupita's you have to go out of town and towards Cabo Pulmo. The restaurant is about 5 minutes past the Baja Sunrise RV park.
It is a pink building on the right side of the road by the police station. It is only open from about 12 – 4 each day.
The woman who runs it is super nice and makes the tacos with this really good sauce on them. You can get Steak or Chicken tacos or I opted for a cheese one – same as the others just no meat. She also had other options but always stuck with the tacos!
La Casita – If you are looking for fancy and like Sushi this is your place!
Smokey's – the food was pretty good and the happy hour was great :). 4 – 6pm each day half off drinks and a select group of appetizers – which is easily enough for dinner. It is a sports bar setting with outside seating.
Tia Pablo's – If you are looking for things like lobster and ribs, this is your place. They also have daily specials so be sure to check those out and of course happy hour. Do note that these prices are much closer to American prices then some of the other places. Though all of Los Barriles is a little bit more expensive than other places we had been further north.
Taco Stand – A couple shops down from the RV park is a taco stand (can't remember the name) but it was a good place to go to get good tacos that hit the spot when we didn't want to cook and tacos sounded good!
Health Food Store – They have a health food store that has a lot of things we would get back home and the same brands. Things like almond milk coffee creamer, kettle chips, kombucha things like that.
Cabo Pulmo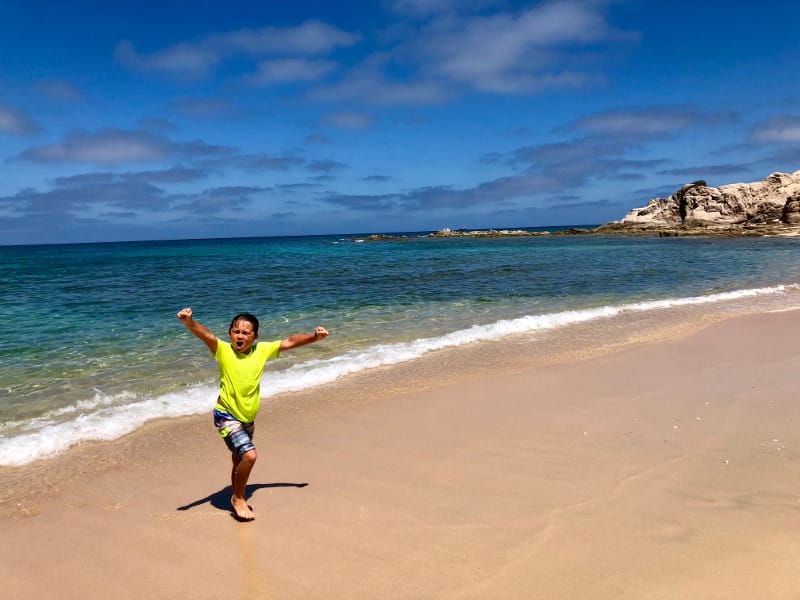 Cabo Pulmo is a national park area that is on a beach with a coral reef. It is a beautiful area but you do have to drive on rough dirt roads for a while to get there. You could totally do it with a car but we opted not to try with our trailer.
My sister and her family took their class C back and camped for a few nights. Instead of doing that we drove about an hour from Los Barrilles and spent the day on the beach. At the beach they had a small restaurant area and a place to rent snorkeling gear and kayaks and that. We opted to bring our own snorkeling gear.
You can snorkel right off of the beach and this was probably the best snorkeling that we did while Baja – granted we never took a boat out to snorkel so I should say the best snorkeling off of the beach.
We also explored a little bit and took a walk to the left when you come onto the beach and found a totally private beach area where no one was! We had to climb over some rocks to get here but it was awesome to find this private beach area and to stay an play around in the water for a while.
As you drive through the little town area there is a small museum you can stop at to learn about the reef and also a variety of other restaurants and tour companies. With these companies they will take you out snorkeling or you can rent gear.
This is also an area known for world class scuba diving and I can see why!
Waterfall Hike
One of the things people do in Los Barrilles when it is windy is head inland – which means less wind. It was recommended to visit the hot springs and waterfall in the Sierra De La Laguna area. For the waterfall hike you start at the: Rancho Ecologico Sol de Mayo. Here are more details on the hike.
We were going to go and then the kids got sick so we never ended up going. We talked to a few people at the campground and everyone that went really enjoyed it and all of them saw snakes in the water . . . so be aware.
My sister and her family ended up driving in for a weekend and camping – their setup allows for a little more off roading then ours. Ideally next time we come down here we want to come in just a van so we can hit more of the rough roads with less issues.
ATV Rental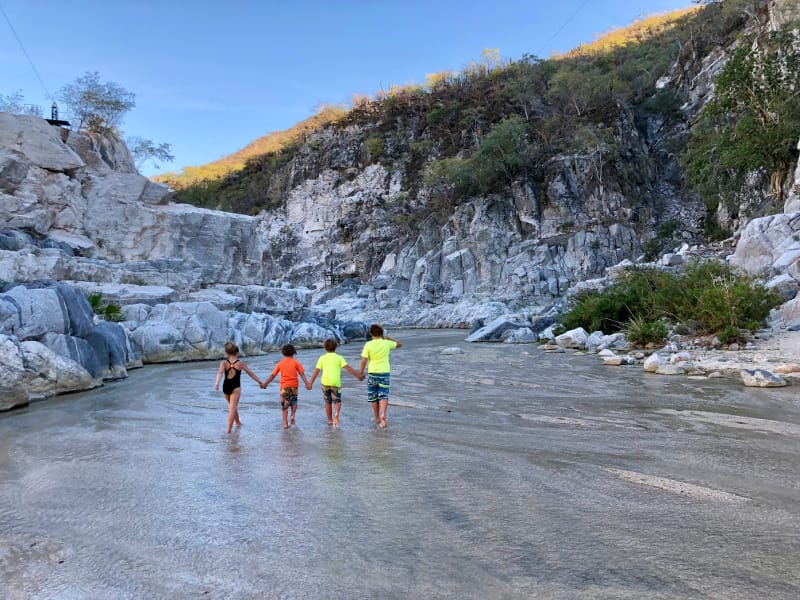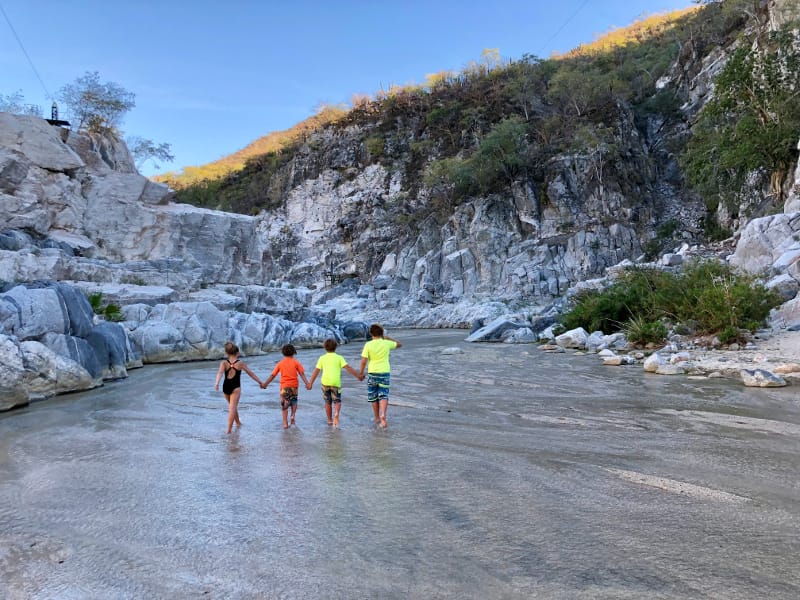 It is hard to come to Los Barrilles and not rent an ATV for a couple of reasons. 1 – everyone that here for the season has one so you see them all over the place and you want one :). 2 – there are lots of fun trails to go on or you can take it up and down the beach.
My parents ended up renting a 4X4 side by side for a couple days from Can-doo and we all took turns with it. This worked out great! We had the 4 kids in the back sharing seatbelts and then bungie corded our stuff down in the back and took off for the afternoon.
We got direction to the snorkel beach which is by the Punta Pescedaro Resort. People did make the trip with cars and trucks but I don't think we would have done it. The road was much more made for 4X4's or ATV's.
We got there and there were a few people on the beach hanging out and snorkeling in the water. Then as the day when on everyone left and it was just us again! I love this about Baja and how you can be the only be on a beautiful tropical beach. Amazing!
After that we took the ATV and headed to a waterfall we had heard about. Here is the extent of the directions we got – take the Arroyo and just keep going until it ends and you will reach the waterfall. Yup no Google Maps for this one.
The directions were spot on and we took the dusty and bumpy arroyo past all the cows and started to hit water. Then kept going for a ways until we felt we should stop since there were a lot of big boulders and got out and walked.
The waterfall was about 6 feet high and we spent a little time climbing above it to see if we could see more. But ended up coming backdown. It was pretty and the ride out and the short hike back to the waterfall made it worth it!
We ended the day with dinner at the restaurant on the beach: Lazy Days.
Another day we rented a regular 4-wheeler and Craig took each kid out for a few hours to go explore some more trails. Everyone had a great time and if we happened to come down to stay here for a few months we would definitely rent or bring a 4X4!
Saturday Market
Los Barrilles has a Saturday Market that runs through the first week of April. We went a couple times and did some clothes shopping and also bought some great pizza, strawberries and smoothies!
They have a dog rescue tent at the market and the kids loved going into the caged area to play with the puppies. If we came back here we would probably rent a house and maybe foster a litter of puppies for a month or so if they needed us to.
One weekend my Mom and Melia made tissue paper flowers and setup a table at the market (no cost for doing that and you don't have to sign up you just show up). They donated all of the money they made to the dog rescue team.
Recap: Los Barriles
Where we stayed: Martin Verdugo's Beach Resort
Cost: $470 USD for full hookups for the month or else $170 USD for the week.
Location: Located right in town and on the beach. The sites are set back from the beach but it is only a short 5 minute walk to get to the beach and pool.
We also checked out Baja Sunrise RV Park and it was right on the beach. Remember I had mentioned it was windy here. So I am all for being on the beach but I know there would have been windy days plus this one wasn't in town so it would have been hard to get to all the places we wanted to go. That is why we opted for Martin Verdugo's – plus they had a pool.
Recommended hotel stay:
Martin Verdugo's also has hotel rooms or else you could stay at the: Palmas de Cortez located on the beach with an infinity pool and a beach resort feel to it.
Best Restaurants:
Lupita's – great Tacos
La Casita – Sushi and more fancy
SMokey's – Bar/restaurant with a great happy hour
Tia Pablo's – more fancy with weekly specials
Things To Do:
Windsurfing and Kiteboarding in season (January-April)
ATV rentals
Day trip to Cabo Pulmo
Kayak
Paddleboard
Day trip for hot springs
Horseback Riding
Hiking
Day trip to Cabo
Internet/Cell Coverage: It was great our T-Mobile hotspot worked really well and we were able to stream. I had also heard the campground wifi was decent, even more so in certain spots of the RV park – we never tried but always used our hotspot. Cell coverage worked with T-Mobile and Verizon throughout the whole town.
San Jose del Cabo and Cabo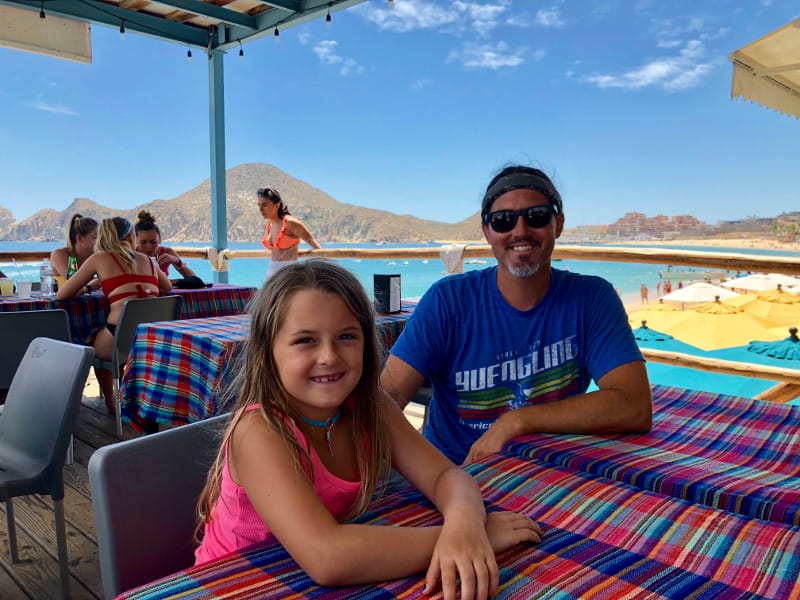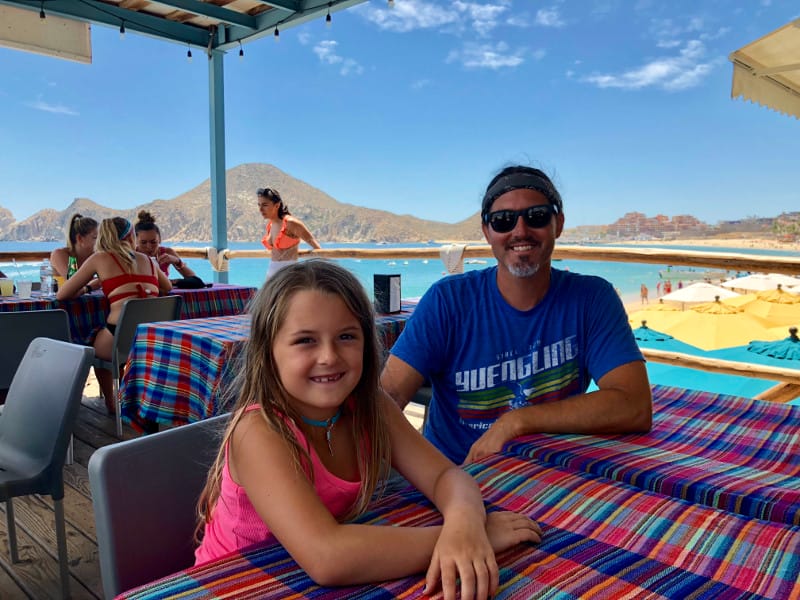 It is very hard to find RV parks in Cabo and we had heard there just weren't really any to stay at. It sounded like the only option was to check Craigslist and maybe rent a lot from someone. From what I could tell in these situations people usually wanted you to stay for months at a time so we opted not to even try.
Instead we drove about 2 hours into Cabo from Los Barrilles to explore for the day. We ended up on the beach in Cabo and ate lunch. It was such a different feel than the rest of Baja.
It was sooooo busy! Totally reminded Craig and I of our college day trips to Cancun, Mexico. But we do know Cabo San Lucas with kids can be fun! We just didn't have enough time to really explore it.
When there you can check out the gorgeous Los Cabos Lovers Beach. It's one of the best swimming beaches in Cabo (Not all beaches there are swimmable because of dangerous rips and big waves). Plus you can go snorkeling in Cabo San Lucas.
If you are interested in staying check out these Cabo San Lucas All-Inclusive Family Resorts.
After seeing all the beauty the rest of Baja offers this scene didn't really interest us. We stayed for about an hour then headed out to meet friends we had met through Instagram that live in San Jose Del Cabo.
San Jose Del Cabo is a good sized city but a little less crazy then Cabo. We met up with them to check out the brewery and then head to their favorite local taco restaurant: El Fogon. We drove by the square area and would have liked to be able to stay a little longer to explore more but it was getting dark so we headed out.
Todos Santos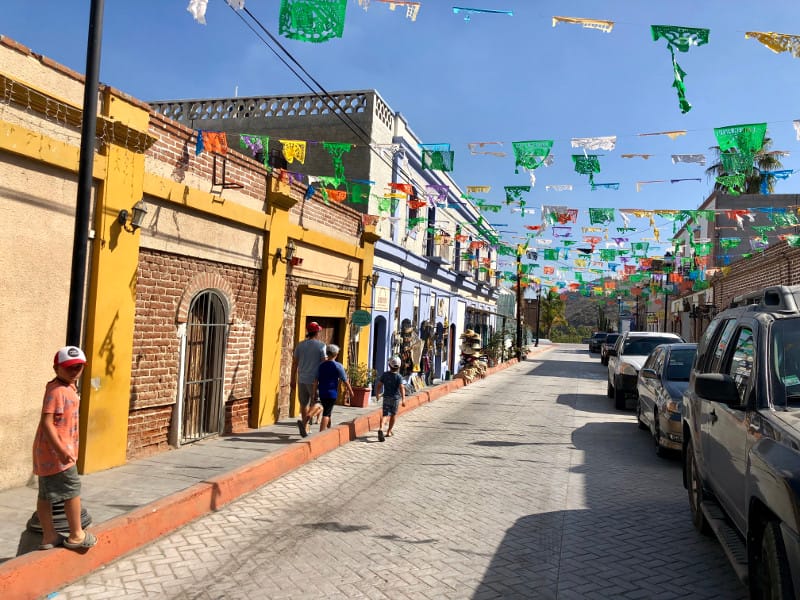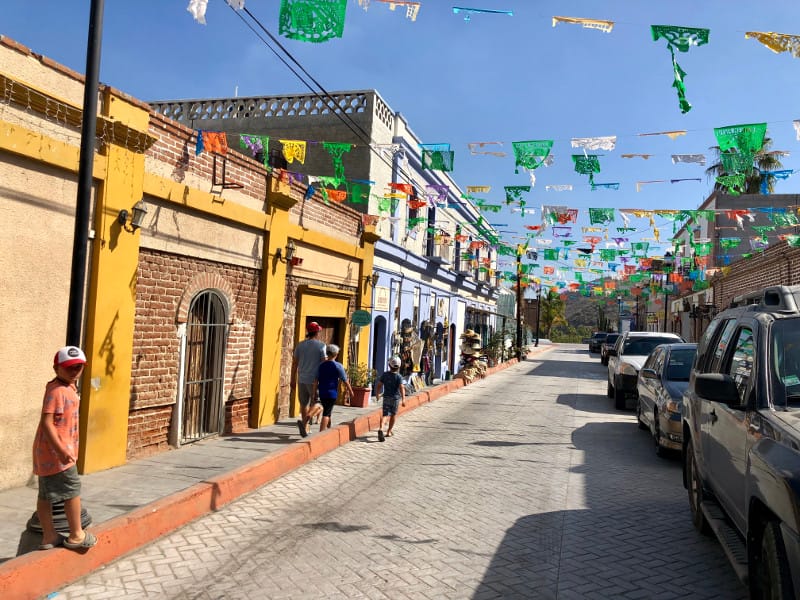 It was hard to leave Los Barrilles, but we were excited to get to Todos Santos to do some surfing! We were never really sure where we were going to stay in Todos Santos since we had thought about maybe renting a house but opted to save the money and just stay in an RV park. . . but there aren't really many options for RV's.
That day we drove into town looking to potentially stay at El Litro . . . we did end up staying there and it worked out well but it isn't the best or nicest RV park by any means.
We had electric issues and ended up not even plugging in. But the location was nice since we could walk into town. We had about a 20 minute drive to get to the surfing beach.
The town was really cool. There is an expat community here that has brought a lot of art and art galleries into the area. It is cool mixture of local and expats. A few of the streets even had a European feel to them.
I would definitely recommend adding a day to just walk the streets to stop in the shops and resturants.
Los Cerritos Beach
This is one of the only safe beaches to swim at in Todos Santos – at least that is what we were told. The surf and rip tide current can be crazy, so we listened. This beach is where you go if you are learning to surf and is also perfect for boogie boarding!
To get to the beach you go off the main highway down a dirt road and then park on the side of the street. Then make your way down to the beach. Once on the beach they have surf instructors (more on that below), vendors selling souvenirs and massage tables. Get a massage it is like $15 for a 30 minute massage!
Even if you don't want to try surfing this is a perfect place to do boogie boarding! The water is about knee high for 50 yards out and the waves are breaking perfectly to catch a wave on the boogie board. But be careful it can pull you back out and start to get deeper.
There are boogie boards to rent if you don't have your own.
Restaurants to visit:
Barracudas
Right up the street from Los Cerritos Beach is Barracudas an awesome food truck restaurant that offers fish and shrimp tacos, ceviche and guacamole and chips. They also have a nice bar with a variety of drinks. We stopped here many a time! It opens at 12 so perfect for lunch or dinner.
FreeSouls
This is another restaurants by Los Cerritos that has an infinity pool at it! What we didn't know is the infinity pool is actually a warm saltwater pool . . . that is meant for relaxing and not for kids playing. But they did say it was OK for the kids to swim but no splashing . . .
The restaurant was beautiful but it was pretty expensive and not as family friendly as I was hoping. When you have four kids it works better to have more a pool/bar setup where they can splash and jump around.
Miguels
We found this restaurant on Hwy 19 and it worked out really well for our family. They had a vegetarian burrito (it is not easy to find vegetarian options in Baja), fish tacos, shrimp tacos and a few more yummy Mexican options plus the price was right!
We ordered to go from here and it cost us less then 400 pesos for the whole family! Nice!
Los Adobes
We checked out this restaurant when we went out with just us and Megan and Jake without the kids. It was a nice outdoor restaurant with a beautiful garden in the back. The food was good and it was a nice place to go out on a double date night!
Chill and Grill – Pizza Thursday
This restaurant was tucked away close to the campground and baseball stadium in town. It was more of a bar/resturant feel and had a great Thursday night Pizza option! Definitely recommend coming here with kids for dinner.
Todos Santos Cafe
We walked from the RV park to this Caffe for breakfast one morning and when we walked in Cannon asked for Hot Chocolate. I said buddy I don't think they have hot chocolate here but sure enough the did and the kids loved it! They also had really big and yummy cinnamon rolls along with regular breakfast food.
It wasn't cheap but it was a cool place to come and worked out well with the kids getting hot chocolate and cinnamon rolls.
Todos Santos Brewery
The Brewery has about 20 beers on tap and they are yummy! Craig got a 6 glass sample size and I went with the Ginger Beer. We also got a couple burgers (they had a vegetarian option!). We were out to lunch just Craig and I and then later that day we brought everyone back to listen to the live music.
Good food, good beer, and live music – we enjoyed it!
La Mision at Hacienda Cerritos
When at Los Cerritos beach you will see the Hacienda Cerritos (that has a restaurant called: La Mision) – a big orange building. There are stairs from the beach you can take up to get into the restaurant on the cliff overlooking the beach. I believe it opens at Noon.
We walked up there and it was gorgeous! The views were amazing and there was a pool and hot tub that we heard you can get days passes for and hang out at. I believe it is also a hotel.
Even if you just want to get a drink it is worth going up there. It was really beautiful! It is expensive but you are paying for the view.
Surfing – CRT Surf School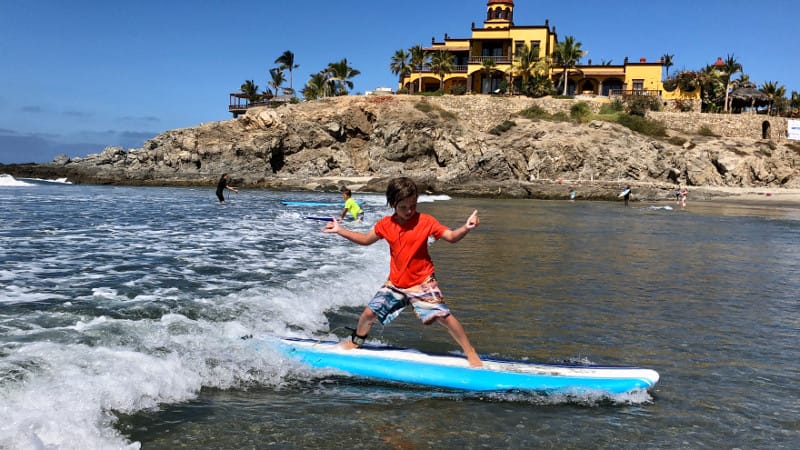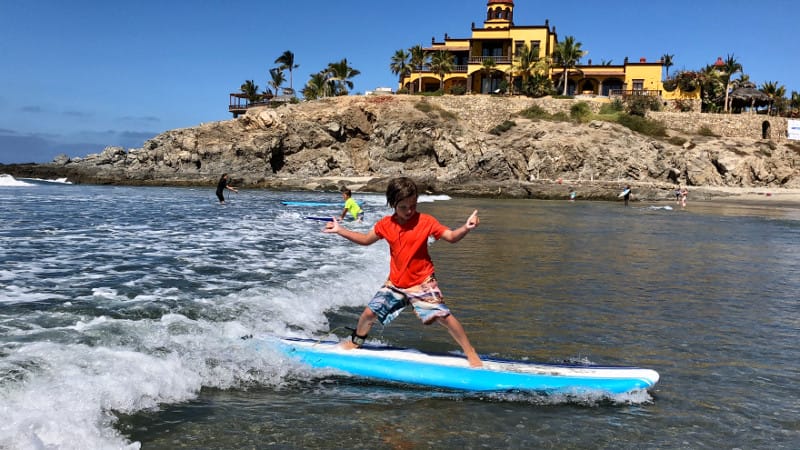 When we got to Todos Santos we stopped out at Los Cerritos Beach the first night we were there to get the surf lessons setup. We had been trying to get ahold of Pablo at from Baja Surf SUP who we heard did surf instructions and had 3 kids.
We were never able to connect with him (until later in the week when he showed up at the same RV Park as us – ends up he was somewhere else in the area doing lessons for a few weeks so we missed him).
Once you get on the beach there are a variety of different surf school setups and Craig started talking to the guys at CRT Surf School asking if they knew where Pablo was. They said they hadn't seen him so we started to talk to them and ended up booking lessons for all 6 kids and Me, Craig, Jake and Megan for the next day.
It was awesome and they did an amazing job with the lessons and it ended up being one on one for all of us once we got in the water which was great. They were super helpful with the kids and were very energetic and encouraging. All of us ended up on the boards!
The hard part came when the lesson was over and we had to figure out the timing and all of that on our own :). In hindsight I think we should have setup a few more lessons for the kids. Instead they ended up taking the boards out a few times during our time there but ended up enjoying the boogie boarding more.
Craig and Jake got a lot of use out of the boards and both of them were doing pretty well by the time we left.
We don't have boards, but CRT Surf school offered us a deal on board rentals for the week and as part of that they also set up a tent and chairs for the 7 days that we rented the boards. We opted for 3 boards between both families and that worked out well. This also meant we cold use the boogie boards they had whenever we needed them.
We had lots of fun beach days and I was really glad we did the surf lessons and board rentals. Los Cerritos was a 20 minute drive from the RV Park that we stayed at. But it was OK since it was nice the RV Park was in Todos Santos so we could walk into town.
Ideally we would love to come back and stay somewhere closer to the beach so we could just walk there everyday! Then also spend time in Todos Santos. It was a really cool town and area.
Recap: Todos Santos
Where we stayed: El Litro
Cost: 200 pesos a night with electric/100 a night without electric
Location: Located in the town of Todos Santos – actually more in a Todos Santos neighborhood . . . down a dirt road. But still in walking distance to the main parts of downtown.
Recommended hotel stay:
Hotel California looked really cool or if you have some extra cash, check out La Mision Hacienda Cerritos.
Best Restaurants:
Barracudas – great Fish and Shrimp Tacos
Miquels – great for good and inexpensive Mexican food
Los Adobes – fancy eating
Chill and Grill – Bar/Resturant – great Thursday night pizza
Todos Santos Cafe – Great for coffee/chocolate and cinnamon rolls
Todos Santos Brewery – Great beer and food and live Music on Mondays
Things To Do:
Surfing
Shopping
Day trips into Cabo
Sea Turtle Rescue – we didn't get to see one but it would be awesome!
Internet/Cell Coverage: It was great our T-Mobile hotspot worked really well and we were able to stream (in Todos Santos and at the beach). Cell coverage worked with T-Mobile and Verizon throughout the whole town and at the beach.
From here you can start to make your way back up. We left Todos Santos – made a stop in La Paz for a few nights and then made it to Bahia Concepcion. We could have skipped La Paz and had a long travel day straight from Todos Santos to Bahia Concepcion but it would be a long day.
From Bahia Concepcion we went to Catavina which was another long travel day. You can obviously do this differently and spend more time exploring on your way back up. For us we loved it down south so much that we stayed there as long as we could and knew we would have to doling driving days on the way back up.
Catavina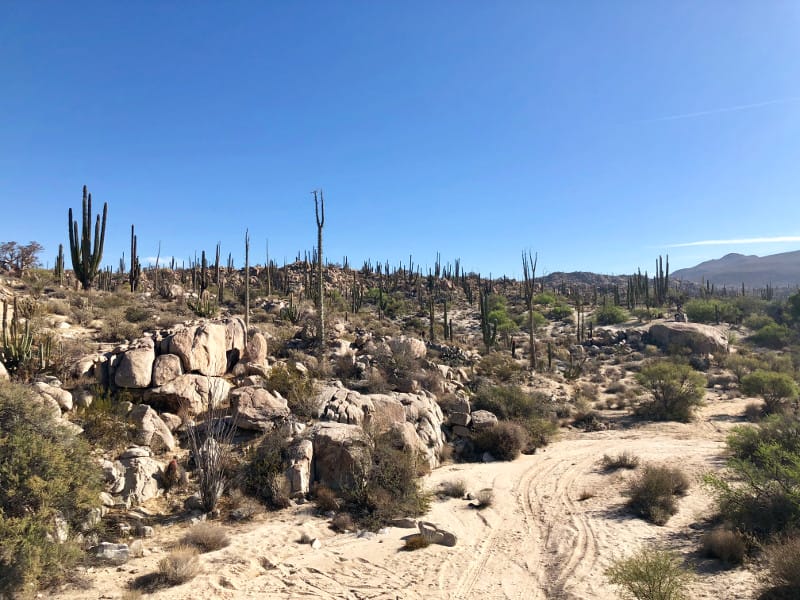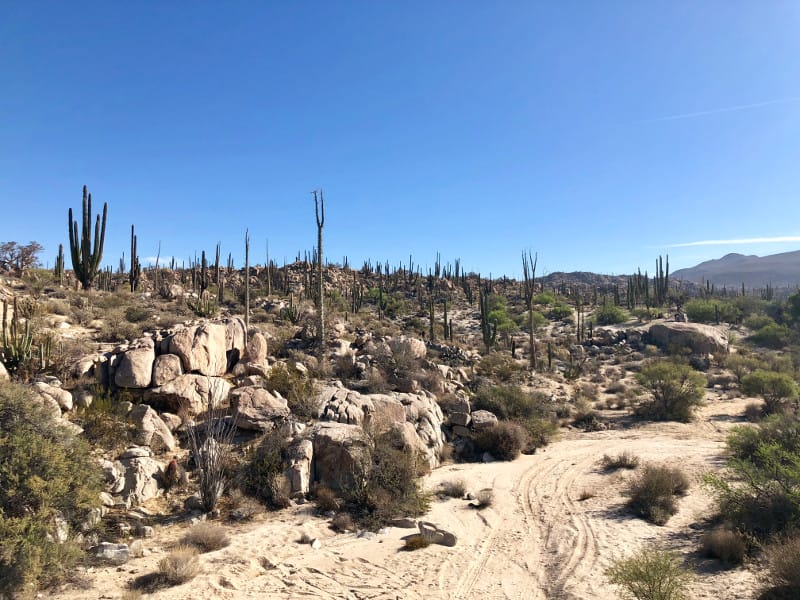 Catavina is a national park that is filled with miles upon miles of huge cactus and big boulders. It is a very beautiful and remote desert area. There are things you can do here like go hiking or to check out the cave paintings but we didn't do any of it.
Instead we drove through it and stopped the night before continuing north.
Recap: Catavina
Where we stayed: Ransho Santab Inez
Cost: 120 pesos a night
Location: Less then a mile off of Hwy 1 down a bumpy dirt road.
Recommended hotel stay:
Hotel Mision Catavina
Best Restaurants:
We didn't stop at any restaurants in the area so nothing to report here. We heard there is a restaurant at the campground and hotel.
Things To Do:
Hiking
See the Cave Paintings
Visit the Mission
Internet/Cell Coverage: None – I saw a sign at the hotel that they had WiFi but we didn't try it.
Ensenada
We stopped in Ensendada for the night and had thought about checking out the surfing beach and going into town to check out the Malecon. We ended up getting there a little later and didn't do either of them.
Instead we headed to the RV Park -La Jolla Beach dropped the trailer off and went to the grocery store. . . . after all the beauty and calmness further south we weren't that into the hustle and bustle of the city.
The next day when we left we drove through Ensenada to get out to wine country and the Malecon looked like thad some good restaurants or shops but we didn't feel like we missed much.
For us Ensenada was a good one night stop. Prior to getting to Ensenada we could have stopped at the San Pedro Martir National Park but by this time we were ready to stay on 1 and keep moving north.
Recap: Ensenada
Where we stayed: LaJolla Beach
Cost: 350 pesos a night
Location: A few miles off of 1 on the beach
Recommended hotel stay:
Hotel Coral & Marina
Best Restaurants:
We didn't stop at any restaurants in the area so nothing to report here. It is the home of fish tacos so we would have liked to stop and try some at one of the places recommended in the Moon travel guide.
Things To Do:
Beach
Surfing
Walk theMalecon
Internet/Cell Coverage: Our T-mobile hotspot and Verizon cell phone worked great.
Valle de Guadalupe – Wine Region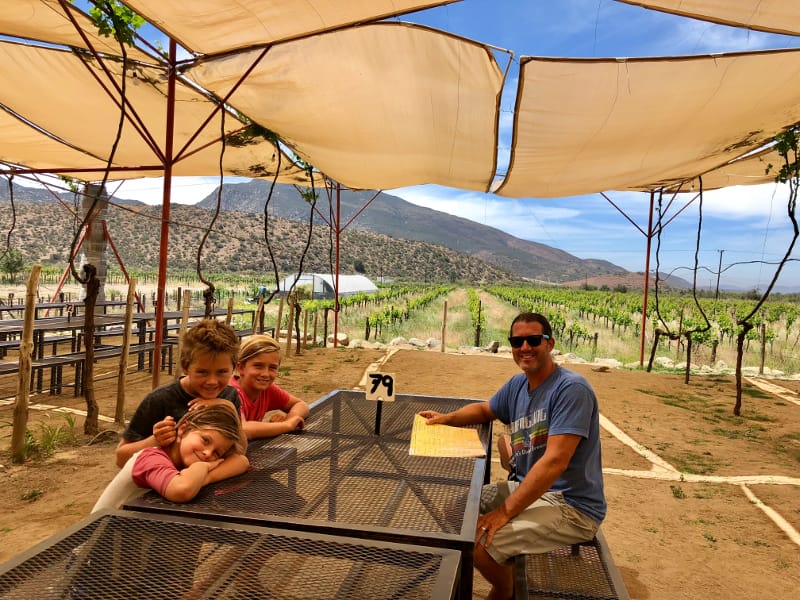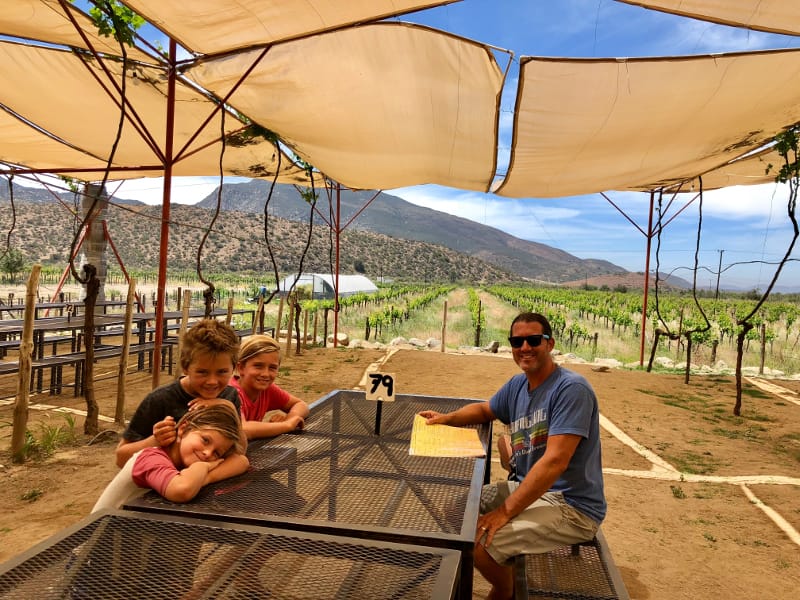 The wine country region between Ensenada and Tecate was beautiful! We drove through and stopped at the La Cetto Winery and it was so beautiful. The wine was pretty good too! There were a ton of different wineries lining Hwy 3 – you could come here for weeks to visit all of them!
We stopped at La Cetto and Craig and I stopped in to do a sampling – kids under 18 weren't allowed so they stayed in the car with our hot spot and watched movies :).
We then headed to a winery with pizza down the street called:La Casa de Doña Lupe and we all had yummy pizza and I sampled a couple other wines with my own wine tasting.
From here we were going to cross the border at Tecate and head into San Diego. We have traveled a lot of North America and Baja is definitely at the top of our list!
A Baja California Road Trip is an awesome time!! The Baja California peninsula is gorgeous and the sand beaches are amazing. Be sure to check out this post to learn more about preparing for Baja: What You Need To Do To Prepare For A Badass Baja Mexico Trip
Learn more about Baja, Mexico here:
Camping Baja California: 13 Awesome Places To Stay
The Secret to the Best Baja Internet To Keep You Online
Is Baja Mexico Safe? Are We All Gonna Freakin Die?!
Is Baja, Mexico Possible In A Big Rig
How Awful Are Baja Mexico Roads? Is Driving Even Possible?
20+ Things to do In Antigua Guatemala
Pin This Post: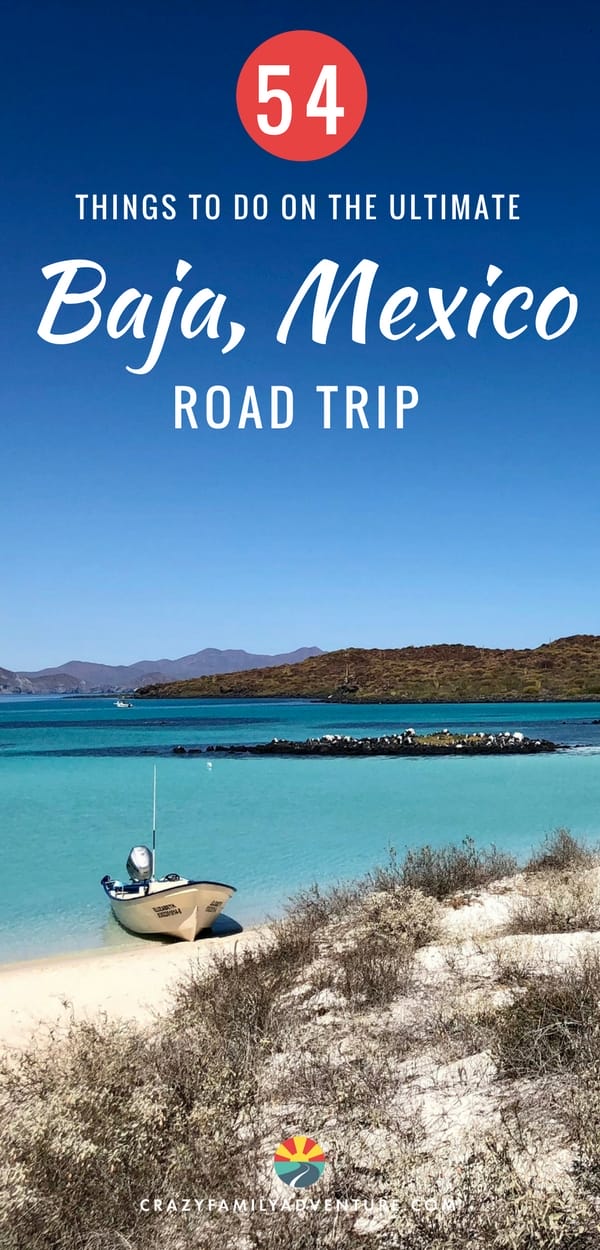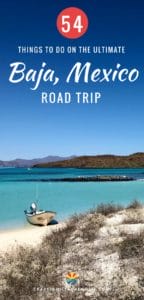 DISCLOSURE: This post may contain affiliate links, meaning I get a commission if you decide to make a purchase through my links, at no cost to you. Please read my disclosure for more info.