When we were planning our Baja trip, one of our biggest concerns (besides safety) was Baja internet. Our business depends on a reliable internet connection. We also wanted to be able to stream some shows as well as upload videos to our Youtube channel.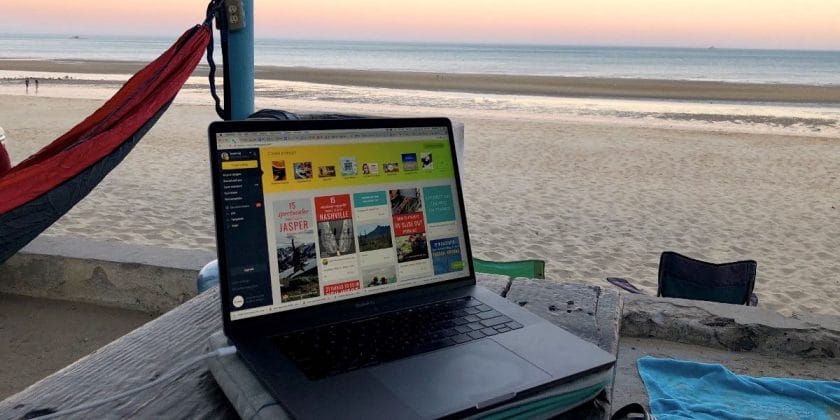 There really wasn't too much good information out there besides the Mobile Internet Resource Center from the good folks at Technomadia.
U.S. Carrier Plans with International coverage
We started by looking at U.S. carriers that offer international plans to Canada and Mexico. Bryanna currently has a Verizon plan, which offers this, but only allows a half a gigabyte of data per day outside of the U.S., so that wasn't going to work for us.
I ended up going with the T-Mobile One plan with the International add-on. The One plan allows for unlimited talk, text and up to 5gb of 4G LTE data in Canada and Mexico. Our needs are more in the 50+gb a month for the business and entertainment, so we needed something else. The One Plus International (an extra $25/mo.) included unlimited 4G LTE data in Canada and Mexico as well as unlimited 4G LTE hotspot data.
We actually used this plan when we went to Canada last year and it worked great. We had unbelievable coverage pretty much anywhere we went, including in the National Parks.
The way these plans work is they basically switch you between international carriers that they partner with for your service. So in Mexico, we were pretty much on Telcel the entire trip.
We were in Canada for about 7 weeks, I started getting texts from T-Mobile towards the end of our trip saying the plan is not intended for exclusive international roaming. We didn't pay too much attention to it since we weren't going to be in Canada much longer.
However, knowing that, when I went to get my T-Mobile plan this time, I tried to find the fine print on their website about the plan since we would be in Mexico for 3 months. I couldn't find much on their site, so I had some specific questions prepared for the store associates when I went to get the plan activated.
I asked the store employees about being in Mexico for 6 months (since that's how long our visas were good for) and he said I'd have absolutely no problems using the plan for that amount of time. Since there weren't many other options in the U.S., I figured I'd give it a try and sign up.
The coverage in Mexico was either feast or famine. The places that had coverage, it was great. The bigger cities like San Felipe, Mulege, Loreto, La Paz, Los Barriles, Cabo, Todos Santos, and Ensenada all had great coverage. Full bars of LTE and fast enough speeds to stream movies and upload big video files.
Coverage was non-existent basically from a line from Ensenada to San Felipe south to Guerro Negro. Then south of Guerro Negro to Mulege, it was very spotty and non-existent in the more remote locations we visited (San Ignacio Laguna, the campground in Bahia de los Angeles), as well as the mountain regions in Baja Sur.
Here's a high level map of T-Mobile's coverage in Baja.  Pink has coverage, white is not coverage. Check out https://www.t-mobile.com/coverage/coverage-map.
The other smaller towns and the drives between the cities there wasn't anything. Like no signal at all. We even got a WeBoost Drive 4G-X RV cell signal booster to install in the trailer before we left hoping that might give us coverage where otherwise there was none. Unfortunately in Baja, there are some huge dead zones and the booster didn't really help.
After being in Baja for just about 3 months, I got a text from T-Mobile saying that my plan would be cancelled because I used it the majority of the time on international roaming. I figured this would come in at some point, but I called their customer service to get more details.
She said after 3 billing cycles, if the plan is used the majority of the time on international roaming, it is a violation of the terms and the plan will be cancelled. I then said that the store employee told me otherwise and said I was good to go for 6 months. She said the store employee was misinformed and basically said sorry.
Luckily we were heading back to the US before the plan would be cancelled so it wasn't a problem, but obviously this is not a viable long term international travel.
Campground WiFi
Several campgrounds offered free wifi, however at these locations our cell signal was good enough we didn't have to use the campground wifi. Speeds in the campgrounds ranged from super slow (less than 1mbps) to about 3-4mbps. So it wasn't great, but it was good enough to check emails, etc.
Mexico Plans
The other option is to get a local plan in Mexico. There are several Telcel stores in the bigger cities that you could get set up with a plan at. We didn't consider this because our US plan worked during the time we were there.
Looking at the plans the major carrier Telcel offers, they are basically unlimited talk and text and pretty light on data. The plans range from about $30usd for 1gb up to about $55usd for 15gb.
The talk and text part is good, if you're ok with a Mexican number, but the data might not meet the requirements of heavy data users.
This is something we plan on looking more into will update this post when we have more information.
Coffee Shops
In the US, it's fairly common to head to Starbucks for a Venti Mocha and knock out a few hours of work. In Mexico, there really isn't an Starbucks (except in the way north and way south) and only a few other coffee shops that we visited had wifi. They're out there, but not as common as in the States.
So, if you're looking for Baja internet and plan on visiting only for a short time (less than 3 months), I recommend the T-Mobile One Plus International plan. It worked well for us and we were able to run our business and still enjoy some Netflix in the evenings. For the stretches that there is no coverage, we worked ahead of time and took that as an offline vacation, which is nice to do once in a while.
Pin It For Later: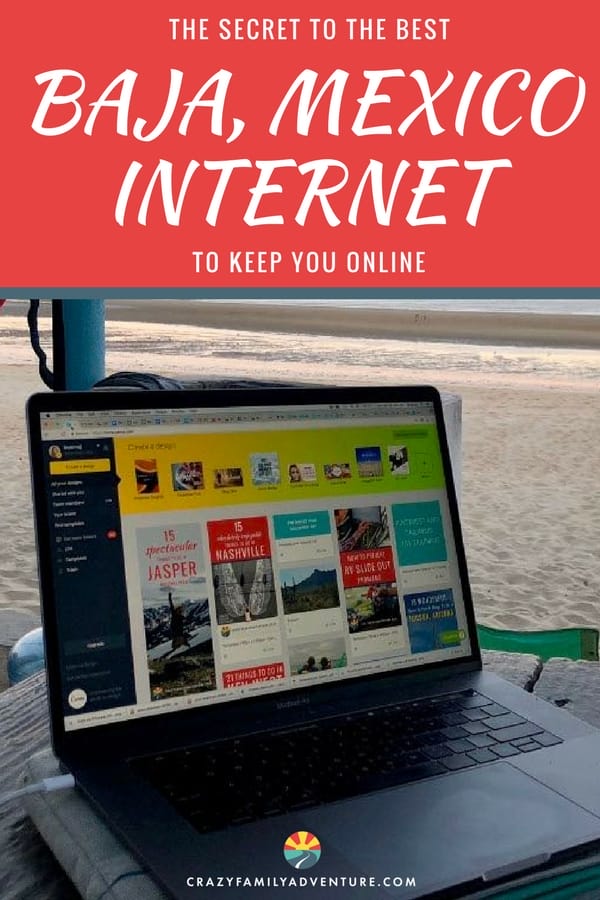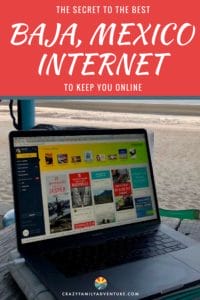 DISCLOSURE: This post may contain affiliate links, meaning I get a commission if you decide to make a purchase through my links, at no cost to you. Please read my disclosure for more info.