We spent 3 months exploring Baja California, Mexico and these are the campgrounds that we stayed at. Camping Baja California takes you to RV parks, spectacular beach camping and down a few dirt roads to find amazing campgrounds and Baja camping spots. Please note this was a few years ago and things do change but I know most of these parks are still open – but it is always good to have a back up plan in Baja – in case campsites are full or your rig doesn't fit.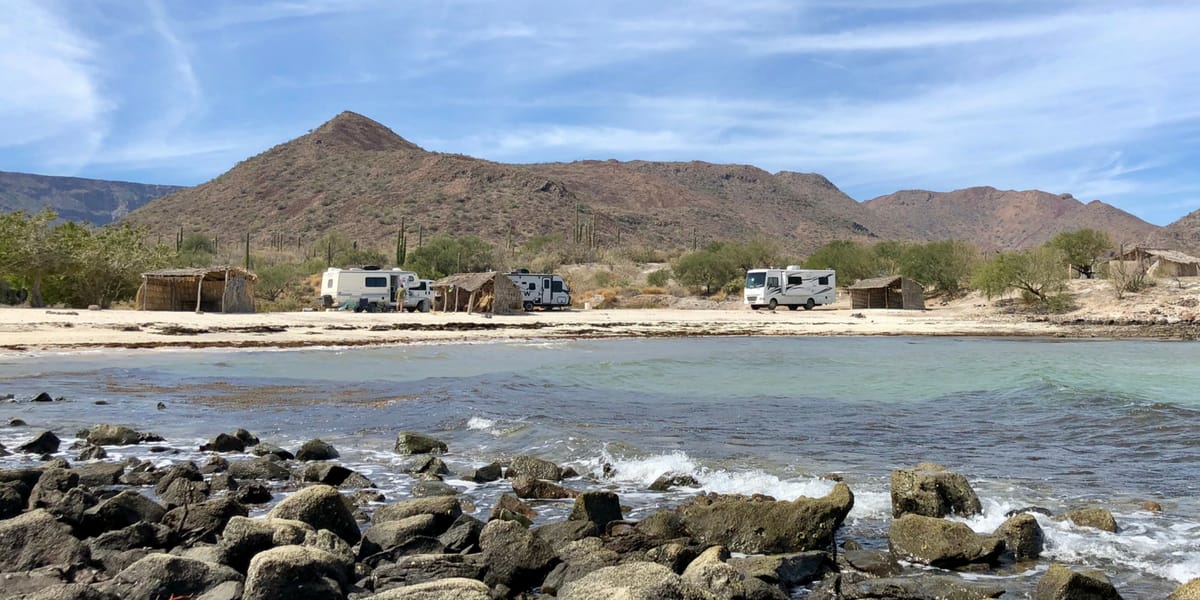 I also recommend getting the book (always check to make sure you are getting the most current one): Traveler's Guide to Camping Mexico's Baja: Explore Baja and Puerto Peñasco with Your RV or Tent. It has lots of great info about camping in Baja California plus some great travel tips. Knowing what the camping options are when you head into a city gives you peace of mind on your trip!
**This book is about 5 years old so it won't be 100% accurate**
San Felipe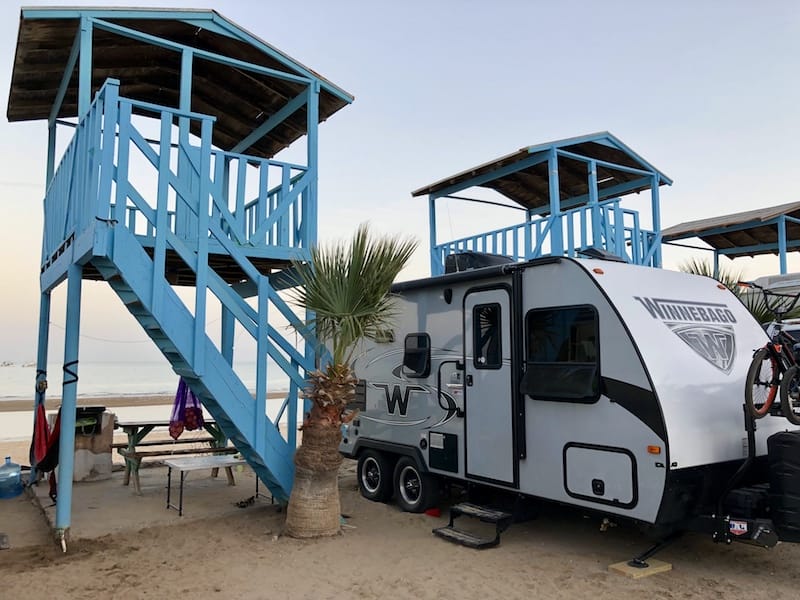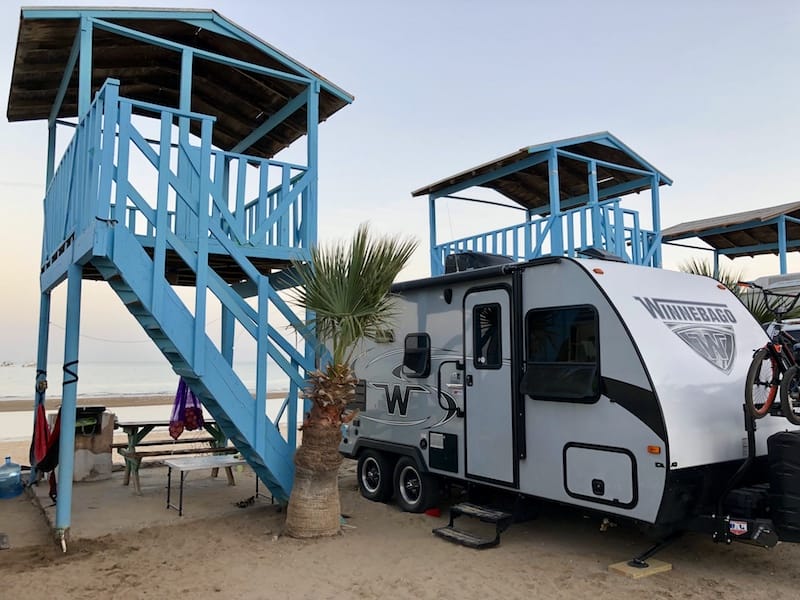 Campground: La Palapa RV Camp
Getting there: The campground is just a couple hours from the border crossing (coming from El Centro, CA). It is a pretty easy drive and when you get to San Felipe you have to drive through the town to get to the campground.
About: On the beach on the Sea of Cortez
It was about a 15 minute walk to the Malecon where there were restaurants with great fish tacos. You could also walk to a small grocery store. We did use the Van to get groceries and to get our water jugs filled.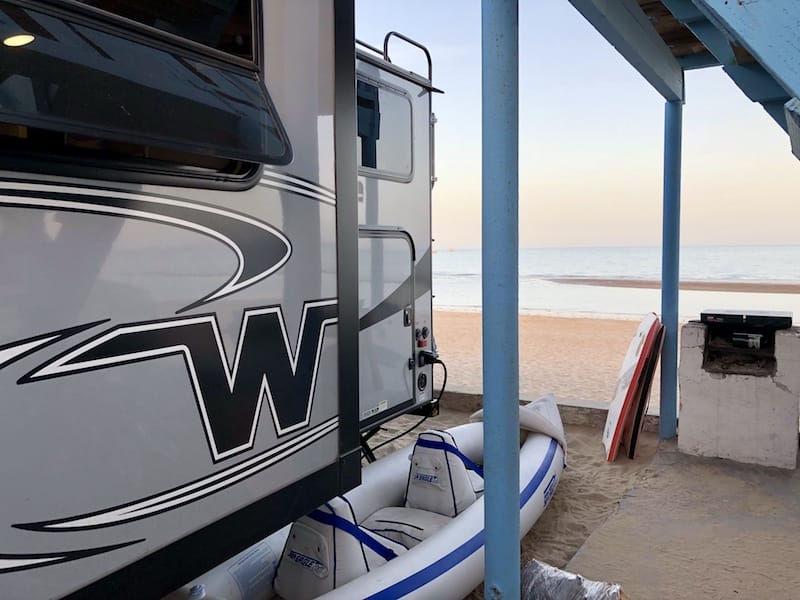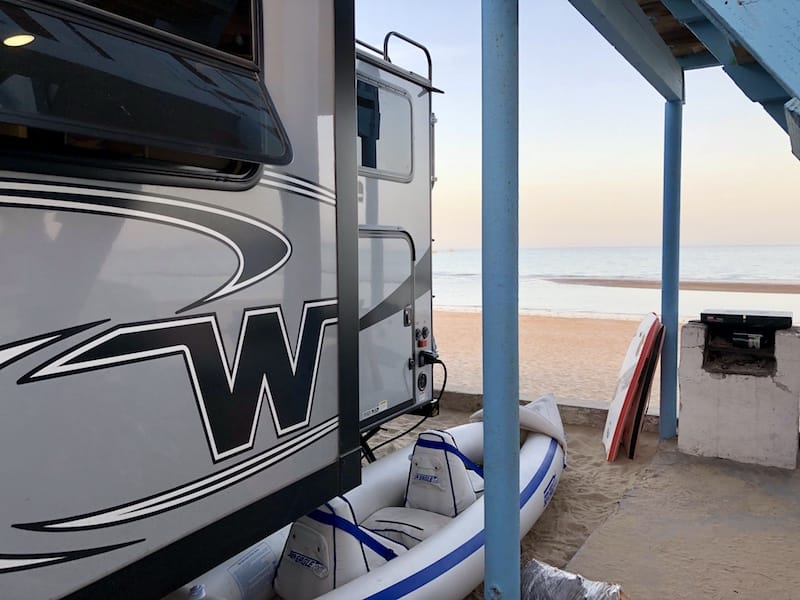 Size of rig: Someone pulled in with a 30 foot rig and it was tight. We had heard that one of the RV parks down the road was able to accommodate larger rigs.
Hookups: Full hookups but the electric kept getting turned off by our surge protector. Craig ran our space heater on the outlet to try to lower the voltage and it helped but in the end the power would not stay on with our surge protector.
This is common in Baja. You either have to risk it or just go off of solar. We kind of went back and forth . . .
Internet: They had wifi but we never rely on wifi at campgrounds (Even in the US) so we had our T-Mobile hotspot and it worked well here. My Verizon phone also worked.
Bathroom: Had Bathroom and Showers
Puertecitos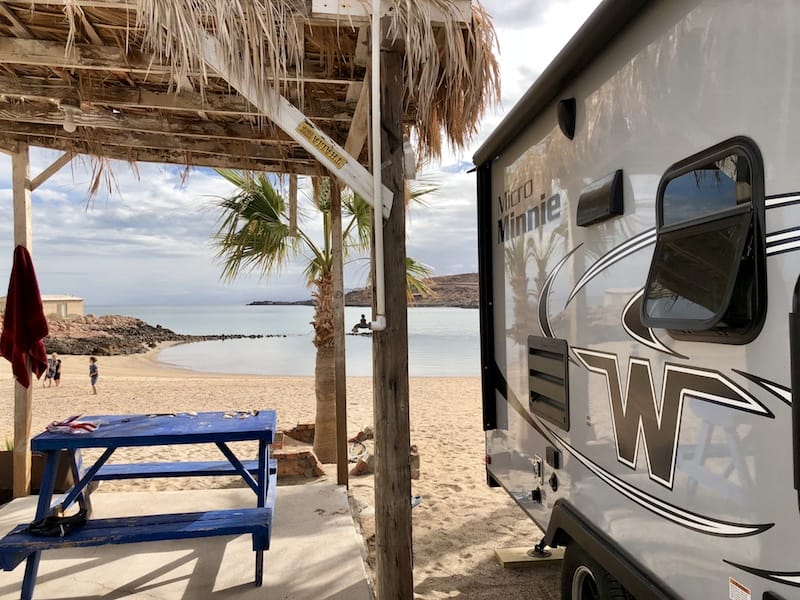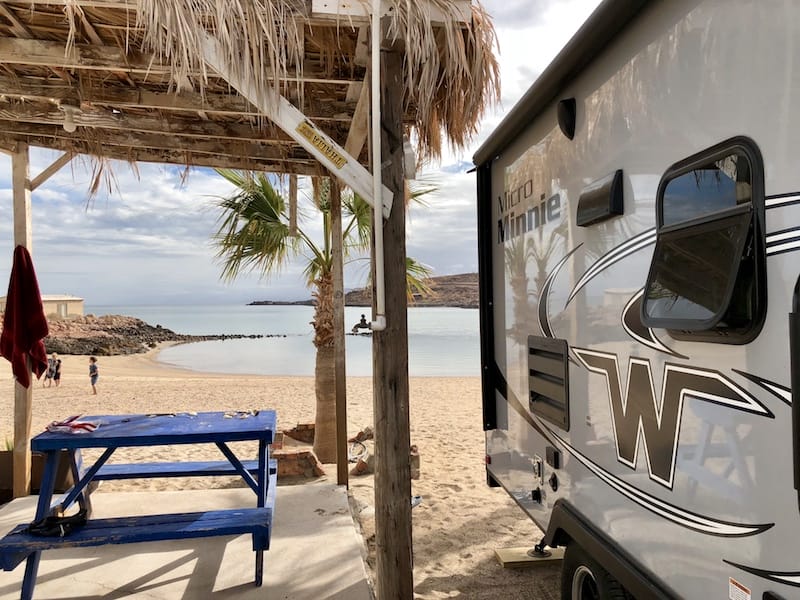 Campground: Campo Turistico Puertecitos – no website so have to assume they are open and be prepared to pay cash and also have a backup plan – in case they are closed for some reason.
Getting there: Off of the main highway with driving on a dirt road for a little while.
About: On the beach. We weren't able to pull our rig next to the Palapas but we were able to get close and there was plenty of room. The spots are located on a bay where the tide goes way out at night!
Hookups: No hookups expect for electric at the Palapas and one outlet from 5pm-10pm. There was a rain barrel for water but I don't think it had really rained in a long time . . .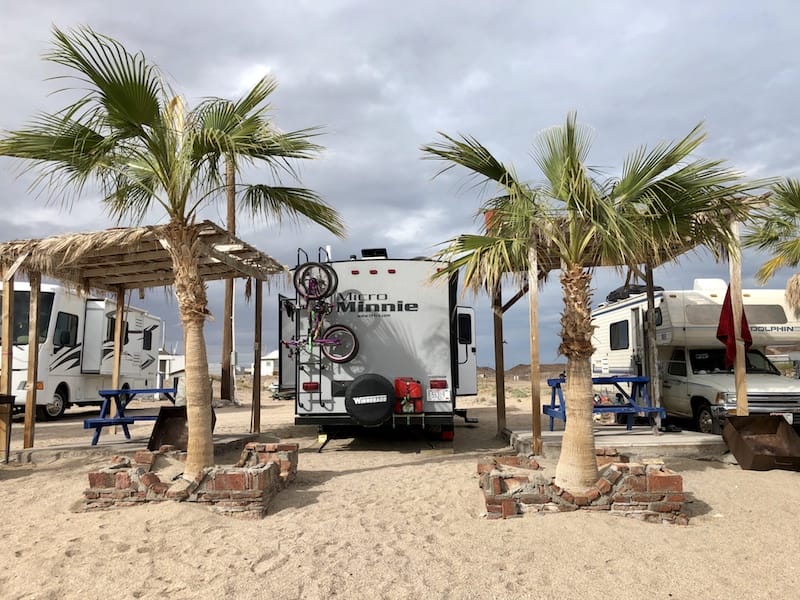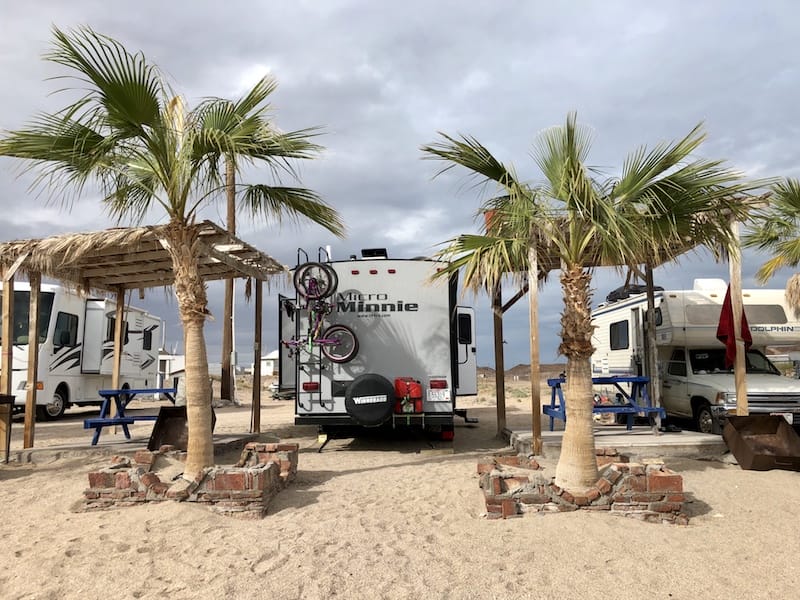 Size of rig: Rigs of all sizes could fit here but you may be limited on where you can go the bigger your rig.
Bathroom: Had bathrooms but no showers.
Internet: No signal or cell signal or wifi.
Bahia De Los Angeles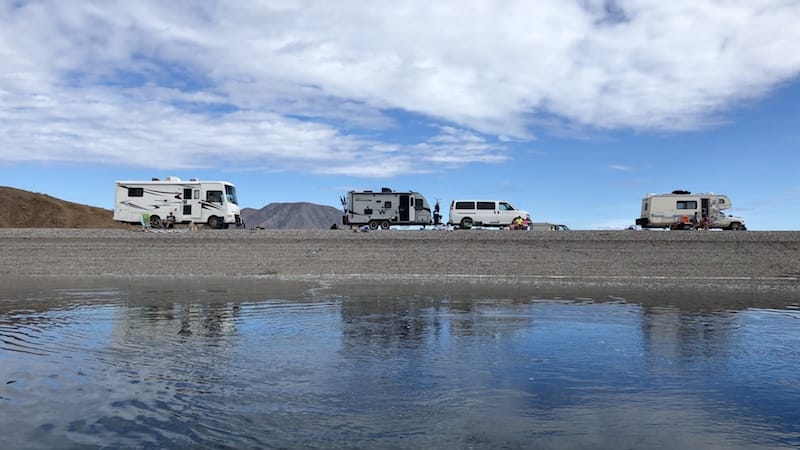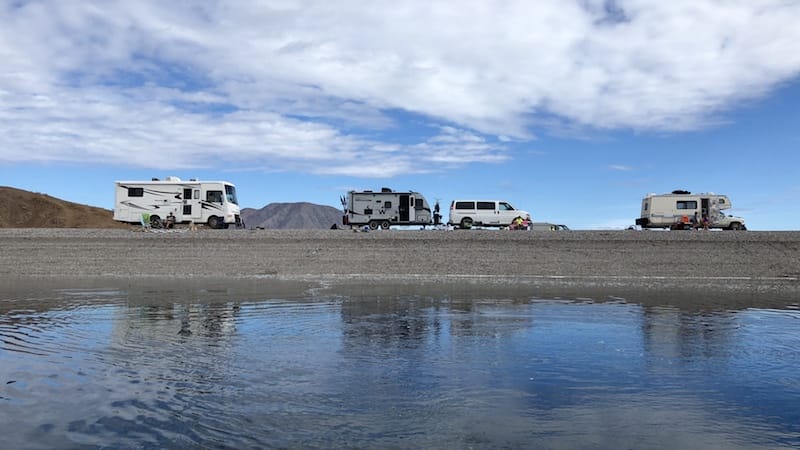 Campground: Playa La Gringa
About: On the beach you have to drive for about a mile on an uneven dirt road – but doable. It is not close to the town.
Hookups: No hookups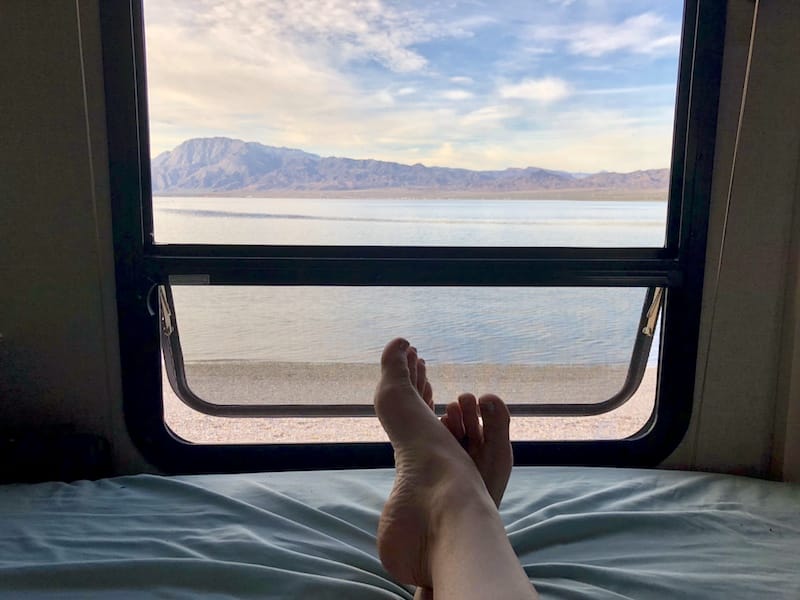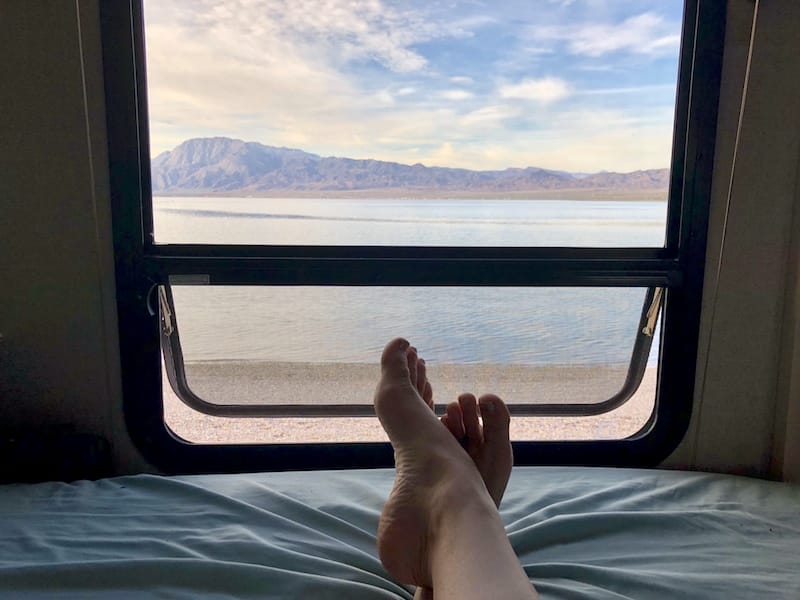 Size of rig: Any size that can go on the bumpy dirt road
Bathroom: I don't think so
Internet: No internet or cell signal. Wifi at the hotel in town – would have to drive to it.
Read our post on How To Prepare For Your Baja Trip
San Ignacio for Whale Watching
Now we have entered Baja California Sur. The southern part of Baja. San Ignacio was an awesome small town that we grabbed lunch in before heading to our campsite.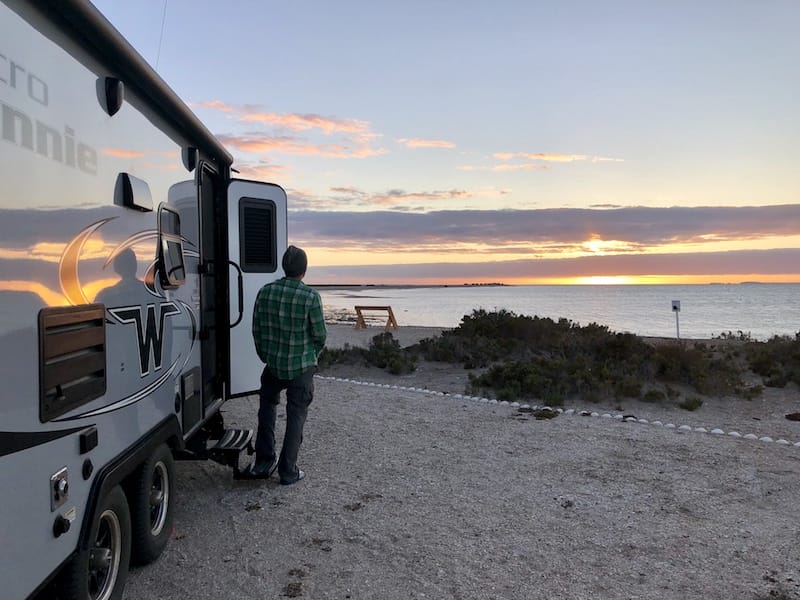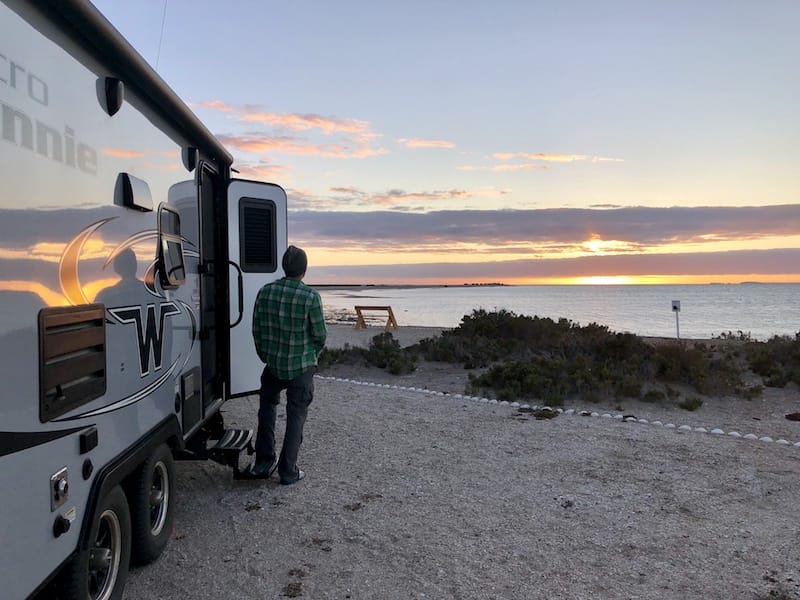 Campground: EcoTurismo Kuyima (open January 1 – April 15th – but it varies)

About: ** You have to drive on 10 miles of washboard road to get back here – in town they will tell you it is doable – it is but it is rough – we had to go 5 miles an hour the whole way – it was not fun.
Another option is to leave your rig at a place in San Ignacio like Rice and Beans and then drive your car to EcoTurismo place to do the whale watching. You could also opt to do this in Guerrero Negro where there are more RV park options. We had heard the whales were more friendly in San Ignacio.
The EcoTurismo campground is located on a bluff overlooking the ocean and the whales. This location is amazing. It is so beautiful and from your spot you can see the whales spouting water from their blowholes out in the ocean.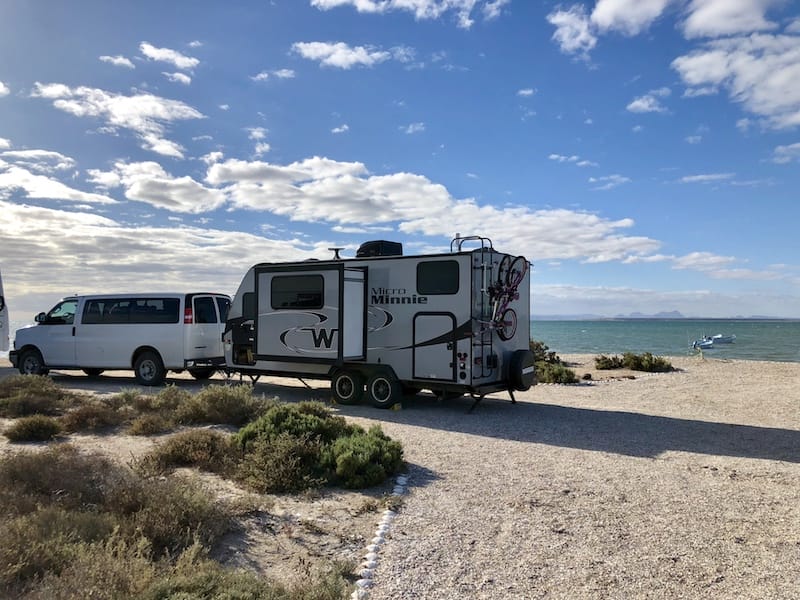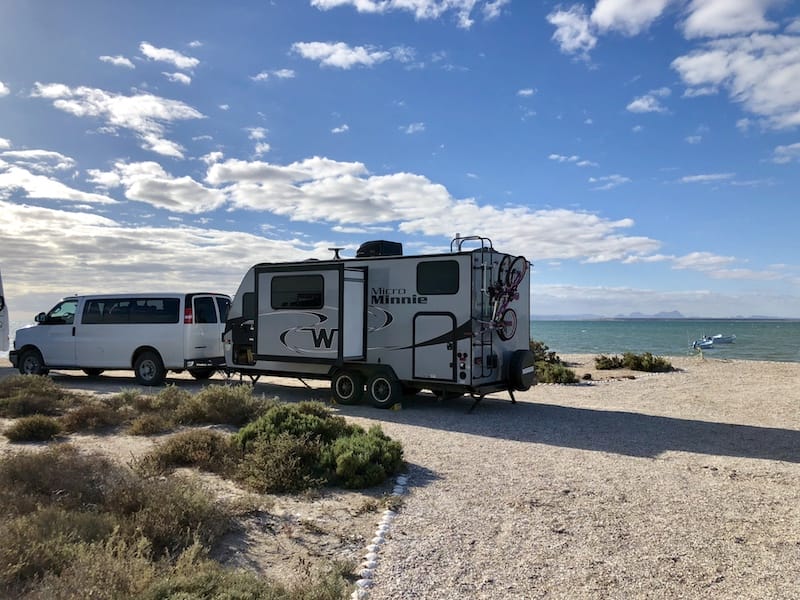 Hookups: No hookups
Size of rig: Large rigs could fit but I would call to verify the size they allow
Bathroom: Yes bathrooms and showers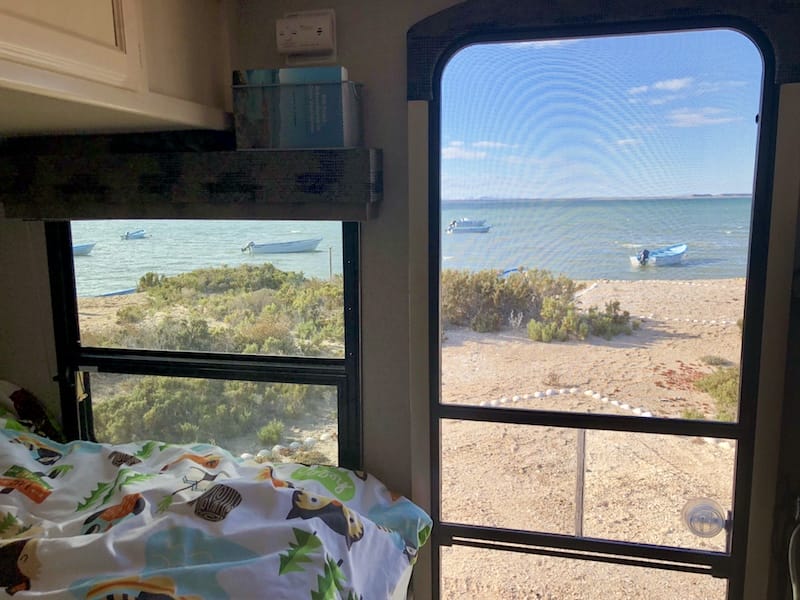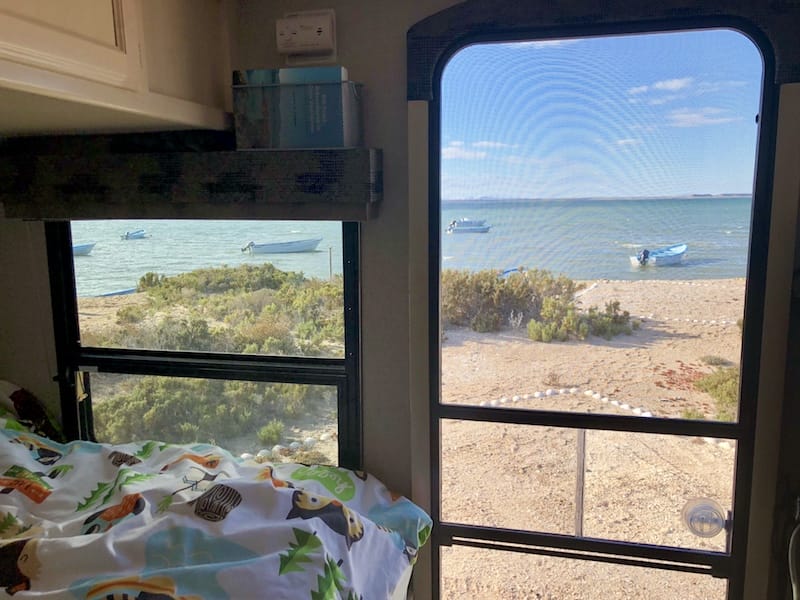 Internet: No cell or internet signal and no wifi
Mulege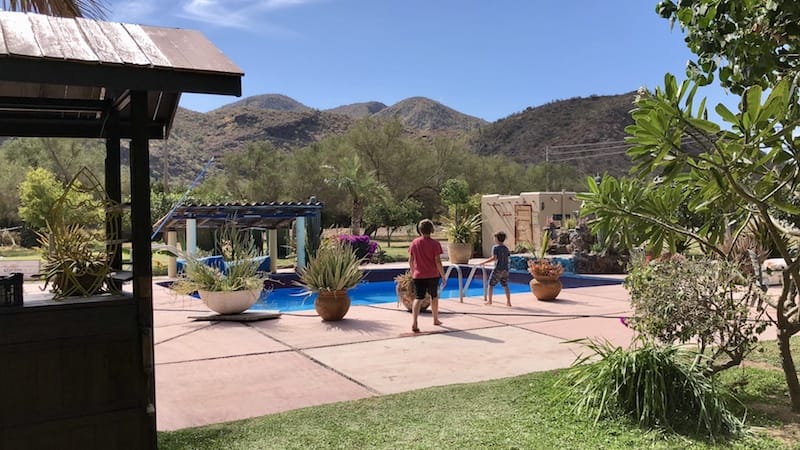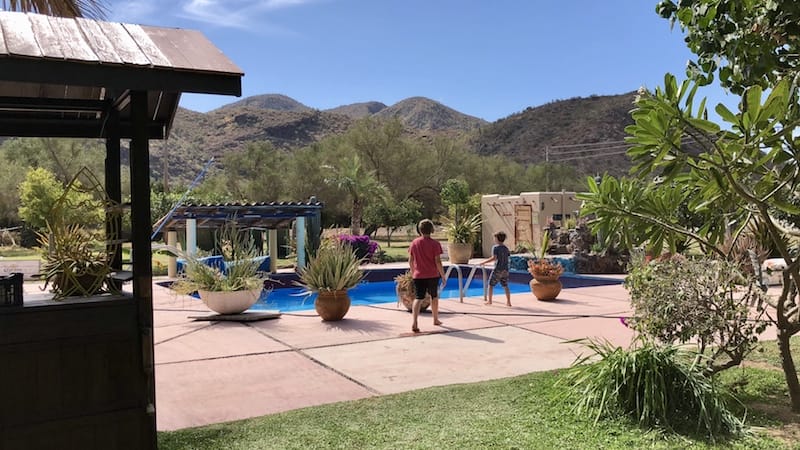 Campground: Hacienda De La Habana (open Oct – Jun – except Easter week) – It looks like they are closed now and haven't reopened. You can learn more at their site. We know other RVers who stayed here: Huerta Don Chano.

About: On grass with fruit trees for picking all around. You have to drive on a dirt road to get to it – but it is doable and there were big rigs back there too so they must have made it.
It is funny though were the campground is. You are literally driving through fields to get there where only one vehicle can fit at a time. It is an interesting location.
All that aside this is a beautiful location and RV park and worth staying at.
Hookups: Yes full hookups.
Size of rig: Any size – as long as you can do the dirt road – we saw some larger rigs back there so people must figure it out.
Bathroom: Yes and showers.
Internet: There is wifi at the campground and our T-Mobile hotspot worked and so did my Verizon phone.
Bahia Concepcion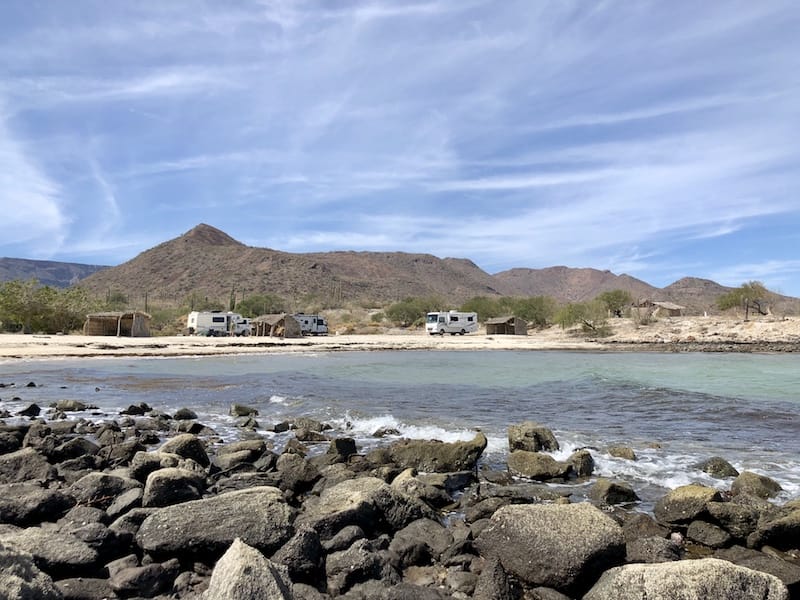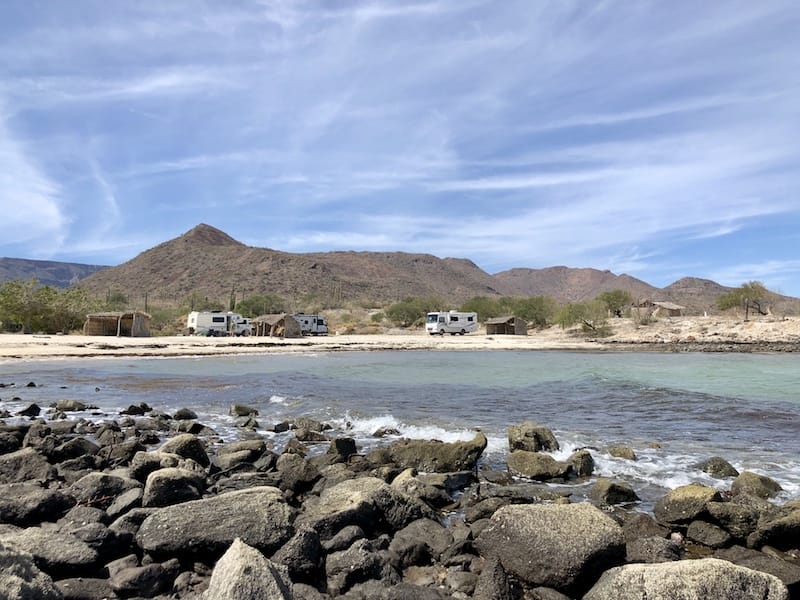 Campground 1: Playa La Perla (this one was much more secluded with less people – even during busy season January-March – it was a great spot). You can see reviews here. They do not have a website and this is another hit or miss spot.
Cost: 150 pesos a night per person – but this could always change.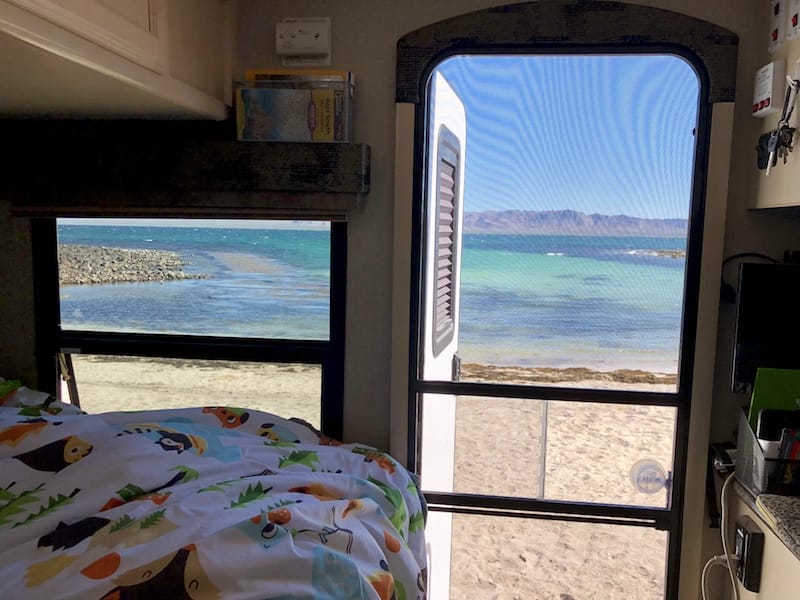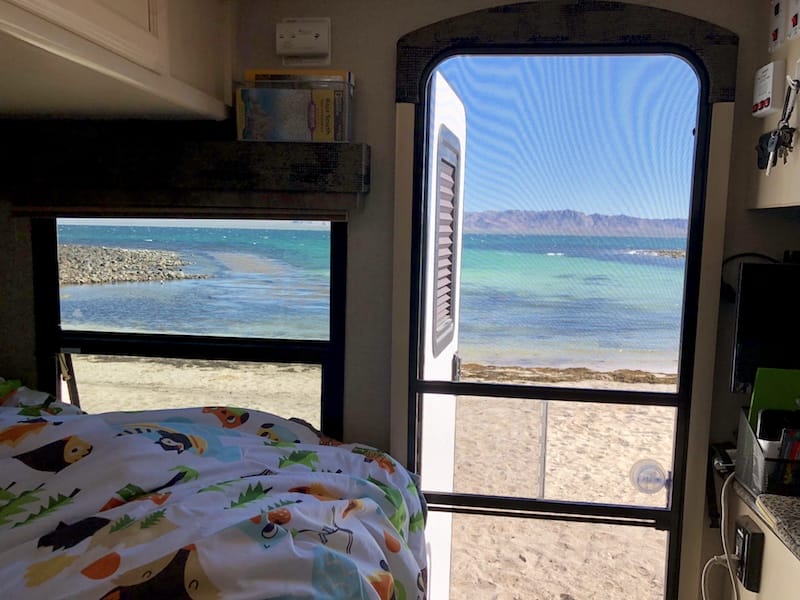 About: towards the end of Bahia Concepcion (from the north) – have to drive on a bumpy road to get there but it isn't bad or long. Nice big palapas by the sites. There is an old lady that lives in a house there and she will show up and ask for you to pay.
I think she is like 90 years old and when she first showed up I had no idea I was suppose to pay her since she spoke Spanish and I couldn't understand her. I got Craig (who speaks some Spanish) and we figured it out.
Hookups: No hookups (you could tent camp too)
Size of rig: If it isn't busy a larger rig could come down here but it might be hard to turn around. I would error on the side of only 30 feet or under coming down here.
Bathroom: Yes, but it isn't one you'll want to use. Basically a toilet in the middle of a field.
Internet: No internet, cell or wifi
Campground 2: Playa Santispac – you can read reviews of the campground here.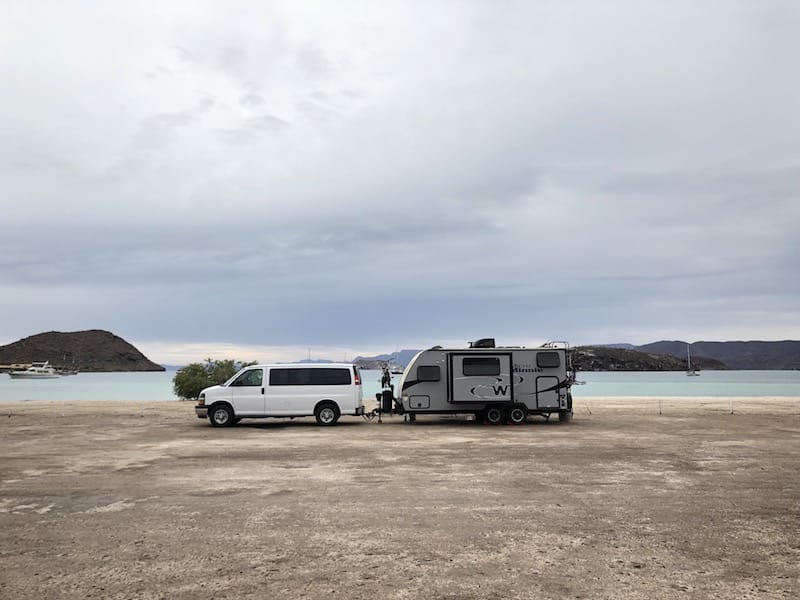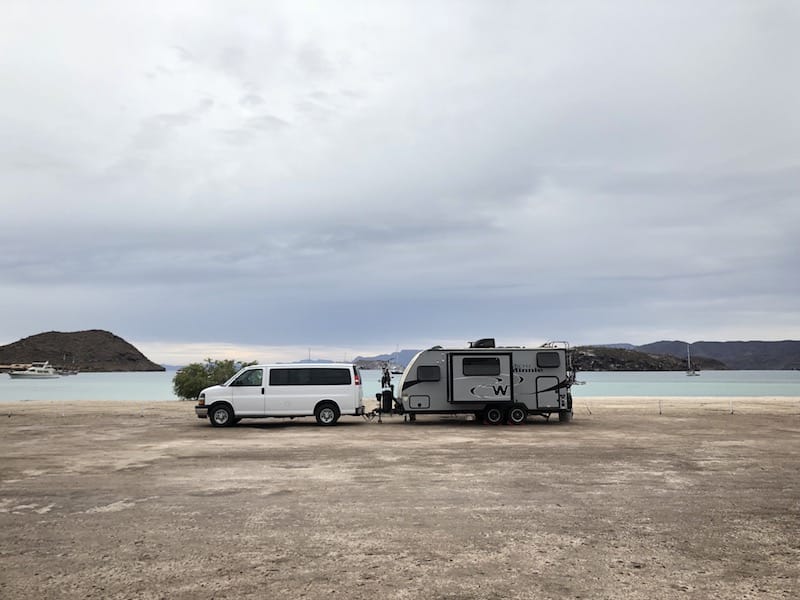 About: Right at the beginning of Bahia Concepcion (from the north) – very easy access road. Also very busy in prime season – January – March. This spot is extremely big rig friendly and any size rig could fit here.
Hookups: No hookups
Size of rig: Any size
Bathroom: We don't remember seeing one, but there is a restaurant there
Internet: No internet or cell but there is Wifi available at Restaurante Ana for a hourly fee.
Read our post: Is Baja, Mexico Safe?
Loreto
Campground: Rivera Del Mar Trailer RV Park
Cost: Weekly price
About: It was much more like a US RV park than the other parks we have stayed at so far. Located in a neighborhood – Within walking distance of the town. It was very nice and clean and Yolanda the owner was onsite a lot and available with any questions.
There was also a swing set in the back with a community area to sit in that was covered. There is laundry available on site and also a drop-off place right across the street.
Hookups: Full Hookup
Size of rig: If there are openings, any size could fit but you are driving through town to get here and there isn't much room to turn around in the park. Our advice is to park on the street, go in and check availability before pulling in.
Bathroom: Yes and showers
Internet:Wifi at the campground by the office and our T-Mobile hotspot and Verizon phone worked great.
La Paz
Campground: Campestre Maranatha – you can read reviews about the campground here.
About: Located right off of the highway outside of town. Very easy to get to. This was the nicest RV park we stayed at in Baja minus the scenery :). Has a nice big pool and a playground.
The campground is also used for religious retreats but each time we were there it wasn't very busy and seemed to only be RVers.
The Walmart and most other stores are 10-15 minutes away. It takes about 20 minutes to get to the Malecon in La Paz.
Hookups: Full Hookups
Size of rig: Any size
Bathroom: Yes and showers
Internet: Not sure about Wifi, but our T-mobile hotspot and Verizon phone worked great
We also checked out the free spot: Playa Tecolote and we could have easily taken our trailer here. It is outside of town by Balandra Beach and there were a few restaurants and that near by.
It was windy the day we were there and it said it could get really windy. But it looked like a fun spot to try. I believe you can get internet coverage at the restaurants right by where you camp.
Read our post: Can You Travel In Baja With A Big RV?
Los Barriles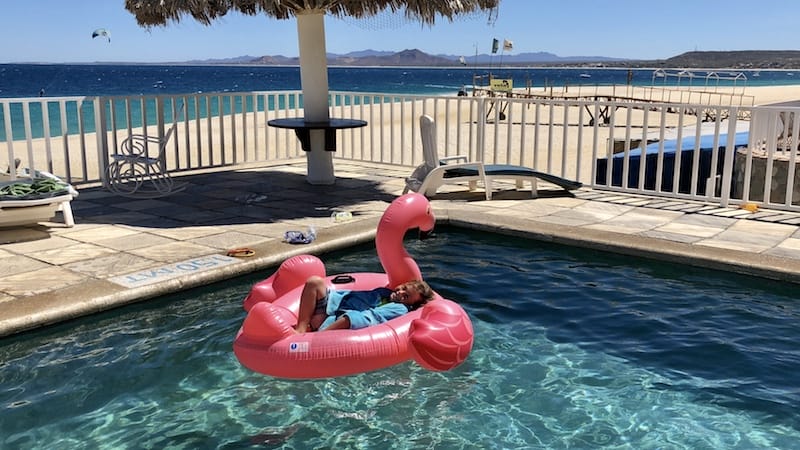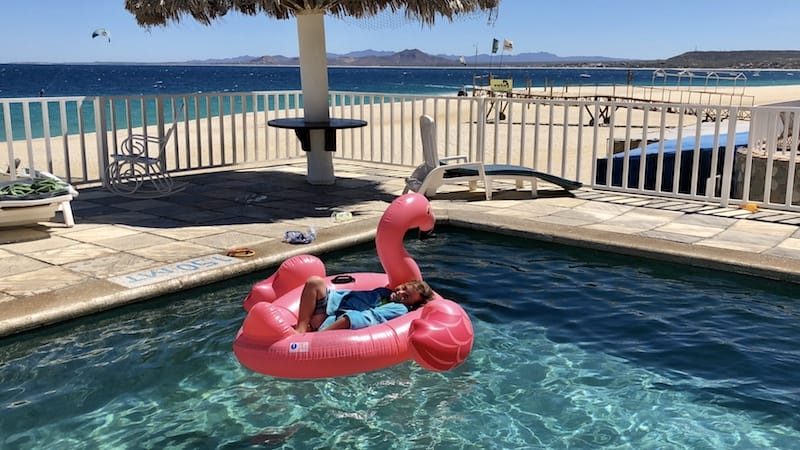 Campground: Martin Verdugo's Beach Resort
About: Located right in town and on the beach. The sites are set back from the beach but it is only a short 5 minute walk to get to the beach and pool. You walk through the small hotel area to get there.
The RV Park is well kept and when we got there was filled with Americans and Canadians there for the kiteboarding season.
Hookups: Full hookups but had issues again with the voltage – this is common in Baja. Either you don't plug in and use solar or you risk it. Everyone else in the RV park was risking it and I heard that they just blew out a few lights and that . . .
Size of rig: Any size could fit if there are openings.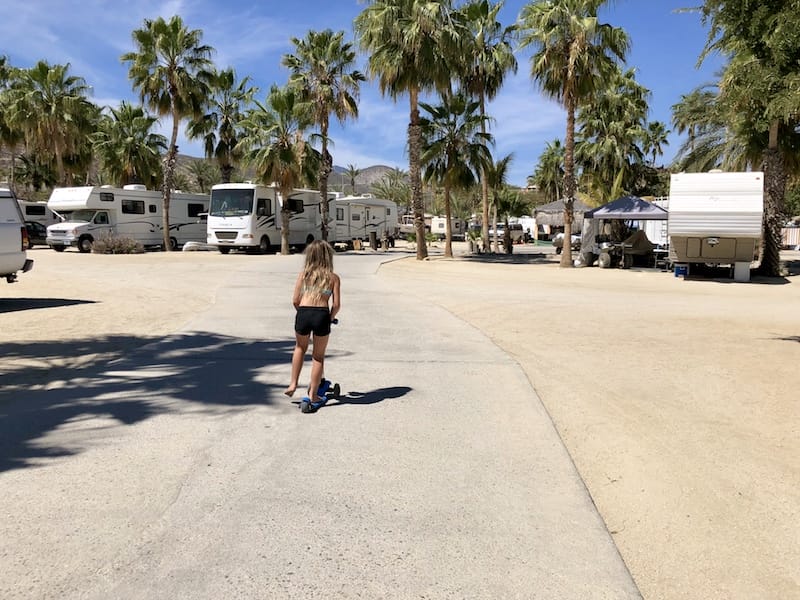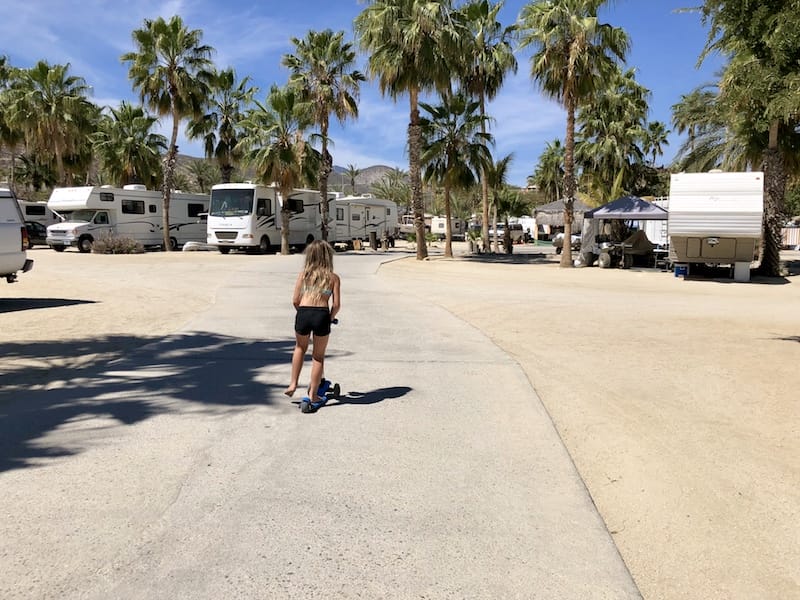 Bathroom: Yes and Showers
Internet: Wifi worked at the campground and our T-mobile hotspot and Verizon cell phone worked great.
We also checked out Baja Sunrise RV Park and it was right on the beach. Remember I had mentioned it was windy here. So I am all for being on the beach but I know there would have been windy days plus this one wasn't in town so it would have been hard to get to all the places we wanted to go. That is why we opted for Martin Verdugo's – plus they had a pool.
When we were in the area we also visited Cabo Pulmo and went snorkeling there – it was amazing. They do have camping here but only for smaller rigs, truck campers or tents. Be sure to check out all the size details if you decide to go.
Todos Santos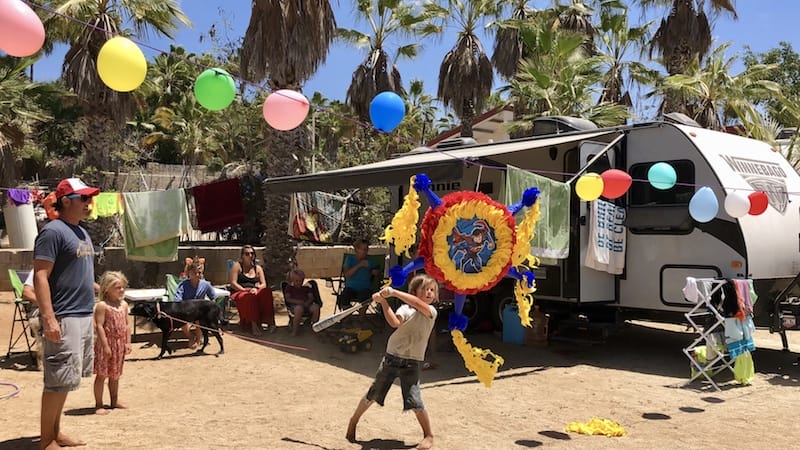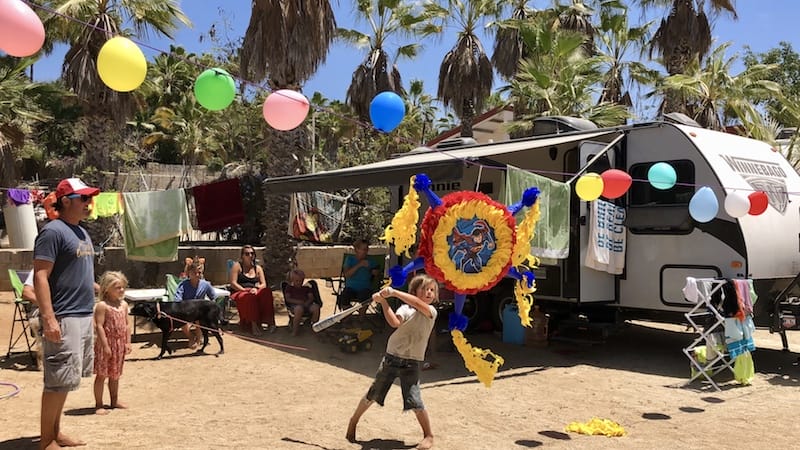 Campground: El Litro

Location: Located in the town of Todos Santos – actually more in a Todos Santos neighborhood . . . down a dirt road. But still in walking distance to the main parts of downtown. Take note you are not in the upper scale downtown area here but instead in the local part of town – we liked that it had a more authentic feel to it.
The campground was pretty run down and the electric gave us lots of problems that we ended up just unplugging and going on solar. My parents stayed plugged in the whole time. The sites were a decent size and there was room for the kids to play but it was super dusty.
Someone needs to open a really nice RV park in Todos Santos or at Los Cerritos beach!! If you find a better one let me know!
About 50 miles south of Todos Santos is Los Cabos and Cabo San Lucas. There really aren't any good campgrounds in Cabo so this is the closest you will probably get. So if you want to spend a day in Cabo this is the place to camp.
Hookups: Full hookup – kind of . . . would not recommend hooking up to electric
Size of rig: We saw people pull in that were over 30 feet but I would recommend parking outside to walk in and take a look before you pull in. There isn't much room to turn around if they are full.
Bathroom: Yes and shower – there was one nice shower.
Internet: No wifi but our T-mobile hotspot and Verizon cellphone worked great.
If you want to look for a boondocking option check out Cerritos Beach.
Read post: How Is The Internet In Baja?
Catavina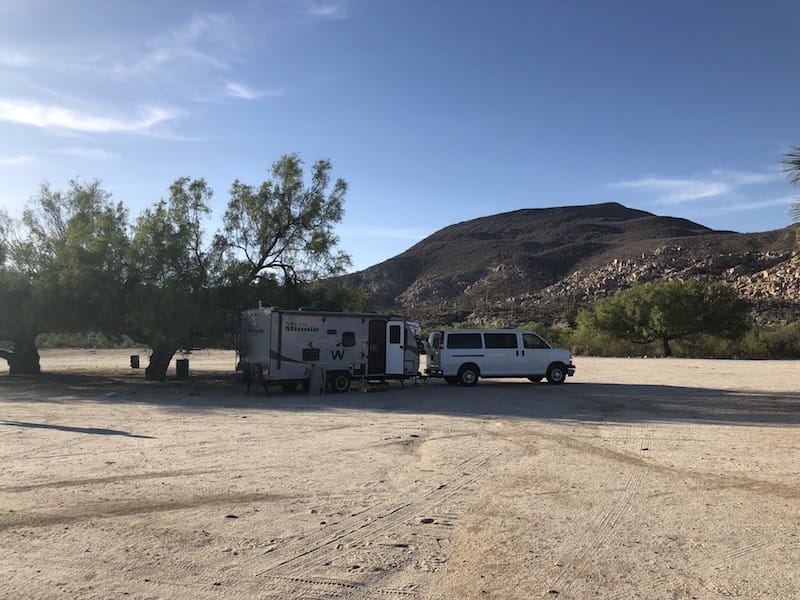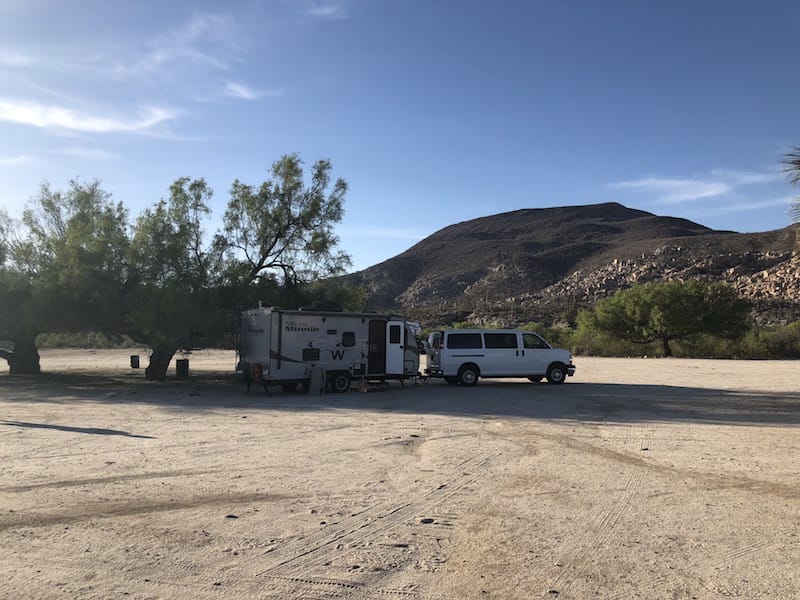 Campground:Rancho Santa Ynez RV Park
Location: Located about a mile off of Highway 1.
The campground is basically a big dirt field without any amenities. I would look at this as more of a one night stay as you are driving through then a place to stay for a while.
Hookups: None
Size of rig: Any size – easy dirt road to get in and plenty of room in the lot.
Bathroom: Not that we saw.
Internet: No wifi or cell signal.
Enseneda
Campground: LaJolla Beach – here is a blog post of another families reviews of the spot.
Location: Located a few miles off of Hwy 1 by the beach
The campground is basically a big dirt parking lot without hookups right on the beach. This beach is different since it is the pacific and the water is a little crazier and grayer. There is a gate with an attendant to let you in and out.
Hookups: None – did have a water spigot and a dump station.
Size of rig: Any size could easily park in the lot if it isn't busy.
Bathroom: Yes and showers
Internet: Our T-mobile hotspot and Verizon cell phone worked great.
Read Our Post: How Are The Roads?
Our time in Baja and up and down the Baja Peninsula was amazing! Crossing the border from the United States into Mexico can be stressful but once you do it and get to these awesome spots you will see it was worth it.
Pin This Post: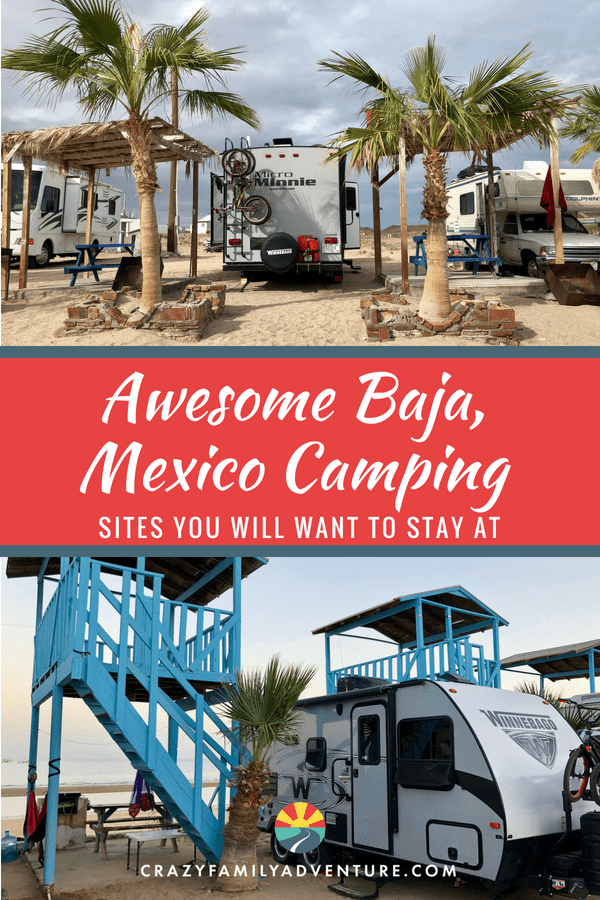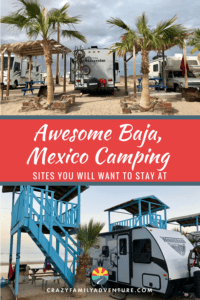 DISCLOSURE: This post may contain affiliate links, meaning I get a commission if you decide to make a purchase through my links, at no cost to you. Please read my disclosure for more info.