Driving south of the border is an adventure in itself. In the U.S., we take for granted our infrastructure. Four lane highways, wide lanes, wide shoulders, etc. Well, in Baja, that's not the case.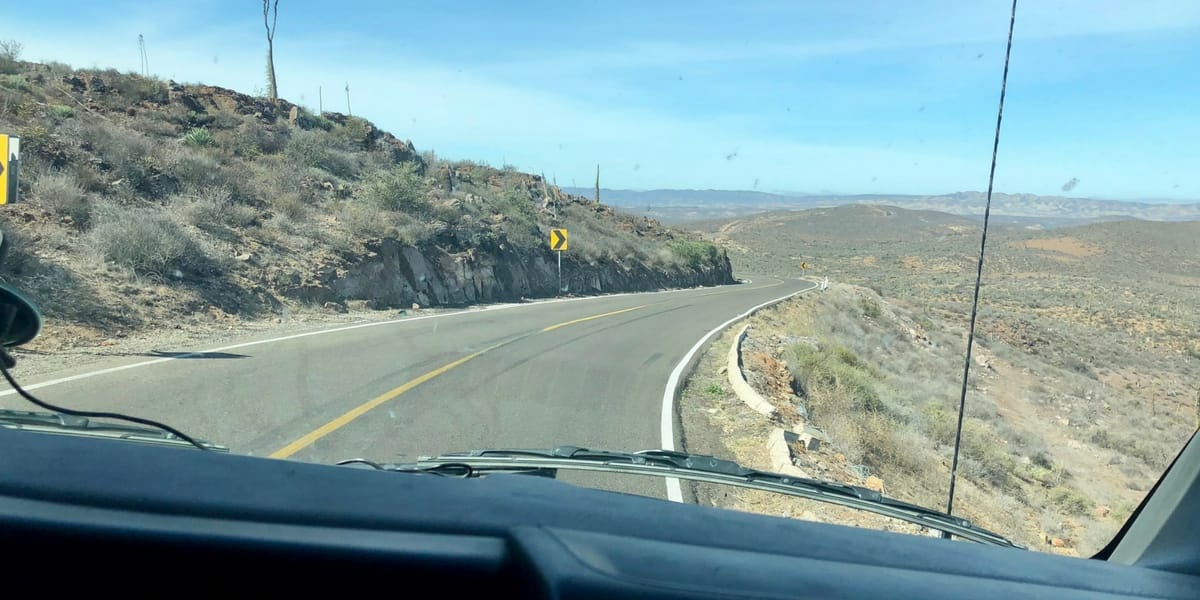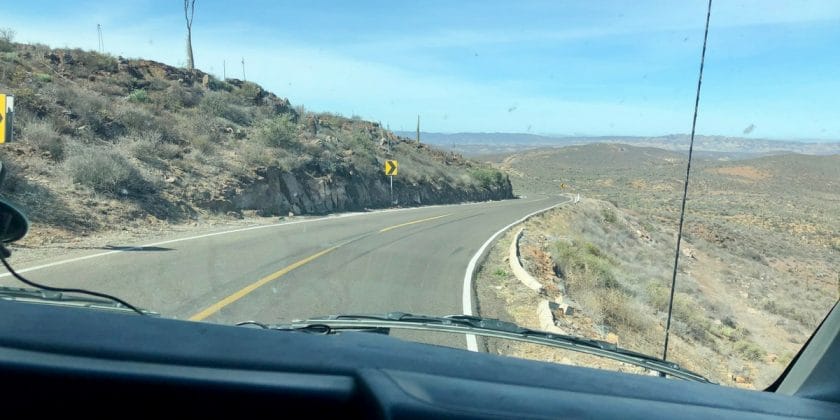 This post may contain affiliate links.
Mex 1 – The Transpenninsular Highway
The roads are tight and bumpy – especially further north in Baja. There are also sections that are more pothole than road and don't get me started on the topes (speed bumps). The mountain regions in Baja don't really give you any shoulder at all and usually, guard rails aren't there either…
Yes it is stressful to drive here. The semi's come flying down the road . . . Craig would pull the driver side mirror in each time we went by a semi. There are also a lot of blind and hairpin turns. Including lots of uphill and downhill. They do show you a sign with a truck going uphill or downhill when it is going to be really steep. Well they sometimes tell you with a sign . . . but there are no %'s on what the grades.
The further south you get the better the roads are.There is a shoulder and the highways are well marked. You will still run into a few areas that aren't fun, but it is definitely better. I would say between Todos Santos and Cabo the roads are like in the US.
The La Paz and Los Barriles area are also pretty good.
On the way down they were working on repaving and filling potholes on Mex 1 and on the way back up it was definitely better. Hopefully that is a sign they will continue to work on the road.
The road that isn't a road: Mex 5
If you come in through Mexicali and head toward San Felipe and want to go further south you have a couple of options – either you cut across to Ensenda on Mex 3 then head south on Mex 1 or you go straight south on Hwy 5 – which is a road they have been building for the last couple years and still have a few years to go . . .
The road is either gravel or dirt, or both, with huge boulders (softball size) strewn about. There are ditches, potholes and a few spots where you just say to your self "Oh hell no".
However, in true Baja style, finished or not people are driving on it and it is actually pretty busy with traffic. It is very bumpy and there are some turns that make you hold your breath hoping the motorhome doesn't tip over – seriously.
As we were driving down it (our caravan included a passenger van towing a 21 foot trailer, a 21 foot class C and a 26 foot class A motorhome) we would flag RV's down coming from the other direction and ask them how the road was. It was nice to get real time updates.
Halfway through the 23 mile trek on this "road" is CoCo's Corner where you have to stop for a drink and to write your name in CoCo's book. He is a guy that has been living here for over 20 years welcoming travelers into his quirky place for a short break on their trek on Hwy 5.
There are semi's and large RV's towing cars that go down this road – so it is doable. It took us 4 1/2 hours with a 30 minute stop at CoCo's to make it the 23 miles. We were definitely glad when we reached the end of it!
Local City Roads
Once you get into a city, the roads are still pretty tight. I don't think local drivers mind or even notice how narrow some city roads can be because they use every inch of it.
Many city roads are dirt or gravel with only the bigger cities having paved roads. We were cruising in a 12 passenger van, which is huge, and didn't really have any problems. There are many small local cars, but there are also bigger pickups since there's a decent RV community in Baja as well as the races where big tow vehicles are needed.
Arroyos
Another interesting road in Baja is the Arroyo. This is basically a dried riverbed that has a sand bottom that people use as a road. Many of the Baja races use the arroyos as well. Most well traveled arroyos have firm enough sand that you can safely drive on them even if you don't have four wheel drive. However, always be cautious of this and get out and walk up a few hundred yards to test it with your foot before you drive your car.
Gas
There are plenty Pemex stations throughout Baja to fill your vehicle. If you have a gas engine, they have 2 blends of gas – Verde (green handle), which is similar to Regular in the U.S. and Rojo (red handle), which is similar to Premium.
When you pull up to a pump, most of them are full service, so an attendant will come out and ask what type of  gas you want and how much of it. They will then "zero out the pump", which means it will reset to $0.00 before it starts to fill. Make sure you see this as we've heard of stories where they already have a total running and make you pay for it. It never happened to us and all the attendants seemed trustworthy to me.
Mexico also has diesel, is the black handle, not green like in the U.S. A couple things to keep in mind if you have a diesel engine is that in Baja Norte, you can find ULSD (ultra low sulfur diesel), which newer engines require, however in Baja Sur, you won't be able to find that, they only have LSD (low sulfur diesel). We saw several newer diesel pickup trucks in Baja Sur, so I don't know what they were doing, but this is something to be aware of.
Another thing to note is that Baja does not have DEF (diesel exhaust fluid), which newer diesel engines also require. If your engine needs DEF, you'll have to bring enough for your entire trip.
What You Need To Bring
Along with getting a full service and inspection done on your vehicle before you cross the border, I recommend bringing the following items with you as they may be hard to find for your vehicle in Mexico.
Couple Quarts of Oil for your car
Spare belts
Oil filter
fuel filter
Spare tire or 2 (2 would be best)
Coolant
Emergencies
There is a good chance you may need some help while driving through Baja. Dialing *074 will get you in touch with the Green Angels. These life savers can get you back on the road in a pinch and can fix almost anything.
Yes the roads are sketchy and can be stressful but I don't think that should stop you from coming down to Baja. Just like with everything be aware and keep an eye on the semi's – we were warned that you want to keep an eye on them since they could be driving for a long time without rest (they don't have the same laws in the US that say they have to take a break . . .).
Then know the further south you get the better the roads are. But we were pleasantly surprised as we made our way north how much of the road was newly repaved and how many potholes were filled in.
Pin this post: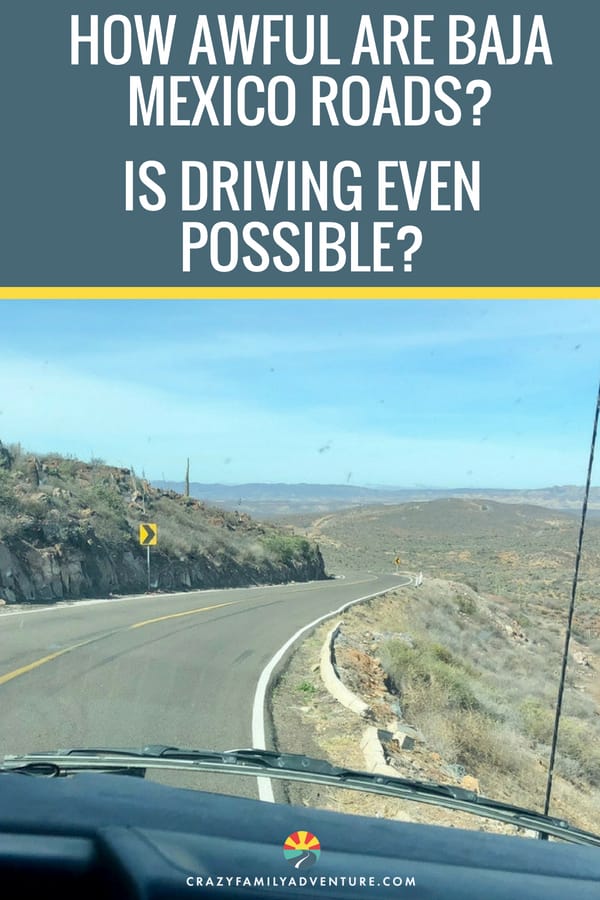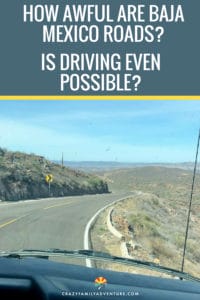 DISCLOSURE: This post may contain affiliate links, meaning I get a commission if you decide to make a purchase through my links, at no cost to you. Please read my disclosure for more info.