We have lived in Guatemala for 4 years and never tire of exploring this fantastic country. From hiking ancient Mayan ruins to wandering vibrant local markets. We love to share our top recommendations on things to do based on our personal experiences in Guatemala.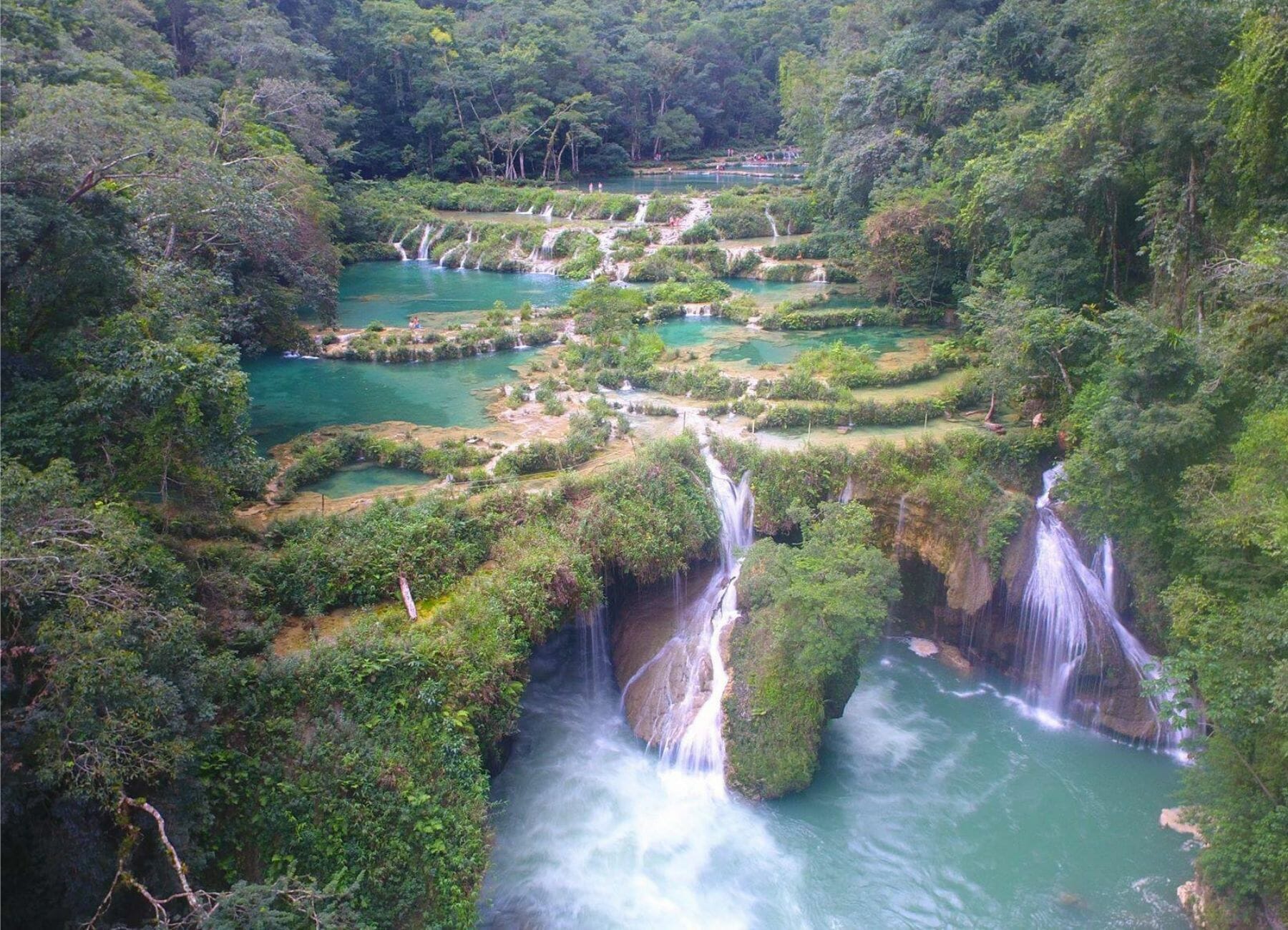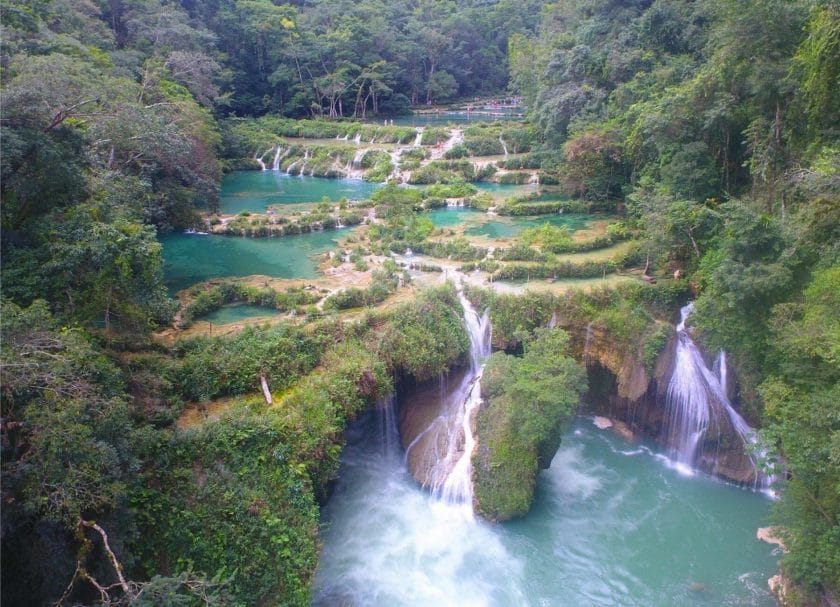 If you are lucky enough to travel to Guatemala, there are many things to see and do. In this guide, we share our recommendations on the top things to do in Guatemala that you and your family will love.
Overview of Guatemala
Guatemala is a small and underdeveloped country in Central America, which gives visitors an authentic experience. Notable attractions include Mayan Ruins, crystal clear natural springs, rainforests, coastal communities, and some of the most beautiful volcanic views in the world.
Guatemala borders Mexico, Belize, Honduras, and El Salvador. The most extensive coastline in Guatemala is the Pacific coast which is known for its unique black volcanic sanded beaches.
Guatemala also has a small, lush Caribbean coastline of about 95 miles near the coastal town called Livingston.
You will love traveling to Guatemala because of the country's diverse landscapes, including hot climates on the coast, mountainous agricultural highlands, rainforests, gorgeous lakes, and charming small villages. Central America is also a great place to travel to on a budget!
Getting Around
You can virtually get around anywhere by car or shuttle. One of the great things about Guatemala is that it is a small country, and you can expect to reach most places within only a few hours. The entire country can basically be driven in under a day.
I also recommend taking a chicken bus at least once for the experience. A chicken bus is a completely transformed, colorful US school bus that is used as a form of public transportation for locals. However, I urge you to be cautious because chicken bus drivers are paid very little and aren't always the safest of drivers.
Another fun experience is taking a lift in a Tuk Tuk. These little three-wheeled locomotive taxis are charming, and the drivers are very friendly. Each town in Guatemala has its own uniquely colored Tuk Tuk. Keep in mind Tuk Tuk's are best taken when not going very far as they do not go very fast.
The best way to travel around Guatemala is to book a tour that provides transportation. Some other options for getting around Guatemala are using Uber, which is very cheap or booking a private car service, which is more expensive.
Exchanging Money
It is always a good idea to exchange a little bit of money immediately upon landing so you have some money on hand since taxis and many businesses require cash. Although the airport doesn't offer as good of an exchange rate as most banks, for that reason, exchange more of your money at the bank. Banks will only exchange dollars that are crisp, new, and that are in excellent condition.
If your debit or credit card doesn't charge international fees it's a great idea to use your credit card whenever possible and withdraw money at ATMs that are located inside banks, which tend to be better protected from fraud.
The Exchange rate varies by small amounts given the date. You can check the current rate of exchange before your trip here.
When To Visit
Guatemala is known as the Land of Eternal Spring for its excellent climate year around. However, there is a dry season from November to May and a rainy season from May until November. The highlands around Antigua stay between 60 and 75 degrees, while the coast is tropical and hot all year.
I recommend visiting Antigua during the dry season if you are looking for all-day outdoor adventures! The rainy season is beautiful if you prefer a more relaxing trip. During the rainy season, you can plan early morning trips when it is nice outside and temperatures stay cooler due to the evening rain.
Top Guatemala Highlights
Tikal Day Tour From Flores With Lunch: Visit the heart of the Mayan world at this awe-inspiring archeological site
Overnight Volcano Acatenango Hiking Adventure: Experience the grandeur of nature up close from the top of a volcano
Kanba Cave & Semuc Champey National Park Tour: Visit Semuc Champey and marvel at this natural wonder
Santa Cruz La Laguna 6-Hour Adventure Tour: See the hidden waterfalls on the secluded shore of Lake Atitlan. This is a hike easy enough for families.
Guatemala Bucket List Activities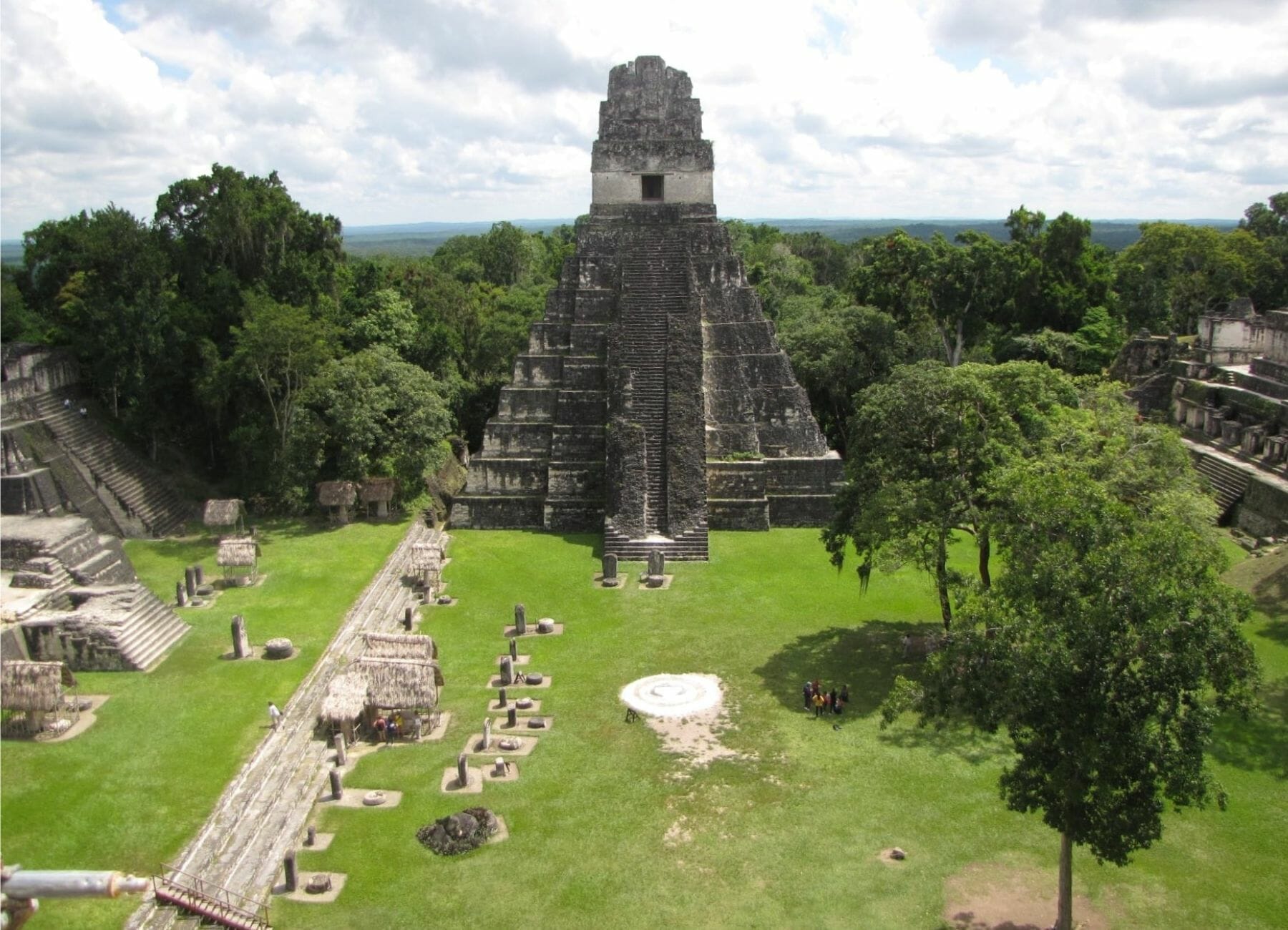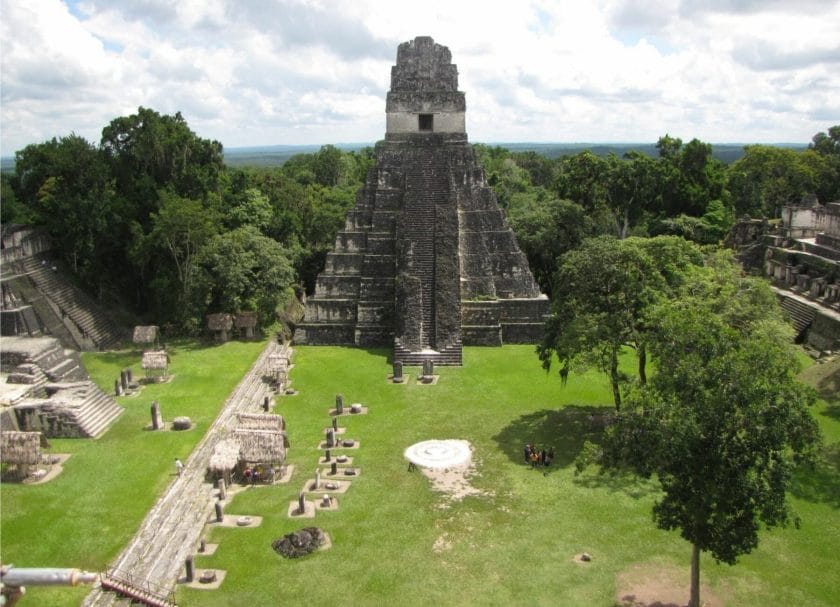 Tikal National Park
Visit Tikal from the town of Flores, the capital of Petén. If you love history, archaeology, and ancient temples, Tikal is an unforgettable experience. Tikal National Park is listed as one of the world's top ten most amazing ruins and archaeological sites and is a UNESCO World Heritage Site.
Hike up the temples and walk the same jungle trails as the ancient society of the Mayans, one of the oldest discovered civilizations in North and Central America. If you look closely, you may even see wildlife such as colorful parrots, toucans, monkeys, crocodiles, and snakes.
Some of the ancient sites, which date back as far as 1000 BC, are accessible, while others are not. On this guided full-day tour, as you explore, you will learn about the history of Guatemala, the Mesoamericans, and all about the Mayan culture. The guides are bilingual and will help you navigate Tikal's extensive ruins and territory.
Some tips for your visit to Tikal are to bring and drink lots of water! It is sweltering and humid in Petén and it is easy to become overheated and dehydrated when not taking the proper precautions. Wear comfortable loose clothing and hiking shoes.
Don't forget sunscreen, and don't forget to reapply your sunscreen after a few hours. Make sure to have cash on hand when visiting Tikal as you may want to buy a cold drink, snack, or trinket from one of the many colorfully dressed vendors. Tikal Archaeological Park is a great family destination, and you'll create lasting memories together.
Tikal Day Tour From Flores With Lunch Spend the day at Tikal National Park with lunch provided.
Cráter Azul, Petén
When visiting Tikal you may want to visit Cráter Azul, in Petén. It is about a 40 minutes drive, and it is best to book a local guide in Las Cruces because the guide will know the best times to visit and if you can expect clear water conditions and it is only reachable by boat.
It is a small natural water source, and the blue Cráter lake is worth the trip when the water is clear. You can snorkel around the shallow depths and see an entire underwater garden within the turquoise pools. This is an excellent location for underwater pictures and for families.
Volcano Acatenango
If you love a good trekking adventure, this overnight guided tour of Volcano Acatenango is for you! This unforgettable tour is near the ancient city of Antigua, Guatemala. This tour is broken up over two days, and you'll sleep under the stars at the base of the volcano.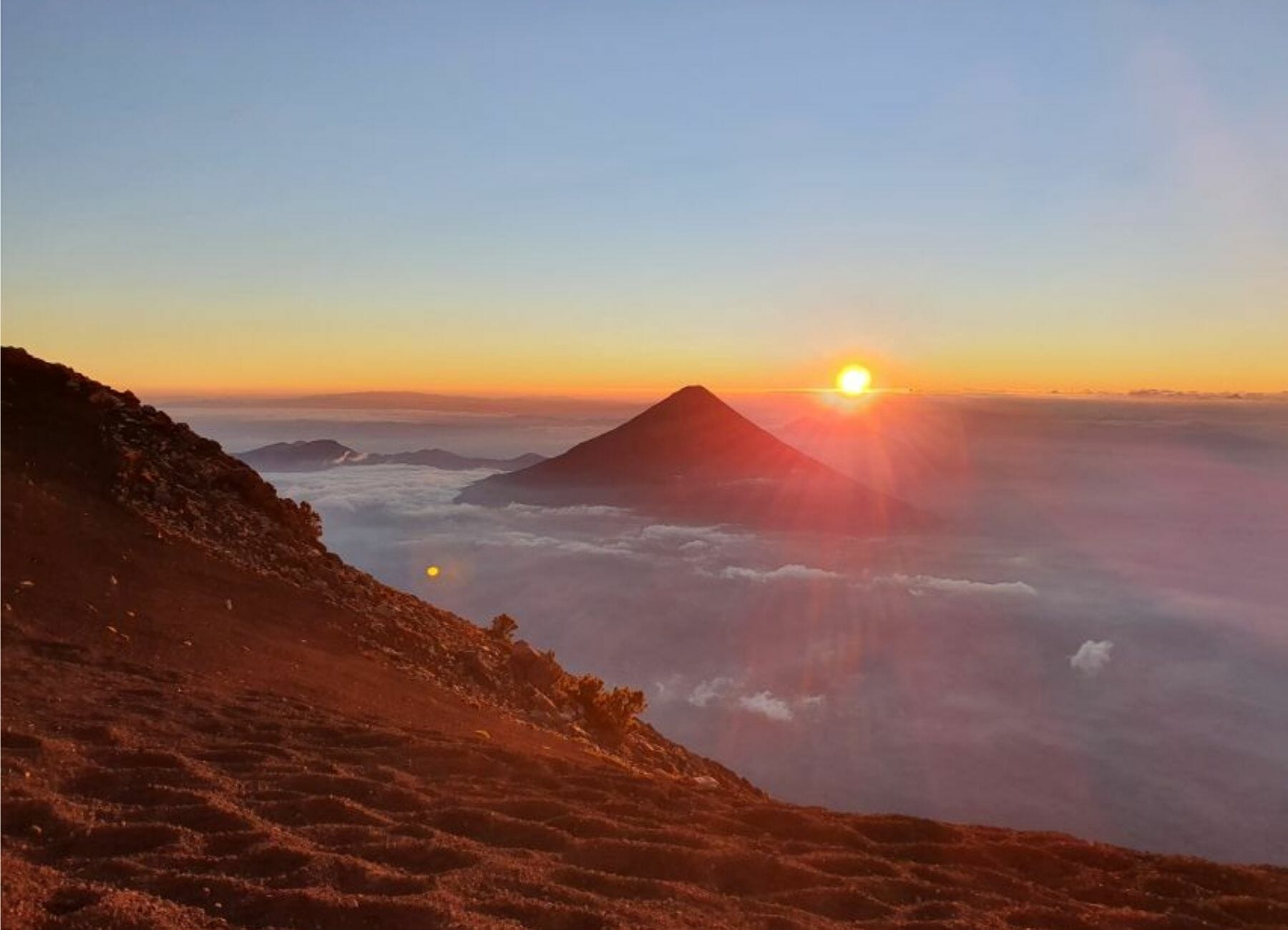 Climbing Acatenango gives you the best views of the most active volcano in Central America, Volcano Fuego. Acatenango is an active volcano but hasn't erupted since 1972; however, Fuego erupts sprays of lava every 15 minutes or so and to witness Fuego erupting from the top of Acatenango amongst the clouds is one thing you'll never forget.
You'll get to observe a fantastic sunset and sunrise with a backdrop of volcanos! Experience hiking on black volcanic rocks along a river of lava. You can expect to enjoy some of the most fantastic views you will ever see.
All of the essentials for your overnight trip are provided to you by the tour company. The tour guides are bilingual and are passionate about the outdoors and Guatemala. You will want to make sure to bring sunscreen and water. Your tour will provide transportation, meals, a sleeping bag, and a tent.
Semuc Champey National Park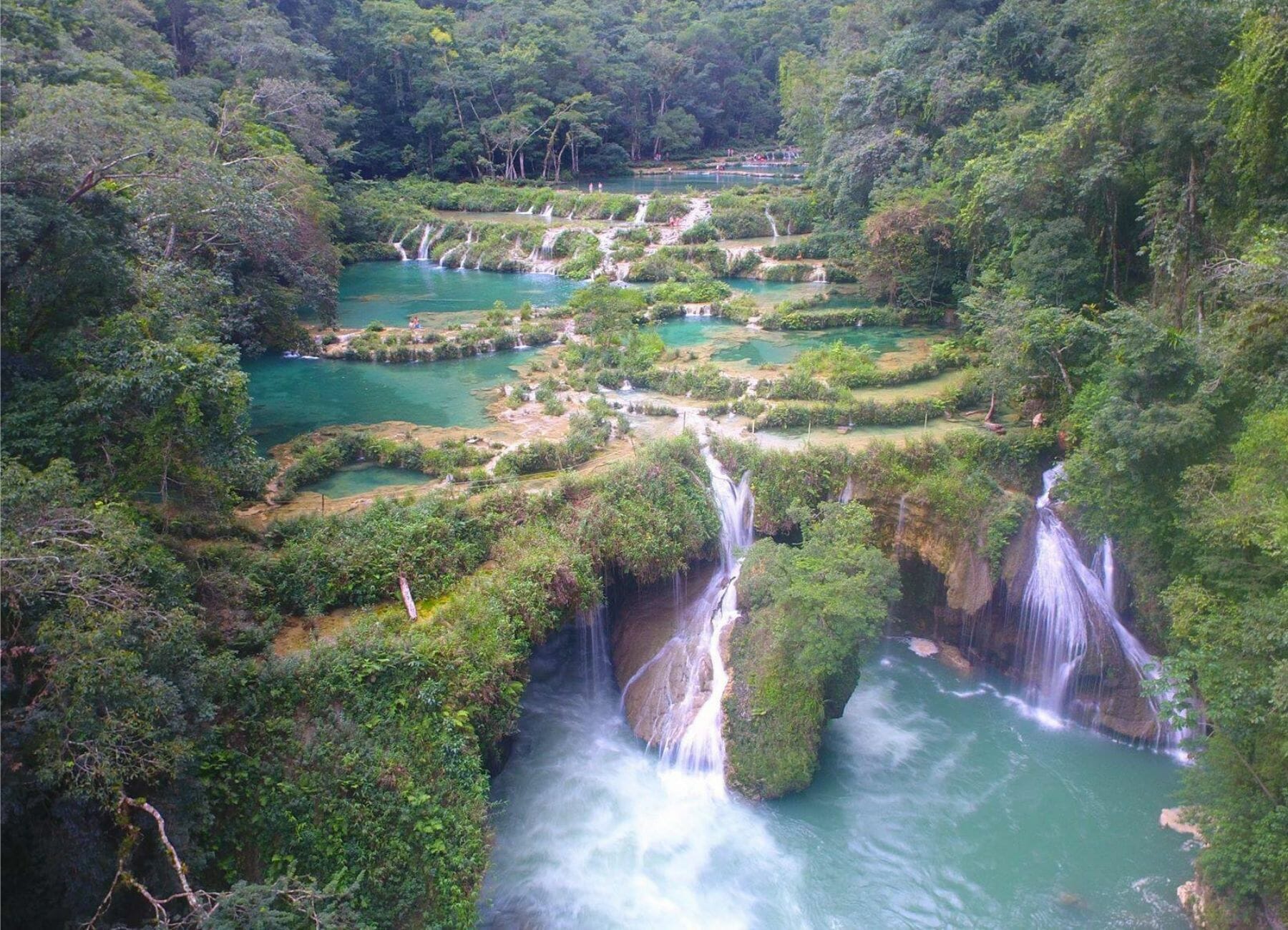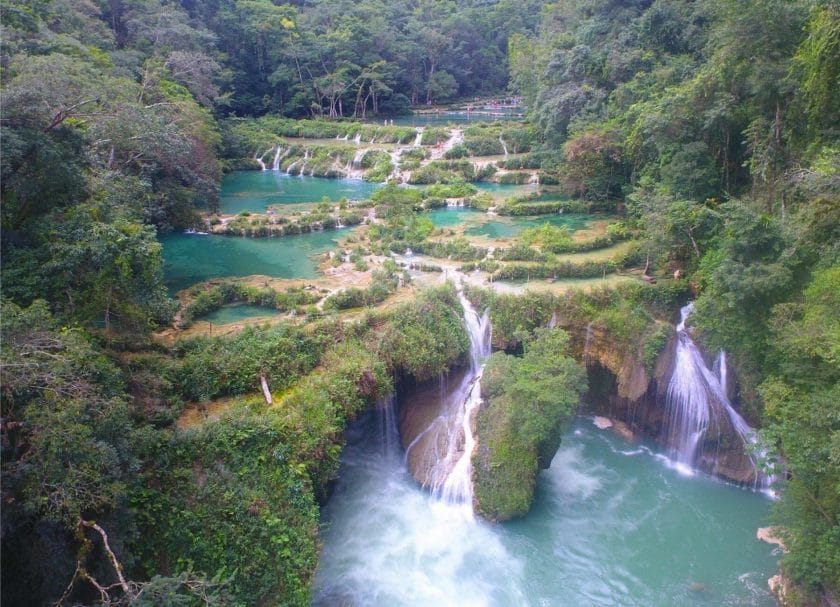 Semuc Champey is a natural monument in the department of Alta Verapaz, Guatemala, near the town of Lanquín. If you love crystal clear waters with jungle views, this Semuc Champey tour is something you do not want to miss. Semuc Champey National Park is a treasure amongst visitors. If you are asking yourself is Semuc Champey worth it our answer is yes!
These turquoise falls, which are perfect for swimming, are about a 15 to 20 minutes walk from the park's entrance. The natural pools are absolutely stunning, and this tour is memorable. With this tour, you will also get to explore the underground river caves by candlelight and go on a tubing excursion down the Kahabon River! Tour Semuc Champey National Park and Kanba Cave
I love water & swimming, so this was my favorite tour to experience in Guatemala. The climate was hot and humid, and the water refreshing and cold. You can see small colorful fish in the pools; if you are lucky, you can see small monkeys, colorful birds, and other wildlife.
I do recommend having cash, as credit cards are not widely accepted outside of cities. Lanquín is a very small village and Semuc Champey is about a 30 minutes drive from Lanquín which requires a 4×4. The tour will take care of transportation. Don't forget to bring and wear sunscreen.
Lake Atitlan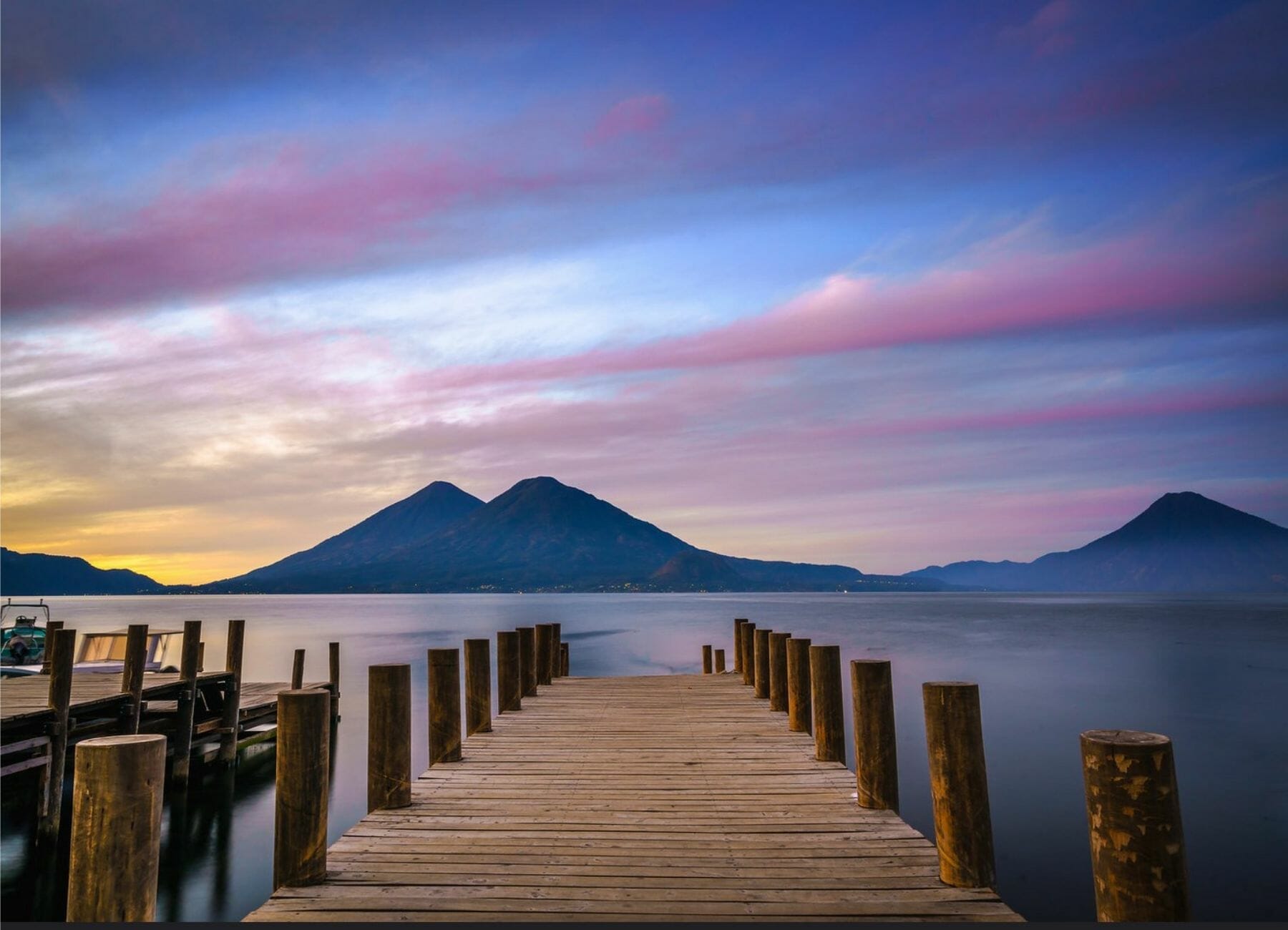 Lake Atitlán is one of the world's most beautiful lakes in Guatemala's highlands and is surrounded by small, unique villages including Panajachel, Santa Catarina Palopo, and San Pedro la Laguna. The lake is nestled between three enormous volcanoes, which gives onlookers impressive views.
On this fantastic boat tour adventure, you will kayak in Lake Atitlan and hike ancient Mayan trailways on a 6-hour guided tour from Santa Cruz La Laguna. Santa Cruz La Laguna is a village on the north shore of Lago de Atitlán in the Sololá, Guatemala.
Explore the jungle highlands of Guatemala while enjoying the local coffee culture, massive agricultural fields, and panoramic volcanic views. You will be able to see indigenous plant life and jump into crystal clear waters from cliff tops around San Marcos.
An important thing to remember is that you will need to bring a snack and water. Lake Atitlán is in the highlands, and at a higher elevation, so the weather tends to be colder. Bring a sweater in case you get cold and sunscreen as you will be hiking and in the sun. Also, don't forget to bring cash. Most of the time, people in small villages will not accept credit cards.
Other Things To Do In Guatemala
Three main regions are the most frequented in Guatemala. You'll find most of these activities are in or near Lake Atitlán and the surrounding villages like San Juan, inside or near Antigua, or on the Pacific Coast.
Lake Atitlán is about 3 hours from Antigua, and Antigua is only a few hours from the Pacific coast, including El Paredon and Montirecco. The Caribean Coast and Petén are the furthest away from Guatemala City.
Hike Pacaya Volcano
If the overnight Acatenango adventure hike seems too challenging, no problem. You can book the Pacaya Volcano Hike instead, which is a full-day and much less extensive trip. This volcano hike is great for families and teens. You'll be able to see lava rivers and roast marshmallows over the lava.
This is a great day trip from Antigua and you can expect it to last anywhere from 4 to 6 hours. You will trek through pine forests and hang out on the volcano's summit. Enjoy epic views and see the activity of the volcano up close.
Cooking Class In Antigua
It is a common misconception that Guatemalan cuisine is similar to Mexican food when in reality, it is entirely different. Guatemalan food is more influenced by the ancient Mayans, with Caribbean and Spanish influences. Learn how to cook the traditional food of Guatemala with a local.
Prepare a local dish as a group. This foodie cooking workshop is held in the ancient city of Antigua and is fun for the entire family. You can even book this fabulous foodie tour from Guatemala City, and they will provide transportation to Antigua. You will learn about the unique flavors and local ingredients used in Guatemala cuisine.
Hobbitenango
Experience life in middle earth by visiting these hobbit-style houses. Disconnect from modern life and spend time enjoying nature. Be sure to pack your camera to take in the majestic views. Located just 20 minutes by car from Antigua.
Hike to Cerro de la Cruz
This scenic overlook offers some of the best views of Antigua. The hike to this amazing view is moderately challenging. If you are not feeling like a hike be sure to take a tuk-tuk to this breathtaking view.
Sip n Cycle Fun Bicycle Coffee Tour!
Book this guided tour to enjoy a nice guided bike ride from the center of colonial Antigua to Jocotenago, where you will ride through a coffee plantation and learn about the excavation of coffee from plant to bean to cup.
This tour includes the history of Antigua and a look through the Mayan textile museum in Azotea Coffee Farm. You also get to taste and sample Guatemalan locally harvested coffee. Bring sunscreen, and remember that it is always nice to tip your guide!
Santa Teresita Hot Springs
You can book a day tour to Santa Teresita Hot Springs and a Walking Tour of Antigua if that better suits your needs here or you can go on your own and just book transportation.
The Santa Teresita Spa is in a town and is more of a facility than a natural hot spring. Think resort and spa. This is located in Amatitlan, Guatemala, not to be confused with Lake Atitlán, which is entirely different. Amatitlan is a city that is more inland.
You can check out Santa Teresita on their website. You can book your lodging here, and it is an excellent stay for families. They have water slides, an on-site spa, and a restaurant. This resort is filled with family fun and relaxing spa services.
Surf in El Paredon
Try surf lessons at this small beach town on the Pacific coast. This is a great beach for beach bums and relaxers. Many hostels allow day pass swimming but are only 18+ and up. There are some family-friendly places to swim and hang out, but they tend to be more expensive than the low-key adult hostels available in this area.
If you are over 18, book a hostel stay on the beach and enjoy a cold beer and a beach sunset at places like The Driftwood Surfhouse or Mellow Hostel. If you have little kids and teens, it will be better to book on Airbnb, which has some great options too!

You can enjoy boogie boarding, surfing, volleyball, and more on the beaches of El Paredon. If you venture further into the town to the dirt parking lot, past all the hostels to the boat docks, you can even take a boat tour to a quiet ocean riverway to watch sea turtles come up for air around the boat.

These unofficial tours aren't booked in advance, and you just ask the guys at the boats, which are called lanchas. For a fee, the boat taxis will be happy to take you to where the turtles can be seen. Keep in mind the turtles just come up for a second, and the water can be a bit murky, so the visibility isn't always great however, I enjoyed the scenery and watching the turtles poke their heads out of the water.
Swim at Monterrico
An excellent day trip from Antigua is to hit the road and drive to Monterrico or book a shuttle from Antigua. The beaches are similar to those of El Paredon, but the accommodations are more child and family-friendly.
You can swim on the black-sanded beaches but be careful. The Pacific Coast of Guatemala is known for its choppy waters. If you don't feel like the ocean is safe to swim in, you can admire the waves from any number of pools along the beach, including Hotel Cafe Del Sol or Los Cabos Monterrico.
Visit Chichicastenango Market Near Lake Atitlán
You can visit the Chichicastenango market on your own or with a guide. The small village of Chichicastenango is in the highlands surrounding Lago de Atitlán. This famous market is vibrant with traditional dress wear and handcrafted goods.
Local merchants sell goods on Thursdays and Sundays, everything from colorful textiles and pottery to locally harvested fruits and vegetables plus handpicked flowers. At the Chichicastenango Market, you can immerse yourself in Guatemalan culture with this day tour.
Sunrise Hike to Indian Nose in San Pedro Near Lake Atitlán
Indian Nose is a famous mountain on the shores of Lago de Atitlán. On this sunrise hiking tour of Indian Nose, you'll get to watch the sunrise over the lake. The views at this overlook are extraordinary plus you will get the opportunity to see some remote mountain villages.
Please bring your sweater or coat for this hike and comfortable hiking boots because of the elevation. The climate can be cold around the lake. You'll, of course, want to bring your camera to capture the sunrise over the volcanoes and the serenity of the lake.
Pumpatin Canyon Hidden Waterfalls Hike Near Lake Atitlán
Hike hidden waterfalls into a secret paradise with a guide. This is an easy hike that is great for families. You and your family will meet Kachekil Mayan villagers and walk through two different sensitive ecosystems. This nature stroll is fun and lasts about 3 to 4 hours, with lots of places to stop and hang out.
Panajachel Day Hike to Cerro de Oro Near Lake Atitlán
Hike the Hill of Lost Mayan Gold to an ancient altar used by Mayan Shamen. On this day hike, you will enjoy lunch at a private villa on the banks of the lake and learn about fire ceremonies and the history of the lost gold. Plus, you can participate in fun activities at the villa, including pool tables and a sauna.
Where to Eat in Lake Atitlán
Cafe Sabor Cruceno
This eatery is in Santa Cruz La Laguna. A great place to dine for breakfast, lunch, or dinner. You can order anything from traditional Guatemalan cuisine to burgers and pizza. They have a great balcony overlooking the lake.
Where to Stay at Lake Atitlan
The Laguna Lodge Eco Resort and Nature Preserve
This luxurious nature resort is worth the money! This resort is on the edge of the lake and posted on the mountainside. The hotel is accessible by boat and within amazing green landscapes.
The stunning views alone are worth the stay, but they also have amazing perks, including water activities right at the hotel and an on-site spa and restaurant. Relax in the infinity pool overlooking the lake with a volcano backdrop, or go on a nature walk around the hotel!
Fuentes Georginas Hot Springs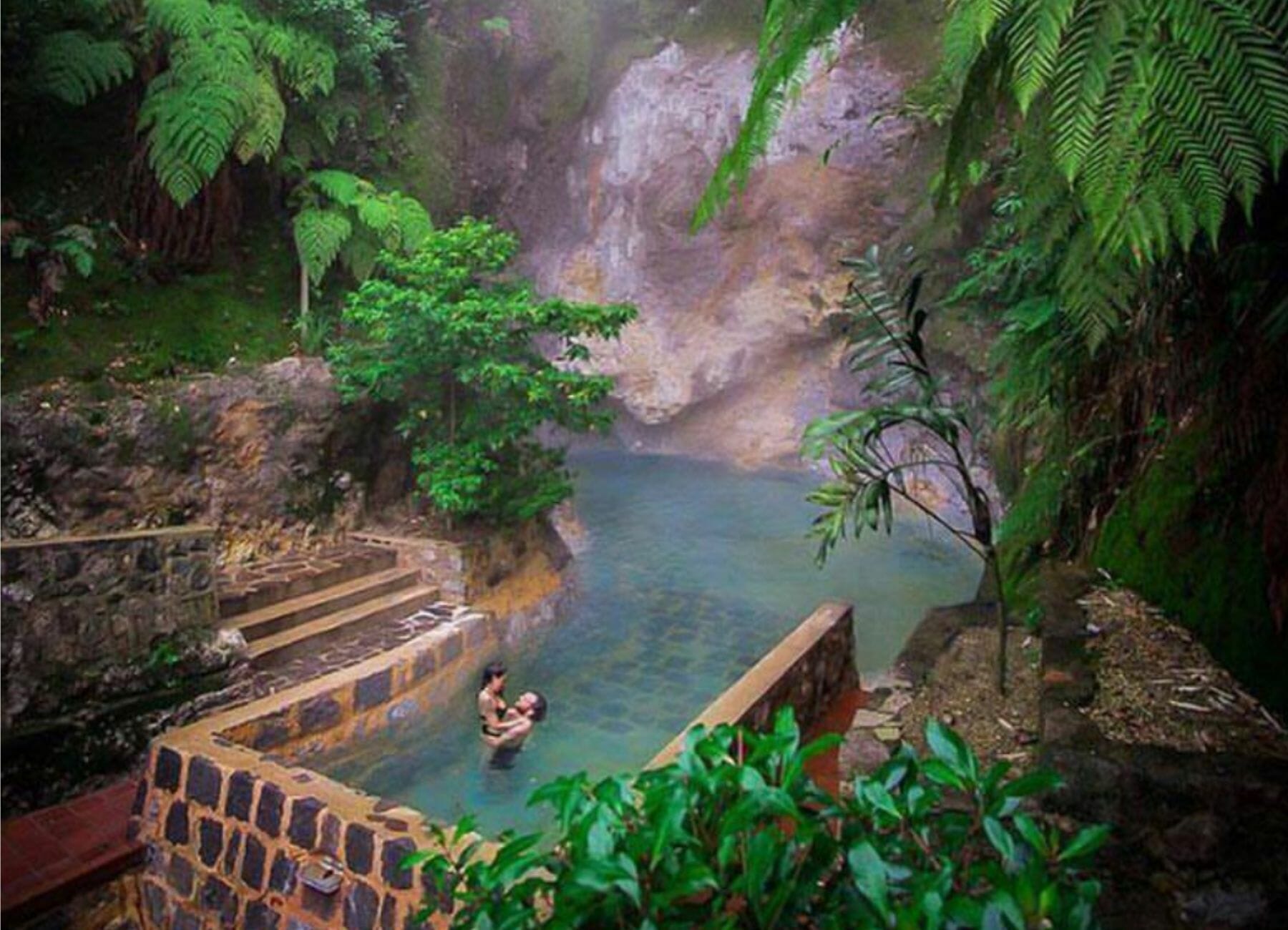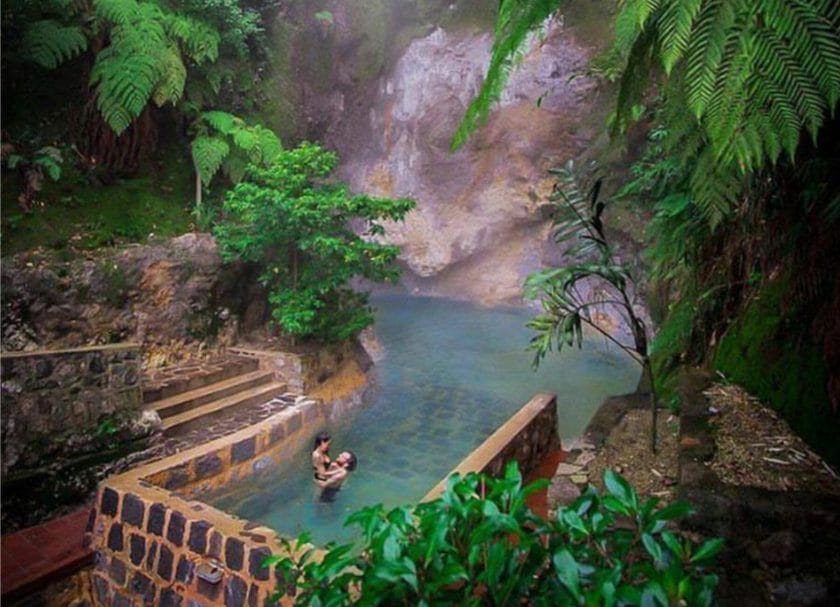 The natural hot springs of Fuentes Georginas are located in Zunil, Guatemala, near the popular city of Quetzaltenango. Quetzaltenango is also known as Xela by the locals. The hot springs are heated by the Zunil Volcano and are high up on a mountain road. The sulfur pools are man-made but are surrounded by jungle.

These hot springs are stunning. They are perched on the side of the volcano, and I loved cozying up to the side of the natural rock to get close to the hot water that comes directly out of the volcanic rock.
However, keep in mind that the hot springs are at an elevation of 8000 feet, and I did feel the impact of the elevation when I visited. If you are sensitive to elevation, you may want to skip this adventure, but if not, definitely go! The climate was very cool, so the springs were perfect.
Towns To Visit
Rio Dulce & Livingston on The Caribbean Coast
Rio Dulce and Livingston are small villages in the department of Izabal on Guatemala's Caribbean Coast near Belize. This more exotic region of Guatemala is definitely the road less traveled. It is wild and under-appreciated by most tourists.
The vibe in Livingston is West African and Caribbean, utterly different from the highlands and the Pacific coast. The highlight of this trip is the boat ride from Livingston to Rio Dulce on the Rio Dulce River.
Reaching these Caribbean Coastal towns from Guatemala City is a little more complicated because it is farther away. The drive is 10 to 13 hours one way. If you want to visit this region, it is much closer to The Puerto Barrios Airport. The Puerto Barrios Airport is about 5 hours from Tikal and 6 hours from Livingston.
Remember, this region is not developed, and you won't find resorts here, but hotels and hostels are available for overnight stays. You will need to bring cash as credit cards are not accepted, and don't forget sunscreen as this area is hot and humid.
You can hang out on the beach Playa Blanca, but you will have to take a boat to reach this beach destination it is privately owned so expect to pay a small fee to access the beach. The beach on Guatemala's Caribbean coast is white-sanded and fun for swimming, tanning, or lounging.
Antigua Guatemala
Antigua is a must-visit before leaving Guatemala, and it used to be the capital city before earthquakes, and volcanic eruptions in the 1700s influenced the government at the time to move the capital city to where Guatemala City sits today. This historic city has a long and fascinating history of Spanish colonialism and agriculture. This area is home to numerous Spanish schools to help you immerse in a new language.
This picturesque city and its cobblestone streets rest in the highlands and are about an hour to an hour and a half drive from Guatemala City. Antigua is a tourist destination and is known for its Spanish-influenced ancient architecture and colonial buildings. A great way to experience all that Antigua offers is to book a walking tour of this ancient city.
Antigua Walking Tour
You can book a half-day walking tour and learn about the history of the city and see architectural sites such as ancient cathedrals, museums, and ruins. You can book this tour from Guatemala City or Antigua. Be sure to bring water, a snack, and cash if you want to purchase a memento from a walking vendor.
Breakfast & Lunch Spots In Antigua
Fat Cat Coffee House
This small local cafe has some of the best coffee in Antigua; trust me, I know from experience. While their seating area is small, they make up for it with friendliness, coziness, great coffee, wifi, and good food.
Rooftop Antigua
This cafe serves breakfast, lunch, and dinner and is right in the middle of town. True to their name, they have a beautiful rooftop terrace so you can enjoy your lunch or dinner with a view. They serve wine, coffee, and smoothies, but they do close at 7 pm. Also, their little loaf of carrot cake is so delicious and definitely note-worthy!
Dinner in Antigua
Angie Angie CafeArte
This is a gorgeous place with outdoor seating around a firepit. Angie Angie CafeArte is located in Antigua near downtown. They often have live music, and the menu is delicious. It is one of my favorite places to eat in Antigua in the evening.

They serve Mediterranean food and cuisine from Argentina. You can order specialty pasta, wood-fired pizza, or my personal favorite, which is the Antipasto Platter for two. Even though they are low-key, they sometimes require a wait on the weekends.
Where To Stay In Antigua
Hotels
Adra Hostel

This higher-end hostel has comfortable shared dorms or private rooms. They have a warm and colorful vibe with an on-site cafe and restaurant. The outdoor lounge area is strewn with plants, and they are located in town.
Naif Boutique Hotel and Gallery

This charming Boutique hotel has the typical colonial atmosphere and gorgeous views from the top deck. They have a variety of rooms to accommodate any family and an on-site restaurant. Go ahead and surround yourself with beautiful greenery and flowers at this cozy vacation spot.
Hotel Soleil La Antigua

This hotel and spa serve a hot buffet breakfast in the morning. They have a fun slide in the pool for kids and a relaxing outdoor lounge area for adults. With play areas and green space, this hotel is beautiful. Book a cozy room and a spa treatment for your stay in Antigua.
Make your trip to Guatemala one to remember!
For More Amazing Bucket List Destinations Check out:
20+ Best Things to Do in Antigua Guatemala
53+ Amazing Things to Do in Baja, California
9 Crazy Cool Things to Do In Winnipeg, Manitoba, Canada
21 Breathtaking Things to Do In Banff National Park
Yellowstone Packing List: 17 Things You Will Want to Bring
Pin For Later: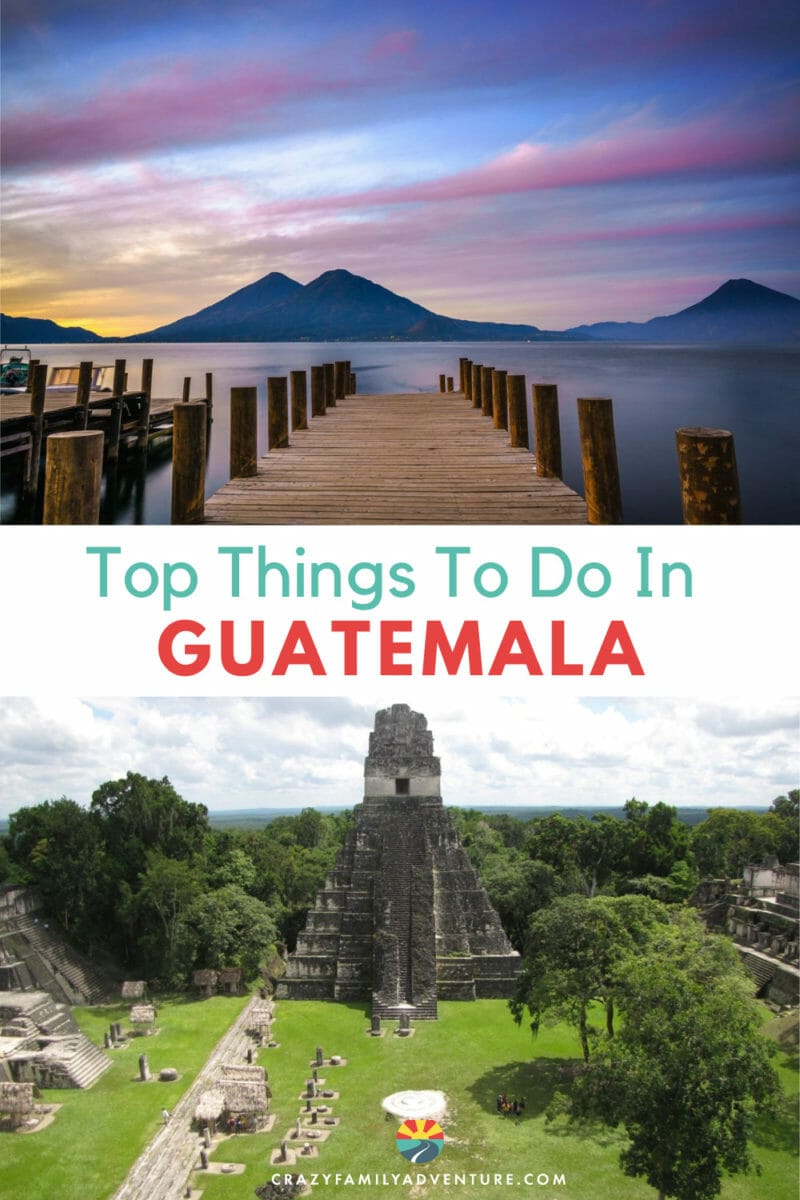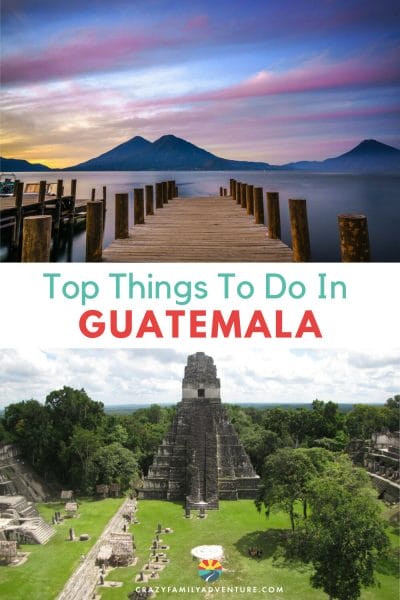 Latest posts by Amber Goeringer
(see all)
DISCLOSURE: This post may contain affiliate links, meaning I get a commission if you decide to make a purchase through my links, at no cost to you. Please read my disclosure for more info.