Winnipeg is such a great family weekend destination! They have polar bears which are amazing to see and learn about, the Lower Fort Garry living history museum, children's museum and more! Below we list our recommendations on things to do in Winnipeg: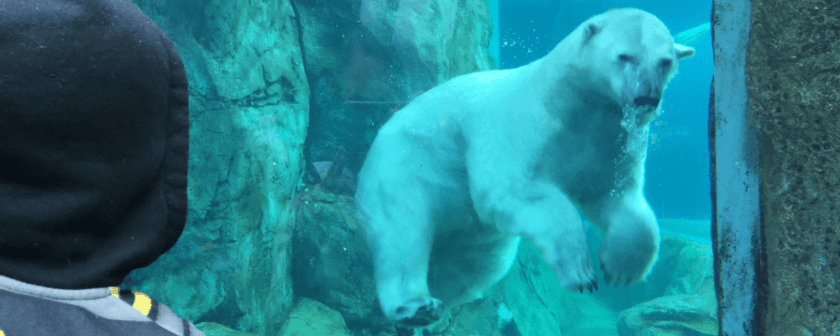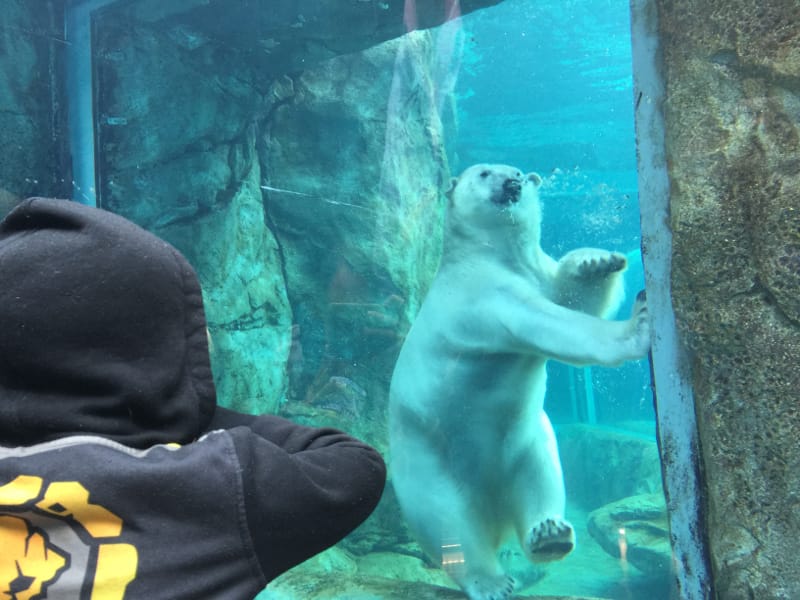 Polar Bears!! We were really looking forward to visiting the Assinboine Park Zoo so we could see the Polar Bears. And were not disappointed. When we got to the zoo and beelined to the Journey to Churchill exhibit and went straight for the polar bear exhibit (can you tell we were excited)!
We walked in and were told to get to the tunnel since a bear was playing in there. When we walked around the corner there she was, this beautiful magnificent polar bear playing in the water right above our head. We stood there and stared in awe as she played all around us.
Polar Bear Tunnel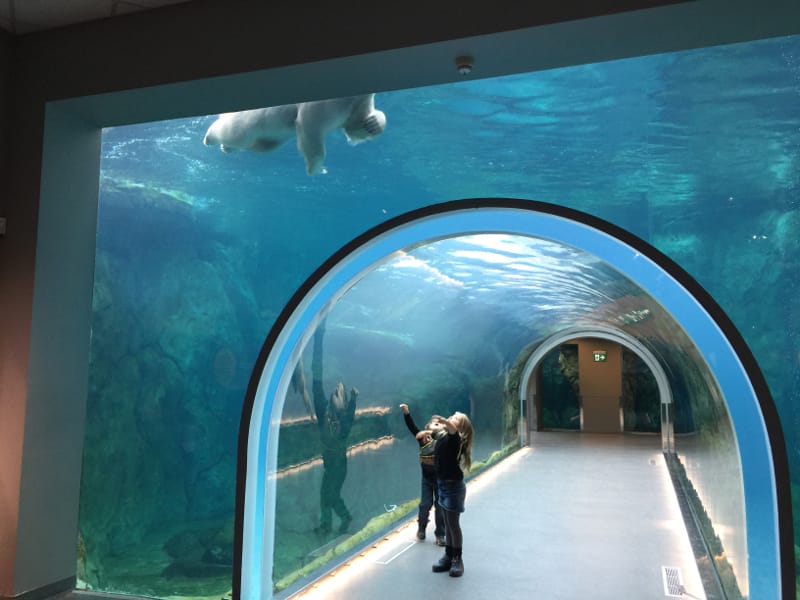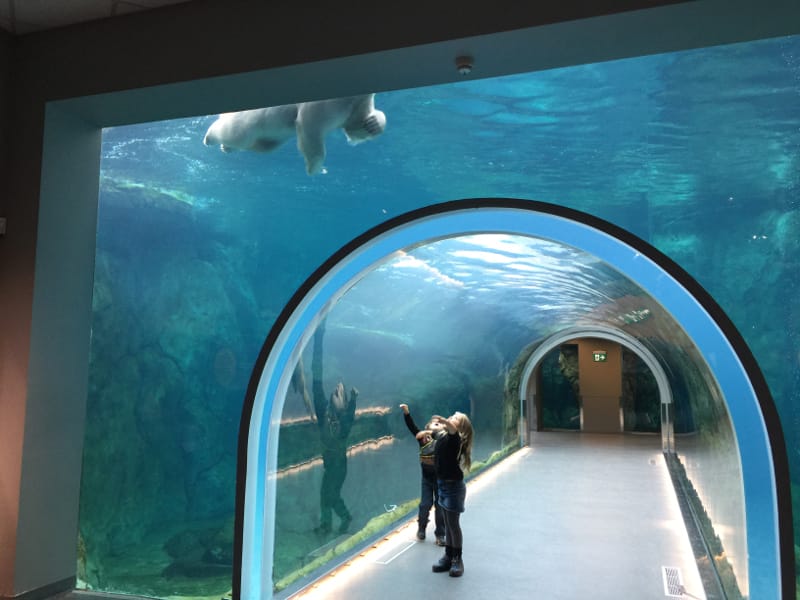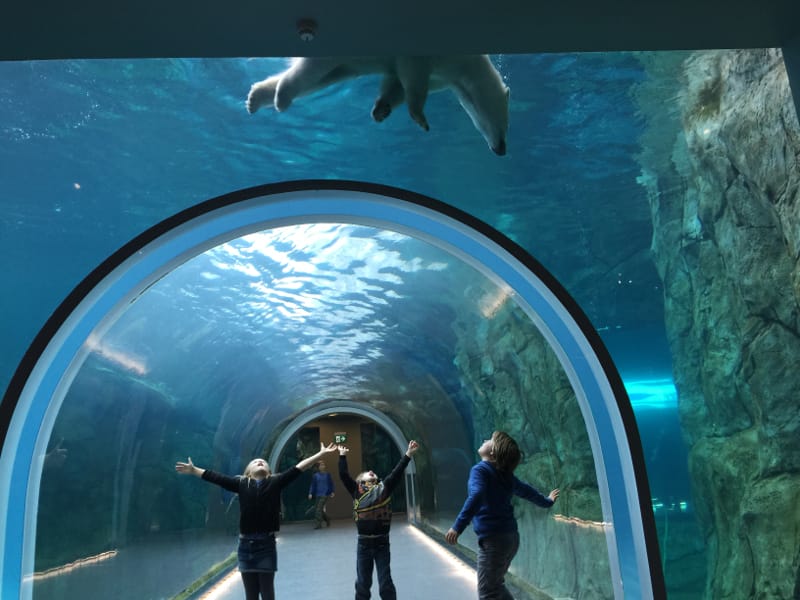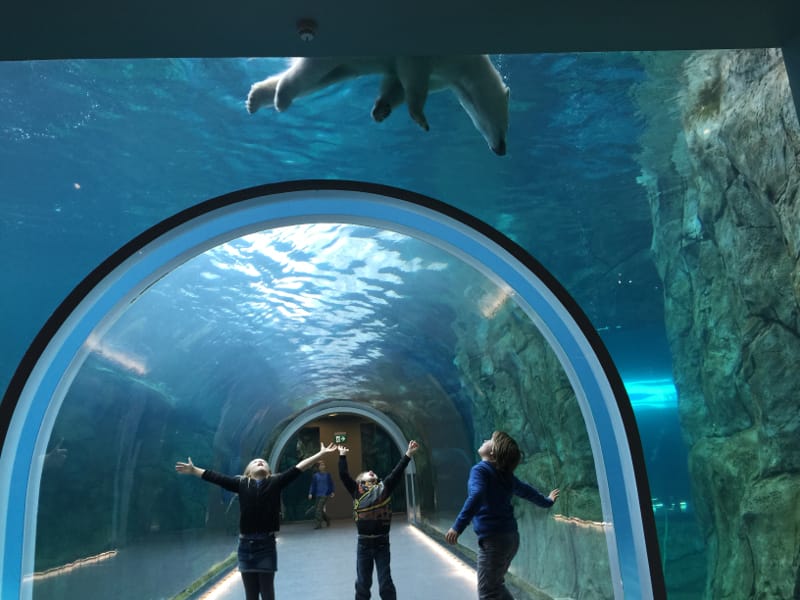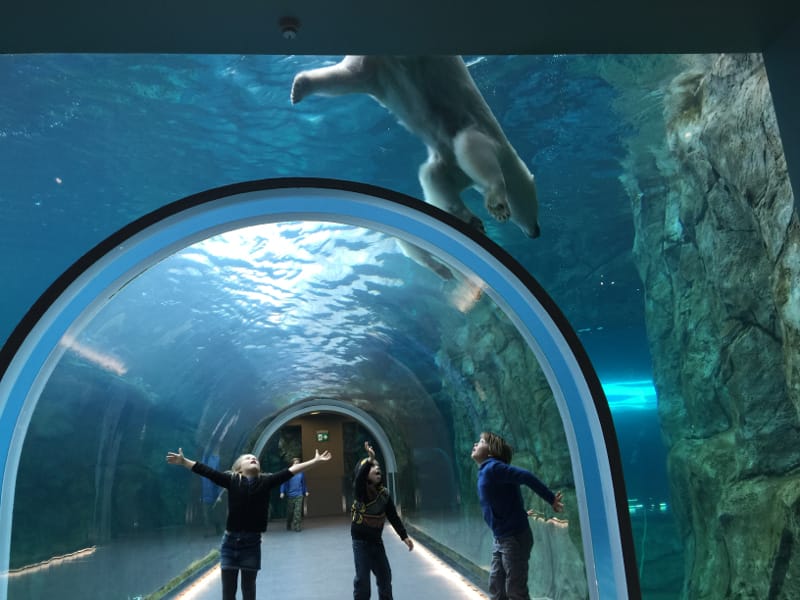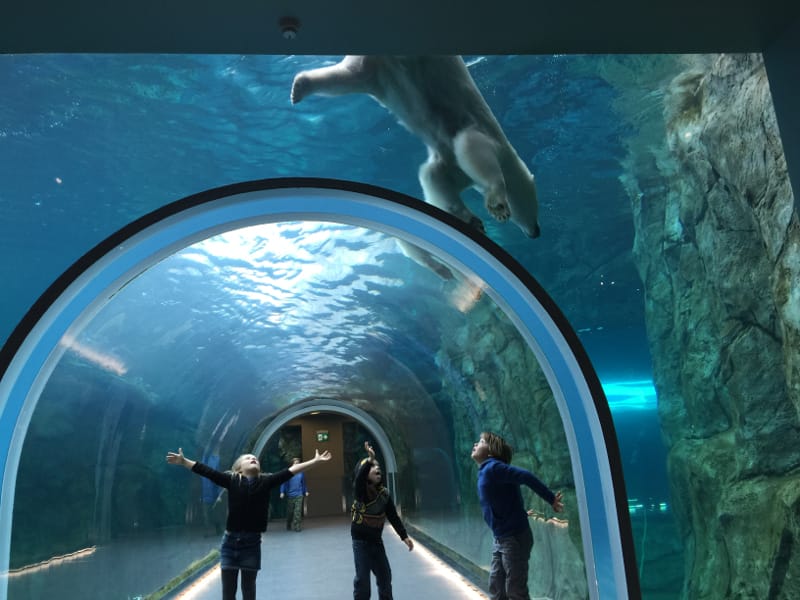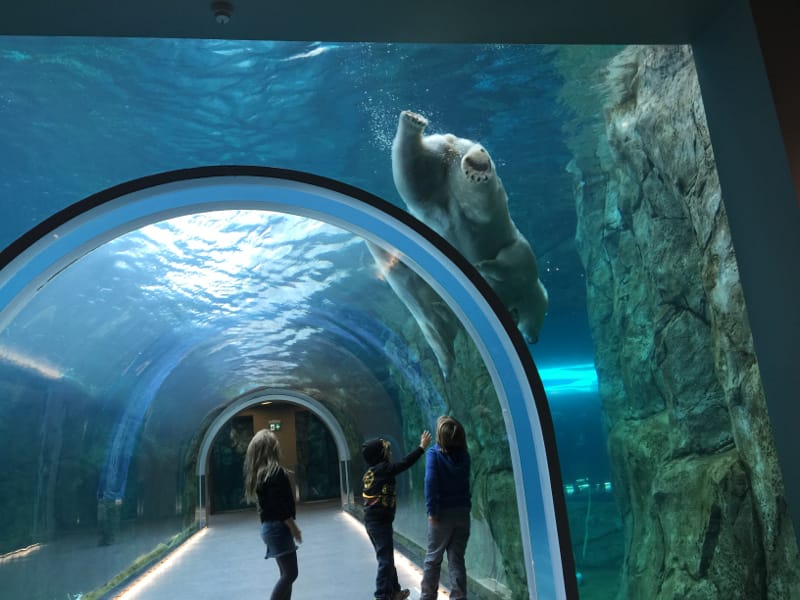 It was really amazing to be able to watch her swim around and then all of a sudden she dropped her toy and went towards the glass wall – which is where they keep the seals. She had seen one and went after it. That led us over to check out the seals and they were super entertaining too.
From there we went to the outdoor Polar Bear exhibit so that we could hear the ranger talk about them and there were 6 polar bears hanging out. It was great talking with the ranger and learning more about the Polar Bears and the zoo.
The zoo is a rescue location for polar bears that are deemed in danger in the wild by the Manitoba Conservation group. Their bylaws state they can only take in bears that are under 1 year old. Polar bears that are that age and have lost their mother will not survive on their own in the wild.
The zoo brings them into their transition program and prepares the bear for life at the zoo. Once brought in they will never go back to the wild – since in order to be at the zoo they need to be comfortable with humans feeding them. Bears in the wild who relate food with humans would not be a good thing.
We also really enjoyed seeing so many animals that call Canada their home. There were quite a few we had never seen before so it was cool to see so many new and different animals. They also had a dinosaur display setup where the dinosaurs actually moved and made noise. We all LOVED walking through here and checking out all the dinosaurs and learning about them.
This is one of our top attractions in Winnipeg!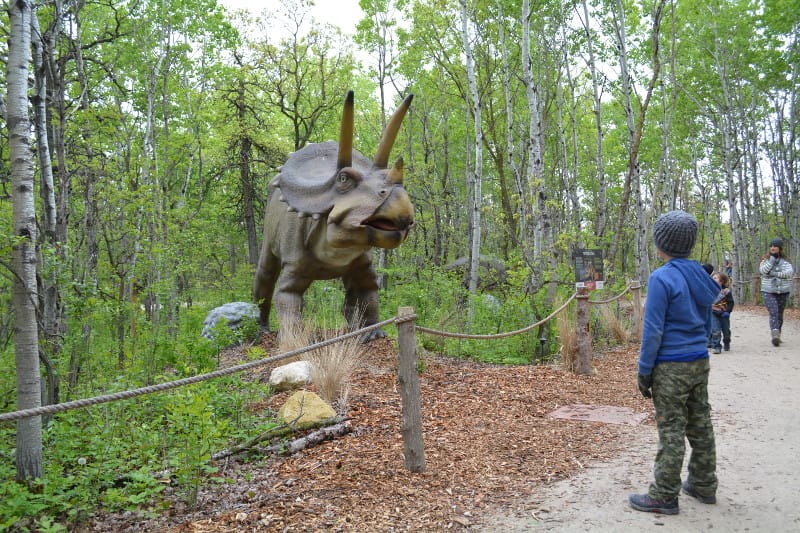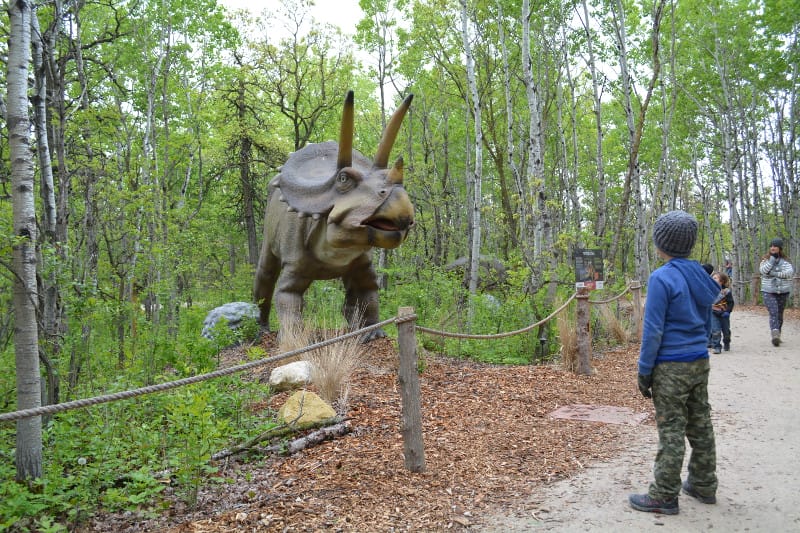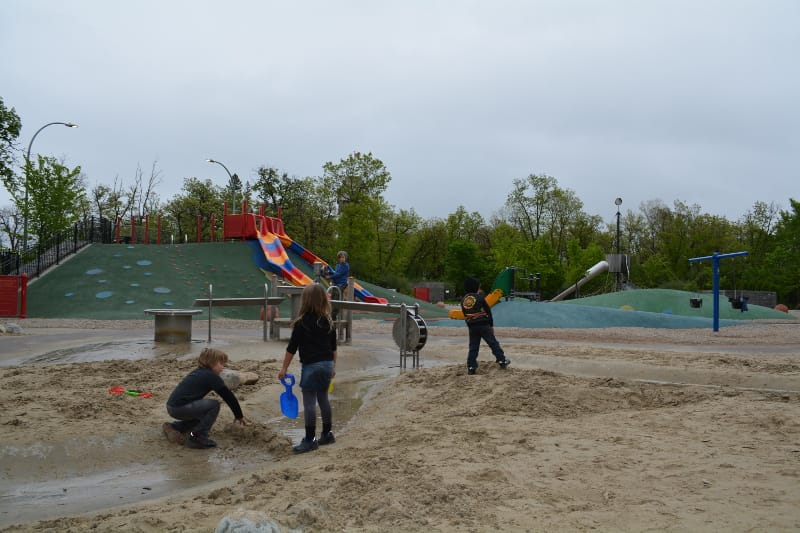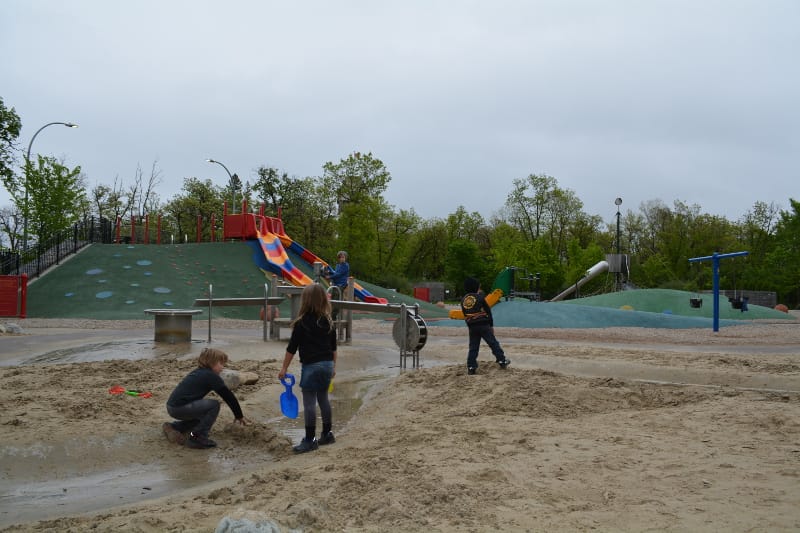 After the zoo we headed to the park. The weather was a little cold and rainy, but we still had fun playing! They had an area filled with big sticks and logs for the kids to play with plus an outside water table and sand area. The rest of the park looked beautiful and with nicer weather, I could see staying here for hours!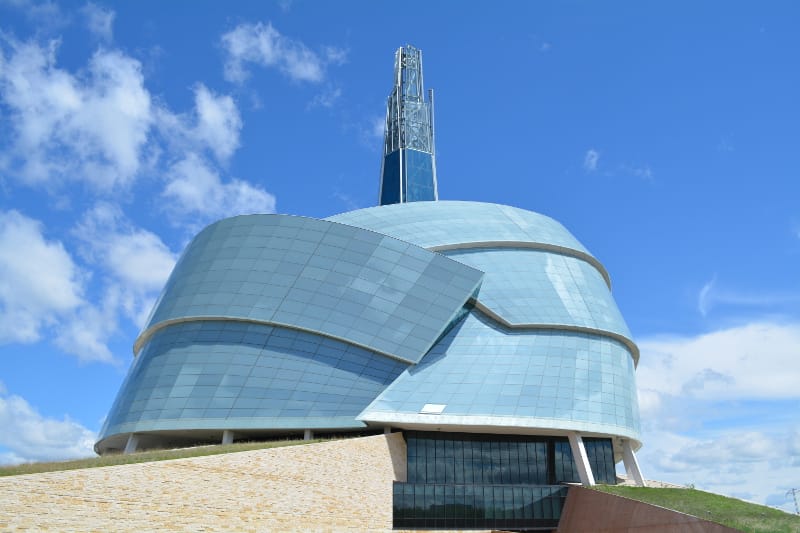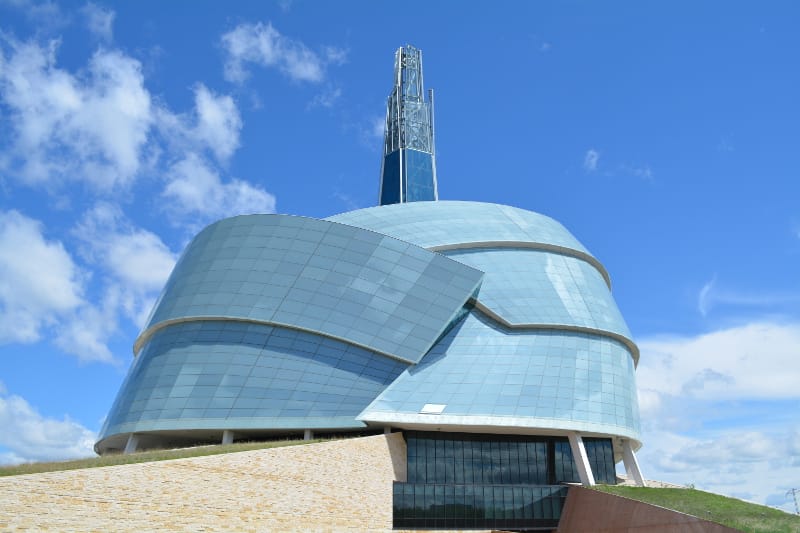 The message is an important one and this museum did not disappoint! The building itself is beautiful with each part of the structure having a specific meaning – roots, clouds, mountains. It was very well thought out and meaningful design.
Inside there are multiple floors. Each with a different message related to Human Rights, not just in Canada, but around the world. There was a lot of hands-on activities which was great for the kids.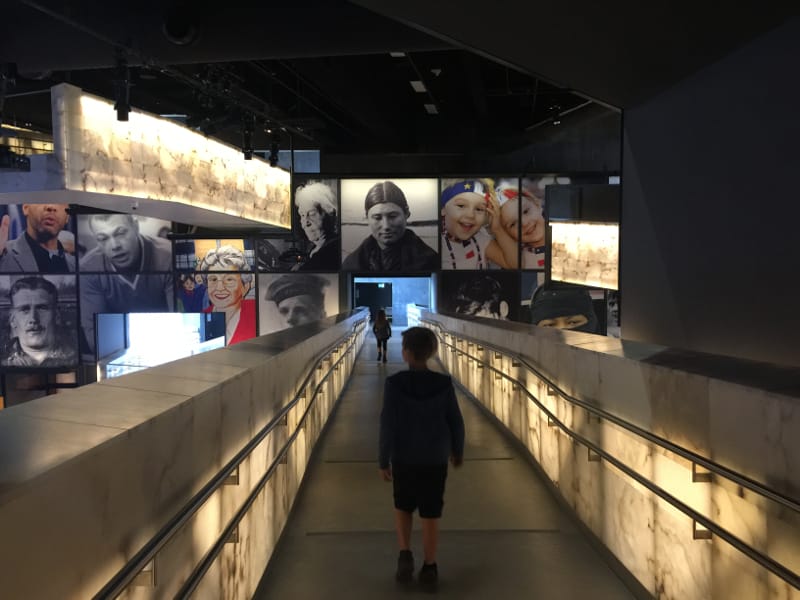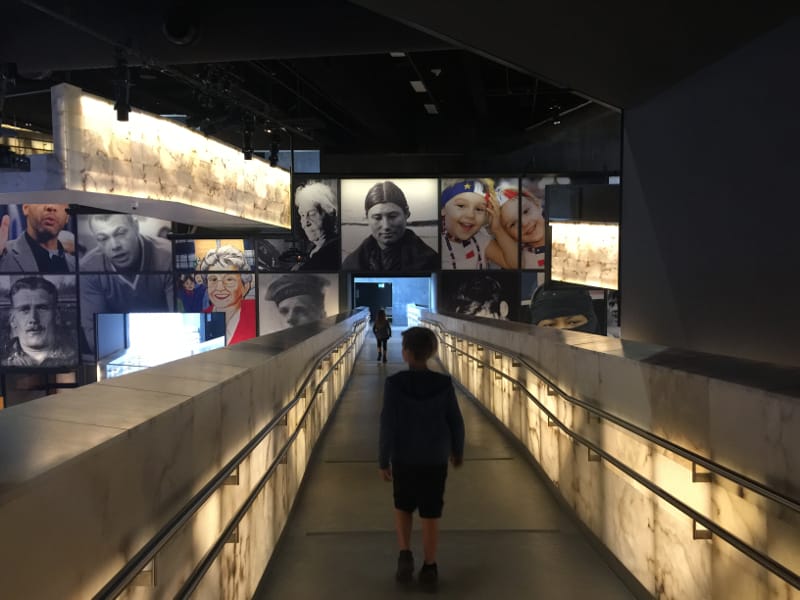 After looking through the museum, we made our way up to the top of the tower and got an amazing view of the city of Winnipeg. The building itself is really beautiful and just walking through it is a treat in itself. They call it going from dark to light since as you make your way up to the top floor the natural light is more and more prevalent.
Human rights is such an important message and the museum did an awesome job of teaching us about it while also having enough hands-on activities to keep our young kids engaged. On Sundays they have family days where they provide a variety of activities for kids and families.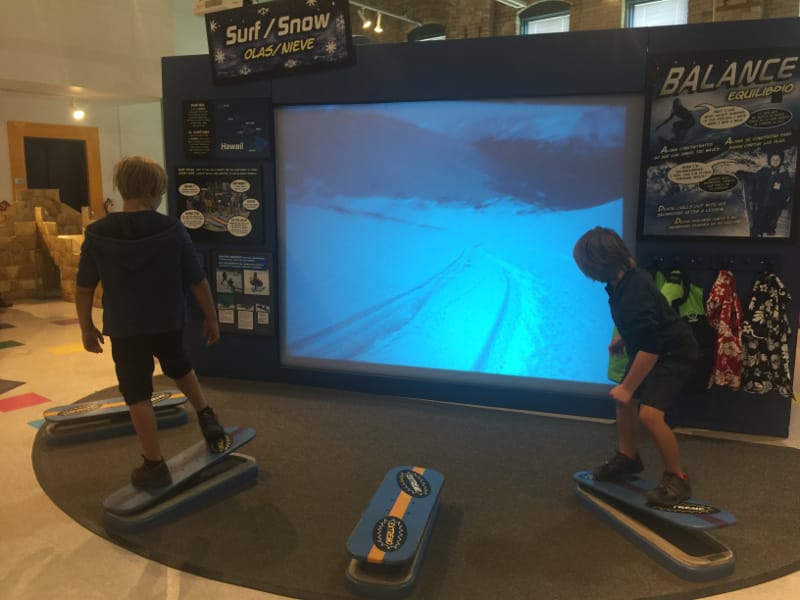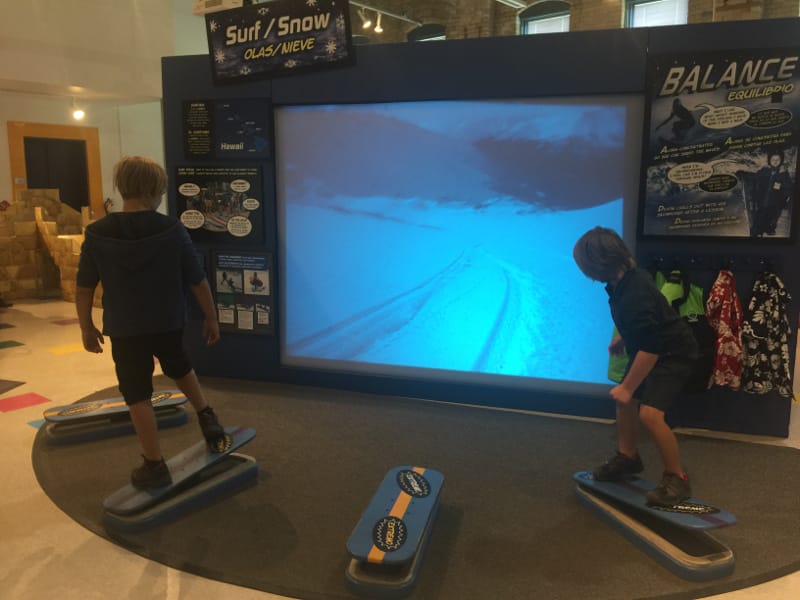 We have been to quite a few children's museums, but this one was definitely different and unique! Each one of the exhibits is a custom built exhibit so there aren't any other ones like it in the world. You could really tell the amount of detail that went into everything.
The kids loved playing in the old train – which is neat because the location of the museum is the same spot as an old train repair station. Plus they had a large art area, a place to climb, and a building section. We also spent a lot of time in the Run!Jump!Fly! area of the museum. I wonder why . . .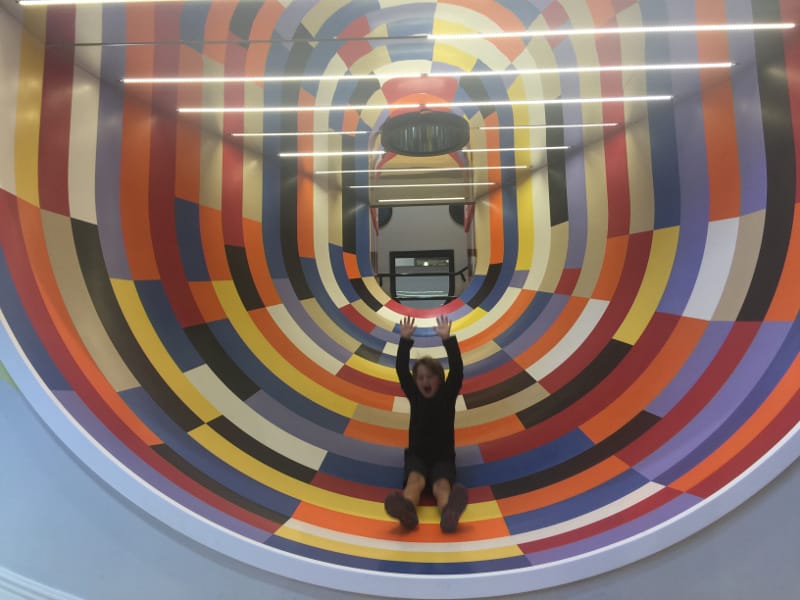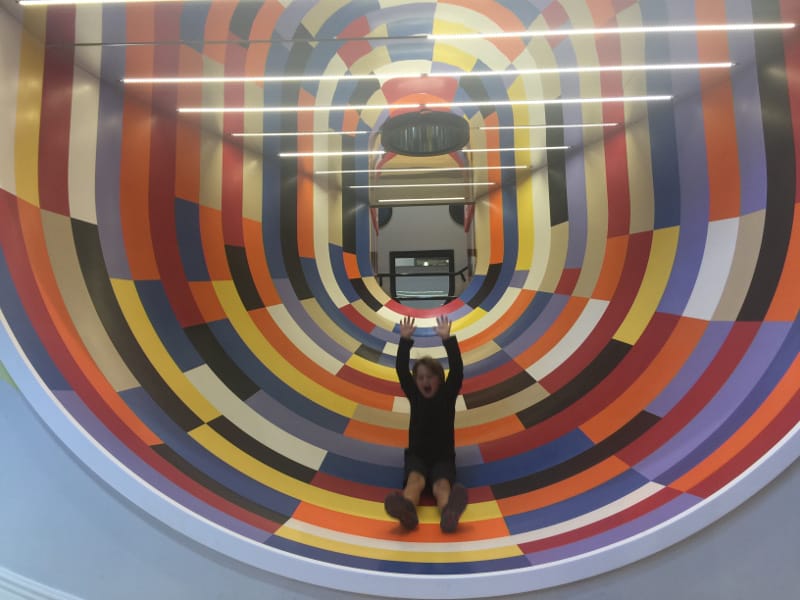 Our family loves going to Children's Museums and the Manitoba Children's Museum was great since everything was in one big open space so the kids could go from activity to activity and we could keep a pretty good eye on them!
We grabbed lunch at the Forks, which is a market filled with a variety of different restaurants. The Cinnamon Rolls were recommended to us, so that is what the kids ate for lunch and Craig and I shared a Sri Lankan dish.
I love these markets and how there are so many options in side and how cool the buildings are that house everything. This is part of the Forks National Historic Site too. You can learn more about from Parks Canada.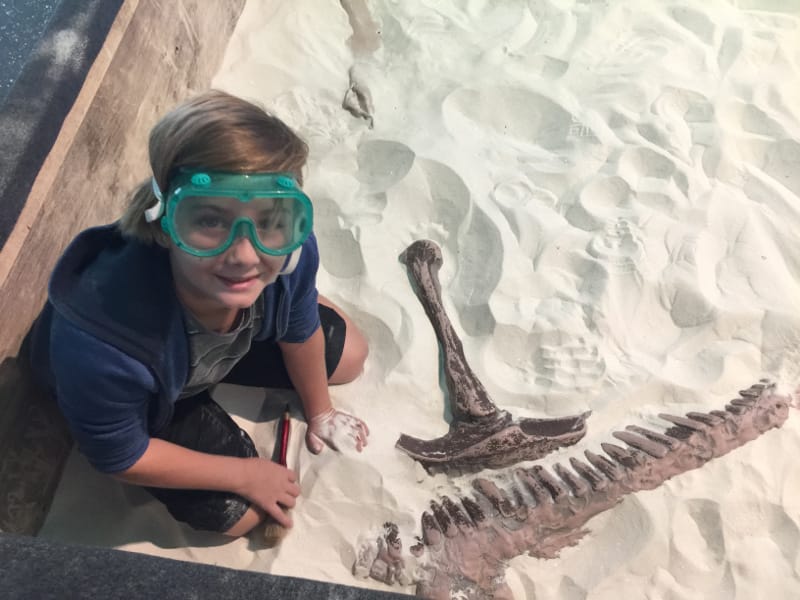 The Manitoba Museum consisted of multiple levels of things to do and see. When we were there, they had a traveling dino exhibit that had moving dinosaurs and a dino dig area! Plus the highlight was the farting dinosaur. Yes a farting dinosaur – ha!
Then throughout the museum they have a variety of areas that teach you about the history of Canada from a boat replica of the Nonsuch that basically helped the area get started, to a replica of the streets of the city. It was a great way to get an overview of Canadian history.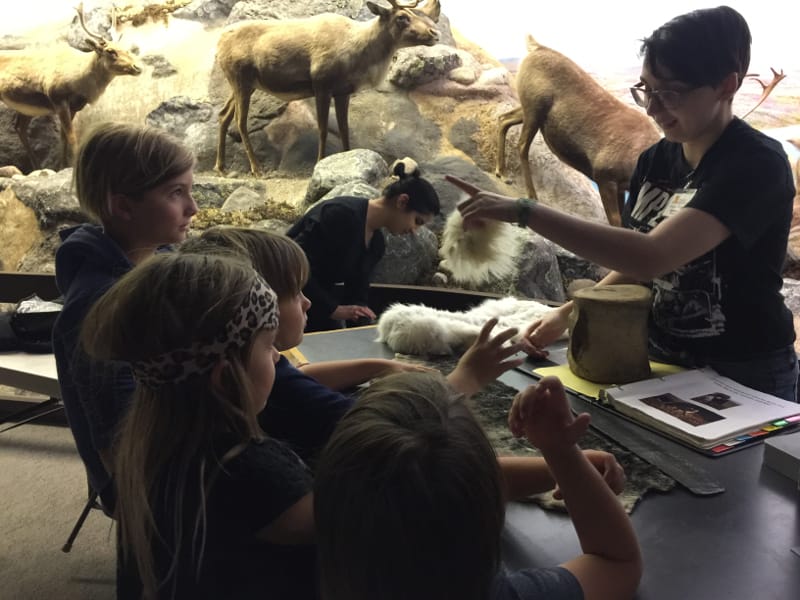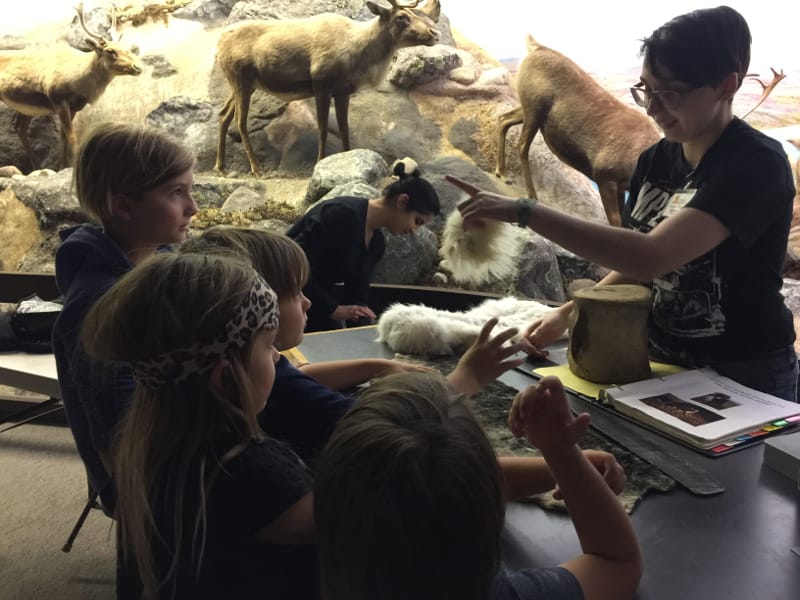 Then on the bottom floor they had a science center that had a large collection of hands-on activities that the kids could do. They had LEGOs, car racing, infinity mirrors and more! We could have spent the whole time down there playing.
You could easily spend all day exploring all of the different parts of the museum. It is also a great fit for all ages since there is such a variety of things to do.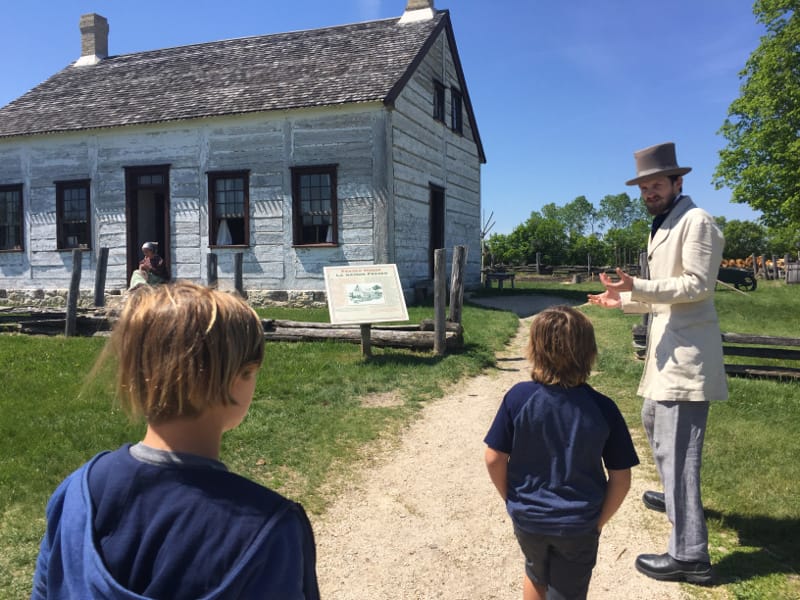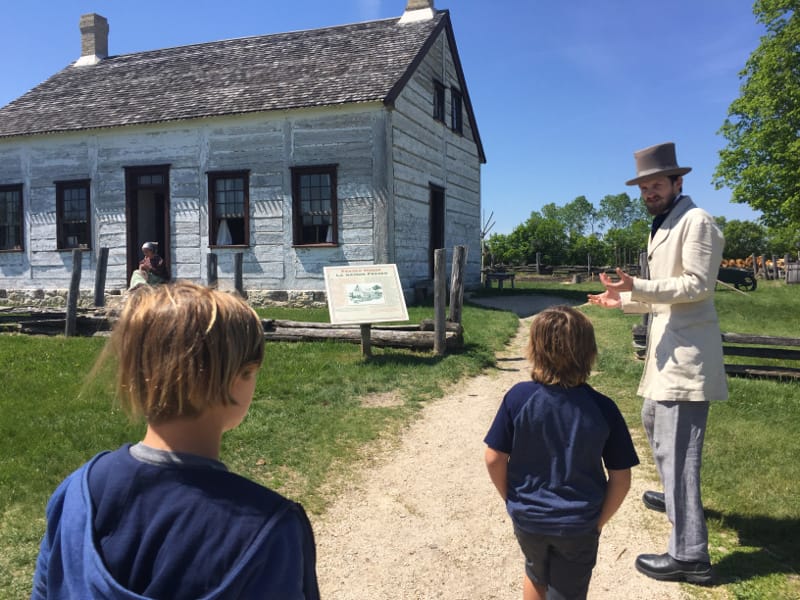 We had no idea what the Fort would be like. We hadn't done any research on it, but it was recommended by the Winnipeg Tourism Board and we are so glad that we went. It was awesome!
It is what they call a living history Fort which means there are over 50 people dressed in costumes from the time that are playing the parts of the people who use to live in the fort. They area all a certain character and throughout the day do the same things the person would have done in real life.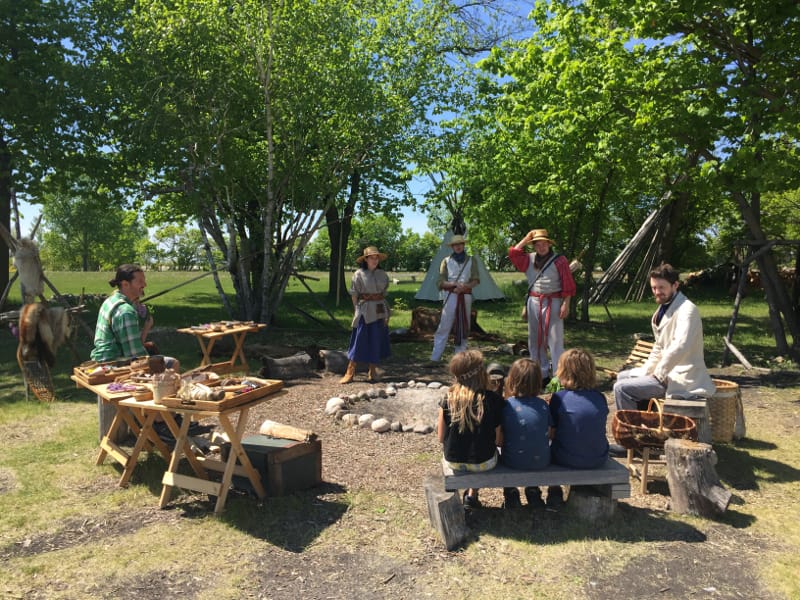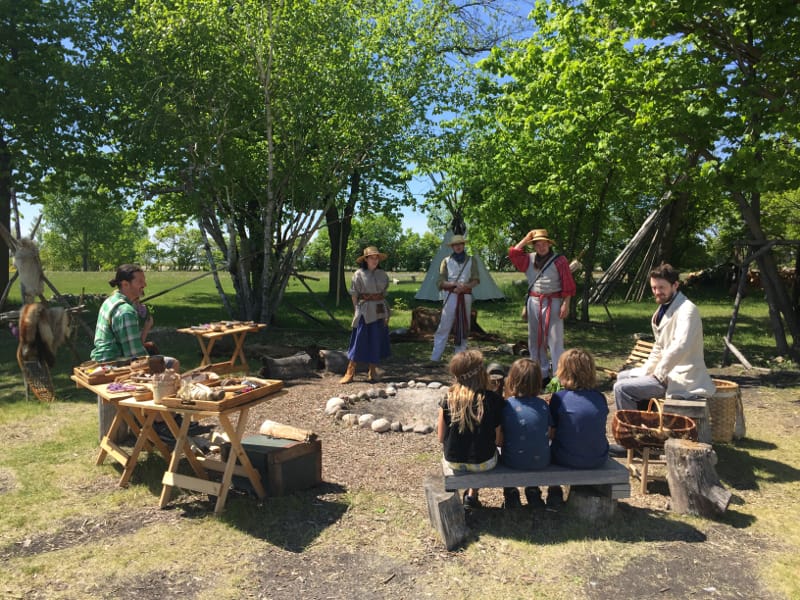 They were planting real vegetables, cooking in the stone oven in the bakery and loading real supplies on the wagons. It was such a cool experience to feel like we were walking through history and experiencing what it really would have been like.
They also had a huge collection of furs that had been collected back in the 60's and a general store that had almost exactly the same things they would have had in the store over 100 years ago including a real beaver skin hat.
We were on a tour where a guide (who in character was the one who ran the Fort) took us through all of the buildings and forts introducing us to people and telling us the history of the area. It was fascinating and a great history lesson into Canada and Manitoba.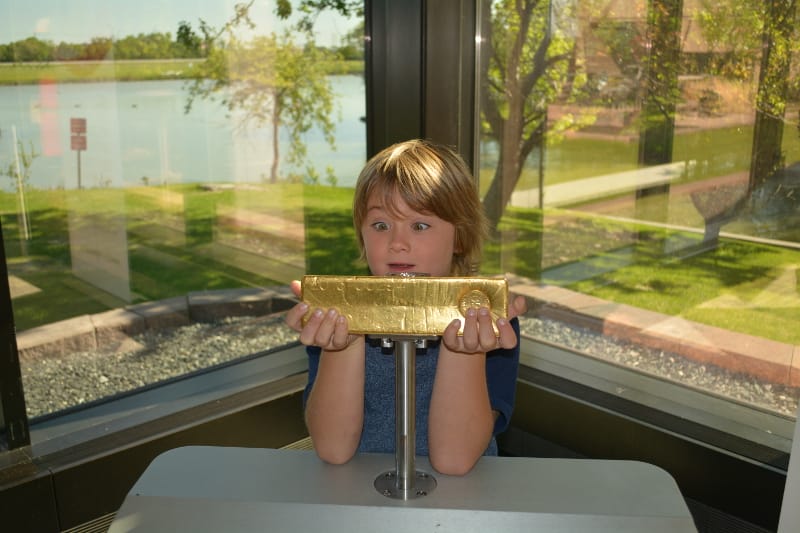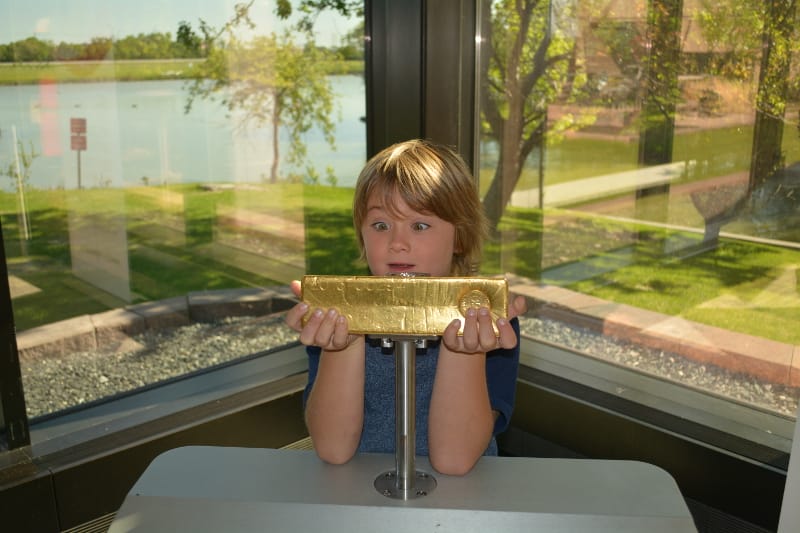 We all got to hold a gold bar worth $750,000!!! For real! They had a security guard who was there just to watch the bar. Then we went on a free tour of the mint to see how they make coins. They don't just make Canadian coins here, but coins from all over the world.
It was fascinating to hear how many coins they made a day – 15 million!!! And to see the process of making the coins and all the machines that are used and how people help the process as well.
One room in the building that held the coins when they were done before shipping had millions of dollars worth of coins in it. CRAZY!
Additional Things To Do
We didn't get a chance to do it all! We need to get back! Here are a few more things to check out:
Basilique-Cathedrale de Saint Boniface – check out this gorgeous Cathedrale and learn about St Boniface church and its history.
Manitoba Legislative Building – come learn the history of this building.
Lake Winnipeg – for a beach day or day out on the water.
Northern Lights – There may be a chance to see them from Winnipeg!
Winnipeg Jets – Catch a hockey game!

Winnipeg Art Gallery – With a focus on Inuit art.
Where To Stay
When we were in Winnipeg we stayed at the Town and Country Campground. The park was nice and big with a playground and was located just a short 15 minute drive from the city.
Winnipeg, Canada is a great destination to visit in North America. Either on your road trip to western Canada or as it's own trip! You'll find lots of amazing things to do and history on the area. We had such an amazing time exploring Winnipeg and the city really has a lot to offer.
More posts on things to do in Canada:
5 Rad Things To Do In Riding Mountain National Park
21 Breathtaking Things To Do In Banff National Park
15 Spectacular Things To Do In Jasper National Park
4 Epic Banff Attractions You Need To Do
Top 14 Best Things To Do In Wilmington DE
Pin This Post For Later: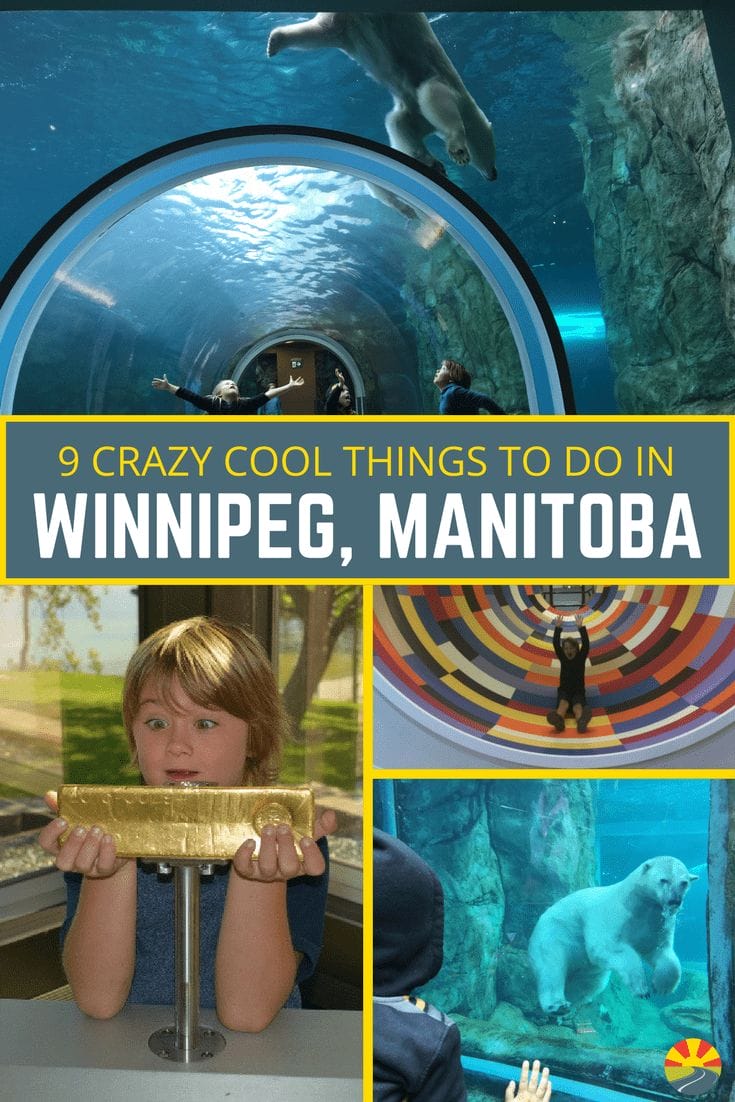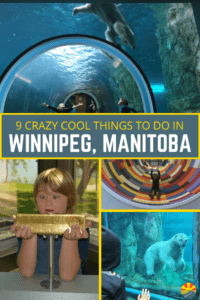 *Disclosure: Thank you to the Winnipeg Tourism Board for hosting us at these attractions. All opinions expressed are my own.
DISCLOSURE: This post may contain affiliate links, meaning I get a commission if you decide to make a purchase through my links, at no cost to you. Please read my disclosure for more info.