Recently, my family had the opportunity to visit Wilmington, Delaware. To be honest, we didn't expect much from this city, but in our ongoing effort to visit all 48 contiguous United States, we went ahead and added it to the agenda. To our surprise, we found tons of awesome things to do in Wilmington, DE with kids.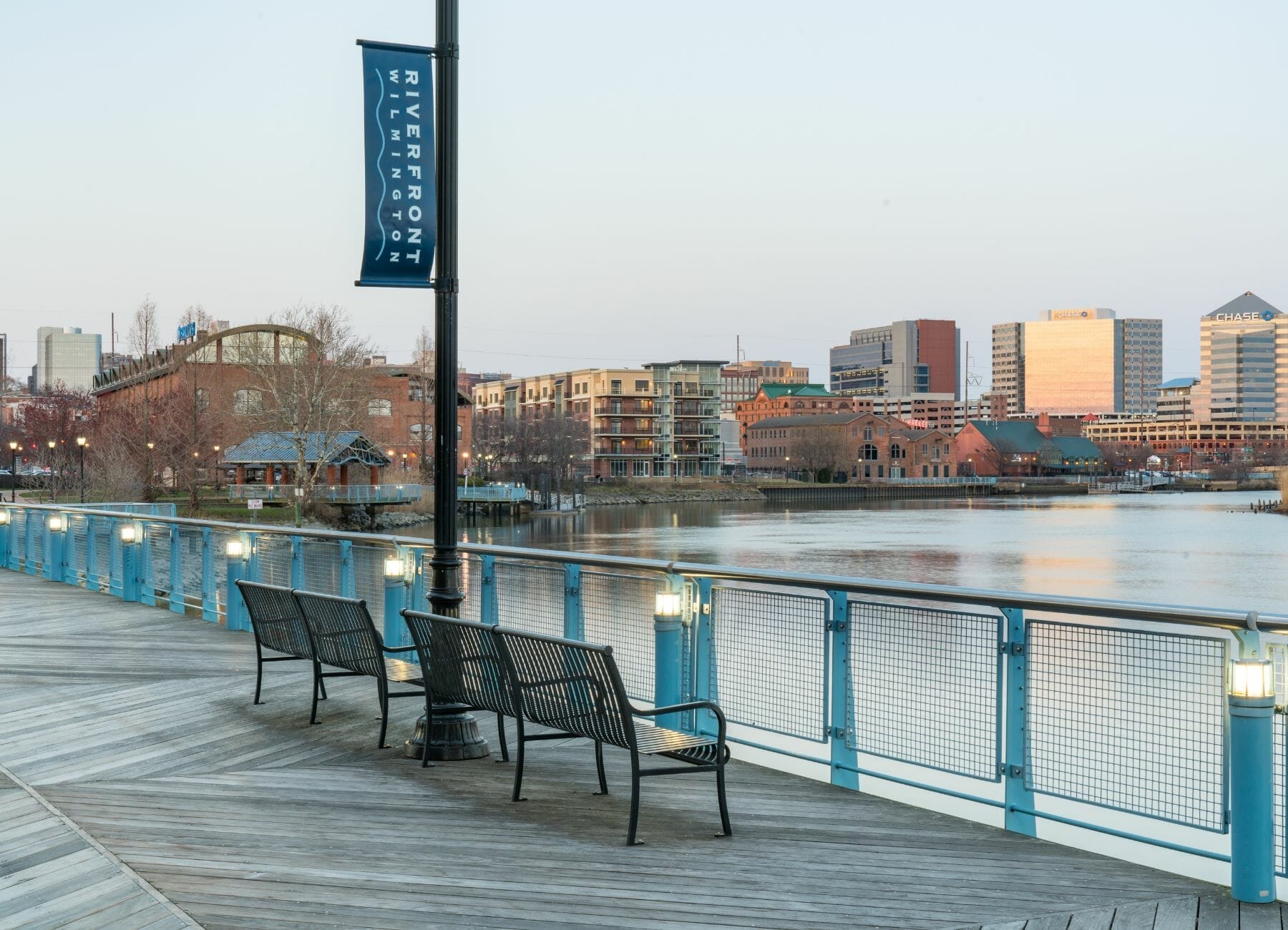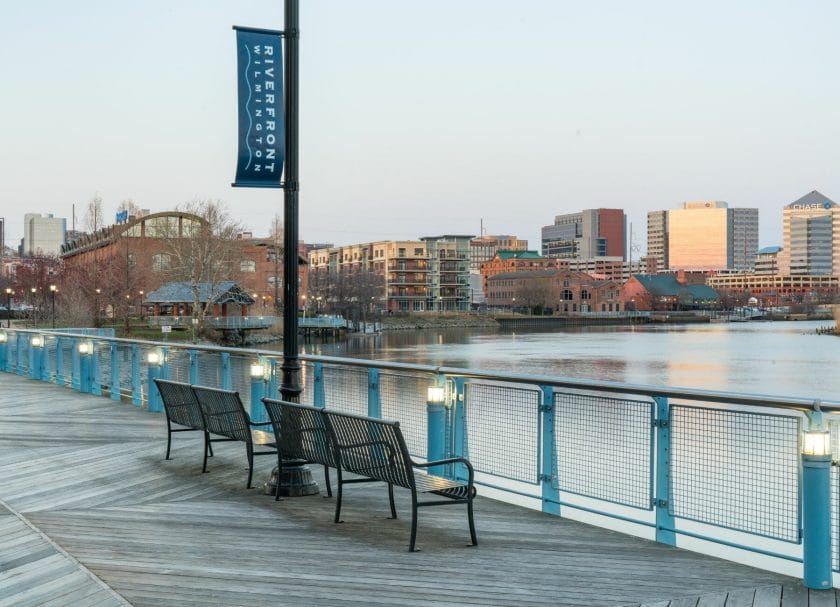 We wished we had more time in Wilmington and are already planning a return trip in the fall! It is a great place to visit on its own or on an east coast road trip.
Tucked away in the beautiful Brandywine Valley, Wilmington is the largest city in Delaware. Even so, it isn't very big, and we loved the quaint, friendly vibe of the place. This city has a super interesting past, and historical sites are found around every corner.
On top of that, there are museums galore and beautiful state parks to explore, and Downtown Wilmington is a fantastic place to wander.
Things To Do
Not sure where to begin your trip to this Delaware city? To kick off your research, we recommend checking out all of the amazing things to do in Wilmington, DE with kids, with our absolute favorites listed below. Pick and choose from this list; you can't go wrong.
Delaware Art Museum
First, I must mention the Delaware Art Museum. This is one of the most popular attractions in Wilmington, and I can see why. This should make a top spot on when planning things to do in Wilmington, DE with kids.
Founded in 1912, this museum now holds a collection of over 12,000 objects. These objects include paintings, cartoons, glass art, and more. A Kids' Corner helps keep little ones entertained, and the on-site cafe keeps everyone well fed.
In addition to the indoor permanent collections and exhibitions, you'll find an awesome sculpture park on the property. This sculpture park is ideal for families with young children who would like to enjoy the museum but need space for the kids to run and play.
Delaware Museum of Nature and Science
Formerly the Delaware Museum of Natural History, the Delaware Museum of Nature and Science is another top Wilmington attraction. Unfortunately, we didn't get to check this one out because of an enormous renovation process, but it is on our must-see list of things to do in Wilmington, DE with kids for next time.
As you might have guessed, this museum is focused on educating guests on the subjects of natural history and science in nature. That said, the museum is far from the typical dry natural history museum. Instead, it uses hands-on exhibits to get people excited about the topics. These interactive exhibits make the museum an ideal spot for kids and adults—something we always look for.
Alapocas Run State Park
Looking to get outside during your time in Wilmington? We highly recommend it. There are a few great state parks within easy driving distance, meaning there are plenty of wonderful outdoor spaces nearby.
One of these state parks is Alapocas Run State Park. This place is located 7 minutes from downtown Wilmington and is still within city limits. It features a lovely trail that meanders through the Alapocas Woods and allows guests to escape the hustle and bustle of the city. The Blue Granite Cliffs hint at the park's quarrying past, and the rock climbing wall poses a fantastic challenge for climbers.
Lastly, we highly recommend the super cool Can-Do Playground, which features play equipment for people of all abilities.
Brandywine Creek State Park
Another fantastic state park in the Wilmington area is Brandywine Creek State Park. This one is about 15 minutes from the downtown area and is well worth the super short drive for a visit.
This park features beautiful blue gneiss granite walls, lovely meadow views, and lots of opportunities for outdoor recreation. Multiple trails wind their way around the park, including the ever-popular Rocky Run and Brandywine trails.
The large meadow areas are ideal for all kinds of activities, including kite flying and playing catch. I also highly recommend taking binoculars for wildlife-watching while in this park.
Hagley Museum and Library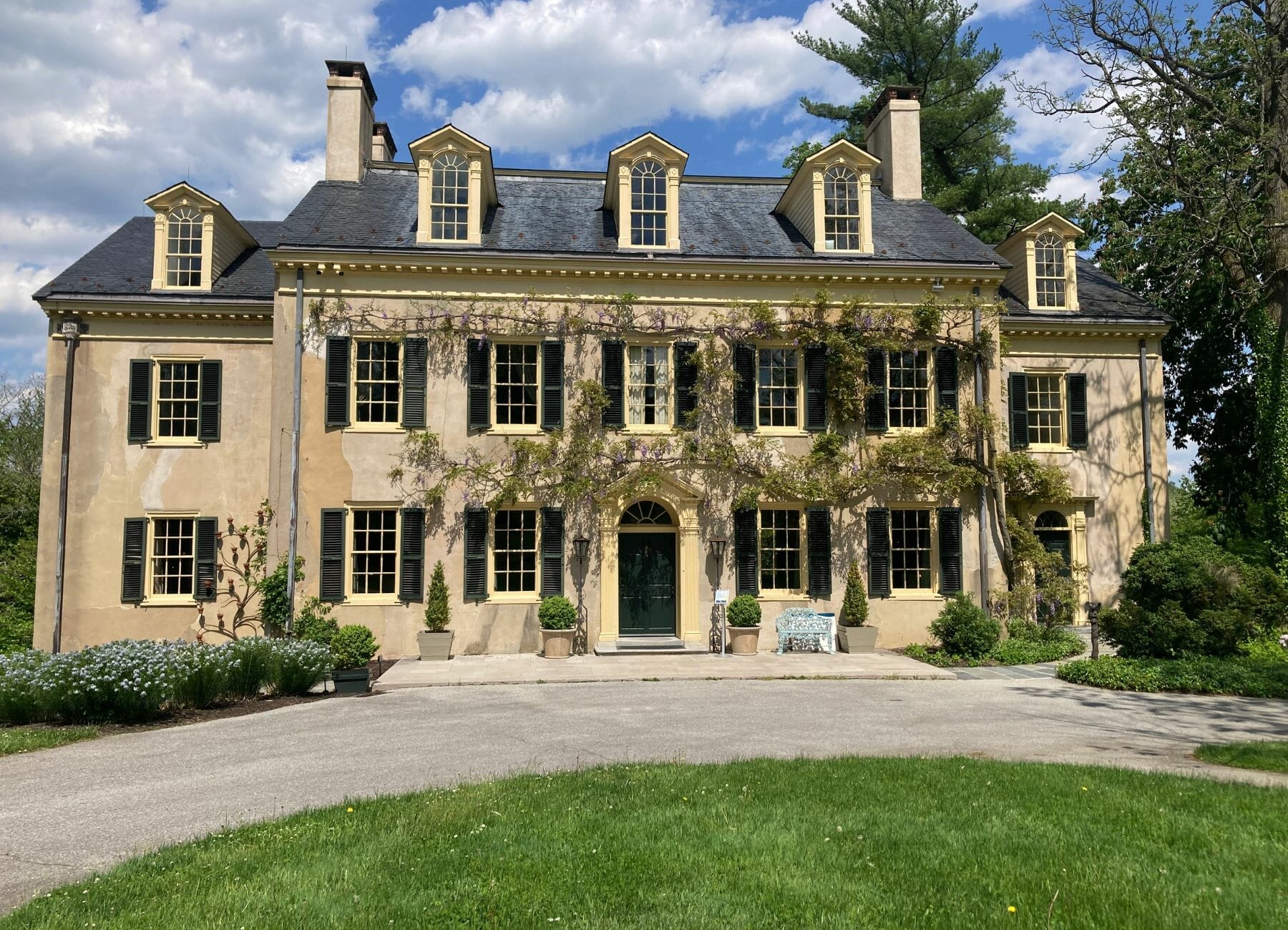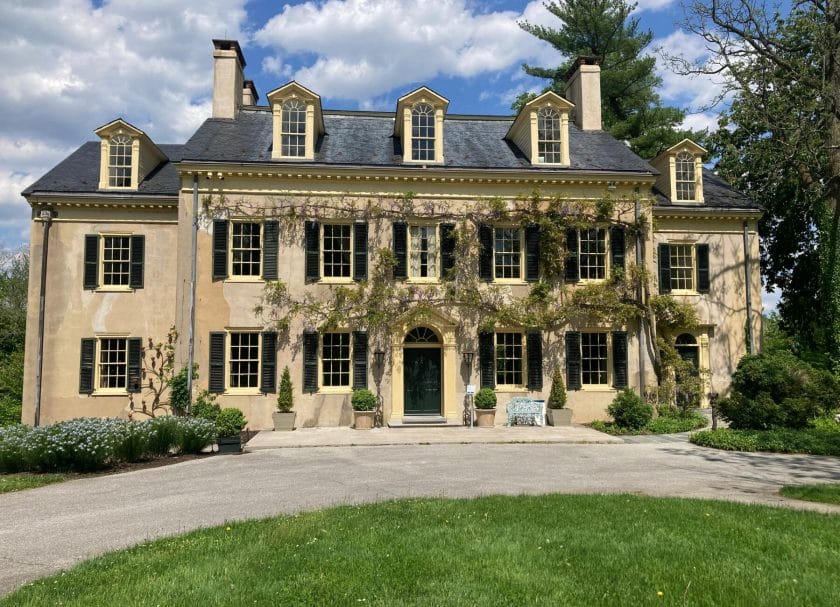 Hagley Museum and Library was my absolute favorite thing we saw whilevisiting things to do in Wilmington, DE with kids. I chose it based on reviews and had little idea what to expect. As it turns out, the grounds include tons of interesting history, such as the first Du Pont family home, the family's powder yard, and machine shop, and the grounds on which company employees lived.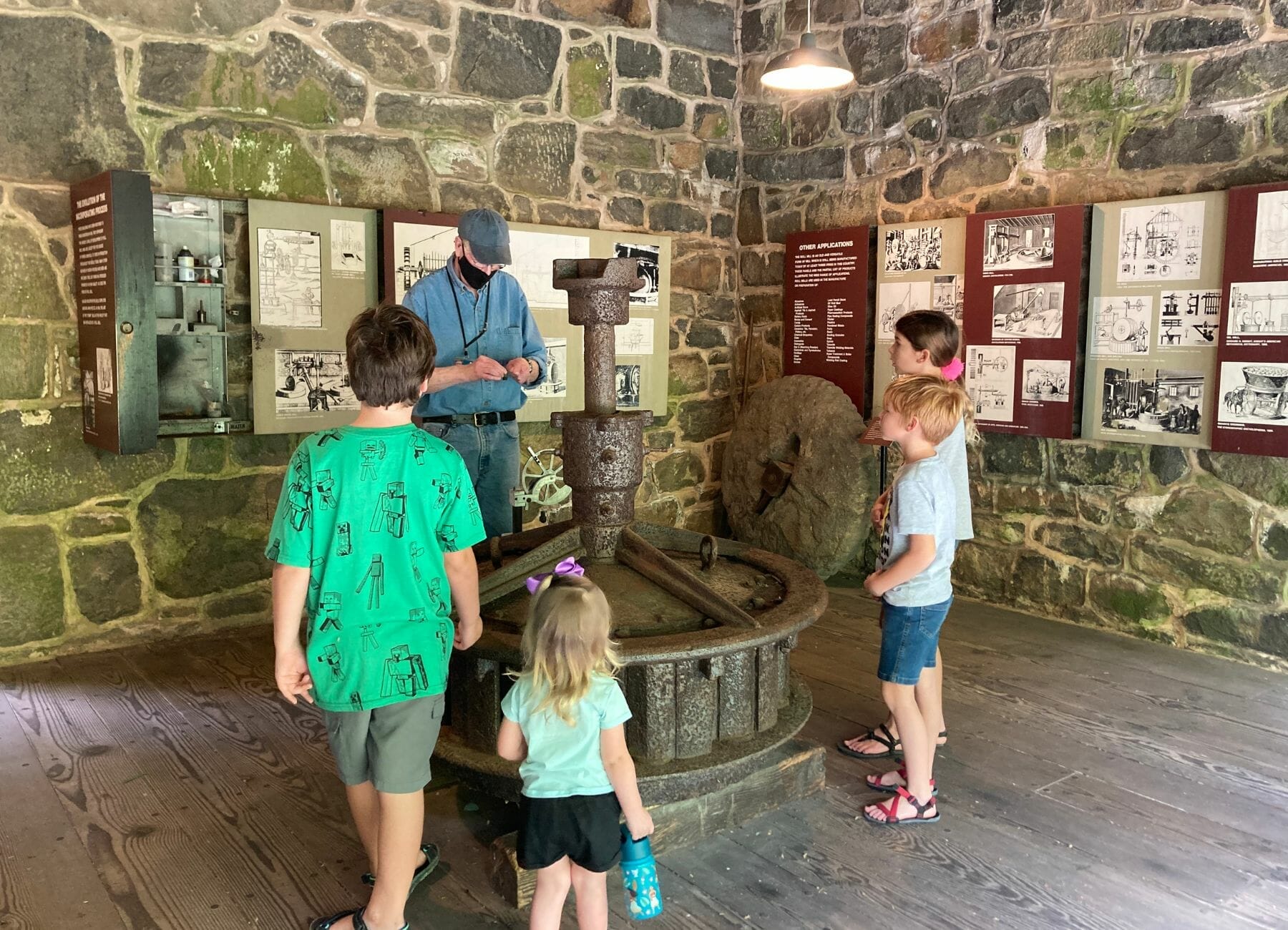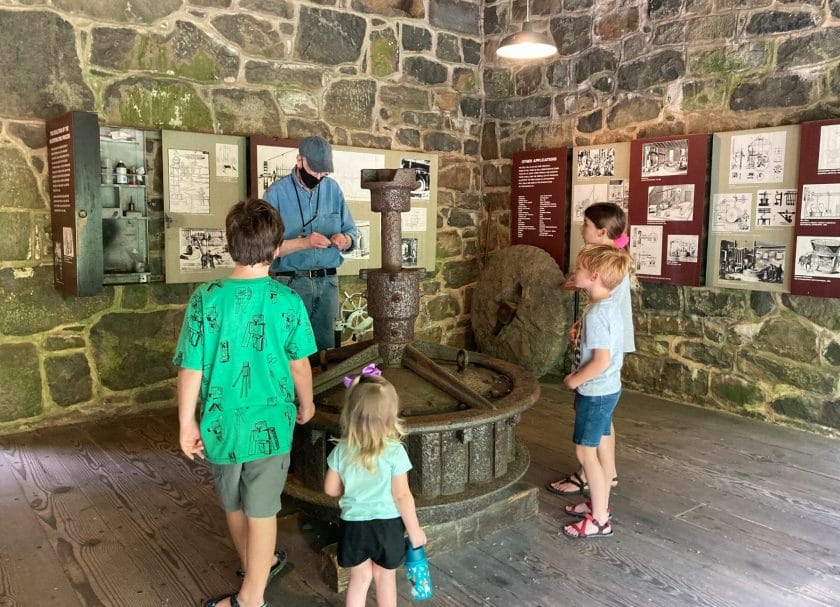 We had an especially great time touring the powder yard and learning about how gunpowder was made; a process that is surprisingly fascinating. Staff demonstrations were especially engaging for the kids, and I adored the machine shop demonstration, which showed how all machines were powered by water.
If you want to learn even more about the Du Pont family, you might want to look into seeing Winterthur, which is located nearby and was the estate of Henry Francis du Pont.
Brandywine Zoo
Everyone loves a zoo day, and Brandywine Zoo provides the perfect location for a laid-back day at the zoo for families with children. This lovely little zoo is found in the gorgeous, green, almost magical Brandywine Park, located along the Brandywine River.
Although Brandywine Zoo is smaller than most, it is jam-packed with plenty to see and do. I'd even go so far as to say the zoo manages to pack in as much fun as many of the larger zoos we've been to! This means you'll see just as many awesome things without the ridiculous amount of walking that tends to come with a zoo outing.
Some of the best exhibits in this zoo? The lemurs and the red panda!
Read House and Gardens
The Read Castle and Gardens is quiet possibly the best surviving architecture of domestic art from Philadelphia's grand federal period. The mansion was built for George Read II, and you will learn all of the history on your tour of the castle, when exploring at your own pace.
The gardens of the mansion are breathtaking, and worth taking a leisurely stroll through the grounds.
Bellevue State Park
Yet another state park in the Wilmington area, Bellevue State Park, is a great place to get outside and soak up some sunshine. This park is in the city's suburbs, meaning you won't need to go far to check it out. Add Bellevue State Park when planning things to do in Wilmington, DE with kids.
The pond here is perfect for fishing, and the woods on-site provide some ideal hiking opportunities. On top of that, this park is also home to another Du Pont family historic site: Bellevue Hall, a gorgeous mansion that is well worth touring.
Delaware Children's Museum
Another museum that made its way onto our must-visit list for next time, the Delaware Children's Museum, looks adorable from the outside and is conveniently located on the Wilmington riverfront, so getting there shouldn't be an issue.
Unlike many other children's museums out there, this one looks like it would entertain both my toddler and my preteen. Exhibits include a building area, a transportation spot, and a super cool-looking climbing structure that I know I'd have a hard time pulling the kids away from.
DuPont Environmental Education Center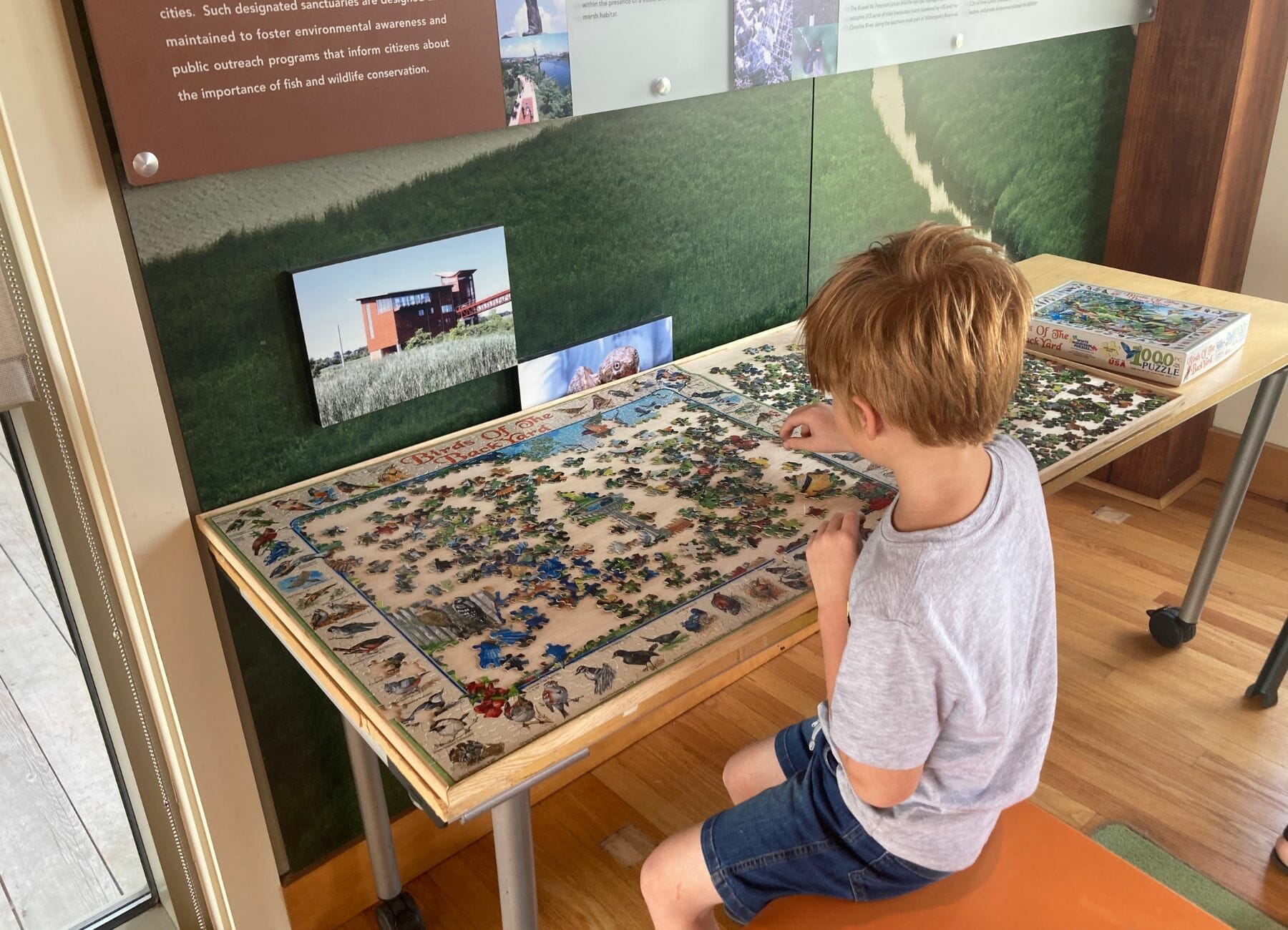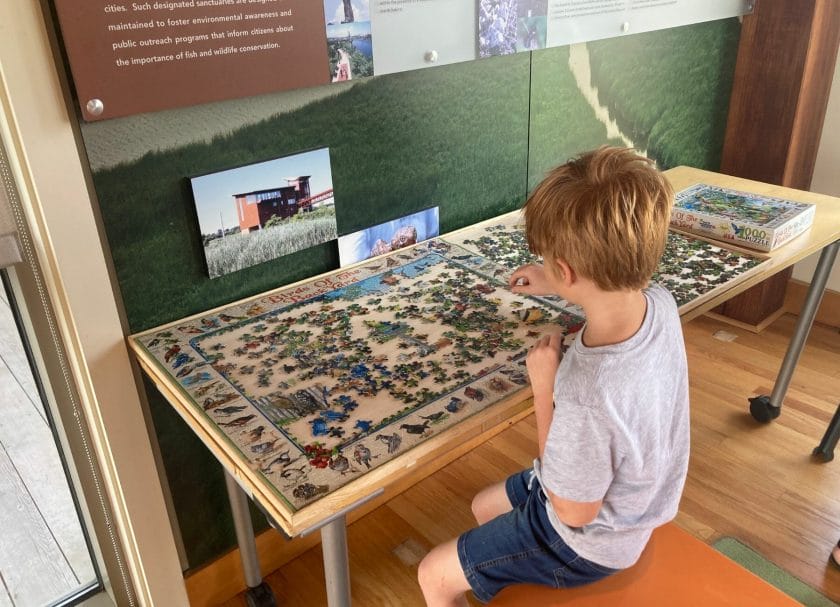 Another great attraction on the riverfront, the DuPont Environmental Education Center, is a fun stop if you plan to walk along the riverfront. Admittedly, this place isn't very big, but it offers some great views, a helpful staff, and a nice little stroll in the great outdoors.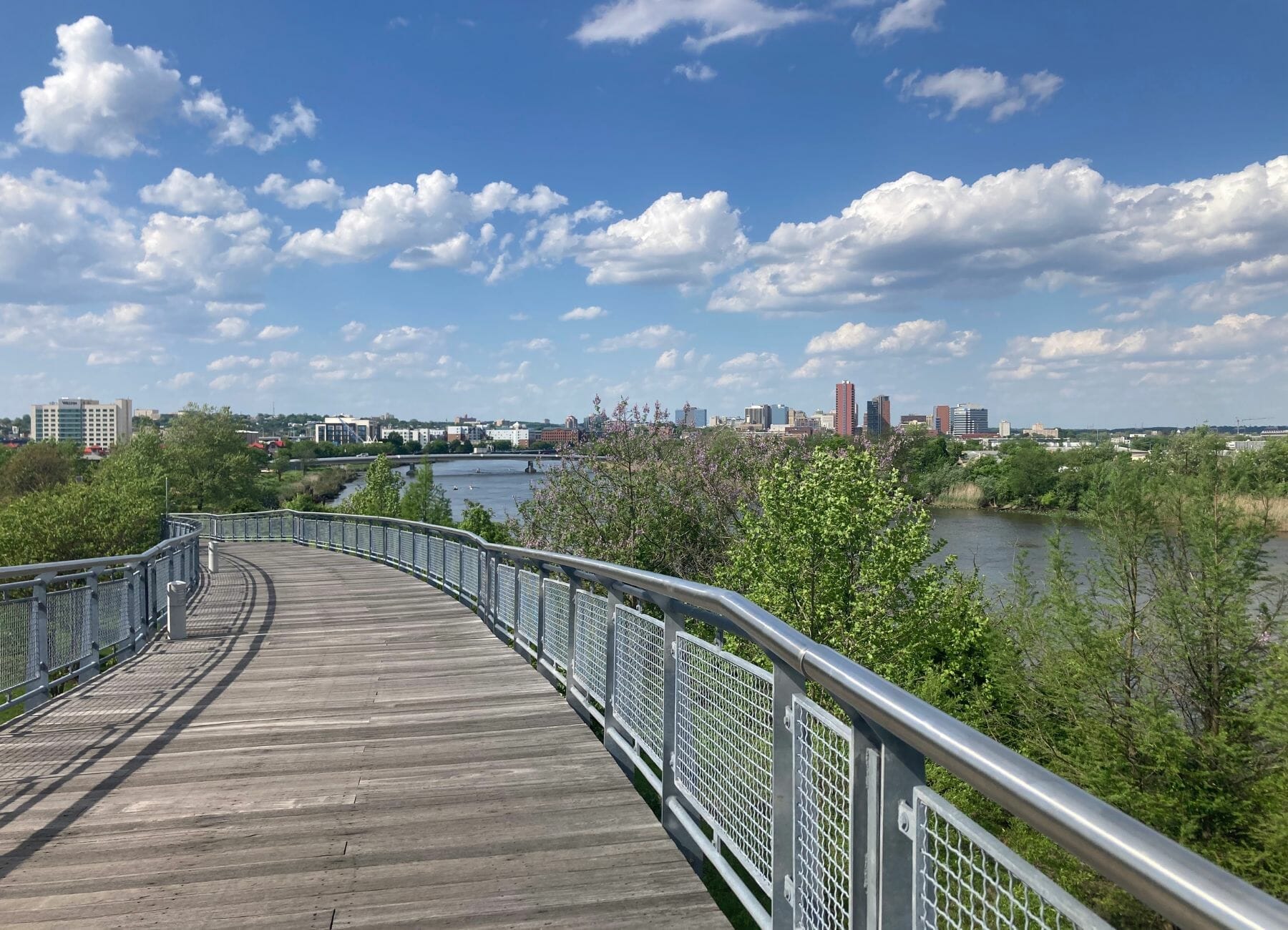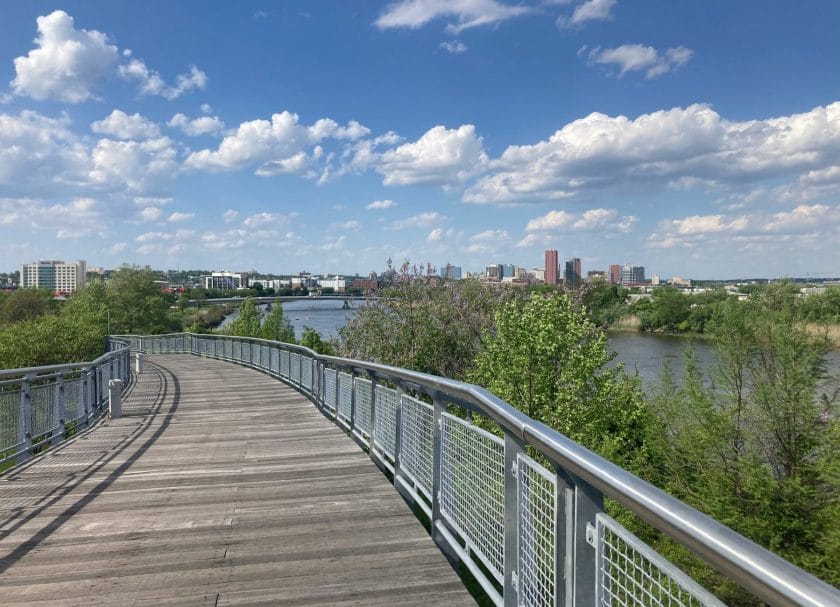 We loved the teeny tiny museum area, where the kids had fun looking through a telescope at a bird and checking out the animals in cages on display there. We also picked up a fun (and free!) card game called Aqua Marooned! in this museum and played it while walking the outdoor nature trail.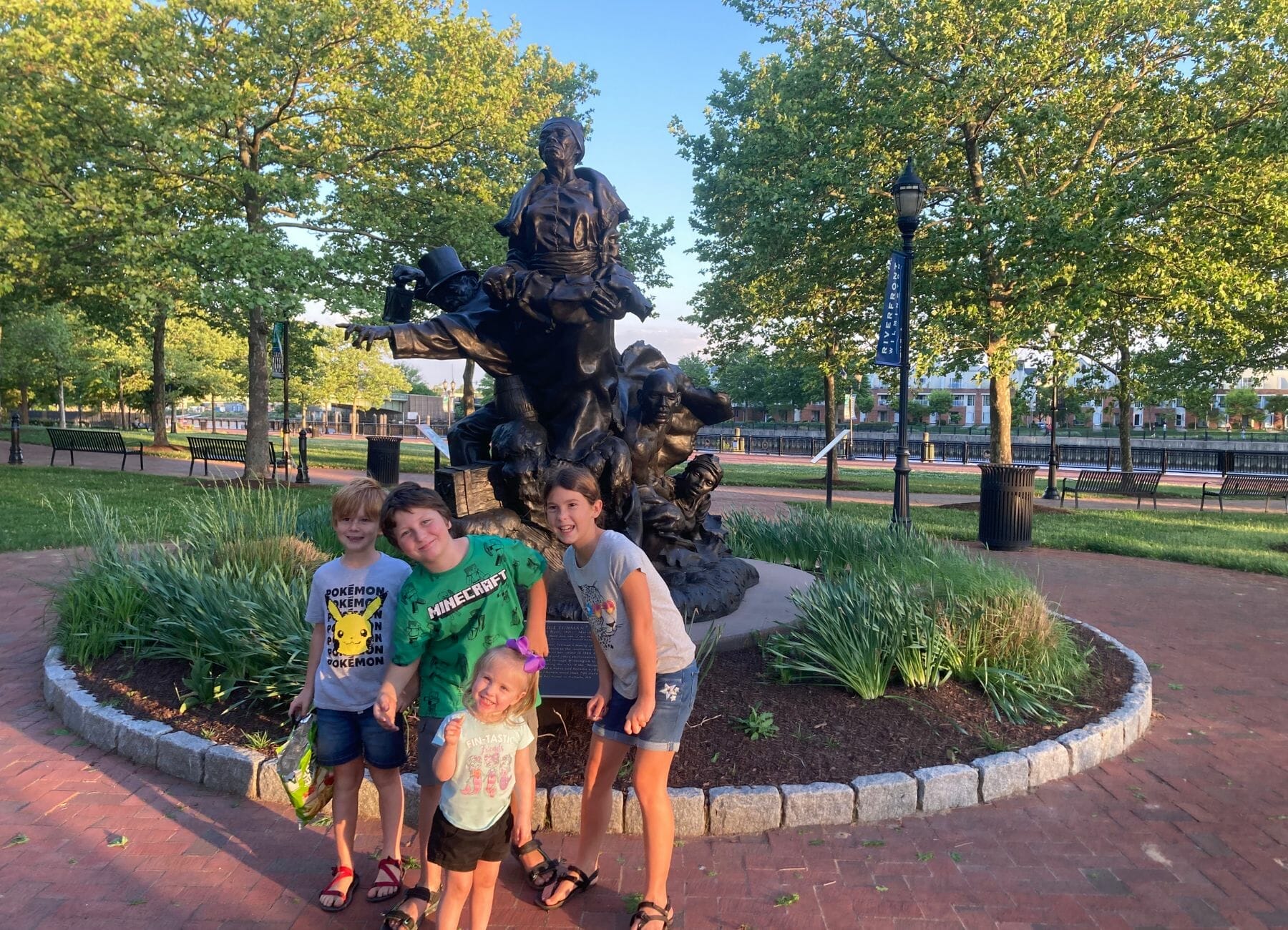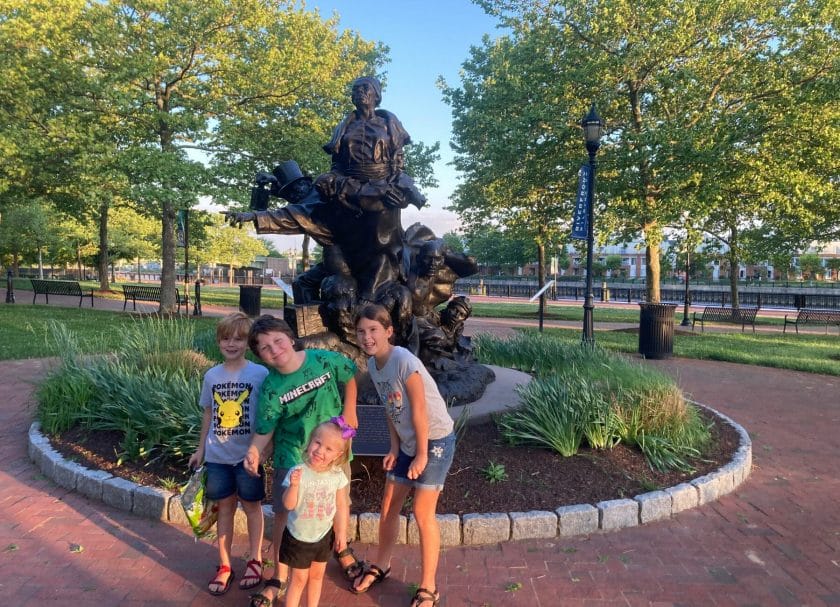 Tips:
We also really enjoyed the Tubman Garret Riverfront Park when walking along the riverfront. This park didn't have a playground, but it was a nice green space that featured a beautiful statue of Harriett Tubman and some information on this amazing woman.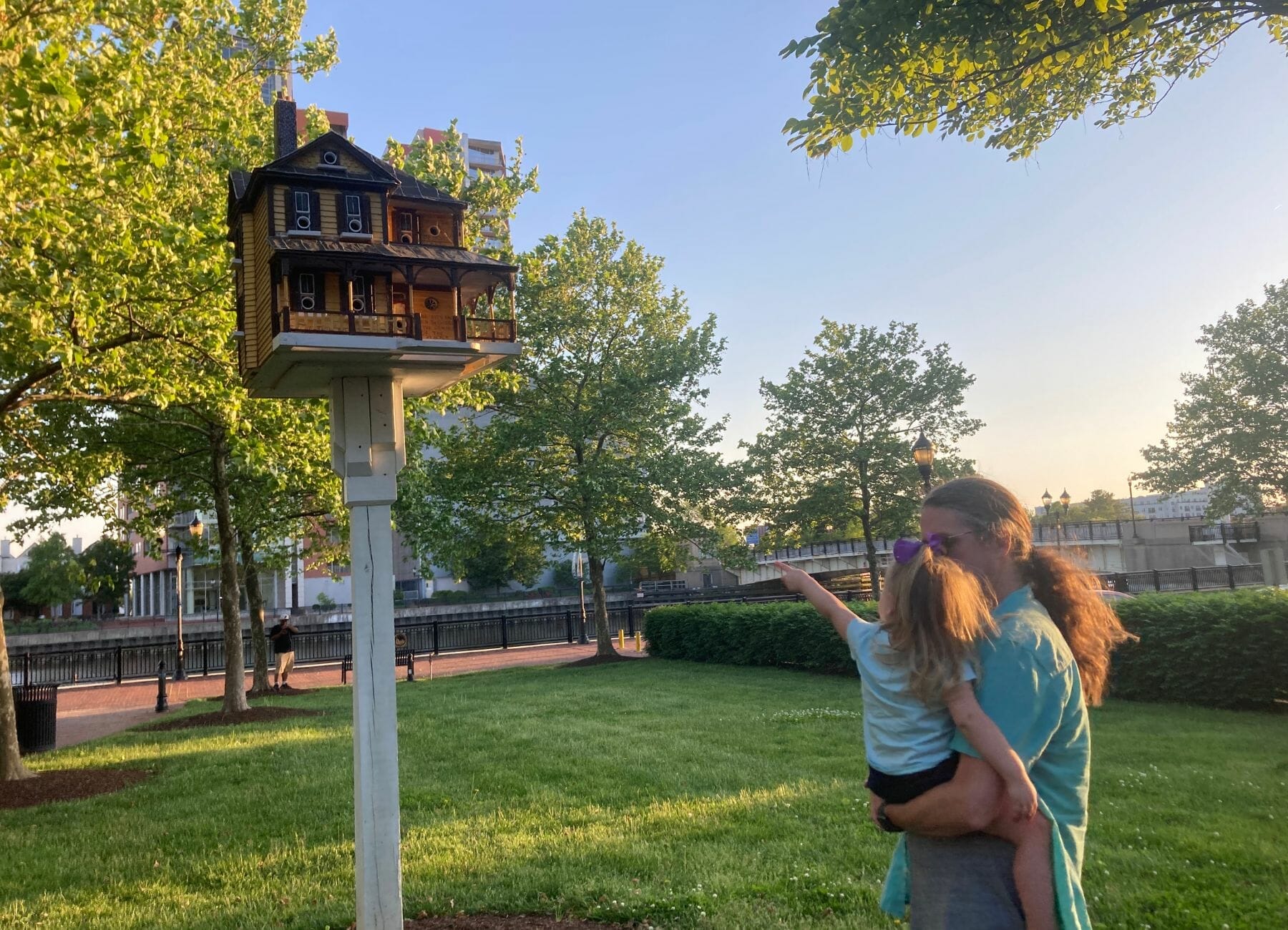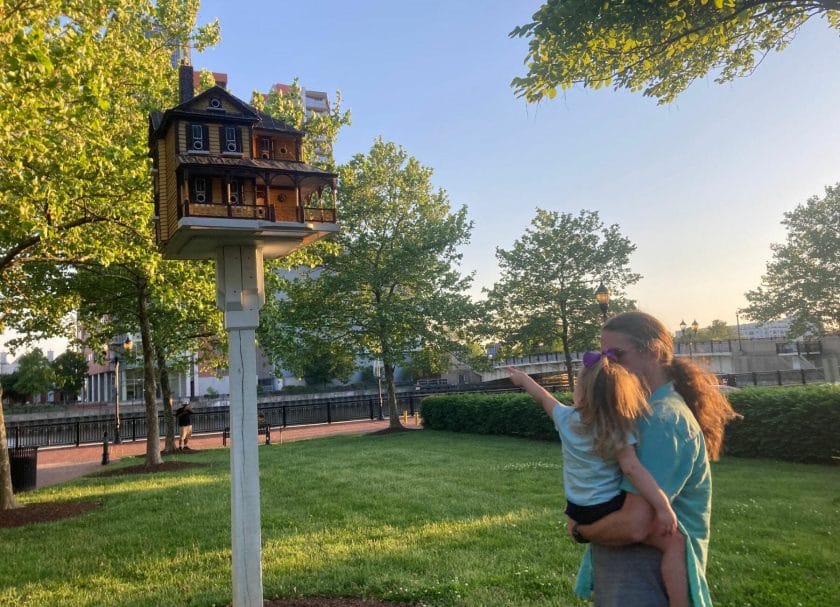 First State National Historical Park
Initially, this was my number-one pick of attractions for our time in Wilmington. Unfortunately, due to bad timing on my part, we didn't get to see any of it.
This park is odd in that it's split into different sections which are spread out across the state. The sites that are in and near Wilmington include Fort Christina (check out the Kalmar Nyckel Foundation to learn about historic ship rides), Old Swedes Historic Site, and New Castle Court House Museum. All three look fascinating and offer a peek into the state's rich history.
Christina Riverwalk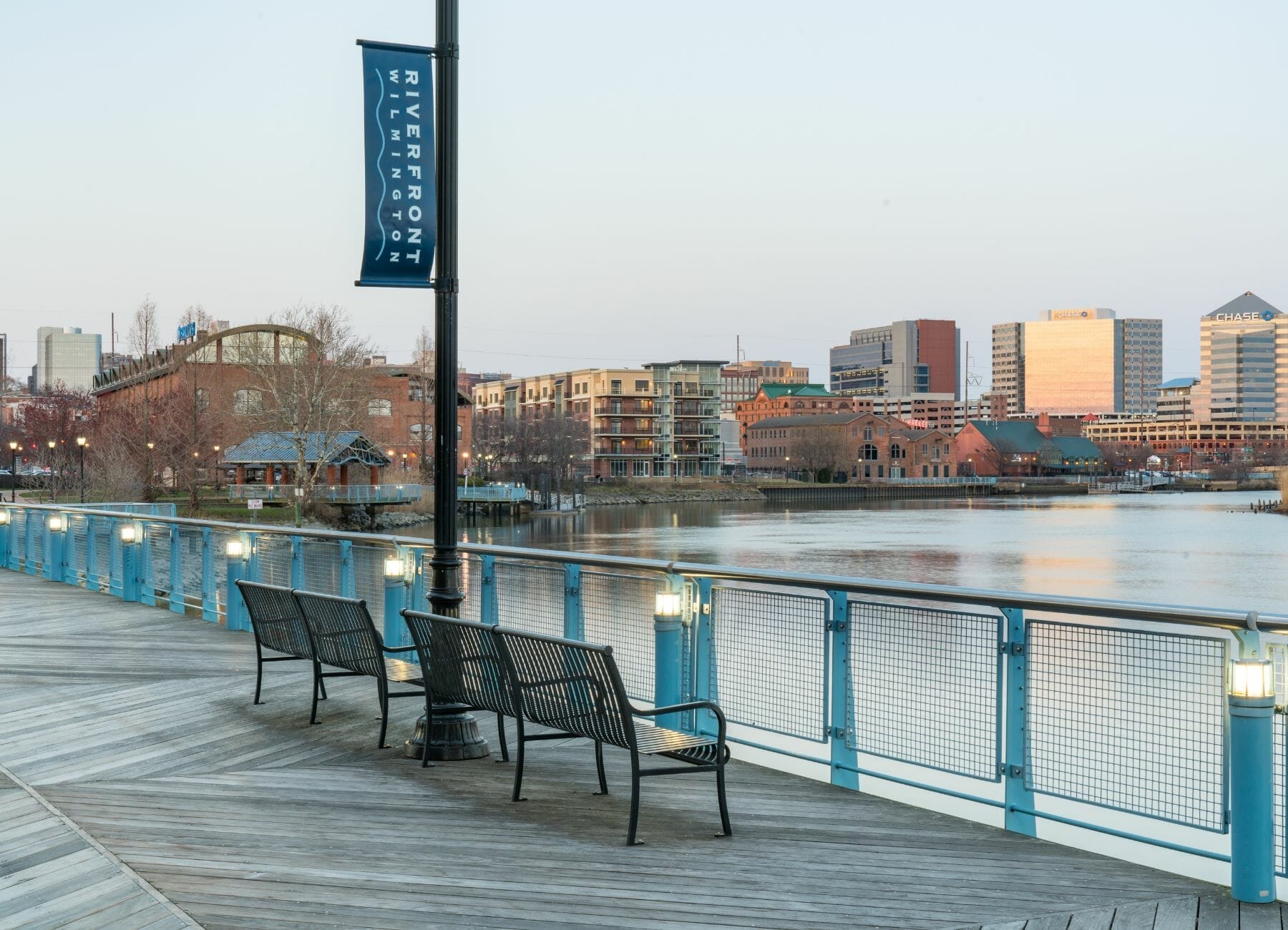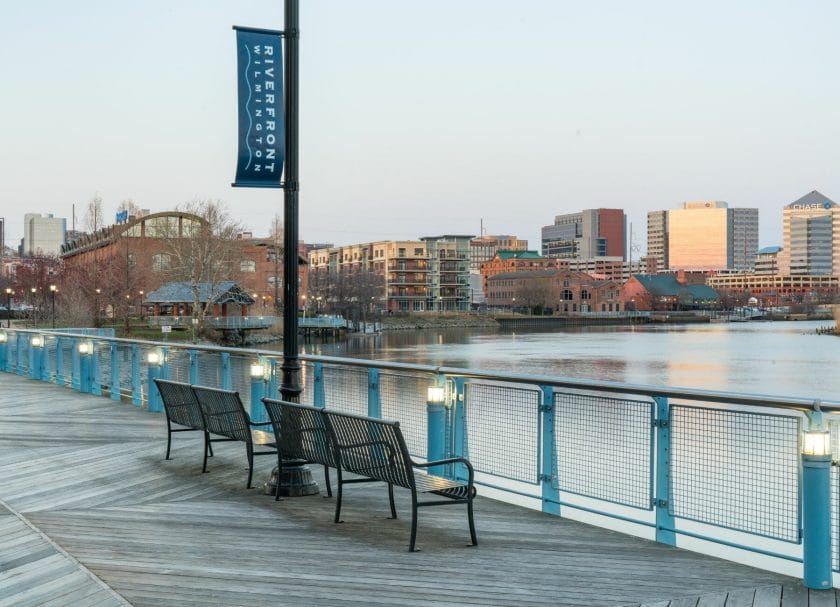 While making your list of things to do in Wilmington, DE with kids, you will want to plan a stroll along the riverwalk of the Christina River. The scenery is beautiful and the boardwalk is lined with benches and street lights to make your day or evening visit comfortable. It's a great way to get the family outdoors and enjoying the city.
Nemours Mansion
Families with children of all ages will find something fun to explore while visiting Nemours Mansion and Gardens. The grounds of both are beautiful and interesting to explore while planning things to do in Wilmington, DE with kids. Everyone will enjoy the one-acre pool that shoots water 12-feet into the air.
Tips:
Strollers are allowed in the Gardens, but not in the Mansion. Also, an adult must accompany any child 16 and under while visiting.
The Grand Opera House
Finally, we must mention the Grand Opera House. Built back in 1871, this theater is absolutely stunning to look at. Moreover, the theater still hosts some of the best performances in the state today!
If you enjoy live theater or concerts, this is the place to see a show while in Wilmington. You will be treated to an excellent performance where you can step back in time and admire this incredible piece of architecture and American art.
Where to Eat
Another great thing about Wilmington? We found some seriously awesome food and treats here. Even in the short amount of time we spent in the city, we managed to try quite a few places, and we are excited to explore the food scene even more next time we visit.
Here are the places you should try when you planning things to do in Wilmington, DE with kids:
Dino's Water Ice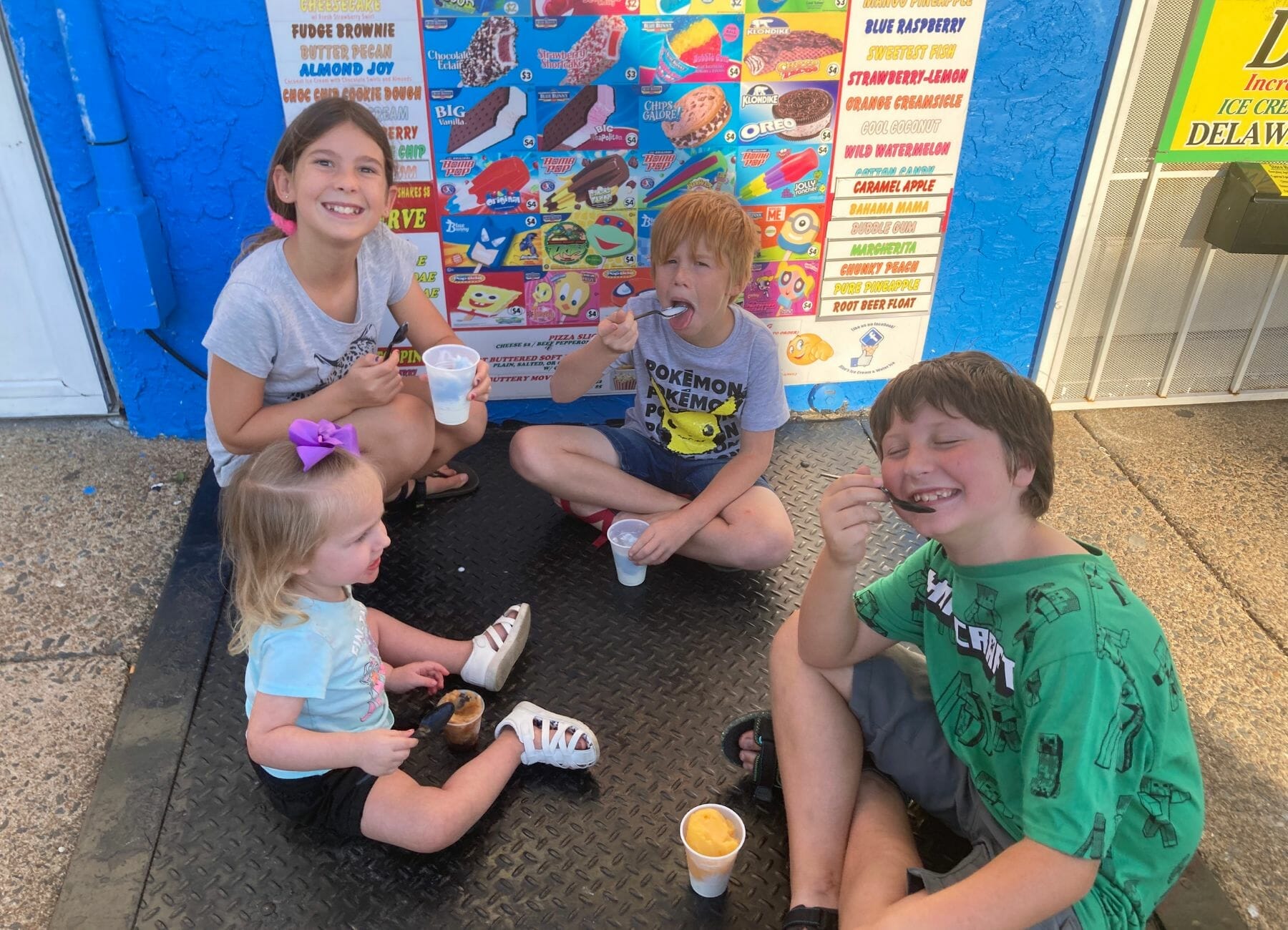 After spending an hour or so walking along the paths of the riverfront, we were ready for an icy cold refreshment. Dino's Water Ice came highly recommended by the locals, so we decided to give it a try.
This was definitely a case for the old saying, "Don't judge a book by its cover." The outside of this treat stop is anything but stand-out. That said, what's on the inside counts, and in this case. Dino's Water Ice offers a variety of awesome water ice, soft-serve, and ice cream.
I highly recommend the "gelati" (water ice + ice cream mix) in your favorite flavor!
Brew HaHa!
Anyone who knows me, knows I love a good coffee. For this reason, I make a point of trying new coffee shops whenever I can. During our time in Wilmington, I had the pleasure of giving Brew HaHa! a try.
My husband ordered an iced americano which he deemed "acceptable" (he is very particular, so this is actually a good review coming from him). Meanwhile, I ordered an iced "Thin Mint" from their specialty menu, and it did not disappoint. I definitely recommend checking out one of their two Wilmington locations while you're there, their award winning coffee will keep you coming back!
Diablo Burritos
Looking for actual food? I have to recommend Diablo Burritos. This local chain is very much like a Chipotle or Qdoba in that the employees custom-build a burrito right in front of you (or a taco, a quesadilla, or whatever). However, it had its own special flair, and we enjoyed it very much. We loved how much care they put into ensuring that every burrito's add-ins were thoroughly mixed before completing the wrap, so you don't get cold pockets and warm ones.
Because this is a local chain, you should be able to find one pretty easily. They even have a location on the fabulous Market Street, so you could have a great meal and check out this favorite spot simultaneously.
Where to Stay
We actually day tripped over to Wilmington from the Hershey, PA area. I don't recommend doing this, as 1) you will want to be totally immersed in what this city has to offer, and 2) you're almost certainly going to want more than a day or two to take it all in.
For these reasons, I recommend picking one of the great Wilmington lodging options below.
VRBO
Upscale Five-Star Vacation Home
A completely remodeled home, this amazing place offers guests all the comforts of home and more. We love the granite countertops, hardwood floors, and upgraded bathroom. The fact that this house sleeps 5–7 makes it especially great for families, and the location is ideal.
Getaway Oasis in Brandywine Valley
Another wonderful option, this getaway oasis, is ideal for those who prefer to stay outside of the city so they can enjoy the peace of the Brandywine Valley countryside. This house features an elegant living area (complete with a baby grand piano!), a modern kitchen, and a fully stocked library. The bedrooms feature memory foam mattresses, which is a nice bonus.
Hotels
Hyatt Place Wilmington Riverfront
Want to stay on the Wilmington riverfront? Look no further than Hyatt Place Wilmington Riverfront. This gorgeous hotel couldn't be in a better location; when staying here, you can easily walk to a variety of attractions. Additionally, this hotel features modern decor and everything you need to be comfortable.
Homewood Suites by Hilton Wilmington Downtown
Homewood Suites by Hilton Wilmington Downtown is another fantastic hotel pick. This beautiful hotel features a place to grill out, on-site breakfast, and kitchens in the rooms. To make a good thing even better, both the Delaware Center for the Contemporary Arts and the Brandywine Zoo are within walking distance.
Campgrounds
Lums Pond State Park
Prefer to stay in your RV during your time in Wilmington? That's an option too! Lums Pond State Park is a great place to park your rig while you explore. Here, you'll have access to full hookups, spacious suites, and lots of things to do within the park. It doesn't get much better than that!
Philadelphia/West Chester KOA Holiday
If you're the type of camper who prefers a private campground, the Philadelphia/West Chester KOA Holiday might be for you. This is a lovely, clean RV park that features full hookups, organized family activities, a creek, and much more! Best of all, it's only 40 minutes away from the fun offered by Wilmington.
Yes, there are a huge number of awesome things to do in Wilmington, DE with kids. This was a cool surprise to us, but I wish I had known going in so I could have planned a longer stay in the area. Learn from my mistake and plan your trip accordingly. You'll be glad you did!
More Info Check Out:
23 Things to do in Washington DC with Kids
Fun Things to do in Philadelphia with Kids
17 Fun Things To Do In Acadia National Park
14 Best Things To Do In Lincoln New Hampshire
The Best Summer Fun At The Wildwood New Jersey Boardwalk
9 Crazy Cool Things To Do In Winnipeg, Manitoba, Canada
20 Fun Things To Do in Stowe, Vermont
45 Places to Stop on Your Ultimate Vermont Road Trip
Casino Pier New Jersey – Everything You Need To Know To Have An Awesome Time!
Pin This Post: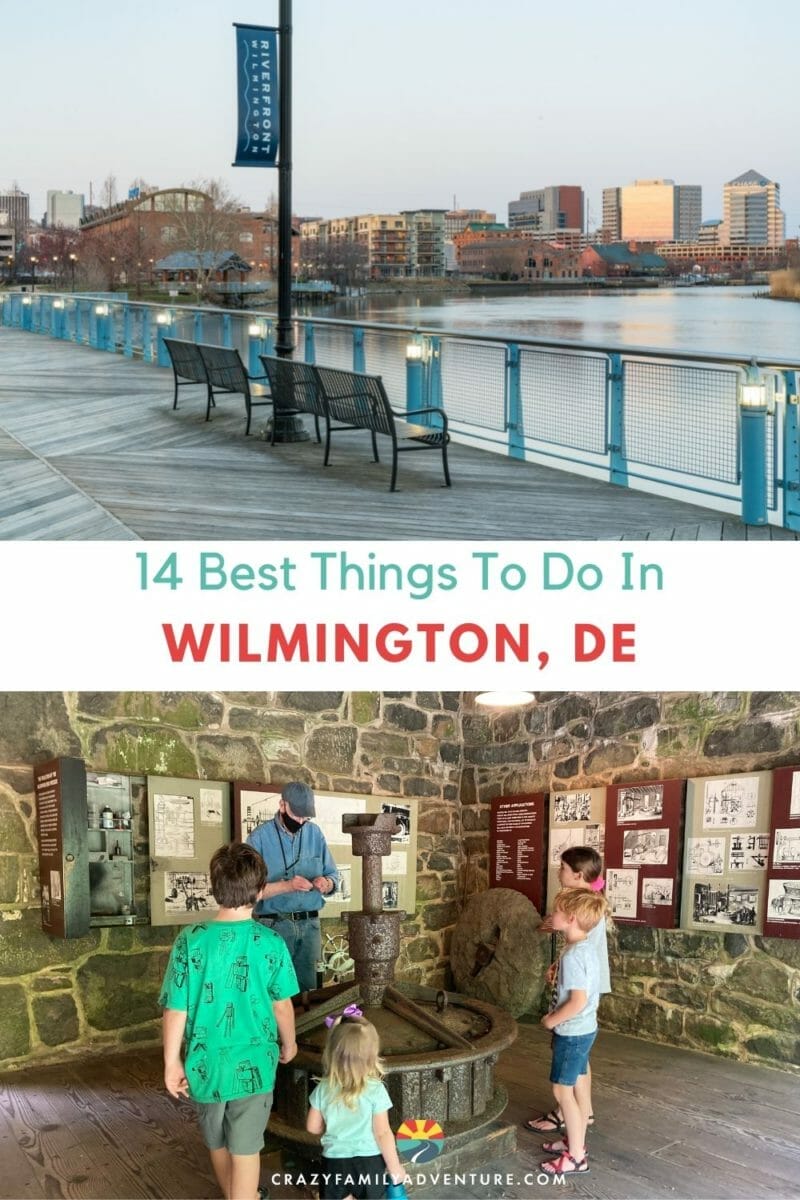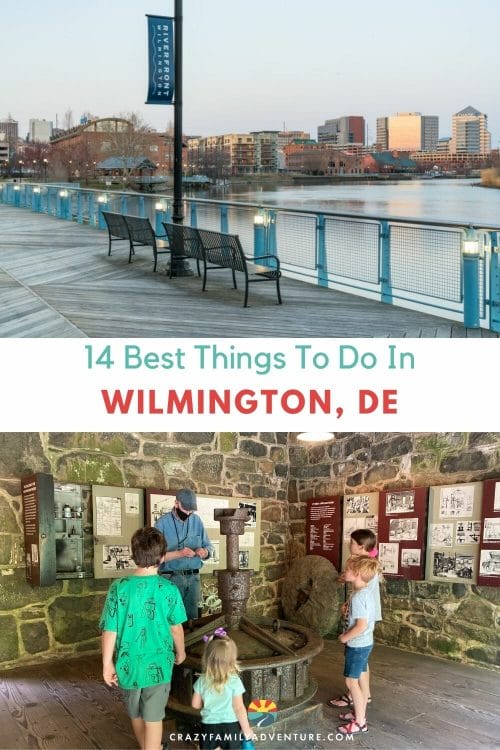 Latest posts by Chelsea Gonzales
(see all)
DISCLOSURE: This post may contain affiliate links, meaning I get a commission if you decide to make a purchase through my links, at no cost to you. Please read my disclosure for more info.