We've used our experience and research for road tripping in Vermont to put together the Ultimate Vermont Road Trip Guide. Use these suggestions to plan your trip and you're sure to have an amazing time!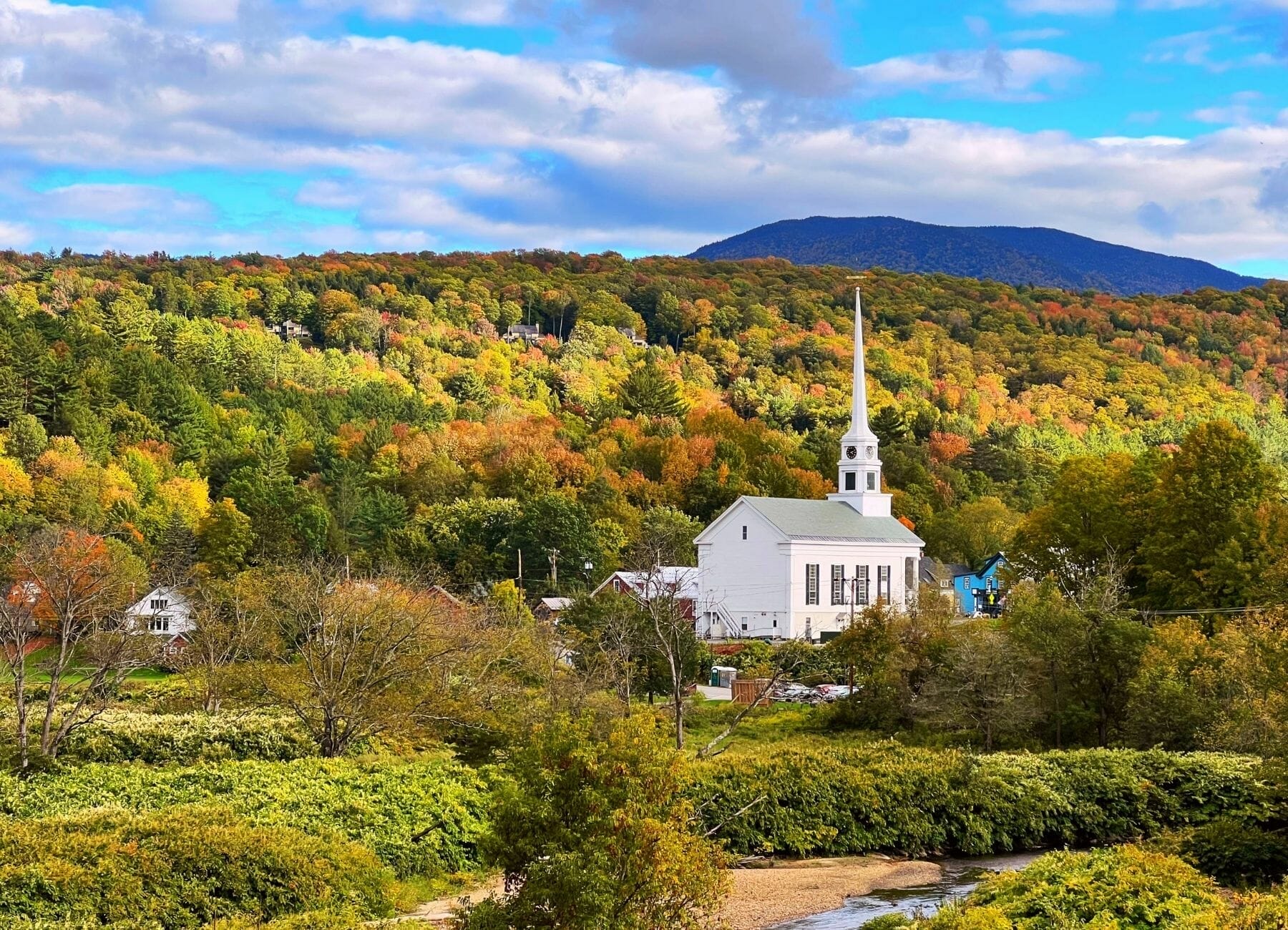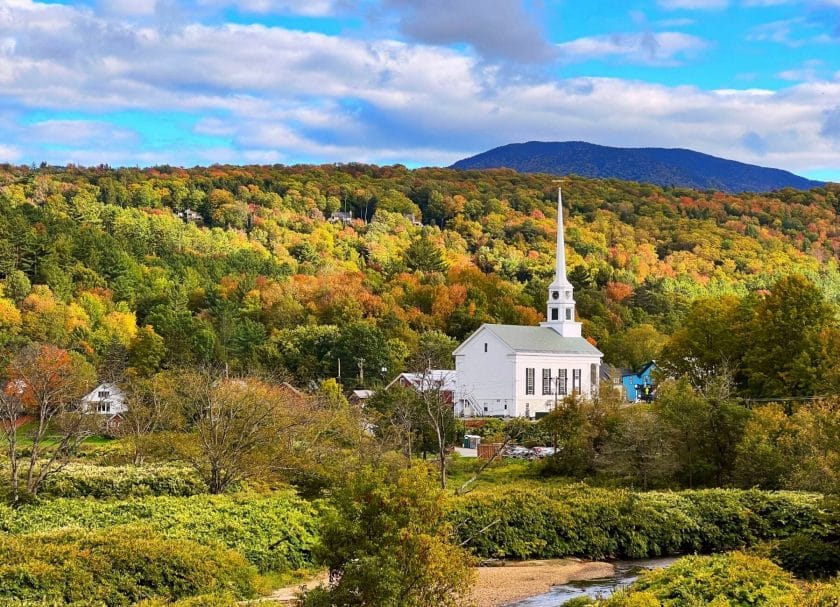 Northern Vermont
Our Vermont road trip plan starts in the northern part of the state. In our opinion, this is the best place to go for outdoor fun. Not only are there plenty of hiking trails, mountain biking trails, and waterfalls in the area, you'll also find the beautiful Lake Champlain in northern Vermont, meaning water recreation is an option. Of course, the ski resorts are also fantastic if you find yourself visiting during the winter months.
Not into the outdoors? Not to worry, there are also plenty of museums, tours, delicious cider mills, maple farms, and more in northern Vermont. You're sure to find plenty to do while you're there. 
Here we are kicking off our east coast road trip with our first stop in Vermont: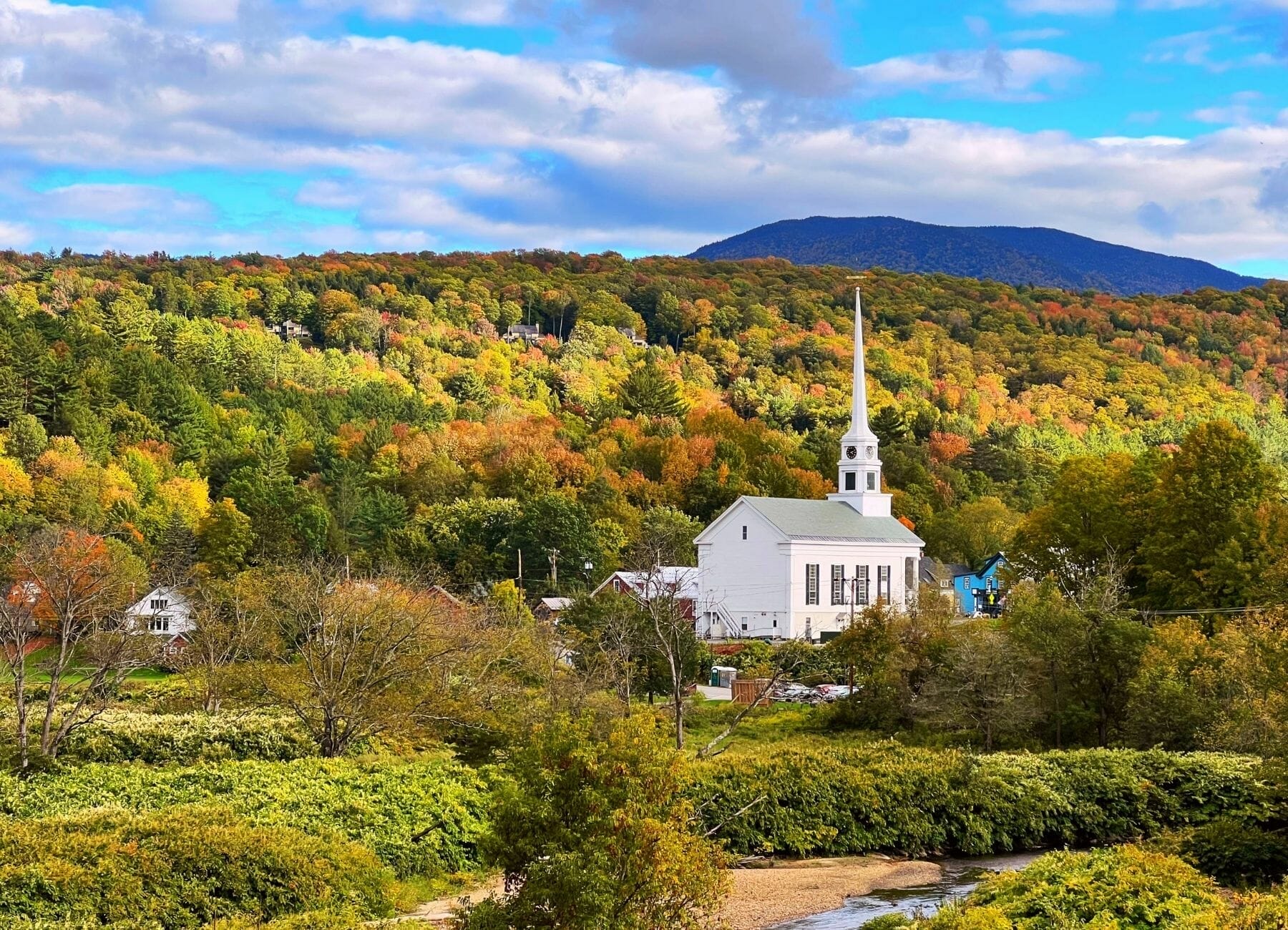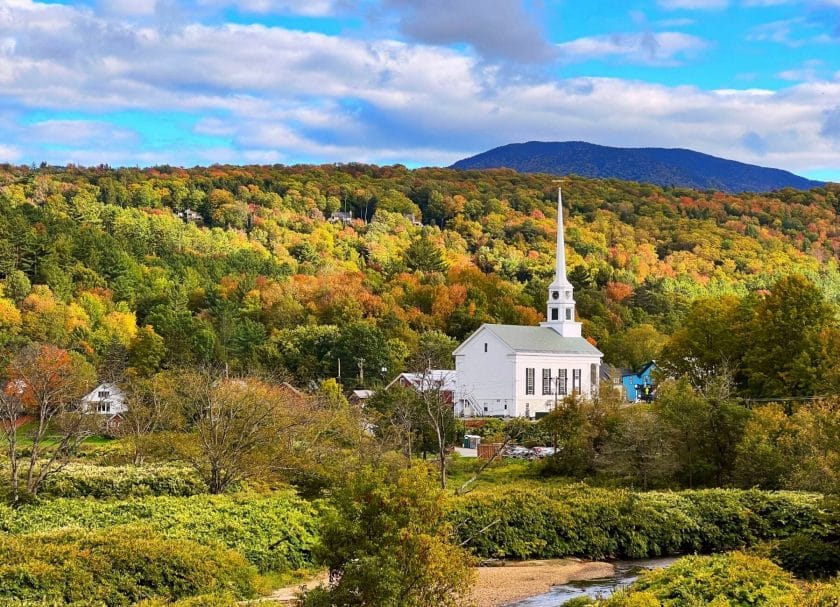 Start your Vermont road trip in Stowe,VT. Stowe is easily one of the best towns in the state to visit. It is chock-full of amazing things to see and do, and the variety really keeps things interesting. This place has been dubbed the "Ski Capital of the East," but we find it's a wonderful place to check out no matter the time of year.
Some of our favorite Stowe attractions include:
Highway 108 Scenic Drive
Those who want to take in all the beauty of the Vermont countryside should really consider a drive through Smugglers Notch on Highway 108. This scenic route provides some of the prettiest views in the state, especially if you happen to be taking the scenic drive during autumn when the fall foliage creates a rainbow of colors along the way.
Moss Glen Falls Hike
Hiking is everywhere in northern Vermont. One of the very best options is the Moss Glen Falls Hike. This is a fairly easy trail that takes you through the woods to a beautiful waterfall. If you choose to go only to the falls and back, it's a mere 0.6-mile trek. Those who do the entire trail will be looking at about 4.2 miles of hiking. 
We also really liked hiking to Bingham Falls. It's great if you prefer a super easy hike with a nice reward at the end.
Mount Mansfield Auto Toll Road
The highest peak in Vermont, Mount Mansfield offers awesome views of the surrounding area. Luckily, taking in these views does not require a strenuous hike. Instead, you can drive to the top via the auto toll road. Just be prepared for a steep and winding drive that is not for the faint of heart.
Cabot Cheese Store
Ever had some Vermont cheese? If not, a visit to the Cabot Cheese Store is a must. This store is just a short drive from Stowe, so be sure to plan a visit during your stint in the town. It's a big store with plenty of variety, and samples are available to help you decide what to buy. 
Emilys Covered Bridge
Covered bridges are everywhere in Vermont, and we recommend going on a covered bridge tour when you make it down to Bennington. That said, Emily's Covered Bridge in the Stowe area is pretty enough, and it has a cool enough story that we do recommend making a special trip just to see it and play in the water that runs under it. Just make sure you read the story behind the bridge first!
Check out our time in Stowe, Vermont:
Stowe Mountain Resort
If you're taking a Vermont road trip in the winter months, skiing is a must-do. One of the best places to do this? Stowe Mountain Resort. Here, you'll find skiing opportunities for people of all ages and levels, as well as snowboarding, hiking, biking, and plenty of delicious restaurants.
Ben & Jerrys Factory Tour
Did you know Vermont is home to the famous Ben & Jerry's Ice Cream we all love? Not only that, guests are even invited to tour the factory to see how the stuff is made! Other fun things to do at this attraction include checking out the "flavor graveyard" and grabbing a treat from the onsite Scoop Shop. 
Vermont Ski and Snowboard Museum
Skiing and snowboarding are important parts of Vermont culture. Yes, you should definitely try these sports for yourself if you are visiting during the snowy months. That said, you can also learn about skiing and snowboarding by visiting the Vermont Ski and Snowboard Museum. 
Smugglers Notch State Park
Named for a narrow pass through the Green Mountains, Smugglers Notch State Park is a beautiful park. It features incredible cliffs, gorgeous vistas, a picnic area by a stream, and wonderful hiking trails. Other fun things to do in the park include bouldering, ice climbing, cave exploring, and biking. 
Cold Hollow Cider Mill
Most people are aware that Vermont is known for its cider. Why not watch some fresh Vermont cider being made? At Cold Hollow Cider Mill, you can do just that while sipping on a cup of the stuff. After you've finished your cider, be sure to pick up some fresh cider donuts and some more cider to take home!
Where to Eat
The Backyard
An amazing dinner experience can be found at The Backyard. The outdoor seating here is lovely, and the restaurant has an excellent selection of food and drinks. We recommend sitting near the outdoor firepit if at all possible. 
Stowe Cider
Cold Hollow Cider is great, but if you're looking for even more fantastic cider, head to Stowe Cider. Here, you can sit (both indoor and outdoor seating are available) and sample a variety of ciders. You might also get lucky and be at the cidery when a local food truck is parked outside.
The Alchemist
Touted as "the best brewery in the U.S.," The Alchemist is a must-try spot for beer fanatics. Our favorite option here? The Heady Topper beer. That said, any brew you try is likely to be wonderful. 
More Information on Stowe
20 Fun Things To Do in Stowe, Vermont
If you only have a weekend be sure to check out this great post on a Vermont weekend getaway!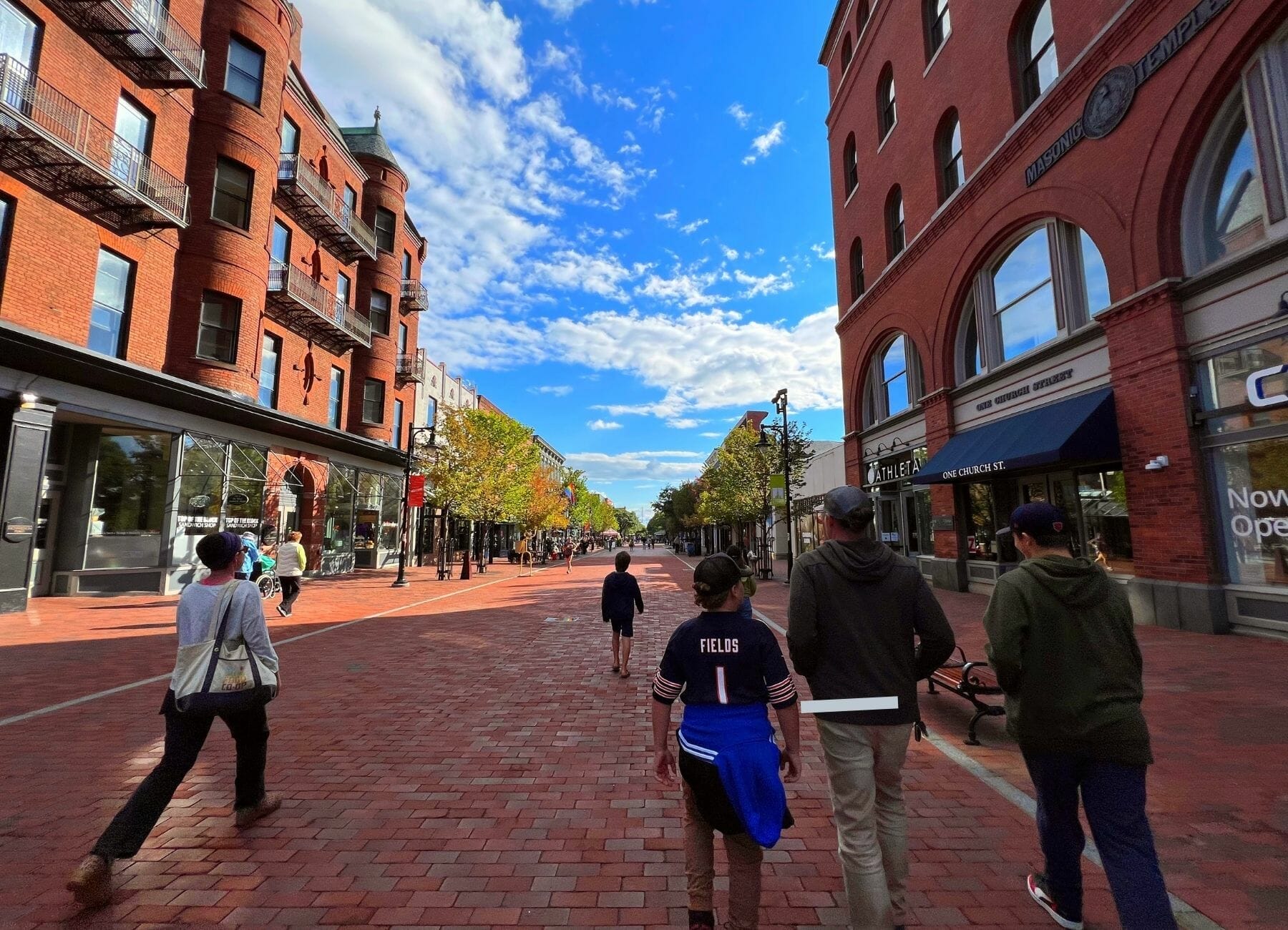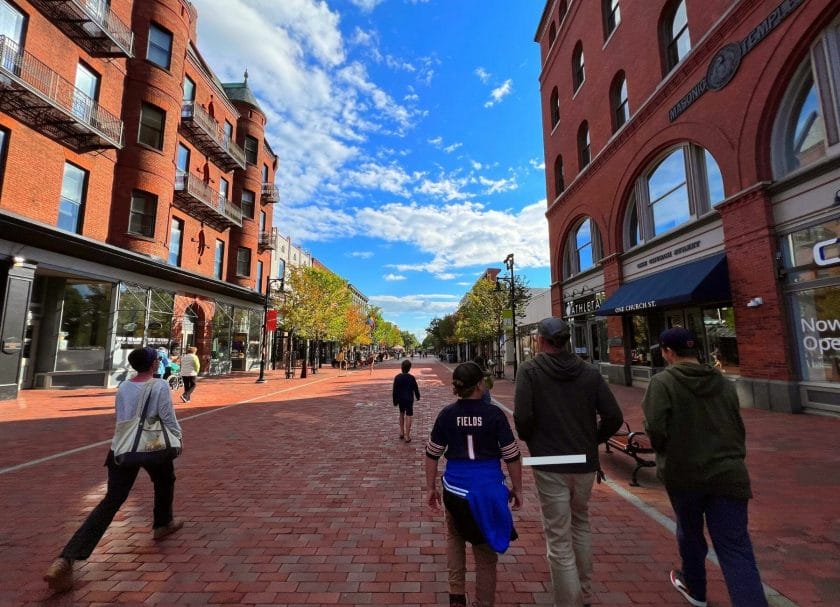 Another beautiful city, Burlington should be on every Vermont road trip list. This place is located right on Lake Champlain, so expect beautiful views and beaches. You'll also find great places to bike and some awesome spots to learn something new.
Some of the very best things to do in Burlington are:
Church Street Marketplace
An awesome shopping district located in downtown Burlington, Church Street Marketplace is an excellent place to do some souvenir shopping. The district covers a full four blocks and plays host to numerous local shops and eateries, as well as street performers that set up shop on nearly every corner. 
Lake Champlain Waterfront
Lake Chaplain is seriously gorgeous and well worth visiting several times during your Vermont road trip. We especially love heading to the Lake Champlain waterfront in Burlington to stroll along the boardwalk and watch the sun go down over the water. 
Green Mountain Railroad
Looking for yet another way to enjoy the beauty of the Vermont countryside? Hop on a Green Mountain Railroad train. This awesome tour company offers a variety of different types of rides through some of the prettiest parts of the state, allowing you to see this beauty from a different point of view.
Ethan Allen Homestead Museum
Most people have heard of Ethan Allen, but many don't realize that the man played such an important role in protecting Vermont homesteading rights. Additionally, he aided the Continental Army during the Revolutionary War. Visit his homestead to learn all about this incredible man.
ECHO Leahy Center
Lake Champlain is a prominent feature of northern Vermont. What many don't realize is the role the lake serves in the environment. Visit the ECHO Leahy Center to learn about the ecosystems in the lake and how they work together to create the beautiful northern Vermont environment we love. 
Where to Eat
Citizen Cider
Yet another fantastic place for cider, Citizen Cider is the perfect dinner spot. Get a flight of cider to try some interesting flavors, and be sure to try the poutine, which the restaurant is well known for. 
Foam Brewery
For lovely outdoor seating, great craft beers, and even more cider options, head to Foam Brewery. This is a favorite of locals and visitors alike, and once you visit, you'll understand why. 
Creemees Ice Cream
Finally, you'll want to round out at least one day with ice cream from Creemees. This place is located on the Lake Champlain waterfront, meaning you can grab a scoop (we recommend the maple flavor) and watch the gorgeous sunset. 
More Information on Burlington
15 Fun Things to do in Burlington, VT
Shelburne Vermont
Located just a little bit south of Burlington, Shelburne has a surprising number of excellent attractions to offer. Therefore, we felt it had to be included in our Vermont road trip itinerary. That said, you could easily visit Shelburne while staying in Burlington if you prefer to change lodging less often.
Our favorite Shelburne attractions are listed below.
Shelburne Museum
Several historic buildings stand on the gorgeous campus of Shelburne Museum. Each of these lovely buildings is home to exhibits on art, history, nature, and more. The exhibits are so varied that there is sure to be something for everyone, and if you ask us, the grounds and buildings are just as interesting as the exhibits.
Vermont Teddy Bear Factory
In addition to producing delicious ice cream, Vermont also puts out some seriously adorable teddy bears. These are made by the Vermont Teddy Bear Factory in Shelburne, where guests are invited to tour the facility and see just how these stuffed friends are put together. You can also create your own bear or send a favorite teddy to the "doctor" to get fixed up. 
Lake Champlain Chocolates
Syrup and cider are two foods Vermont is known for, but did you know that the state also puts out some seriously good chocolates? Some of the best are from Lake Champlain Chocolates. Their candies are made from locally sourced ingredients, and they offer a free 30-minute tour (complete with a tasting!) to anyone who stops in. 
Shelburne Farms
An enormous working farm, Shelburne Farms is an excellent place to learn all about Vermont farm life. This attraction is home to a non-profit that works to educate visitors on how to create a sustainable future. Environmental educational programs happen on a regular basis at the farm, and walking trails, a historical barn filled with animals, and an onsite restaurant all help to make it an exciting experience.
Where to Stay
Courtyard Burlington Harbor
Our favorite hotel in the northern Vermont area, Courtyard Burlington Harbor features all kinds of amazing amenities. The saltwater pool is perfect for relaxing after a long day of adventuring, and the onsite restaurant makes meals easy. Guests also love sitting around the outdoor firepit to unwind.
Serene Country Cabin
The perfect escape into the Vermont countryside, the Serene Country Cabin is a great pick for your time in Stowe. The cabin is just a few minutes away from the town, and is also near skiing and other outdoor recreation opportunities. It includes amenities such as an outdoor fire pit, cable TV, and books and games.
White Caps Campground
Prefer to camp during your time in northern Vermont? White Caps Campground is a great pick. This beautiful place is located at the south end of Lake Willoughby and has spots for tents and RVs, as well as some rental cabins. Onsite activities include hiking, paddling, and swimming.
Central Vermont
After you've spent a week or two in the northern part of the state, you'll want to continue your Vermont road trip and head on down to central Vermont. This area is home to the state capitol. It's also a fantastic place to learn a bit of history.
Of course, you'll find some outdoorsy fun here too, including an absolutely stunning state park that is a Vermont must-see. Other fun sights include art galleries, adorable local boutiques, and yummy local restaurants.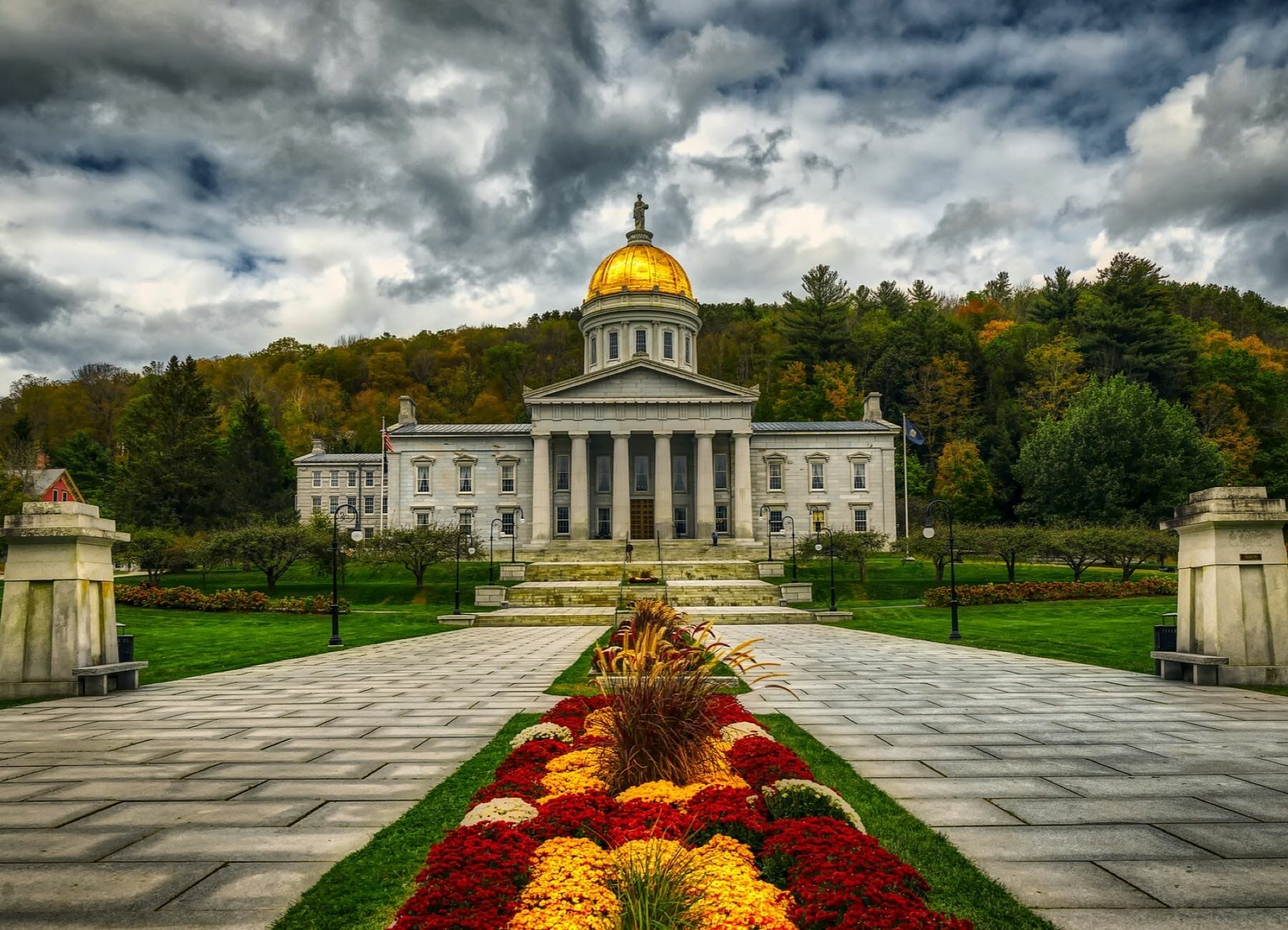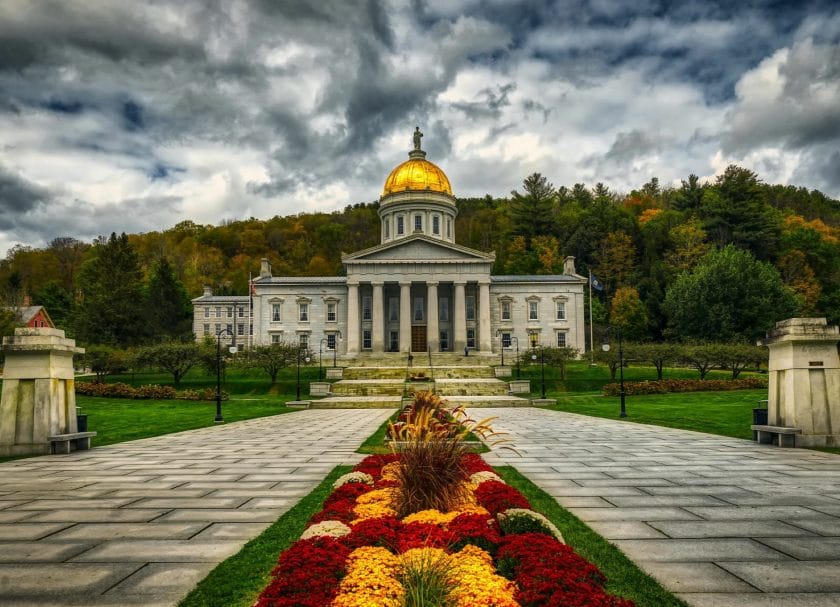 Montpelier Vermont
It might be the smallest capital city in the country, but Montpelier isn't lacking when it comes to character or things to do. Local boutiques and restaurants are around every corner, the historic downtown area and pretty park provide great places for a stroll, the nightlife scene is surprisingly fun, and galleries, theaters, and music venues all work together to keep the arts alive.
Want to find the best attractions in Montpelier? We've got you covered below:
Rock of Ages
Start your tour of Rock of Ages in the beautiful modern visitor center where you can watch a video about quarrying, shop for stone souvenirs, and of course, book your quarry tour ticket. When it's time for your tour, you will be taken to see the largest operating deep-hole dimension granite quarry in the world. This is an astounding sight to see, and a unique experience for sure.
Morse Farm Maple Sugarworks
Maple syrup is one food item that just screams Vermont. For this reason, we highly recommend touring at least one maple farm while in the state. Morse Farm Maple Sugarworks is a great choice. Here, you can tour the grounds either on foot or via motorcoach. There are also videos that provide plenty of information and even a free treat at the end of the tour. 
Looking for another great maple farm option? We also loved Sugartree Maple Farm. 
Where to Eat
Sarducci's Italian Food
For great Italian food, you simply must go to Sarducci's while in Montpelier. This is easily one of the best restaurants in the city, and has options for picky eaters and adventurous palates alike. Best of all, the outdoor seating overlooks the river, meaning you'll have a great dinner and a great view.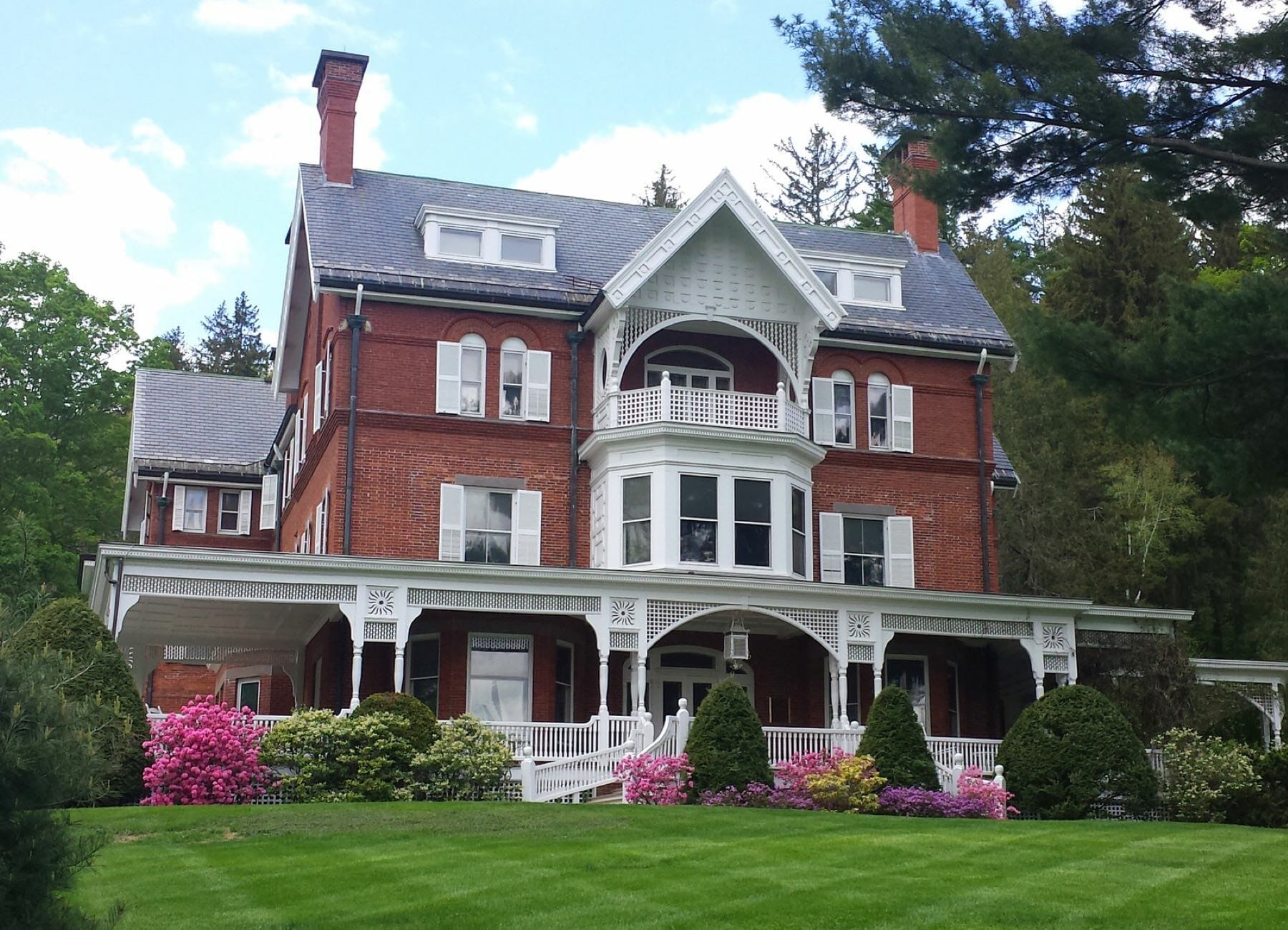 Woodstock Vermont
A small and picturesque place off of Route 100, Woodstock may be quiet and laid-back, but that certainly doesn't mean it's a boring place. In fact, the town might just be one of the best tourist destinations in the state. Biking, golfing, and fishing are popular activities in the town, and the dozens of bed-and-breakfasts ensure everyone has a place to lay their head after a day of exploring.
Not sure what to do when you get to Woodstock? Here are our favorite options:
Quechee Gorge State Park
Home to some of the most unique landscapes in Vermont, Quechee Gorge State Park is the perfect place to go for a long hike and some fantastic photo opportunities. The gorge is the deepest in Vermont, and is often referred to as "Vermont's Grand Canyon." That said, the green scenery is nothing like what you find at the Grand Canyon, yet still incredibly beautiful.
Marsh-Billings-Rockefeller National Historical Park
The Marsh-Billings-Rockefeller National Historical Park is a lovely place that is full of history and natural beauty. It was once a forest and dairy farm owned and operated by Frederick Billings, and is named for Billings and his co-owners. It's a wonderful place to explore, and we're betting you'll learn something new while you're there.
Billings Farm and Museum
An absolutely fantastic open air museum, Billings Farm and Museum is home to a fully operational Jersey cow farm, as well as a restored historic home that serves as a museum. Learn about the history and culture of the state and then head outdoors to get hands-on and learn about animals. 
Where to Stay
Comfort Inn and Suites at Maplewood
Need a hotel in central Vermont? We've got you covered. This Comfort Inn and Suites is incredibly well reviewed for a reason. The staff are on top of things, everything is clean and well-kept and the hotel is in an excellent location.
Cottage on the Hill
Located between Montpelier and Woodstock, this Cottage on the Hill is an awesome home base for your time in central Vermont. Not only is it absolutely adorable, it's also functional and comfortable, boasting amenities like a fireplace, a washer and dryer, and a fully equipped kitchen.
Southern Vermont
Finally, you will probably want to mosey on down to southern Vermont to round out your Vermont road trip. While this part of the state doesn't have quite as many attractions as the northern area, the things you will find in this area are still well worth stopping for.
We love the history lessons found in south Vermont, and the museums are some of the most unique we've found. Of course, we can't fail to mention the fantastic fly fishing opportunities found in the area.
Manchester Vermont
Manchester is another quaint Vermont town. This one is tucked away in the Green Mountain National Forest, providing the perfect escape from the hustle and bustle of the bigger city. If you're looking for a taste of rural Vermont, this is the place to go.
The best Manchester attractions include:
Hildene: The Lincoln Family Home
First owned by President Lincoln's son, Robert Todd Lincoln, Hildene was passed from one generation of the Lincoln family to the next for many years. In 1975, the home was purchased and restored to its original glory, and is now open to visitors who can tour the house and grounds. 
American Museum of Fly Fishing
Fly fishing is a popular pastime in the state of Vermont. Therefore, it should come as no surprise that the state is also home to an entire fly fishing museum. Wander the American Museum of Fly Fishing to learn all about fly fishing and the history behind it.
The Vermont Country Store
If you head north of Manchester you will eventually make your way to the Vermont Country Store. This adorable general store has all the New England country charm you could ever want, and is the perfect place for browsing for souvenirs.
Bennington Vermont
Not too much further south you'll find the city of Bennington. This city has a lovely collection of covered bridges that absolutely must be checked out when you're there. It's also home to a number of excellent museums, so make sure you schedule at least a few days to explore the place.
Below are the must-dos in Bennington:
Robert Frost Stone House Museum
Robert Frost is a well known poet. Nearly everyone has read the man's poetry at some point, and many consider him a genius wordsmith. At the Robert Frost Stone House Museum, you can tour the home of this amazing writer and learn a bit about the life and times of the man. 
The Bennington Battle Monument
Built to commemorate The Battle of Bennington, which took place on August 16th, 1777 during the Revolutionary War, the Bennington Battle Monument is a must-see when in the area. The monument is a 306-foot-high stone obelisk. Events often take place at the monument, and there is an observation floor in the monument that provides excellent views. 
Bennington Museum
The perfect place for art fanatics, Bennington Museum focuses on art made in New York, New Hampshire, and Vermont. Here you'll find art from the 1700s, as well as more modern pieces. One of the museum's most notable features? Its enormous collection of Grandma Moses paintings. This is the largest collection in the world from this artist. 
Where to Stay
Cozy Mountain Retreat
Nothing says Vermont quite like a cozy little cottage in the woods, and that is exactly what you'll find at this Cozy Mountain Retreat. Stay here to escape into nature while still remaining close enough to local attractions. Enjoy fast internet, a nice grill, and more.
Manchester View
Get a room at the Manchester View and you will be minutes from Route 7, as it is located in Green Mountain National Forest. The rooms are all non-smoking and equipped with wi-fi. You can even splurge and upgrade to a room with a fireplace and hot tub!
Pine Hollow Campground
Want to camp in south Vermont? If so, Pine Hollow Campground is the spot for you. This lovely campground is located just a few minutes south of Bennington, meaning you won't have to drive far to see local attractions. That said, you might just be tempted to stay within the campground most of the time, considering the gorgeous views and outdoor recreation opportunities found there.
There you have it, 45 amazing stops so you can hit the road on your Vermont road trip we hope you enjoy your time exploring the Green Mountain State!
Want even more information on visiting the incredible state of Vermont? Check out
East Coast Road Trip 25+ Stops You Don't Want to Miss!
31+ Fun Things to do in Vermont
Visiting New York City With Kids [Itinerary Included]
Washington DC: 8 monuments, 4 kids, 5 miles, 1 day
11 East Coast National Parks You Want To Visit This Year
11 Things to do in Bar Harbor, Maine
14 Best Things To Do In Lincoln New Hampshire
21 Best Things to do in Mystic CT
Top 8 Best Amusement Parks In NJ
The Best Summer Fun At The Wildwood New Jersey Boardwalk
Jenkinson's Boardwalk NJ (What To Know When Visiting)
Top 14 Best Things To Do In Wilmington DE
Pin This Post: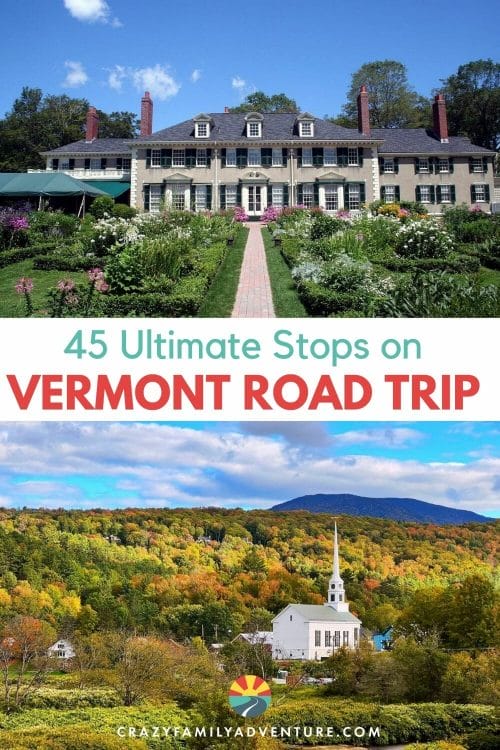 Latest posts by Chelsea Gonzales
(see all)
DISCLOSURE: This post may contain affiliate links, meaning I get a commission if you decide to make a purchase through my links, at no cost to you. Please read my disclosure for more info.