When planning our east coast road trip we knew we wanted to make a stop in Stowe, Vermont to see the leaves, bridges and to drink the delicious apple cider. We planned 2 days to get out and explore Stowe and the surrounding area. Check out the top things to do in Stowe, Vermont that we recommend based on our experience exploring the area!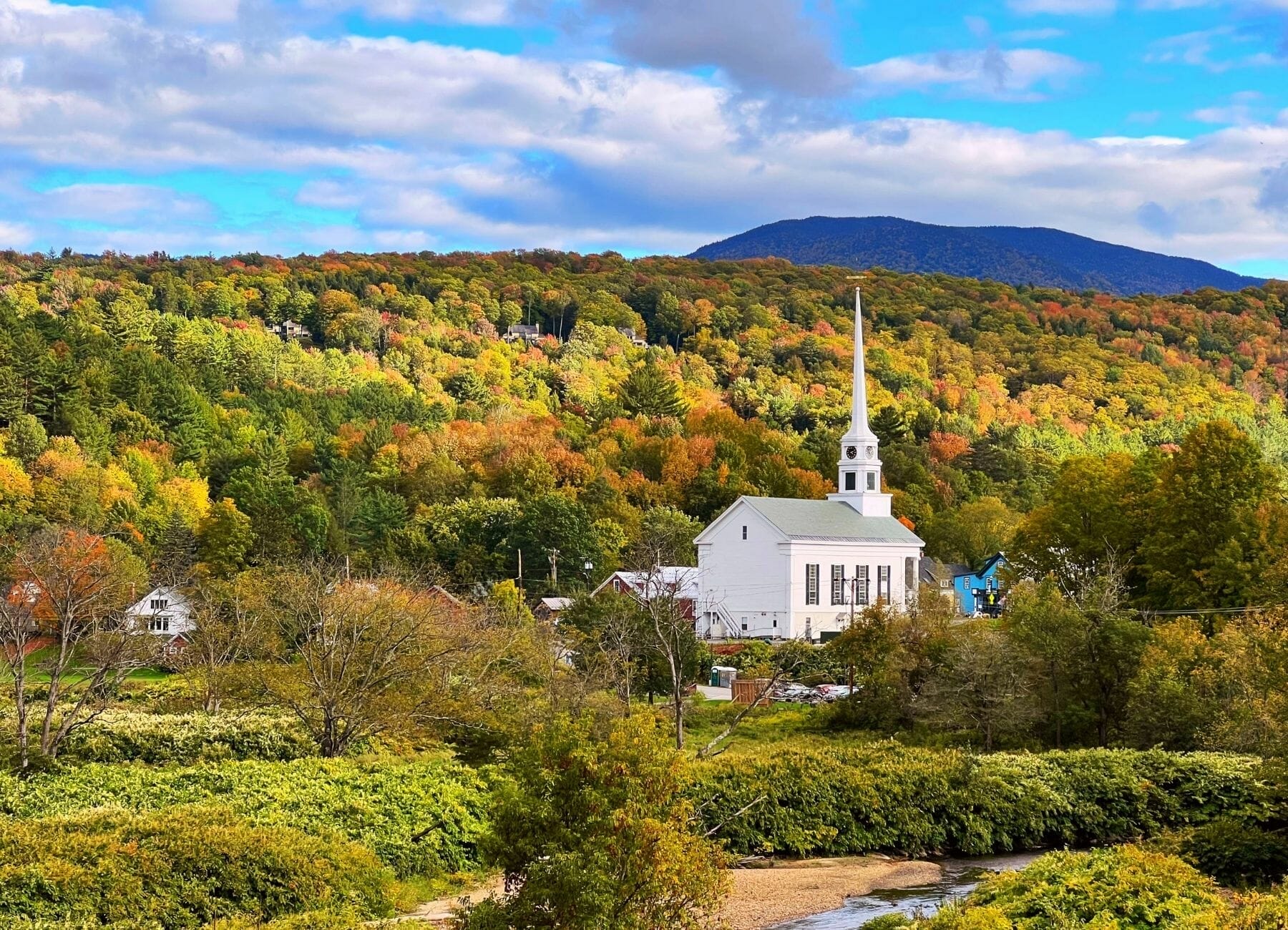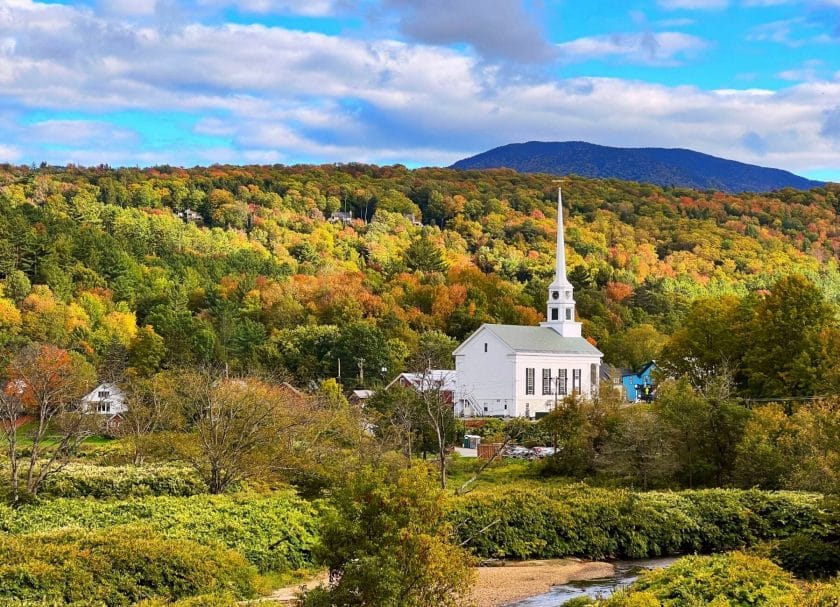 Cruise Highway 108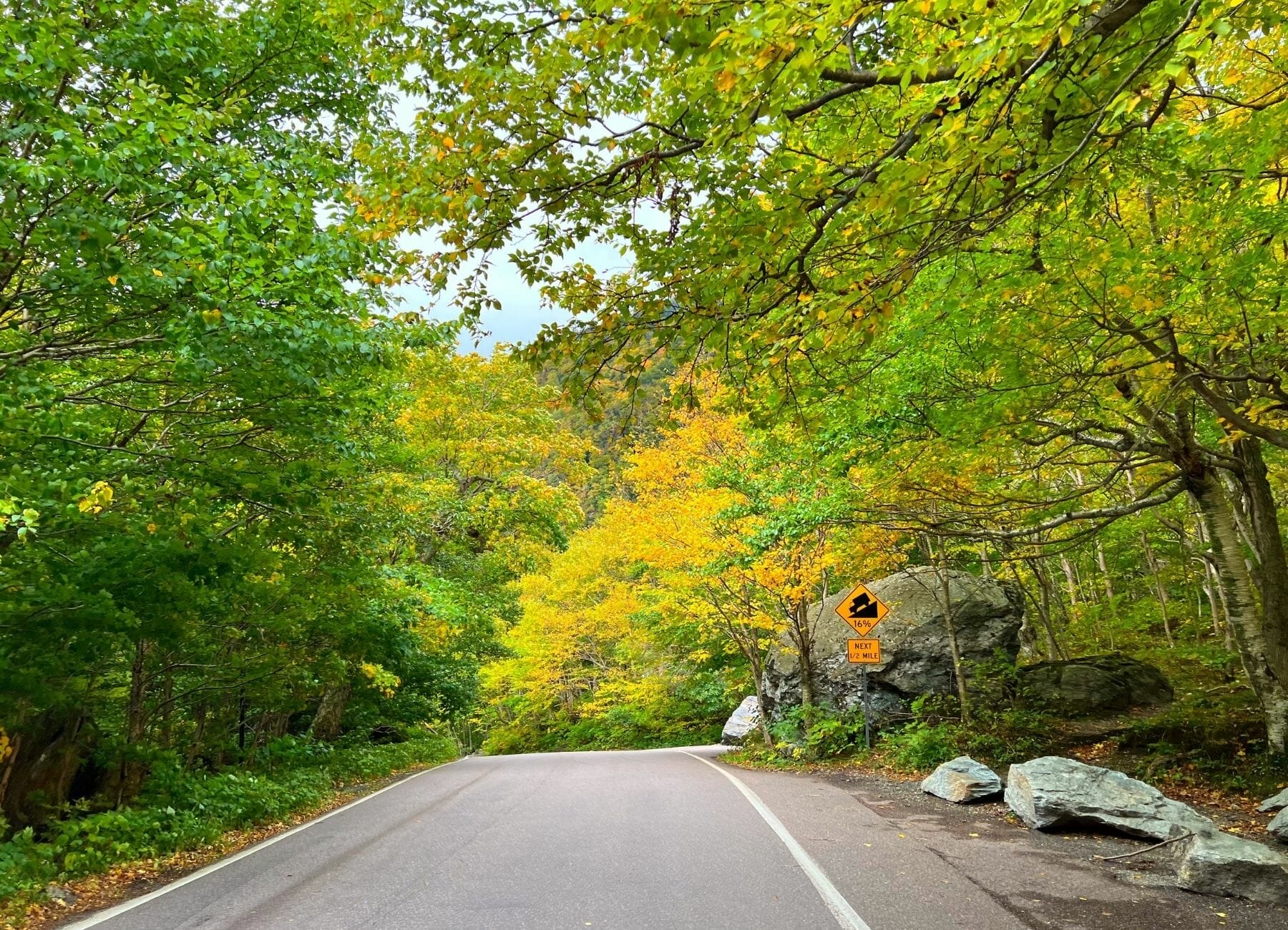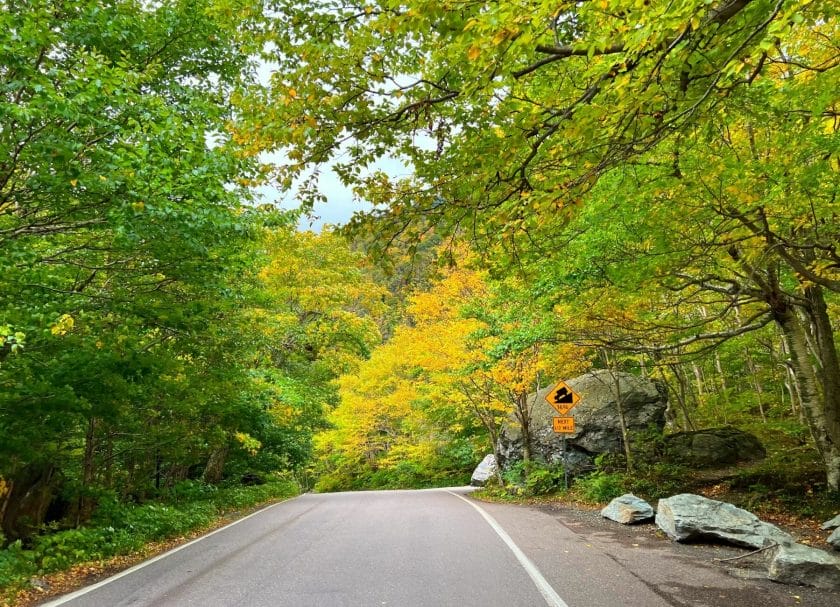 In the mood for an absolutely beautiful drive? Cruising Highway 108 through the Green Mountains is an amazing way to see some of the most gorgeous nature in Vermont.
This highway takes you on scenic adventure through Smugglers Notch and provides plenty of opportunities to be awed by nature. Be sure to pack a camera because you're going to want it!
Top Tips:
Leave your RV behind. Tight, single-lane curves make it impossible to take a large vehicle on this road. There are also very steep grades which are no fun when towing.
Visit during the fall. The bright fall foliage makes the drive even more lovely.
Follow the Moss Glen Falls Hike
Another hike that we highly recommend is the Moss Glen Falls Hike. This easy hike is a quick 5-minute drive from town and takes you to a gorgeous waterfall.
You have the choice to hike just to the falls and back (around 20 minutes), or to keep going and do the full hike (2–3 hours). Either way, we're betting you'll have an awesome time.
Top Tips:
Inexperienced hikers stay left. There is a fork in the trail where you can go left for a great view of the falls or go right to stay close to the river. If you aren't 100% sure of yourself, go left to avoid loose debris.
Pay attention. This trail connects to other trails, and you need to remember which you took in order to get back.
Check Out Emily's Covered Bridge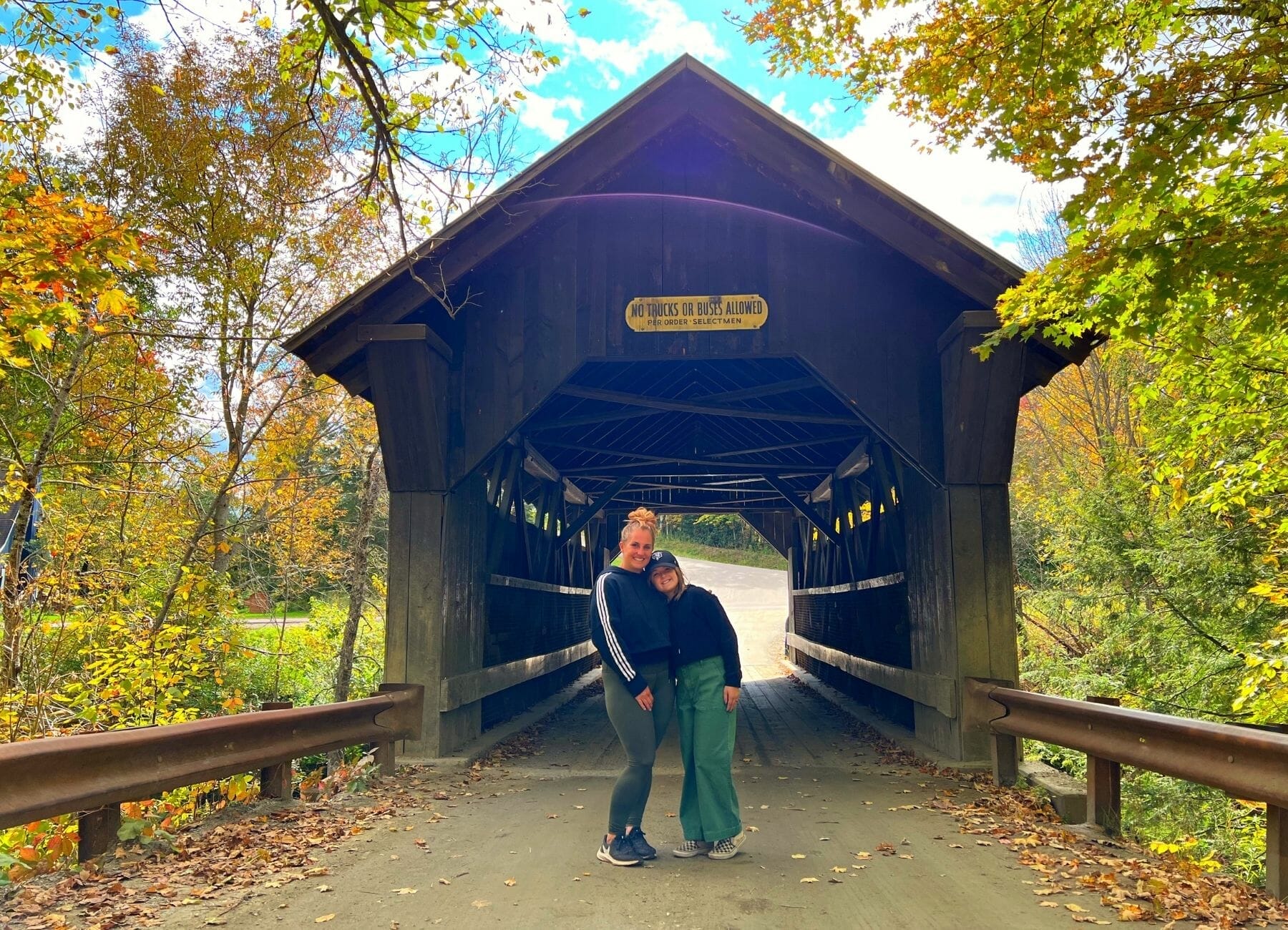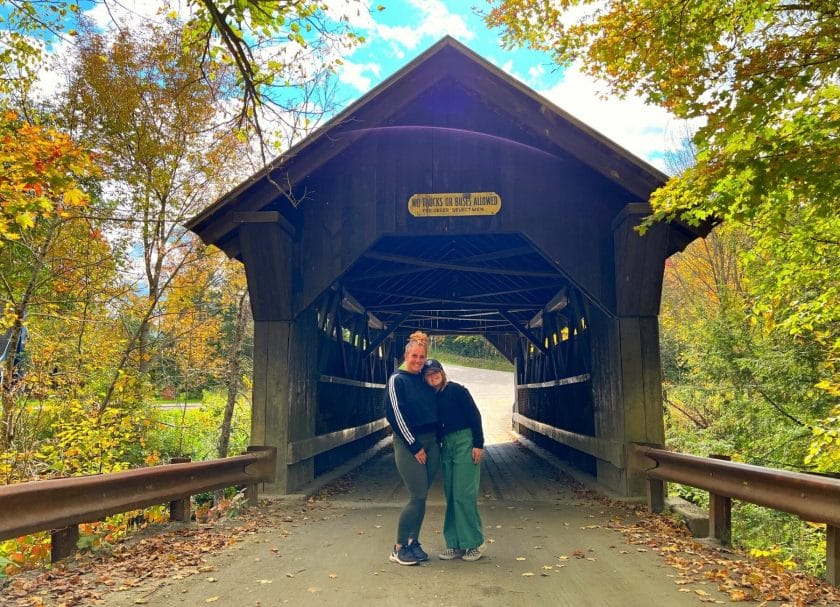 Covered bridges are so pretty to look at and a top thing to do in Stowe, VT. That's one reason we highly recommend a visit to Emily's Bridge (also known as Gold Brook Covered Bridge). The other reason? The spooky story behind the bridge. 
The story goes that Emily, upset when her lover didn't show up for a meeting to elope, hanged herself from the bridge. She is now said to haunt the bridge, scratching the vehicles and backs of anyone who passes over. We aren't sure we believe the story, but it is fun to tell anyway.
Top Tips:
Take pictures. This bridge and the woods around it provide a quintessentially Vermont image that must be captured.
Carry a towel. If it's warm enough, you might decide to play in the water below the bridge, and you'll need a way to dry off.
Walk or Ride the Stowe Recreation Path
Yet another path that is worth checking out while in the area is the Stowe Recreation Path. This is an internationally recognized greenway that stretches 5.3 miles from Stowe Village to Top Notch Resort.
The path is paved, making it ideal for both walking and biking. Additionally, it offers some spectacular views, meaning your time in nature won't be boring when on this trail.
Top Tips:
Give yourself plenty of time. The path offers access to a variety of local businesses, and you will want time to check them out.
Skip the motor. No motorized vehicles are allowed on this path, so you will want to stick to a bike, rollerskates/rollerblades, or simply walking.
Hike to Bingham Falls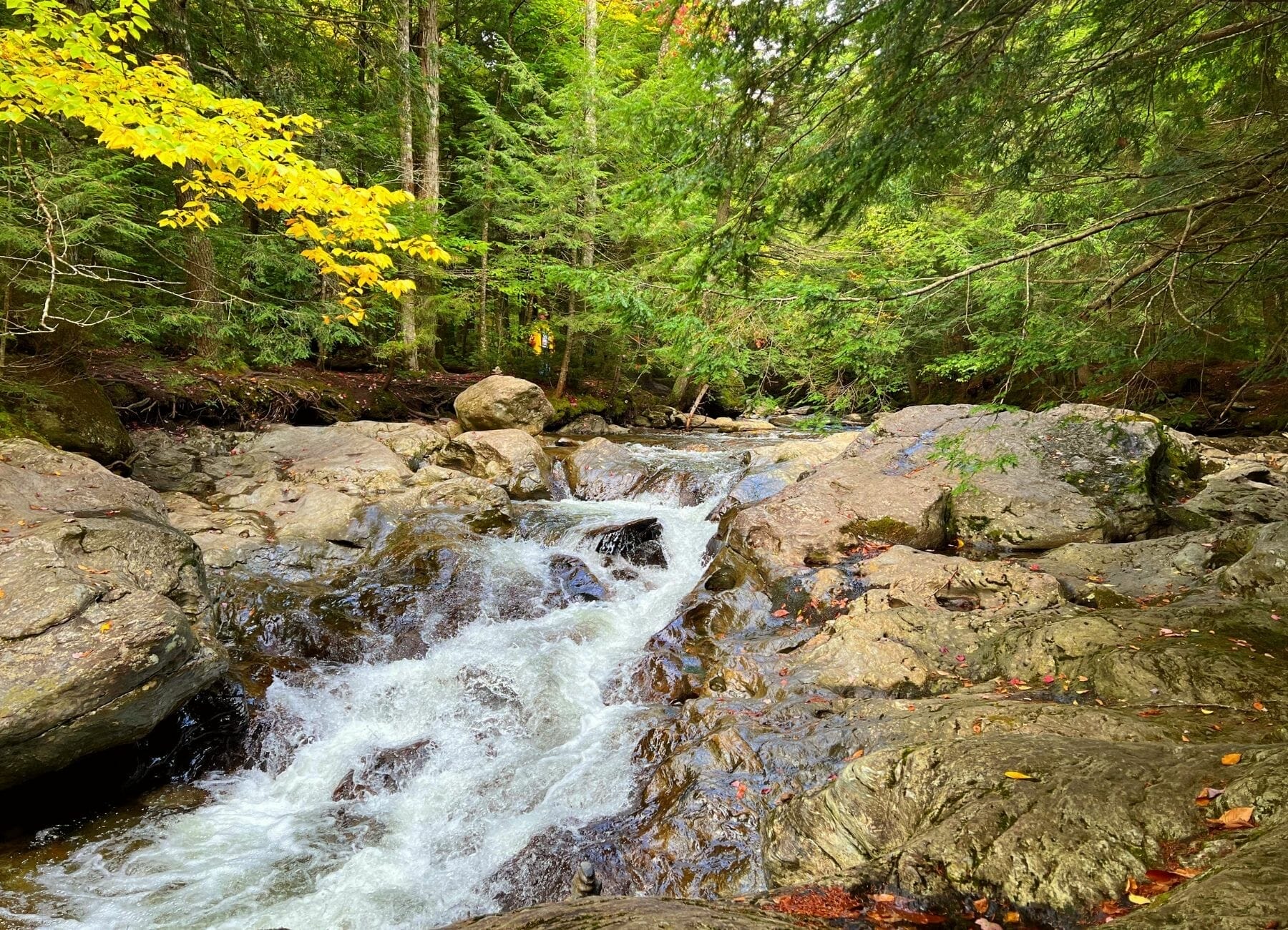 Hiking is hugely popular in this area for a reason. There are tons of amazing hiking trails everywhere you look. One that we really like is the Mills Trail, which takes you to Bingham Falls.
At only 1.3 miles long, this is a shorter trail, but it's a beautiful walk. On top of that, the falls at the end are quite pretty and well worth the super easy walk to get there.
Top Tips:
Manage your expectations. This isn't the most awesome hike out there, but it's great for kids and a nice stroll through nature besides.
Be prepared for mud. When it rains, this trail can get pretty muddy.
Drive to the Top of Mount Mansfield
One thing everyone must do when visiting the Stowe, VT area is drive to the top of Mount Mansfield. At 4,395 feet, this is the Vermont's highest peak and it provides quite the view.
The drive to the top is done on the Auto Toll Road, a road that was originally built in 1870 for horse-drawn carriages. These days, the steep and winding road is open to cars and is quite thrilling, to say the least.
Top Tips:
Be prepared. This road is not for those who are afraid of mountain roads. It is steep and includes some serious switchbacks.
Pack a lunch. The top of Mount Mansfield is a great place for a picnic. Or you can walk the top of Mount Mansfield.
Learn more about driving the Auto Toll Road to the top of Mount Mansfield.
Visit the Cabot Cheese Store
Are you a cheese fan? If so, you simply must make the time to visit the Cabot Cheese store just outside of Stowe.
This awesome store is surprisingly large, and is of course all about cheese. Free samples are available in case you're unsure of what to buy, and the variety and quality offered in this place is incredible.
Top Tips:
Set a budget. Cheese fanatics will want to buy it all. Make sure you know what your budget is going in, or you might go home with way too much cheese.
Shop Cold Hollow Cider Press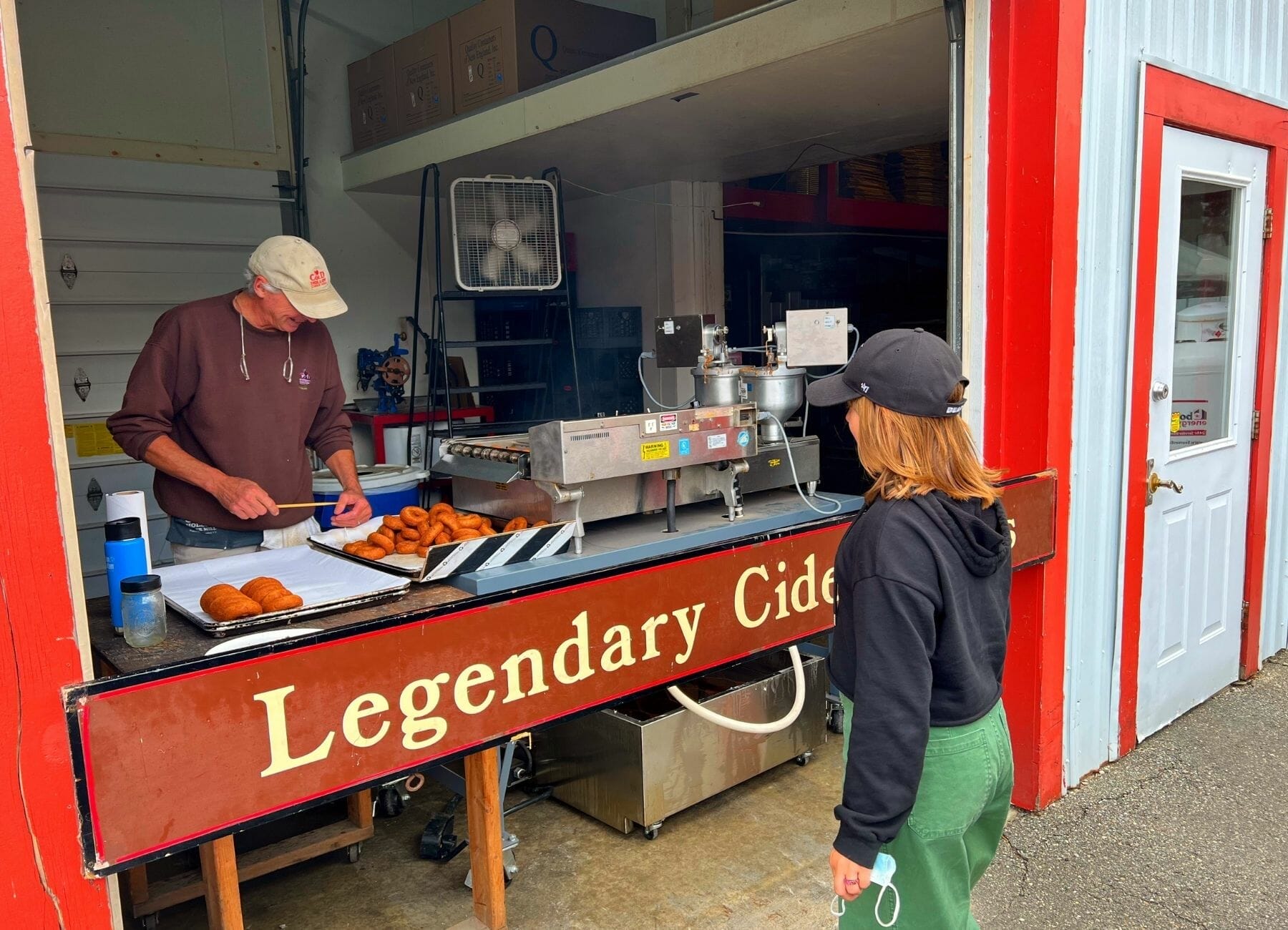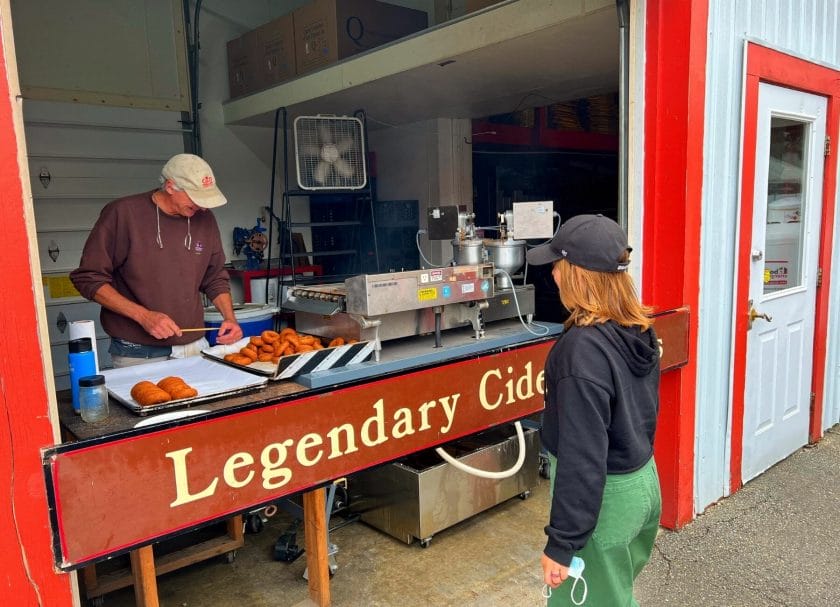 No store says "Vermont" more than Cold Hollow Cider Mill. This gift shop sells cider (including hard cider), apple cider donuts, and a whole bunch of other local products that are almost impossible to resist. 
The cider is incredible, and you can watch it being made right in front of you. Not only that, you can sample cider before you buy.
Top Tips:
Consider dining. If you're hungry when you get there, you might consider eating at the onsite restaurant, which serves breakfast and lunch.
Visit the tasting room. The place also has a hard cider tasting room where you can sample a variety of hard ciders. This is well worth doing.
Explore Smugglers' Notch State Park
State parks are some of the best places to really immerse yourself in the beauty of an area. When it comes to the Stowe, Vermont area, Smugglers' Notch is the best place to do just that.
This gorgeous park offers opportunities to hike, explore caves, ice climb, and do some bouldering or mountain biking. The visitor center is the perfect place to learn more about the park, and the campground is a great place to stay if you enjoy camping.
Top Tips:
Make a reservation. If you plan to camp, be sure you make a reservation.
Check the schedule. This park will often host special events. See if there is an opportunity to attend an event while you're there.
Take a Sleigh or Carriage Ride with Gentle Giants
Looking for a way to get around town? Why not in a carriage or sleigh pulled by beautiful, powerful, and gentle Belgian and Percheron horses?
Gentle Giants Sleigh and Carriage rides offer visitors the opportunity to ride like royalty throughout the year. We especially love the wintertime sleigh ride, which feels exactly like something out of a Christmas movie.
Top Tips:
Bundle up. If it's cold out, it'll be even colder when the sleigh gets moving, so wear a coat, gloves, and especially a hat.
Stroll Stowes Main Street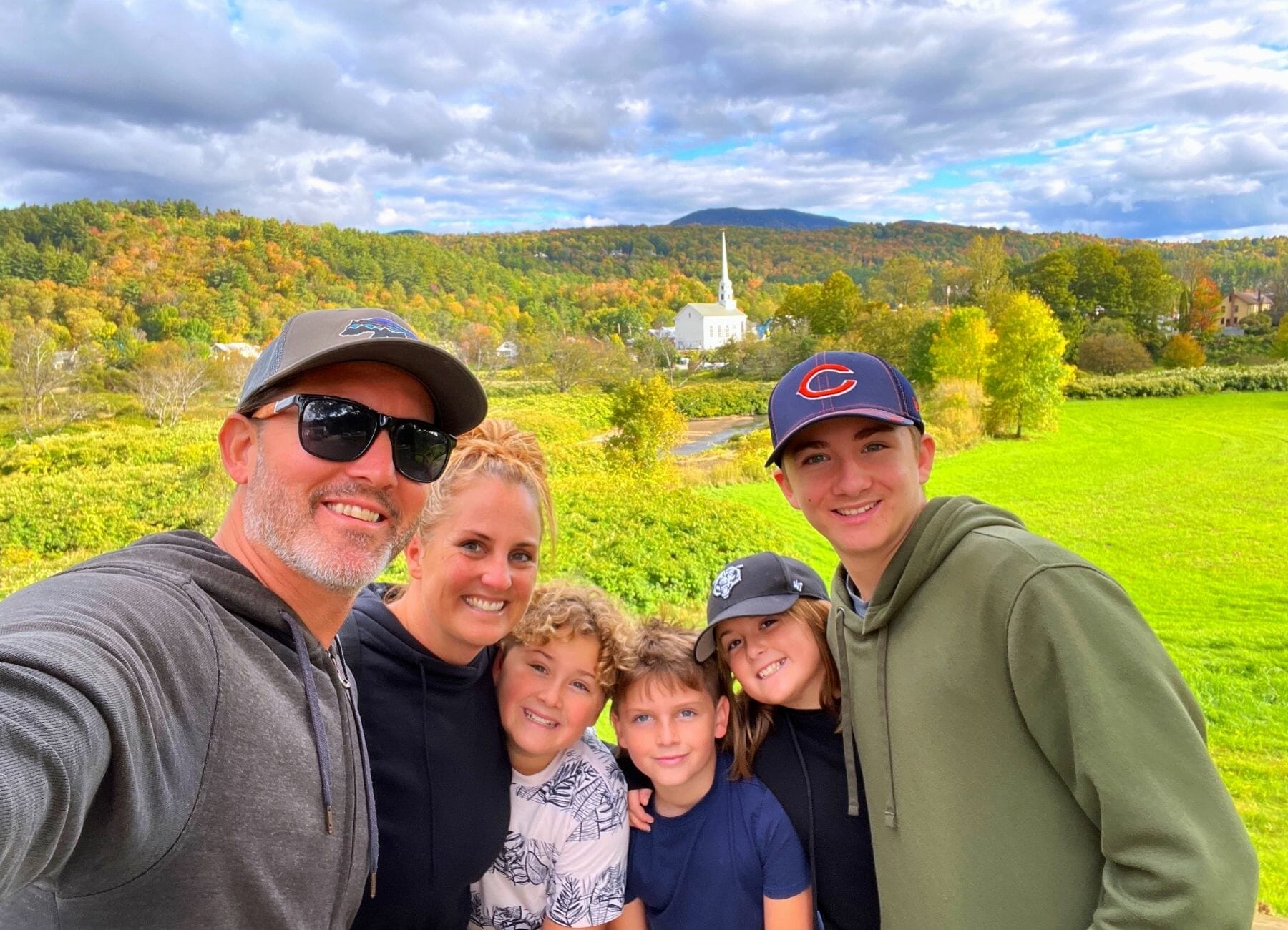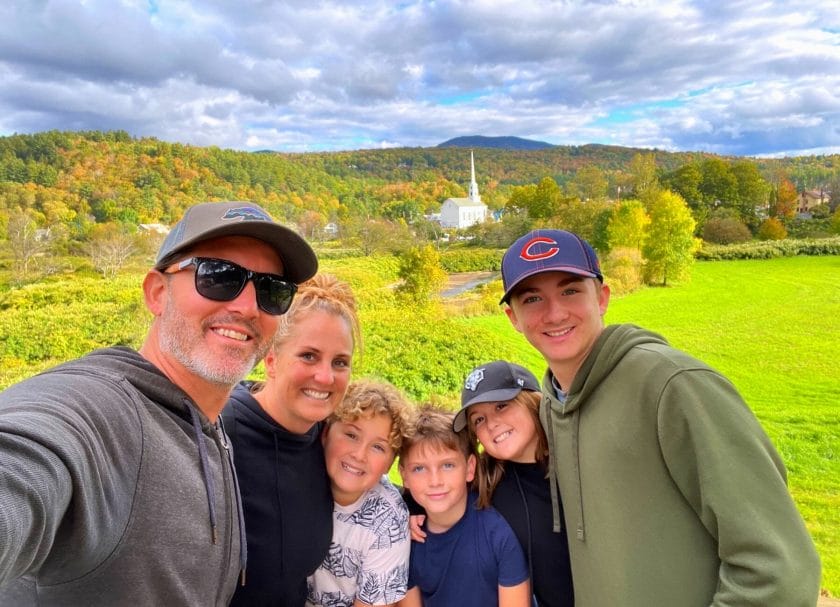 People who enjoy historic downtown areas will adore Main Street in the town of Stowe. This adorable road is home to lots of local shops, offering plenty of places to look around as you wander the town.
While the walk down Main Street is short, we do think it's worth the stop and the few minutes it takes to check it out.
Top Tips:
Get a photo. After checking out Main Street, head to the overlook at Salon Salon for an awesome picture overlooking the town.
Ski at Stowe Mountain Resort
No wintertime visit to Vermont is complete without trying skiing at least once. In Stowe, the best place for that is Stowe Mountain Resort.
This awesome resort offers skiing on both Spruce Peak and Mount Mansfield, meaning you'll have twice the fun during your visits. Whether you're a complete beginner or an old pro, we highly recommend heading to Stowe Mountain Ski Resort during your winter visit. 
You will also find places to go cross country skiing and snowshoeing!
Top Tips:
Make dining reservations. If you plan to eat at the resort, a reservation is required.
Have Fun at Trapp Family Lodge Outdoor Center
Trapp Family Lodge Outdoor Center is home to the first cross-country ski center in the United States, and the largest one in the area besides. Not only that, the center also offers opportunities to try your hand at snowshoeing.
Planning a summertime visit? There are plenty of options at the lodge during the summer months as well. These include swimming, tennis, hiking, and even VonTrapp family history tours.
Top Tips:
Stay here. Day visits are an option and are fine if you'll only visit once, but if you plan to take advantage of these activities often, you might want to stay at the resort.
Go Ice Skating at Spruce Peak Village
There's nothing quite as magical as ice skating on a cold Vermont winter day. This is especially true during the holiday season when everyone's spirits are bright.
If you're looking to experience this while in Stowe, we recommend the ice skating rink at Spruce Peak village. This outdoor rink is free and open to the public.
Top Tips:
Rentals are available. This is handy if you don't have skates of your own, but you can bring your own skates if you prefer.
Enjoy a Fishing Tour with the Fly Rod Shop
One fantastic way to enjoy the great outdoors in Vermont is to go fishing (we especially love fishing in Lake Champlain). Fly fishing and ice fishing are both options that the locals love, so you can fish during your visit no matter the season.
Not sure where to begin? That's where the Fly Rod Shop steps in. This amazing company offers a huge variety of fishing tours, making it easy to get out there and fish, even if you've never been before.
Top Tips:
You will need a fishing license. Be prepared by budgeting for and obtaining a fishing license in advance.
Check the list. The website includes lists of things to bring on each type of tour. Make sure to pack those things for a safe and comfortable experience.
Laughing Moon Chocolates
A destination for many, Laughing Moon Chocolates is a well-known local chocolate shop that every chocolate lover needs to visit. Whether you prefer milk chocolate or dark chocolate, there are treats here for you.
This candy company is dedicated to the environment, using compostable packaging and cotton ribbon that is made in the USA. Additionally, they use as many locally sourced ingredients as possible.
Top Tips:
Grab a sampler box. This allows you to try many different things without spending a fortune.
**Another place that was mentioned to explore was West Branch Gallery and Structure Garden**
Where to Eat
Of course, you'll have to eat something during your stay. Fortunately, there are tons of yummy local restaurants in the area. We had an amazing time trying fresh-made cider and visiting local breweries, and we're guessing you'll enjoy checking these places out as well.
The Backyard
Within walking distance of all the adorable shops on Main Street is The Backyard. This bar and restaurant has an awesome selection of drinks. Additionally, they serve vegetarian-friendly meals for those who don't eat meat.
The food at The Backyard is delicious and the service is fantastic!
Top Tips:
Sit outside. If it's warm enough, consider sitting outside with the firepit for an extra fun experience.
Stowe Cider
We've mentioned cider once already, but we're going to suggest one more cider spot. Stowe Cider does require a bit of driving, but it's well worth the short trip.
Here, you can sit inside if it's cold or head outdoors when the weather is nicer. No matter where you sit, you will have the opportunity to sample a variety of ciders made in-house.
Top Tips:
Look for a food truck. This cidery does not serve food. That said, there is sometimes a food truck onsite, making it easy to enjoy a meal with your cider.
The Alchemist
If you enjoy a good brewery, The Alchemist is a must-try while in Stowe. This place is often touted as the best brewery in the United States, and we have to say, it is pretty amazing.
While the indoor tasting room is currently closed for renovations, curbside pickup is available. Fortunately, this makes it possible to try this awesome local beer even if construction isn't complete when you visit.
Top Tips:
Try the Heady Topper beer. This is a favorite of many, and we're betting you'll agree that it is fantastic.
Head to Idletyme Brewing Company. This is another popular local brewery that is worth trying, and it's always fun to compare brews.
Piecasso Pizzeria and Lounge
Everyone loves a good pizza, and in our opinion, the best pizza in or around Stowe is served up at Piecasso. This super fun pizzeria is the place to go for family food and fun.
There's a reason this pizza is so good: Piecasso has been using the same recipe for 50 years and three generations. It was delicious in the beginning and remains that way to this day. That's why people keep coming back for more!
Top Tips:
Try the garlic knots. These are seriously incredible and absolutely need to be ordered with your pizza.
Where to Stay
Obviously, it's also important that you have a place to stay during your time in Stowe. Lucky for you, there are a number of wonderful options. From hotel rooms to rental houses to places to park an RV, there is sure to be a lodging option that suits your needs and makes you happy.
When we were in Vermont we stayed at Apple Island Resort. It was a gorgeous resort and was about 1 hour from Stowe. If your goal is just to explore Stowe I would choose one of the options below instead. For us these were all booked when we made our reservations.
Green Mountain Inn
Looking for a comfortable hotel that offers all of the amenities you want and more? Green Mountain Inn is your place.
This hotel is located right in the heart of historic Stowe. The rooms in this inn are furnished with handcrafted, locally made furniture, and Wi-Fi and cable TV are available. A sauna, massage therapy service, and restaurant are all available onsite, and a gym and pool will help keep you active during your stay.
Top Tips:
Be sure to take advantage of onsite activities. In addition to what we mentioned above, this resort offers ski shuttles, a game room, fire pits, and more.
Serene Country Cabin
A number of adorable rental houses and cabins are available in and near Stowe. One of our favorites is this Serene Country Cabin.
This cabin is just a short drive away from the town of Stowe, a few different ski resorts, tons of outdoor activities, and more. Still, it is tucked away in the woods and feels like an escape from the world.
Amenities included with this cabin include internet, an outdoor fire pit, cable TV, books and games, and more. Children and pets are welcome here, making it the perfect spot for a family getaway.
Top Tips:
Head to the grocery store. Because this rental includes a full kitchen, you can cook meals and save some money during your stay.
White Caps Campground
Those who love the great outdoors might prefer camping over hotels and rental houses. That's where White Caps Campground comes into play.
This fantastic campground can be found about an hour from Stowe, on the south end of Lake Willoughby. Cabins, RV sites, and tent sites are all available, and activities such as hiking, canoeing, swimming, and more are available onsite.
Top Tips:
Book extra days. You will of course want to book enough time to explore the area, but you'll probably want some extra days just to have fun in this fantastic campground.
There you have it folks—an enormous number of totally awesome things to do in Stowe, Vermont. Decide which options sound the most fun to you, book a place to stay, and get ready to explore the friendly and fun town of Stowe!
If you are looking for more fun things to do in the area be sure to check out our post: Things To Do in Vermont.
More posts for the east coast:
45 Places to Stop on Your Ultimate Vermont Road Trip
17 Fun Things To Do In Acadia National Park
Visiting New York City With Kids [Itinerary Included]
25 Exciting and Fun Things To Do In Myrtle Beach, SC
Things To Do On Jekyll Island With Kids
15 Fun Things to do in Burlington, VT
31+ Fun Things To Do In Vermont [2 Day Itinerary included]
14 Best Things To Do In Lincoln New Hampshire
Top 14 Best Things To Do In Wilmington DE
Pin This Post: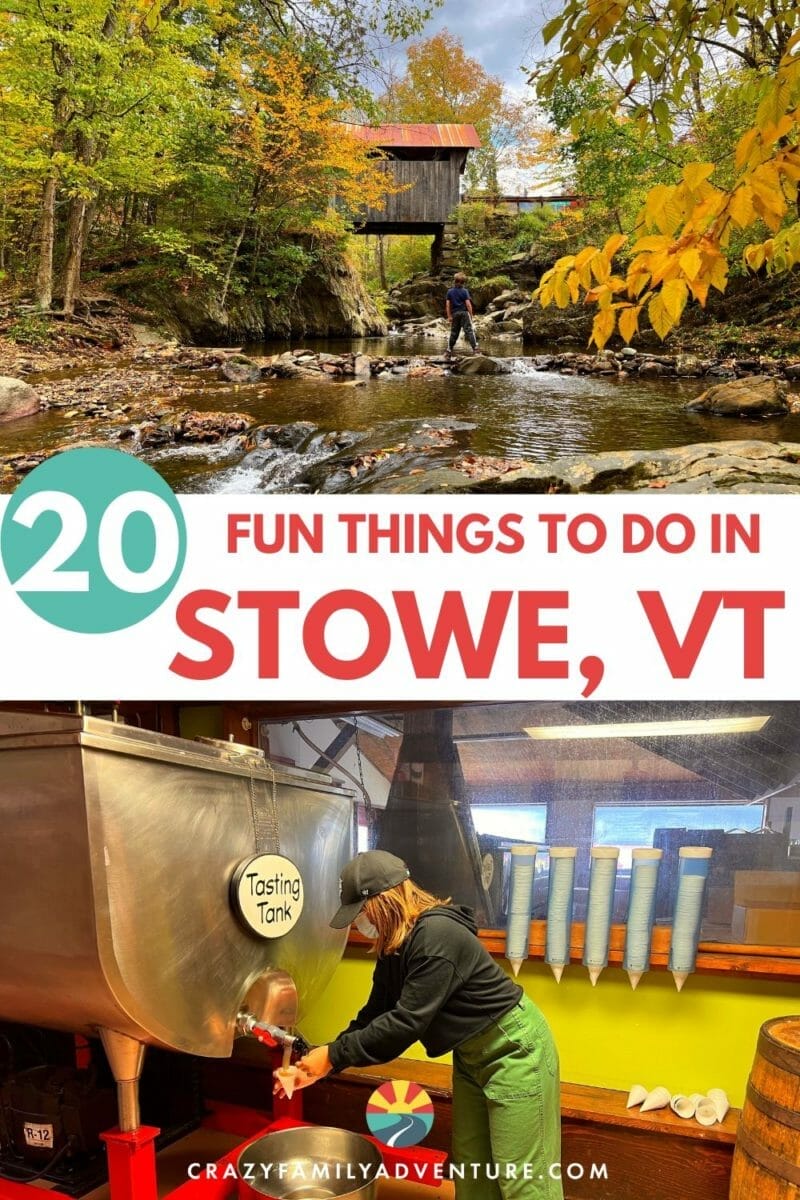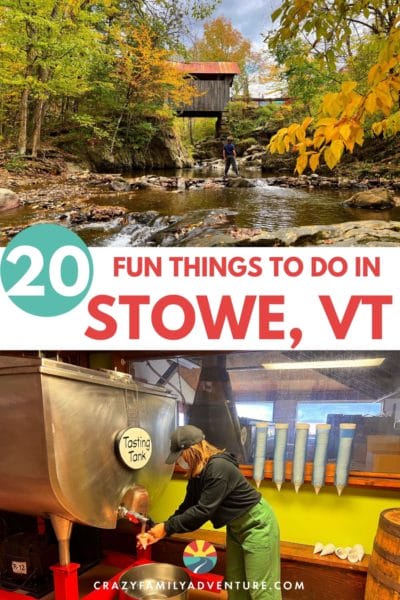 DISCLOSURE: This post may contain affiliate links, meaning I get a commission if you decide to make a purchase through my links, at no cost to you. Please read my disclosure for more info.