Myrtle Beach, South Carolina is a great place to visit if you are looking for multiple vacations in one! You can visit the beach in the morning and then head out to all of the attractions in the afternoon. There are so many fun and exciting things to do in Myrtle Beach, SC.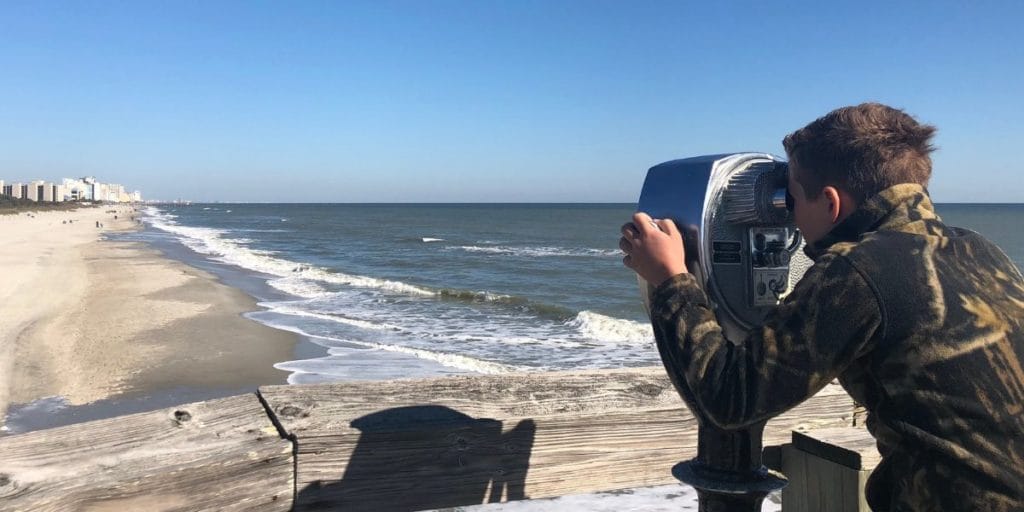 You'll find amusement parks, beaches, state parks, golf courses, restaurants and more! In this post we will show you a bunch of those awesome things to do on your trip to Myrtle Beach.
Myrtle Beach does a great job of keeping the historic feel to it, there are great things they are continuing to do in Myrtle Beach. It isn't overrun with chain stores or hotels, but instead has a really local vibe to it and can feel like you are stepping back in time!
Map
Here is a map of the overall area along with hotels: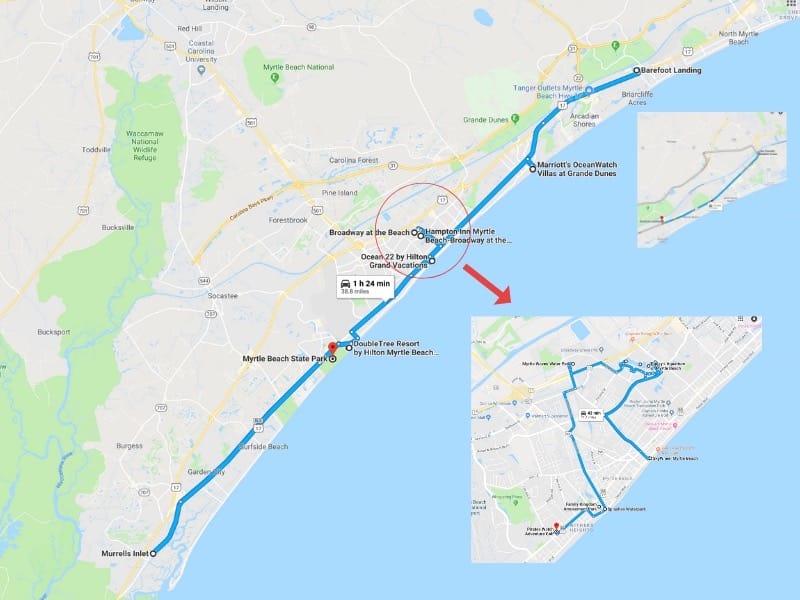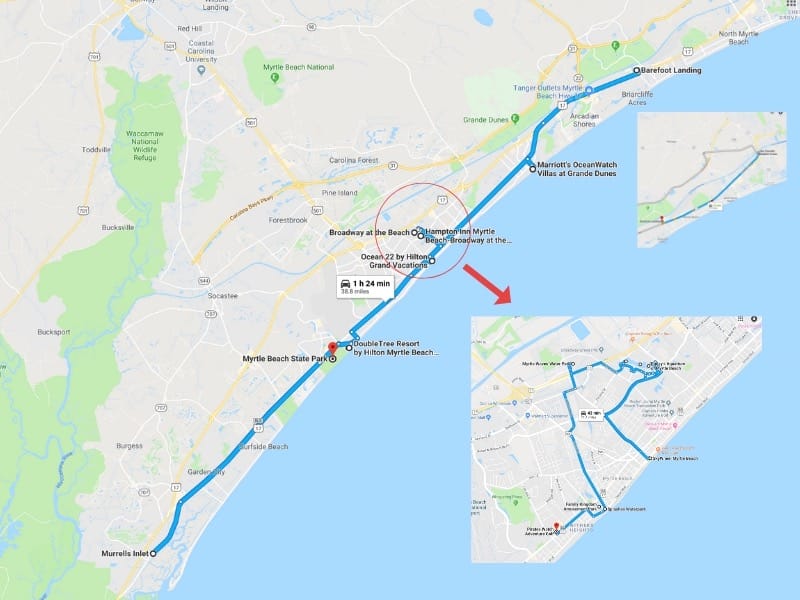 Click here for an interactive map.
Attractions
Ripley's Aquarium Of Myrtle Beach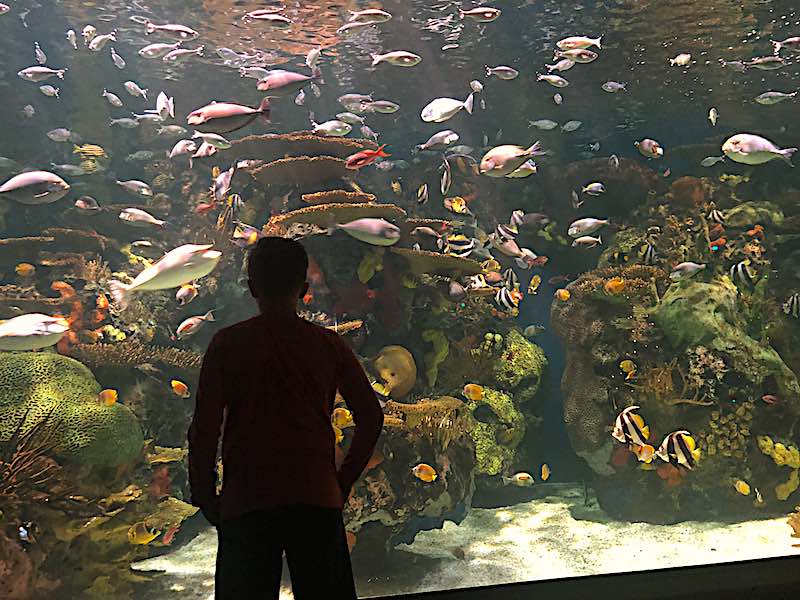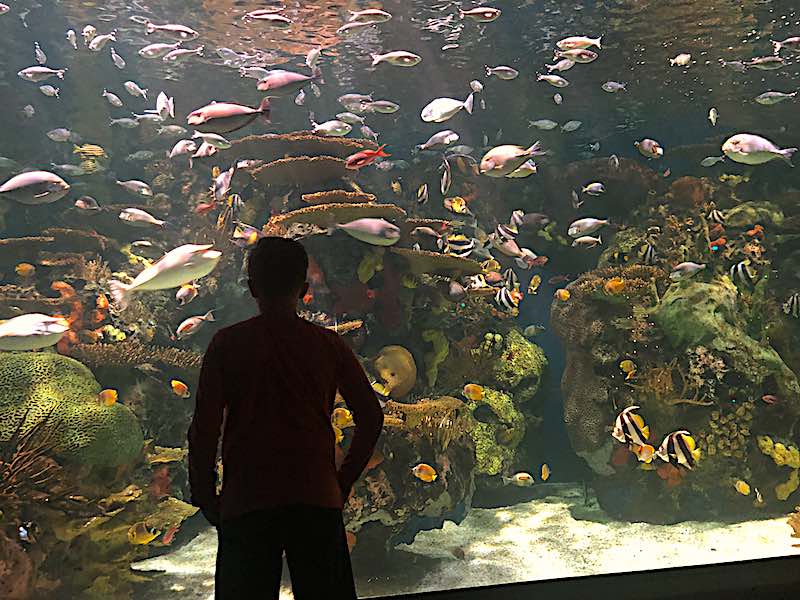 The aquarium is on the smaller size, but it is well worth a visit. The Shark tunnel is amazing!! You walk through a tunnel with sharks swimming over you and next to you.
It is a little scary, but also really, really cool. We went through it multiple times.
They also have a touch tank which our kids always enjoy along with a variety of other hands-on activities that the kids could do.
The rest of the aquarium has a variety of different fish to look at and a huge tank filled with hundreds of fish to just stare at. One of our favorite places was the sting ray tank. We could have sat for hours and just watched them swim around.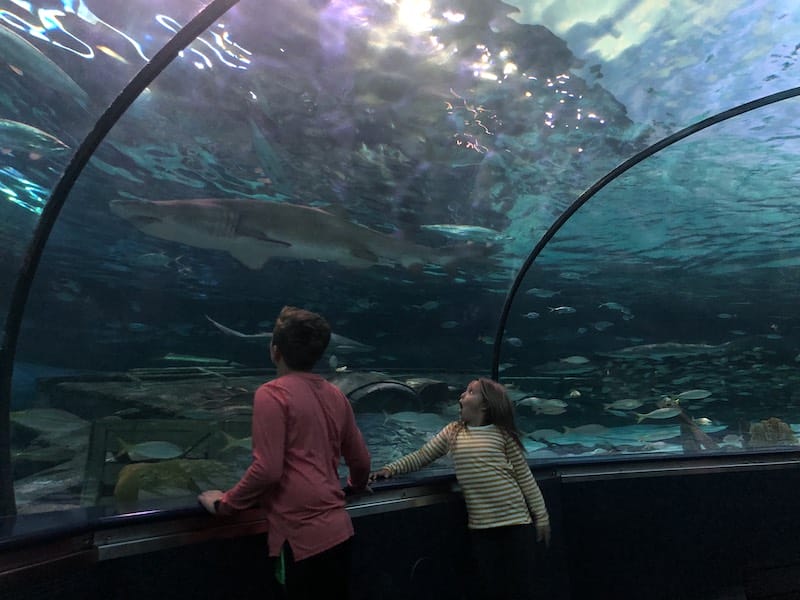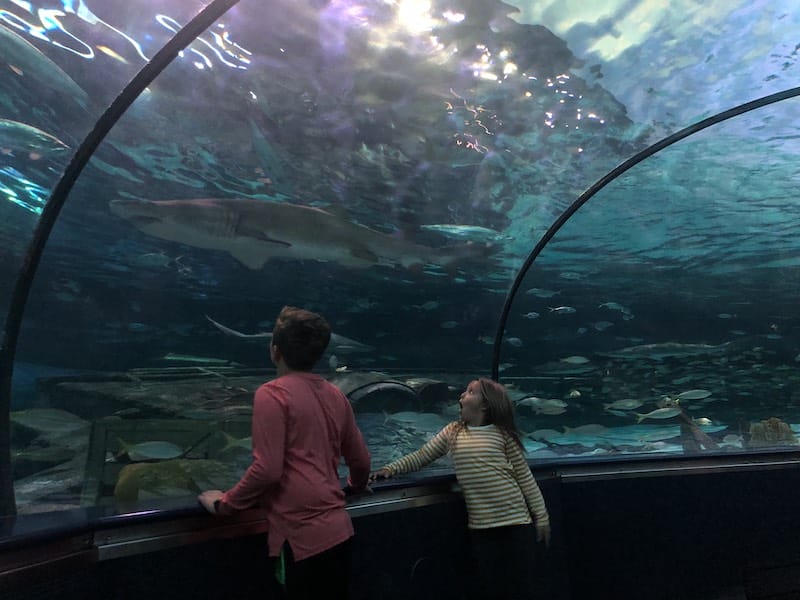 The last thing we did was feed the manta rays. You pay a couple dollars and get a few pieces of fish that you can feed the manta rays with on a stick that you put into the tank.
If you take your time walking around and really taking everything in you can spend a good 2 hours here exploring.
Ripley's Believe It Not
The name says it all. You will be amazed and shocked by what you find in Ripley's Believe It Or Not located on the Myrtle Beach Boardwalk. Lots of hands on things to do and interesting things to look at. It will be an interesting day when you explore this odditorium.
Legends In Concert
Legends In Concert is an amazing show where you can see imitations of some of the best in the music industry. The show is very upbeat and entertaining and would work out well for kids too.
Sky Wheel
Take a ferris wheel ride on the Myrtle Beach Sky Wheel and look out over Myrtle Beach and the ocean inside your own private gondola reaching up to 20 stories high. If you want to upgrade your seat you can even get a gondola with a glass-bottom floor and leather seats.
WonderWorks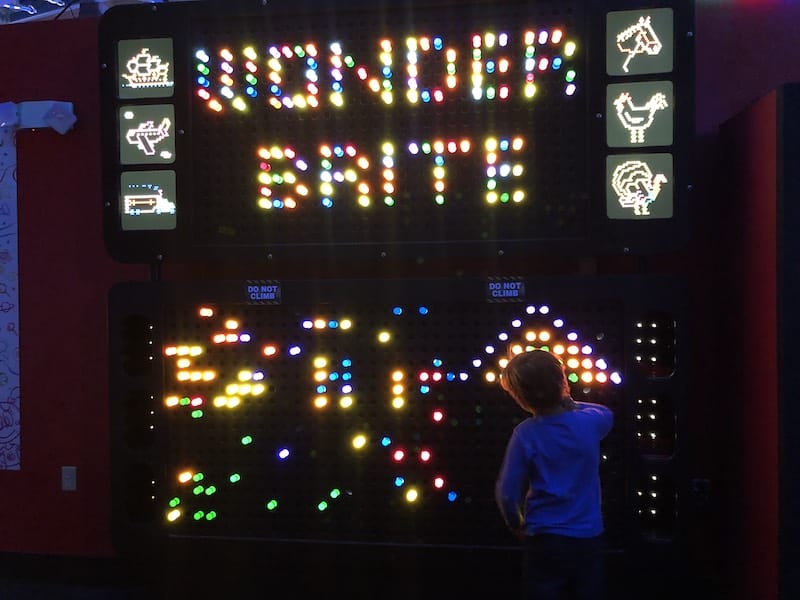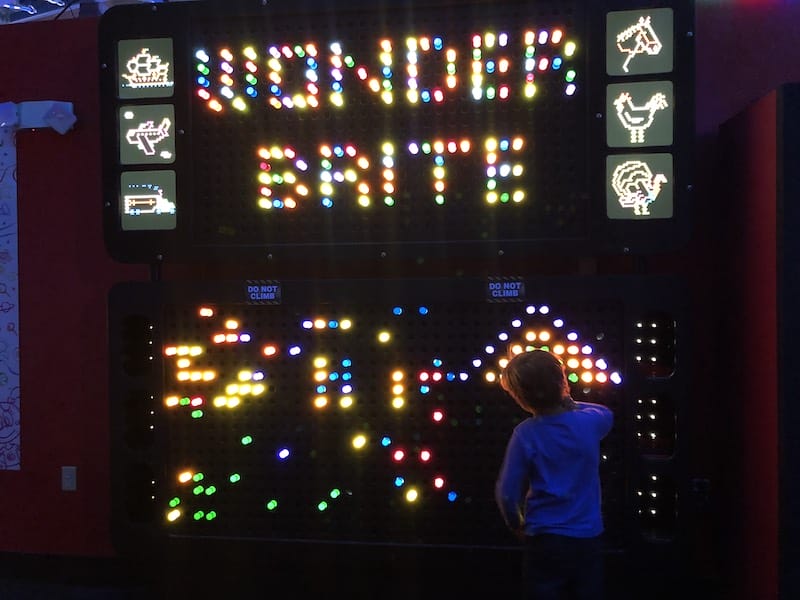 When you look at this building from the outside you are not sure what to expect . . .then you go inside and WOW! There are so many cool things to do and a lot of things you wouldn't even think of. It is an indoor amusement park with hands on exhibits.
They have a ropes course, an entire floor dedicated to sports, thrilling rides (our kids were too short), a TON of hands on things. We really didn't know what to expect and thought this might just be a quick walkthrough, but we were wrong.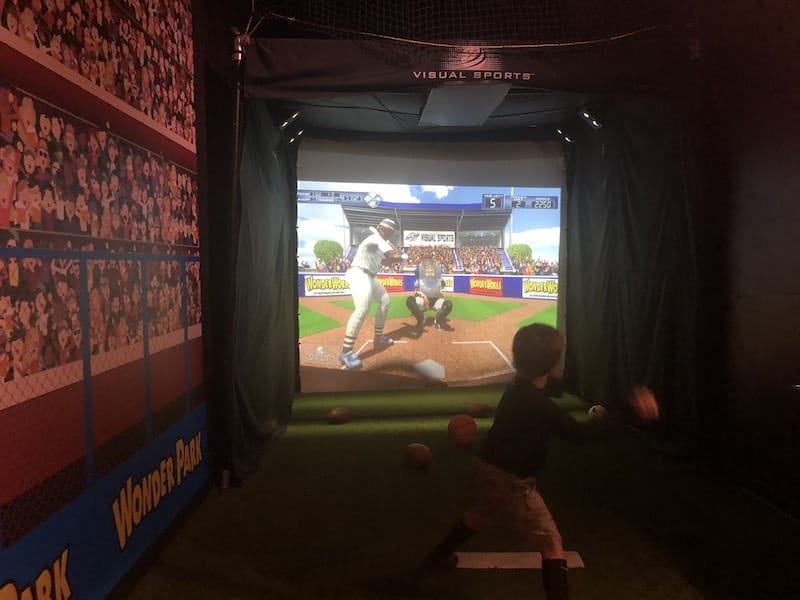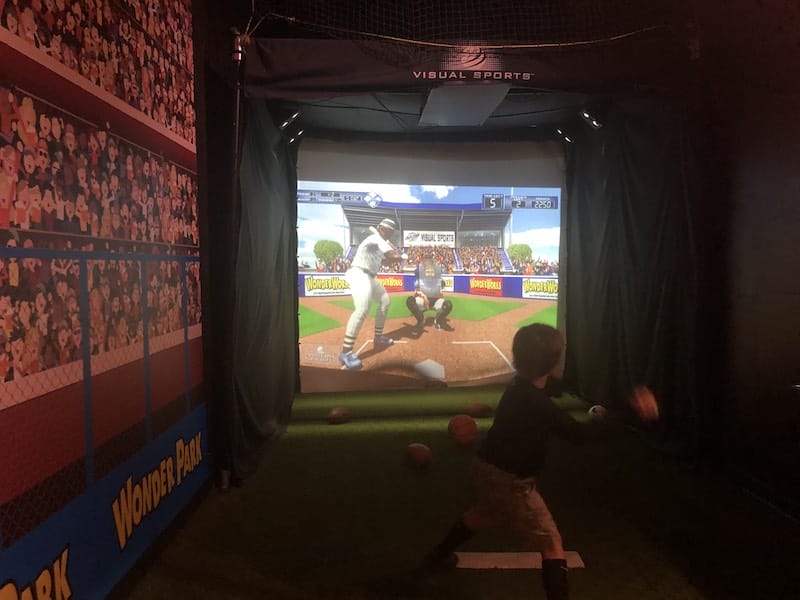 They have a bubble area where you can make HUGE bubbles. A giant Wonder Brite wall, a bed of nails you lay on, a celebrity look alike machine. And all sorts of optical illusion things to try.
If you visit Myrtle Beach when it is cooler out or on a rainy day, this is the place to be. Or if you are looking to get out of the heat of summer, head to WonderWorks and spend the day playing!
Myrtle Waves Water Park
Head to the water park to cool off and enjoy the beautiful weather. This is the largest waterpark in South Carolina and has 22 water slides! Plus a wave pool and lazy river. A water park in the summer is a great family activity.
Book your tickets for the Myrtle Waves Water Park now.
Pirate Adventures
There are two good options for pirate entertainment in the Myrtle Beach area. Take a short drive to Murrells Inlet and treat your kids to a Pirate Adventure where they'll learn the pirate life and search for treasure! Face painting, temporary tattoos, and dress-up clothes included in admission.
Or take a short drive up to North Myrtle Beach for Blackbeard's Pirate Cruise where the little buccaneers must find the booty before Bad Billy Bones does! Face painting and temporary tattoos included in admission.
Charles Bach Wonders
Who doesn't love a good magic show? International illusionist Charles Bach's entertaining performance of magic, dance, and comedy is an experience for the whole family. He does a great job with audience participation!
Get your tickets for this Magical Experience now.
Broadway Grand Prix Family Race Park
There's something for everyone at Broadway Grand Prix Family Racepark! Located across from Broadway on the Beach, this race park offers a kid zone, as well as bumper cars, go-kart tracks and a miniature golf course. Hours of fun for everyone!
Pavilion Park Amusement Park
Take a trip down memory lane and visit the Pavilion Park Amusement Park! With fair-style rides and roller coasters, your family will enjoy creating memories together! Fair-style food and drinks are also available. Spend a couple of hours here or plan on spending the day!
Map Of Attractions:
Activities
Carolina Skiff Boat Rentals
Whether you want to just relax or try your hand fishing in the inlet, a Carolina Skiff boat rental in Murrells Inlet may be just the adventure you're looking for! Accommodations for up to 6 and pet-friendly boats available upon request.
Book your boat rental today!
Mini Golf
If you are a mini golfer then you have found your vacation place. Myrtle Beach is filled with mini golf courses from Jungle theme to Pirate theme and several in between. You could spend all day hitting all of the mini golf courses!
Jet Skiing
Have a need for speed?! Rent Jet Ski's by the hour for 1-8 hours of fun. If you have kids with you, then have them ride on a Jet Ski with you. They have 3 person jet ski's available for rent. Choose from two locations: book your rental now for the intracoastal waterway or travel a few miles north and enjoy the northern coastline of Myrtle Beach.
If you prefer a shorter time frame, you can book a half-hour jet ski rental here.
Dolphin Cruise
Looking to get out on the water and see some dolphins?! Myrtle Beach has you covered with a variety of different Dolphin Cruise options:
Sea Thunder Dolphin Cruise – take a speedboat out to find Dolphins! They are so sure you will see dolphins that if you don't, they give you a free ride in the future to try again.
Dolphin Adventure Cruise – Get on a 90 foot boat that takes you out to find dolphins and more. You will follow a fishing boat that helps to attract dolphins and even sharks, so be on the look out.
Of if you prefer a little more adventure, book a 1-hour or 2-hour jet ski tour and dolphin encounter in North Myrtle Beach!
Kayak and Paddleboard Tour
Visit one of the natural barrier islands in South Carolina and explore a private island! This 3-hour tour includes photos that are texted to you after the tour is over. Perhaps encounter unique wildlife and go on the hunt for sand dollars!
Pontoon Boat Rental
Want to spend the day on the water? A Pontoon boat is the perfect option. We love taking a boat out with our family to check out the area from the water.
Pack a cooler and have a picnic lunch while you hang out in the Pontoon. Then anchor it and enjoy jumping from the boat and going for a swim. There is a 20-ft option and two 24-ft options listed below!
Click here to reserve your 20-ft Murrells Inlet Pontoon now.
Click here to reserve your 24-ft North Myrtle Beach Pontoon now.
Sunset Cruise
This Sunset Cruise in Murrells Inlet is a great way to relax after a long day of playing in the sun. The 54-ft catamaran departs from Dead Dog Saloon for a 1-hour cruise along the marsh estuary.
Photo Session
Every family wants to capture memories by the beach! Join this professional photographer at Beach Cove Resort or your own resort in the morning or afternoon. Digital images are delivered within 24 hours and include 20-30 fully edited photos.
Broadway at the Beach
If you are looking for somewhere to walk around and do some shopping and restaurant hopping, this is the place for you. Broadway at the Beach has a variety of restaurants from the Hard Rock to Margaritaville to Joe's Crab Shake and Paula Deen's.
When you are here be sure to stop at River Street Sweets for a FREE Praline sample – yummy!
Broadway at the Beach is also where you are going to find a lot of the attractions in Myrtle Beach that we listed above. It really is a one stop shop for tons of fun while you are here.
Barefoot Landing
A waterfront mall with shops, restaurants, entertainment and attractions (including alligator adventure!) It is located in the North Myrtle Beach area.
Looking for more attraction ideas click here to see a list of all attractions in Myrtle Beach.
Nature Activities
Ranger Led Program
Check the schedule at the State Park to see if they have any Ranger Led Programs going on. We visited the Bee class to learn about the local honey bees and it was super interesting and well run.
Nature Center and Activity Center
Part of the state park where you can come to learn more about the area. The buildings are not always open so be sure to ask when you come into the park or check online to see when they are open.
Myrtle Beach State Park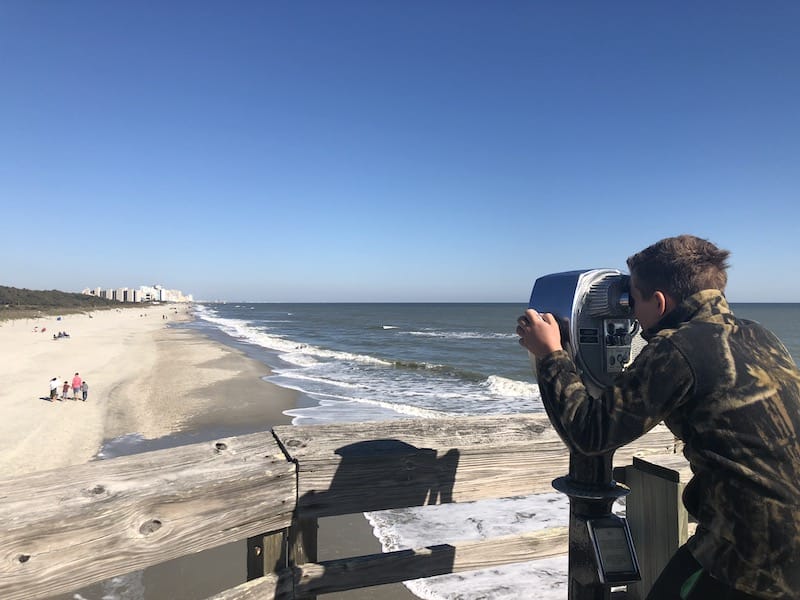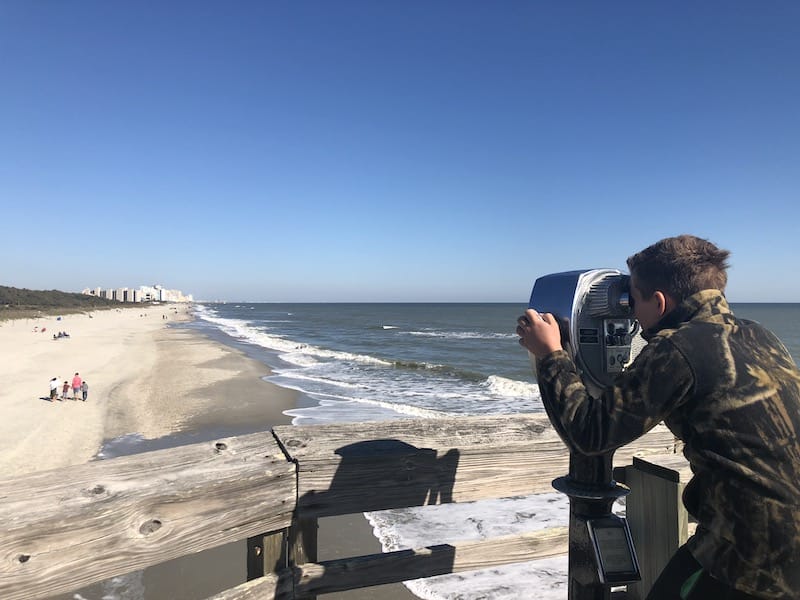 You have to set at least one day aside to just hang out at the beach and enjoy the Atlantic Ocean! The Myrtle Beach State Park is a great place to hang out at the beach. They also have a nice pier that you can walk out onto or fish from.
The beach is part of the Grand Strand – which is a large stretch of beach on the east coast that runs uninterrupted for more than 60 miles. If you are looking for a restaurant in the area check out the Market Common.
Murrells Inlet
If you are ready to get away from all the craziness of amusement parks and attractions on your Myrtle Beach Vacation, then Murrells Inlet is the place to go. There is a half-mile-long Marsh Walk and places to watch the fishing boats come in.
This area was once the lair of the pirate Blackbeard! And there are pirate-theme boat tours available that bring this history and adventure to life.
Brookgreen Gardens
If you are looking to explore both the beauty and history of Myrtle Beach, you can't go wrong with Brookgreen Gardens. The Price of admission includes the 9,127 acre park encompassing the Botanical Gardens, Sculpture Gardens, Lowcountry Zoo and Lowcountry History and Wildlife Preserve. You can easily spend hours exploring each area of the gardens.
Check the website for upcoming events and tours including pontoon boat and trekking excursions that give you a guided tour of the area!
2nd Avenue Pier
A historic Pier in Myrtle Beach that has been a centerpiece of historic downtown Myrtle beach since the 1930's. You can fish from the pier or eat at the Pier House and enjoy the views.
Atlantic Intracoastal Waterway
A lot of the water activities above (jet skis, pontoon boat rental, etc.) can be done on the Intracoastal waterway as well, and it may just be interesting to take a look. The waterway is supposed to be very beautiful in southern Myrtle Beach.
Looking for more ideas on things to do in Myrtle Beach with kids check out these posts:
33 Crazy Fun Things To Do In Myrtle Beach For Family Fun
If you are looking for live music when you are there click here!
Restaurants
The Donut Man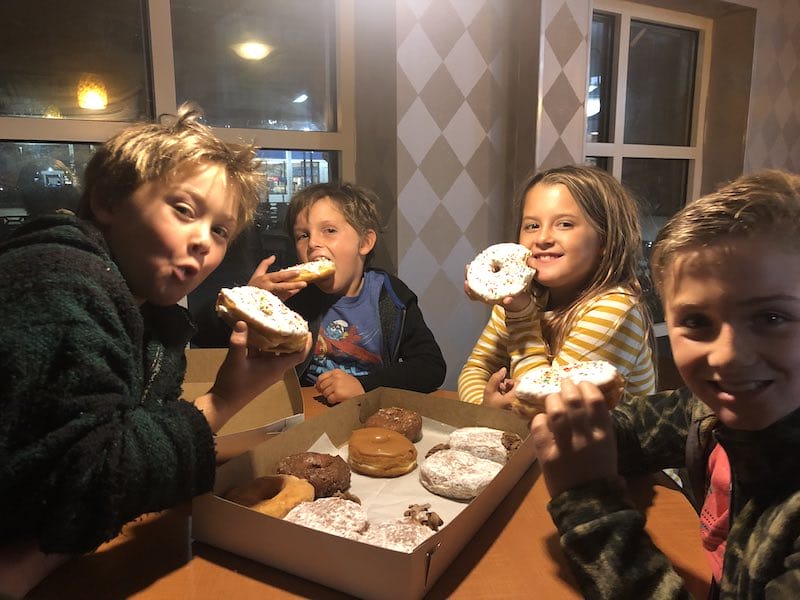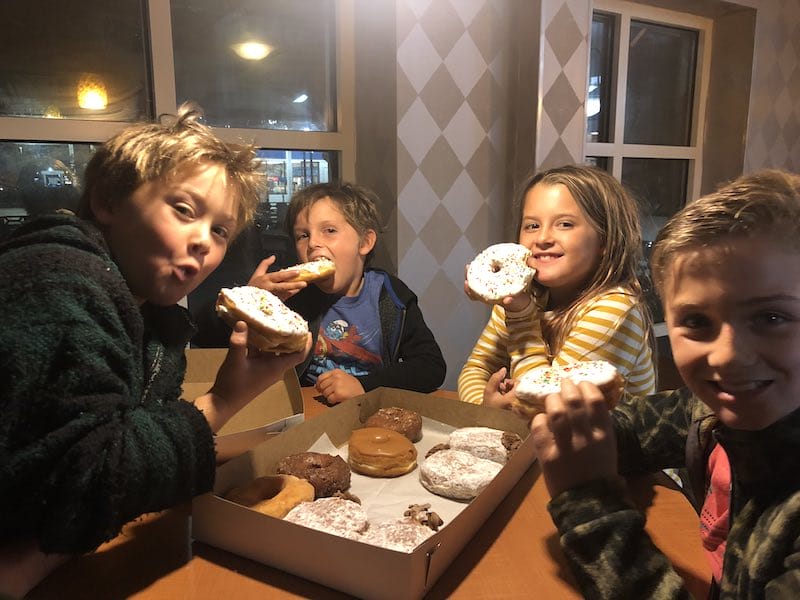 When you are here do yourself a favor and go to The Donut Man for super delicious donuts. Actually go two or maybe three times. Yes, they are that good and aren't super expensive.
River City Cafe
A great restaurant to go to with kids. The prices are right and the atmosphere is super laid back with peanuts to snack on while you wait and fun bright colors and decorations everywhere.
Campgrounds
Myrtle Beach State Park
We stayed at the beautiful Myrtle Beach State Park campground. It was well treed and there were sites that had a lot of room around them. We always like the vibe of the State Parks so if you are looking to include nature in your stay this is the place to go.
There are plenty of sites with water and electric as well as several with full hookups. They also have a very well stocked convenience store/gift shop.
Pirate Land Family Camping Resort
Friends of ours love staying at the Pirate Land Family Camping Resort. Located on the beach with a large pool and wave pool it definitely seems like a fun place to stay!
Other Campgrounds
If you want to stay away from the busyness of Myrtle Beach, just a short trip up the coastline to North Myrtle Beach will take you to Barefoot RV Resort, a gated resort that offers RV sites, RV rentals, and tiny homes! And a few miles inland from there is the town of Conway where you'll find Carolina Pines RV resort. With its own water park, mini golf course, arcade, and bistro, this campground offers so much more than just a place to park your rig!
If you don't have an RV, you can rent one for your trip! Check it out here!
Hotels
The majority of the hotels are located along Ocean Boulevard. There is a large selection of hotels with the older hotels being located in the historic Myrtle Beach area and the newer chain hotels are located further north.
This hotel is located closer to the Myrtle Beach State Park so it is south of most of the attractions in town. It is a 4 star hotel on the beach.
A 3 star hotel located in the middle of downtown Myrtle Beach. Family friendly with indoor and outdoor pools. Including a lazy river.
If you want to be in the middle of shopping and the attractions (and not right by the beach) then this is the place for you. It is located right at Broadway At The Beach. It is a 3 star hotel.
Located north of downtown Myrtle Beach. This beautiful 4 star resort is where you want to go if you are looking for more luxury and relaxation.
VRBO
If you want a homier feel, check out this great Myrtle Beach Cottage:
Gulfstream Cottage – Just 1 block from the beach!
Other great places to visit with your family in the Southeast:
Or check out these top East Coast Family Vacation spots!
**Thank you to TripShock for providing tickets for some of our activities. And this post does contain affiliate links – thank you for supporting our site!**
More Info Check Out:
Top 10 Fun Things To Do In Congaree National Park
11 East Coast National Parks You Want To Visit This Year
Pin This Post For Later: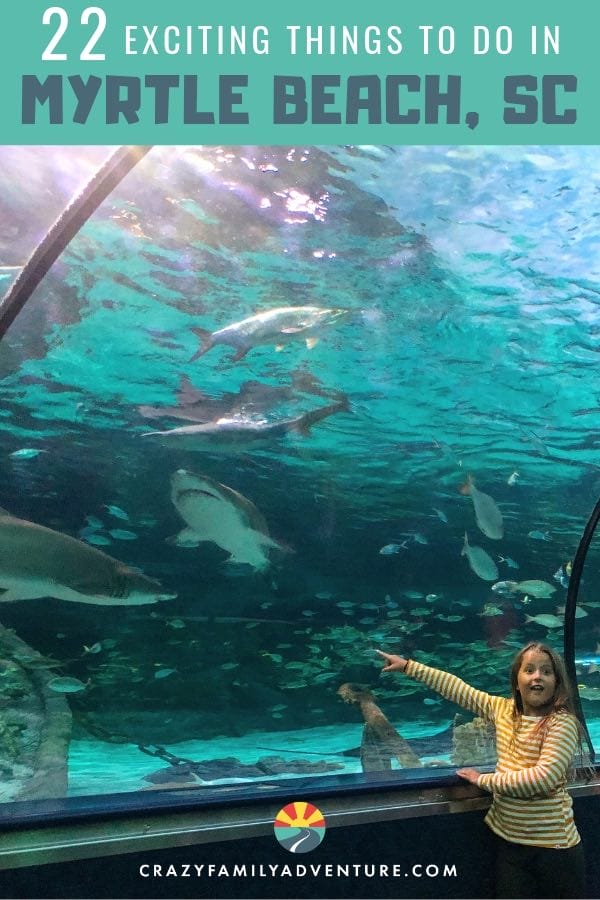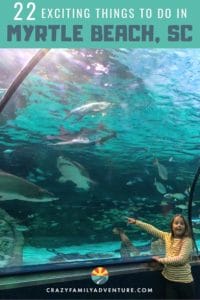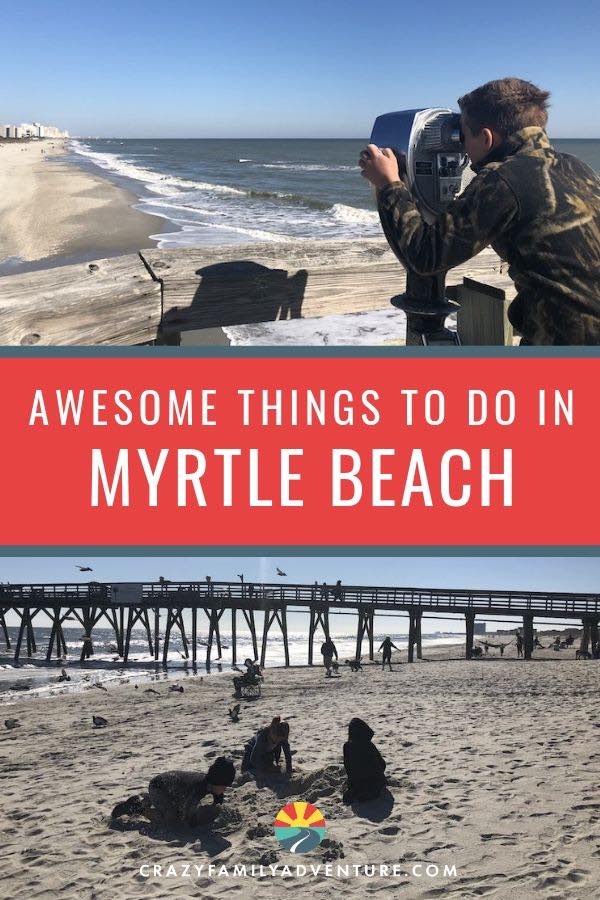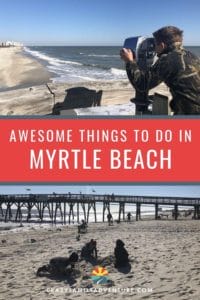 DISCLOSURE: This post may contain affiliate links, meaning I get a commission if you decide to make a purchase through my links, at no cost to you. Please read my disclosure for more info.