Home to the oldest and largest intact expanse of old-growth bottomland hardwood forest remaining in the southeastern United States, Congaree National Park in South Carolina has a fairytale-like quality. It is much more interesting than I ever anticipated. We found that although it is a small park during our recent visit, this place is well worth a visit.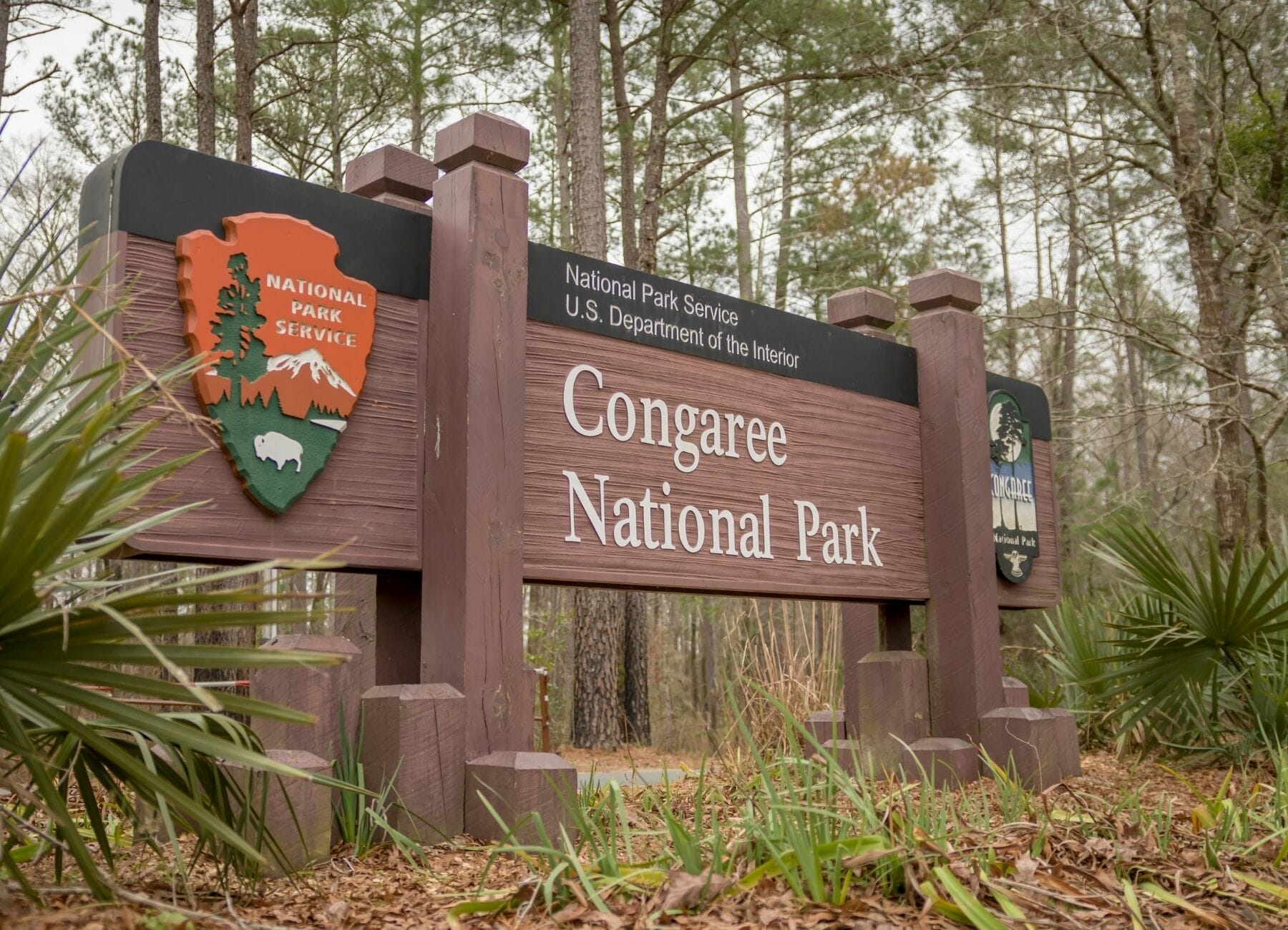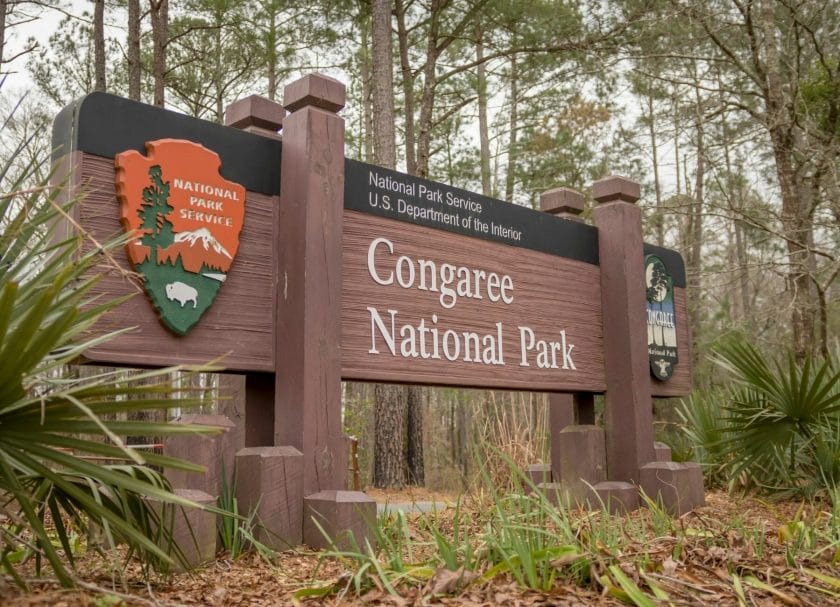 This article will help you decide on things to do in Congaree National Park when your travels allow you to visit the park.
What to Know about Congaree National Park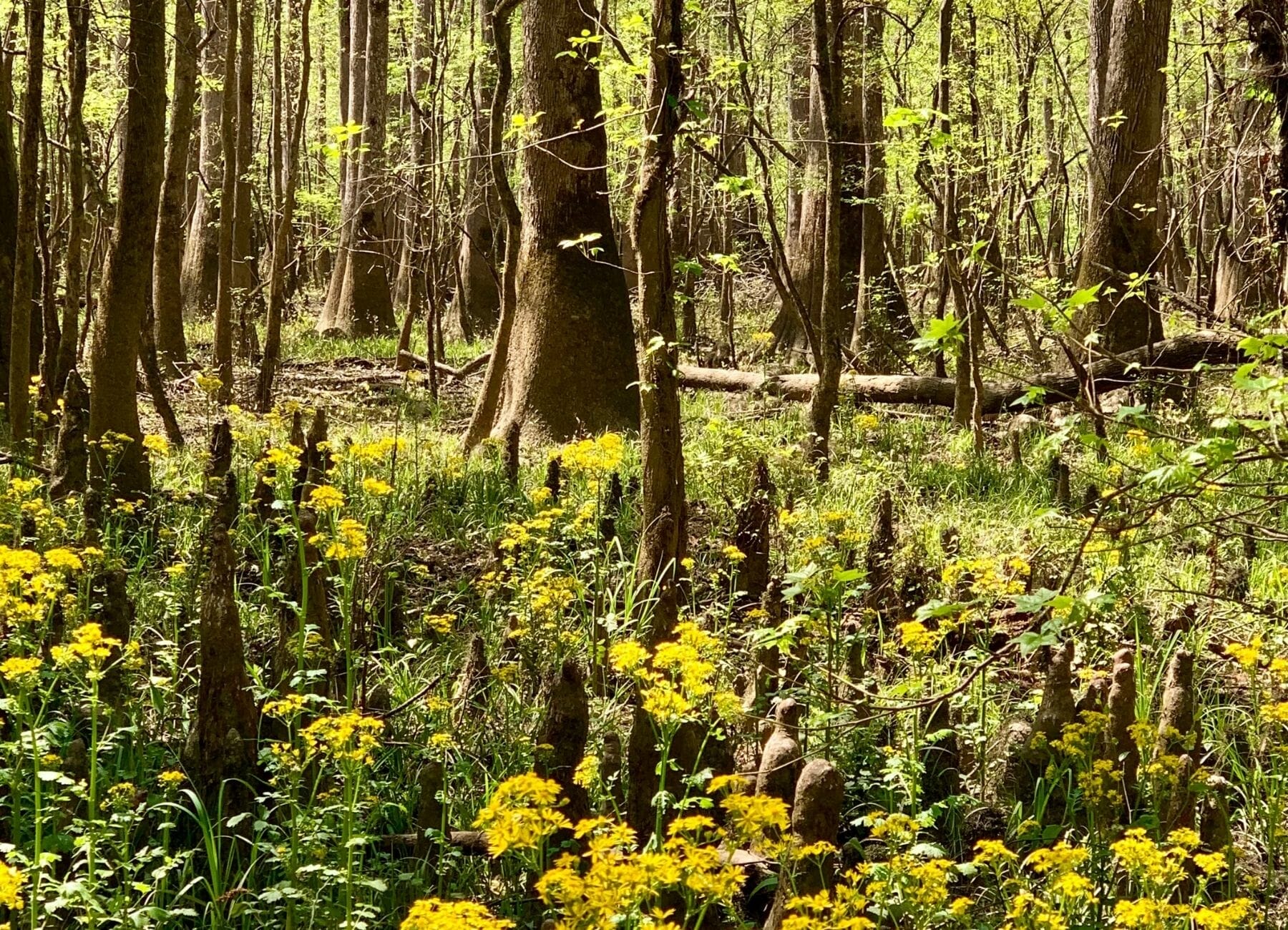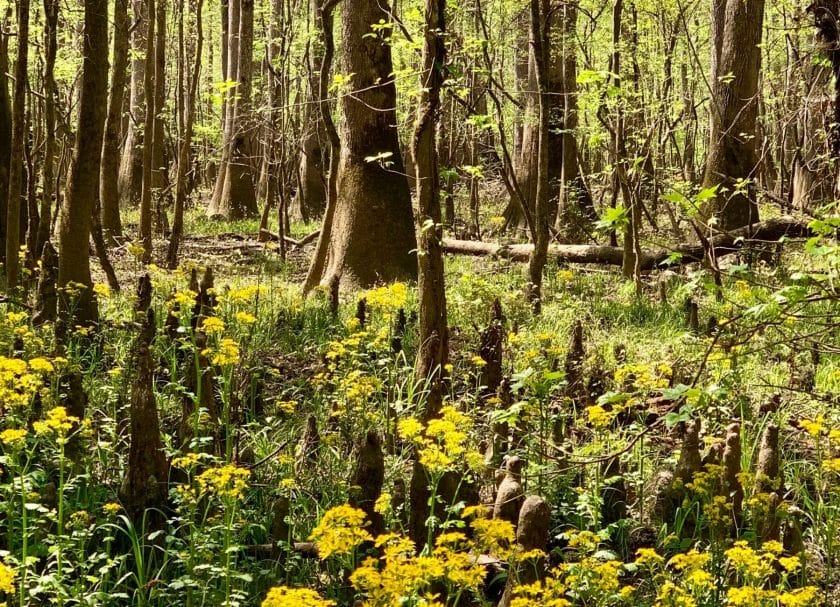 As mentioned above, this park protects the oldest old-growth bottomland hardwood forest. This forest is often mistaken for a swamp but is not truly a swamp at all. It is a part of the Congaree River floodplain forest, a place where the flooding waters of the Congaree and Wateree rivers carry essential nutrients, creating an incredibly diverse ecosystem.
Here you'll find some of the tallest Loblolly pines in the world, along with 500-year-old bald cypress trees! National and state champion trees stand proudly, creeks and lakes fill the area, and animals such as deer, pigs, bobcats, and fish make themselves at home in this park.
Oddly enough, this lovely park and biosphere reserve has not been a national park for very long. The National Park Service didn't officially name this area a national park until November 10th, 2003. We also found it strange to learn that this is the 12th-least-visited national park in the system—something we think should change.
This area of North America has astonishing biodiversity due to the fact that the Congaree and Wateree rivers sweep through the floodplain carrying nutrients and sediments that nourish and rejuvenate this ecosystem daily.
Tips for Visiting Congaree National Park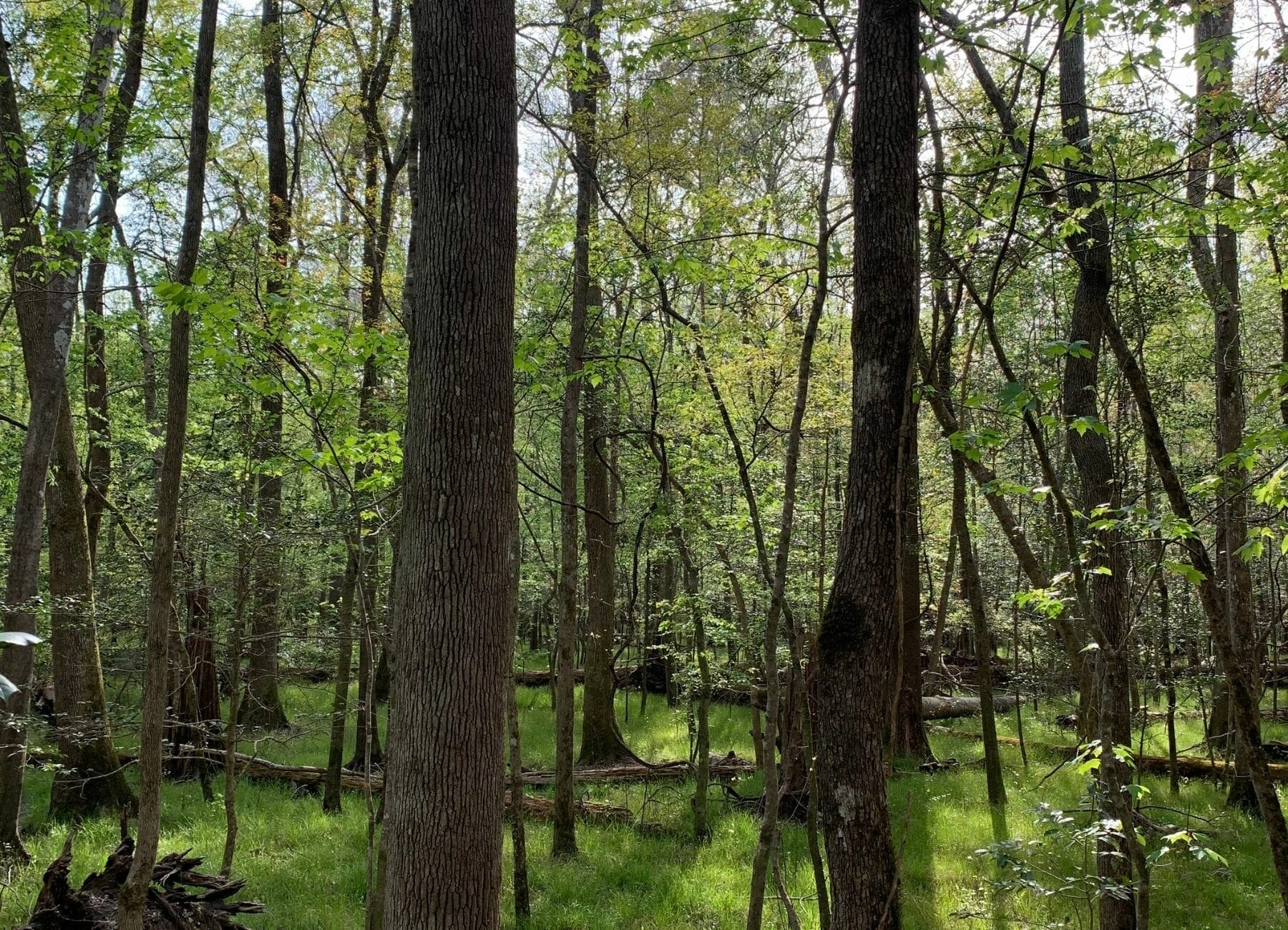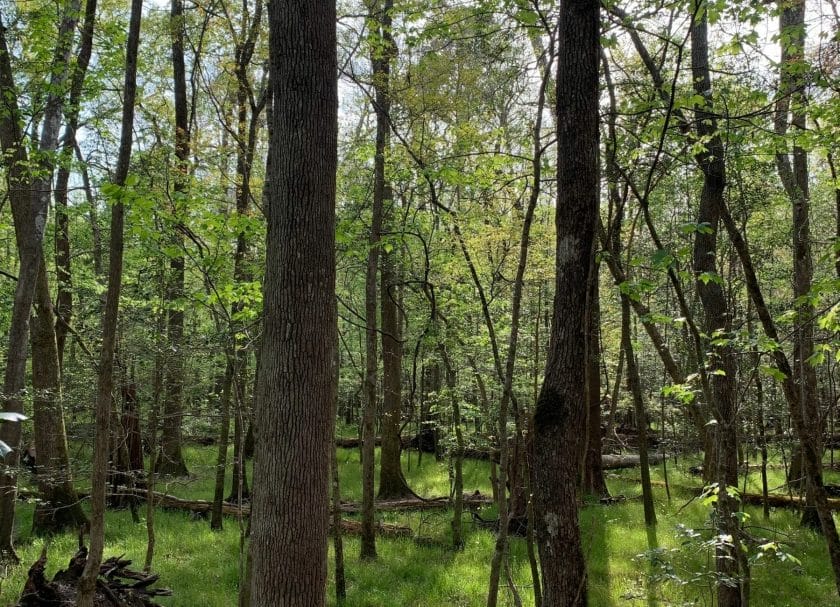 When planning to visit Congaree National Park, I had a relatively difficult time finding the information I wanted and needed. I hope the tips below are helpful for you, so you can go in more prepared than we were when we visited the park.
When to Visit
We recommend visiting Congaree National Park in the spring and fall. We went in early April, and we were very happy with that decision.
Between March and May, and again between September and November, the weather is warm but not terribly hot. Highs usually hover in the 70s and 80s (°F), and bugs don't tend to be a problem during this time, especially in March and November.
Rain does happen fairly regularly during these times, and thunderstorms are common during the spring. That said, water levels during the fall are usually ideal for paddling if that's something you're interested in doing.
This particular park doesn't see large crowds. However, for the most peaceful experience, we recommend avoiding Saturday and Sunday if possible.
What to Pack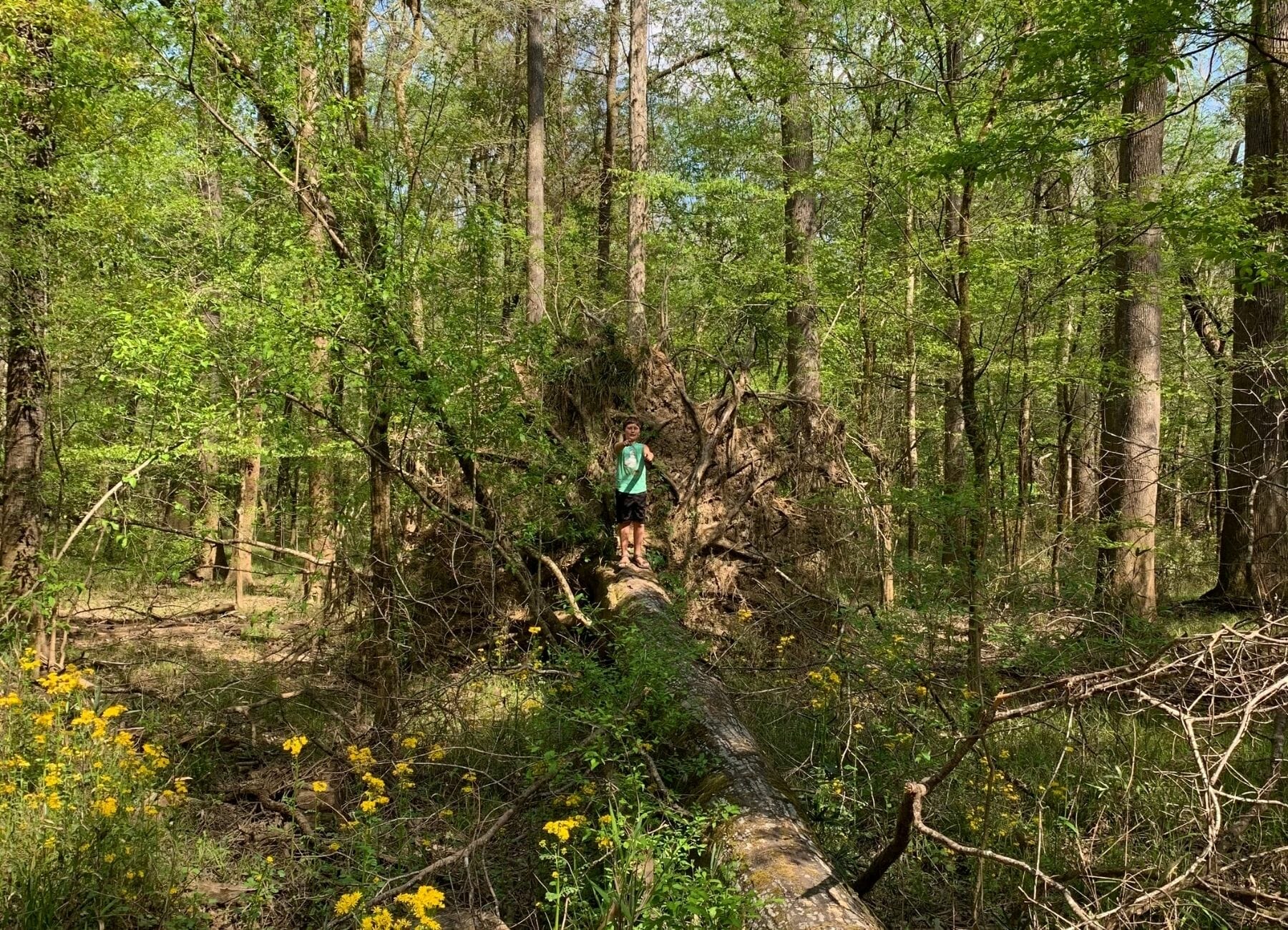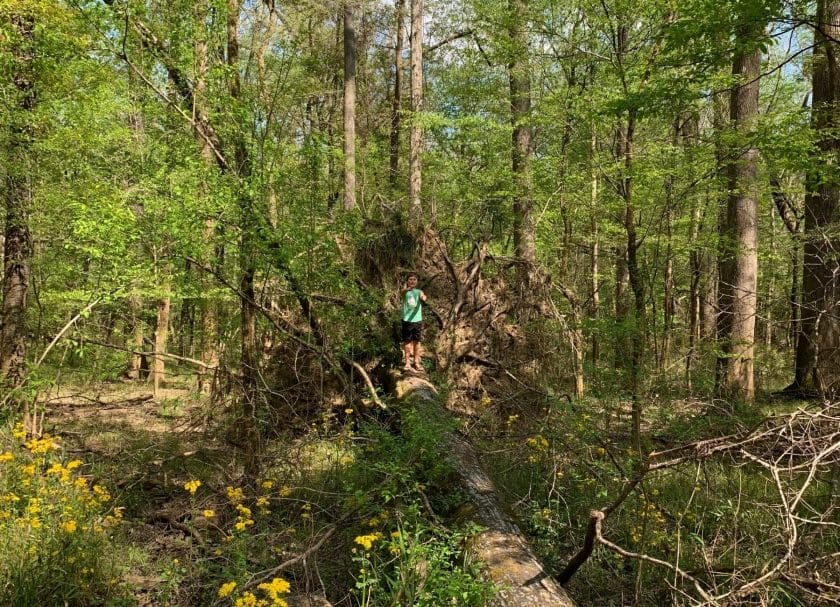 Make sure to take plenty of water. Even the easy Boardwalk Loop Trail is quite long, and you will get thirsty. We did not have enough water on hand, and we definitely regretted it.
You'll also want comfortable walking or hiking shoes, granola, and other snacks, sunscreen, sunglasses or a hat, and layers if it gets chilly. Bug repellent is a good idea, too, as the mosquito population can be very heavy in this park.
On top of all that, be sure to take any fishing or paddling gear you might need and grab a good flashlight if you plan to stay after dark (the park is open 24 hours a day).
How Long to Stay
We made our visit to Congaree National Park a day trip. I knew it was a small park and honestly didn't expect much from it. However, after seeing it in person, I wished we had planned more days to explore the place.
While you certainly could do what we did and hit the highlights in a single day, planning two to four days to dive deep into what the park offers is probably a better plan. This is especially true if you plan to canoe, kayak, fish, or visit multiple hiking trails.
Camping in the Park
Camping is allowed in certain parts of the park. That said, only tent camping is allowed (no RVs). Additionally, campfires are only allowed in designated fire rings in the onsite campgrounds.
Canoeing and Kayaking
Canoeing and kayaking are allowed. However, the water level is not always right in all areas for these activities. Be sure to check with a ranger before heading out on the water, so you know what to expect.
You can bring your own gear for canoeing or kayaking the waterways of the park, but be aware that motorized water vehicles are not allowed. Don't have a canoe or kayak of your own? Rental equipment is available.
Things to Do
Now you know how to prepare for your trip to Congaree National Park, but what will you do once you get there? Here are our top ten picks when it comes to things to do in Congaree National Park.
Visit the Harry Hampton Visitor Center
When you get to Congaree National Park, the first thing you will want to do is stop in at the Harry Hampton Visitor Center. This is the hub of the park and has a nice-sized parking lot for cars. There is also limited parking for RVs and other oversized vehicles, but this can fill quickly during busy times.
Usually, the visitor center has exhibits set up to give visitors some information on the park. Unfortunately, these are blocked off at the moment, but one can still gather plenty of information by chatting with the friendly rangers here.
In addition to talking to the rangers, we also recommend using the visitor center as a place to use the restroom, refill water bottles, purchase snacks if needed, grab maps, ask for a Junior Ranger book, and pick up a Self-Guided Boardwalk Tour sheet.
Walk the Boardwalk Loop Trail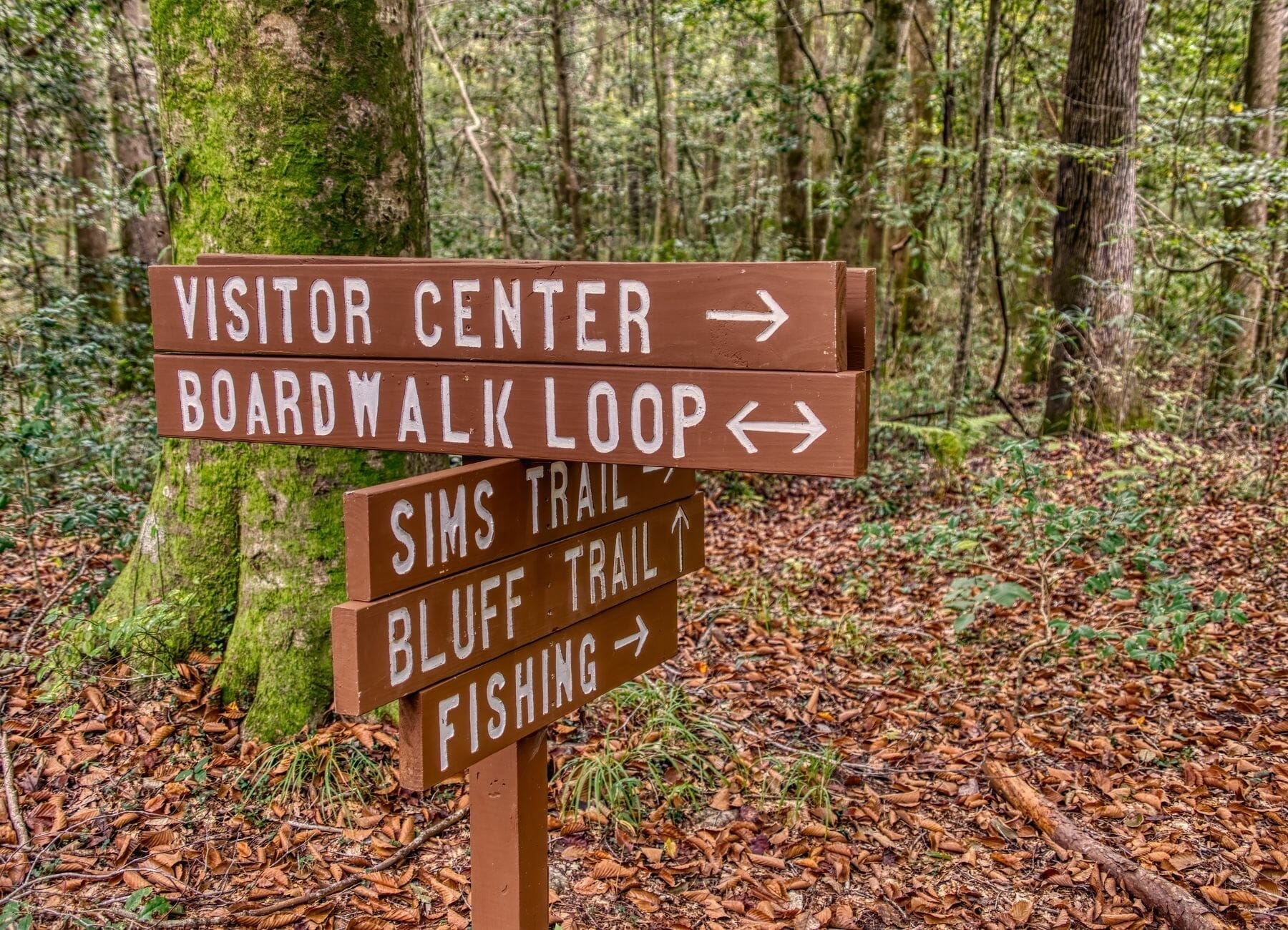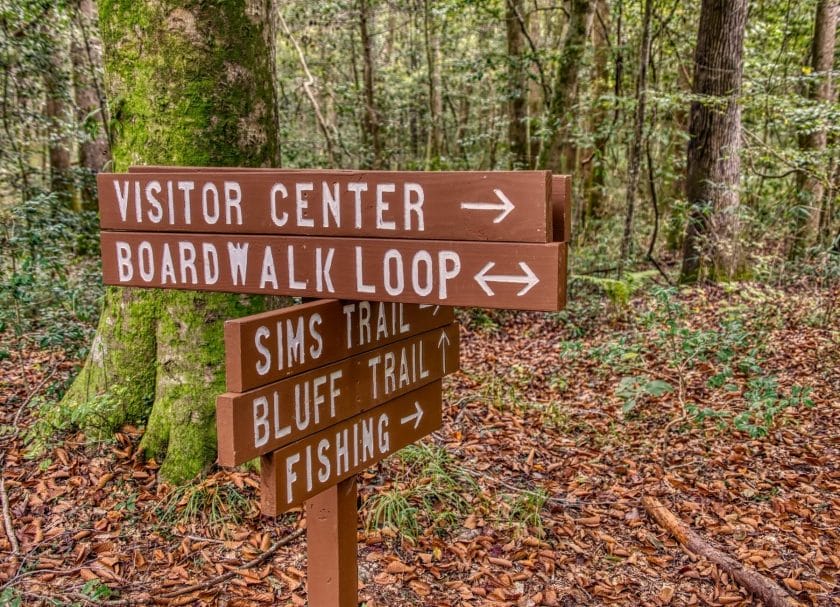 During a visit to Congaree National Park, the number one thing to do is walk the Boardwalk Loop Trail. This 2.4-mile boardwalk takes you through surprisingly different landscapes and gives you an excellent overview of the forest and what one might find in various parts of this environment.
We appreciated that this walk was stroller accessible, and we took advantage of that by putting the 2-year-old in her stroller when she got tired. A wheelchair would also do just fine on this path.
The toddler adored the bright yellow flowers we found along this walkway. We enjoyed finding different shapes in the cypress knees, looking for interesting plant and animal life, and imagining we had walked into a fairytale forest.
Read As You Walk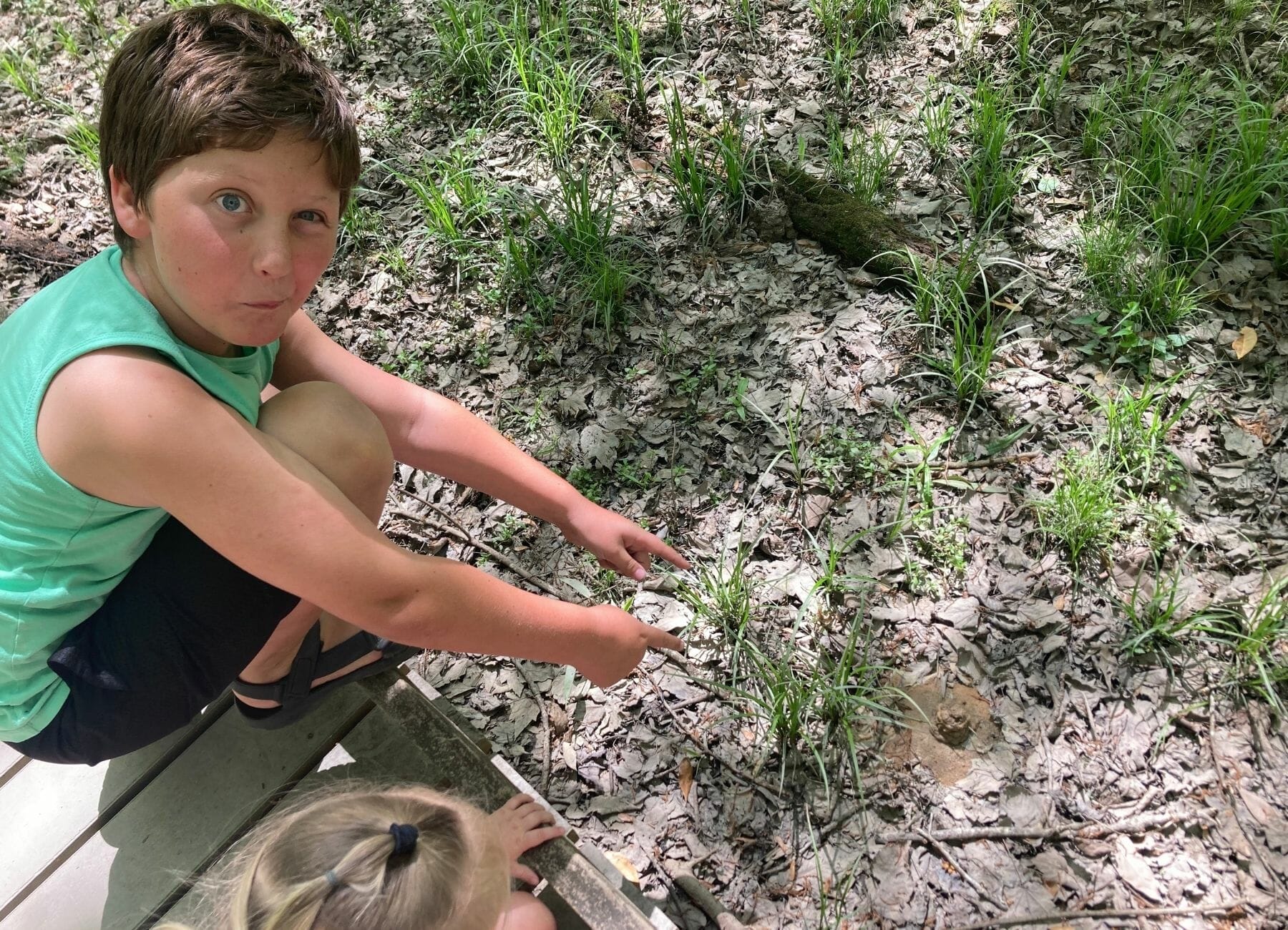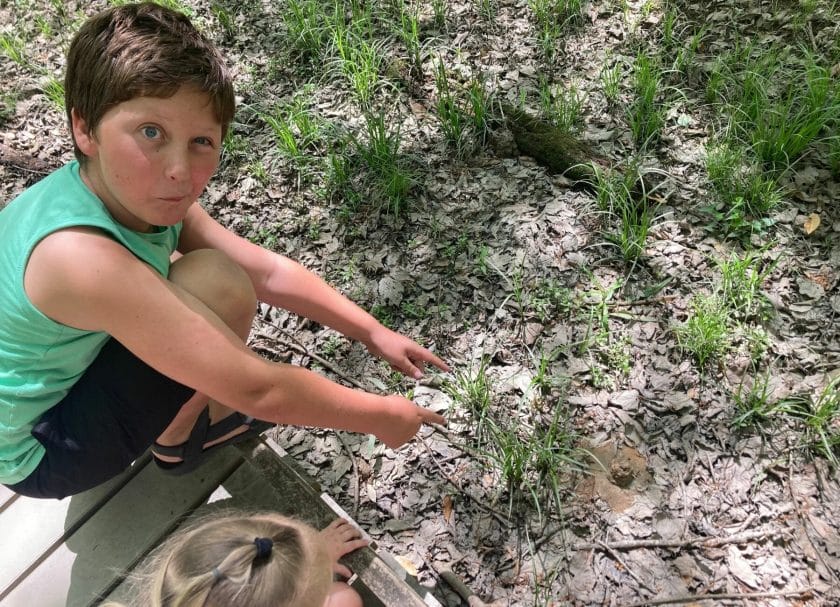 Part of what made the Boardwalk Loop Trail, so fun was the self-guided tour the ranger encouraged us to do. As mentioned above, you will want to pick up the self-guided tour sheet from the visitor center. As you walk, you look for the numbered stops and read the corresponding paragraph from the sheet.
We learned about the different kinds of trees and animals that call the park home, as well as some history of the area. It really made the walk more engaging and helped us connect with the park in a way we may not have otherwise.
Do the Junior Ranger Program
We always recommend doing the Junior Ranger program at any national park site you visit. In fact, we use these as a part of our roadschooling curriculum and find they cover history, science, and other subjects quite nicely.
The Junior Ranger book for Congaree was fun, included lots of interesting information, and kept our 10-year-old and his visiting buddy interested during our walk around the Boardwalk Loop Trail. We didn't get back to a ranger in time to get his badge, but we were able to email photos of the completed work to a ranger who sent us a badge in the mail.
Hike The Weston Lake Loop Trail
From what I hear, Weston Lake Loop Trail is another excellent place to see the beauty of Congaree National Park. This trail is completely flat, so it's easy for anyone to follow. At 4.5 miles, it is a bit longer but can still be done in around 3 hours.
To get to the Weston Lake Loop Trail, follow the Boardwalk Loop Trail in a counter-clockwise direction until you come to a trail junction. From there, follow signs for Weston Lake, putting you on trail #3.
The trail runs alongside Cedar Creek for a spell, winding between bald cypress and Tupelo trees before placing you back on the boardwalk trail at the Weston Lake lookout, where you can take in a beautiful view. If you like, you can even take a quick detour to check out the lovely Wise Lake, which is about 325 feet from the junction of Weston Lake Loop Trail and River Trail.
If you plan for a long day and pack yourself a lunch, you could do both the Weston Lake Loop Trail and the Boardwalk Loop Trail in a single day. Just be prepared for a lot of walking!
See the Congaree River and General Greene Tree
Set in a less popular part of the park, the Bates Ferry Trail is an easy, quiet, 1.1-mile out-and-back trail. Overall, the trail isn't all that exciting. However, the view of the Congaree River at the end makes it worth checking out.
To make the hike even more interesting, be sure to take the detour to see the General Greene Tree. Named for General Nathanael Greene, this tree was recognized as the South Carolina Heritage Tree and is the largest bald cypress in the national park. The circumference of this gorgeous tree? 30 feet!
Finding the General Greene Tree involves taking the Bates Ferry Trail for 0.4 miles until you arrive at an unmaintained road on the left and a #7 trail maker on the right. Look about 20 feet ahead, and you will find a trail on the right that leads into the woods. Follow this trail and cross the metal bridge. After the bridge, the trail narrows and turns left. At this point, look to the right of the trail. You will see cypress trees standing in the water. The General Greene Tree is the largest of them and is easy to spot.
Watch Fireflies Perform
I've always heard about the synchronous fireflies of the Smoky Mountains, and seeing them has been on my bucket list for a while. During our time in Congaree National Park, I learned that those same fireflies can also be found in this South Carolina park between mid-May and mid-June.
During this time, specific species of fireflies fill the night sky in Congaree, lighting up and going dark in unison and putting on quite the show.
Unfortunately, we were not at Congaree when the fireflies were present, so this item remains on my bucket list. That said, it is good to know I could choose to see them in Congaree rather than the Smokies should it make sense to do so.
Kayak or Canoe
This is one of the many things I wished we had had time for during our time in Congaree National Park. Kayaking and canoeing are allowed in the park and are great ways to immerse yourself in the natural environment.
The 15-mile Cedar Creek Canoe Trail is probably the most popular place to paddle in the park. For the more adventurous paddler, there is also the option of taking the Congaree River Blue Trail, which starts in Columbia, South Carolina, and takes you 50 miles away, ending in Congaree National Park.
As mentioned above, you will want to discuss current conditions with a ranger before setting out, and you can choose to bring your own equipment or rent from a concessionaire. Another option? Canoe tours are great for those who don't feel comfortable exploring the waterways on their own.
Catch a Fish
If you enjoy fishing, you might find that spending a day enjoying the views and catching fish is your ideal way to experience Congaree National Park. We aren't really fishing enthusiasts ourselves, but I could definitely see how this would be an excellent place to cast a line.
Fishing is allowed in most areas of the park (just look for no fishing signs before you settle in). That said, you must have a valid South Carolina fishing license in order to fish here. Catch-and-release is encouraged but not required.
Go Birdwatching on the Kingsnake Trail
Finally, there is the Kingsnake Trail. If you enjoy birdwatching, this is the trail for you, as birds are abundant all along this path. We recommend taking binoculars and a bird-spotting guide in order to get the most out of your time on this trail. Photographers may also want to carry a camera to get some shots of the birds here.
The trail itself is also lovely. It passes through sloughs of Tupelo and cypress trees and runs along Cedar Creek for a bit. There are also a number of old bridges involved, something that kids tend to love.
Where to Eat
There are no restaurants inside Congaree National Park, and like many national parks, Congaree is pretty remote. This means you're not going to find much to eat right outside the park. That said, there are some restaurants worth visiting in Columbia, which is about 30 minutes away.
Menkoi Ramen House
Most people don't immediately think of ramen when they think of South Carolina, but nevertheless, Menkoi knows how to do ramen right. Not only that, the prices here are very affordable, making this an excellent go-to in Columbia.
Blue Marlin
Looking to try some low-country favorites? Blue Marlin is a great place to stop. The shrimp and grits here are some of the best in the state, and the many fish dishes are sure to satisfy your craving for seafood.
Maurice's Piggie Park
No visit to South Carolina would be complete without trying some Carolina-style barbecue, complete with mustard-based sauce. And there's no better place to do that than Maurice's Piggie Park. After all, a restaurant that has been in business for over 60 years has to be doing something right.
Where to Stay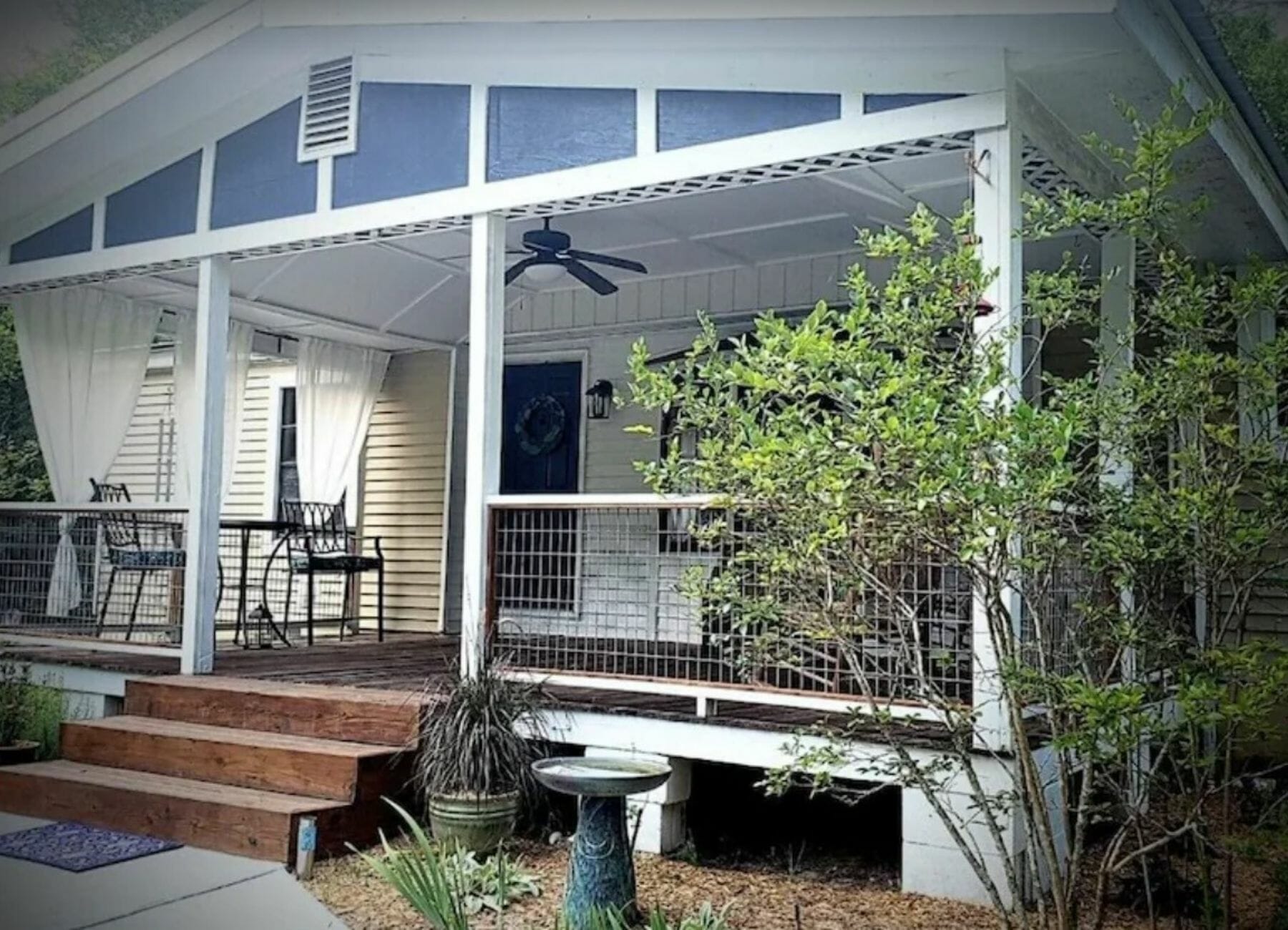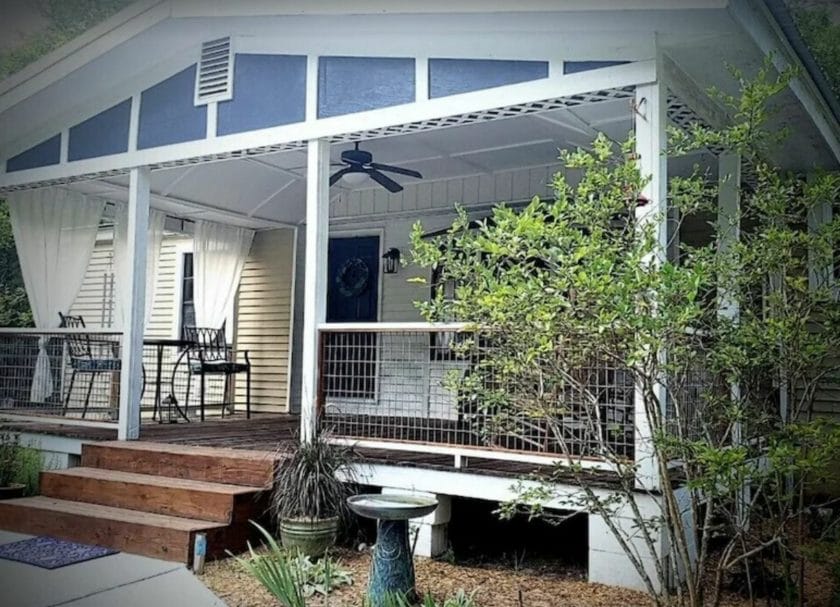 If you don't plan on camping in the national park, you might be wondering where you should stay. There are many options within 30 minutes of the park, and whether you prefer a house, a hotel, or an RV park, we're sure you'll find something to suit your needs.
VRBO
A Charming Cottage
This adorable country cottage is nestled in the woods, allowing you to truly immerse yourself in South Carolina's natural beauty. That said, the cottage offers a number of amenities and comforts, ensuring you aren't roughing it despite being surrounded by trees. It's the best of both worlds!
Dazzling Downtown Deco 2BD Home
This dazzling downtown deco 2bd/1ba home is a fancy little find. Your family will enjoy the class and charm this house offers, along with the location. The neighborhood is close and conveniently located to shops and restaurants.
Hotel
Residence Inn by Marriott
Residence Inn by Marriott Columbia West/Lexington is a lovely hotel that features everything you need to feel comfortable and at home. The patio and pool are perfect places to relax after a long day of adventuring, and the fitness center will ensure you stay in tip-top shape for all that hiking and paddling you'll be doing.
Campground
Woodsmoke Family Campground
Woodsmoke Family Campground is located about 30 miles from the Congaree National Park, meaning you will have a decent drive back and forth. That said, we think it's worth the drive. This campground features a playground, dog park, sports courts, and more. The staff is friendly, the grounds are lovely, and the atmosphere is inviting.
Are you ready to get out there and explore Congaree National Park for yourself? There are so many adventures waiting right here in this national park that we didn't even get a chance to mention, from Bluff Trail to the Longleaf campground. Why not start planning and researching today? We are certain you'll love your visit to Congaree National Park!
More Info Check Out:
11 East Coast National Parks You Want To Visit This Year
25 Exciting and Fun Things To Do In Myrtle Beach, SC
9 Amazing And Fun Things To Do In Asheville With Kids
5 Best Kid Friendly Breweries in Asheville, North Carolina
6 Epic National Park Road Trip Ideas [Maps Included]
East Coast RV Trip Itinerary – 16 Awesome Stops To Make
Pin This Post: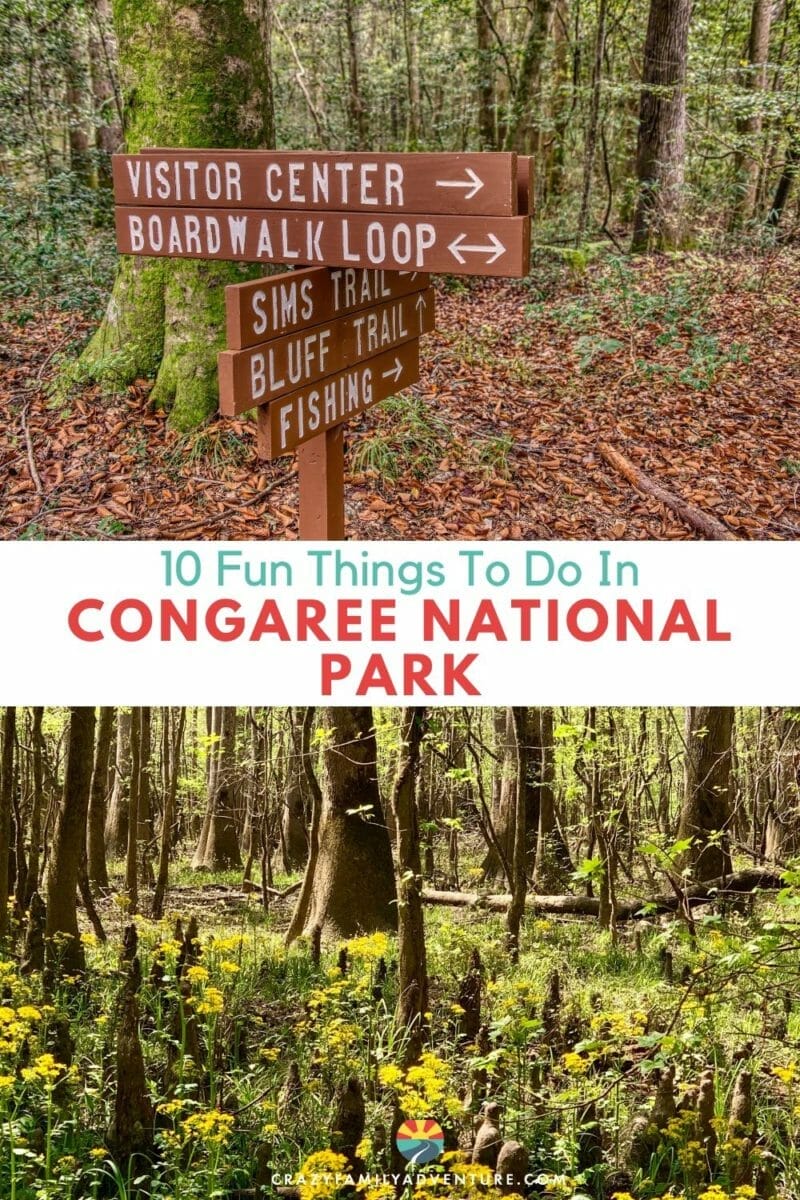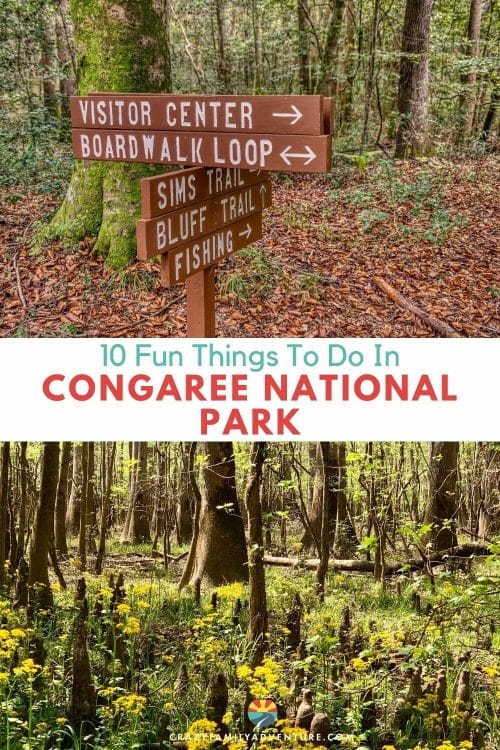 Latest posts by Chelsea Gonzales
(see all)
DISCLOSURE: This post may contain affiliate links, meaning I get a commission if you decide to make a purchase through my links, at no cost to you. Please read my disclosure for more info.