Orlando is easily one of the best family vacation destinations in the entire United States. The plethora of attractions around every corner is sure to keep you entertained, and the vast majority of these attractions offer some seriously awesome things to do in Orlando with kids.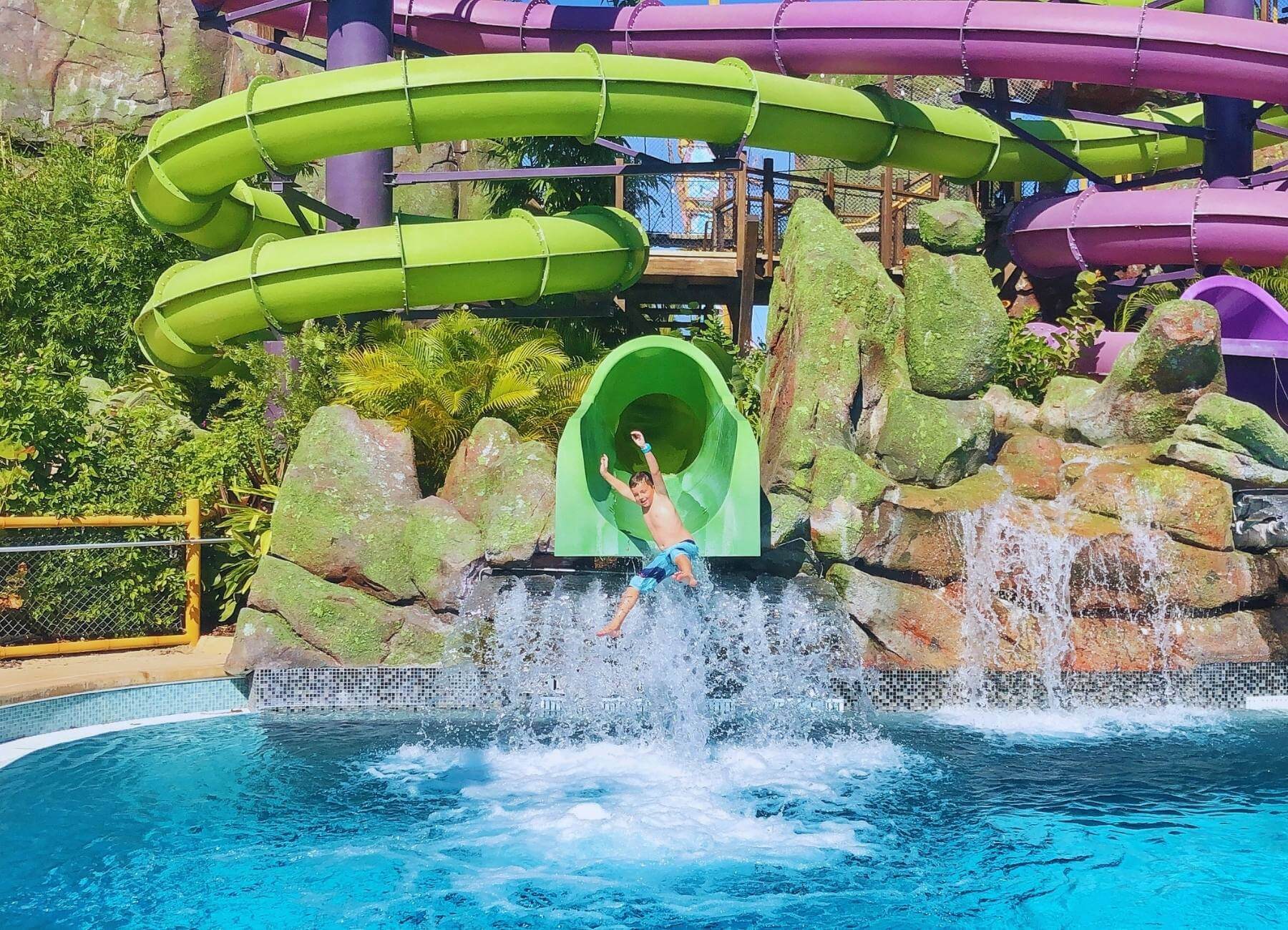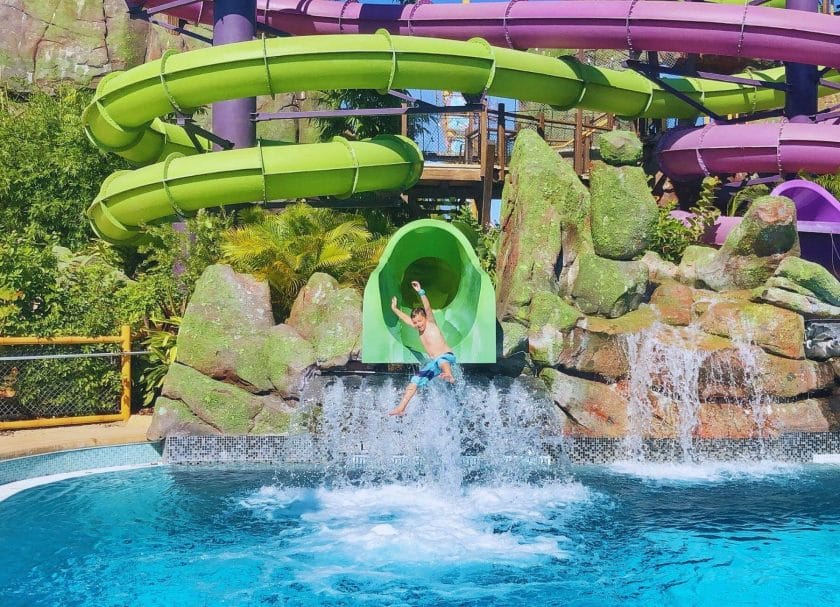 Wether you are stopping in Orlando on a Florida Road Trip or coming to just spent a week here you will find plenty to do. From simple family fun found at places like farmers markets and adorable coffee shops to more big and exciting destinations like Magic Kingdom or Universal Studios there are tons of things to do in Orlando with kids.
What to Do
As mentioned above, it can be a little bit overwhelming trying to decide what to do while in Orlando. With so many options to consider, you might not even know where to begin. Lucky for you, we've already done a lot of the work by picking and choosing the very best kid-friendly attractions for your Orlando family vacation.
Escape Game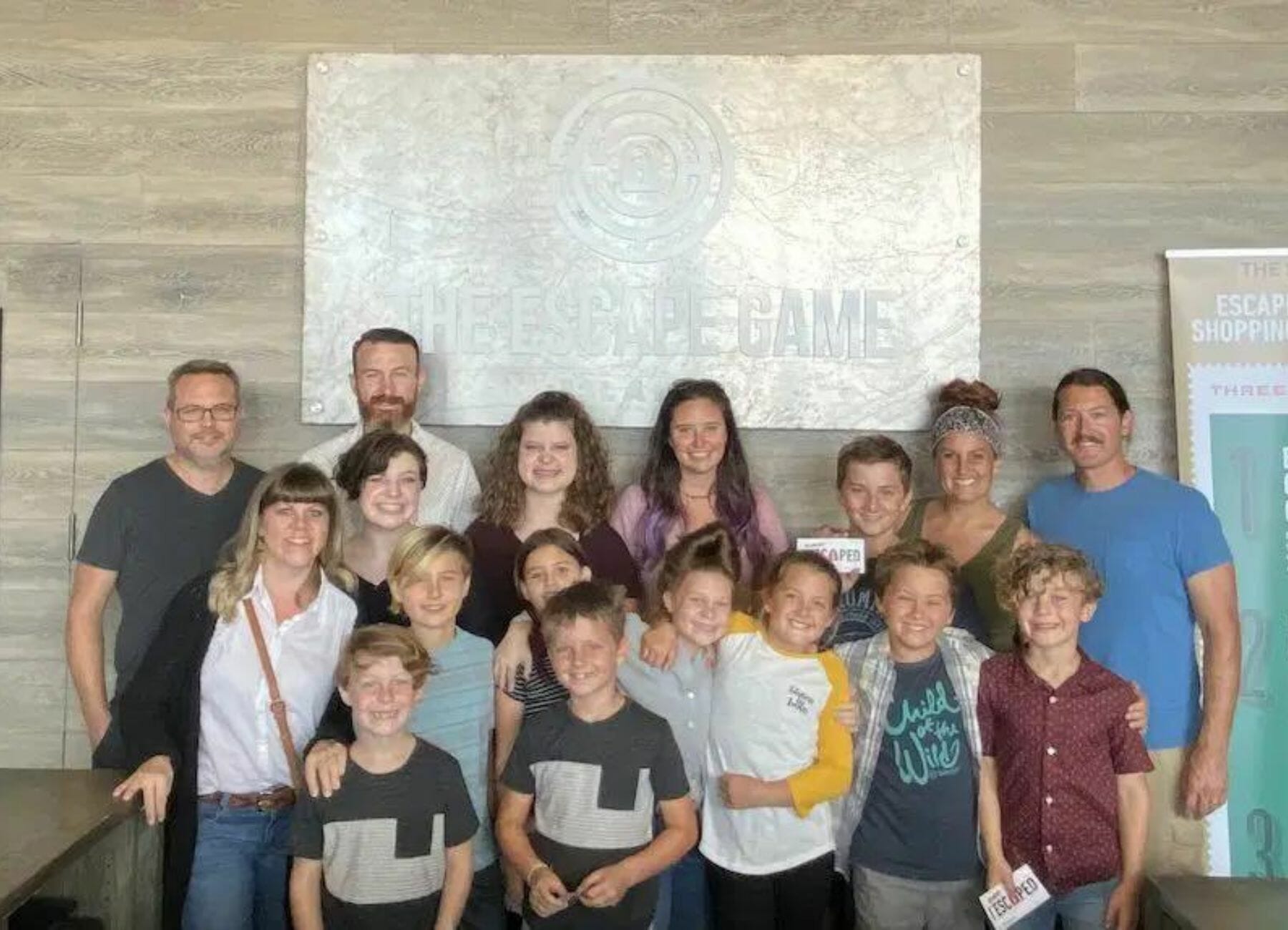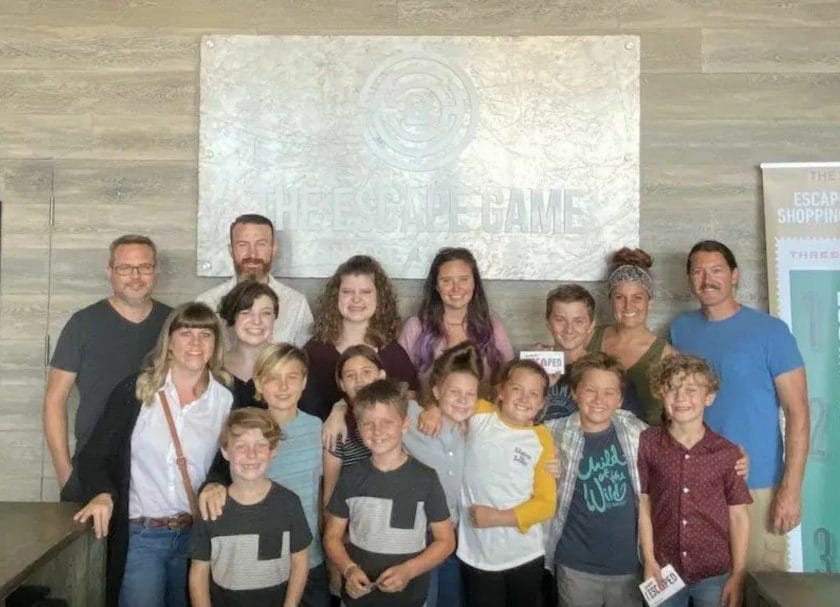 Yes with kids! We went with our kids to a escape room when they were 12,9,9 and 7 and it was an awesome time! We went another time with 2 other families and did boys versus girls. So much fun!
If you are in Orlando be sure to check out the The Escape Game!
Book your tickets for The Escape Game here.
Read about our experience at the Escape Game here.
Walt Disney World Theme Parks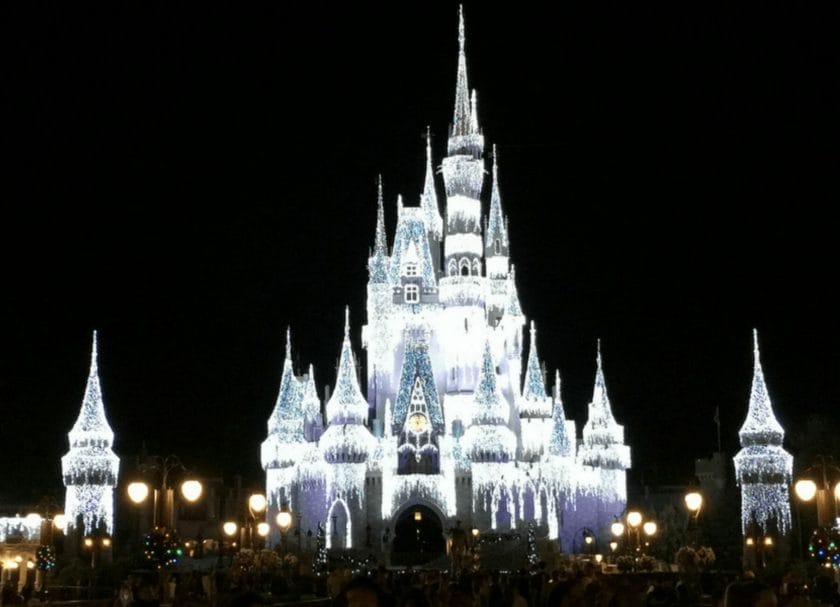 Let's begin with the most obvious option: the theme parks at Walt Disney World Resort. People come from all over the world to see these amazing, incredibly detailed parks, and once you visit, you'll understand why. These are quite possibly the best of the best when it comes to things to do in Orlando with kids.
Spend some time at Disney's Hollywood Studios and step into the worlds of Star Wars and Toy Story, or head to Magic Kingdom and join Buzz Lightyear in the land of tomorrow, or Peter Pan in a land of fantasy. A visit to Epcot will give you the chance to travel around the world in a single afternoon, and Animal Kingdom sends you on a safari in Africa.
A trip to Disney World truly is the trip of a lifetime and one we highly recommend taking with your kids.
Top Tips
Make a reservation in advance. Right now, reservations are required at all four Disney theme parks.
Take snacks and lunch. The food inside is expensive, and outside food and drinks are allowed.
Check out maps of the parks before visiting and get an idea of what you want to see and do so you don't waste time wandering.
If you get thirsty, just go to any quick-service location and ask for a cup of water. It's free and nice and cold.
Celebrating an anniversary, birthday, or first visit? Go to customer service to grab a free button that lets everyone know!
Disney's Water Parks
Did you know Disney World is also home to two water parks? Typhoon Lagoon and Blizzard Beach are awesome options for the hot summer months when you'll likely be looking for a way to cool off.
As you might expect from Disney, both parks are incredibly well-themed, with an entire backstory behind each. We love these backstories and that all of the attractions are tied into their respective tales, meaning you are completely immersed in another world while there.
The slides and other attractions were all made with families in mind. This means there is something here for everyone in your family from toddlers to grandparents.
Top Tips
Put your phone in a waterproof case so you can still use the Disney app and take photos while having a great time.
Go during the slow season. Florida winter weather isn't typically too cold for a water park since the water is heated. Plus, you'll avoid big crowds.
Take your own towels. Renting them costs money.
There are also a lot of fun adult things in Orlando!
Disney Springs
Those who want even more Disney fun—or those who wish to get a bit of Disney magic but can't afford a park ticket—should look into a visit to Disney Springs.
This is a shopping and dining spot unlike any other. Here you'll find countless shops and boutiques, many offering exclusive Disney products. You'll also find an incredibly well-run bowling alley and movie theater, as well as tons of unique and delicious dining options. Of course, the free outdoor entertainment is pretty awesome as well.
Top Tips
Visit during the weekdays. Weekends and evenings can get incredibly crowded.
The AMC theater in Disney Springs offers special ticket prices on Tuesdays if you order through the app.
Be sure to check out the free entertainment on the outdoors stage across from Ghiradelli.
Kids love to build and race cars in the LEGO Store.
Universal's Theme Parks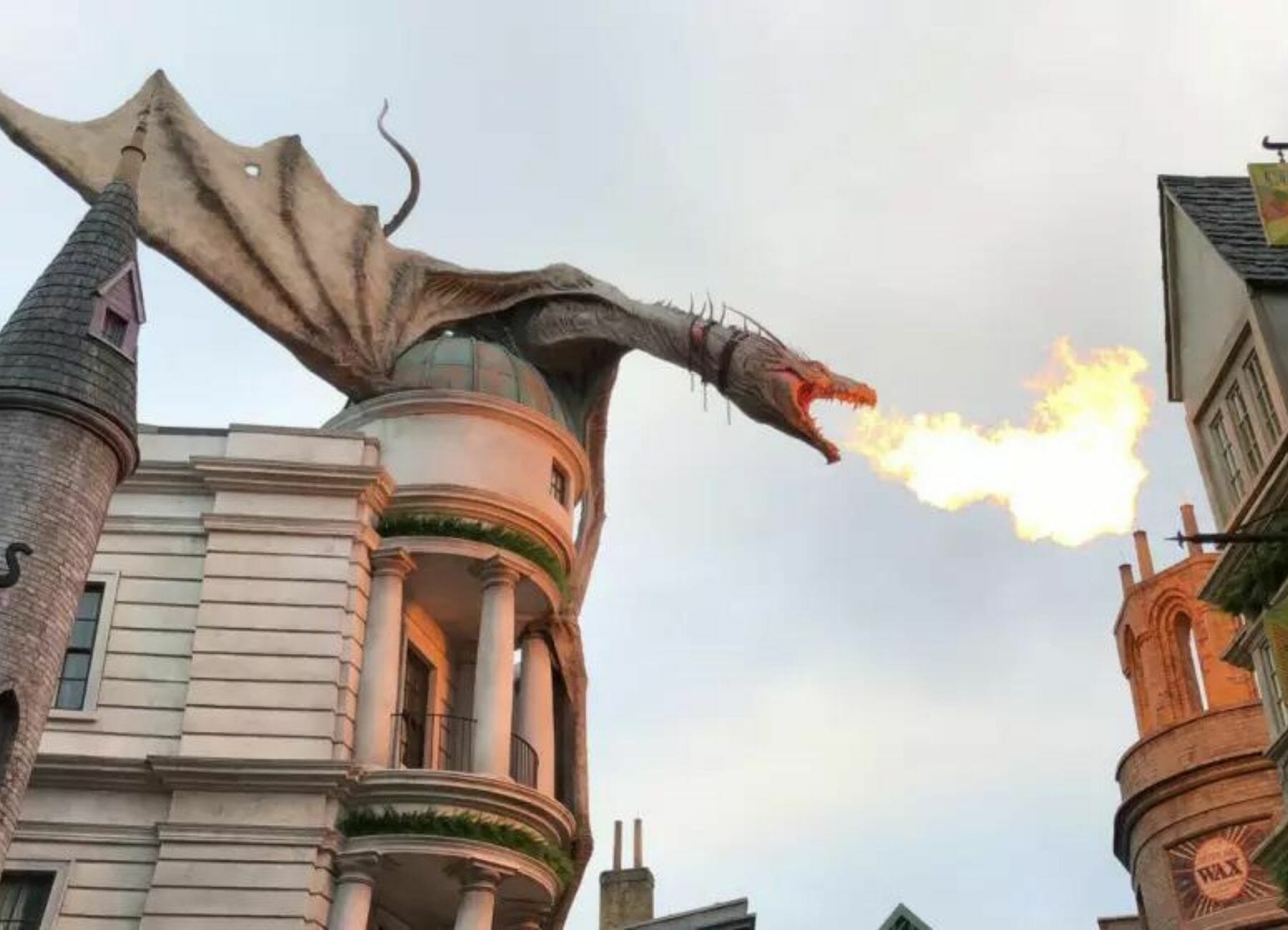 Another excellent Orlando attraction, Universal Orlando is home to two world-class theme parks: Universal Studios Florida and Islands of Adventure.
If you are wondering which one to go to or what the difference is check out our post: Universal Studios VS Islands of Adventure Which One Is Better?!
Like Disney parks, Universal's theme parks are very well-themed, giving you an incredibly immersive experience. In fact, in some spots, you could almost believe you've been transported into your favorite movies.
People love the Harry Potter sections in these parks, with all the awesome Harry Potter World rides and we do too. That said, we also find the Jurassic Park and Seuss Landing areas well worth visiting.
These parks are ideal things to see in Orlando with kids who are older, especially if they happen to be thrill-seekers.
Top Tips
Those who have an American Express Card or AAA Membership can receive discounts and special perks. Be sure to research these if they apply to you.
Take a change of clothes. The water rides in Islands of Adventure will get you really wet and you will definitely want to change after.
Look at wait times on the day of your visit before purchasing an Express Pass. Sometimes the pass is unnecessary.
Universal's Volcano Bay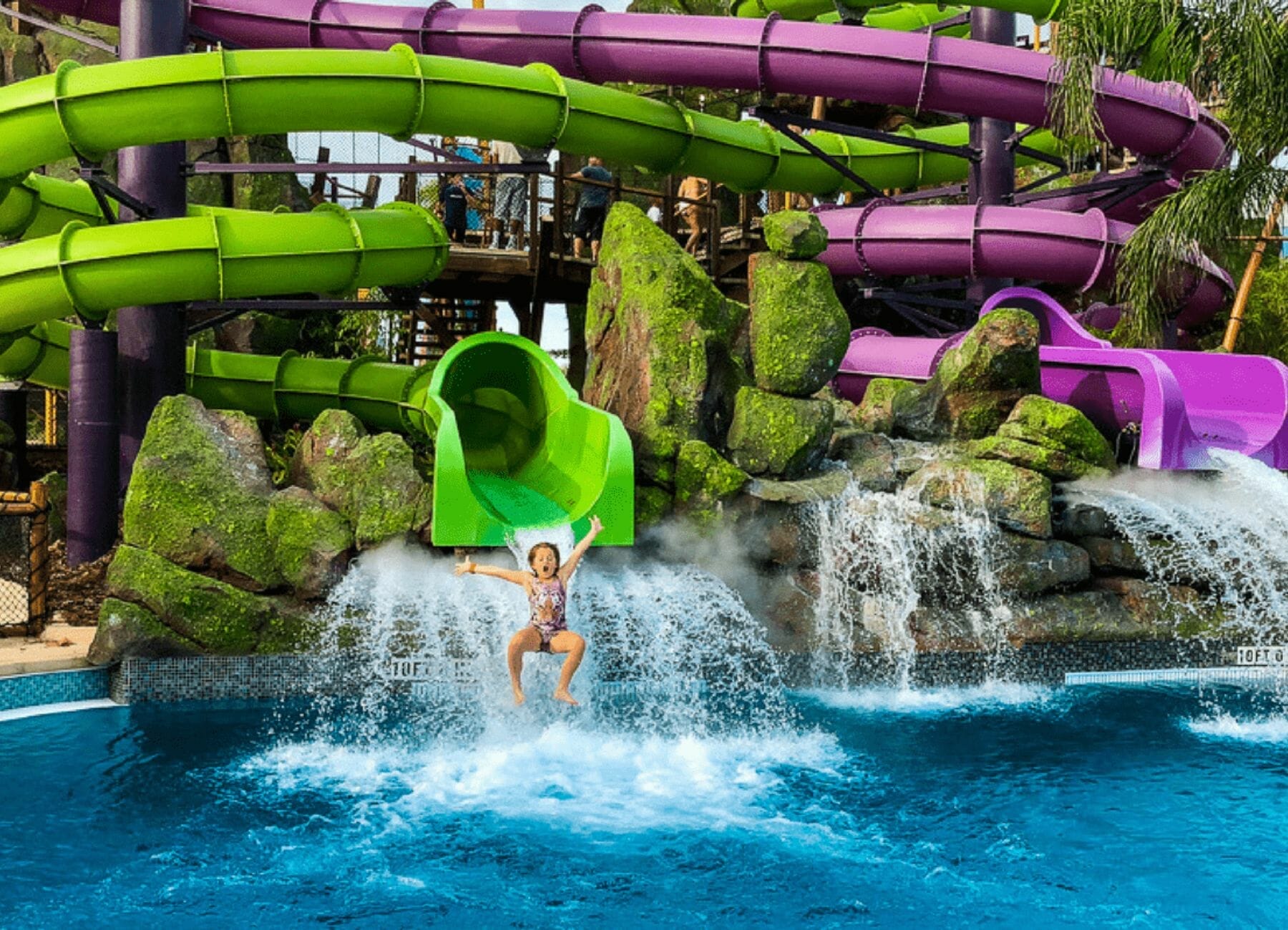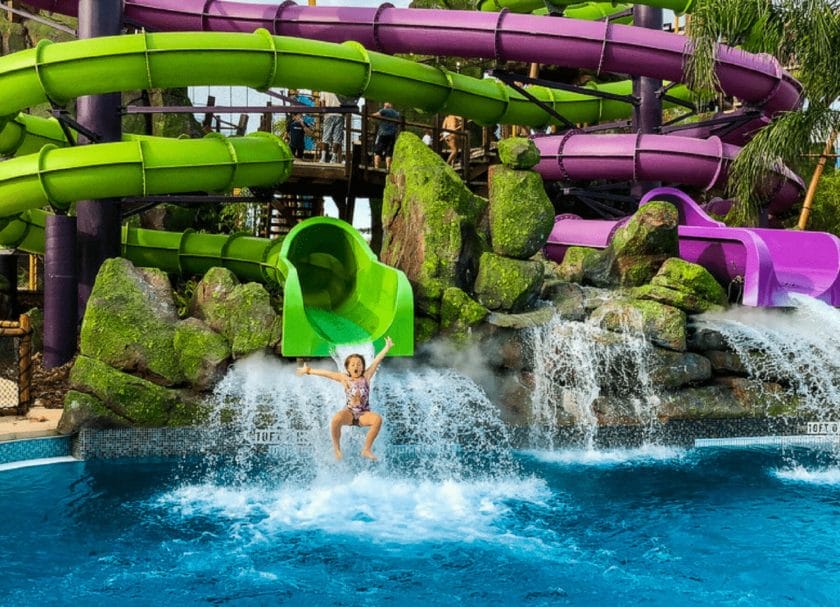 Volcano Bay is a water park that is run by Universal Orlando. It is just as well-put-together as the Universal parks and is a perfect option for those looking for an immersive water park experience with more thrills than the Disney water parks have to offer. It's also a great option for those staying in a Universal hotel, as it is very nearby.
The Krakatau Aqua Coaster is an absolute must-do when visiting this park, and the Kopiko Wai Winding River is the perfect place to lead you cares away.
Top Tips
Set up cashless payment. This is incredibly helpful when you don't want to carry a wallet around the park.
The tips for Disney's water parks above also apply.
Universal's City Walk
Looking for even more fun in Universal Orlando Resort? City Walk is a budget-friendly option for those looking to fill an extra vacation day or people who want to experience Universal without breaking the bank. Why? Because it's absolutely free.
Universal's answer to Disney Springs, this entertainment spot is chock-full of incredible dining options and shopping spots. Mini golf is available on the stretch, as is a movie theater, and the nightlife here is some of the best in the city.
Top Tips
Like Disney Springs, City Walk gets super busy on weekends. Plan to visit during the week for a much more pleasant experience.
Set aside a day for exploring City Walk. Trying to see this place before or after visiting a theme park is just too much.
Set a strict budget. It's super easy to spend too much while in City Walk.
SeaWorld Orlando
SeaWorld is yet another wonderful Orlando theme park. This one is perfect for ocean lovers, thrill seekers, and young children who love Sesame Street.
The park's many animal performances are sure to keep you entertained while also offering a bit of education. Meanwhile, the large coasters (such as the Mako) will give you the adrenaline rush you crave. Finally, Sesame Street Land will give the youngest visitors a chance to meet their favorite monster friends while enjoying kiddie rides and having the time of their lives.
Top Tips
Make a reservation in advance. Right now, reservations are required at both SeaWorld parks.
Wear quick-dry clothing. There are several attractions that could lead to wet clothing, so things that dry quickly will be nice to have.
Arrive at shows early. Performances fill up fast since they are some of the main attractions at this park.
Consider the all-day meal plan to save money.
Discovery Cove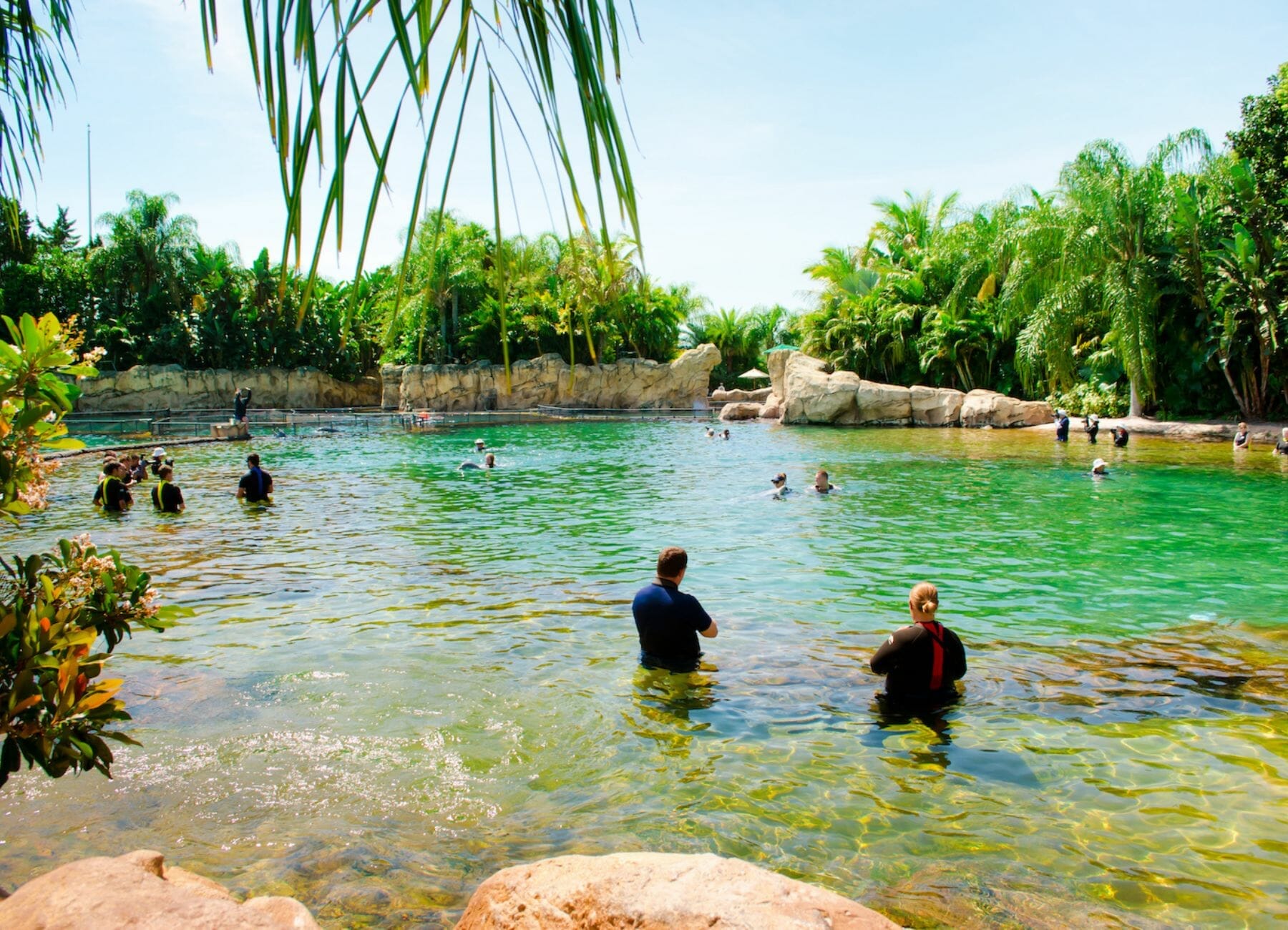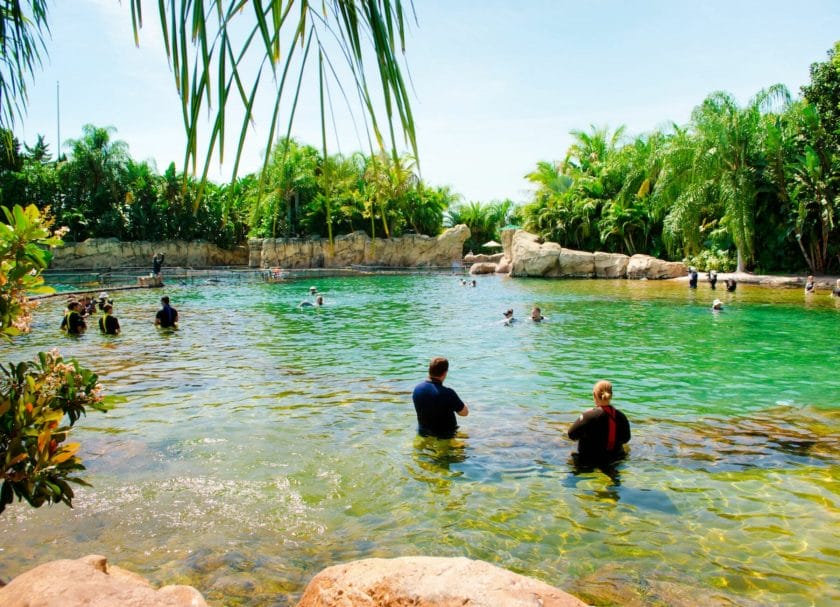 Another attraction that is run by SeaWorld, Discovery Cove is an all-inclusive day resort that offers a bit of adventure and a lot of relaxation.
Here you can get up close and personal with dolphins, otters, and all kinds of other creatures. Beautiful tropical birds can be admired in the Explorer's Aviary, and an amazing reef can be admired with the included snorkeling equipment. Add-ons such as the "Seaventure" underwater walking tour can make the day even more exciting.
As you might imagine, all of that fun can make you really hungry. Fortunately, every day at Discovery Cove includes a freshly prepared breakfast and gourmet lunch so you can explore with plenty of energy.
Top Tips
Arrive hungry! Food is included in your visit, and you'll want to take full advantage.
Know the age requirements. Very young children won't be able to participate in all activities, meaning parents may have to take turns.
Buy tickets in advance. Attendance is very limited, so buying in advance ensures you'll get to visit on the day of your choosing.
Aquatica Orlando
The last of SeaWorld's Orlando attractions is also one of the top things to do in Orlando with kids. Aquatica is a fantastic water park. It's a bit smaller than the other parks mentioned so far, but it still manages to pack in plenty of fun.
Perhaps the best attraction in this park is the transparent tube slide that goes right through a dolphin tank, which is aptly named "Dolphin Plunge". We also really like the incredibly thrilling Taumata Racer, the family ride called Walhalla Wave, and of course, the lazy river.
Top Tips
Many of the water park tips mentioned above apply here.
Make a reservation in advance. Right now, reservations are required at both SeaWorld parks.
Don't bring any kind of meal into the park. Security will make you throw it out. That said, you can bring snacks and bottled water.
LEGOLAND Florida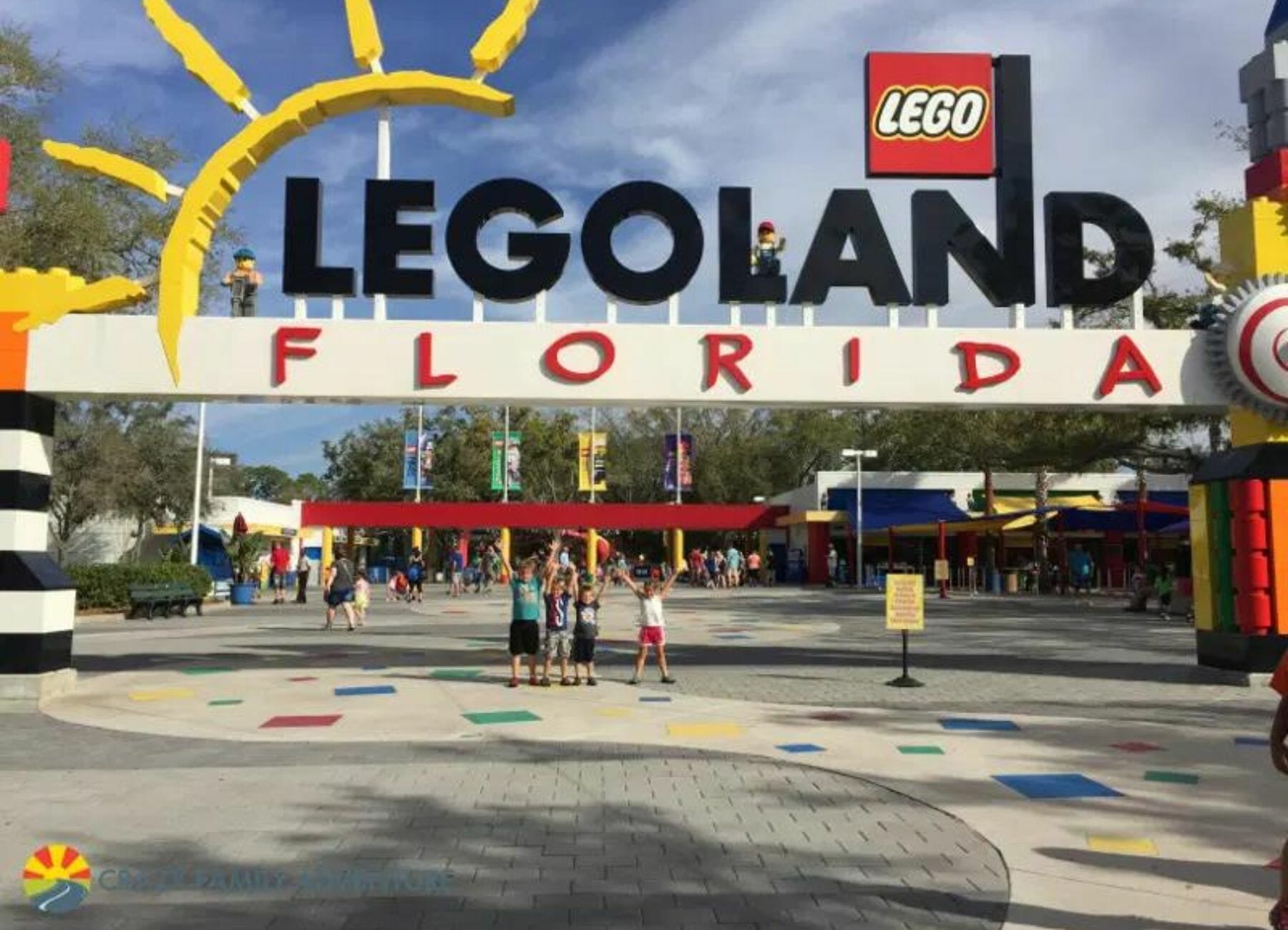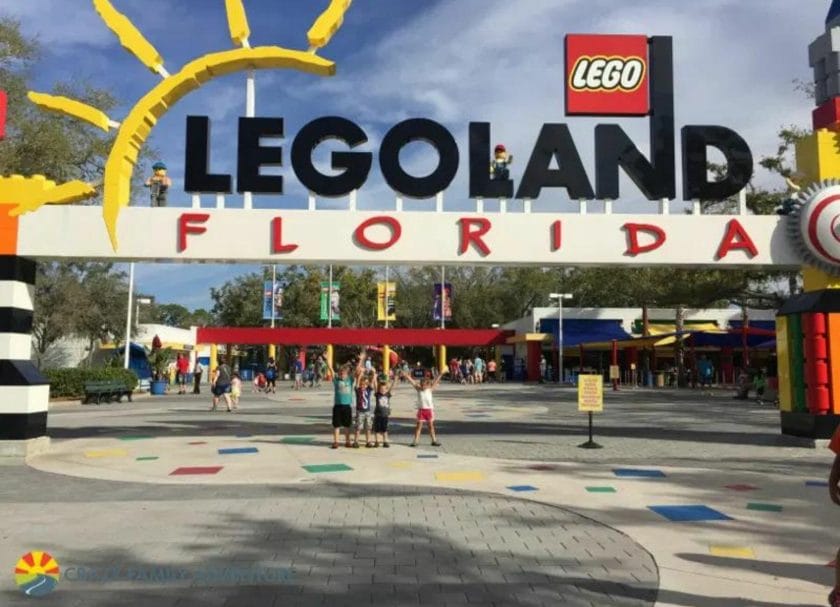 LEGO lovers will absolutely adore LEGOLAND Florida. All attractions are geared to kids ages 3–10 at this super cute and colorful park where "everything is awesome."
Kids love the Driving School attraction where they can drive a life-size lego car. The dino-themed Coastersaurus is perfect for young thrill seekers, and the Ninjago ride features some great technology.
If you enjoy LEGOLAND and have extra time to spare, be sure to check out the onsite water park as well. This is the perfect water park option for those who are traveling with little ones. And be sure to checkout the LEGOLAND hotel.
Top Tips
Do you homeschool? See if the park is offering their discounted homeschool days and go then if you can.
Skip the Fastrack upgrade unless you visit on a very busy day. We've never waited in a long line at LEGOLAND.
Get Apple Fries. This is a unique LEGOLAND treat that is absolutely delicious.
Bring minifigs from home to trade with employees throughout the park.
Gatorland Orlando
Want to do something that is unique to the south and an excellent one of the things to do in Orlando with kids? Head to Gatorland. This awesome park revolves entirely around gators. It combines education, adventure, and a whole lot of thrilling fun to create the ultimate attraction.
Check out the crocodiles, tropical birds, and many other amazing animals, and ride the awesome in-park zipline. Of course, you'll also want to allow plenty of time to admire the alligators and maybe even learn a thing or two about them.
We highly recommend the Gator Night Shine for seeing the gators in their most active state!
Top Tips
Gatorland often offers deep discounts for Florida residents. If you plan to visit and are a resident of Florida, try waiting until you can snag a deal.
Take cash so you can feed the gators.
Don't pack food, it won't be allowed. Do pack swimsuits though, as there is a great little splash pad available.
Get Your Tickets
Gatorland Orlando + Screamin Gator Zipline Combo
Fun Spot America
With locations in both Orlando proper and Kissimmee, a Fun Spot America is never far away when you're in the Orlando area. While these parks don't compare to Disney or Universal in terms of theming, they do offer a ton of fun at a much lower price point. In fact, admission, parking, and some entertainment are all offered for free. Additionally, they don't tend to be as packed as major parks, meaning shorter wait times, something parents definitely appreciate.
Some of the best Fun Spot attractions include the only wooden coaster in Orlando, some of the tallest sky coasters in the world, and unique, multi-level go-kart tracks. That said, there are plenty of kiddie rides and attractions as well, meaning the whole family will have fun.
Top Tips
Take advantage of free admission by walking around the park and observing the rides before you pay for anything.
If your family drinks soda, purchase a refillable souvenir cup to refill throughout the day. The meal deal add-on is a great way to get the cup and a meal at a decent price.
Plan to visit more than once? The season pass costs the same as two-day tickets and includes admission to all Fun Spot locations (Orlando, Kissimmee, Atlanta).
Get Your Tickets
Fun Spot America All Day Fun Pass
Drive Thru Safari Park
Home to more than 100 free-roaming animals, the Drive Thru Safari Park is an awesome place to observe a variety of incredible creatures. From the comfort of your car, you'll be able to get up close and personal with bison, zebras, and more, making it one of our favorite things to do in Orlando with kids.
After your Safari, be sure to make time to feed the giraffes and visit the onsite Gator Park to see even more amazing animals. You'll also have the opportunity to watch animal presentations, giving you a chance to learn something new during your visit.
Other add-on options include airboat rides and animal encounters.
Top Tips
Take a pen! Each visitor is given a list of animals they might see during their drive. You'll want a pen to check off the ones you spot.
The park can be really smelly on hot days. For this reason, you may want to consider keeping the windows rolled up.
Also, keep in mind that convertibles and motorcycles are not allowed in the park.
Get Your Tickets
Island H2O Live Water Park
Yes, we're adding another water park to our list, but this one definitely deserves its place just as much as the others. Island H2O uses technology to create a super interactive water park experience unlike anything else in the world.
Choose the music and lighting on certain rides, capture photos and videos to post to social media, and earn points to redeem for discounts on food and merchandise by participating in certain experiences throughout the park.
Attractions at Island H2O include a huge number of slides of all shapes and sizes, a lazy river, a sports zone, an adult pool, and a kiddie area.
Top Tips
Be sure to download the Island H2O app and verify your profile before you leave home.
Buy a season pass if you think you'll visit a second time. It's only a bit more than a day pass and includes free parking.
Take towels. They aren't provided by the park.
Be aware that some rides close before the park closes.
Airboat Tours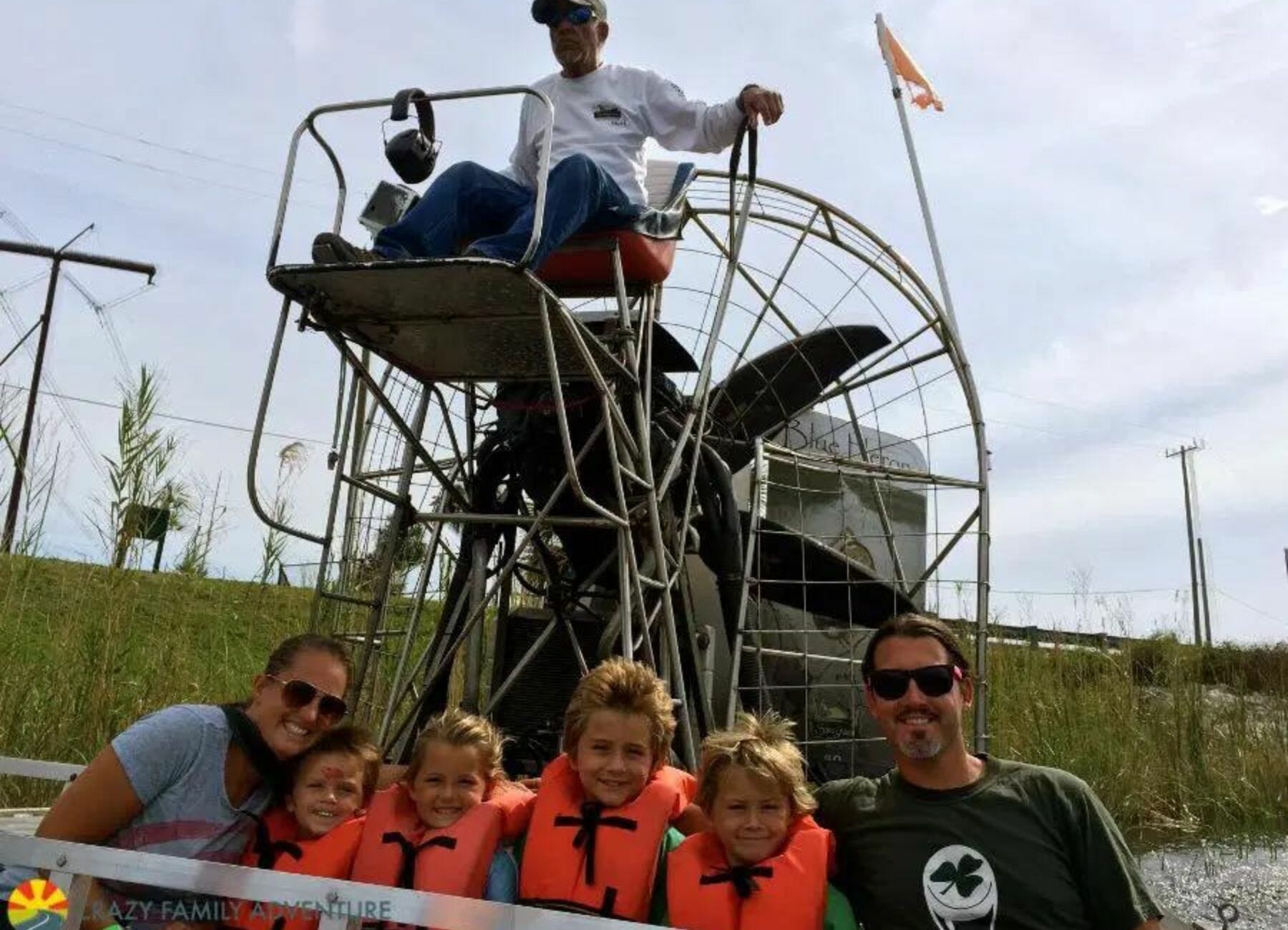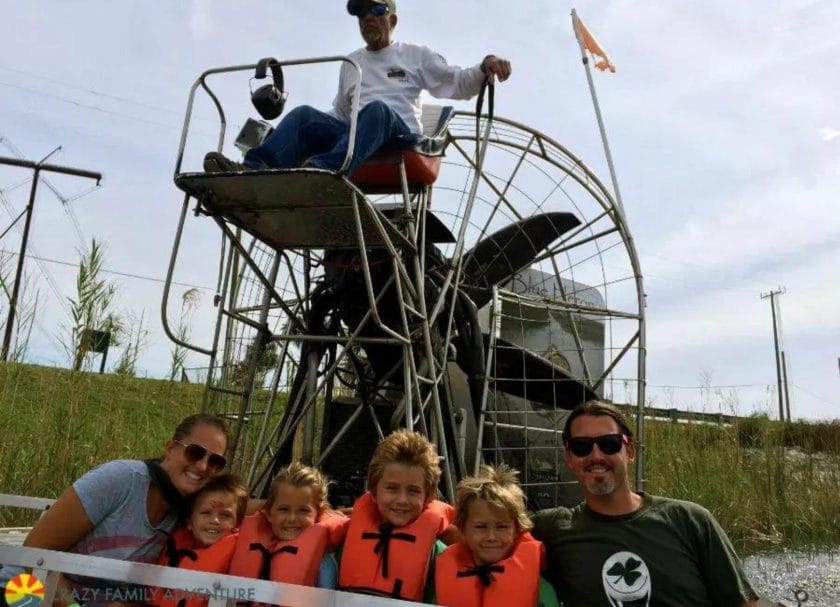 Airboat tours are offered by a number of different companies around Orlando, and we think these are a fantastic pick for anyone looking for things to do in Orlando with kids. A unique experience, an airboat ride allows you to check out Florida in its natural state. Who knows? You might even see some native wildlife!
Some of the best boat tour companies in the area include Marsh Landing Adventures and Boggy Creek Airboat Adventures.
Top Tips
Early morning tends to be the best time to spot gators. Meanwhile, sunset rides are perfect for taking photos.
If visiting during the winter, consider taking a mid-day tour in order to see the animals in their most active state.
Dress comfortably and try to choose slightly warmer, wind resistance clothing.
Get Your Tickets
30-minute Airboat Tour & Gator Park Admission
Everglades Sunset Airboat Tour
Orlando Science Center
Hands-on science museums are always a great way to keep kids entertained while also sneaking in a bit of education. Orlando Science Center in downtown Orlando is no exception.
We love all of the dinosaur-related exhibits here, as well as the weather room. Young children will appreciate the KidsTown area, where imaginative play meets learning.
Top Tips
If you have an ASTC membership, be sure to use it to cover your entry fees.
Make time for the scheduled shows and programs. They really enhance your visit.
Check out the telescopes. On certain weekend days and evenings, the science center allows guests to use the telescopes to see the sky.
Central Florida Zoo and Botanical Gardens
Located a short drive away from Orlando in Sanford, Central Florida Zoo and Botanical Gardens is an absolutely beautiful park with lots to see and do.
The zoo is home to hundreds of animals, as well as an aerial adventure course, splash pad, and of course, the gorgeous botanical gardens. Kids also love the carousel, the train, and the playground.
Top Tips
Pack a lunch. Outside food is not allowed inside the zoo, but there is a picnic area just outside the gates.
Don't forget to take swimsuits for the kids so they can use the splash pad.
Feed the animals in the Barnyard, or pay to feed the giraffes or have the rhino encounter. All three are awesome experiences.
This zoo is part of the AZA reciprocal program.
SEA LIFE Aquarium
SEA LIFE Aquariums can be found all over the country, and all of the locations offer an absolutely fascinating peek under the sea.
The Orlando location is one of the best things to do in Orlando with kids and includes Florida's only 360-degree ocean tunnel, so you can be surrounded by ocean life. Other notable attractions at this location include a touch pool, beautiful jellyfish, and Ted, the rescued sea turtle.
Top Tips
If you have a toddler, consider attending Toddler Tuesdays for extra fun for the youngest visitors.
If you'll be visiting more than one attraction in ICON Park, consider a combination ticket to save some money.
Alternatively, the LEGOLAND Gold Pass and Awesomer Pass both include admission to SEA LIFE Aquariums, as well as all several other Merlin-owned attractions.
Madame Tussauds Wax Museum
Madame Tussaud's is a chain of wax museums that can be found all over the US. These museums are absolutely fantastic, featuring favorite celebrities and movie characters we all know and love.
A visit to one of these museums is an excellent opportunity to "take a photo" with your favorite actor or singer and get up close and personal with a cartoon character.
Top Tips
As mentioned above, if you'll be visiting more than one attraction in ICON Park, consider a combination ticket to save some money.
Madame Tussaud's is also under the Merlin umbrella, meaning the LEGOLAND Gold Pass or Awesomer Pass would work here as well.
The Go Orlando Card is another great way to save on multiple attractions, including this one, SEA LIFE Aquarium, WonderWorks, and more.
Pack a camera, don't be afraid to use the props, and ask others to snap photos if you have to. Make sure you pose in such a way that the wax figure is "looking" at the camera.
WonderWorks Orlando
A super fun hands-on attraction, WonderWorks is something like a science museum and theme park combined. There are illusions, rides, challenges, and fun games hidden around every corner, and it's the perfect place for those with kids.
We highly recommend the Living Sandbox, the ropes course, and the XD MOTION THEATER Experience. The Gyroscope and Wonder Coaster are both awesome as well.
Top Tips
Again, the Go Orlando Card is a great way to bundle this attraction with others to save money.
Head to the Gyroscope and Wonder Coaster first. These are at the back of the second floor, meaning you'll have to go through the museum backwards after, but lines for both attractions get very long later in the day.
If you have younger kids, take two adults. There are some attractions the little ones won't be able to do, so you'll need to be able to split up.
Wear closed-toe shoes. The awesome ropes course requires them.
The Wheel at ICON Park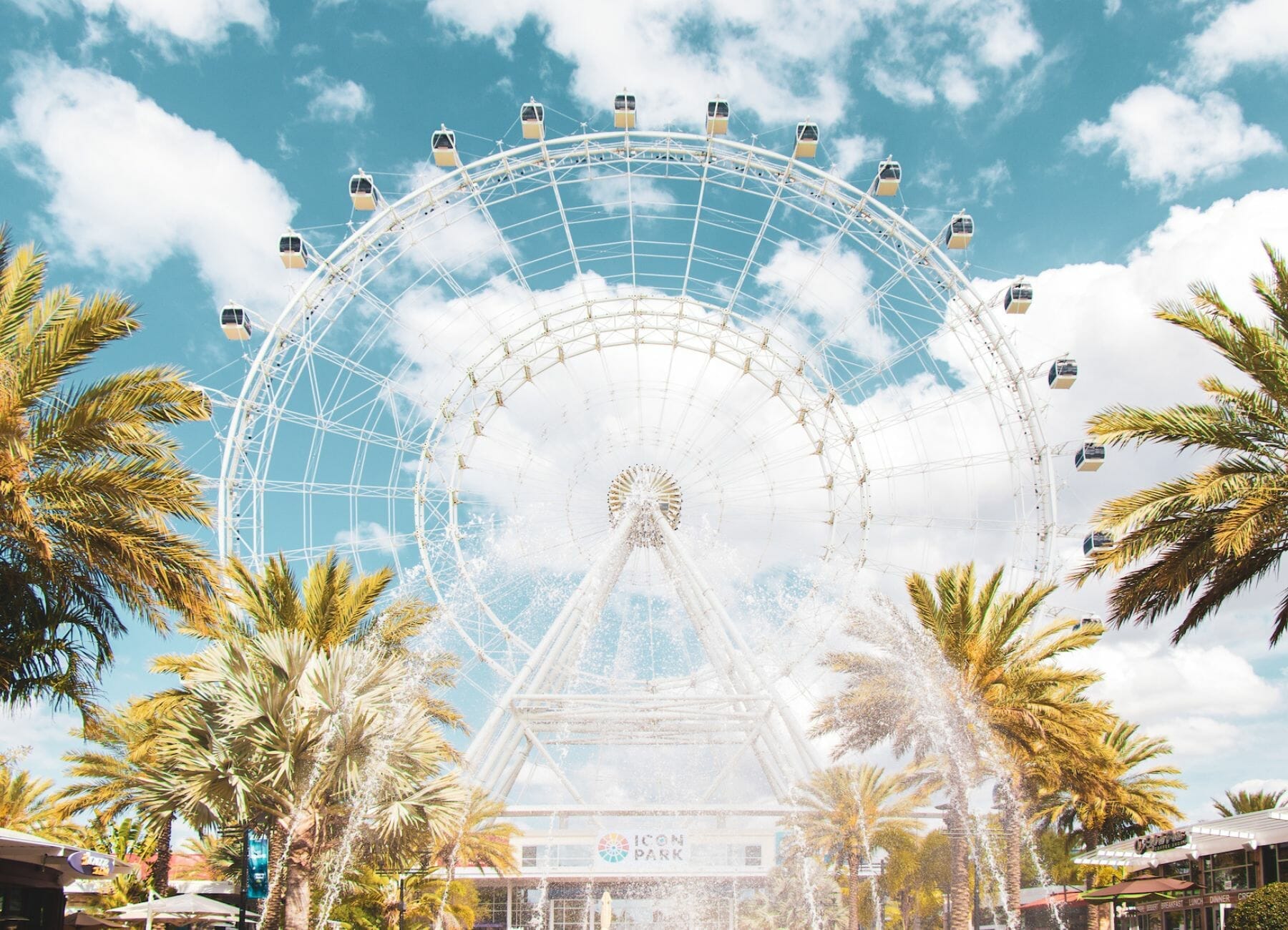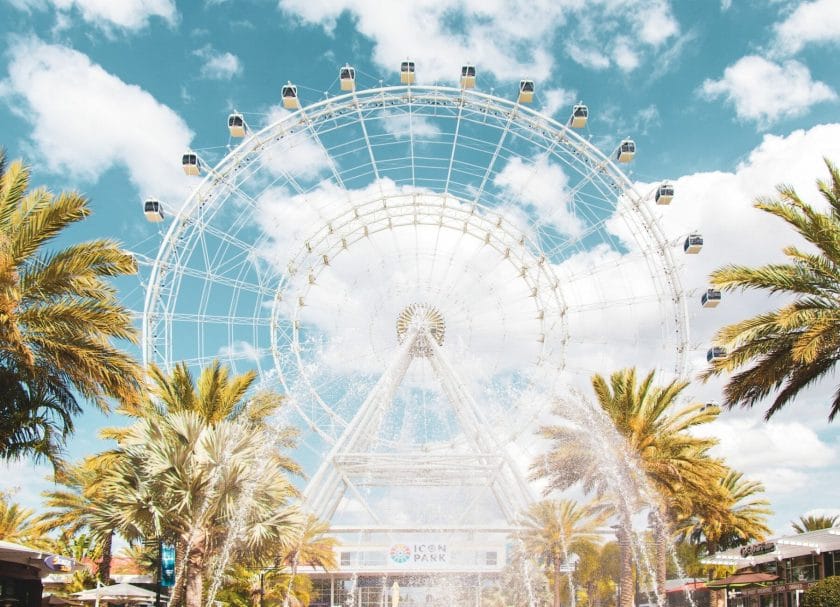 It's always fun to get a bird's-eye view of any place you visit, and The Wheel at ICON Park is the perfect way to do just that while in Orlando. Icon Park is located on International Drive a short distance from other popular attractions.
This gigantic ferris wheel isn't a thrill ride per se, but because it's so tall, it can still feel pretty exhilarating to ride. We love the amazing view the wheel offers, and highly recommend experiencing it at least once if you can.
Top Tips
This attraction will only take about half an hour. Therefore we recommend planning another ICON Park attraction for the same day.
The bundle deals mentioned above will save you a bit of money.
Note that The Wheel may be closed during lightning storms for safety reasons.
Skeletons: Museum of Osteology
A museum all about bones may seem like an odd place to visit when looking for things to do in Orlando with kids, but we actually had a really good time here. The information was presented in a fun and easy-to-digest way, and there were tons of awesome bone facts scattered throughout the museum.
We also appreciated that the staff was so knowledgeable, and we loved the classes offered for kids.
Top Tips
Attend a class. This makes the experience so much more immersive and entertaining for kids.
Pick up a scavenger hunt sheet for each kid and challenge them to complete it.
Crayola Experience
Perfect for the younger crowd, the Crayola Experience is a colorful and fun way to encourage creativity and one of the most hands-on things to do in Orlando with kids. The show (narrated by two crayons) is tons of fun and educational. Meanwhile, the many hands-on activities allow kids to express themselves in a variety of ways.
Some favorite attractions include the Drip Art and Melt-and-Mold stations. We also really like the Rockin Paper area that is hidden away in the back right of the space.
Top Tips
Promotions are always available, including free admission for certain individuals and Groupon deals. Annual passes can also be an excellent way to save money if you'll visit more than once in a year.
Take socks when you go. You'll need them to play on the climbing structures, something the kids are sure to want to do.
Try to visit during the work week. This will help you avoid big crowds and long lines.
Titanic: The Artifact Exhibition
If you're traveling with older kids or teens, the Crayola Experience might be too young. Instead, consider visiting Titanic: The Artifact Exhibition.
This amazing museum includes a huge number of artifacts from the Titanic. It draws you into the experiences of the Titanic's passengers and helps you get a better understanding of what happened that fateful night in 1912. The attraction is interactive, engaging, and incredibly educational without ever being boring.
Top Tips
Read a bit about the Titanic before going in order to give your kids a good foundation for what they will learn.
Consider leaving little kids behind for this one if possible. It can be a somber experience, and small children can be disruptive. Additionally, some kids may be upset by the nature of the attraction.
Skip the picture-taking. Cameras are not allowed, as they can damage the artifacts.
Ripley's Believe It or Not!
Found scattered across the US, Ripley's Believe It or Not! is an attraction that every traveler should see at least once. Yes, it is kitschy, but it's also fun and quirky and definitely one of the most fun things to do in Orlando with kids
Here you'll find such oddities as shrunken heads, rare animal skeletons, photos, videos, and stories of people with bizarre talents, along with a few interactive elements.
Top Tips
Active military, veterans, first responders, and their immediate family receive a 30% discount.
AAA members can get $2 off adult tickets and $1 off kids tickets.
Take a camera! Photos are encouraged, and you're sure to see plenty of fun things to snap pictures of.
Orlando Museum of Art
While we don't necessarily recommend attempting an art museum with a toddler or preschooler, you might be surprised how much elementary-aged children can get out of a visit to such a place. Middle schoolers and high schoolers can also gain a lot from an art museum field trip, and the Orlando Museum of Art is an excellent place to take that field trip.
This Orlando attraction is often overshadowed by the flashier options in the city. However, with fun events and classes, amazing works on display, and a dedicated and knowledgeable staff, this is a wonderful place to visit for a morning or afternoon.
Top Tips
Visit on the first Thursday of any month for special programming featuring work by local artists and live music.
Free admission is offered to Bank of America and Merrill Lynch cardholders during the first full weekend of every month.
Active duty military and up to 5 members of their family receive free admission.
This museum is also a part of the NARM, SERM, and ROAM reciprocal programs.
Kennedy Space Center
Really, Kennedy Space Center isn't in Orlando. However, it's close enough for an easy day trip, and it's well worth taking that trip to see this amazing place.
Here, you'll learn all about the history of space exploration, what is going on currently in the world of space travel, and what to expect in the future. It's the perfect opportunity to get kids excited about space science, and offers educational experiences and interactive exhibits for people of all ages.
Top Tips
Occasionally, Groupon will offer a special deal for Kennedy Space Center.
Plan your day before you arrive. There is a lot to see and do, and making a plan will ensure you make the most of your time there.
Know when the bus tours stop running and be sure to catch one before they do.
Get Your Tickets
Kennedy Space Center Admission
Tubing At Kelly Rock Springs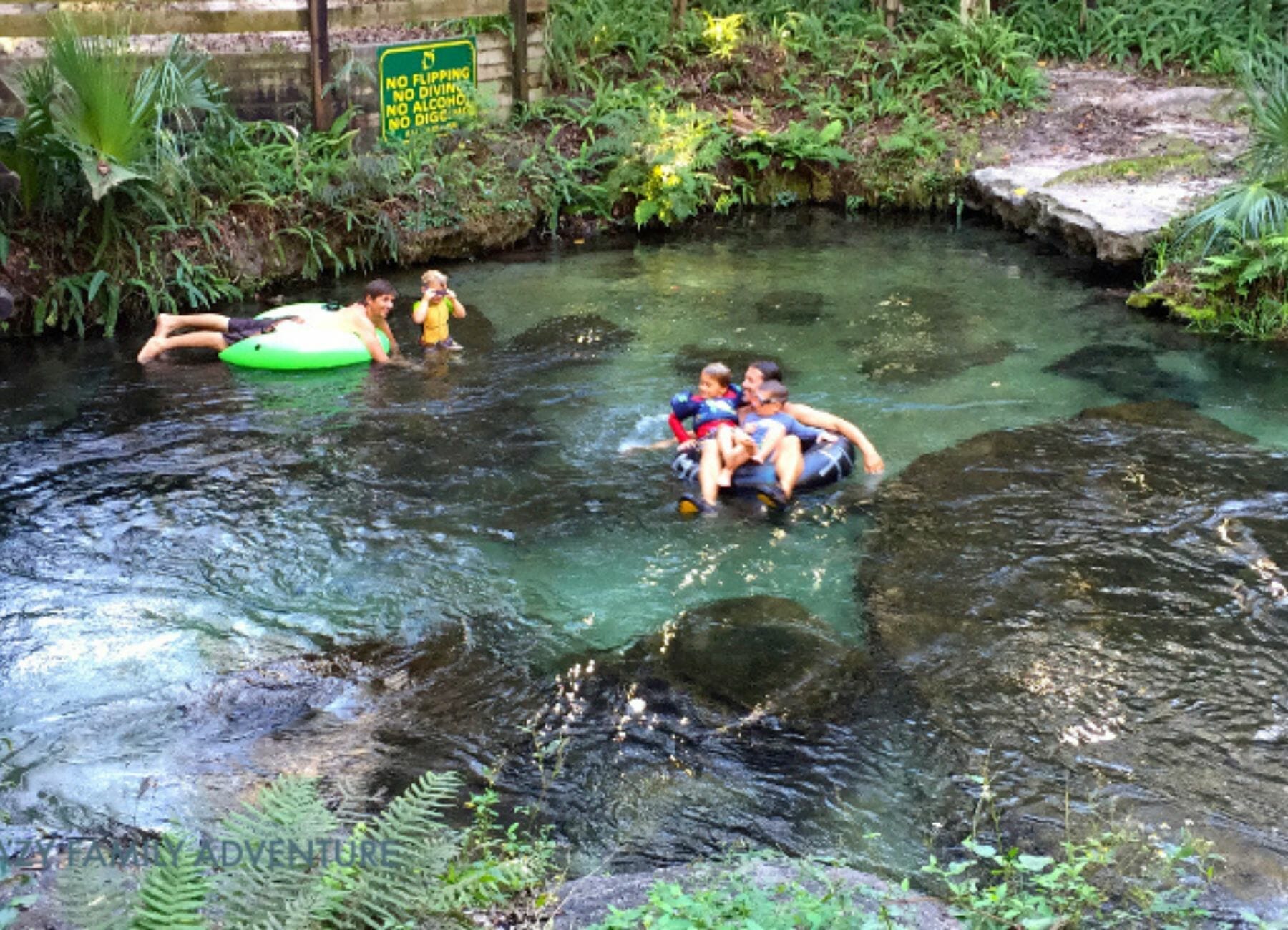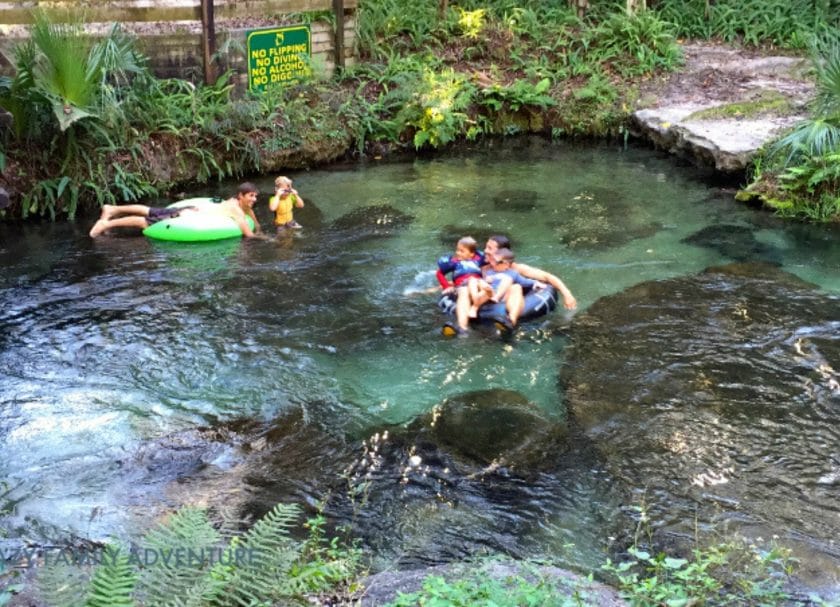 Not located in Orlando but close enough and well worth it! Every time we are in the area we head here! You can rent tubes up the road and take them floating down these gorgeous springs. You can walk back up and redo the springs or hang out at the beach/picnic area.
Check out our post for more info: Tubing at Kelly Rock Springs.
Other Fun Orlando Activities
There are so many fun things to do and places to visit in Orlando. Here are a few more options:
Hello Neighbor – The Mister Rogers Walking Tour & Boat Cruise
Discover Florida Tour + Swim with Manatees Adventure
Rock Springs Guided Clear Kayak Tour
Golden Triangle River Boat Tour
Flavors of Winter Park Foodie Walking Tour plus Boat Tour
Jungle Adventures Tour with Transportation
Orlando to Clearwater Day Trip Dolphin Tour with Lunch
Clearwater Beach Adventure with Seaside Lunch
And if you want to head up to check out the cute town of Mount Dora, Florida!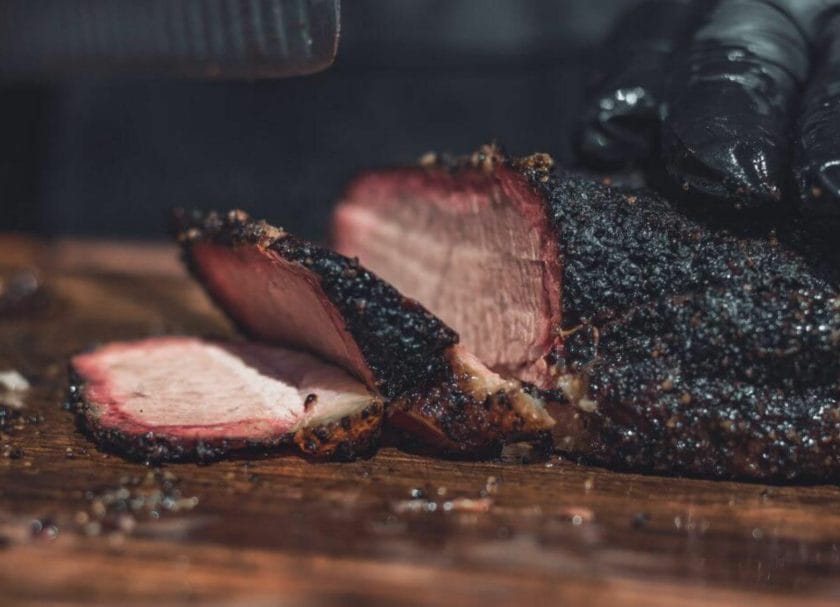 Where to Eat
Obviously, you will need to eat while enjoying your getaway, and most people plan to eat well while on a family vacation. Fortunately, there are plenty of yummy options in the Orlando area. The vast majority of these are 100% family-friendly, and some even go so far as to cater specifically to children, making them some of the best things to do in Orlando with kids.
Minch Coffee and the Cat Cafe
Need your morning coffee? What about an afternoon pick-me-up? You'll definitely need some caffeine after checking out all these things to do in Orlando with kids. We highly recommend heading to Minch Coffee for an excellent latte or americano. The espresso here is top-notch, and the service is even better.
While you're there, be sure to stop in at the Cat Cafe next door to cuddle with the kitties while you enjoy your beverage. It's the perfect way to relax a bit during a full day of exploring.
Pirates Dinner Adventure
Pirates Dinner Adventure is a restaurant and a show all bundled up in one epic package that we highly recommend, especially if you're looking for things to do in Orlando with kids. Cheer on your designated pirate and watch the swashbuckling adventure unfold on the incredible ship just below you.
While you watch, you get to enjoy such yummy fare as roasted chicken, delicious pork loin, or vegetarian pasta. Kids will be served chicken nuggets and mac and cheese but can choose to upgrade to a variety of other dishes. Adult meal upgrades are also available.
Topolino's Terrace in Disney's Riviera Resort
Character meals are something Disney does really, really well. In fact, a character meal should go on the top of your list of things to do in Orlando with kids. One of their best character meals is actually found in a Disney hotel: Topolino's Terrace in Disney's Riviera Resort. This is awesome because it means you don't even have to have a park ticket to enjoy dining with Minnie Mouse and all of her friends.
You will definitely want to make a reservation a full 60 days in advance if you plan to enjoy this meal. It's important to note that breakfast is the only character meal at this location right now, but the food served at breakfast is much better than your average breakfast fare.
The price includes your choice from a variety of entrees, and many diners report having the opportunity to try multiple dishes during their meal.
El Tenampa Mexican Restaurant
Once in a while, you just need some really good Mexican food. When this need strikes, El Tenampa in Kissimmee is the place to be. This is a small local eatery, and from the outside, it really doesn't look like much. However, it's what's on the inside that counts, and El Tenampa has some of the best Mexican food we've ever tasted behind its door.
We highly recommend anything with carne asada, and especially love the burritos. The shrimp fajitas are also delicious.
Ellie Lou's Barbecue
In the mood for barbecue? Ellie Lou's is where we like to go to get our barbecue fix when in Orlando. This small local chain has two locations: one in Ocoee and another in Clermont. Both are fantastic.
We really love the chopped pork, the ribs, and the Kansas City Wet. All of the sauces are fantastic, including the Carolina sauce, which was not sweet like so many tend to be.
Where to Stay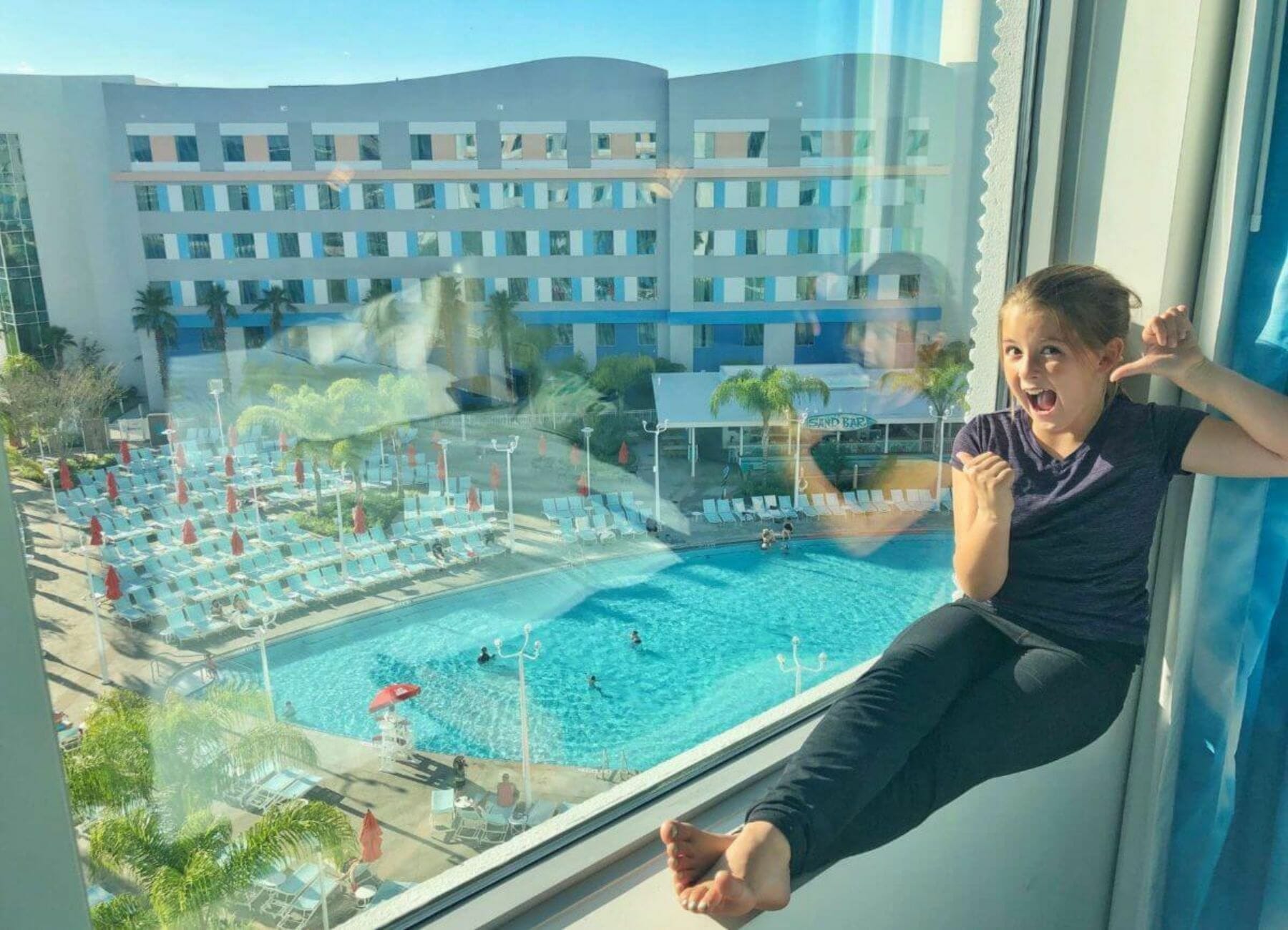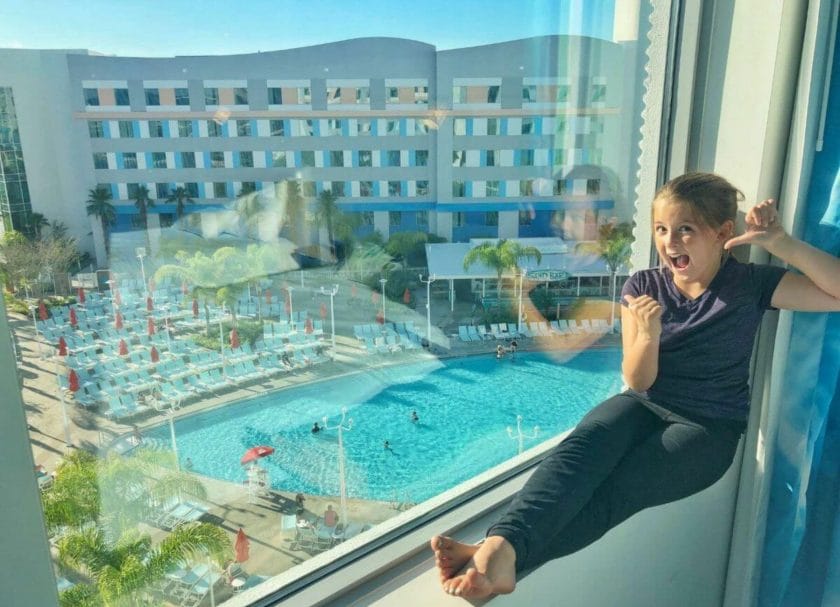 Lastly, you will of course need someplace to sleep after each long day of experiencing these things to do in Orlando with kids. Whether you plan to stay in a hotel room, book a house or condo, or take an RV to the Sunshine State, you are sure to find some excellent lodging options.
Here are our top picks.
Holiday Inn Express and Suites Orlando-Lake Buena Vista
Those who wish to stay in a hotel room are sure to love this Holiday Inn Express. Located just a few miles from Discovery Cove and a short drive from all the other things Orlando has to offer, this recently renovated hotel is clean, bright, and very comfortable.
You're sure to love the free parking, and the kids will enjoy the swimming pool. The free breakfast is pretty great as well!
Endless Summer Resort
If you are looking to stay at a resort that is associated with one of the theme parks we recommend the Endless Summer Resort with Universal. The Resort itself is nice with a large pool and multiple food options. Plus the option to get into the park early on some days!
Stunning 3BR/2BA Orlando Vista Cay
Located in the amazing Vista Cay resort community, this condo is another amazing place to stay while discovering all the things to do in Orlando with kids. It boasts a total of 3 bedrooms and 2 bathrooms, meaning you'll have plenty of room to spread out. Additionally, the full-size kitchen makes it easy to prepare meals for your group.
We love that this condo is just a short drive away from all the top attractions. We also appreciate the super cute patio area and the home theater system in the living room.
Mill Creek RV Resort
Planning to bring your RV to see all the amazing things to do in Orlando with kids? Luckily there are plenty of great places to park a trailer or motorhome. One of our favorites is Mill Creek RV Resort in Kissimmee.
People love the staff at this park, as they are happy to go above and beyond to make your stay a great one. The grounds are clean and well-kept, and amenities such as a pool and playground ensure your kids will never be bored.
As you can see, there are tons of amazing Orlando attractions for kids, and if the things there aren't enough you can branch out to Winter Park, Winter Garden, and Sanford for even more good times. Why not start planning your getaway now? After all, the sooner you start, the sooner you can hit the road!
More Florida content:
Things To Do In Destin, Florida
Things To Do In Port St. Joe, Florida
Things To Do In St. Augustine, Florida
Things To Do In Key West, Florida
The Ultimate Guide to the Harry Potter World Rides
8 Things to do in Jupiter Florida
Pin this post: 27 Things To Do In Orlando Florida With Kids: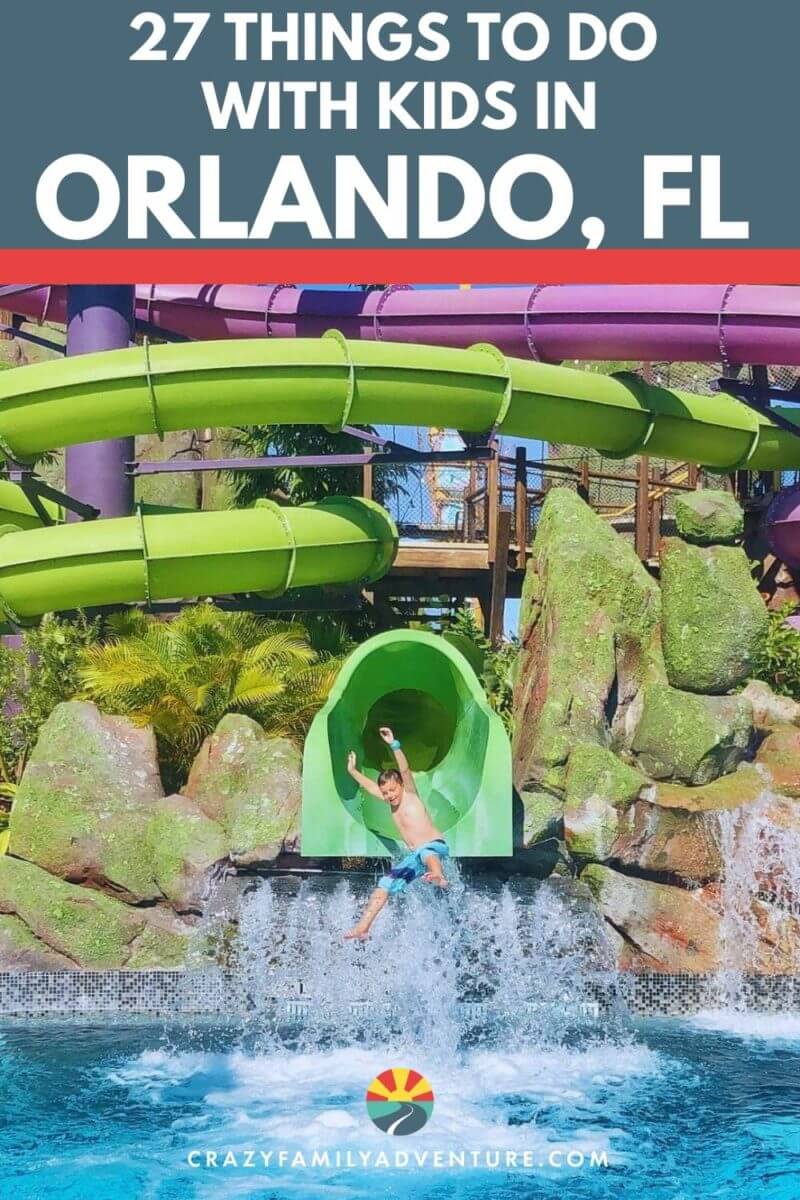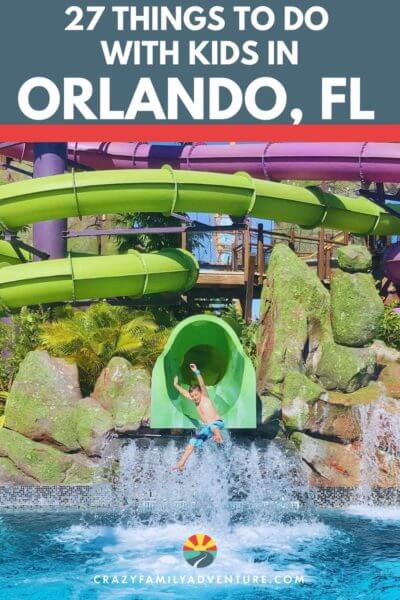 Latest posts by Chelsea Gonzales
(see all)
DISCLOSURE: This post may contain affiliate links, meaning I get a commission if you decide to make a purchase through my links, at no cost to you. Please read my disclosure for more info.