Universal Studios Florida is an amazing place to visit with kids young and old! The rides are awesome and of course Harry Potter and butter beer!! Here are the ins and outs of how to get the most of your time at the Universal theme park. Here it is 16 Universal Orlando tips: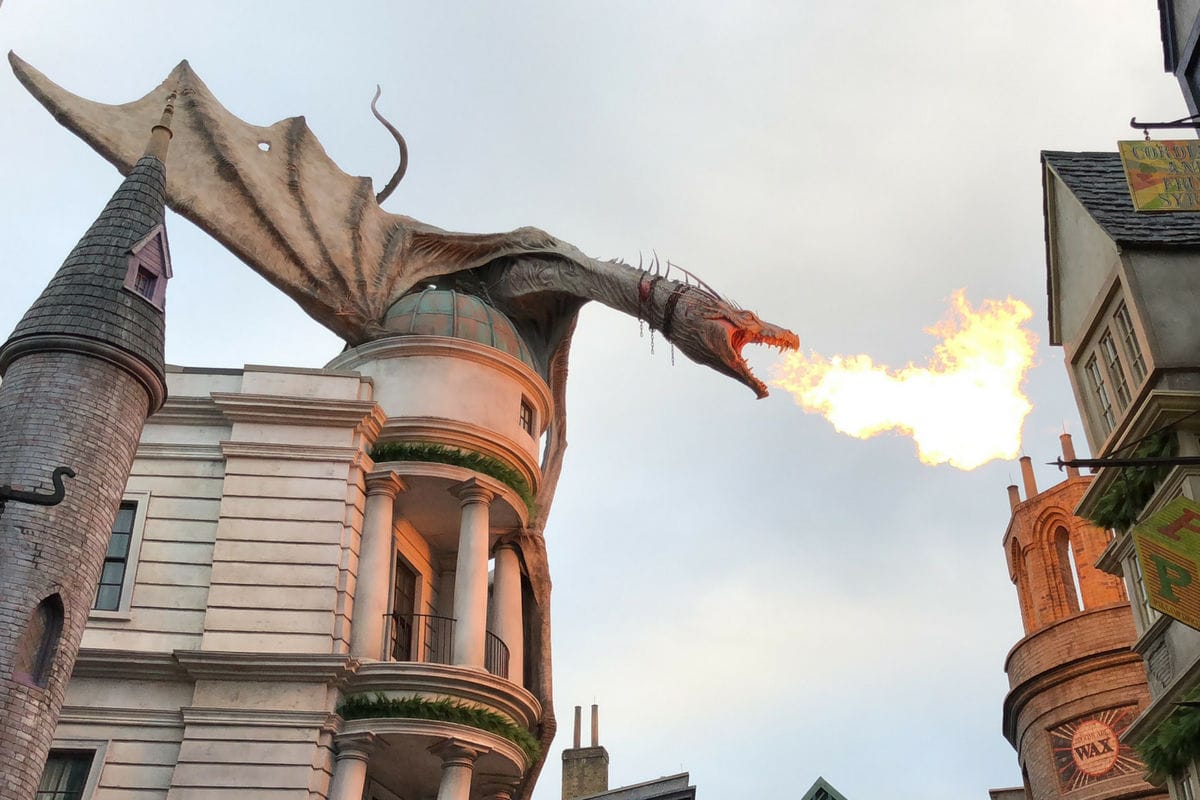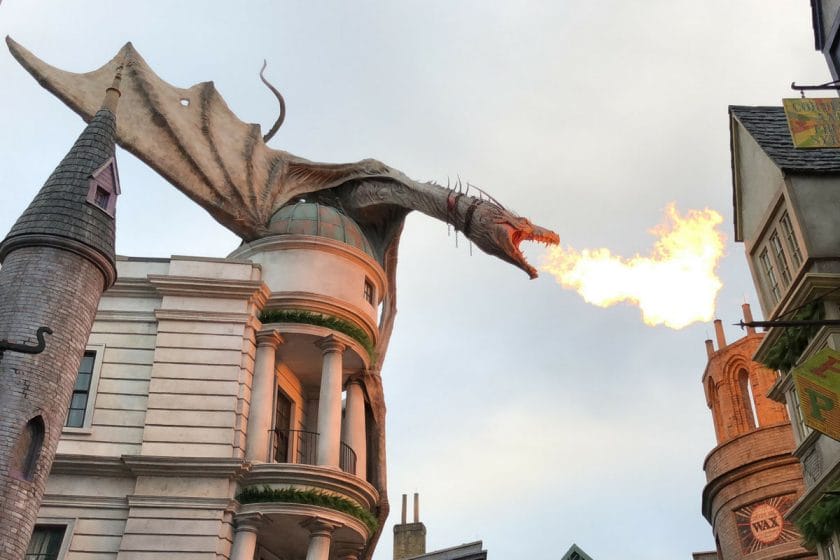 Go In The Off Season
I know some people may say it isn't possible. But my advice is make it possible. Everyone will have a better time if you can somewhat avoid the crowds. Check out this site for a map that gives you an guestimate on what crowds will be like.
Get The Universal Express Pass
Yes it is more money but it is TOTALLY worth it (yes that is all caps – it is that worth it). We literally went on the ride twice before the people waiting in line (without the express pass) even went once. It really does make a big difference in your wait time and what you are able to do in your day.
It also means you have more time to just walk around and explore or to sit down to have a butter beer. Instead of being in line all day. Plus with kids it is easier.
Kid swap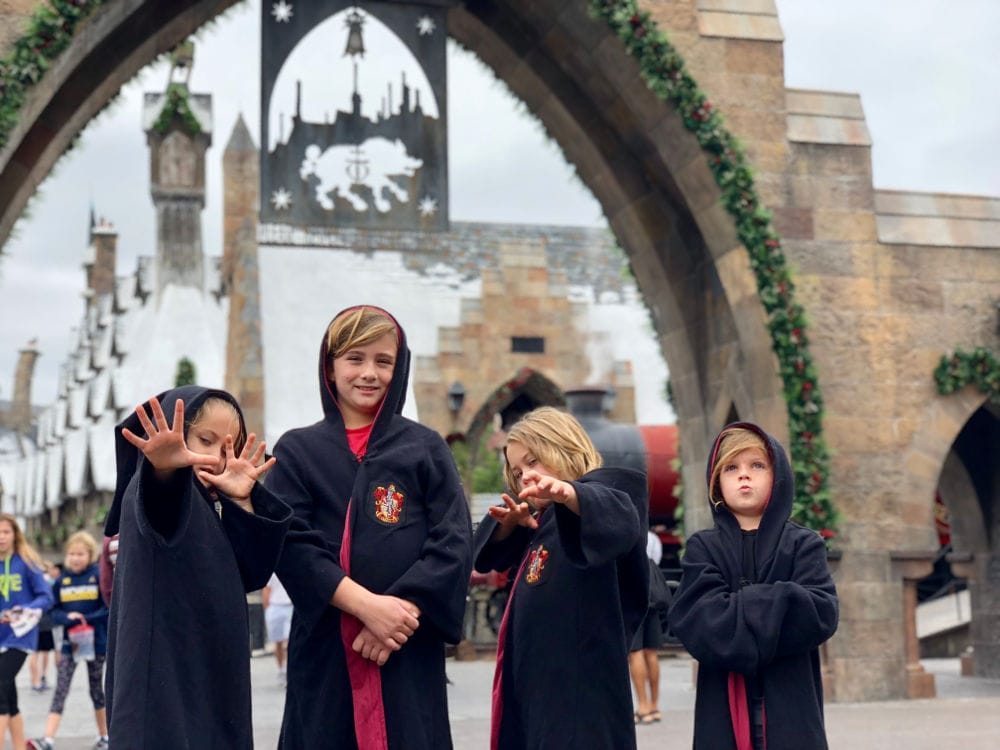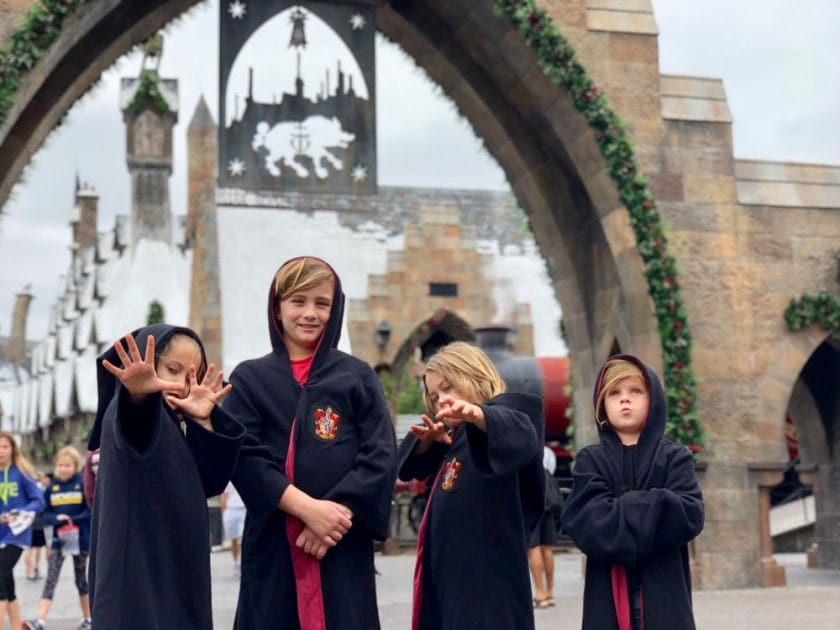 If you do have a younger child who either isn't tall enough for the ride or who just doesn't want to go you can do a kid swap. Tie this with the express pass and it is the perfect combination. With kid swap everyone gets in line and then once you get up to get on one of the adults takes the kid who doesn't want to go and they sit in a room with a TV and wait for the people who went on the ride.
Then when they come back the adult that went on the ride switches and sits in the room with the kid who doesn't want to go. The kicker is the kids that went on the right the first time get to go on again! How cool is that – they get to ride back to back and neither Mom or Dad have to miss out on the ride. This really is a great setup.
Butter Beer or HOT Butter Beer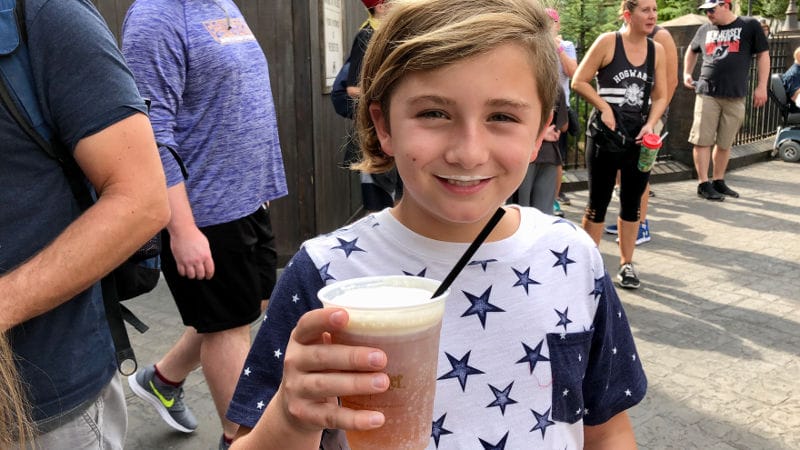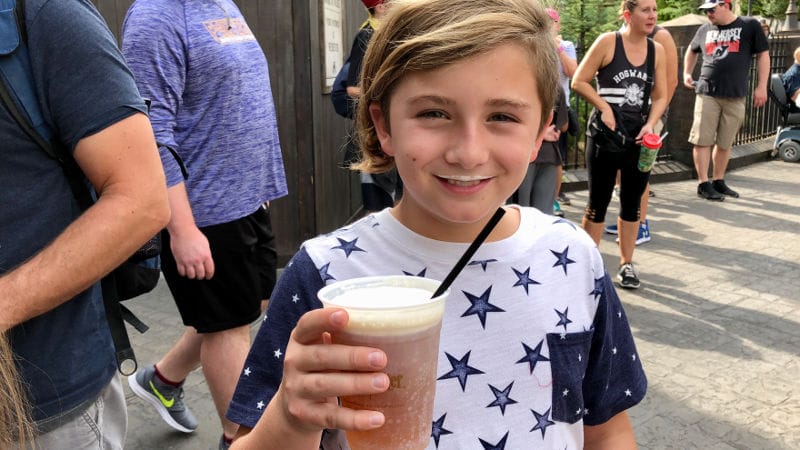 We have heard you can only get hot butter beer certain times of year. We were there in November. But no matter when you are there ask for it. It is the BEST butter beer!! And be prepared to have at least one butter beer a day and they aren't cheap . . . but oh so worth it.
The kids liked the cold ones better. To be honest a butter beer made anyway is yummy!!!
The Wand
If you are going to The Wizarding World Of Harry Potter you are going to want someone to have an interactive wand so you can do all the cool magic tricks. The wands aren't cheap either so my recommendation is to get one for the family and everyone can take turns. Lucky for us my Mom had one so we didn't have to buy one.
Secret Wand Places
Check out this site for a great list of secret wand places and tricks! It is a lot of fun walking around in Harry Potter to find these secret places.
Park To Park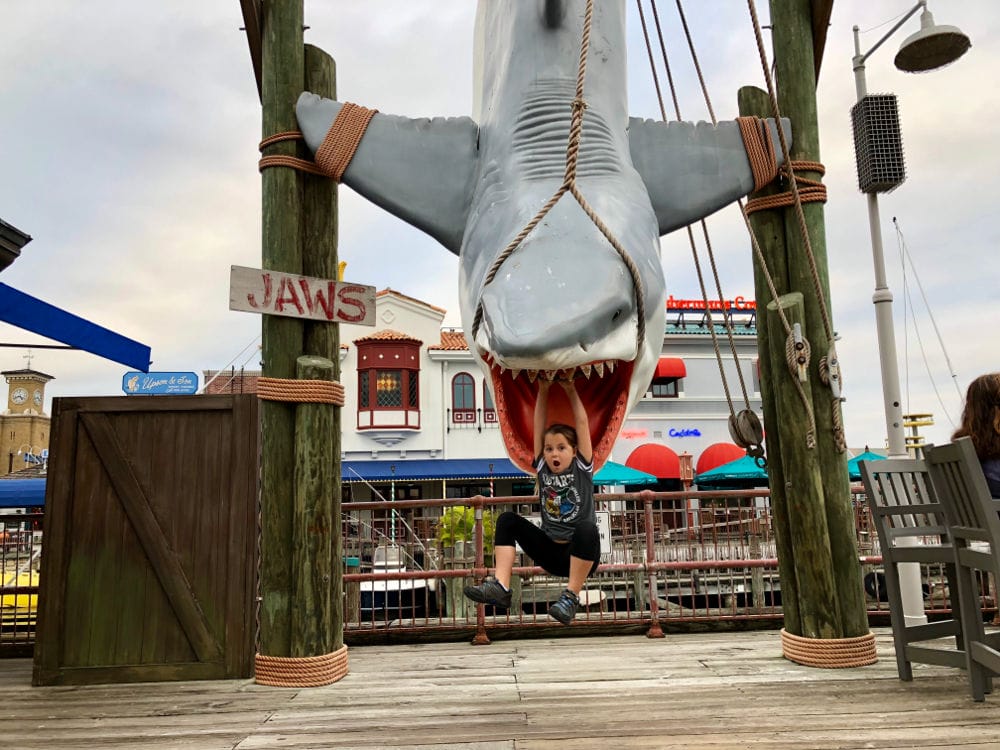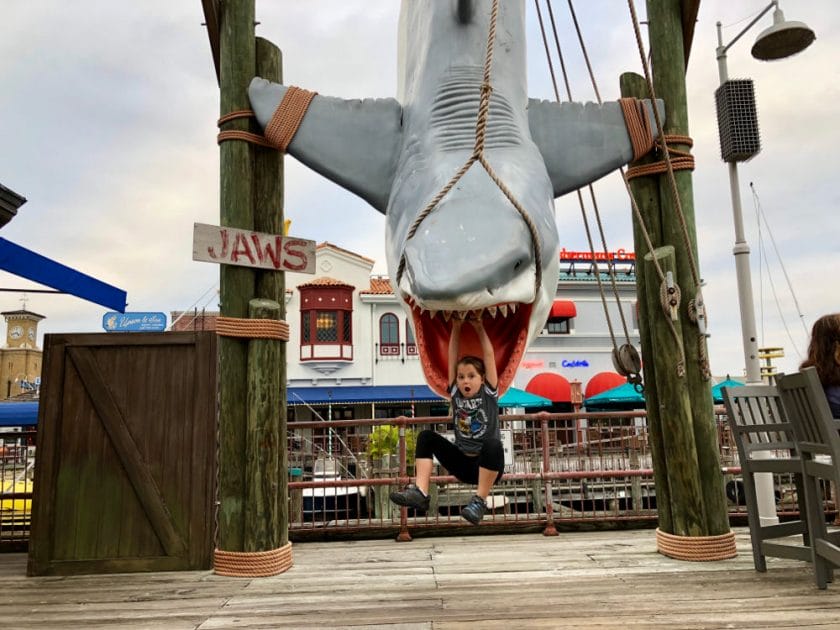 We went for 2 days and had Park To Park and Express Passes each day. We then spent both days in both parks. One of the coolest things is taking the Hogwarts express from Diagon Alley to Hogwarts. You can only do this if you have the park to park ticket.
We did just that and went on a few rides on the Diagon Alley side then took the train over to Hogwarts – hung out there for a while and did a few rides then actually walked back across – instead of waiting for the train. To do that you leave the park and walk through the City area and back in the other park entrance.
It was really nice to have the flexibility to go back and forth between the parks and with the Express Pass we were able to quickly get on any ride we wanted to. That being the case we had plenty of time to jump between parks during the day.
For more info on the Islands of Adventure park in Universal check out this great post: Islands of Adventure – Ultimate Guide To Rides, Dining + Tips & Tricks
Food
As you can imagine food could get really expensive with 6 people. To help offset this and save money and save time on waiting in line to order and get your food we ate a decent size breakfast and then brought snacks in to have throughout the day. We kind of skipped lunch and went for an early dinner that would get us through until we got back to our RV.
If you are looking to save a little on food this is the way to do it. Just know you won't be able to bring a large cooler in so whatever you bring should fit in your backpack. Think things like granola bars, PB&J sandwiches, crackers, things like that.
Bags
Having a backpack or large bag can be annoying but if you want to bring the extra food, water bottle and anything else you will need to bring one. Some rides have a place you can put them by your feet. For others you cannot bring bags and you have to check them into a free locker.
This is a hassle and there is a lot of hustle and bustle with people coming in there to leave their bags and sometimes you can't find a locker. It is what it is – so be prepared for it.
Parking
There is a nice large parking garage if you are driving in for the day. They also have a kennel for dogs and an RV lot. We didn't check this area out but were pleasantly surprised to see it would have been easy to park our RV for the day and bring our dog to the kennel (if it was to hot for her to stay in the RV).
You then walk from the lot to the entrance to Universal. It is a long walk – so yes you can go back to your car during the day if you want. But it will be a long walk. We never splurged for the premium parking and didn't really see a reason why we should.
Stay On Site
We stayed at Thousand Trails Orlando which is a campground about 45 minutes away. If you are in an RV it works. However if you have the chance I would recommend staying on site. Our friends from yTravelBlog stayed at one of Universals hotels (cabana Bay) and they were always at the park before us and didn't have the 45 minute drive back after a long day!
I have also heard that some of the other properties include the fast pass with their stay. That right there makes it worth it!
Picture at Diagon Alley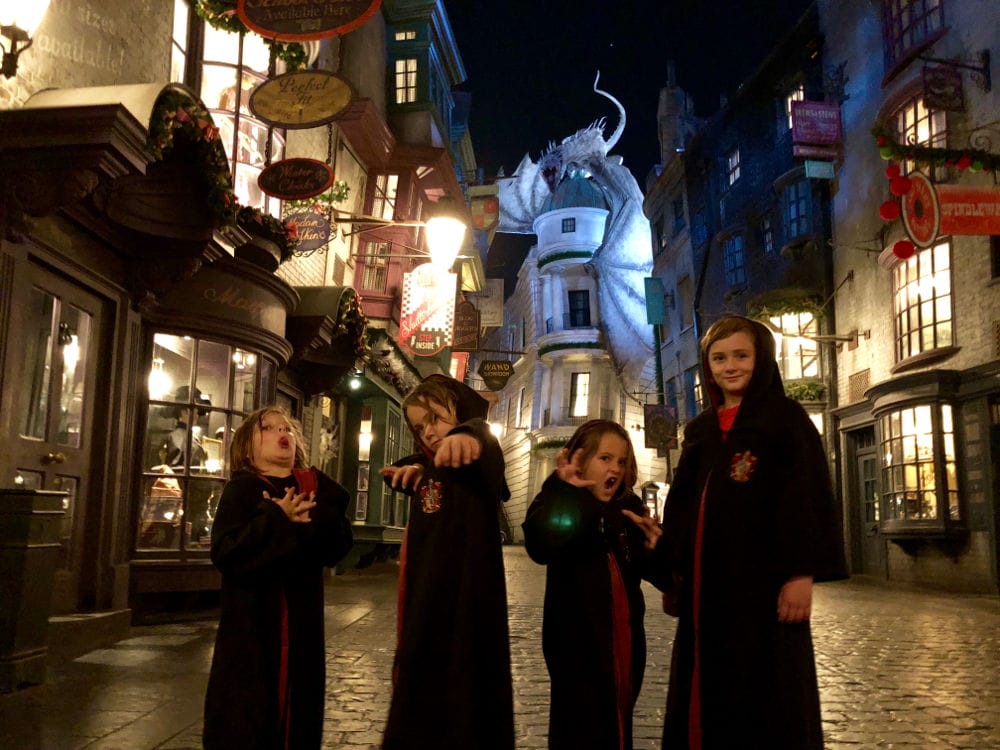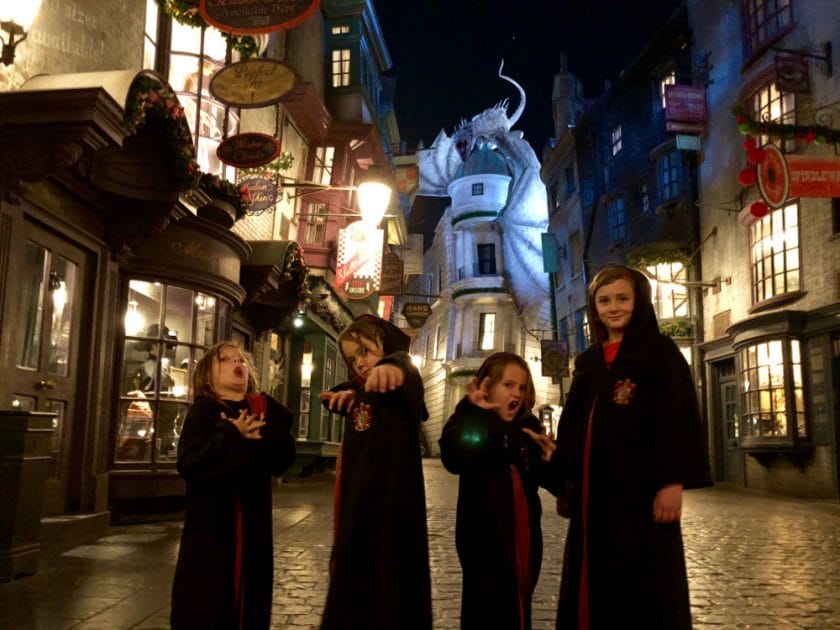 If you are looking to get a picture at Diagon Alley without all of the people around (it is ALWAYS busy here) then make it the last stop of the night. Meaning if the park closes at 8pm be here at 8pm. They have security guards that are gently nudging people to leave but they were also very accommodating and we were able to get a few fun pictures with just our kids.
Perfect For Little Kids
We had avoided Universal when our kids were younger because we didn't think there would be much for them to do. Granted they aren't going to be able to ride the big rides but we did find a lot of fun things that our youngest loved. All of these are play areas so no waiting in long lines:
Suess Land
Me Ship, The Olive
Camp Jurassic
If I Ran The Zoo
Curious George Goes To Town
Fievel's Playland
He also loved a variety of the less scary rides and his favorite was the Jimmy Fallon Race Through New York!
Where To Eat
There are a good variety of restaurants to choose from but we kept going back to the same one: Finnegan's Bar & Grill.
It is an actual restaurant set up with waiters/waitresses. Plus they a variety of nice cold beer. Perfect for if the family just needs a break.
Where To Buy Souvenirs
Pick up souvenirs at the gift shops at the Universal hotels. This way you aren't wasting your time at the parks trying to find souvenirs. Instead take a ride to one of the hotels (you will probably have to pay for parking) and check out their extensive gift shops!
Volcano Bay
When coming to Universal we highly recommend to be sure to also make time for the amazing Volcano Bay water park and all the awesome water rides! It is well worth it to add a day to visit the park (Assuming the weather is cooperating). You can learn more about our day at Volcano Bay here.
When our 2 days of Universal fun were done we were very sad. We were also exhausted but it was well worth it! It was a great trip to take and our kids were at a really good age (10,8,8,5) and we can't wait to go back again.
Want more tips on Universal check out these magical tips to know before you go!
Where To Stay
There are a lot of great Universal Orlando Hotels to stay at. Guest staying at these hotels get special early park admission and can enter the park – usually an hour before everyone else gets to come in. Be sure to check with the hotel and confirm dates for this!
Loews Royal Pacific Resort is one we hear as being recommended and also Hard Rock hotel.
More great posts:
27 Awesome Things to do in Orlando With Kids
Disney World – Magic Kingdom In One Day
24 Amazing Tips for Universal Volcano Bay [Must Read!]
Florida Keys Road Trip: 29 Amazing Places To Visit [Map Included]
21 Fun Things To Do In Port St Joe Florida
Destin, Florida – A Great Beach Vacation
17 Great Reasons To Make St. Augustine Your Next Family Trip
29 Best Things To Do In Gulf Shores, Alabama
Pin This Post: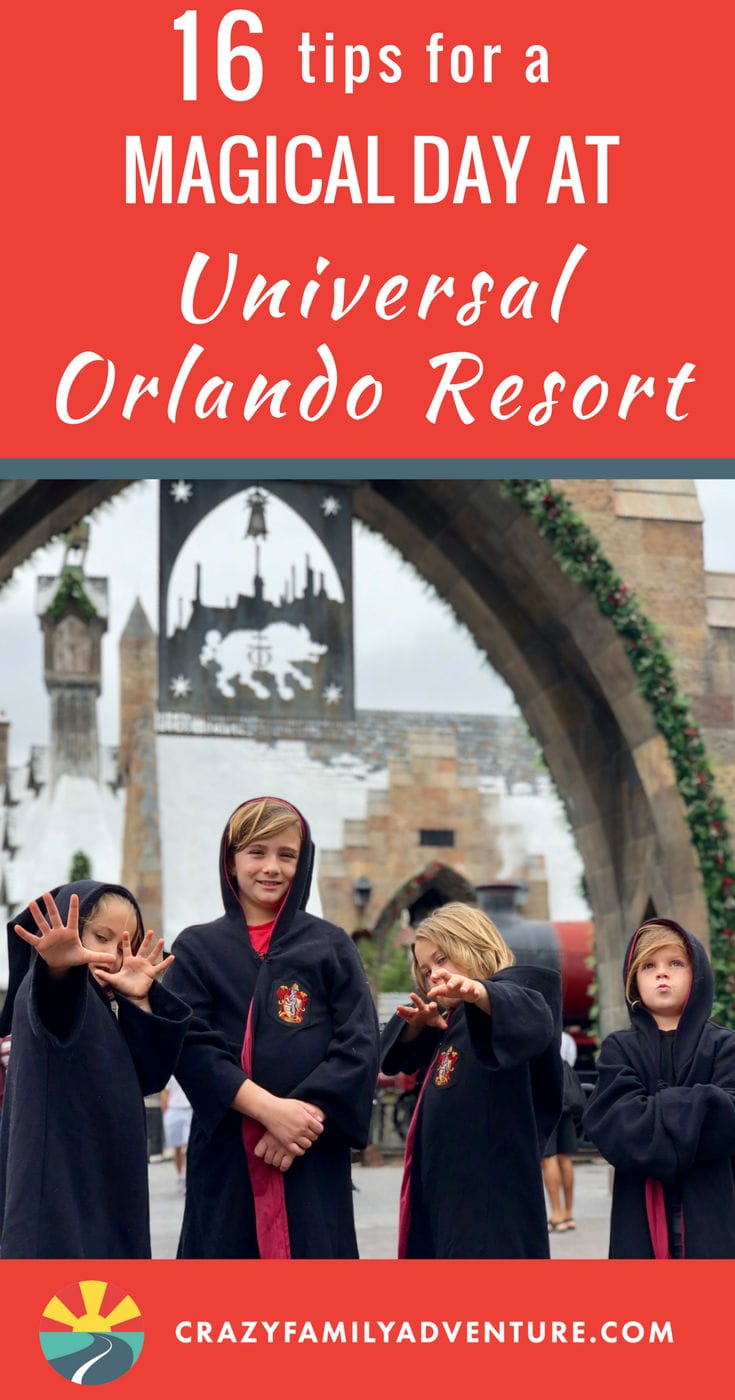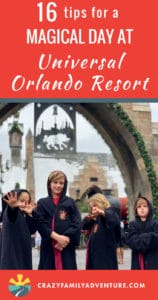 DISCLOSURE: This post may contain affiliate links, meaning I get a commission if you decide to make a purchase through my links, at no cost to you. Please read my disclosure for more info.