Dry Tortugas National Park is filled with natural beauty, amazing birdwatching, snorkeling plus seclusion and solitude. You won't want to miss visiting Fort Jefferson to learn about the historical significance of the Dry Tortugas.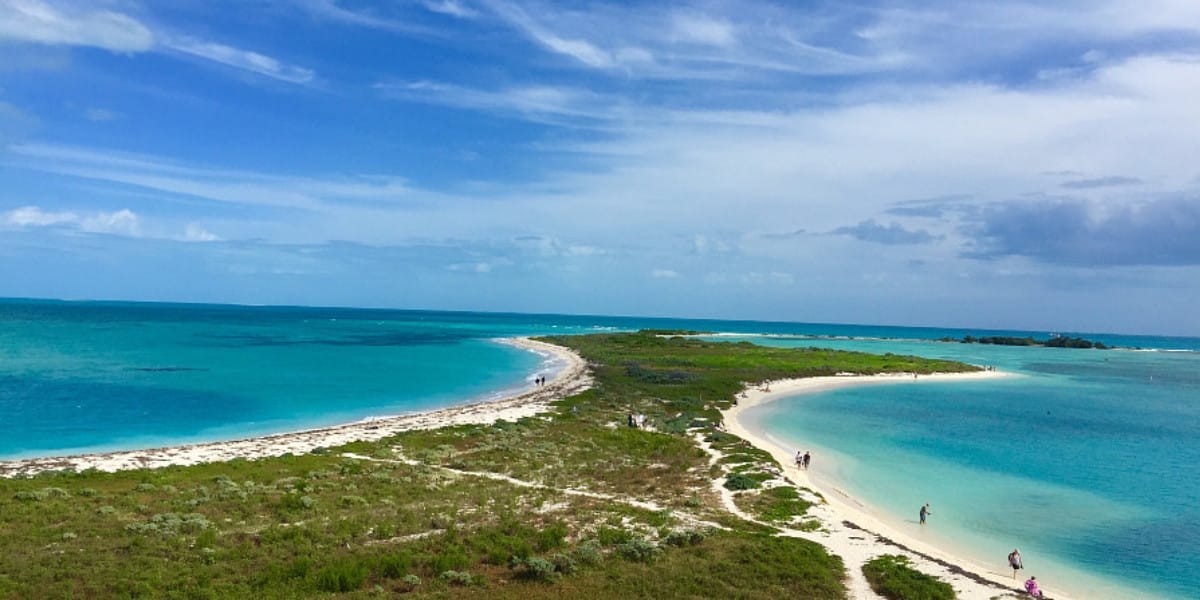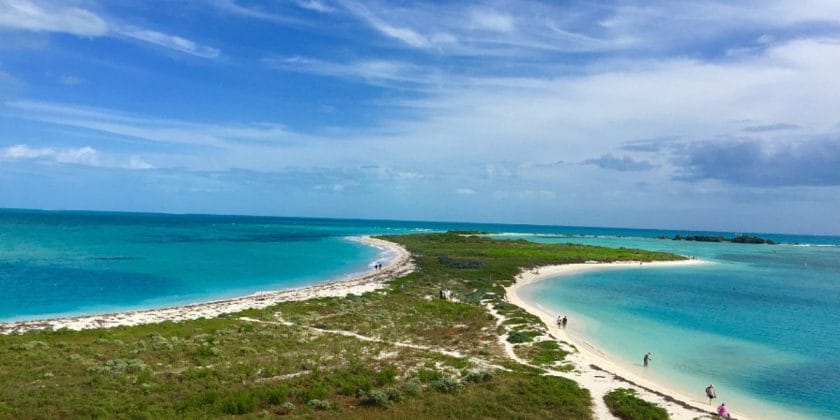 When you visit you will want to make your reservations early, be sure to check the weather conditions and pack the essentials you will need to be out on the water and at these remote islands for the day. Don't forget your snorkeling gear and be sure to follow leave no trace principles.
We recommend visiting on a trip to Key West via a Florida Keys Road Trip or a National Park Road Trip but be prepared that it does take some effort to make the trip possible – but know it is 100% worth it!
The island is absolutely beautiful and so peaceful. The color of the fresh water and marine life is surreal, the conch shells are amazing, the beach is beautiful, and visiting the historic Fort Jefferson, which is located on garden key, was really cool.
Fort Jefferson
Fort Jefferson is the largest masonry structure in the western hemisphere consisting of more than 16 million bricks. It was used as a prison during the Civil War.
Another side note on the Fort, when it was used as a prison during the civil war, Dr. Samuel Mudd, an American physician was imprisoned at the fort on the Dry Tortugas for conspiring with John Wilkes Booth in the assassination of President Abraham Lincoln.
While you are visiting the Dry Tortugas you can walk within the Fort and around it. You can also go on a 45 minute narrated tour of the fort.
Getting To The Dry Tortugas
In order to get to the Dry Tortugas you can charter a high speed private boat, take a seaplane, or the Dry Tortugas ferry that runs from Key West to the Dry Tortugas.
The Dry Tortugas are a group of small islands composed of coral reefs located in the Gulf of Mexico at the end of the Florida Keys, United States. They are located 70 miles west of Key West.
The Dry Tortugas National Park Ferry is called the Yankee Freedom iii. We took the ferry over. It is expensive at $200 per adult. But you are on a 2 and a half hour boat ride there and back (it's 70 miles off of Key West), plus they feed you breakfast and lunch.
Click here to buy your tickets for the Dry Tortugas.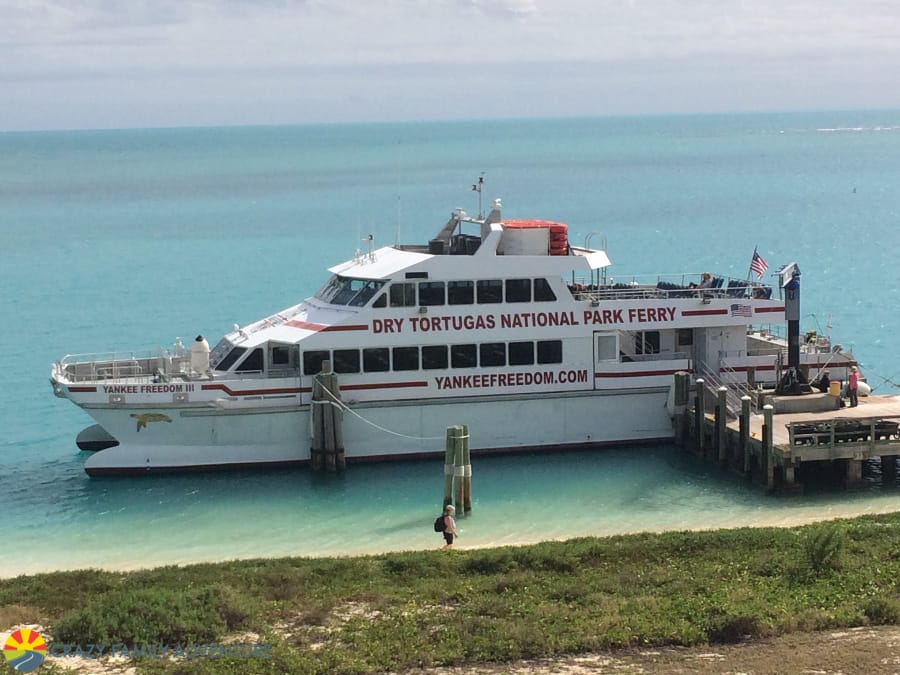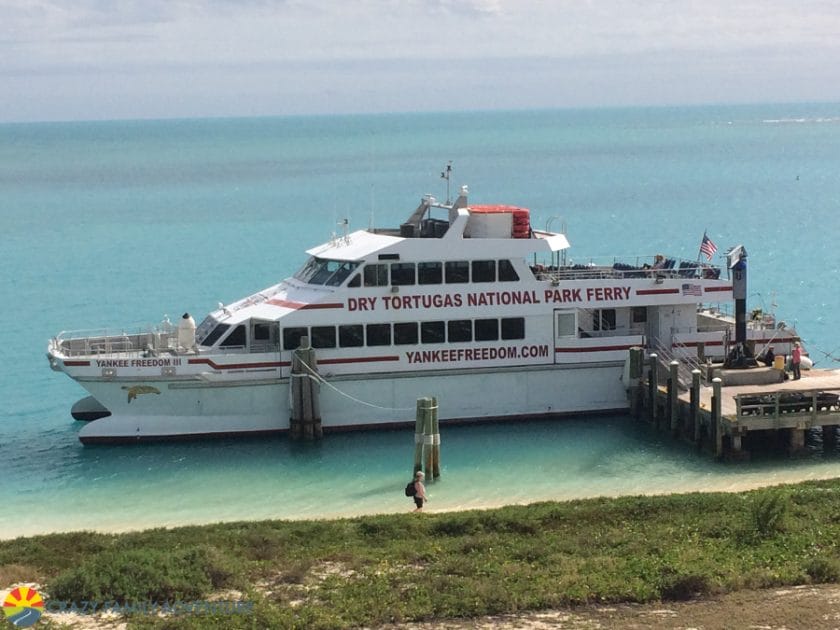 I will tell you hands down it was worth the money. Seriously this is one of those locations to add to your bucket list.
When you take the ferry to the Dry Tortugas, you get to the island at about 10:30am. The boat leaves at about 2:45pm so you only have about 4 hours to explore. It gave us plenty of time to walk around the island and explore but when we had to leave we were not ready to go!!
Also note check in time is currently 7am (always validate this when you book in case it changes) and the boat departs at 7:30am. They are not going to wait for you. We recommend you plan to get there early – like 6:30am ish just in case you run into any issues on your way there. Better early then late and missing the boat!
Tip 1: Plan to get to the boat terminal well before 7am just to be sure you aren't late!!
Even if you have never taken or needed Dramamine before bring some with you just in case. If you normally do take it – you should really consider taking it before you get on. The boat ride for us was very rocky on the way there and not quite as bad on the way back but I wouldn't call it smooth.
Tip 2: Bring Dramamine with you!
Click here to buy your tickets for the Dry Tortugas.
Camping On The Dry Tortugas
Ideally we would recommend you go and camp for a few nights. If you take the ferry over, you can camp on the island. You do have to pay for it and prices vary based on when you are going (but it isn't much more then the tickets to get there). Totally worth it.
You can click here to learn more about the prices and availability for camping on the island. It is usually booked months ahead of time!!
The only thing is there is no running water on the island so you have to come prepared. The website does a great job explaining the things you should bring with if you plan to camp.
Our friends at Tiny Shiny Home had a chance to camp with their 4 kids. You can check out their blog post about it here.
Our Dry Tortugas Experience
Craig and I got up at 4:30am in the morning so we could get ready and drive an hour to get to Key West to be there by 6:30 so we could park and get to the terminal. We did not bring the kids with us this time since we didn't think they would enjoy being a boat for 2 1/2 hours there and 2 1/2 back all in one day.
If we were going to camp, we would have brought the kids with and dealt with the 2 1/2 hour boat ride. Since we just did a day visit, we thought it made more sense for Craig and I to go. It was the right decision.
The weather had been really rainy and windy so the ocean was NOT calm. The minute we hit the open water it was rocky. Craig tends to get seasick so he didn't take any chances and took dramamine from the beginning. I normally don't so I didn't…
We ate breakfast right away and then took seats outside of the deck of the ship so we could take in the views. It was rocky from the beginning but when we got into the channel it REALLY started to rock.
It was crazy! The Yankee Freedom 3 is a large catamaran so this was not smooth sailing. With about 30 minutes left I took a dramamine because I was not sure if I was going to make it! It was quite the experience and the ride. But eventually we could see the island.
For the majority of the trip it is just ocean everywhere you look. Then all of a sudden this island pops up out of nowhere.
As you pull in it is absolutely gorgeous. The water color starts to change, the fort has old-fashion charm, and all the sooty terns birds are amazing. When we had gone on a guided tour kayak trip the week before the guide had explained how there use to be so many birds around the mangrove islands and how the birds had been hunted almost to extinction.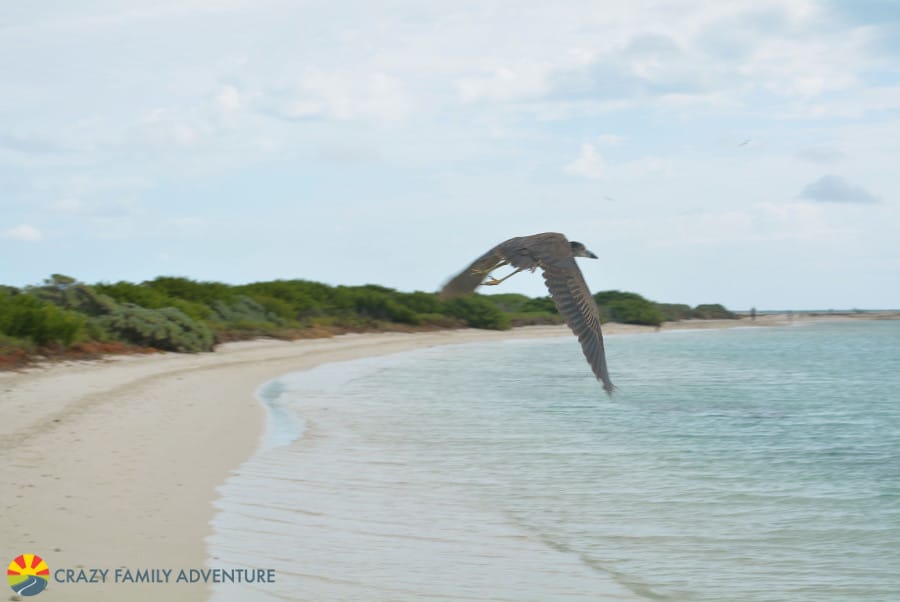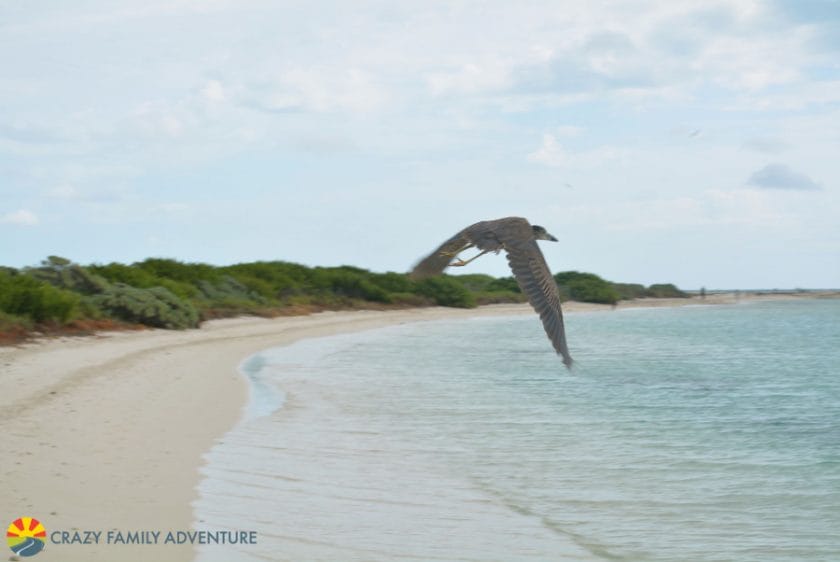 That must not have happened on the Dry Tortugas because there were birds all around the mangrove island. It was so cool to see. The way nature intended it to be.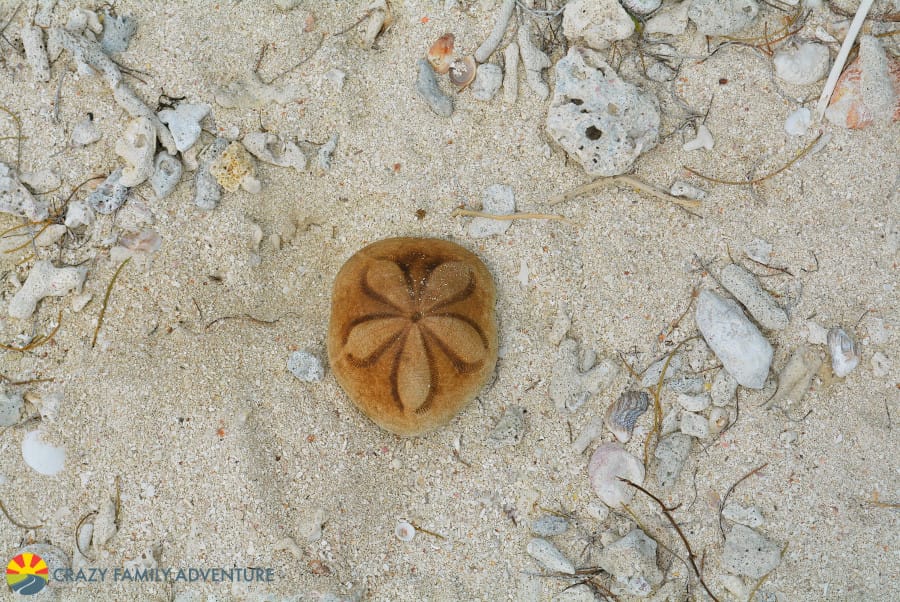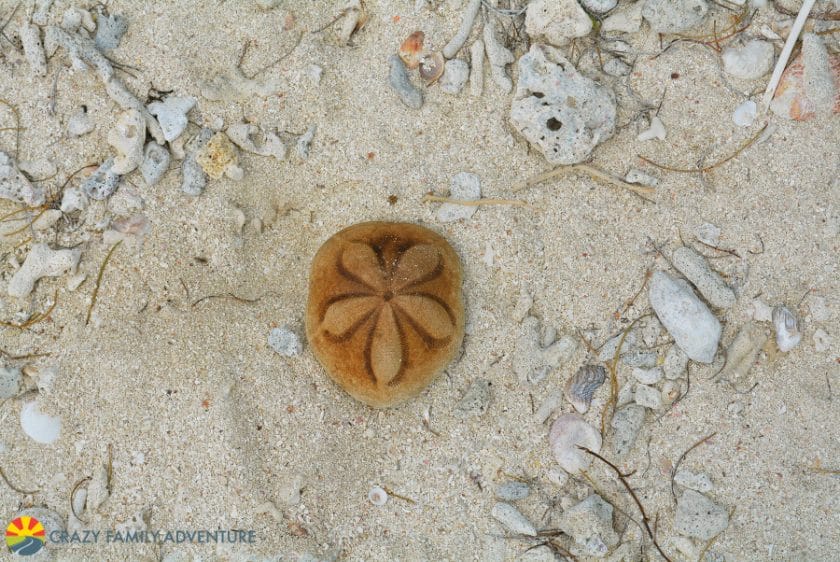 After pulling in we grabbed a quick lunch on the boat and then headed out to start exploring! We went in the fort first then quickly realized we didn't want to be inside but instead wanted to be out by the beautiful beach and water so we headed to the beach.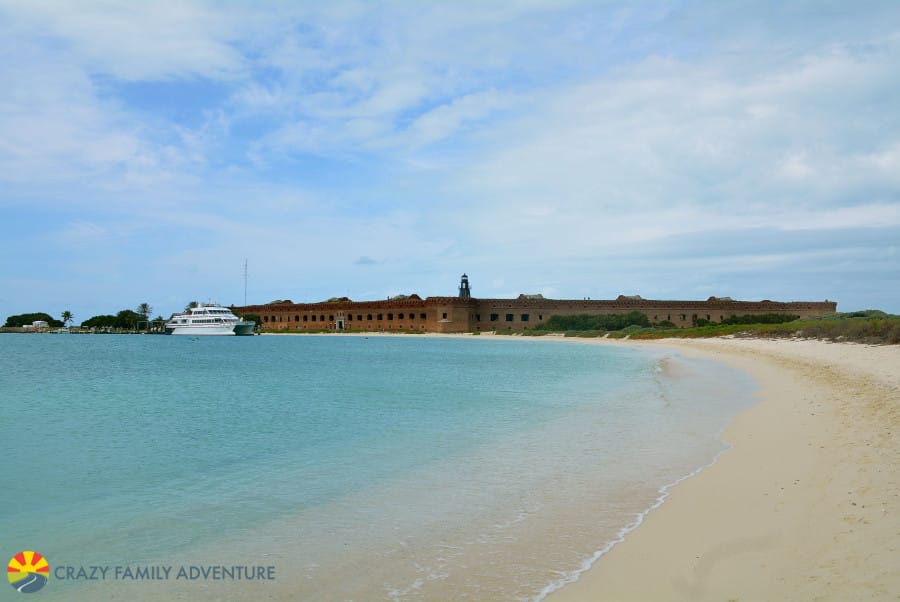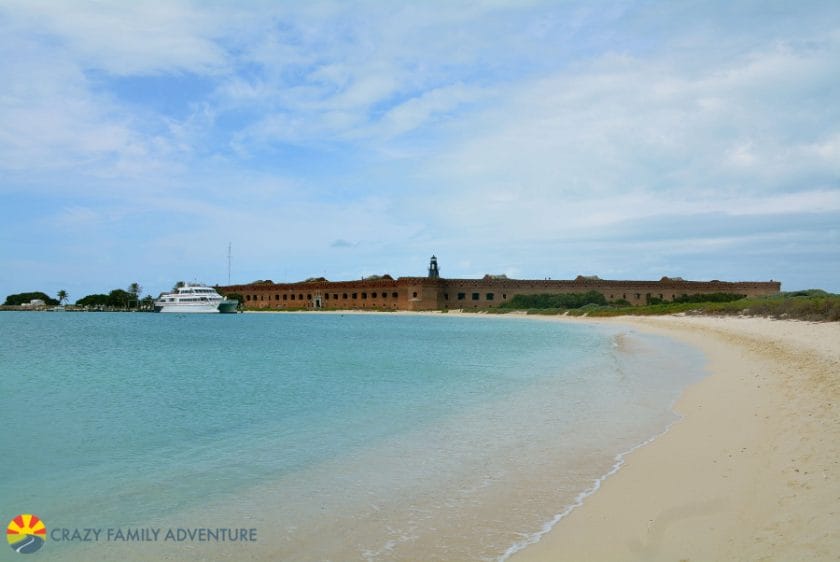 We hiked out on the beach peninsula area at the Dry Tortugas National Park and couldn't stop smiling. The soft sand in our toes, the teal water, and the ocean breeze. This is paradise!
When we got to the end of the peninsula we started to see conch shells. Like full on alive conch shells. We have been to a lot of beaches but this is the first time we had seen so many in once place.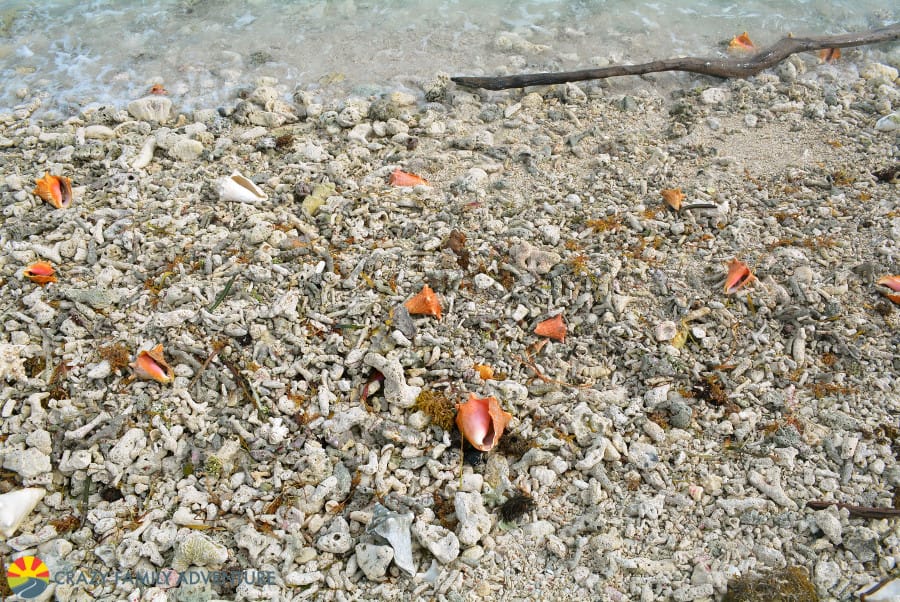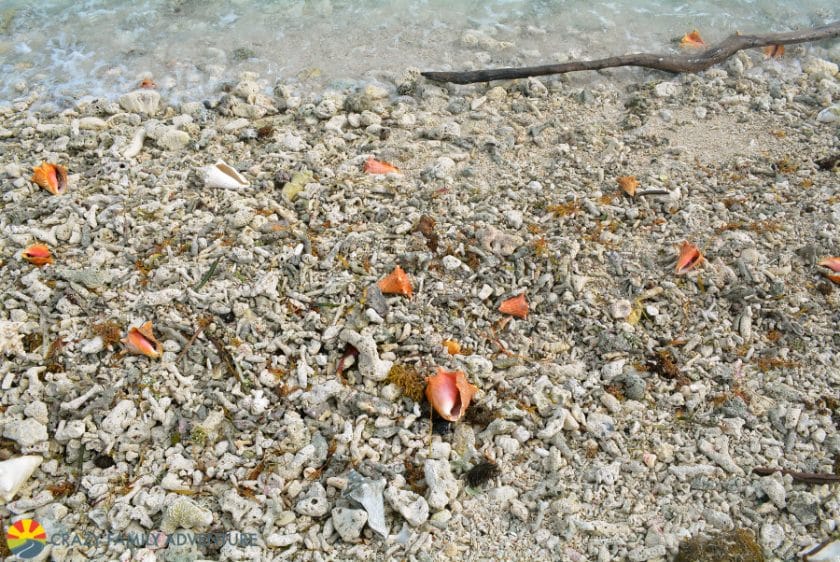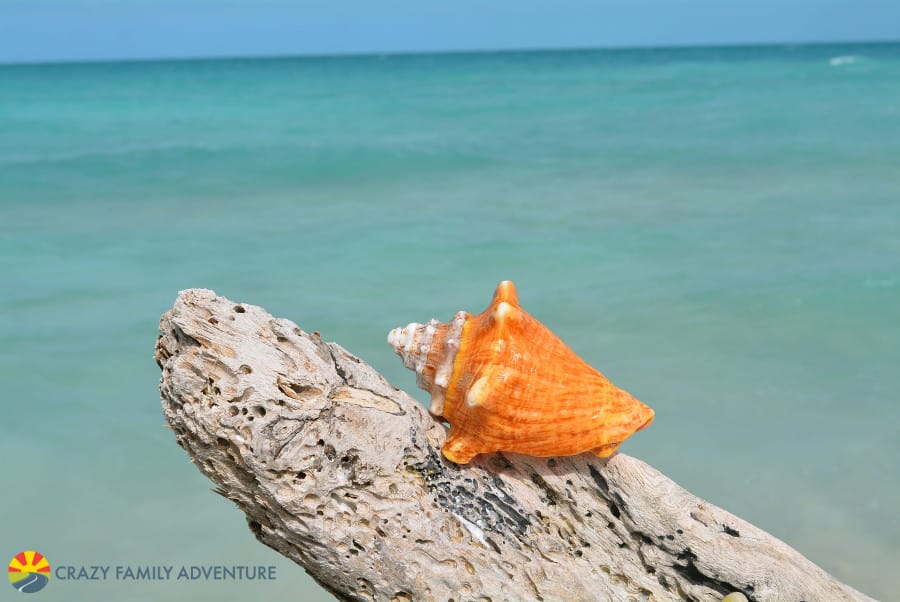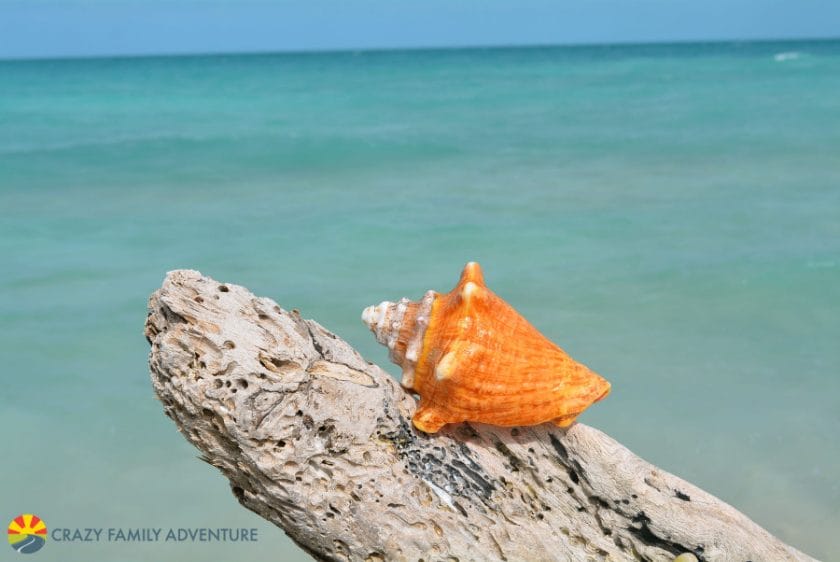 We rounded the corner and their were hundreds of them all over the beach. They were so vibrant and beautiful. Plus they were huge! We also found some older shells that were seriously gigantic.
We walked back towards the fort and found a conch tree. Perfect picture opportunity! There was no question that this beach was #1 on our list of the Top 10 Beaches In The Florida Keys.
Tip 3: Be sure to walk around the tip of the peninsula.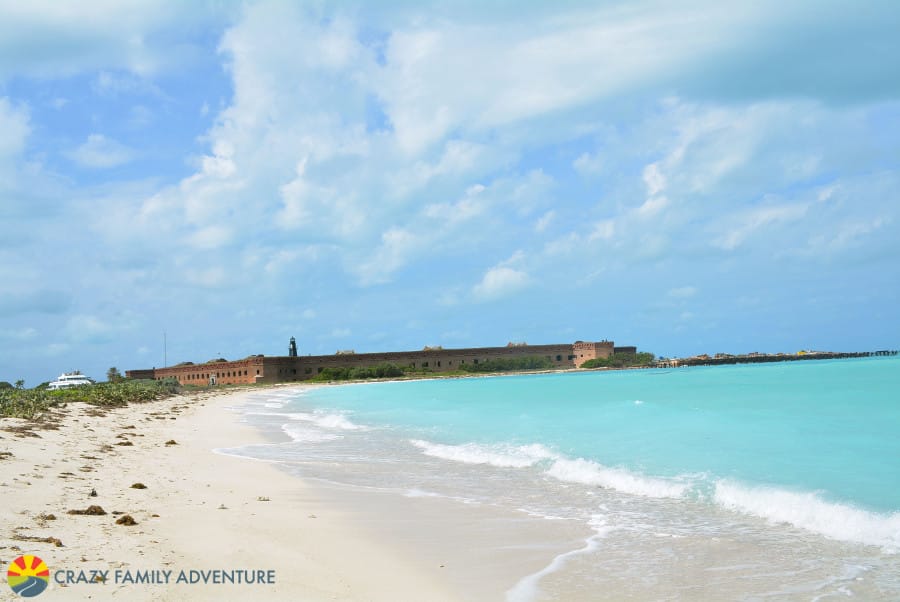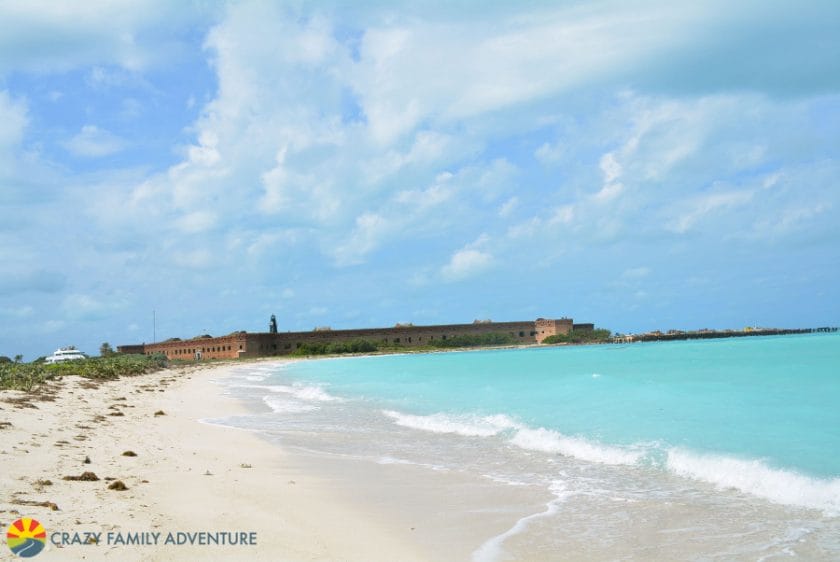 We headed for the moat wall. We were blown away by the colors of the water with the contrast of the fort. Breath-taking.
Bonus Tip: Walk along the moat wall.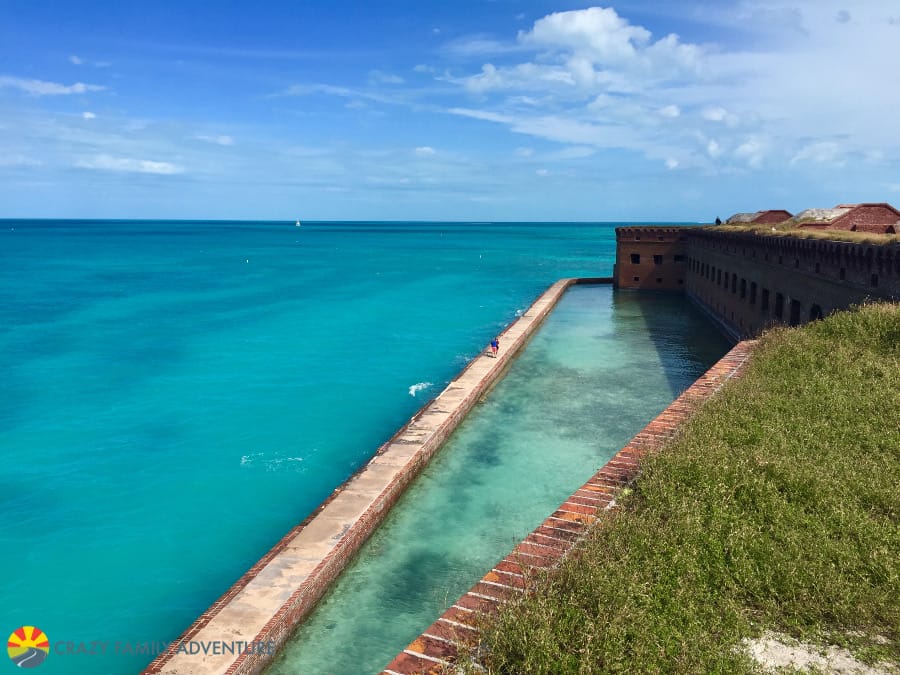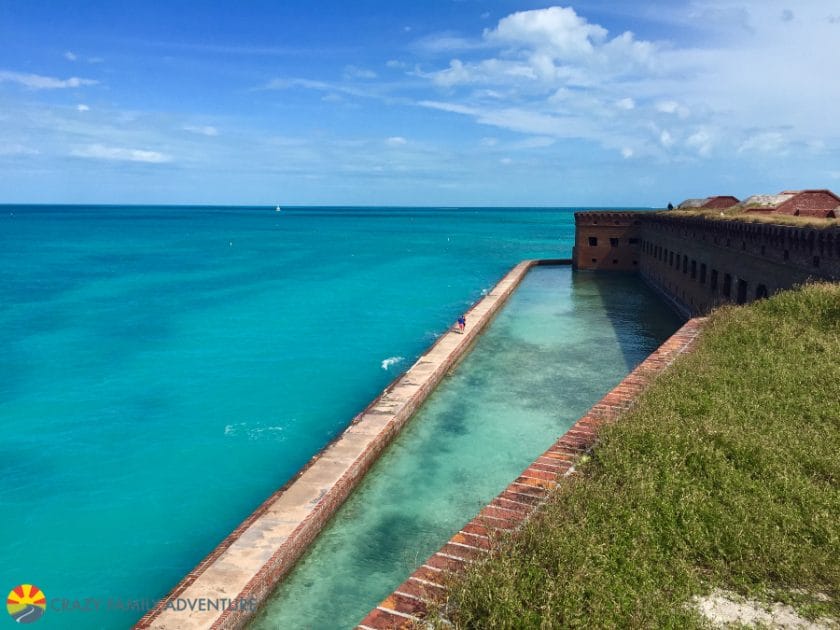 At the Dry Tortugas, they focus on preserving the original look of the fort so there are no railing's anywhere so you can literally go to the edge which gives you amazing views. They warn you to be very careful since the closest hospital is over 2 1/2 hours away!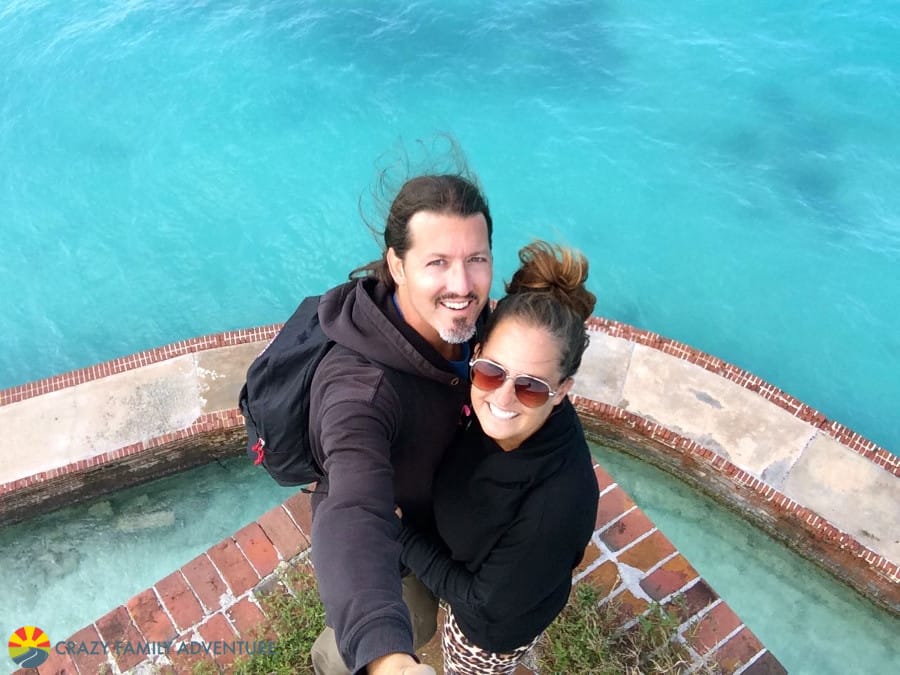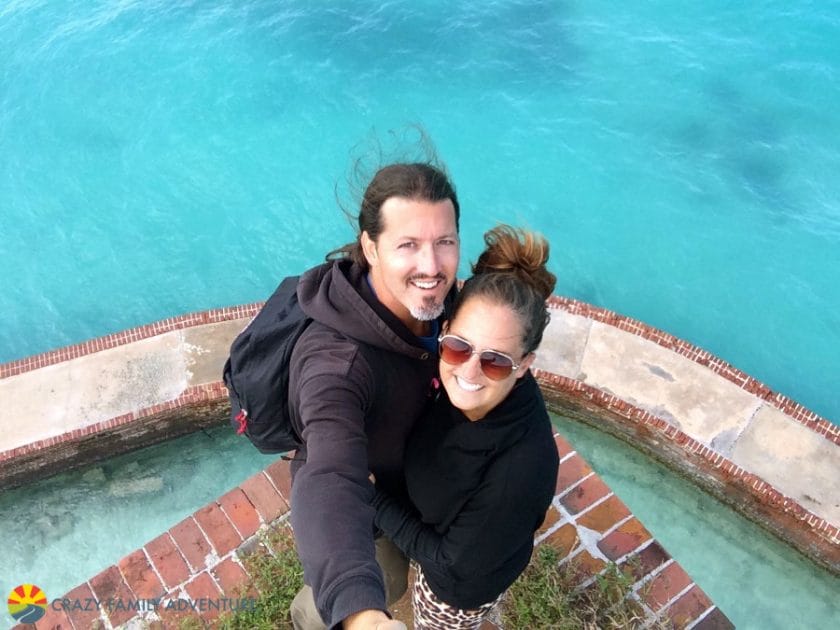 After walking the moat we headed into the fort. The first floor was gorgeous with all of the arches. Then the second floor had these amazing arched openings with these views that seemed to be a canvas that an artist had painted. Seriously how can the water be those colors?!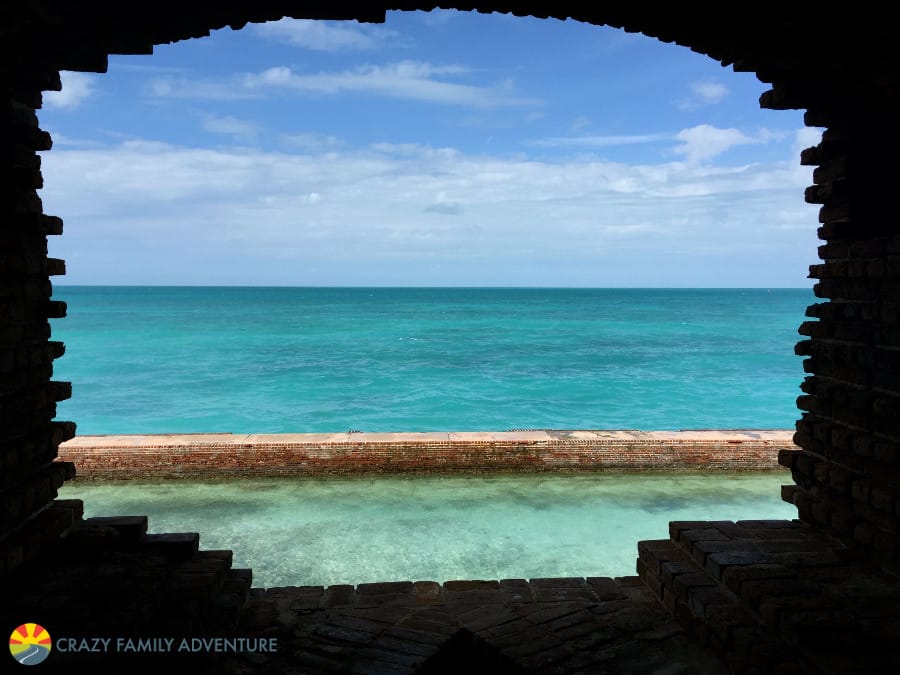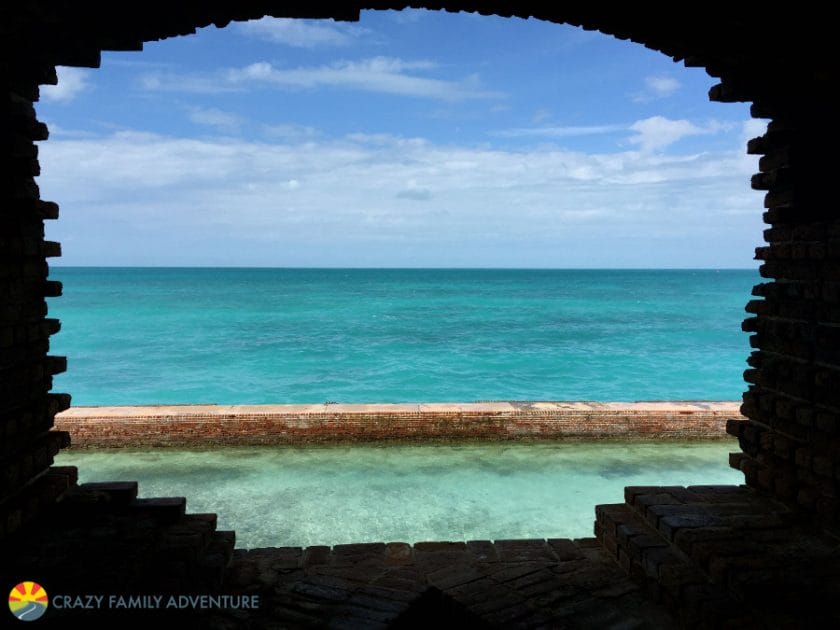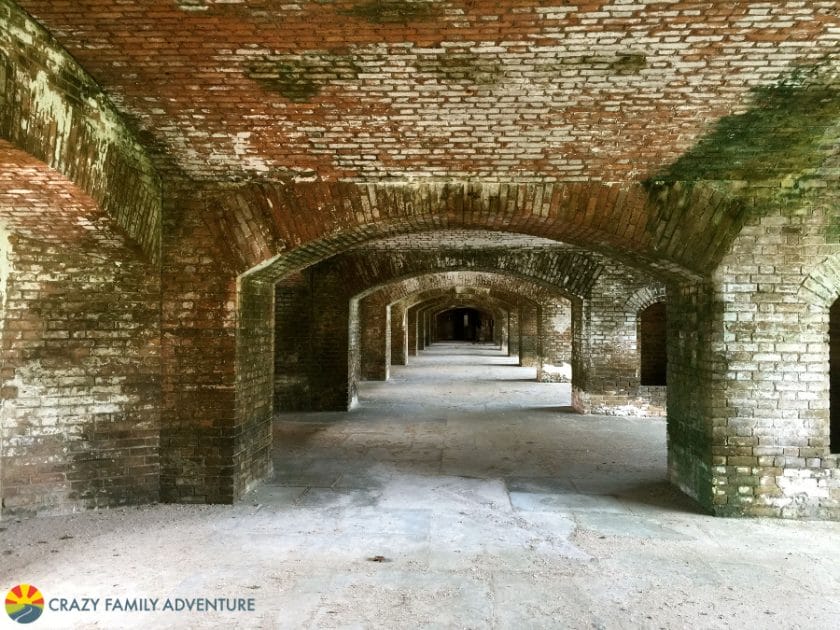 Next we headed to the top and walked around the edge of the fort and the views just kept getting better and better. We especially liked the view of the beach where we had found the conch shells.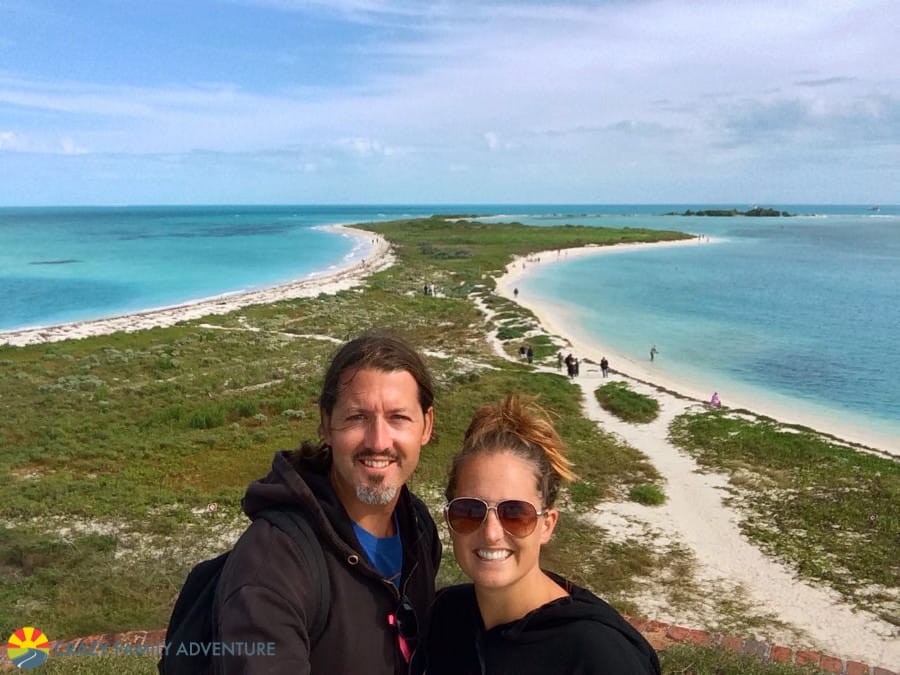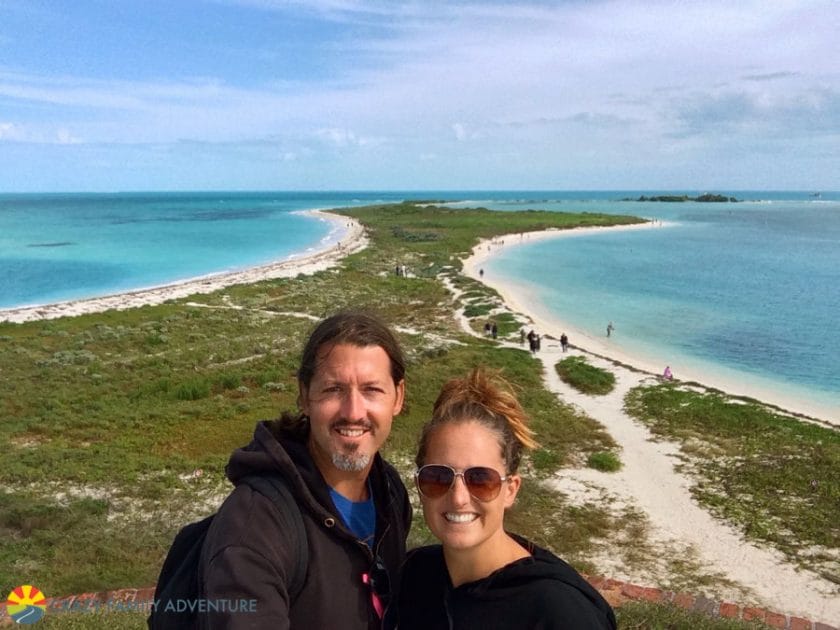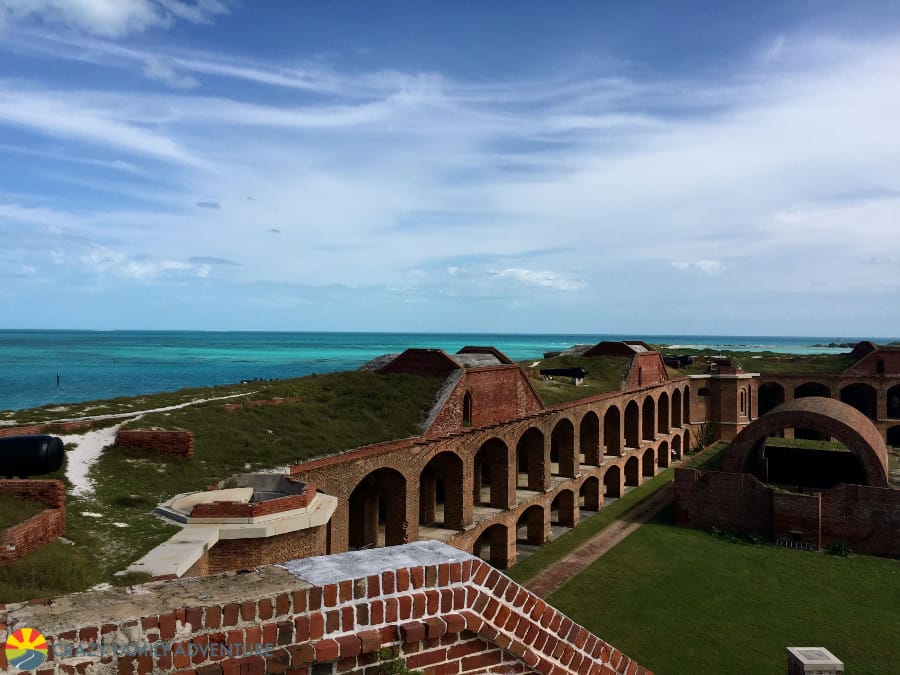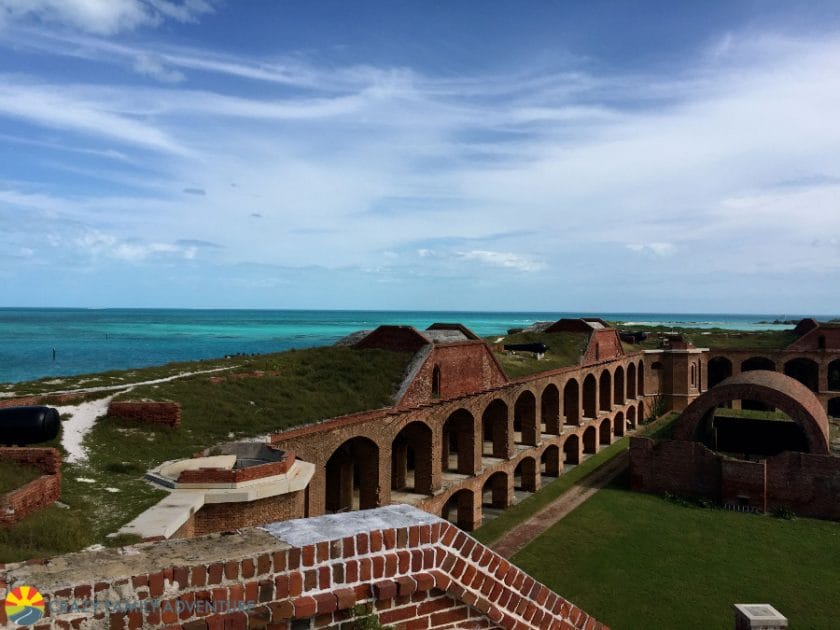 We got amazing pictures when we were there and we kept telling ourselves to put the camera away. Every time we turned a corner or looked a different direction it was another amazing view. We had to capture it to share with you guys!
Before we left we walked over to check out the tent camping area and the other beach area where people were snorkeling. They have snorkel equipment that you can use while you are there. Unfortunately, when we were there it was a little cooler and the water was really cloudy from all the storms. We have friends who have done the snorkeling in the past and it looked amazing!
When you take the ferry to the Dry Tortugas, you get there at about 10:30am. The boat leaves at 2:45pm so you only have about 4 hours to explore. It was enough time to walk around and explore the island. However, we were NOT ready to leave when it was time to go.
But we had to get on the boat to head back. Luckily the ride back wasn't as rocky and Craig and I actually both took a nap. Since we didn't have the kids with us we figured we would take advantage of the fact that we could close our eyes and get some sleep!
Click here to buy your tickets for the Dry Tortugas.
We will be back and when we do go back we will definitely plan on camping for 3 nights! Next time we go back we also want to check out Loggerhead Key. It is the largest island in the Dry Tortugas and is supposed to have a lot of loggerhead sea turtles and also a Lighthouse.
There are a handful of maintenance workers and park rangers that actually live in the fort at the Dry Tortugas. They work 10 days on the island and then they are off for 6, so they can head into Key West to restock and catch a movie or something.
WOW! Now that would be amazing. With 4 young kids maybe not, since we are sure it gets really quiet on the island after the ferry leaves. Guess what, we are NOT a quiet family. One of the workers there did have dogs (if you camp or visit for the day, you cannot bring dogs). And I know our dogs would love to live there and swim in the ocean every night!
Yes, it is expensive but in reality it only costs a little more than going to Disney for a day. Plus, if you go camping then it is totally worth the boat ride.
Neither of these locations are close to Key West. If you are coming just to go to the Dry Tortugas (part of the National Park Service), then you should stay in Key West. But if you are visiting the Florida Keys for longer, we recommend Fiesta RV Resort, Sunshine Key RV Resort, Pelican RV Resort & Marina, and Hawks Cay Hotel and Resort.
Also, be sure to check out our Florida Road Trip as this is a stop on the route and our Florida Keys Road Trip post.
Also if you are looking for more activities to do in Key West check out the Aquarium, the Shipwreck Museum, the Conch Train and our favorite Key West water activities!
If you are looking for activities to do in the Florida Keys that are north of Key West check out: Turtle Hospital and Dolphins Plus
What was your favorite view from the pictures we shared? Are you ready to book your ticket to the Dry Tortugas?

Disclosure: A HUGE thank you to Historic Tours of America for hosting us on our trip. All opinions expressed are my own. #truth
More posts to check out:
11 East Coast National Parks You Want To Visit This Year
29 Best Things To Do In Gulf Shores, Alabama
Magic Kingdom In One Day – 11 Tips On How To Do It!
16 Tips For A Magical Visit To Universal Orlando Resort!
17 Exciting Things To Do In St. Augustine With Kids
24 Amazing Tips for Universal Volcano Bay [Must Read!]
7 Awesome Things To Do In Miami With Kids
7 Awesome Things To Do In Miami With Kids
Pin this post for later: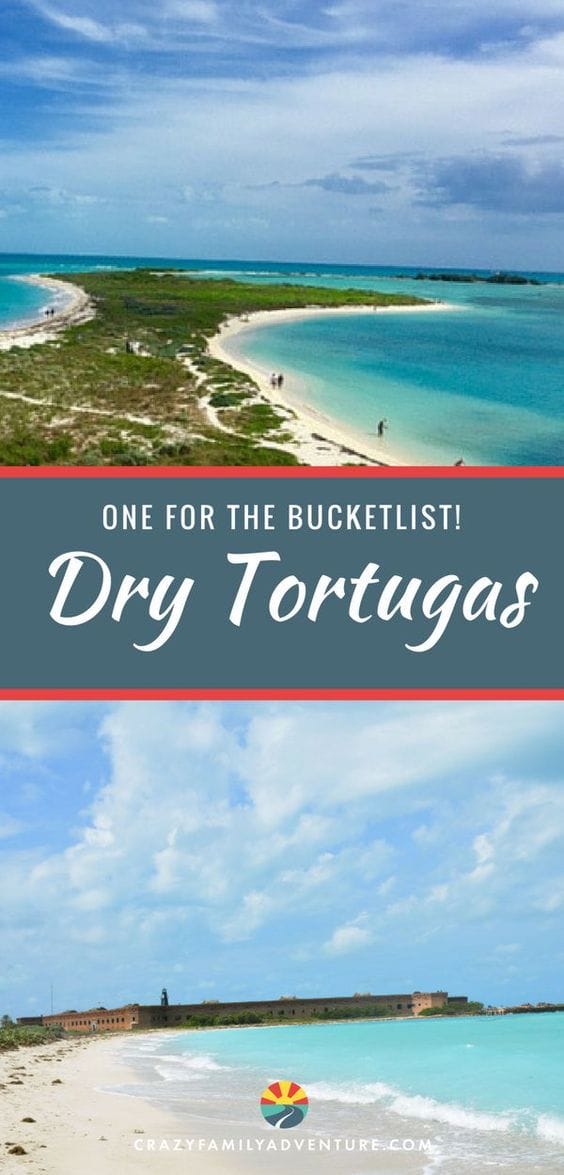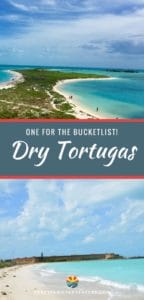 DISCLOSURE: This post may contain affiliate links, meaning I get a commission if you decide to make a purchase through my links, at no cost to you. Please read my disclosure for more info.