Petting and kissing a dolphin at Dolphins Plus in Key Largo is an amazing experience. These creatures are so beautiful and friendly. When you are petting them and interacting with them you can look right into their eyes and see their personalities.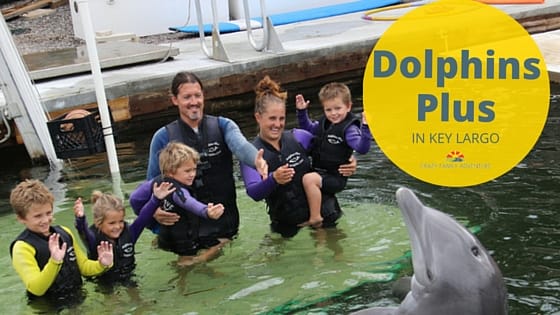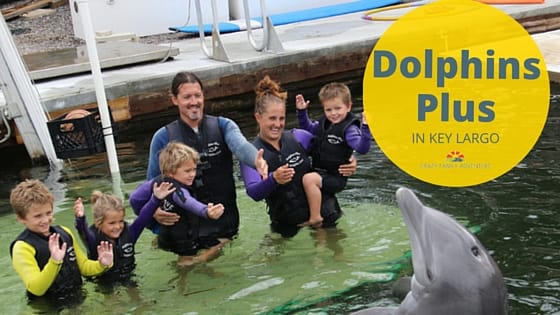 Dolphins Plus has a great program that lets kids of all ages get into the water with their dolphins. It is called the Shallow Water Experience. You aren't swimming with them (you have to be 7 or older to do that), but you are on a platform and about 40 inches deep in the water so you are able to interact with the dolphins in the water, but you never leave the platform.
Suiting up
When you first get there they get you suited up with a wetsuit and buoyancy jacket and then they go through instructions and share some fun facts about dolphins. When you head over to the water you have an instructor who walks you through everything and is in the water with you the whole time.
The wet suits and life jackets were a little bit of a struggle with the kids, since they were so tight, but we were able to get them all in and headed over to the lagoon where the dolphins are. The kids felt like they were dressed up as Batman 🙂 After gearing up, we headed to the platform and they started to lower us into the water.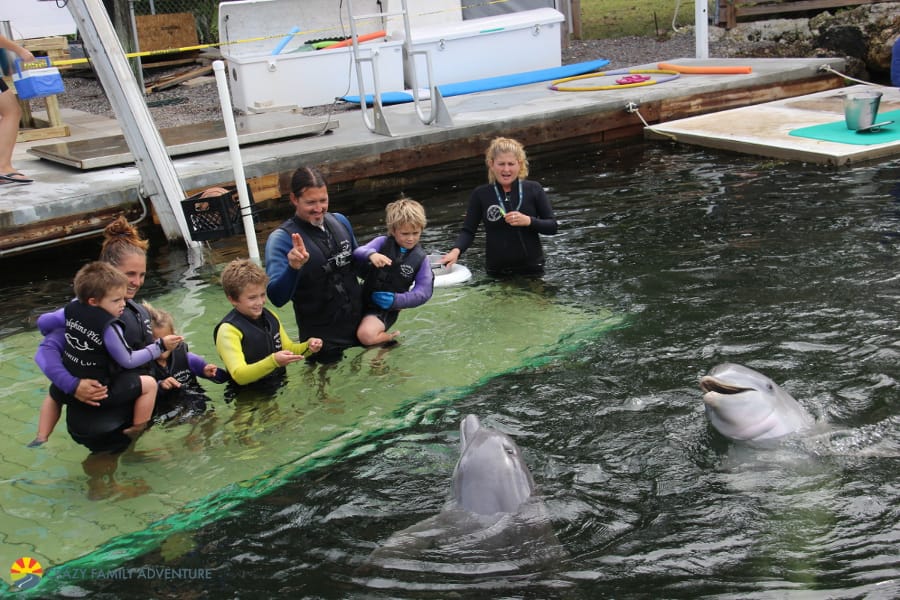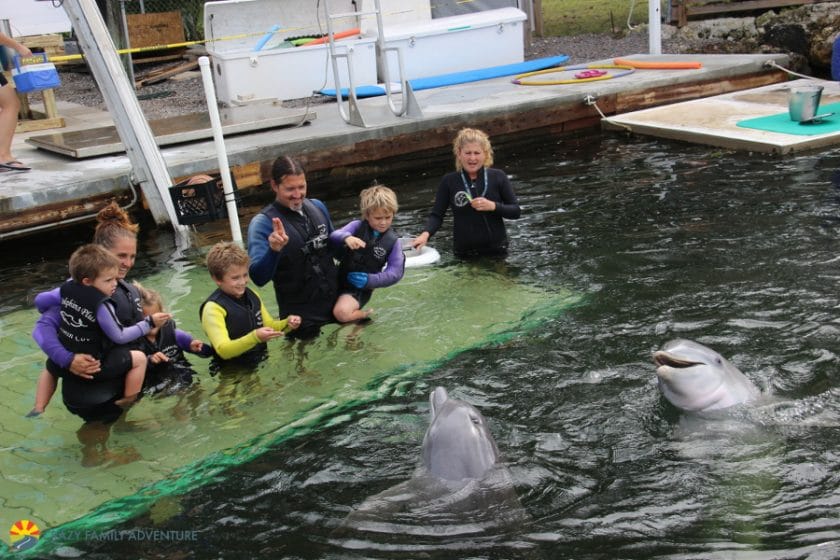 Our 6 year olds and 3 year old were a little bit unsure about this part but after we got in the water and let them settle in they relaxed and started feeling comfortable in the water with the dolphins.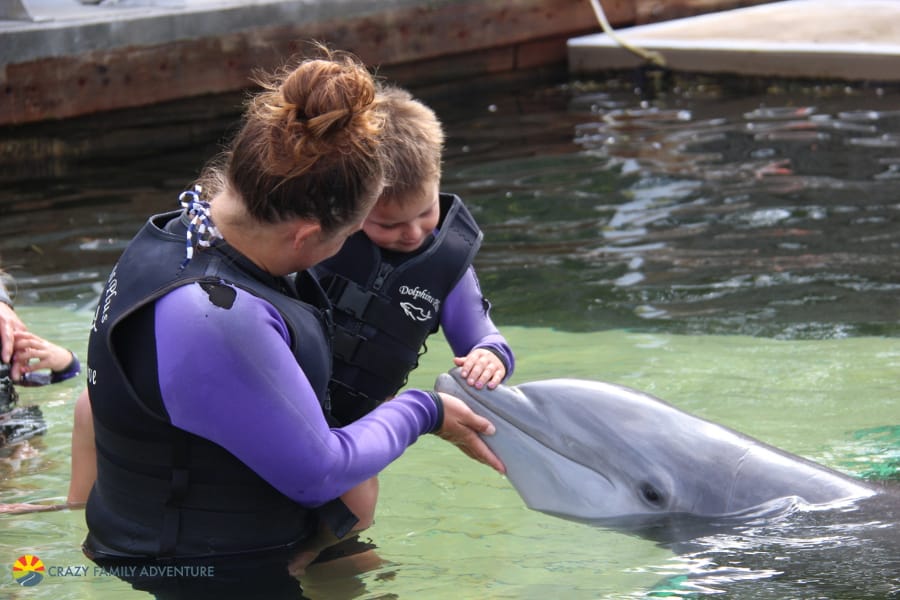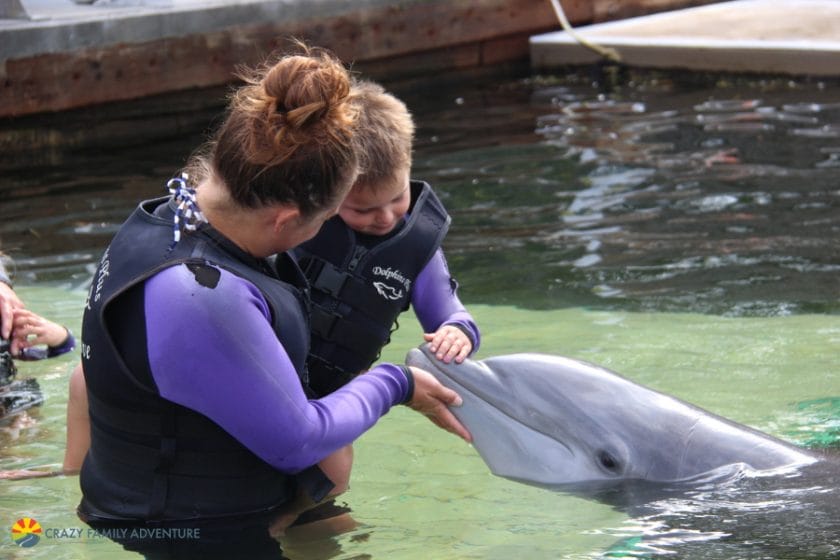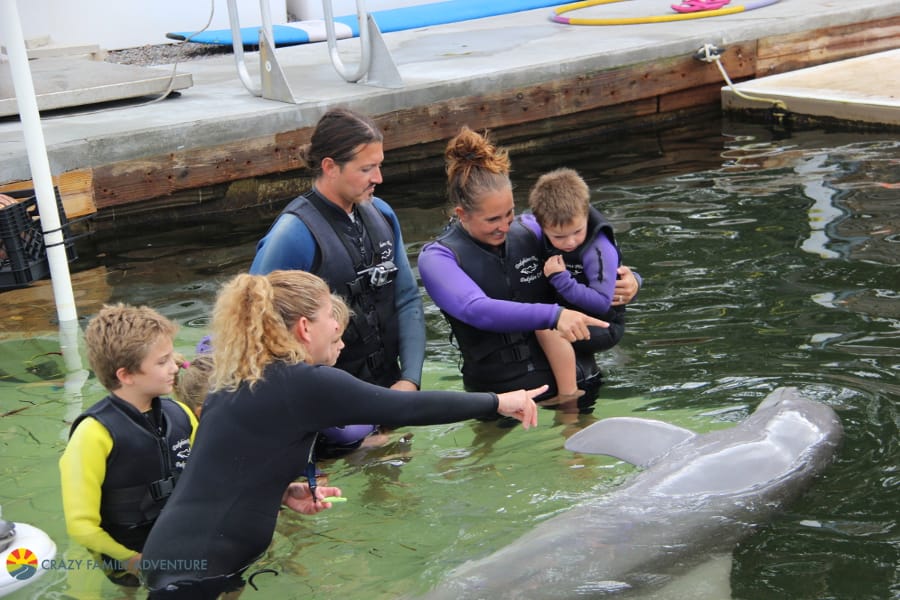 The instructor did a great job taking their time and walked us through everything. They also don't make the dolphins do anything they don't want. They are very patient with the dolphins and give them a minute to warm up to you and even let them take a break to socialize with the other dolphins During our session there were 2 dolphins who took turns working with us.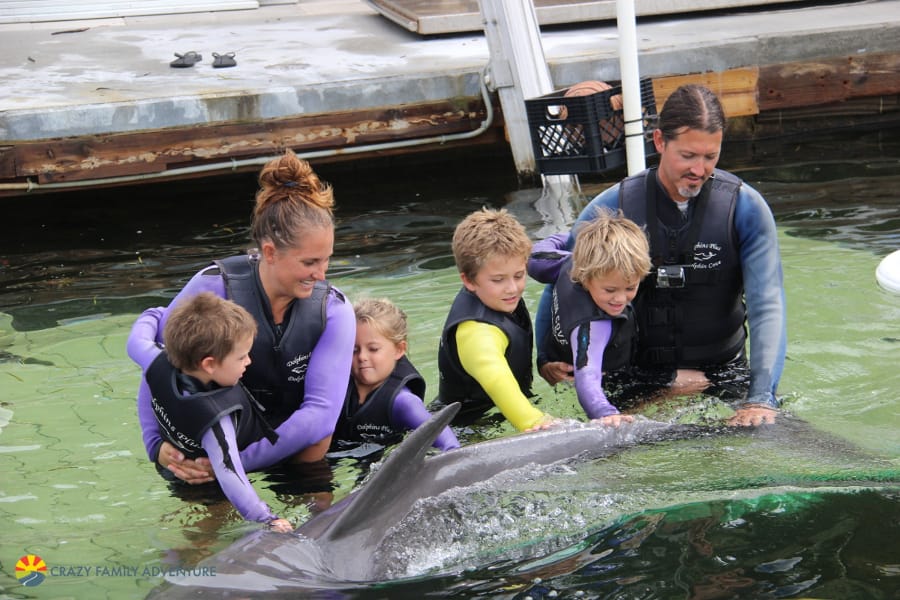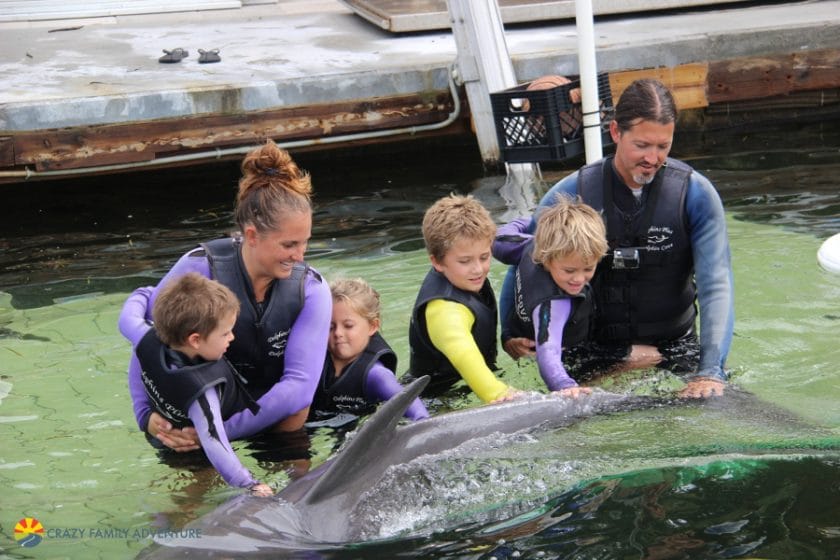 We did not feel rushed at all and everyone had a lot of time to interact with the dolphins. The first thing we got to do was petting them – it is awesome to run your hand along them and feel their strength and smoothness. The kids said they felt like a wet hot dog. Which I thought was a pretty accurate analogy.
[clickToTweet tweet="They felt like a wet hot dog. #dolphins #floridakeys" quote="'They felt like a wet hot dog'"]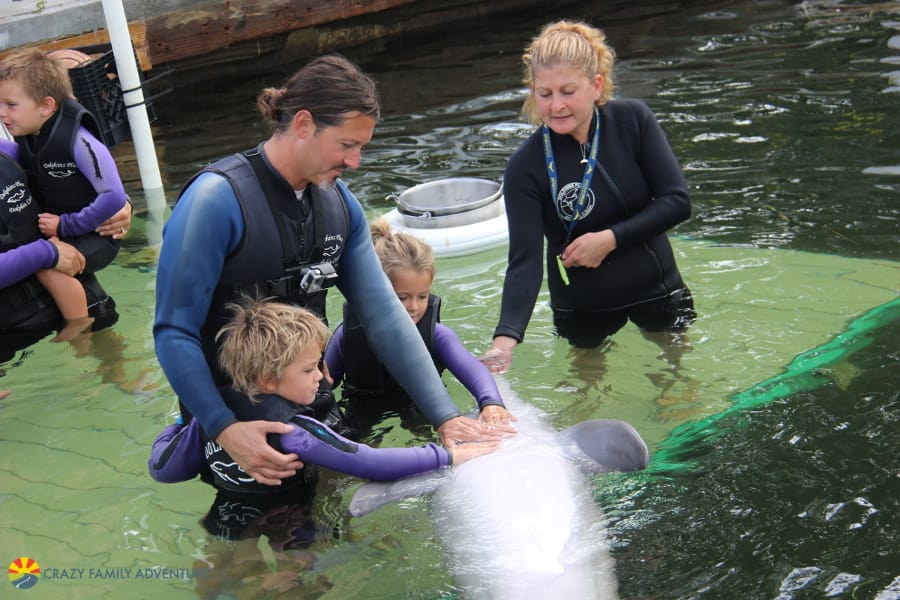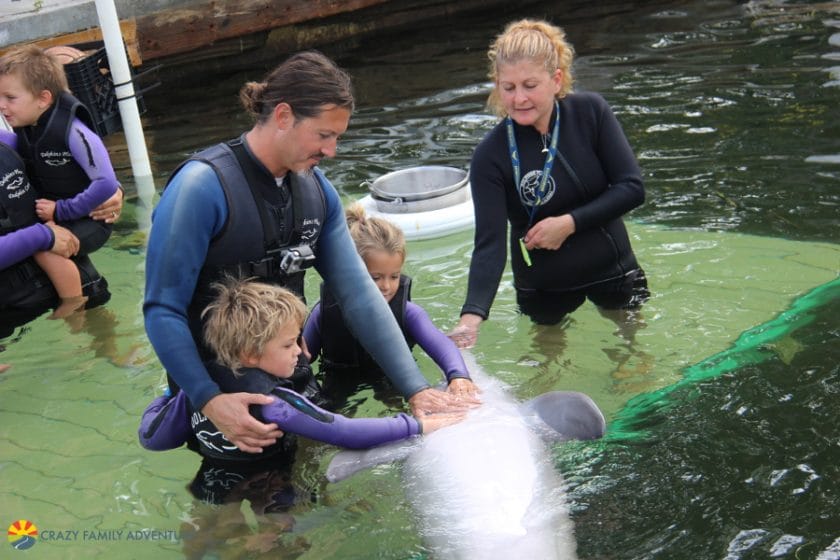 We also got to pet their tail and their bellies. The instructor then had the dolphin hang out by us for a minute so she could show us their belly button, eyes, and ears (yup, they have ears).
Kissing a dolphin at Dolphins Plus
The last 2 things were definitely the best! We got to do a handshake with the dolphin. They literally come up out of the water and and hold out both fins so you can lightly grab them and do a shake.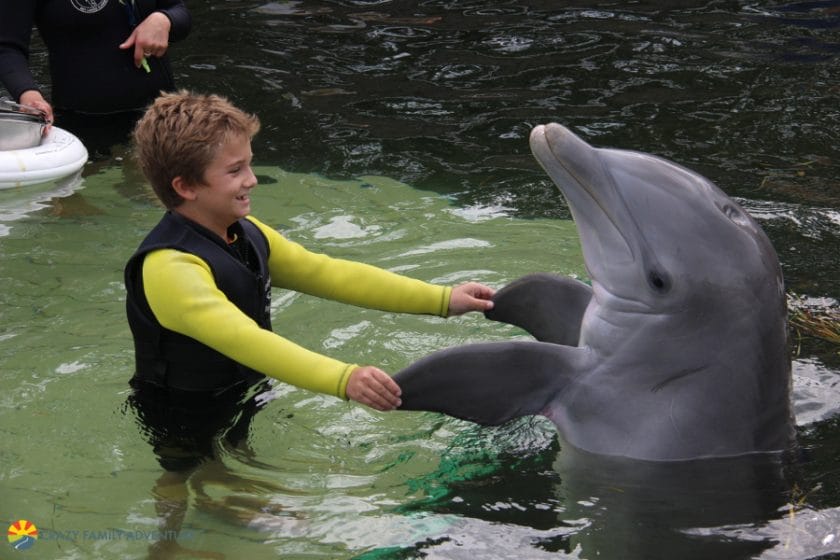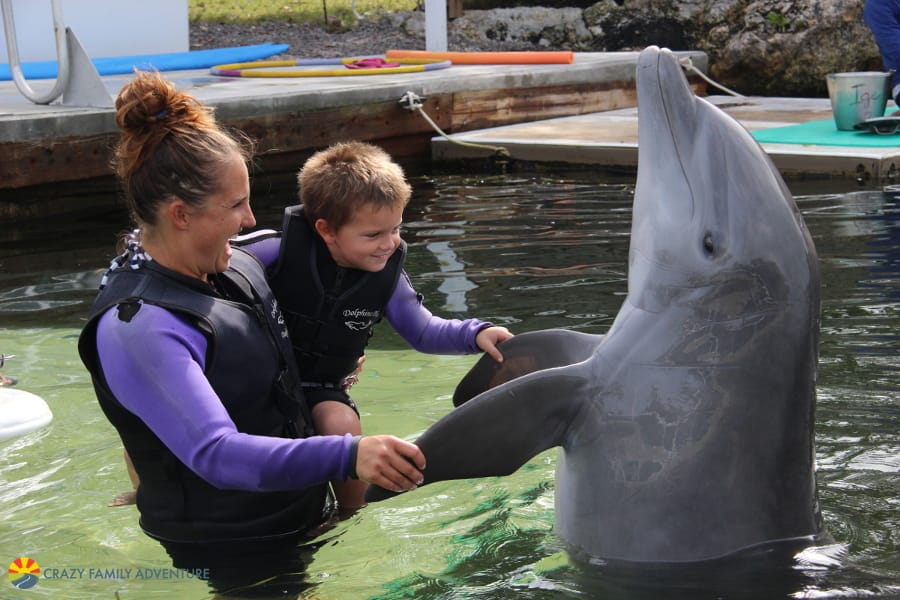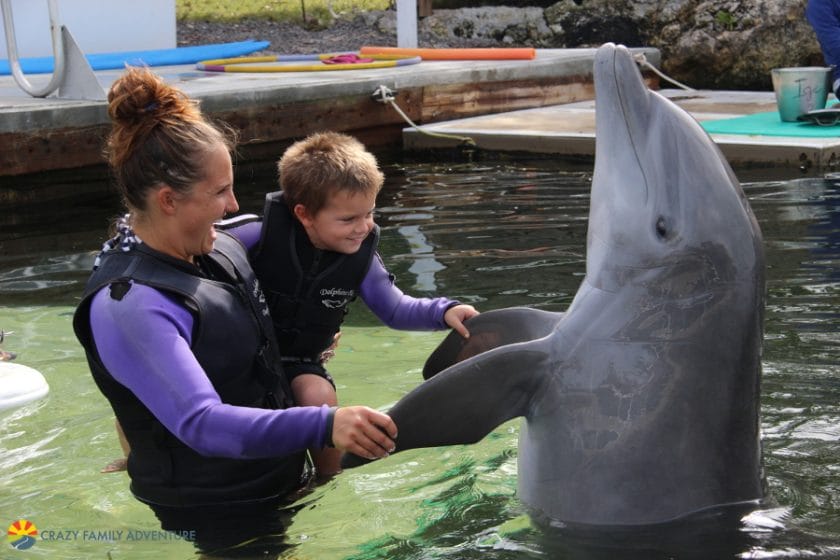 The last thing was kissing the dolphin. You put your hands out so you can cup their bottlenose and put it up to your lips to give them a kiss. Then you turn your head to the side they can kiss your cheek. If you get the photography package you are going to have some amazing pictures of you kissing the dolphin and the dolphin kissing you!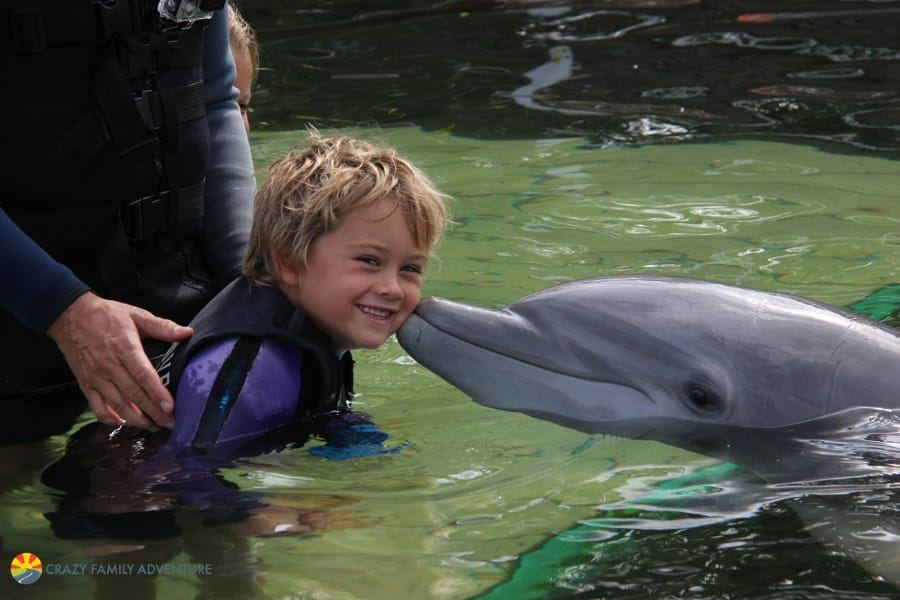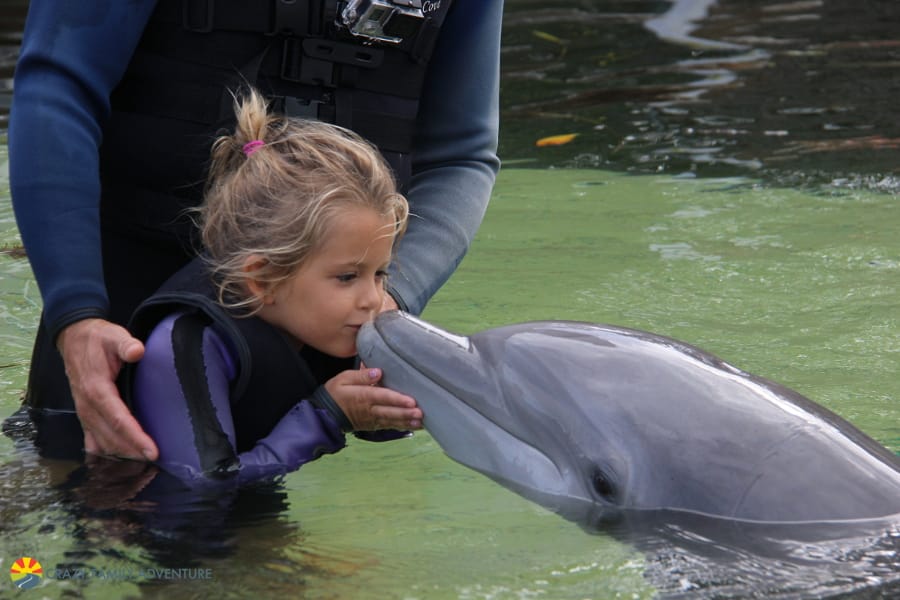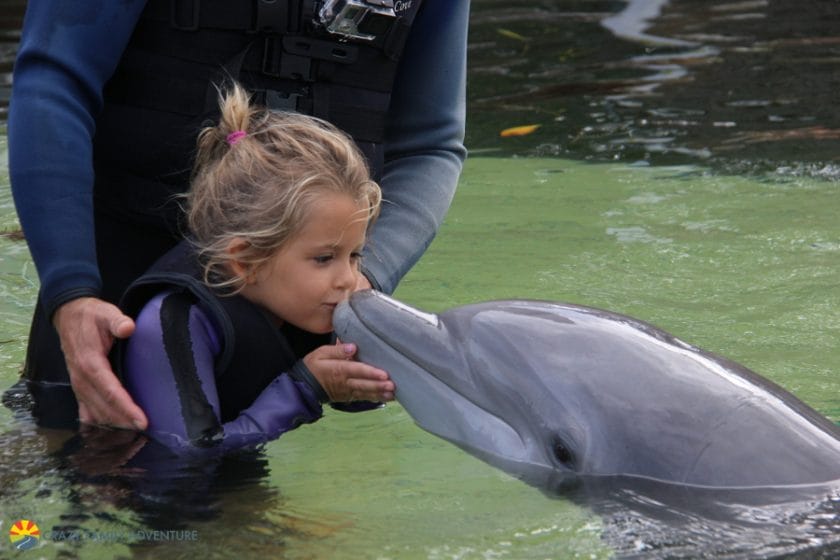 All of the kids, even our 3 year old, was able to do this. He wasn't so sure about kissing the dolphin, but he got close.
After that the dolphin does a few tricks for us to watch. Then we had a water fight with the dolphin. It was so cool actually playing with them!
Check out our video from Dolphins Plus!
I know swimming with dolphins is expensive, but it is one of those experiences that is so unforgettable and amazing. We highly recommend you add it to your bucket list and plan for it when you visit the Florida Keys!
Dolphins Plus is a top notch facility and you can tell they care for their dolphins and that the staff loves what they do. They were also amazing working with our kids and made everyone feel comfortable and relaxed.
Be sure to check out our partner booking.com to book your Florida Keys trip today!
Disclosure: Thank you to Dolphins Plus for hosting our visit! All opinions are my own. #truth
DISCLOSURE: This post may contain affiliate links, meaning I get a commission if you decide to make a purchase through my links, at no cost to you. Please read my disclosure for more info.