There are a lot of options for things to do in Vermont! We were really excited to explore the state when we went on our East Coast Road Trip! For our visit we focused on the Burlington and Stowe, Vermont area.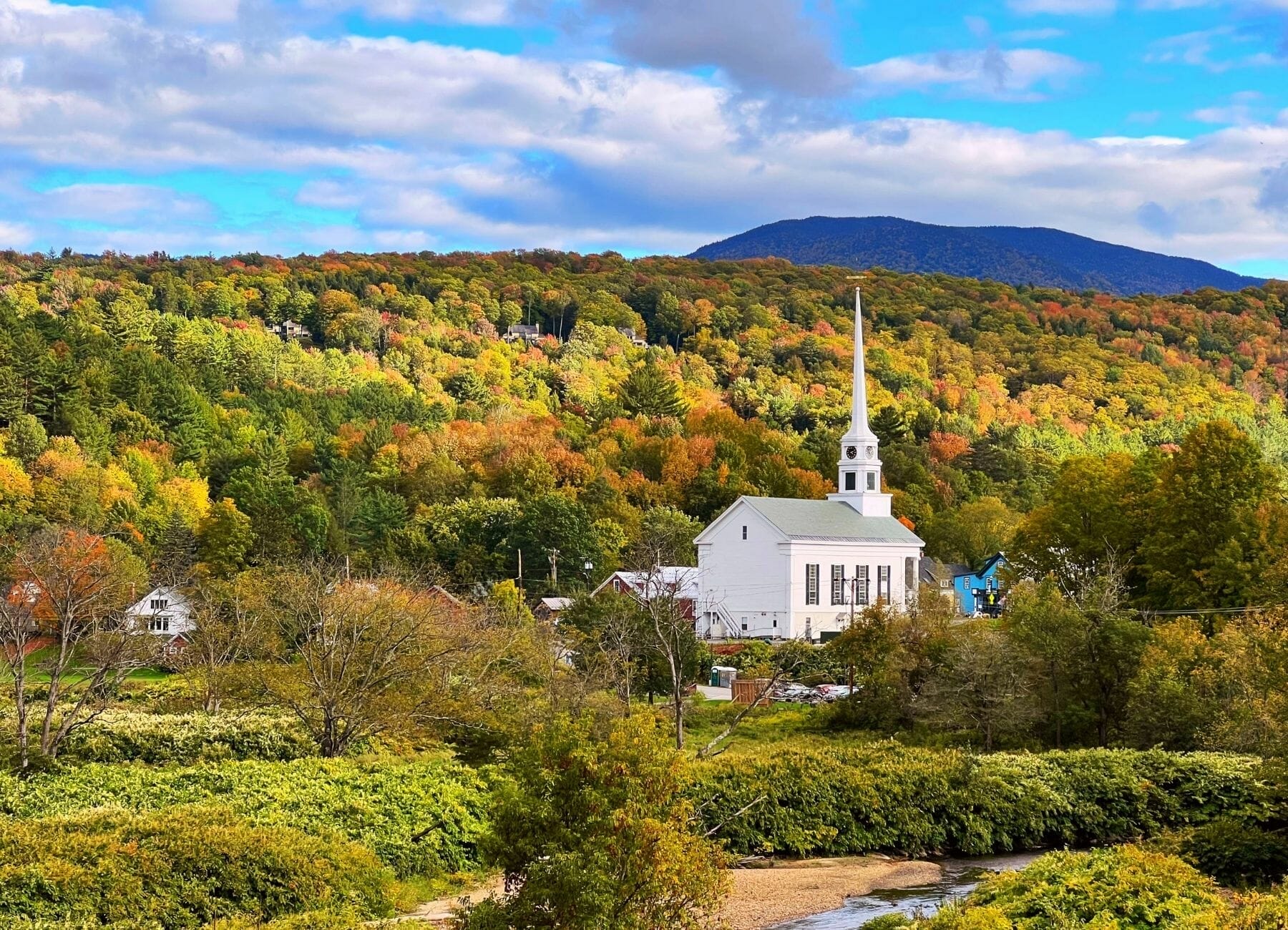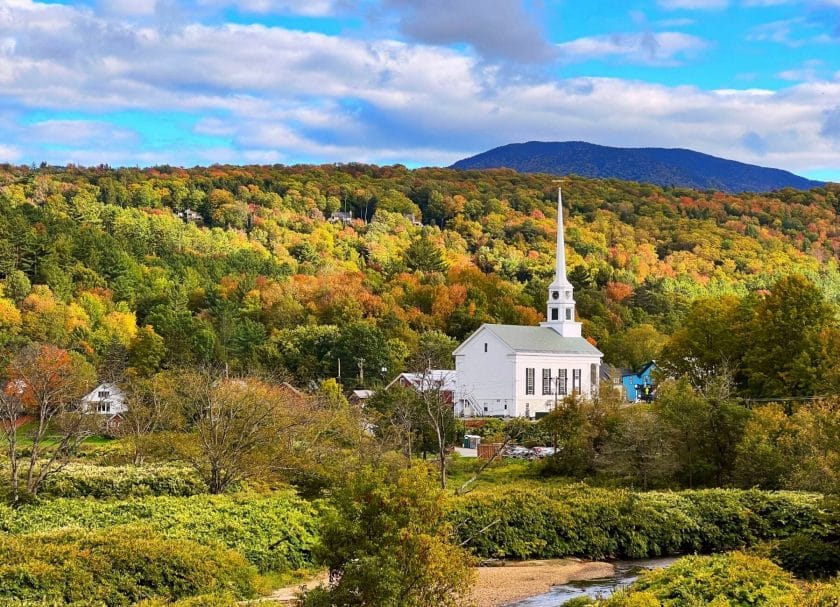 Depending on what season you visit Vermont you can focus on different things to do in the Green Mountain state.
Visiting at different times of year:
Visit in summer and you will want to find water activities to do like swimming in Lake Champlain. Or going out on a sail boat.
Visit in fall and you want to take in as much of the leaves changing as you can! Driving up Mt. Mansfield would be a great way to see the leaves.
Visit in the winter and it is all about skiing! Especially in a place like Stowe, Vermont.
Visit in the spring and it is really going to depend on the weather.
This time around we visited in the fall and it was a great time to visit. The weather was on the cooler side (high 50's/low 60's) which was fine with us since it was perfect for outdoor exploring.
The leaves were also changing and though not quite peak they were still beautiful!
No matter what season you visit in there are a few things you don't want to miss:
Vermont Maple Syrup
Maple syrup was used by the indigenous people of North America in Vermont long before European settlers came in. With all of the maple trees and the right temperature combination Vermont is THE place to get maple syrup.
They produce more maple syrup than anywhere else in the US and have higher standards then the US government when it comes to the purity of their syrup. Needles to say you don't want to miss out on trying and buying Vermont maple syrup when you are there!
To take it a step further add a Sugar House to your trip (especially in the spring) to see how the maple syrup is made.
Vermont Cheese
Vermont has a long history of Cheese making and anyone that grew up on Vermont Cheddar Cheese can taste the difference between all other cheddars. It is also white and not dyed orange like you see other places.
Vermont is very proud of its cheese and for good reason it is delicious! Don't leve Vermont without trying some Vermont cheese. If Cheese is your thing you may want to plan to do the Vermont Cheese Trail too. https://vtcheese.com/vermont-cheese-trail-map/
Vermont Apple Cider (both regular and hard cider)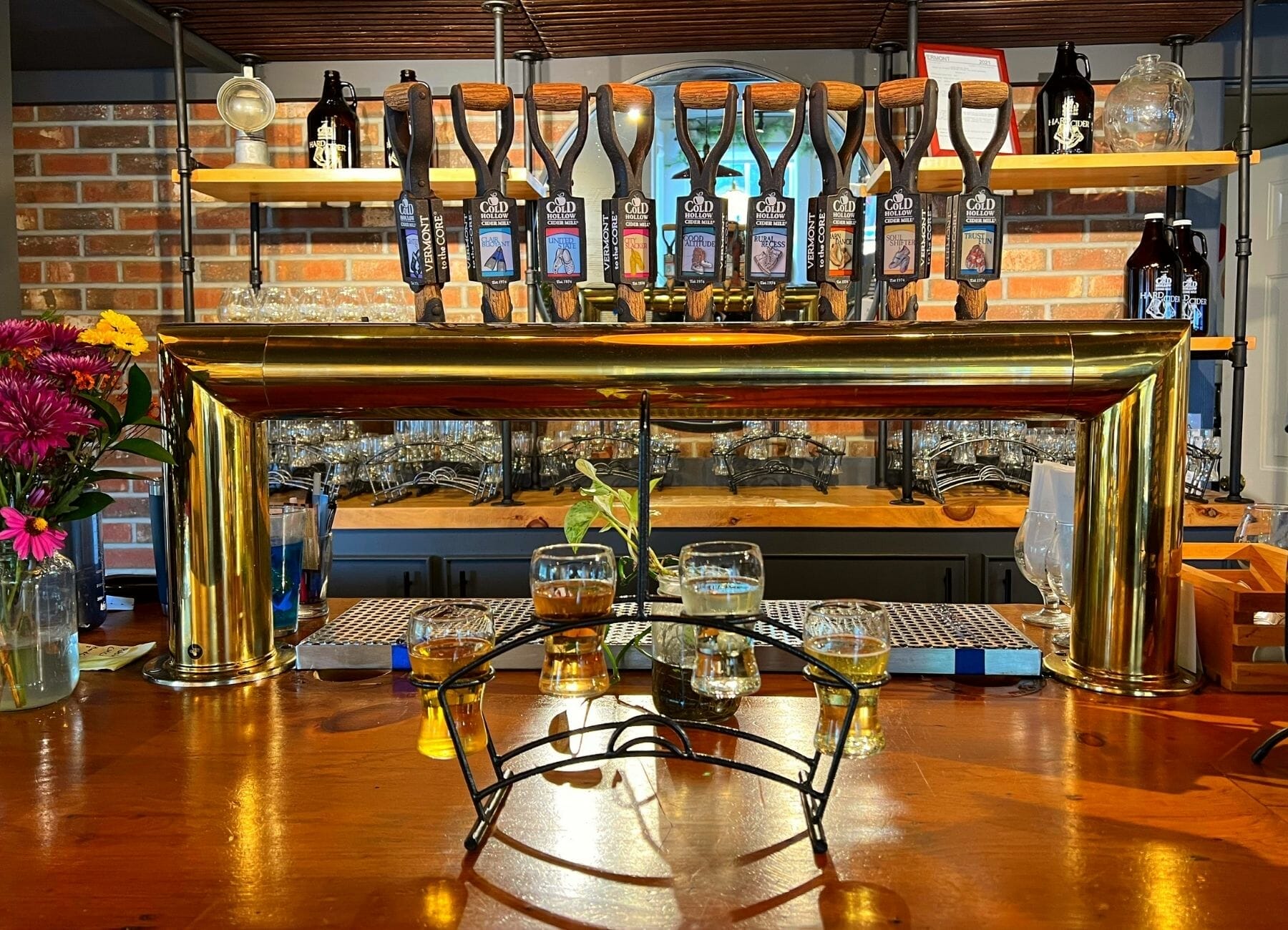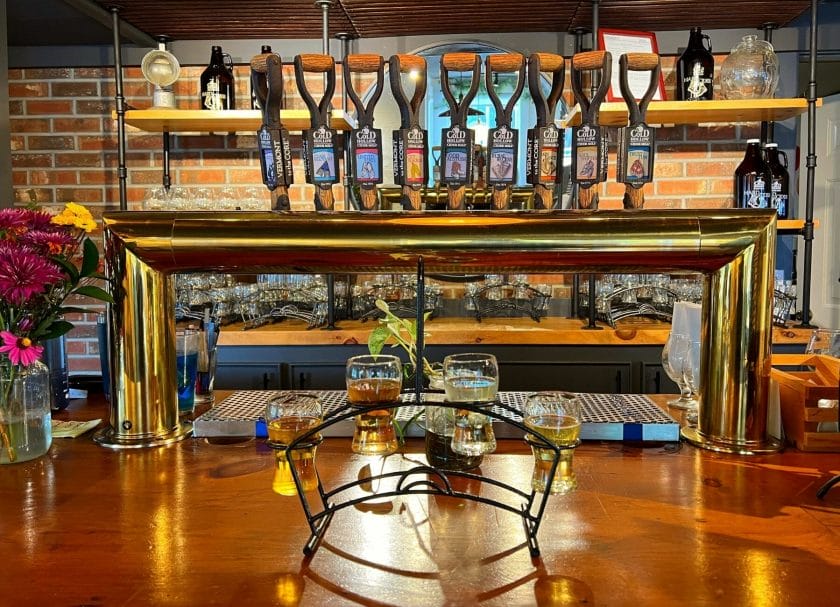 Apples are another thing that are popular around Vermont. I was complaining as I love to try different hard ciders! The kids loved trying the regular cider and also getting cider donuts. Be sure to add a Cider Mill to your trip.
If you like Hard cider check out this hard cider trail: https://scenicstates.com/vermont-cider-trail/
Covered Bridges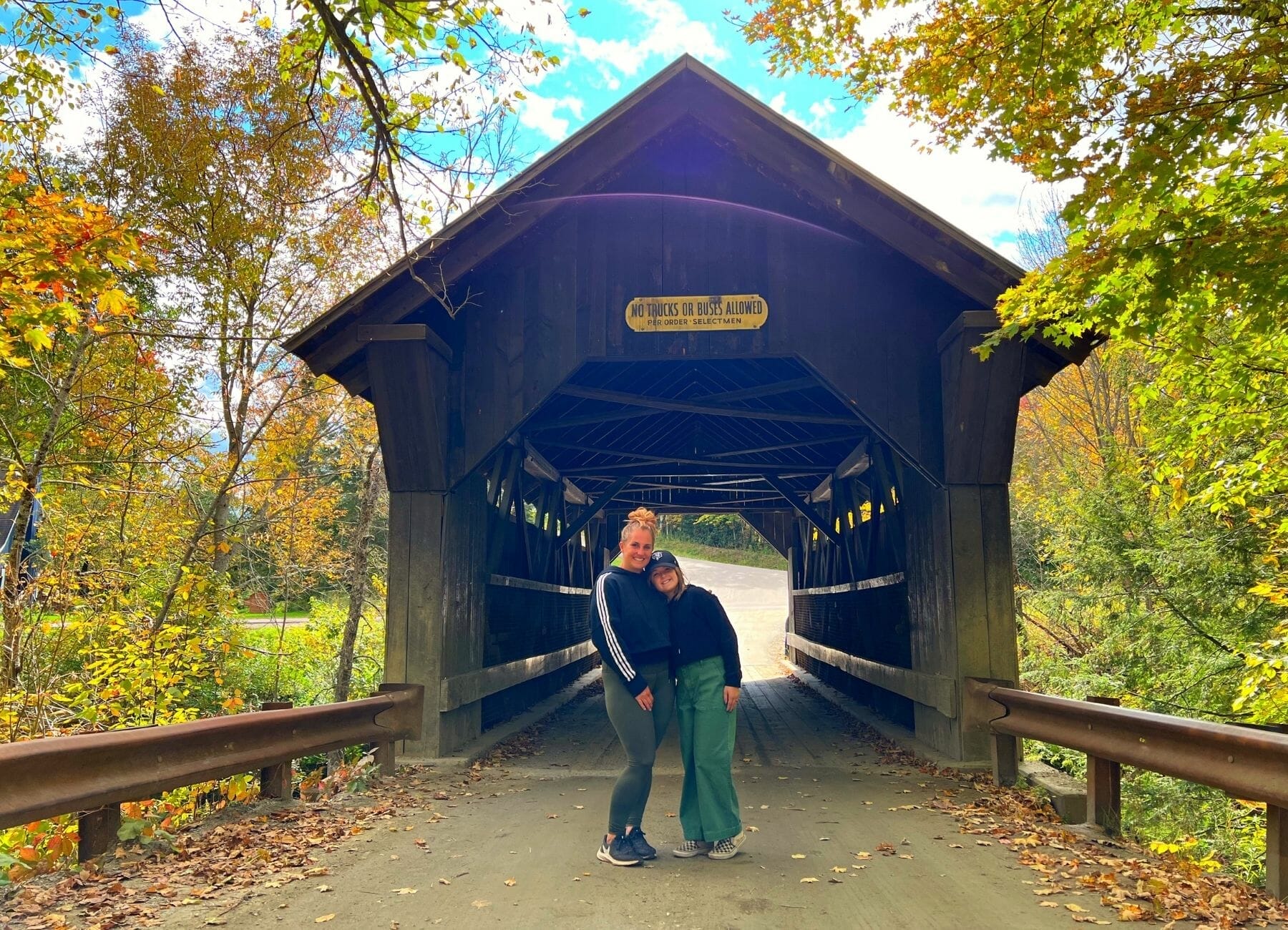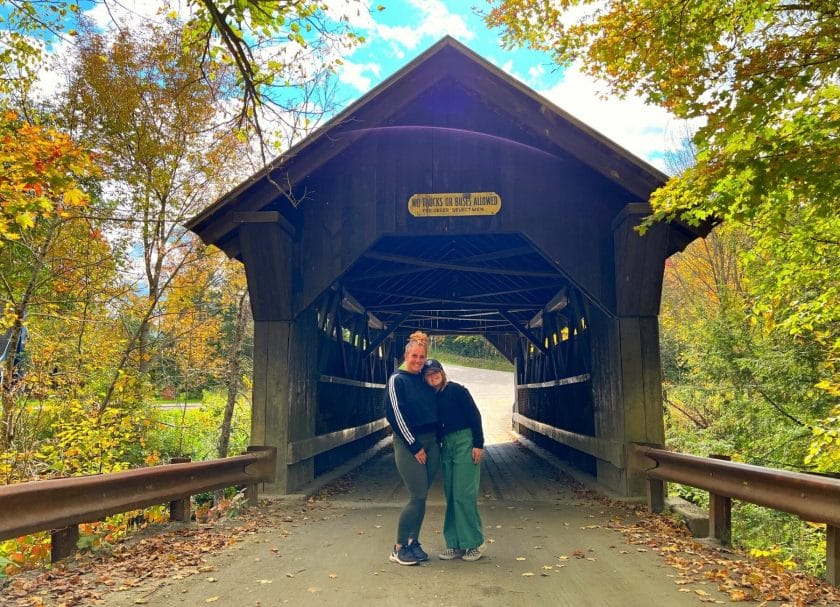 Covered bridges became a thing in Vermont to help keep snow off of bridges back when all the bridges were wooden. If there was not a cover on a wooden bridge and snow piled up it could cause the bridge to collapse. With a covered and sloped roof the snow would fall down and off of the covered bridge.
Since Vermont gets a lot of snow there are over 100 covered bridges found throughout the state. They are picturesque and full of history some with a spooky story to tell too.
In my opinion you only really need to see a couple covered bridges to get a feel for these historic sites. But if you prefer to see more check out this Vermont Covered Bridges Map: https://www.vermontvacation.com/things-to-do/arts-and-heritage/covered-bridges.
When we visited we planned 2 nights and 2 days to explore Vermont as part of a larger East Coast road trip. We made South Hero our home base and made plans to explore Burlington and the Stowe area which have a lot of the Vermont attractions. Below you will find our 2 day Vermont itinerary.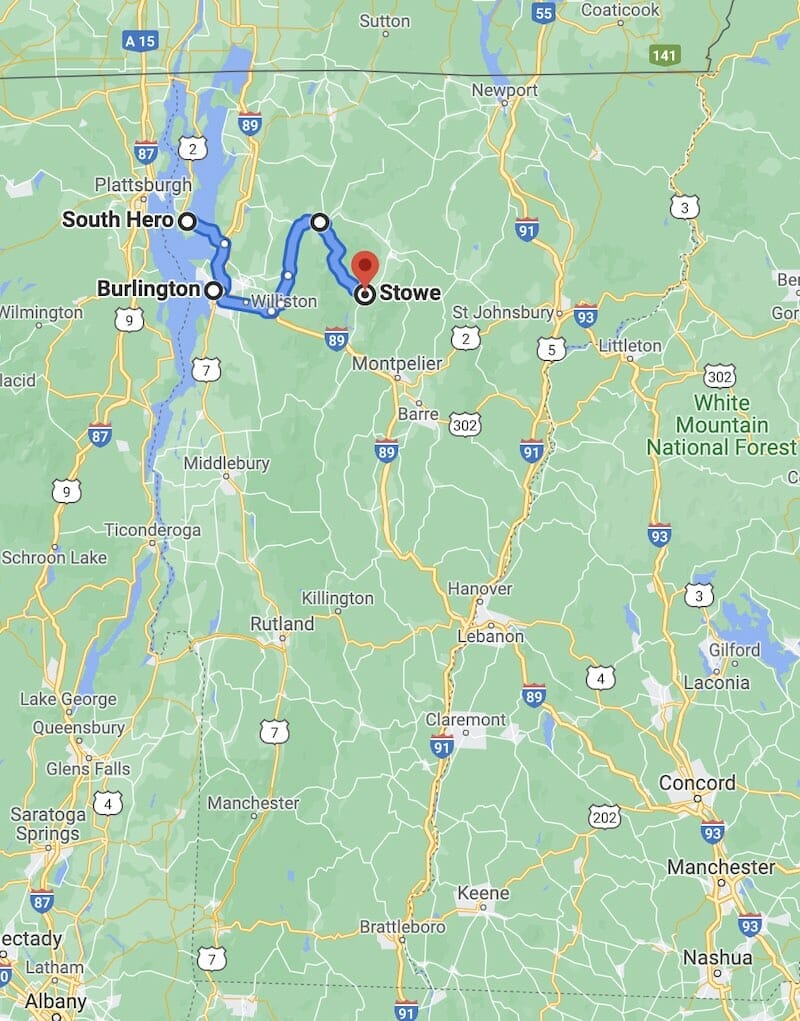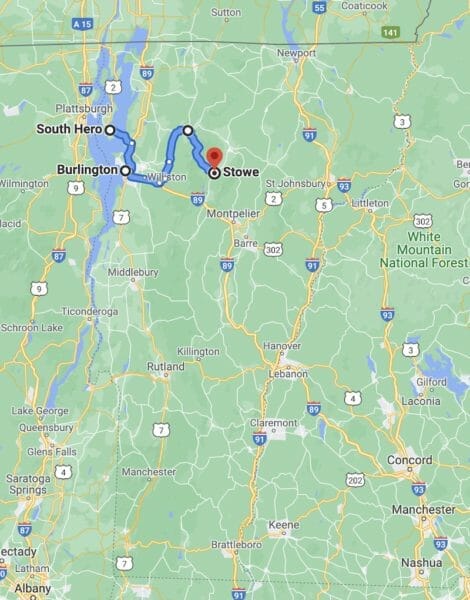 Click here for the Google map: https://goo.gl/maps/KReyfDqrKdJAtNXXA
Day 1: Burlington, Vermont
Burlington, Vermont definitely gave the feel of a college town. Which we love! There was lots of activity and people out and about – especially around Church Street. We easily found parking in a lot by Church Street and spent our afternoon walking around Burlington.
Shelburne Farm
Prior to going to Burlington you may want to make a stop at Shelburne Farm. The farm is an education nonprofit. Their goal is to cultivate and inspire a sustainable future. They offer walking trails, learning experiences, cheese making, a restaurant, farm store and even an Inn.
If you want to learn more about farming in Vermont definitely add this stop to your list.
SugarTree Maple Farm
If you are interested in learning more about Vermont Maple syrup and how it is made check out the SugarTree Maple Farm. Mid February – mid April you can stop to watch them turn that sap into syrup and maybe get a free sample! Learn more here: https://sugartreemaplefarm.com/
Morse Farm Maple Sugarworks
Another option for visiting a maple farm is Morse Farm. They are open year round and have a informative video playing on sugarmaking. Along with a change to visit the sugarhouse and walk the trails winding through the sugarbush.
They also have a country store packed with Vermont goodies and offer a maple creemee made with their own morse farm maple syrup. Check out their site at: https://www.morsefarm.com/
Walk on Church Street Marketplace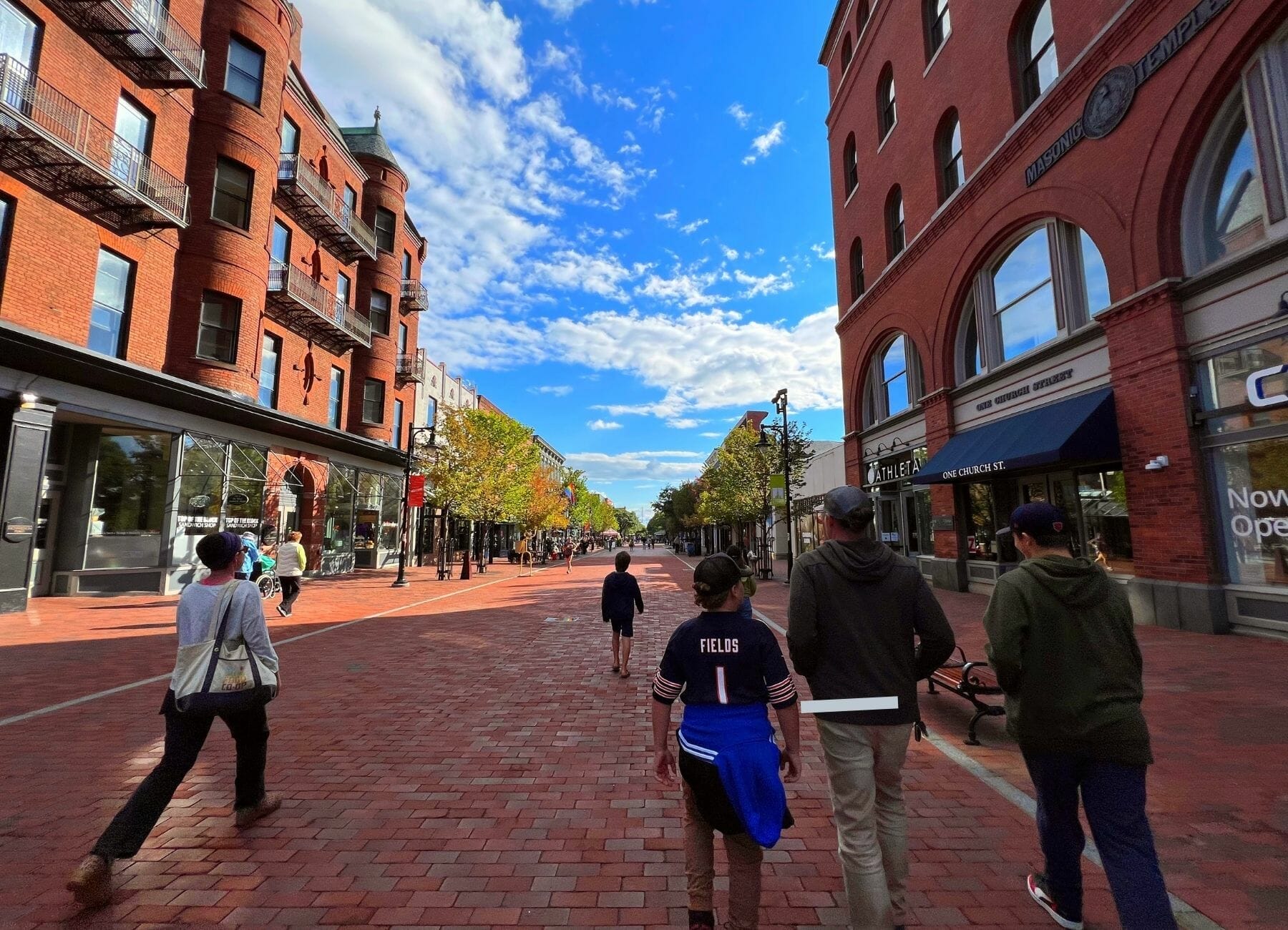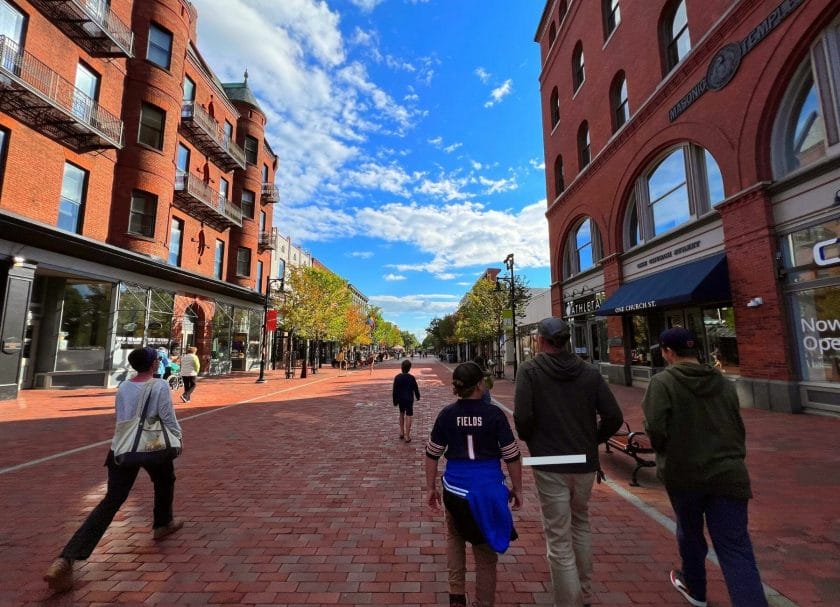 Chruch street is named since there is a Church on both ends of the street. The street is closed down to cars and it is a large pedestrian walking area. I could have spent hours here shopping but that wasn't what my husband or kids wanted to do :). Instead we picked a few places to stop:
The Crystal Cottage of Vermont – my daughter is into crystals so we made a stop at the The Crystal Cottage of Vermont. It was a beautiful store with a lot of crystals – both high end and lower cost point. My daughter left with a few more crystals to add to her collection.
Smugglers Notch Distillery – this was a stop for the adults so we could sample some of the local liquor. A lot of it was maple flavored which was fun to try. We each paid $5 and were able to sample 4 differen kinds. At the end he even gave us a sample of Vermont maply syrup!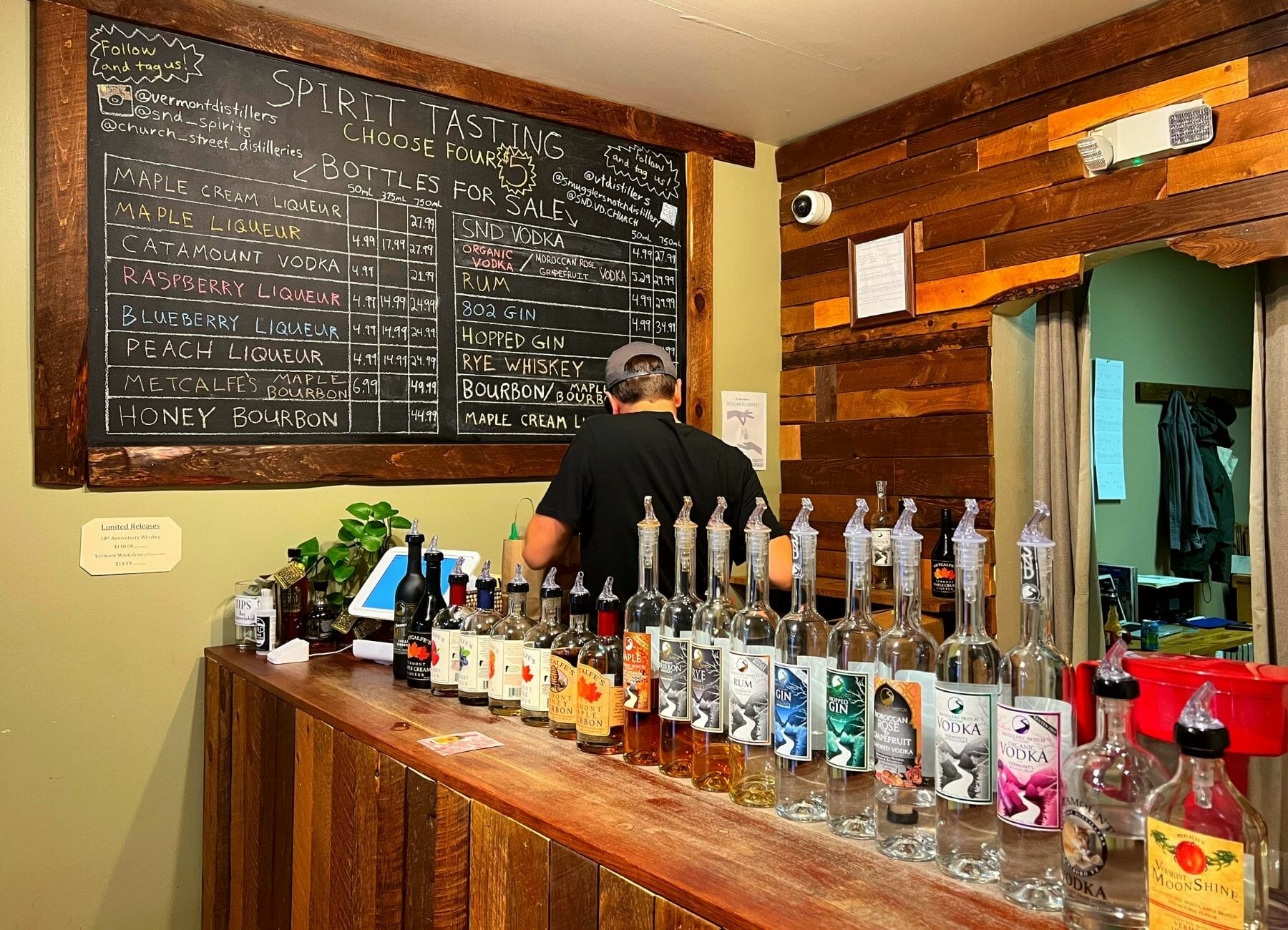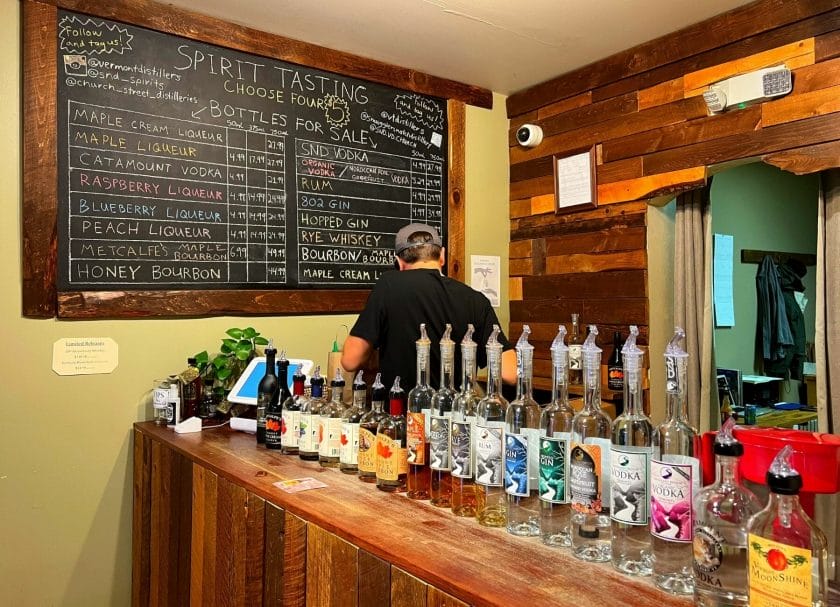 Lake Champlain Chocolates – we stopped in here to let the kids each pick a chocolate to buy. They had a lot of options and a lot of maple options!
Find Street Art
There is a variety of street art all over Burlington. You can check out a site like this to see the location of specific street art: https://www.burlingtoncityarts.org/public-art. Or you can walk around and look and you will see street art all over the place!
Citizen Cider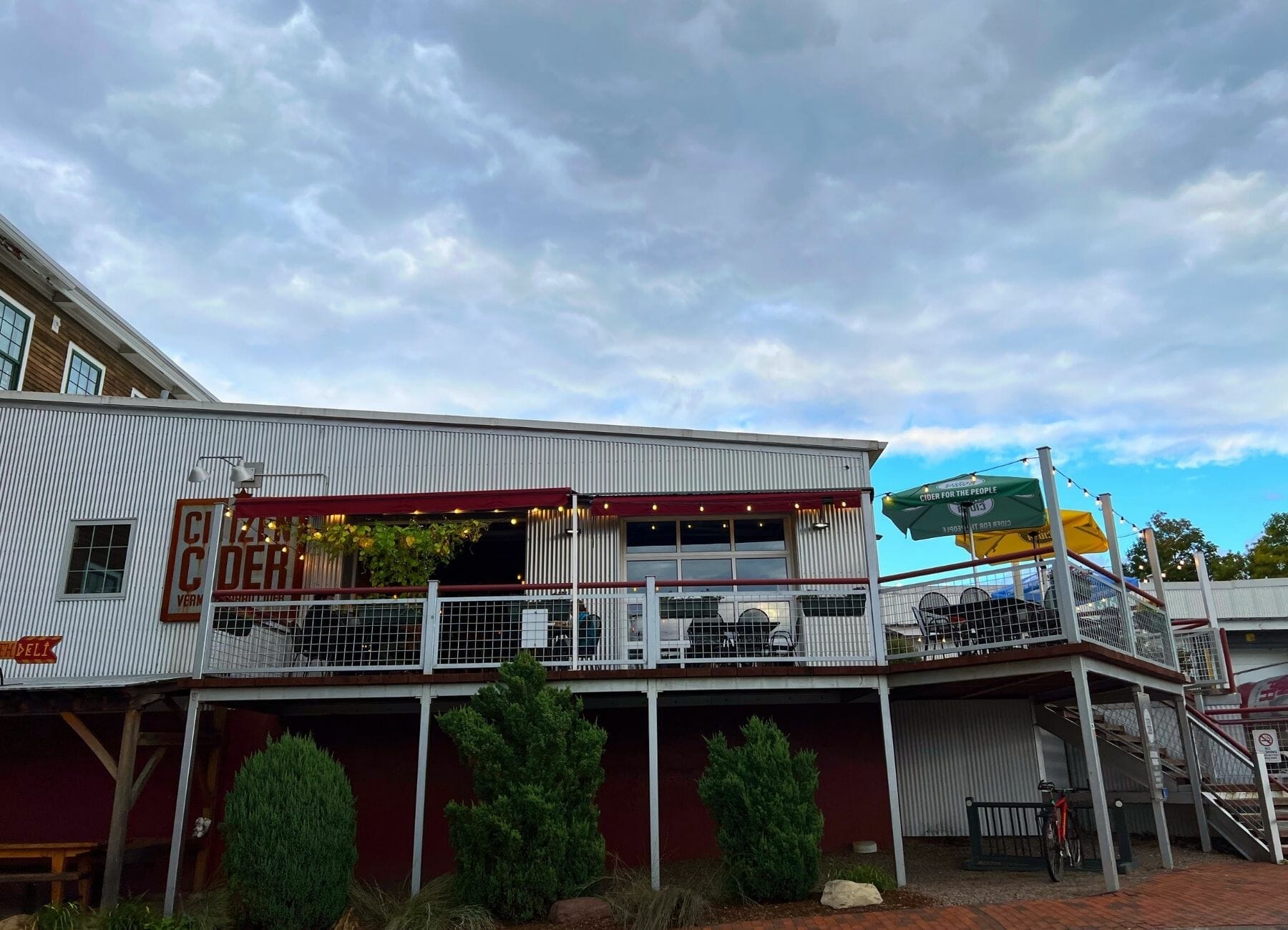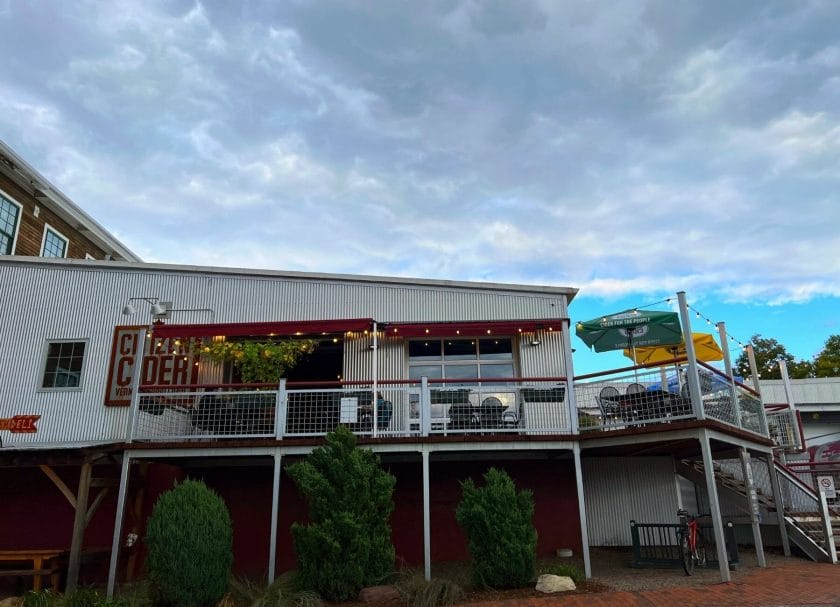 Head over to Citizen Cider for dinner. They are known for their Poutine which we did try and it was good! Plus I got a flight of cider and there were some interesting flavors. I also got a Beet Burger which was very good. Their menu had a good variety of Vegetarian options which I always appreciate.
Note they also serve regular beer, mixed drinks and totally normal food like burgers :). They had both indoor and outdoor seating.
Lake Champlain Waterfront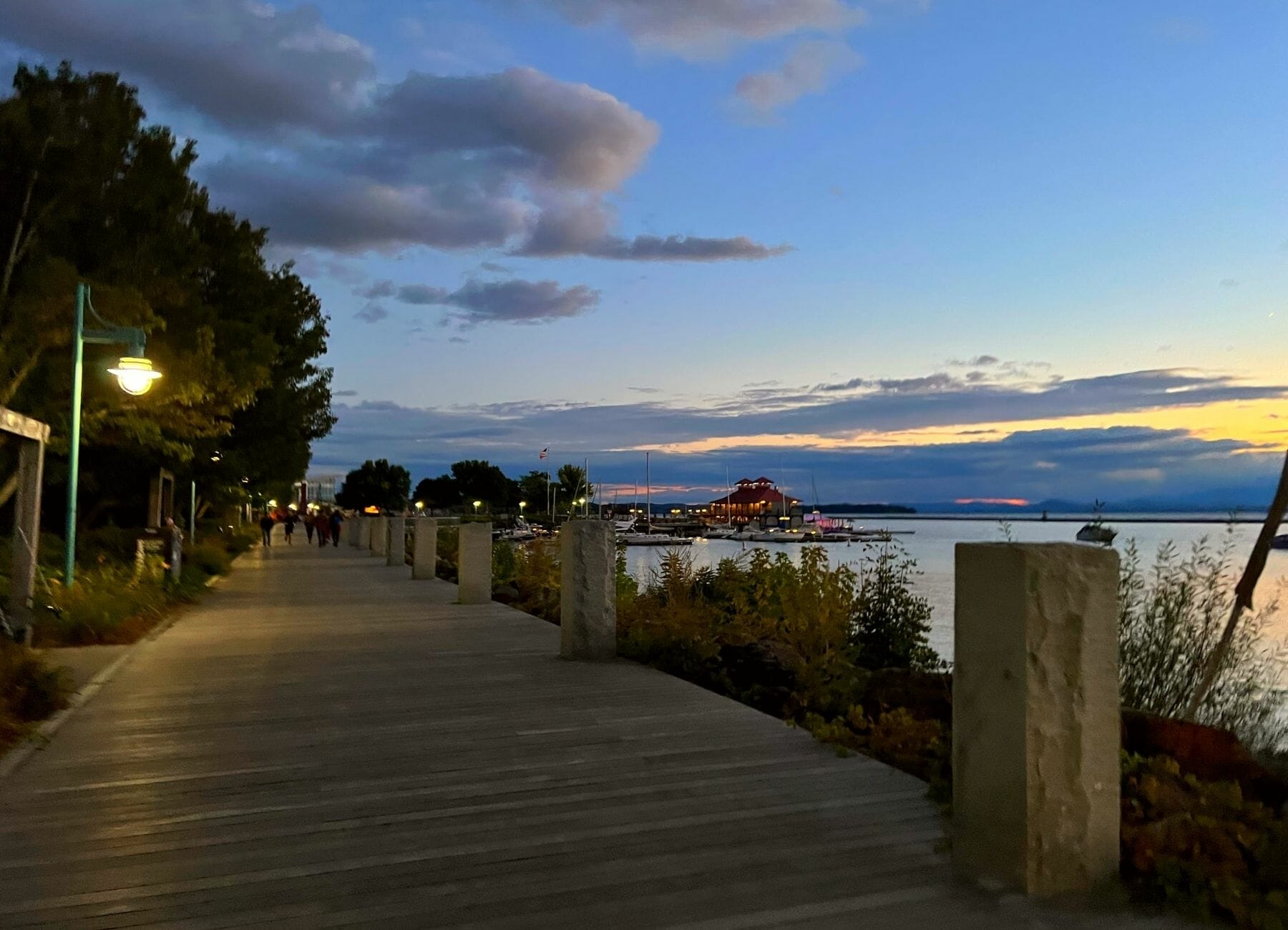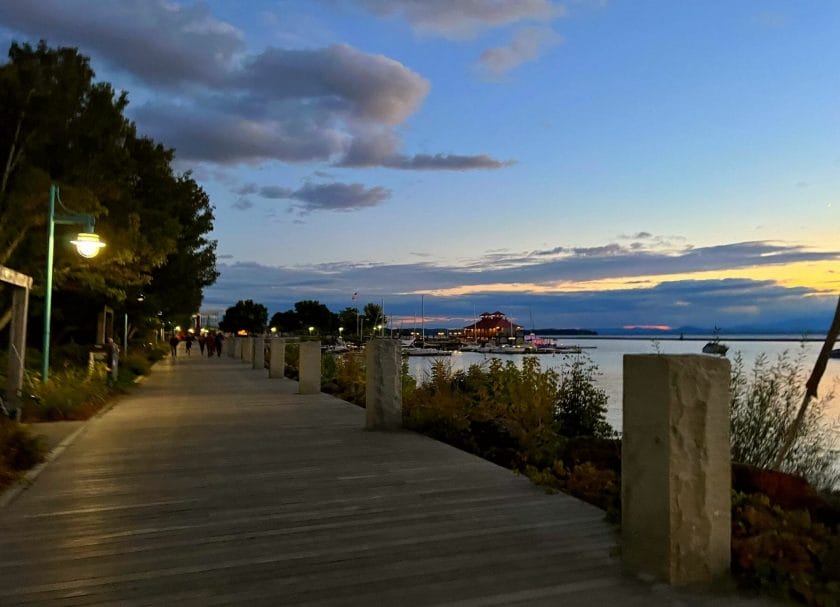 Head to the Waterfront at Sunset to watch the sun go down over the water. This is also a pretty place to go on a nice walk along the waterfront.
Foam Brewers
Next up grab a beer at Foam Brewery – they had a nice outside seating area. They also had cider options.
Creemees Ice Cream at Ice Cream Bob's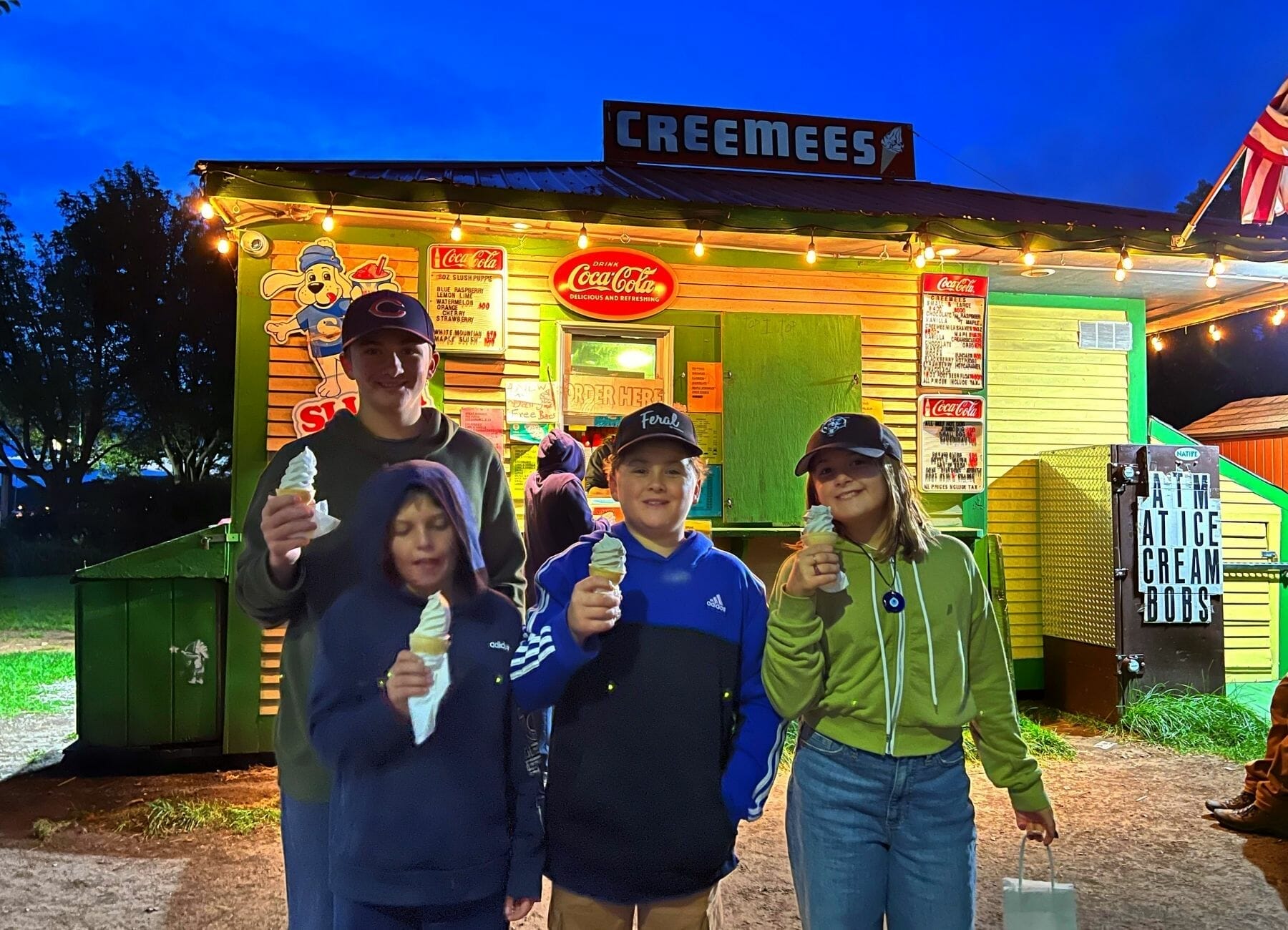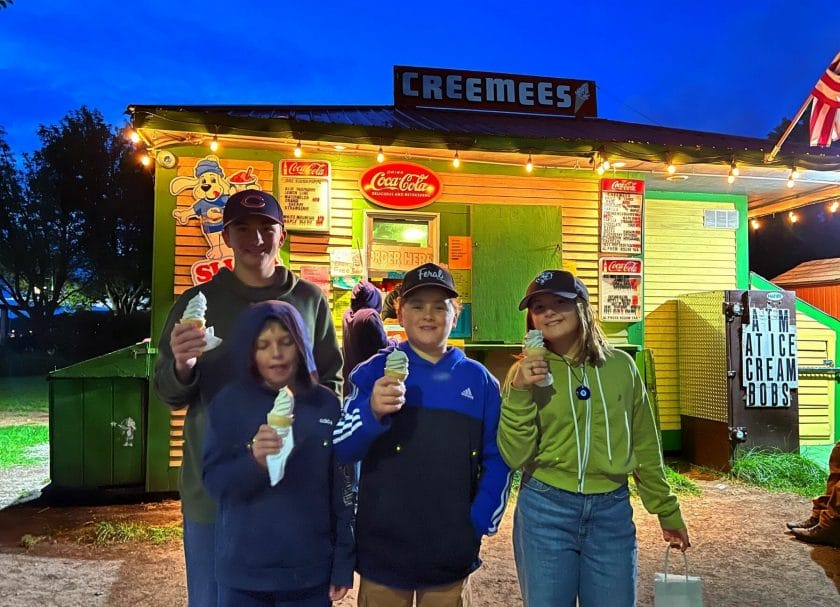 We knew we needed to try the Maple Creeme. Creemes Ice Cream is a little stand by the waterfront. A maple creeme is a soft serve maple ice cream. They also have vanilla and chocolate but in Vermont go for the Maple flavored! It was yummy!
Extra: If you are tthere on a Saturday be sure to check out the Burlington Farmers Market. Learn more here: https://burlingtonfarmersmarket.org/
Day 2: Stowe, Vermont Area
The next day we took the 1 hour drive from South Hero, Vermont to visit Stowe, Vermont. Our goal with this stop was to take in as many fall leaves as we can. Plus we love mountain towns. Stowe is well known as a winter ski location.
Hwy 108 – Scenic Drive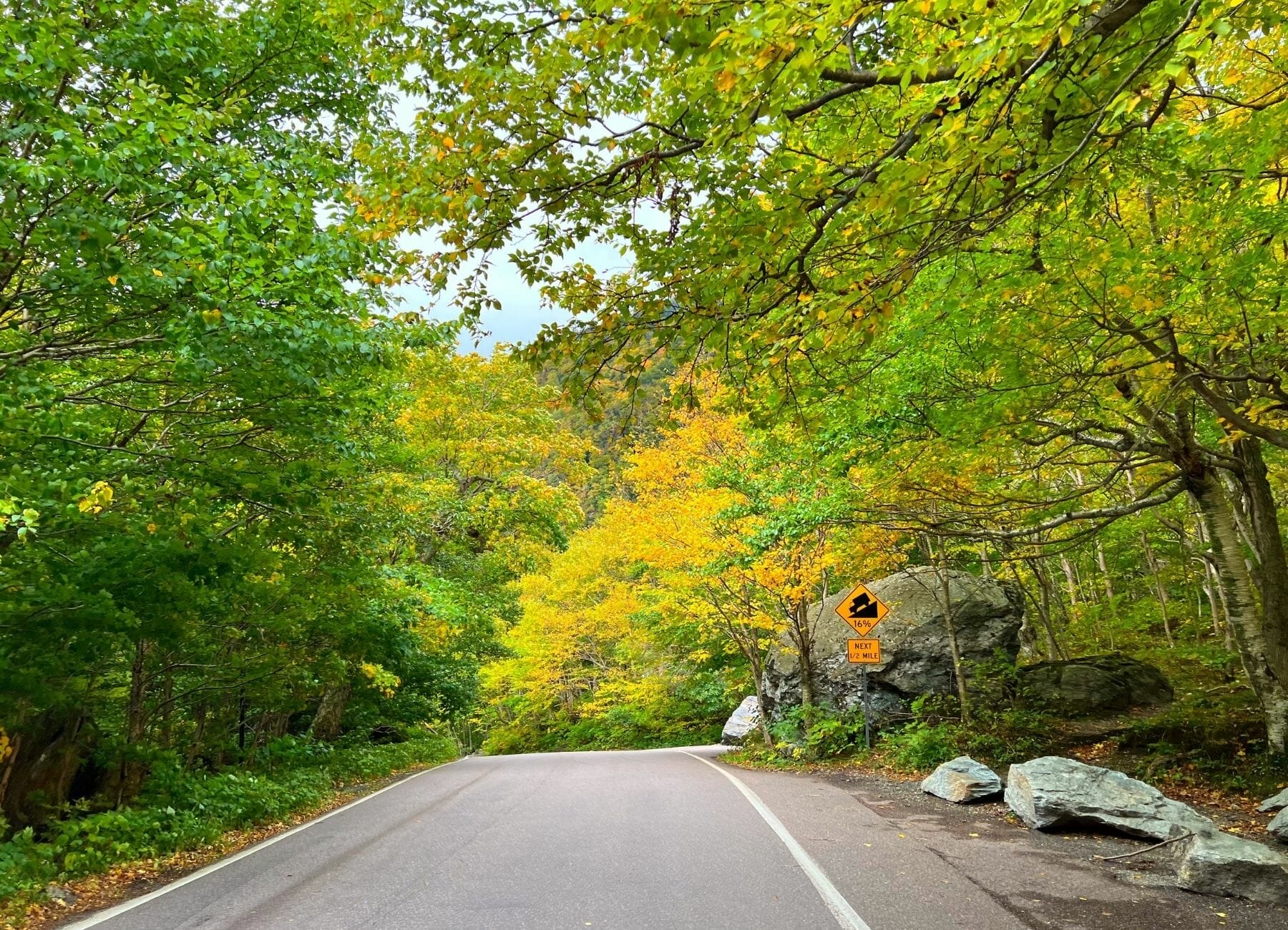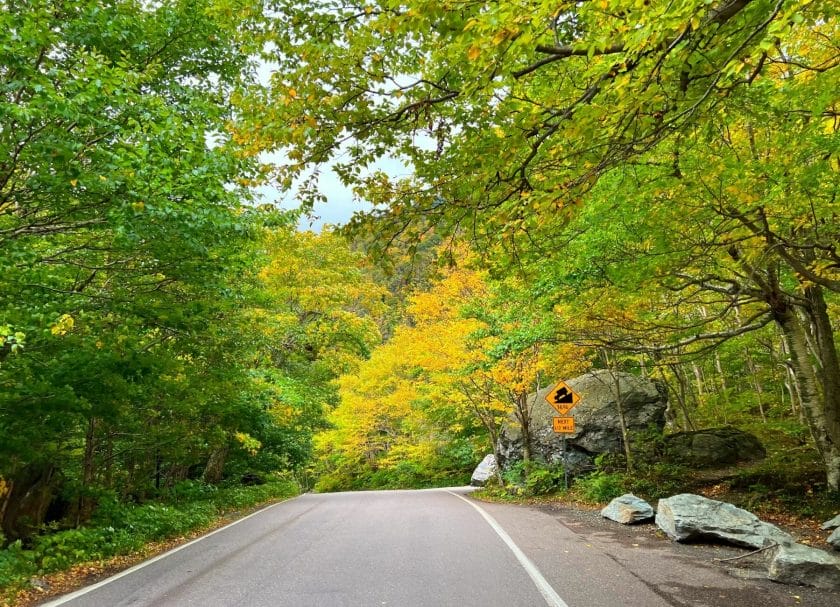 We started our day with a scenic drive on the 108 though Smugglers Notch. It was a beautiful drive especially with the fall colors. Take note their are limitations on this road and trails/RV's are not allowed for good reason. There are a couple tight single lane curves around big boulders.
Bingham Falls via Mills Trail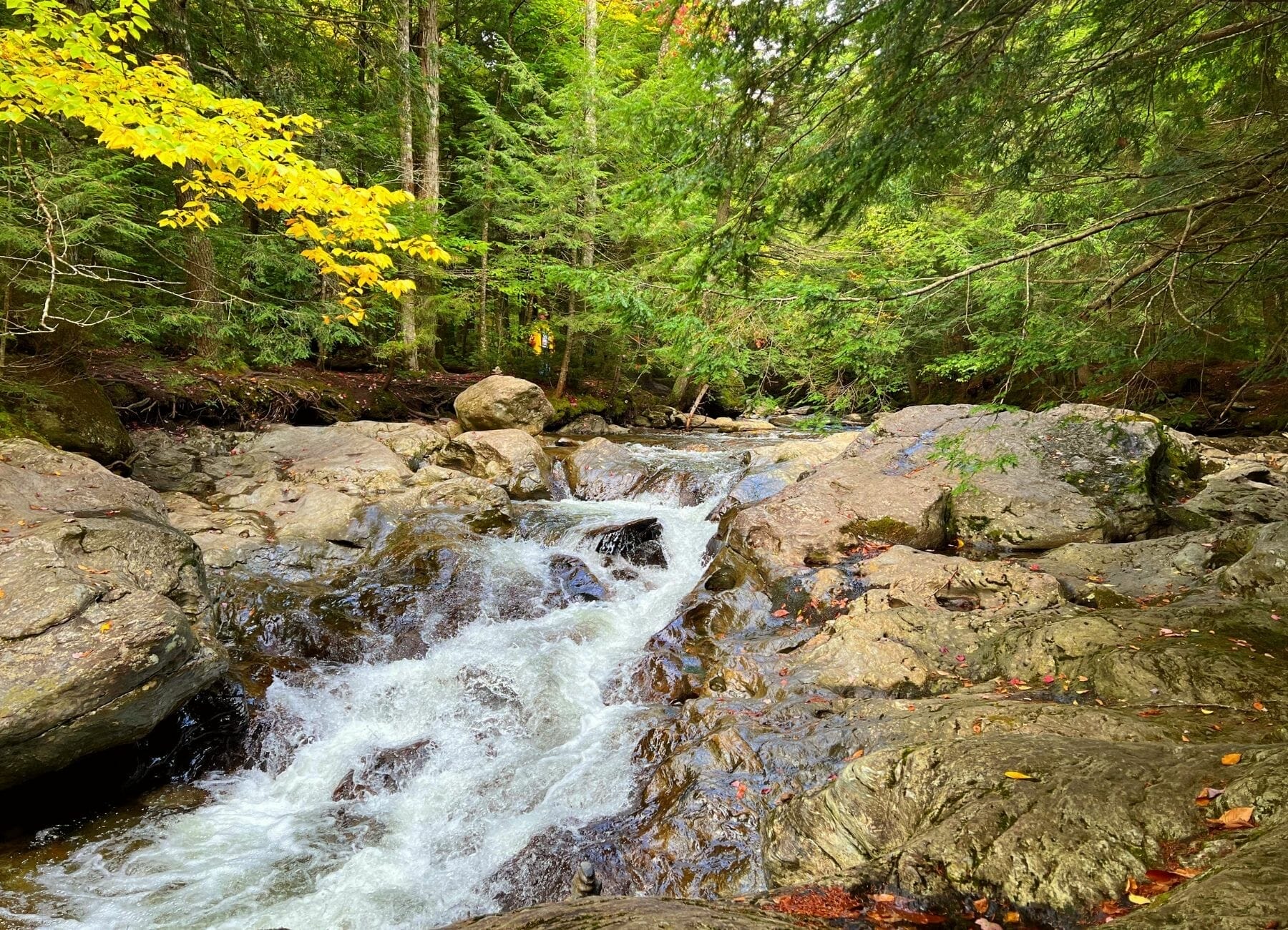 We started the day with a short 1.3 mile hike to Bingham Falls. It was right outside of Smugglers Notch State Park. The Falls were pretty and the walk was nice. Nothing crazy cool but always good to start the day with a nice hike like this.
Mt Mansfield Auto Toll Road
The plan was to drive to the top of Mt Mansfield via the Auto Toll Road . . . well we got there and ran into the bathroom and came out to get in line to drive the road (their is a fee you pay per car and person). And a whole group of like 25 mini-coopers drove in and got in line . . . we were told the wait would be LONG to get all of them up there.
They spread out when they let people go up as the road is tight and narrow in a lot of places. We opted not to do the road this time. But I was really disappointed! Next time!
Cabot Cheese Store
There is a Cabot Cheese Store a short drive from Stowe. It is a large cheese store but you do get samples when you walk in. The cheese was delicious and we left with a few different kinds!
Emily's Covered Bridge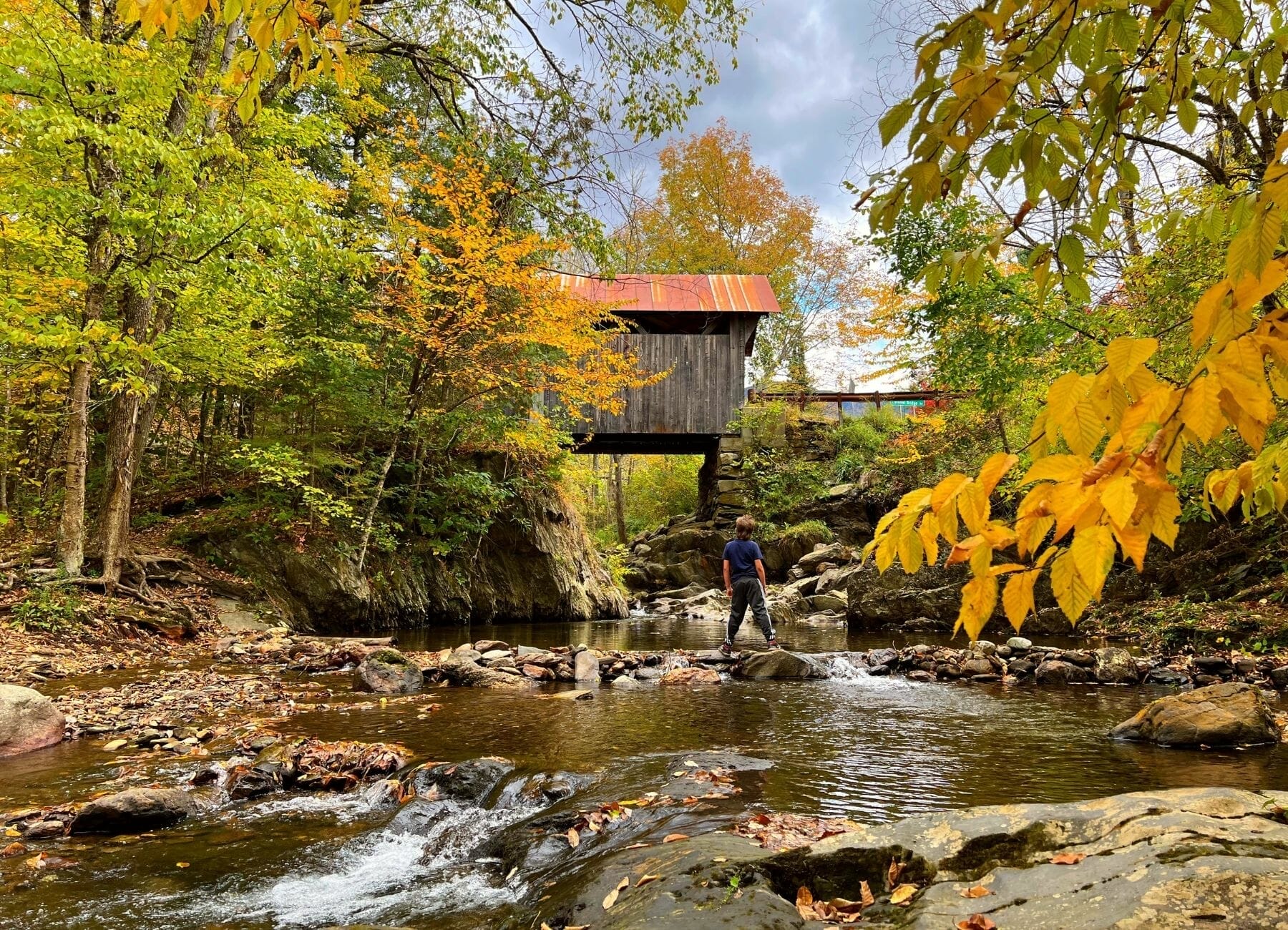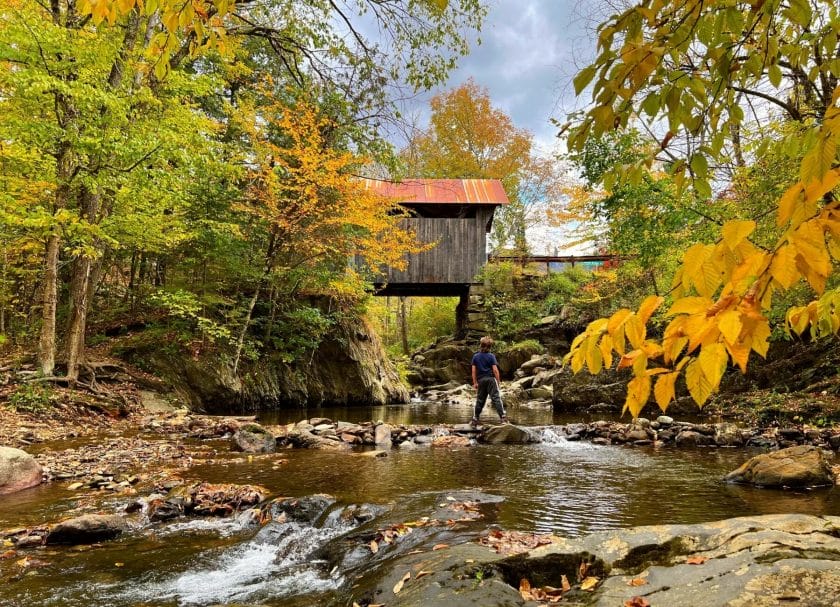 Next up we stopped at Emily's Covered Bridge (also known as Gold Brook Covered Bridge). There is a spooky story about this bridge so be sure to read about that when you get there. We pulled through the bridge and off to the side to get out and check it out.
The kids ran down by the water and had fun playing around there while Craig and I got some cool pictures of the covered bridge. This picture totally makes me think Vermont and visiting a
Cold Hollow Cider Place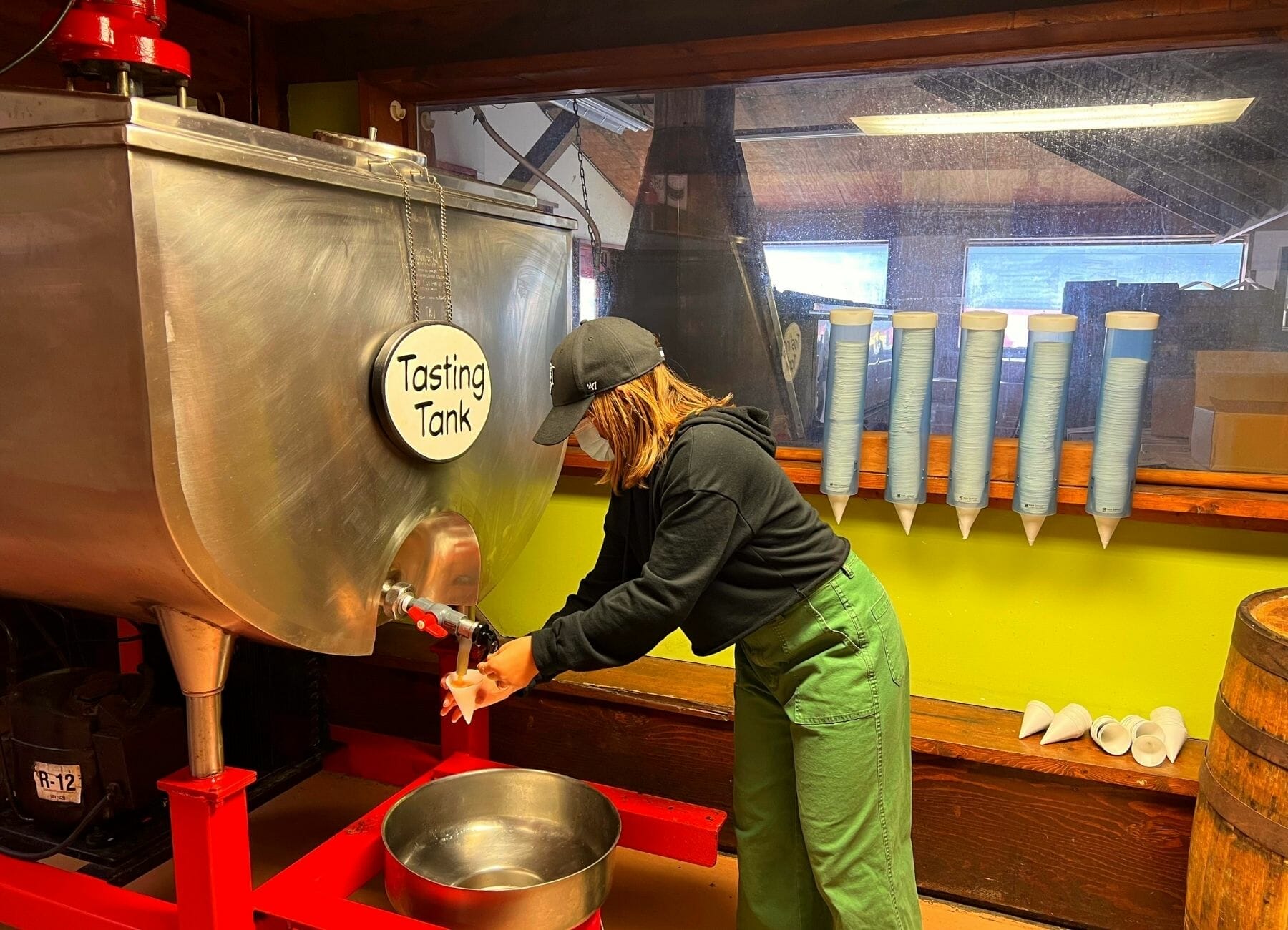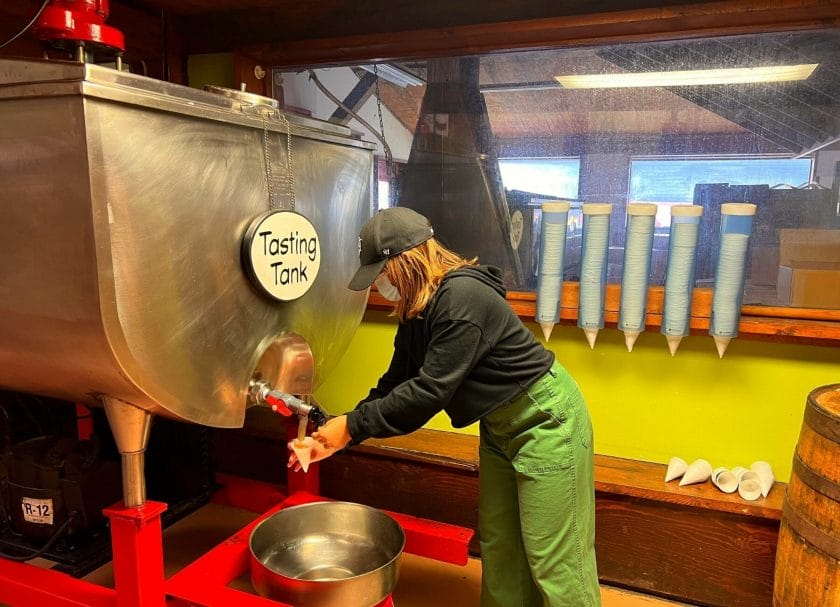 Everyone kept telling us to visit this place so we knew we had to stop. Plus they had hard cider so wasn't a hard choice!
They have a huge store filled with everything Vermont. In the back corner there is a cider sampling tub. It is a huge tub with a spigot where you can try a cup of cider. It was delicious! This is also where you can see them pressing apples into cider when they are doing that.
Outside there is a an area where you can watch them make their apple cider donuts. It smelled so good!! We also bought a few donuts to try and they were delicious.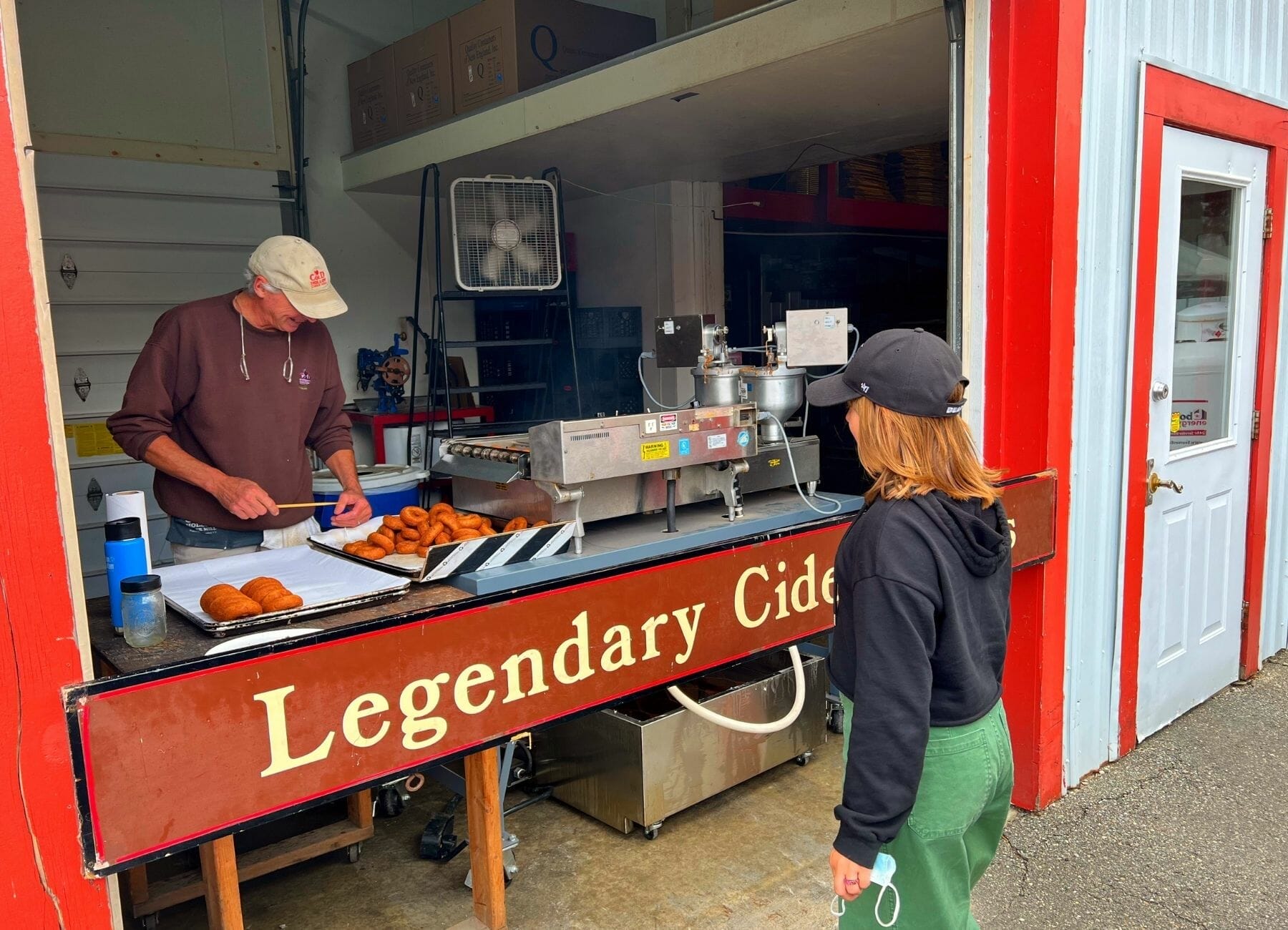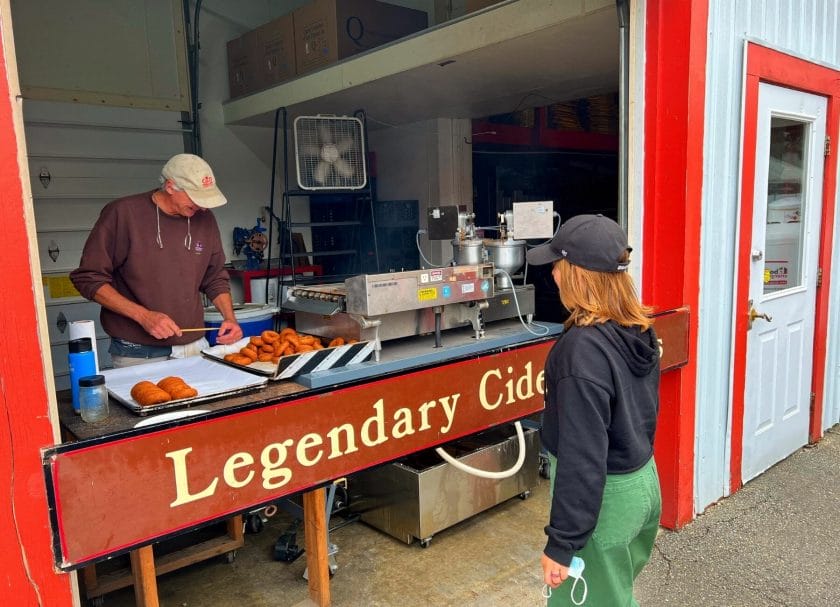 Once we were done with the Cider Mill part the kids sat at a picnic table outside and we went into the Hard Cider tasting room and sampled a bunch of ciders. They were good! We could see the kids right outside the window so it worked out well.
They also had a cooler full of local beers and if you asked at the Cider counter they can get one for you if you prefer beer over cider. Or you can buy some to take home with you.
This is also where they have the restaurant where they server breakfast and lunch. It looked delicious and next time we will try to eat here.
Scenic Drive
In the fall a scenic drive should be at the top of the list! We did ours on the 108 coming from South Hero. But there are multiple other options around the Stowe area. You can check them out here:
Walk on Main Street In Stowe
We actually didn't plan to do this but when we drove by and saw how cute it was we knew we wanted to! We found parking off of one of the side streets and made our way to Main Street. It was a short walk but there were cute shops so it was worth the stop.
Picture Overlooking Stowe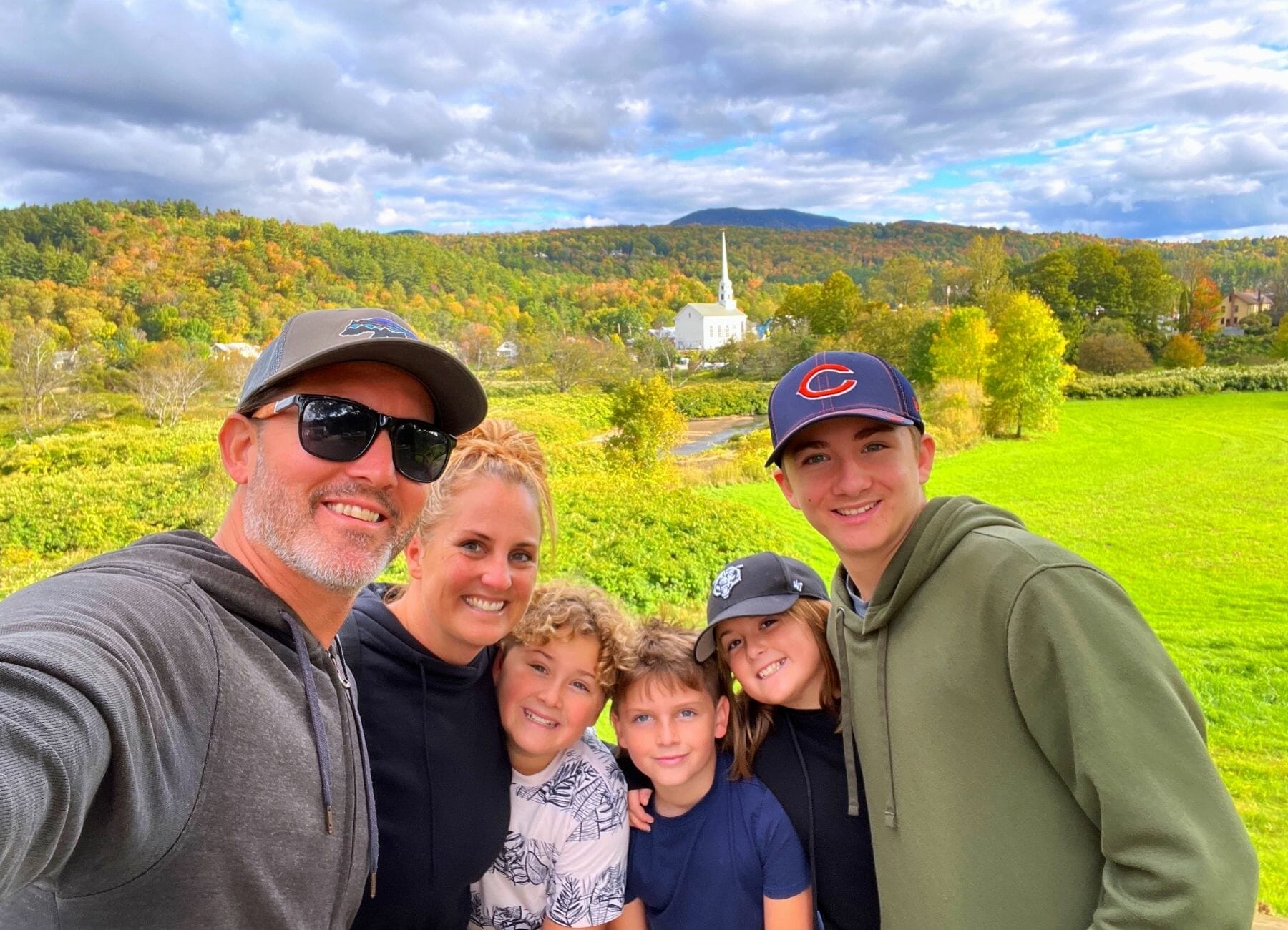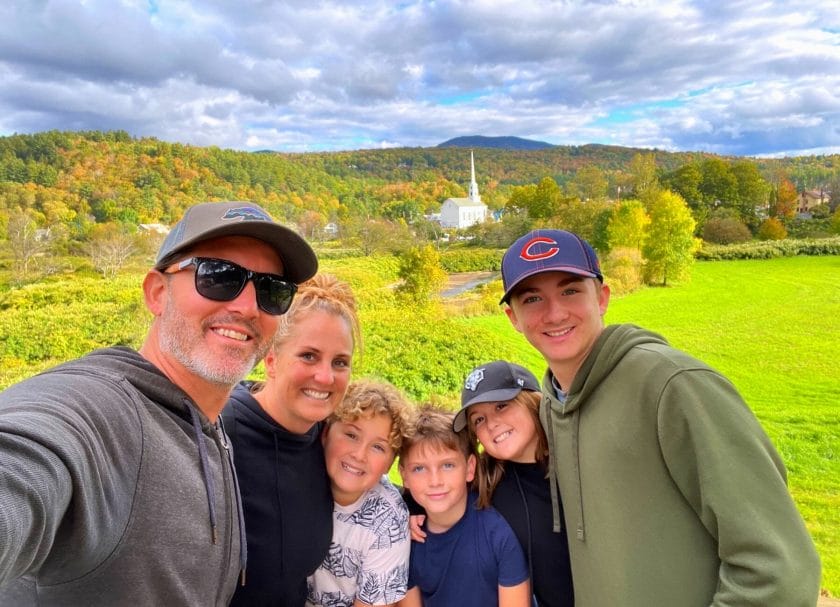 If you leave Main Street and walk towards Salon Salon you walk through a covered bridge walkway with a Stowe sign (Great picture opportunity) and make your way to the overlook at Salon Salon. This isn't anything official but it is a great spot to grab a picture.
The Backyard
You can keep walking and make your way to The Backyard. A bar/restaurant that had a great selection of drinks and vegetarian and meat options. We sat outside with a firepit behind us and it was great.
Stowe Cider
You will want to get back in your car to make the drive to Stowe Cider. It is a large Cidery where you can sit inside or outside and sample their ciders. There was also a food truck here when we were there.
The Alchemist
This brewery was recommended to us as the BEST in the US. Craig's favorite beer it Pliney The Elder from Russian River Brewing Company and he had heard that the Heady Topper beer at the Alchemist was comparable. Of course we had to find out!
Unfortunately the brewery was closed due to construction but he was able to get a can of beer and he loved it! He even went as far to say it did compare to the Pliney – those are big words from him.
Skiing
If you are looking to come in winter be sure to check out the Ski resort and mountain options around Stowe. It looked like a fun ski area to be in the winter!
Other Vermont Tourist Attractions
Quechee Gorge
A beautiful gorge with hiking trails to take in more unique Vermont scenery.
Rock Of Ages
Go on a quarry guided tour of this unique spot! They also have a cement bowling lane and a visitor center and gift shop.
Vermont Waterfalls
You may not have considered looking for waterfalls while in Vermont but you should! Here are 11+ Vermont Waterfalls and Swimming Holes (map included).
Summary of 2 Day Itinerary
Day 1: Burlington, Vermont
Shelbourne Farm
Sugar Tree Maple Farm
Morse Farm Maple Sugarworks
Walk on Church Street Marketplace

The Crystal Cottage of Vermont
Smugglers Notch Distillery
Lake Champlain Chocolates
And all the other random stores you want to stop in!

Find Street Art
Citizen Cider
Lake Champlain Waterfront
Foam Brewery
Creemees Ice Cream
Day 2: Stowe, Vermont
Hwy 108 Scenice Drive (especially in fall)
Bingham Falls via Mills Trail
Mt Mansfield Auto Toll Road
Cabot Cheese Store
Emily's Covered Bridge
Cold Hollow Cider Place
Scenic Drive (there are a lot in the area)
Walk on Maine Street in Stowe
Picture Overlooking Stowe
The Backyard for Dinner
Stowe Cider
The Alchemist
Where To Stay
We did this trip in our RV. I actually tried to find an RV park closer to Stowe but everything was booked so we ended up in South Hero at Apple Island RV Park. It was a super nice RV Park (more on that below)!
We were glad we were able to explore Burlington and Stowe so if you are looking for a hotel or VRBO option I would recommend looking somewhere in the middle of those.
RV Options
Apple Island RV Resort – this was a very well run RV park with nice big sites. But our favorite part was that we could order breakfast in the morning and they would deliver it to our site! It was just 3 breakfast sandwich options but that worked perfectly for us.
Hotel Options
Sterling Ridge Resort is in between Burlington and Stowe and would make a good base.
Green Mountain Inn is right in Stowe and would be a great place to stay to explore Stowe.
Courtyard Burlington Harbor is right in Burlington and would be perfect for exploring Burlington.
If you decide to stay in Stowe or Burlington you can always day trip to the other place. It is only about 45 minutes or so and there are scenic drives to do on the way.
VRBO Options
Hot Tub and Close to the town of Stowe and the Mountain!
Lake View close to Burlington, Vermont
There you have it! Be sure to add Vermont to your places to visit in the United States and if you want to keep traveling this area be sure to check out our East Coast Road Trip post that will be coming out soon!
Pin This Post: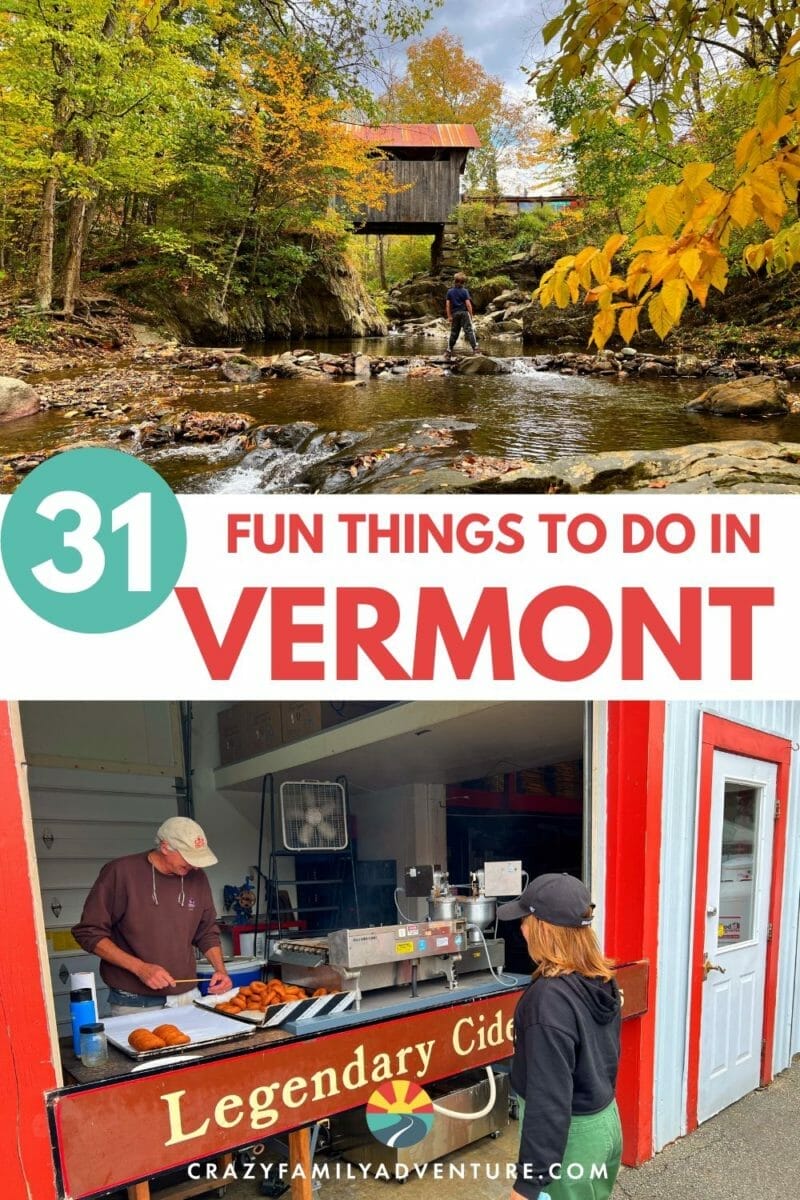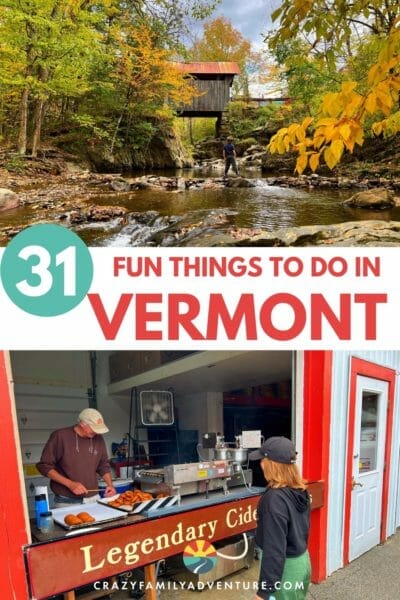 More posts from cool places to explore:
45 Places to Stop on Your Ultimate Vermont Road Trip
17 Fun Things To Do In Acadia National Park
11 Things to do in Bar Harbor, Maine
Visiting New York City With Kids [Itinerary Included]
Best Things To Do In Smoky Mountains National Park
9 Amazing And Fun Things To Do In Asheville With Kids
6 Epic National Park Road Trip Ideas [Maps Included]
25 Fun And Exciting Things To Do In Chicago With Kids
The 15 Best Things to do in Wisconsin in Winter
14 Best Things To Do In Lincoln New Hampshire
DISCLOSURE: This post may contain affiliate links, meaning I get a commission if you decide to make a purchase through my links, at no cost to you. Please read my disclosure for more info.