The Great Smoky Mountains National Park in Tennessee is a great National Park to visit with your family! Below we share our recommended 4 night/3 day itinerary for things to do in Smoky Mountains National Park!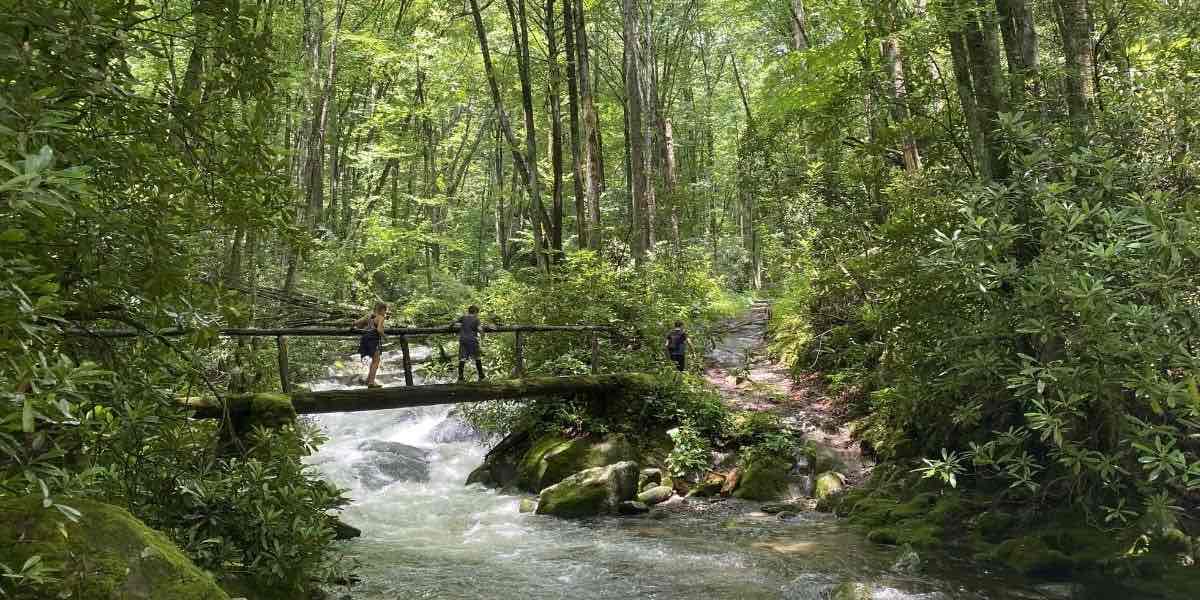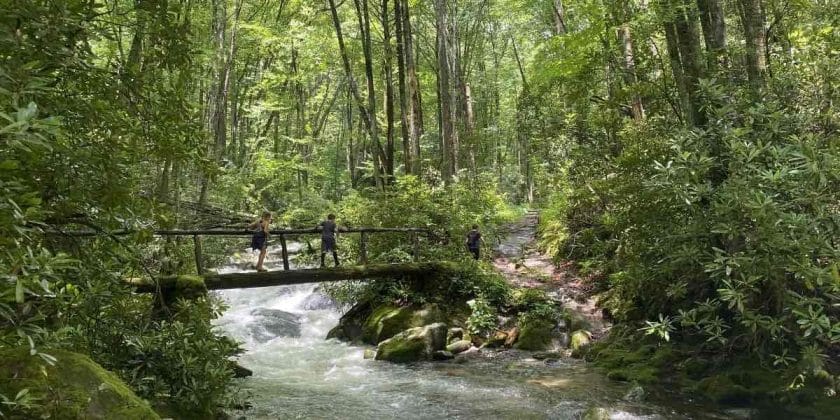 Whenever we visit a park, we like to see all sides of it and really explore different areas – not just the top visited or popular places. When planning our Smoky's trip we did just that and planned to see multiple areas of the park including a few scenic drives.
*We stayed in the park at the Elkmont campground – more details below about where to stay in the Smoky's!*
3 Day Itinerary
Day 1 – Southside
Start the day by driving through the park to the Kephart Prong Trailhead. If you want to keep going on Day 1 you could go all the way to the Oconaluftee Visitor Center on Newfound Gap Road and visit the Mountain Farm Museum as well. At the museum there are historic buildings and a historic grist mill.
You could also make a stop at the Sugarlands Visitor Center and check out the hiking trails there.
Map Of Day 1:
Kephart Shelter Trail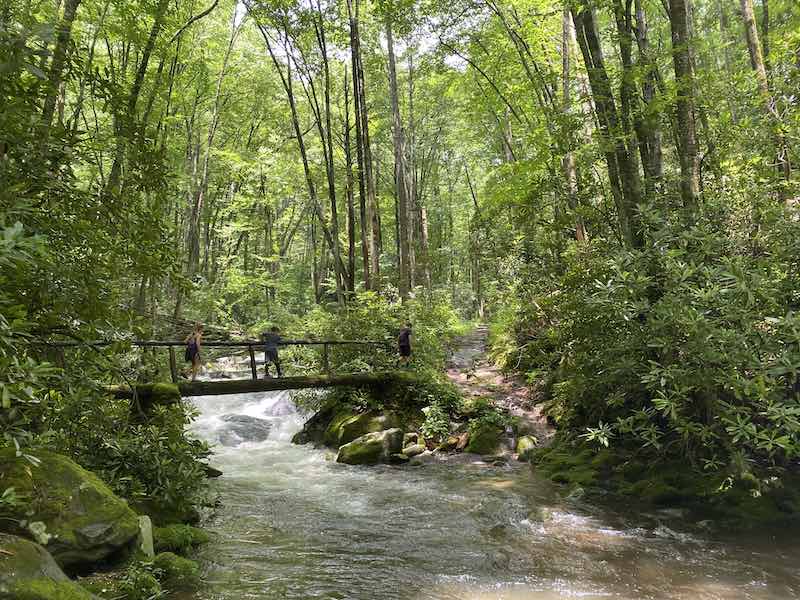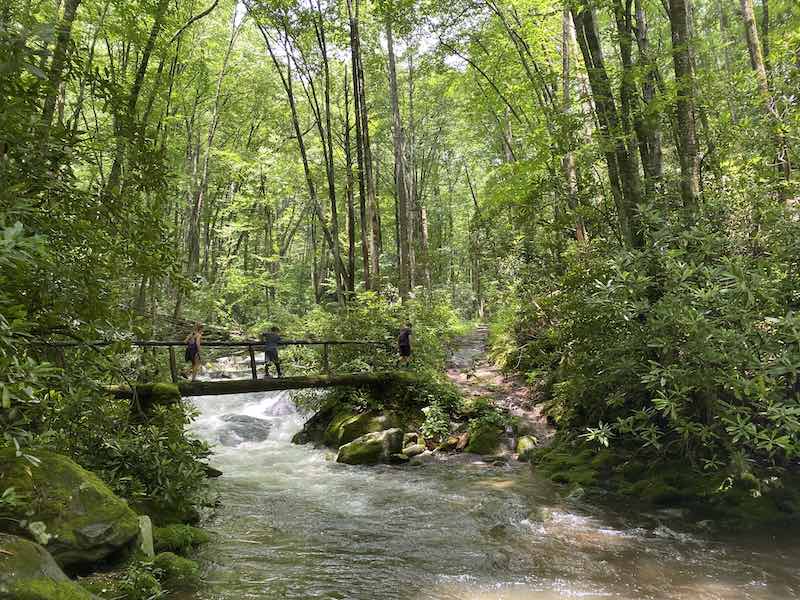 This is a 4 mile hike that takes you across 4 log bridges that are open on one side! They were a bit scary for our 8 year old, but also really cool to walk across. The Smoky Mountains are one of the best National Parks for kids!
You will cross 4 of these on the way there and then recross them on the way back.
There is a definite incline to this hike, so be prepared for that. It also just takes you to a backpackers shelter, so no scenic ending, but the hike there is well worth it and beautiful. Plus it was not a busy trail which was really nice!
Check out our post: 15 Tips For Hiking With Kids
Newfound Gap Overlook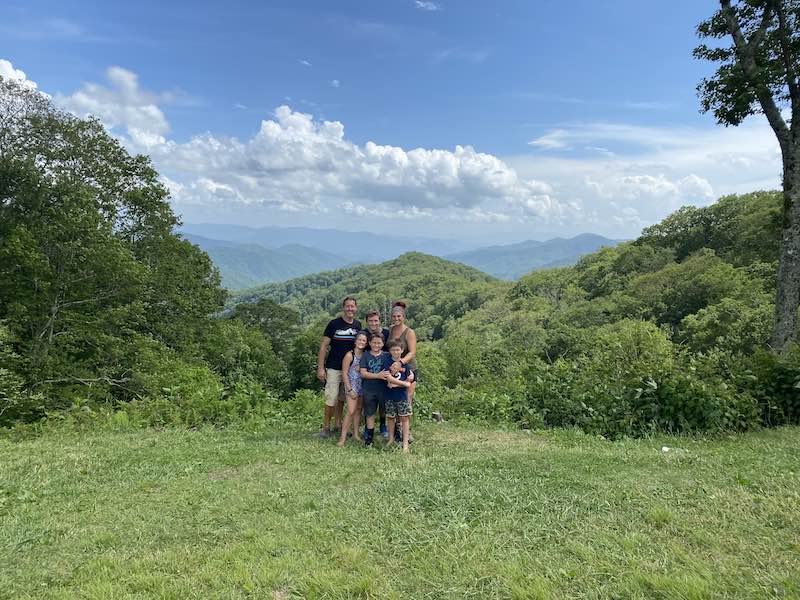 On the way back through the park make a stop at the Newfound Gap Overlook. From here you will have blazing fast internet (nice if you are staying in the park and haven't had any internet – so get those IG pictures posted).
Plus it is a gorgeous mountain views and the perfect place to stop to get out for a lunch break and to take in a view of the Smoky Mountains!
Clingmans Dome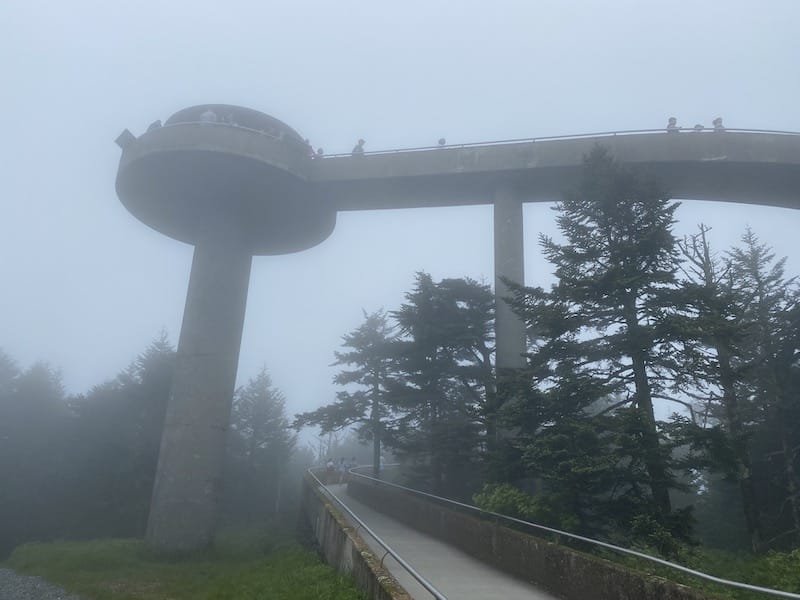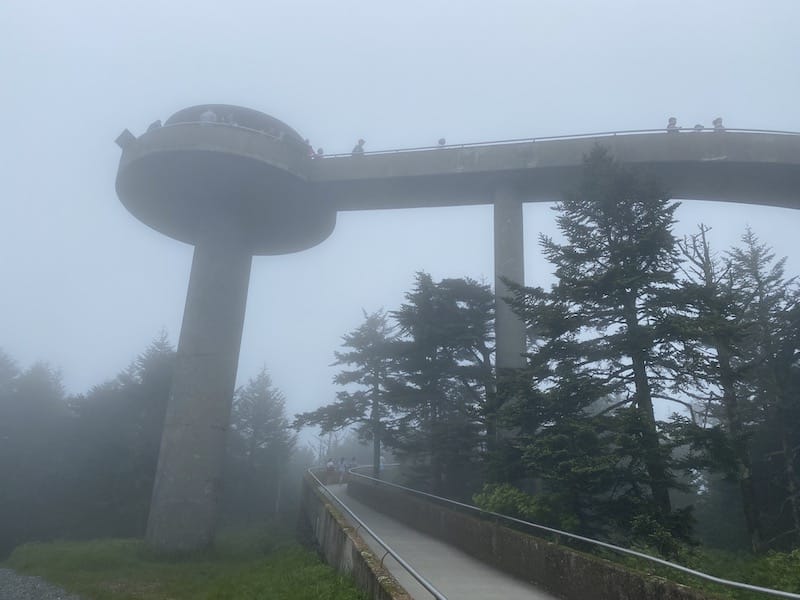 Take note that this can be totally hit or miss. It is called the Smoky's for a reason, so if it is a cloudy day the view is most likely not going to be good at the top.
Don't let this stop you from walking the 1/2 mile up to Clingmans Dome! The trail is cement all the way up – it is a high incline so can be a challenge.
Once at the top there is an observation tower you can walk up. Both times we have done it it was too cloudy to see anything. But with a clear sky it would be amazing!
The drive up to Clingmans Dome is also beautiful and the view from the parking lot is really nice!
That will wrap up day 1 and still give you time to get back to enjoy the campground, Airbnb or hotel! Plus Gatlinburg has a lot of different restaurants to pick from and so does Pigeon Forge.
If you want to stay in the Gatlinburg area check out these great Gatlinburg cabin rentals!
Day 2 – Cades Cove Area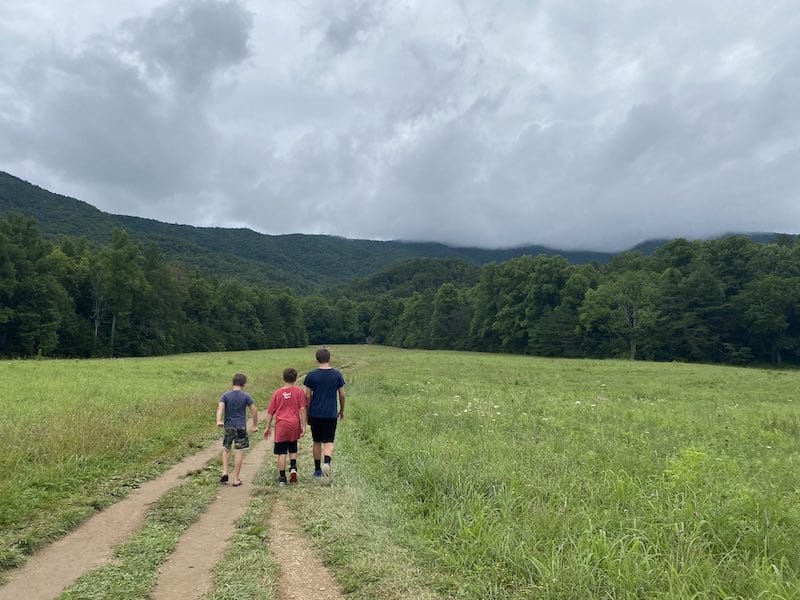 Cades Cove is a popular area of The Smoky's and has a lot of history. Last time we were here we didn't visit, so we knew this time we wanted to check it out. It can also be a place where you can spot black bears and other animals. Plus there was a cool hike we wanted to do in Cades Cove!
Map of Day 2
Cades Cove Loop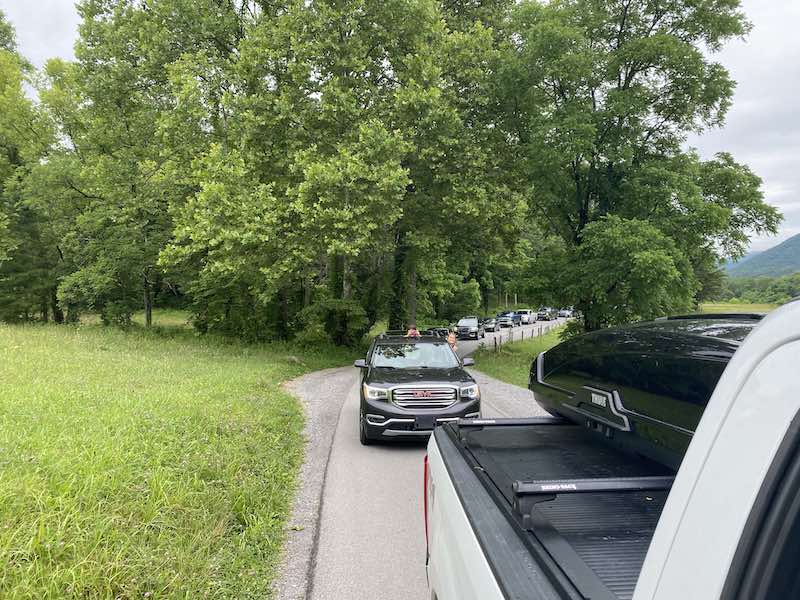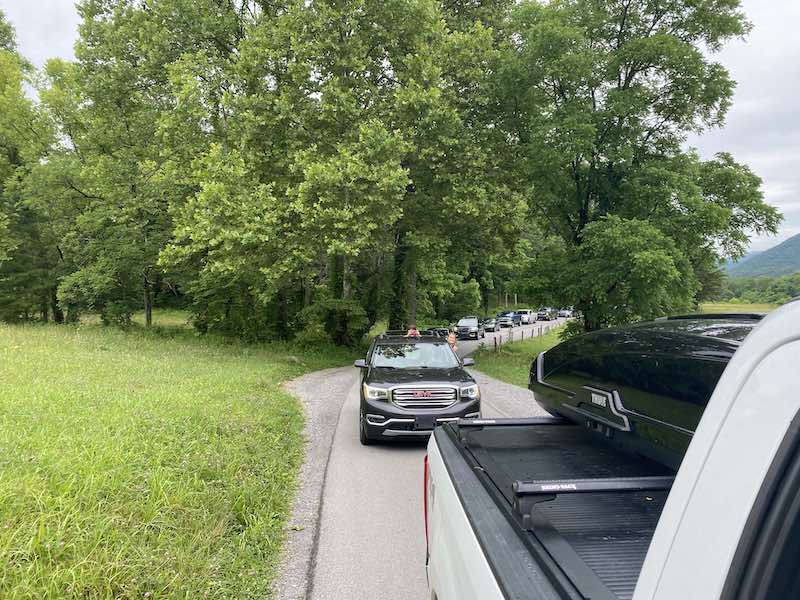 I will start by saying be prepared when you enter the Cades Cove Loop . . . once on it you can only get off it in a few places or else you just have to finish the whole thing. Which can take hours.
It is a one lane road. . . If you don't see any animals in all honesty it can be pretty boring . . .
Luckily we were with our friends ZulaLife so the kids swapped cars and were yelling trivia to each other between the cars. Then for the second half, they rode in the back of the truck so that made it better too.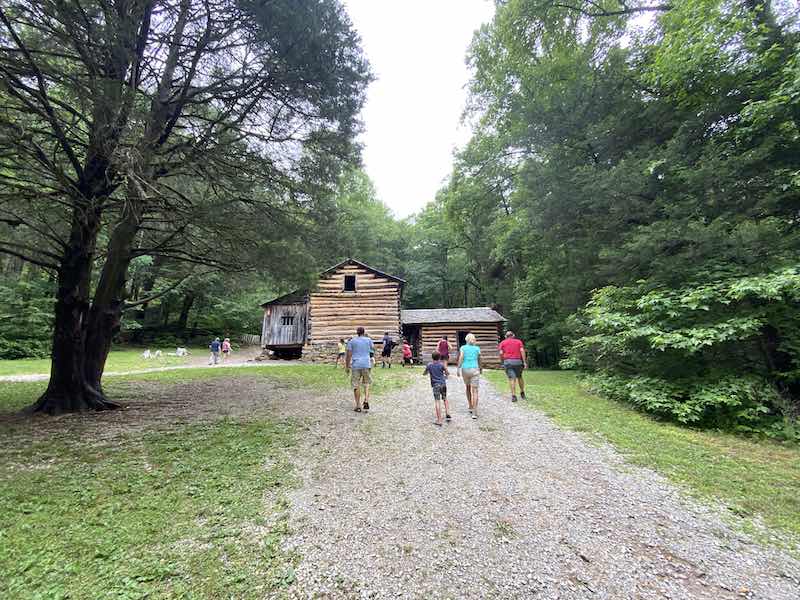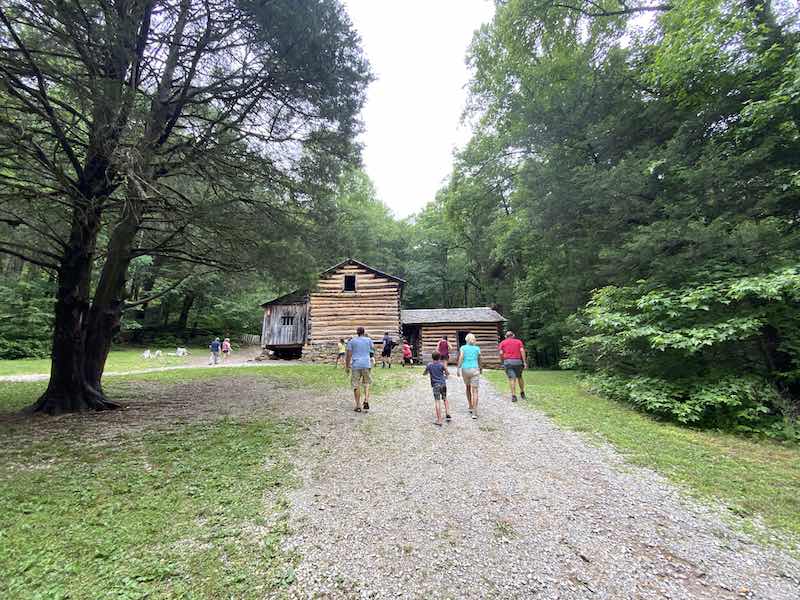 There are multiple stops along the loop where you can get out and walk the grounds of historical cabins and learn more about the history of Cades Cove.
Abrams Falls Trail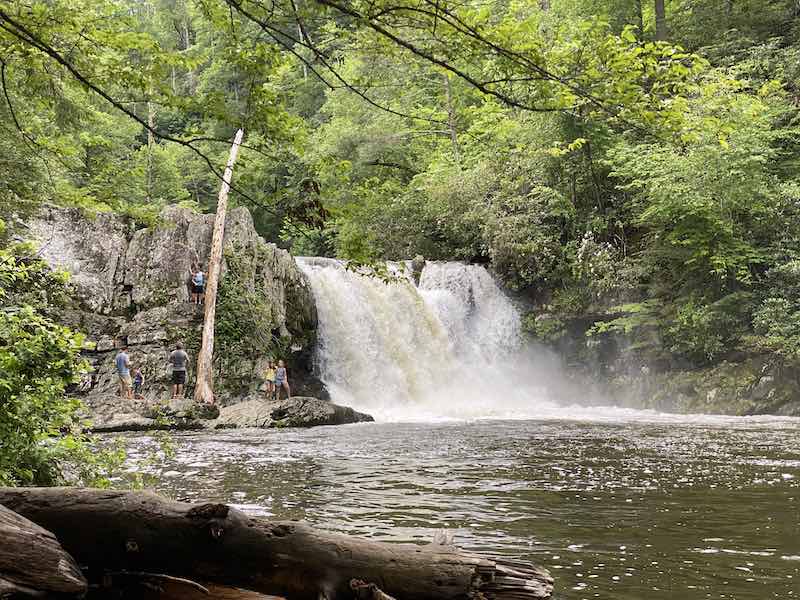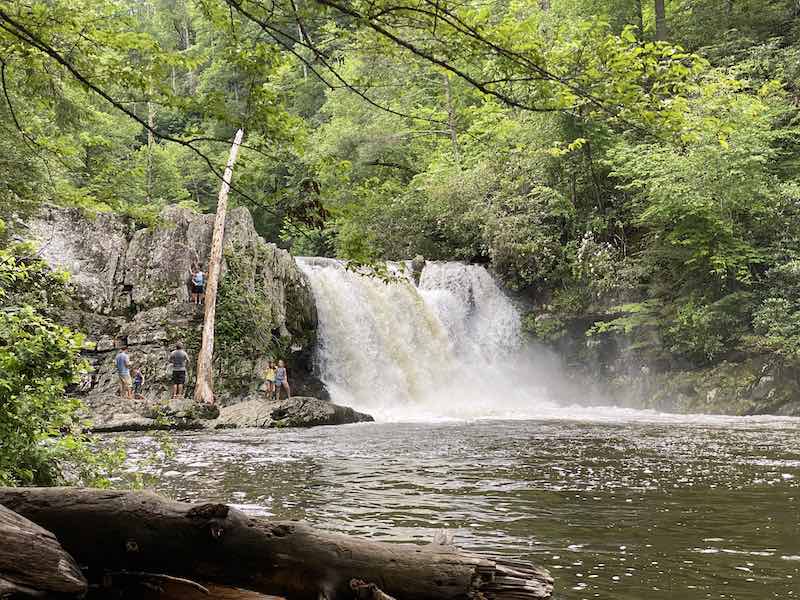 This trail is located off of the Cades Cove loop road. It is a 5 mile out and back trail to a waterfall.
There are a lot of ups and downs on the trail, but our kids did great and it is totally doable. At the end of the trail is a waterfall that you can take in from a far or walk pretty close to – just be really careful as the rocks are slippery.
It was nice when we got to the falls to take our shoes off and put our feet in the cool water. Some of our friends who did the trail went in the water to swim. It was interesting since we were there just a few days before them and there wasn't really a good swimming area when we were there.
When they were there there was a perfect spot to walk further out in the water and take a dip! There was a lot of rain when we were there so must have to do with that and how high the water is at the base of the waterfall.
The only bad part about the hike is when it is done and you are ready to go you have to get back on the Cades Cove loop road and depending on how many people are on the road it can take a LONG time to get off of the road . . . so be prepared for that.
In the end I would say Cades Cove was cool, but would not be at the top of my list of things to do. The loop road is just so long and gets kind of boring . . .
Also note that 2 days a week the loop is closed to cars and can only be done on bikes. I do think that would be a cool experience to try!
Day 3 – Roaring Fork Motor Trail
Similar to the Cades Cove Loop is the Roaring Fork Motor Trail that is located in the east side of the park. To get to this road you have to leave the park and drive through Gatlinburg to enter the road. We did this road to access the Grotto Falls trail.
Day 3 Map
Roaring Fork Motor Nature Trail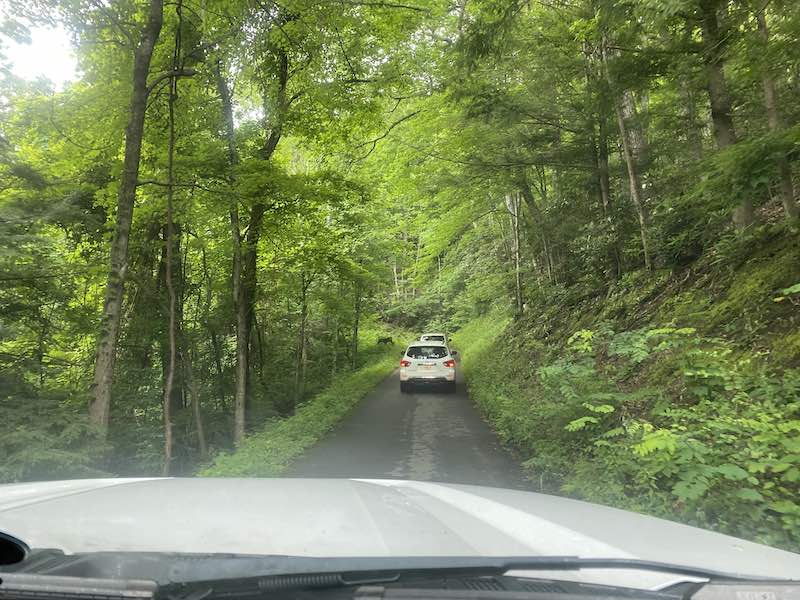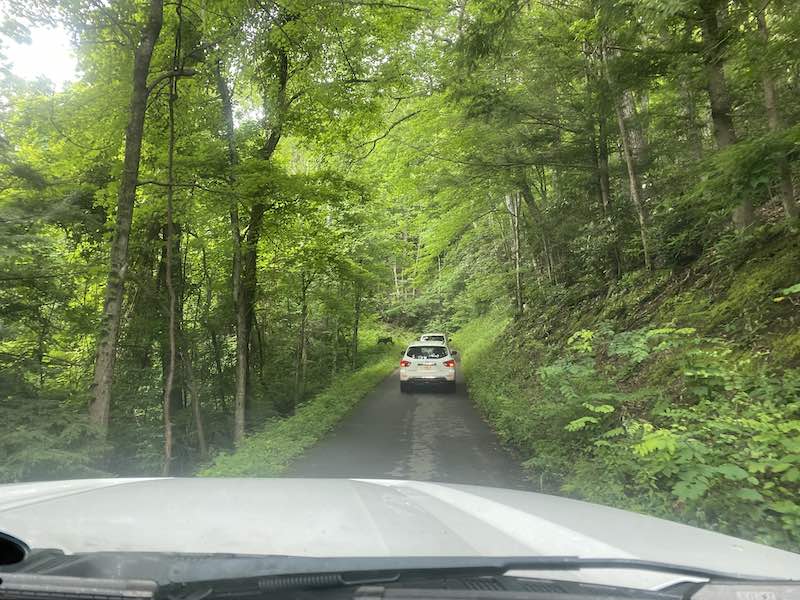 A loop road that takes you through the east part of the Smoky Mountains. It is a beautiful road that takes you through the mountains and trees. But again it is a one lane road so once you are on it, you are on it!
Grotto Falls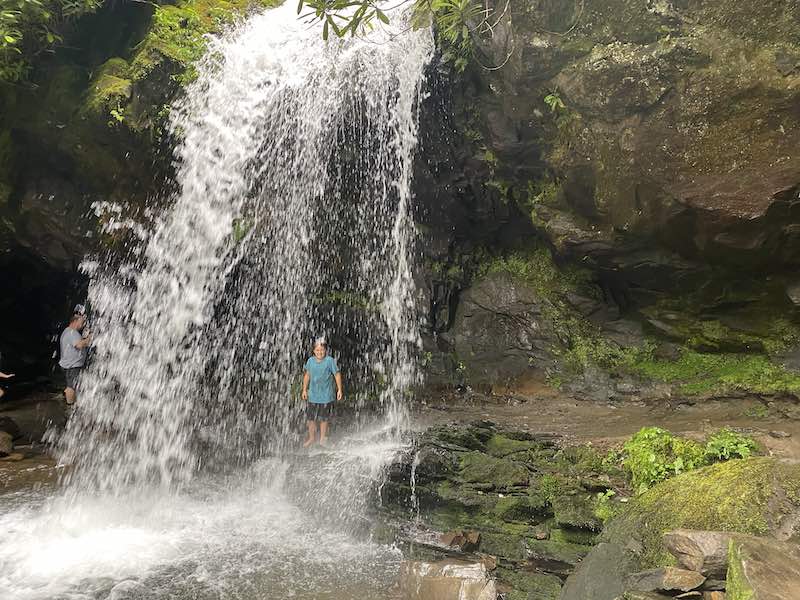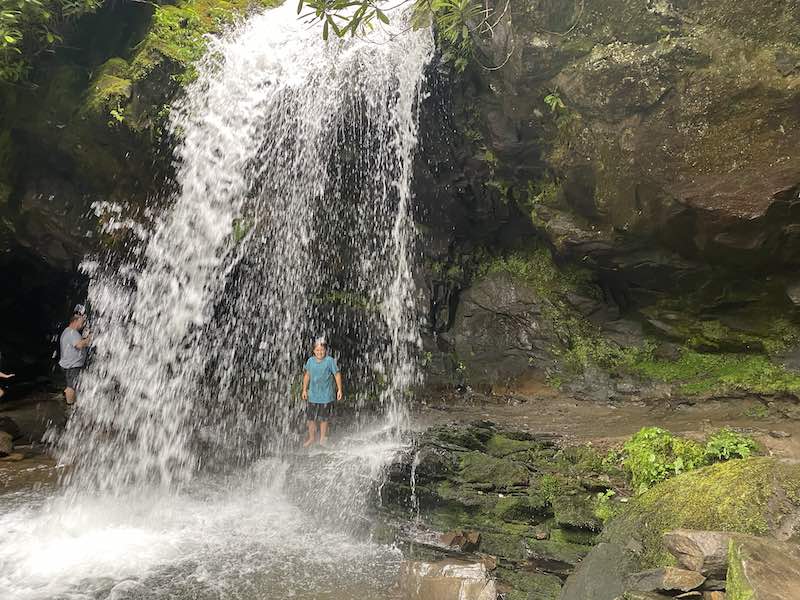 A 2.5 mile in and out trail that takes you to a waterfall! The coolest part is that once you get there you can walk behind the waterfall. Downside was it was super busy, but we also went in the middle of the day.
We have heard if you go super early you can have the place to yourself. I would guess it is the same if you went later at night.
You can also play in the water below the falls that cascades down into multiple pools. This was an awesome hike and definitely one we recommend doing when here. But know it is popular and busy.
We have also heard that Laurel Falls and Rainbow Falls is a great hike to do here too – but is longer at 6 miles.
Gatlinburg and Pigeon Forge
There are a lot of things to do in Gatlinburg – mostly touristy attractions like the Gatlinburg Space Needle, Ripley's Believe It or Not, Ripley's Aquarium, plus amusement parks like: The Island and Dollywood's Splash Country and more!
If you are looking for this type of a trip be sure to check both of these cities out. But also know there is plenty to do in the National Park to keep you busy!
Here is our post on the Gatlinburg area when we visited when our kids were younger. There are also some great things to do in Pigeon Forge.
Where To Stay
Campground
There are a lot of campgrounds found outside of the park – but note that most of them are very expensive. If possible we always recommend staying in the National Park at a campground!
Elkmont Campground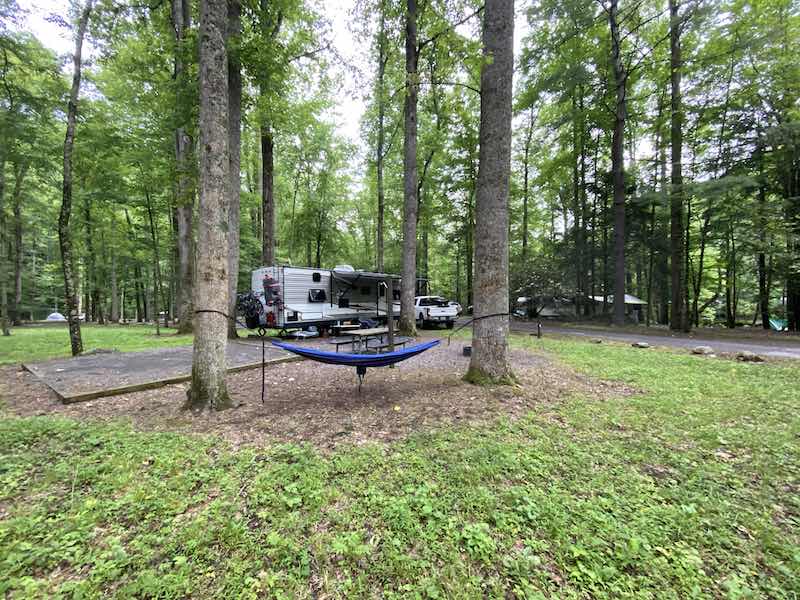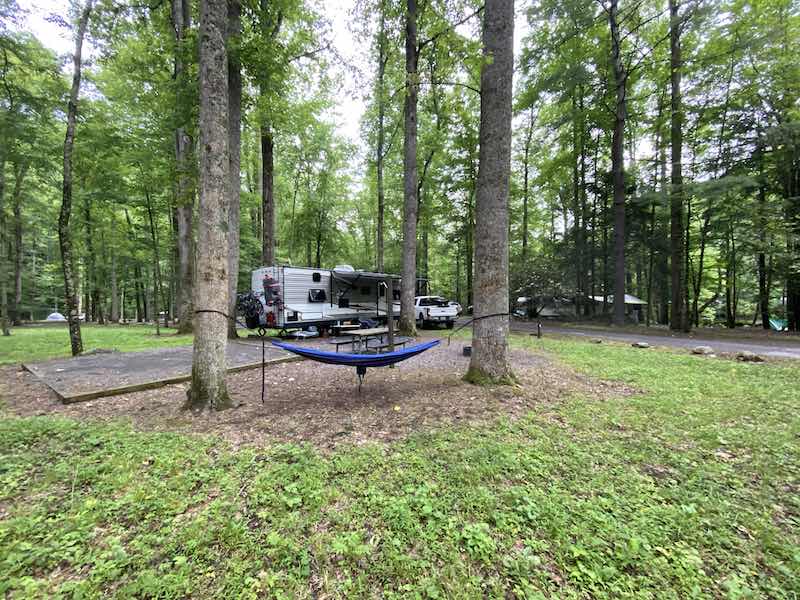 This is where we stayed when we were there. It was an awesome campground located right in the park. But note there are no hookups here and there is a size limitation (you have to be 35 feet or under). Also there was no cell service.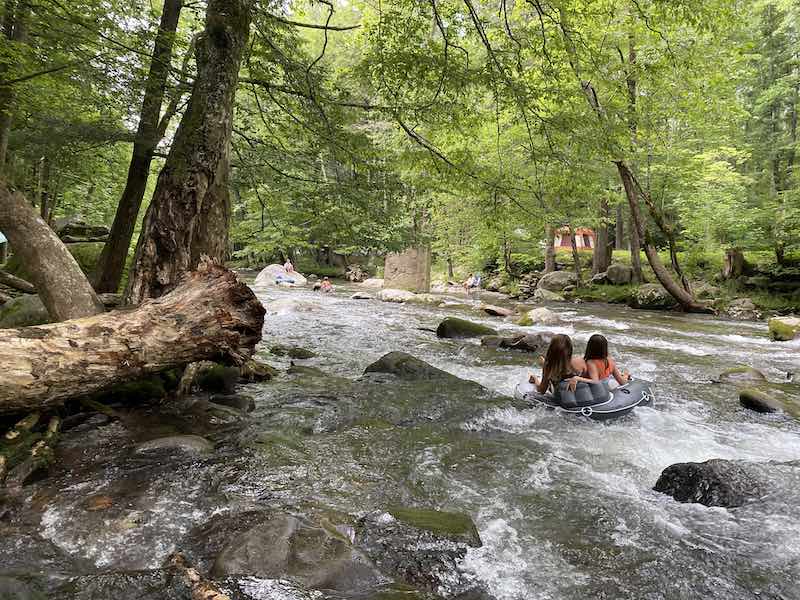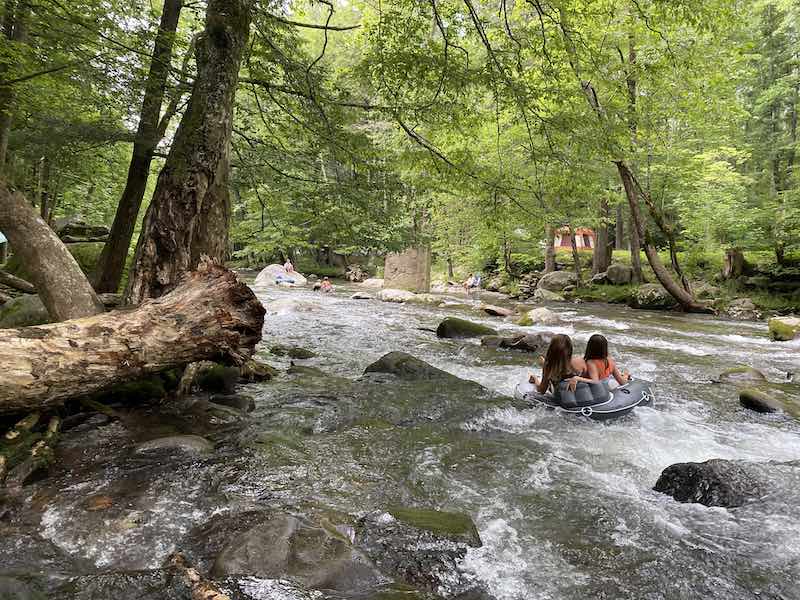 It was located right next to a river and the kids had fun taking the tubes down the river!
Learn more about the Big Creek Campground.
Vacation Rental
There are lots of great Vacation Rental options in Gatlinburg, Pigeon Forge and the surrounding cities. From log cabins to Gatlinburg Cabin Rentals and condos to regular houses!
Hotel recommendations
Bearskin Lodge on the River is a beautiful hotel with rustic look but indoor charm. Continental breakfast is provided every morning. Amenities include a swimming pool, outdoor fireplace, fitness center, and lazy river!
The Resort at Governor's Crossing is a large family-friendly hotel featuring an indoor water park and seasonal outdoor water park. There are two swimming pools, a hot tub, sauna, fitness center, game room, playground, mini golf, and more!
If you're looking for a less touristy area, check out the Historic Tapoco Lodge. This more adult-centered hotel features a restaurant, bar, and lounge area. They also offer continental and buffet breakfast options. With a more cabin-feel and mountain charm, you'll enjoy your stay here!
We definitely recommend that you visit Great Smoky Mountains National Park! There are a lot of trails in the park where you can walk on the Appalachian Trail. You could also try fly fishing and stop in Gatlinburg to pick up a travel guide for the area.
Other things to do around the Smoky's:
Things to do in Cuyahoga Valley National Park
7 Amazing Things To Do In Asheville, North Carolina
The Most Amazing Things To Do In Chattanooga
11 East Coast National Parks In The United States You Want To Visit This Year
Pin This Post For Later: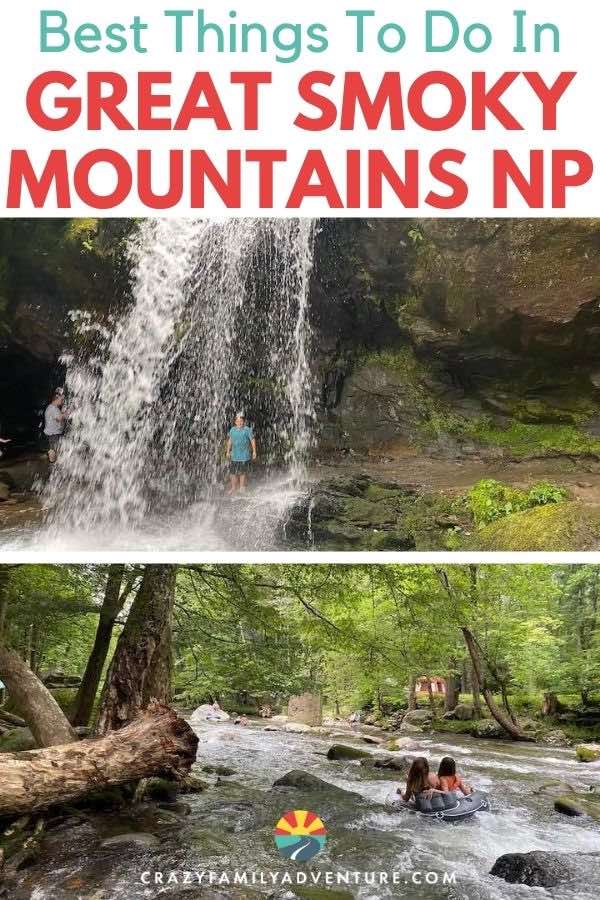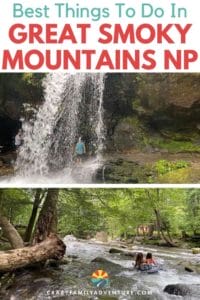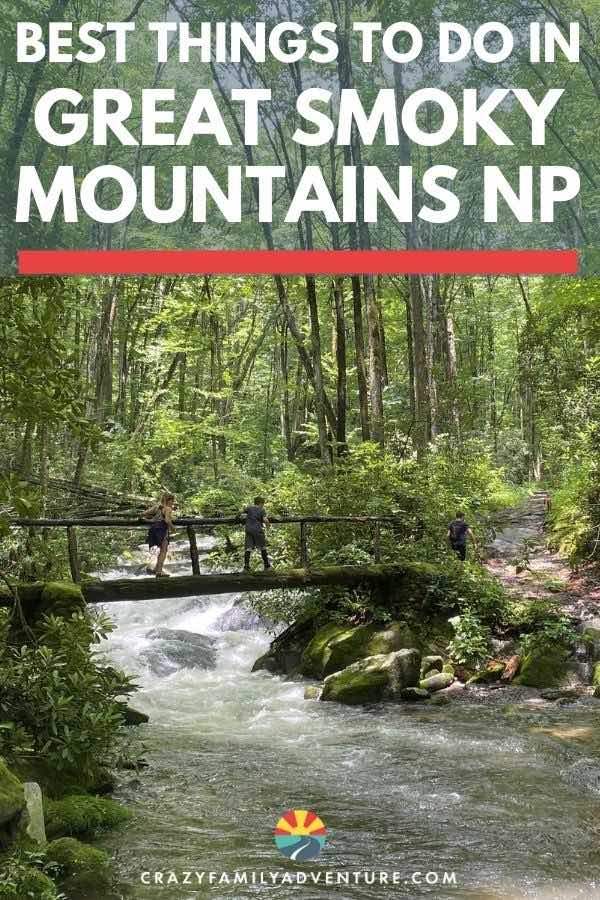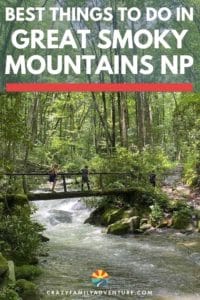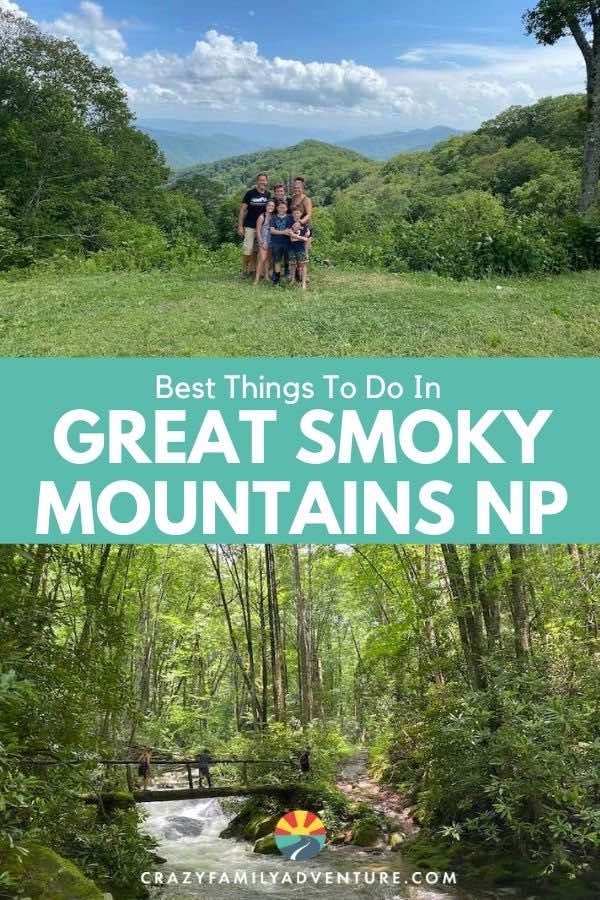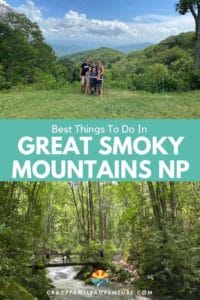 DISCLOSURE: This post may contain affiliate links, meaning I get a commission if you decide to make a purchase through my links, at no cost to you. Please read my disclosure for more info.