Tennessee has so much to offer it is hard to narrow your trip down! But we have picked our favorite stops to help you plan your Tennessee Family Road Trip! Get ready to head to Nashville, Memphis, Chattanooga and the Great Smoky Mountains!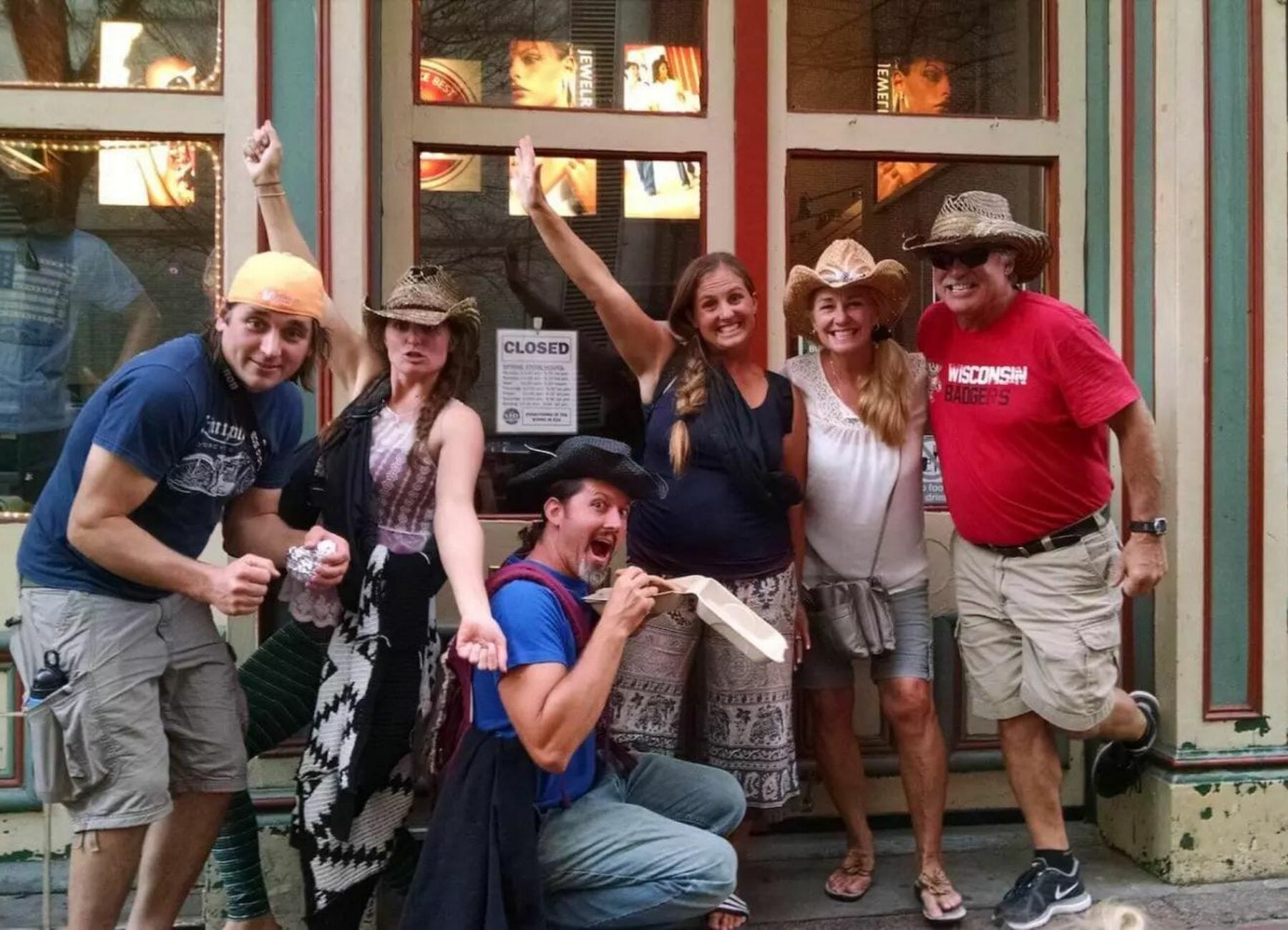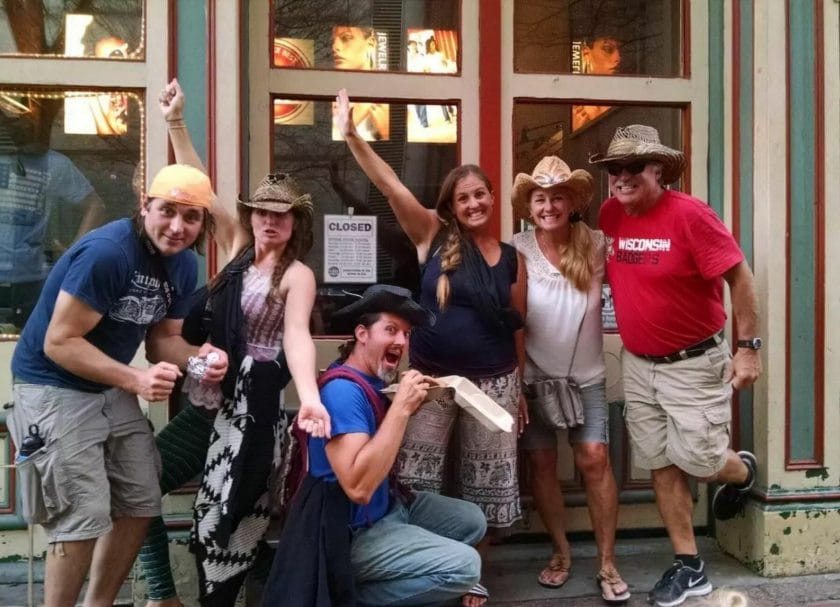 Stop 1 on your Tennessee Road Trip: Nashville
To be honest we almost didn't do Nashville. We were thinking it wasn't really a family travel destination. But we were wrong! Nashville had a lot to offer for visiting families!
Grand Ole Opry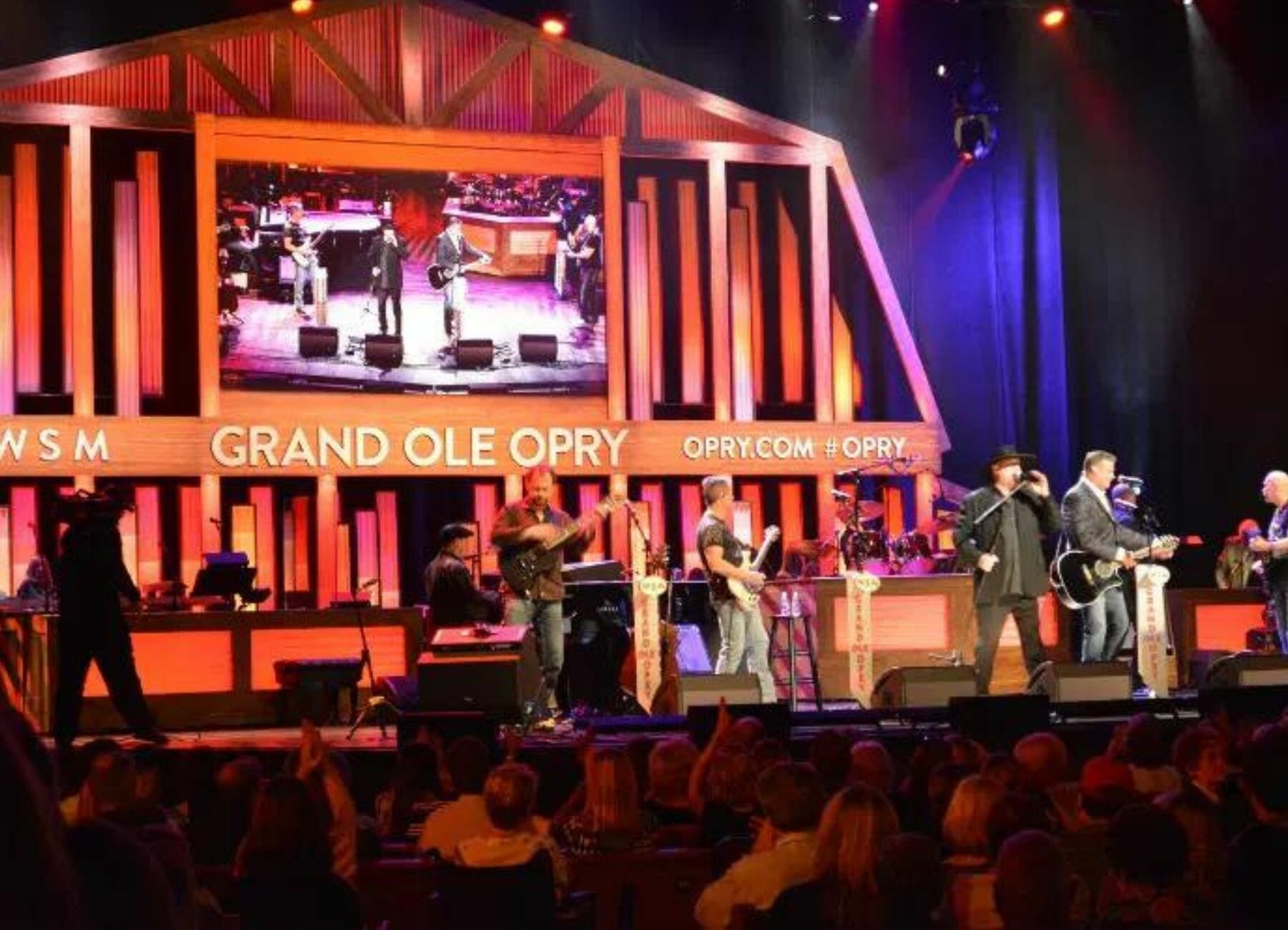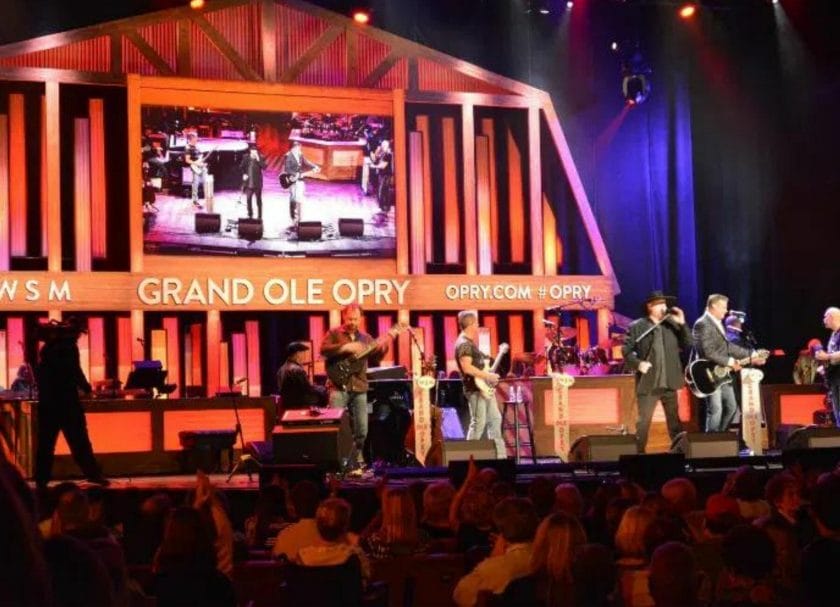 You can get tickets to see a concert at the Grand Ole Opry. This is such a Nashville thing to do that it should be on your list. You can also get tickets to do a behind the scenes tour. Even with kids it was worth it to do to learn more about the history of the Grand Ole Opry. Learn more about the Grand Ole Opry.
Gaylord Opryland Resort & Convention Center
This HUMONGOUS place is awesome for taking the kids and letting them explore or finding one of the big open areas where they can just run. They also offer a boat ride through the river in the building. And there are lots of shops and restaurants throughout.
The nice thing is it is free, so you can come and stay as long as you want and if you are disciplined you can leave without buying anything. But then again, where's the fun in that! Book a stay at Gaylord Opryland Resort here!
Downtown Nashville
When you are in Nashville stop at one of the shops and buy everyone a cheap Cowboy hat! Now you are ready to go. It is fun walking down the street in Nashville and listening to all the music coming out of the bars, people watching, and feeling the Nashville vibe. It is called Music City after all! Find 29 Things to do in Nashville here!
Wild Horse Saloon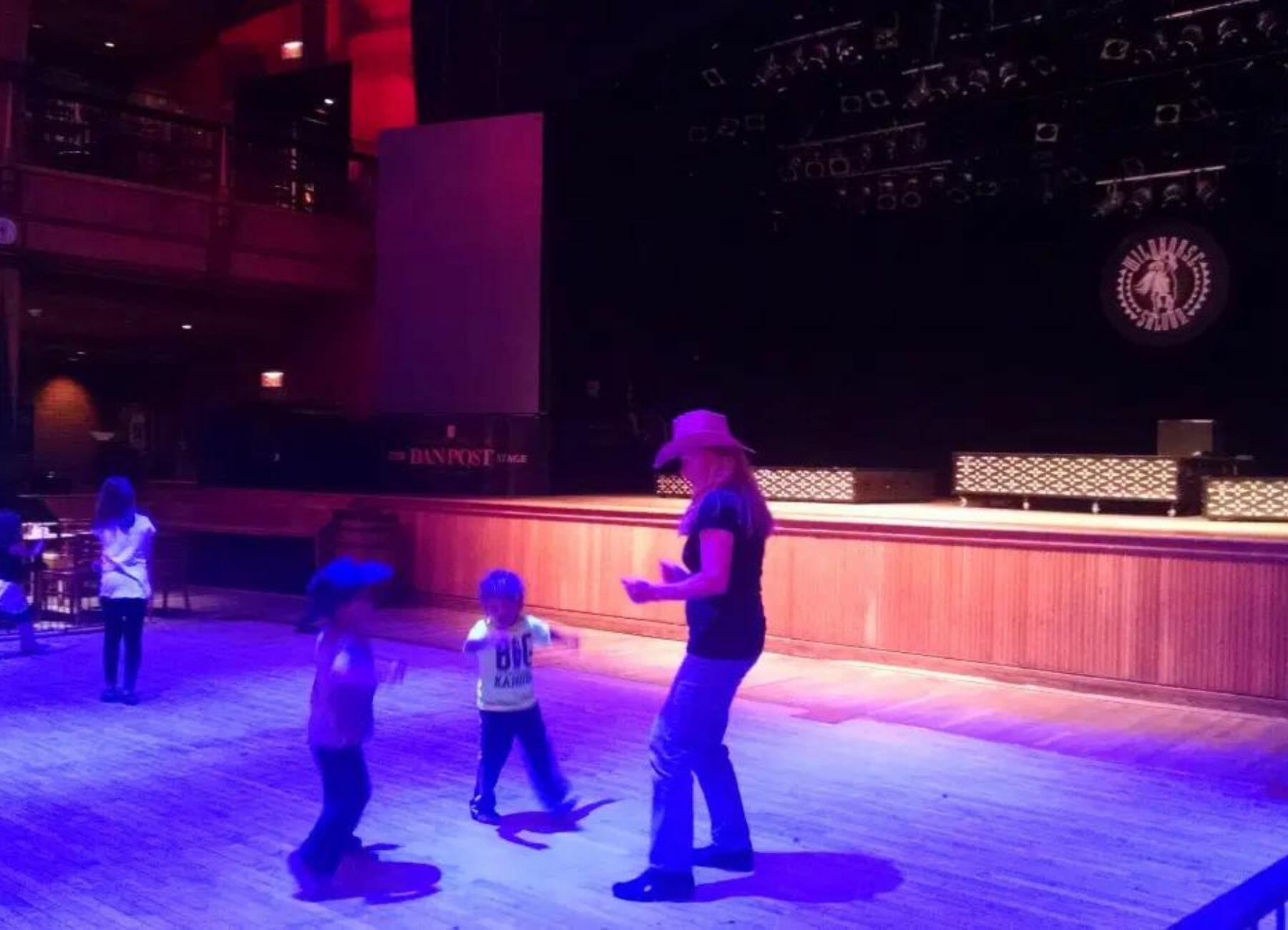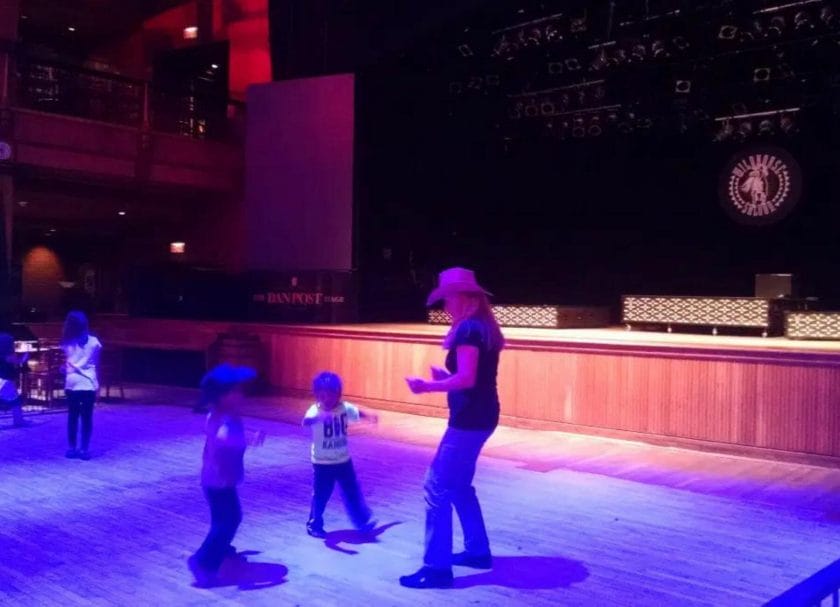 If they aren't having an event make a stop at Wild Horse Saloon where you and the kids can hit the dance floor and boogey down to some good ole Country music. They also have a great menu if you want to eat and hang out for some drinks.
Pfunky Griddle
You will want to start your day off with breakfast at the Pfunky Griddle.
It is an awesome restaurant where they give you pancake batter and the fixings and you cook your own pancakes right at the table. If your kids are like ours, they LOVE to do things by themselves so they really enjoyed having breakfast here.
I will warn you it is a small building with limited seating but it is worth it!
If you are looking for more concerts be sure to check out the Ryman Auditorium schedule.
Day 2 in Nashville
Belle Meade Planation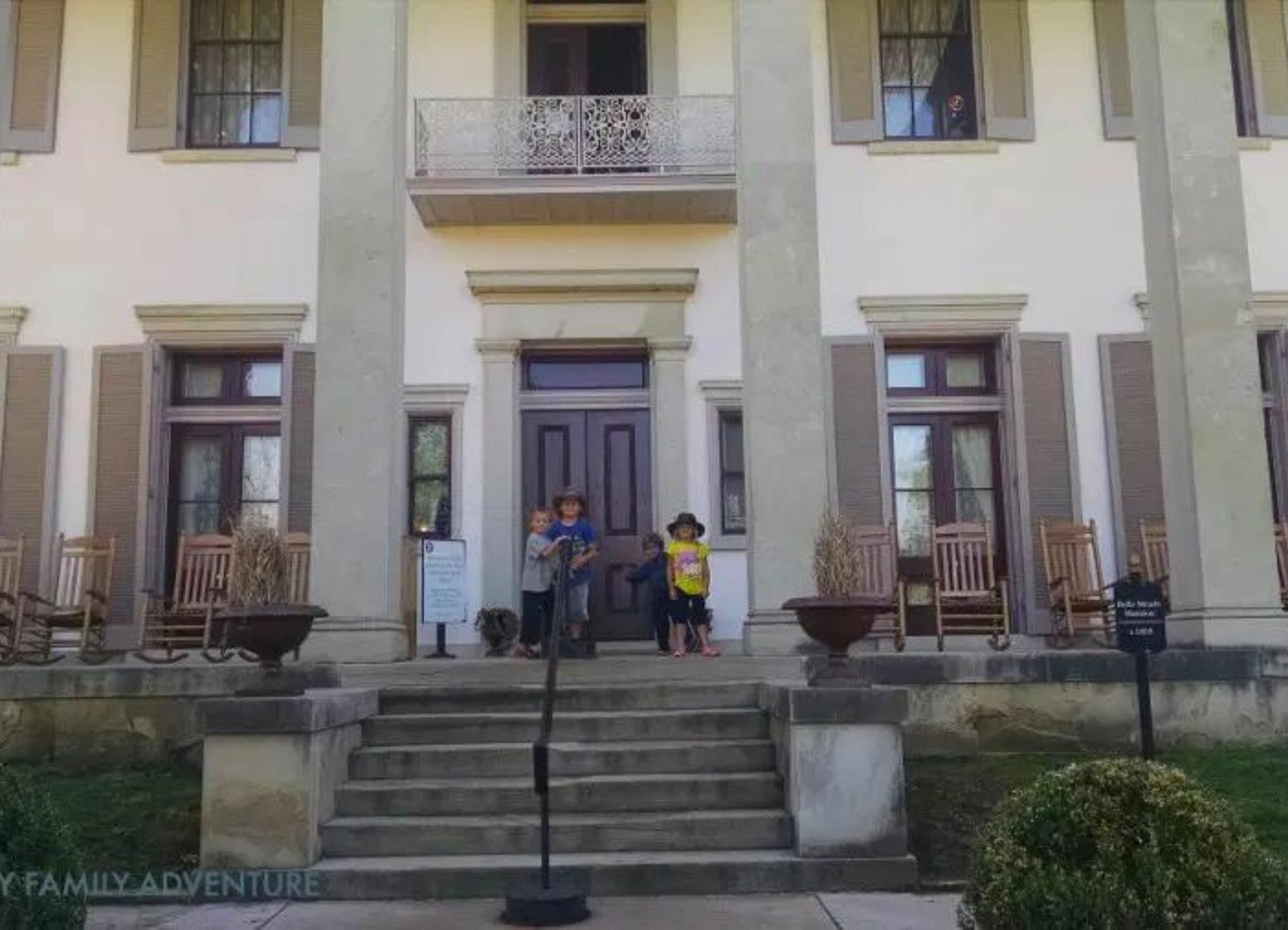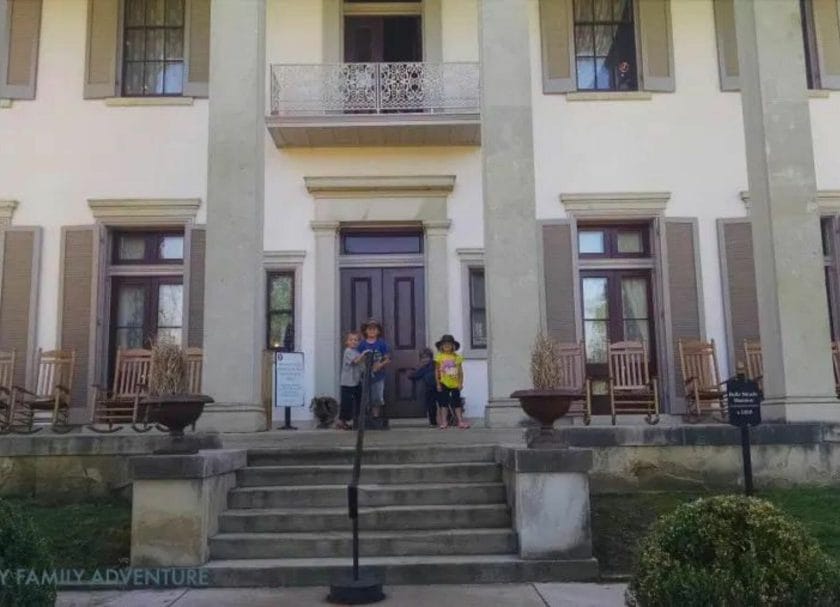 When we were in Nashville I wanted to be sure to see a planation and show the kids how people use to live in the South. Belle Meade was actually a horse planation, but it was still very cool to see. We did the planation tour and I will say it was a bit of a struggle with the younger kids.
What they really enjoyed about the visit was being able to walk around the grounds and check out all the old buildings. What we really enjoyed was the FREE wine sampling at the end of the tour.
Nashville Adventure Science Center
The Science Center was perfect for the kids with lots of hands on activities for them to do. This was great after being at the planation where they couldn't touch much! If you want a day to let your kids have fun and just play, this is a perfect stop for you and your family. It was also on the reciprocal musuem list when we were there so if you have a membership be sure to check that out.
Cumberland Park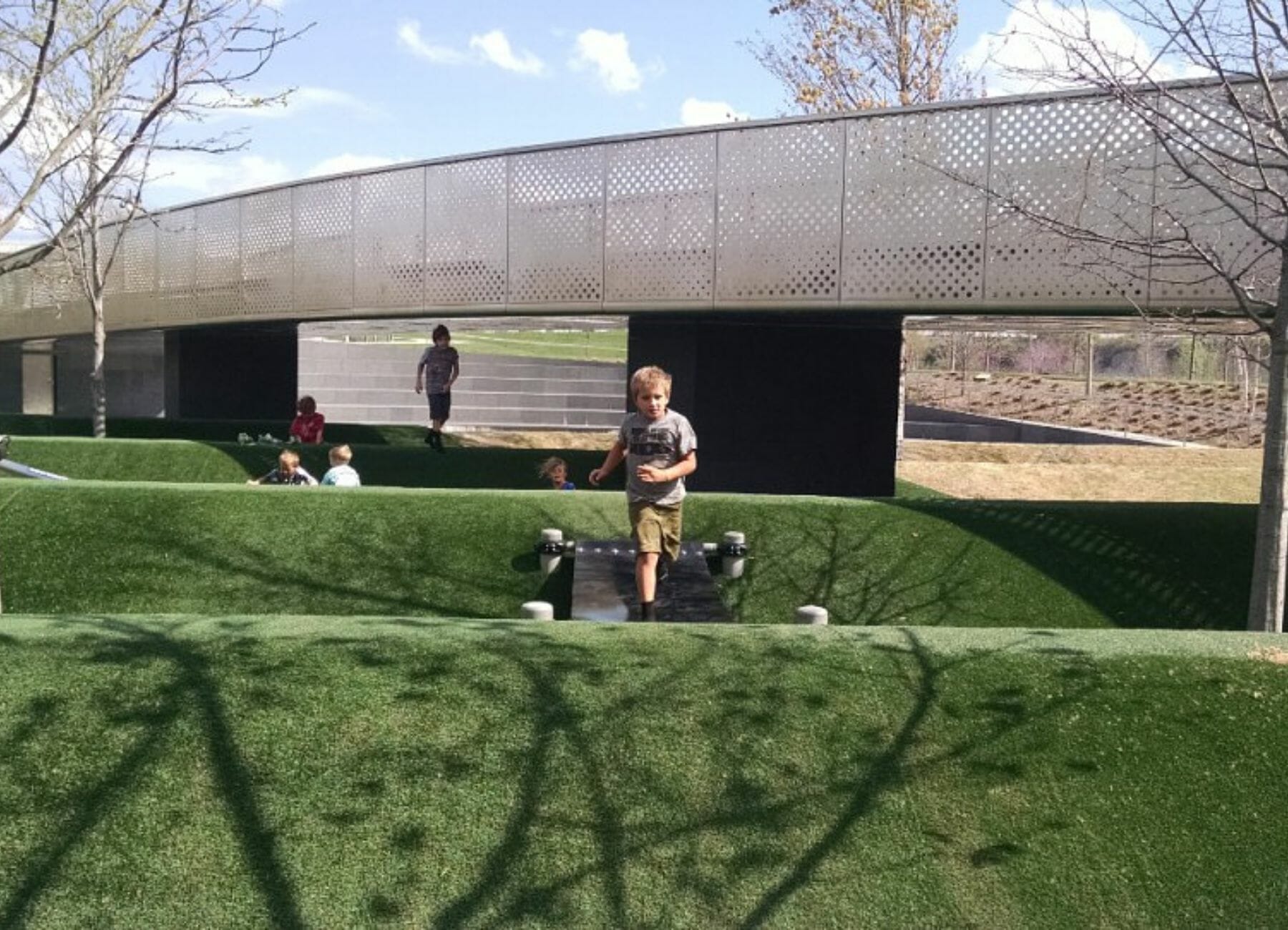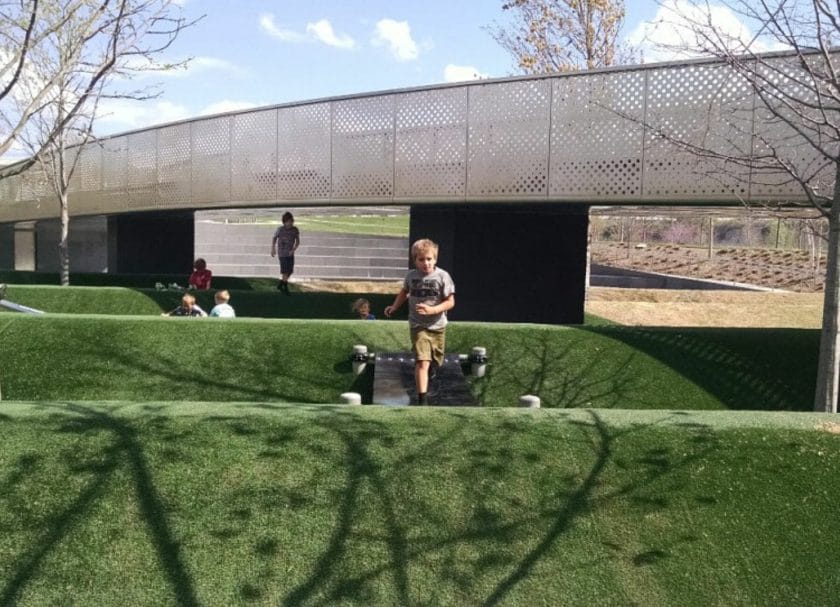 For outdoor fun on your Nashville Family Road Trip, check out Cumberland Park. You can walk over the bridge from Downtown to get there or you can drive over. Either way it is a great way for the kids to burn some energy before heading into Nashville to go out to eat.
Rock Bottom Restaurant and Brewery
Yes it is a chain restaurant, so not totally authentic Nashville – if you are looking for that I would walk the streets of Nashville and pick the place that has the best music. If you are looking for a simple and good family friendly place then the Rock Bottom Brewery is perfect.
For more detailed information about visiting Nashville check out our post here.
RV Park: When we were in Nashville we stayed at the Nashville Jellystone. We were there in the off season so we got a Passport America rate and there wasn't really much going on at the campground. After staying at a Jellystone in Caledonia, WI for 5 months this one definitely did not compare with campground amenities. We were happy with it because of how close it was to Nashville and would recommend it for that reason.
And if you have a chance to take a romantic trip without kids there is a lot that Nashville has to offer for adults!
Where to Stay in Nashville
Hotels
Gaylord Opryland Hotel This is the most iconic hotel in Nashville for a reason. From is amazing amentities to its indoor water park. Opryland Hotel is a hotel you will never forget.
Courtyard by Marriot Nashville If you want to stay outside of the hustle and bustle of Downtown Nashville this is the location for you.
Vacation Rentals
Beautiful Condo Downtown Nashville walking distance to downtown this condo is perfect for your family.
Nashville Cottage Stay in the hip neighborhood of East Nashville. This great 1920s cottage is filled with amenities including a hot tub.
Or check out these great Glamping in Tennessee options.
Stop 2: Memphis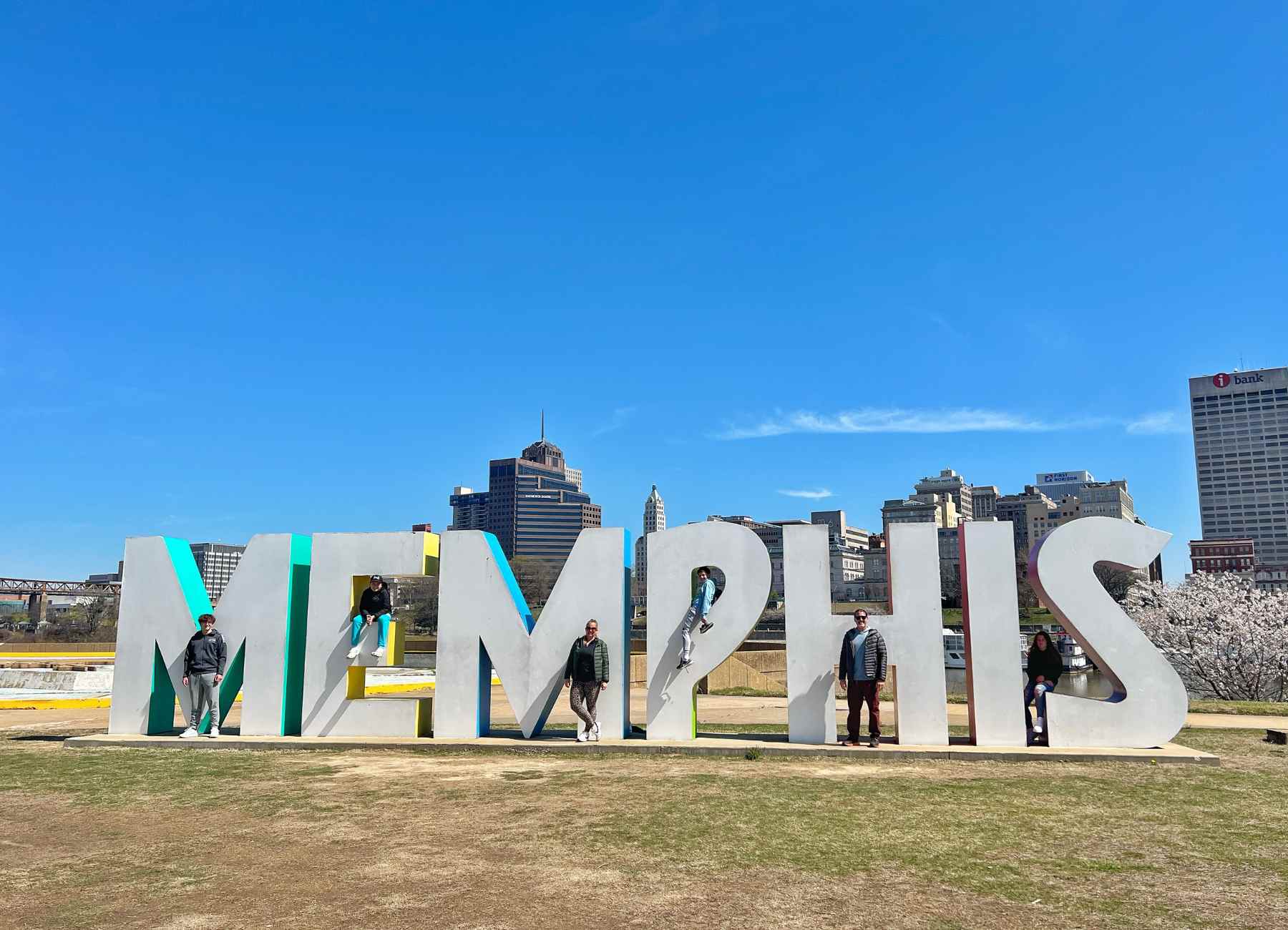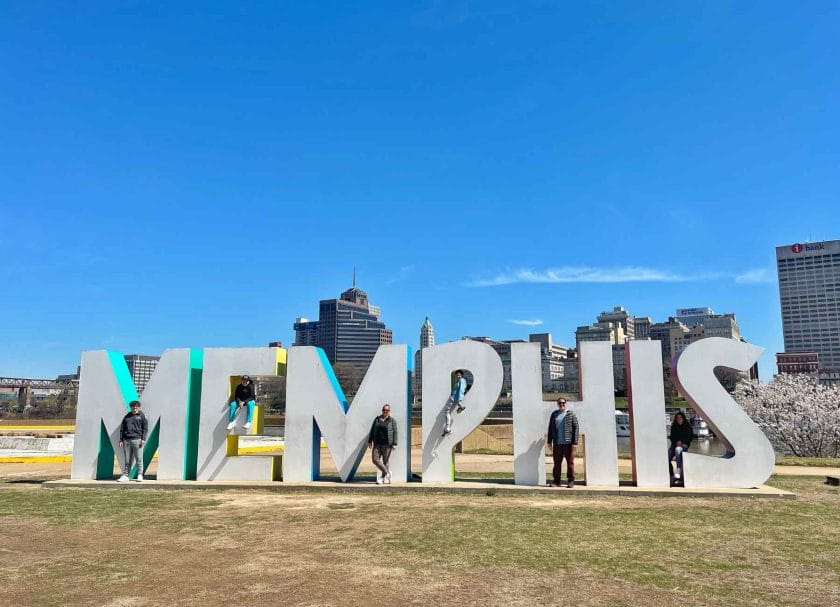 Make a stop in this city that is full of personality and a story to tell! It has a more gritty feel to it compared to the other stops in Tennessee but that is all the more reason to add it to your Tennessee Road Trip! Plus there are some great Memphis restaurants you will want to check out.
There are a lot of great things to do in Memphis with kids!
Day 3 In Memphis
Arcade Resturant
Start your day with breakfast at the Arcade Restaurant. This iconic restaurant offers a full drink menu with mimosas and bloody mary's. Plus an awesome selection of breakfast options and lunch options.
Craig went with the peanut butter, banana and bacon sandwich. Just like what Elvis use to eat at this restaurant. He said it wasn't the best but he was glad he tried it!
Civil Rights Museum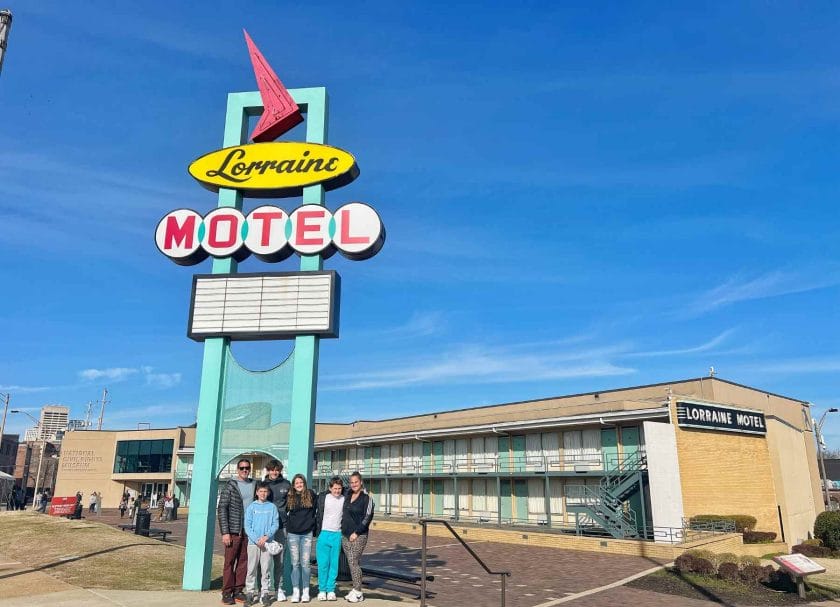 Next up walk over to the Civil Rights Museum and the Lorraine Motel where Dr. Martin Luther King Jr was assassinated. Learn all about Civil Rights in the US and about Dr. Martin Luther King.
Central BBQ
Head over to central BBQ for lunch. This was our favorite BBQ in Memphis. The restaurant is located right across the street from the museum.
Riverfront
After all of that history and food time to go for a walk on the Riverfront.
Pea Body Hotel
This one is important to get to on time. The Pea Body ducks make their red carpet walk at 5pm each night. It is recommended to get there by 4:30 if you want a good view of the ducks on the red carpet. We got there late and there was no where good to really see them!
Rendezvous
Walk from the Pea Body over to the Rendezvous for dinner. Be ready for that amazing smell when you walk around the corner and head down the side street that the Rendezvous is on.
Day 4 In Memphis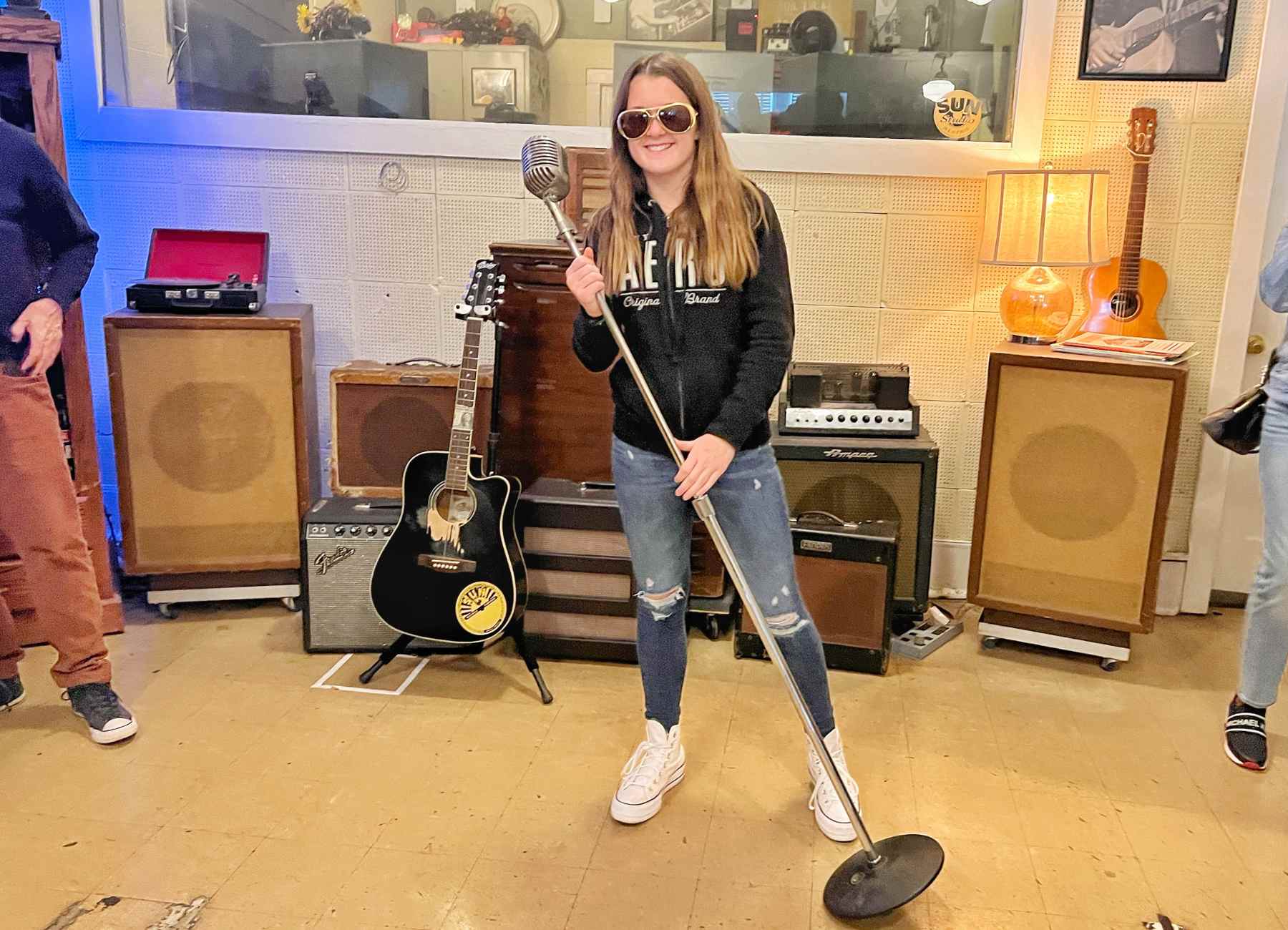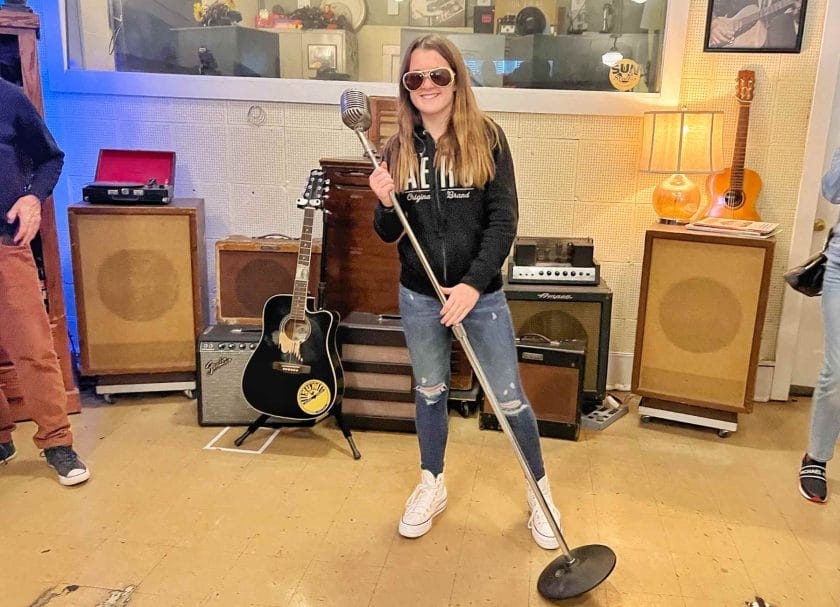 Sun Studio
Head to Sun Studio to start your music history tour of Memphis and to sing into the same microphone that Elvis did!
Note they only let so many people in on each tour so you may want to book these tickets ahead of time if you have a set time you want to go.
Beale Street
Head to downtown Memphis and walk down Beale Street and head to the end of the street to get a picture under the Beal Street sign. Also make a stop at the A Schwab store for a look around and to get a fountain soda.
Gus's Chicken and Domincik Distillery
Grab some Gus's Chicken to go and head to the Dominick Distillery for some whiskey or cocktail sampling!
Mud Island
Drive over to Mud Island and stretch your legs while you walk around the island looking at the river display they have set up. You can also walk to the end of the island to get a picture by the big Memphis sign.
Bass Pro Shop Pyramid
Check out this massive Bass Pro Shop and go up to the top of the pyramid for an epic view of Memphis and to grab a happy hour drink.
Blue City Cafe
Head back to Beale Street to get dinner at the Blue City Cafe and walk Beale Street at night.
Stop 3: Chattanooga
We really did not know what to expect when we visited Chattanooga but we really liked it! It has the feel of an up and coming city and just an overall great vibe. Chattanooga is located right outside of the Cumberland Plateau – the southern part of the Appalachians that spread across east Tennessee.
There really are a lot of great things to do in Chattanooga for families! You won't want to miss the Incline Railway, Rocky City and Ruby Falls.
Day 5 in Chattanooga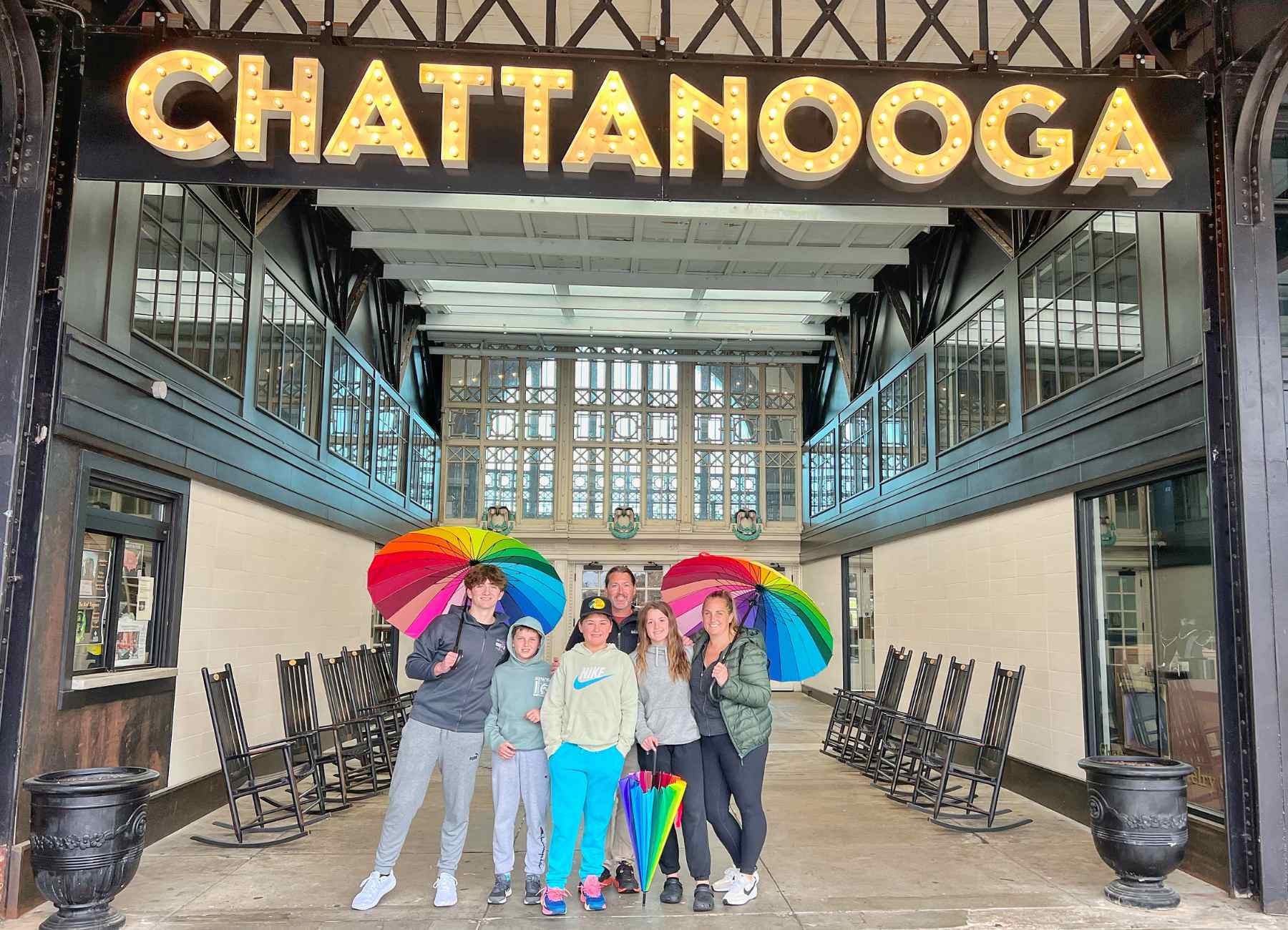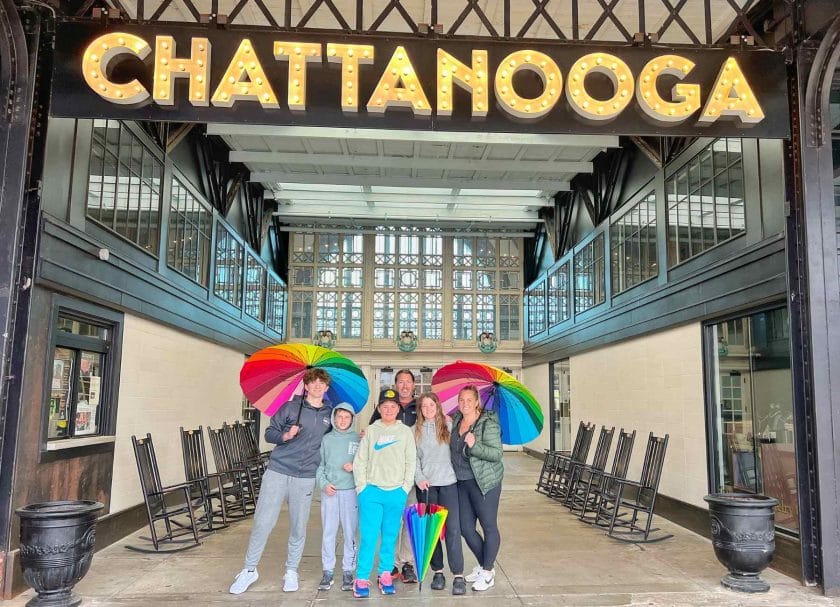 Walnut Street Bridge
Start your day by walking across the Walnut Street pedestrian bridge.
Julie Darling Donuts – Breakfast
When you are in Chattanooga you HAVE to go to Julie Darling Donuts. No seriously, I will be mad at you if you don't! We like to check out local donut places when we visit a new city and these are at the top of my list. They are YUMMY!!
And spend some time walking the streets and checking out the shops here.
Coolidge Park
Head to Coolidge Park to ride the carousel and if the weather is nice check out the water fountain/splash pad – just be sure you have clothes for the kids to change into!
Brewhouse
Stop in at the Brewhouse for some delicious German food!
Walk back across the bridge and head via car to your next stop.
Incline Railway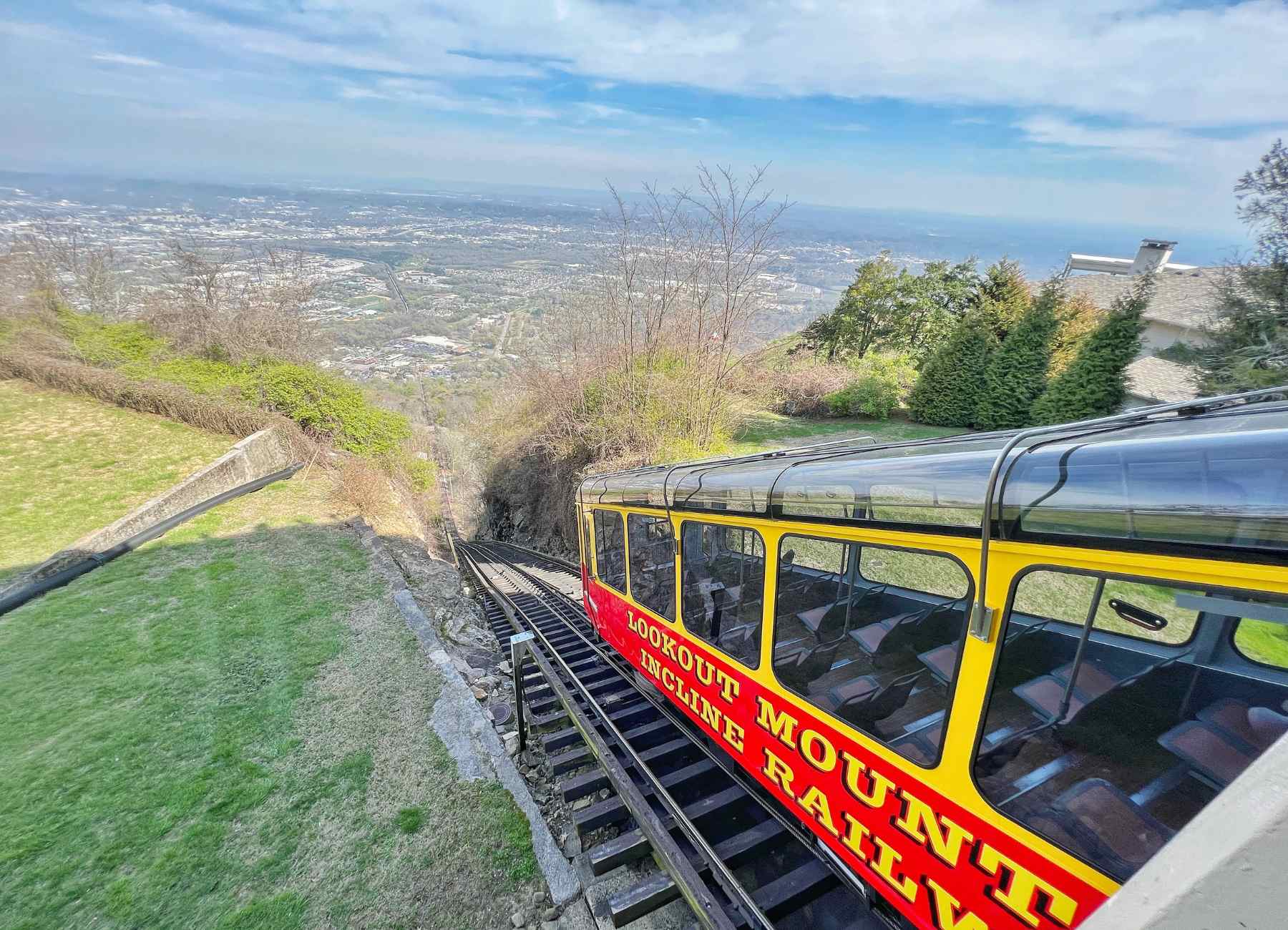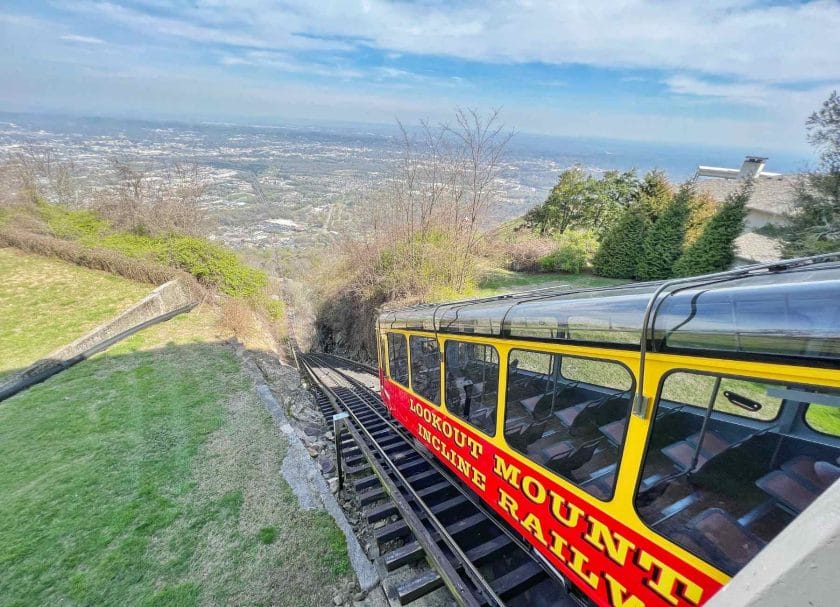 This was an awesome ride straight up the side of a mountain to get to the top of Lookout Mountain. When you are there you can get out and walk a few blocks down to the Chickamauga-Chattanooga National Military Park. They have a great visitor center and there are amazing views from within the park.
Be sure to check their site as you may need to buy tickets ahead of time!
Ruby Falls
Time to check out an awesome waterfall that is in an underground cave. If you have never been in a cave now is the time. When you get there you take an elevator down underground – yup I know sounds a little creepy (and it is), but is also really cool.
A guide then takes you on a tour through the cave to show you the waterfall. It is a half mile walk to get there and a half mile walk back. So depending on the age of your kids you may not want to do this. Our youngest was 2 at the time and he didn't really like it.
After the 1/2 mile hike you get to see this amazing waterfall that seems to come from nowhere. It definitely made the hike worth while.
Take note as you leave here and most of the other attractions you will exit through a gift shop . . . which is all fun and good, but by the time you hit your third one you may not want to spend any more money. So giving you a heads up!
Be sure to check their site as you may need to buy tickets ahead of time.
Tony's For Dinner
Head to the art district and to Tony's Pasta Shop & Trattoria for dinner.
Chattanooga River Walk
After dinner walk along the Tennessee River at the Chattanooga River Walk. There are over 16 miles of trails here that you can walk on. You can also get out on the river to paddle board.
Day 6 Chattanooga
Frothy Monkey – Breakfast
Start the day at the Frothy Monkey for breakfast and if you have time head over to the Chattanooga Cho Cho to check it out.
Rock City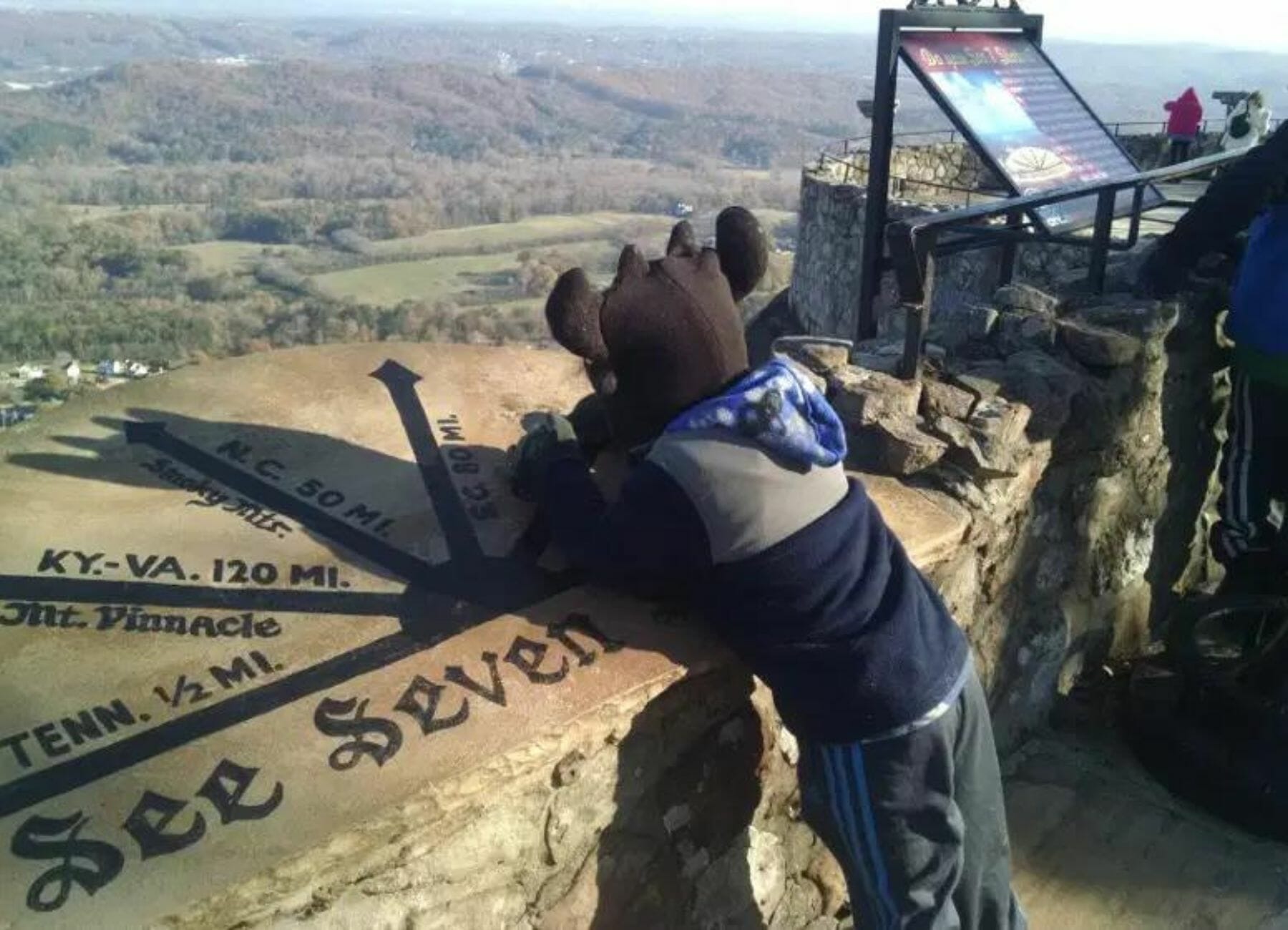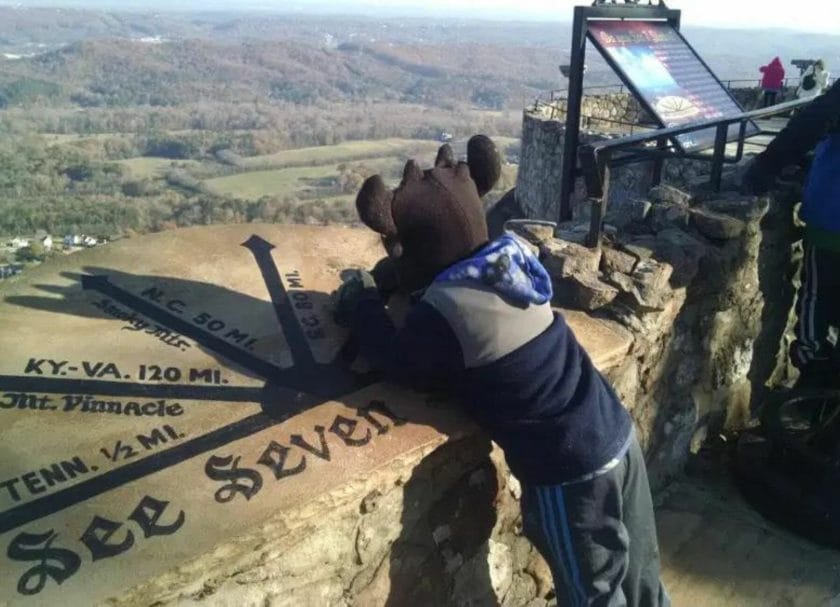 Rock city is part of a 3 attraction pass you can buy with the Incline Railway and Ruby Falls. At first I was hesitant if it would be worth it. But I am so glad we went. There were amazing views and the fairyland caverns were really cool. Plus we all loved the trails and suspension bridge!
*Look out for the gift shop on the way out*
The Tap House & Empyreal Brewing Co
If you are like us and like a good craft brewery you can make a stop here and sample afflight of beer. I liked it since they had multiple ciders on tap!
Oddstory Brewery
For lunch you could head to Oddstory Brewery they have craft beer, a place to order food and and awesome outside hangout area, and live music.
Find more great food in Chattanooga at 17 Chattanooga Restaurants You Won't Want to Miss!
High Point Climbing and Fitness Kid Zone
As we were driving through downtown we saw this awesome rock climbing place where people were climbing rock walls on the outside of the building, plus there looked like there was a specific kids area. We stopped in to check it out and it was AWESOME! The kids area was perfect for our kids (7, 5, 5, 3). And they even tried the outside wall.
Learn more here.
Mellow Mushroom – for dinner.
When you are done climbing head right across the street to Mellow Mushroom. This is a great family pizza place that you can find all over the US. We know we are at the right place when they take us to a table in a room around the corner and in the back and then we realize they just keep bringing more families back. PERFECT we were placed in the family eating room. Love it!
For more detailed information about visiting Chattanooga check out our things to do in Chattanooga post.
Where to Stay in Chattanooga
Hotels
The Chattanoogan – they have a variety of restaurants on site and offer connecting rooms.
Staybridge Suites Downtown Chattanooga These studio, 1 or 2 bedroom suites come with full kitchens and a hot breakfast bar is included in the price.
Homewood Suites by Hilton has full kitchens and a separate living area as well as convenient workstations if you need to work on your trip.
Vacation Rentals
Perfect Location with views of Lookout Mountain
Charming 1930s apartment in a private home a short distance to downtown Chattanooga
Campgrounds
RV Park: We stayed at Racoon Mountain RV Park and Campground They actually have a cave tour you can take right at he campground. Unfortunately we didn't do it. The campground was nice and was close to all of the attractions that we did.
Stop 4: Gatlinburg
Another great thing to do in Tennessee is Gatlinburg! You could really spend a week or 2 in Gatlinburg exploring the city and especially the Smoky Mountains.
Day 7 in Gatlinburg
Ripley's Aquarium
It was on the smaller side, but it was a nice aquarium and there were a few unique things you could do. Like walk in the shark tunnel and stand up in the middle of a fish tank.
Ripley's 5D Movie Theatre
A moving movie theatre where you also get sprayed with water and wind blown in your face. It was pretty cool and at first the kids weren't to sure but by the end they liked it.
Walk the Streets
Walk the streets of Gatlinburg and stop in for a FREE Moonshine sampling or wine sampling. They don't mind if you bring kids in.
Ober Gatlinburg Tram
You take a tram from the middle of the streets of Gatliburg 2 miles up to a ski resort. It was a fun ride and kids 5 and under were free. Then at the top they had a ski lift you could ride (our kids were to young) to get even higher. And they also had an indoor ice skating rink, BUT you need socks and you need to have one adult per kid under a certain age (we have to many kids for the 1 to 1 ratio). So if you are interested in that I would do a little more research to find out all the details.
The resort was cool, but the tram right up and down was the best part.
Smoky Mountain Brewery
Have dinner at the Smokey Mountain Brewery you can have one of their local brews and get dinner for a really reasonable price.
Day 8 Gatlinburg – Visit the Great Smoky Mountains National Park
Sugarlands Visitor Center and Trail
There was a huge visitor center for you to look around and learn all about the Smokys. There was also a ranger there with some different fur and bones for the kids to touch. This trail was perfect. It was all well marked and it was busy. If you are taking little kids out for the first time hiking in the Smoky Mountains National Park this is the way to do it.
There was a fallen log over a stream that the kids had a ball walking/crawling across and at the end of the trail there was a waterfall that they could climb up by.
Clingman's Dome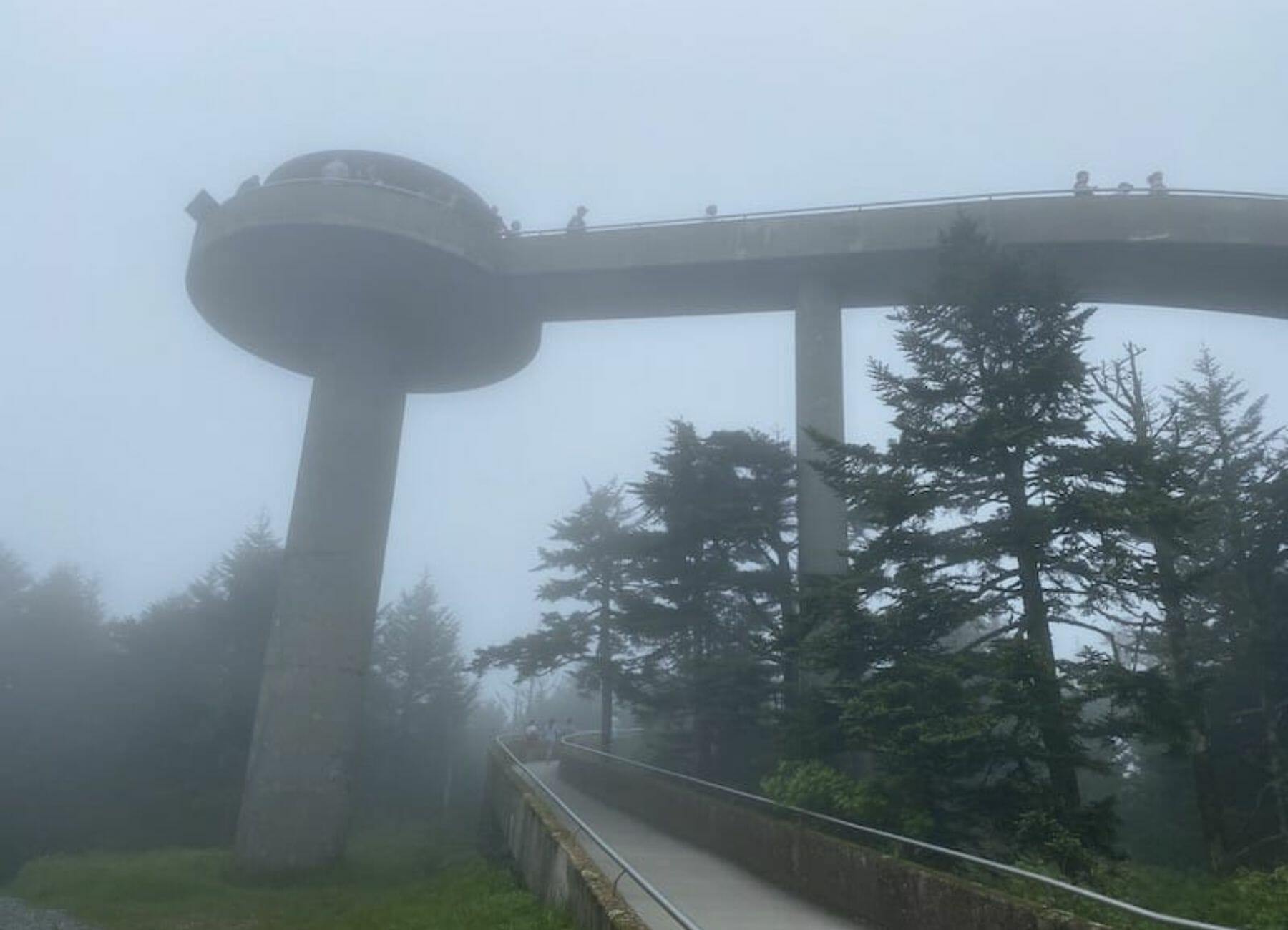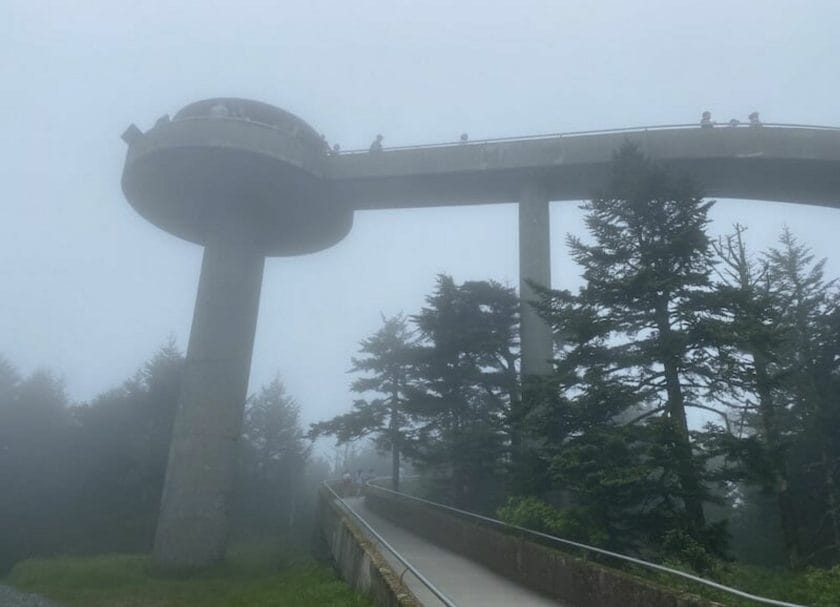 AMAZING! If you do one thing in the Smoky Mountains, this is the thing to do. The drive up was a little scary, but also beautiful and then when you get to the parking lot you have a half mile hike on a really steep incline to get to the top. The whole trail is paved so that isn't a problem but the incline was hard!
When you get to the top you can climb up to the lookout tower. For an amazing view of the Smokys all around you. It really is worth the hike to the top. And the hike back down is always interesting!
It was WAY colder when we hiked up the trail so be sure to bring a winter jacket, hats, and gloves even if it seems warm down in Gatlinburg.
Cades Cove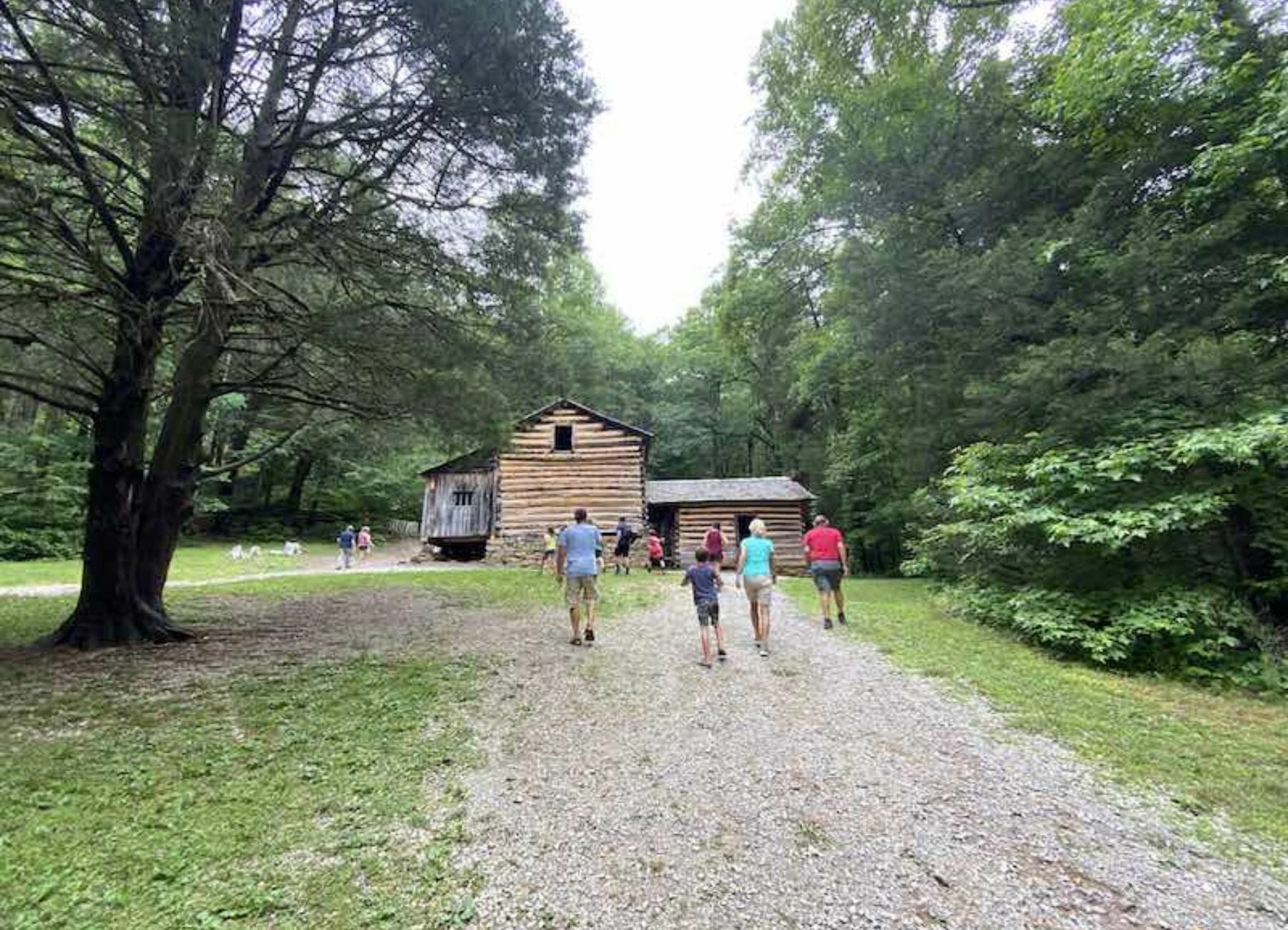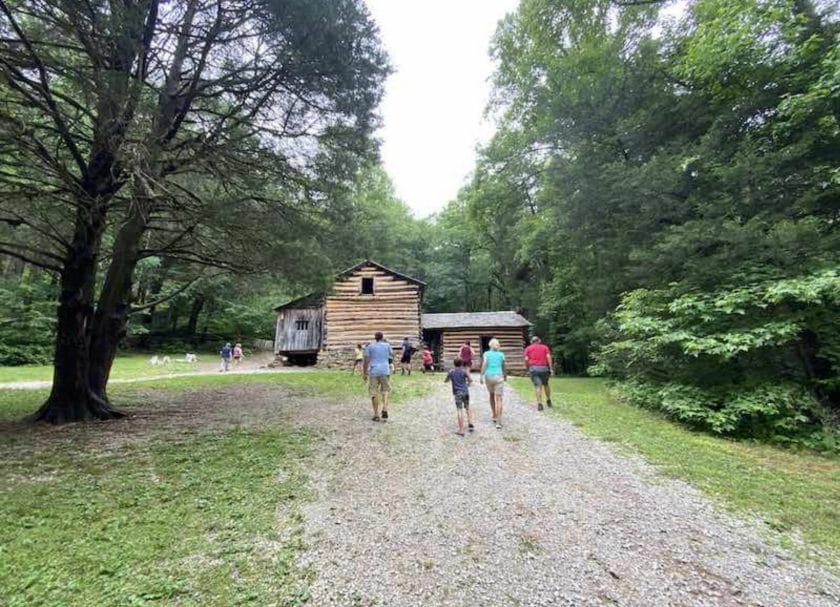 Take a drive through Cades Cove and stop to do a hike or to explore the many stops on the road. We enjoyed stopping and seeing the farmsteads and learning more about the people that had settled here.
The drive is slow and the kids ended up sitting in our truck bed for part of the drive. Be ready for that! We didn't see any animals but it is a place that can be busy with bears.
Day 9 Pigeon Forge
If you have an extra day head to Pigeon Forge which is close by Gatlinburg, so it is worth taking the beautiful drive to go over to check it out. There are also multiple lookouts you can stop at to see beautiful views of the Smoky Mountains.
Once we got to Pigeon Forge, we got some ice cream, visited a pottery store where we could watch the guy make pottery, and then ran around a huge field. I know there was more to do there but we had fun doing the simple things and really enjoyed the ride to and from Pigeon Forge to Gatlinburg.
For more detailed information about visiting Gatlinburg check out our post here.
Where to Stay
Hotels
Country Inn and Suites by Radisson located just one mile from the National Park, this hotel offers free complimentary breakfast, has a heated indoor pool and full fitness center.
Zoder Inn and Suites Gatlinburg located in the heart of Gatlinburg, Zoders is filled with amenities.
Vacation Rentals
Gatlinburg Condo with Mountain Views is perfect for your family stay in this majestic area of Tennessee
Rustic Cabin located less than 1/2 mile from downtown Gatlinburg, this cabin is filled with modern amenities and has a large private yard.
Family Fun Activities in Gatlinburg to Check Out!
Wildlife Encounter at Ober Gatlinburg is a wonderful family fun experience. See wildlife up close at this privately funded zoo.
Check out the top 4 Water Parks in Tennessee, several are here in Gatlinburg. Indoor water parks are always a great stop for more family fun in Gatlinburg, TN.
Anakeesta Theme Park in the heart of Gatlinburg. This kid friendly amusement park is the perfect destination on your family vacation.
Heliocopter Tour of Gatlinburg See Gatlinburg from a different view
There you have it your week long family trip through Tennessee. Tennessee is a beautiful state and is well worth it to take a Tennessee Family Road Trip!
If you want to add more stops check out:
Burgess Fall State Park – a top recreational area in Tennessee.
Cumberland Gap – National Historic Park.
Memphis, TN where you can learn about Martin Luther King Jr and the Lorraine Motel he was shot at and Visit the National Civil Rights Museum. Visit Beale Street – home of the blues. There are a lot of free or cheap things to do in Memphis and some great things to do in Memphis that you pay for. If you have time you should add it to your road trip.
You will also find a lot of great small towns through Tennessee. If you want to check any of them out on your trip!
More Info Check Out:
Top 4 Indoor Water Parks Tennessee
37 Stops On A United States Road Trip
Top 4 Amusement Parks In Tennessee You Need To Visit
9 Favorite Things To Do In Memphis With Kids
Top 8 Fun Things To Do In Knoxville With Kids
Top 9 Things To Do In Pigeon Forge With Kids
11 Best Places to Visit in Downtown Memphis with Kids
6 Restaurants in Memphis You Don't Want to Miss!
DISCLOSURE: This post may contain affiliate links, meaning I get a commission if you decide to make a purchase through my links, at no cost to you. Please read my disclosure for more info.