Lazy Rivers, wave pools, tube slides, and even hot tubs under retractable roofs are waiting for you to explore at these top Indoor Water Parks in Tennessee!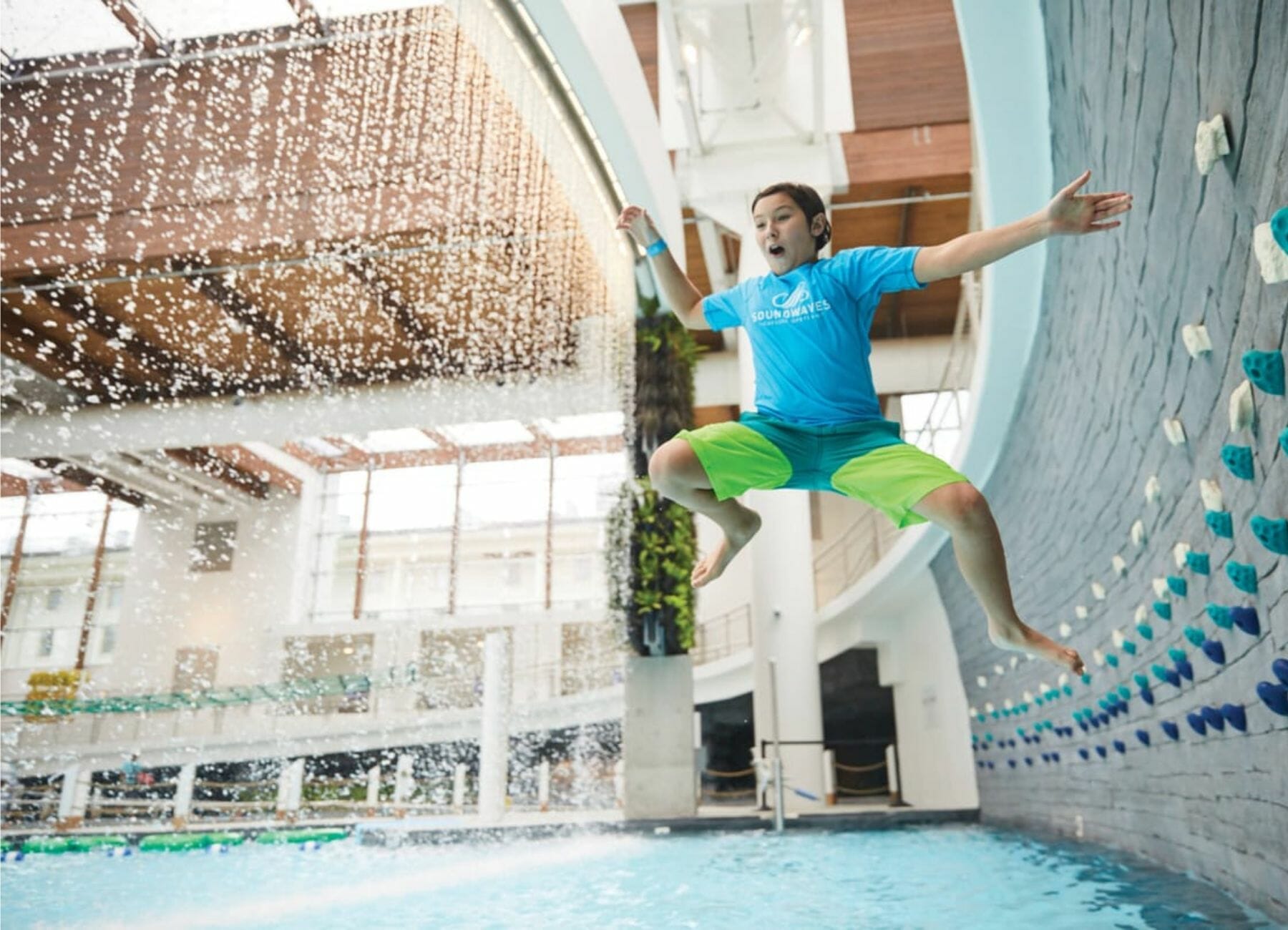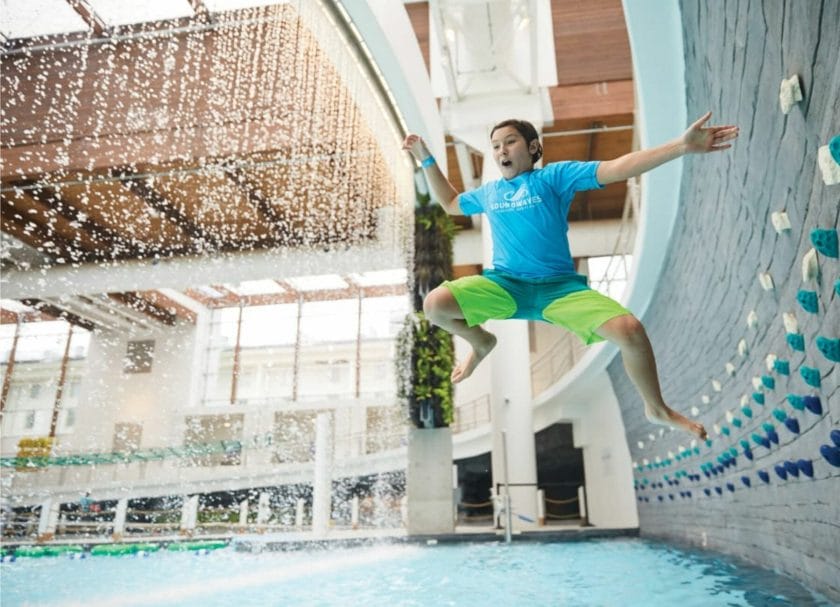 If you are planning a trip to these Tennessee indoor water parks we highly recommend a Tennessee road trip with stops in Memphis, Nashville, Chattanooga, Gatlinburg and the Smoky Mountains!
Wild Water Dome Indoor Water Park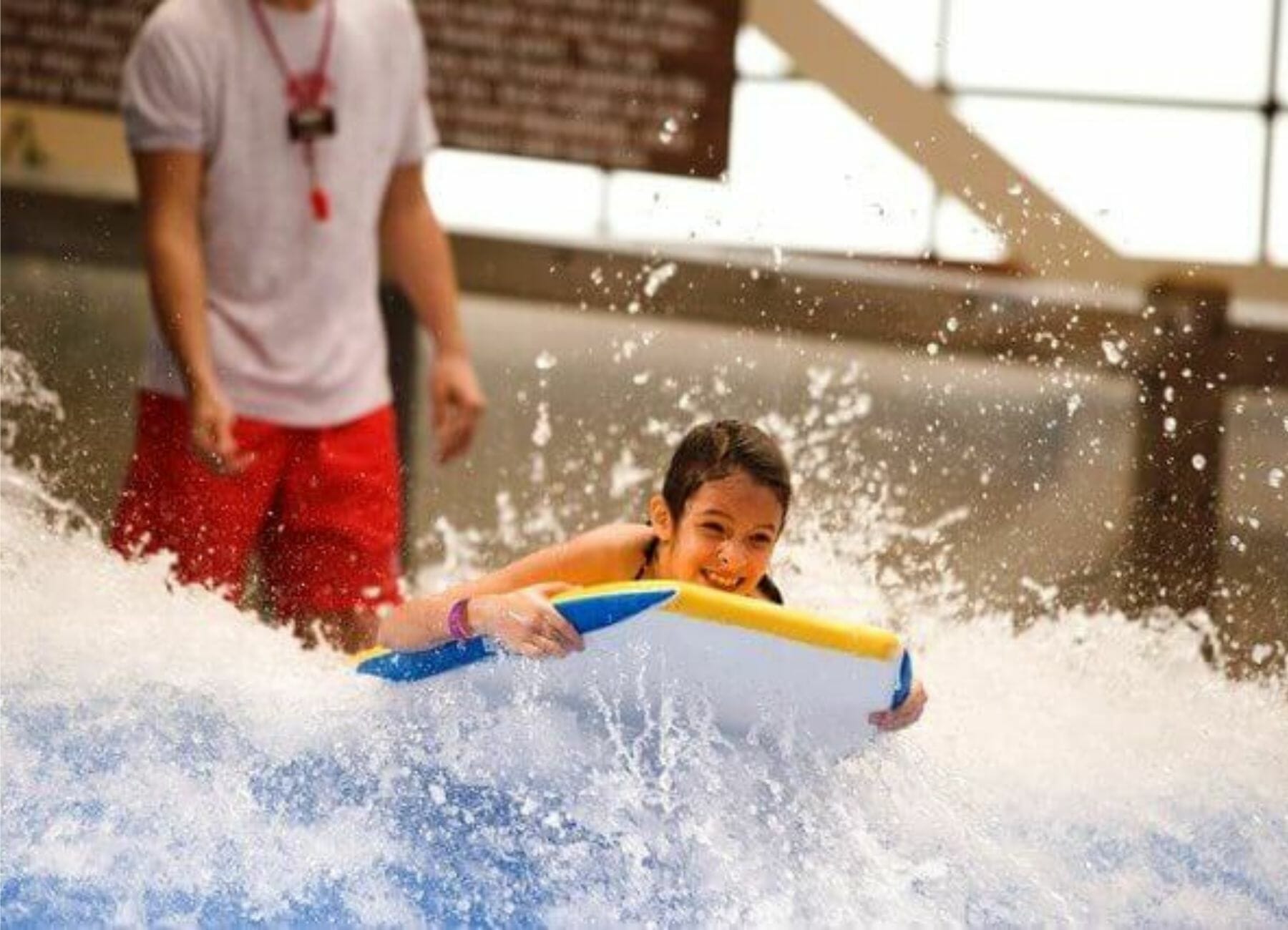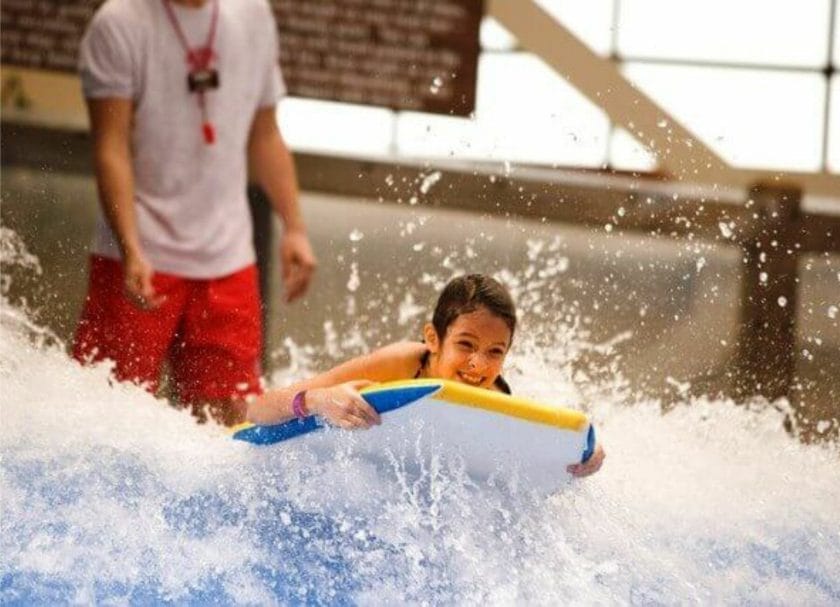 The Wilderness at the Smokies Hotel boasts three water parks. Two are outside, and one is entirely indoors. The 66,000 sq ft Wild Water Dome has great slides and pools. It's also open year-round.
It's another indoor water park which has a glass ceiling too. This is such a significant development with indoor parks over the years. The reasons are apparent.
The sun is always welcome on a water park day, even if the park is indoors! The ability to be protected from inclement weather yet still bask in the sun is the best!
Wild Water Dome is located right in the middle of all the Eastern Tennessee fun in Sevierville. A lot is going on over there, and more is coming every year. It's the kind of place where you could easily spend a week without scratching the surface.
Let's get into some of the finer details of the wild waterdome, the Tennessee version!
Wild Water Dome Features
You will see water slides galore when you pull up to the Wilderness Hotel. Remember that only a certain portion is allocated to the indoor water park. The indoor water park is located near the River Lodge building in the large two-hotel building complex.
The good news is that some of the best slides in the place are over on the indoor side.
Dumping Bucket: Yes… kinda
Washout Mountain is where you will find the dump buckets. There's a reason why the big buckets are added to just about every water park worth their salt these days!
Washout Mountain has numerous buckets for the kids to dump on each other. It also has a waterfall area where the little ones can stand under and get the pouring water aspect they're looking for.
Water Coasters: No
There's a nice collection of fun slides, but none we would label a water coaster.
Wave Pool: Yes
The Great Wave is a 10,000 sq ft of wavey goodness. This one has a reputation for being a pretty stout wave pool. Nothing dangerous, but it's good enough to keep the hard-to-please teens feeling challenged. It's a blast!
There is also a waveless pool in the park. So if you're looking for pool fun without the waves battering you every few seconds, you have that available to you as well. A basketball hoop takes up one side of the pool, which is a lot of fun!
Tube Rides: Yes
There are a few tube slides at Wild Water Dome, with the undoubted headliner being the Storm Chaser slide. This is one of the clover tube slides that can accommodate up to 4 people. It will have to be 2 or 4 to keep the balance correct, so know that before you stand in line.
The best part of a clover tube is that you are all staring at each other. Want to see what mom's face looks like when she's careening backward down a steep water slide? Clover tubes!
Someone is always heading down backward on a clover tube as well. Who will it be?
Have no fear if you're ever on one of these with me. It's seemingly impossible for me NOT to end up backward on these puppies. I've been told my faces of fear are worth the price of admission all by themselves.
The newest rage in water slides over the past few years is undoubtedly the funnel slides. There are numerous variations, but most water parks are adding at least one funnel slide these days.
Storm Chaser is of the variety that also includes a lighting and audio package inside the enclosed tube.
Having the colored lights change as you head down the slide can be an excellent wrinkle. And even terrifyingly fun when they just turn the lights off entirely. Storm Chaser has all of that.
There are rumors the lighting and audio effects have been hit or miss of late, but hopefully, they will address this aspect of the slide sooner than later. It's important to maximize the fun!
There are also the Trail Twisters tube slides which vary in intensity. You can easily recognize which slide is more your speed before you enter the line, which can avoid any potential freakouts at the top of the platform.
They do a good job of telling you what type of slide it is at the bottom.
Swim-up Bar: No
There isn't a swim-up bar, but there is a nice bar to grab any tropical drinks you'd like while you're there.
Lazy River: No
The outdoor park is where the lazy river can be found. The inside park sadly does not have this attraction. BUT… the Magnolia Grove is a 1,000 sq ft hot tub area that can provide some of the relaxation a lazy river sometimes provides.
Children's Play Area: Yes
Washout Mountain is the kids/toddler area of the water park. It's on the smaller side, but it has all the fun splash-around water effects you'd expect to see in the area. The kids will love it without question.
Dining Options At Wild Water Dome
The Wild Water Dome water park is located inside a large resort, so we will have plenty of dining options to choose from here.
We have everything from Taco Shops to candy stores inside the hotel.
But let's take a moment to explore the options right in the water park to see if that's worth remaining inside the park for our food options. All food options are not the same!
The Grizzly Grill is a grab and go sit down eatery which serves pizza, burgers, chicken fingers, and the like. The good news is that you can walk right from the water park into the Grizzly to grab lunch.
You won't be required to head back to the room and change. This is just so important so as not to break up the fun! They also have beers and a small assortment of pre-made cocktails you can order here.
The Port Side snack bar is exactly like it sounds. A quick snack bar to pop in and grab a snow cone to enjoy mid-day!
Where To Stay When Visiting Wild Water Dome
The great thing about resort-based water parks is that they've made it easy for you to arrive and be done with the traveling piece of a vacation.
Located in a rather large resort named Wilderness at the Smokies, it has plenty of room options for whatever size group you tow along. If you are looking for a chance to dry off be sure to check out Wilderness Adventure Forest.
Focusing on the River Lodge section, the water park is on that side, so they have a nice variety of rooms to choose from.
Personally, I love bunk suites when taking the kids on an amusement park-based vacation. It adds something to the fun factor. The River Lodge has the bunk suite option if you're on the same page as I am.
They also have options on the other side of the spectrum for you. Fireplace suites, 2-bedroom condos, and luxury suites are all within your grasp at the hotel. You will be able to find the perfect accommodations for your group without much issue.
Being mere steps away from the waterpark fun is hard to beat and will usually be my recommendation in such scenarios.
If Wilderness at the Smokies doesn't work for you here are a few other options you can check out:
Hotels
La Quinta by Wyndham Sevierville
Vacation Rentals
Additional Information
Towel Rental: No
Towels are FREE!!! They even have a towel exchange located at the port side snack bar. When you want a dry towel, just exchange the wet one. I hope too many people don't take advantage of this one. I'd like to see this method stick around for a while.
Cabana Rental: Yes
They have a limited array of Cabana Rentals. If you'd like to rent one for your day at the park I would get that taken care of as soon as I arrive at the park or even beforehand when purchasing the tickets.
Cabanas were never make or break for me, but I know my fair share of folks who feel the exact opposite way. Having a private home base at the water park is their priority number one. If that's the way you feel, go ahead and get that done as early as possible.
Lockers: Yes
There are lockers available to rent.
The Wild Water Dome is a very well-designed and fun indoor water park. The entire resort offers plenty to enjoy and can be the whole vacation in and of itself. Don't forget to check out the other water park options they offer.
Maybe even get all 3 taken care of in one trip. The kids will love it!
You can plan a wonderful trip filled with different environments, tube slides, and kids' play areas for each. And if you find there will be a day with poor water park weather?
We have one of the three water parks indoors! Wild Water Dome is a great place to visit, and I think you'll agree!
Other Family Fun Activities in Gatlinburg
French Broad River and Lake Helicopter Trip: See the beautiful Smoky Mountains from above the clouds with this bird's eye view.
Roaring Fork 2.5 Hour Jeep Tour: Fun for the whole family as you travel through nature in an open-air custom-made Jeep
Wild Bear Falls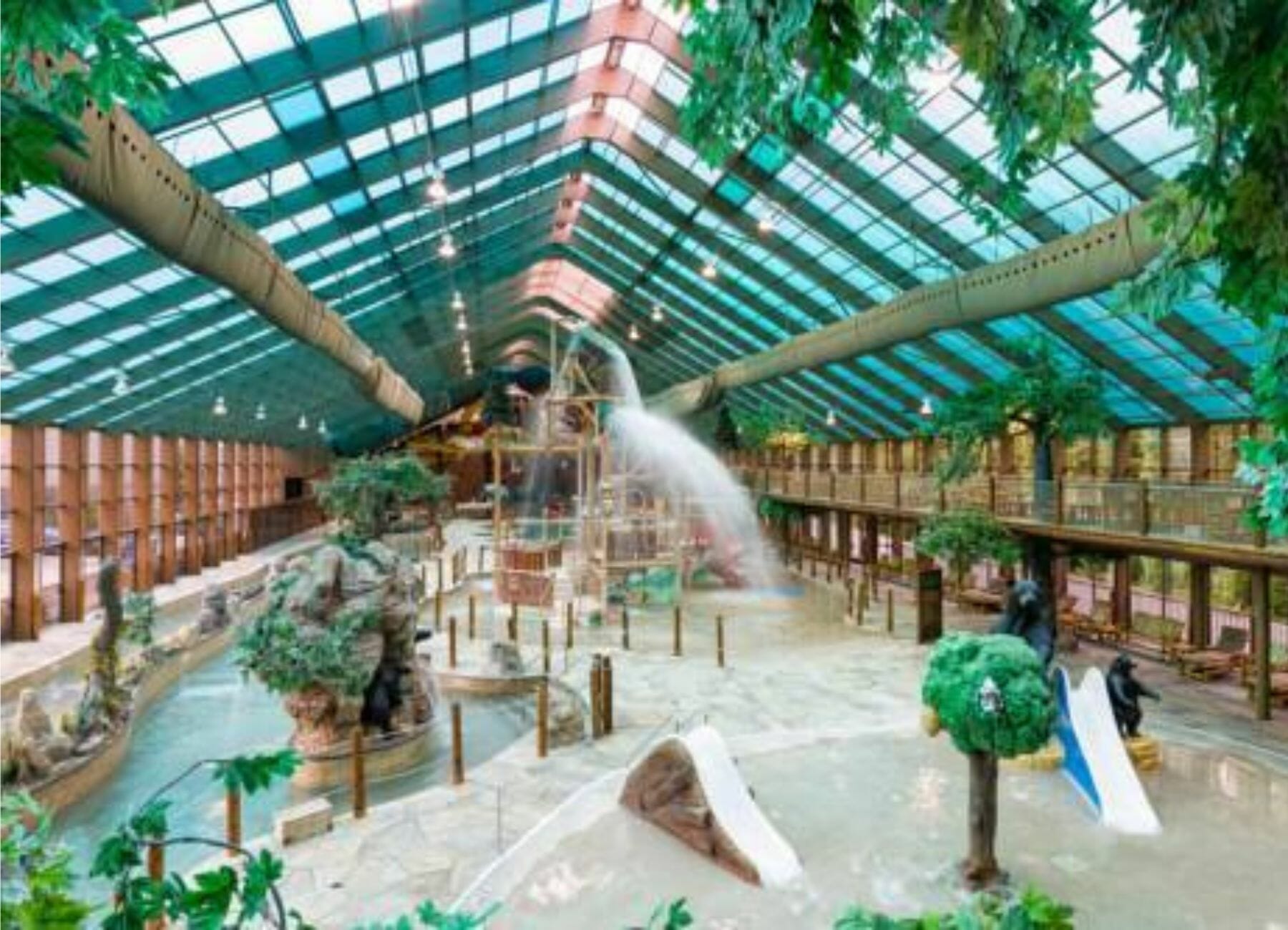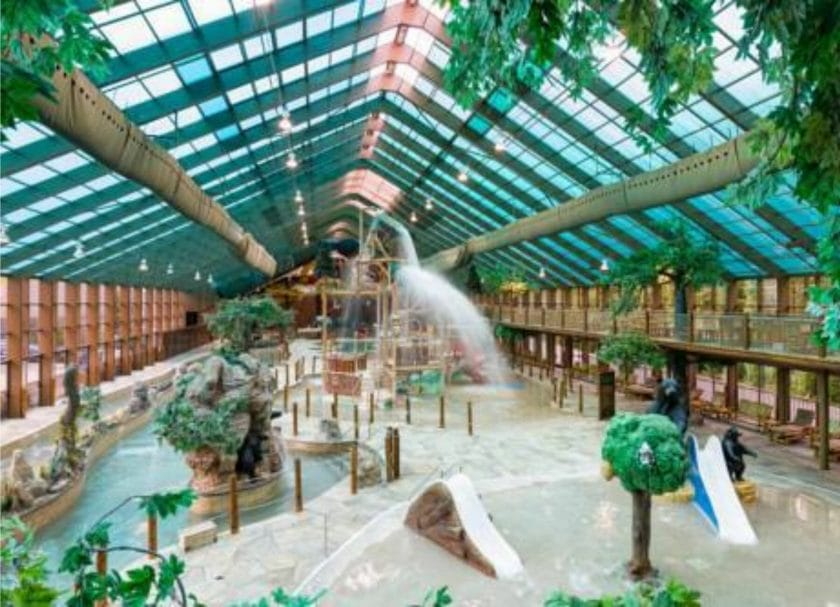 Gatlinburg is arguably the energetic center of the entire three-city area in Eastern Tennessee. Bordering the Great Smoky Mountain National Park, it is a tourist's haven. An epic collection of attractions that are sure to blow your doors off the first time you see it.
Gatlinburg is the more historic location of the three and is the reason everything is in the area in the first place.
It's also the location of the next Tennessee indoor water park we're going to take a look at today.
Not far from Sevierville and Wild Water Dome, but it's definitely a different place.
The Wild Bear Falls water park inside the Westgate Smoky Mountain Resort and Water Park is smack dab in Gatlinburg, which has a ton of family attractions within a short distance of the hotel to add to the fun when staying there.
This one could be considered a bit more on the tame side and might not fulfill the needs of adventure extremist teens, but that can be its own positive. With plenty of goodies for the younger kids, they can have the run of the place with almost nothing being too extreme for most of them.
A 60,000 square feet water park boasting a retractable roof makes tame and small difficult words to use when speaking about Wild Bear Falls, though!
Let's dig into this one to see what I mean.
Wild Bear Falls Features
Here is what you can expect when you visit Wild Bear Falls:
Dumping Bucket: Yes
It's just about the first thing you see when walking into the water park. The Ramsey Cascades is the interactive tree house with a 300-gallon bucket looming overhead.
Timed to spill over when it's reached its fill, anyone and everyone can wait underneath for that delightful splash that has become synonymous with water parks these days.
Water Coasters: No
No water Coasters at this one. Sorry!
Wave Pool: No
We won't have a wave pool to frolic around in, but we do have a nice-sized heated pool with basketball hoops in the center. The Swimming Hole has plenty of space and even a series of small coves outside where your group can get away from the splashing kids while still in the pool!
Tube Rides: Yes- Two of them!
Laurel Falls and Clingmans Dome are the two main attractions at Wild Bear Falls. They are located at the top of the large wooden platform in the center of the park. Each of the 350 ft slides provides the excitement the kids will be looking for.
Swim-up Bar: No
No swim-up bar, but there is a nice traditional bar where you can kick back with a drink.
Lazy River: Yes
Cades Cove is a 900 ft long lazy river that takes you around much of the outside ring of the park. There are numerous water features along the way which are just fantastic!
So when you're floating along you may have a tree branch squirting water at you at specific points.
There are also lots of bears placed along the route. It's a well-themed and enjoyable attraction.
I love a good lazy river!
Children's Play Area: Yes
While the Ramsey Cascades could absolutely be considered a children's play area, they also have a zero-depth splash pad for the "wee ones". The Little Pigeon River is packed full of fun splash effects for toddlers to play around in.
Dining Options at Wild Bear Falls
The Roaring Fork is a restaurant is located on the second-floor balcony overlooking the water park. There is an ambiance that fits in very well with the park environment.
Some call this a snack bar, but it's a bit more than that. A quick-serve restaurant offering sandwiches, chicken fingers, flatbreads, and salads.
It's very clean and well stocked at all times, and it's the perfect quick food break that will get you back to the fun in no time!
Where To Stay When Visiting Wild Bear Falls
Every time I've been to Gatlinburg I've chosen to rent a cabin. There are literally hundreds of different cabin options around town. Many offer stunning views of the surrounding Blue Ridge Mountain Range.
Nabbing a full cabin with three floors or so, 4-5 bedrooms, a hot tub Jacuzzi, and a full kitchen is hard to pass up, in my opinion. We've had cabins that came with full game rooms with pool tables, foosball, arcade games, and ping pong tables.
So, I recommend looking into the cabin rental scenario when heading to this area. It's a special aspect of Gatlinburg that you might not want to ignore.
Vacation Rentals
That said, The Westgate Resort, which is where the Wild Bear Falls park is located, is a pretty slam dunk option as well.
It's hard to beat walking from the water park to your room and the ease of use can carry quite a bit of weight for our vacations. Simplifying can be worth thousands!
The resort has options ranging from a standard two queen bed room all the way to condo-like one-bedroom villas. You will undoubtedly want to explore the offerings right in the resort before making any firm decisions.
Here are some other hotel options:
Hotels
Edgewater Hotels and Conference Center
Additional Information
Towel Rental: Yes
Towels are available to rent for the day.
Cabana Rental: no
No cabana Rentals at this water park, but you can rent or even own a cabin in the Westgate Resort!
Lockers: Yes
They have lockers available to rent for your time at the park.
Showers: Yes
There are showers to spritz off before entering the pool.
Day Passes Available: Yes
They have day passes and weekly passes available. You do not have to stay at the resort to have fun at the water park. This is not always the case, so if you choose a cabin stay, you will still be able to visit and have a fun day at Wild Bear Falls.
A day pass for the park is approximately $25.00
If you plan on spending more time in the water park, You can save a nice chunk of money if you purchase the 3-day ticket. It will run for about $54.00. That saves just about the price of a day pass!
Other pass combinations vary in price as well. Use the website to make the best decision for your party and your specific needs.
Children under 3 are always FREE!
Wild Bear Falls is a beautiful mountain themed indoor water park. Over 60,000 sq ft of play space and over 300,000 gallons of water running through the park separate it from what I would call a small park.
It's well maintained, and there is obvious attention to the theme, which is always nice to see. Theming is an underrated aspect of water parks such as this but adds a level of fun the non-themed park simply doesn't possess.
I'll reiterate that it will be a much bigger hit with the younger kids than the adrenaline-seeking teens, but no matter the group, a very fun day is almost assured at Wild Bear Falls!
Soundwaves Water Park Gaylord Opryland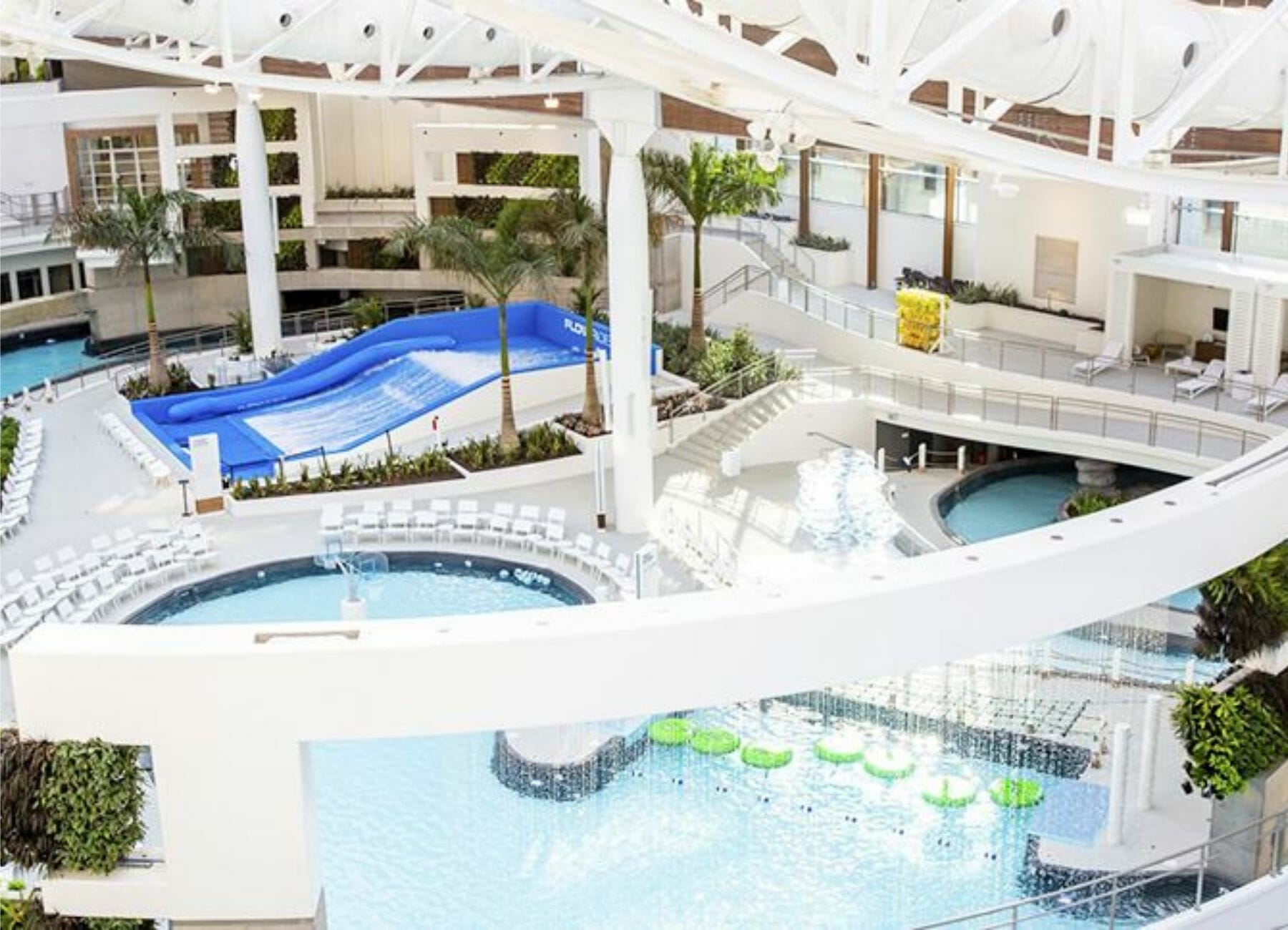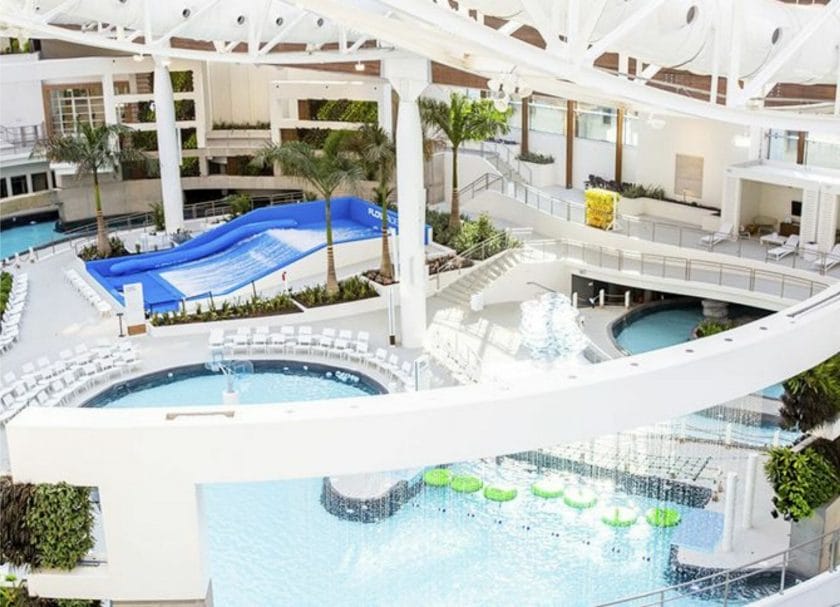 As we take a little break from the Gatlinburg/Pigeon Forge/Sevierville area of Eastern Tennessee, we're going to head west to the center of country music itself.
Nashville, Tennessee, has its own indoor water park! It's located in just about the most Nashvillian hotel in the town, The Opryland Hotel.
What sounds more Nashville than that?
Opryland is a Gaylord hotel that brings my mind to Orlando and Disney World. The Gaylord Palms hotel is one of the Orlando area's centerpieces just outside the Disneyworld resort.
If you've driven into Disney World, you've seen the Gaylord Palms!
This resort is cut from the same cloth and keeps up with the exceptional Gaylord Hotels name. They claim the Soundwaves waterpark is the first truly "Upscale" waterpark in the world, and I think that's hitting the nail on the head!
Soundwaves Features
The word that comes to my mind when I think of Soundwaves waterpark at The Gaylord Opryland is Next Gen. I can't help it. This place just doesn't look or feel like any other water park I've ever been to. Soundwaves contains 111,000 sq ft of water effects and state of the art attractions like you've never seen them before!
Remember, they are calling it an upscale water park, and it really feels like it.
The wide open spaces and extensive use of whites and blacks with clean lines give the park a unique feel. This very likely is a peek into the future of waterparks.
Eleven water slides, an obstacle course, and a FlowRider surfing simulator are just the beginning!
Dumping Bucket: Yes
In the Half Note children's play area, there is a big blue bucket that gets dumped on everyone's heads every few minutes!
Water Coasters: Technically, No.
It's not technically a water coaster, but it feels like one. The Record Launch attraction allows you to choose one of two adventures once you're at the top. I'm almost positive you will ultimately try them both, but they are very different and exciting slides.
Wave Pool: No
There is a rather large pool but not a wave pool. They've chosen to replace the standard waterpark wave pool attraction with a water obstacle and activity course.
Rock Walls, basketball hoops, the lily pad walk, and even a 30' tall water curtain are part of the Groovin Lagoon Activity Pool. Oh… yes it's a water curtain. Not a waterfall. There IS a difference. Who knew?
Tube Rides: Yes
A few of the 11 slides are tube rides. There is the Rapid Remix slide which has a large tube, able to accommodate up to 4-5 people at the same time.
The cool thing about this slide is the ever-changing lighting and sound effects as you embark on your journey. LED lights inside this slide are masterful and add something you didn't even know you were missing on similarly styled slides elsewhere.
Swim-up Bar: Yes
The Status Cymbal Adult Pool and Bar is exactly what the Doctor ordered when seeking a libation separated from the screams of excited kids!
Lazy River: Yes AND No!
Ok, this is an interesting wrinkle that I've not seen before. We have the traditional lazy river called the Down Tempo Lazy River. When I say traditional I mean ONLY in the sense that it's a river with a tube and it's lazy.
This attraction takes you through LED lighting effects, lit caves, and water features. One area even has a star-lit night right above you on the cavern ceiling. All while listening to different music played from your surroundings.
The Down Tempo is one of the most unique and well-designed lazy rivers I've seen to date.
But Then… Then we have the Up Tempo Rapids River. This is not what you'd expect from a waterpark river attraction. 36" inches deep and with a nice steady current. You will traverse through waterfalls and LED lighting effects.
It adds a nice touch of excitement to the river type of ride, and the combination of both rivers really makes the park. You can choose one or you can do what I do and make it a priority to experience both.
I mean, why not right?
Children's Play Area: Yes
We have two. The Quarter Note Cove is designed with the smallest kids in mind and has lots of fountains and spray features.
The Half Note Cove is the larger play structure. It's also designed for kids, but this is the kind of attraction I use my kids as an excuse to play on and/or around. This is where you'll find the medium-sized water slides and the big dump bucket.
I honestly don't think I'll ever mature past enjoying the dump bucket splashing down on my head. Is there anything better?
The multi-level Half Note play structure is perfect for the kids to run around on for an hour or two.
Dining Options at Soundwaves Waterpark
The main dining option while spending the day at Soundwaves is Decibels. This is where you will get Starter items such as Hummus and Coconut Shrimp or if you have worked up more of an appetite, you can dive into their Headliner selections.
The Coney Dog, Tennessee BBQ pork sandwich, and Hot Honey Chicken Sliders round out a robust main course menu.
If you're wondering what the Intermission menu items are all about, think IPA and Pilsners or maybe you'd like something with a little more kick like Soundwaves punch. It's the drink menu, of course!
There is also a nice dessert menu they like to call the Encores.
Where To Stay When Visiting Soundwaves
There's really only one place to stay if you're hoping to get a day at Soundwaves waterpark. It's only available to Gaylord Opryland Hotel guests.
Don't worry though. You won't mind spending a few nights at this well-thought-out and appointed resort hotel.
The standard hotel rooms are available up to Parlor and Deluxe Suites. Depending on the size or requirements of your party, you will surely be able to find exactly what you're looking for at the Gaylord Opryland Resort Hotel.
Book your stay at the fabulous Opryland Gaylord Hotel and Convention Center
Additional Information
Towel Rental: No
Towels are included.
Cabana Rental: Yes
Private cabanas are available for rent.
Lockers: Yes
Lockers are available but you could just leave your belongings in your room. Or maybe when you rent a cabana, we can leave a few bits and bobs over there.
Showers: Yes
Day Passes Available: Yes
Day passes are available for purchase for hotel guests. There are a few package options to explore as well.
This might seem a bit strange, but when it boils down to it, Soundwaves is the type of indoor waterpark you just might consider building your Tennessee vacation around. It's so incredibly unique that new experiences await around almost every turn.
Even the old water park reliables just feel different here.
New experiences being what they may be, Soundwaves still packs the same powerful punch that some theme park water parks have in store.
We all love special effects and unique takes, but it still has to come with the same fun a water park should.
Soundwaves does that in spades. Staying at the resort and having a fun day at the waterpark doesn't preclude spending other days at all of the fantastic attractions Gatlinburg has to offer.
This is just a pretty solid option for a home base like you've never had before.
Family Friendly Activities in Nashville
3 Hour Secret Food Tour Experience some of the best food Nashville has to offer
Discover Nashville Half Day City Tour Learn about the history behind Music City. This amazing half-day tour includes admission to the Ryman Auditorium and The Country Music Hall of Fame and Museum.
Splash Hollow At The Holiday Inn Vacation Club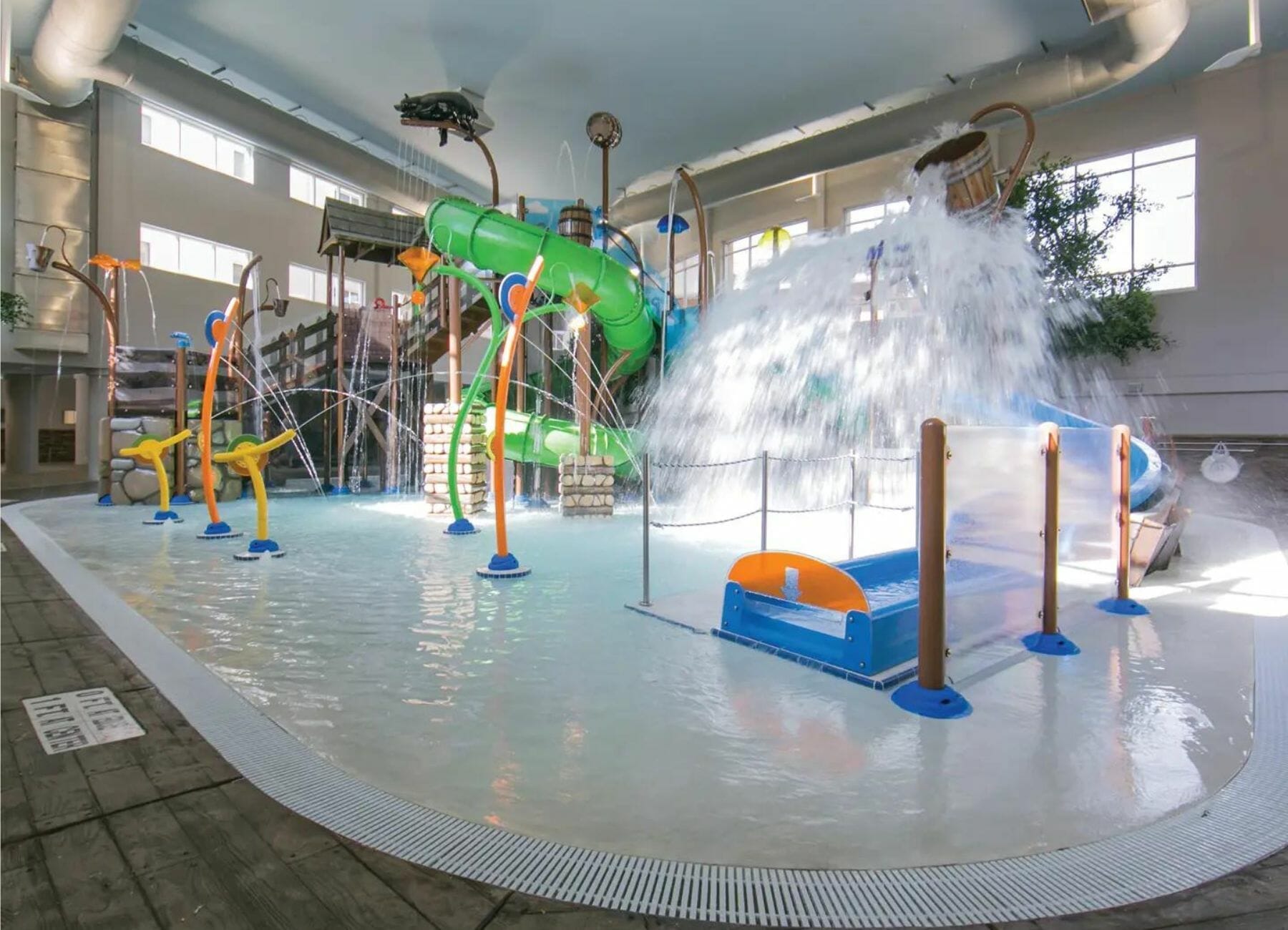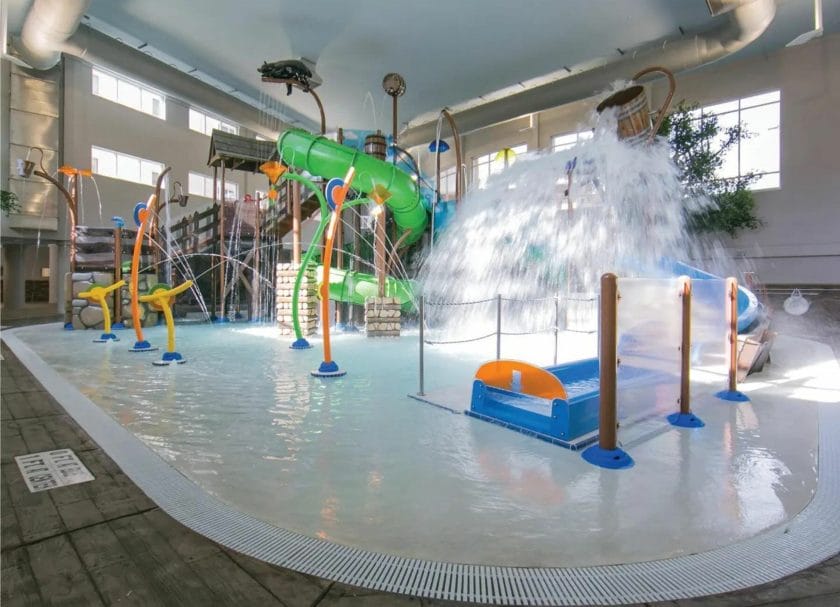 Ok, I'll admit it. I didn't think I was going to add this one, nor have I ever considered including a Holiday Inn to any article I've written before.
But here's the thing. As far as hotel pools go, this is such a cut above that you simply must know it's there!
Splash Hollow is not on par with Dollywood's Splash Country or even the places previously mentioned in this article. That's ok. There are budget variances between us, and keeping every option in mind is the way to ensure we have the best possible indoor waterpark vacation we can.
This one is definitely for the little ones. It will be a vacation in and of itself for the eight and under tykes. They may even want to head back to the hotel early just to get some more time in here.
What I like about Splash Hollow is it's not trying to be a destination attraction. It's trying to make a nice-sized addition to and even simplify your vacation.
Sometimes taking that rest day in the middle of a week-long vacation can make or break the trip. Splash Hollow allows you to do just that without having to entertain the kids or withstand the onslaughts of "I'm Bored" all day.
That's a pretty good start!
Splash Hollow Features
I want you to take a second and remember every hotel pool you've ever been to. Some are small. Some boast Olympic-sized lanes where you can get your morning laps in.
Others even have a water slide or a little theming such as a small pirate ship or cartoon animals.
That's the pocket I'd like you to place Splash Hollow into.
When we discuss its offerings, we want to remember that this one is FREE with your room rate when you stay at the hotel!
Dumping Bucket: Yes
Yep. A Hotel pool with a splash-filled dump bucket. It's right at the center of their multi-level splash and play structure!
Water Coasters: No
I did mention this was a Holiday Inn, right? Water Coasters are reserved for the biggest and best water parks in the country. We'll be mentioning water slides, but coasters haven't made their way over here just yet. Nor are they likely to ever!
Wave Pool: No
There is a nice heated hotel pool with a T shape to it. There won't be many waves to endure though.
Tube Rides: No
No tube slides, but we do have three water slides. Varying in size, there will be enough to keep the kids screaming with delight for hours.
Swim-up Bar: No
No swim-up bar here.
Lazy River: No
No Lazy River at this one.
Children's Play Area: Yes
The Children's play area is kind of the whole place. It's designed for them. Fountains, dump buckets, water sprayers, and water slides adorn the play structure and can give the young imagination a ton to work with.
Dining Options at Splash Hollow
There isn't a restaurant to speak of as a recommendation inside the hotel but this gives us an incredible opportunity to explore the almost endless options in the Gatlinburg area. There's something for everyone.
*May I recommend the Lumberjack Dinner Theater? My son still has the signed log wafer one of the star lumberjacks gave him when he was little.
Our lumberjack won the big challenge, and my son got the trophy for cheering the loudest for him! We will never forget that one. Pigeon Forge has many options like that and you can have a memorable experience once you're all rested from the day at Splash Hollow.
Where To Stay When Visiting Splash Hollow
The Holiday Inn Vacation Club of course. The water park is only available to hotel guests. If you'd like to take advantage of this sweet little nugget of a park, you will need to stay at the hotel.
Holiday Inn Express Gatlinburg Downtown
Additional Information
Towel Rental: No
They do have towels available for you.
Cabana Rental: No
No cabanas to rent here.
Lockers: No
Showers: No
Day Passes Available: No
Again, Splash Hollow is its own thing on this list. Something a little bit different to consider when planning your trip. It's all about the ultimate goal here. Splash Hollow can be a great addition to your plans.
Fun for the kids while you take a breather. Now doesn't that sound nice?
We can talk about centering our trip around a place like Soundwaves or we can utilize hotel amenities to help give us the stamina to absorb the rest of the area. Either way, you choose to go, it's always so important to do your research before you head out.
Some of the best-intended trips are ruined when you arrive only to be surprised by how different everything was from what you expected. Now we can see and almost experience it all before we even leave the house.
Take the time necessary to ensure everything is just the way you want it when you get there.
Tennessee is an amazing state and I've spent so much time there over the years without even scratching the surface. From the mountains to Memphis, there is a lot to see and do.
Heading to Nashville to take a stroll down Broadway includes Honky Tonks and buy 1 get 2 Free cowboy boots. Now it comes with the most upscale indoor water park in the country.
Gatlinburg was famous for its family entertainment including hiking trails, mountain coasters, unique artisan shops, the salt and pepper shaker museum, and more history than you can handle. Now some of the largest and most robust indoor water parks are there for the taking!
There are a lot of ways to look at it, but the Tennessee indoor water parks are a fantastic way to spend a vacation in such a beautiful and diverse state!
For More About Tennessee Family Travel Check Out:
29 Enjoyable Things to Do In Nashville
17 Chattanooga Restaurants You Won't Want to Miss
Experience the Unforgettable Grand Ole Opry
11 Fun Things to Do at Coolridge Park in Chattanooga
For More Indoor Water Park Fun Check Out:
Top 12 Indoor Water Parks in Ohio You Will Want to Visit
Top 5 Indoor Water Park New Jersey You Won't Want To Miss!
Top 13 Amazing Indoor Water Park Dallas You'll Want To Check Out!
Top 7 Amazing Indoor Water Park Texas You'll Want To Check Out!
Top 4 Indoor Water Parks in Michigan
The 4 Best Indoor Water Parks Wisconsin
Pin it for later: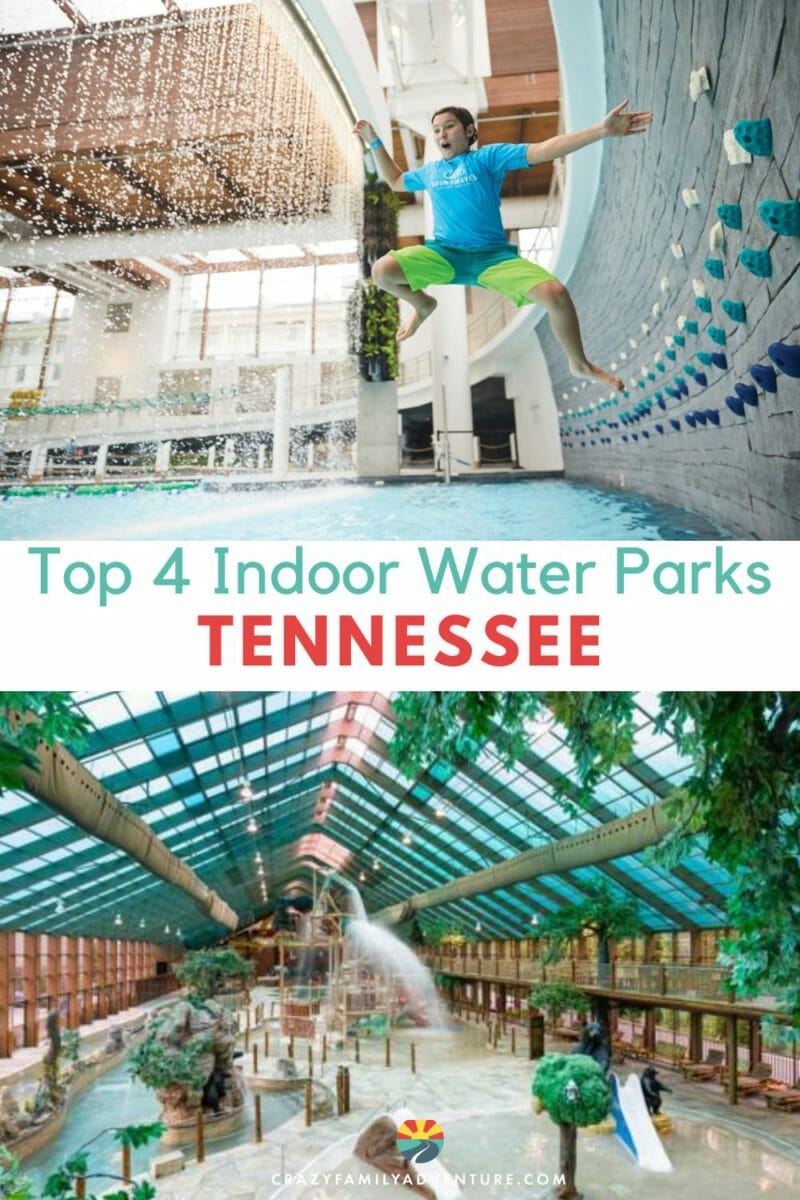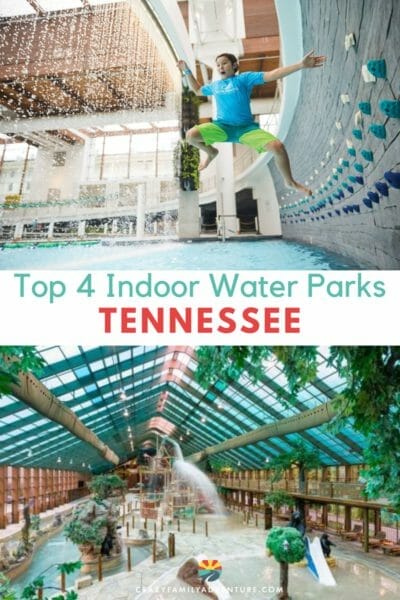 Latest posts by GreenBean
(see all)
DISCLOSURE: This post may contain affiliate links, meaning I get a commission if you decide to make a purchase through my links, at no cost to you. Please read my disclosure for more info.