When in Chattanooga you will want to make the walk across the pedestrian bridge from downtown Chattanooga to Coolidge Park! As you walk across the Walnut Street pedestrian bridge you can start to make out the water fountain splash pad and the building where the antique carousal is located.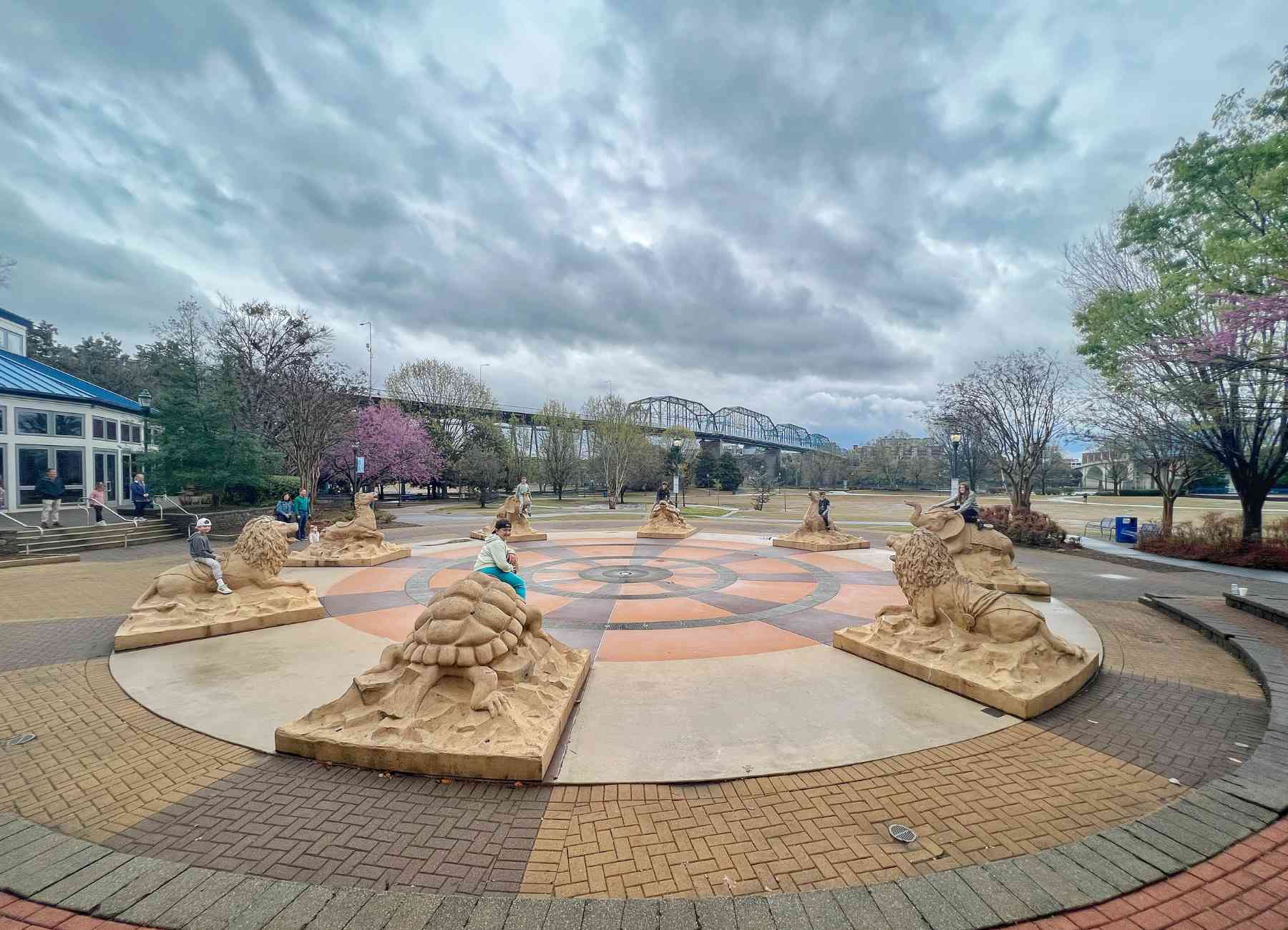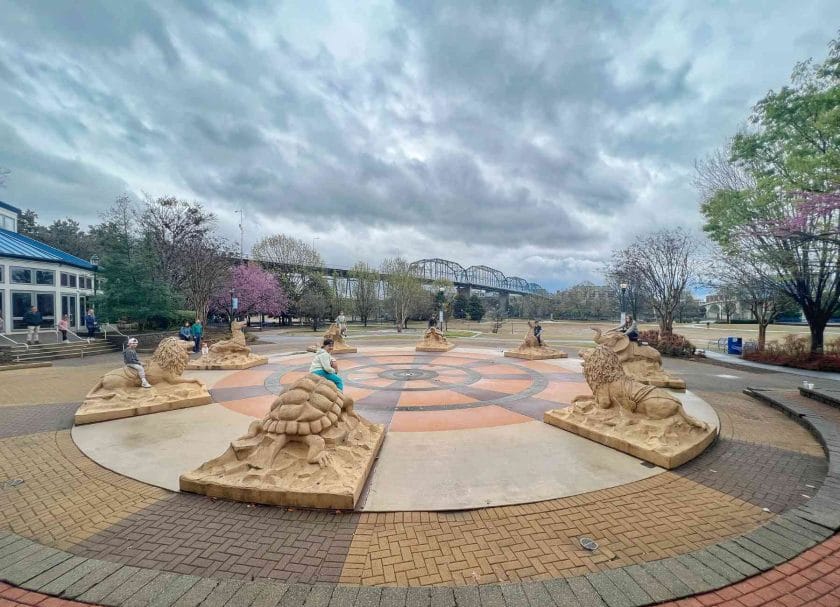 Plus there are some good Chattanooga restaurants and Chattanooga breweries on this side of the bridge.
I always love to see green spaces and parks in cities and Coolidge Park is just that for Chattanooga. At the park you will find the following:
Antique Carousel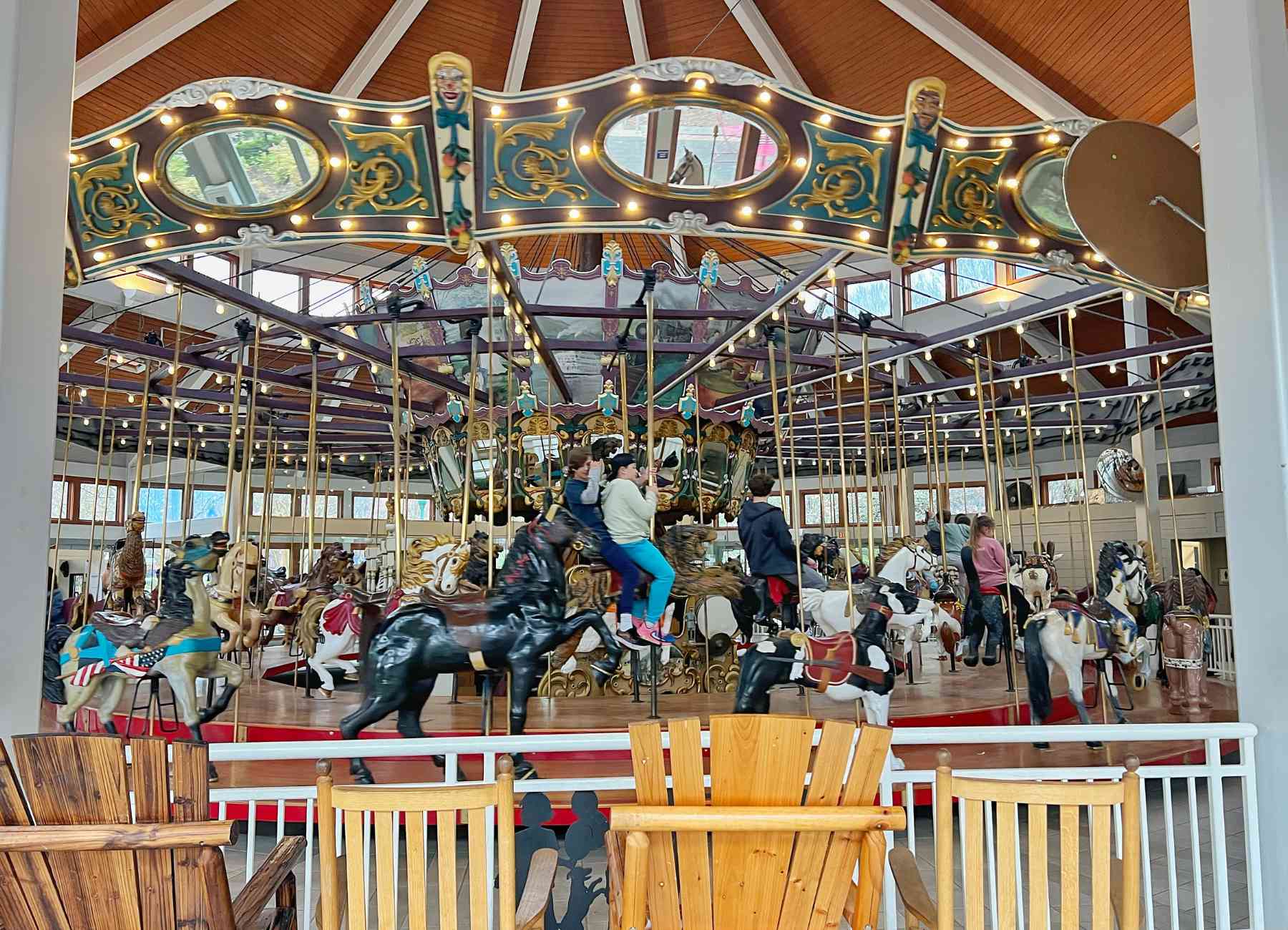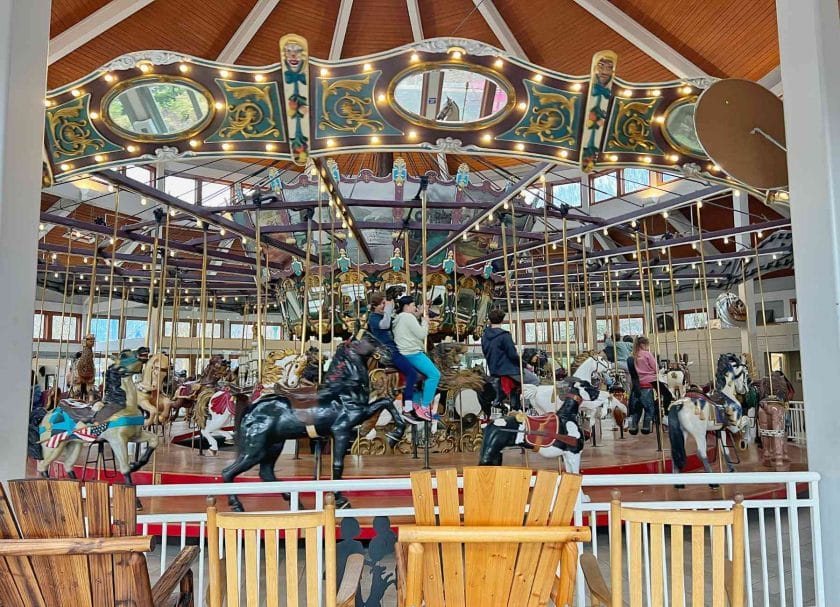 The 100 year old carousel is located inside and has 52 hand-carved animals, a calliope band organ and ornate. There are also gold-leaf benches. The carousel is surrounded by wooden rocking chairs that you can sit in and watch your kids go around and around on the carousel.
There is a kiosk to buy tickets. And they are a whopping $1 per person per ride! Hello! Yes kids you can ride more than one time!!
Our kids jumped on and the carousel started to go and it was fast. We sat in the rocking chairs and relaxed as we watched them.
Open Space To Run And Play
There is a large grass area in the park when you can run around with your kids or layout on the grass and take in some sun. It is located right on the river with the Walnut Street Pedestrian Bridge behind it.
Note that dogs are not allowed in the park
Picnic Area
Bring a picnic lunch and blanket to enjoy on the green space while you take in the downtown Chattanooga skyline and the bridges.
Interactive Play Fountain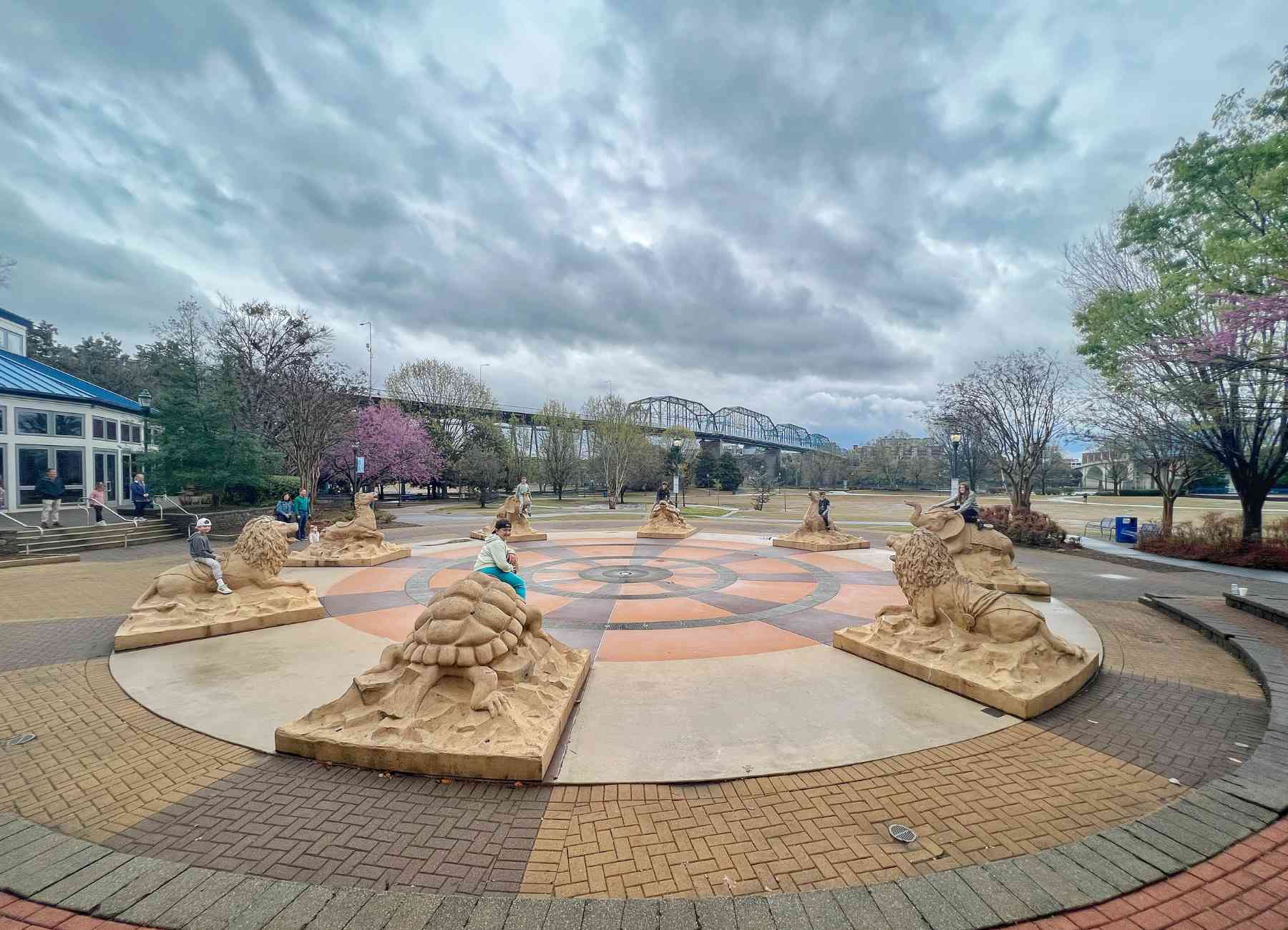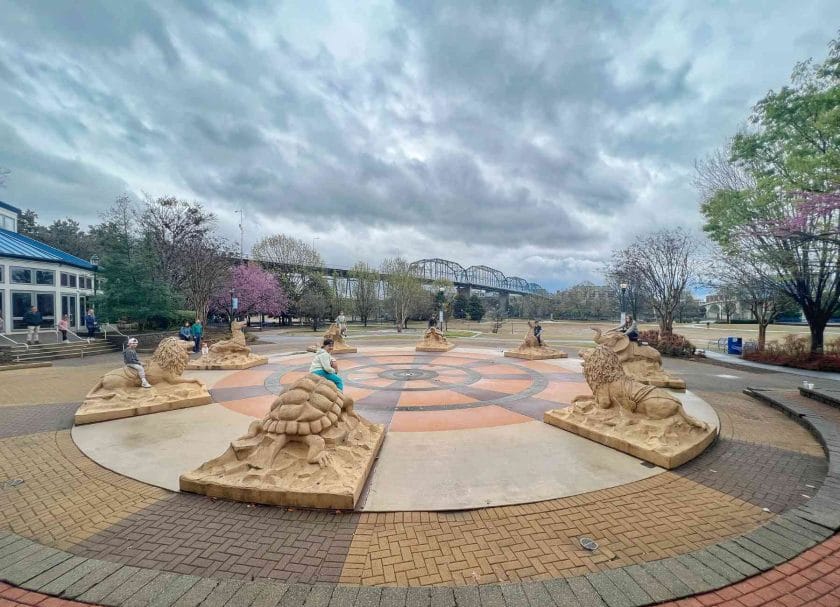 There is a beautiful interactive play fountain with gorgeous animal statues that shoot water out of them. Our first time here we didn't come prepared and our kids just jumped right in with their clothes on.
It was too fun to miss so we said what the heck go for it. They had a blast playing in the fountain it makes a great play area for kids!
The Walker Pavilion
There is also a pavilion in the park which can be rented out.
Special Events
There are a lot of events that take part in the park from movies in the park to concerts and events.
The park is part of the 10 mile long Tennessee Riverwalk System public park.
The park is not huge but it is a great feature to have on the North Shore. Plus the walk across the bridge is well worth it. Be sure to have your camera ready on the walk across the bridge as there are a lot of great photo opportunities!
While on the North Shore you will also want to explore Fraiser Street and stop at the shops and restaurants. Downtown Chattanooga is an awesome place but there is definitely something more grounded on the North Shore.
We recommend checking out the I Go Tokyo shop where over 90% of the items come from Japan. It is a very unique collection of items from kids toys, to knick knacks and tea sets.
Adventure Sports Innovation
If you are looking for some unique adventure sports options or an eco friendly tour be sure to stop in at the Adventure Sports Innovation to see what they have to offer. They focus on electric powered personal transportation devices. How cool is that?!
Plus they have some in house virtual reality options to get you out in nature that way.
Clumpies Ice Cream
if you haven't gotten your fill on Chattanooga's favorite ice cream be sure to stop in at Clumpies.
Julia Darling Donuts
These delicious cake donuts can't be missed! They have regular flavors along with unique flavors like salted caramel and samoa's.
Grab a donut and hang out on one of the couches or get it to go and bring it over to the park.
Brewhaus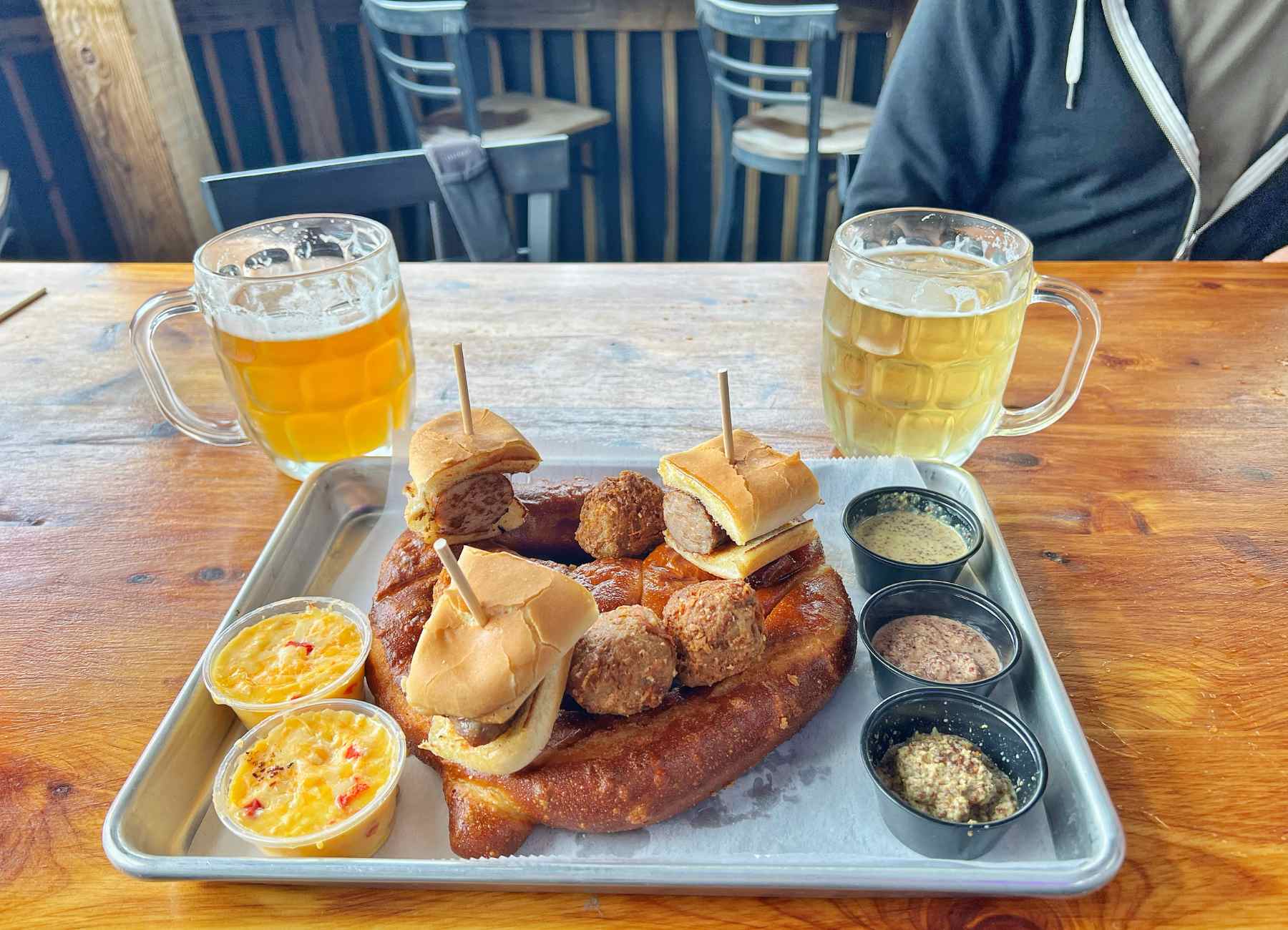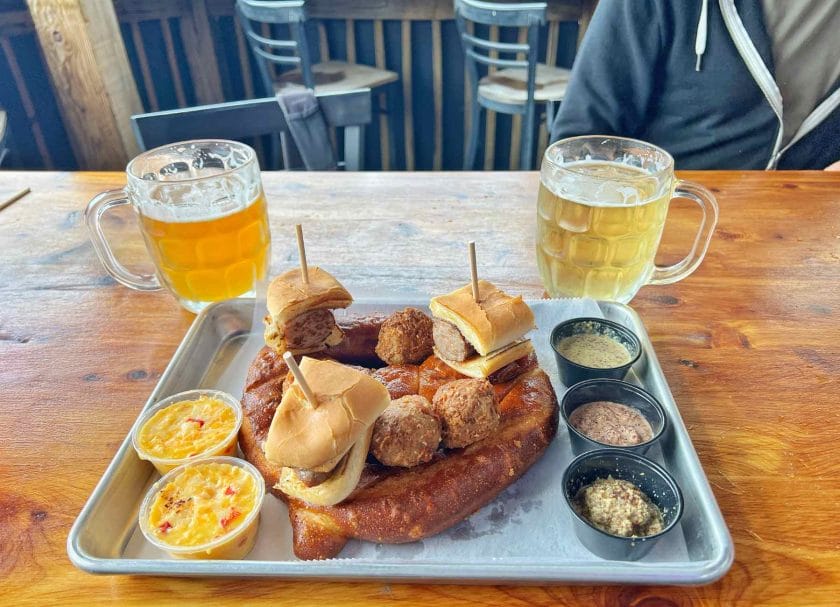 We got lunch at the Brewhouse and it was delicious! If you are in the modd for German don't miss the Brewhouse.
Craig and I went with the Sampler Platter which had brat sliders – such a great idea! A huge pretzel with multiple mustard flavors to try and a side of Pimento cheese and sour kraut balls. Basically kraut with some meat added in and deep fried.
We topped this all off with some delicious beers on tap. Well Craig got a beer and I got the cider on tap and it was yummy. Another bonus about eating in Chattanooga they have cider!!
The kids went with the mac and cheese bites and the large pretzels. I don't think anyone finished the pretzel it was that big. But also so delicious it must have been fried up a little bit?? Whatever they did to it it was yummy.
They had an outside seating area on the back deck which was good. We were there earlier in the day so it wasn't busy. If it was busy it could be hard to get a table so keep that in mind.
If you are looking for German food head to the Brewhaus you won't be disappointed!
Fraiser Ave
These places are all located on Fraiser Ave with a collection of other restaurants and shops. Take some time to walk up and down the street seeing what you can find.
Don't just hang out in downtown Chattanooga when you visit. Instead make your way across the bridge and come check out the North Shore! If walking the bridge doesn't sound appealing to you you can also drive over to the North Shore. But if at all possible take the walk across the bridge.
When in Chattanooga be sure not to miss the Incline Mountain, Rock City And Ruby Falls!
Discover More Tennessee Family Fun!
Tennessee Road Trip 1 Week Itinerary
Top 4 Indoor Water Parks in Tennessee
Best Places to Visit in Downtown Memphis with Kids
The 6 Restaurants in Memphis You Don't Want to Miss
Save to Your Tennessee Travel Board for Later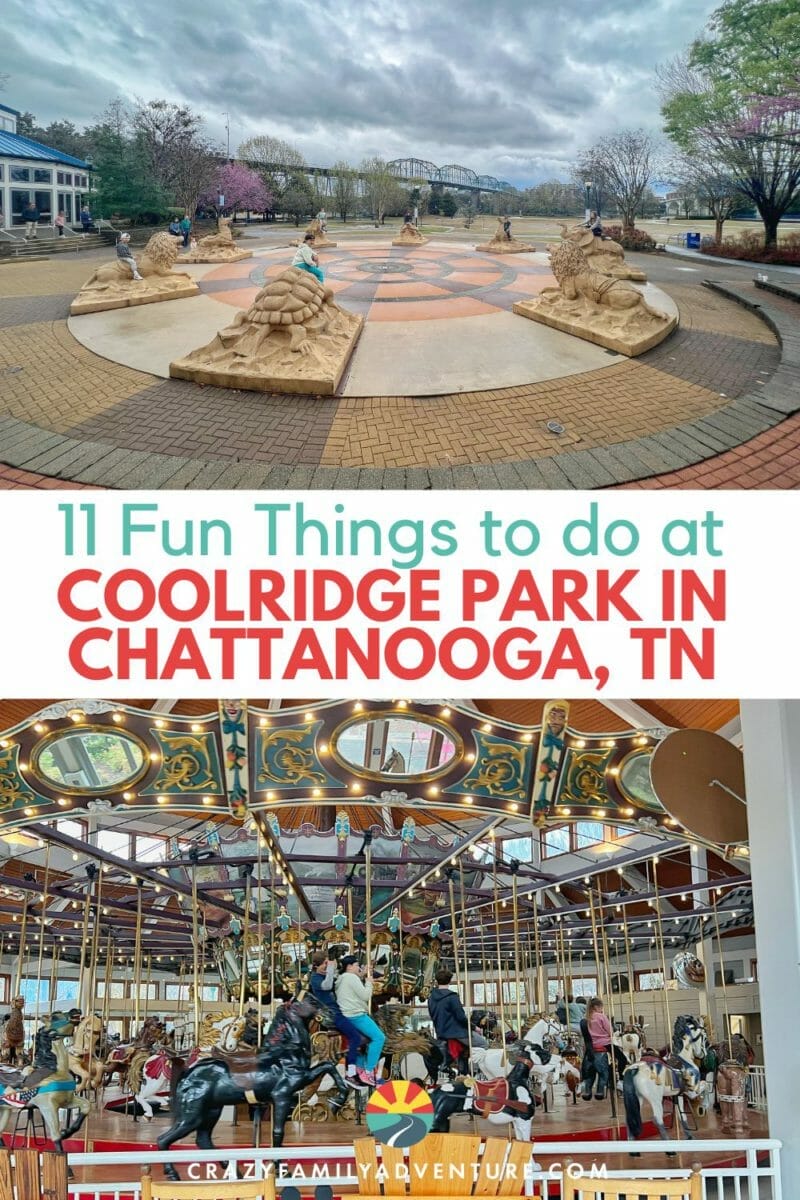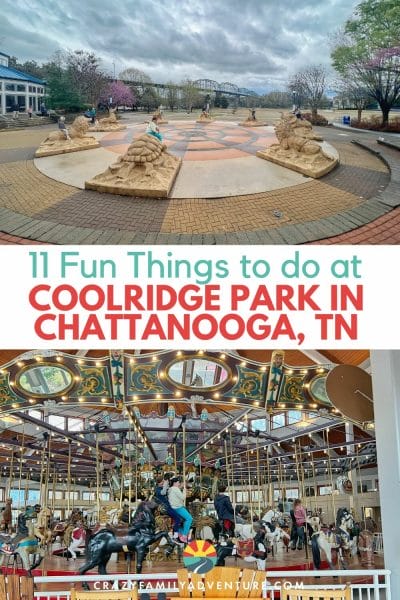 DISCLOSURE: This post may contain affiliate links, meaning I get a commission if you decide to make a purchase through my links, at no cost to you. Please read my disclosure for more info.