There is no shortage of Chattanooga Breweries so which ones should you visit and why?! Below we share our review of 5 different breweries you will want to visit in Chattanooga and what we loved about each of them.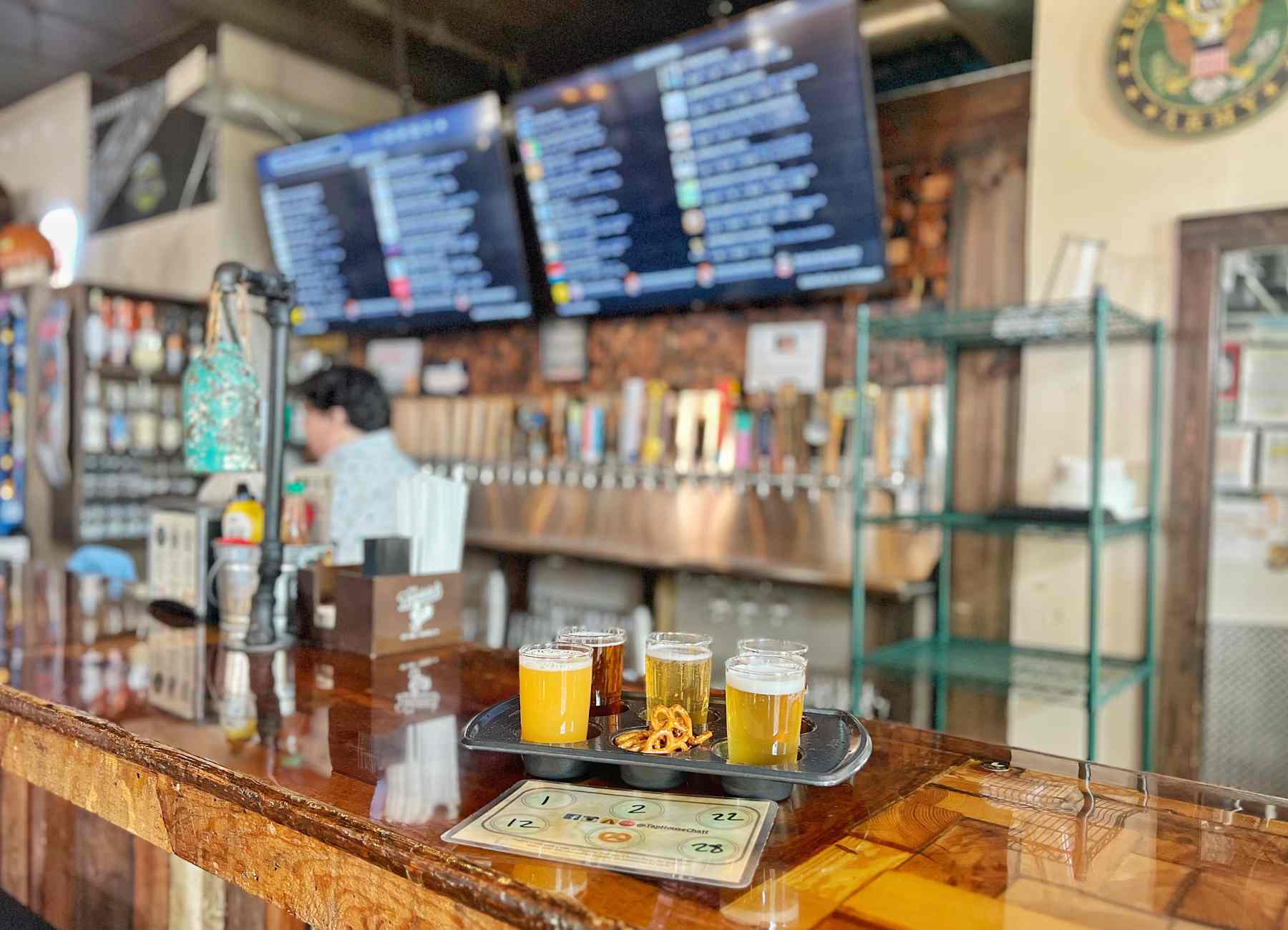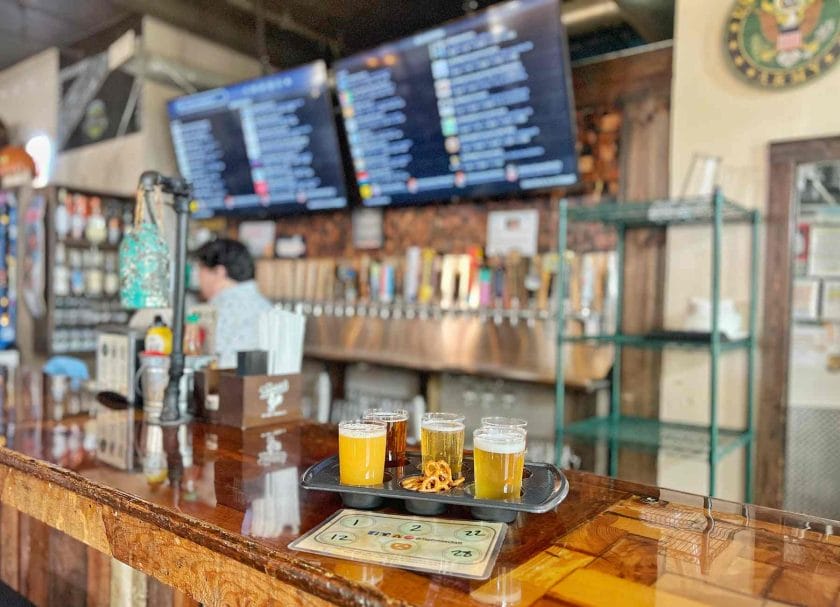 The craft beer scene here is filled with great craft brews, an awesome food menu, cozy taprooms and great locations throughout the city. When in Chattanooga don't miss the Incline Railway, Rocky City and Ruby Falls too!
Overall Favorite: Oddstory Brewing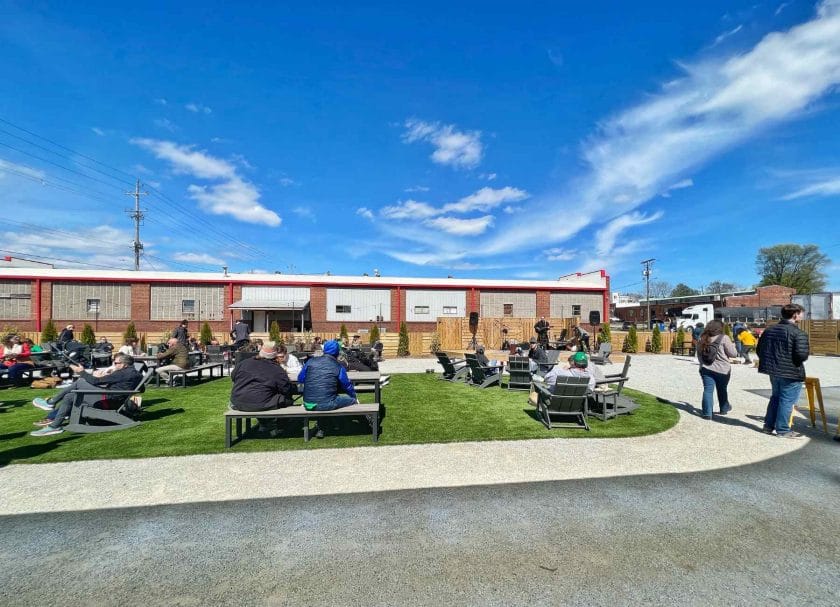 The Oddstory Brewery on Central Ave was our favorite! It has indoor seating but where it really shines is outside. There is a large patio with a cover and heaters over it. Which was nice when we were there on a brisk spring day.
A large astro turf "lawn" area with chairs, picnic tables and fire pits. Plus an area for baggo and a stage for live music.
You can order drinks at the outside bar or head inside to get what you want. They have a variety of beers and some sours on tap. Unfortunately they do not have a cider which was disappointing.
But unlike some other breweries we visited they do have a craft cocktail list. Twist my arm I will get a craft cocktail since they don't have ciders!
Attached to the brewery is the Anamoly restaurant. You go up to place your order and they text you when it is ready. They offer a variety of noodle, chicken sandwich and smash burger options. With a Thai theme and a bit of spice!
We also enjoyed the Thai fries and the samosa egg rolls. They have a kids menu with basic things like mac and cheese and chicken nuggets too.
Kids are welcome at the brewery and so are dogs. There were a lot of dogs there!!
This is a brewery I could see going to every weekend to just hang out, listen to music, and drink some beer or cocktails.
Craigs beer choice: Cloud Walker Pale Ale
Bryanna: A craft cocktail
Chattanooga Brewing Company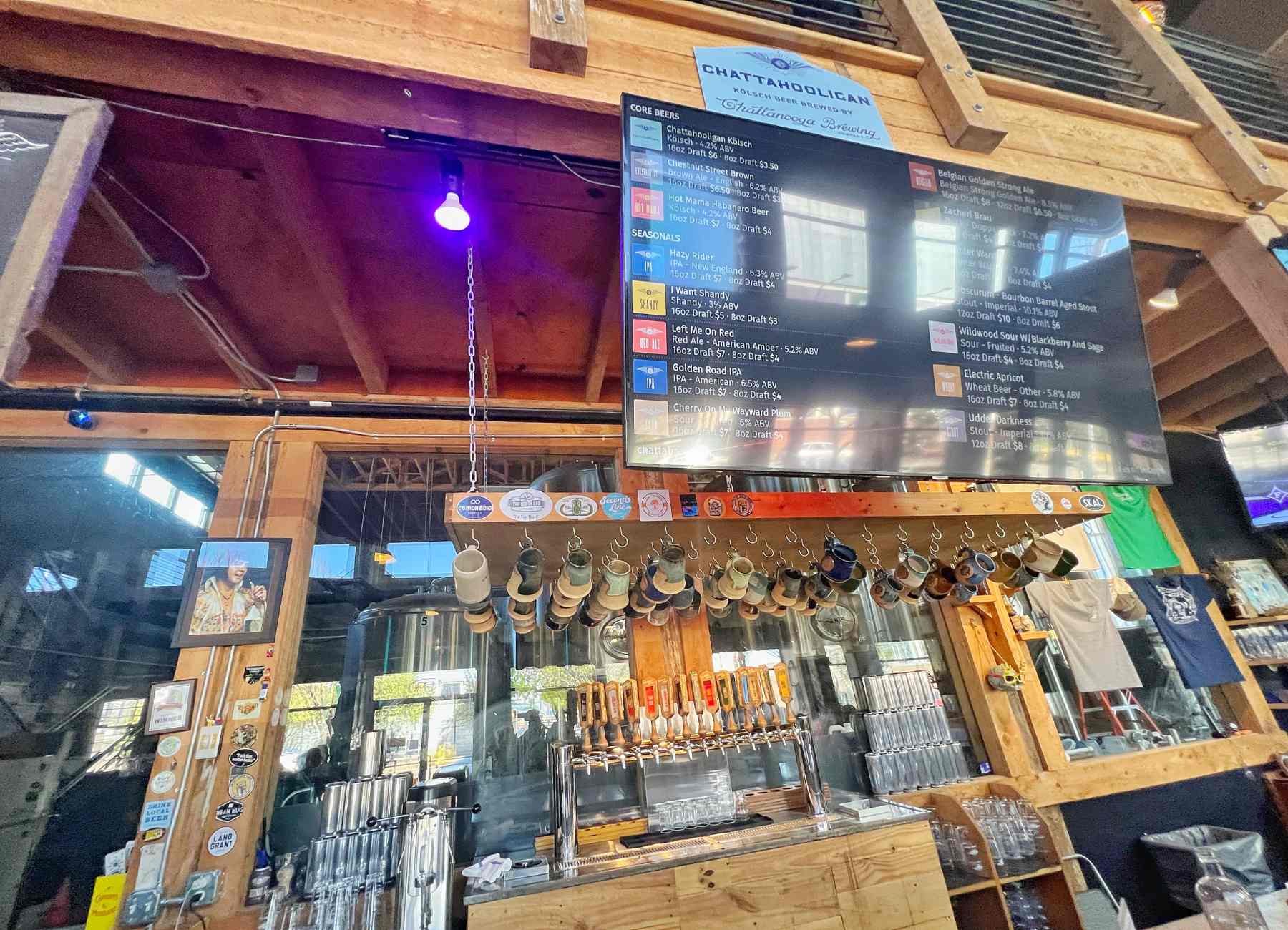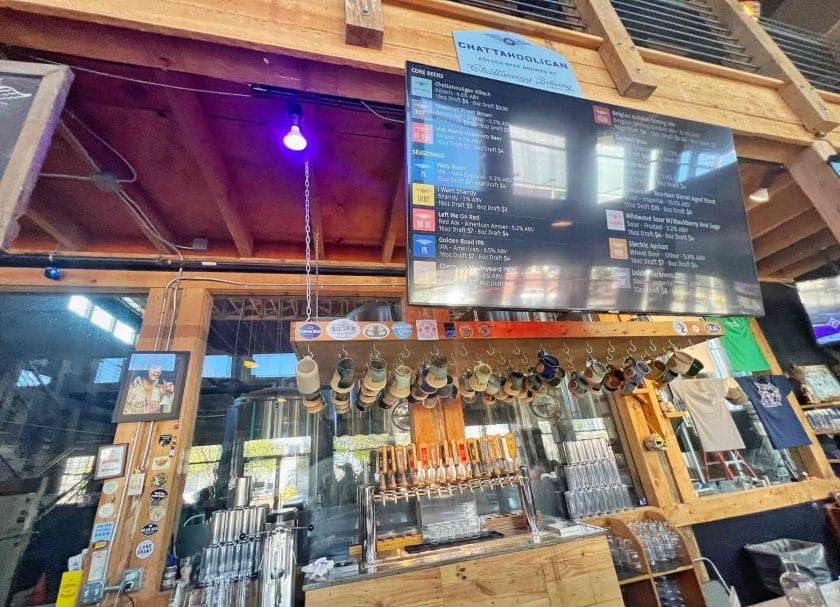 This Brewery is located right across the street from the Chattanooga FC Finley stadium. If you go up to the second floor you could even watch some of the game from there! You can't see the whole field but you can see some of it.
They had a variety of beers to choose from along with a Shanty and Sours. I wasn't feeling a sour and didn't think I would like the shanty but the bartender made me try it. And he was right the Shanty was a good fit if cider was what I preferred.
They had a downstairs area and an upstairs area where you could look over where the beer was made. There was also a shuffle board table, fussball table and a darts area with some couches upstairs.
They had outside seating in the back with a cool mural on the wall as well. Fun fact: In the 1890's the finest german style beer in the country was served here until prohibition closed down the brewery!
Craigs beer choice: Hazy Rider IPA
Bryanna: Shanty: great choice if you like cider
Naked River Brewing Company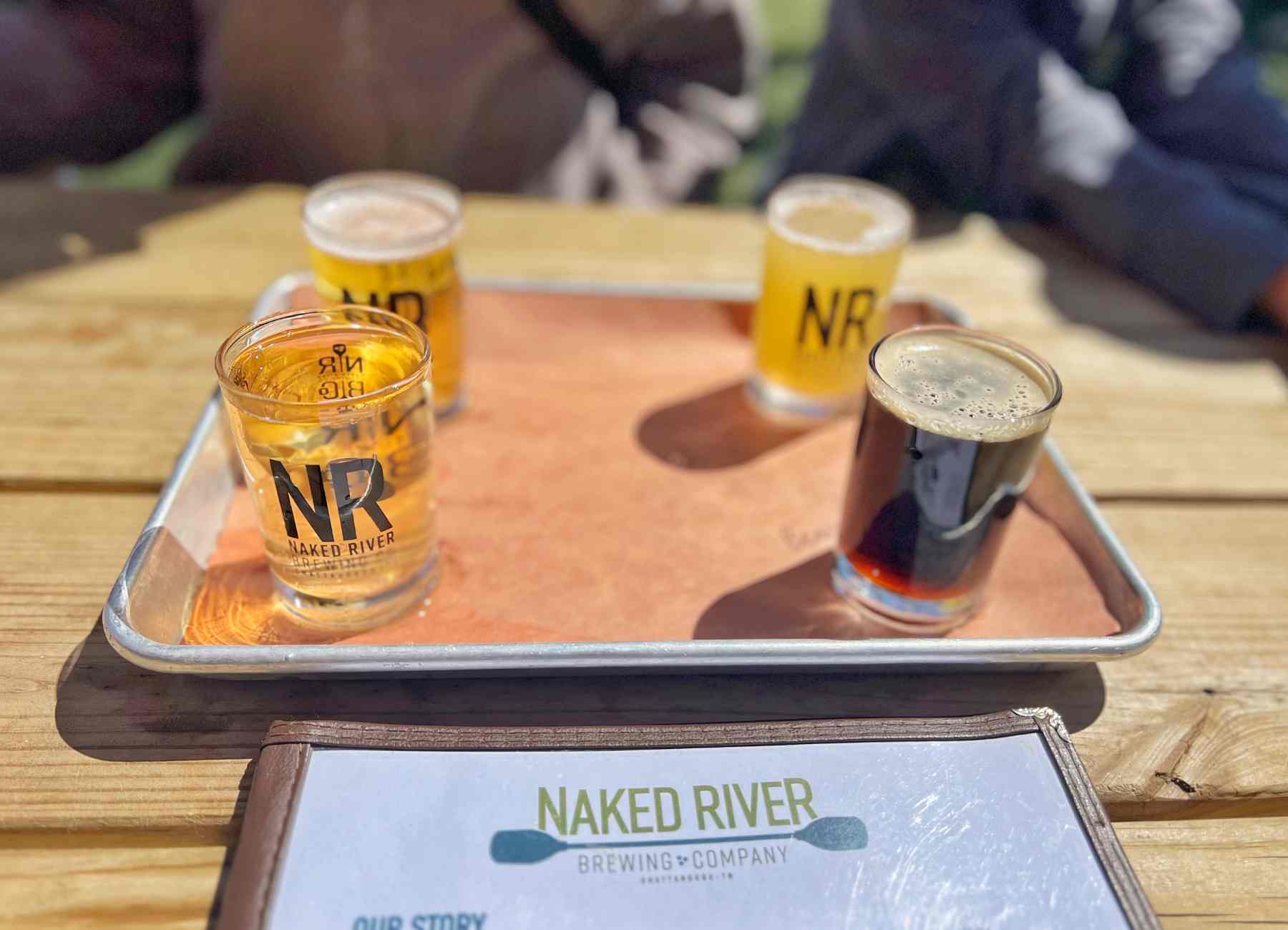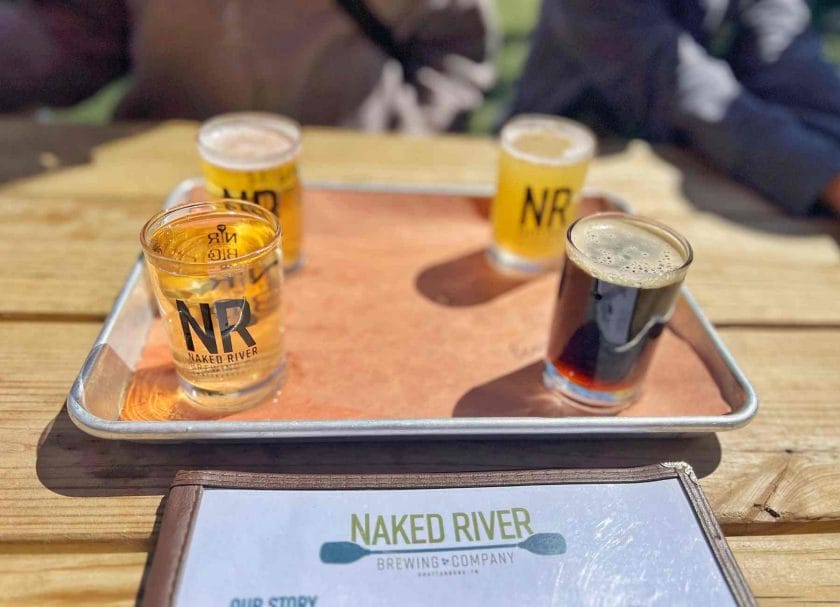 On the other side of the stadium is the Naked Brewery. This is located across the street from the stadium. You can't really see in the Stadium but you can hear the cheers from the stadium.
It is also located next to where the Chattanooga Market is. They had a decent amount of room inside with some games and a view of where the beer is made.
Outside they had a nice patio that was covered in astro turf and had picnic tables and baggo.
We opted to get a sampler here and each had a different 4 ounce beer. We were there with our friends from 365 Atlanta Traveler so a 4 – 4 ounce beer sampler was perfect!
They did have a rotating cider so I got that. Everyone else got a beer. They had fun names for the beer like: Sticky Parts and Dirty South Trail Ale.
Craigs beer choice: Bears, Beets, Blacks IPA
Bryanna: rotating cider
Tailgate Brewery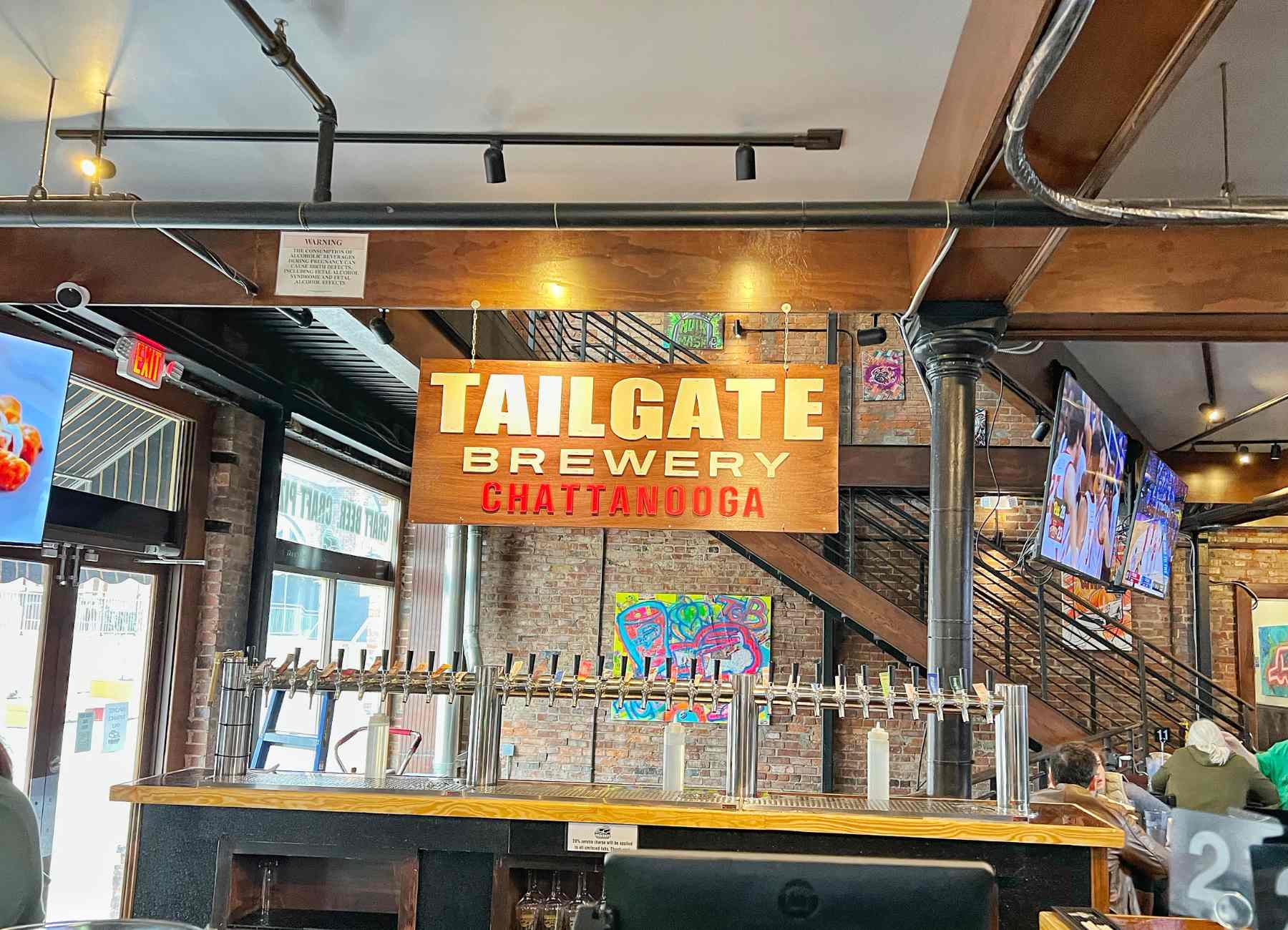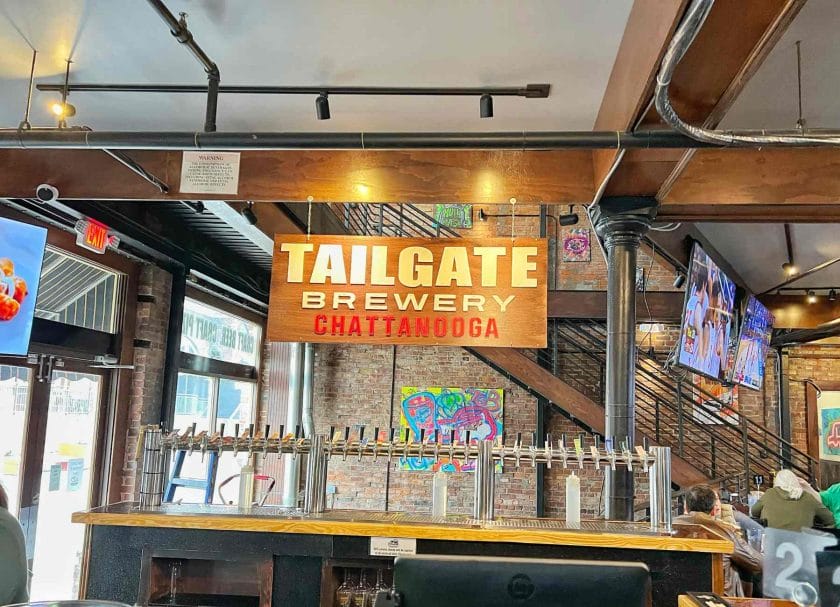 This brewery is located right by Chattanooga Cho Cho in a pie shaped historic building. The Tailgate Brewery has locations all over Nashville but this is the only Chattanooga location.
They have 30 beers on tap. When you walk in you look at the board and order what you want. They do flights as well. They also have cider on tap!
For kids they have a self serve soda station which is so smart to do with kids so a server dosen't have to worry about continuing to fill their drinks.
After that you find a table to sit at and they have TV screens on all over the place. A server does walk around and will get you a new drink if you would like.
They also focus on from scratch pizzas. They had an outdoor area but it was rainy when we were there so we did not explore that area.
Craigs beer choice: White Double IPA
Bryanna: Rotating Cider
The Tap House & Empyreal Brewing Co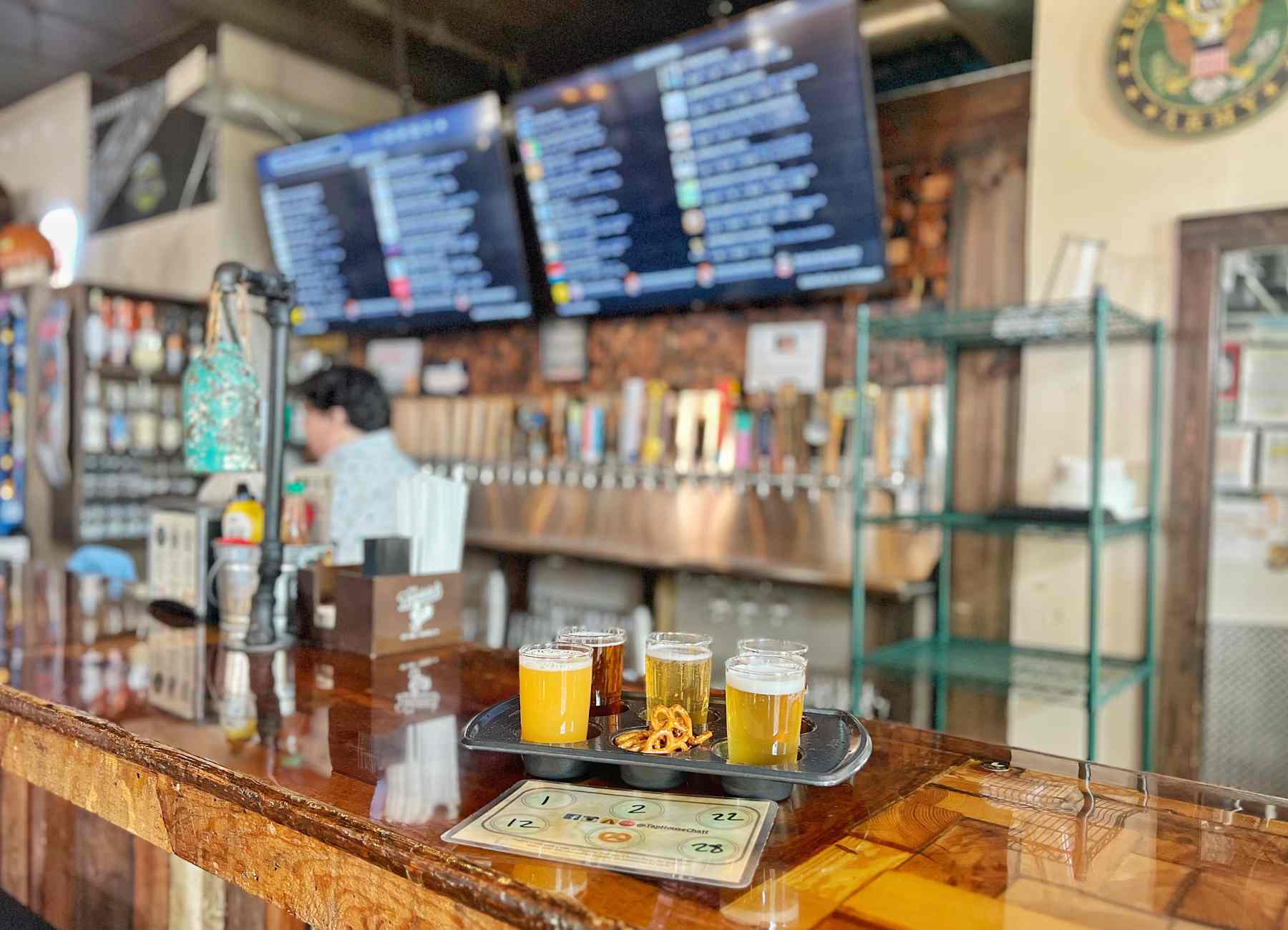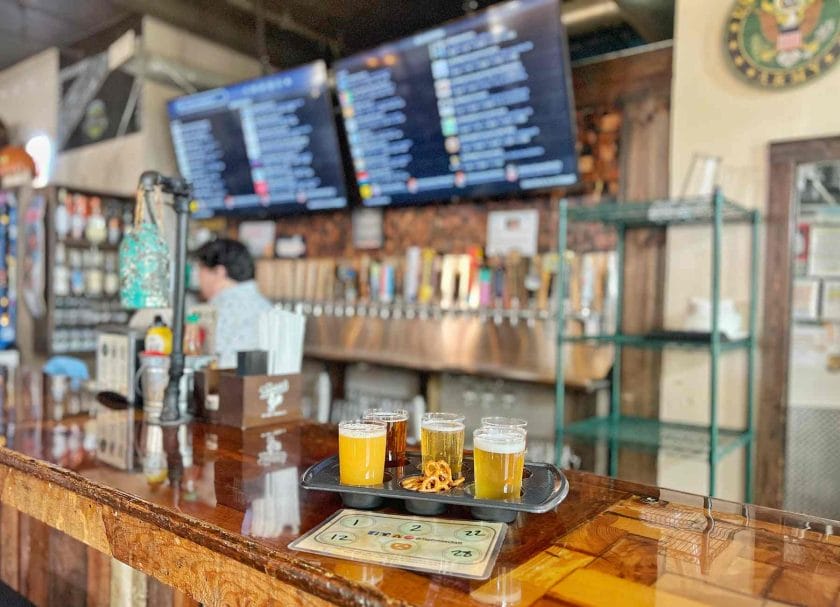 Located by Rock City at the bottom of the mountain. They host an outside market the 3rd Saturday of every month and you are able to bring your beer (in a plastic cup) outside to enjoy while you shop!
They had a variety of in house and local and not so local (one of Craig's favorite Indiana beers was on tap) on tap. Including 3 Cider options (2 they make). Finally!! And a couple of sours.
I opted for the flight and tried all 3 Ciders and 2 sours. The Sours I wasn't a fan of but the ciders were good!
They also serve food as well. There isn't much seating inside but there is seating at the bar too.
If you are a fan of cider be sure to come here to try their cider!
Craigs beer choice: Zombie Ice (brewed in Indiana and one Craig already knew he liked)
Bryannas choice: Pomona: Raspberry & Mango Cider
Hutton And Smith Brewing Company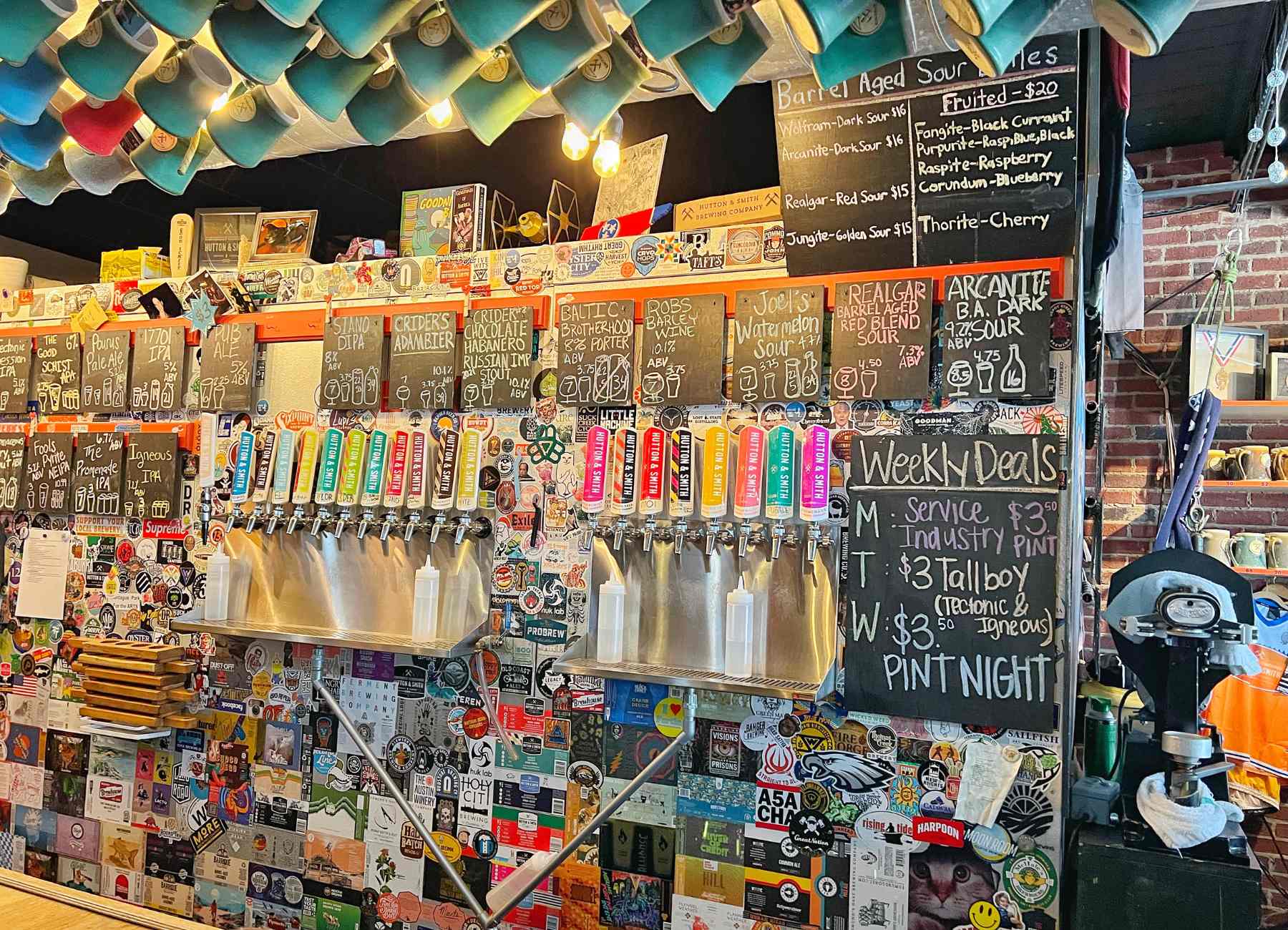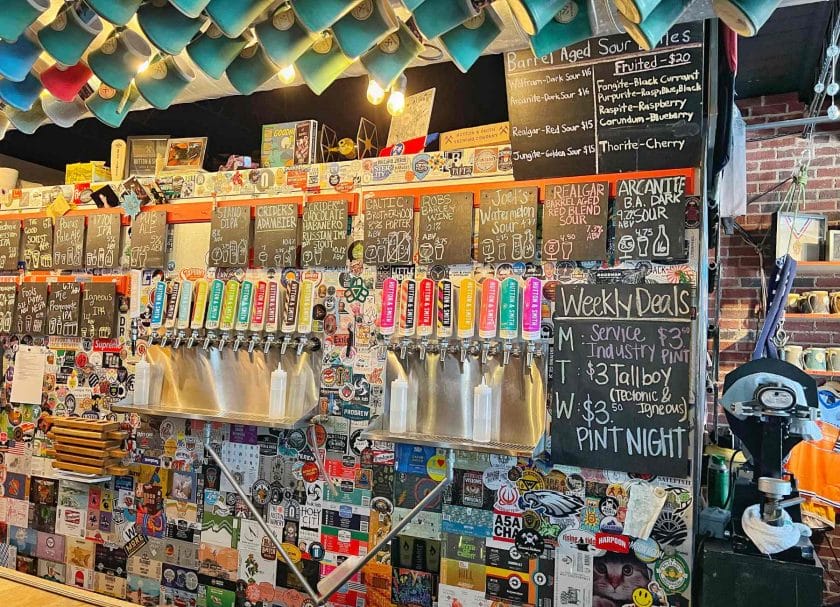 The last one we tried was the Hutton & Smith Brewery. Craig had liked their Promenade beer at a few of the Chattanooga restaurants we had been to so we wanted to come see what else they had.
We went to head in with our kids but there was a sign on the door that said you had to be 21 or older. This did hold true so just Craig and I went in. The kids hung out in the car for a few minutes – it is nice they are old enough to do this now!
It was more of a bar setting but also had a room attached that had games in it and more tables. Dogs were also allowed inside. I guess they are better behaved than kids :).
Craig tried a different beer but didn't like it as much. They didn't have any cider on tap but did have 2 options in a can. I got the Pineapple one and it was good.
Hutton & Smith was named after the "Father of Modern Geology," James Hutton and "Father of English Geology," William Strata Smith. Interesting! Makes sense since their beers have geology puns within their names.
Craigs beer choice: 1771 IPA but he preferred their Promenade instead
Bryanna: Pineapple cider from a can
In summary the Chattanooga brewery scene has a lot of offer!! We only visited about half of them and could definitely see coming back to check out more of them. Most of them were family friendly – but always good to check before hand.
A few others we kept seeing were the Wanderlinger Brewing Company and the Wits Brewing Company. If you are looking for German style beers, want to see some state of the art ale brewing equipment or are just looking at sharing stories over a good beer you are going to find what you want in Chattanooga!
It seemed like a lot of them were focusing on beer and food which is fun! The combination of a cool place to hang out, good beer and good food is a win, win.
When you are in Chattanooga you won't want to miss Coolidge Park.
DISCLOSURE: This post may contain affiliate links, meaning I get a commission if you decide to make a purchase through my links, at no cost to you. Please read my disclosure for more info.