There were so many fun things to do in Chattanooga with kids and we really liked the area. In this post we will share what we did with our kids while in Chattanooga, Tennessee and some additional activities we think you will love!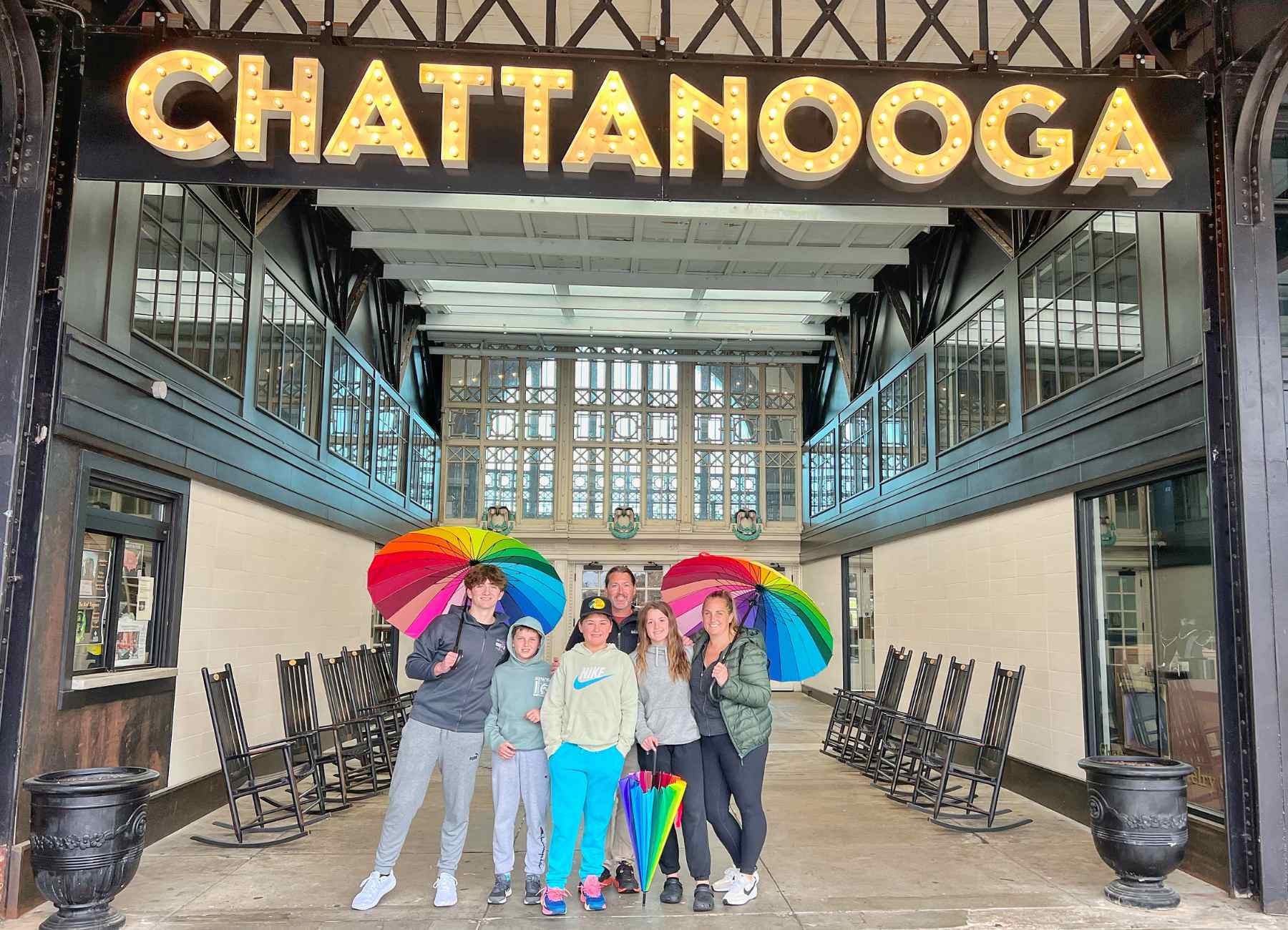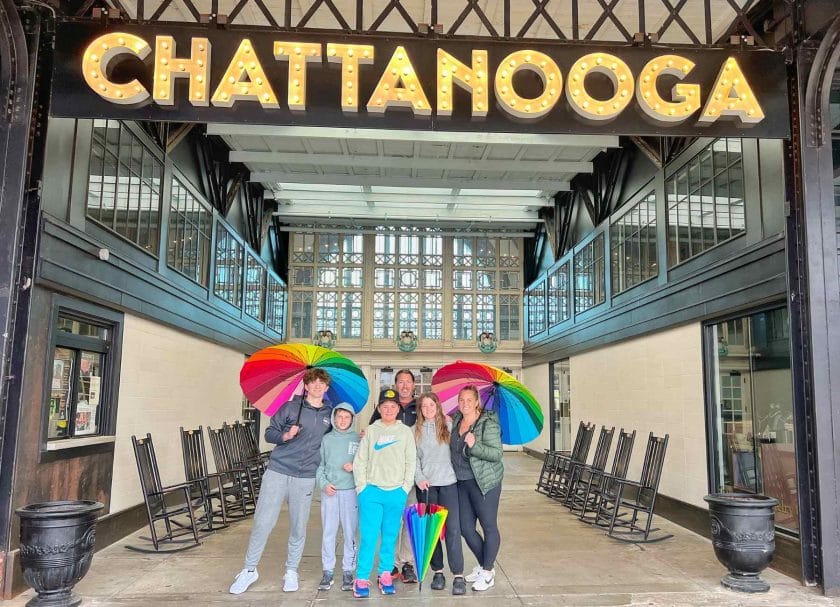 Getting Around Chattanooga
Downtown Chattanooga is very walkable and you can visit multiple things to do from one parking spot. There are also a lot of great Chattanooga restaurants and some parks in this area as well.
If you want to explore all of the attractions in Chattanooga you will have to drive to get to them. The good thing is there is pretty good parking at all of them. But be prepared to pay at some of them. The best way to do this is by getting the parking app. They have signs up around the parking lots with a QR code and directions on how to do this.
Top Things To Do In Chattanooga, Tennessee – High Level
Before getting into the details I wanted to share a high level overview of the top things to do in Chattanooga.
Coolidge Park – a great park to spend a few hours at enjoying the river.
Ok let's get into all the details on how to enjoy your time in Chattanooga!
Tennessee Aquarium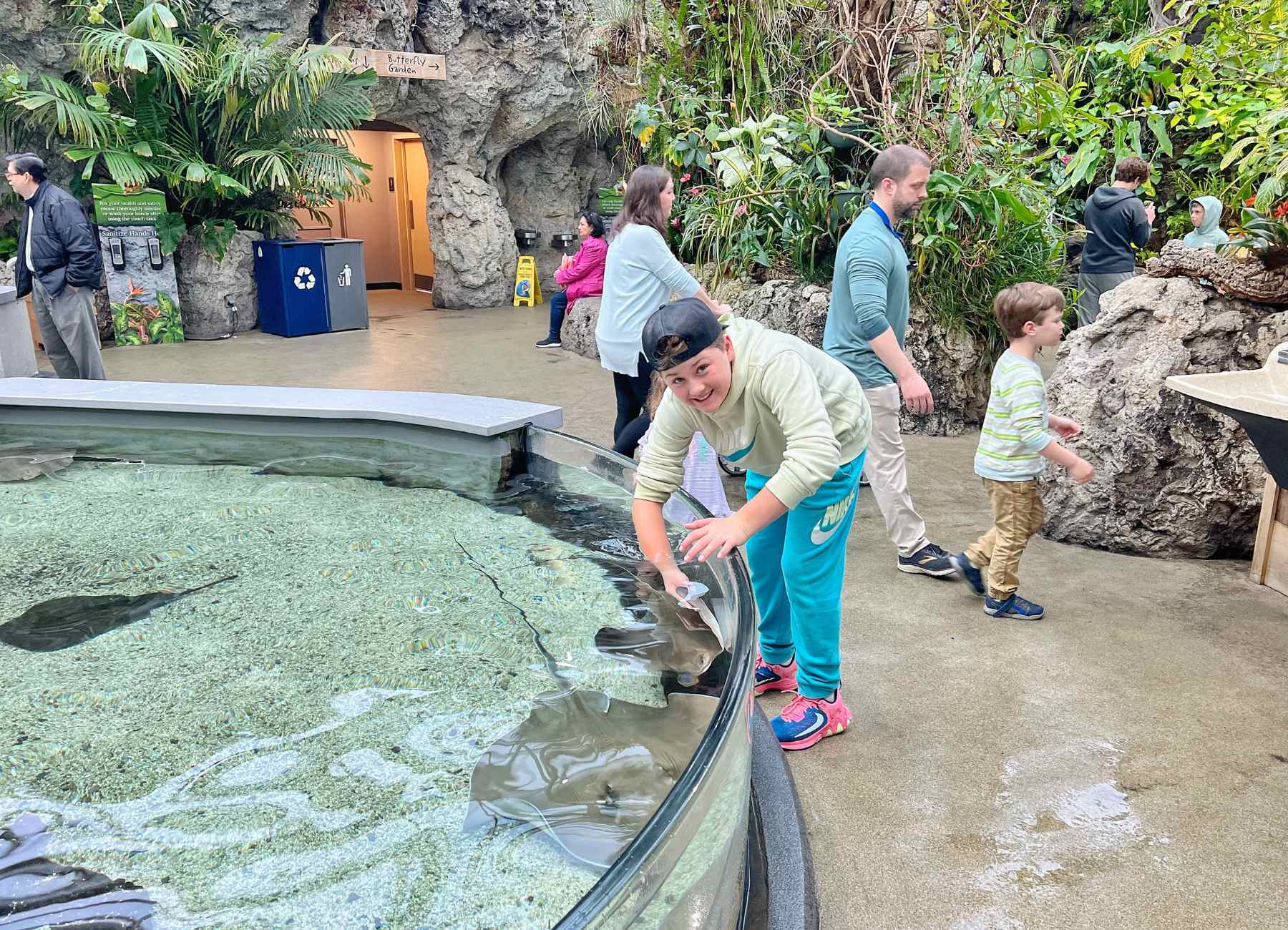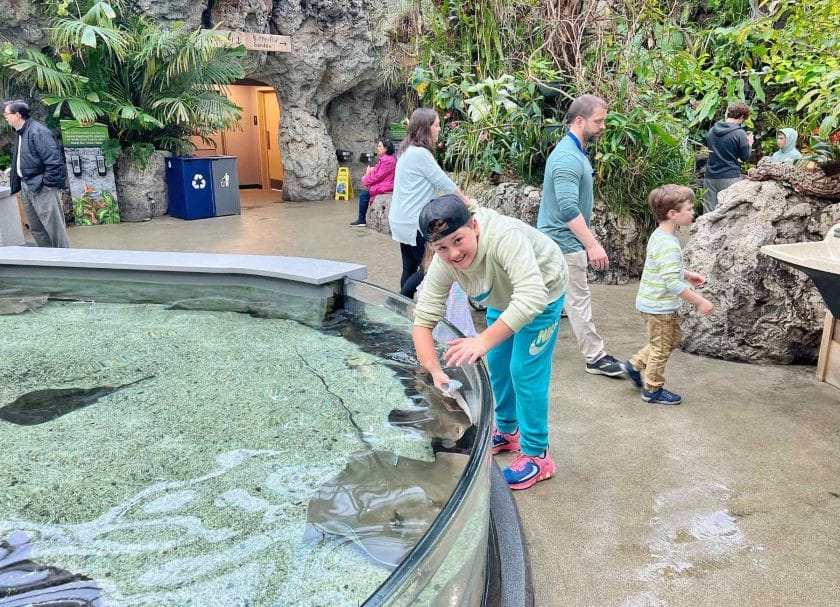 We had a blast visiting the Tennessee Aquarium! There are 2 buildings at the aquarium the Ocean and the River. We opted to go into the Ocean aquarium first.
Ocean Side
You check in and head up 2 escalators. The first thing we saw was a lemur – say what? It wasn't what I was expecting to see at an aquarium!
Touch Tank
The sting ray touch tank was so fun. We have done a lot of touch tanks before but this one was fun because the sting rays were so active!
When you were petting them they would just sit there and let you do it and all of sudden they would try to jump out of the water! It was crazy and fun.
Butterfly Exhibit
After washing your hands you make your way to the butterfly exhibit where they let you in and out so the butterflies don't escape. It is hot and humid in here but you can stand there and hope a butterfly lands on your head or hand!
Penguins
They have a penguins area where you see the penguins on land but can also see the underwater area. There is something about watching penguins waddle around that just makes you smile!
Large Tank
Throughout the whole ocean aquarium there is a gigantic tank that goes right through the middle of the aquarium.
You see glimpses of it from different angles as you make your way through the aquarium.
The tank has sharks, large turtles and fish. It was fun to see if from a variety of different angles and not knowing for sure what you would see when you walked up to the glass at the new spot.
Jellyfish
There was a room filled with a variety of jellyfish containers. If you are feeling stressed stop and watch these things swim for a while!
Interactive Options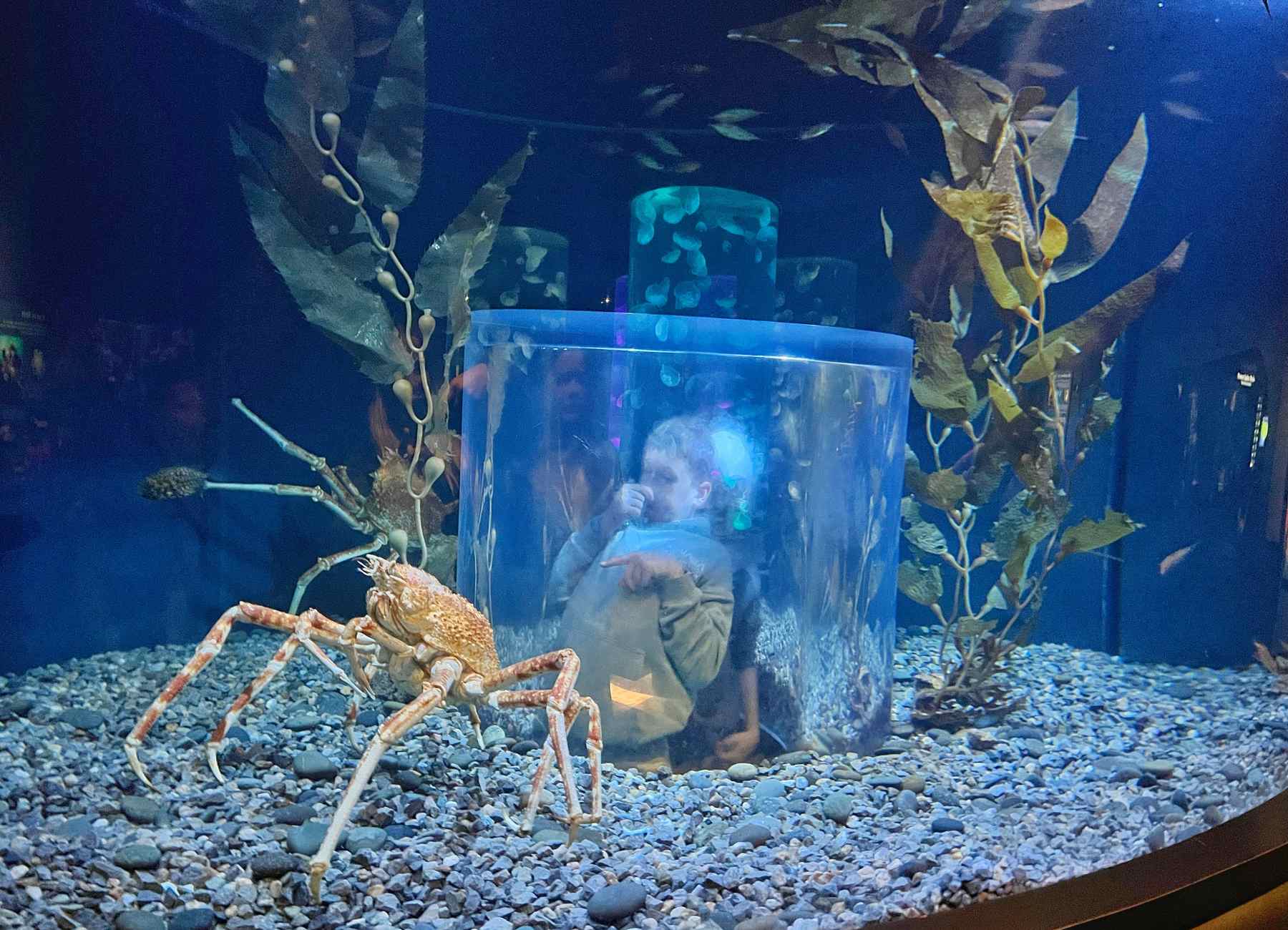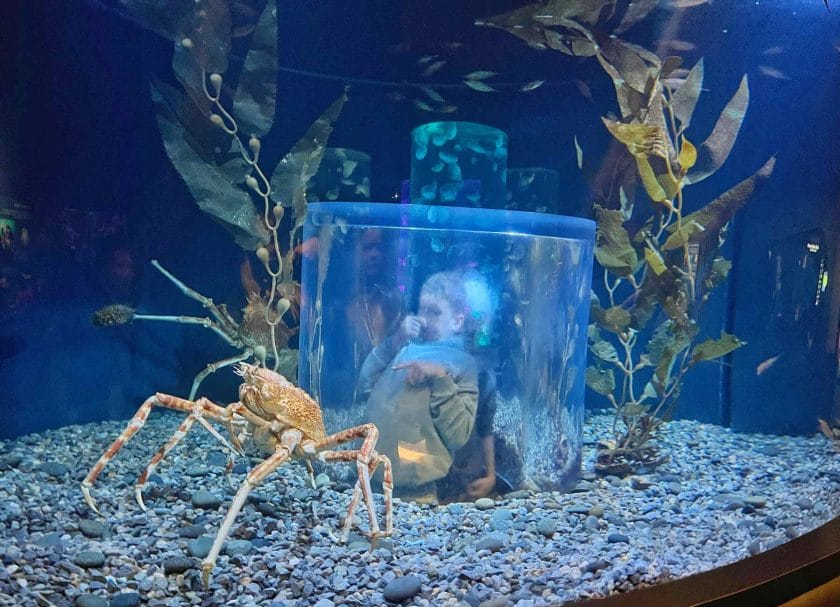 Touch tank we mentioned above!
Shark diving cage – There was a shark diving cage you could stand in to see what that would feel like!
Stick your head in the aquarium – They had multiple exhibits where you could get down and crawl under the exhibit and stand up with your head in a plastic tube looking out into the exhibit.
River Side
For the River Side you have to leave the Ocean Side aquarium building and walk outside to get to the River Side. You ride up a super long escalator before you start your switch back walk back down.
On the Switch back walk down you are seeing a different display on each floor.
Touch Tank
They also have a fish touch tank. The kids passed on this one :).
There are a variety of fish from really big ones, to little ones that glow and to unique long neck turtles!
In the end we preferred the ocean side to the river side but I will say that both of them were really well done!
Of course you end with walking through the gift shop – giving you a heads up if you want to pick your kids up and run instead of spending hours in the gift shop. We know we have been there multiple times!
Walnut Street Bridge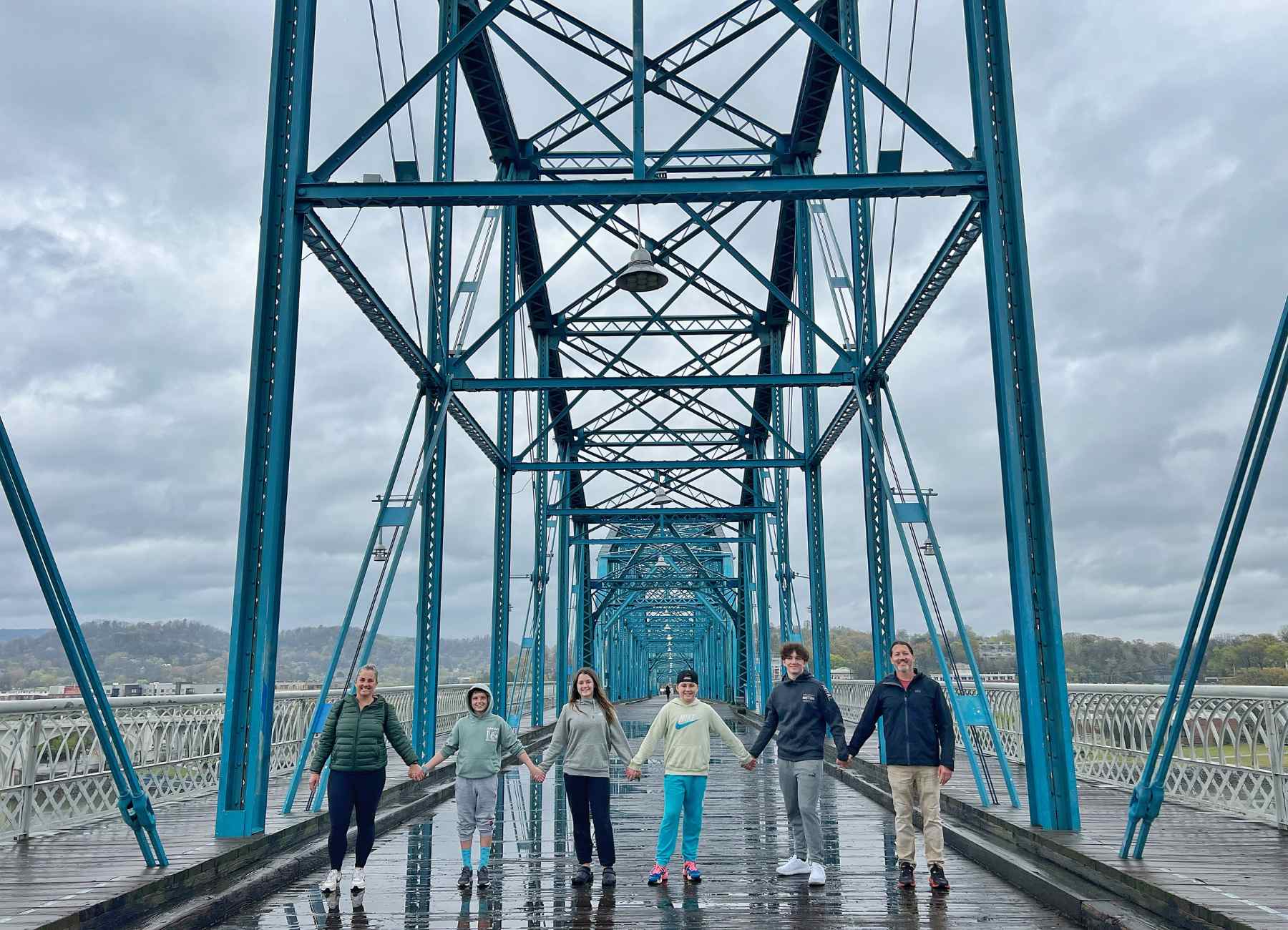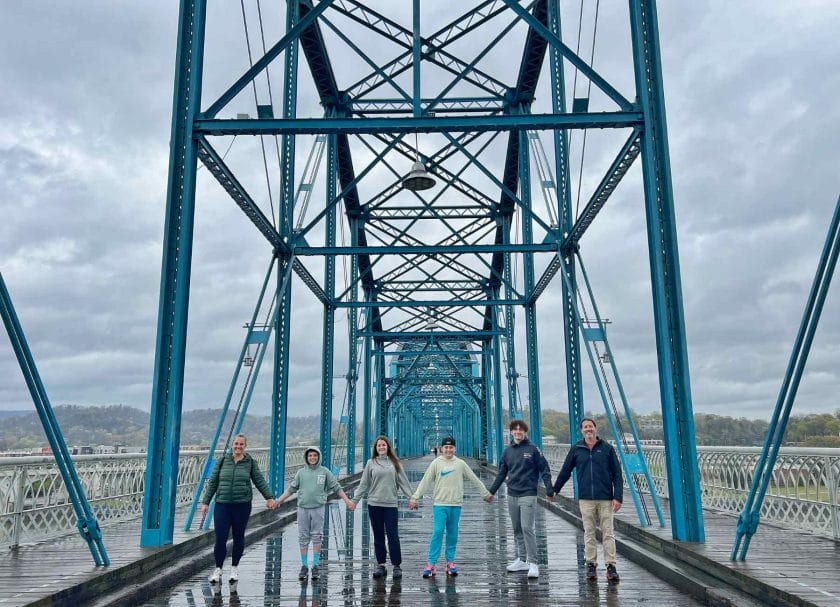 The Walnut Street Pedestrian Bridge is one of the longest Pedestrian bridges in the US! It brings you from downtown Chattanooga to the North Shore and Coolidge Park with beautiful views the whole way.
There is a large walkway in the middle with 2 sidewalk size walkways on each side.
Be sure to bring your camera to capture some beautiful pictures with the blue bridge and the surrounding area.
Coolidge Park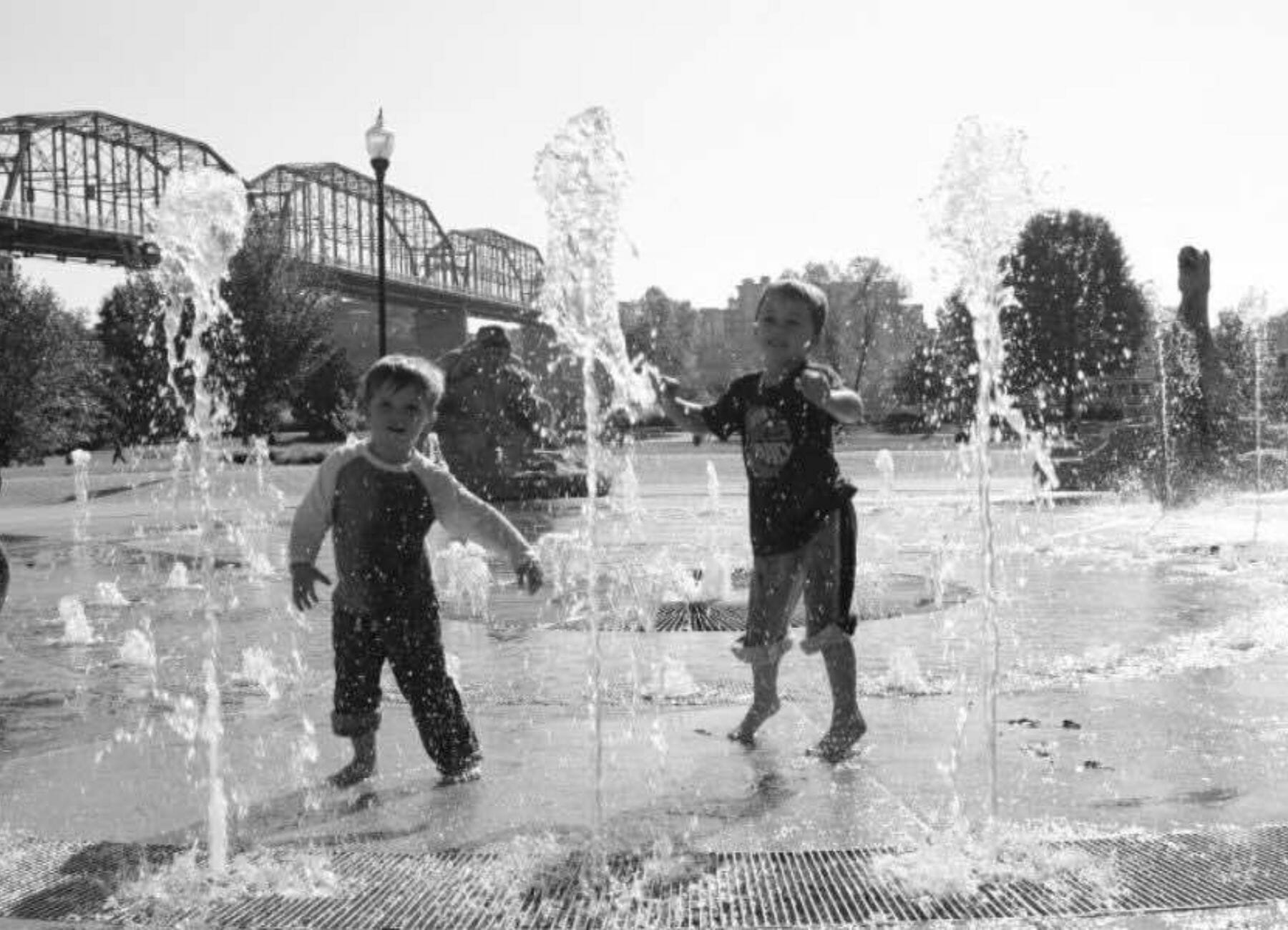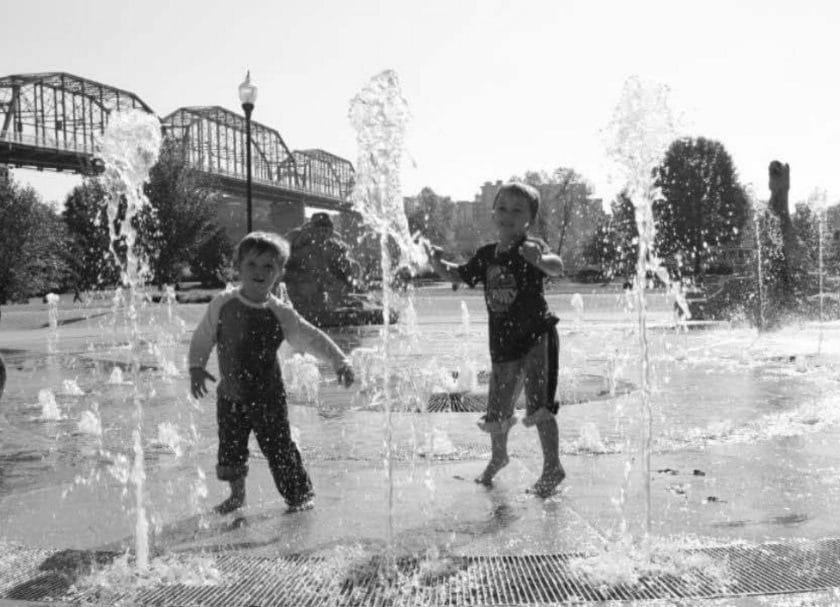 Coolidge park is located in downtown Chattanooga, in the North Shore area. We started out walking across the well known Walnut Street pedestrian bridge. We got about half way and knew the kids wouldn't make much more so we turned around and headed down to the park.
There is a water fountain for the kids to play in with cool animal statues around it. There are large green open spaces to just run and play or have a picnic. Plus there is a 100 year old restored antique carousel!
The nice thing about the park is it is adjacent to a lot of local restaurants, shops and art galleries. It makes for a perfect spot to take a break and let the kids run around!
Lookout Mountain Incline Railway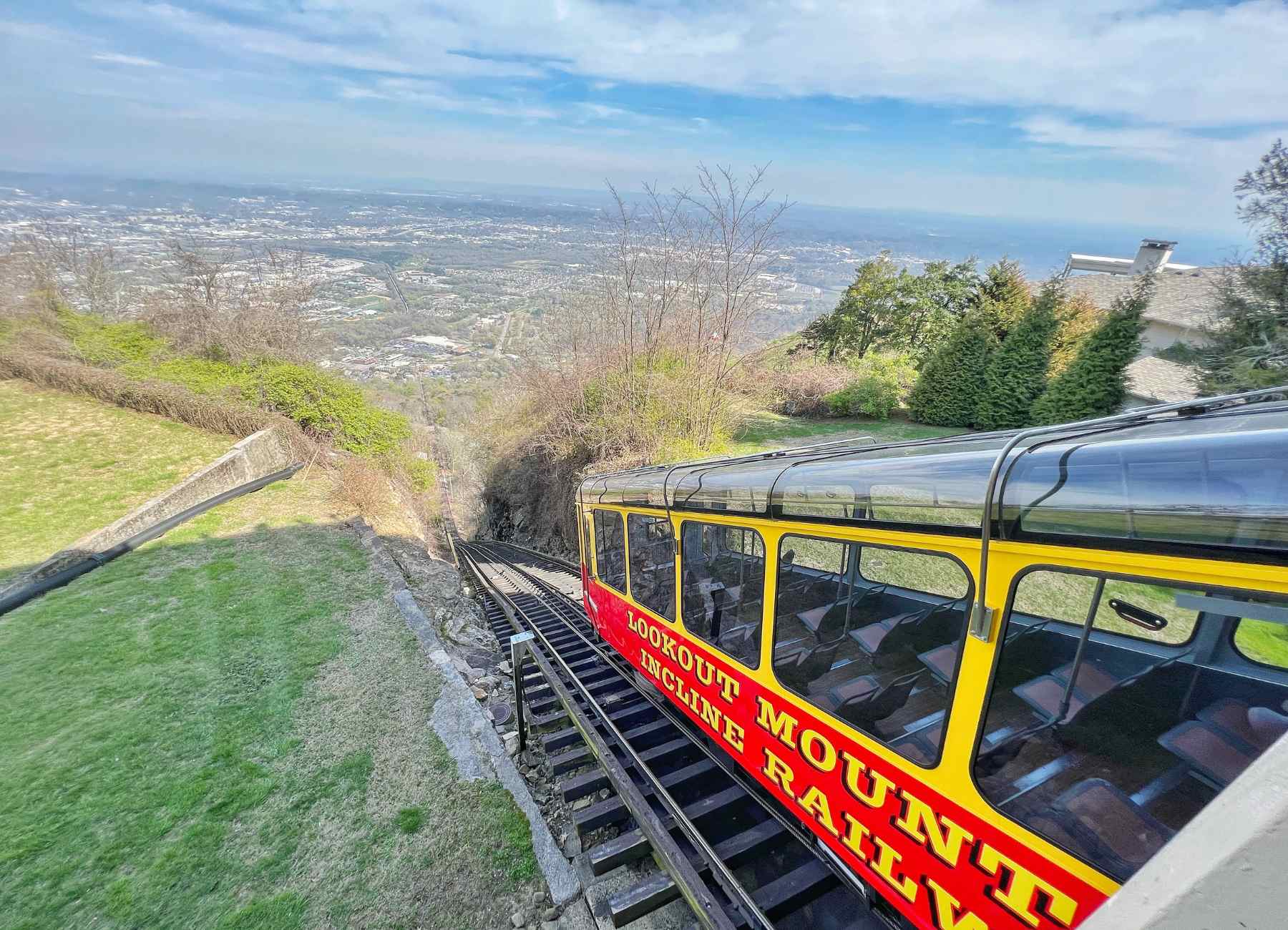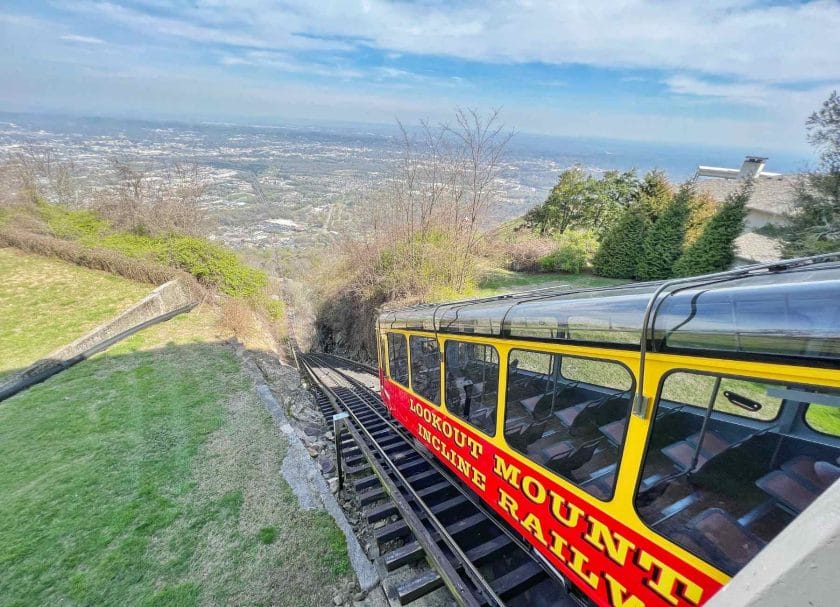 On Wednesday we headed to the Lookout Mountain Incline Railway in historic St. Elmo.
The ride up was really cool and the Chickamauga and Chattanooga National Military Park area, which was a couple of blocks down the road, had a great gift shop area, Civil War videos and facts.
Point Park (the site of the pivotal Battle Above the Clouds in the fall of 1863 that helped Union troops gain control of Chattanooga) was also there and offered amazing views.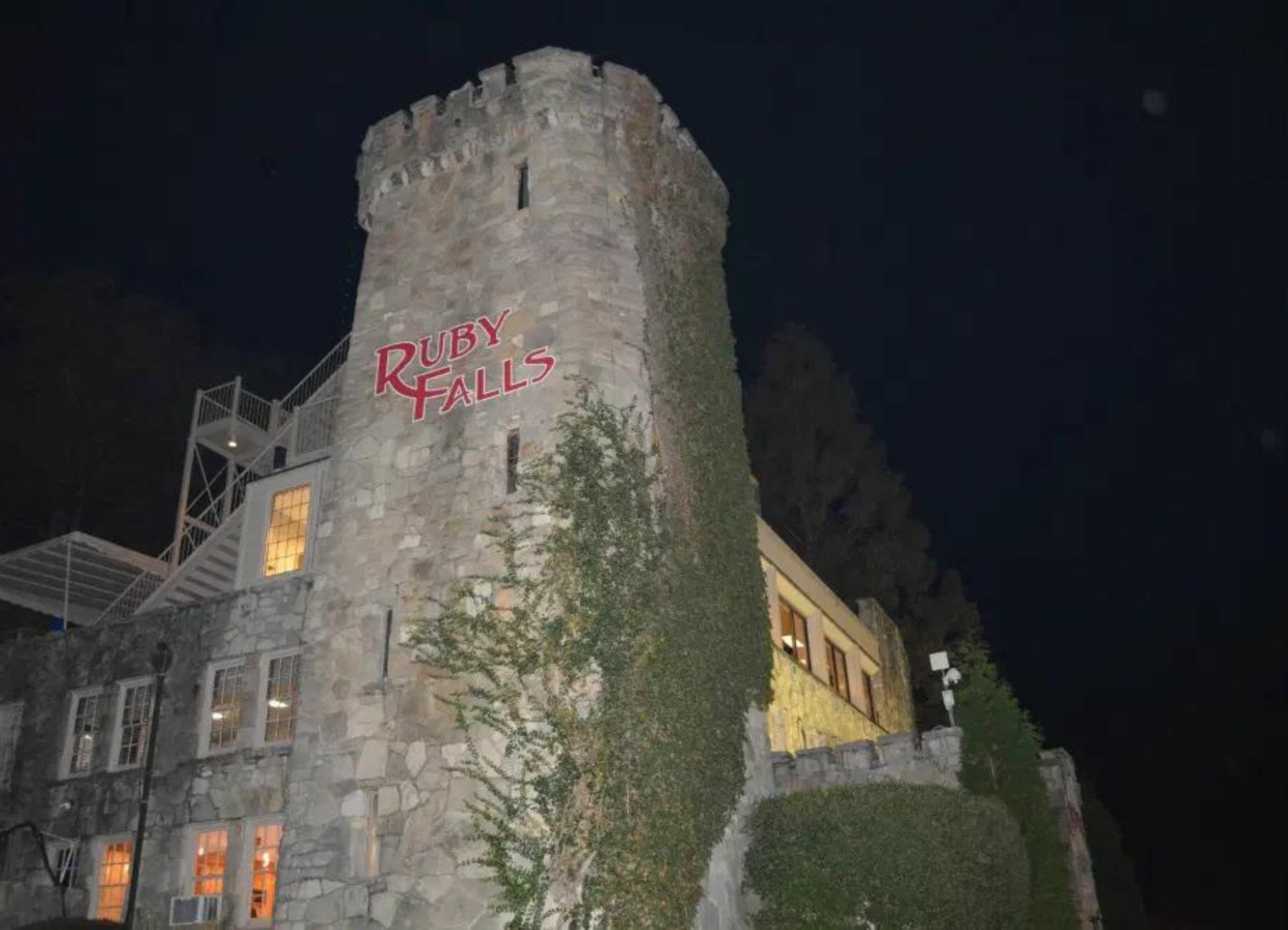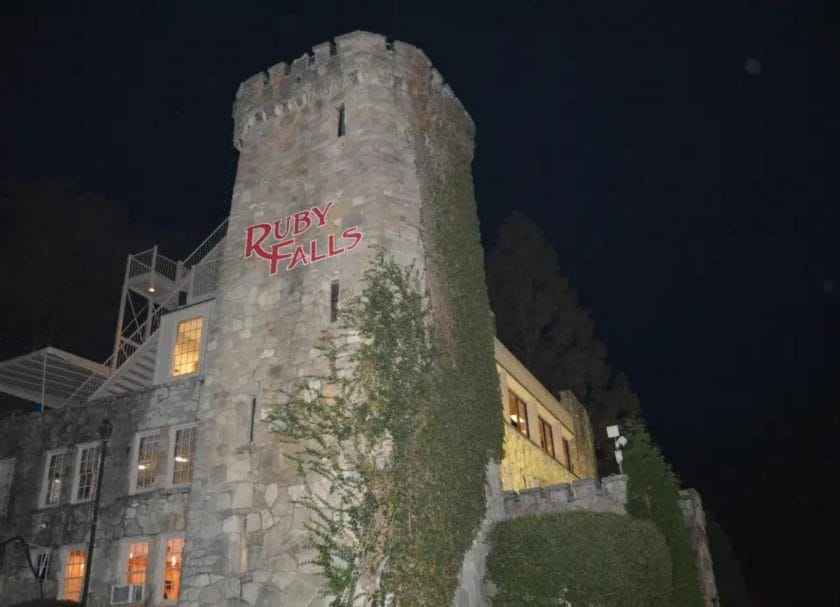 It was an interesting experience . . . Our 2 year old did not like it! He was on my back in the backpack and just did not want to be there.
You couldn't touch anything (seriously they can arrest you and fine you if you touch some areas or break anything) so I couldn't really let him down.
We didn't know going into it that it was a half mile walk to get to the falls and then another half mile back . . . Seeing the caves was really cool and so was the underground waterfall – but not something I would recommend with young kids.
Rock City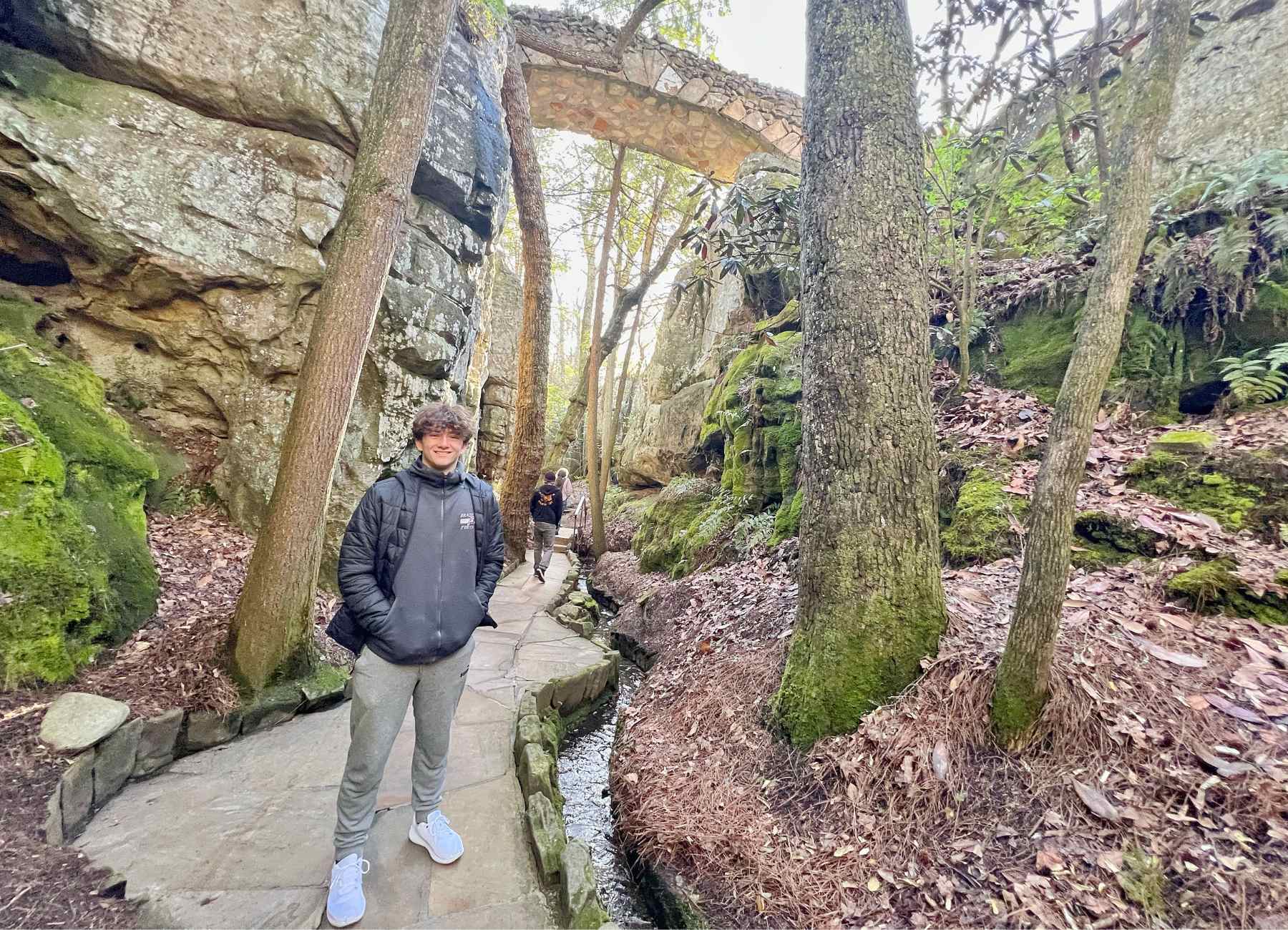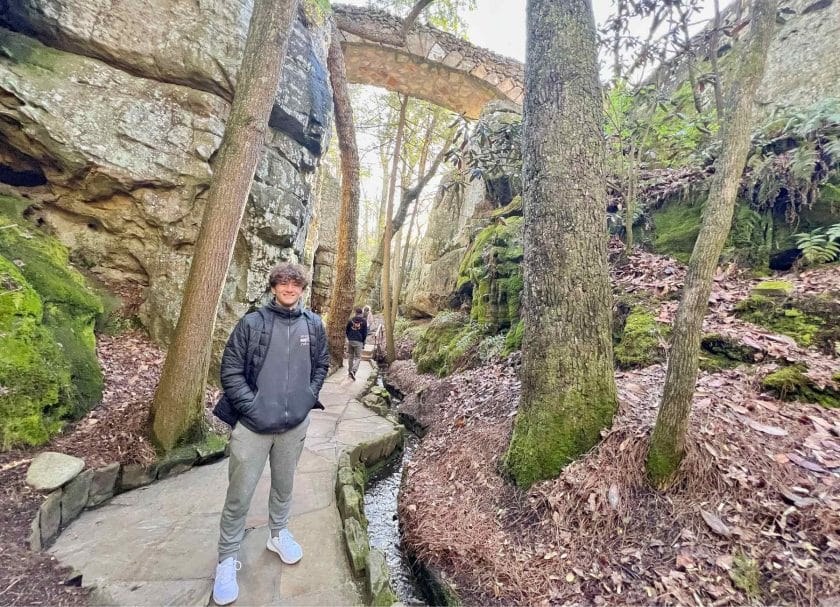 I wasn't expecting Rock City to be much and wasn't sure if it would be a fun thing to do with kids in Chattanooga. But figured we would try.
We are glad we did! When we got there it was Starbucks happy hour – buy one get one on holiday drinks so we had to stop. The kids got the holiday hot chocolate too.
Then we headed in. The trails were really cool – but a bit nerve-racking with a 2 and 4 year old. Our 2 year old and is a runner and our 4 year old trips over a painted line. So we made sure someone had someone's hand when we were by the ledges.
This was definitely an outdoor adventure! We stopped and viewed 7 states from one spot and then went into the Fairyland Cavern – it was pretty neat!
Since they were little we have revisited and now that they are 15, 13, 13 and 10 I was much less worried! They had a great time walking through the trail and really enjoyed the black lights and Fairyland Cavern. This still remains a top thing to do in Chattanooga with kids – both young and old!
High Point Rock Climbing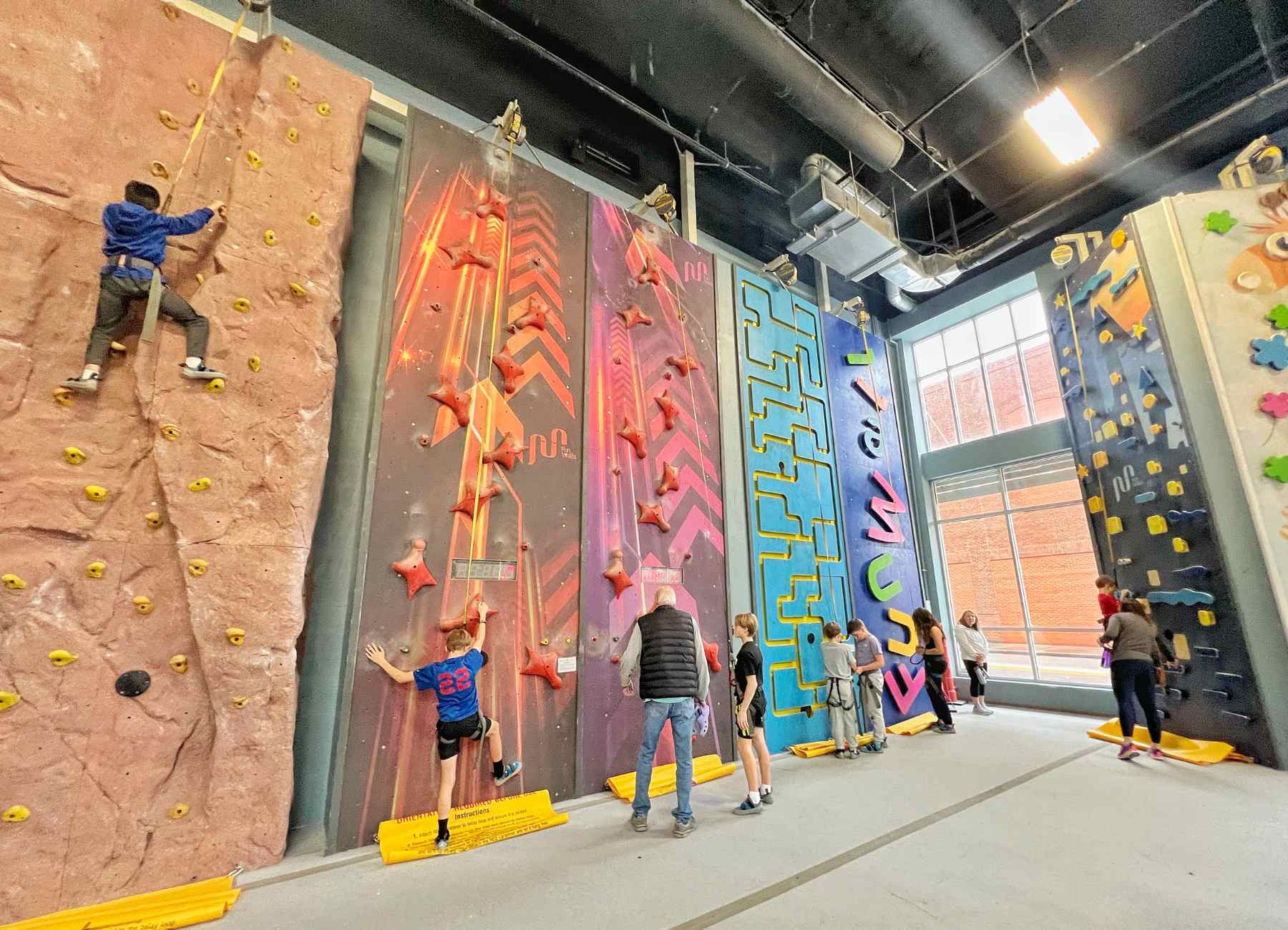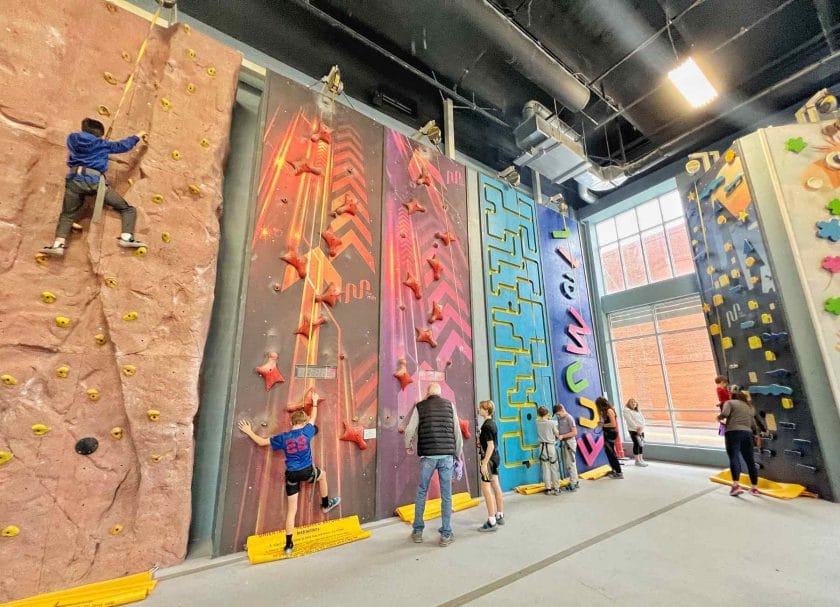 When we were driving in we saw a rock climbing place – High Point Climbing and Fitness – that had some really cool kid friendly options. We stopped over to check it out and since my parents paid for dinner (thanks Mom and Dad!) we decided to try the rock climbing. It was great.
The kids had a blast and were able to climb to the top of the walls and climbed and jumped off another high structure. It is crazy how when you are a kid your fear level is so different than as an adult!
The Chattanooga Cho Cho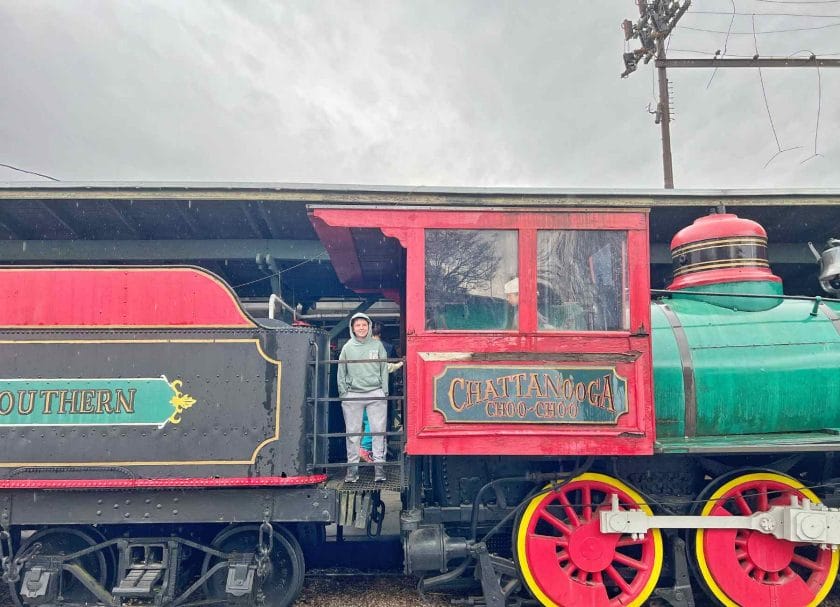 This is an old railroad station turned into restaurants, shops and a chance to walk through an old railway car. There is also a hotel located here.
Warehouse Row
If shopping is your jam you won't want to miss Warehouse Row! My daugther made sure we made a stop so she could go to LuLuLemon. They also have Anthropologie and a variety of other stores and restaurants.
Time To Escape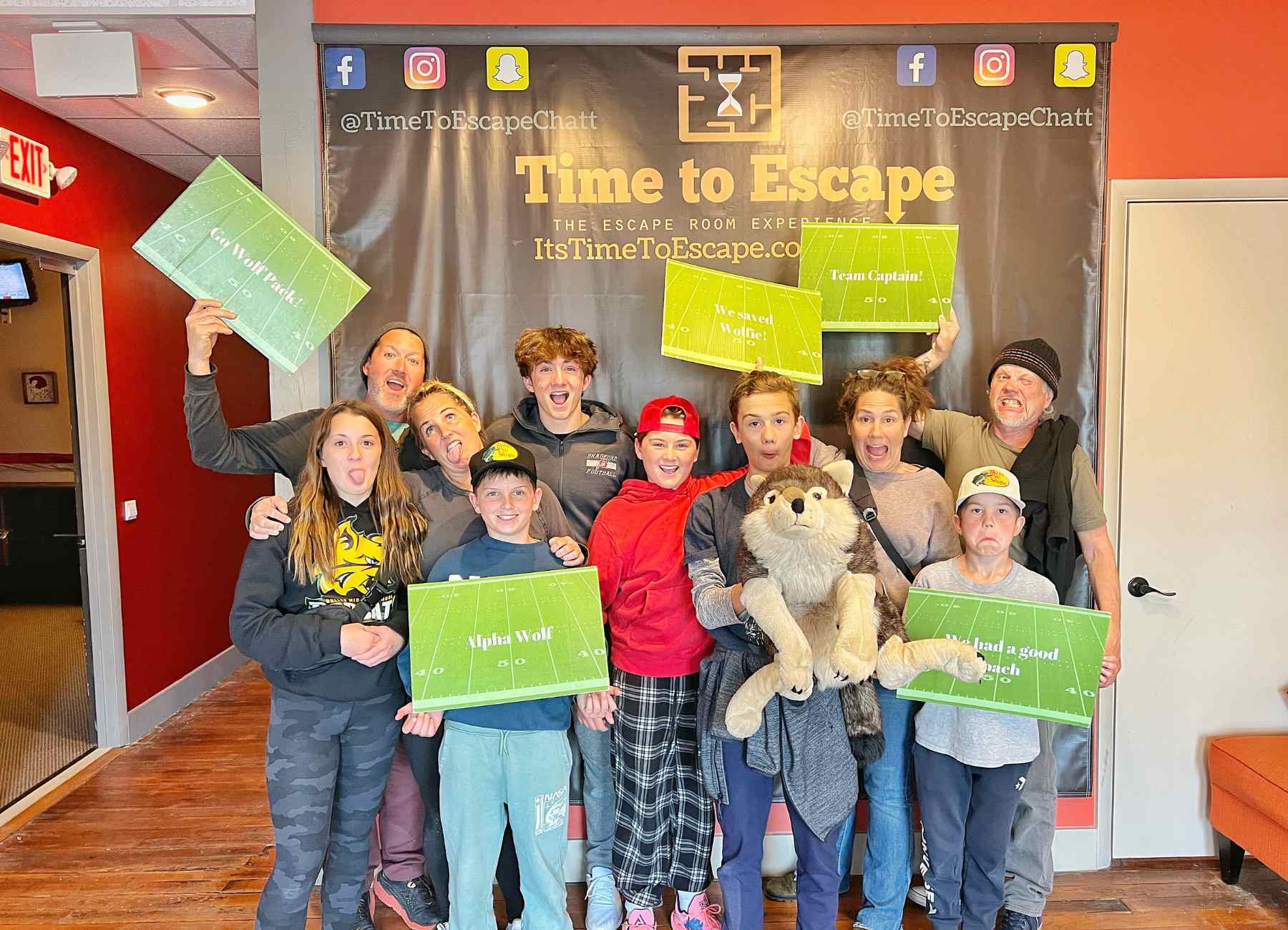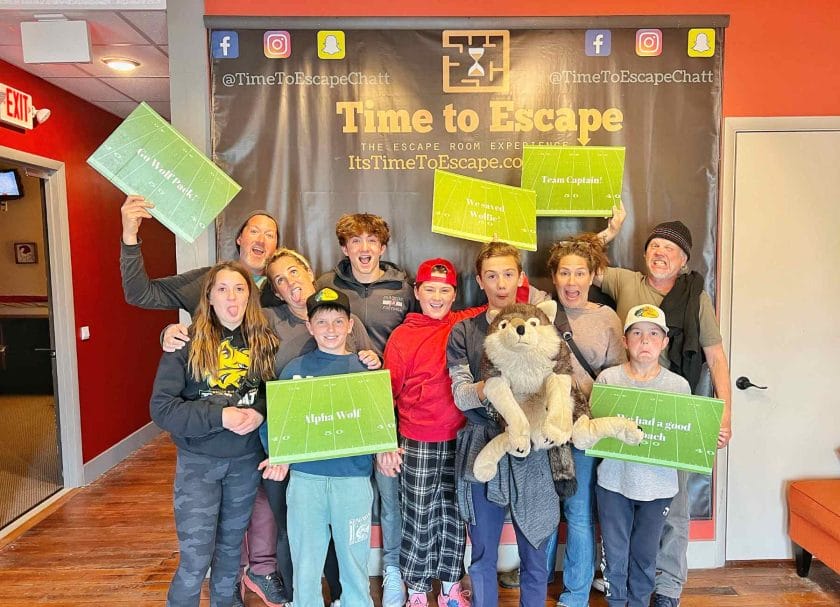 If you are looking to do an Escape Room check out Time To Escape! I will say we have been in some that were a bit more polished. But never the less we had fun at this one and made it out with 30 seconds to spare!
Chattanooga Breweries
There are so many great Chattanooga Breweries to try that we created a whole separate post on them!
Additional Activities
Below are some activities we didn't get to do in Chattanooga this time around, but we think would be really fun on our next trip!
Good Fortune Soap And Spa
Have a blast mixing your own signature scent from essential oils! You can choose from things like lotion and perfume roll ons for mom, beard oil or aftershave for dad and fun things like rainbow fizzy bath salts or bath bombs for the kids.
A mixologist will assist you in the process and you'll leave with an awesome product you made yourself.
Book your scent making experience today!
Train Ride and Trolley Tour
Who doesn't love a train ride? Learn about the railway history of this great city. Take a train ride on the Tennessee Valley Railroad. On this guided tour you will learn about local history and the role that transportation has played in Chattanooga.
Book your Train Ride and Derailed Trolley Tour here.
Museums
If your family loves museums, Chattanooga won't disappoint! Check out one of these awesome museums:
Bluff View Art District
Named for the overlooking bluff views of the Tennessee river, Walnut Street Bridge and more, this one may be more to mom and dad's liking. The Bluff View Art District is an historic district in Chattanooga contains higher end restaurants and coffee shops, a bakery, art gallery and plenty of historic buildings and gardens to stroll through.
Station Street
If you are looking for a night out without the kiddos, check out Station Street which hosts various restaurants, comedy clubs, live music and more nightly. This are is also home to the Chattanooga Choo Choo historic hotel, which has restaurants and gardens (as well as the historic factor) that would be fun to see with the kids during daytime as well.
Chattanooga Zoo
If you are into zoos you won't want to miss the Chattanooga Zoo! Check the schedule for Keeper Chats to learn more about the animals. And be sure to stop at the Nature Play area to let the kids run around and play for a bit.
If you are really into smaller amusement parks, you may want to check out Lake Winnepesaukah! They have great rides for the whole family.
Guided Tours
There are a wide variety of guided tours available in Chattanooga. If you like spooky be sure to check out the family friendly walking tour of Chattanooga's most haunted destinations. Discover all the history and secrets of downtown Chattanooga on a 2- hour Segway Tour. For the adults in your family check out the Craft Brewery Walking Tour and Beer Tasting. On the Southern Belle Riverboat Cruise, see Chattanooga from a different view as you travel the Tennessee River.
Where To Eat
There is so much good good to eat in Chattanooga! We did our best to try as many places as possible. Here were some of our top picks:
Frothy Monkey
We went here for breakfast and really enjoyed the setup. It is in an old train station attached to the Chattanooga Cho Cho. It has high ceilings and a fun vibe! We all enjoyed our speciality coffees and delicious breakfast.
They had traditional omelet style breakfast with avocado toast and also a variety of pastries to choose from.
Brewhaus
We saw that there was a German restaurant on the other side of the Walnut Bridge and we knew we wanted to check it out! We are glad we did. They had a good beer selection – including a cider – which I prefer.
Plus they had gigantic pretzels which meant the kids were happy. If you are looking for something different head this way!
State Of Confusion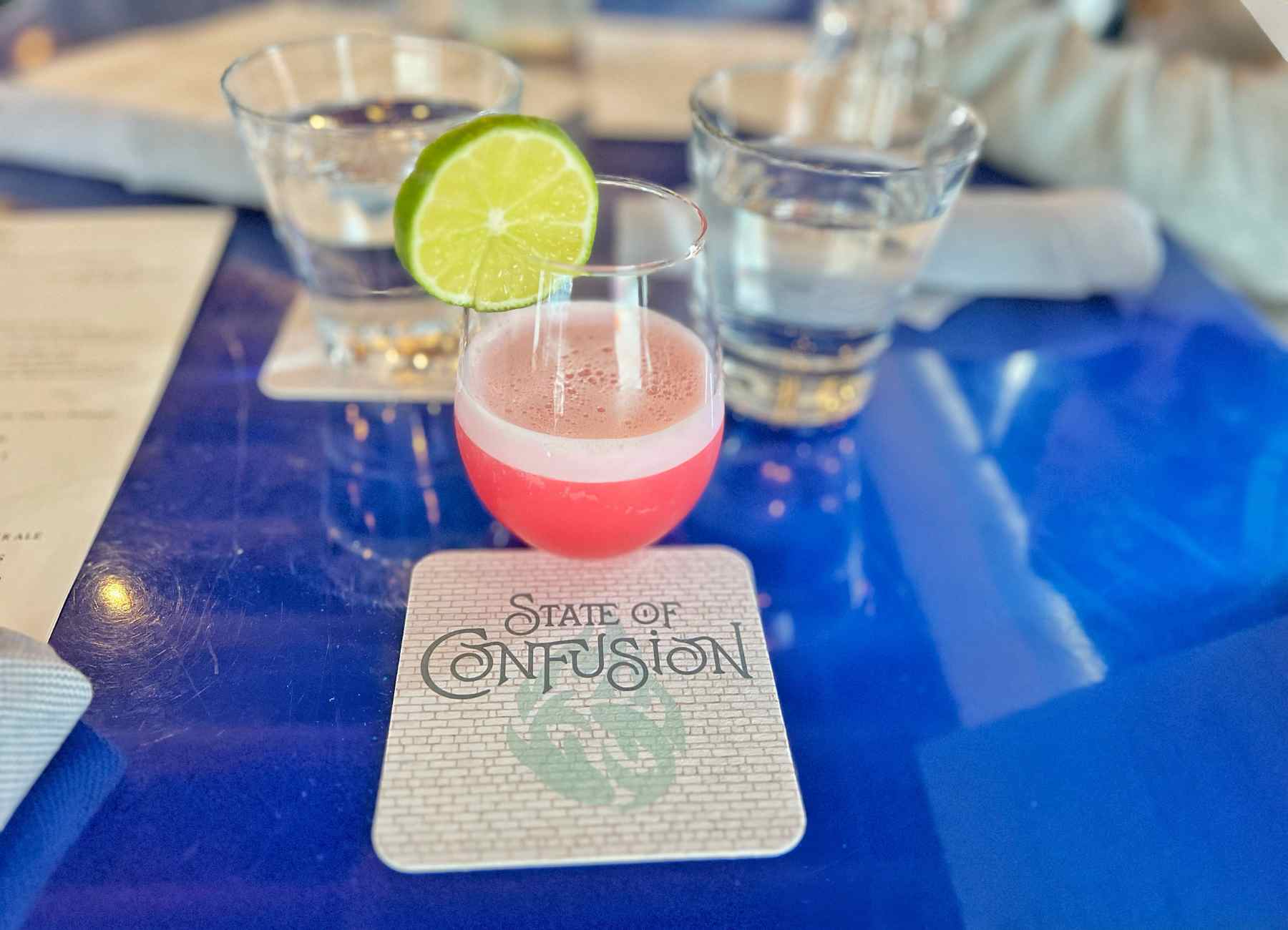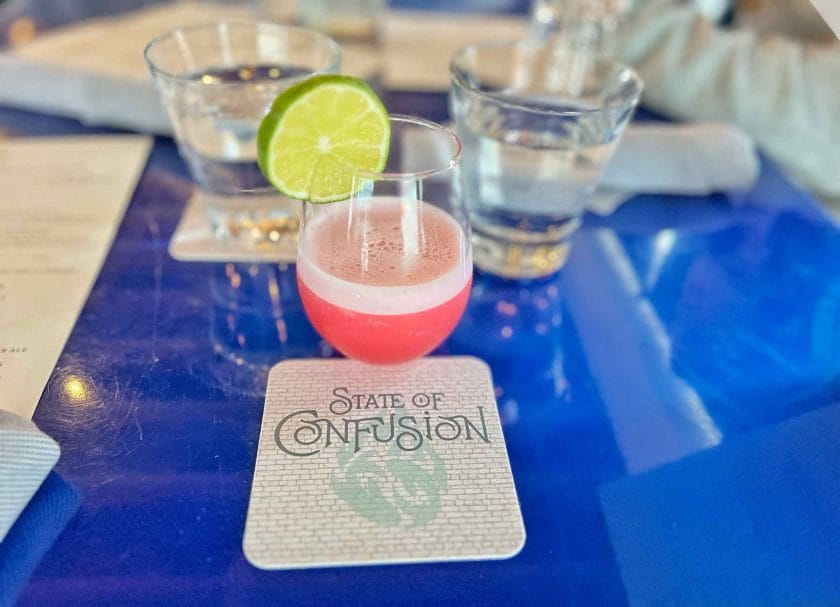 We wanted to try here just because of the name! But we weren't disappointed with the ambiance, food or drinks. They have 2 separate buildings with outdoor seating in the middle. Plus a fun list of food and delicious craft cocktails.
If you are looking for something a but nicer but not too nice that kids aren't welcome this is the place to go.
Oddstory Brewery
I love when a brewery has outdoor seating and this one delivered! There is a huge outdoor area with live music, baggo and picnic tables. They had craft beer and craft cocktails. Plus a restaurant attached to it that we could order food from. Win, win, win!
Tony's Pasta Shop & Trattoria
If Italian is on your list you are going to want to head here! First of all the location is gorgeous located right by the river in the art district area.
Add that to delicious Italian food and good wine and we have another winner!
Good Dog Restaurant
Good Dog this mobile food truck has a variety of delicious hot dogs to choose from. Be sure to check their website for updates on their location.
Julie Darling Donuts
I had searched Chattanooga donuts and we found Julie Darling donuts – it had great reviews! We went and checked it out – and I am glad we did!
The Donuts were amazing!! I got a sea salted caramel one and it was soooo good. If ice cream is more your thing, check out Clumpie's Ice Cream for handcrafted, seasonal favorites.
Mellow Mushroom
I had heard Mellow Mushrooms was good – so we went back into Chattanooga to Mellow Mushrooms. Our pizza was awesome!
It was funny when we got there they took us right back to the "back room" as we got back there we noticed a lot of other kids were there and then the tables kept filling up with more and more kids – we were obviously put in the "kids" area. Which was great!! I wish all restaurants had a kids area.
Clumpies Ice Cream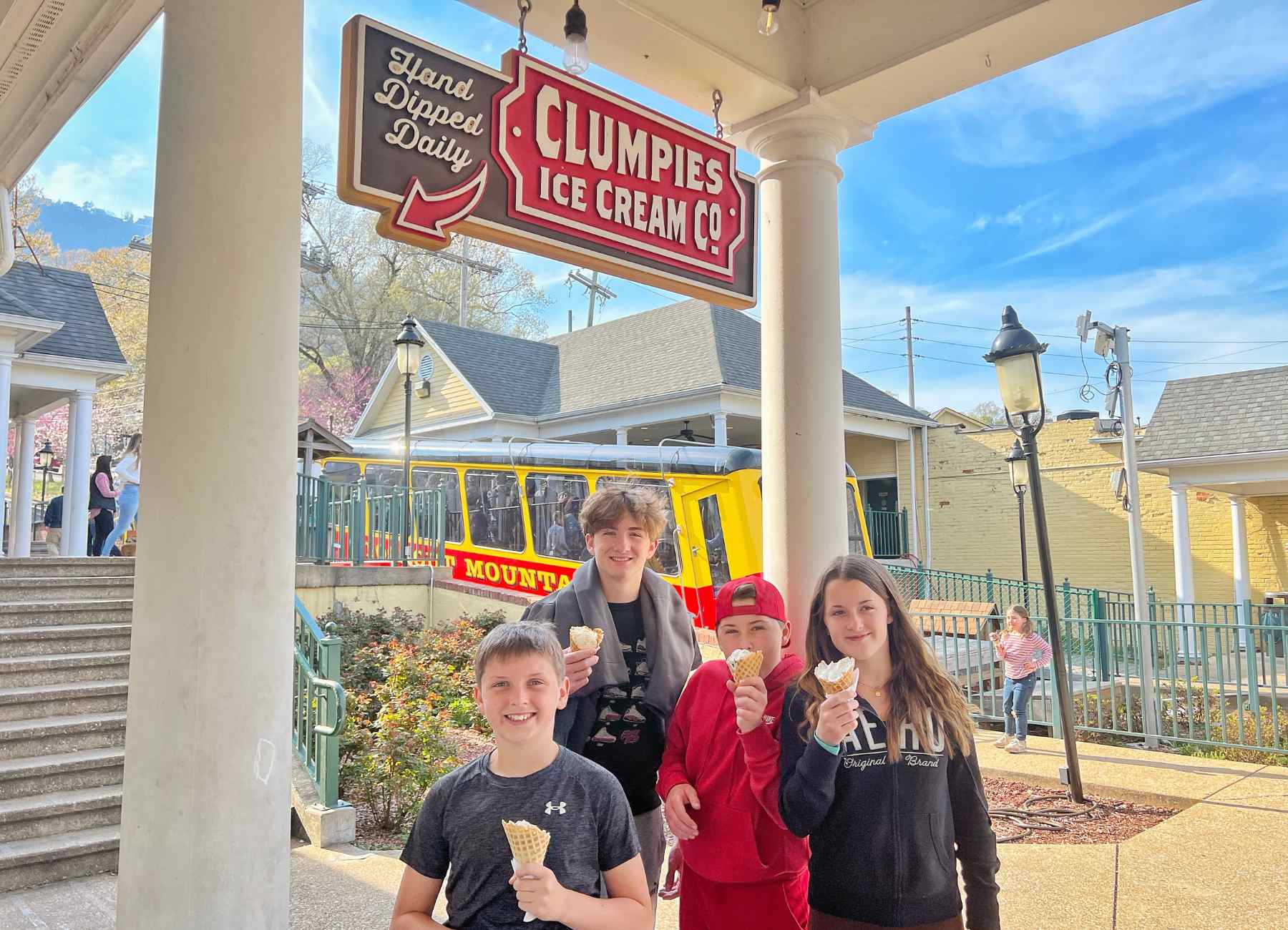 If you are looking for dessert in Chattanooga you have to head to Clumpies Ice Cream. And don't worry they are located all over the city. We got ours at the bottom of the Incline Railway and it was delicious!
Where To Stay
Camping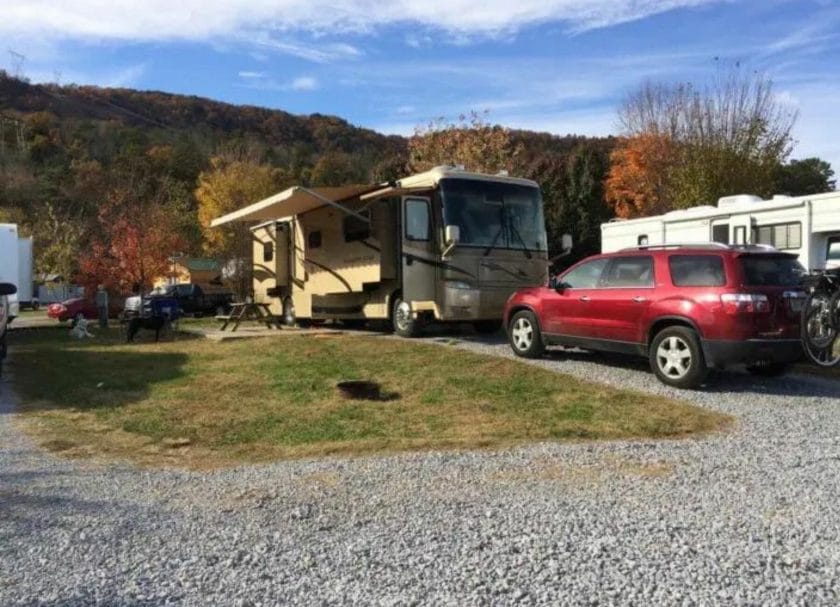 We stayed at Raccoon Mountain Caverns and Campground – which was a great campsite about 15 minutes outside of downtown Chattanooga. After the not fun trip into Gatlinburg (Read here) – we made sure to leave early in the day so we could pull into Chattanooga in the day light.
We got there with no issue and pulled in – literally – since we had a pull through site – those are AWESOME!! If you have ever backed in an RV you would understand – not that I have – but I have helped Craig multiple times as he has backed into some tight spots! A pull through is so easy!!
Check out RV rentals here if you are interested in renting an RV for your Tennessee road trip!
Hotel
We stay at The Chattanoogan and it was a great option for our family. With the 6 of us we got 2 rooms. They offer contacting rooms which is always a plus with a large family.
They had the Forge restaurant and bar downstairs that served American food with a curated bourbon bar. Plus the Stills and Mash restaurant upstairs that served pizza and a few other items.
The High Rail rooftop bar was also a favorite of ours with their unique and delicious craft cocktails. There was also Noogans coffee market located in the lobby area which made for an easy breakfast. It is always helpful when a hotel offers so many food options.
Stay right in the heart of downtown with Staybridge Suites Downtown Chattanooga. These studio, 1 or 2 bedroom suites come with full kitchens and a hot breakfast bar is included in the price.
Homewood Suites by Hilton has full kitchens and a separate living area as well as convenient workstations if you need to work on your trip.
Vacation Rentals
Choose between a Cozy and Contemporary Cottage or a Perfect Location Downtown with views of Lookout Mountain. Chattanooga has a wide variety of vacation rentals available. No matter if you want a luxury loft or a spacious home to stay in, there is a great place for you to stay.
Weekend Itinerary in Chattanooga
Friday Afternoon
3pm: Incline Railway
5pm: Ruby Falls
7pm: Tony's for dinner – they don't take reservations so you may have to wait for a table. If that is the case walk around the Arts District! It is a beautiful area.
Saturday
8:30: Breakfast at Puckett's
9:30: Tennessee Aquarium
11am: Walk across the Walnut Street Bridge
Explore Coolidge Park and Ride the Carousel
12pm: Lunch at the Brewhouse
Walk back across the Walnut Street Bridge
2pm: Highpoint for rock climbing
4pm: Explore Chattanooga Cho Cho
Do a whiskey tasting at Chattanooga Whiskey if you like moonshine type of whiskey.
Stop at the Hot Chocolatier for some delicious hot chocolate.
If you have more time stop at Wharehouse Row for some shopping.
7pm: Dinner State of Confusion – you can make a reservation but their reservations do get filled up.
Sunday
8am: Breakfast at Frothy Monkey
9am: 11am Visit Rock City
11am: The Tap House & Empyreal Brewing Co for a sample flight of beer.
12pm – 2pm: Oddstory Brewery for beer, food and to hangout outside, listen to live music if they have any or else play baggo and sit outside.
2pm: Escape the Room
3:30pm: Walk the Riverfront
5:30pm: Dinner downtown at one of the many restaurants by the Riverfront
More posts you might like:
15 Absolutely Enjoyable Things To Do In Nashville
7 Amazing Things To Do In Asheville With Kids
Top 4 Indoor Water Parks Tennessee
Top Amusement Parks in Tennessee You Need to Visit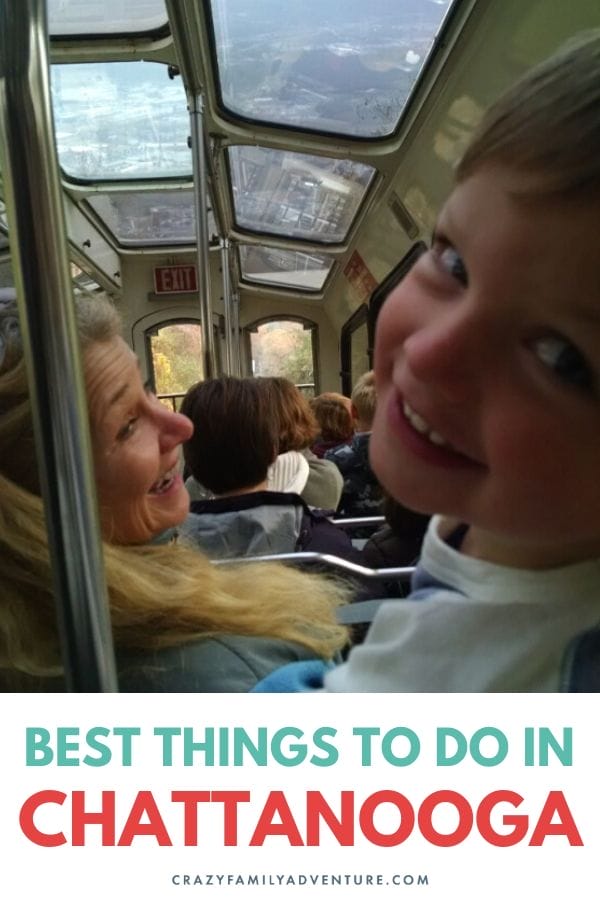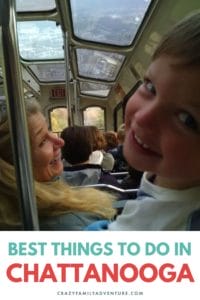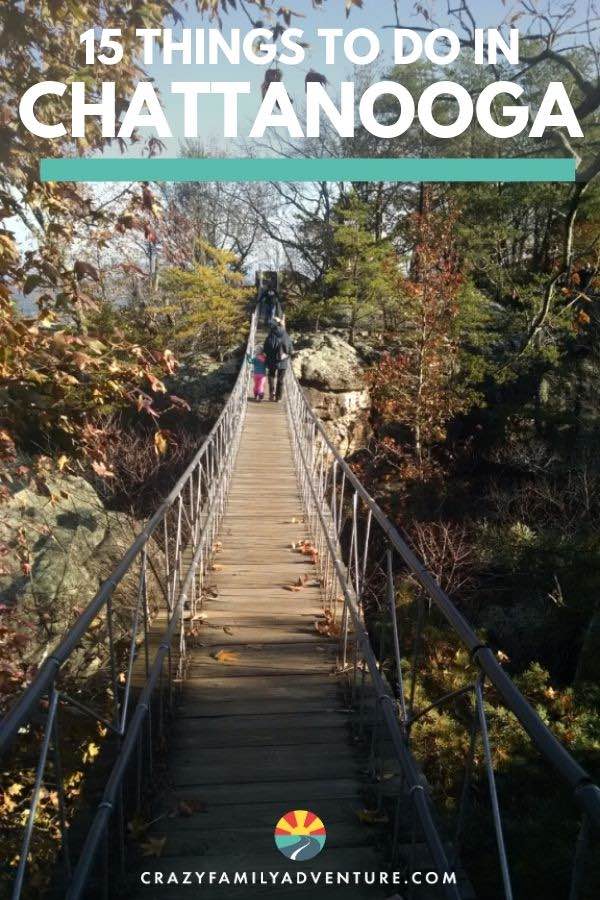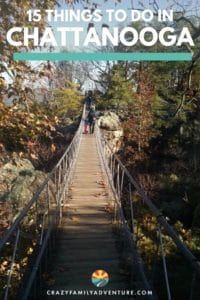 **This post contains affiliate links.**
DISCLOSURE: This post may contain affiliate links, meaning I get a commission if you decide to make a purchase through my links, at no cost to you. Please read my disclosure for more info.