There were so many fun things to do in Chattanooga with kids and we really liked the area. In this post we will share what we did with our kids while in Chattanooga and some additional activities we think you will love!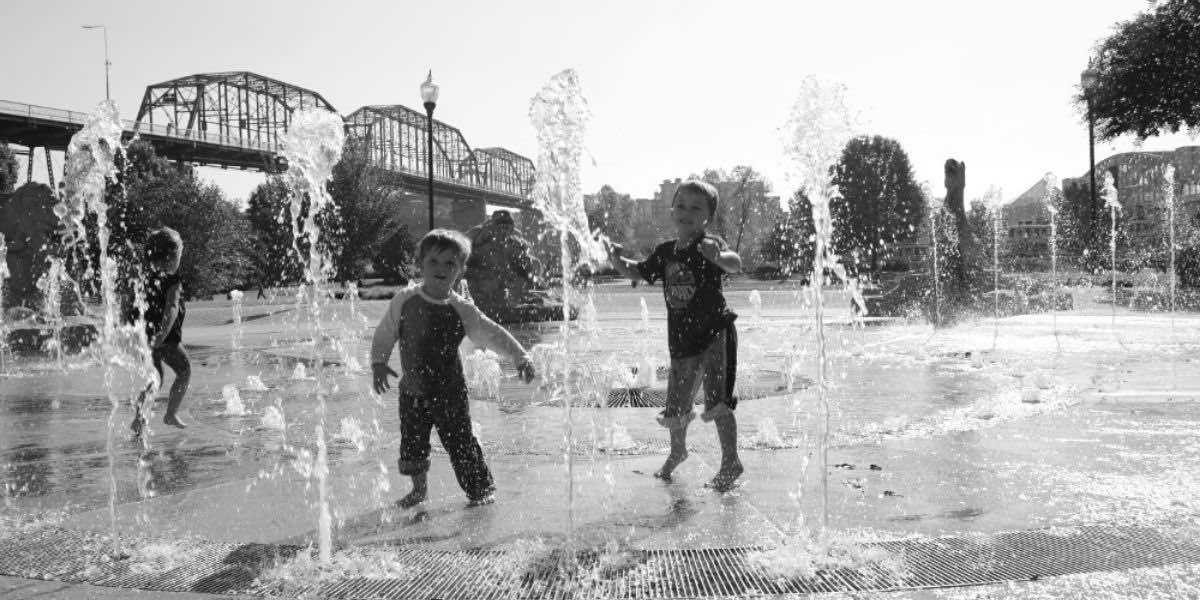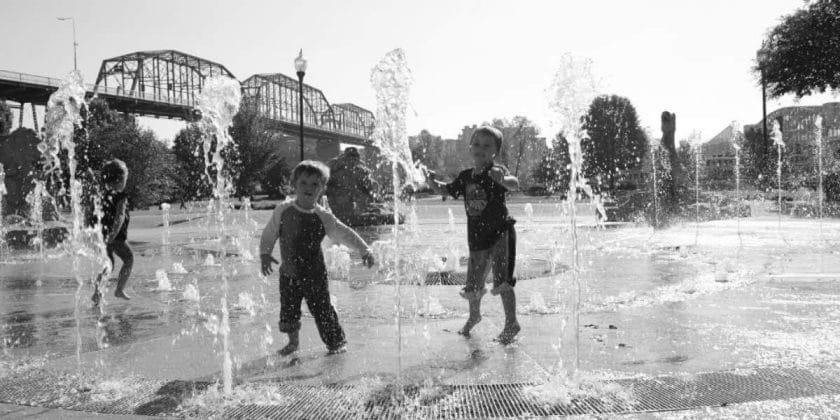 Our Stay In Chattanooga
We stayed at Raccoon Mountain Caverns and Campground – which was a great campsite about 15 minutes outside of downtown Chattanooga. After the not fun trip into Gatlinburg (Read here) – we made sure to leave early in the day so we could pull into Chattanooga in the day light.
We got there with no issue and pulled in – literally – since we had a pull through site – those are AWESOME!! If you have ever backed in an RV you would understand – not that I have – but I have helped Craig multiple times as he has backed into some tight spots! A pull through is so easy!!
Right in front of our campground was a large field – SCORE. The kids love that. They love the space to just run. When you are on a campsite your space is actually pretty limited – so we have learned that open fields next to our campsite are a great fit for us!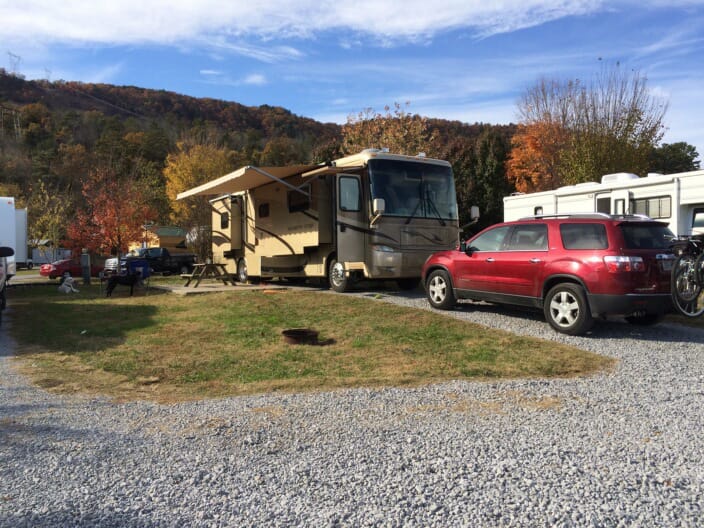 On Saturday we just had a lazy day where we hung out at the campground, got everything organized from the drive, and just let the kids run and play. The weather was really nice so it worked out great.
We also celebrated Indy and Odin's Birthday! I can't believe that they are 9 and 10 already! It seems like they have been enjoying the trip and all the new smells at the new places we go!
Then on Sunday we drove into Chattanooga to check it out.
We started at their Farmers Market which had a lot of cool stuff. I should know by now our kids don't do well at Farmer's Market's – just too many things to touch that they shouldn't and so they are bored just walking around looking at things.
After a couple of breakdowns we just headed for the car. However, The Chattanooga Market is really cool and big and I would like to go back again in the future.
Coolidge Park
Our next stop was Coolidge park in downtown Chattanooga, in the North Shore area. We started out walking across the well known Walnut Street pedestrian bridge. We got about half way and knew the kids wouldn't make much more so we turned around and headed down to the park.
For some reason it turned into one of those days where the kids just were not very happy and everyone was kind of on each other. I don't know if it was because Craig and I were just tired and looking for a break – which does not exist when you have 4 young kids – or if everyone was tired?? But in any case we were struggling.
When we got down to the park we found a water fountain that the kids could play in! This really turned them around. They had a lot of fun running in the water and getting soaked!
This is a great example of a situation where I wasn't totally prepared – but knew we had some type of clothes in the car.
I made sure they each took their shoes off and then said, "Go for it!" They had a blast!
Craig got their clothes from the car and when they were done we dried them off the best we could with what we had – put Melia's skirt around each of them and got them dressed in their new clothes right out on in the open.
If you see water – let your kids play in it and always have extra clothes in the car.
After this we headed for ice cream – because we always go for ice cream! We found a local place that had some really unique flavors . . . $15 later everyone had ice cream – ice cream is an expensive habit!
Good Dog Restaurant
We then figured we needed to find some where to eat – and found a hot dog place: Good Dog where the kids hot dogs were only $3! And they had vegetarian hot dogs too.
We got our food, ate, and headed back to the park. When we got there we hung out for a while and the kids ran around and climbed on the bridge structure, Melia and I did gymnastics, and Craig brought the soccer ball out.
It was a beautiful day and a really nice park. Craig and I were still kind of crabby but we were pushing through it! After a little bit we headed back to the RV and hung out there for the night.
Julie Darling Donuts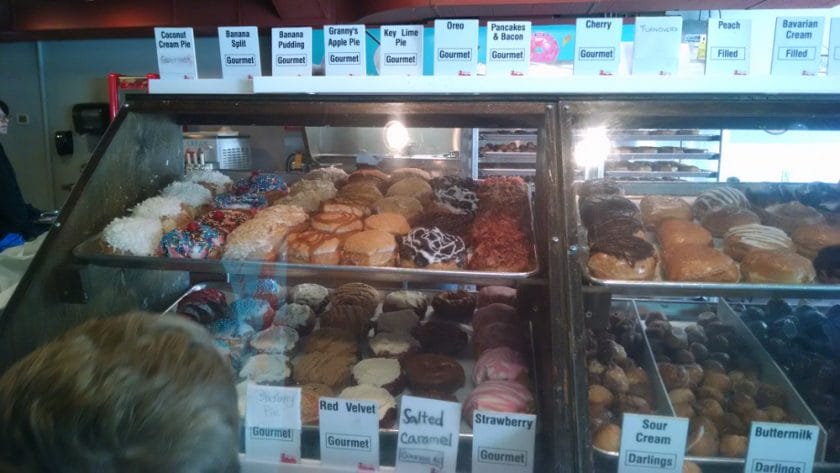 At this point I thought Chattanooga was OK – but wasn't overly impressed. Craig had an early meeting the next day, so I took the kids and we headed out to find donuts – our other habit :)!
I had searched Chattanooga donuts and we found Julie Darling donuts – it had great reviews and was located by the park we went to, so I kind of knew where I was going. We went and checked it out – and I am glad we did!
The Donuts were amazing!! I got a sea salted caramel one and it was soooo good. If ice cream is more your thing, check out Clumpie's Ice Cream for handcrafted, seasonal favorites.
After eating our donuts we headed back and hung out by the RV for the rest of the day. The kids had a lot of fun outside setting up their own campground and games.
On Tuesday we planned on just hanging out because my parents were coming to visit! We couldn't wait to see them! When we were home we saw my parents at least 2 or 3 times a week, so not seeing them for a while was hard!
It was a gorgeous 65 degrees out with the sun shining. I actually sat back and put my feet up and just enjoyed the weather!
I usually have a hard time sitting still and on our adventure one of my goals is to slow down and just enjoy the moment and try not to rush through life. By 6pm we were lined up at my parents campsite (right next to ours) waiting for them to pull in!
They finally got there and we were so excited! They got all situated and then we all hung out by the RV and watched a movie outside – enjoying the nice weather and night – since we knew it was going to get cold.
Lookout Mountain Incline Railway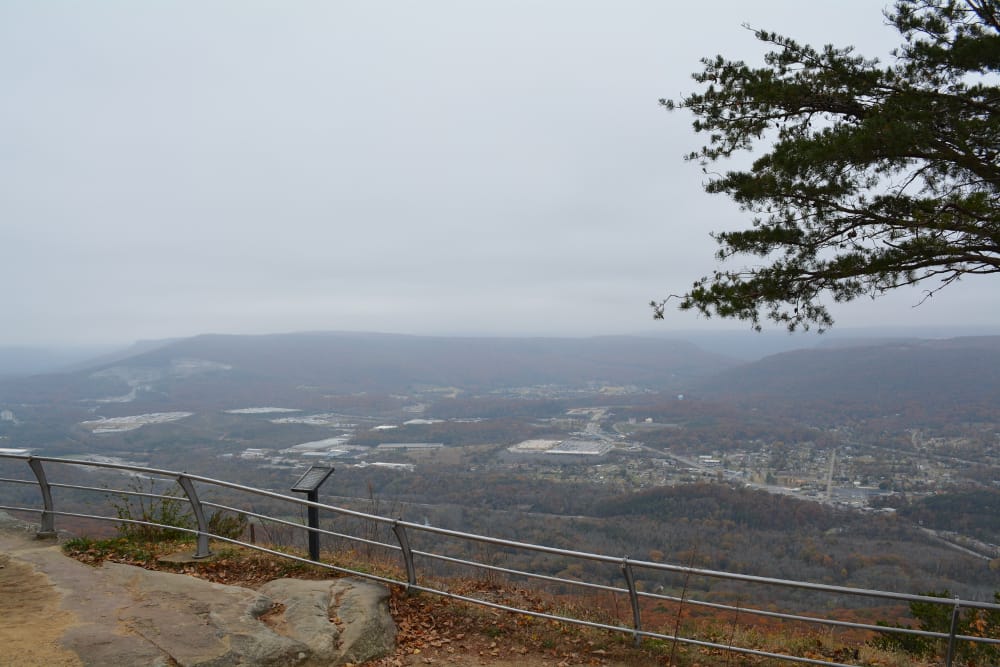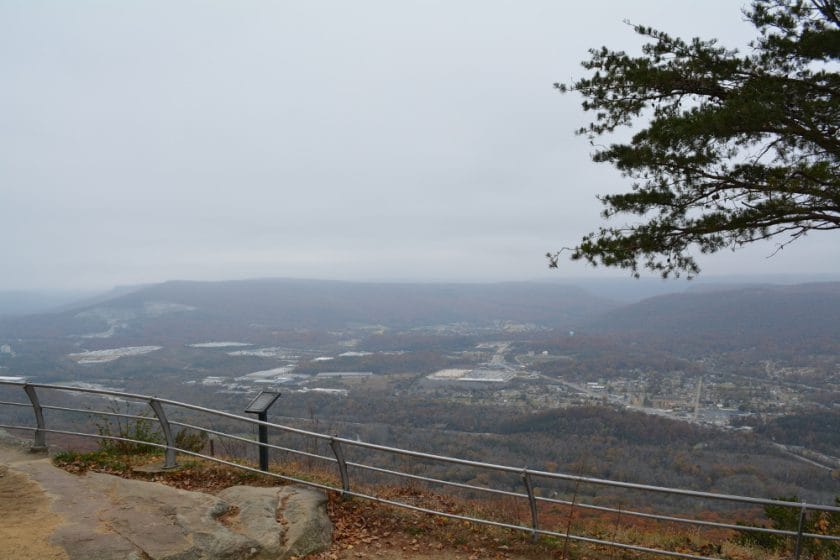 On Wednesday we headed to the Lookout Mountain Incline Railway in historic St. Elmo and bought the group tickets for the Railway, Rock City, and Ruby Falls.
The ride up was really cool and the Chickamauga and Chattanooga National Military Park area, which was a couple of blocks down the road, had a great gift shop area, Civil War videos and facts.
Point Park (the site of the pivotal Battle Above the Clouds in the fall of 1863 that helped Union troops gain control of Chattanooga) was also there and offered amazing views.
Ruby Falls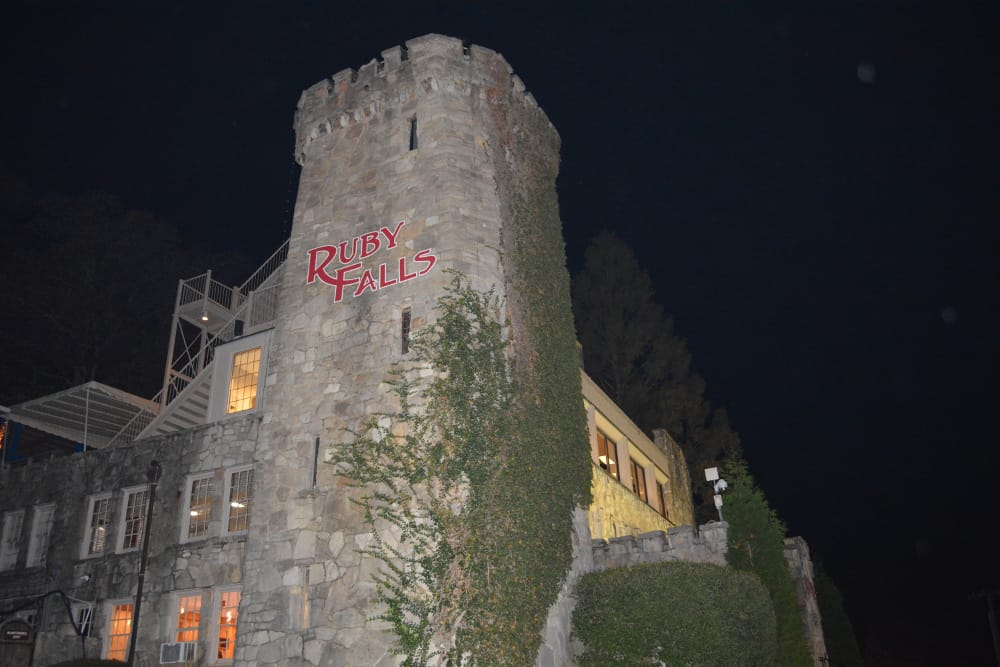 When we got back we picked up Craig and went to Ruby Falls. It was an interesting experience . . . Knox did not like it! He was on my back in the backpack and just did not want to be there.
You couldn't touch anything (seriously they can arrest you and fine you if you touch some areas or break anything) so I couldn't really let him down.
We didn't know going into it that it was a half mile walk to get to the falls and then another half mile back . . . Seeing the caves was really cool and so was the waterfall – but not something I would recommend with young kids.
On Thursday we planned to just hang out because the weather was going to be better on Friday for doing Rock City. Then my parents surprised us and said Craig and I could go out! Sweet!
So we headed to a local brewery for a couple of hours – it was really nice to get away just the 2 of us!
By this point I was really starting to enjoy Chattanooga and everything it has to offer! I think part of the challenge is it is hard for me with the 4 kids to get out and get our selves acclimated with a new area – so it takes a couple of days for that to happen and then once it does we start to realize all the cool things that are around us!
On Friday Craig had another meeting – where he needed total silence (not going to happen with us there)! So we took my parents back to the donut place – yes, they were that good!!! They agreed. They got the pancake and bacon donut and a few others to try.
Rock City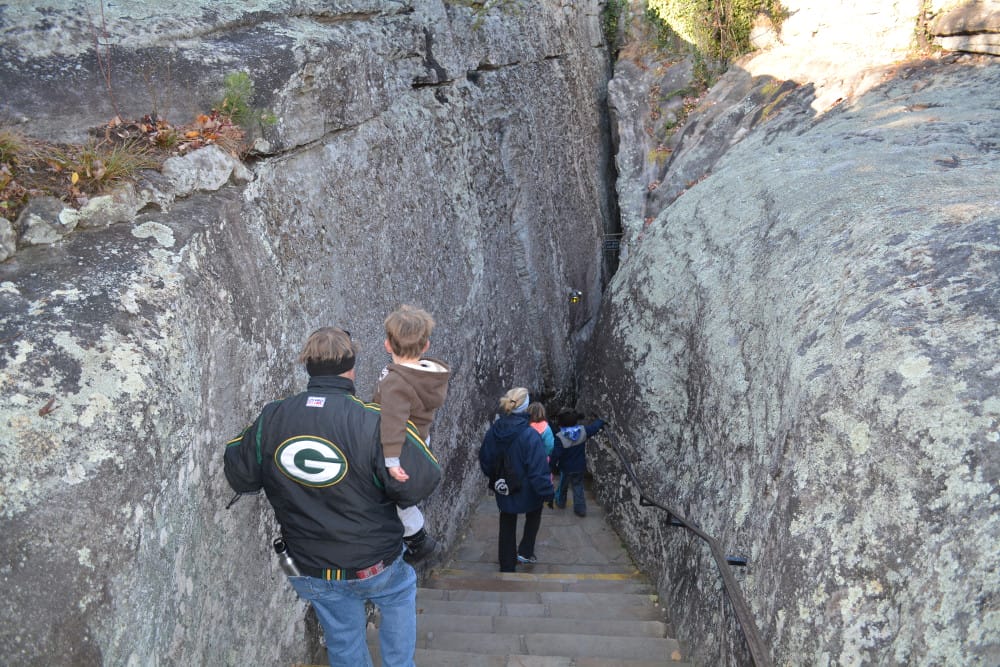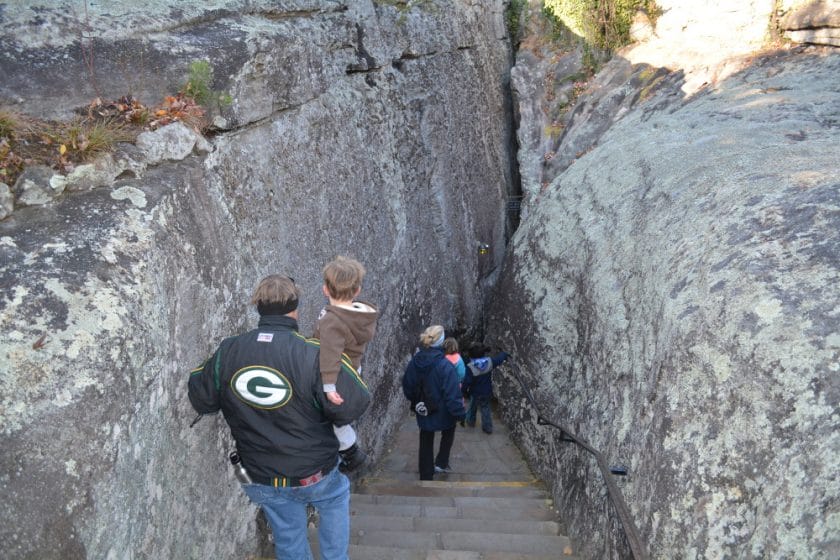 After that we got ready to go to Rock City. I wasn't expecting Rock City to be much and wasn't sure if it would be a fun thing to do with kids in Chattanooga. But it came in the package deal so we figured we would try.
We are glad we did! When we got there it was Starbucks happy hour – buy one get one on holiday drinks so we had to stop. The kids got the holiday hot chocolate too.
Then we headed in. The trails were really cool – but a bit nerve-racking with Knox and Cannon. Knox because he is 2 and is a runner and Cannon because he is Cannon and trips over a painted line. So we made sure someone had someone's hand when we were by the ledges.
This was definitely an outdoor adventure! We stopped and viewed 7 states from one spot and then went into the Fairyland Cavern – it was pretty neat! Carson said, "How come Daddy has to miss all of the cool things?" 🙁 I know buddy, I feel the same way!
Mellow Mushroom
We headed back to the RV and picked up Craig to head out for Pizza! I had heard Mellow Mushrooms was good – so we went back into Chattanooga to Mellow Mushrooms. Our pizza was awesome!
It was funny when we got there they took us right back to the "back room" as we got back there we noticed a lot of other kids were there and then the tables kept filling up with more and more kids – we were obviously put in the "kids" area. Which was great!! I wish all restaurants had a kids area.
High Point Rock Climbing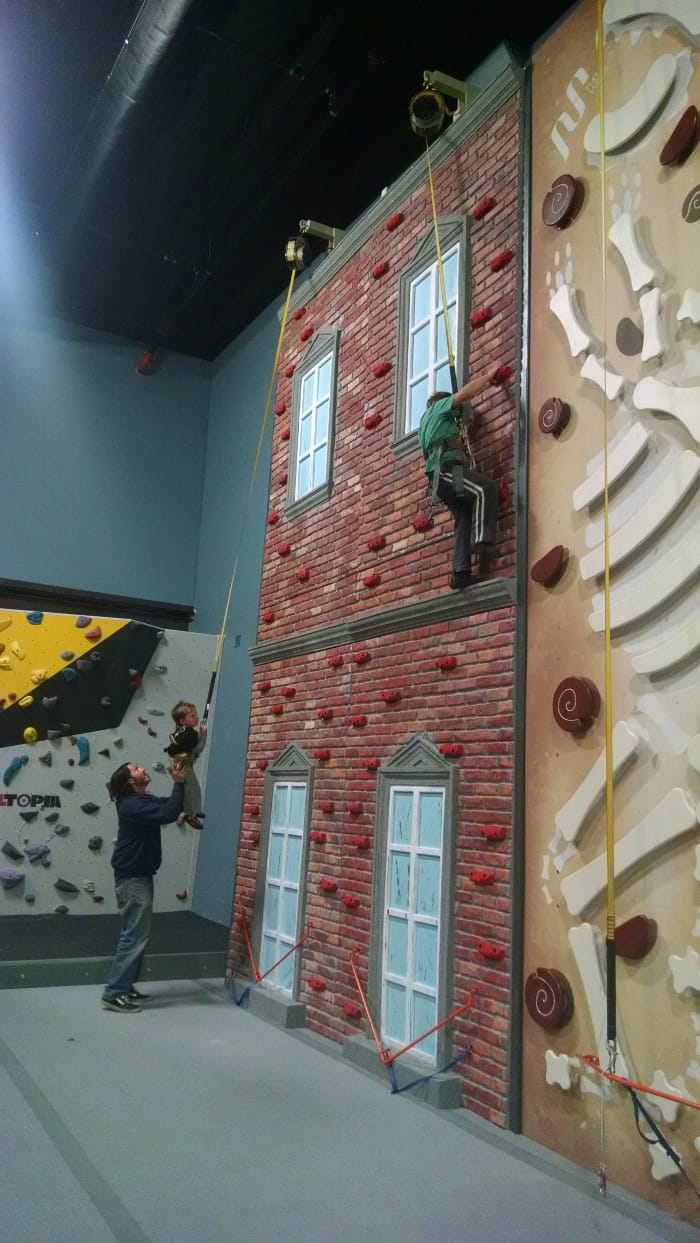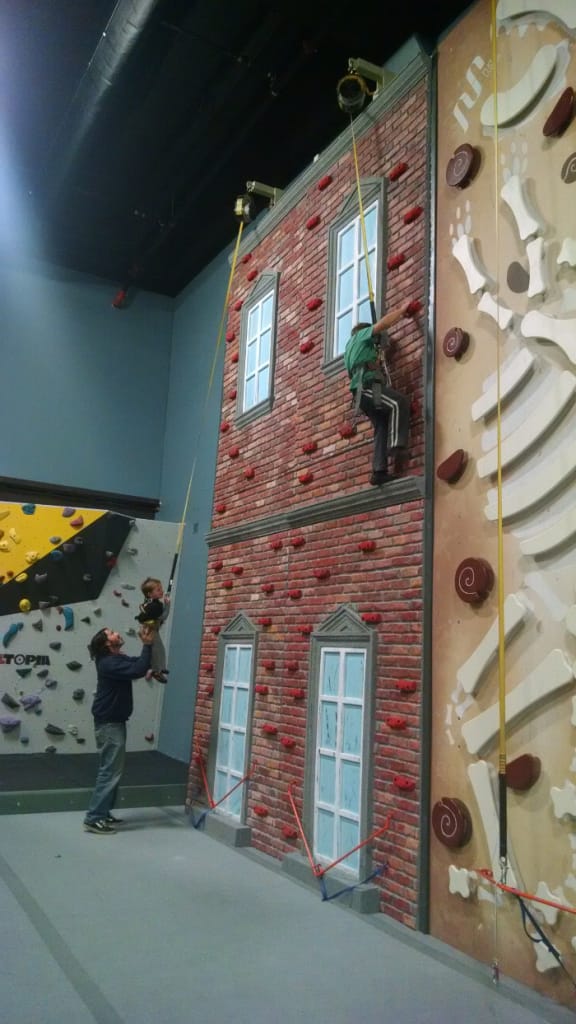 When we were driving in we saw a rock climbing place – High Point Climbing and Fitness – that had some really cool kids things. We stopped over to check it out and since my parents paid for dinner (thanks Mom and Dad!) we decided to try the rock climbing. It was great.
The kids had a blast and were able to climb to the top of the walls and climbed and jumped off another high structure. It is crazy how when you are a kid your fear level is so different than as an adult! We are so glad we stopped and hope that we can stop again on our travels!
On Saturday we had to say bye to my parents and we got ready to head to Falls Creek State park. We really enjoyed our time and loved that there were so many family friendly things to do in Chattanooga, Tn and wish we would have stayed longer.
As the week went on we got more and more comfortable with the area and really enjoyed the campground and the set up. I am sure having my parents there made it better too. We will definitely be back!
Additional Activities
Below are some activities we didn't get to do in Chattanooga this time around, but we think would be really fun on our next trip!
Have a blast mixing your own signature scent from essential oils! You can choose from things like lotion and perfume roll ons for mom, beard oil or aftershave for dad and fun things like rainbow fizzy bath salts or bath bombs for the kids.
A mixologist will assist you in the process and you'll leave with an awesome product you made yourself.
Book your scent making experience today!
Who doesn't love a good cruise? Enjoy a narrated tour on the Tennessee river aboard the Southern Belle Riverboat. Snacks are provided and you can also tour the Pilot house with the kiddos.
Book your Southern Belle tour here.
Museums
If your family loves museums, Chattanooga won't disappoint! Check out one of these awesome museums:
Tennessee's aquarium contains two buildings called River Journey and Ocean Journey. River Journey was the largest freshwater aquarium in the world when it opened. The aquarium prides itself on showcasing life in, above and around water!
Named for the overlooking bluff views of the Tennessee river, Walnut Street Bridge and more, this one may be more to mom and dad's liking. This historic district in Chattanooga contains higher end restaurants and coffee shops, a bakery, art gallery and plenty of historic buildings and gardens to stroll through.
If you are looking for a night out without the kiddos, check out Station Street which hosts various restaurants, comedy clubs, live music and more nightly. This are is also home to the Chattanooga Choo Choo historic hotel, which has restaurants and gardens (as well as the historic factor) that would be fun to see with the kids during daytime as well.
If you are looking to book multiple activities for one low ticket price, take a look at the Chat Pass! Included are:
Ruby Falls Classic Waterfall Tour
Discover Downtown Chattanooga Guided Tour (Friday–Sundays only)
Tennessee Valley Railroad Missionary Ridge Local Train Ride
Songbirds Guitar Museum
$15 gift card to Sticky Fingers Ribhouse
You can't beat this awesome deal. Learn more about Chat Pass here!
Note: If you are really into smaller amusement parks, you may want to check out Lake Winnepesaukah!
Where To Stay
Camping
We stayed at Raccoon Mountain Cavern's and Campground and loved it!
Check out RV rentals here if you are interested in renting an RV for your Tennessee road trip!
Stay right in the heart of downtown with Staybridge Suites Downtown Chattanooga. These studio, 1 or 2 bedroom suites come with full kitchens and a hot breakfast bar is included in the price.
Homewood Suites by Hilton has full kitchens and a separate living area as well as convenient workstations if you need to work on your trip.
Book your Chattanooga Hotel today!
Choose between a Cozy and Contemporary Cottage or a Luxurious 3 story townhouse. AirBnb has a place in Chattanooga for if you want to feel at home, or if you want to feel like you are on a Luxury vacation!
Take a look at more Chattanooga AirBnbs here!
More posts you might like:
15 Absolutely Enjoyable Things To Do In Nashville
7 Amazing Things To Do In Asheville With Kids
**This post contains affiliate links.**
DISCLOSURE: This post may contain affiliate links, meaning I get a commission if you decide to make a purchase through my links, at no cost to you. Please read my disclosure for more info.