There are so many fun and cool things to do in Nashville, TN! There are great tours, museums, restaurants, and food. You could spend days exploring everything this city has to offer. With so much to choose from it can be hard to decide what things to do in Nashville, Tennessee. Below we share the top 15 places you don't want to miss.
If you are looking to extend your trip be sure to check out our Tennessee Road Trip post!
Nashville Attractions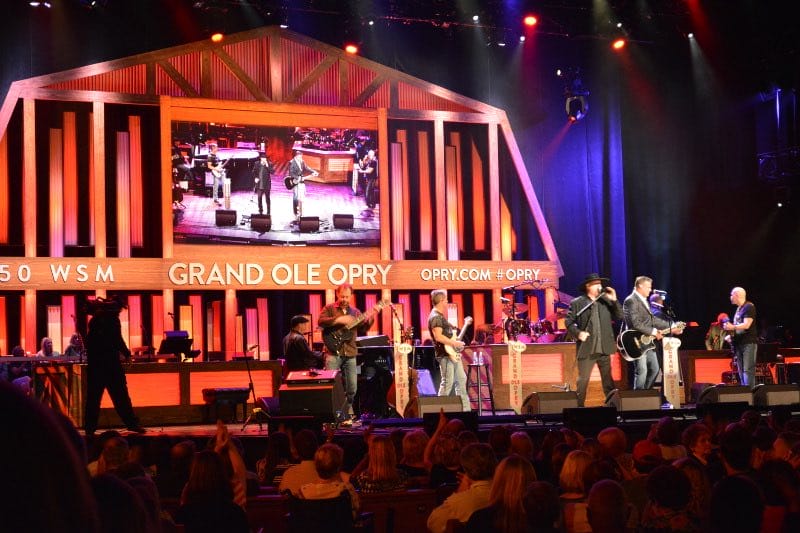 The Opry was such a cool musical show. I would definitely recommend kicking it off with the backstage tour of the Ryman Auditorium!
The Highlights:
History – On the tour you learn a lot about the history of the Opry and get to see where the performers enter from and what their dressing rooms look like.
Going on Stage – Of course the highlight of the tour is getting to go out on state and stand in the circle where so many famous people have stood before. I got the chills multiple times when our guide was talking about the Opry and when we watched some of the moments where performers found out they were being inducted into the Opry.
The Concert – The concert itself was an amazing experience and you could feel the energy in the room as each person came on stage. Not to mention it is a live radio show so that added a whole other element to it.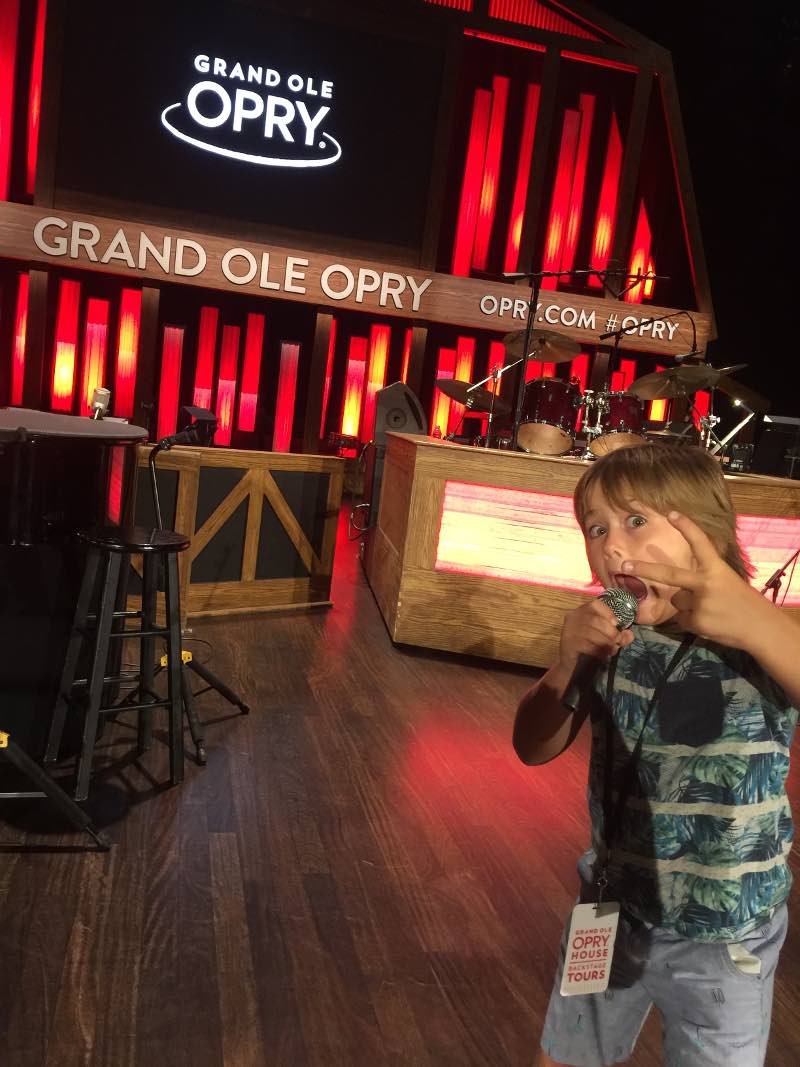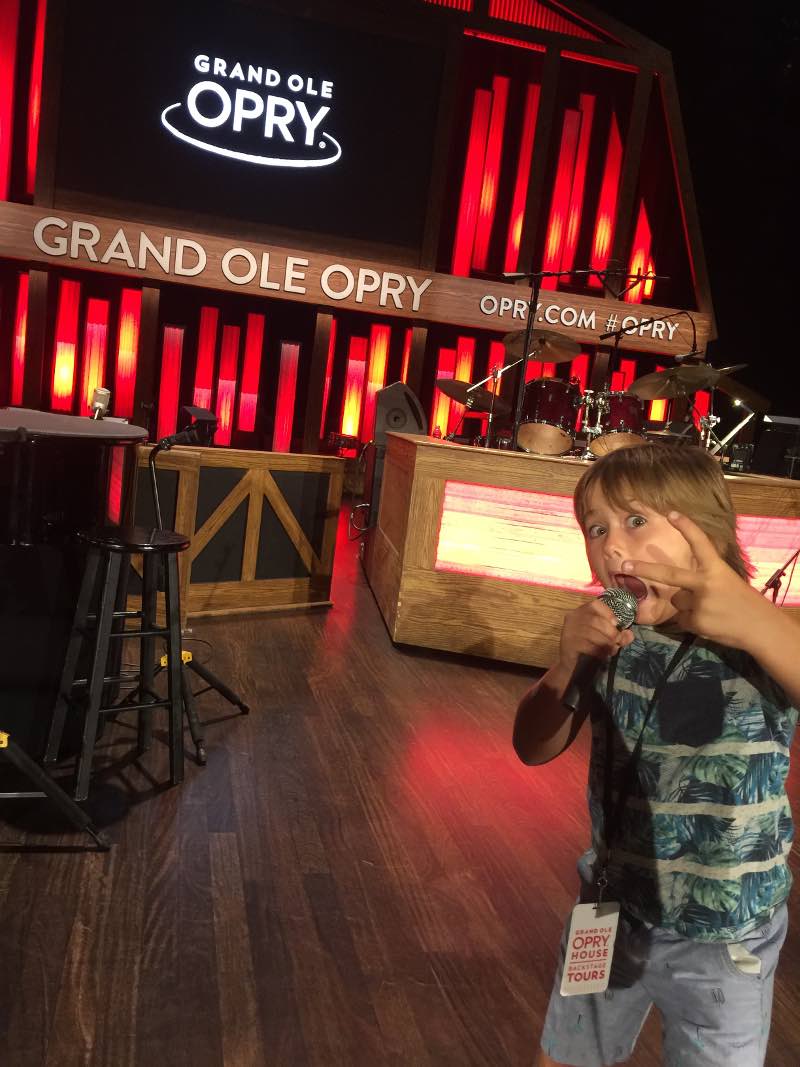 Things to Know:
I love that you sit in old church pews – which is perfect for kids who want to walk around or snuggle with you. Plus they have a concession stand with popcorn. We all enjoyed dancing in our seats along to the music!
When in Nashville go to the Grand Ole Opry – it will give you a much deeper appreciation of what Nashville is all about and how important country music is to the community.
The tour is about 45 minutes so it is good length of time for kids. And they like kids on the tour – one of the security guards gave the kids suckers while we were on the tour!
There is an intermission during the concert plus a concession stand.
Recommend:
If you do the backstage tour you will have a couple of hours between the end of the tour and the concert. Perfect time to walk over to Opry Mills and grab dinner at the Aquarium.
The kids will love watching all the fish and sharks swimming in the aquarium while they wait for their food. The food itself was just OK but the scenery made up for it.
Learn more about our Grand Ole Opry Experience.
Click here: To Get Your Grand Ole Opry Show Ticket Now Before They Sell Out!
Hop on Hop off Bus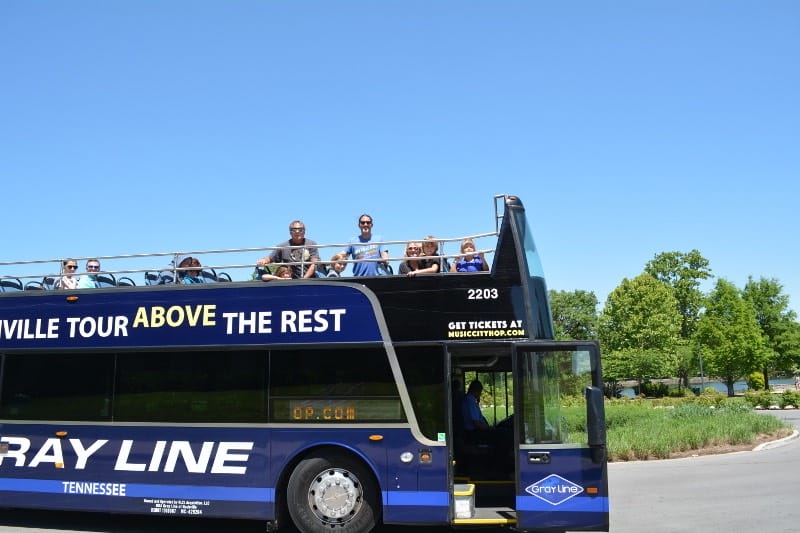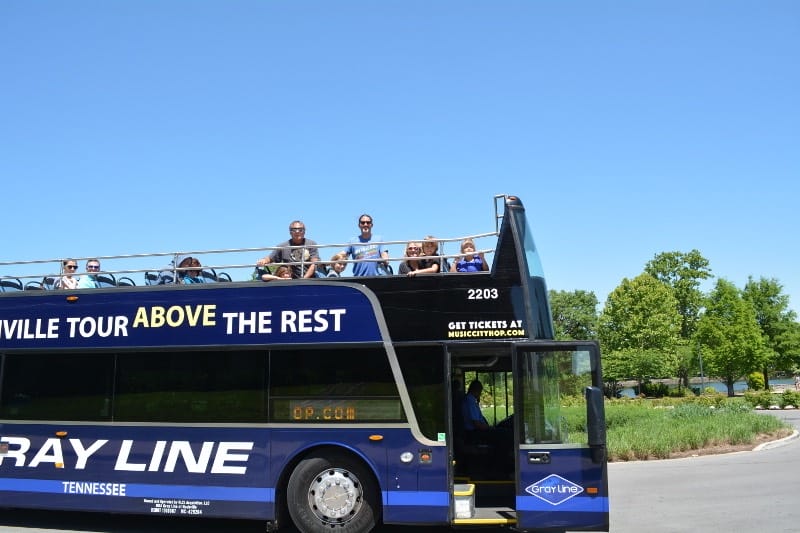 As touristy as it sounds I really think the best way to start a visit to any city is to take a bus tour. I know, I know total tourist attraction . . . But hear me out.
When you go on a bus tour you usually have a guide who will point things out that you may have missed and will give you a good overview of the city with recommendations on places to go. Basically a guided tour of the city!
Plus the kids are contained (and usually you can bring snacks and drinks on the buses) so you really get a chance to look around and get the lay of the land of the new city you are in.
Every time we take a bus tour I leave feeling like I better understand the city we are in and then I am ready to go out explore even deeper.
In Nashville we did the Gray Line Hop on Hop off bus tour and it was a great way for the overview of the city. We saw some parts of the city that I know we would not have seen had we not done the tour – like where the recording studios are and some of the outlaying sections of the town.
Things To Know:
You can hop on and off the bus which is great! But check the schedule since it stops running around 5 ish.
It is a double decker bus so you can go up top which we highly recommend.
You can bring your own food and drinks on the bus.
You can get on at any of the stops but can only buy tickets at certain stops. Check their site for more info.
Recommend:
We recommend you do this when you first get to Nashville to get the lay of the land!
Belle Meade Plantation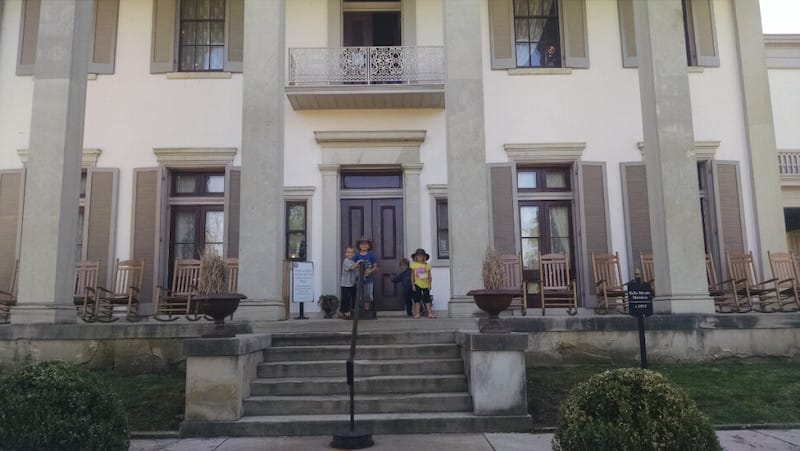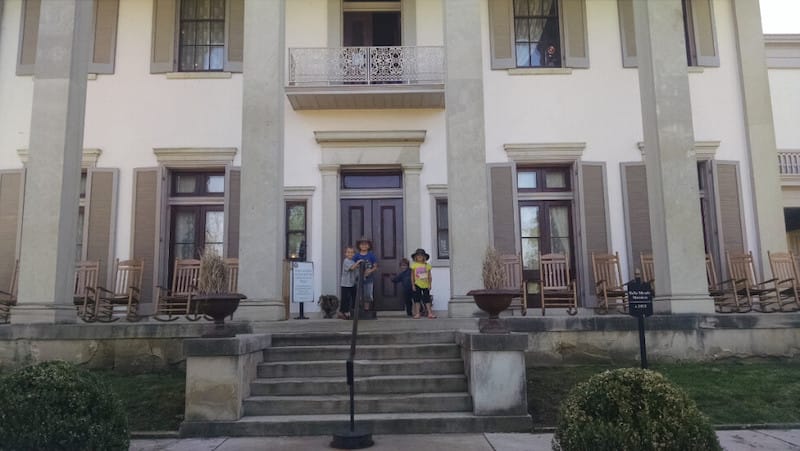 I had been wanting to see a plantation since we had been down south so we figured we would try this one.
The highlights:
It was a horse breeding plantation when it was in its prime.
With your ticket you can walk around the grounds and see the slave quarters, horse stables, carriage storage, and just run in the grass.
Then you get a 45 minute tour of the inside of the plantation house. It was very interesting but a little much for the kids. Once the tour starts the doors are locked and you have to ask to be let out. Knox did not make it through the whole thing – I tried giving him my phone but he kept finding the volume button and turning it up right in the middle of the guy talking. My parents were with me so my Dad took Knox out.
The highlight of the trip is the wine tasting at the end! The Blackberry wine was my favorite!
Things to know:
You can't bring a stroller into the plantation house and the grounds are pretty rough outside. But you could use it if you were just checking out the grounds area.
I would assume you can't bring your own food. They did have crackers (expensive!) that you could buy to eat with the wine.
They had a cute outside area where you could sit to drink any wine that you had bought. It looked like it would be really cool at night too.
The house tour is 45 minutes and Carson (7), Cannon (5), and Melia (5) made it through it. And I thought it was worth it. But they also played on our phones for part of the time.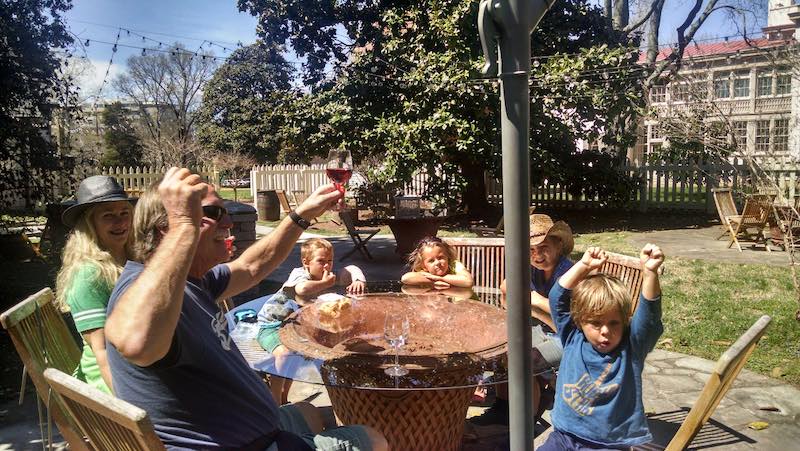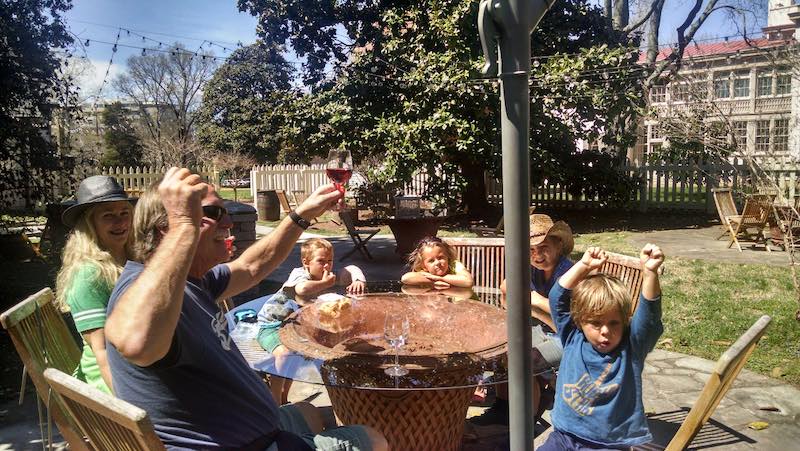 Recommend: If you have an extra day and some extra money or you are set on seeing a plantation I would recommend this trip. Or if you like wine tasting – then I would definitely recommend it! Other than that, with the kids it wouldn't be one of my must see stops and we would not do it again.
The Escape Room Game Nashville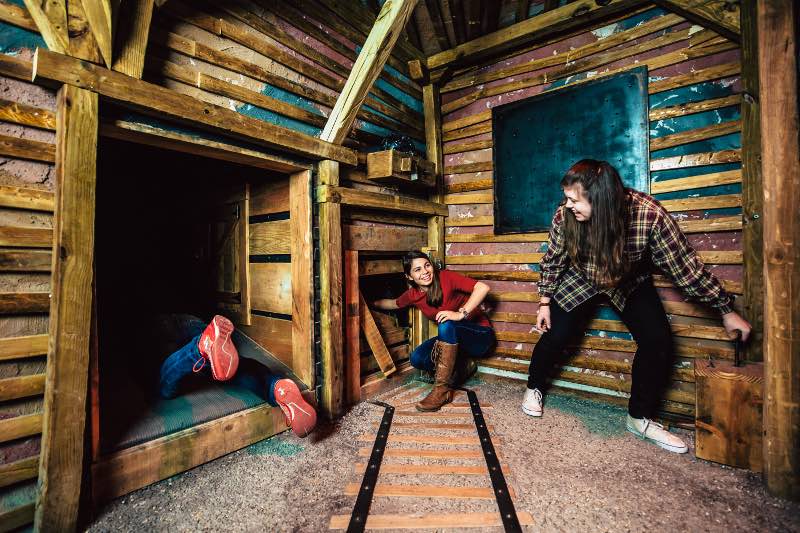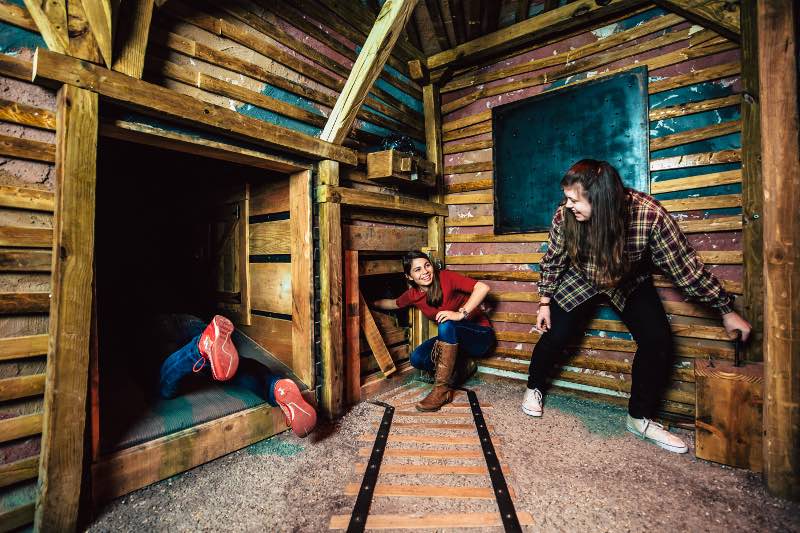 The escape game Nashville is a great indoor activity to do with your family! You and up to 8 people get put into a room and you have to figure out how to get out in 60 minutes. The rooms have unique props and setups and are filled with a variety of clues to help you figure out how to get out of the room.
Book Your Escape Room Adventure Now!!
We weren't sure if this was going to be a kid friendly activity or not but it totally was! We highly recommend taking your family to The Escape Game Nashville. You can learn more about our time playing the game at our post: THE ESCAPE GAME IS A UNIQUE AND AWESOME ACTIVITY.
You can also check out The Escape Games newest attraction the Great Big Game Show! Where you get to see what it is like to be on a game show and compete against another team.
Museums To Visit In Nashville
There are a variety of museums you will want to visit in Nashville. I know it is a music and party city but I promise these museums are worth it to visit!
Music City Hall of Fame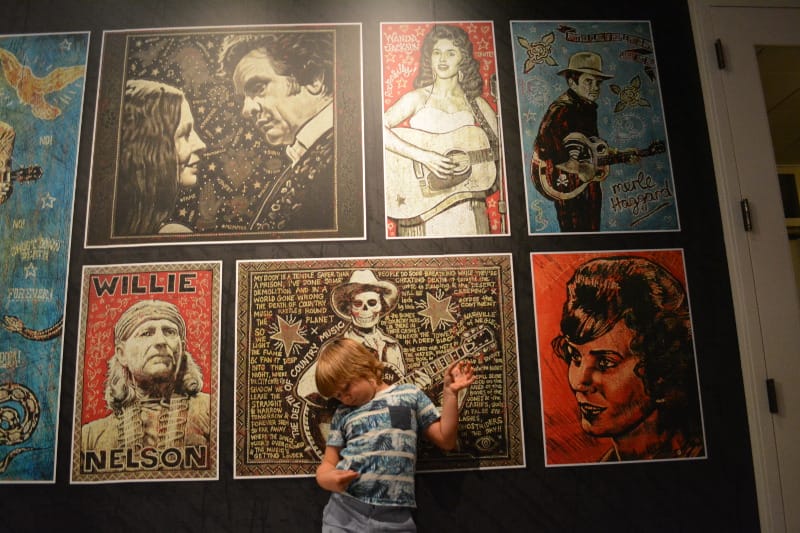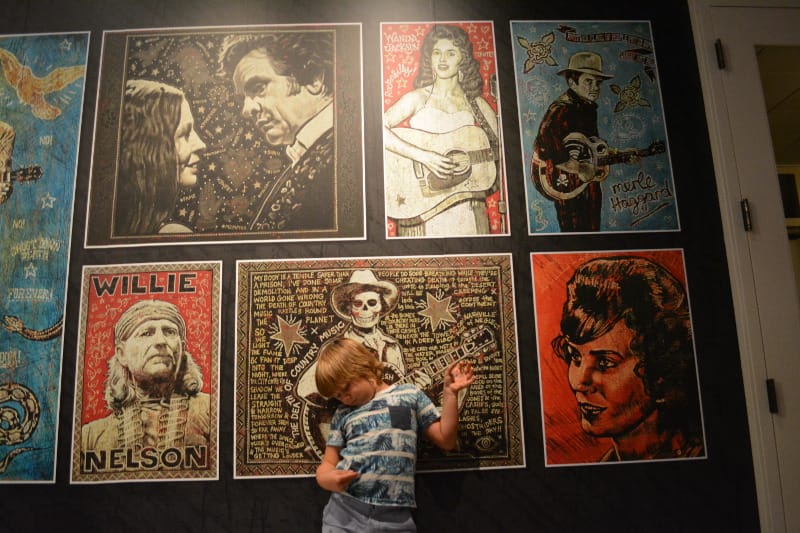 I wasn't sure how the Music City Hall of Fame and museum would go over with the kids and since Craig and I aren't big country music people didn't know what we would think either. I am so glad we went!! The history was really cool to see and they did an awesome job displaying it.
Nashville is the music city so it made sense that we should come and learn more about country music!
The Highlights: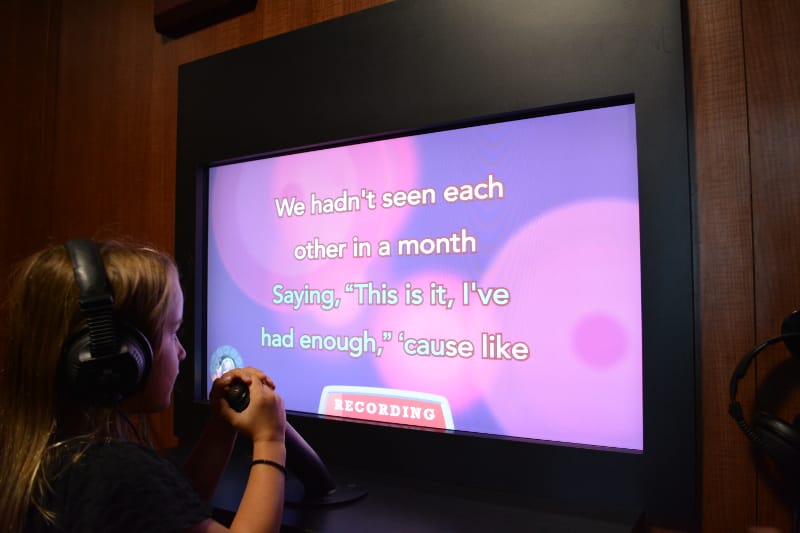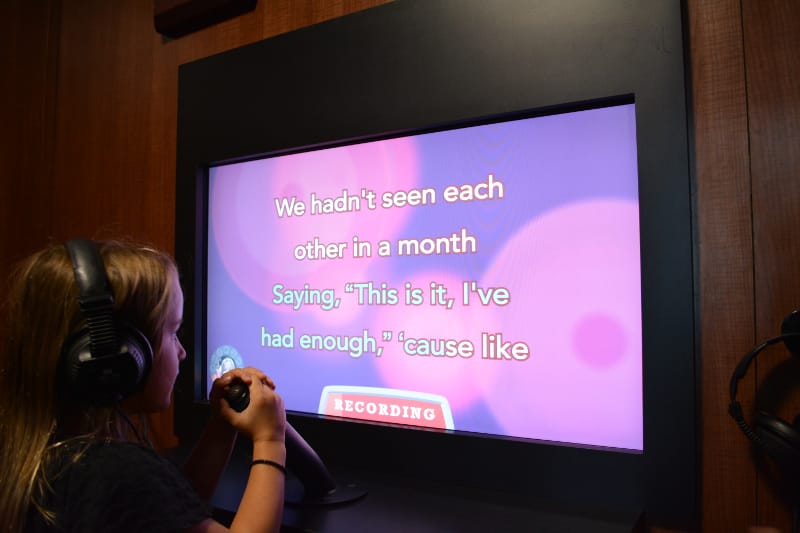 The Scavenger Hunt – The kids can do for a prize at the end. I think Craig had more fun doing it then the kids :). But definitely added to the experience for everyone. It also looked like there were working on a kids area which we will have to come back to check out.

The Recording Studio – Our favorite part about the Music City Hall of Fame was the recording studio. We ended up not giving ourselves enough time and could have stayed here for hours! They have an interactive part of the museum where you create an account with your picture and then use that to record and save your music. The music was done in karaoke style but was so cool since you are in a recording studio when you are doing it and can then play it back to hear how you sound. This was a big hit with the kids and us! It is located in the back of the museum so make sure you seek it out.
The History – You could spend hours reading all of the history, watching the movies, and checking out the old guitars and costumes.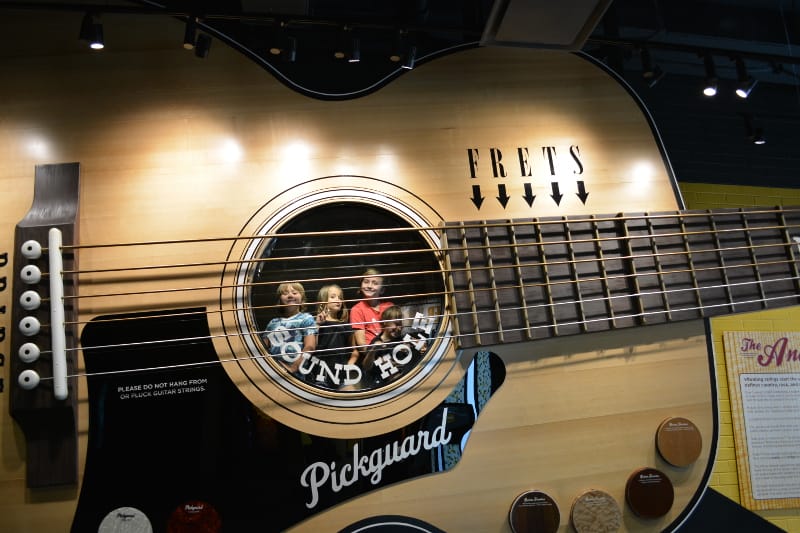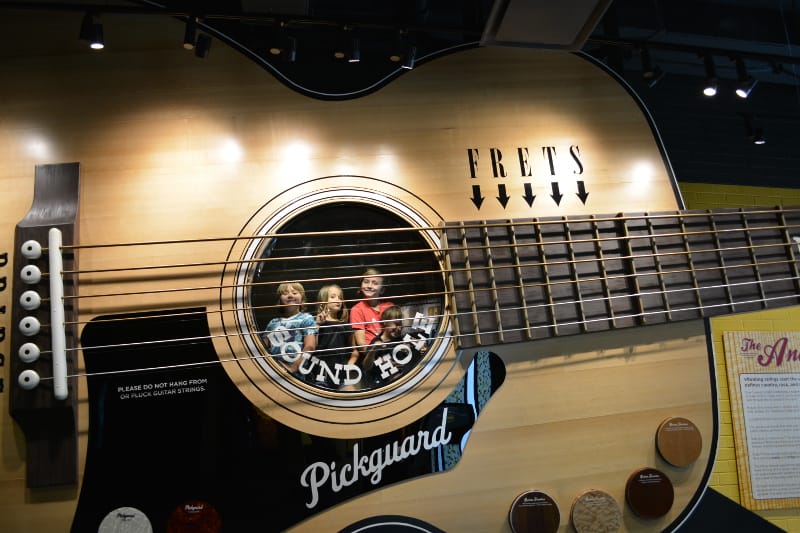 Things to Know:
The building is huge so plan on doing some walking to see everything.
There is parking right up the street (away from downtown and the river). There are 2 lots one is really expensive and the one right next to it is cheaper so be sure to check and make sure you are at the cheaper one!
Recommend:
We recommend you give yourself at least 2 hours especially if you want to do the scavenger hunt and have plenty of time at the recording studio. The place closes at 5pm so plan accordingly!
Get tickets to the Country Music Hall of Fame Here!
If you want more check out this option: RCA Studio B & Country Music Hall of Fame Combo tickets. This is a good option if you want to hear more about Elvis Presley and Dolly Parton.
Frist Art Museum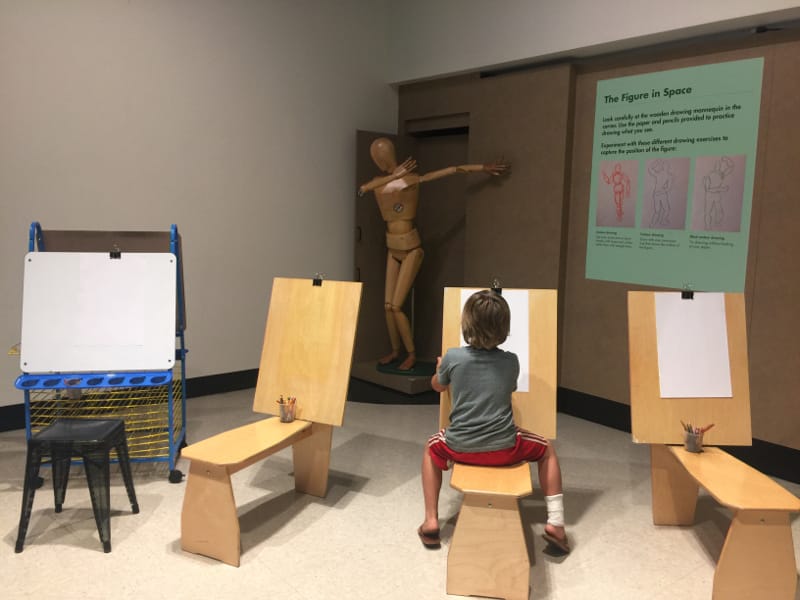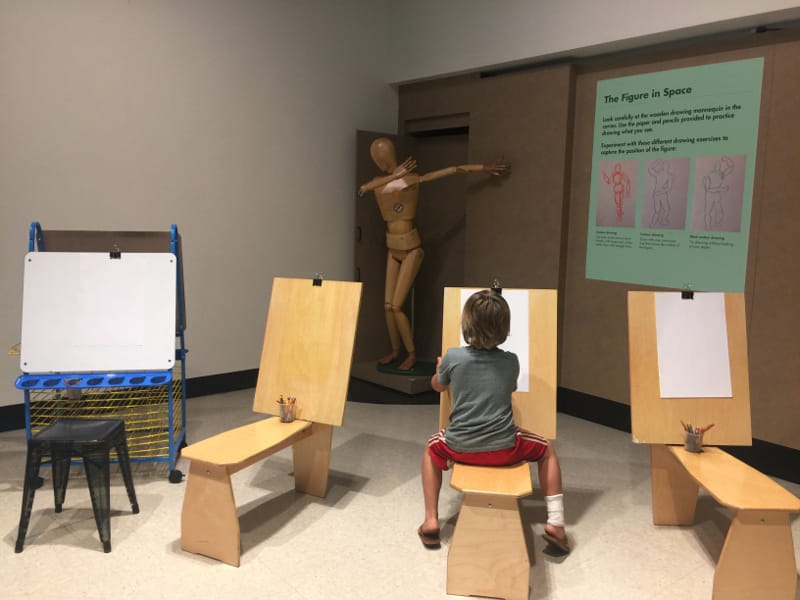 Art Museums and kids . . . per previous posts I have done I know that it isn't always the best fit. But I knew this one had a hands on area so we gave it a try. We ended up spending hours there.
We quickly walked through the art section – the photography collection they had up was brilliant but the kids attention span was very short. After walking through we went straight up to the kids section.
The kids section was filled with a collection of hands out art activities and building activities for the kids. We did water color painting, sketching, building, stop animation and had a great time learning and making art! Now that is how you do an art museum with kids!!
Things to Know:
The hands on area is upstairs. You can either go straight to it or walk through the art displays first.
Recommend:
We recommend you give yourselves a few hours if not more to just hang out in the hands on area and do all of the different stations that they have!
Nashville Adventure Science Center
The highlights:
The Farting Slide – every time you went down the slide it farted! Yes the kids liked this :)!
The Tinker Lab – you can go in and build with all of the wood, tools, saws, tubes, and anything else you can find. If it fits in a bag you can take it home!
The climbing structure in the middle of the museum. You can climb all the way to the top and look out over Nashville. It is doable for adults but it is a tight squeeze!
Things to know:
You cannot bring your own food in. They have a Subway restaurant on site, but if you bring your own food you have to bring it outside to eat. They do have picnic tables way in the back of the parking lot.
I wouldn't recommend a stroller because the place is not that big and it would be hard to maneuver the stroller around.
Recommend: The museum is only 2 levels so it isn't somewhere that you would spend the whole day, but definitely worth stopping at for a 3 or 4 hours! You could literally spend at least 1 hour in the Tinker Lab – if there is a wait to get in – wait, it is worth it!
We highly recommend a Reciprocal Museum Membership to get in FREE or at a discounted price at Museums all over the country.
Old Town Trolley Tours Of Nashville
This hop-on hop-off tour has 14 stops and you have unlimited use of the Nashville Old Town Trolley. Or stay on the trolley for the whole 90 minutes for a live narrated tour of the top sights of Music City!
Visit Music Row, Ryman Auditorium, Music Row, Broadway and more! The trolley is an open air vehicle which makes it great for taking pictures and video.
Free thing to do in Nashville with Kids
Gaylord Opryland Resort & Convention Center
This is a HUGE hotel right by the Grand Ole Opry and the Mall. The Gaylord Resort is also a great Christmas hotel.
**NEW** They just added an amazing water park to the hotel. You are NOT going to want to miss this it looks amazing and super family friendly!! You can learn more about it here: Sound Waves water park.
The highlights:
You can walk around and check out each of their spectacular atrium areas. (The cascades, garden conservatory, delta river).
It was fun just walking around on the paths. We found a waterfall that the kids could sit behind and big open areas where they could run.
If it is a rainy day and your kids need room to run I would recommend coming and going over by the Magnolia section where the banquet halls are (assuming there are no events going on) there is a large area just to run.
There are lots of cool shops and restaurants (Jack Daniels, Irish pub, boutiquey type of shops).
You can take a boat on the river by Delta Island in the middle of the hotel!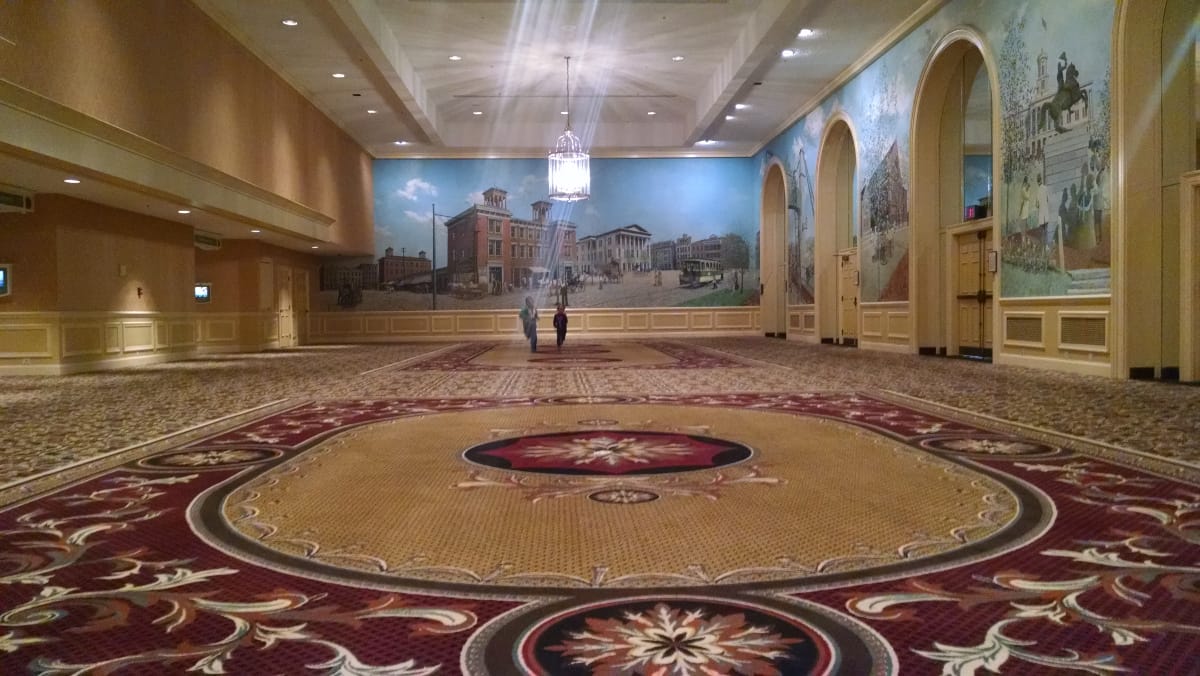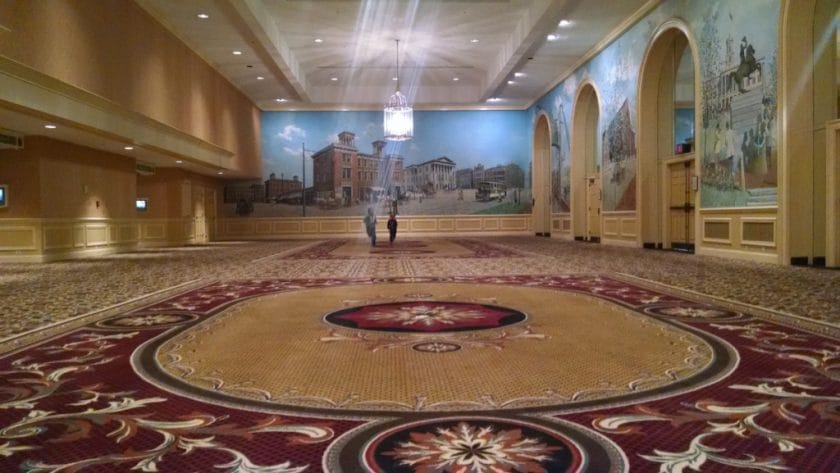 Things to know:
You will want to park in the Opry Mills mall parking lot, it's FREE! This is not an easy parking lot to find and it seems like you are going the wrong way, but it is the right way.
You want to get North on McGavock Pike (exit 11). Coming off of TN-155 take a left when you past the Holiday Inn Express (which will be on the right side of the road). You then take this road all the way back (stay on it this is right!). It becomes Opry Mills Dr. You will see the back of the Grand Ole Opry hotel. Park in the mall parking lot as close as you can and then cross the street and walk through the Grand Ole Opry hotel's parking lot to get to the front entrance of the hotel. You should save money!
DO NOT buy the large cookies (there is small bakery area by the garden conservatory entrance). Unless you are ok spending $5 on each cookie! I read the sign wrong and was very surprised at the total – with 4 kids it was over $20! And Knox dropped his 🙁
I would recommend a stroller if you have little one's that can't walk for long stretches – the place is huge!
Food – plenty of restaurants and places to stop to eat or get snacks (we did not stop anywhere (besides the cookies). Since we were trying to make this the free trip.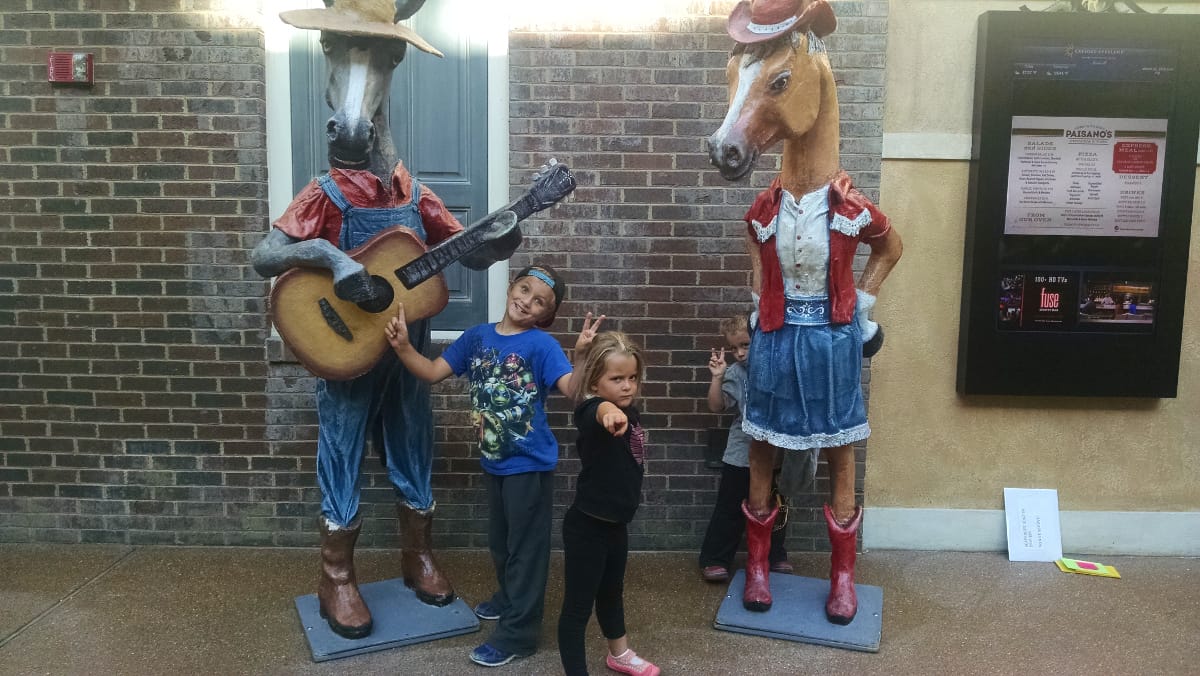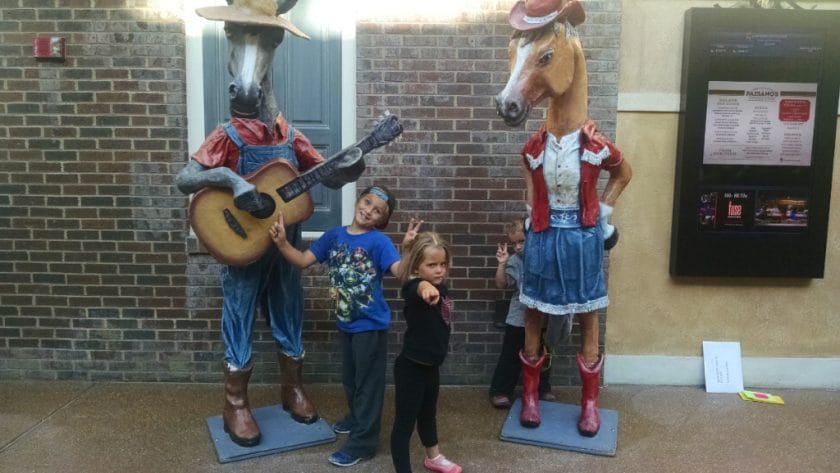 Recommend:You could spend hours just walking around the hotel and a whole day if you planned to eat and shop there too. Walking around the hotel is a great free thing to do in Nashville. When you get there make sure to get a map so you can find your way around! We got lost a couple times.
Centennial Park and the Parthenon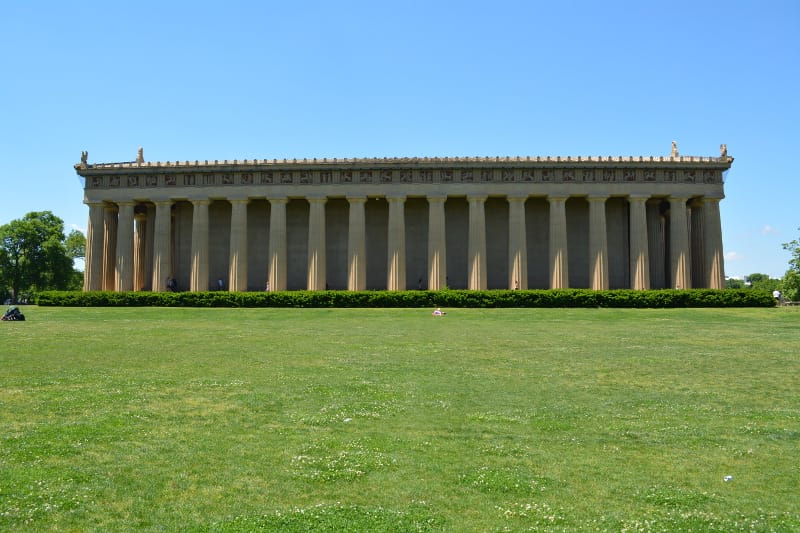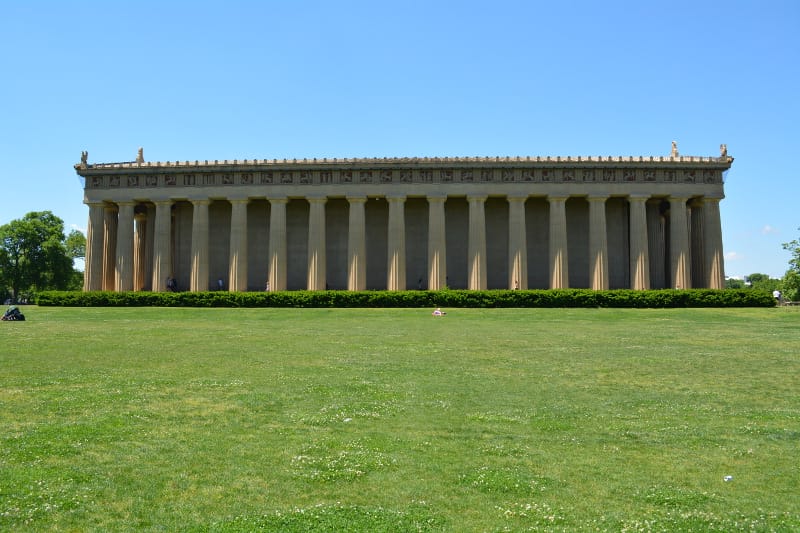 I still cannot say that right . . . Centennial park is a large park on the outside of town that has a pond, lots of grass, and the Parthenon. The Parthenon is a replica of the Parthenon in Greece and even has the 24 foot high statue of Athena in it. If you want to go inside to see the statue you do have to pay a few dollars a person. But running around the grounds outside is totally free!
Musicians Corner
When we have been to Nashville in the past it was always in the off season. This time we were there in spring which was perfect since there were a lot of outside concerts and music festivals going on! I am always up for free music and food trucks and the musicians corner totally delivered.
There is so much great free music Nashville has to offer so make sure to check out a free concert while you are there.
Things To Know:
There are picnic tables for sitting or you can sit on the grass/cement stairs that are part of the outside amphitheater.
They had a large selection of food trucks which meant we could eat a variety of food that we had read about was worth trying here in Nashville all in one spot. It didn't disappoint from Sno Cones with whip cream to delicious grilled cheese we all enjoyed it.
It was busy but not to crazy.
Recommend:
We recommend going. Just do it. The music is great and so is the food! You could go and stay all day or just go for a few hours. Consider booking a Trolley Night Tour to experience amazing views after dark!
Instagram Murals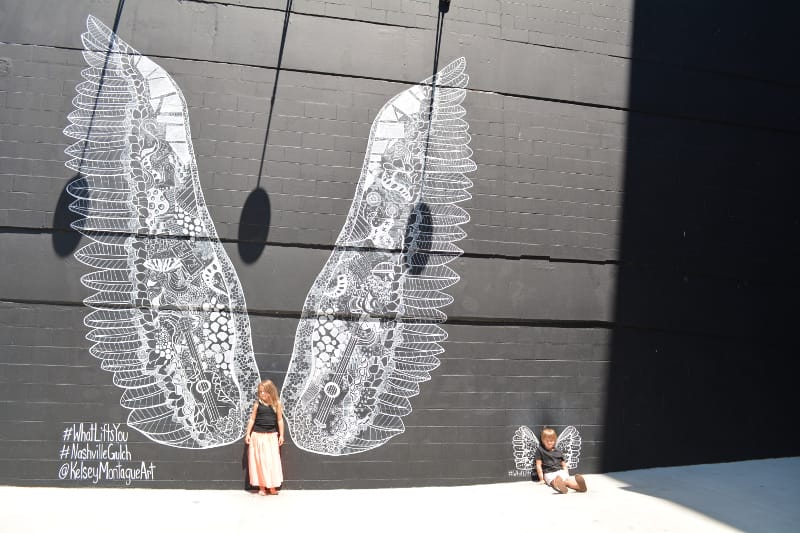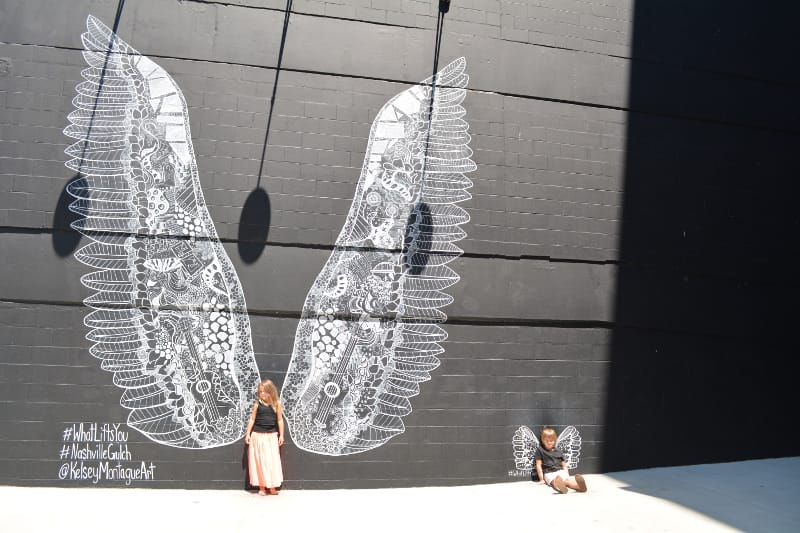 I couldn't wait to check out all of the Instagram worthy murals especially the angel wings one! On the Hop on Hop off bus we drove by a lot of them so it was nice when we headed out to take some pictures that we knew right where we were going.
Our favorite was the angel wings and we spent a good 10 minutes there getting pictures of everyone with the wings on.
We also had fun posing in front of the other walls as well. These 3 murals were all located close by each other so we could walk and get pictures by each of them.
Things to Know:
There can be a line especially for the angle wings.
Depending on the time of day there may be a funny shadow on the wings – see our picture . . . if you are particular you may want to plan around this.
If you want to hit all of the murals you will have to drive around or do a lot of walking to see all of them.
Cumberland Park and Walking in Downtown Nashville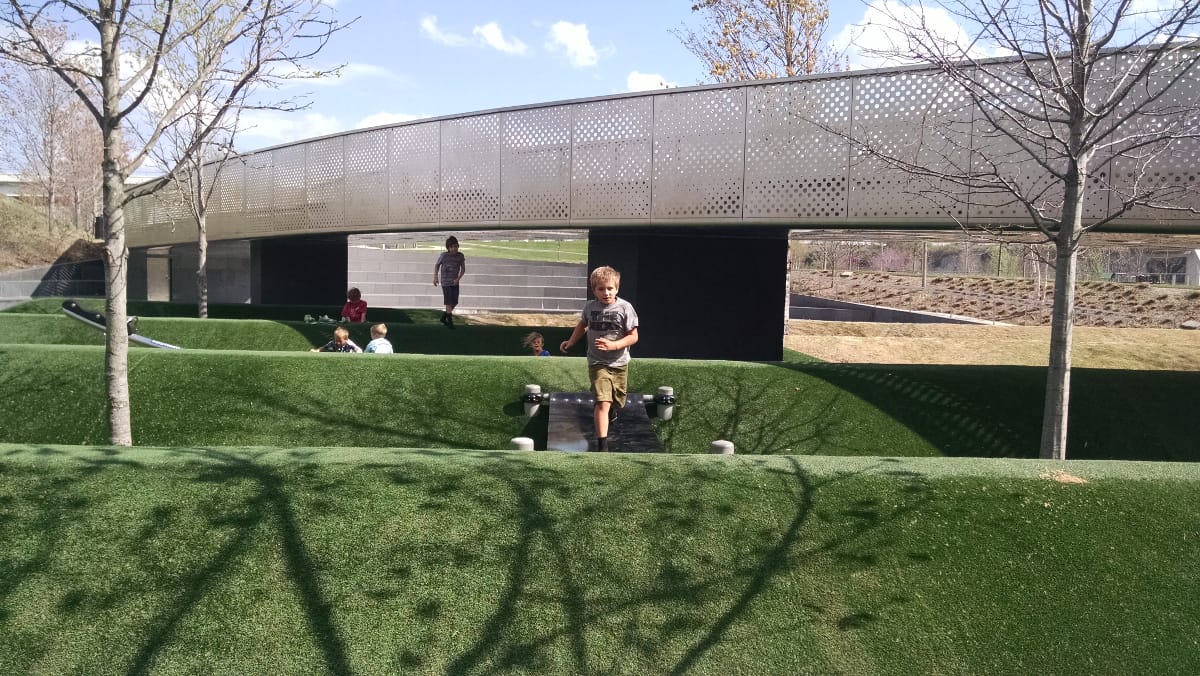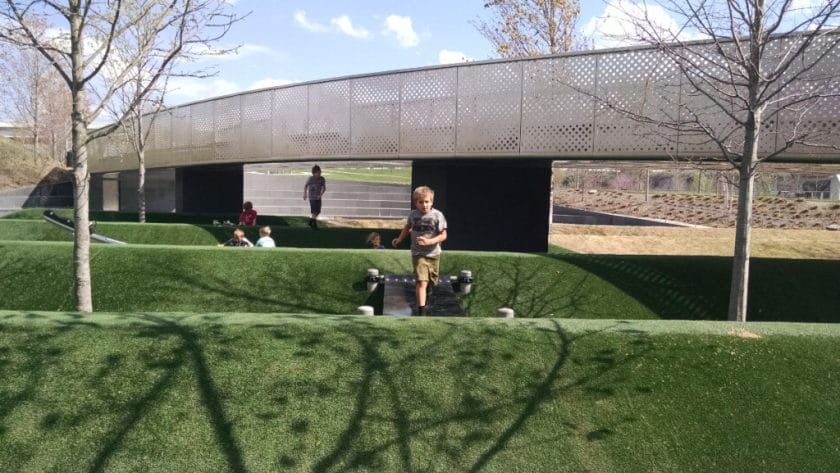 This was a very cool park that you would not know was there unless you knew where you were going! Definitely a fun little park to add to the list of things to do in Nashville with kids.
The highlights:
It has a rock wall, hills to run on, a slide, and is right on the Cumberland river by downtown Nashville.
You could either park in Nashville or you could park by the parking lot for the park (it says permit only parking – but we were ok – but if there is a Tennessee Titans game going on I am not sure where you would park).
There is a walking bridge that connects the park area to downtown Nashville.
Downtown Nashville is cool to walk down. Lot's of things to look at and you can hear music almost everywhere! We were there until about 7pm one night and it was still fine with kids.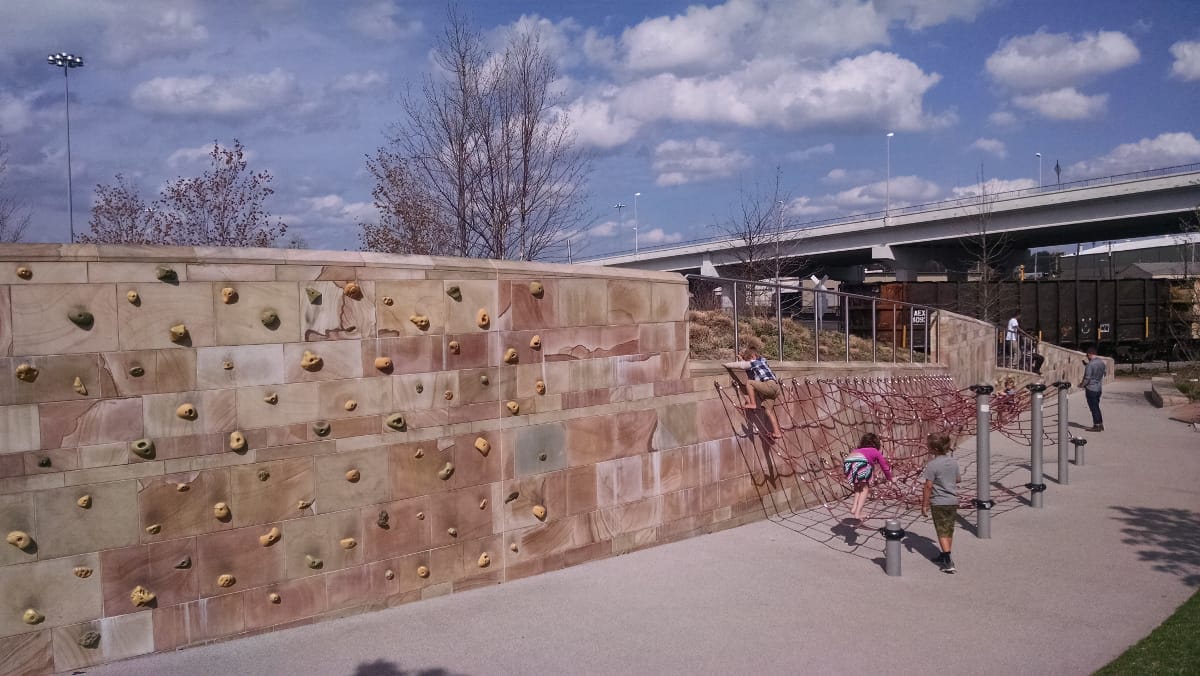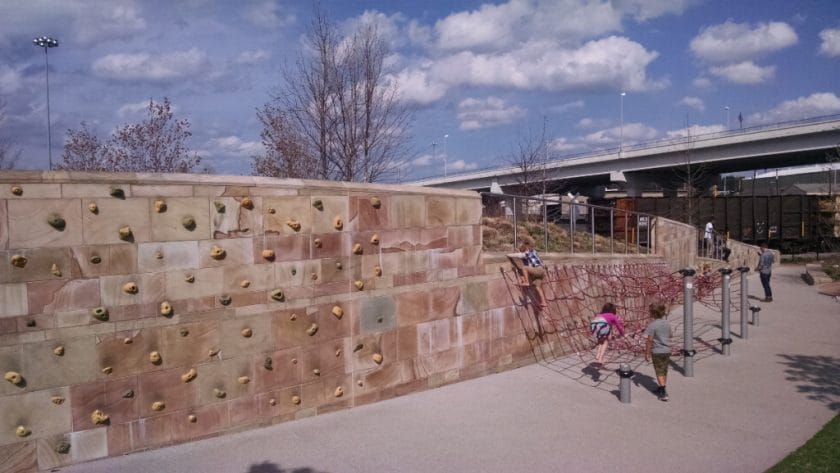 Things to know:
There are tables and plenty of grass to bring a picnic lunch.
It looks like they were building a concessions area under the bridge – but it was not done when we were there.
Nashville Parking – on the weekend we found a parking garage on 2nd street right before the court house. During the week the cheapest we found was the Court house. It is a little bit of a walk but better then paying the higher prices!
Here is a map of where Cumberland Park is and where the Courthouse Parking Garage is. There are a couple of Courthouses so make sure you pick the right one: Courthouse Parking Garage, 101 James Robertson Parkway, Nashville, TN 37201. When we went to Cumberland Park we parked in the LP Field lot – we really couldn't tell if it was ok or not and their were some construction guys that were there that said they had been parking there all week without any problems??
If there was a Tennessee Titans game you DEFINITELY could not park there. As you can see from the Map if you parked at the Courthouse it is about a 1 mile walk to Cumberland park over the bridge – then just take the elevator down – I think the blue dots take you past the elevator (I think it is new). You can also see where Wildhorse Saloon is on the map (2nd Ave).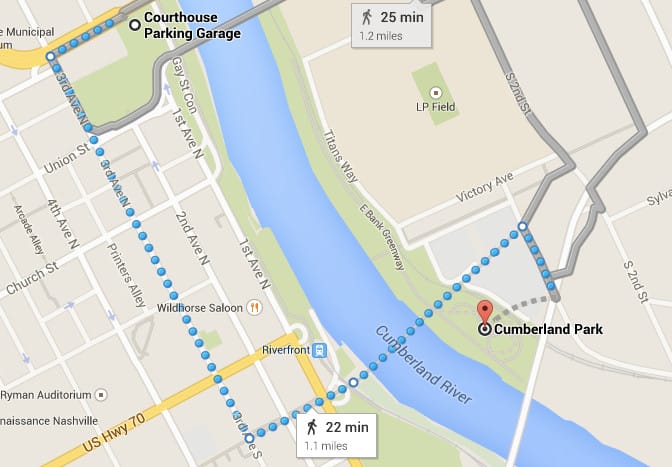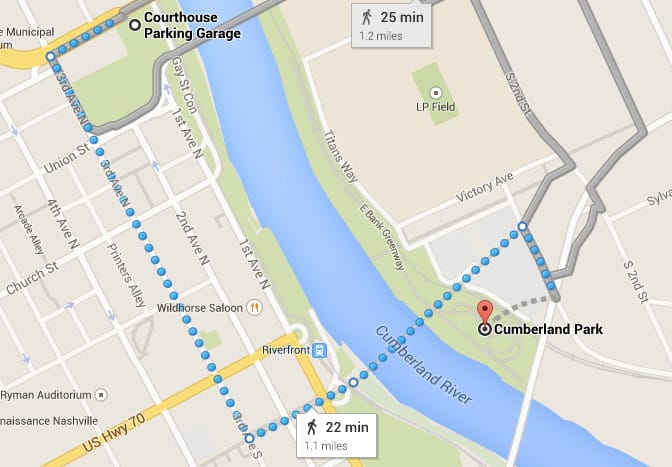 Recommend: Parking in any downtown is annoying but when you are in Nashville you have to come check out the downtown area! If you want to avoid small streets and tight parking lots then park in the Court House parking garage and just be prepared for a little walk.
Cumberland park was a great hidden gem that my sister found and was worth the stop. If you wanted to spend a whole day in downtown Nashville you could park by the court house, walk down 2nd street, cross over the the riverfront area – play on the grass steps, then head to the walking bridge – walk across – take the elevator down – play at Cumberland park – then head back and find somewhere for dinner.
A few other things to check out in Nashville:
Nashville Zoo
What kid doesn't like a Zoo? So had to add the Nashville Zoo to the list!
Bluebird Cafe
I would have loved to go here – especially because I was a fan of the show Nashville. But I didn't know that it was located so far outside of the rest of the things to do in Nashville. We will get here one day! They say right on their site that they are a venue for all ages so kids are welcome (they just can't sit at the bar).
Nashville Sounds
Up for some baseball? Check out the Nashville minor league team.
Zip Line
If you are looking for some outside excitement check out the Treetop Adventure Park.
East Nashville
If you are looking for the artsy part of town head to East Nashville for local music, dinning and craft beer (it is OK to take your kid to a brewery – we do it all the time :)).
Nashville Farmers Market
A fun place to go to shop and enjoy local restaurants and products.
Madame Tussauds
If you want to grab some pictures "with" famous musicians at this world-famous wax attraction.
President Andrew Jackson's Hermitage
Visit this historical plantation and museum.
Johnny Cash Museum
Not specifically for kids. But if you like Johnny Cash you won't want to miss it!
There are also a lot of great walking tours around Nashville so if that is more your style then check them out!
If you are looking to get out of the city for a few hours be sure to check out Radnor Lake State Park.
Not-so-kid thing to do in Nashville with kids
Wild Horse Saloon
When we were in Downtown Nashville we headed over to the Wild Horse one of the top honky tonk highway locations (there are a lot of music venues here). It is a HUGE bar/restaurant right off of Broadway on 2nd street. We weren't planning on eating so we talked to the hostess and you are able to sit at some tables off to the side where you can just get order drinks. Plus you are right by the dance floor!
When we first got there they were doing a line dancing class. Then once that was done they just had music playing so the kids could go out and dance. Dancing to country music is one of the best things to do in Nashville with kids!
Our table was right by the dance floor so the kids kept running back and forth and then we all went out there to dance. The kids had cowboy hats that my parents had bought for them when we were walking on the streets of Nashville so it was perfect and really was a great place to go with our family.
The highlights:
Great place to go with kids and to let them dance!
The fried pickles were yummy.
Things to know:
They have a lot of events and things going on here so make sure to check the schedule. We tried to go another time and they had a cover charge to get in.
The drinks and food were pretty expensive or I guess typical for a downtown restaurant
Recommend: If you want to experience a downtown Nashville restaurant with kids then I would recommend stopping here! You get the music feeling (even though it may not be live music) and if you time it right you can get line dancing lessons too. Any restaurant where kids have space to run and they have a dance floor works for us!
Have more time? Here are some great day trips from Nashville!
Where to Eat In Nashville with Kids
Pfunky Griddle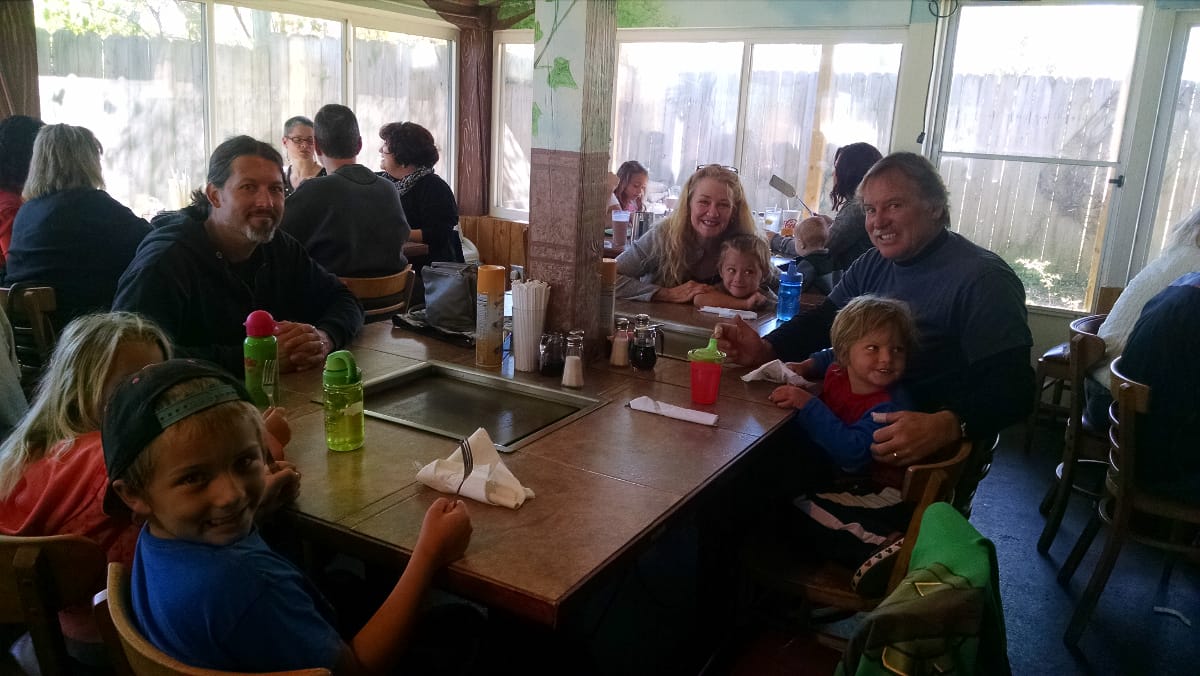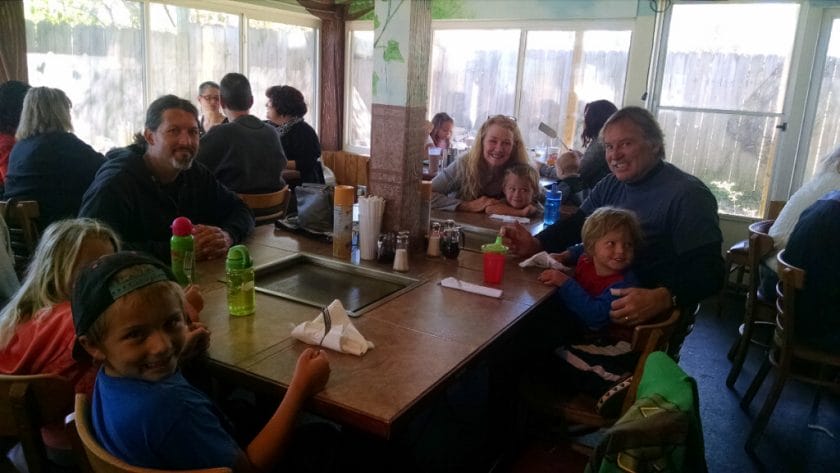 It is a restaurant that has a griddle in the middle of the table so you can cook all you can eat pancakes! You also get to pick what sides you want with your pancakes – sprinkles, m&ms, nuts, fruit, and about 10 other things. You can also do eggs, hash browns, grilled cheese.
It was a cool restaurant with a unique idea and it was pretty reasonably priced. The kids loved being able to cover their pancakes in syrup and add their own toppings! Usually when we go out to eat Knox is up and running after about 5 minutes. Not here! He was the last one at the table because he wanted to be sure he finished all of his pancakes!
The highlights:
Choose your own toppings! So much fun for the kids!
All you can eat pancakes!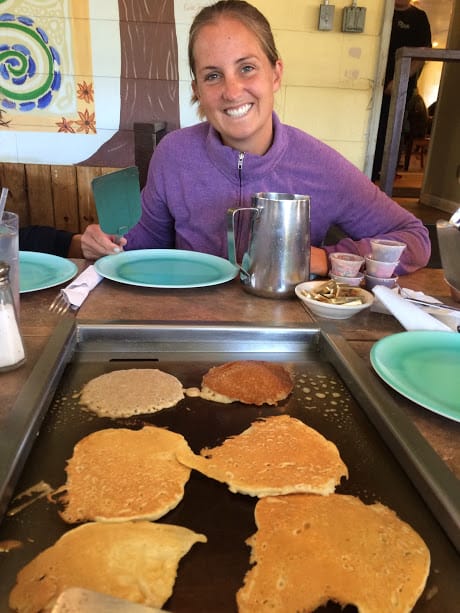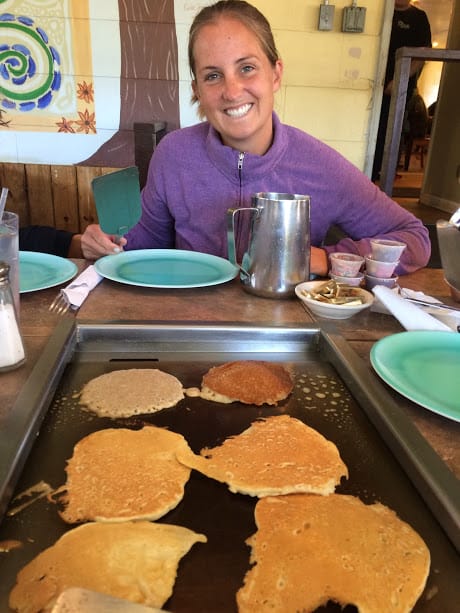 Things to know:
It is busy on the weekends so get their early.
There isn't a very good spot to wait for a table but there is a playground down the street and behind the restaurant.
They have lots of fun flavored coffees you can order.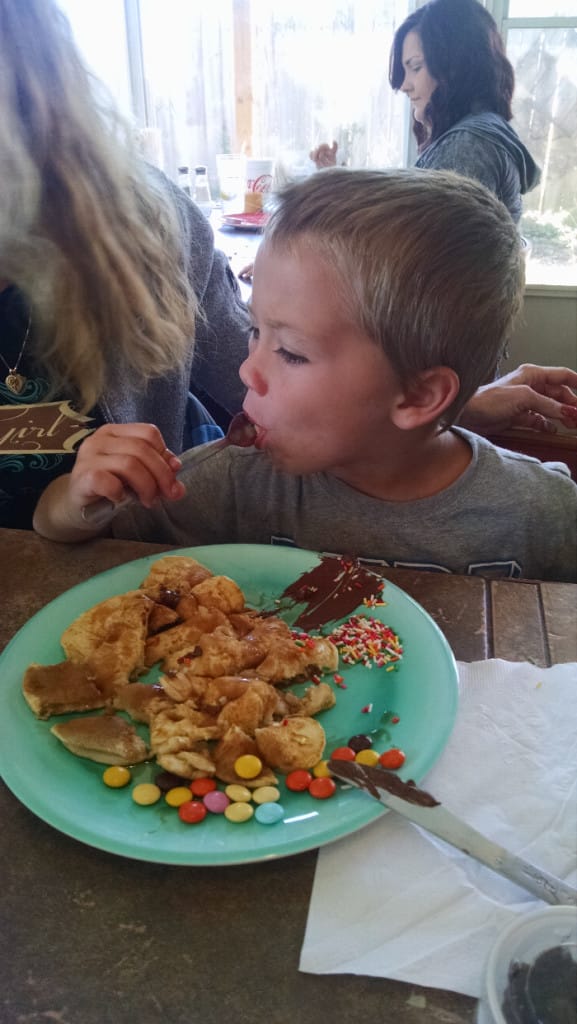 Recommend: Yes!! This was a really unique dining experience! We weren't planning on going to another restaurant but when my Mom found this one and I saw that the prices were pretty good we had to try it. It was worth it!
Nashville is definitely known for its food scene from hot chicken to biscuits there are a variety of foods to try here . . . but with kids a restaurant experience isn't always the best idea. My recommendation plan a date night to explore the food scene. Or hit a music festival with food trucks and try a variety of foods.
White Limozeen
Not a kid place but if you are a Dolly Parton fan you won't want to miss this Dolly Parton inspired roof top bar.
Where to Stay In Nashville
Campgrounds/RV Parks
Have you ever considered taking an RV road trip to Nashville? It is a great place to camp and these are some pretty awesome campgrounds. Click here to rent an RV for your trip or check out our post: 18 Things You Will Want to Know When Looking For An RV Rental.
Poole Knobs Campground
We accidentally came across this campground when we made a last minute decision to head towards Nashville early. WOW what a great find! The sites looked out over the water and they were huge! It was a bit of a drive to get to Nashville about 45 minutes but totally do able.
Seven Points
Another beautiful campsite! We were right on the water and right next to the beach and playground. The campsites were huge! Now remember this is a US Army Corps of Engineers park so it is similar to a state park. There are not full hookups and you are out in nature. It is not an RV park. But totally worth it to stay here! It is also only 20 minutes or so from downtown Nashville!
1-24
This is an RV resort/campground – you can tent camp here. It means there were full hookups. It was nice enough. The sites were really close together and there was a lot of concrete – after coming from the water, trees and greenery of Seven Points!
If you want full hookups and good prices close to Nashville this is a good option. It is about 30 minutes from downtown but right off of I-24 so a pretty straight shot into the city.
Piney River Resort
Although we didn't stay here, Piney River Resort is about 50 miles from downtown Nashville if you just want to drive in to the city for the day. It is a beautiful location on the Piney River!
Hotels
If you want to be right in downtown Nashville there are a lot of options for hotels from expensive to decent prices. Just remember this can be a party town so if you are there with kids and want downtime at the hotel you may want to look a little outside of downtown.
We recommend checking out the Element Nashville Airport by Marriott.
VRBO options
There are no shortage of great VRBO properties in Nashville. This can be a perfect option if visiting with a large group or if you want to find the perfect spot near downtown.
Click here to browse some of the amazing properties in Nashville.
Recap: There are a ton of things to do in Nashville with kids. We had friends there that had older kids and I know their kids really enjoyed the Country Music Hall of Fame and actually ended up purchasing guitars – through Craigslist – in Nashville – how cool is that!!
So if you have older kids I know there is even more that they can do. But we were very happy with the things we did and just the overall feel of Nashville is really cool and unique!
Let us know of any other cool things to do in Nashville with kids down in the comments. I'm sure we'll be back real soon, y'all!
Check out more places to visit in Tennessee: (Gatlinburg, Chattanooga, Falls Creek, Smoky Mountains National Park).
Other great posts about things to do in Nashville With Kids:
35 Best Things To Do In Nashville With Kids On Your Next Vacation
15 Free And Cheap Things To Do In Nashville, Tennessee
Other things to do around Tennessee State and the Southeast:
Top 4 Indoor Water Parks Tennessee
25 Exciting and Fun Things To Do In Myrtle Beach, SC
Florida Road Trip: 31 Amazing Places You Won't Want To Miss
Florida Keys Road Trip: 29 Amazing Places To Visit [Map Included]
25 Best Things To Do In Destin, Florida [Plus Where To Stay]
29 Best Things To Do In Gulf Shores, Alabama
9 Outstanding Places to Visit with Kids in Atlanta, Georgia
17 Exciting Things To Do In St. Augustine With Kids
27 Wonderful Things To Do In Kenosha, Wisconsin [Including Where To Stay]
7 Amazing Things To Do In Asheville With Kids
Top 10 Fun Things To Do In Congaree National Park
The Best New Orleans Plantation Tours To Take With Kids
Top 4 Amusement Parks In Tennessee You Need To Visit
9 Favorite Things To Do In Memphis With Kids
Top 8 Fun Things To Do In Knoxville With Kids
Top 9 Things To Do In Pigeon Forge With Kids
Pin This Post For Later: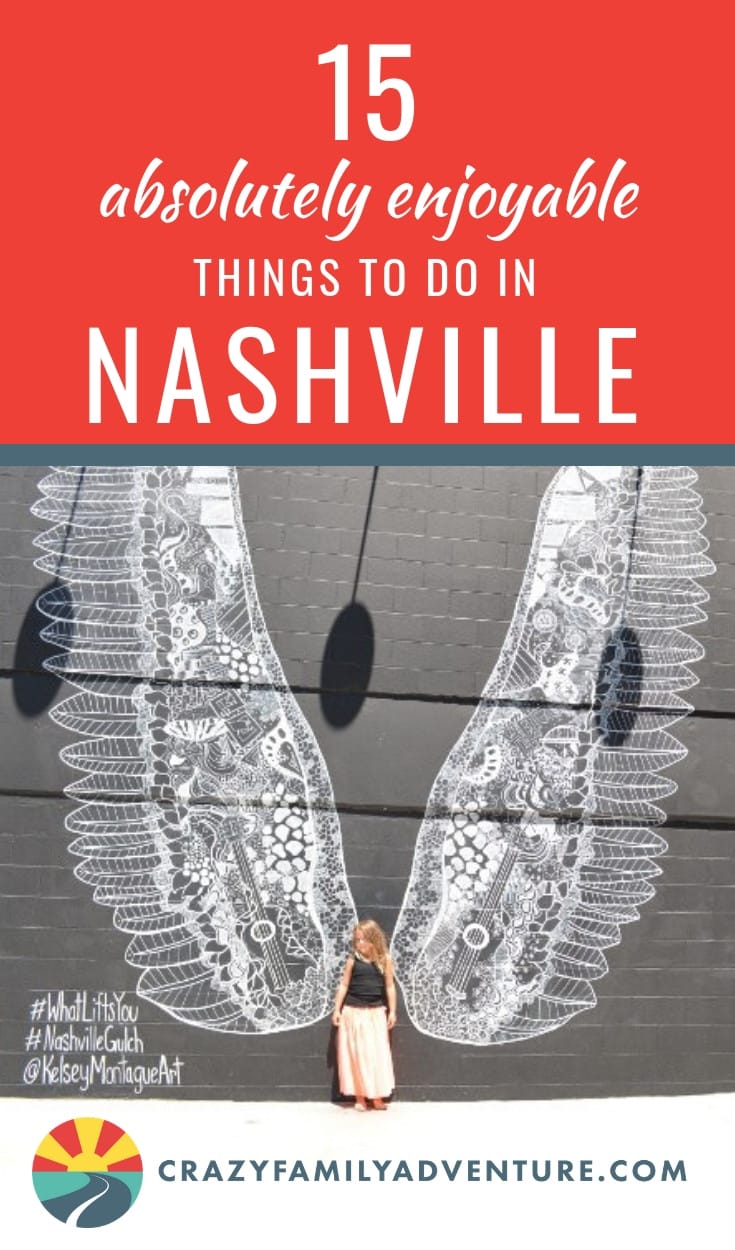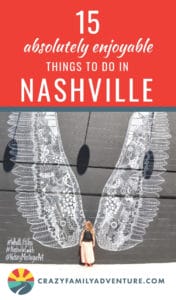 DISCLOSURE: This post may contain affiliate links, meaning I get a commission if you decide to make a purchase through my links, at no cost to you. Please read my disclosure for more info.