Known as "Home of the Blues" and the "Birthplace of Rock 'n' Roll. There are a ton of things to do in Memphis with kids. From yummy food to eat, family friendly attractions and history to learn. We spent 3 days exploring Memphis, Tennessee.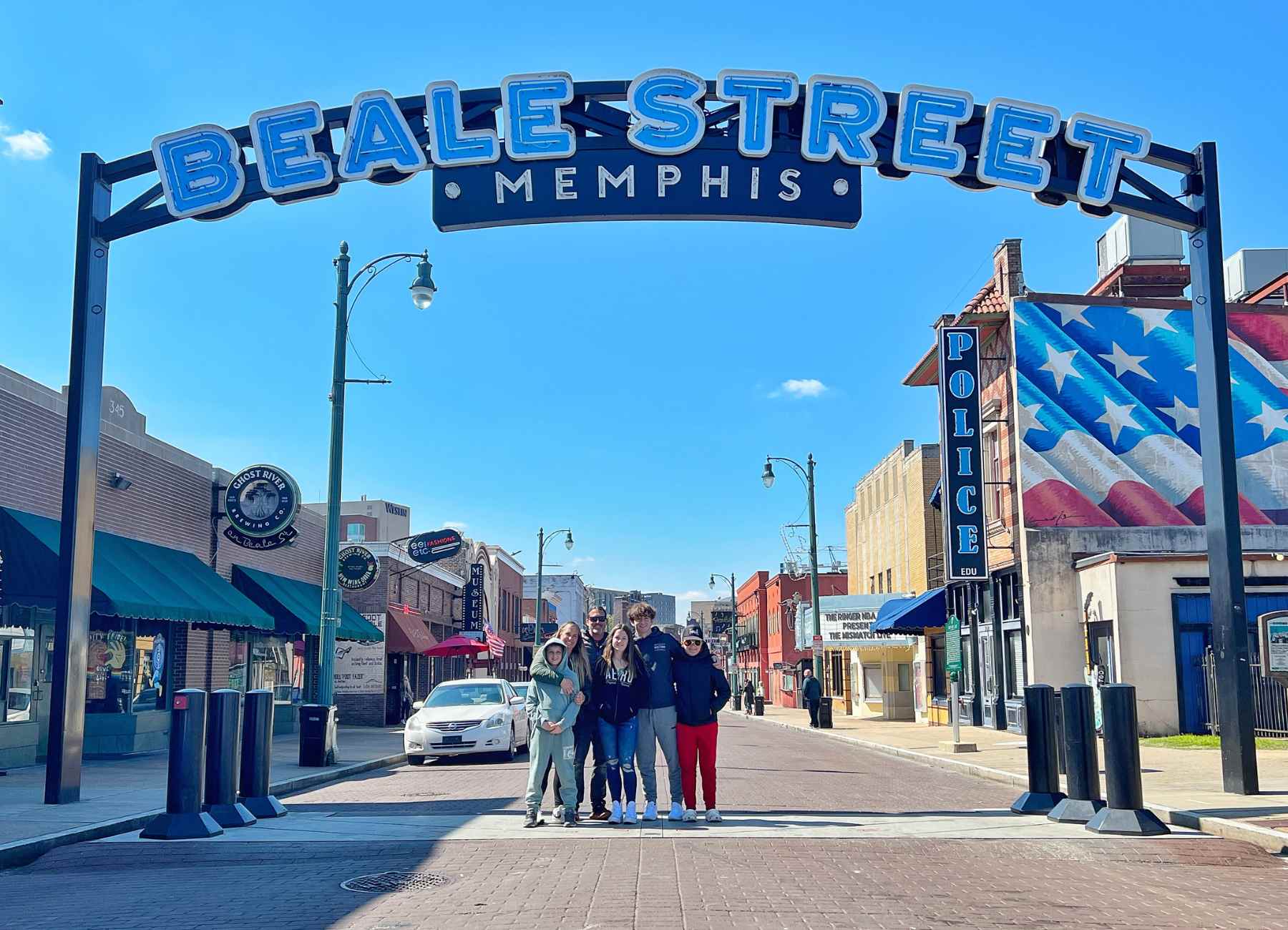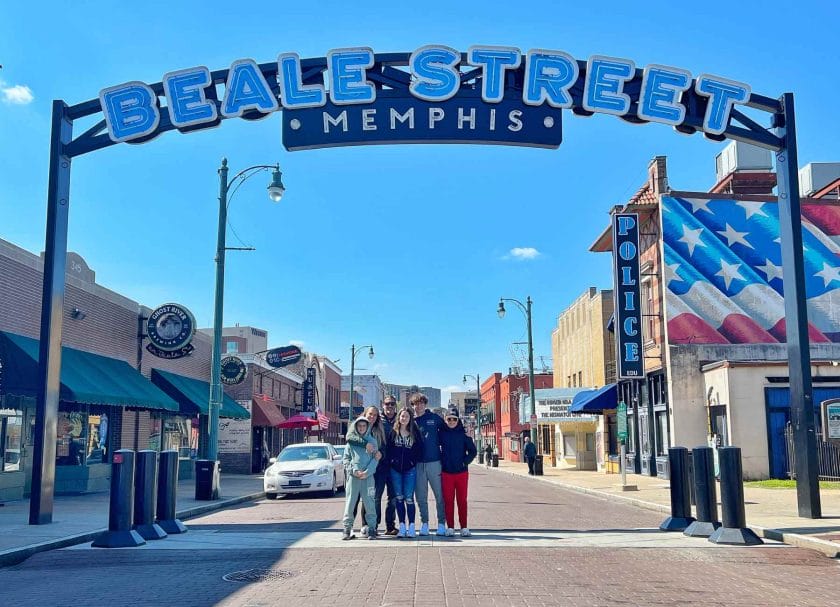 It was a great time! We left with our belly's full and our minds populated with more information then we knew before coming here.
Before getting into all the details on things to do we want to cover a few high level things about Memphis (which is located in Shelby County, TN) to help you prepare for your trip. We also include a 2 day Memphis Itinerary at the bottom of the post.
Top Foods To Try In Memphis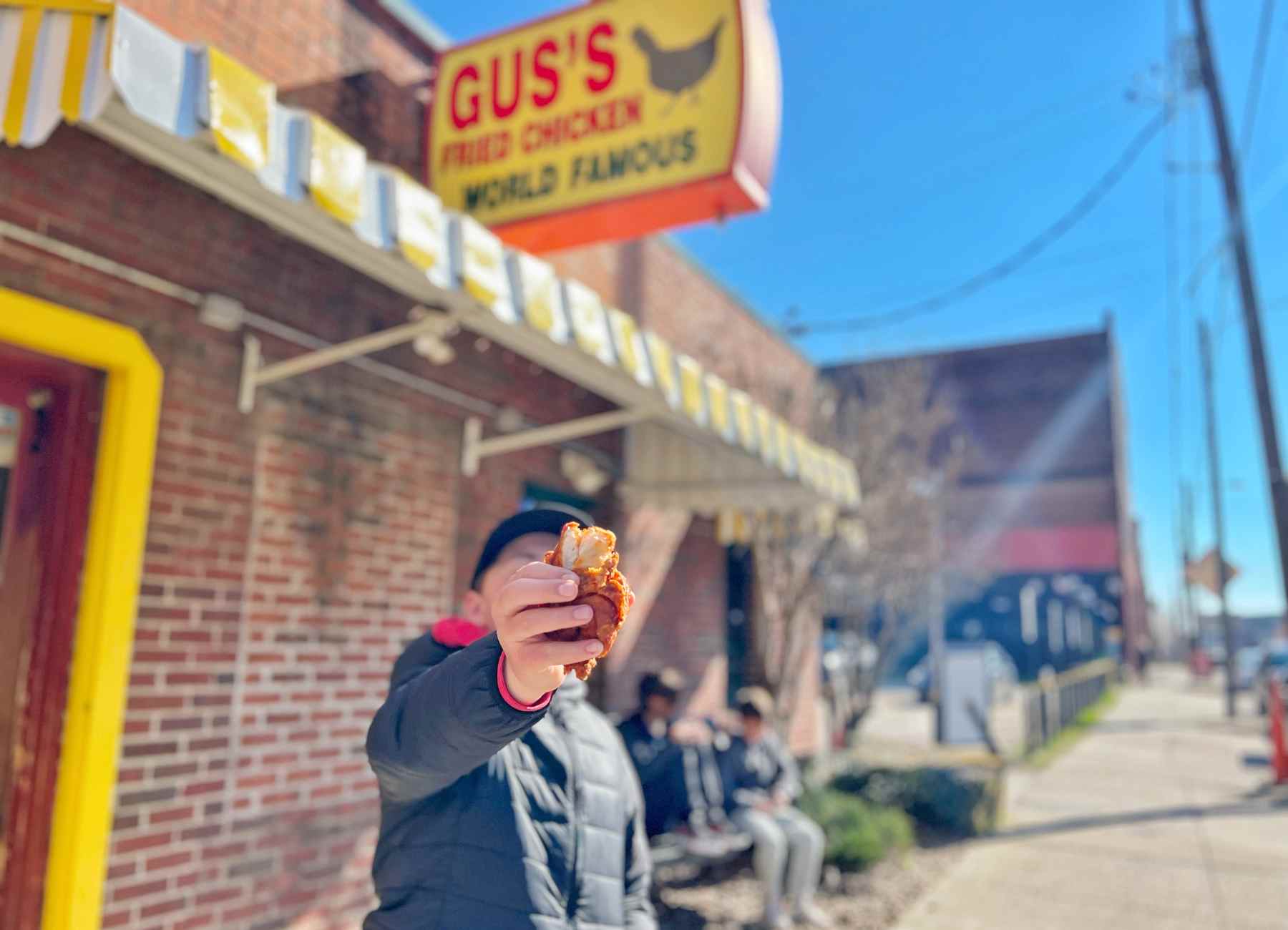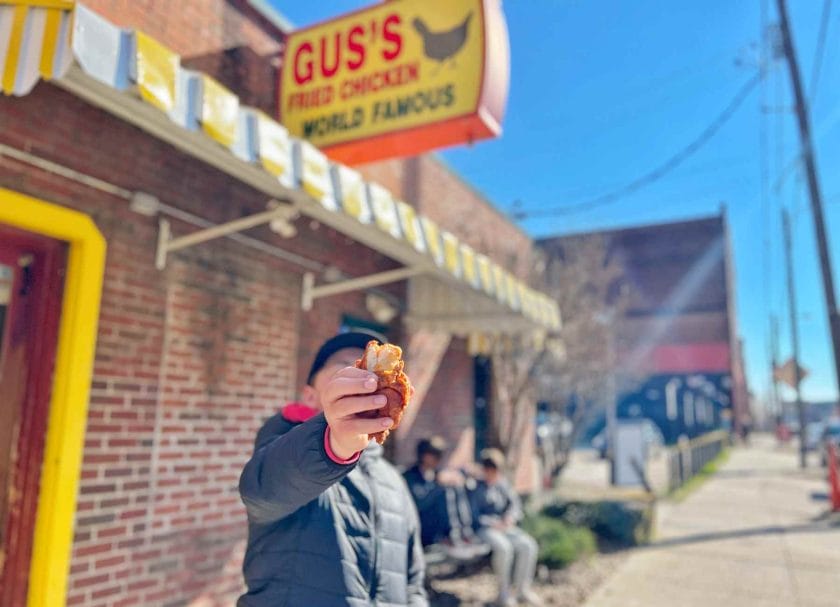 Come hungry when you visit Memphis! There are so many great foods to try and awesome restaurants in Memphis! These are the can't miss items. We will talk more about where to get them below.
Fried Chicken
Ribs
Soul Food
Whiskey/Bourbon
Top Things To Do in Memphis, Tennessee
Here is a high level look at the top things to do in Memphis, Tennessee. We will get into more details on these below as well.
Where To Stay
We opted to stay in a vacation rental. It was a 10 minute drive to Beale street from our vacation rental. There are multiple hotels downtown that you can stay in if you prefer that.
If you have kids that are really into Bass Pro Shop (or maybe you are!). If that is the case you can stay in the Bass Pro Shop. Yup part of the store is a hotel!
Getting Around Memphis
If you plan to just explore downtown Memphis you can park for the day and walk a lot of the places you want to go. They also have bike rentals, scooter rentals and a trolley.
Most of the things we did were in downtown. But even with that we did end up driving and parking at most places.
If you want to visit places like Bass Pro Shop, the Zoo, etc. You will be driving to get to these places since they are outside of downtown.
Getting To Memphis
We road tripped to Memphis. With its central location in the US this is a possibility for a lot of people. If you don't feel like you doing that you can fly into the Memphis International Airport.
OK, now that we have all of that information covered let's get into what to do in Memphis, TN!
There are so many things to do in Memphis with kids, from exploring the Mississippi River on one of their famous riverboats, visiting one of their bass pro shops, going horseback riding at Shelby Farms Park, and visiting the children museum, or seeing the animals at the Memphis Zoo. So get ready to explore Memphis with our top family friendly attractions of things to do in Memphis with kids.
Is Memphis Safe
This question is always for you to answer for yourself and your family. What I can share is our experience. Throughout the day we felt comfortable walking around Memphis and going into all of the places that we went to.
Memphis is Memphis and definitely has some grit to it. But that is also one of things we loved about it. It has personality. You can feel the history. This isn't some manufactured city. This is a city that has a lot of history and stories to tell.
We did walk around Beale Street at night with our kids but intentionally did that before 10pm.
In summary we would 100% return to Memphis and we are glad we took our family to explore this iconic city!
Things To Do In Memphis, TN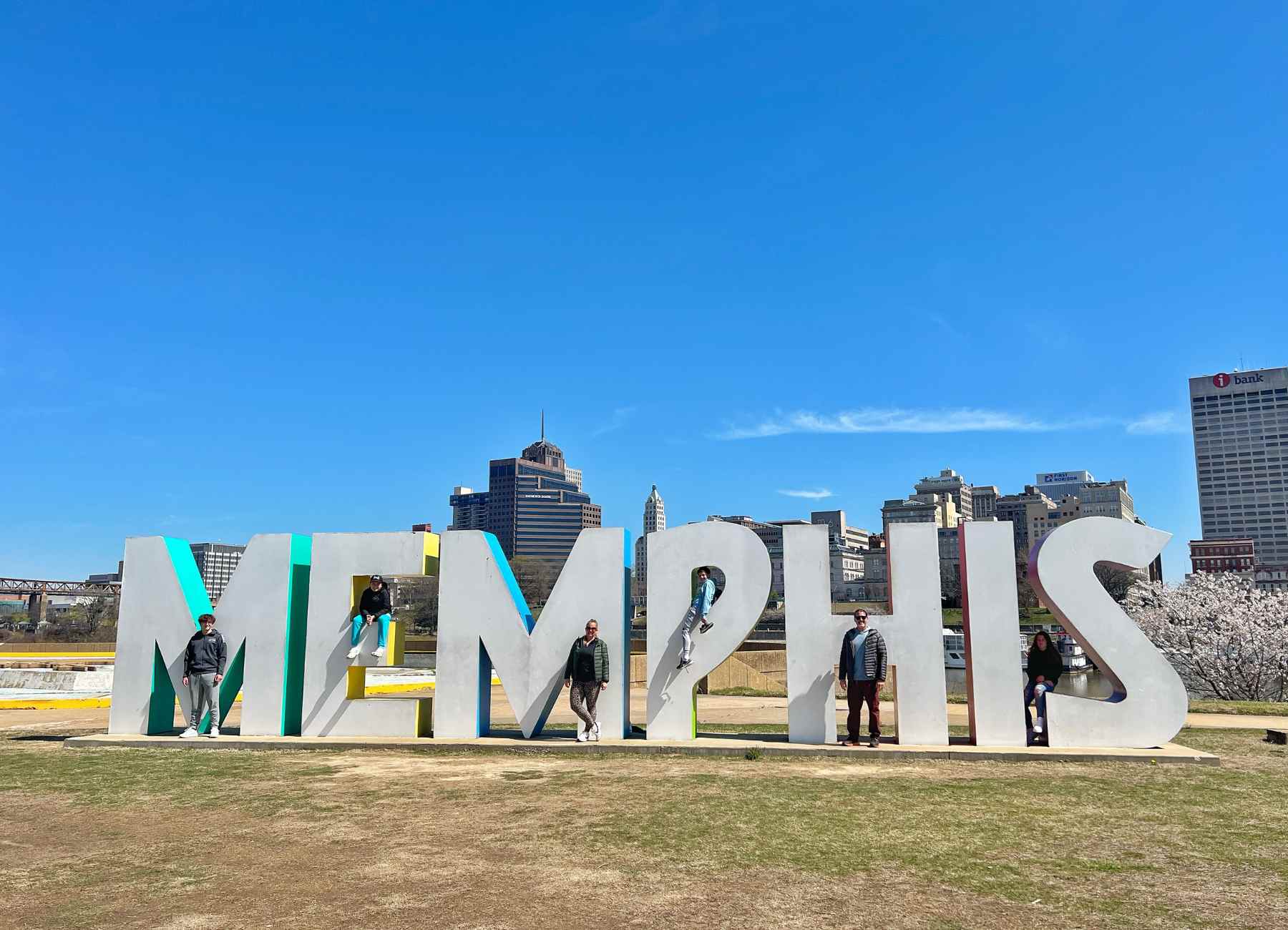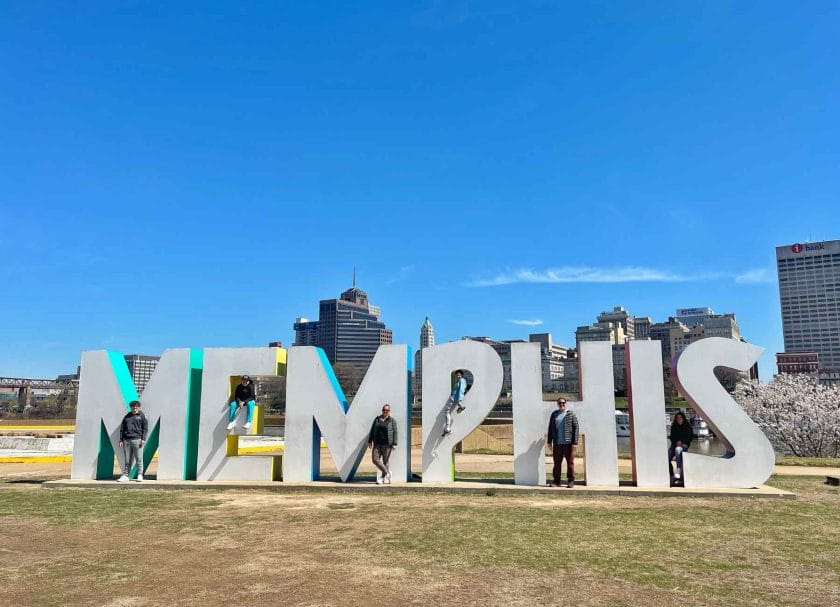 National Civil Rights Museum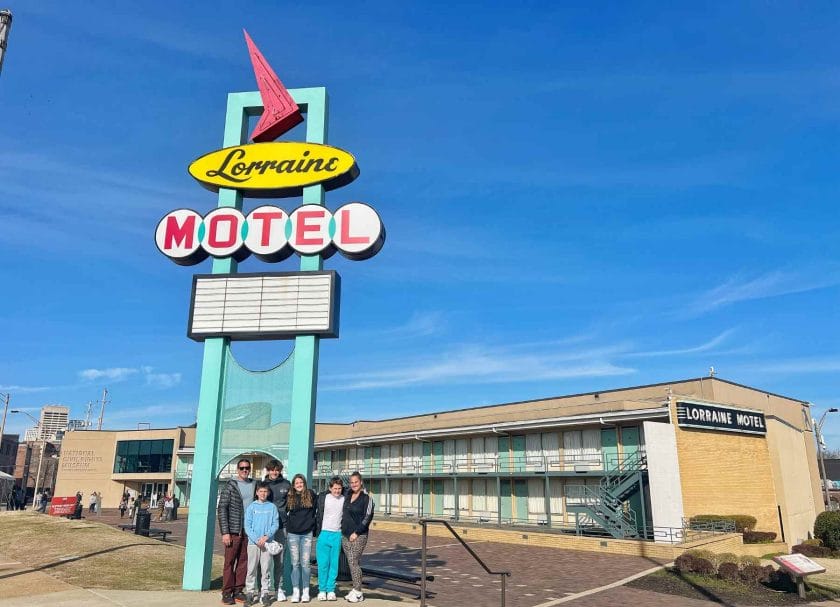 When visiting Memphis be sure to build your trip around visiting the Civil Rights Museum. You don't want to miss it. The Museum is very well done.
The museum explores the civil rights movement in not only Memphis but America. Plus it is attached to the Lorrain Hotel where Martin Luther King Jr was shot.
There are 40 films at the museum plus 260 artifacts on display. Explore the life of Dr. Martin Luther King Jr., and see a statue of Rosa Parks on a replica bus while learning about the Montgomery Bus Boycott. Plus a variety of interactive exhibits.
We spent about 2 hours exploring the museum. Including watching the 12 minute movie and stopping to watch a variety of the other videos that are setup throughout the museum.
At the end of the self guided tour you walk through the Lorraine Motel to see room 306. Which is the balcony where we was shot.
The museum talks about Martin Luther King Jr but starts with when slavery began and brings you through the Civil Rights movement.
The experience ends with going across the street to the boarding house where James Earl Ray took the shot from the window. Note that not all tickets have this so make sure the ones you get do.
We bought our tickets for the museum online ahead of time with a timed entry. When we got to the museum we still had to wait in line to get in and go through the metal detector.
How The Visit To The Museum Works
Once in everything is self guided. But they do try to direct you where you are going so they can spread the visitors out throughout the museum. You could spend 2 hours here like we did or 4 if you stop to read and watch everything.
They have a lot of interactive displays including being able to walk through the bus where a replica or Rosa Parks is sitting in the front of the bus with a recording of the bus driver yelling at her and telling her to move.
Our kids were 15, 13, 13 and 10 when we visited. I would have taken kids of any age through the museum. There isn't things to do for younger kids – but there also isn't anything they can't/shouldn't see.
When you are outside you can see the balcony outside of room 306 and they have a variety of outside displays and kiosks where you can learn more about Civil Rights.
Tip: The museum is normally closed on Tuesdays. Find out more tips for visiting the Civil Rights Museum!
The Bass Pro Shop Pyramid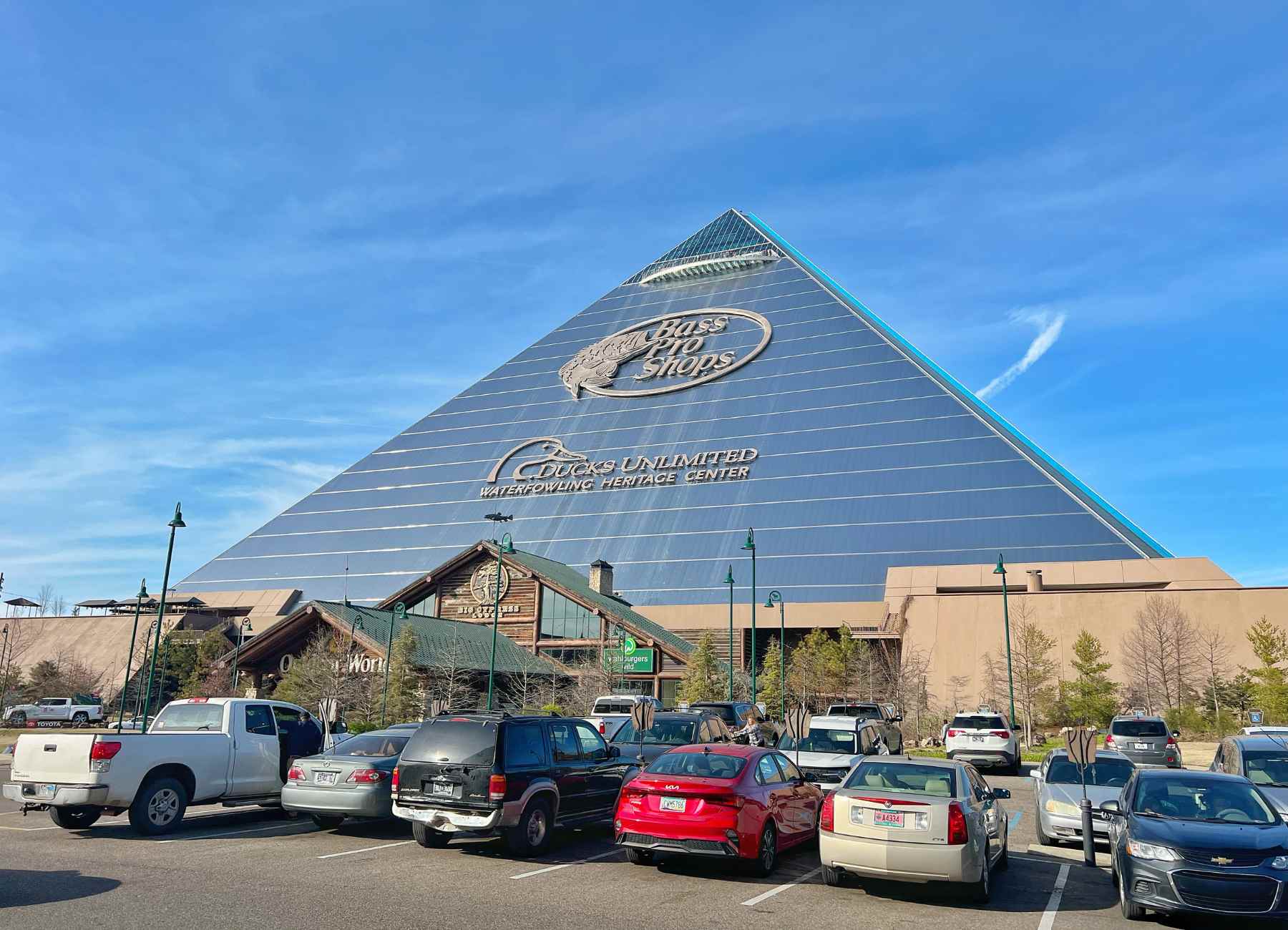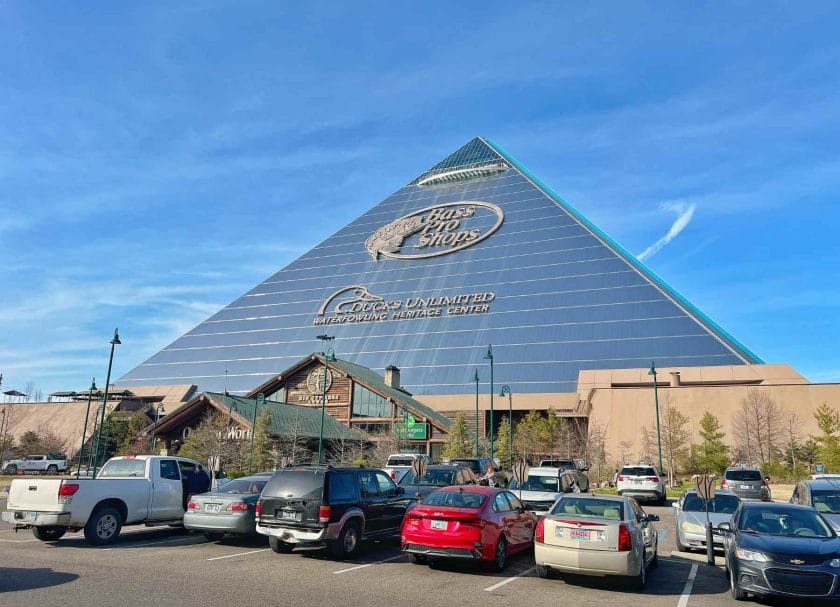 If your kids watch Dude Perfect you have seen this Bass Pro Shop. It is a huge pyramid. You can't miss it from the highway. Inside it is a Bass Pro Shop but also an aquarium with fish and alligators.
The store is huge and is also a hotel! Yes you can stay in a Bass Pro Shop overnight. No we didn't do that.
There is also a bar/restaurant and a lookout at the top of the Pyramid. You do have to pay per person to go up. It is about $10 a person and kids are a little cheaper. You wait in line, pay for the view and get on the glass elevator to take you to the top.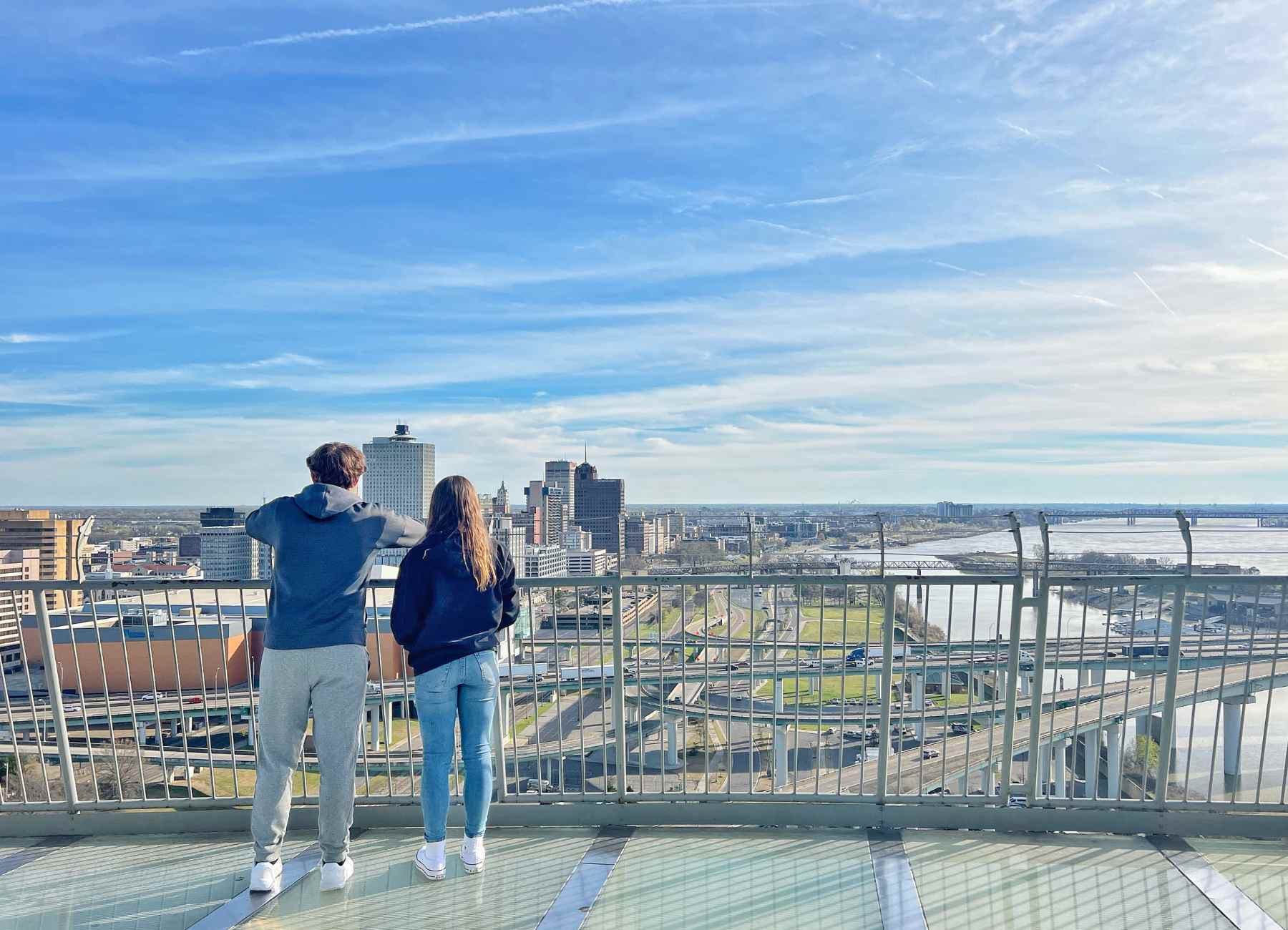 At the top there is an outside lookout area that gives you a variety of views over Memphis. The floor is glass so if you are afraid of heights be prepared!
The bar inside surrounds a large fish tank so you can grab a drink at the bar and watch the fish swim around.
There are also tables where you can sit to order food.
Visit A Park
Did you know that there is a playground in Memphis that was named one of the "16 Coolest Playgrounds in the World"? That's right, voted by Mental Floss Magazine, Shelby Farms Park was on that list and is a park for all ages and abilities, located in the heart of Memphis.
At Shelby Farms Park, you will find so much more than just a playground – although the playground is worth a visit! They also have a Water Play Sprayground for the kids to enjoy in the hot summers. There is a water tunnel, interactive spray jets, and more to help you stay cool.
Looking for a unique experience for the family to make memories that will last a lifetime? Be sure to check out Shelby Family Stables, where they give horseback riding lessons and horseback rides for the whole family.
Mud Island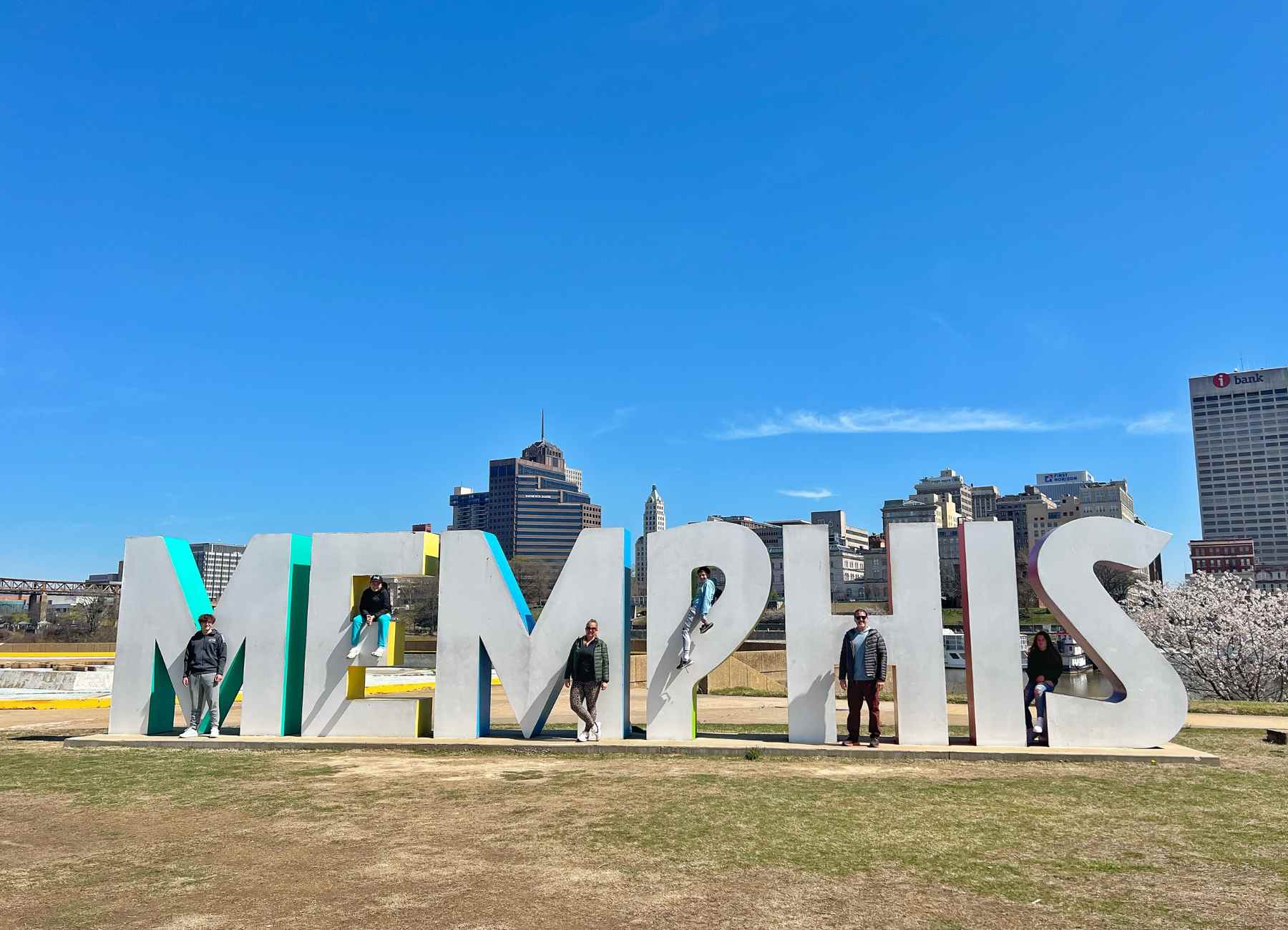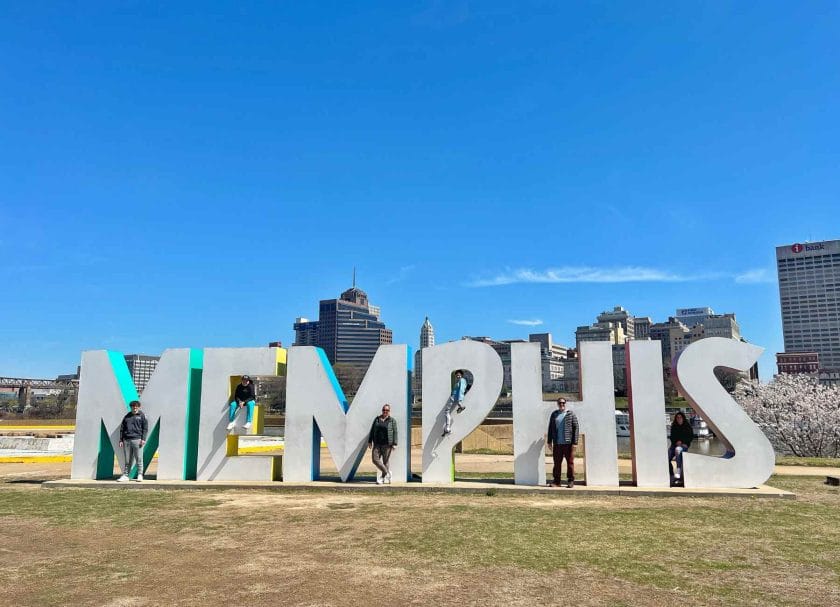 When we went down to the riverfront we could see Mud Island so we wanted to make it over there to check it out. We drove over and parked in the Mud Island lot.
The Islands main attraction was a display of the Rivers that run through this part of the country. It was an interesting display that was all in the ground and covered a large area. Maybe at one point it was filled with water?
The Island itself was a bit run down and seemed like it had seen better days. If you kept walking to the end of the Island there was a large grass area with a huge Memphis sign. If you are looking to get a cool picture this made it worth coming over to the Island.
There was also a park further up at the end of the Island. All in all you could tell the whole area had seen better days. But if you are here with kids and looking to do something outside for everyone to stretch their legs it is a good option.
Pink Palace Museum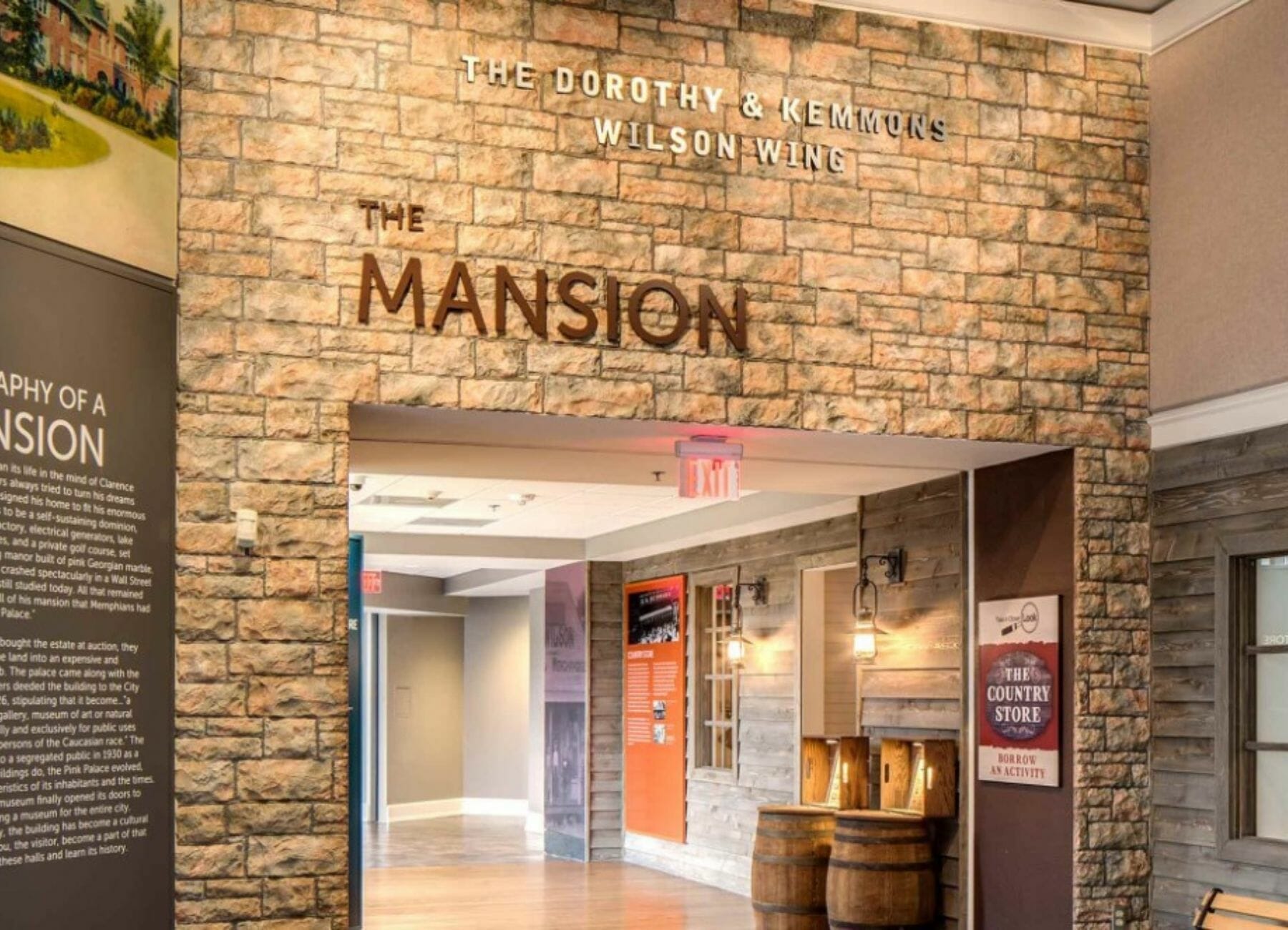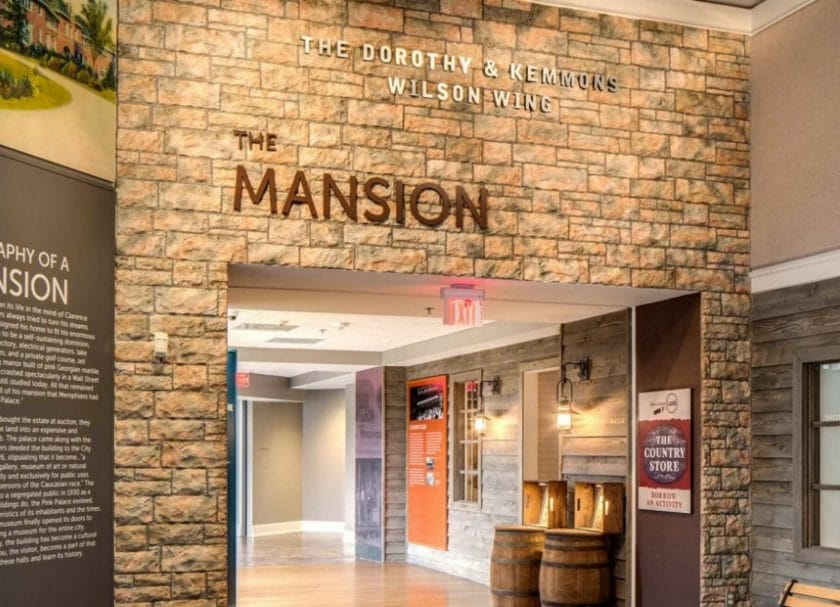 The Pink Palace Mansion Museum is the place to visit and experience some of the histories of Memphis. This home of a millionaire, turned museum, is a unique attraction in Memphis.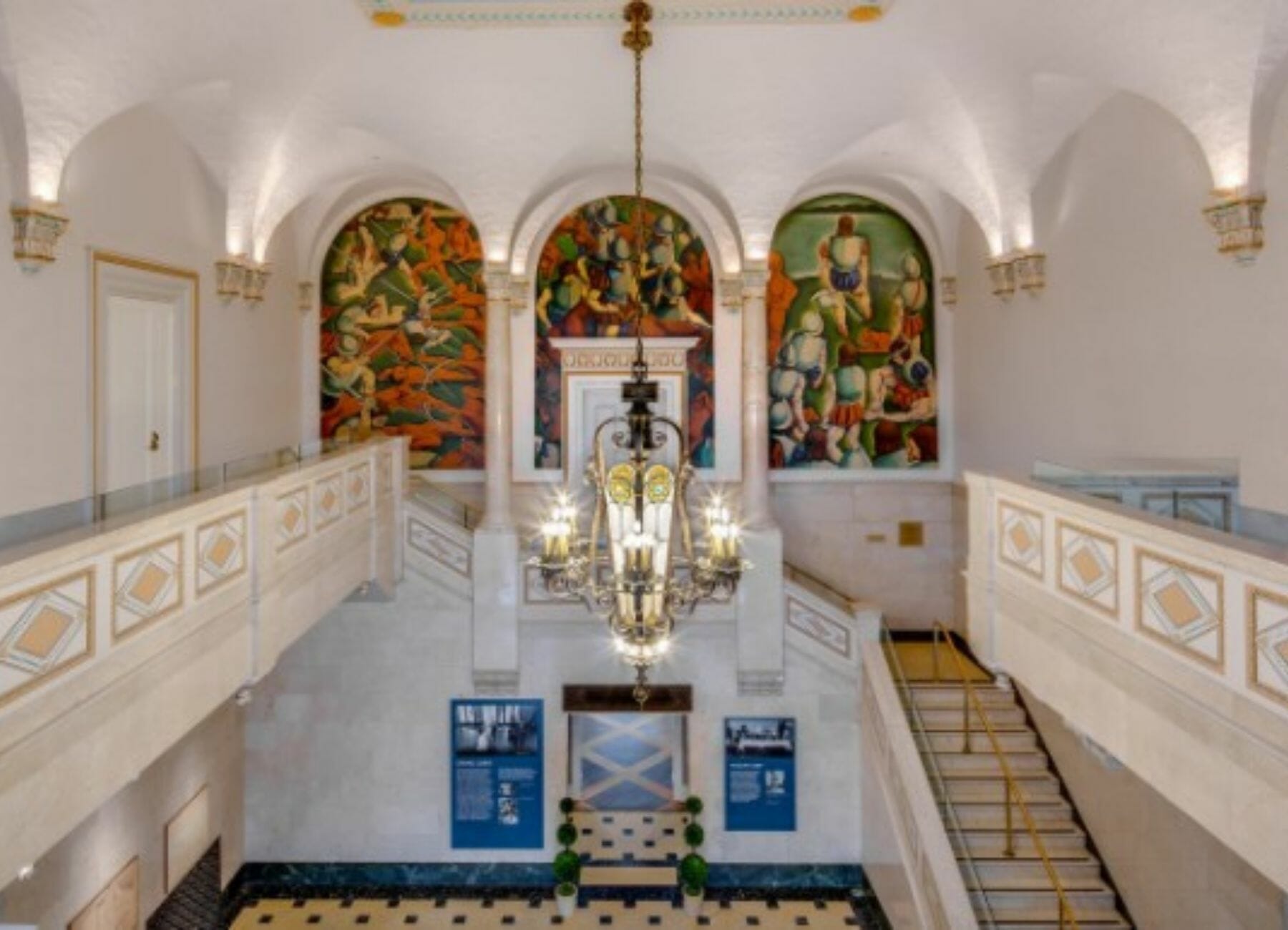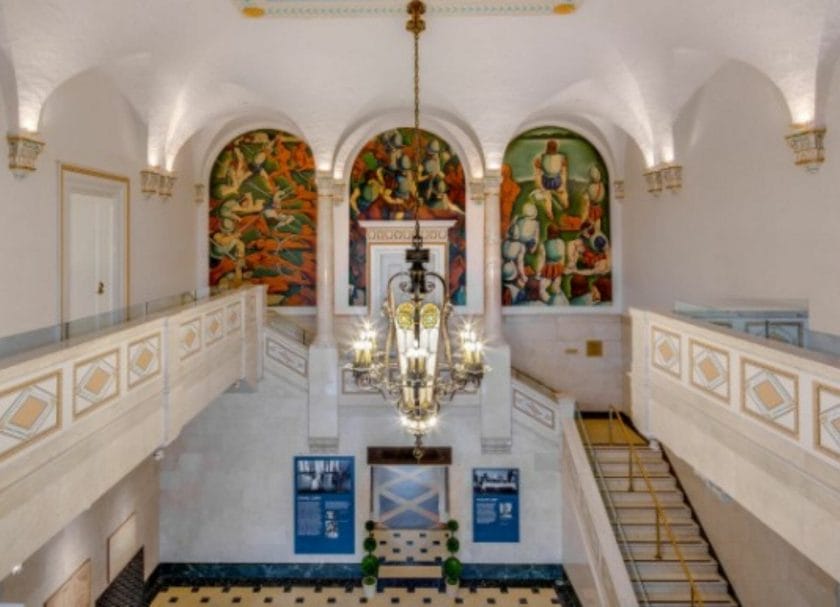 You will see a replica shopping area from a Piggly Wiggly Store, and see the architectural masterpieces of the time period, featuring beautiful stained glass windows and detailed architecture along the staircases.
Children's Museum Of Memphis
The Children's Museum of Memphis has been offering fun learning and play to the Memphis area for over 30 years. It is such an entertaining place to take children of all ages when planning things to do in Memphis with kids.
When you first arrive, you will notice the Grand Carousel at the front entrance. The carousel was recently restored to its original grandeur, from1909. Although tickets are an additional $3, it's a great addition to the Children's Museum.
The Children's Museum of Memphis offers programs such as weekly storytime and science experiments. In addition to the programs offered, there are many exhibits for you to explore from rock climbing, a book nook area to read, a dinosaur dig area where kids can uncover fossils, and even a grocery store that the kids will love playing in where they can shop and check out their very own groceries.
Don't miss your chance to see what it's like to experience a real tornado while visiting The Children's Museum of Memphis. In this exhibit, you can stand under a tornado generator, where mist and air are used to create a replica tornado. Tip – use this time to talk about tornado safety and what to do in case of a tornado!
More From This Awesome Museum
No trip to The Children's Museum of Memphis is complete for the kiddos without a climb through the Skyscrapper. It's a 22-foot tall structure, with 8 different stories for exploring. You will watch those gross motor skills and social skills in action as the kid's twist and turn their way through the Skyscrapper.
If it's a hot Tennessee day, you will want to check out the H2Oh! Splash Park. Put on those swim clothes and get ready to cool off. The splash park here has over 40 sprayers and jets for kids to explore. The water tunnels are also a fun addition for the kids to climb through. Summer gear is welcomed, as are your own lawn chairs. Picnic tables surround the splash park, but are on a first come- first serve basis.
Memphis Zoo
The Memphis Zoo is a must-stop on your trip when visiting Memphis. The zoo is one of the best things to do in Memphis with kids and is home to over 4,500 animals for you to visit up close and personal. Everyone will enjoy taking a stroll around the park and seeing the animals. Kids of all ages will look on in awe when viewing animals such as hippos, sea lions, giraffes, penguins, polar bears, and even pandas.
If you get hungry during your visit to the zoo, no worries, they have you covered. Located throughout the park you will not be without your favorite drink, snack or meal. There are 6 different food/drink locations in the zoo, from a coffee shop, a snack shack, and more. You will find all of the typical attraction foods such as hotdogs, nachos, popcorn, pizza, sub sandwiches, and even salads if you're looking for something a little fresher.
Before your trip is complete, be sure to visit a gift shop to purchase a memento for the kids. There are four gift shops located throughout the zoo, with each one geared towards specific animals. Be sure to check out the Panda Gift Shop located in the China area. You will find the cutest panda souvenirs to take home with you to remember your visit!
Something to keep in mind, plan to pay for parking unless you have a membership. Parking is not included with general admission tickets.
See The Peabody Ducks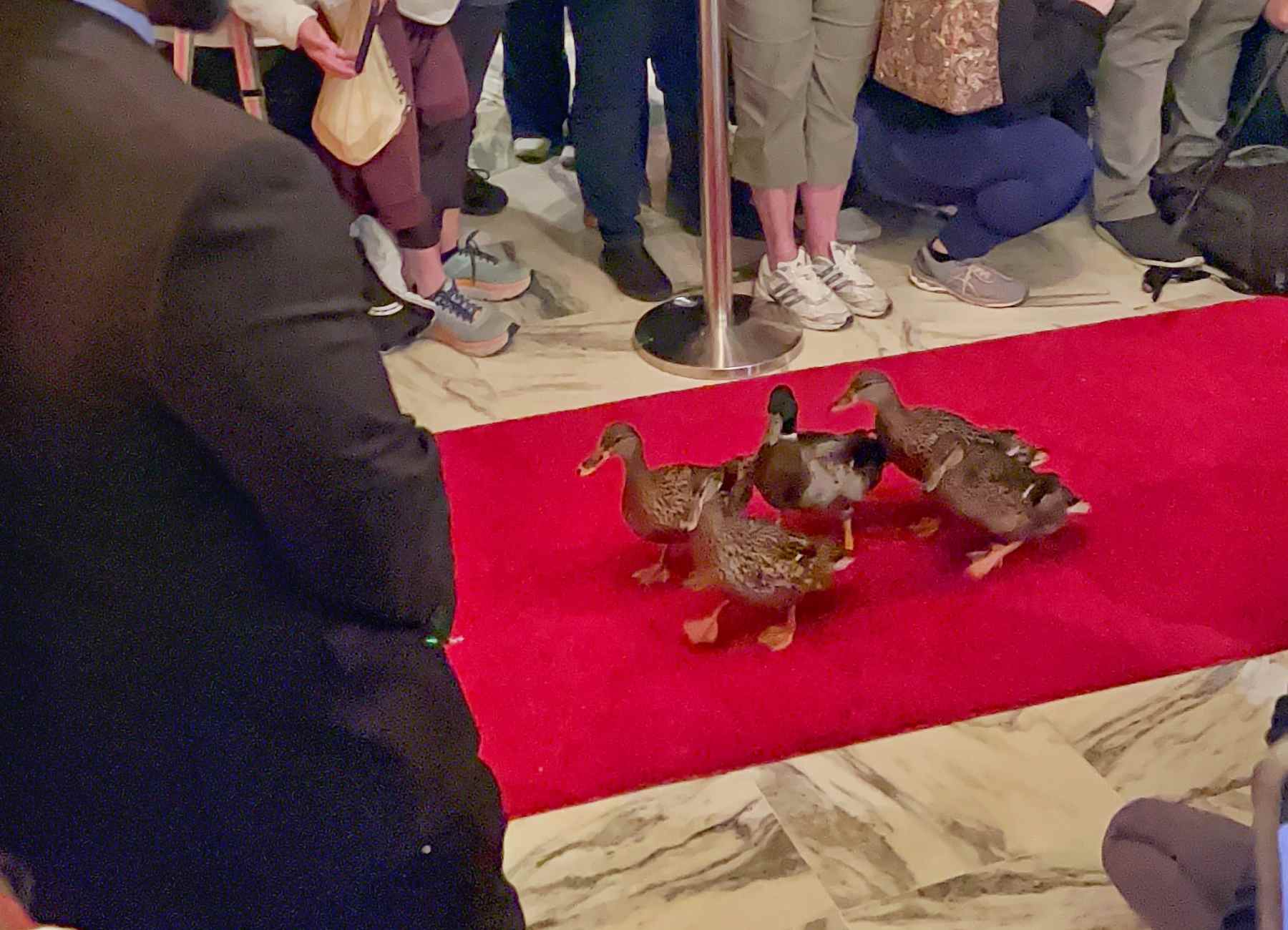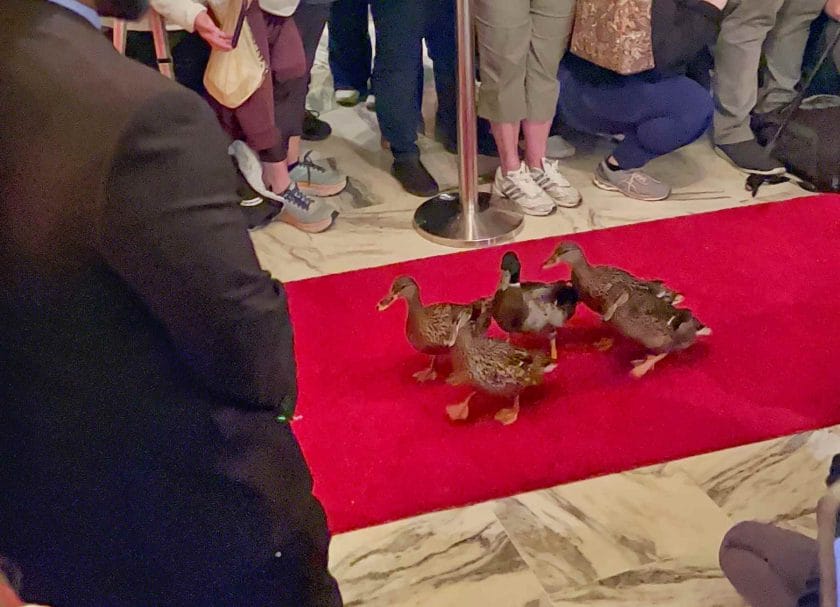 This is another must do while in Memphis that is also totally random! The Pea Body hotel is one of the nicer hotels in downtown Memphis. Which makes it even more random. The fountain in the lobby is home to a handful of ducks!
Each day at 11am the Duck Master brings the ducks from their night time home on the top of the Pea Body (in a caged in area). Down to the fountain in the lobby. The ducks hang out here from 11 – 5pm.
At 5pm the Duck master takes the ducks out of the fountain, they walk the red carpet to the elevator, and take the elevator back up to the top of the Pea Body to go to sleep for the night. It's a 90-year tradition at The Peabody Hotel.
Random, right?! But also fun to watch and see! Don't leave Memphis without seeing this and plan to get there early to get a spot! It was SUPER busy when we went.
Enjoy The Memphis Music Scene
Known as the birthplace of rock, no one comes to Memphis without experiencing at least a little of the Memphis music scene. There is no better way to take in all the music than a visit to the Memphis Rock N Soul Museum.
This museum tells the complete Memphis musical history like none other and is located on the corner of the famous Beale Street, one of the most musically significant streets in the world. Immerse yourself in the world of the blues and you'll leave with a newfound love and respect for all Memphis music.
Visit Beale Street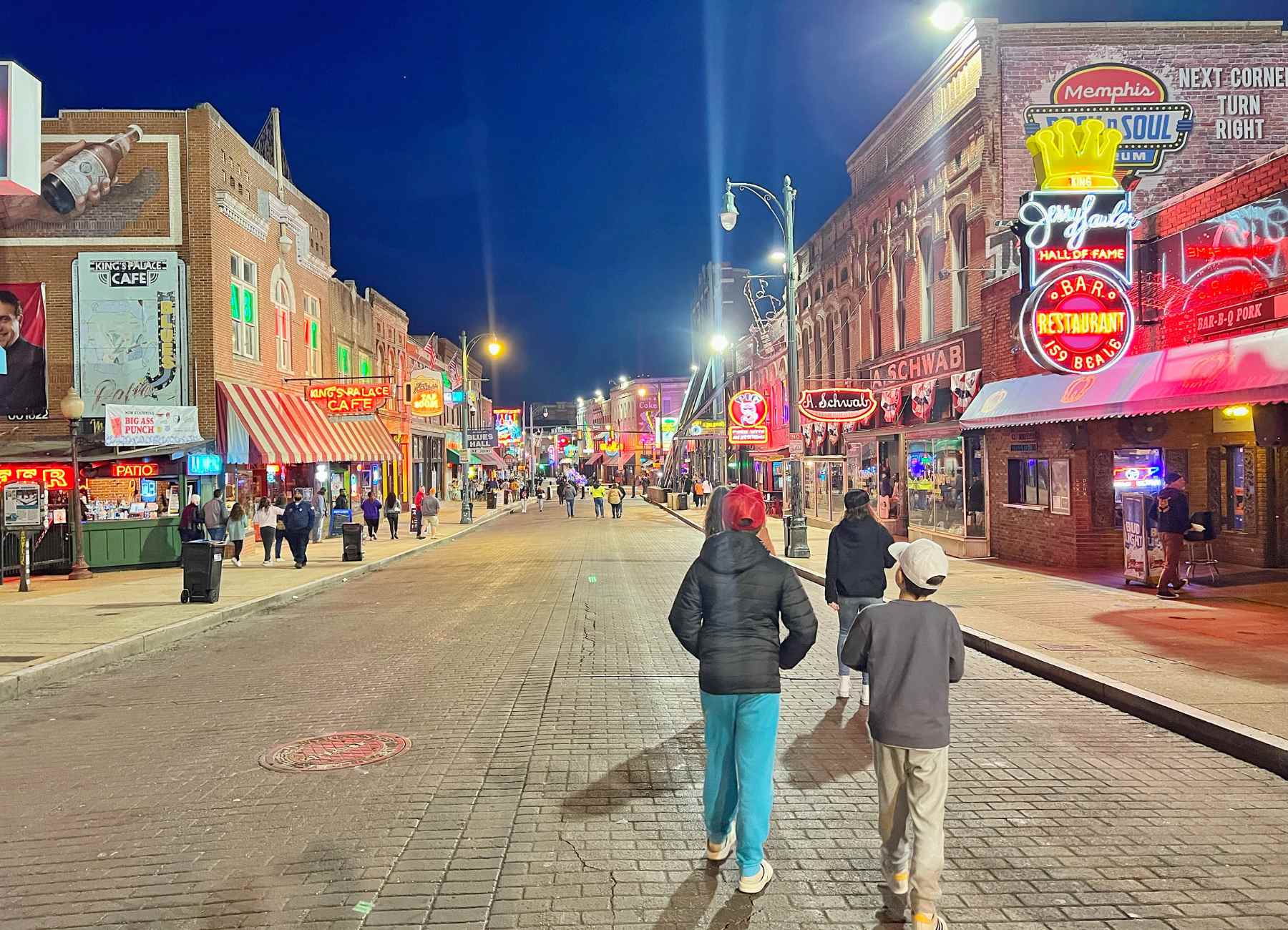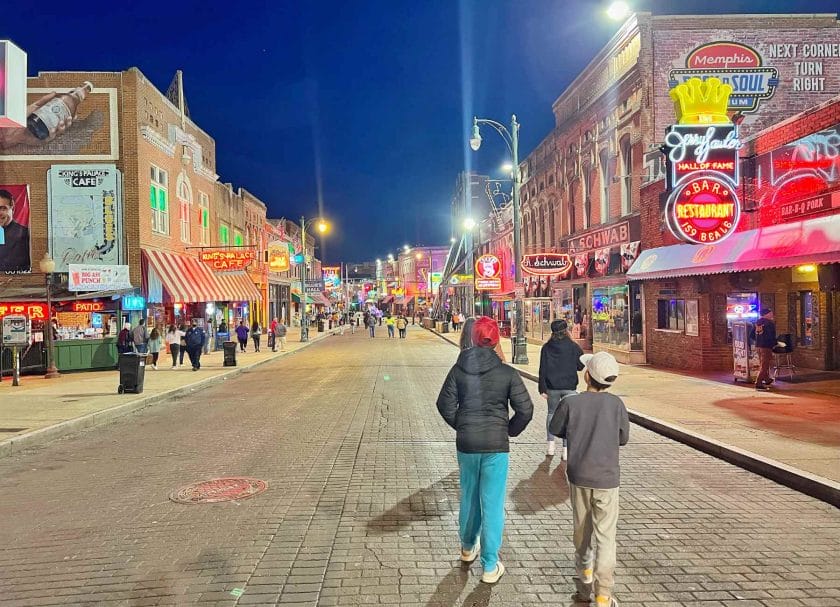 The most iconic street in Memphis, Beale Street is where all the action is. Here you will find many restaurants, cafes, music studios, and museums. Entertainment is to be had on Beale Street. Beale Street is a tourist hotspot, where many flock to experience the true history and culture of "Blues music". Definitely a top destination stop when planning things to do in Memphis.
Beale Street At Night With Kids
We ended up heading back to Beale Street to eat one night at the Blue City Cafe. After dinner we decided to walk the street with our kids with us. The plan was to not go into any bars but just walk and see if we could hear live music.
You can! It was cool to see Beale Street lit up and to hear the live music coming out of the bars. We walked the street stopping a few times to listen. Before making our way out.
We did this at about 8pm and it was a good time for us to be there with the kids.
A Schwab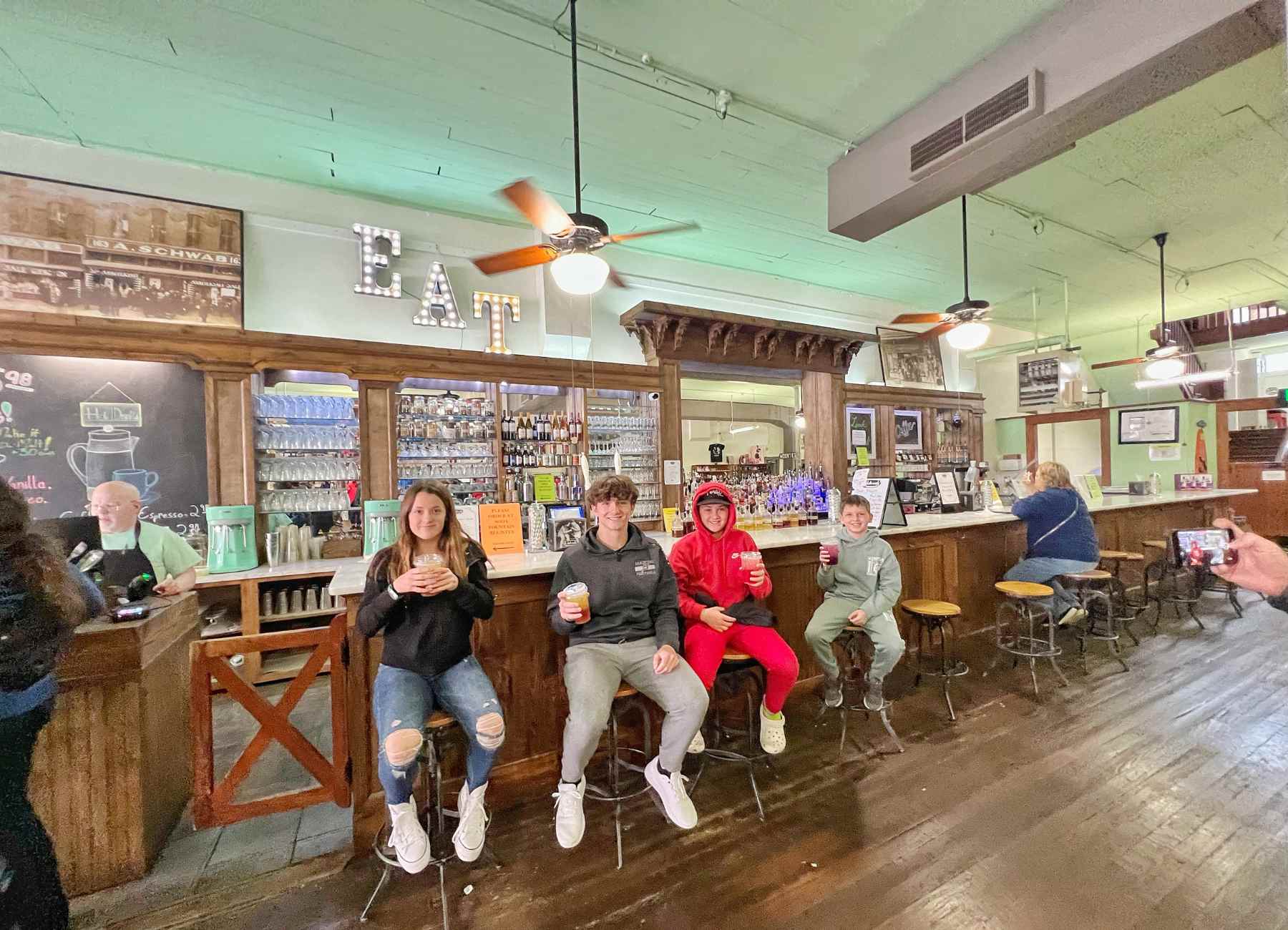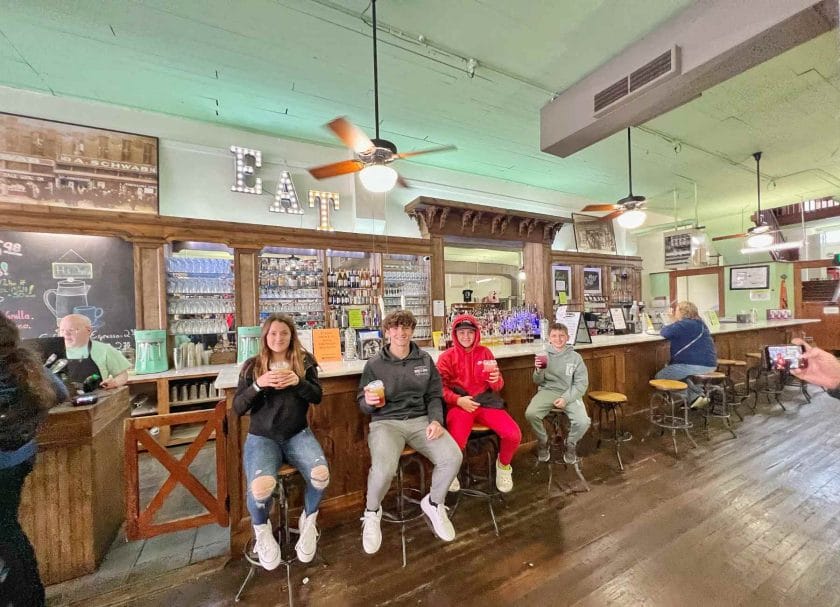 The A Schwab is a general store that is family owned and has been around since 1876! They have a soda fountain counter where the kids each got a flavored soda.
Be aware these are not Coke and Sprite. They are old schooled flavored soda. You can also get ice cream or a milkshake if you prefer.
The rest of the store is filled with a variety of Memphis souvenirs, records, hats, Elvis souvenirs and just a collection of weird and different things.
You could spend a lot of time in here looking through the unique collection of things for sale and go upstairs to where the records and music section is. Before grabbing a fountain soda.
It is a good stop to do if you are visiting Memphis with kids.
Elvis Statue On Beale Street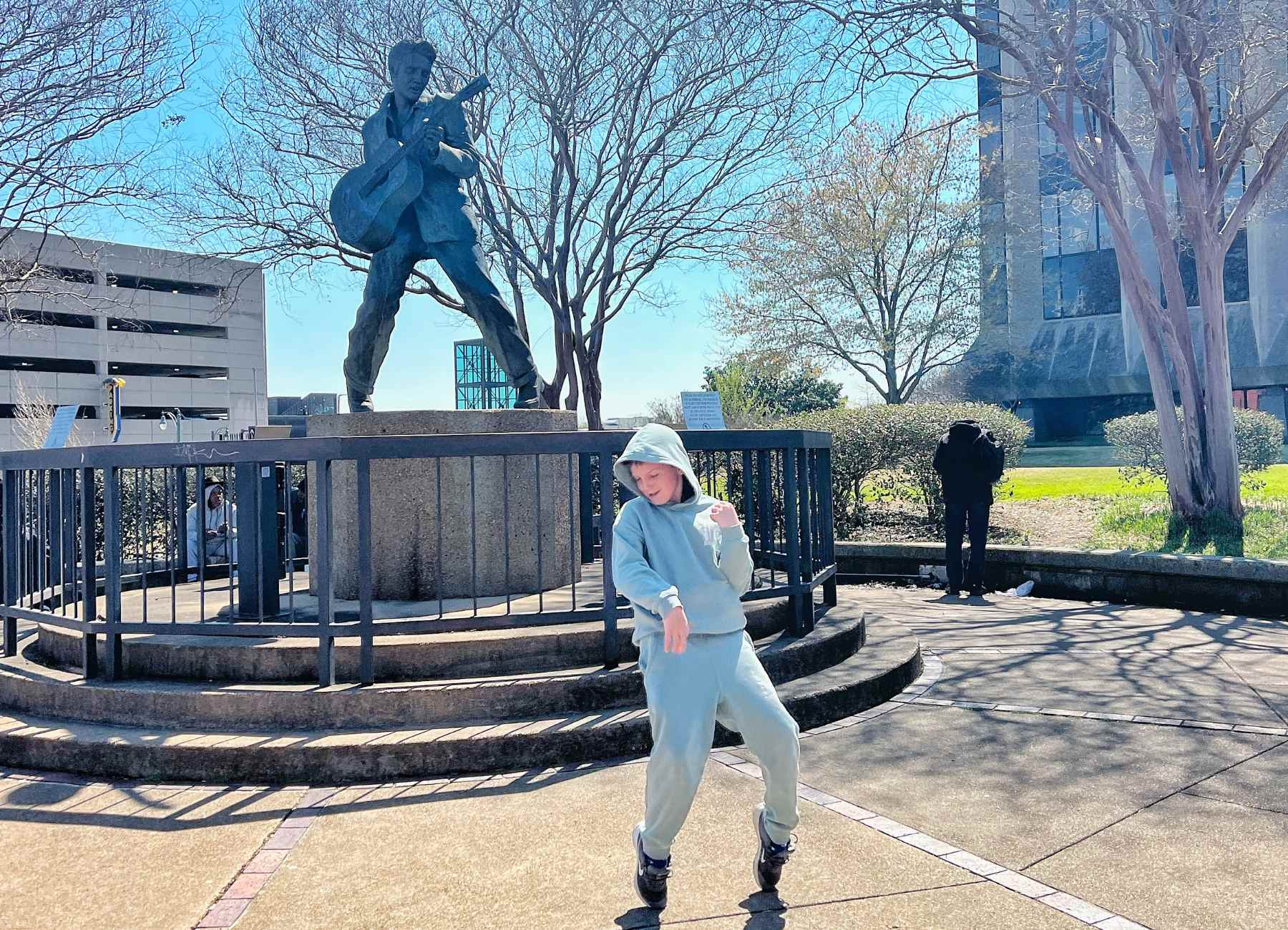 At the end of Beale street there is an Elvis statue you can check out and pose in front of.
Riverwalk
We made our way down to the river – which was basically at the end of Beale street. There was a good amount of construction and not much of a walking area. But there was a small park the kids checked out.
Wall Art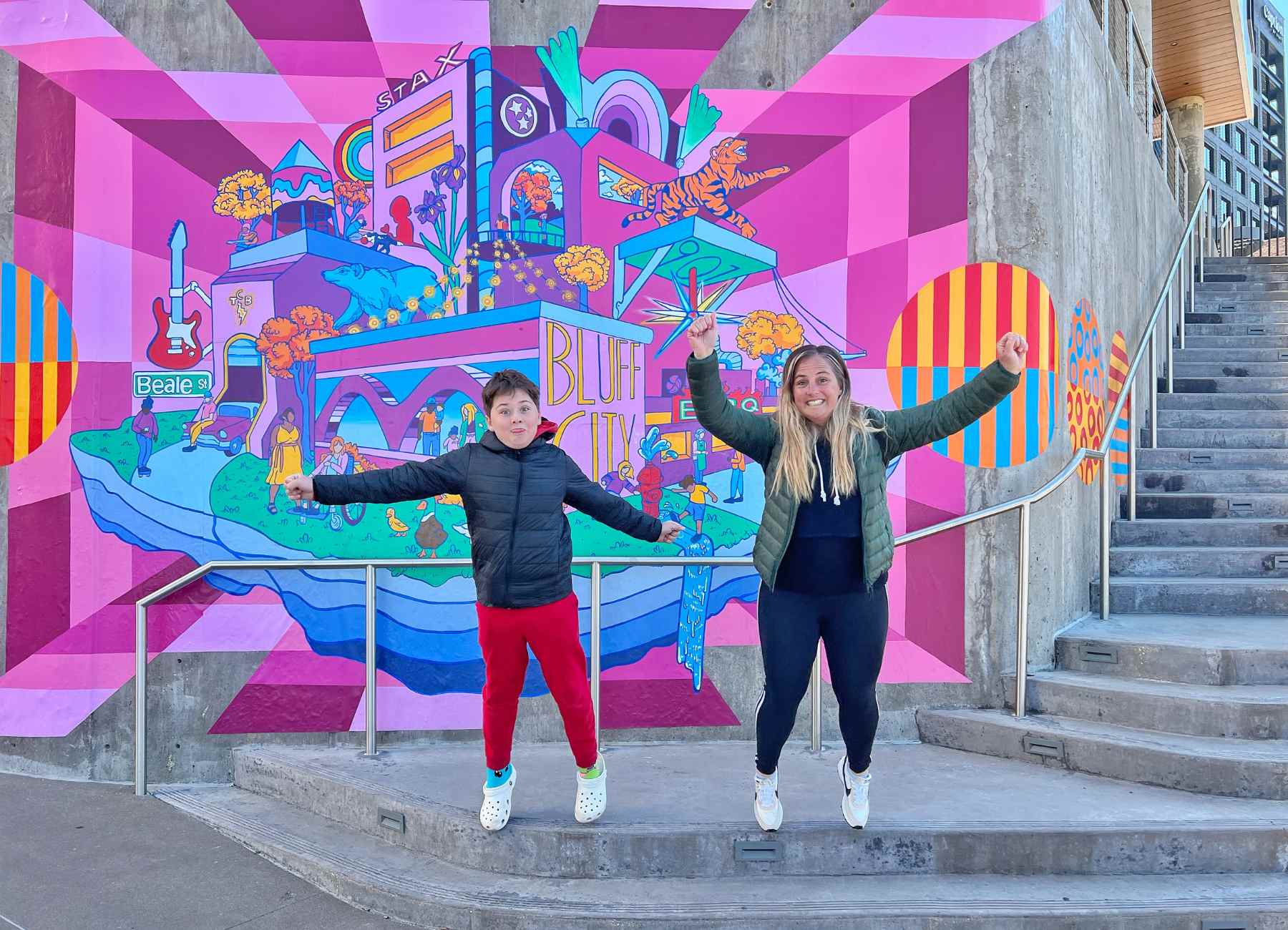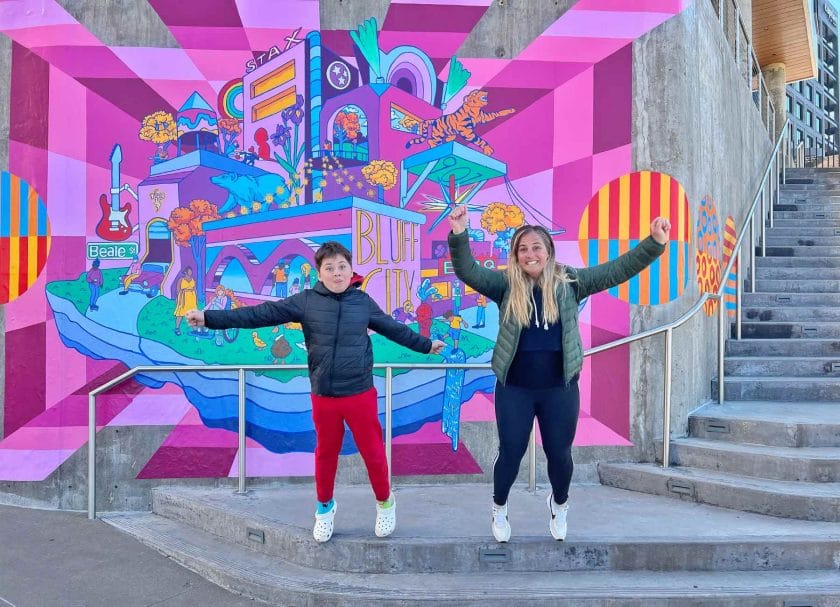 There was a variety of wall art throughout Memphis. We didn't follow a map or anything but just kept our eyes peeled and came across a variety of different beautiful murals on the walls!
Visit Sun Studio Memphis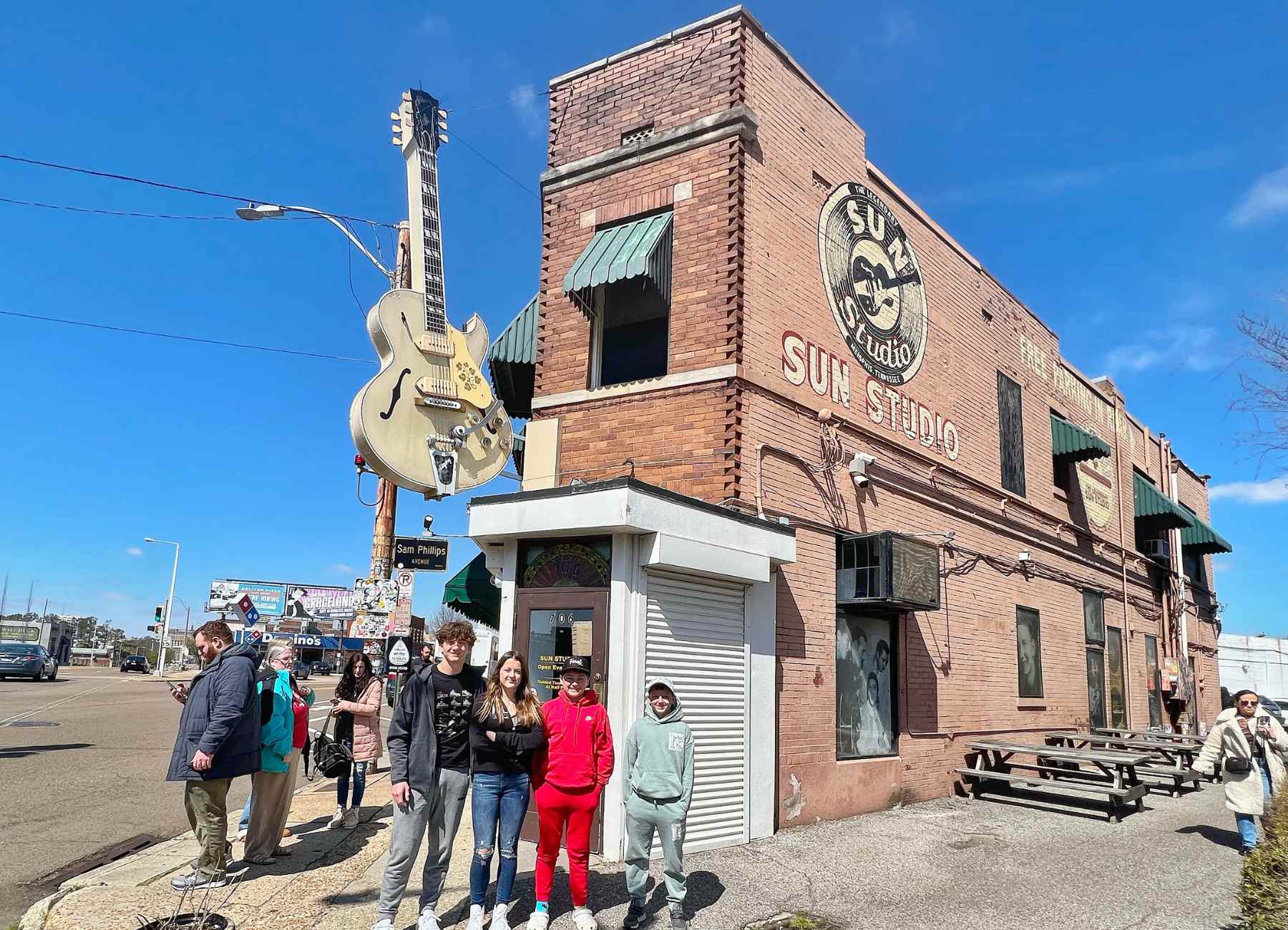 Known as the "birthplace of rock n roll", Sun Studio is famous for making musicians famous. Some of the greats once made their way to Sun Studio, such as B.B. King, Elvis Presley, Johnny Cash, and even Jerry Lee Lewis. Although Sun Studio is still a professional recording studio at night, during the day you're able to visit the studio on a guided 45-minute tour.
We did the guided tour – the only way to get into the studio. When we arrived we thought we could just buy tickets and go in but all tickets for the tour we wanted were sold out until later in the day.
We bought out tickets and adjusted our day to come back later. The Sun Studio isn't really by other things so you will most likely drive here. There is a small parking lot in the back and we got a spot here both times – since people come and go once their tour is done.
The tour starts by bringing you up to a small museum area that is filled with memorabilia. We were told not videos or images here or else Graceland would come after us! Your guide leaves you there to look around on your own before coming up to walk through the displays and give you more context about what you are looking at.
Visiting The Studio
After that she takes you down into the actual studio. It is small and lined with musical instruments. She tells more stories and gives you context about where you are and what you are looking at.
Throughout the tour she plays different songs and recordings to help bring the history to life. Once the tour is done she brings out a microphone. The same one that Elvis sung into! We all got a chance to pose with the microphone!
Down in the studio pictures and video were allowed! We got a picture with everyone dancing/singing into the microphone.
Overall the tour was pretty short – just about 45 minutes. If you are into music and came to Memphis to dive into the music history it makes sense to go. But just know it is a small area you cover.
Visit The Homeplace of Elvis Presley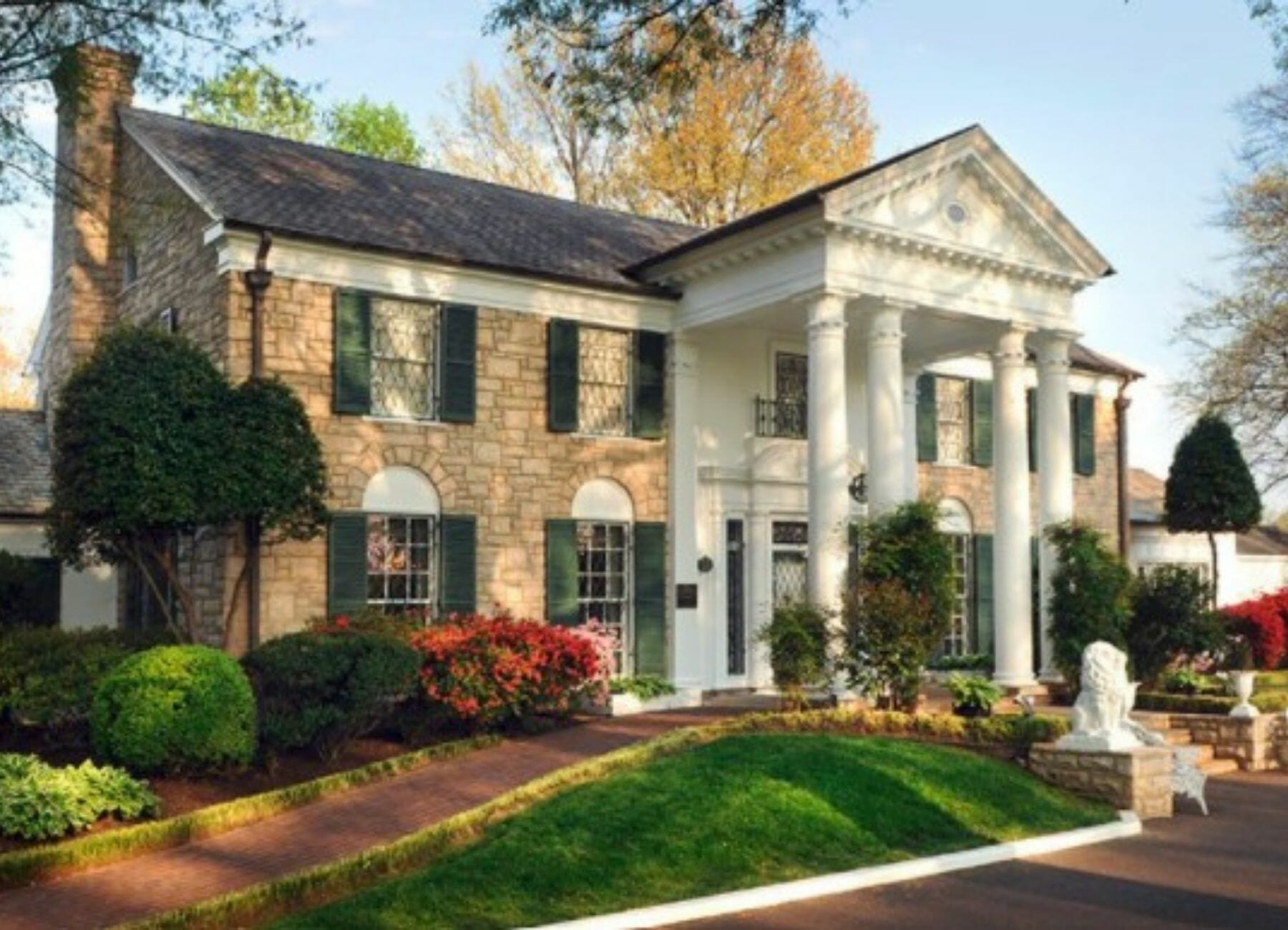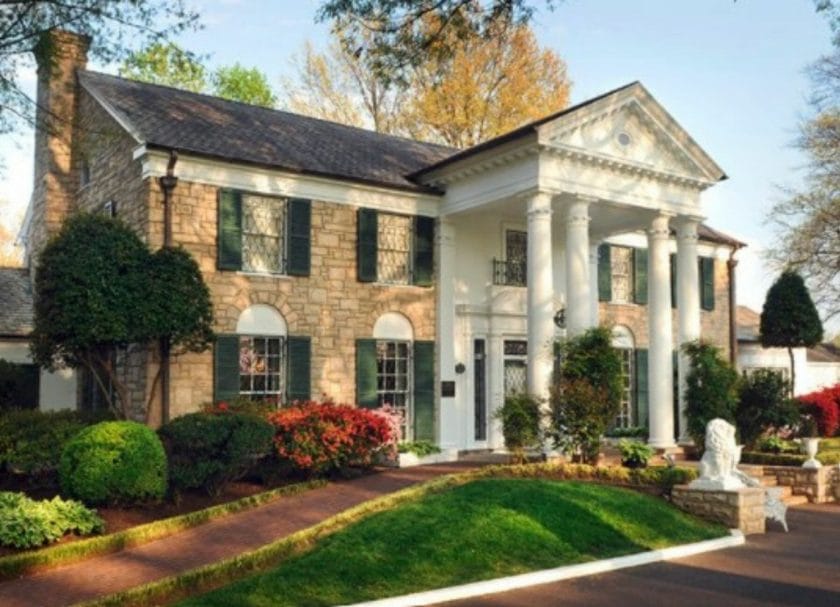 Plan a visit to Graceland and see where the king of rock n roll lived, Elvis Presley. After you have experienced and heard the music at the Memphis Rock N Soul Museum, it's time to come and see the place that Elvis Presley called home.
There is something for everyone to enjoy when visiting Elvis Presley's Memphis Entertainment Complex. Now, more than just visiting the Graceland Mansion, you can make a day of it and explore the homeplace mansion, Presley Motors Automobile Museum, Elvis The Entertainer Career Museum, Elvis Discovery Exhibits which showcase the impacts that Elvis had on different areas of pop culture.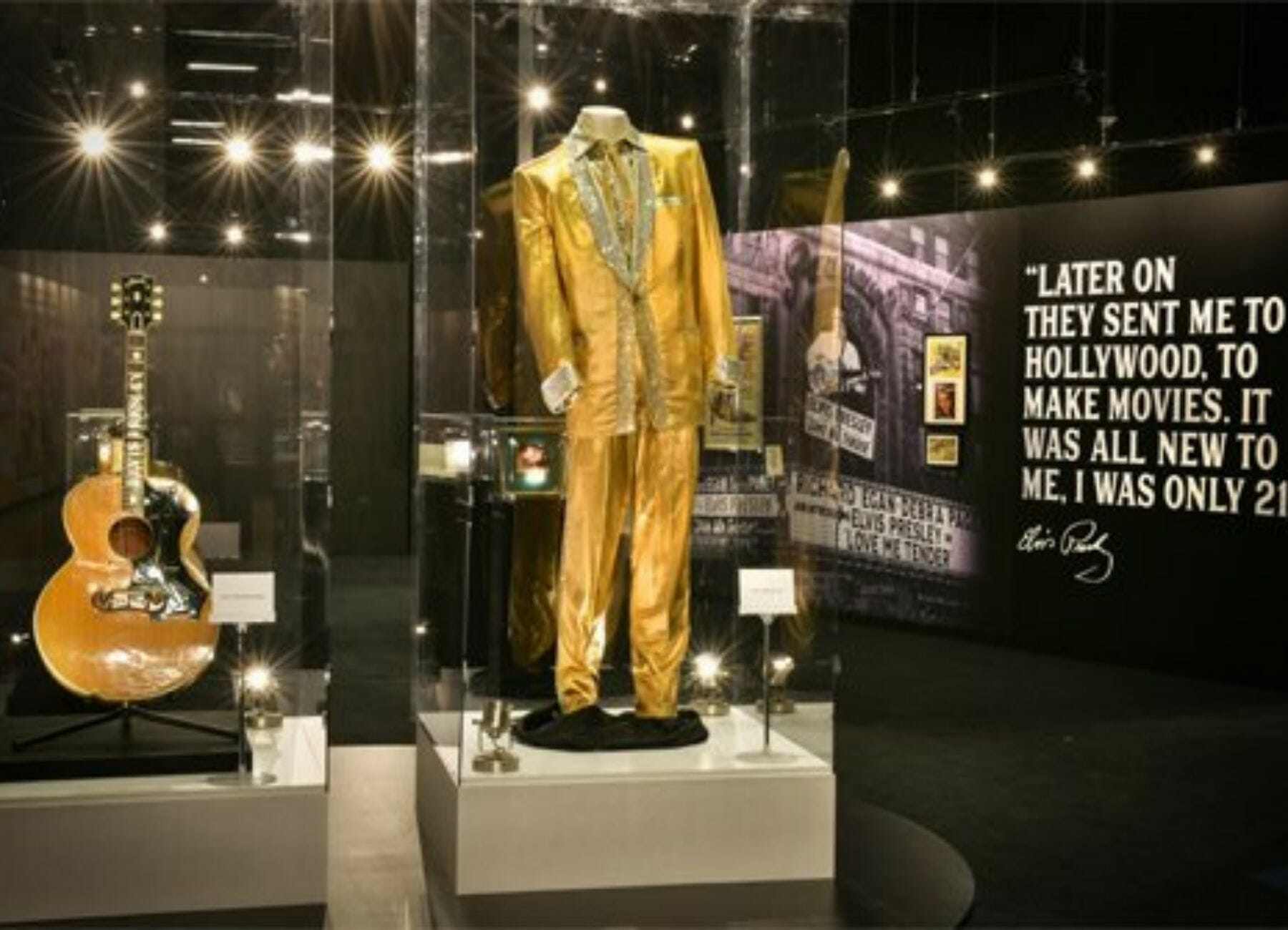 The Graceland Mansion tour is the original homeplace of Elvis, and is what people think of when they think of "Graceland". This is a guided tour, walking you through the house Elvis once lived in, and around the property. The tours usually sell out, especially during busy times such as spring break, fall break, and summer, so purchase your tickets early.
Where To Eat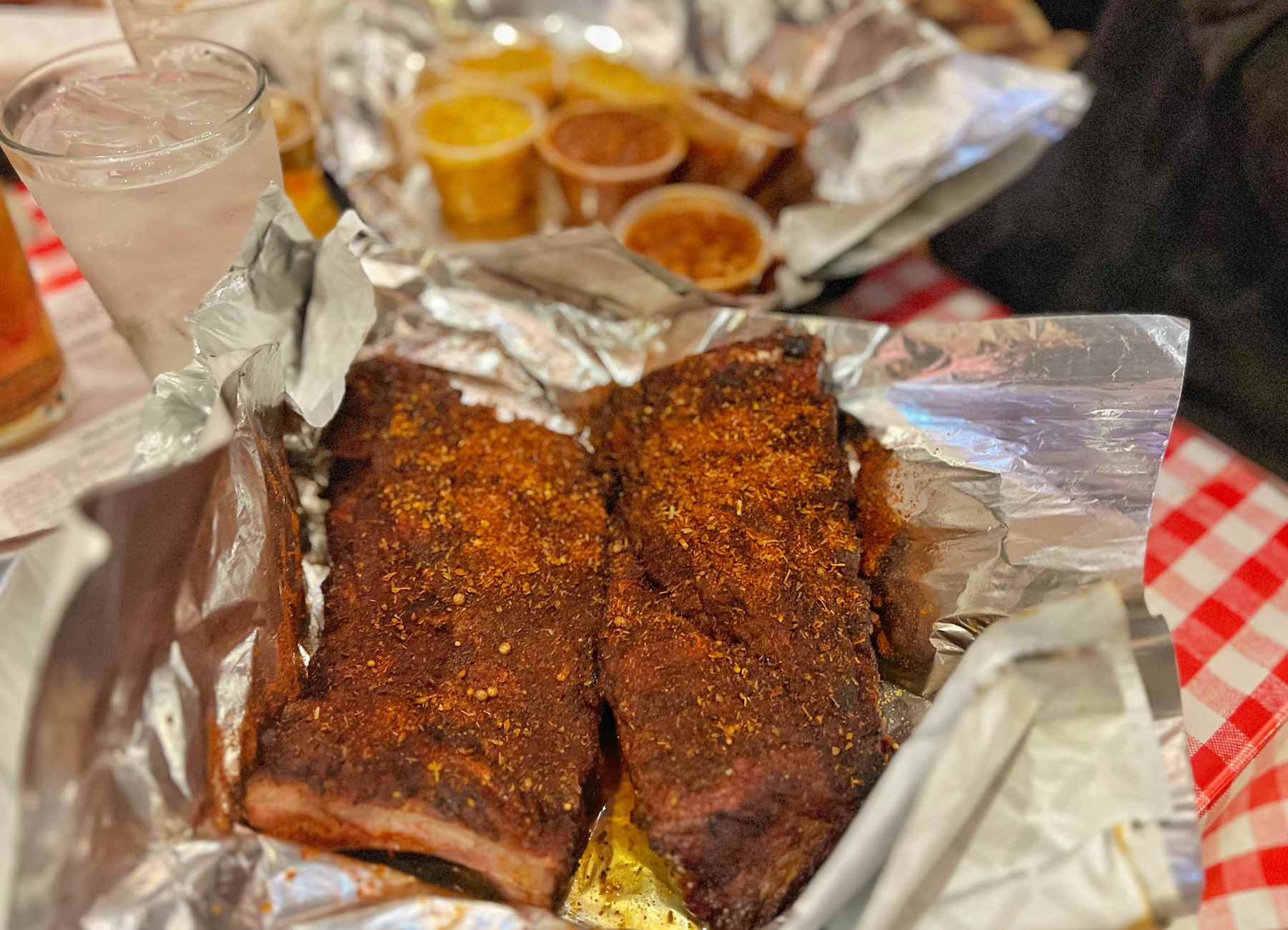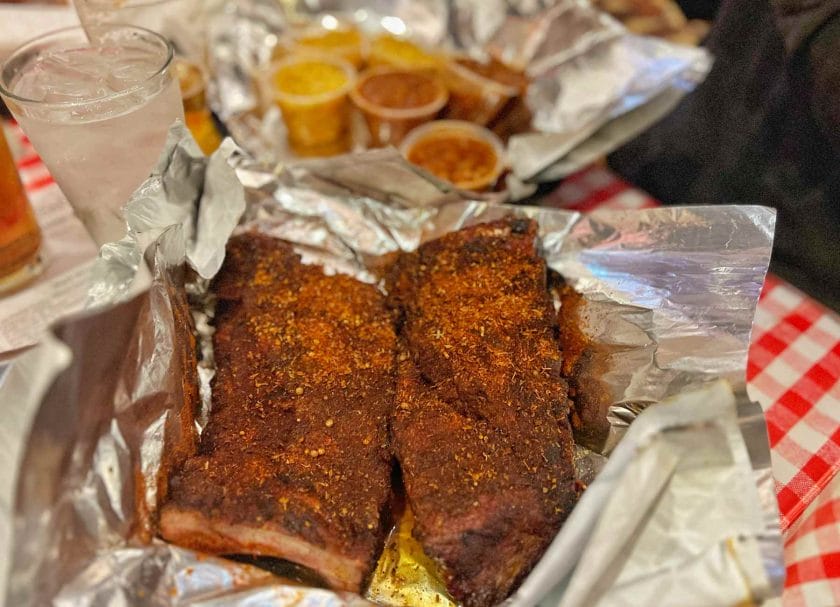 Rendezvous ribs
Memphis's food scene was on point! I had heard you should come for the barbecue and ribs and Chicken and they weren't wrong! Everything we had was so delicious! We tried multiple barbecue and ribs places and a few other recommended spots. Check out our 6 Restaurants in Memphis You Don't Want to Miss!
Gus's Chicken
I am still thinking about getting some more Gus's Chicken – do they deliver to Wisconsin?! We opted to pick up some chicken to go as we just had under an hour before we needed to be at our next stop.
At the restaurant and got a snack pack to go – 8 pieces and some friend green tomatoes. We ended up eating it right outside of the restaurant. It was delicious!
When we were done we walked across the street to the distillery and saw a sign saying bring your to go chicken in here to eat. Say what?! If we would have known we would have ordered our chicken and headed into the Distillery to each and do some drink sampling.
Central BBQ
When we first got to Memphis we needed to get dinner and decided to jump right in and get some BBQ to go. We looked on Google and found that Central BBQ was open and that they were rated one of the top places in Memphis.
We picked up some Ribs and a meat platter to try the shredded chicken and pulled pork. Everything was delicious. The ribs fell right off the bone! We got the wet ribs and they ended up being our favorite ribs from our time in Memphis.
They have a larger restaurant by the Civil Rights Museum and also a pop up food truck located in another location in the city. We got ours from the pop up food truck.
Charles Vergo's Rendezvous Charcoal Ribs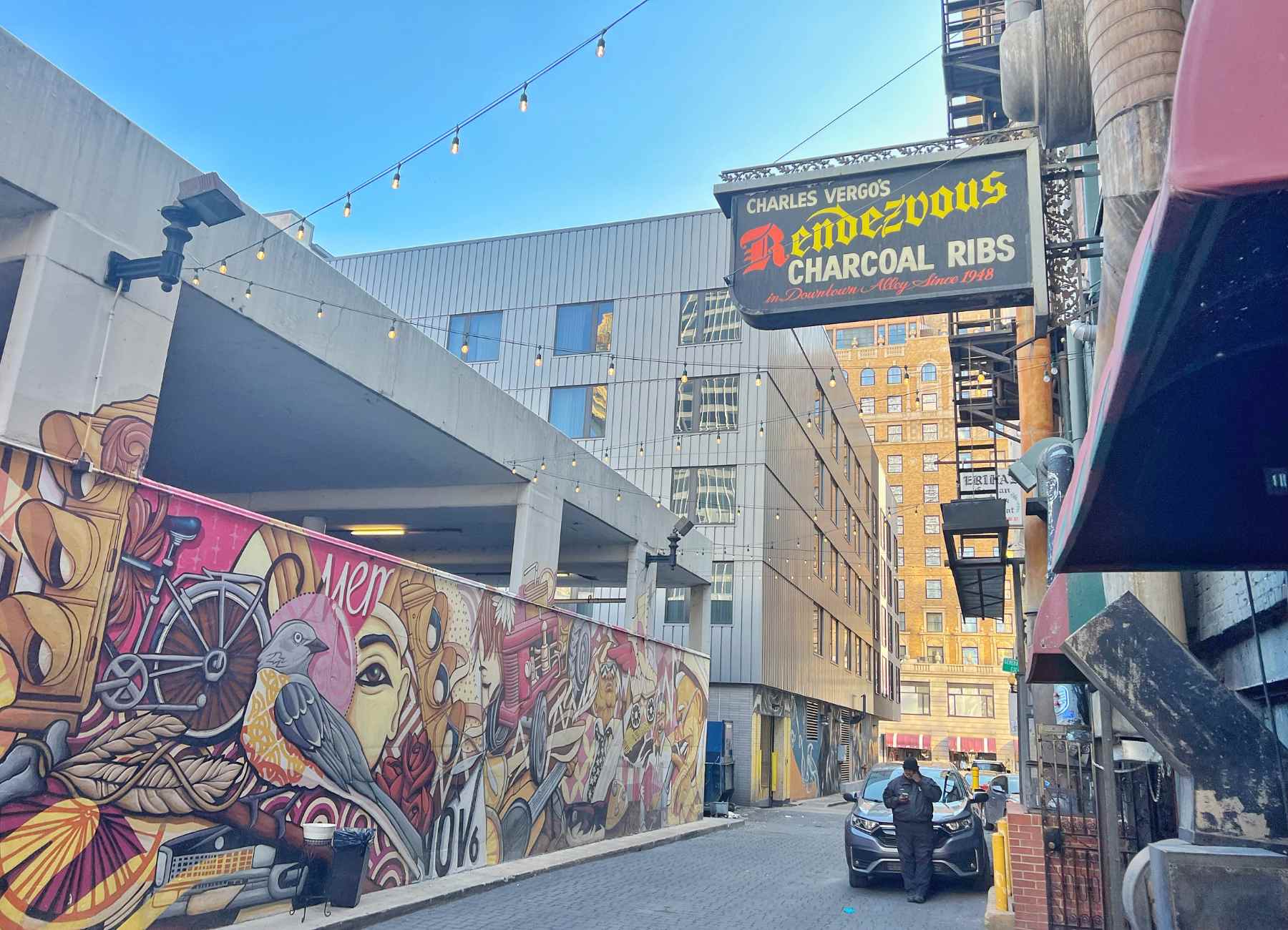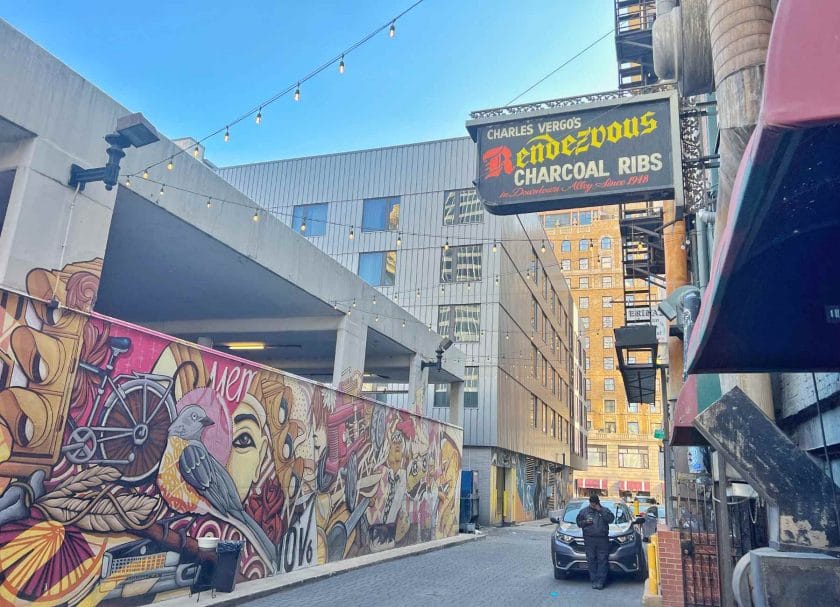 Known as a Memphis original, Charles Vergo's Rendezvous Charcoal Ribs began in 1948 and the tradition continues today. They offer some of the most unique barbecues, because of the way the meat is cooked. Not smoked in a pit, the barbecue at Charles Vergo's Rendezvous Charcoal Ribs is grilled over hot coals, giving it something different in the city.
Our friends recommended here and they have been to Memphis multiple times and have family that lives in the area. As we were walking to get to the restaurant we were so confused since we kept heading towards what looked like a random side street.
Well it was. But as soon as you make the turn for the street the restaurant is on you are hit by the delicious smell of BBQ. You enter a pretty not discreet entrance and walk straight down into the basement.
Yes the restaurant is located in the basement and it felt like we were going back in time when we walked down the stairs.
We got seated and got drinks (wine and beer – not a full bar). Before ordering a whole bunch of ribs! The ribs they served here were called dry ribs – there wasn't another option. But they did have a mild and hot sauce you could ask for.
The ribs were good and our kids finished a whole half rack each! Melia opted for the veggie nachos – so they do offer non meat options.
This was a good restaurant with a unique experience attached which we always enjoy!
Old Dominick Distillery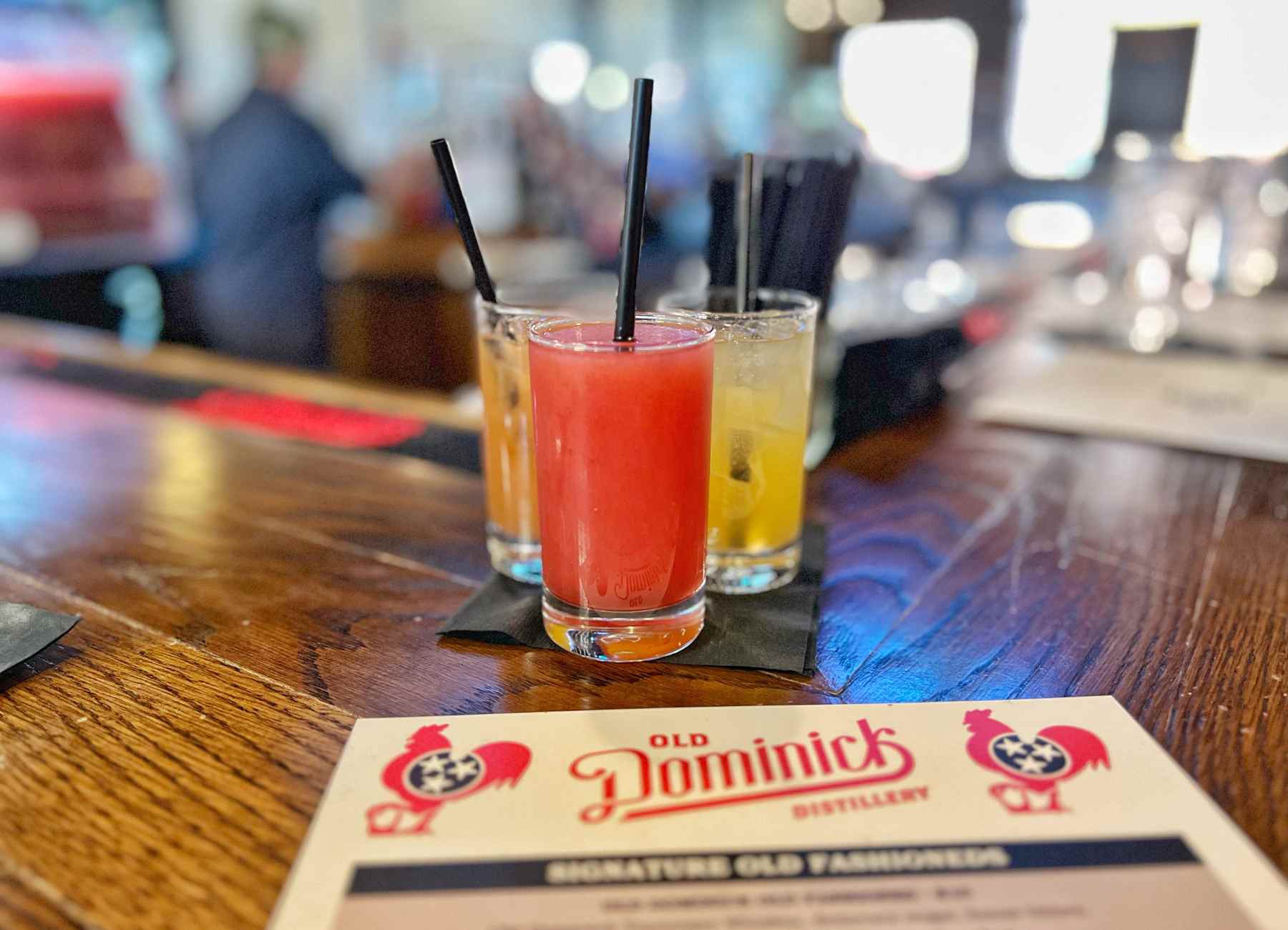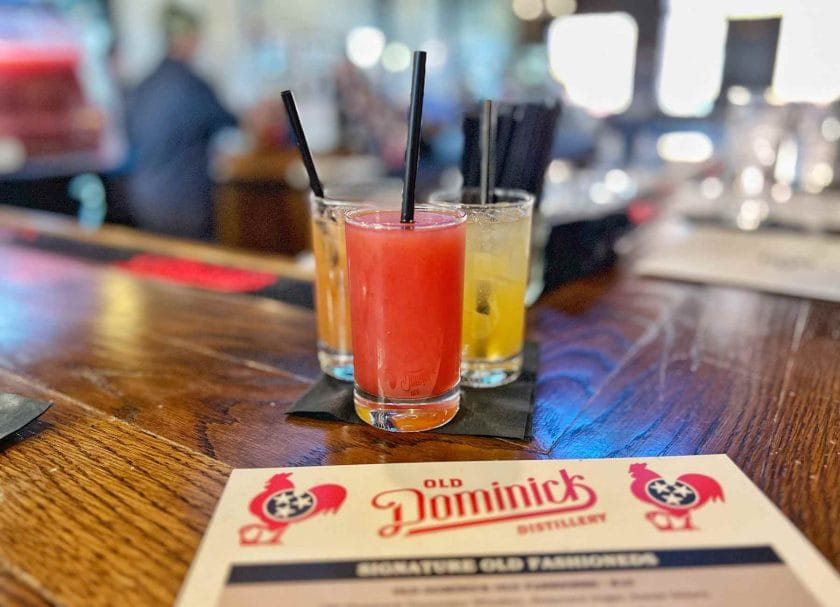 I am not a big whiskey or bourbon person but Craig and our friends from 365 Atlanta Traveler are so we stopped in. To my surprise they also had cocktail sampling, say what?!
Craig opted to sample 5 different whiskeys/bourbons and I sampled 3 different cocktails all made with their Old Dominick products.
Everyone loved their whiskey and bourbon and my drinks were delicious. If we weren't in a rush to go see the Pea Body Ducks we definitely would have stayed here longer!
They also offer Distillery tours.
Cozy Corner Barbecue
Cozy Corner Barbecue offers authentic barbecue since 1977. They are famous for their dry spice rubs on their perfectly smoked ribs. Their barbecue is so good, they put it on everything, even spaghetti! Come to eat at Cozy Corner Barbecue and you will experience more than just great barbecue, you will get a chance to experience the culture of Memphis.
Arcade Restaurant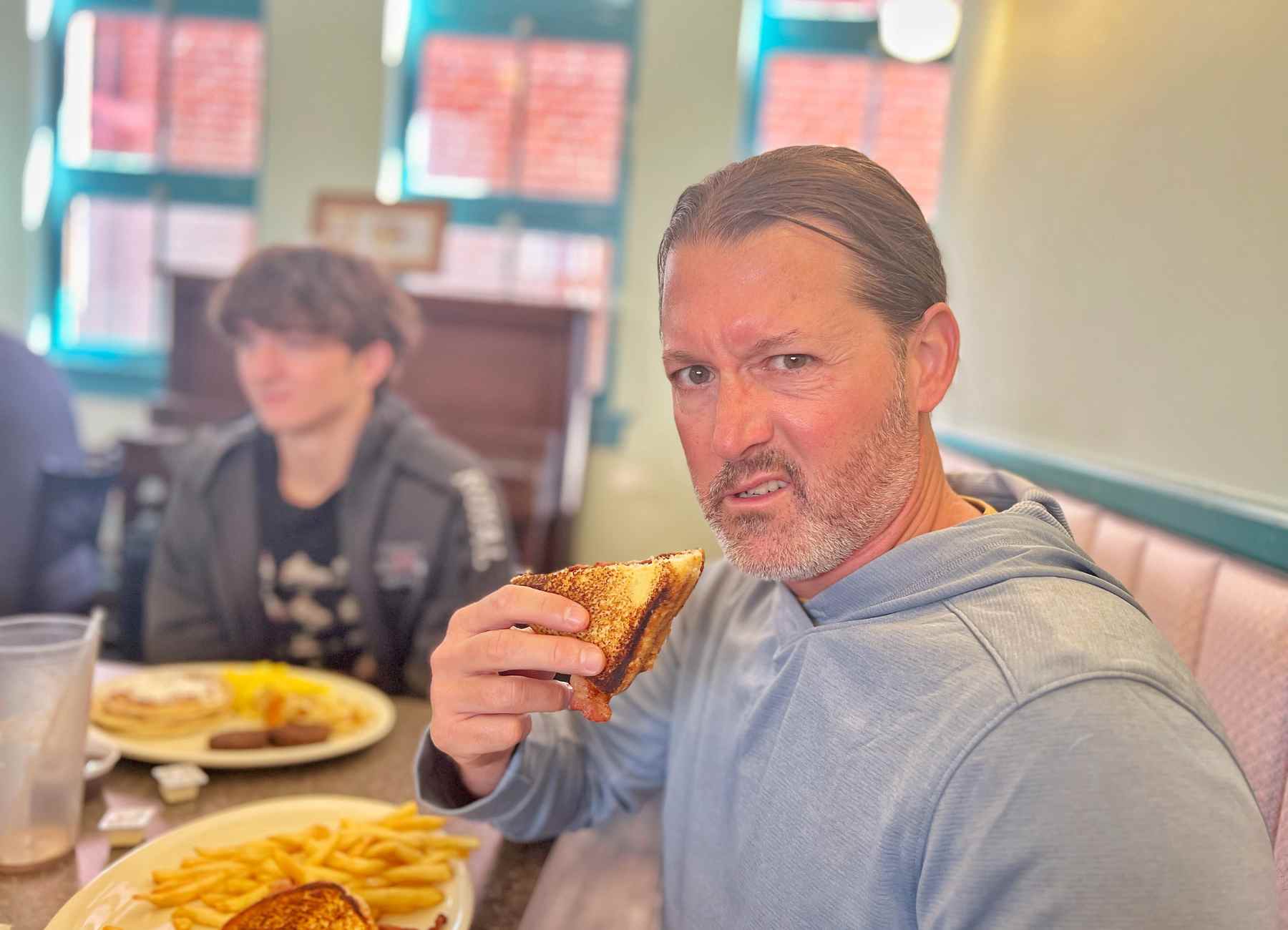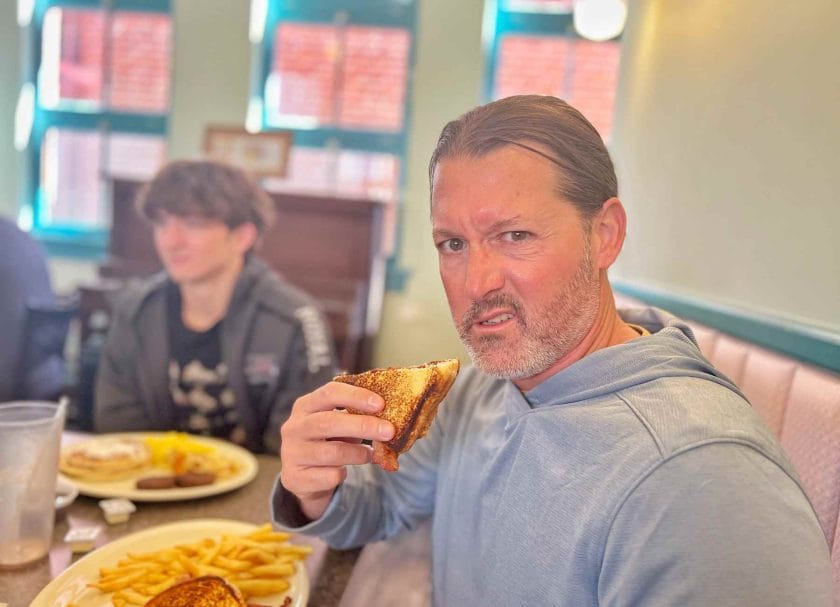 The oldest cafe in Memphis, founded in 1919, Arcade Restaurant is a unique stop you don't want to miss. In the beginning, the restaurant cooked their food on potbelly stoves!
Today, the restaurant serves breakfast all day, and they have new daily specials each day. Be sure to check their website before you go to see their daily specials.
Now on to their fourth generation of owners, the family has continued to keep Arcade Restaurant a tradition. You will still experience the glow of the 1920's signs and architecture, but the food is none other than the best. Arcade Restaurant is truly a Memphis experience.
We headed to The Arcade for breakfast. The Arcade is also famous because Elvis use to eat here. They even have his peanut butter banana sandwich on the menu. Craig ordered it! The sandwich wasn't his favorite but it was a cool experience!
We all got the breakfast sampler and the french toast was amazing!!! They also have a drink menu with mimosa's and bloody mary's on it. You can even get a carafe of Mimosa's!
Blue City Cafe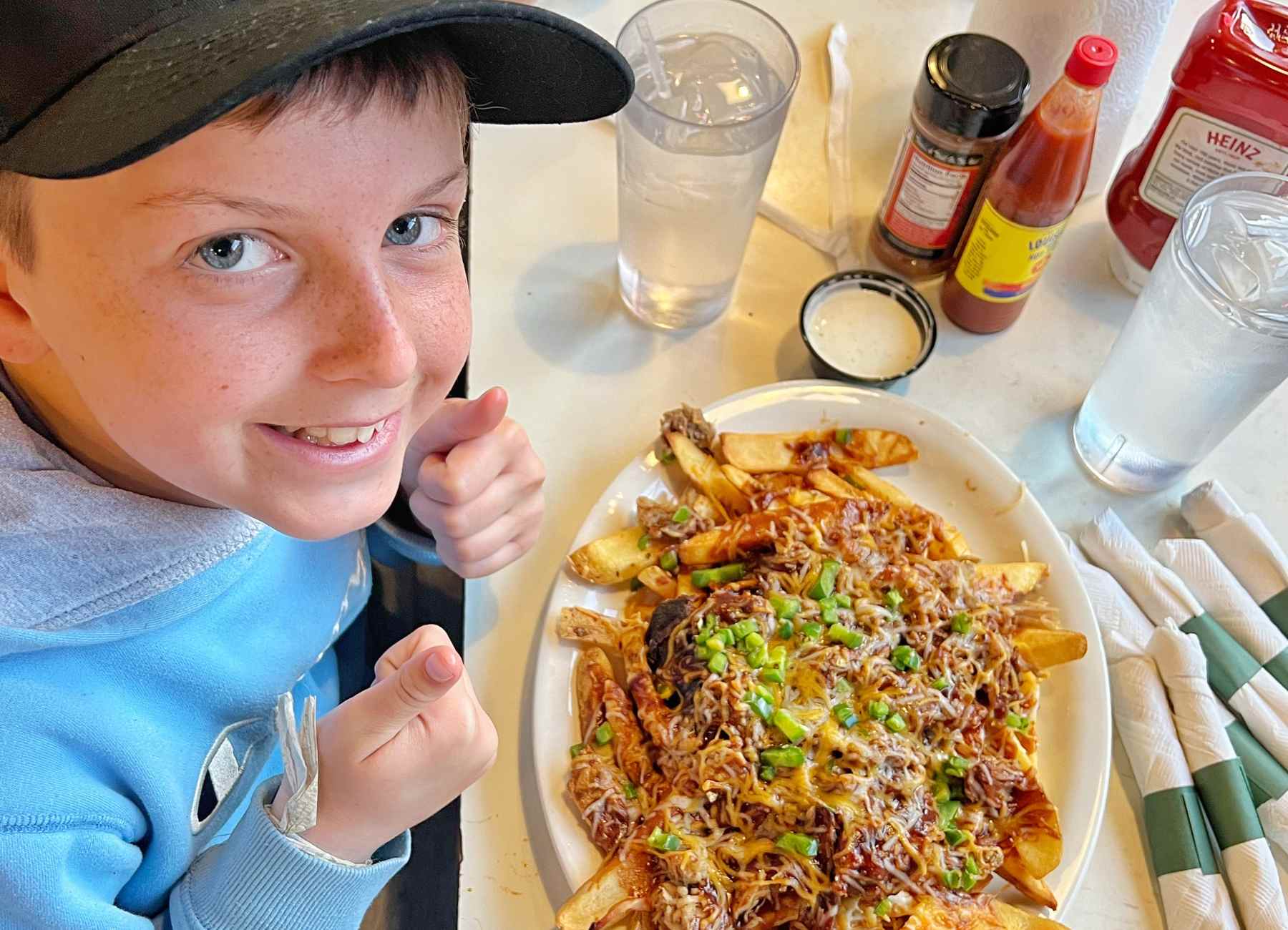 Blue City Cafe on Beale Street was another recommended stop. We got here about 6pm and were easily able to get a table for the 10 of us. We split into 2 tables – 6 and 4 but we were right by each other.
They have a full bar but this time I opted for the Sweet Tea to give it a try as I kept hearing how good it was in the south. It was!
Craig got the Best on Beale meal which came with Ribs and Fried Catfish. The ribs were good but Central BBQ remained our top pick. I got a couple smaller plates including the tamales and chili.
The kids got friend chicken and a pulled pork fry plate that could have easily fed 2 kids!
Everyone enjoyed what they got.
The food experience in Memphis is what might make us go there again or at least make a stop on our way driving to our next destination. It was delicious!!!
Where To Stay
With many options of where to stay in Memphis, we have picked our favorites to share with you. Whether you are looking for a hotel in downtown Memphis or a cozy apartment loft, Memphis has options for you when planning your trip of things to do in Memphis with kids.
VRBO
Harbor Town Home
This 3bd/2b townhome offers exceptional value and location. Enough space for the family to spread out and rest before exploring the city, this townhome is located near the Mississippi River and downtown Memphis, in a little town called Mud Island. The area is known for its quick commute to the city and offers restaurants and shopping close by.
Memphis Gated Condo
This gorgeous 2bd/2.5ba condo is located in the prime downtown Memphis location. When you're looking to experience all that Memphis has to offer, this condo is it. Located in a quiet area of town, and close to restaurants, get ready to explore Memphis when staying here!
Hotel
Hampton Inn & Suites Memphis – Beale Street
Located in downtown Memphis, this Hampton Inn & Suites Memphis hotel is a great location and has amenities for all families. Included with your stay are daily breakfast, an indoor pool, and free parking. Parking in the city can be expensive, so this is great when planning your Memphis trip.
SpringHill Suites Memphis Downtown
SpringHill Suites Memphis Downtown is another option when looking for a hotel in the city of Memphis. This property features an outdoor pool and provides a daily breakfast during your stay. Located only 12 miles from the airport, this is a great location when visiting the city of Memphis.
Campgrounds
Yogi Bear's Jellystone Park – Memphis
Experience a little bit of country in the city. Yogi Bear's Jellystone Park in Memphis is a family fun location, featuring campsites and cabin rentals. They have a nice playground on the property, an outdoor pool, and only 5 miles from downtown Memphis.
There you have it – our top 23 things to do in Memphis with kids. You will have fun exploring the city and experiencing the culture of Memphis, not to mention the famous barbecue that you have to give a try when visiting the city. Memphis is a city to make memories in with the family. Grab a camera and get ready to explore the city of Memphis Tennessee.
This was our first time in Memphis and I am glad we came to explore the city. The history was interesting and we were glad to share that with our kids and there is no better way to learn history than to place yourself within it. And to be at the locations where things actually took place.
The food also made it worth it! If you are planning a Tennessee road trip be sure to include a top in Memphis on your list!
2 Day Memphis Itinerary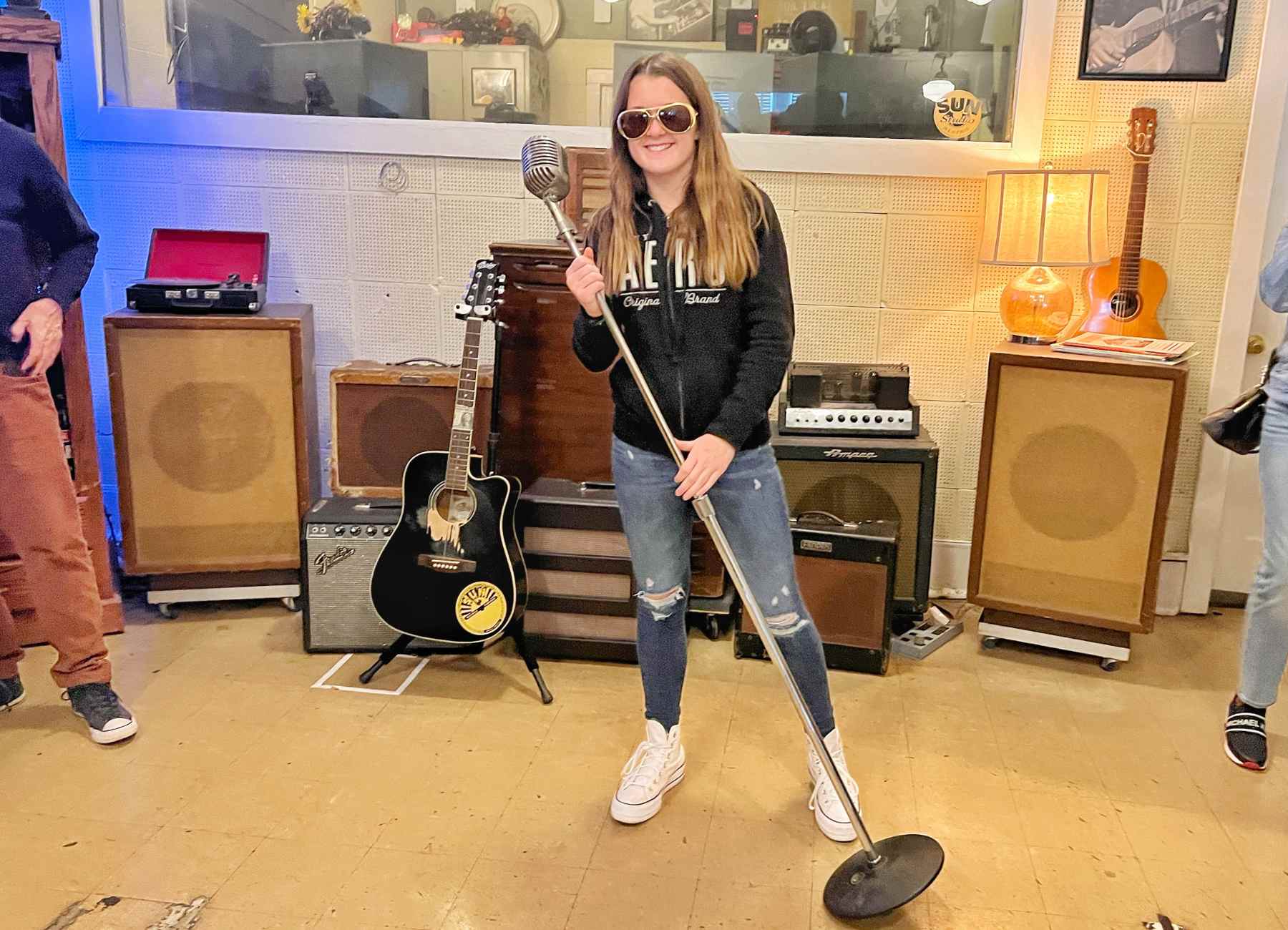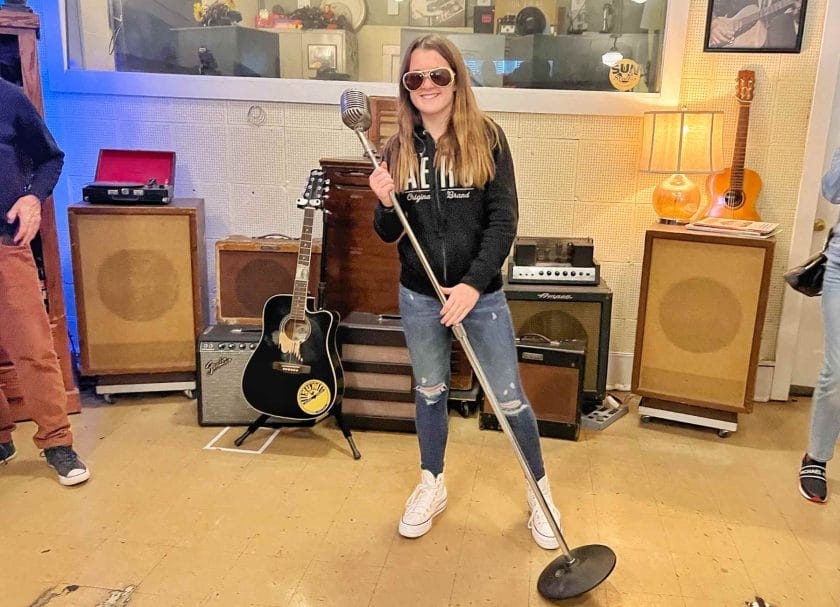 Be ready to eat and take in the history of the city with a few ducks mixed in!
Day 1 in Memphis
11am: Sun Studio
Head to Sun Studio to start your music history tour of Memphis. Note they only let so many people in on each tour so you may want to book these tickets ahead of time if you have a set time you want to go.
This will take about 1 hour.
12:30pm: Beale Street
Head over to walk Beale Street during the day. Grabbing a picture under the Beale Street sign.
Stop at the A Schwab store for a fountain soda and a look around.
This will take about 1 hour.
2pm: Lunch: Gus's Chicken and Domincik Distillery
You could walk here if you don't mind walking a little ways.
4pm: Mud Island
If you want to stretch your legs head to Mud Island. This could take an hour if you walk all the way to the end and stop to read the signs, get a picture of the Memphis statue, etc.
5pm: Pyramid
Go here to ride to the top of Pyramid for the fews and to grab a drink. To make it worth your money figure out how to spend an hour at the top of the pyramid.
6:30pm: Blue City Cafe
Head back to Beale Street to get dinner at the Blue City Cafe and walk Beale Street at night.
Day 2 In Memphis
10am: The Arcade For Breakfast
11:30am: Civil Rights Museum
Head over to the the Civil Rights Museum and be prepared to wait in line outside to get through the security check and the ticket line.
This will take about 2 hours – maybe longer to get through the whole museum.
2pm: Lunch: Central BBQ for lunch
3:30pm: Riverfront
Walk down to the Riverfront stop by the Elvis Statue for a picture.
4:30 (or earlier): Pea Body Hotel
Head over to the Pea Body hotel to get your spot to see the ducks being walked to bed.
5:30pm: Rendezvous for dinner.
If you are looking for more music activities check out the: Stax Museum of American Soul Music. But check times to make sure when it is open!
More Info Check Out:
11 Best Places to Visit in Downtown Memphis with Kids
Tips for Visiting the Civil Rights Museum Memphis
6 Restaurants in Memphis You Don't Want to Miss!
9 Fun Things To Do In Louisville KY With Kids
Tennessee Road Trip – 1 Week Itinerary For An Amazing Trip
Top 8 Fun Things To Do In Knoxville With Kids
29 Absolutely Enjoyable Things To Do In Nashville
Top 4 Amusement Parks In Tennessee You Need To Visit
11 Favorite Things To Do In Kentucky With Kids
Top 9 Things To Do In Pigeon Forge With Kids
6 Top Tips On Visiting Gateway Arch National Park
Top 4 Indoor Water Parks In Tennessee
Pin This Post: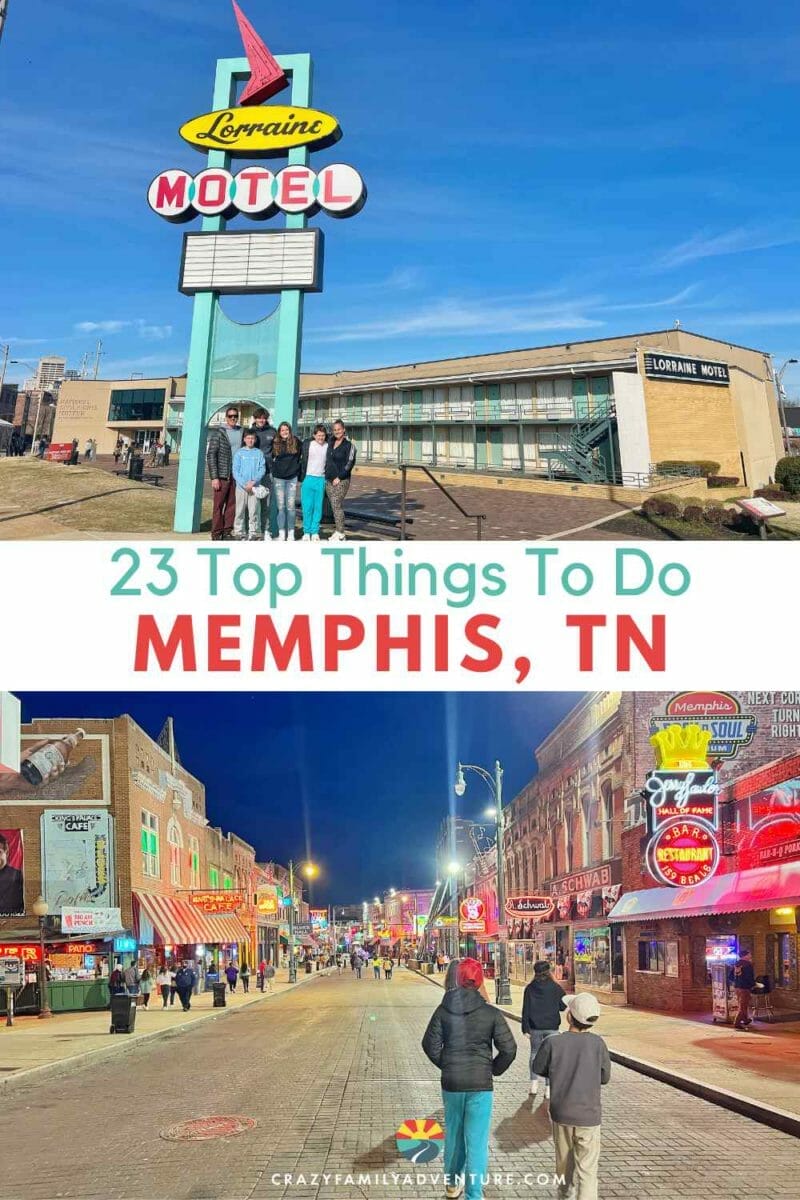 DISCLOSURE: This post may contain affiliate links, meaning I get a commission if you decide to make a purchase through my links, at no cost to you. Please read my disclosure for more info.