Being a top destination in the USA year-round, family time is waiting just around the corner for you in Pigeon Forge TN. Located in the Great Smoky Mountains National Park, there are indoor and outdoor adventures waiting for you. Pigeon Forge really does have it all from thrill rides, national parks, entertaining shows, horseback riding, shopping, dining, and more fun things to do in Pigeon Forge with kids!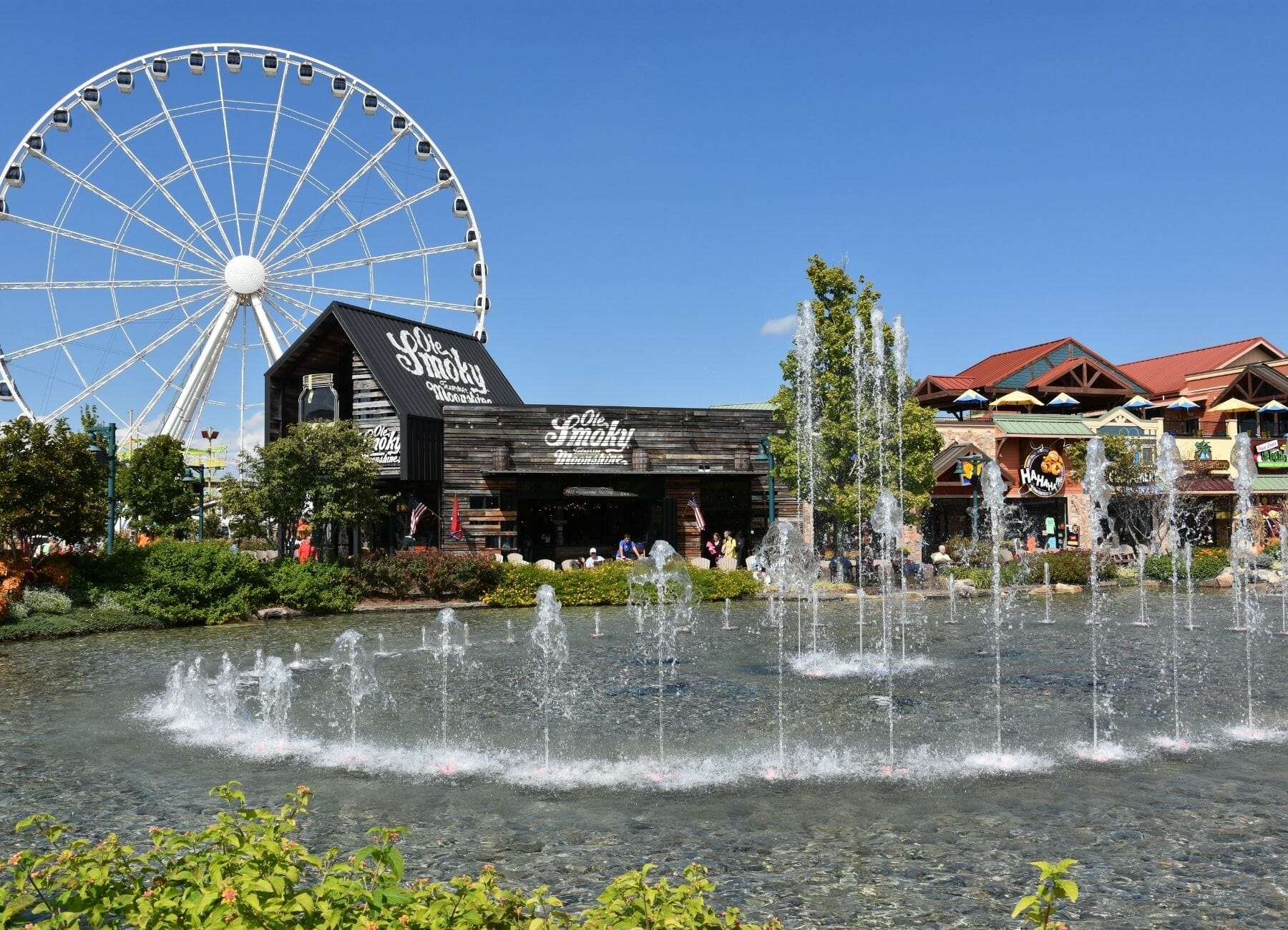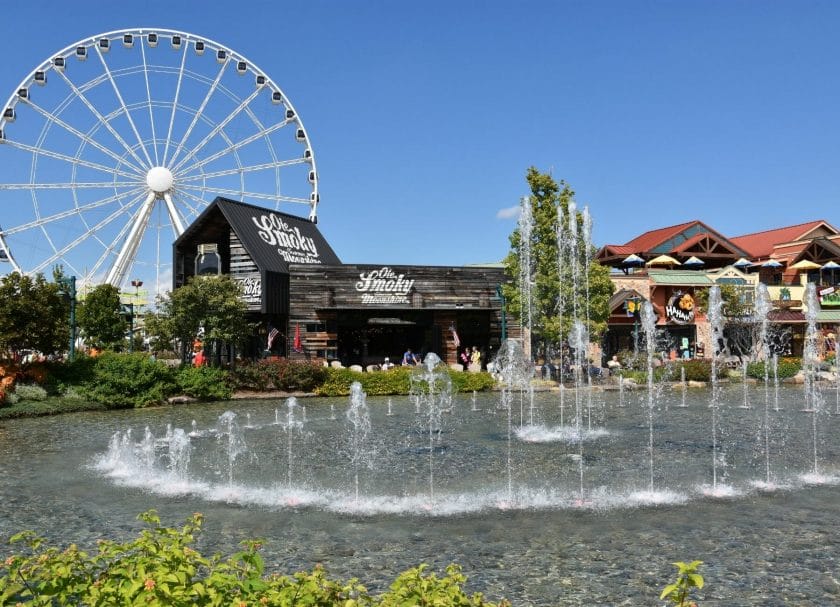 So grab the family, pack your bags and get ready to have a great time! If you are looking for more check out our Tennessee Road Trip with more great ideas on places to visit in Tennessee!
Our list of the top 9 things to do in Pigeon Forge with kids will have you having a blast in no time!
Things To Do
Rocky Top Alpine Mountain Coaster
One of the newest and most popular attractions in Pigeon Forge, the Rocky Top Alpine Mountain Coaster is sure to satisfy the adrenaline rush of your largest thrill seeker.
As you zip and twist through the trees on a metal track you will be surrounded by natural beauty. You may even catch a glimpse of some critters like squirrels, deer, or even black bears. The entire experience lasts between 20-30 minutes with the ride itself lasting around 9 minutes.
Dollywood Theme Park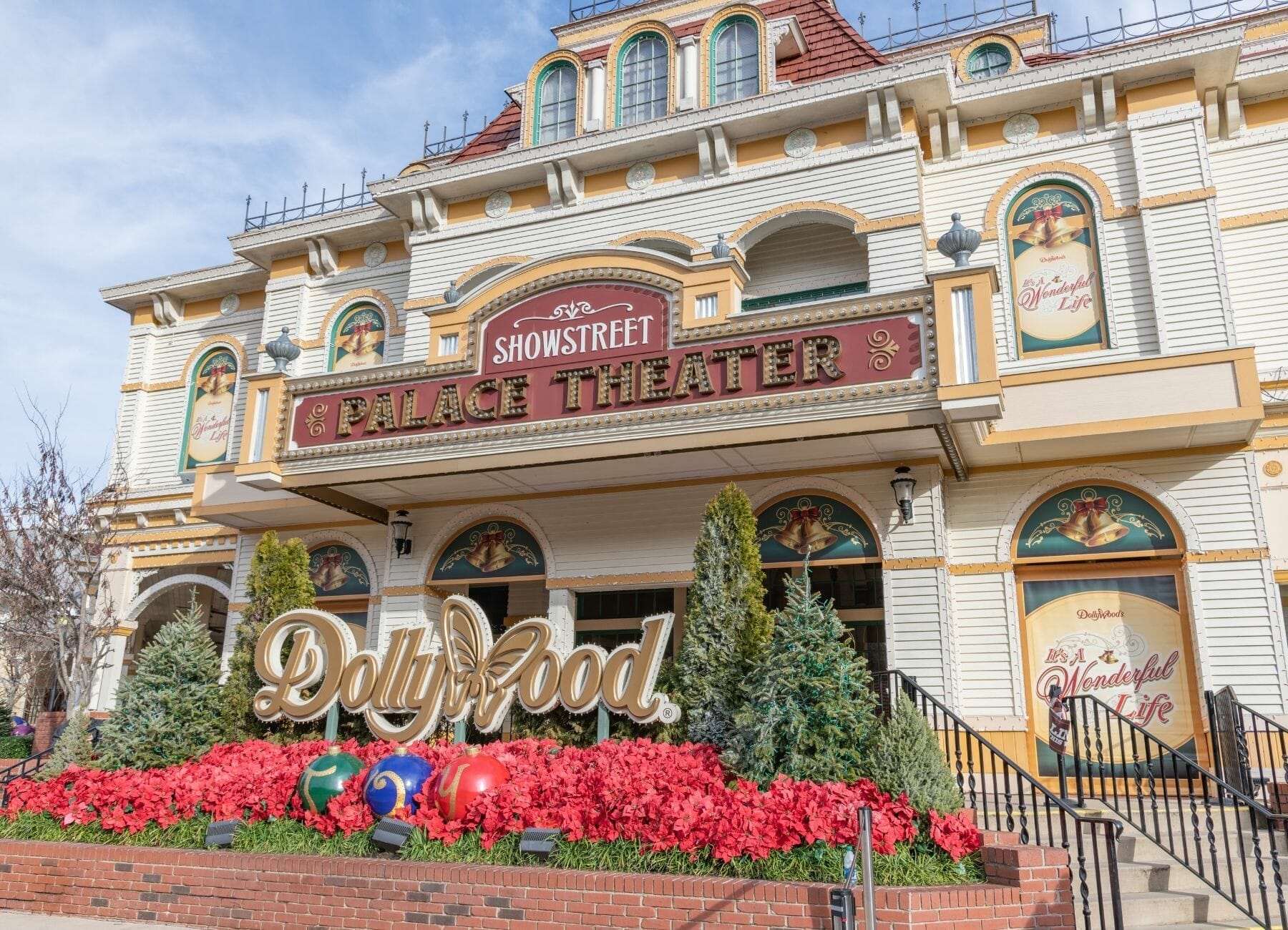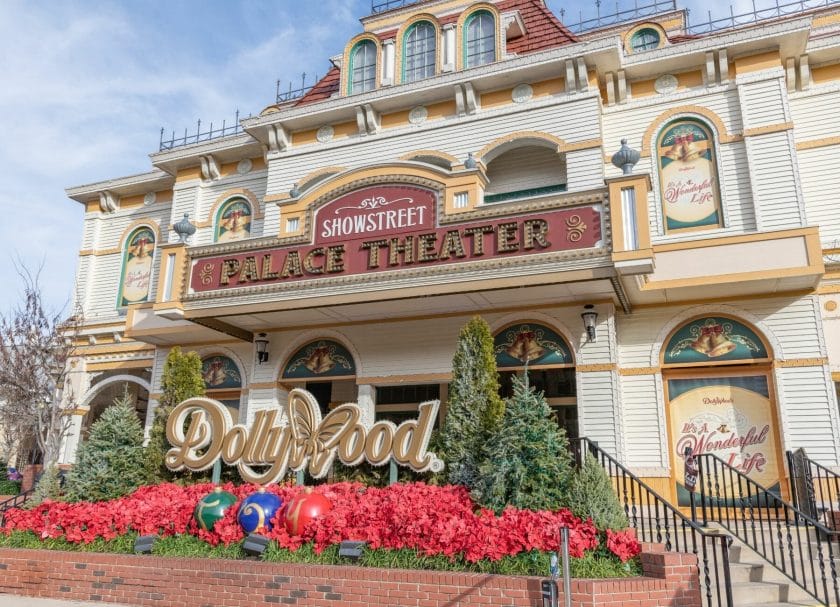 No family vacation destination is complete unless there is a theme park nearby, and Pigeon Forge does not disappoint! Voted the Most Beautiful Park in America, Dollywood Theme Park checks all of the boxes to make it a top destination stop for things to do in Pigeon Forge with kids.
At Dollywood Theme Park, there is something for everyone! From shopping, live shows, street craftsmen, bird watching at the Eagle Mountain Sanctuary, splashing fun at Dollywood's Splash Country water park, twisting coasters that will have you seeing the park upside-down, and kiddie rides galore for the little ones.
Throughout the park, you will find so many areas for adults and kids to explore and learn. Whether they're watching a local blacksmith create a new gift for the gift shop, or watching the woodcarvers working on a new personalized baseball bat, their art will come to life right before your eyes!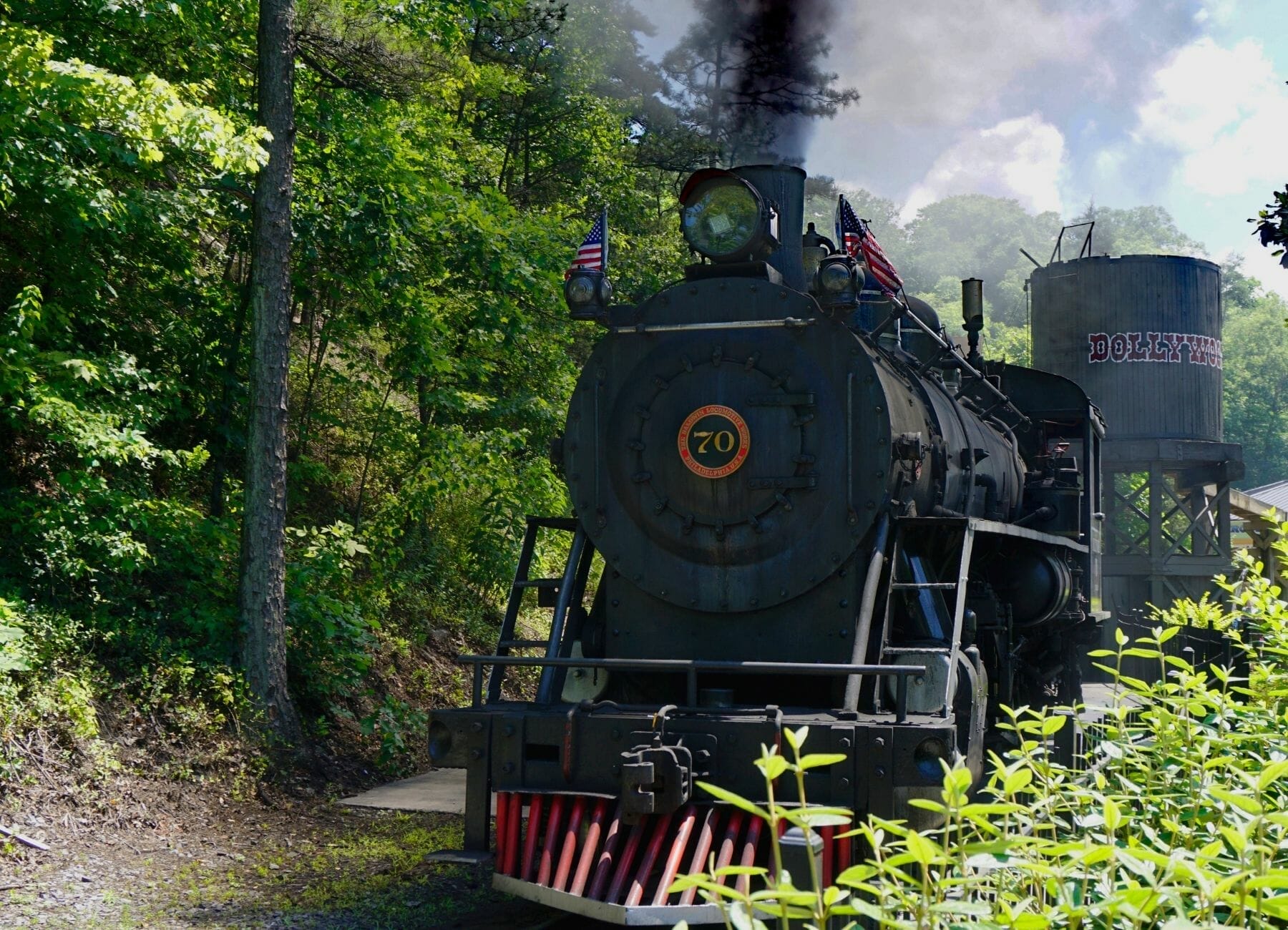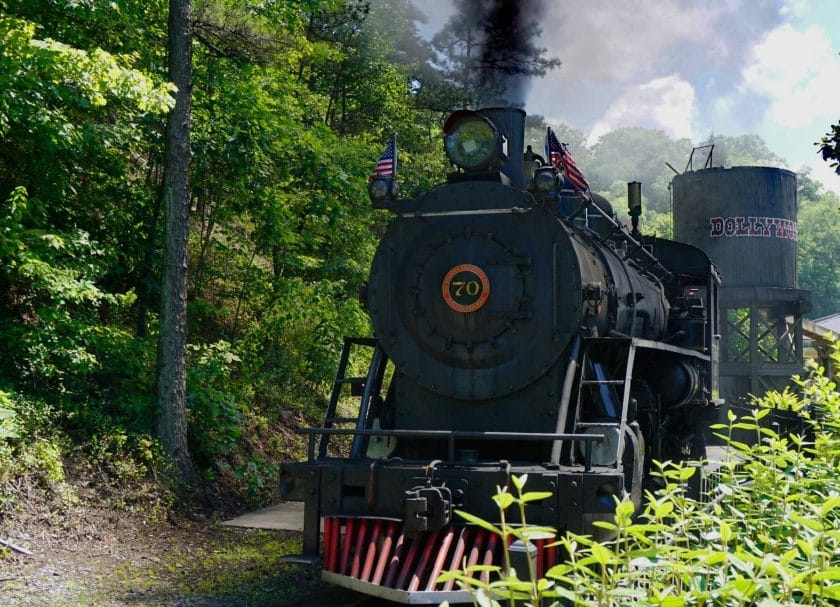 A classic ride that everyone must enjoy while visiting Dollywood is their Dollywood Express Train Depot. This train ride takes you through the foothills of the Great Smoky Mountains. Sit back and enjoy a 20-minute ride seeing some of the most beautiful scenery Pigeon Forge has to offer. The kids will love hearing the train engineer blow his train whistle!
Dollywood is one of the best theme parks in the world with a play area for kids of all ages! If you're able to purchase a 2-day (or more!) ticket to the park, it is definitely worth the cost, since you will not be able to explore the park in a single day.
Crave Golf Club
When visiting a new area it is always difficult to decide which attractions to explore and which attractions to save for another visit. Let me just say, this is one attraction that you need to check out.
Crave Golf Club in Pigeon Forge was voted the #1 mini-golf course in the Country featuring a 19-hole indoor course and a 19-hole roof-top course. Yes, you read that right! You have the option of playing miniature golf on top of the building!
Crave Golf Club is so much more than miniature golf. Here you will find a candy theme miniature golf course, mini bowling, a candy store, and even soft-serve ice cream.
Don't let the idea of rooftop bowling hold you back if you're visiting with a handicapped family member, the courses are handicap accessible so all can enjoy the fun at Crave Golf Club!
Pigeon Forge Snow
Such a unique attraction nestled in the Great Smoky Mountains. At Pigeon Forge Snow you are able to hit the slopes any time of the year since this indoor snowpark is open year-round.
Here you will not even need your parka since it is average 60-70 degrees indoors. You can hop on a tube for some snow tubing down the snow hills, or let the kids head over to the snow-covered kid's play area. This is one attraction you will not want to miss.
Escape Room
The Escape Game Pigeon Forge is a great indoor activity to do with your family! You and up to 8 people get put into a room and you have to figure out how to get out in 60 minutes. The rooms have unique props and setups and are filled with a variety of clues to help you figure out how to get out of the room.
We highly recommend taking your family to The Escape Game Pigeon Forge. You can learn more about our time playing the game at our post: THE ESCAPE GAME IS A UNIQUE AND AWESOME ACTIVITY.
Click here to buy your tickets for the Escape Game Pigeon Forge!
Hollywood Wax Museum Entertainment Center Pigeon Forge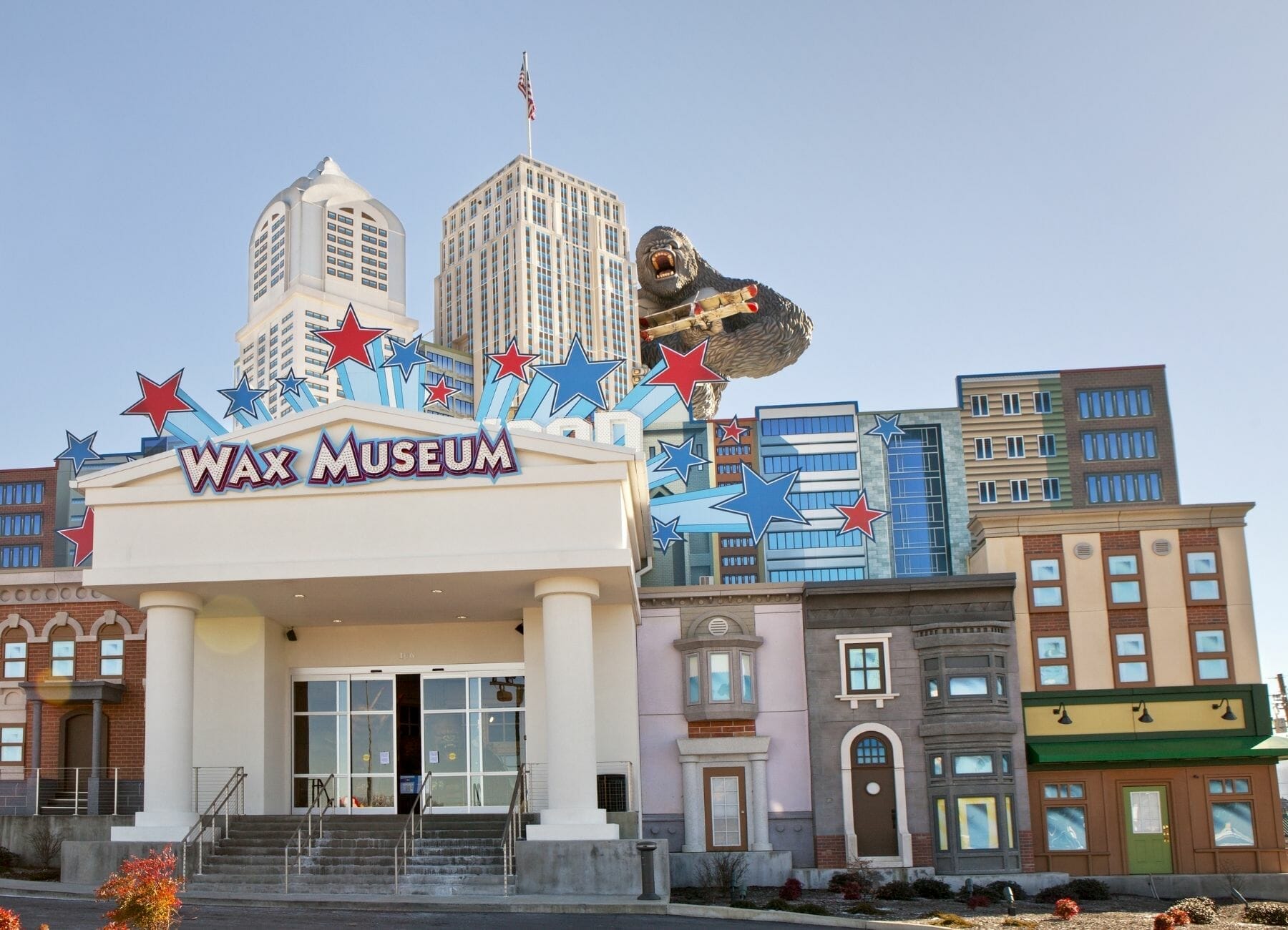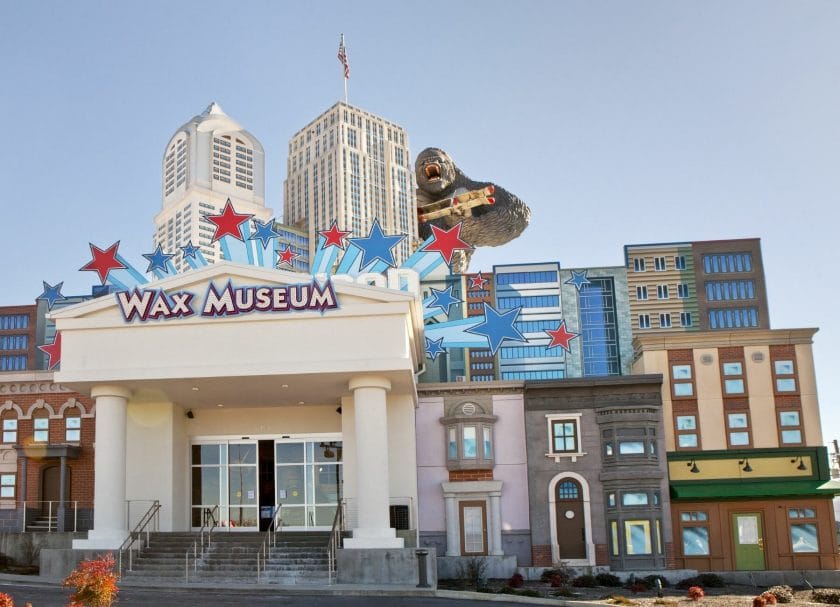 This attraction is a must-see when planning things to do in Pigeon Forge with kids! The Hollywood Wax Museum Entertain Center in Pigeon Forge is open 365 days a year, and you do not need to worry about the weather since it is an indoor attraction.
You will see Hollywood leading characters and are able to take a selfie with your favorites. To make taking pictures with the wax characters even more life-like, props are available. This can be really fun when you're taking a picture with your favorite Hollywood star!
Ripley's Old MacDonald's Farm Mini Golf Course
No family vacation is ever complete without a round of miniature golf. Pigeon Forge offers several different mini-golf courses in the area. One of our favorites that we keep going back to time after time is Ripley's Old MacDonald's Farm Mini Golf. This course is entertaining all the way through their 54 unique putt-putt holes, featuring your favorite animated barnyard characters and water features. Miniature golf needs to be on your list of things to do in Pigeon Forge with kids, it is true family fun!
Island In Pigeon Forge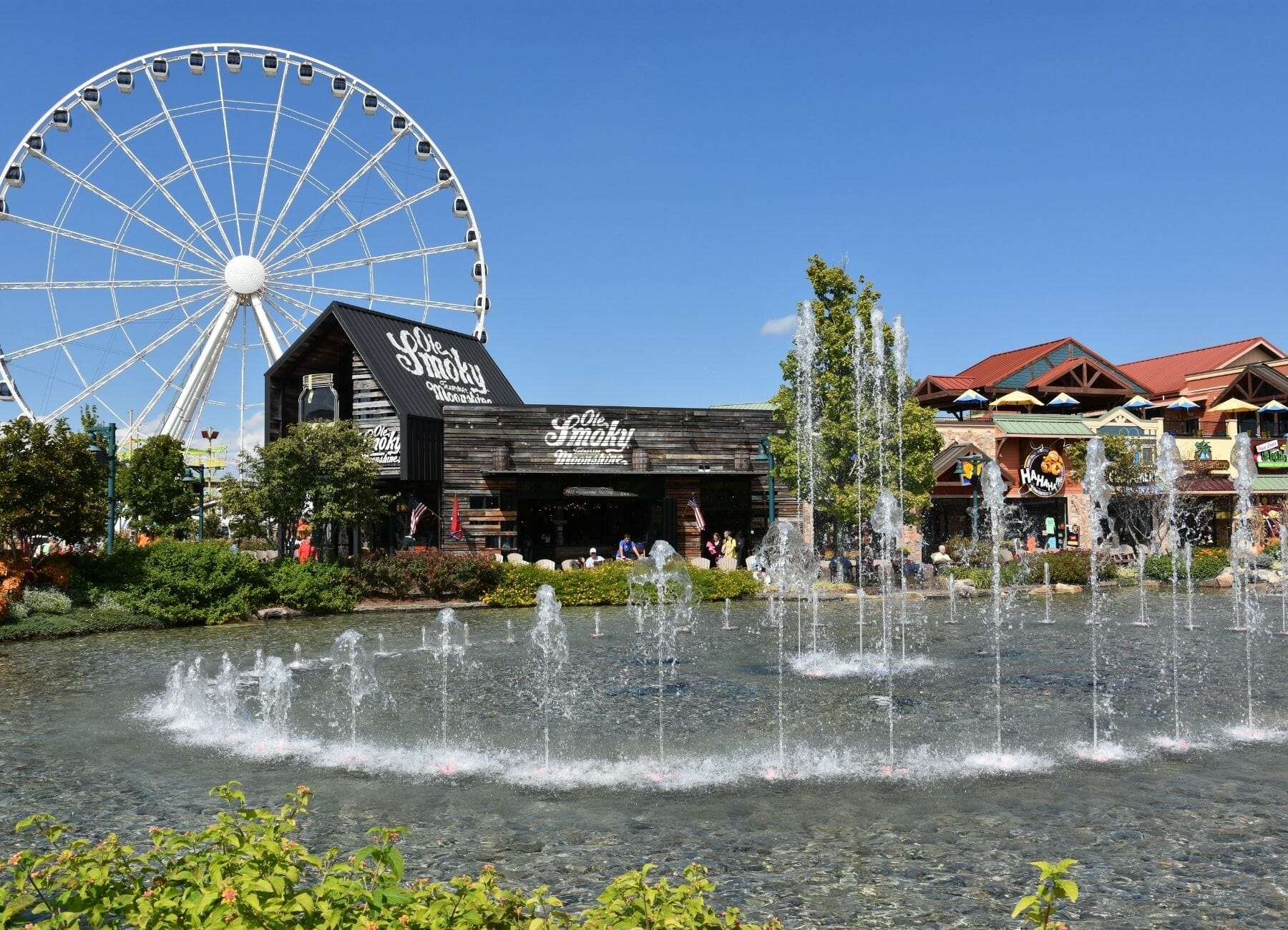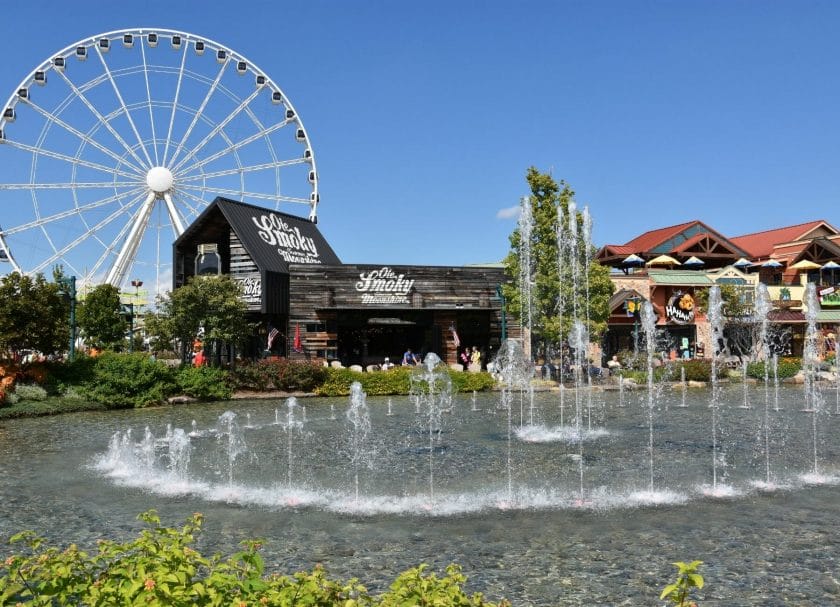 This is a favorite stop for our family every time we visit Pigeon Forge. There are so many things to do in Pigeon Forge with kids and this is one of them. Island in Pigeon Forge is a true adventure park with so much do to and see.
Island Pigeon Forge is located in a convenient location right off the strip, and here you will find places where you will want to shop, eat and even play!
While visiting with kids, they're always looking for something entertaining and fun to do. This is the place to go. Not only can the parents enjoy shopping and sweet treats like fresh-made fudge or ice cream, but the kids can also enjoy amusement rides, laser tag and more!
First up, and one of our family favorites when visiting The Island in Pigeon Forge, is the huge ferris wheel that you will see as you approach. The Great Smoky Mountain Wheel will give you a glimpse of the Smoky Mountain from 200 feet in the air and claims the title of one of the tallest attractions in the Southeast.
More fun is to be had when you walk over to The Island Ropes Course. Here you will find a 3-story attraction with two zip-lines and a simulated free-fall. There is no time limit on the course, so you will be able to play as long as you wish.
While visiting The Island Pigeon Forge, my kids always enjoy their amusement park rides. You can purchase one ticket and it gives you unlimited rides for 48-hours, which is convenient and budget-friendly. They have a spinning parrots coaster, bumper cars, a carousel, and more thrill rides for the older kids as well.
The Island Pigeon Forge is truly the vacation experience for the entire family. Be sure to add this to the top of your list while visiting Pigeon Forge – you may even want to visit a couple of times!
Dolly Parton's Stampede Dinner Show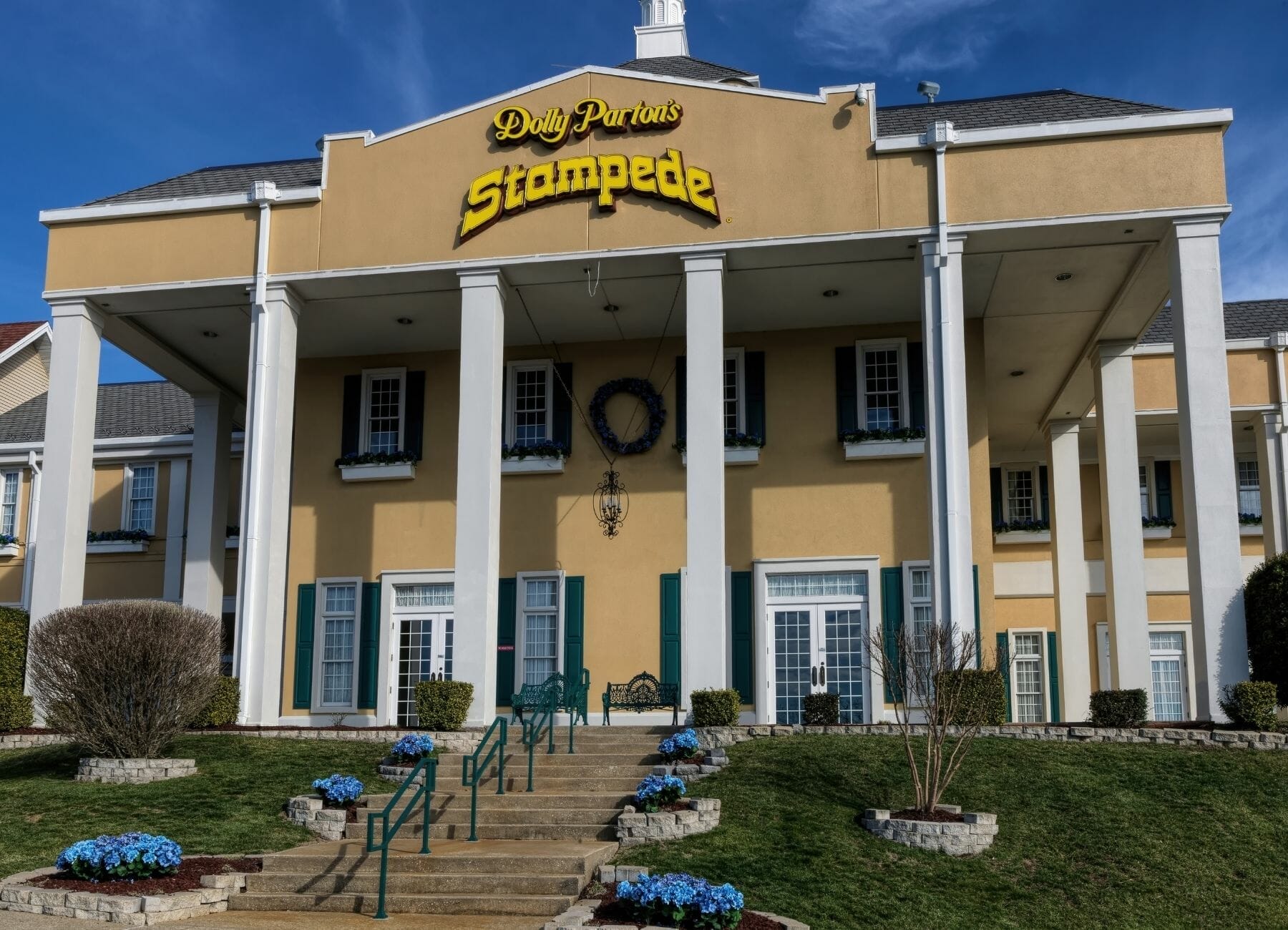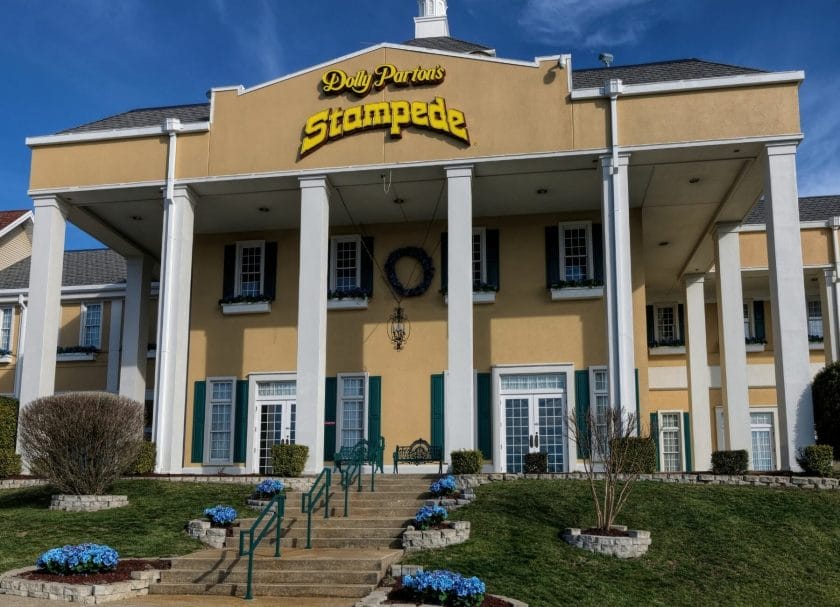 When I think of Pigeon Forge, Tennessee, one of the first people I think about is Dolly Parton. You will not be able to visit the area without seeing all that Dolly has invested to make Pigeon Forge the amazing family destination that it is today!
One of the best kid friendly attractions in Pigeon Forge is the Dolly Parton's Stampede Dinner Show. Although there are many different dinner shows in the area, such as Pirates Voyage, Dolly Parton's Dixie Stampede Dinner Show is one that never disappoints. You will enjoy the best entertainment in the area and a full-course meal, fit for a king.
The entire experience will last around 1.5 hours, so plan to be there early. You will enjoy browsing the gift shop and listening to the pre-show live music (a lot of people don't know about this!).
Where To Eat
With so many amazing places to eat in the Pigeon Forge area, you will want to be sure to have a list of your favorites that you'd like to try before your visit. We have our favorite staples that we always go back to every visit, but we always like to try something new also. Below are a few of our favorites that we think your family will love.
Paula Deen's Family Kitchen Pigeon Forge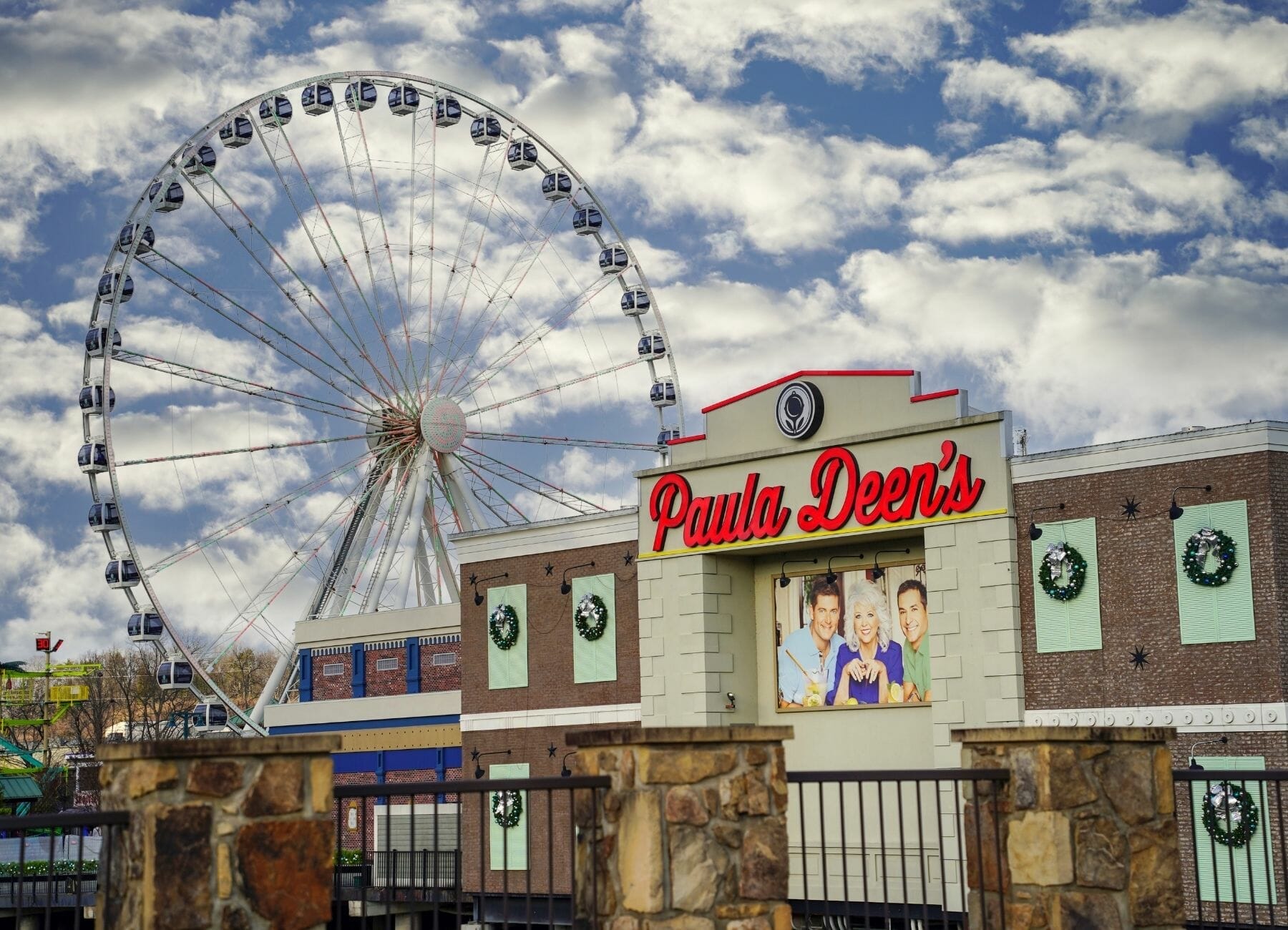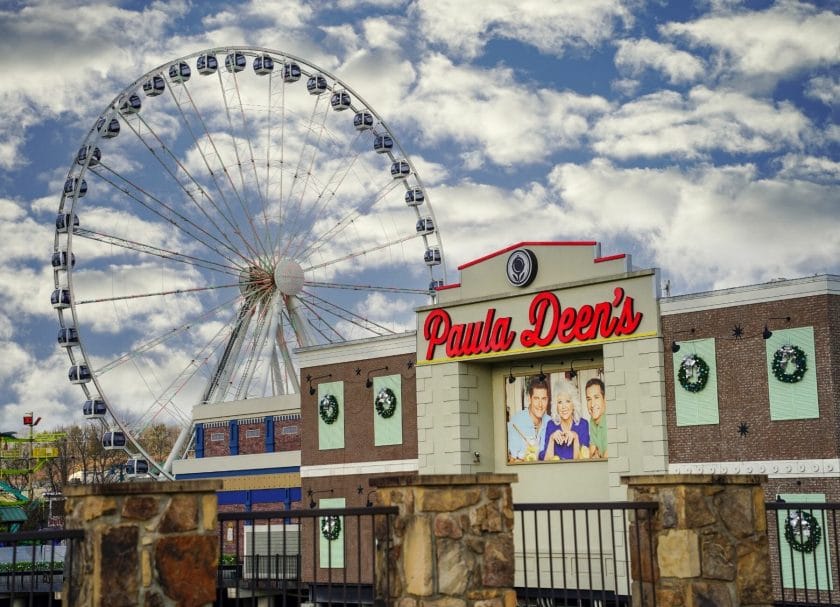 This is the place to go when you are ready to sit down as a family and enjoy a full meal together. At Paula Deen's Family Kitchen, the meals are served family style so the southern-style entrees and sides are brought to your table for all to share. Every meal also ends with a delicious dessert for the entire family. The menu and atmosphere are top-notch, and the entire family will enjoy their time at Paula Deen's Family Kitchen.
Margaritaville at The Island Pigeon Forge
Get ready for an evening of entertainment when you choose to have dinner at Margaritaville at The Island Pigeon Forge. The atmosphere is casual and family friendly and tropical colors fill the space where you will escape to island time. The fun at Margaritaville also takes place outside where they offer guests ample space to dine outdoors with music and even a large fire pit. All of this even before their delicious menu is mentioned. They have offerings for all in the family with a focus on seafood, burgers, and sandwiches. A favorite that I always seem to go back to is their Volcano Nachos – they have all of your favorite toppings and are large enough for the whole family!
Where To Stay
Cabin rentals are in abundance in Pigeon Forge so you will need to know what you are needing before searching for lodging, or it can get overwhelming. We've found some lodging options worth checking out when planning your Pigeon Forge trip.
VRBO
Misty Mountain Hideaway
When you say at the Misty Mountain Hideaway, the location and amenities will keep you wanting to come back. It's a 3 bedroom cabin rental located in a resort. You will have your own space (and hot tub!), but because it's located in a resort, you will also have access to their additional amenities, including a heated outdoor pool during the summer months.
Grace Mountain Cabin
Located only 1.5 miles from the parkway for easy driving access, Grace Mountain Cabin has all of the amenities and space needed for a family. It is a 2 bedroom 1 bath cabin, with the master bedroom on the main floor. The second bedroom is in the loft area of the cabin, but for a little less money, the kids won't mind a loft area at all! There is a hot tub on the property and the resort area offers a swimming pool during the summer.
Hotel
The Resort At Governor's Crossing
If you're looking for a resort that really offers it all, The Resort At Governor's Crossing will mark all of the boxes. There is an indoor waterpark and an outdoor seasonal waterpark, both offering thrilling water slides, more than 5 pools on the property, and a lazy river – this is the place to stay year-round. And don't forget the location, this is located only 3 miles from Dollywood.
Campground
Camp Margaritaville RV Resort & Lodge
You cannot go wrong when choosing to stay at Camp Margaritaville RV Resort & Lodge. Whether you're staying in your own RV or you choose to stay in the lodge, your experience will be like none other. The location is beautiful and you will be surrounded by the beautiful Great Smoky Mountains as you relax after a long day of exploring and adventures.
Whether you're staying at the RV Resort or Lodge, you will enjoy the huge pool recreation area, Fins Bar, Pickleball courts, a children's playground, firepits to roast marshmallows, and even a dog park for our furry family members. Coming this summer is a new lazy river and duckpin bowling!
Camp Margaritaville RV Resort & Lodge is more than just a place to rest your head. Here you will find unique fun activities for the whole family!
Sun Outdoors Pigeon Forge
This campground offers all you could ask for, and more! Sun Outdoors Pigeon Forge has RV spots and cabin rentals, and fun activities for all. Multiple pools are on the property and even a lazy river and splash pad for the kids. Get ready to have some fun when staying here!
Cove Creek RV Resorts
Enjoy the views of Cove Mountain from your RV spot or cabin rental at Cove Creek RV Resorts. This luxury RV resort offers a pool, a general store, and breathtaking views.
More Info Check Out:
Top 4 Indoor Water Parks Tennessee
Tennessee Road Trip – 1 Week Itinerary For An Amazing Trip
Top 4 Amusement Parks In Tennessee You Need To Visit
Top 8 Fun Things To Do In Knoxville With Kids
10 Favorite Things To Do In Memphis With Kids
29 Absolutely Enjoyable Things To Do In Nashville
Pin This Post: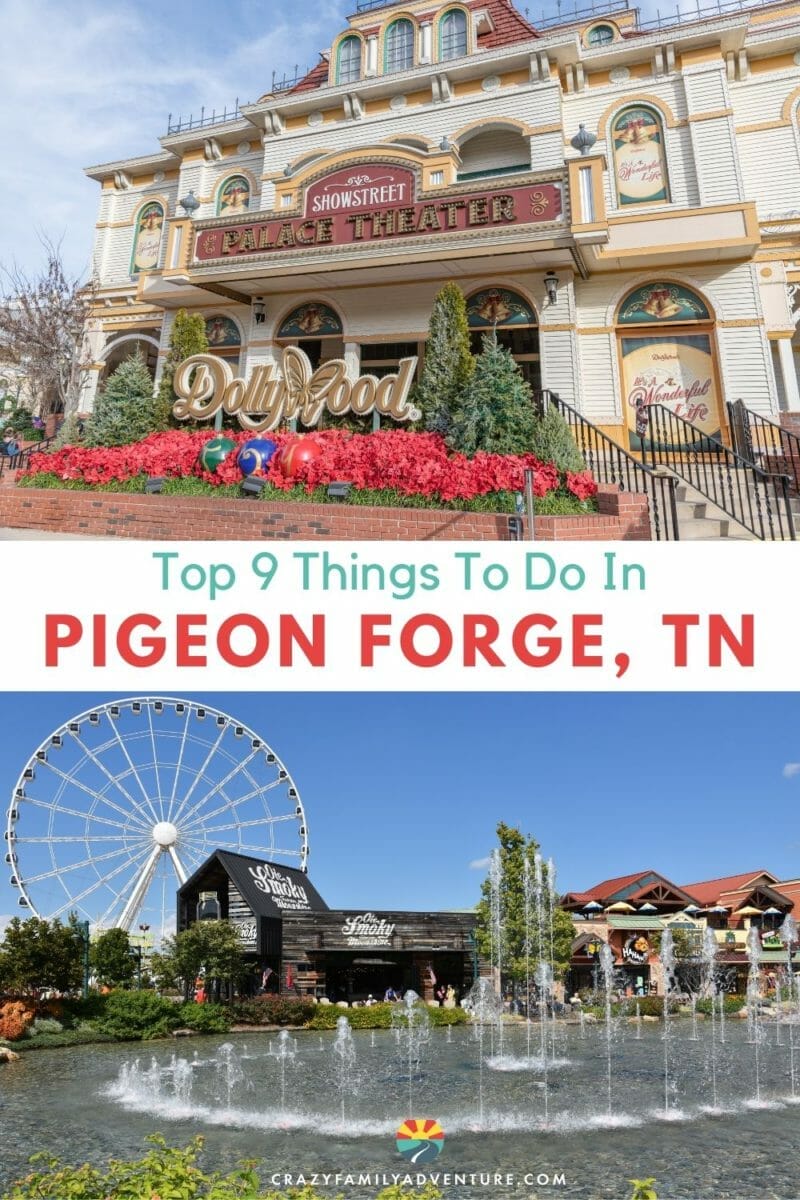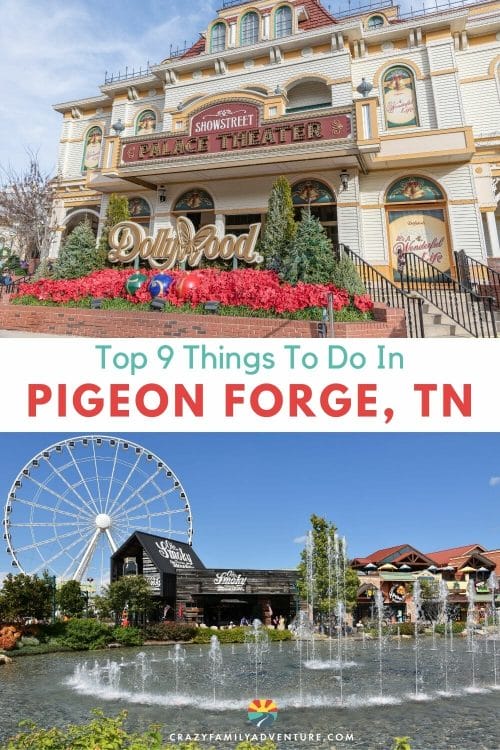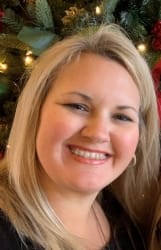 Latest posts by Jessica Spears
(see all)
DISCLOSURE: This post may contain affiliate links, meaning I get a commission if you decide to make a purchase through my links, at no cost to you. Please read my disclosure for more info.