A thriving college town with a historic district offering museums, galleries, and restaurants, there are many exciting and unique things to do in Knoxville with kids. You will find outdoor fun and adventure at the Ijams Nature Center, including hiking trails and zip line courses, or take the elevator to the top of the Sunsphere to see the city from the top looking down.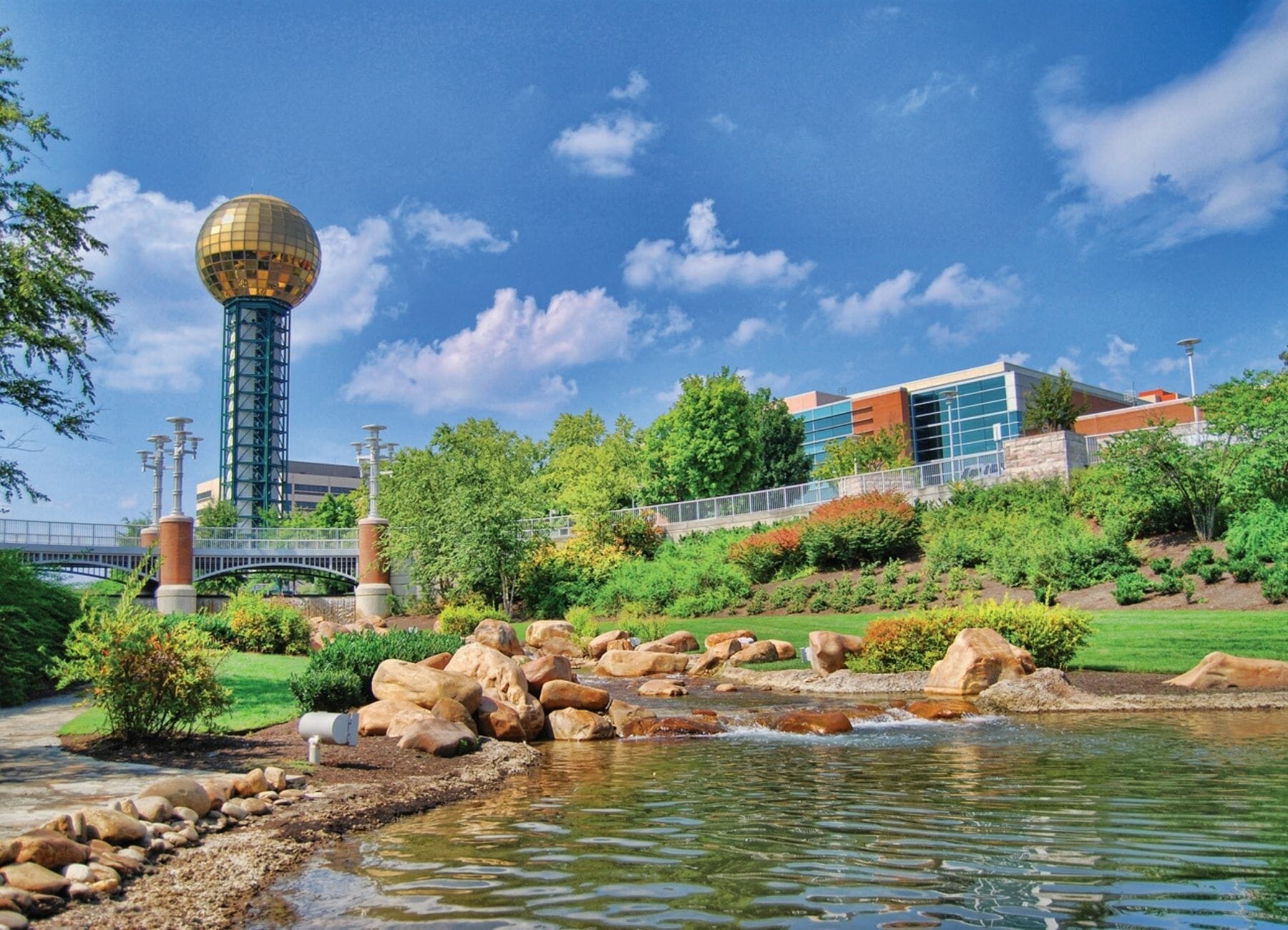 If you prefer indoor activities, the Tennessee Theater may be at the top of your to-do list. There are many activities and events always taking place in Knoxville, TN making it a top destination stop for families.
Our list of the top 8 things to do in Knoxville with kids will keep you entertained and having fun throughout the city! Explore the city of Knoxville and be sure to grab a bite to eat while there. The kids will love having an old-fashioned ice cream soda float at The Phoenix Pharmacy and Fountain in downtown Knoxville.
Things To Do
Ijams Nature Center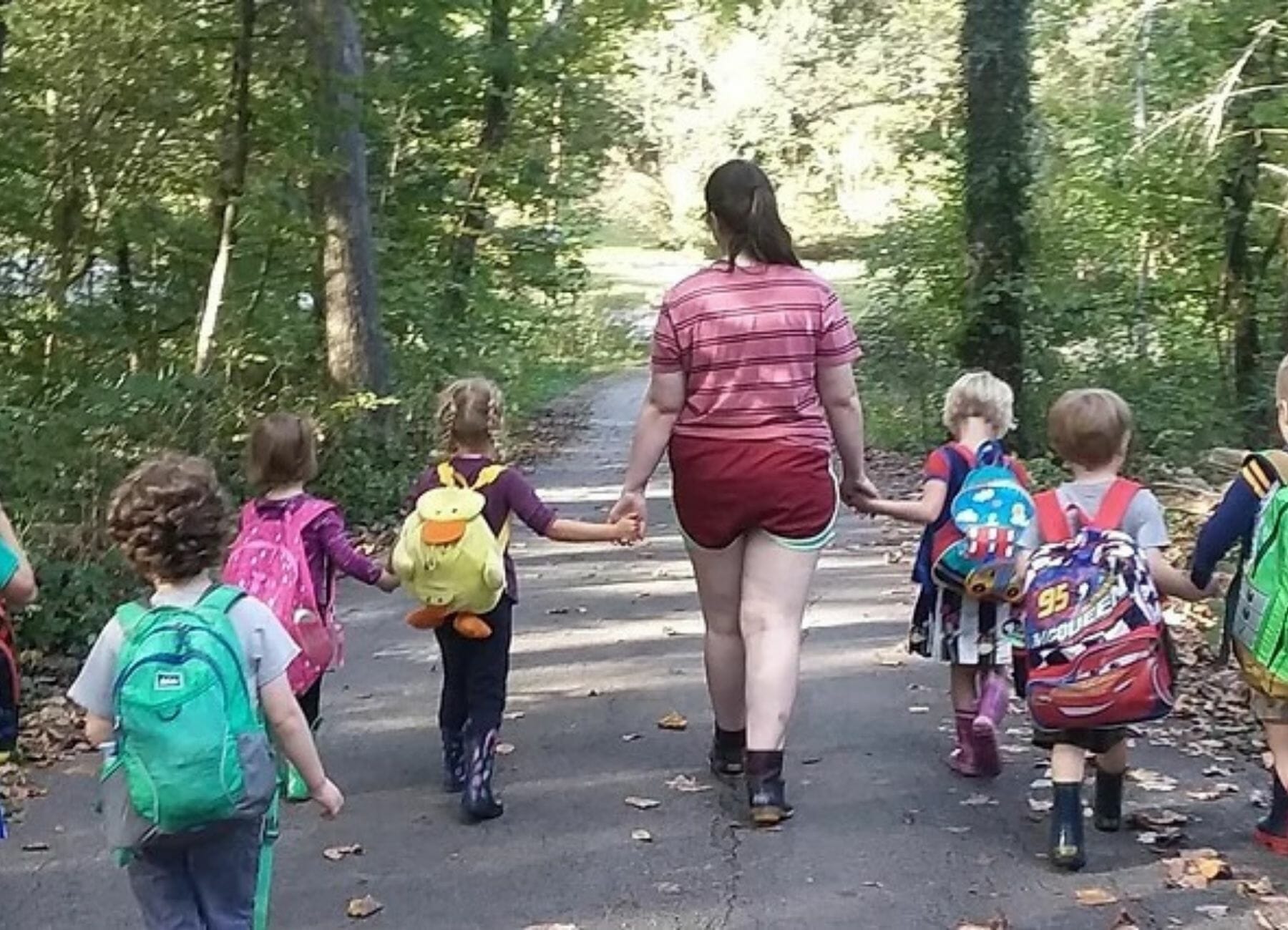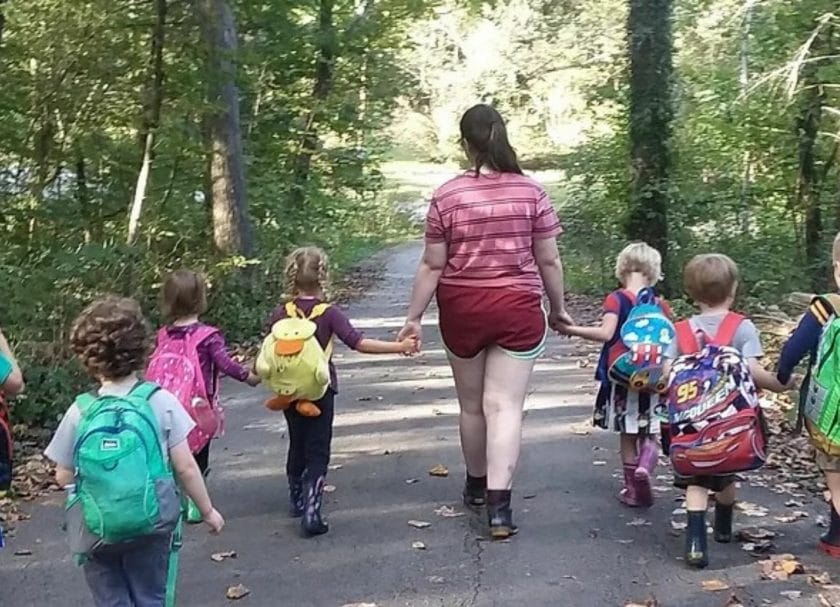 The Ijams Nature Center is located in Knox county and offers free space activities for the families to enjoy. When planning outdoor activities and fun things to do in Knoxville with kids, Ijams Nature Center checks all of the boxes.
You will discover over 10 miles of hiking trails and bike and canoe rentals. Ijams Nature Center helps all ages to connect with nature and enjoy the outdoors.
One popular attraction is the Navitat. Here you can slide on zip lines, cross over bridges and swings and even go rock climbing. The Navitat has something for all ages from the new explorer beginning around 7 years old to the more advanced explorer.
Explore Blount Mansion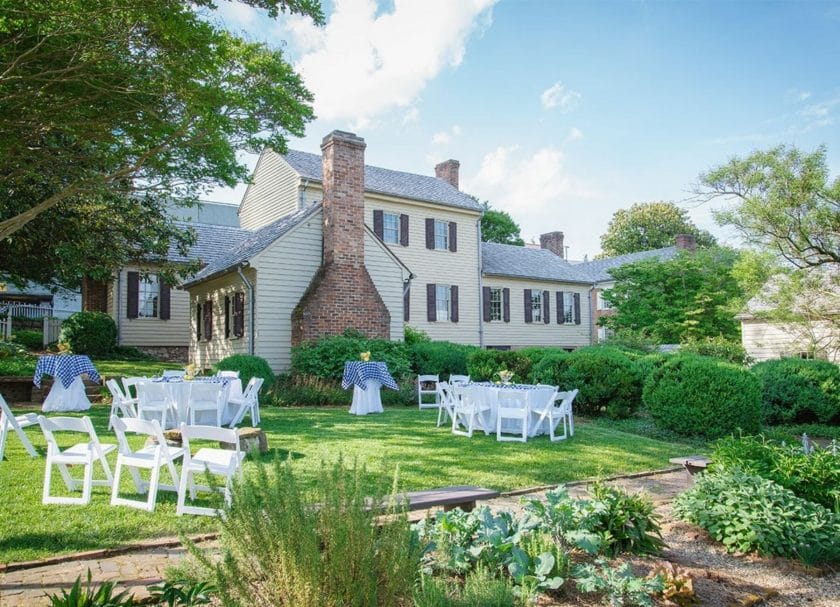 On the National register of a historic Landmark site in Knoxville TN, the Blount Mansion is the oldest operating museum in Knoxville, being in existence since 1926.
Blount Mansion was the home and capital of the only governor of the Southwest Territory, William Blount. Thanks to William Blount, a signer of the U.S. Constitution and others, Blount played an integral role in Tennessee becoming the sixteenth state of the United States.
At Blount Mansion, also known as "The Birthplace of Tennessee", you can wander around the property and take in all of the beauty surrounding the area. From the blooming flowers outside to the mansion itself, your eyes will be delighted with elegant beauty. The gardens on the property offer the only public gardens in the city of Knoxville.
Be sure to check out their website before visiting for events that may be taking place at the Blount Mansion. Online, you're also able to purchase tickets to make planning your visit to the Blount Mansion a little easier.
Visit The Sunsphere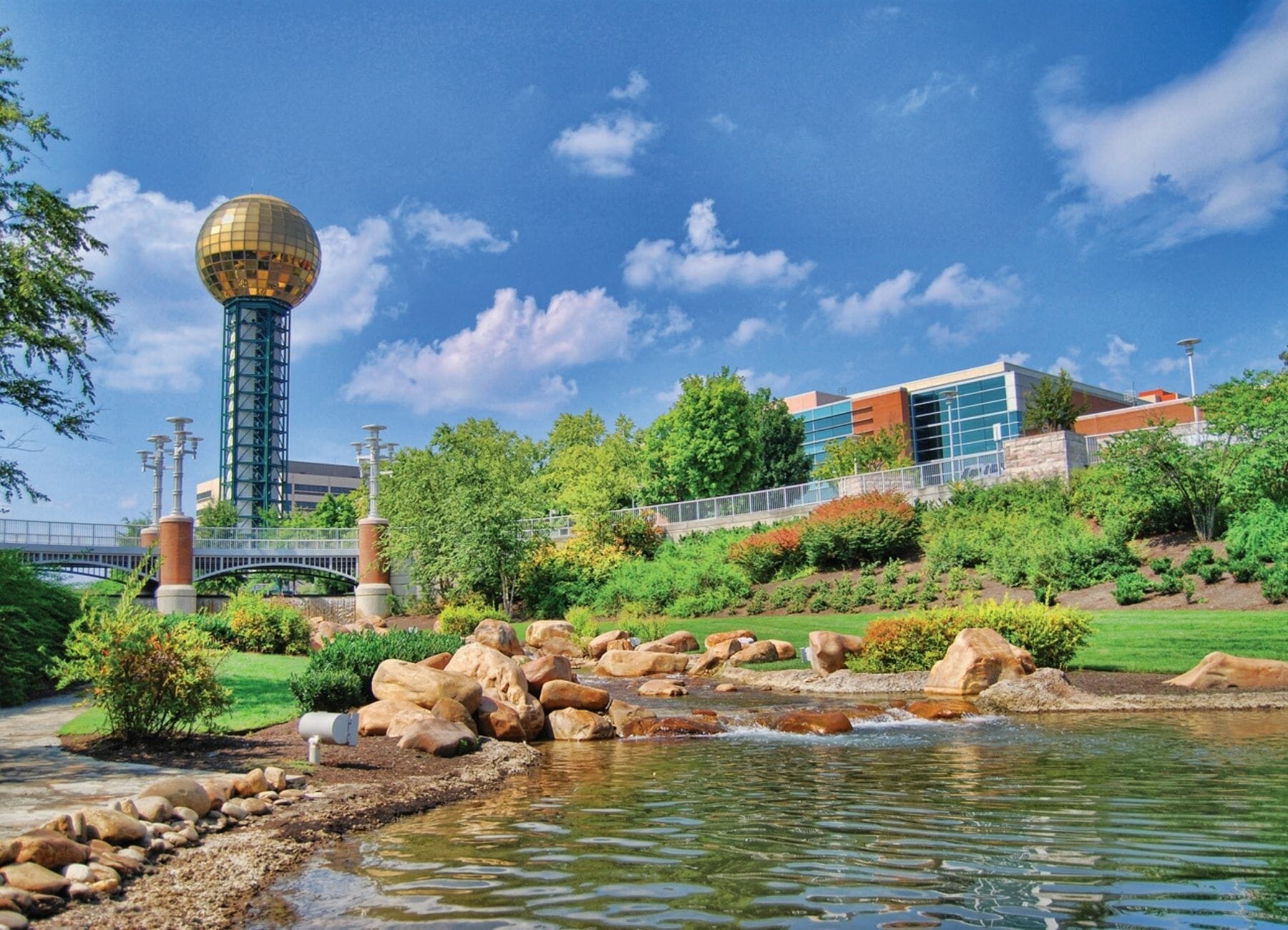 What better way to experience the city of Knoxville than by viewing it from above. The Sunsphere in Knoxville does just that. Take the elevator to the top for a full viewing of the city and so much more.
To experience the view from the observation deck, the fee is a minimal $5. To help keep you on budget when traveling with the family, any child under 12 is free with a paying adult.
The Sunsphere offers a 360-degree view of the original World's Fair Park, downtown Knoxville, the Tennessee River, the University of Tennessee, and the Smoky Mountains. Did you know that the city of Knoxville welcomed a world fair to their city – the 1982 World Fair? This was also the very last World Fair to ever be hosted.
Tickets can be purchased online, and are encouraged since during busy times there could be a wait. Each ticket purchased reserves your 30-minute Sunsphere experience. This is a thrilling activity that your kids will remember long after visiting.
McClung Museum of Natural History and Culture
Located inside the University of Tennessee, the McClung Museum of Natural History and Culture is an educational stop for families visiting Knoxville. Admission and parking is free, so don't let cost keep you away from this museum.
The McClung Museum of Natural History and Culture is a Smithsonian affiliate. While visiting you will get to see many prints on display around the museum. Be sure to check out their calendar of events before visiting. They offer many events that provide educational family fun.
Visit Zoo Knoxville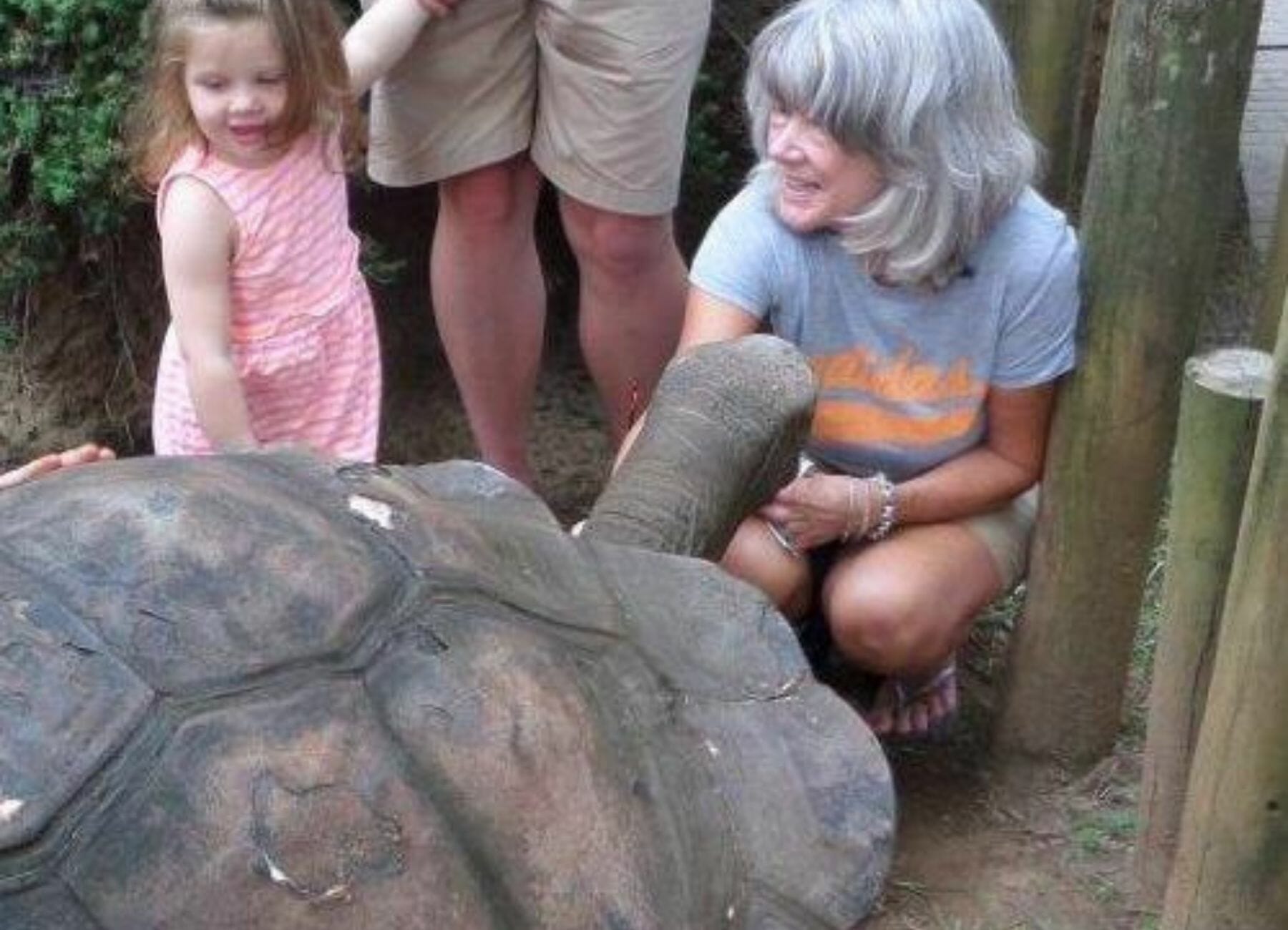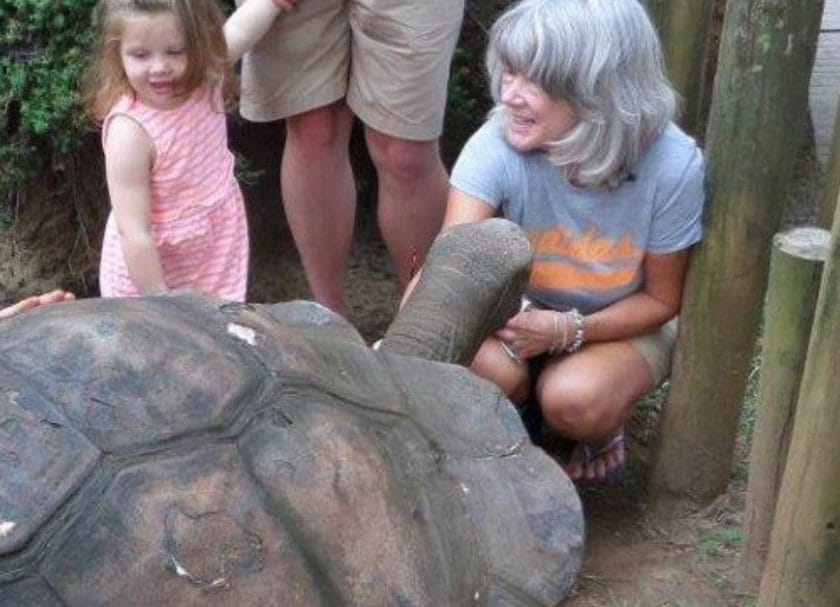 Lions and tigers and bears, oh my! A zoo is always a place for kids of all ages to explore. The Zoo Knoxville has many animals on exhibit that you will fall in love with and so many fun activities for the whole family.
One of the favorite animals at the zoo is the red panda. Did you know that Knoxville, TN is the Red Panda Capitol of the World? More red pandas have been birthed at Zoo Knoxville than at any other place in the world!
Take A Ride On The Zoo Choo Train
Take a ride on their Zoo Choo Train. Although it is an additional $3 from your general admission ticket, it is worth it for the memories you will make. The Zoo Choo Train ride is a kid friendly train ride taking you through part of the park and circling around their colorful koi pond.
After taking a ride on the Zoo Choo Train, head over to the Fuzzy-Go-Round, which is their unique carousel at Zoo Knoxville. It is also an additional $3 on top of your general admission ticket, but worth it for the nostalgic fun that you will have. You will have the choice of many animals, such as elephants, lamas, giraffes, or even an eagle when hopping on board their carousel.
Cool Off In the Splash Pads
If you're visiting Zoo Knoxville on a hot summer day, be sure to plan some time to play in the splash pads at the zoo. The Clayton Safari Splash is included with zoo general admission and includes life-sized giraffes with spouts to spray water and colorful giant flowers. The Clayton Safari Splash is over 5,000 sq ft of splashin' safari water fun that will be sure to cool you off on a hot day!
Catch A Show At The Tennessee Theater
When planning things to do in Knoxville with kids, check out the calendar or events at the Tennessee Theater. Of course, the entertainment is always changing, there is a good chance you will find a show your family will enjoy.
You may even be able to catch a performance of your child's favorite character like Daniel Tiger live on stage, or you may see a live music event on the calendar you don't want to miss. One of their shows that have been to the Tennessee Theater is – The Blue Man Group. The Blue Man Group is a show that will have you hearing original music with custom-made instruments and creative set design and dance.
When you think Tennessee Theater, think family friendly entertainment!
Knoxville Museum of Art
Downtown Knoxville has so many activities for families, and the Knoxville Museum of Art should definitely be a stop on your trip when planning things to do in Knoxville with kids and traveling with older kids who will enjoy the beautiful art exhibits.
At the museum, you will get to explore multiple exhibits currently on display. The exhibits cover a range of topics from civil war, Asian American Art, Art From East Tennessee, Women In History, and many more. One of the most popular displays is Cycle of Life: Within The Power of Dreams and the Wonder of Infinity.
Admission to the museum is free making this a budget-friendly stop in Knoxville.
Sports Fans – Watch A Football Game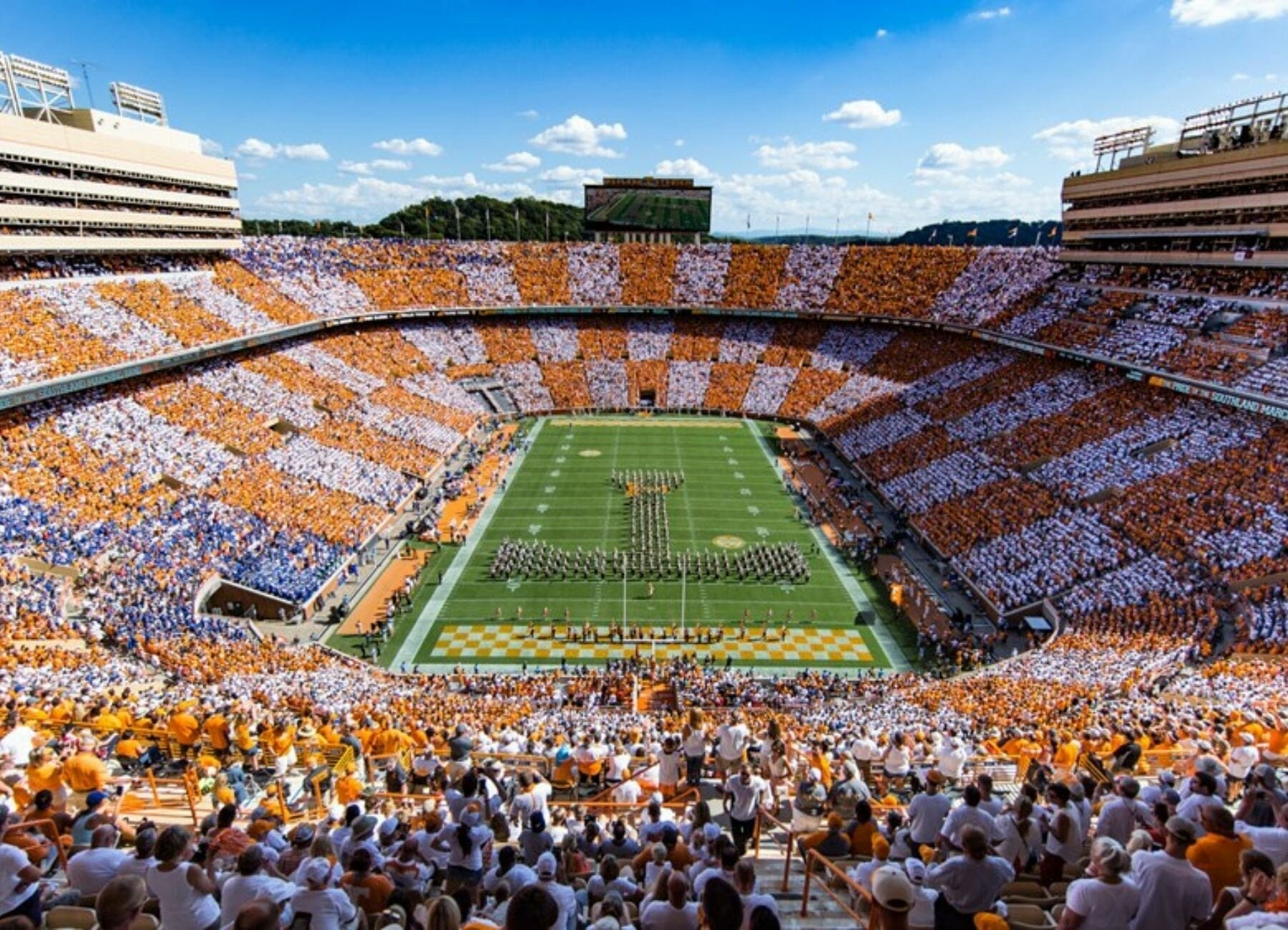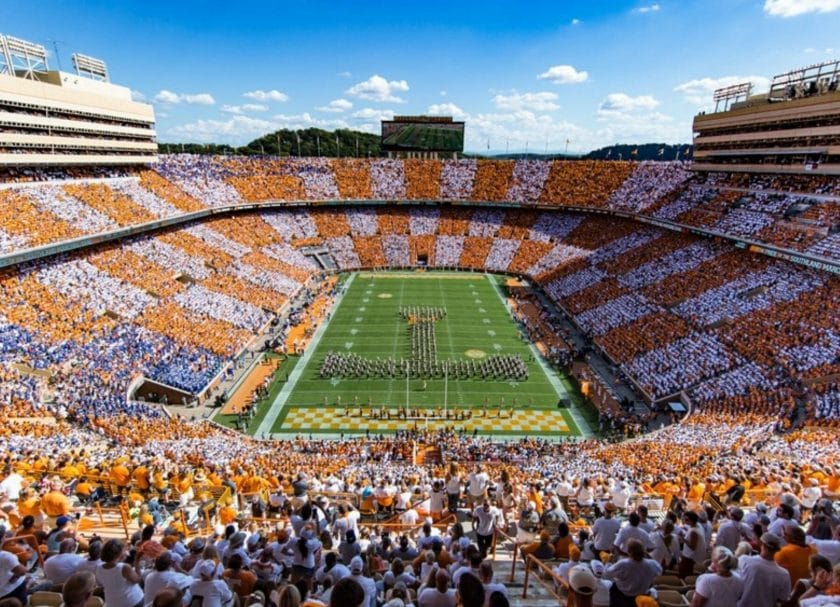 If you're traveling to Knoxville and it is football season, be sure to check the calendar for Neyland Stadium to see if the University of Tennessee has a home game. College football games are so much fun to attend and the kids will enjoy listening to the band as they march across the field. Activities take place at Neyland Stadium throughout the year, so check out their calendar of events before attending to see if you can catch a game while visiting the city of Knoxville.
Where To Eat
Come to the S&S Cafeteria when you are hungry and you will walk away satisfied. This is a down-home cooking cafeteria, with many items on their bar to satisfy the entire family. From fried chicken, baked chicken and prime roast beef everyone in the family will be sure to find something that sounds good for dinner.
And don't forget the kids. Dining out in any city can get costly, and quick. At S&S Cafeteria, any kids under 10 can eat for under $3 – and what family isn't looking for a good deal when choosing a restaurant.
A true Tennessean restaurant, The Stock & Barrel is a unique dining experience located on Market Square in downtown Knoxville. With two Tennessee locations, Nashville and Knoxville, you will get a true local's experience when dining here.
Come to The Stock & Barrel for their delicious craft burgers, where all of the meat used is sourced from a local family farm located in Blane, TN. Although this restaurant may not be entirely kid-friendly, we thought the food is worth mentioning. And if the kids are joining you, be sure to try a slice of the peanut butter pie – YUM!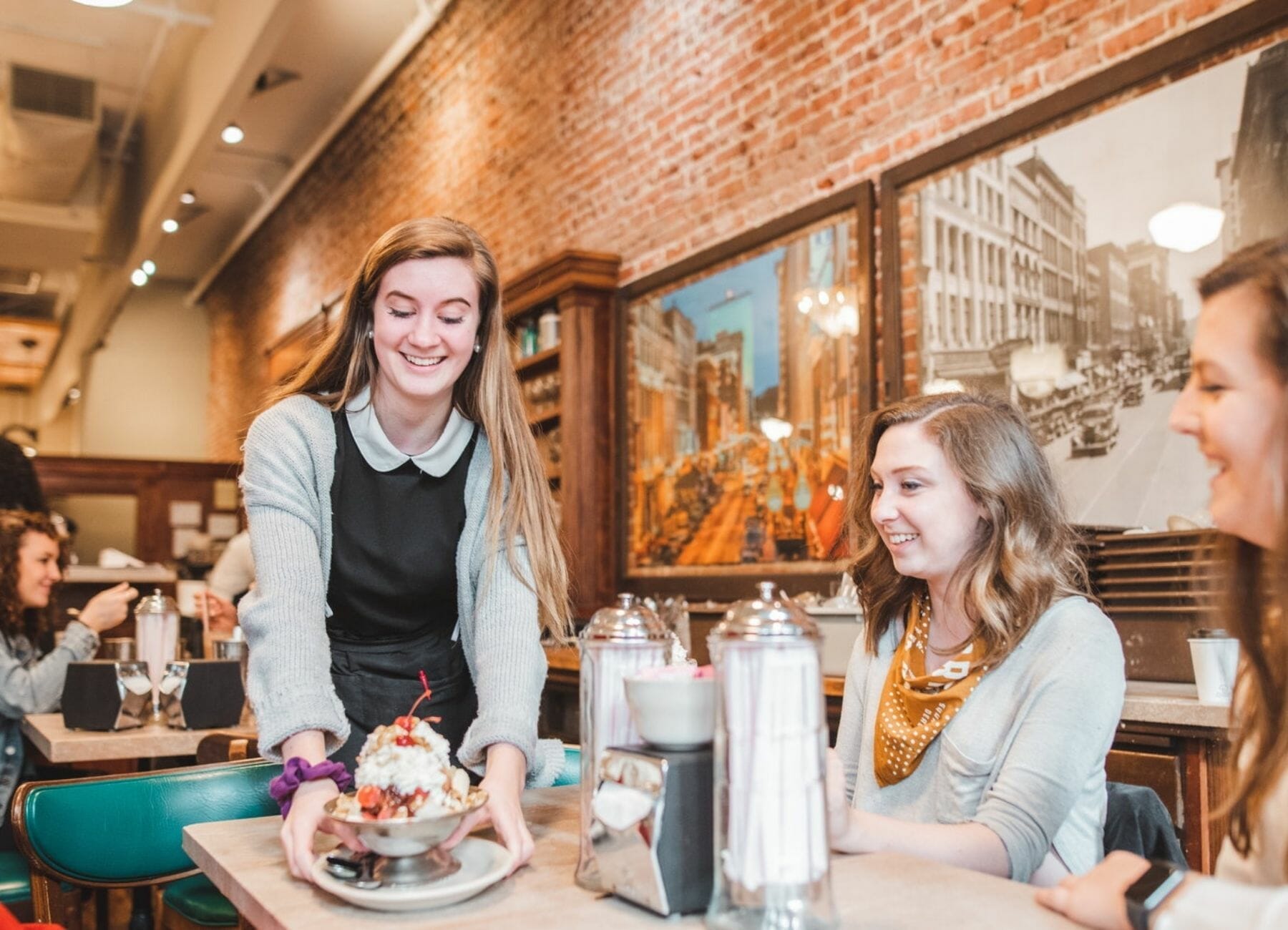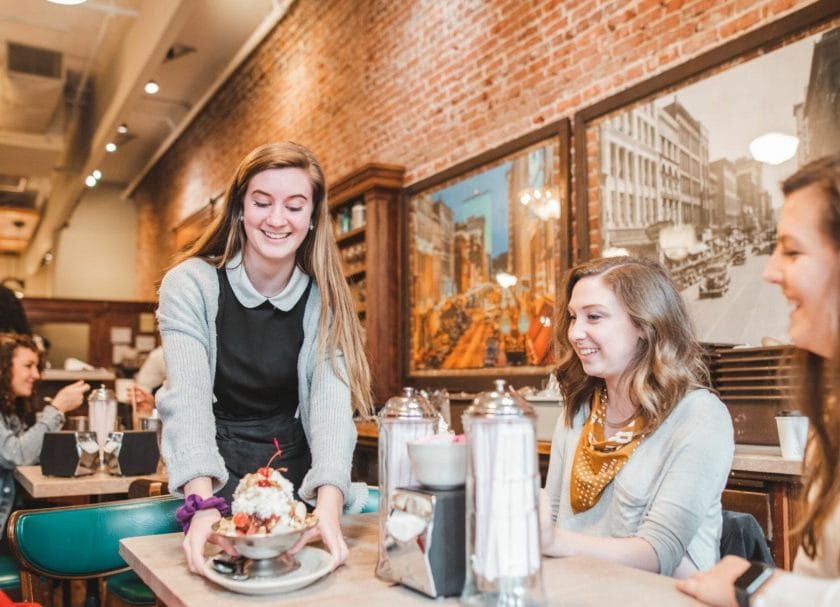 What better place to come for a sweet treat than an original soda fountain shop. Located inside a pharmacy in downtown Knoxville Tennessee, where you will be able to try some authentic hand-spun milkshakes or splurge on an old-fashioned root beer float. The Fountain, as locals call it, has some of the best milkshakes, sundaes, and ice cream floats around.
Where To Stay
VRBO
No need for a car when staying at the Market Square Apartment! This convenient location can host a small family since the property has a queen bed and a sleeper sofa. All things are within walking distance – the University of Tennessee, Museums, Art Galleries, Restaurants, and even the Sunsphere! This property puts you right in the middle of all things Knoxville.
This house rental is a little further out of the city, and with that comes some privacy and peace and quiet. The house can sleep up to 8 people, so this is perfect for larger families, or groups traveling together.
The location is still spot on, being only 1.2 miles or 5 minutes from the University of Tennessee, and only 2 miles from the Sunsphere. The Downtown Market Square Home is located only 15 minutes from downtown Knoxville.
Hotel
Hampton Inn & Suites Downtown Knoxville
The Hampton Inn & Suites Downtown Knoxville is a great choice for families. The property has an indoor pool for the kids to enjoy and offers a (free!) hot breakfast that every parent enjoys. The rooms are spacious and clean and the location can't be beaten.
The location of the property is directly across the street from the Convention Center and located close to the Zoo Knoxville and the World's Fair Park.
Located only 3 miles from Zoo Knoxville, the Crowne Plaza Hotel Knoxville is a great property that is within walking distance of many activities. The rooms are spacious and clean, and the amenities are fantastic. There is a breakfast and dinner restaurant on the property making it a convenient place to stay. There is also an outstanding indoor pool for the kiddos to splash in and burn off some energy.
Campground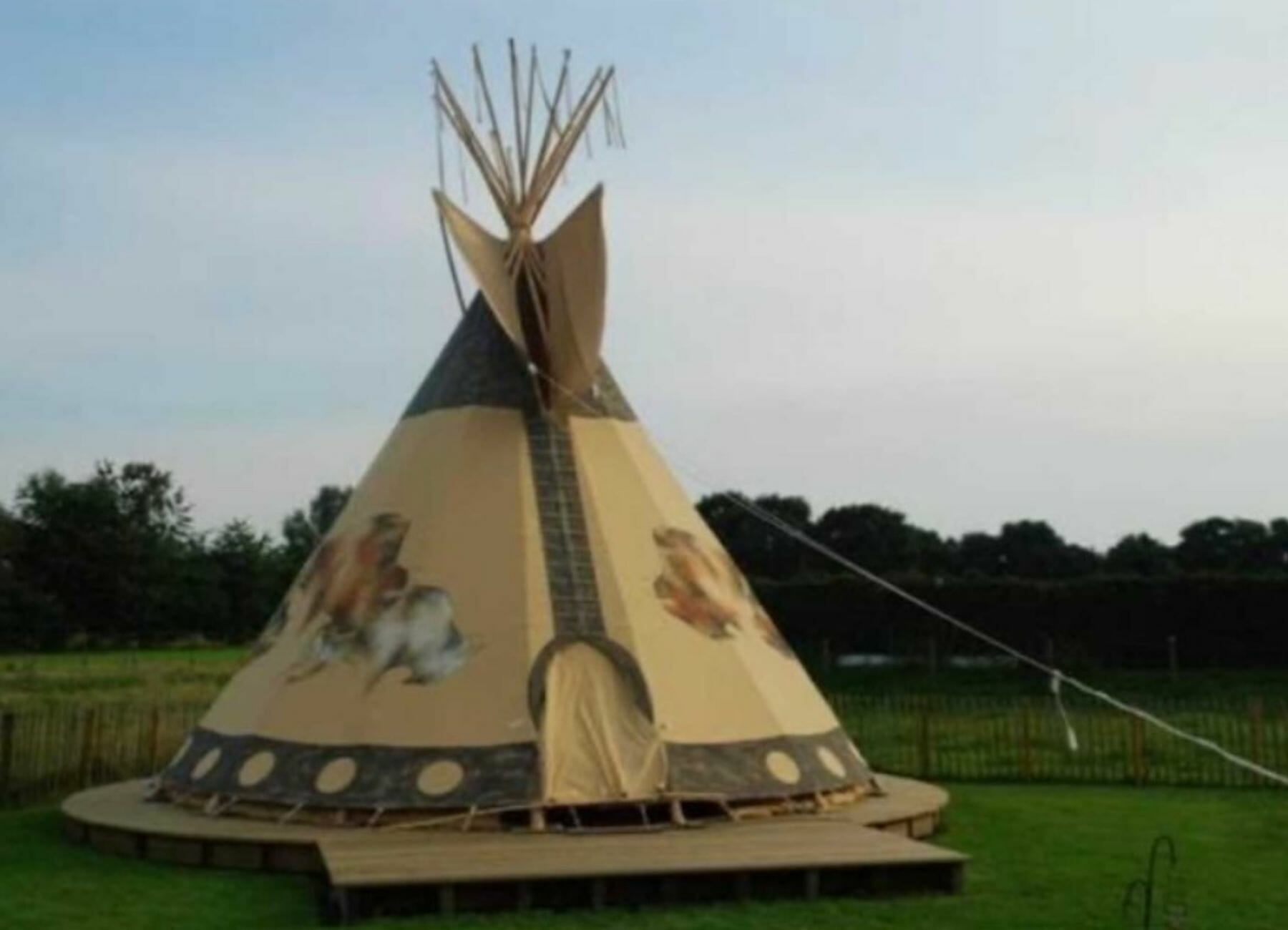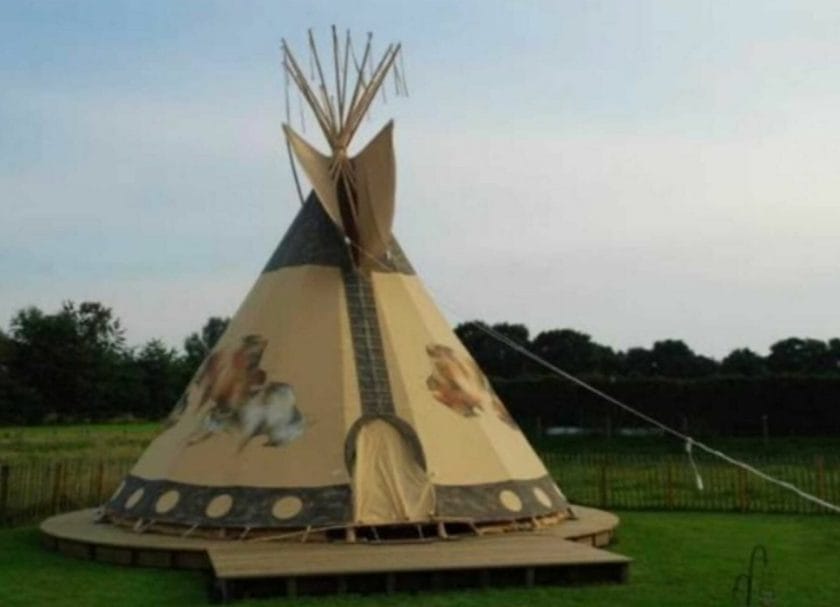 Located outside of Knoxville, Smoky Hollow Outdoor Resort is about a 20-mile drive to downtown Knoxville. This campground is so unique and worth mentioning, even with a short drive! This place is a complete glamping experience. You can choose between cabin rentals, tipis, treehouses, or even covered wagons for a unique stay.
Stop in at the visitor center to learn all that this property has to offer. There is an arcade on the property, along with a bathhouse and clubhouse. Golf cart rental is also available to make exploring the area a breeze.
Sun Outdoors Pigeon Forge Campground
Sun Outdoors Pigeon Forge is located about 20 miles outside of Knoxville, but it is the destination stop for any family. They offer cabin rentals and RV campsites. While here, be sure to check out their swimming pool area, complete with a lazy river, large swimming pool, splash pads for the younger kiddos, an arcade, basketball courts to shoot some hoops, and even a playground!
This location is perfect when wanting to explore the Knoxville area as well as the Gatlinburg and Pigeon Forge areas. In Pigeon Forge, you'll find activities like Dollywood, the Ripley's Aquarium, putt-putt golf, gem mining and so much more. These fun activities are sure to make any family vacation complete.
Plan Your Visit
Knoxville Tennessee is a city worth exploring when planning things to do in Knoxville with kids. Outdoor activities will bring adventure and give the kids a chance to explore the world around them. They will see tall skyscrapers downtown around the Sunsphere and have many outdoor adventures when visiting iJams Nature Center, whether they choose to keep their feet on the ground and take a hike or glide through the air on one of their exciting zipline courses. Knoxville has something for everyone to enjoy – have fun exploring!
More Info Check Out:
11 East Coast National Parks You Want To Visit This Year
10 Favorite Things To Do In Memphis With Kids
Tennessee Road Trip – 1 Week Itinerary For An Amazing Trip
Top 4 Amusement Parks In Tennessee You Need To Visit
9 Fun Things To Do In Louisville KY With Kids
Top 9 Things To Do In Pigeon Forge With Kids
6 Top Tips On Visiting Gateway Arch National Park
Pin This Post: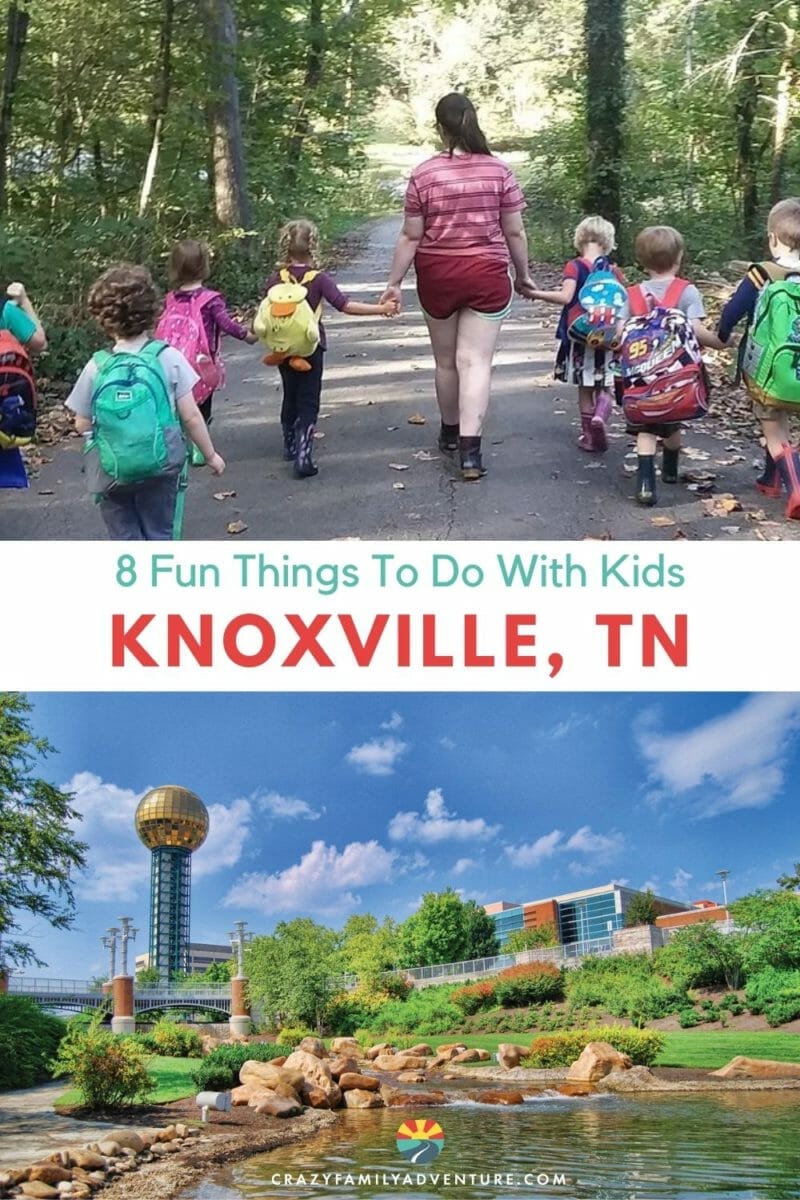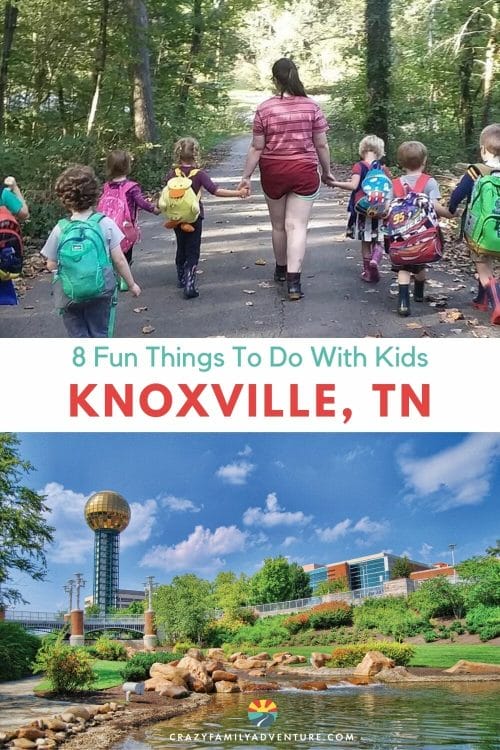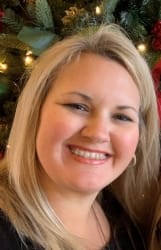 Latest posts by Jessica Spears
(see all)
DISCLOSURE: This post may contain affiliate links, meaning I get a commission if you decide to make a purchase through my links, at no cost to you. Please read my disclosure for more info.