One of the top things to do in Memphis when you visit is to spend time in downtown! Here you will find the famous Beale Street, parks, wall art, yummy restaurants, music, and ducks. Yes ducks. Read on to find out how to spend a day in downtown Memphis.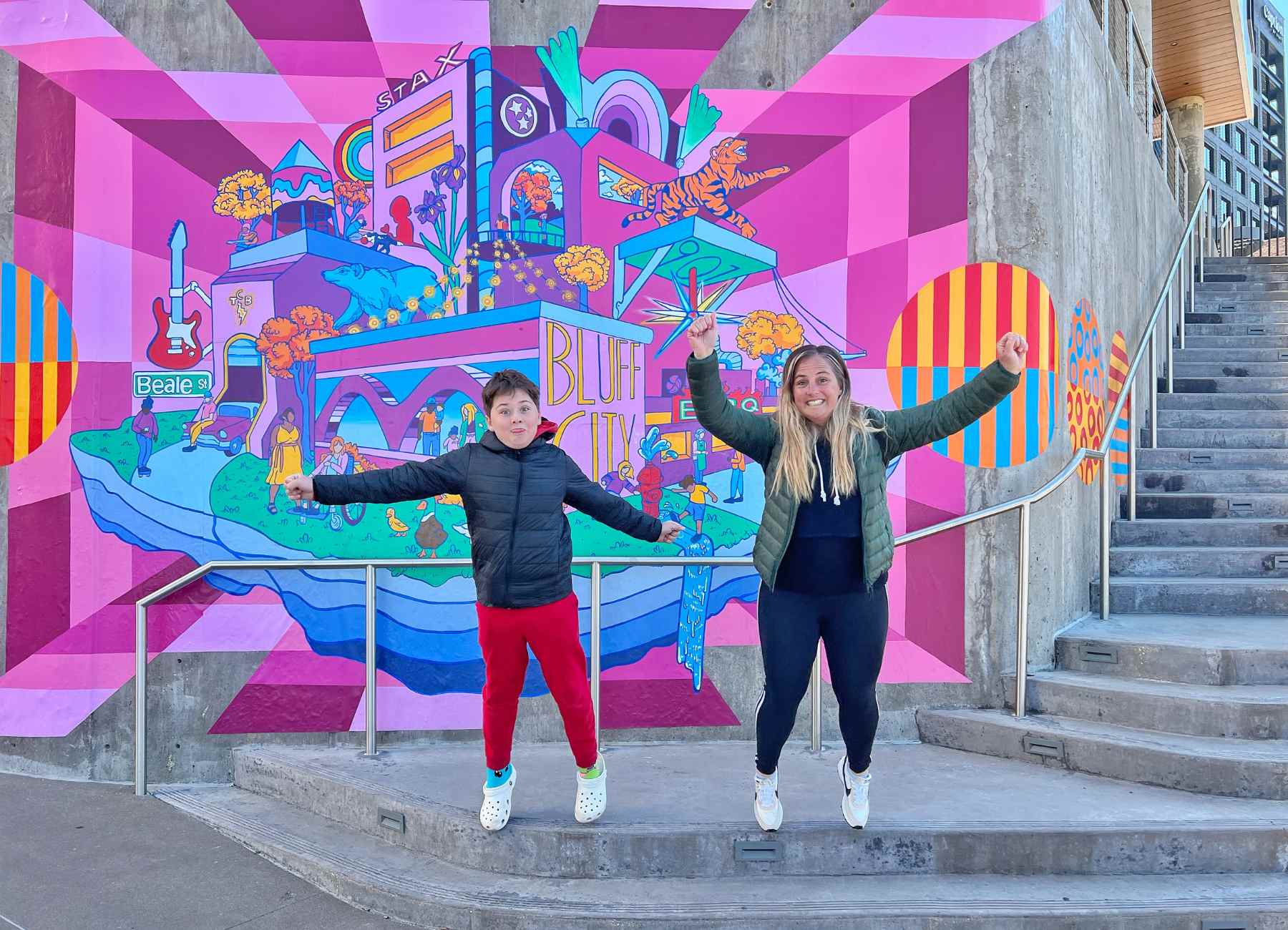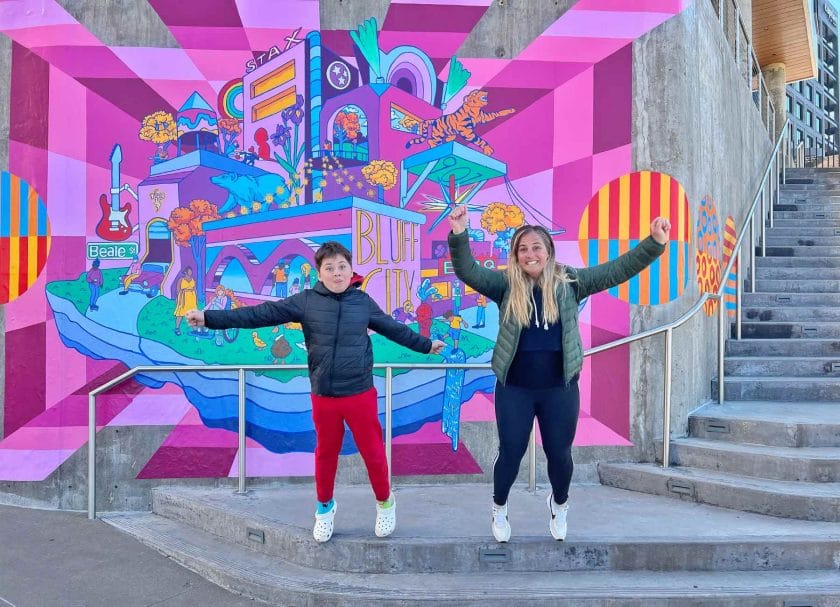 Getting Around Downtown Memphis
There are a variety of parking lots you can park in. They all have an app you can use to pay for parking or a kiosk in the parking lot and it isn't crazy expensive.
We recommend getting the app so you can stay on top of how much time you have left. There are instructions at the parking lot about how to get the app.
We always parked at the lot right next to the Hard Rock Cafe on Beale Street.
Once parked you can walk pretty much everywhere from here. But if you want to visit Mud Island or the Pyramid you will have to drive there.
Beale Street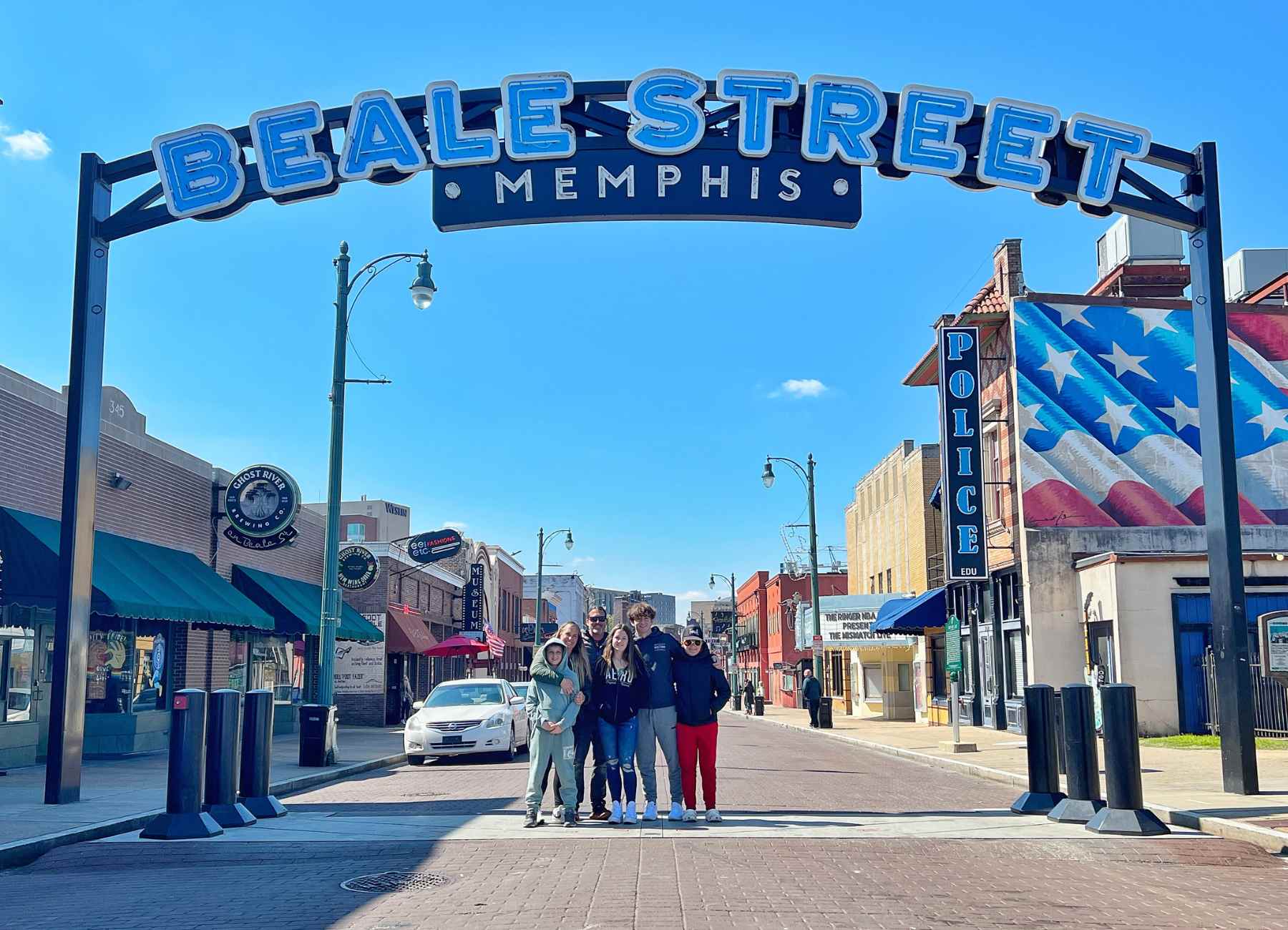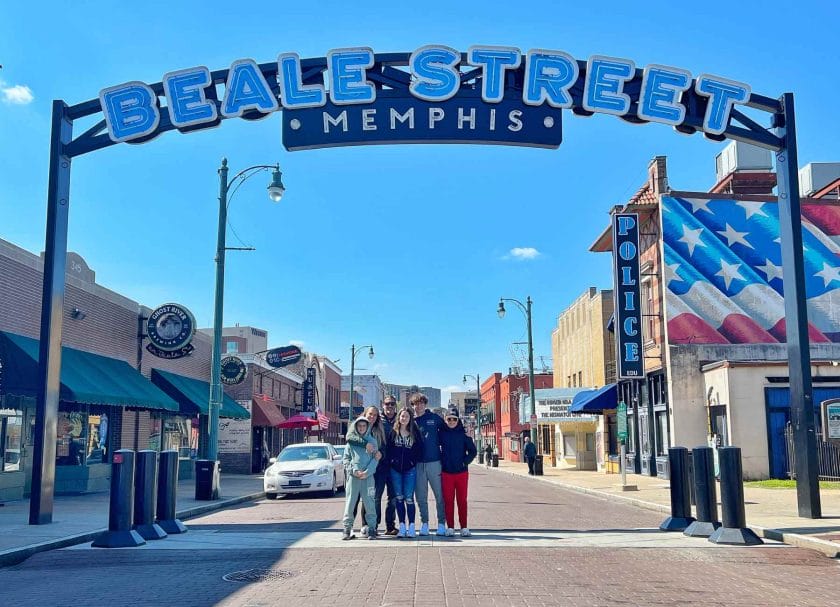 This is the main attraction in downtown Memphis. The famous Beale Street with its lights, bars and stores. You may hear live music on Beale Street during the day but have a much better chance at hearing music if you come at night.
A Schwab on Beale Street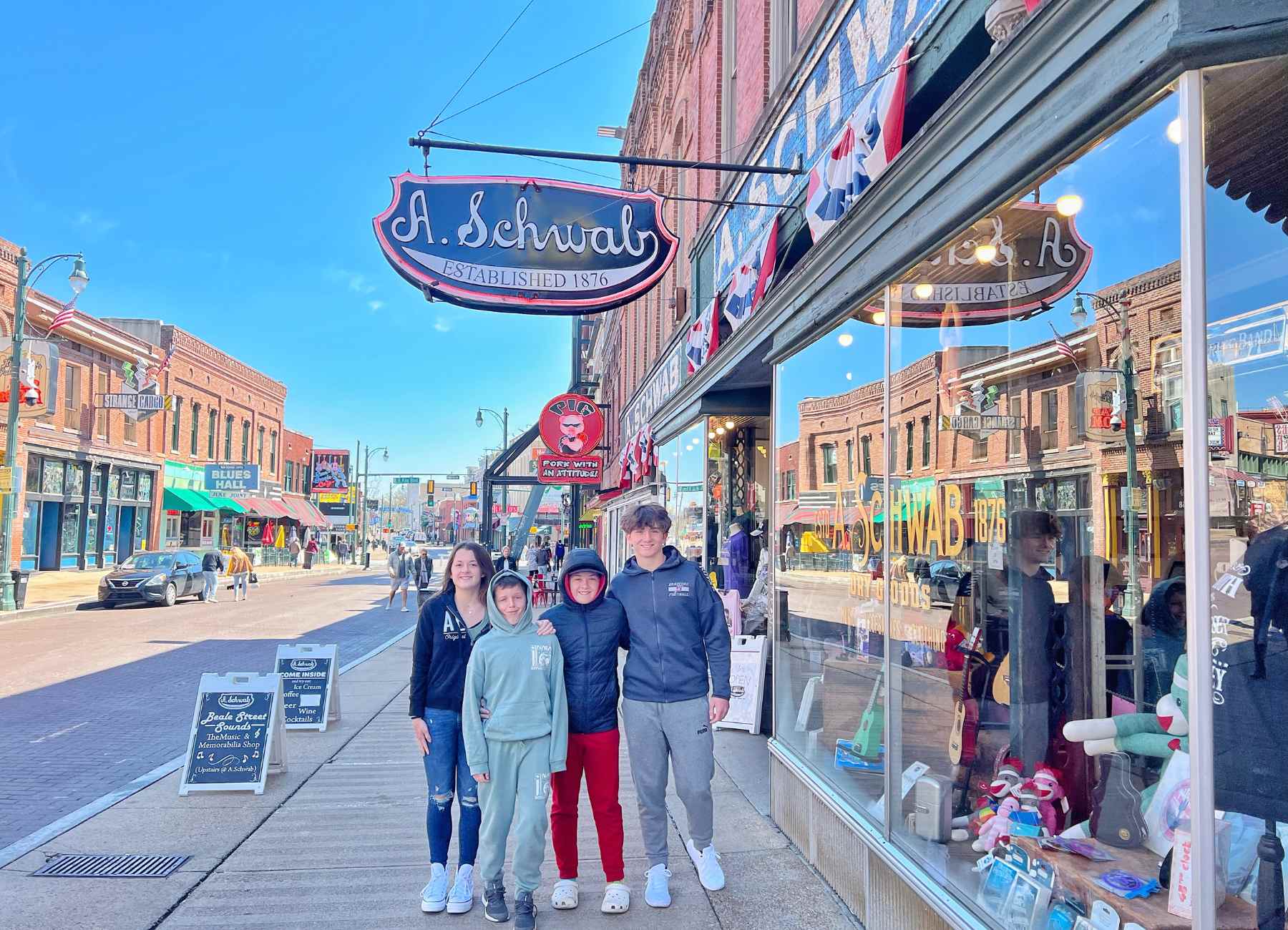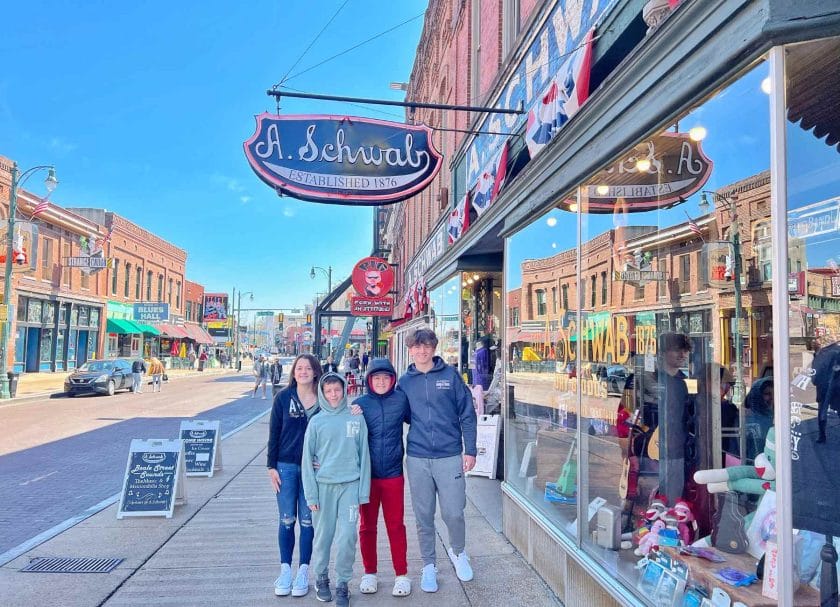 Stop into this famous general store that has been around since the 1800's for a fountain soda and to pick up your Memphis or Elive Memorabilia. We opted for a pair of Elvis sun glasses and some Memphis stickers.
The kids also tried the fountain soda. This was not your typical Sprite or Coke. But the kids still enjoyed their drinks. You can also get ice cream or a milkshake.
Beale Street Pictures
Grab a picture under one of the Beale Street signs. The one at the far end – opposite end of where the Hard Rock Cafe is, is better since cars can't drive on that part of the street so you can get a picture right underneath the sign.
Elvis statue – this spot is located kiddie corner from the Hard Rock Cafe.
Walk at Night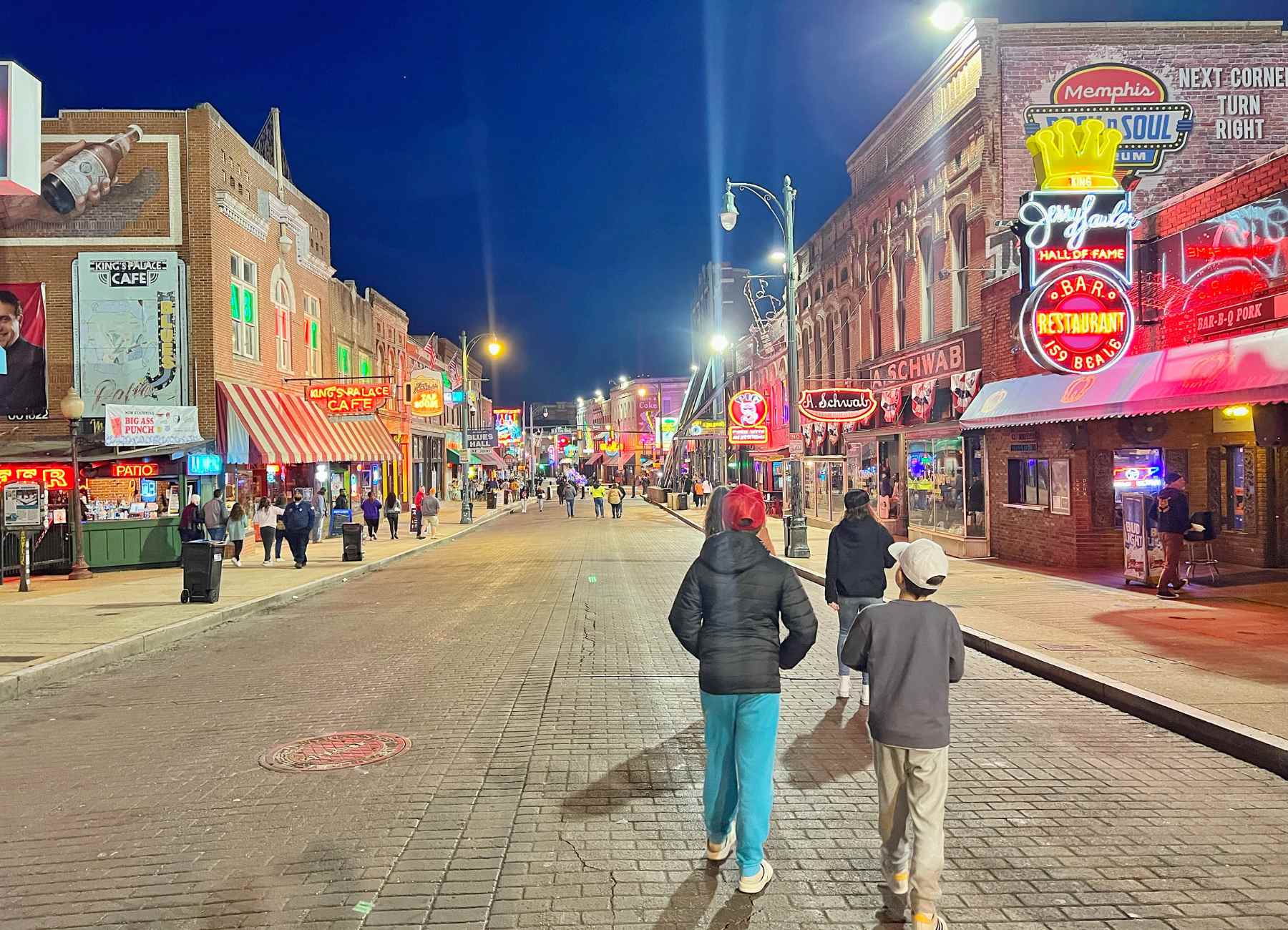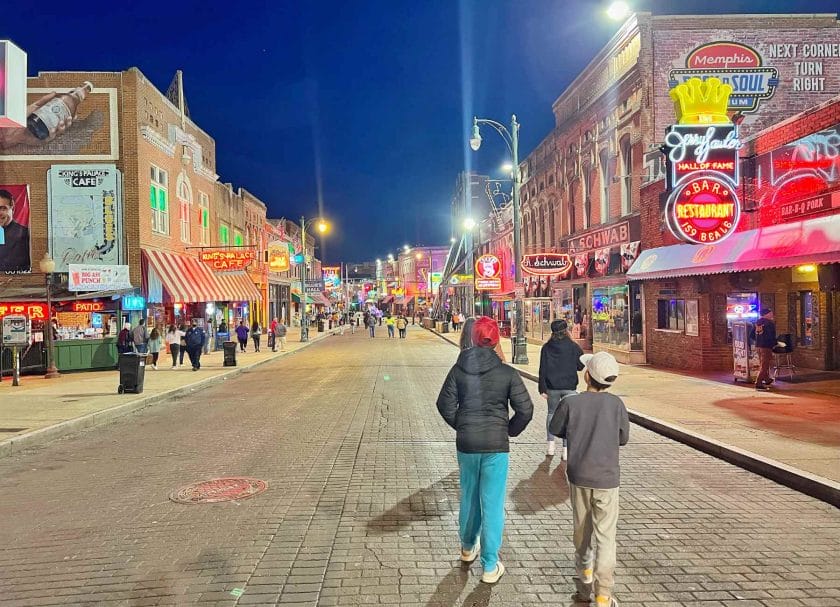 Come back at night to walk the street and listen to the live music coming out of the bars/restaurants. And to see the street lit up. We did this with our kids around 8/9pm and just walking up and down the street we could hear the music.
It was a cool experience and I am glad we went back at night to hear the music!
Pea Body Ducks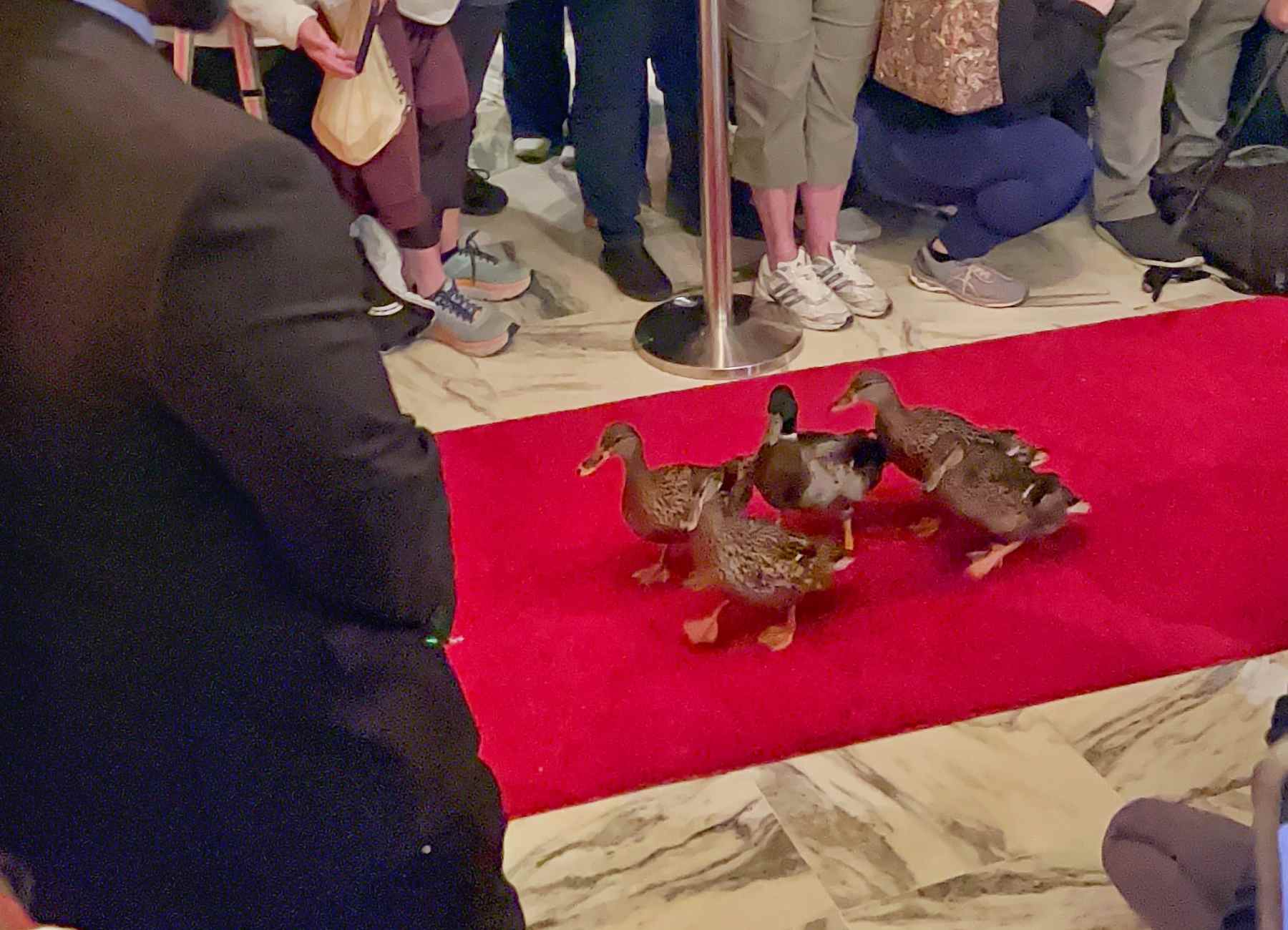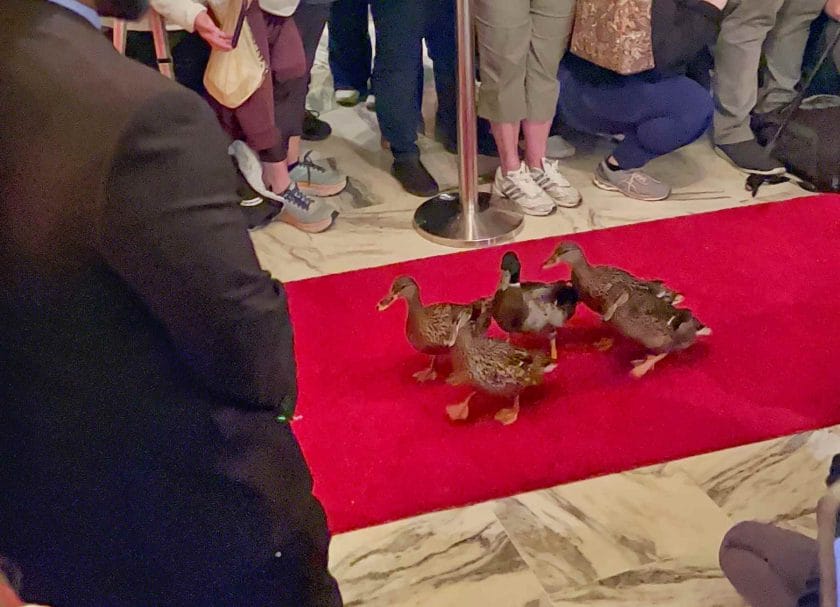 Go at either 11am or 5pm to see the Pea Body Ducks. At 11am they are bringing them down from the roof, on the elevator and across the red carpet to the fountain in the lobby.
At 5pm they are bringing them from the fountain down the red carpet and on the elevator up to the top.
Both times you can see them walk the red carpet. But be prepared that it is normally packed! Get there early to get a good spot.
Street Art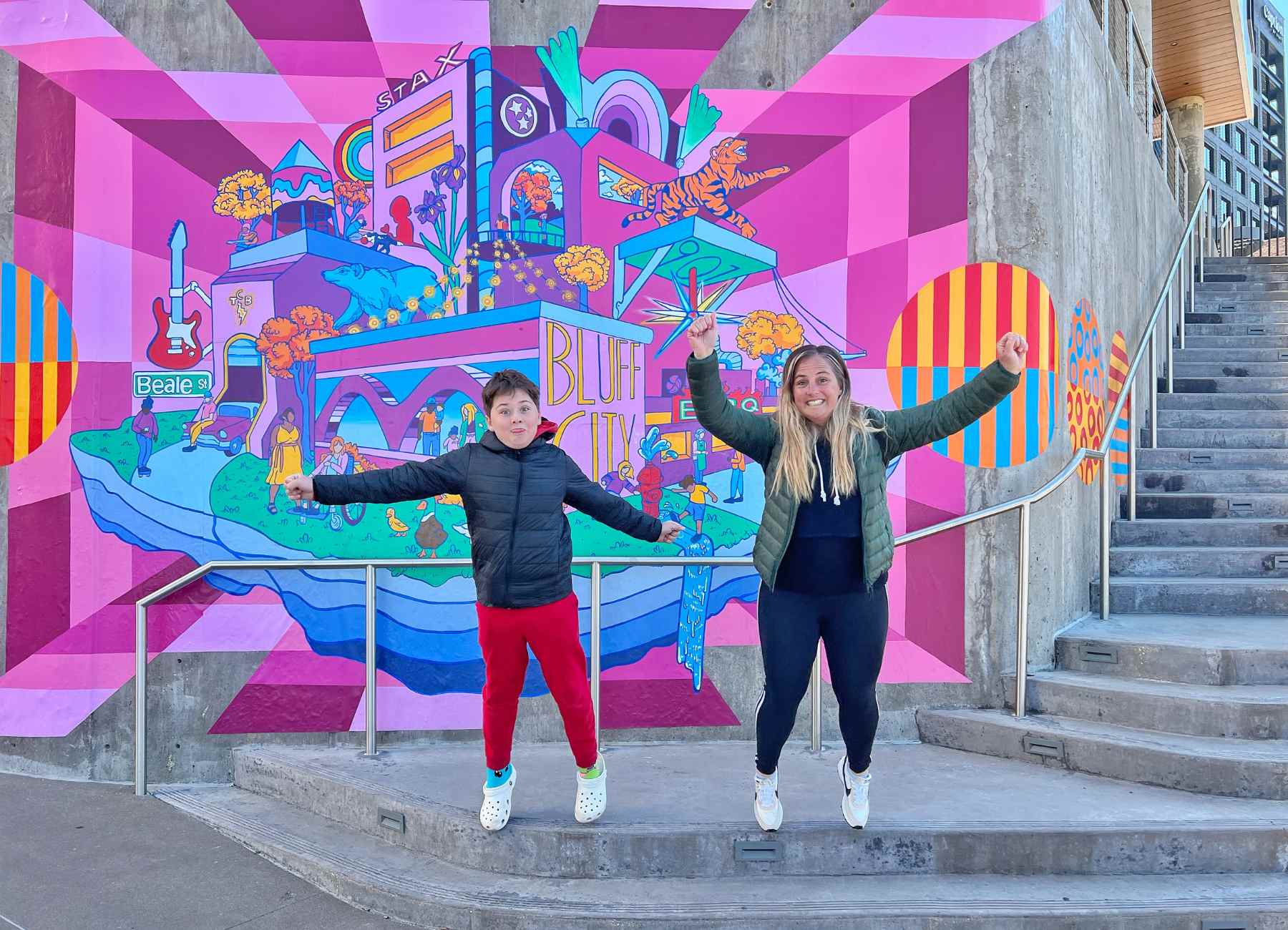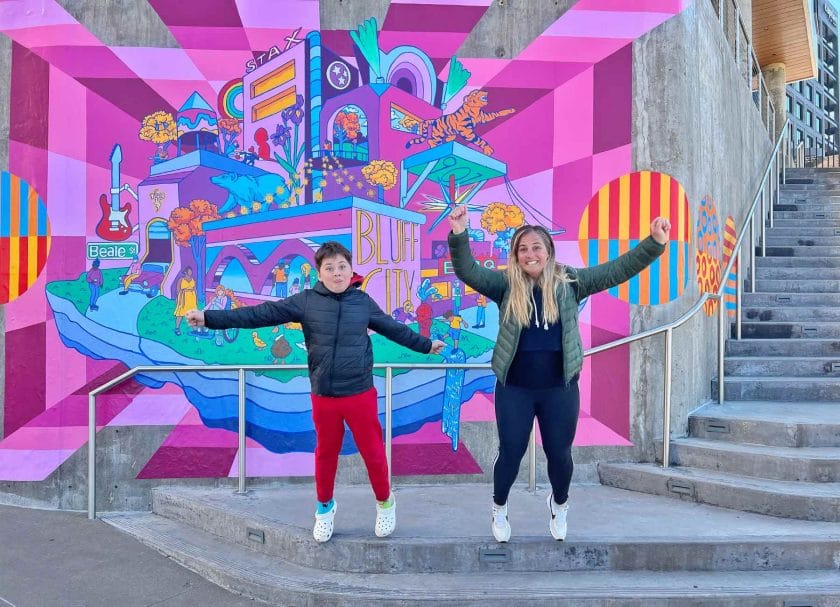 Keep your eyes peeled throughout town for a variety of beautiful murals on the walls.
Riverfront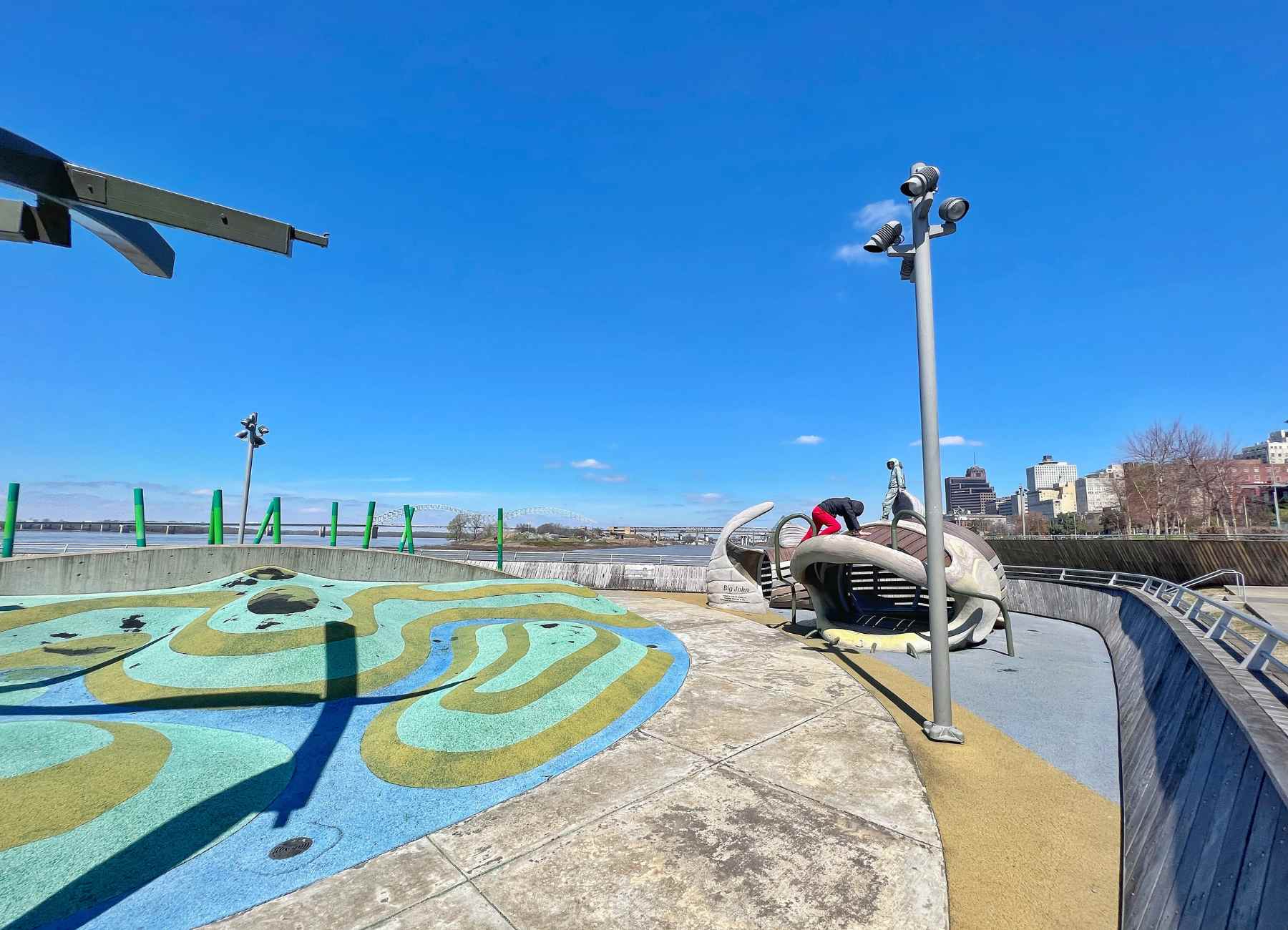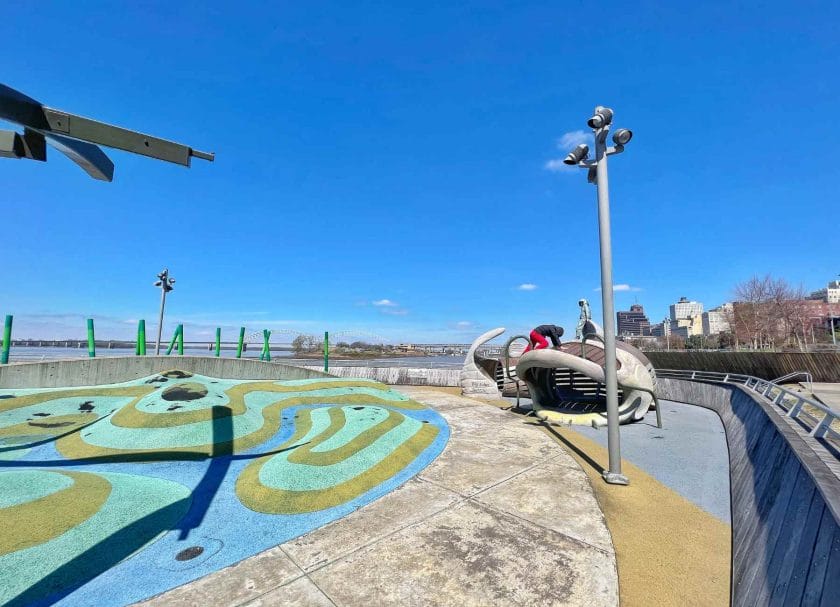 Head to the riverfront for a walk or to check out the park. When we visited there was a lot of construction so hopefully soon that will be done.
Mud Island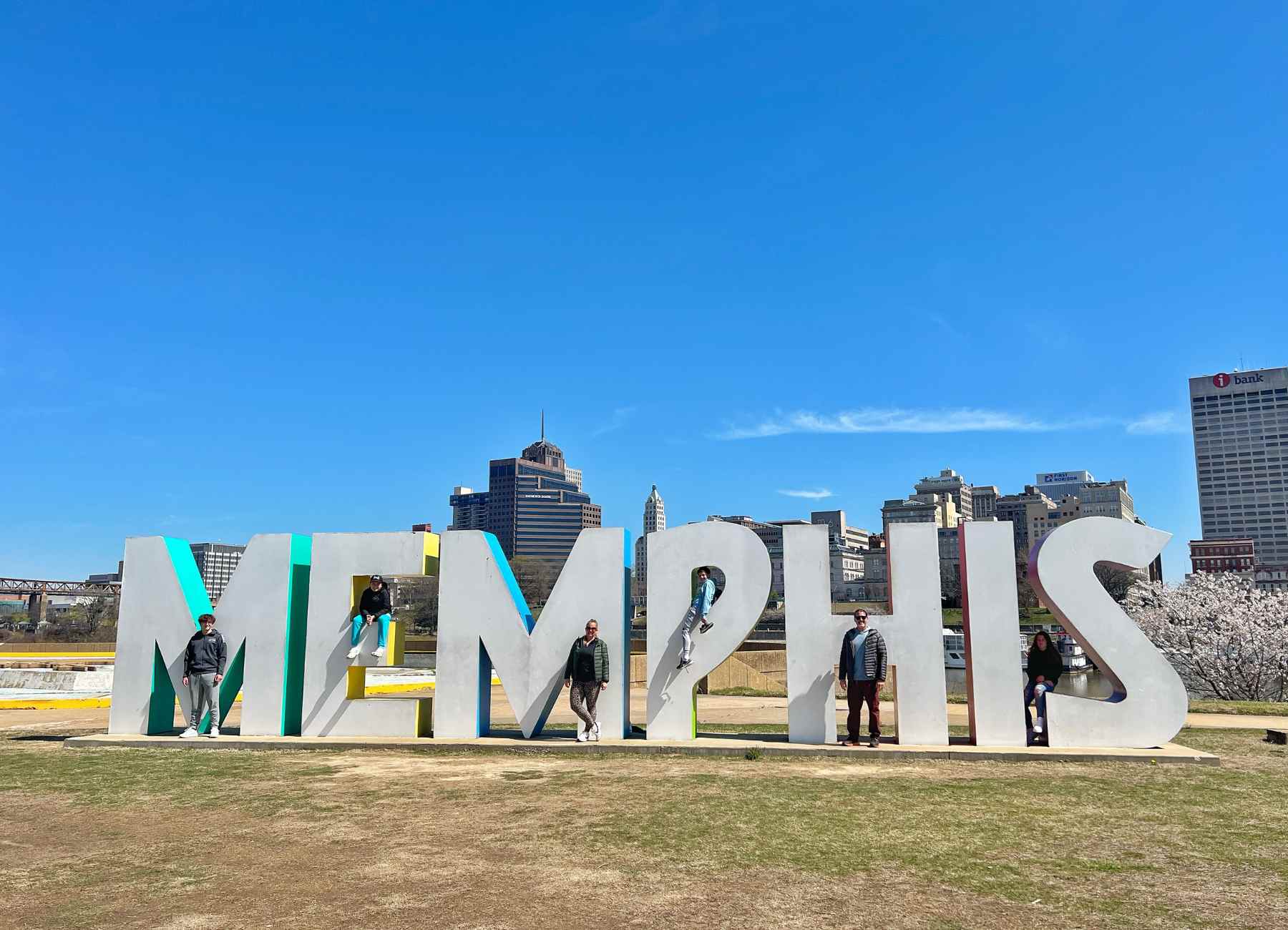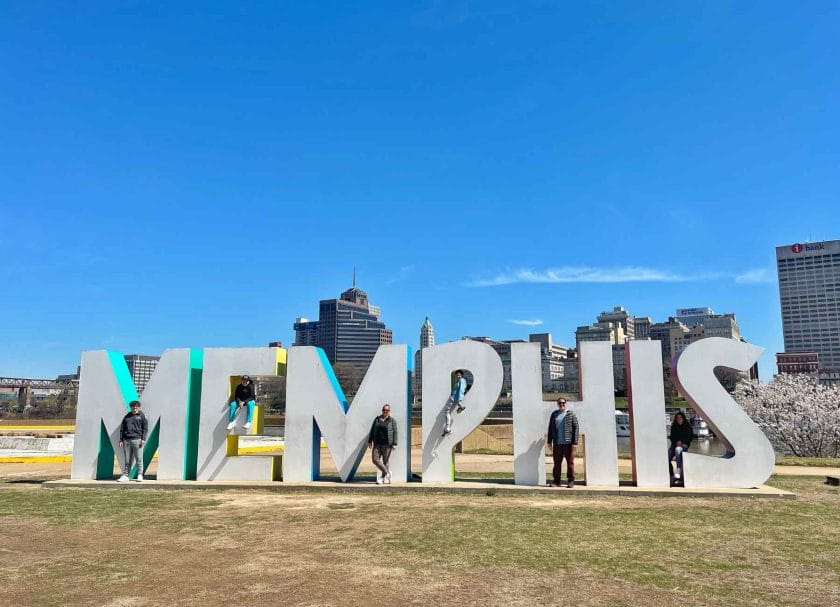 If you want to get out for a walk head to Mud Island where you can walk the grounds. They have a large river display spread out on the grounds that you can walk through. There is also a large Memphis sign at the end of the Island.
Bass Pro Shop Pyramid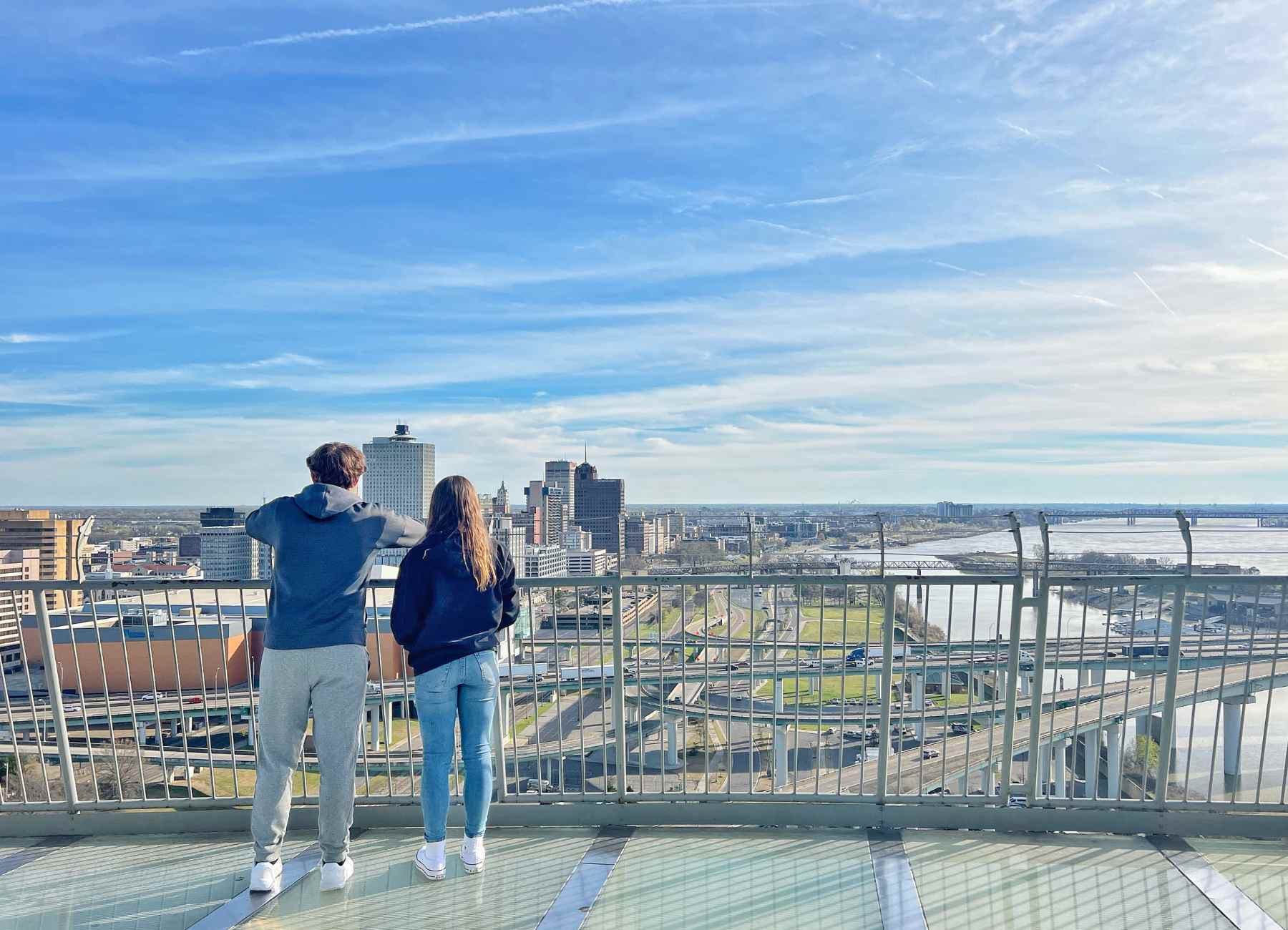 Check out the humongous Bass Pro Shop Pyramid store. Ride up the glass elevator to the top (there is a per person fee) for a drink, food or just an amazing view over the city.
Where To Eat In Downtown Memphis
There are so many good restaurants in Memphis! Here are the ones we recommend you check out when in the downtown area.
Rendezvous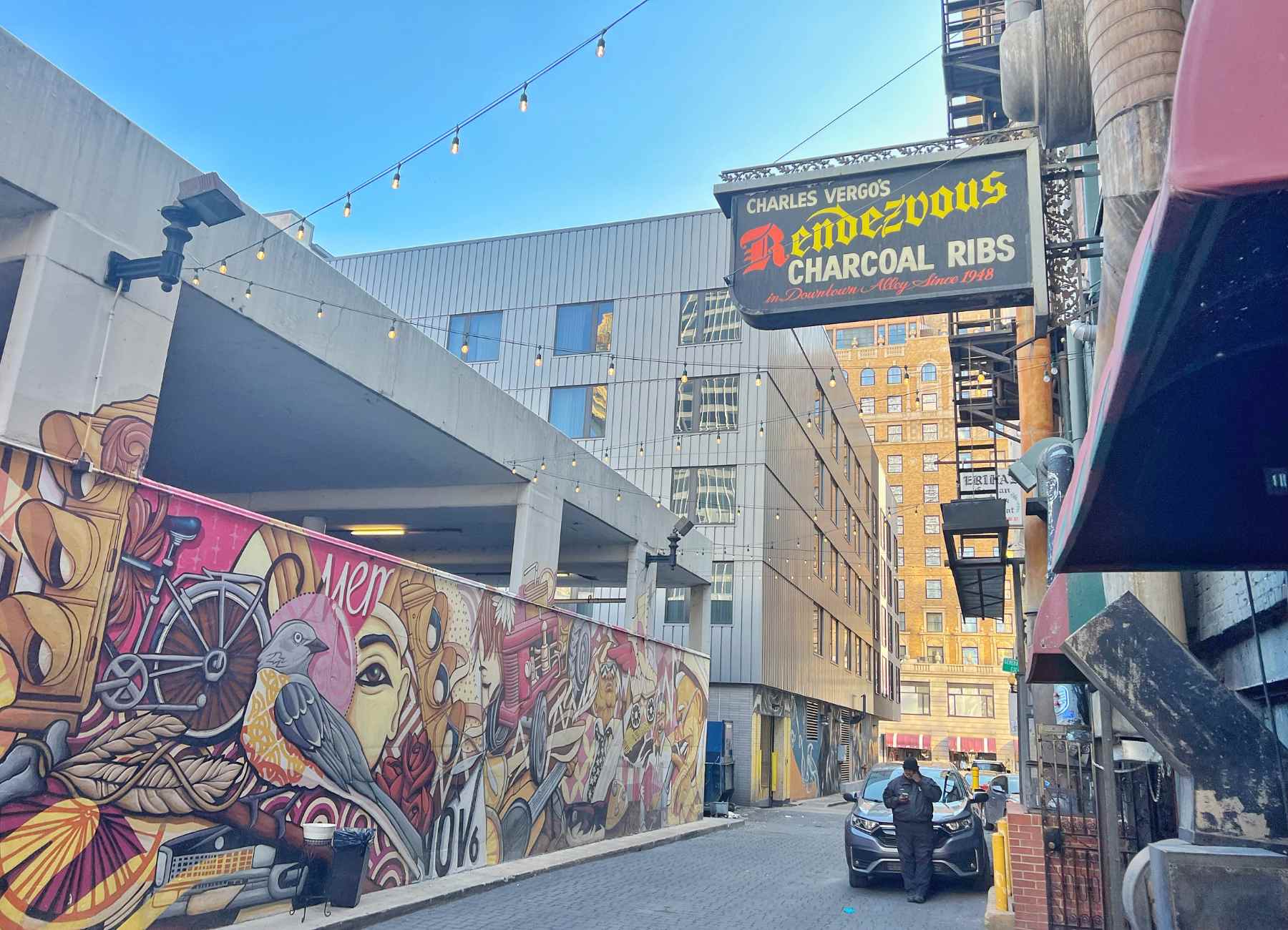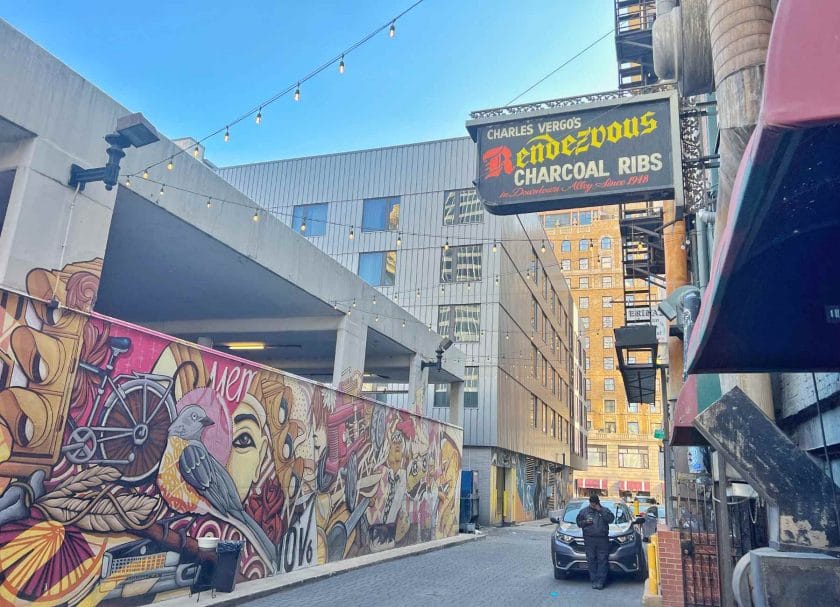 This iconic downtown Memphis restaurant is located down a side street and in the basement. Yup. Don't let that stop you. The second you turn the corner you will smell the BBQ. From here head down into the basement restaurant to enjoy a delicious meal of ribs!
They do have a kids menu, wine and beer and vegetarian options. The Rendezvous is a must stop while in downtown Memphis!
Blue City Cafe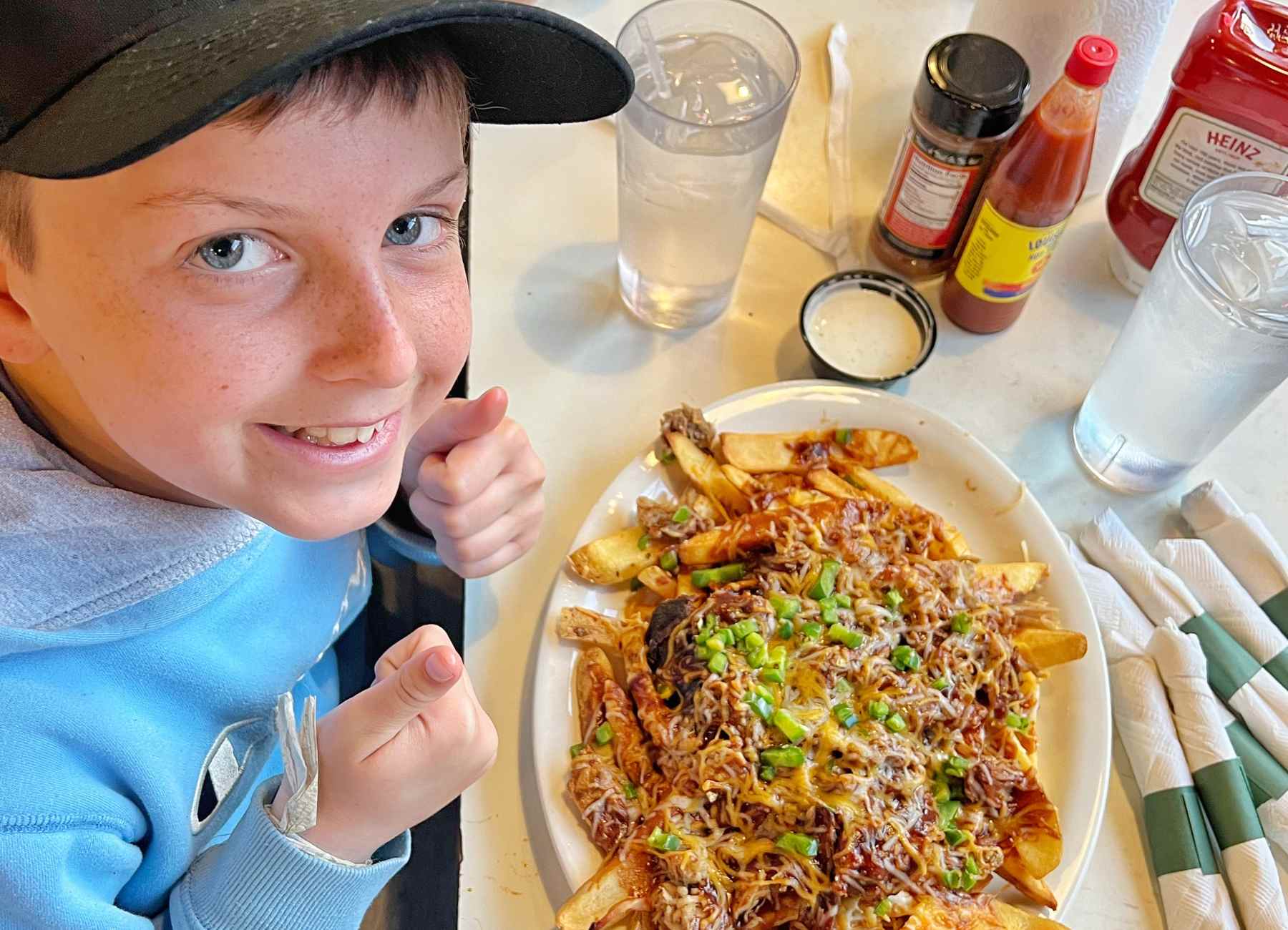 Located right on Beale Street don't miss the Blues City Cafe. They have ribs, soul food and a huge plate of pulled pork fries! Plus a full bar.
After exploring downtown head to the following locations:
South Main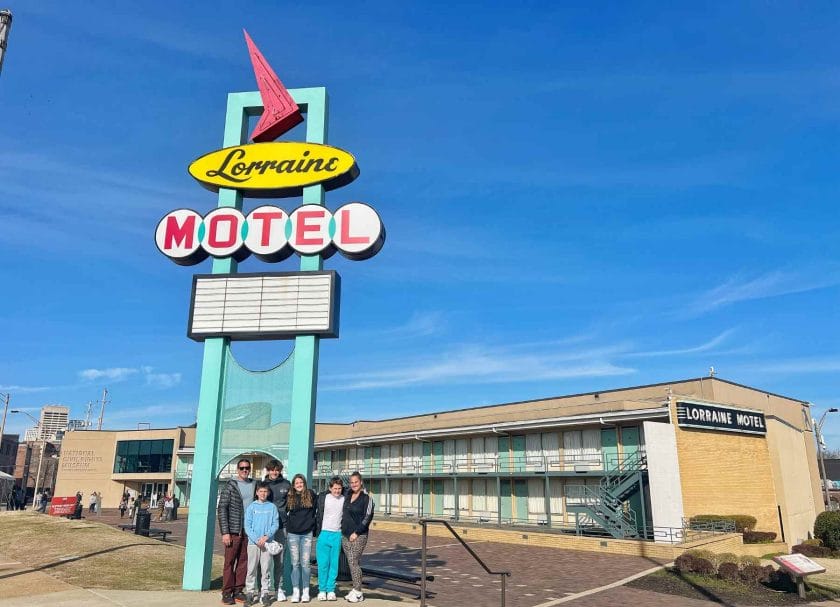 Be sure to visit the National Civil Rights Museum and the hotel where Dr Martin Luther King Jr was shot. Eat at Central BBQ for our favorite ribs in Memphis.
Get Breakfast at The Arcade – the french toast and mimosa's were on point! You can also get the famous Elive banana, peanut butter and bacon sandwich here. Craig tried it – it wasn't the best but it was worth getting to try it! Find out more about visiting the Civil Rights Museum here!
Edge District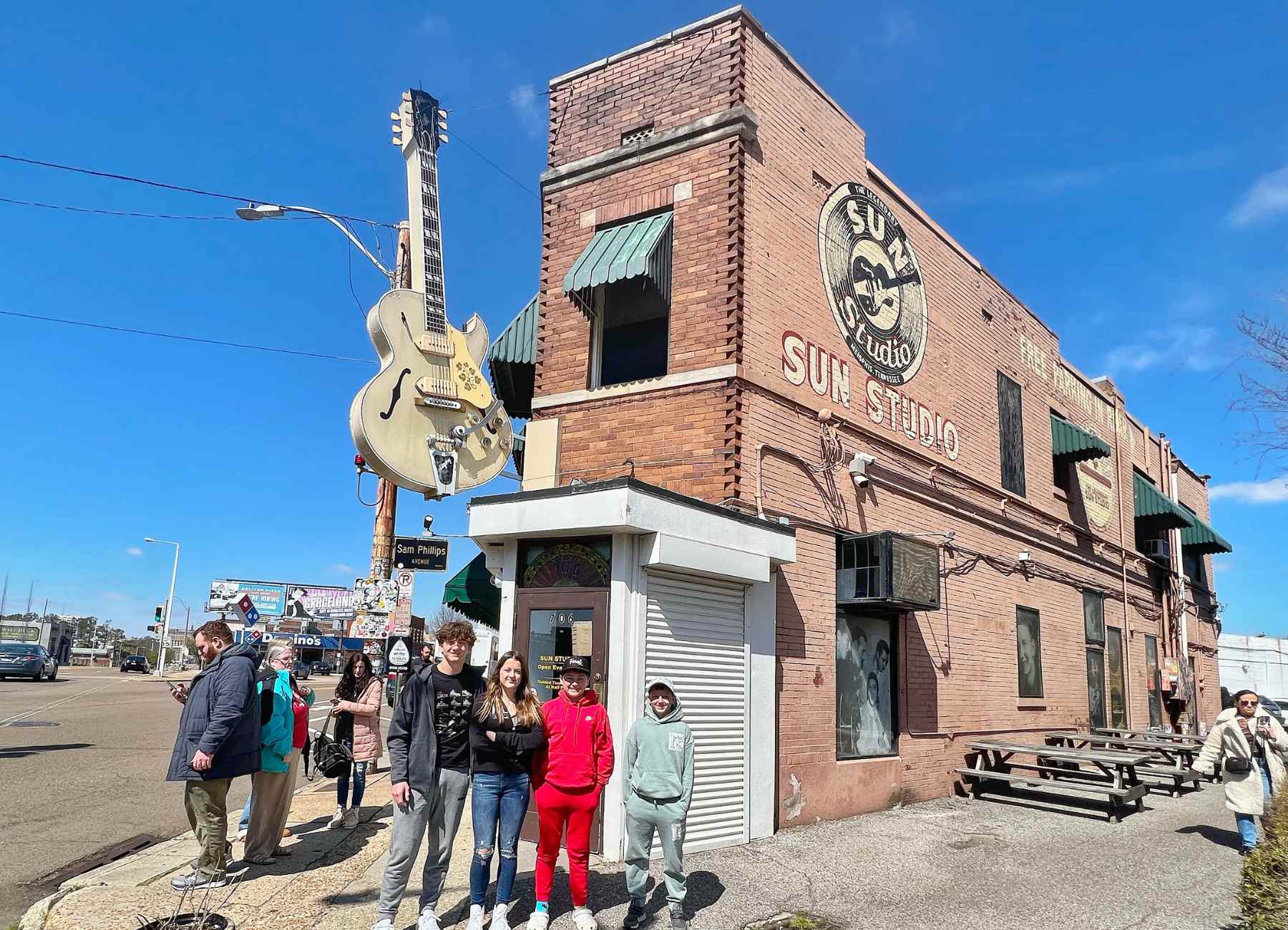 Visit Sun Studio to learn the about the history of music in Memphis.
Other places to stop and eat:
Don't miss Gus's Chicken! You can get your order to go and bring it across the street to the Dominick Distillery from some delicious bourbon or cocktails!
Memphis is a city full of history and delicious food. You can easily spend a day here or decide to stay for a full weekend.
Where To Stay:
Hotel
Pea Body Hotel – If you are looking for a fancier more upscale stay in downtown check out the Pea Body Hotel. This will also give you multiple chances to see the ducks!
Hampton Inn & Suites Memphis – Beale Street – Located in downtown Memphis, this Hampton Inn & Suites Memphis hotel is a great location and has amenities for all families.
SpringHill Suites Memphis Downtown – SpringHill Suites Memphis Downtown is another option when looking for a hotel in the city of Memphis.
Vacation Rental
We stayed in a vacation rental that was 10 minutes outside of Beale Street. It worked well for our larger group. Here are a few vacation rentals to check out:
Harbor Town Home – This 3bd/2b townhome offers exceptional value and location.
Memphis Gated Condo – This gorgeous 2bd/2.5ba condo is located in the prime downtown Memphis location.
Campground
Yogi Bear's Jellystone Park – Memphis – Experience a little bit of country in the city. Yogi Bear's Jellystone Park in Memphis is a family fun location, featuring campsites and cabin rentals. They have a nice playground on the property, an outdoor pool, and only 5 miles from downtown Memphis.
More Posts On Tennessee:
The Most Amazing Things To Do In Chattanooga With Kids
Tips for Visiting the Civil Rights Museum Memphis
6 Restaurants in Memphis You Don't Want to Miss!
Tennessee Road Trip – 1 Week Itinerary For An Amazing Trip
Best Things To Do In Smoky Mountains National Park
29 Absolutely Enjoyable Things To Do In Nashville
8 Fun Things To Do In Knoxville With Kids
Top 4 Amusement Parks In Tennessee You Need To Visit
Top 9 Things To Do In Pigeon Forge With Kids
Pin to Family Travel to Save for Later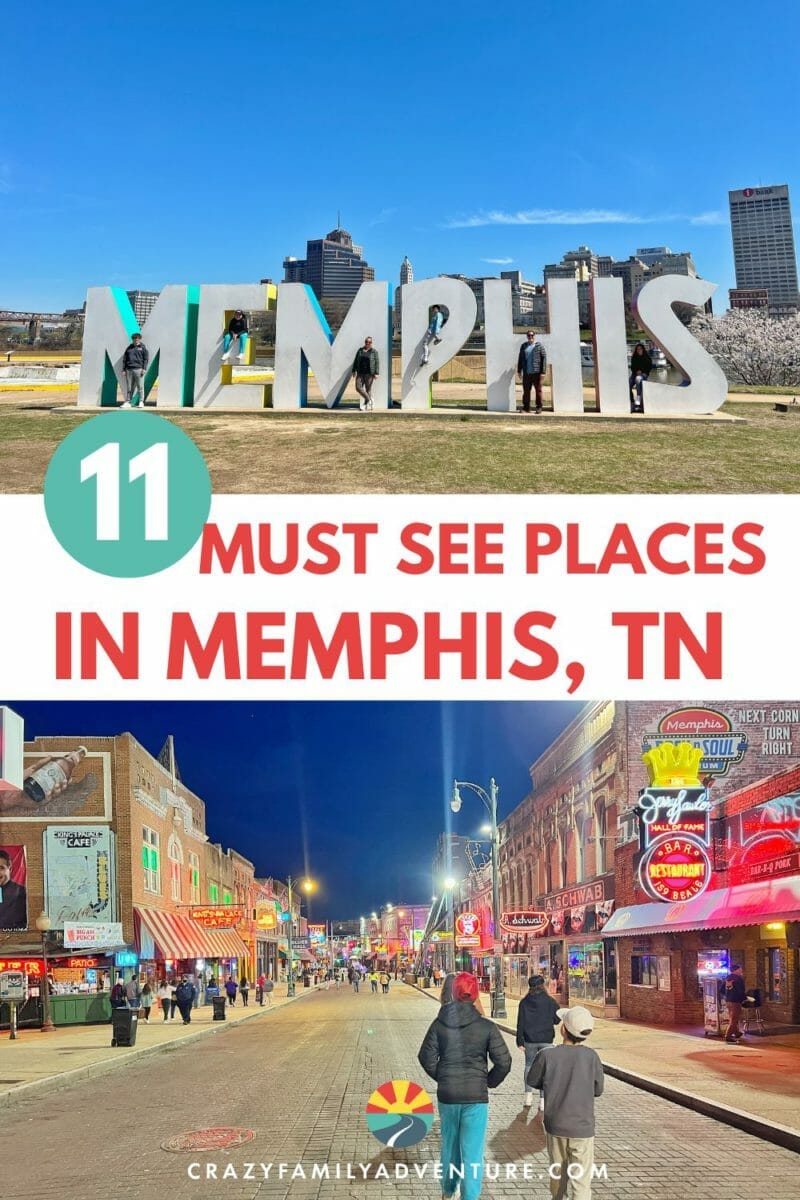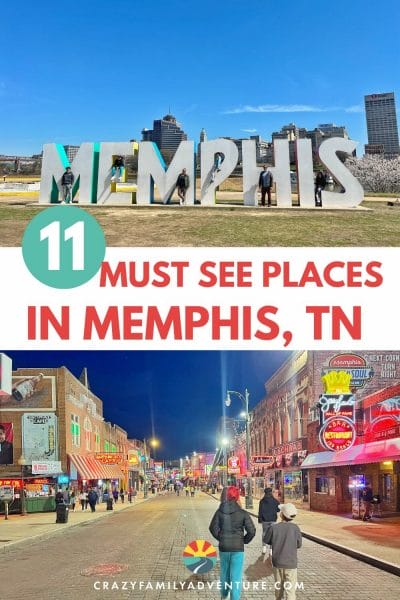 DISCLOSURE: This post may contain affiliate links, meaning I get a commission if you decide to make a purchase through my links, at no cost to you. Please read my disclosure for more info.