When we got to Memphis we knew we wanted to find the top Restaurants in Memphis to try while we visited. This meant BBQ, chicken, soul food, comfort food and maybe even a banana and peanut butter sandwich!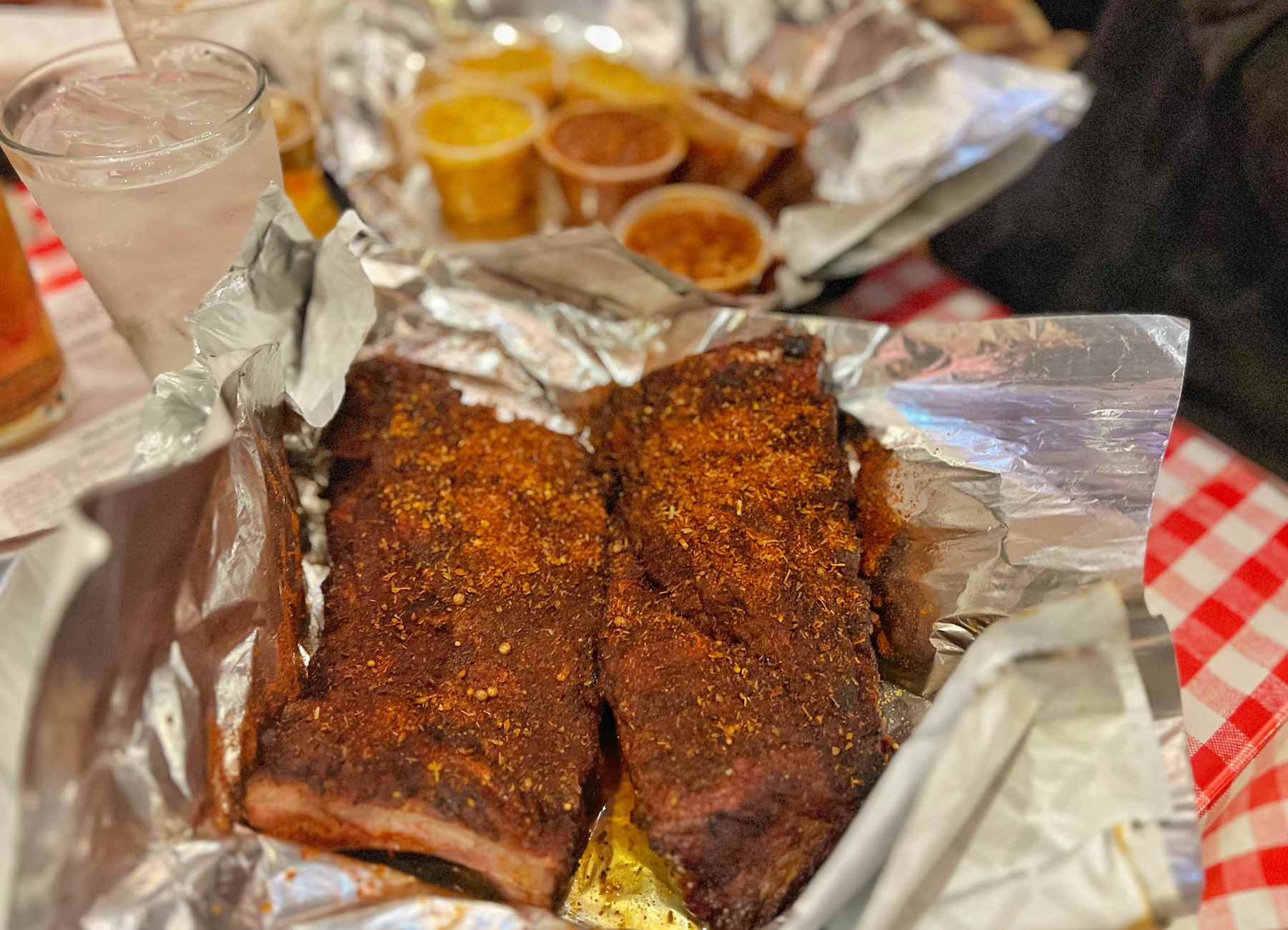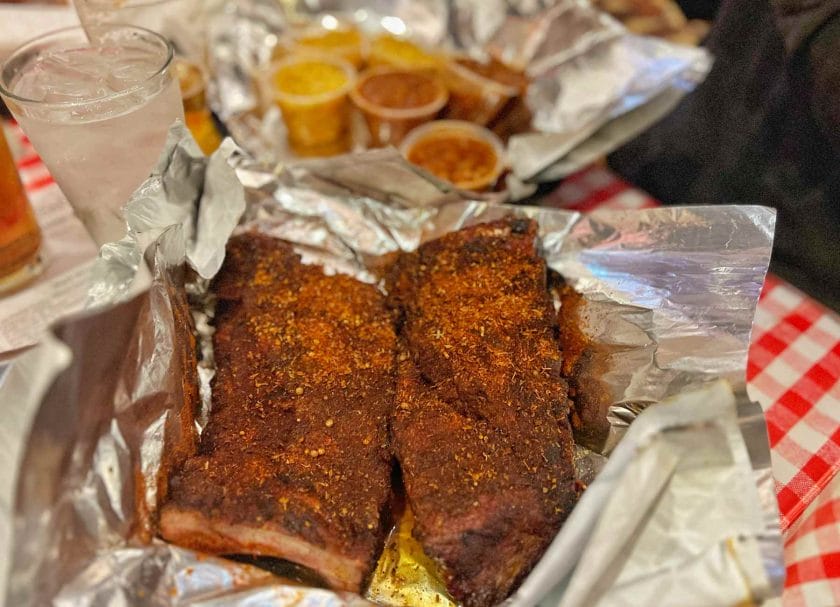 When you visit make sure eating is one of your top things to do in Memphis! The food is so good!! Also check out the Civil Rights Museum and downtown Memphis.
Central BBQ
This was our first stop for BBQ in Memphis. After a long day of driving we were looking to grab BBQ to go. We searched top BBQ places in Memphis and Central BBQ came up.
We placed an order for a rack of ribs, the meat platter (shredded chicken and pork) plus a couple sides or mac and cheese and coleslaw.
To eat we brought it back to our vacation rental and it was delicious! The ribs fell right off the bone. This was a great way to start our Memphis food tour.
Gus's Chicken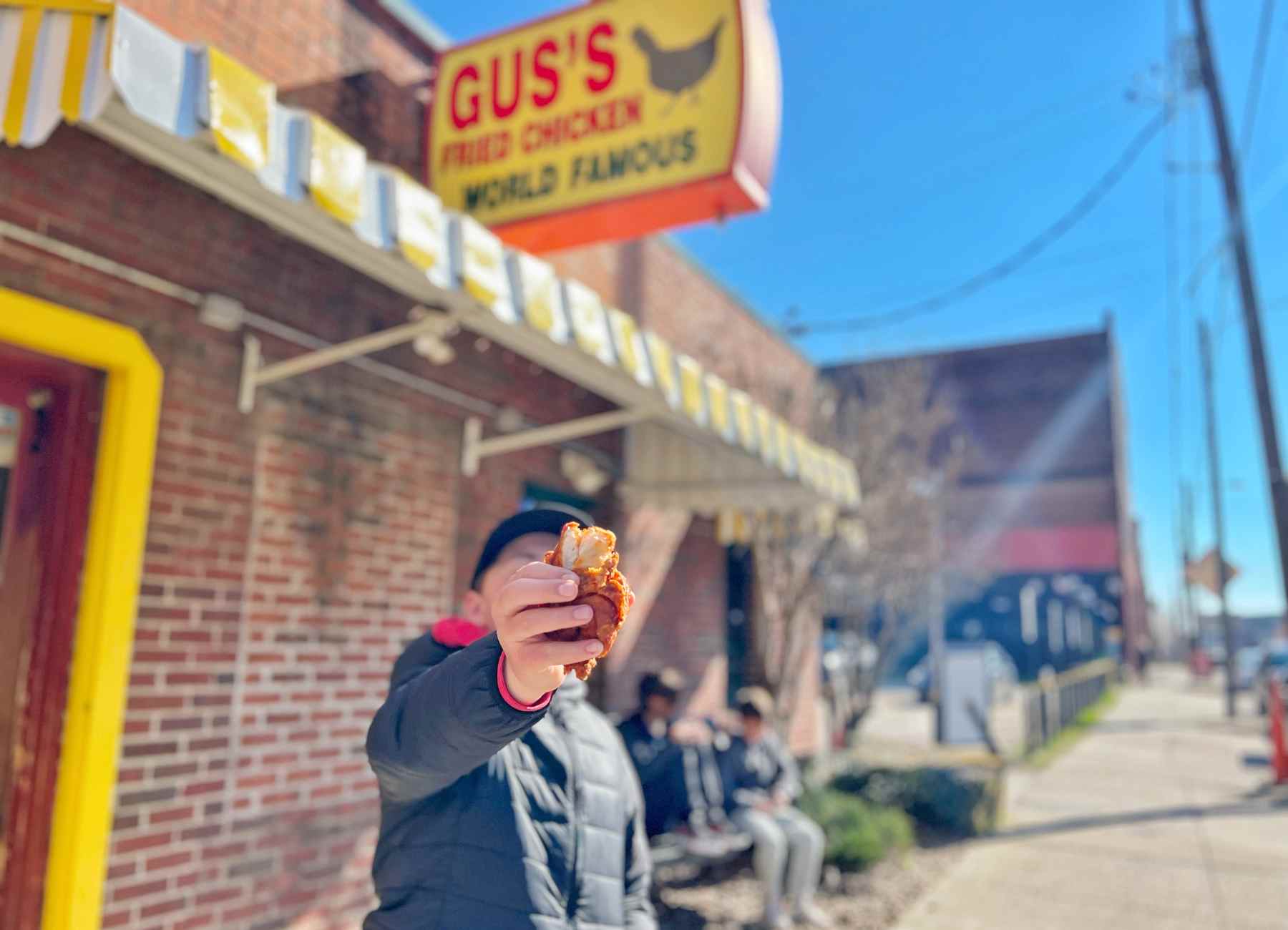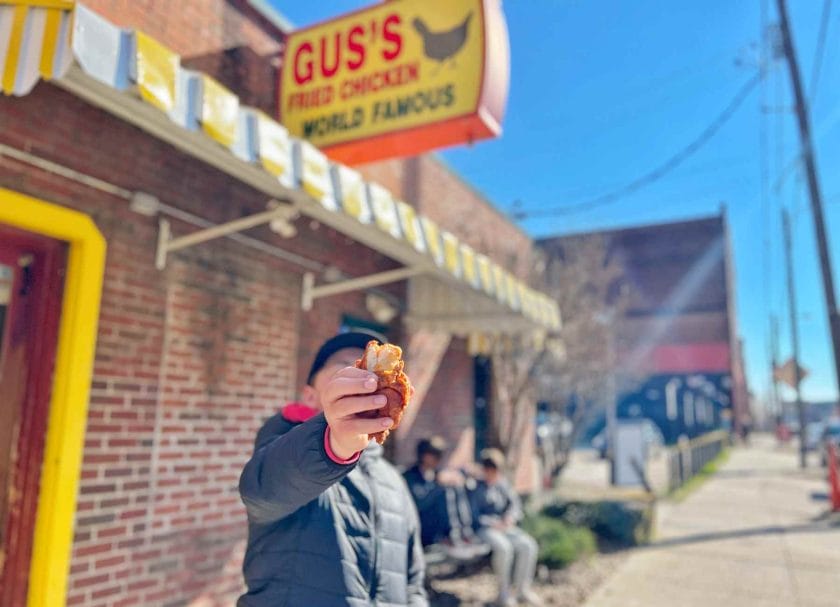 We had about an hour between activities we would be doing and the kids were hungry – OK so were we! We had heard Gus's World Famous Chicken was a must while in Memphis.
When we went we didn't quite have enough time to sit down and do a whole meal. Instead we got an 8 piece snack pack and some friend green tomatoes to go and ate them sitting in front of the restaurant. The fried chicken was amazing!! I could have just kept eating this while we were in Memphis!
The distillery is across the street so when we were done with the chicken we walked over there. To notice a sign that said get your Chicken to go and bring it here to eat! Say what?! If we would have known that – that would have been the plan all along.
Distillery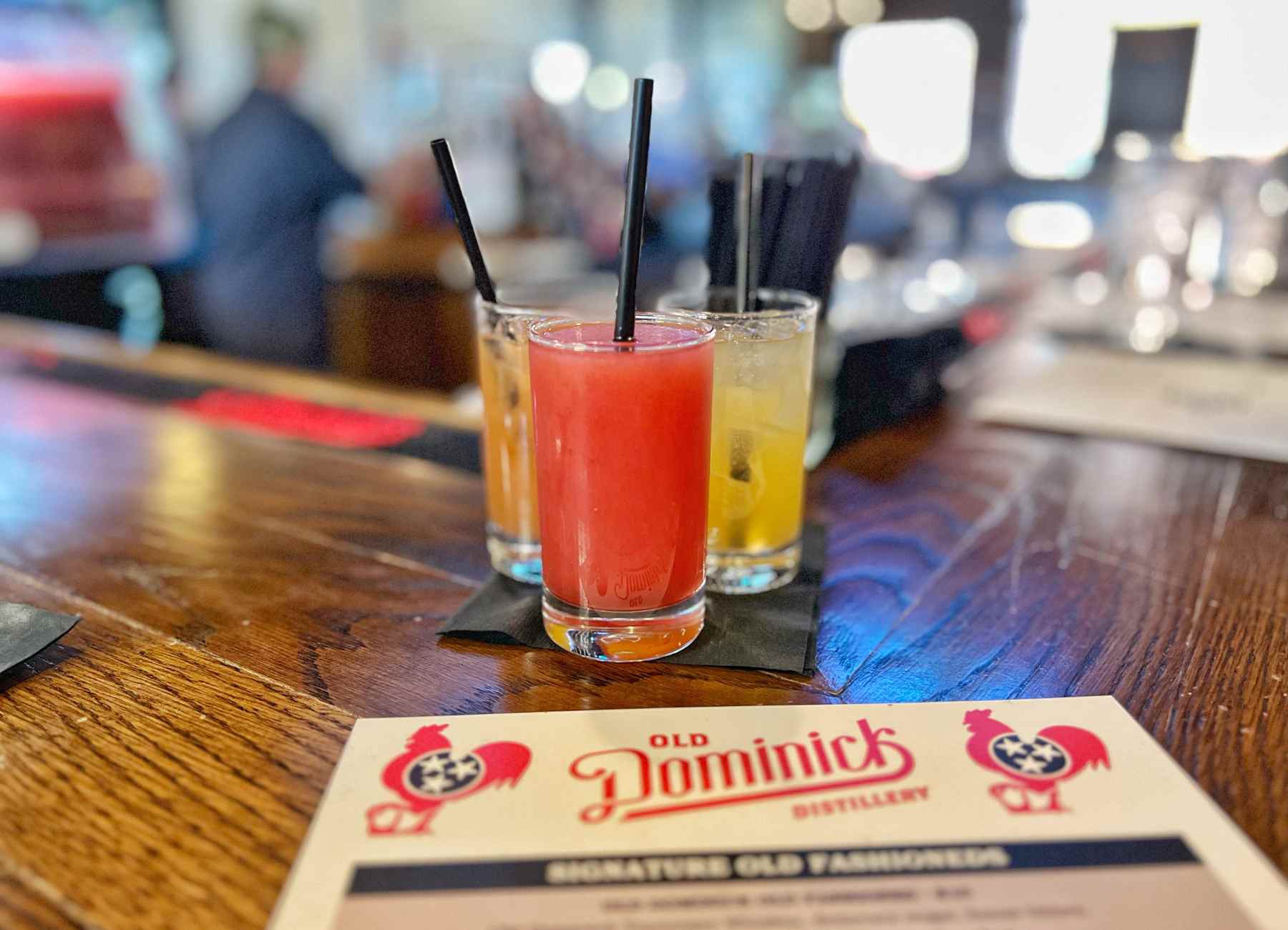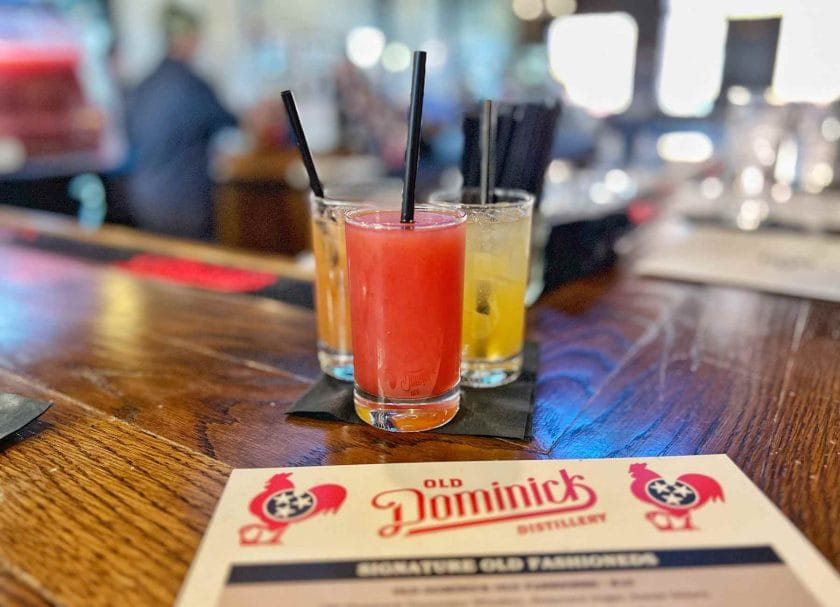 We headed into the Old Dominick Distillery to do a whiskey/bourbon sampling for Craig and a cocktail sampling for me. They also offer tours here on the hour. If we weren't trying to catch the ducks at the Peabody we would have stayed longer at the Distillery.
The drinks were so good! I loved that they did a cocktail sampler and not just whiskey. The bartender was also super helpful while everyone was figuring out what to sample.
I have to say the combination of Gus's Chicken and the Old Dominick Distillery would be where I would spend my time the next time we are in Memphis!
**Kids were welcome to come in and sit at the table and play games – they just couldn't sit at the bar.**
Rendezvous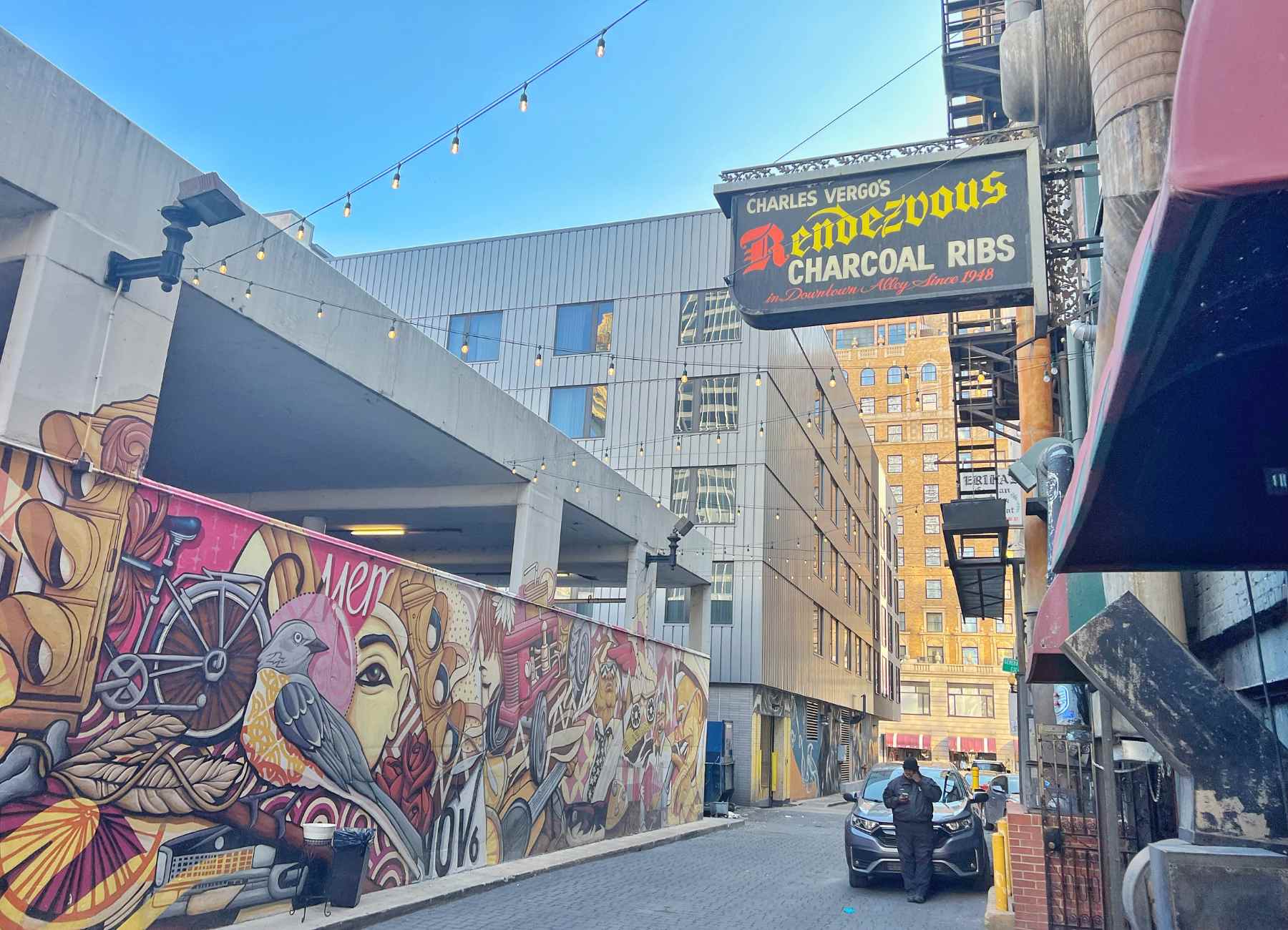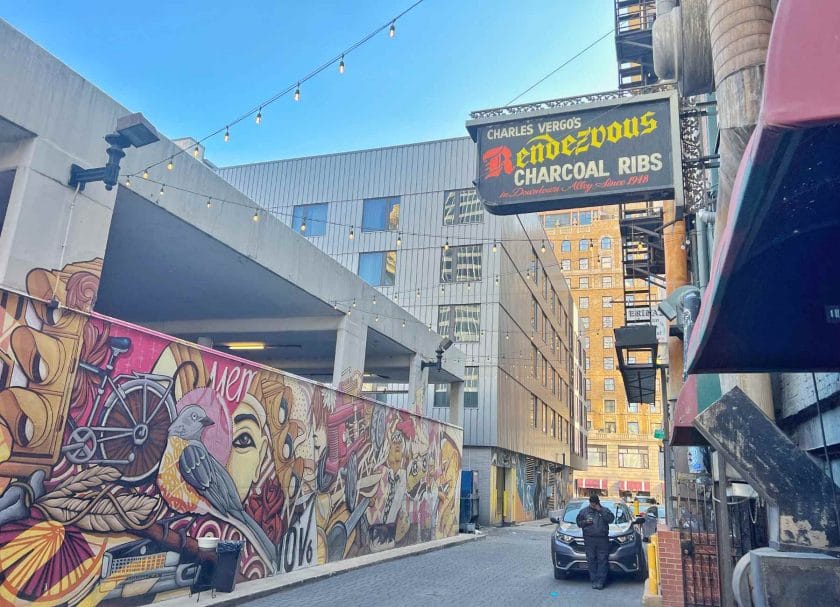 This wasn't our last stop with BBQ! Up next we went to Rendezvous. We were with our friends from 365 Atlanta Traveler and they recommended this stop. I am glad they did or we might not have made it there.
Reason being this dining room is tucked down an alleyway and in a basement. We were wondering where they were taking us when all of a sudden we made a turn down a side road and the smell of smoking BBQ hit us. Our mouths started watering!
You walk in and go down into the basement into what looks like a restaurant from the old days. They seat you and right away bring you your drinks. There is not a full bar but they do offer beer, wine, soda, water, etc.
They took our order – we got ribs, lots of ribs! Plus vegetarian nachos for our daughter who doesn't like ribs. The order came out very quickly and we all dug in!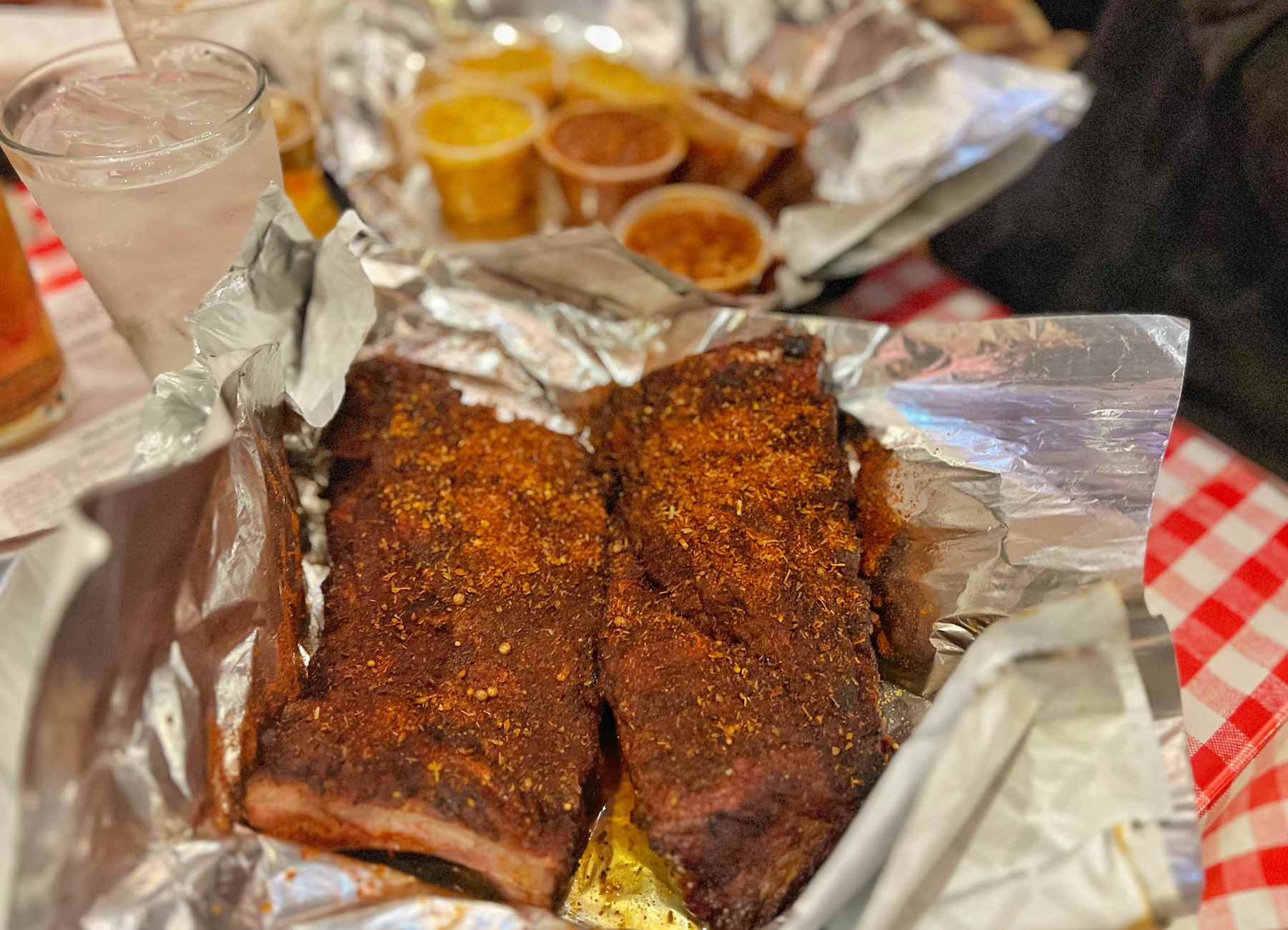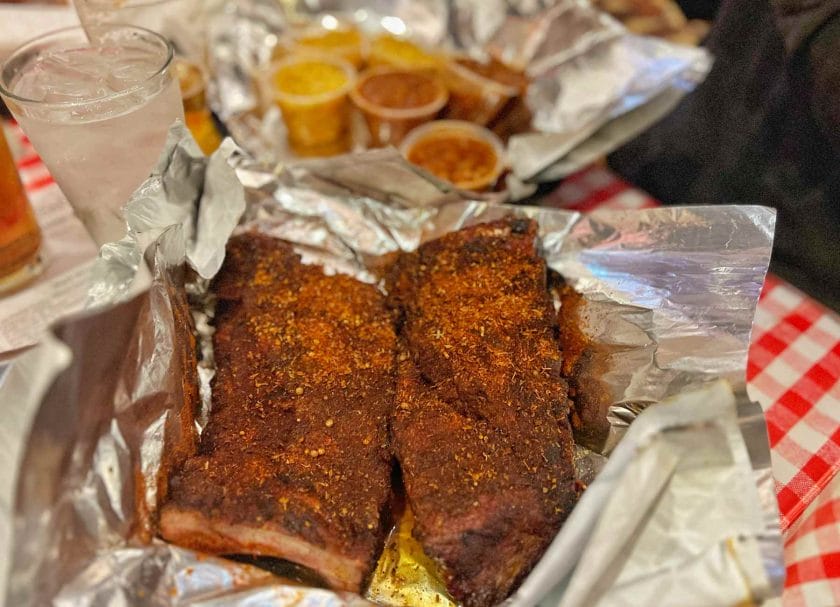 The ribs are dry rub ribs but you can ask for sauces – one mild and one hot to put on the ribs if you would like.
We enjoyed the whole experience and our server was great. From a ranking the ribs perspective we felt that Central BBQ was better. I am sure there are others that disagree!
The Arcade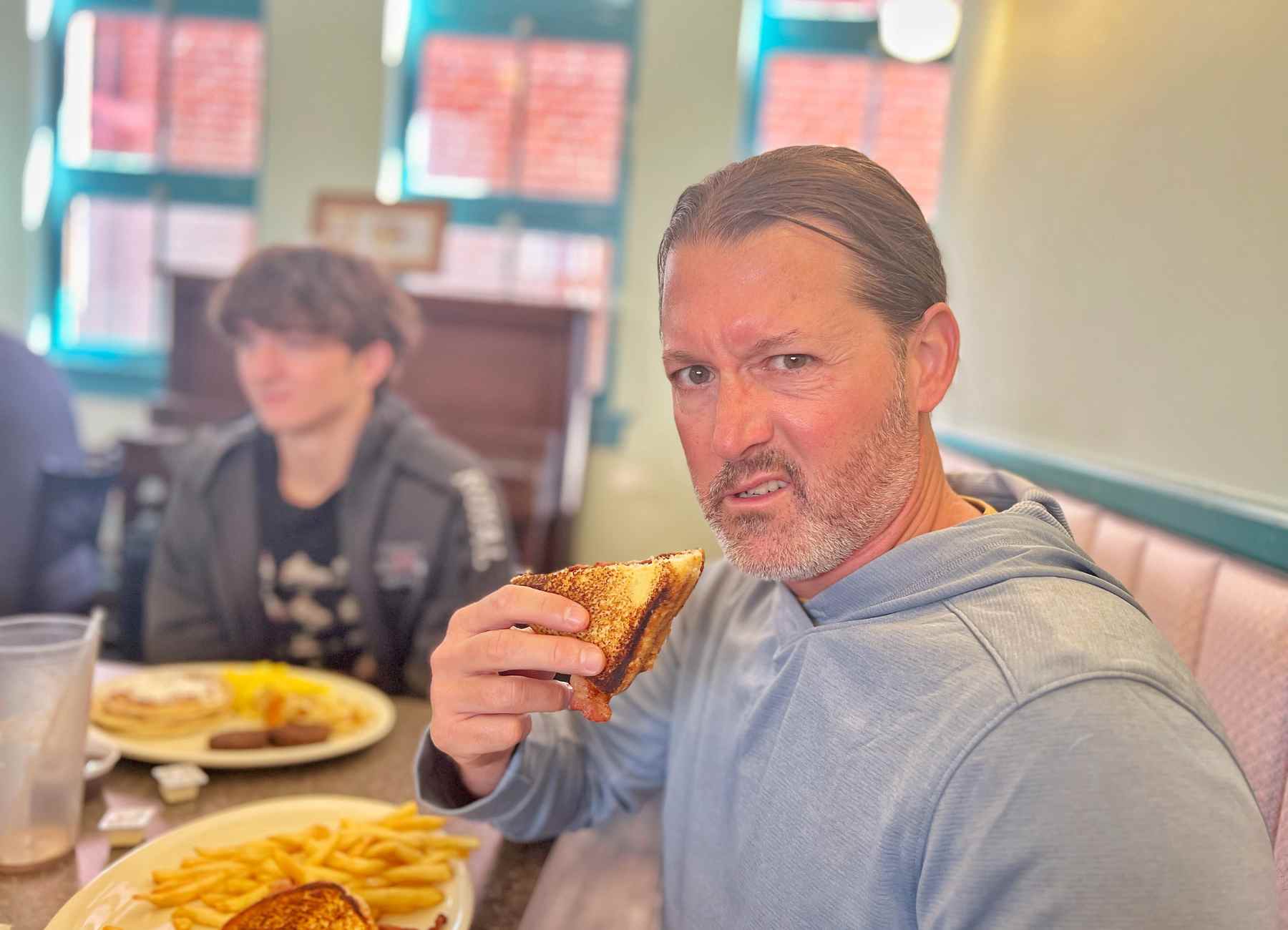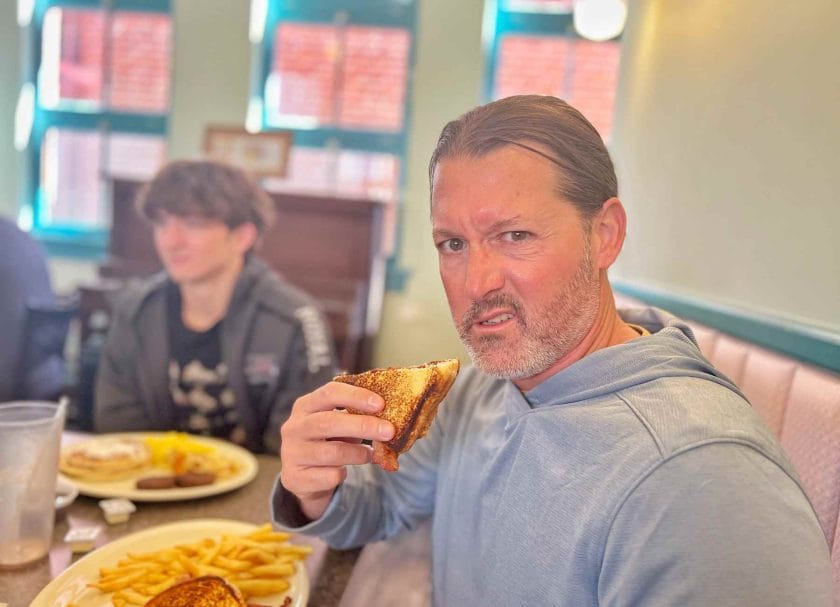 We headed to the Arcade for brunch. They offer a full drink menu with mimosas and bloody mary's. Plus an awesome selection of breakfast options and lunch options.
Whenever we go for breakfast I always want like 1 piece of french toast, 1 pancake plus some eggs and bacon. Most places don't offer that. Well they do here! It is called the Breakfast Sampler.
With this I got 1 piece of AMAZING french toast, 1 sweet potatoe pancake, 2 eggs, bacon and hash browns. It was delicious.
The kids went with the Chocolate treat which meant the breakfast sampler with a chocolate gravy to put on top.
Craig ended up going for the banana and peanut butter sandwhich with bacon – the meal that Elvis is famous for eating and having right here in this restaurant! He said it wasn't the best but he was glad he tried it.
With all of us stuffed full we headed out for more exploring in Memphis.
Blues City Cafe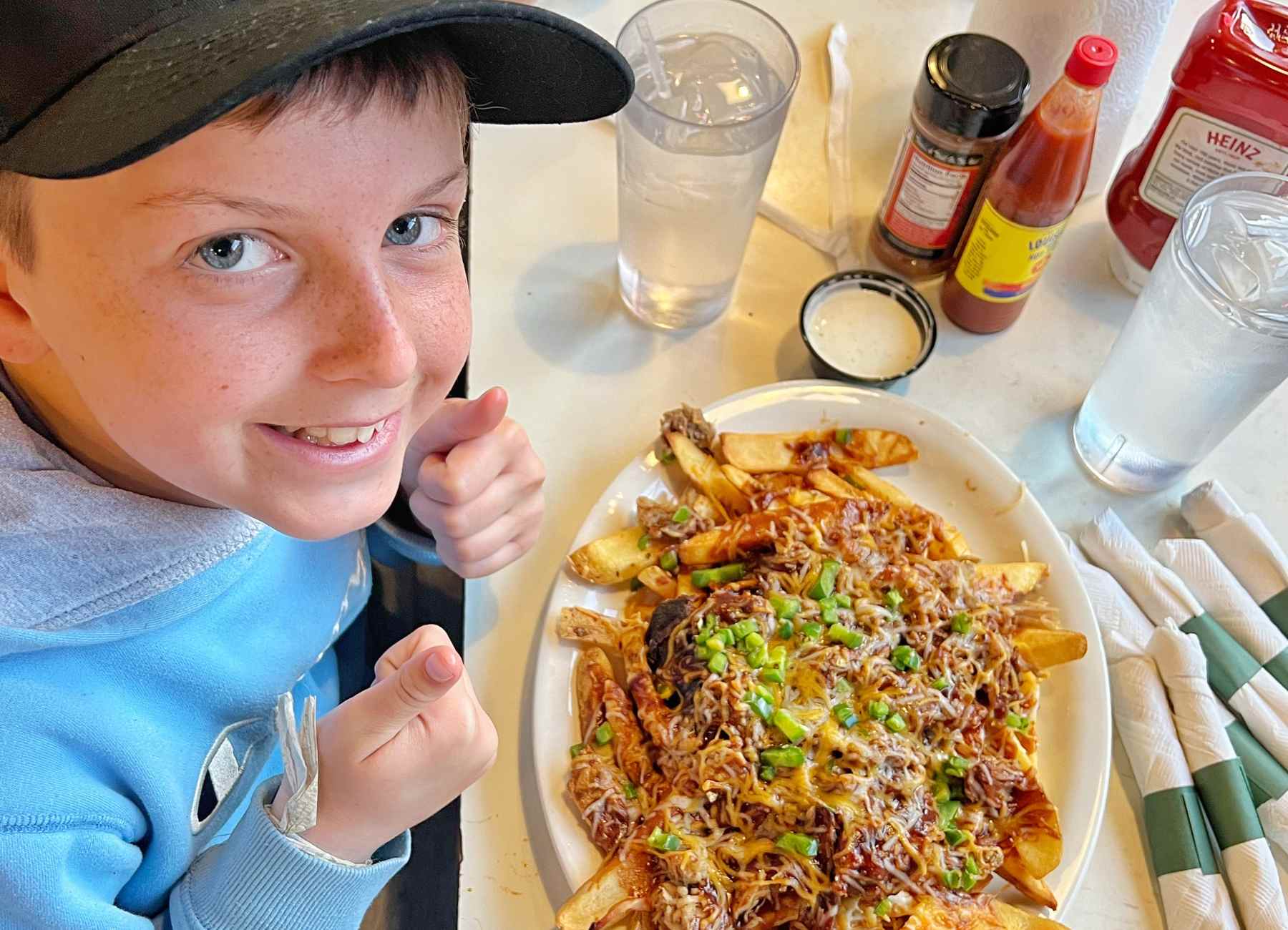 For dinner we were trying to find a soul food place but most of them either weren't open on Wednesday or closed by 6pm. Instead we headed to the Blue City Cafe on Beale street. We knew they had some soul food options and had also heard good things about it.
They have a full bar here so we got our drinks. I opted for a sweet tea this time as Lesli from 365 Atlanta Traveler kept telling me how good they are!
Craig got the Best Meal on Beale which came with ribs, fried catfish, beans, coleslaw and overall a lot of food! He said the ribs were good but still didn't beat Capital BBQ.
I opted for the 3 tamales and chili along with a cup of "Chef Larry's" turnip greens. Everything was good!
The kids got the Fried Chicken tenders which were delicious. And Knox opted for the BBQ Pork Fries – this was an appetizer that would have been big enough for 2 people to share!
They also had cheese fries which my daughter got since she isn't into all this meat :).
This wrapped up our eating experience in Memphis. Everything was delicious!! I could see just coming back to eat more!! We love Memphis food!!
Additional Restaurants To Check Out
Here are a few other restaurants in Memphis that were recommended that we didn't make it to. Either they were closed for remodel or we just ran out of stomach space!!
Felicia Suzanne – their specialties include classic southern food that uses locally sourced ingredients.
Paulette's Restaurant in the River Inn (by Harbor Town Square) – Fine dining location. Serving Memphis for over 46 years.
Restaurant Iris – if you are looking for Creole-French fare in a cozy dining space this is the spot for you to try.
Beauty Shop Restaurant – A cool restaurant with glass-brick booths and vintage hair-dryer chairs serving New American food with a bar.
Cozy Corner BBQ – I was disappointed that we missed this one! If you have time add it to your list!
A few other dishes you may want to try (we just couldn't get away from the ribs and chicken :)): shrimp and grits, potato gnocchi, po boys and chicken wings!
There are also a lot of great things to do in Memphis! You'll find a lot about music, history and beautiful wall murals around the city.
More Things To Do In Tennessee
11 Best Places to Visit in Downtown Memphis
Tips for Visiting the Civil Rights Museum Memphis
The Most Amazing Things To Do In Chattanooga With Kids
Tennessee Road Trip – 1 Week Itinerary For An Amazing Trip
Best Things To Do In Smoky Mountains National Park
29 Absolutely Enjoyable Things To Do In Nashville
8 Fun Things To Do In Knoxville With Kids
Top 4 Amusement Parks In Tennessee You Need To Visit
Top 9 Things To Do In Pigeon Forge With Kids
Pin This Post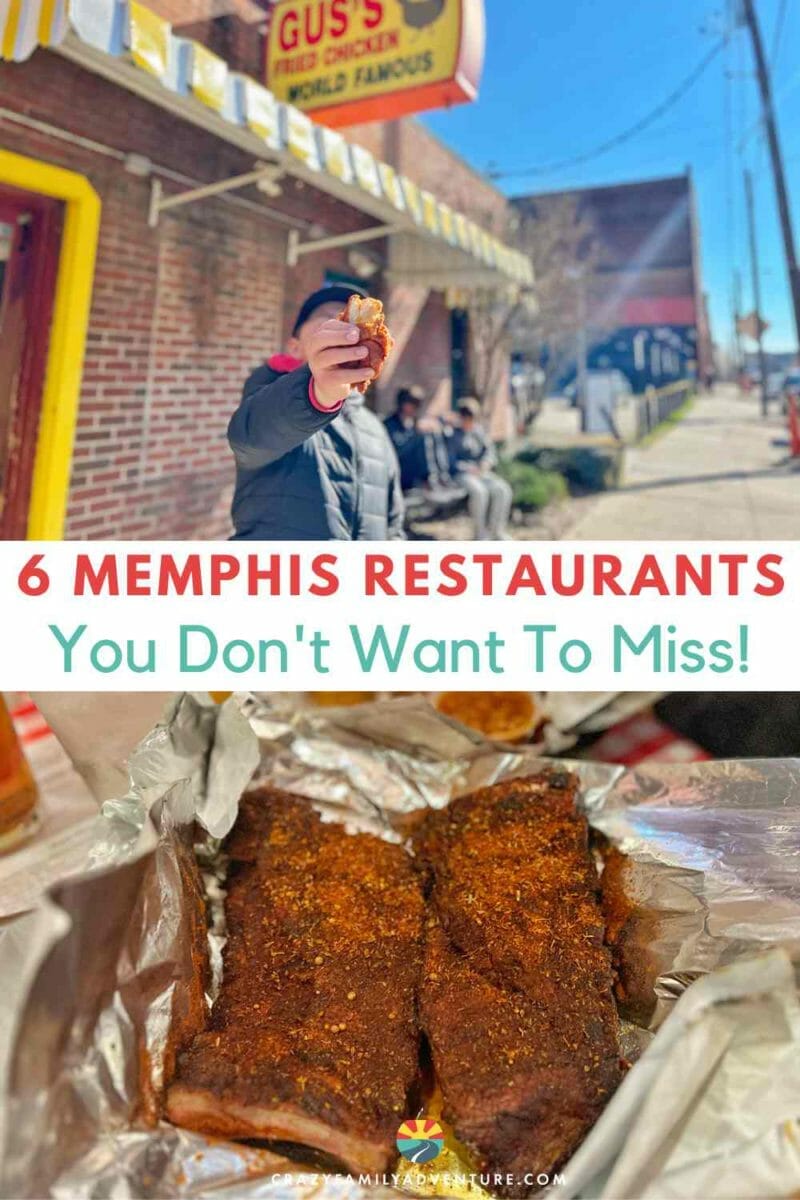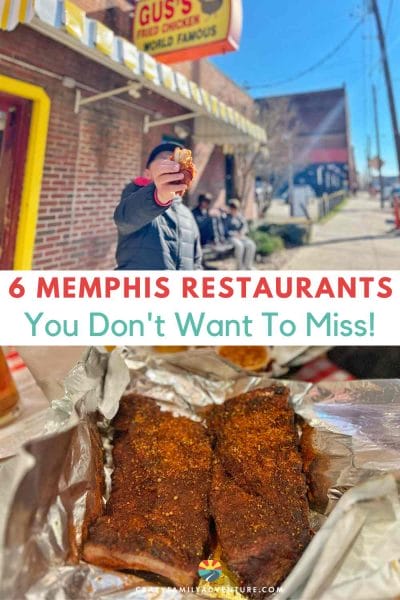 DISCLOSURE: This post may contain affiliate links, meaning I get a commission if you decide to make a purchase through my links, at no cost to you. Please read my disclosure for more info.